This post was originally posted on 4/27/2019
Follow us on Instagram for more fun food ideas for kids!
Make sure to scroll down for the video to make these easy mini pancake muffins for kids.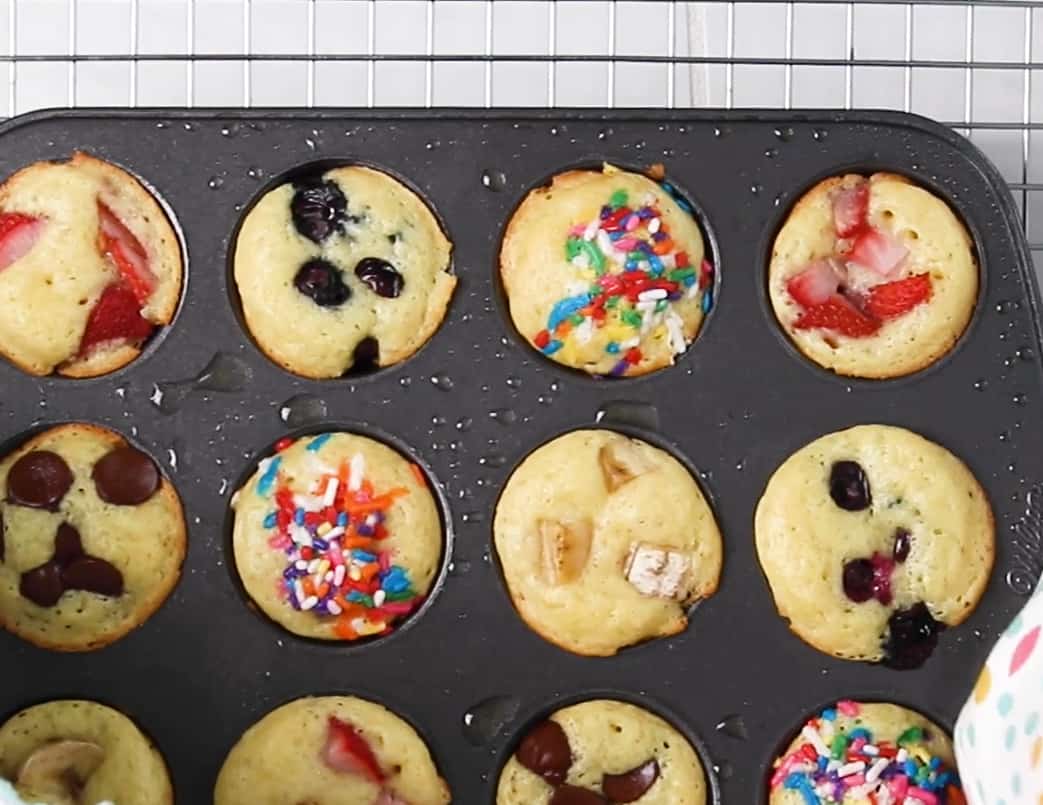 This post was originally published on our craft/DIY site hello, Wonderful and updated here.
Making mini pancake muffins in my house is a favorite way for us to dive into breakfast or brunch! It started off as a fun idea I had with my kids, and then it has just grown into something that we love doing together.
I love finding new ways to add fun to our daily morning rituals, and I can easily see this becoming a sweet Sunday morning tradition.
The first time I made these tasty mini pancake muffin bites was because I wanted to try to make something that appeases everyone, and yet still didn't create a lot of extra work for myself. It was a success, and I'm sure you and your family will love them just as much as we do.
Yummy Mini Pancake Bites for an Easy Bite-Sized Snack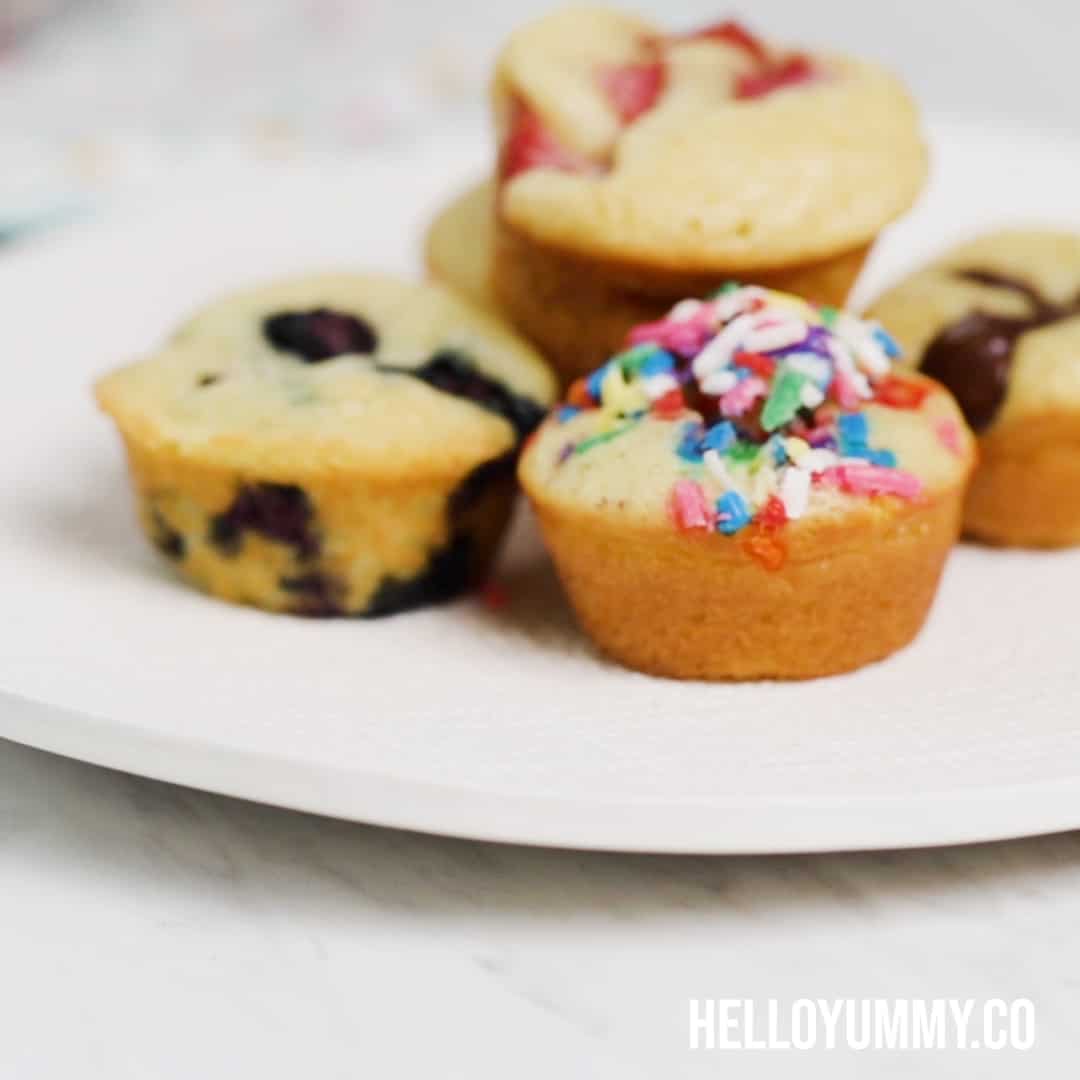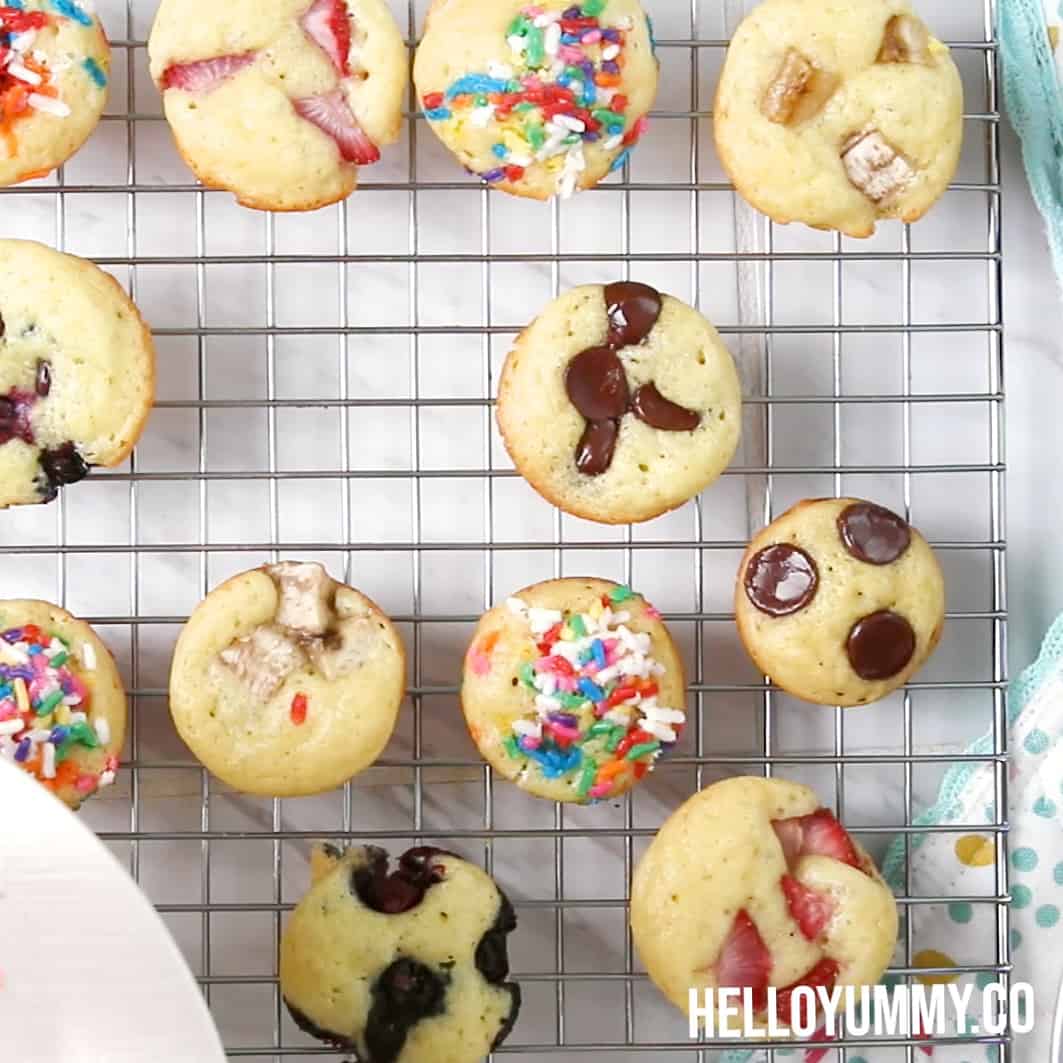 One of the top reasons why I love making these mini muffin pancakes with my kids is it's an easy grab and go breakfast or snack item that can appeal to everyone's sometimes picky taste buds.
Pancakes are a big hit in our home and one of my kids' favorite breakfast foods. We love making these sheet pan-style pancakes (another breakfast time saver).
Here's a creative way to turn them into customizable, bite-sized portions with each kid's favorite toppings. These mini pancake muffin bites are so easy to whip up and fun for little ones to help make in the kitchen!
I love watching them decorate their own pancake mini muffin with a variety of different toppings. It really brings out their creativity as well as their individuality. It helps bring up discussions of favorite colors and flavors that they enjoy the most. They have a lot of fun creating interesting pairings too (strawberries and chocolate chips are one of my favorites).
Then, when I pull those mini muffin tin pancakes out of the oven, they get to look at the final end result of their work come alive!
The kids gobbled up these mini pancake bites. They taste like muffins, except much less sweet. These are great for on-the-go snacking, quick summer picnics, and packing for lunch too.
Pancake Mix Mini Muffins: Bite-Sized Breakfast Recipes
Here's the best part about this recipe: These are perfect pancake mix muffins, so you can (and should) use your favorite premade pancake mix .
These sorts of recipes are winners in our house and I'm sure most moms would agree. The less hassle the better, so why waste time making batter from scratch? These mini pancake muffins with pancake mix are the bomb!
If you want to stick to the bite-sized breakfast ideas, you'll need a mini muffin tin . Yep, that's right, these delicious mini pancakes in a muffin tin go straight in the oven. You could use a normal-sized muffin tin with this recipe too. Then you'd have big muffin pancakes instead of pancake muffin bites — which sound delicious too!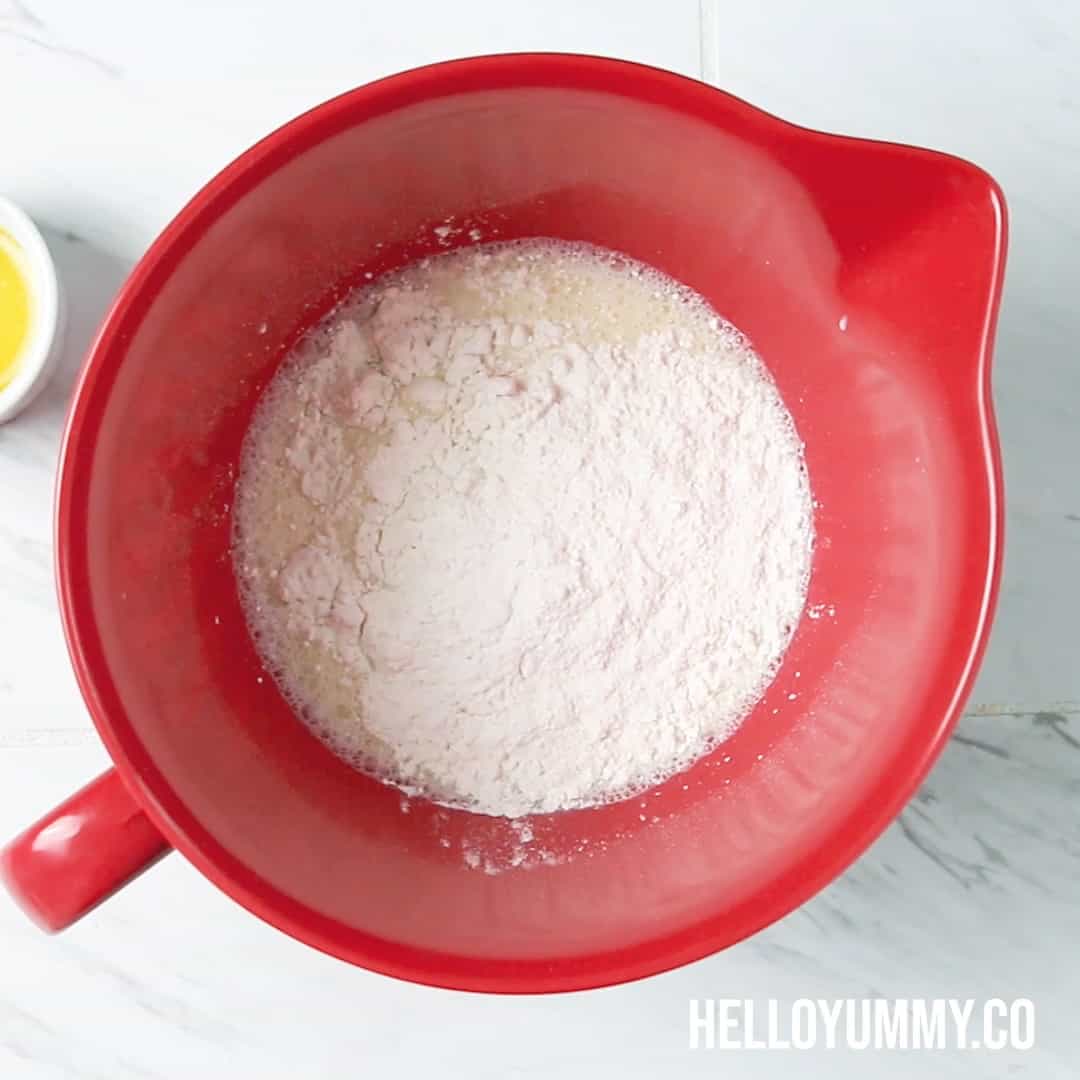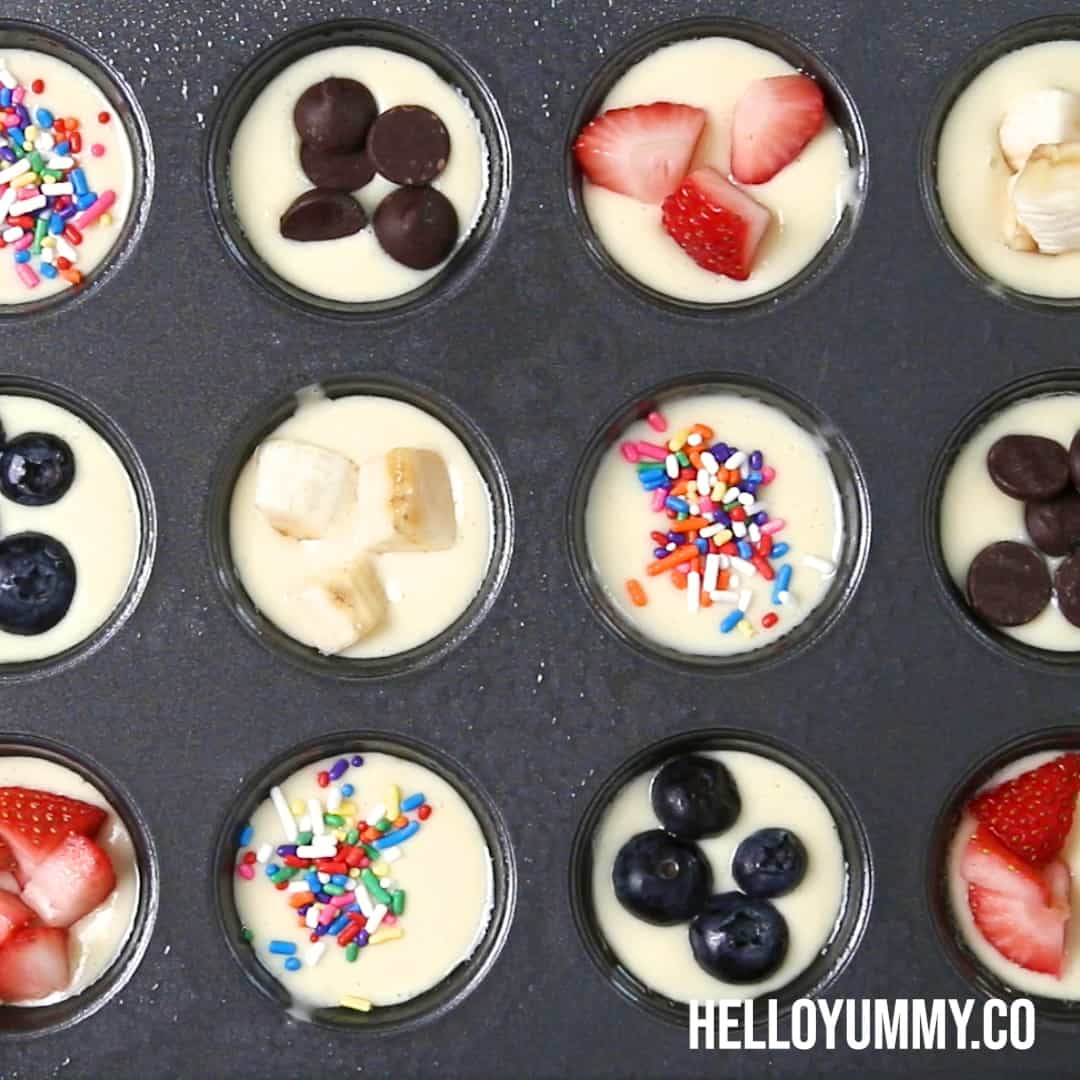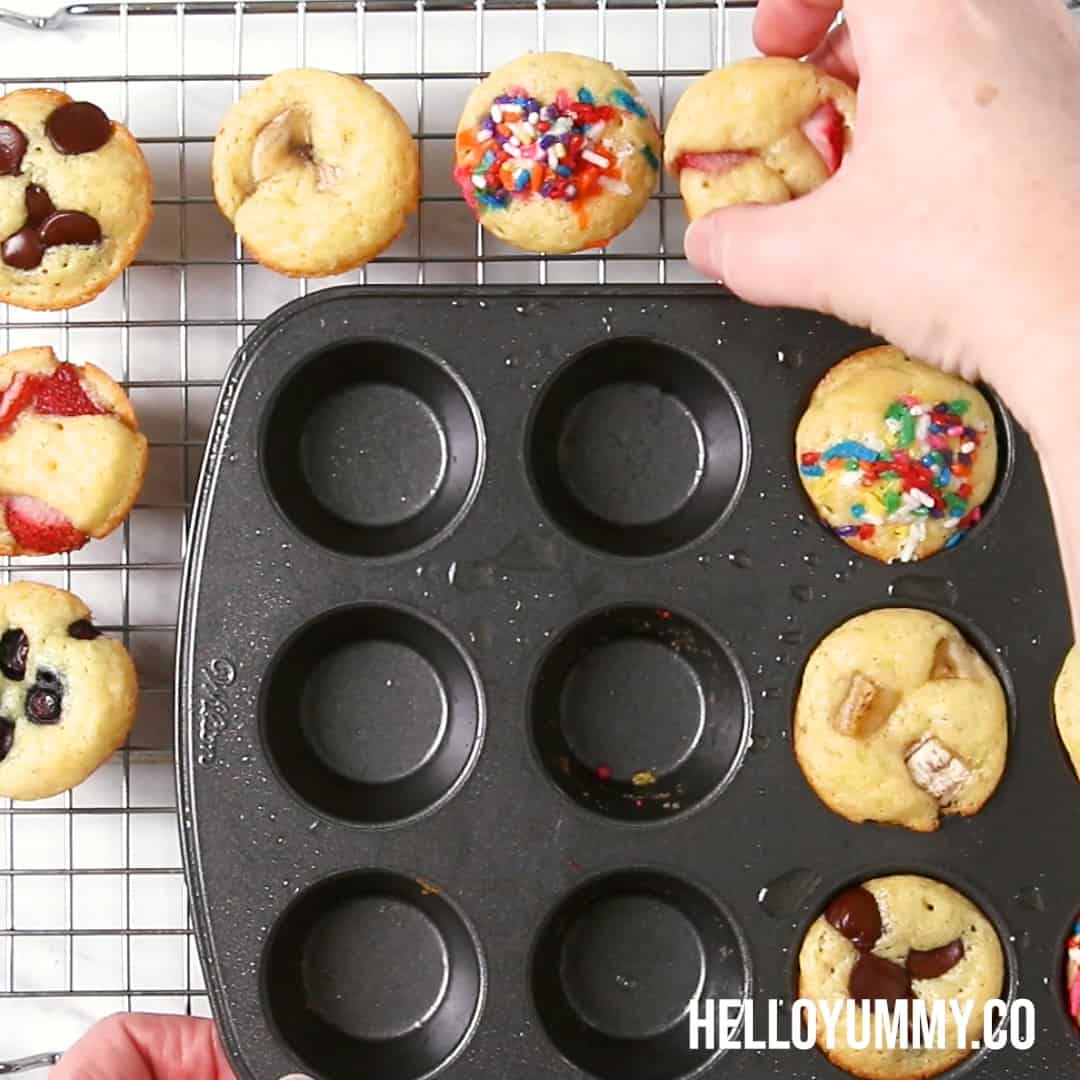 Mini Muffin Pancake Bites Recipe
Ingredients
Your favorite pancake batter

a mix makes these even easier to make

Toppings

e.g. cut up fruit, nuts, sprinkles, chocolate chips, etc

Mini muffin pan

Non-stick spray
Instructions
Preheat the oven to 350 degrees. Spray a mini muffin pan with nonstick spray and set aside.

Prepare your pancake batter and fill each muffin tin a little over half full. Here's the fun part. Get the kids involved in adding their favorite toppings. Use whatever you have on hand in the pantry or fridge. We used strawberries, blueberries, sprinkles, chocolate, and bananas.

Bake in a preheated 350 degree oven until the tops spring back, about 15-20 minutes.
Watch the video below to make these delicious little muffins.
Mini Pancake Bites from Agnes Hsu on Vimeo.
Some More Bite-Sized and Mini Recipes
In my house, we love making mini versions of different foods. It makes food more interesting, easier to handle, and helps to unleash a little bit of my kid's creativity. Plus, who doesn't love bite-sized food that you can eat in one go?
These easy chicken Parmesan bites are one of our favorite "minified" dinners – don't let the bite-size fool you, they're a great source of protein and make the perfect light family fare.
For a mini twist on a classic kid favorite, you have to try these curly fries mini hot dogs – these delicious little dippers are perfect for parties!
You might also like these "Mini" Teddy Bear holding heart cookies. These are so much fun to make with the kids and are always a big hit with the entire family.
Try These Pancake Mini Muffins for Your Next Breakfast
If breakfast is feeling a bit boring these days then it's time to jazz it up with these awesome mini pancake muffins. Get the whole family involved and let the creativity flow with the toppings. All the leftovers can be popped into lunchboxes the next day, or mouths!
If you need a bit more breakfast inspiration, take a look here for more kid-friendly breakfast recipes!