By using this site, you agree to our Terms of Use. This post may contain affiliate links. Read our disclosure policy.As an Amazon Influencer, I earn from qualifying purchases.
Follow us on Instagram for more fun food ideas for kids!
These turkey cookies are a cute Thanksgiving treat kids can make! Package your favorite cookies up to look just like turkeys!
November is a time for gratitude, family, and, of course, delicious Thanksgiving treats!
These cute Thanksgiving turkey cookies are not only adorable but also a blast for kids to make. They're perfect for school parties, family gatherings, or just a fun activity to get into the Thanksgiving spirit.
My 5 year old @DashBakesTheGreats made these for his kindergarten friends and teachers and they were a huge hit!
Follow my 5 year old baker @Dashbakesthegreats for more easy and fun baking for kids! Check out all his recipes here.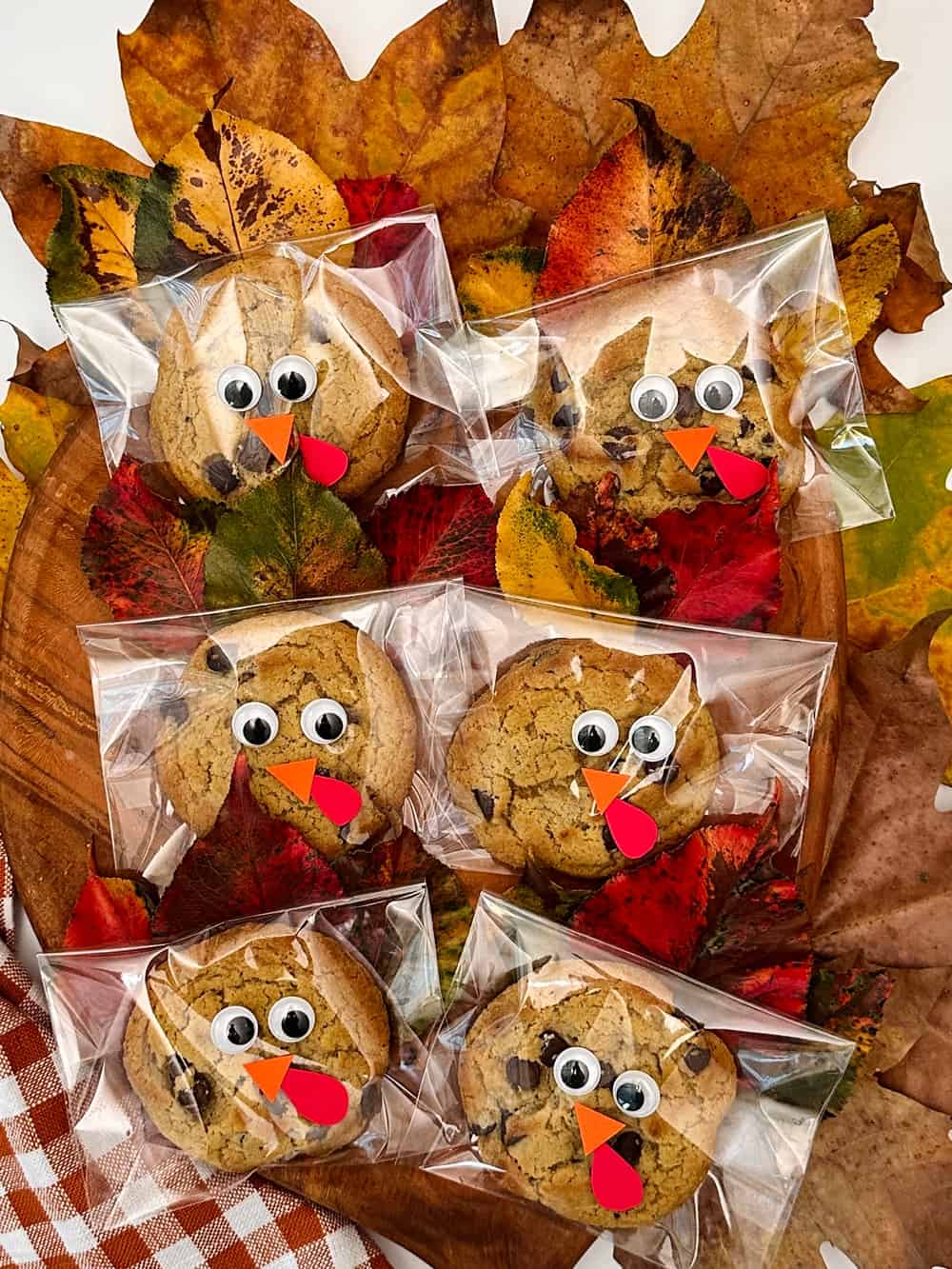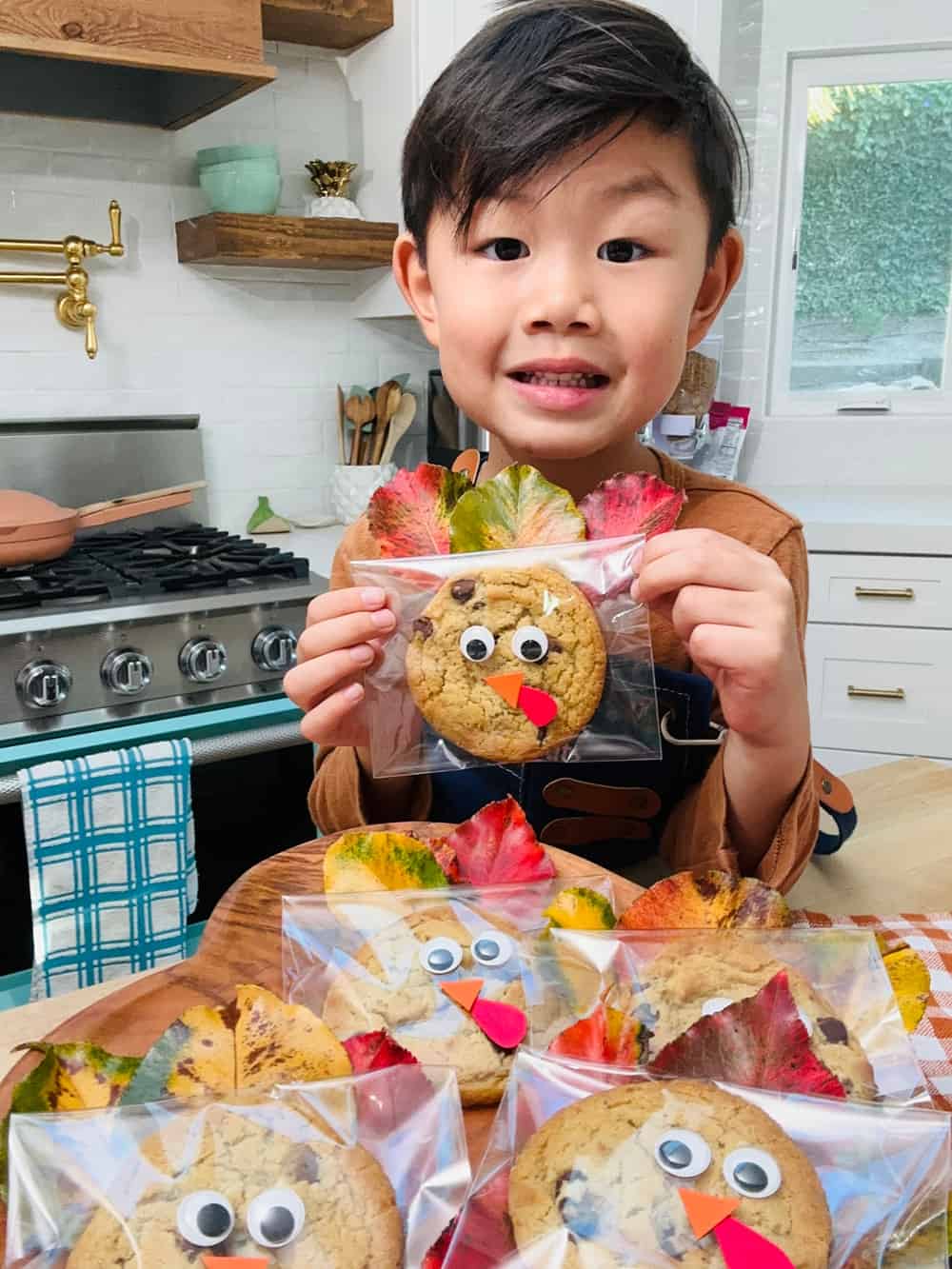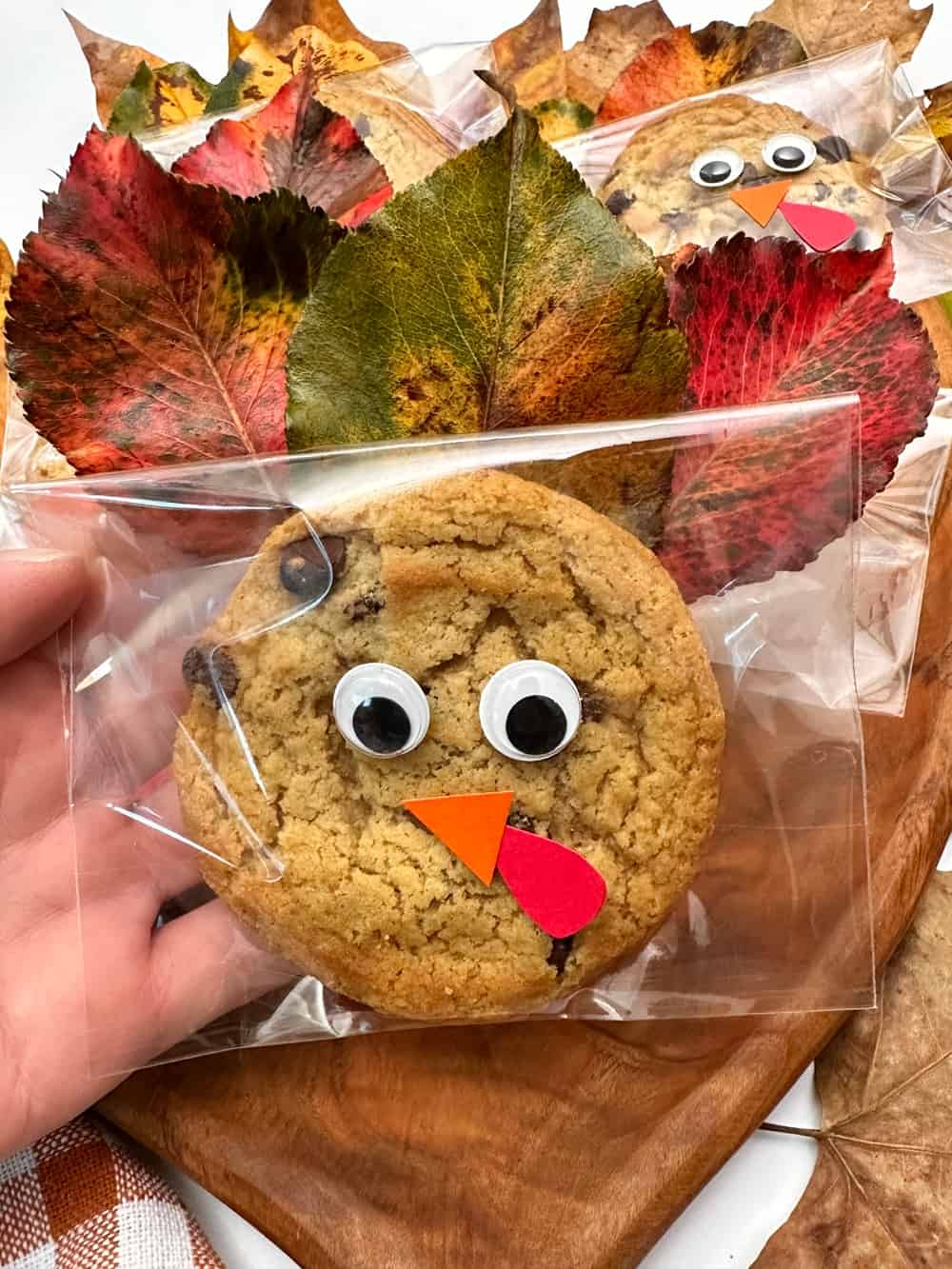 How do you make Thanksgiving Turkey Cookies?
This isn't a recipe per se, you can use store-bought cookies or whip up a batch of your favorite cookie recipe for this. You'll need cello bags (ours were 5″ wide), some red and orange cardstock, and googley eyes.
We used real fall leaves (because they're cheap and plentiful!). Plus, it's a great reason to go on a little nature walk with your kids. We gave these the same day they were made so the leaves didn't have time to brown. Of course, if you're making these in advance, you can use artificial craft leaves.
Thanksgiving Turkey Cookies – Ingredients:
Store-bought or homemade cookies
Clear cello bags (our were 5″ wide)
Googly eyes
Orange and red cardstock paper
Scissors
Glue, double side tape. or glue dots
Fall leaves (real or artificial)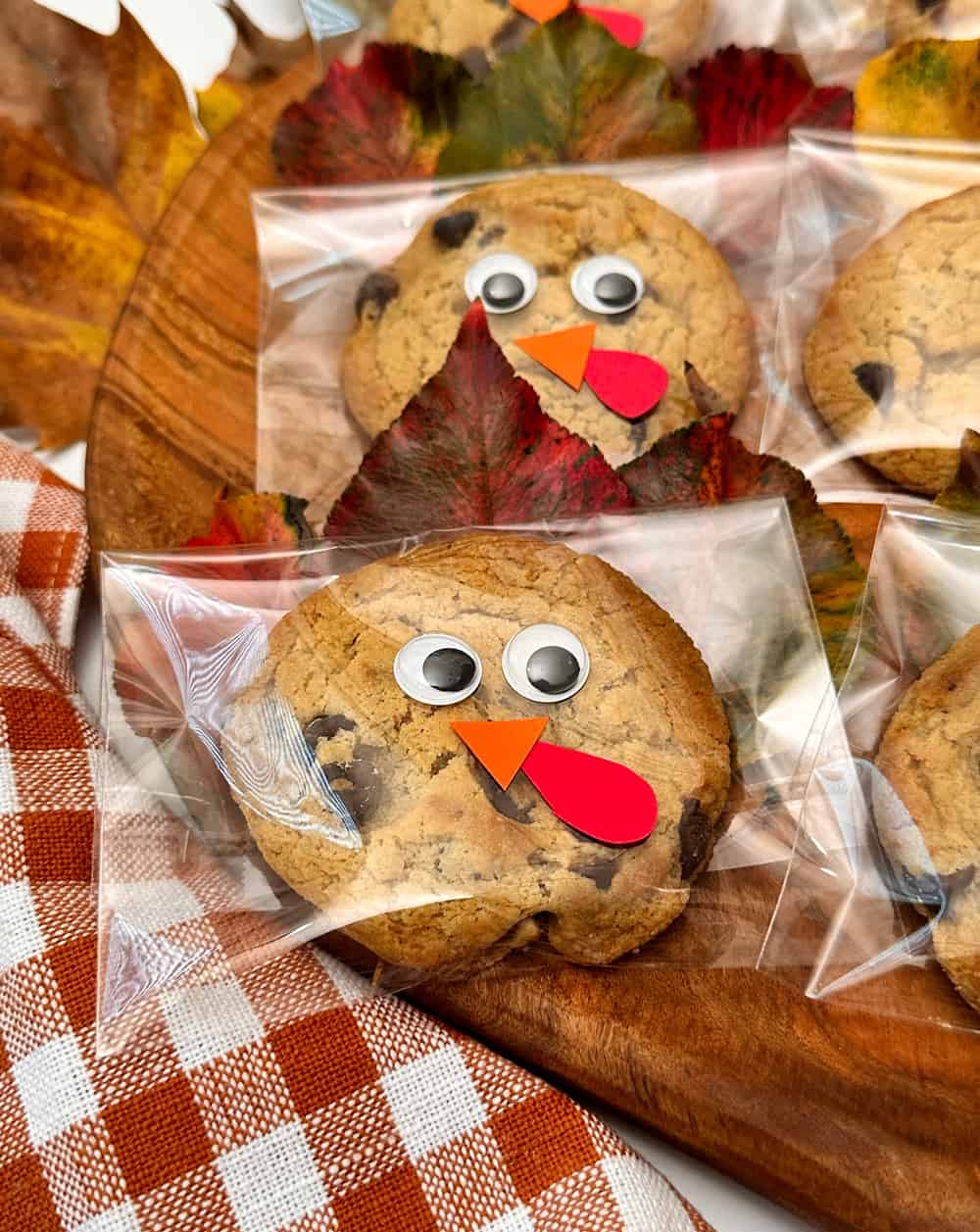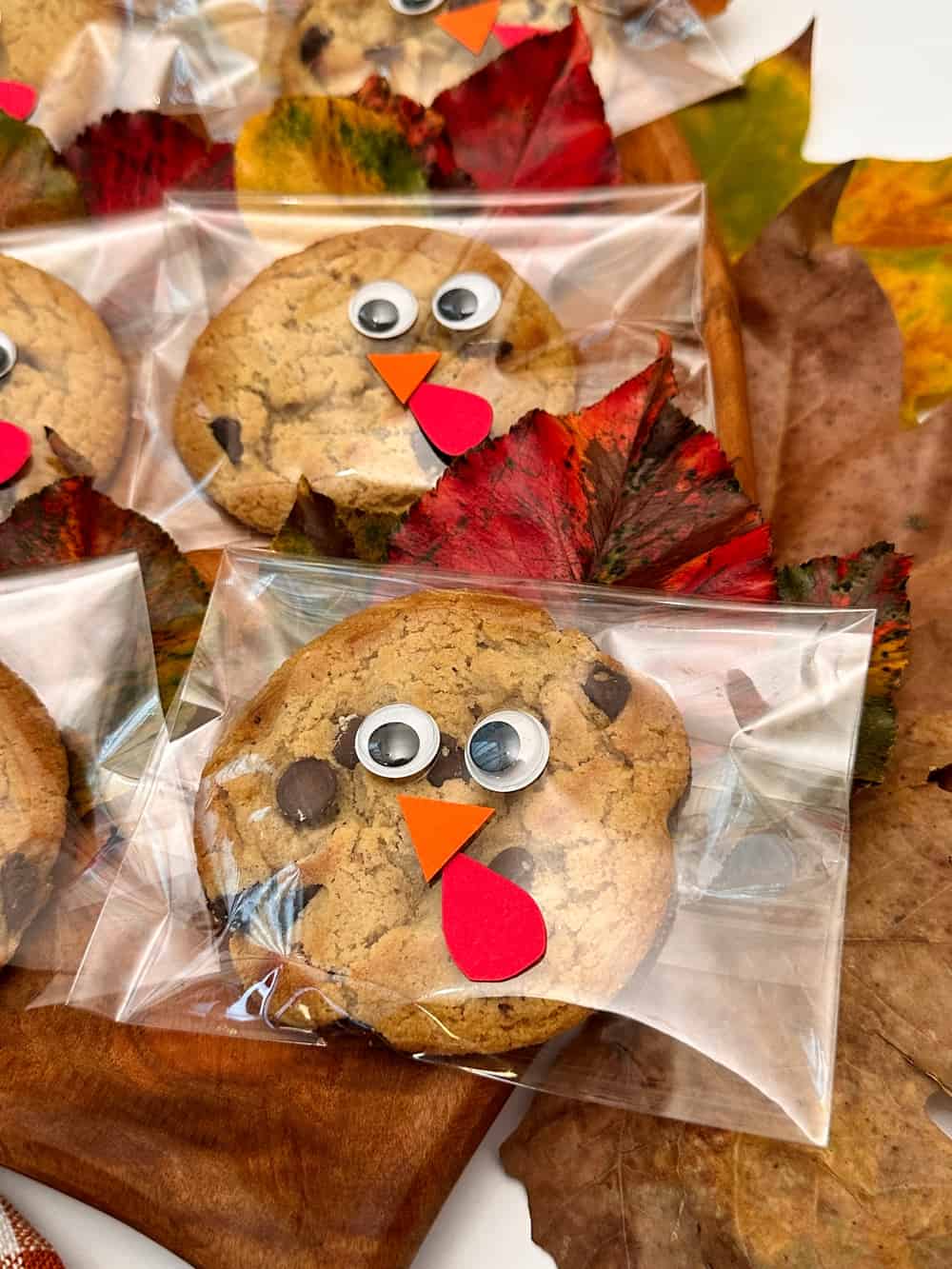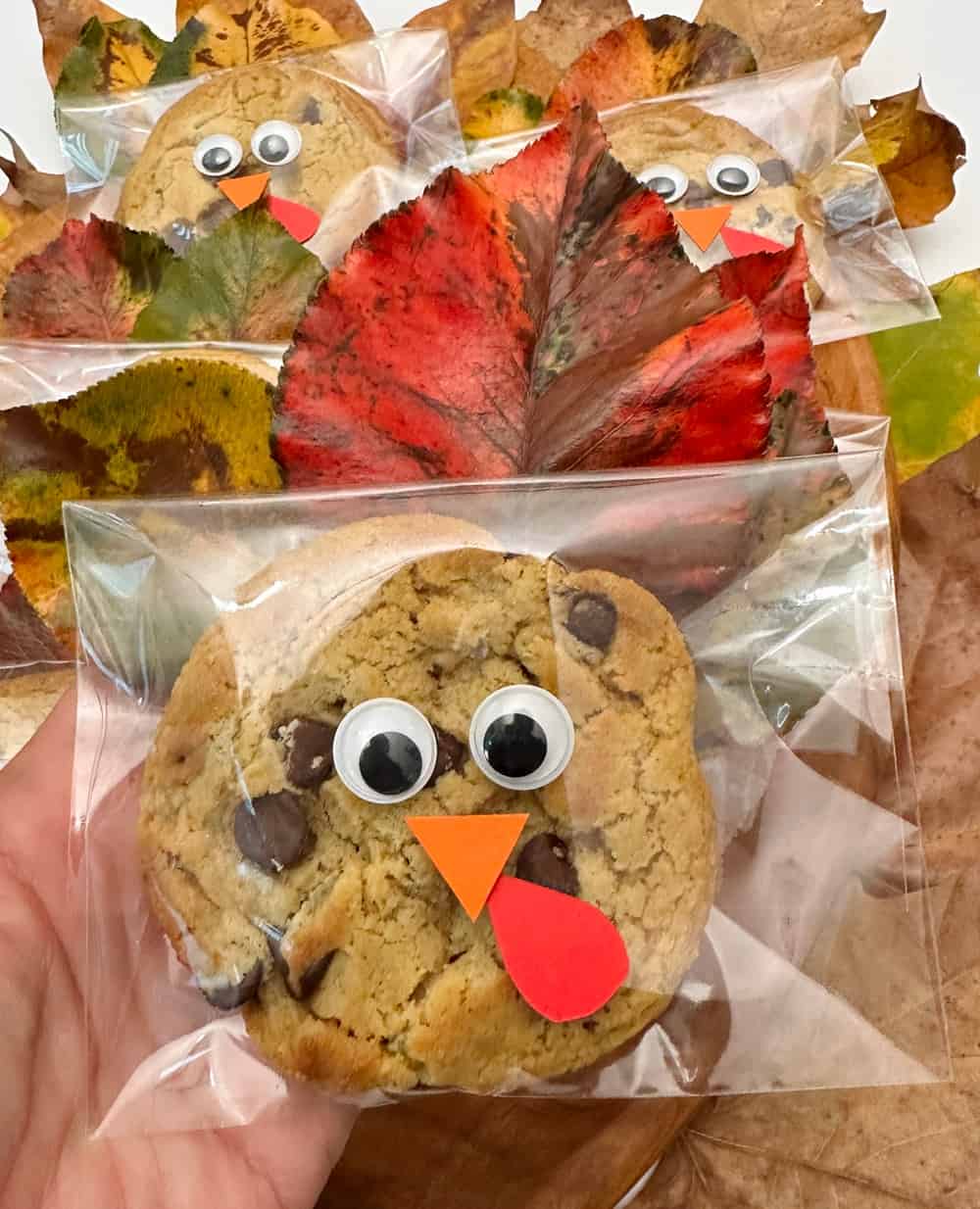 Instructions:
Prepare Your Cookies:

If you're baking your cookies, let them cool completely before starting your turkey creations. For a no-bake option, use your favorite store-bought cookies.

Package the Cookies:

Place each cookie inside a clear cello bag. Make sure the bag is just the right size to fit your cookie snugly. Seal the bag shut; you can use a cute sticker or a piece of tape for extra decor!

Make the Turkey Face:

Cut out small triangles from orange paper to make the beak, and tear-drop shapes from red paper for the wattle. Stick the googly eyes, orange beak, and red wattle onto the outside of the cello bag so that they overlay the cookie and resemble a turkey's face.

Add the Feathers:

For the turkey's feathers, collect a variety of colorful fall leaves. You can take a nature walk with the kids to find the perfect leaves. If real leaves aren't available, feel free to use faux leaves from a craft store.
Tape the leaves to the back of the cello bag so they fan out to look like turkey feathers. Position them at different angles to give a full-feathered effect.

Final Touches:

Once your turkey feathers are in place, your Thanksgiving turkey cookies are ready to be displayed! You can place them on a platter for a festive dessert table centerpiece or hand them out as party favors.
These turkey cookies are more than just a treat; they're a crafty way to engage children in the holiday prep! Not only do they get to play with their food, but they also get to express their creativity by choosing their leaves and assembling their turkey faces.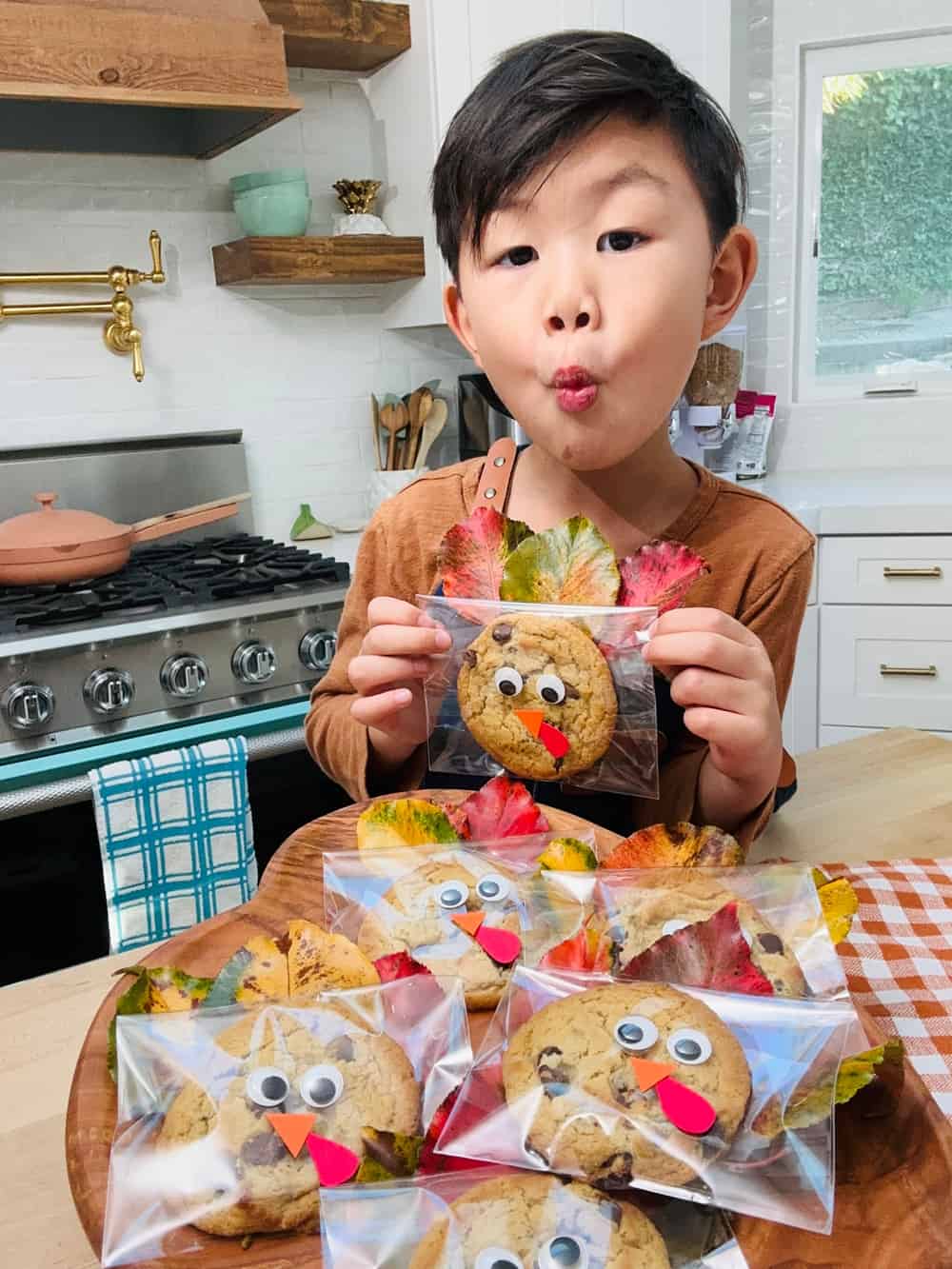 Tips:
If you're using real leaves, make sure they are clean and dry. If making this food craft in advance we suggest using faux leaves.
You can also use paper leaves, which can be cut out in different shapes and colors.
Conclusion
Whether you're a parent teacher or someone who just loves crafting, these turkey cookies are a delightful addition to your Thanksgiving holiday. Kids will love making these turkey-tastic treats!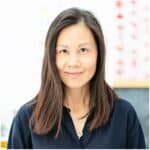 Agnes Hsu is a mom of three and has been inspiring parents and kids to get creative with easy activities and family friendly recipes for over 10 years. She shares her love for creative play and kids food to her 2MM+ followers online. Agnes' commitment to playful learning and kindness has not only raised funds for charity but also earned features in prestigious nationwide publications.