Originally posted: May 22, 2020
Follow us on Instagram for more fun food ideas for kids!
This tasty, cute Muffin Tin Pizza comes together in minutes when you need a quick and easy dinner for kids that tastes like mini deep dish pizza!
My kids think pizza is a food group. Don't judge but we have it for dinner at least 2-3 times a week. I get tired of making the same pizza over and again, so one way I've tried to spice things up is to make pizza in different forms. Like pizza hand pies which are great for on-the-go or packing for lunch.
Or spinach artichoke pizza for a different flavor mix than traditional cheese and pepperoni. And even breakfast pizza for when you want to have brunch for dinner.
We've even made rainbow unicorn pizza! Because pizza is wonderful in all its possible forms. And really just so versatile and able to fit every different taste.
This muffin tin pizza is an incredibly cute and easy way to make pizza in half an hour or less when you need a super quick dinner your kids will love!
They make great leftovers for kids' lunch the next day, just heat up in a toaster oven or for a minute in the microwave.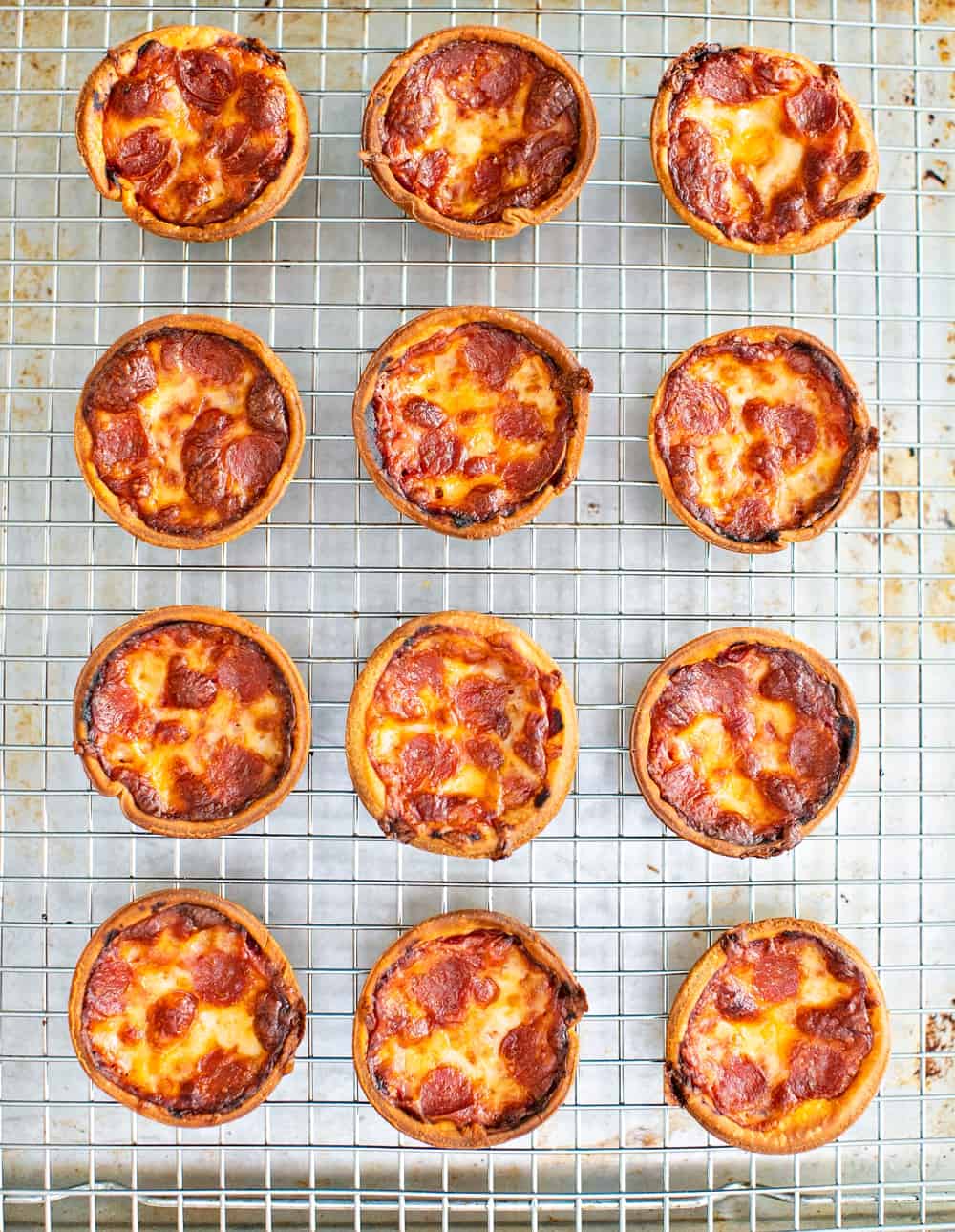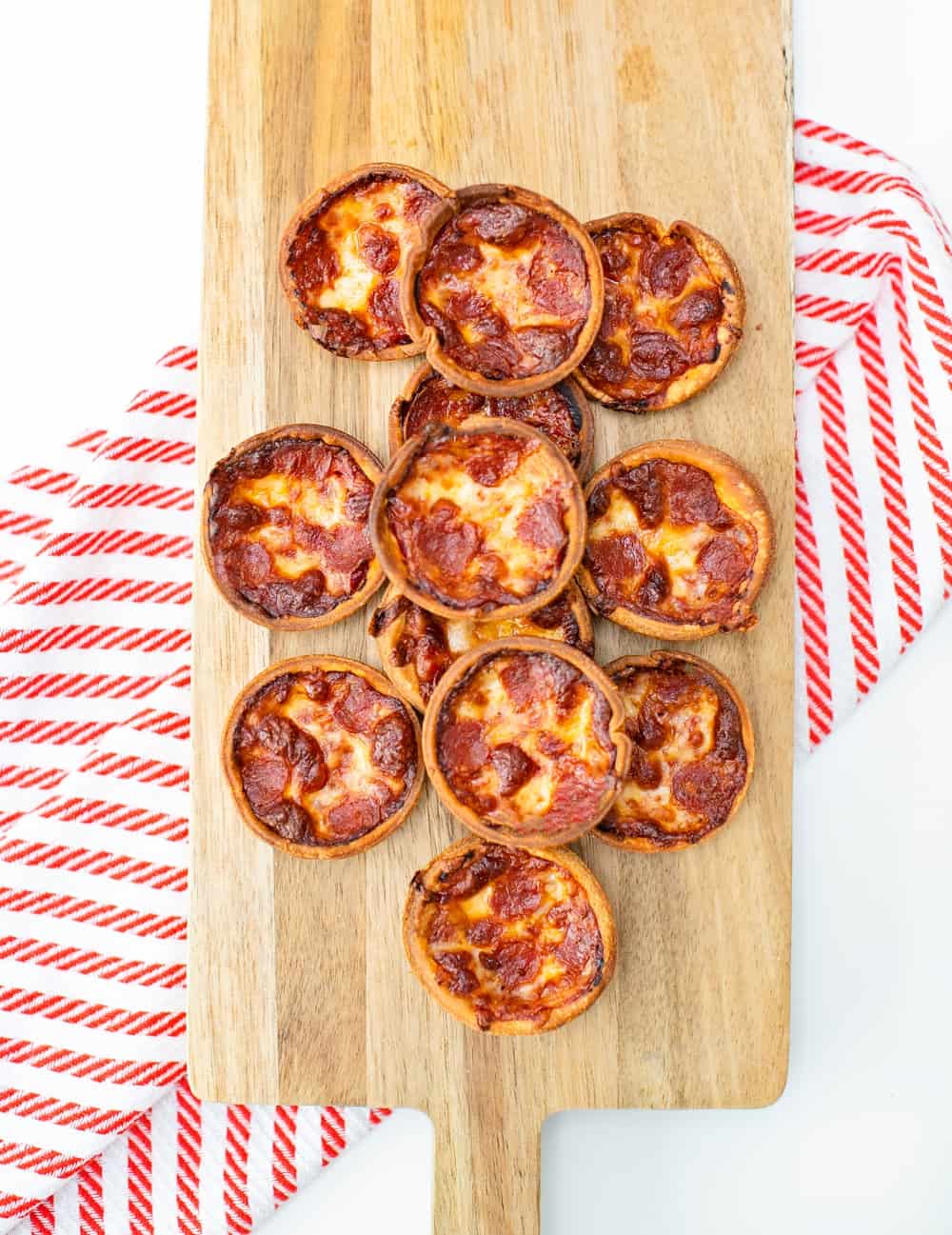 Do I Need to Make my Own Pie Crust to Make These Muffin Tin Pizzas?
No! That's the beauty and ease of this yummy recipe. We made them using refrigerated ready-made pie crust. Placed over a muffin tin for the pizza dough, they bake up like mini muffin tin deep dish pizzas!
The crust gets golden and crisp so it's not doughy like traditional pizza dough.
With a handful of ingredients like pizza sauce, cheese and pepperoni, you're on your way to making these adorable and delicious mini muffin tin pies in no time!
How Can I Cater to my Family's Individual Tastes?
One of the best aspects of these muffin tin pizzas is that each and everyone can be different and unique! If your kids (or you) like different toppings on your pizza, then add them to your individual mini pizza.
One can have olives, another can have onions and another – jalapenos. You can even change up the base ingredients, and make some with pepperoni, and others with chicken or bacon. So feel free to play around with it, so that your family can have exactly what they want in their pizza cups.
A great way to do this is to get the kids involved in making their own muffin pizza. You can chop up the ingredients and set them out for the family. Then the kids can add exactly what they want, so you won't see any long faces.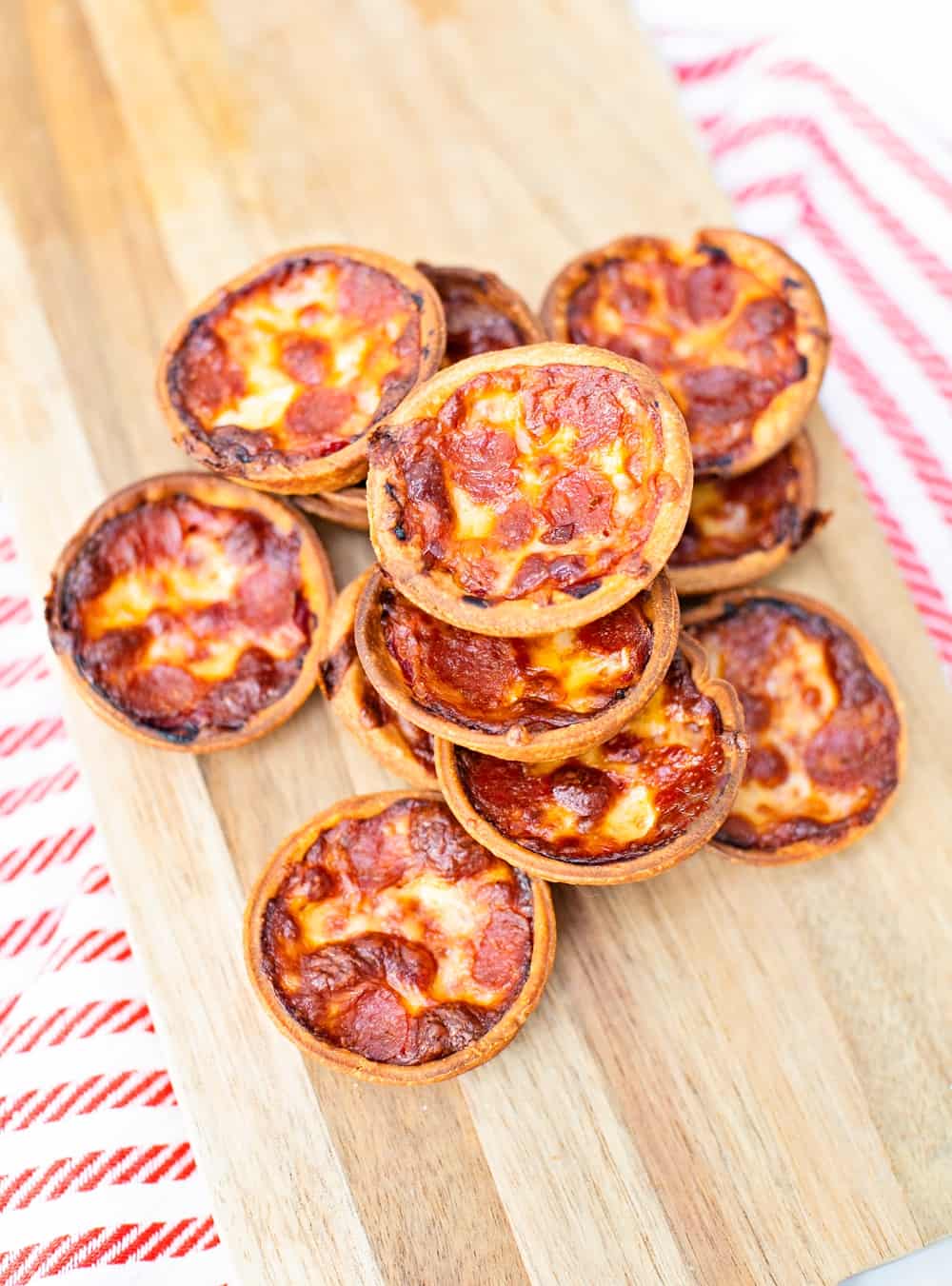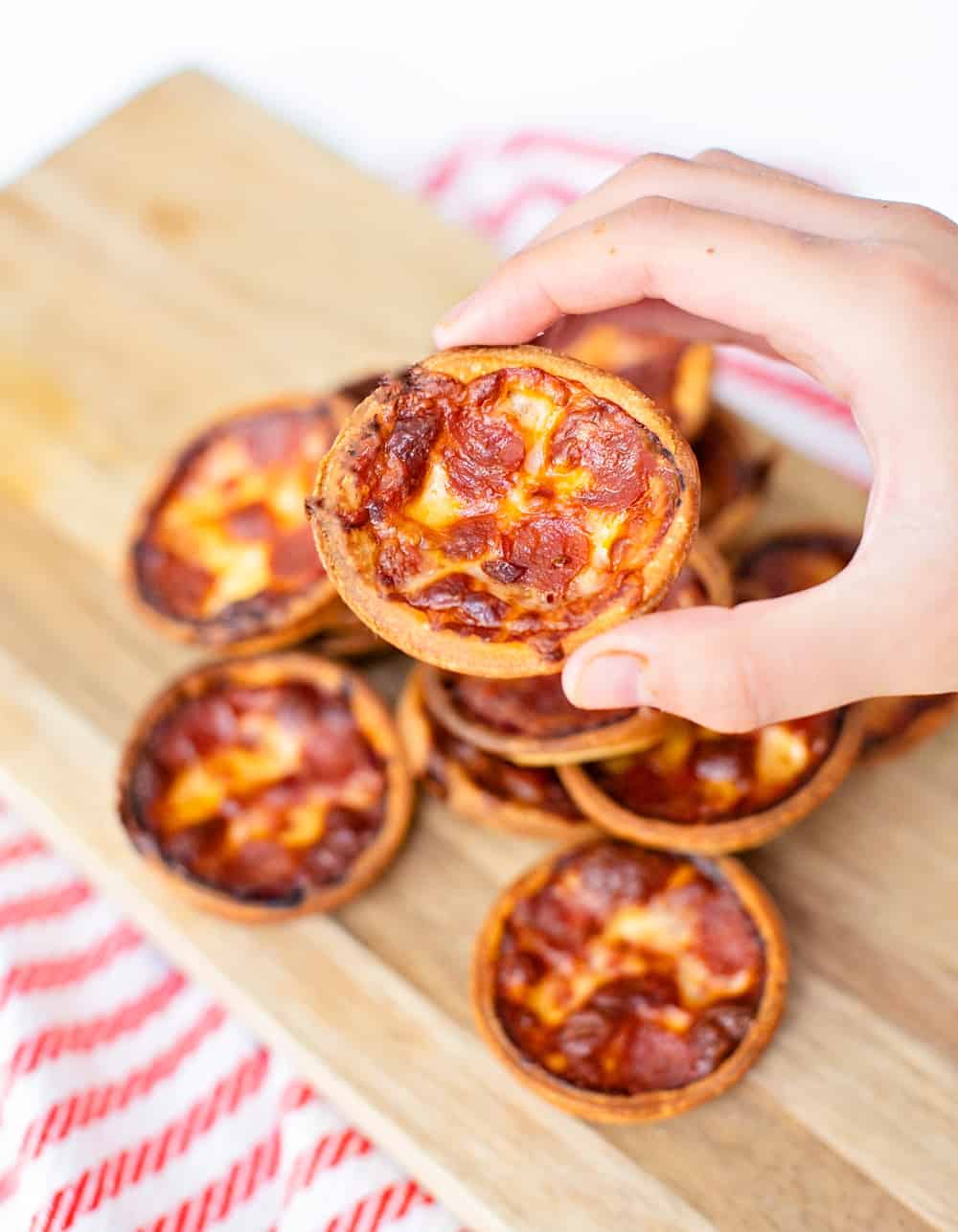 Pizza Muffin Recipe – Ingredients:
One refrigerated pie crust rolled out *see note
1/4 cup of pizza sauce
12 Tbps of shredded mozzarella cheese
3 regular sized pepperoni (cut in pieces to fit 12 mini muffin tin pizzas)
Nonstick spray
*Note: We used Trader Joe's pie crust that comes in a two-pack for 22 oz total, so one pie crust is 11 oz if you are using a different brand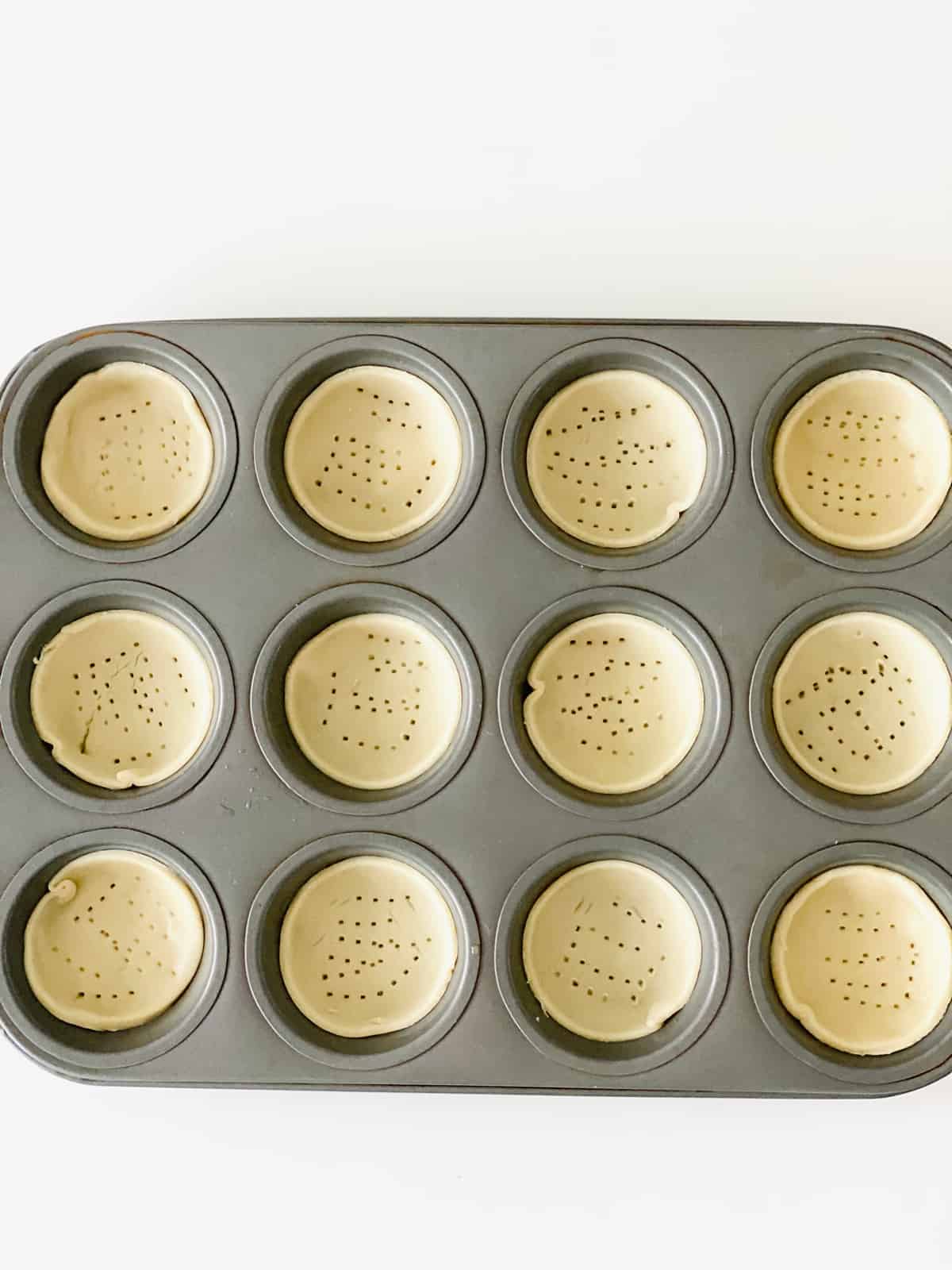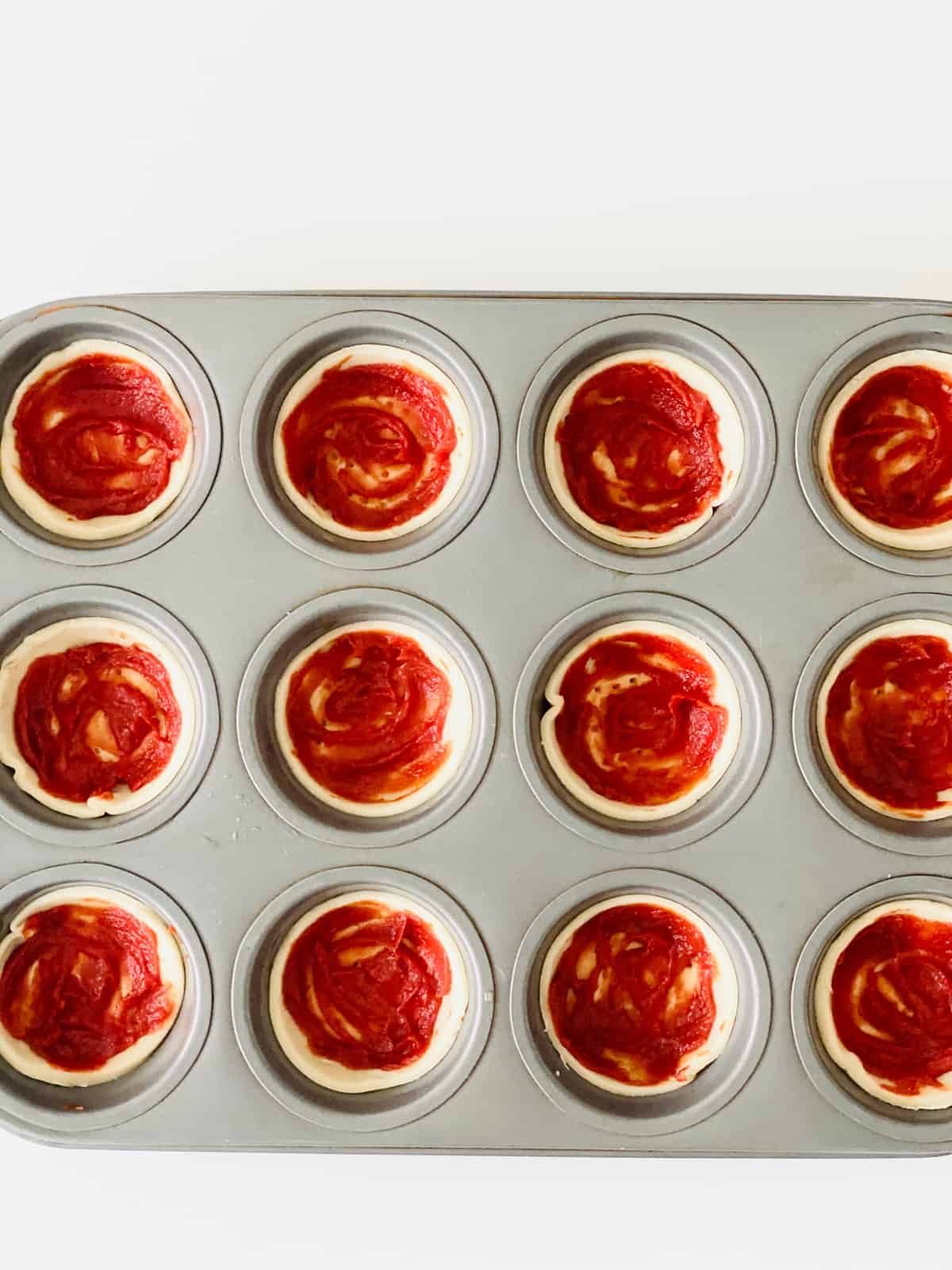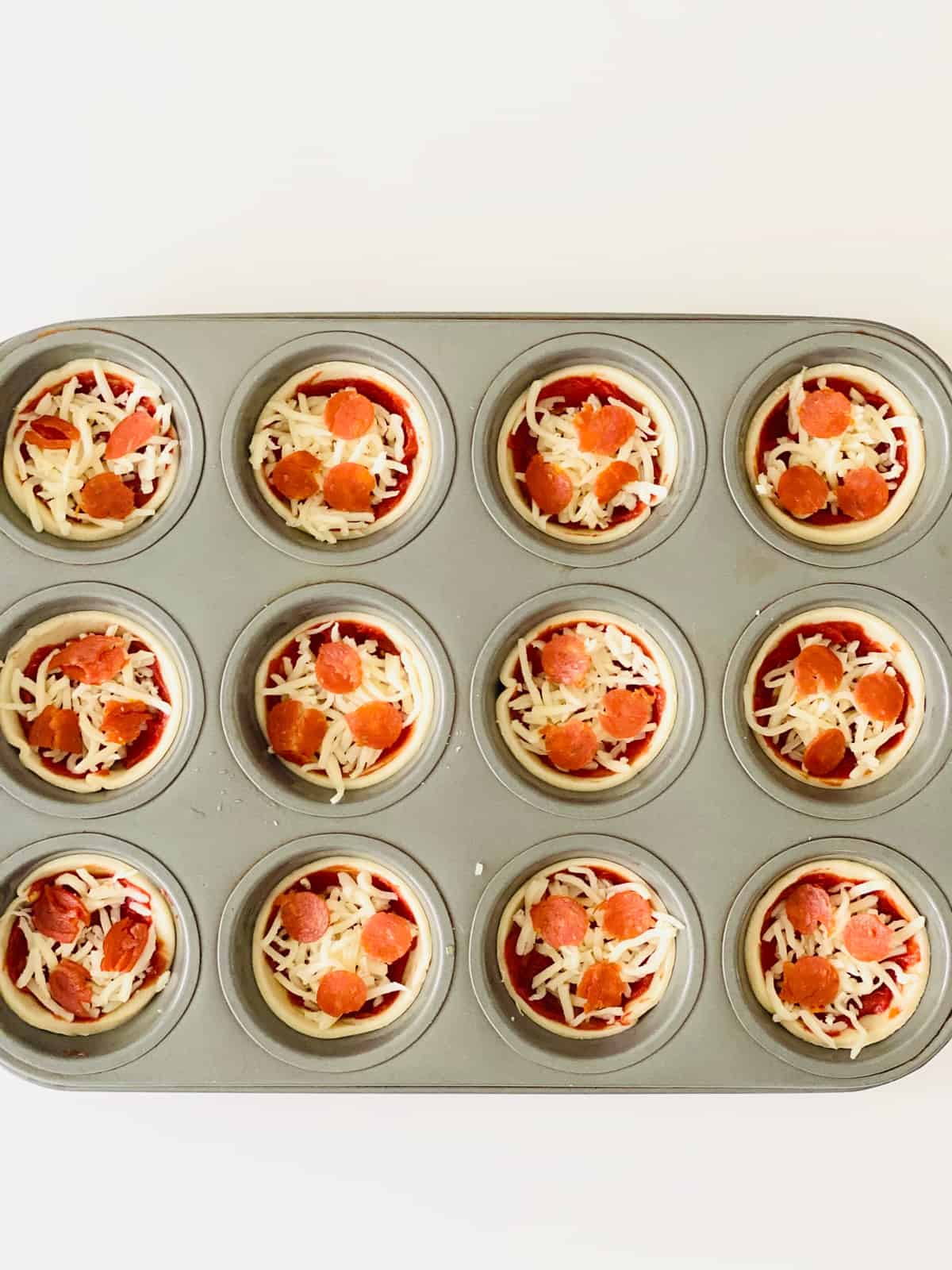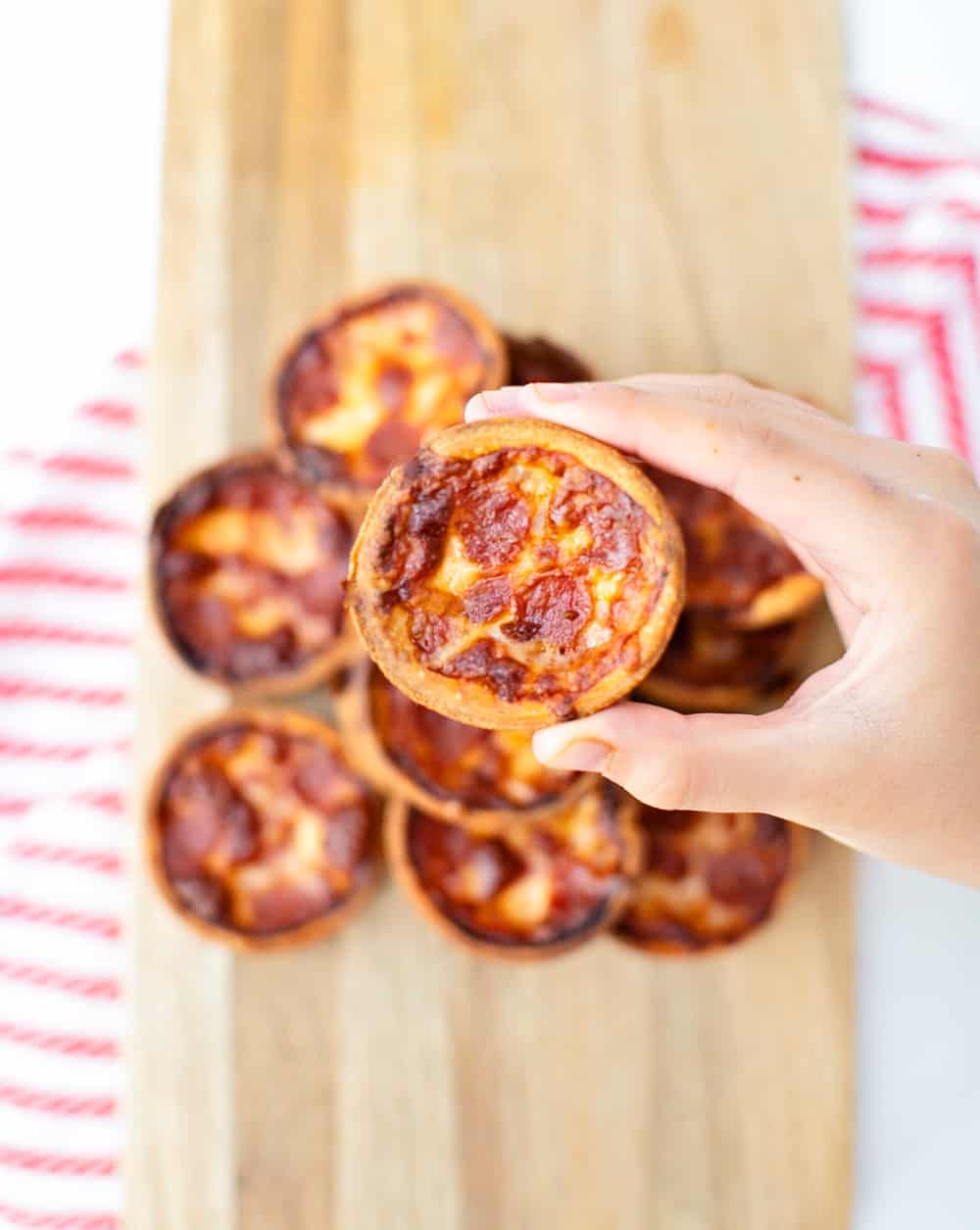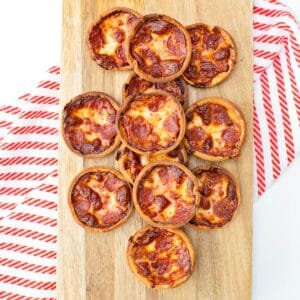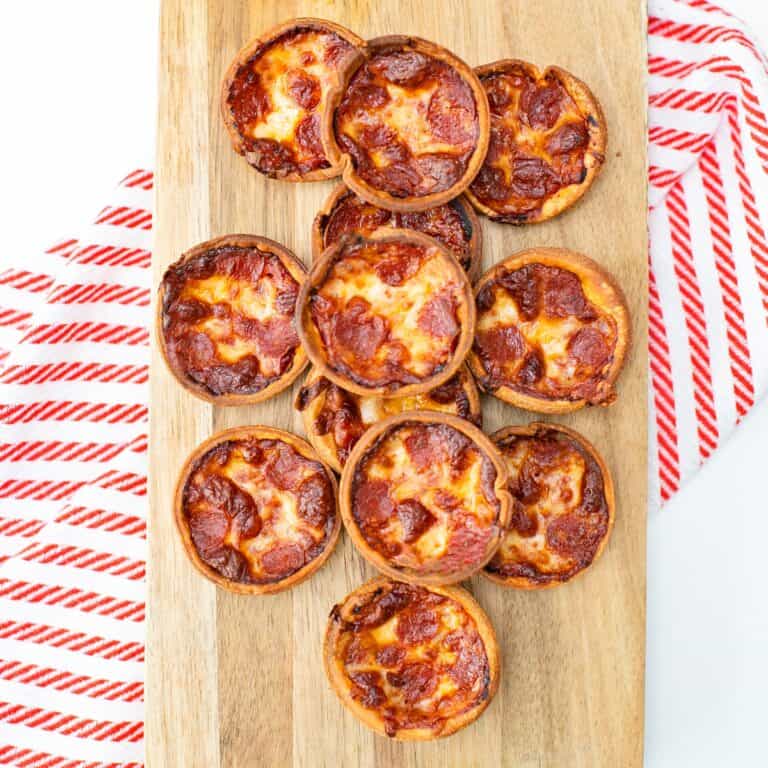 Muffin Pan Pizza
This tasty and cute Muffin Tin Pizza comes together in minutes when you need a quick and easy dinner for kids and tastes like mini deep dish pizzas!
Ingredients
1

11oz

Refrigerated pie crust

Rolled out

1/4

Cup of pizza sauce

12

TBSP

Shredded mozzarella cheese

4

Regular sized pepperoni

cut in pieces and divided to fit 12 mini muffin tin pizzas

Nonstick spray

3 inch round cookie cutter
Instructions
Unroll your pie crust and use a rolling pin to flatten a bit so the crust is between 1/8" to 1/4" thick.

Use your 3" round cookie cutter to make 12 circles of dough. You may need to re-roll crust scraps.

Place each pie round inside a muffin tin cavity and lightly press up on the sides. Prick with a fork.

Add 1 teaspoon of sauce on top of each muffin tin cavity and 1 Tbsp of cheese and top with cut pepperoni. We had about 4-5 mini pieces on top we cut from 4 large ones (which should be enough to top 12 muffin pizzas).

Bake in the oven for about 15 minutes until the cheese is bubbly and sides of pie are crisp. Take out of the oven and allow to cool before removing.
Ready to Make this Muffin Tin Recipe?
This delicious muffin tin dinner recipe is sure to put a smile on your kid's faces. Children generally love pizza in all its forms, so this mini version is always a hit.
Best of all, they're completely customizable. Get the kids into the kitchen, and get creative with this delicious muffin pan dinner recipe. You really cannot go wrong with such tasty ingredients, so play around with it! Your whole family will soon know that the kitchen is a place for fun and invention, as well as delicious treats.
You might also like: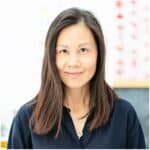 Agnes Hsu is a mom of three and has been inspiring parents and kids to get creative with easy activities and family friendly recipes for over 10 years. She shares her love for creative play and kids food to her 2MM+ followers online. Agnes' commitment to playful learning and kindness has not only raised funds for charity but also earned features in prestigious nationwide publications.