By using this site, you agree to our Terms of Use. This post may contain affiliate links. Read our disclosure policy.
Follow us on Instagram for more fun food ideas for kids!
Spider cookies are an easy and spooky Halloween treat kids can make with just 4 easy ingredients!
If you're a fan of Halloween, then you're going to love these spider cookies! These little spiders are so cute, and they make a delicious treat. Kids and adults will love them!
Additionally, they are relatively easy to make, so you can indulge in your Halloween baking ideas without much fuss. Moreover, they make a great gift for your friends and family.
Many people love cookies, so these spiders are sure to be a big hit. You can even customize them to make them all look different.
Kids will love helping you make these cookies, and they will have a lot of fun shaping them into their favorite spiders. My 4 year old @DashBakesTheGreats had a great time making these!
If you're feeling creative, you could even bake them in different colors! Some people even put different toppings on their spiders, like candy or Nutella. It's all up to you! Let's get started!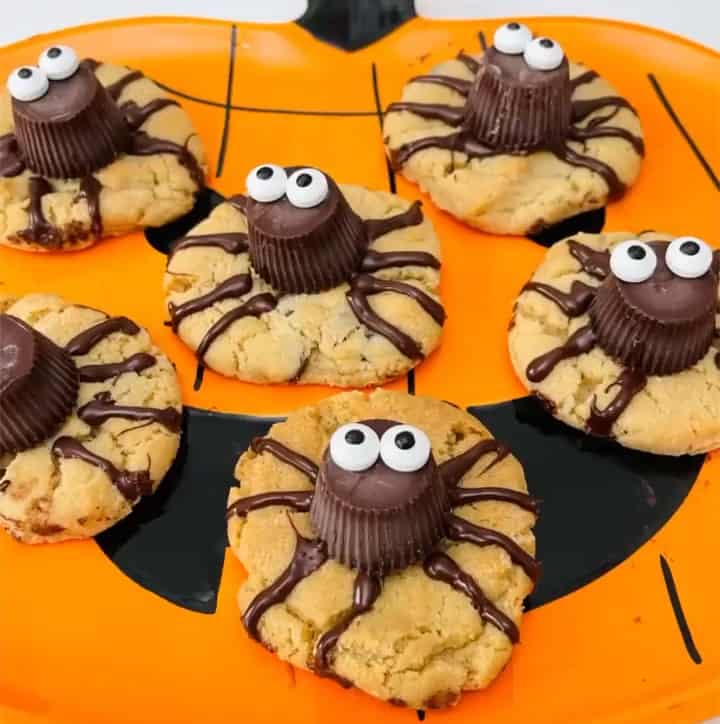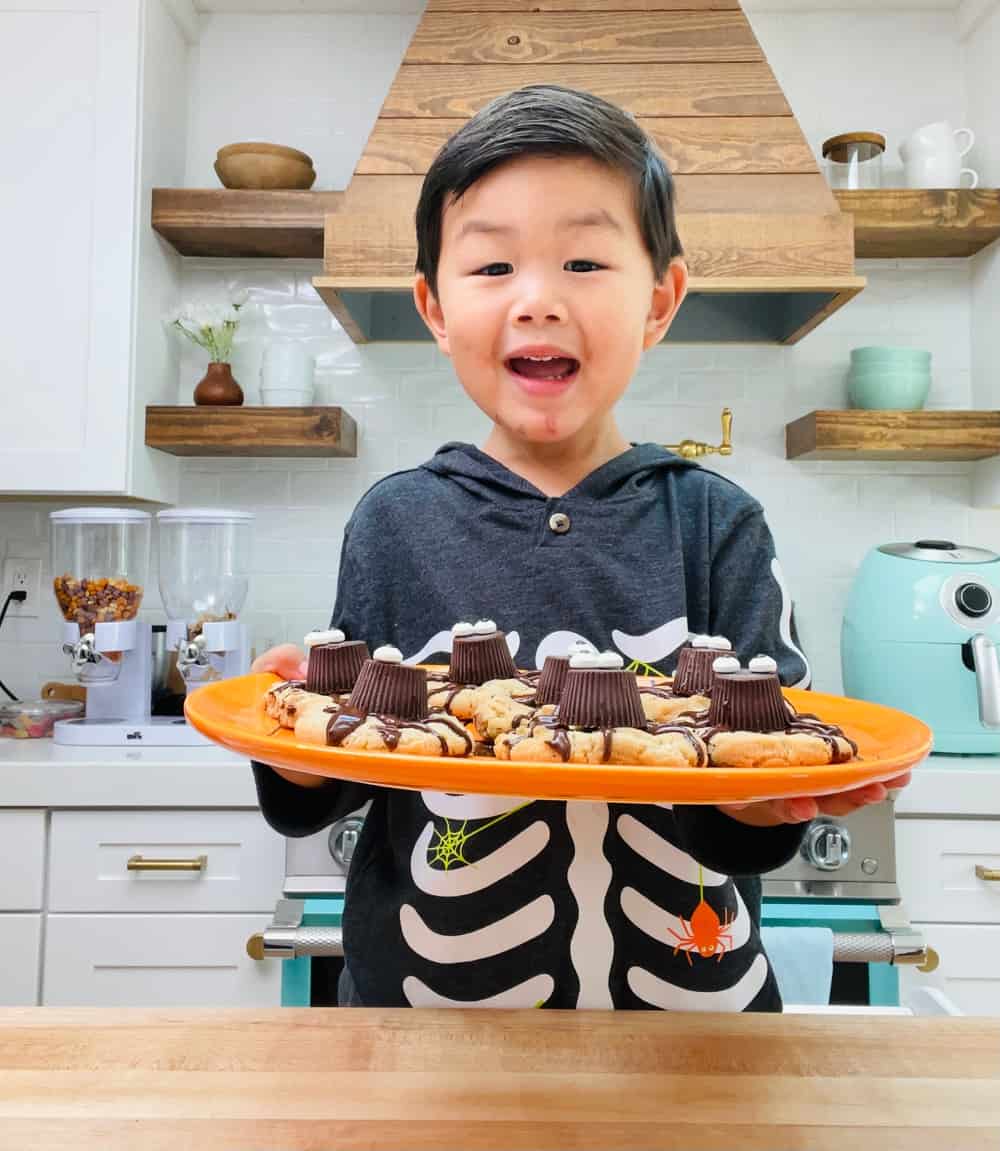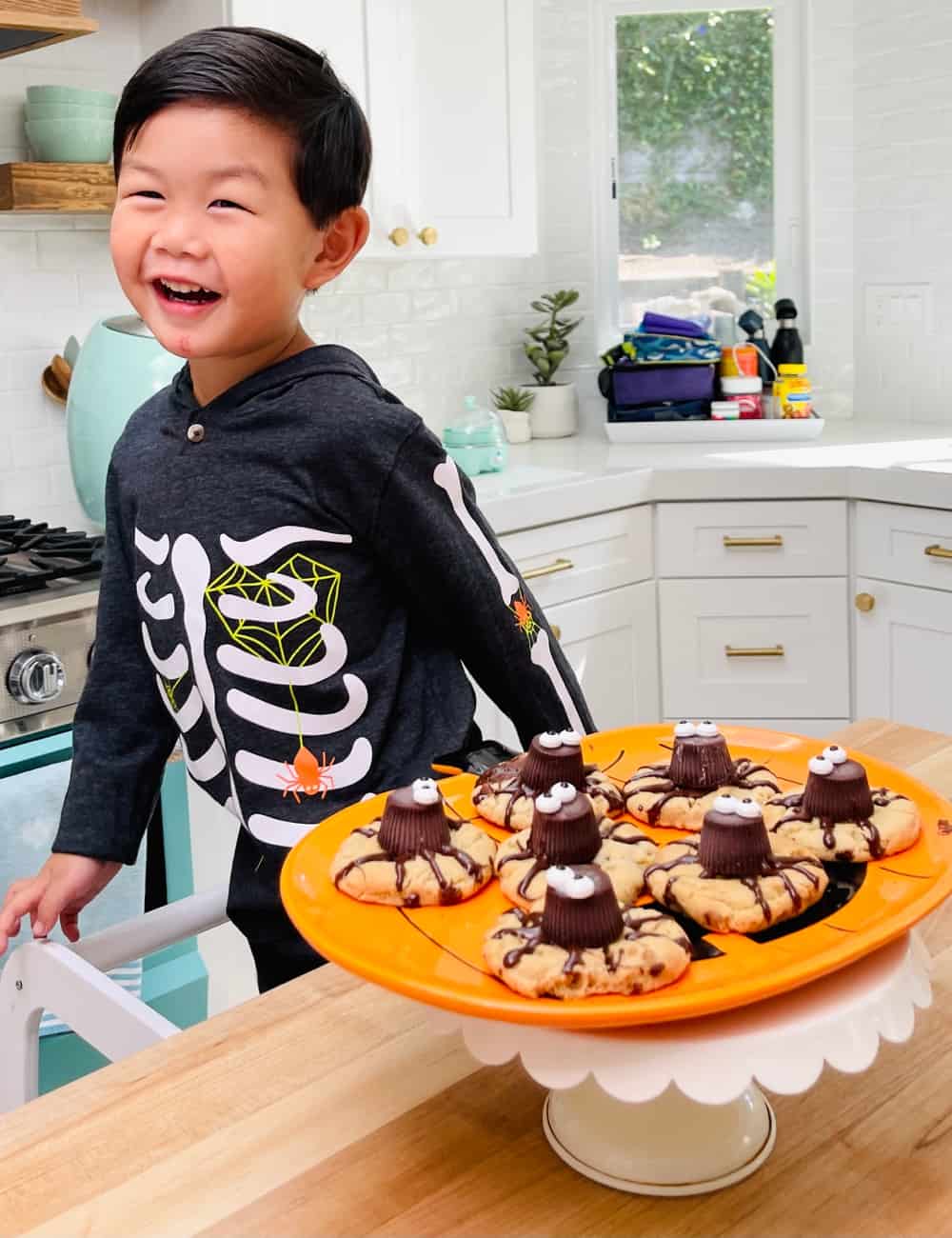 Spider Cookie Ingredients
Your favorite cookies (peanut butter or chocolate chip work great!) either store bought or homemade
Peanut butter mini cups
Melted chocolate
Candy eyes
How to Make Eerie Spider Cookies
Step One: Build the Body
First, take a peanut butter or chocolate chip cookie (homemade or store-bought is fine!) and add a dab of icing and melted chocolate in the middle. Once you have done this, place a mini peanut butter cup over the center of the cookie to act as the spider's abdomen. This way, the cookies will be visually appealing and will taste great.
Step Two: Make the Legs
For this next step, add some melted chocolate to create 8 legs emerging from the spider's body. Then, add some googly eyes over the spider's body near the top, with either icing or melted chocolate, and you are done!
If you want to, you can also add some miniature chocolate chips, chopped nuts, or sprinkles for a colorful touch on top of the spider!
Step Three: Add the Finishing Touches
For a more spooky look, you can add some green, red or black gel icing to the melted chocolate to create a more sinister spider.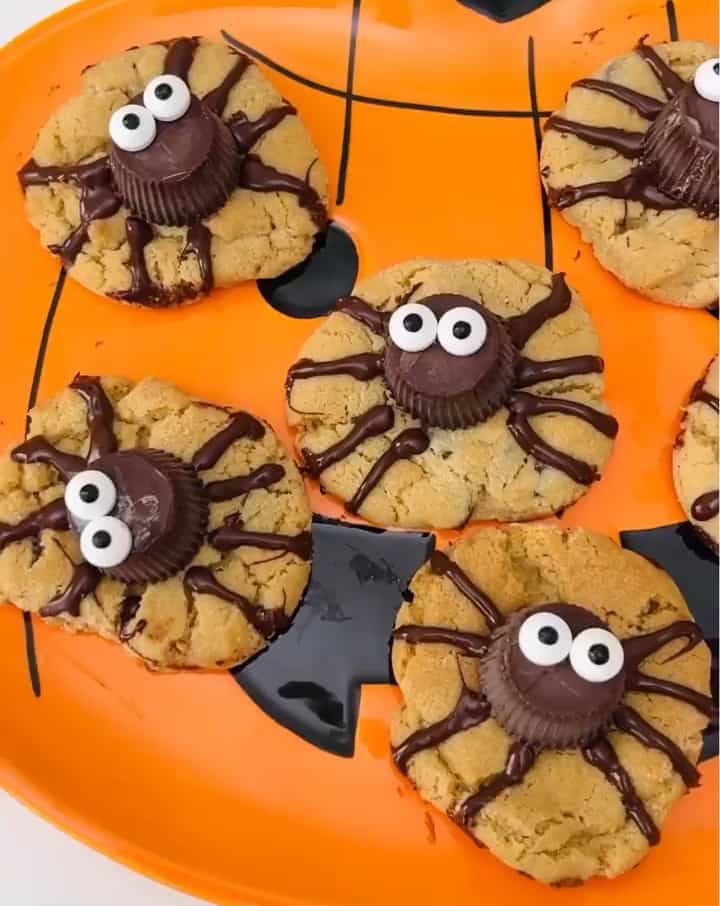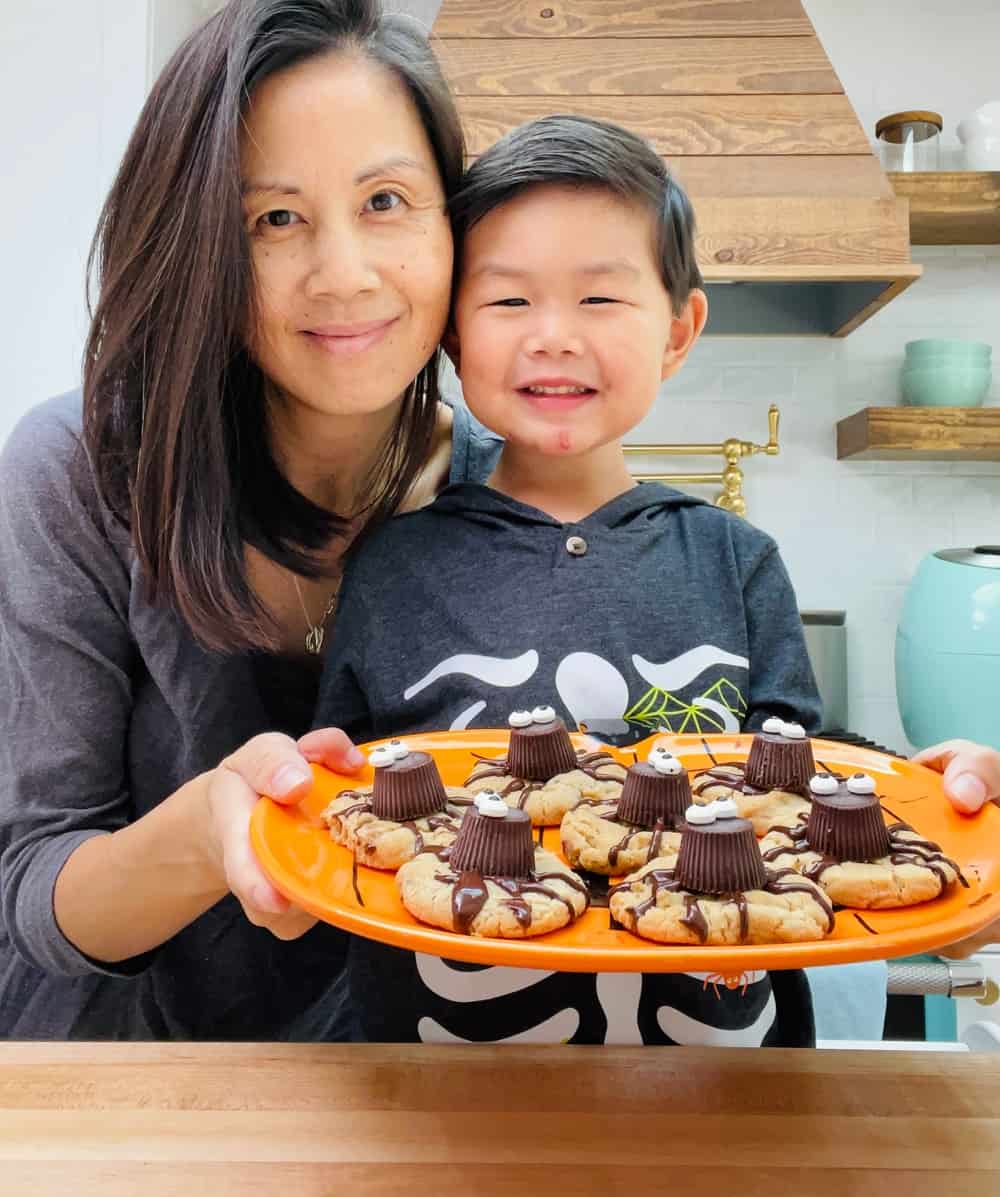 Why Spider Cookies are Great for Halloween
Spider Cookies are spooky and delicious
These delicious little treats are perfect for a Halloween celebration. Not only are they spooky and fun-looking thanks to the peanut butter cup, but they're also packed with flavor.
They taste great as is or you could add some additional toppings if you like. Whatever you do, don't forget to bring them along to your costume party!
They're easy to make
Another great thing about spider cookies is that they're really easy to make. You don't need any advanced baking skills, just some chocolate and peanut butter cups!
Plus, they're small so you can easily take them along with you on your Halloween outing. This is the perfect recipe to start your Halloween baking traditions.
Kids will love them
If you're looking for a Halloween recipe that is both fun and delicious, you can't go wrong with spider cookies. Kids will love seeing these creepy little treats on their table and eating them up.
They're also easy enough for the little ones to make and decorate themselves, so they can be part of the fun too. This is the perfect recipe to get your Halloween party started!
They're a great way to get in the Halloween spirit
Many people think of Halloween as a time to binge-watch horror movies and dress up in ridiculous costumes. While those are great activities, there's nothing wrong with getting creative.
Not only are they visually stunning, but they're a fun treat the whole family will make that will have you feeling right at home on October 31st!
They are very Customizable
Another great thing about spider cookies is that they are very customizable. You can make them as spooky or cute as you like. You could even make the legs a different color with red or orange icing!
Candy eyes also come in many different sizes and colors to add variations.
How to Make Spider Cookies More Scary
Add some Fangs
Fangs add an extra level of creepiness to your Spider Cookies, making them more fun for both young and old alike.
You could cut bits of white marshmallows into fang shapes and press them onto the face!
Add some Blood
Adding some red icing as blood to spider cookies will make them look and taste even scarier! This simple addition will transform treats into spooky snacks that are sure to drive your friends wild.
Just smear a little bit of gel on each Spider Cookie to the sides of its face.
Add some Webs
Try adding some Webs around your cookie plate! Webs add an extra dose of creepiness to any celebration, and they're a great way to turn ordinary cookies into something truly frightening.
Many online craft places sell fake spiderwebs or make your own form paper cutouts.
Use Dark Cookie Dough
Dark cookie dough is perfect for adding tons of darkness and terror to your cookies. A dark coco or chocolate base cookie would be extra spooktacular!
Just be sure not to overdo it – too much dark cookie dough can make your spiders look more sinister than sweet, but that depends on the person!
Takeaway
Spider cookies are a delicious treat that will transform into something truly spooky when you add blood, webs, and dark cookie dough.
Whether you're celebrating Halloween or any other occasion, these cookies are sure to impress your friends and family.
Happy baking, and enjoy your spiders this Halloween season!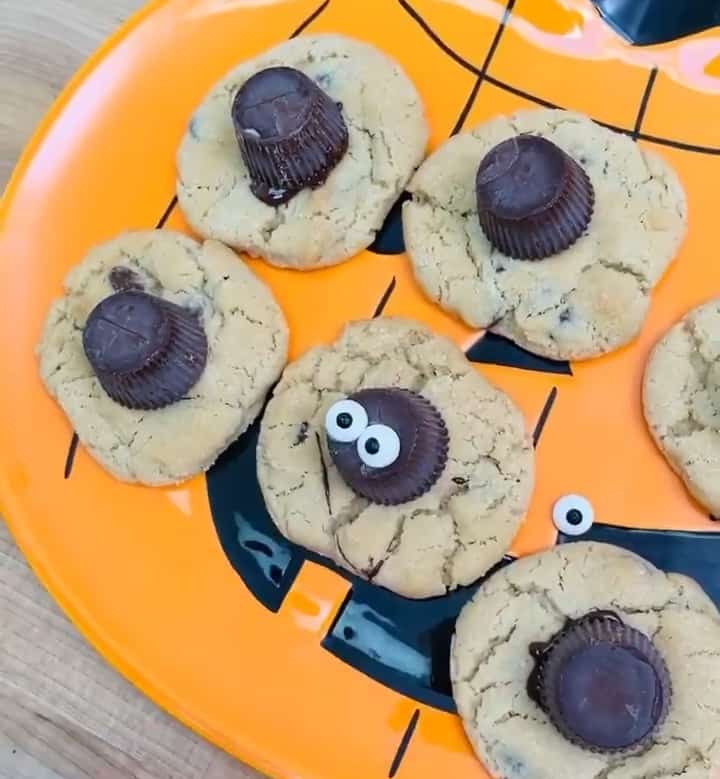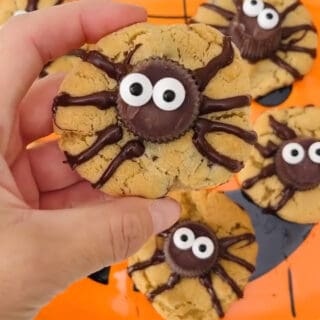 Spider Cookies
Spider cookies are an easy and spooky Halloween treat kids can make with just 3 easy ingredients!
Ingredients
Your favorite cookies (peanut butter or chocolate chip work great!) either store bought or homemade
Peanut butter mini cups
Melted chocolate
Candy eyes
Instructions
First, take a peanut butter or chocolate chip cookie (homemade or store-bought is fine!) and add a dab of icing and melted chocolate in the middle. Once you have done this, place a mini peanut butter cup over the center of the cookie to act as the spider's abdomen. This way, the cookies will be visually appealing and will taste great.

For this next step, add some melted chocolate to create 8 legs emerging from the spider's body. Then, add some googly eyes over the spider's body near the top, with either icing or melted chocolate, and you are done!

If you want to, you can also add some miniature chocolate chips, chopped nuts, or sprinkles for a colorful touch on top of the spider!Step Two: Make the Legs