By using this site, you agree to our Terms of Use. This post may contain affiliate links. Read our disclosure policy.
Follow us on Instagram for more fun food ideas for kids!
Molly Yeh's Sprinkles Cake is the perfect celebration cake for any occasion, but especially birthdays! Kids will love making this colorful and delicious Funfetti cake.
A few weeks ago I teased a new post on Instagram called "Dash Bakes the Greats" and I'm so excited to share the first video! My son Dash (just turned 3) has been an avid baker since he was a toddler. I'm supporting his passion by creating a series of videos where Dash "bakes the greats" and chooses one of our favorite chefs or bakers!
Watch the video in this post to see Dash Bakes The Greats: Episode 1 Molly Yeh's Sprinkles Cake
Follow Dash Bakes The Greats for baking with kids tips and recipes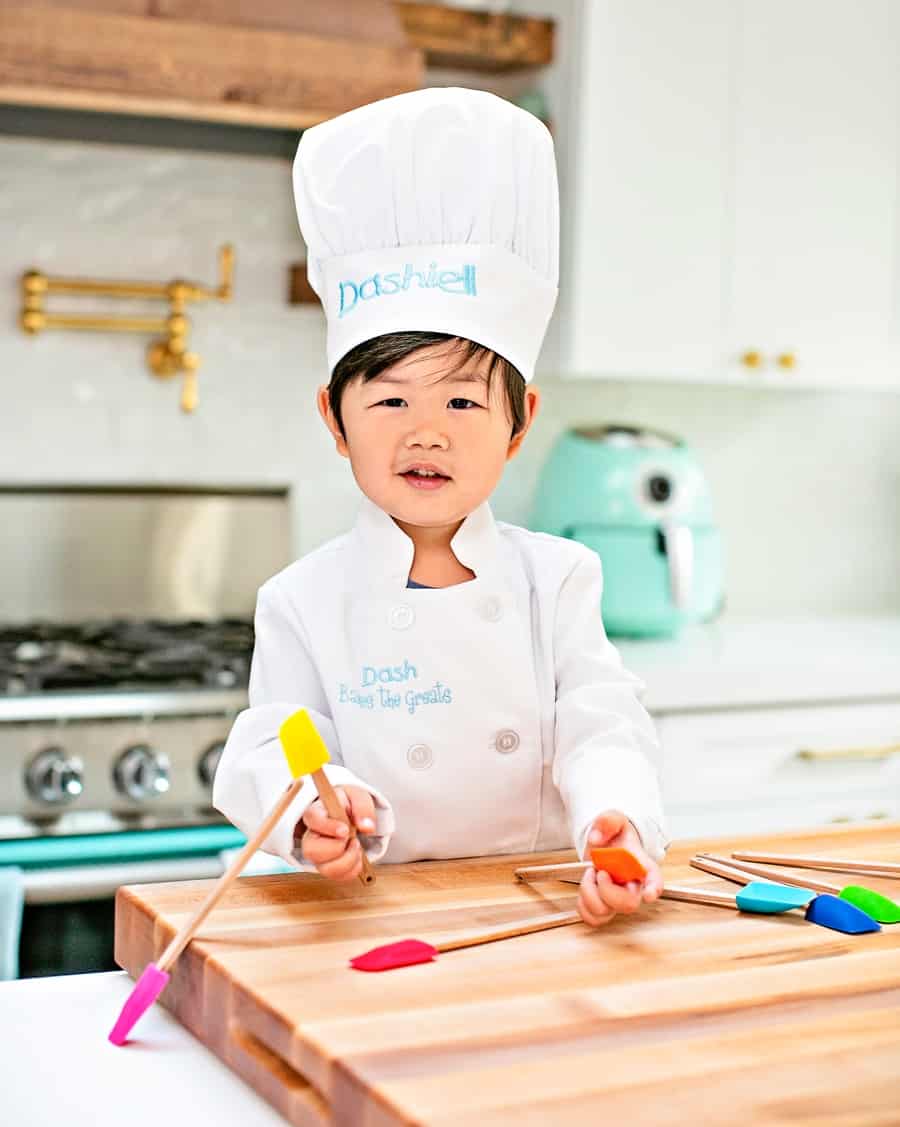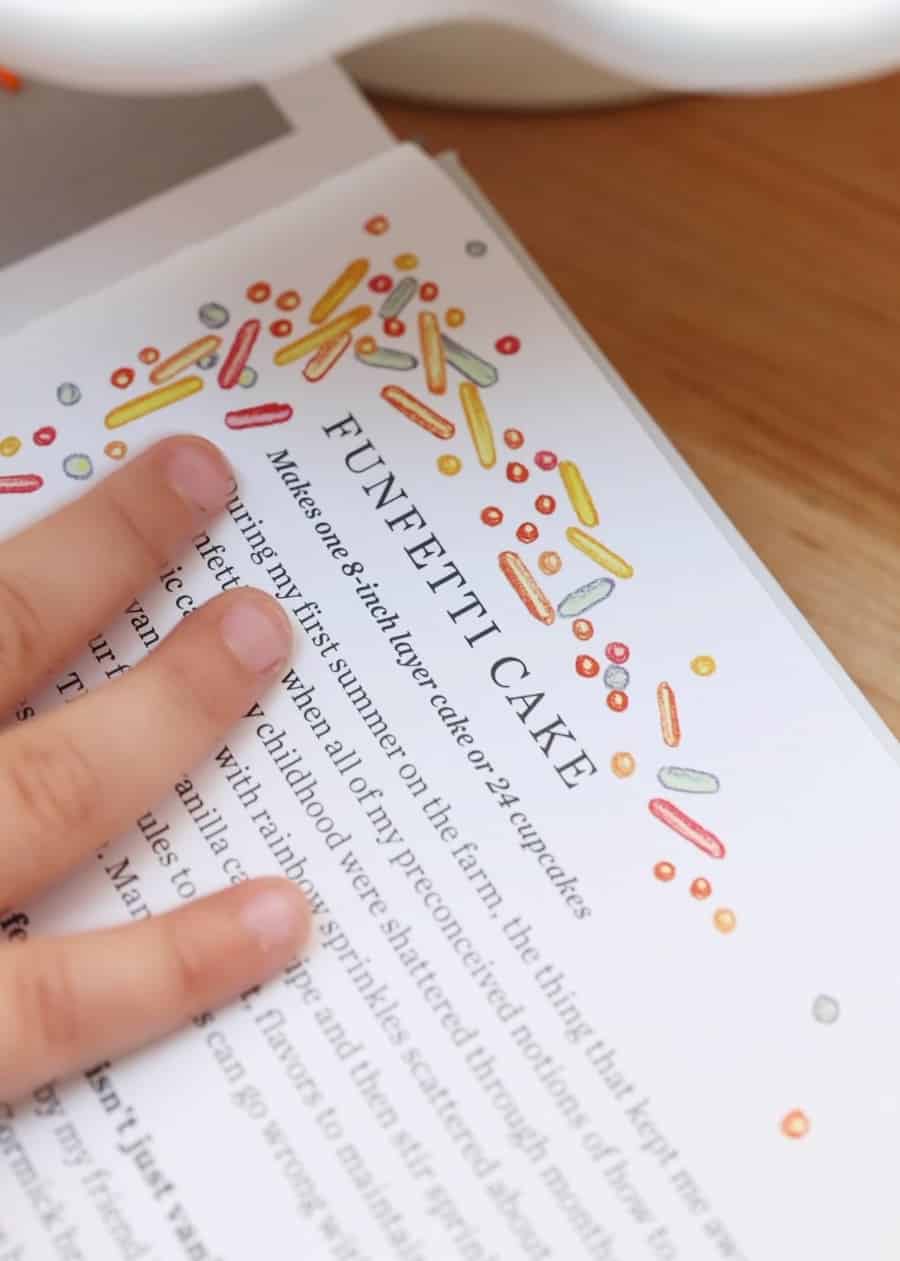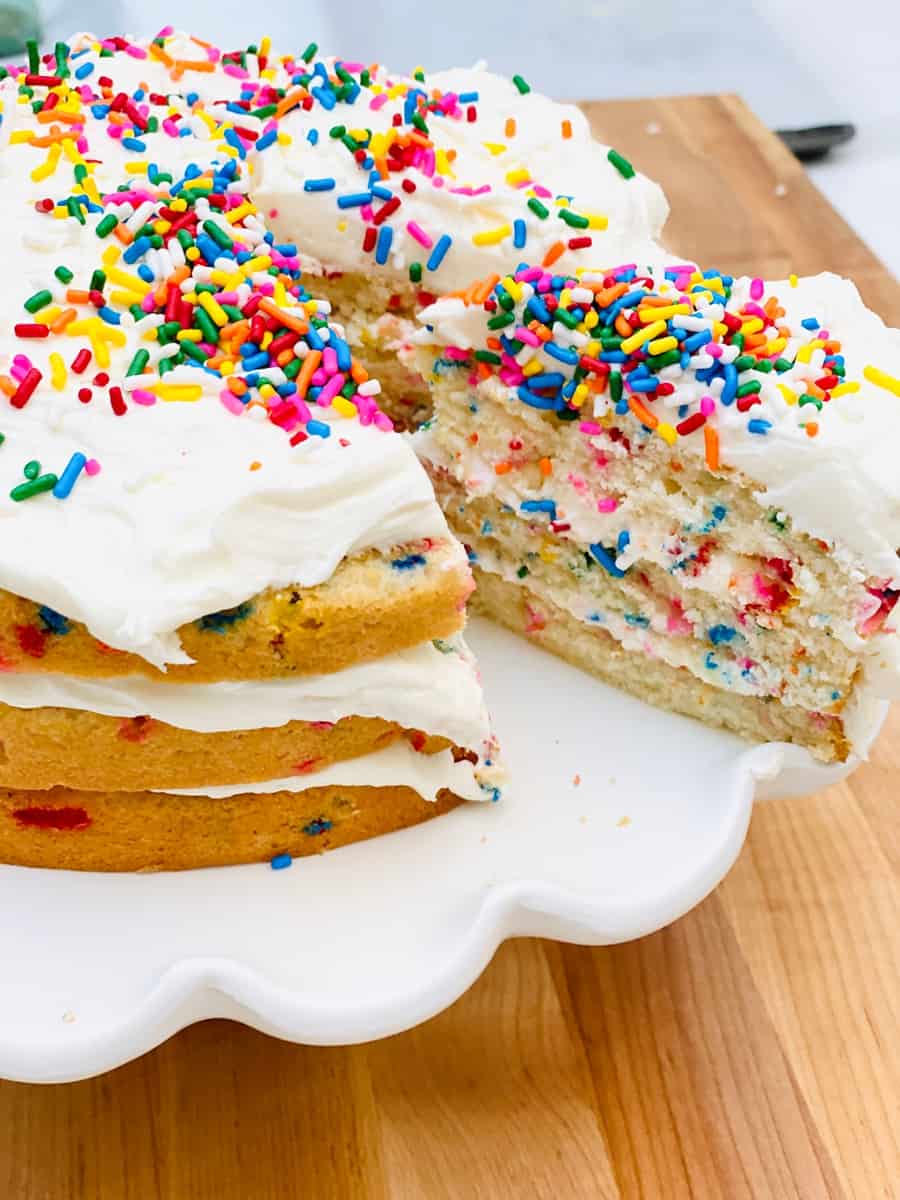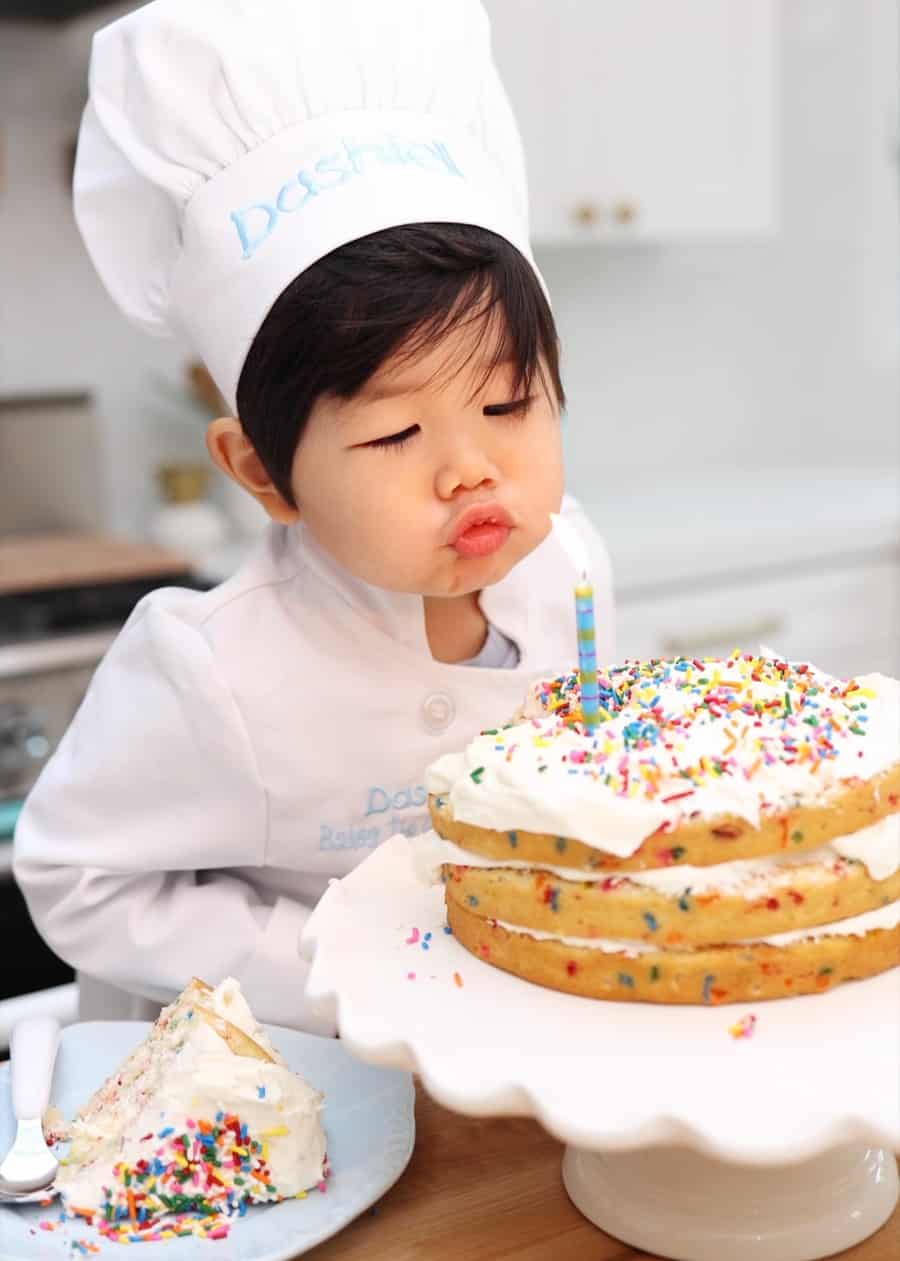 Molly Yeh's Funfetti cake makes the best birthday sprinkles cake.

The very first video was in celebration of Dash's birthday and so it seemed appropriate to go with Molly Yeh's Sprinkles Cake. Molly Yeh is a cookbook author, food blogger, and television cooking personality. She bakes up the cutest layered cake with fun confetti color throughout. A perfectly tasty, yet simple cake for birthdays or any festive celebration! This buttery vanilla cake is rich and moist, just as a cake should be. The addition of sprinkles makes it super playful for kids. They won't know about the colorful dots inside the cake until it is cut open and served, making it a fun and whimsical cake.
I have baked Molly's Yeh's Funfetti cake almost every year for my kids' birthdays (I have 3 kids including Dash) and they claim it as their absolute favorite birthday sprinkles cake! So it seemed fitting that we chose this around November (Dash's 3rd birthday) for HIM to bake his own birthday celebration cake! As you can tell in the video, he absolutely loved it.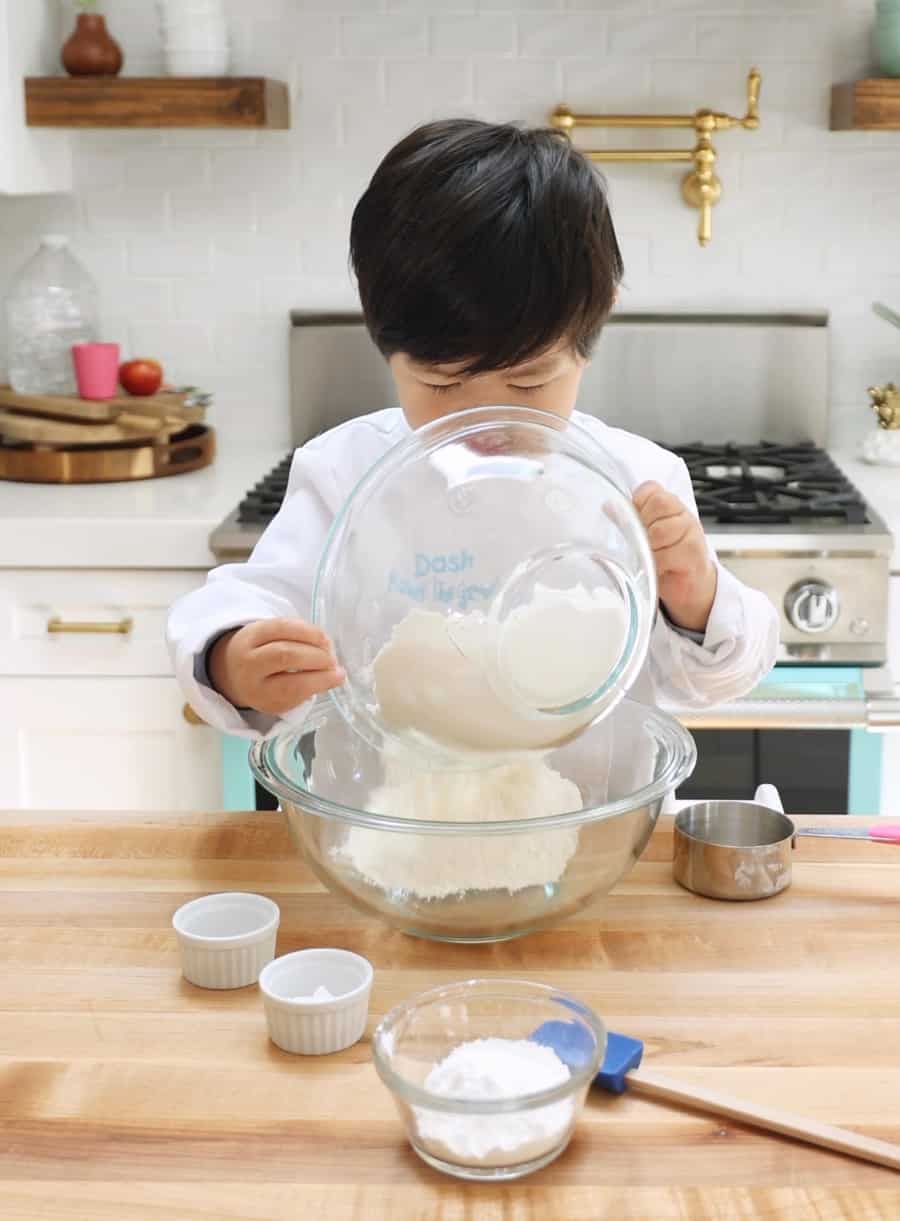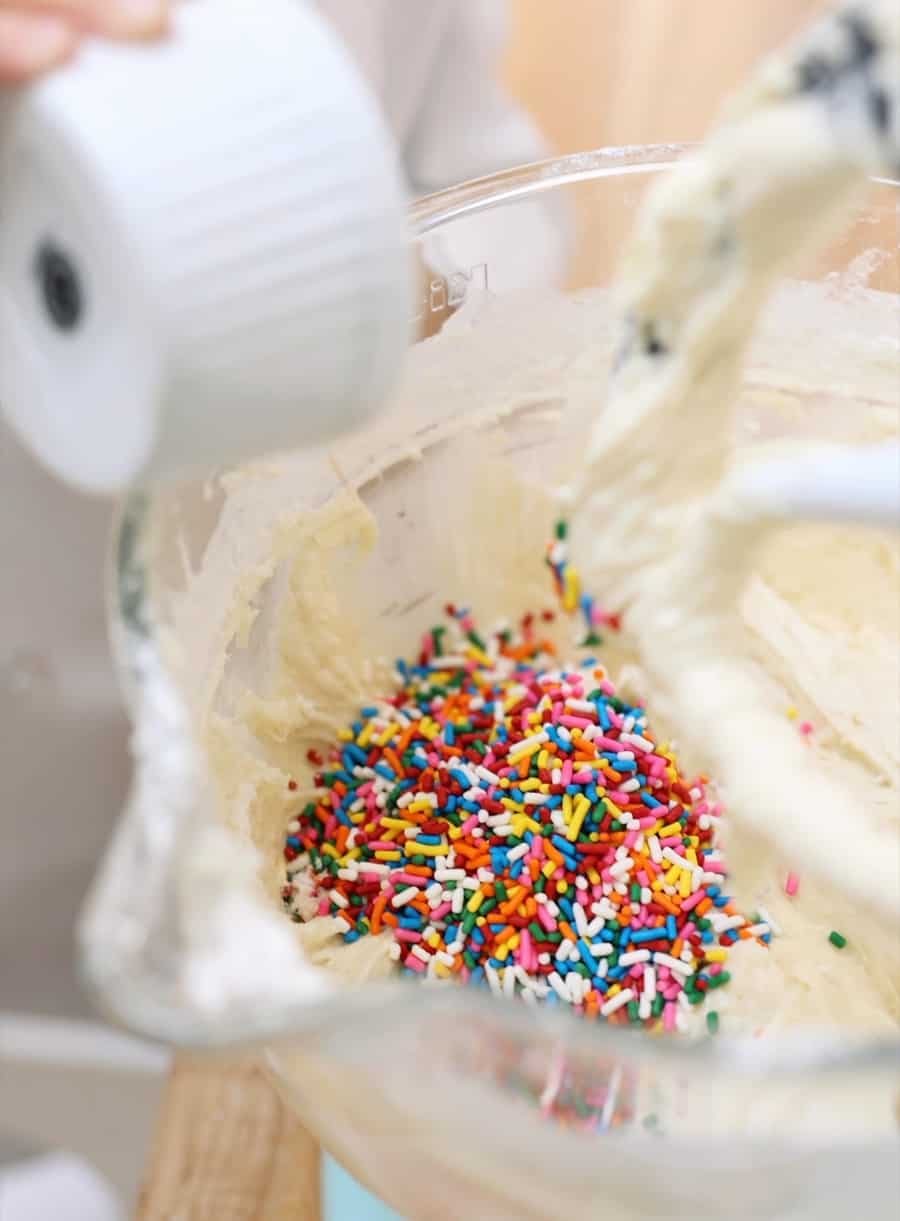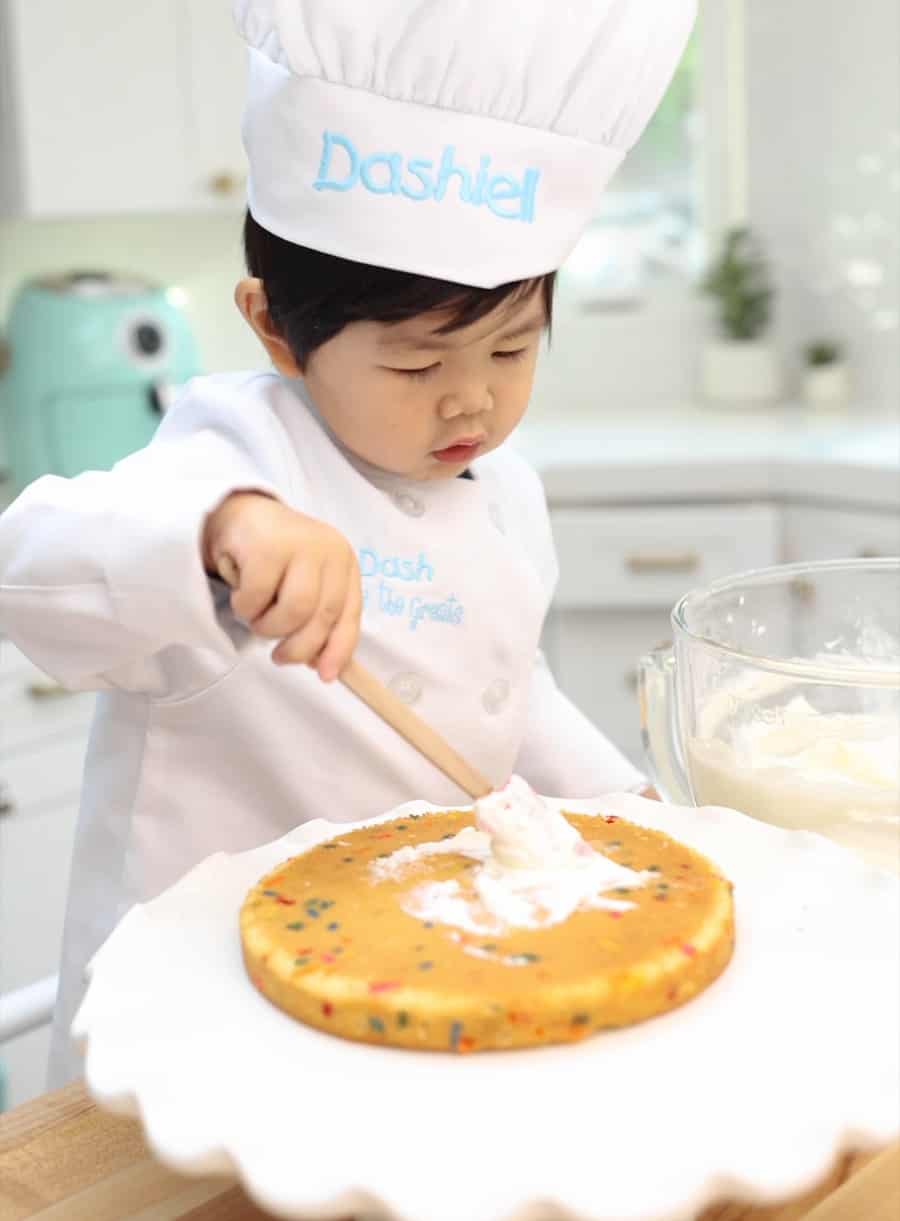 Watch the video in this post to see Dash Bakes The Greats: Episode 1 Molly Yeh's Sprinkles Cake
The Ingredients for Molly Yeh's Sprinkles Cake

The dry ingredients for this cake are fairly for scratch-made cakes, but this one does include cornstarch which is added to create a more tender cake. Butter and sugar are creamed together until fluffy which gives it a light and airy texture. Egg whites only are added which helps to keep the cake a brighter white color so that the color of the sprinkles pop in the cake. The flavor of this cake is a wonderfully rich vanilla flavor and the way that it's achieved is by adding a bit of almond extract which helps to amplify the vanilla flavor. The combination of the two extracts really makes for a more decadent flavored cake. Sprinkles are folded carefully and gently into the mix and when the colors from the sprinkles bleed into the batter, they make a pretty rainbow spotted cake. This wonderful Molly Yeh Sprinkles cake calls for a creamy frosting similar to an American buttercream made with butter and powdered sugar. The almond extract is added here again to pair well with the flavoring in the cake itself.
Molly Yeh's Sprinkles Cake is the perfect recipe for a wonderful layer cake. It makes three 8-inch rounds which make for an adorable stacked celebratory cake. Alternatively, if you chose to make cupcakes, this recipe makes 12 cupcakes nicely. The frosting is white, so it's a great blank canvas for decorating any way you would like. Here we used more sprinkles which was the perfect topper to a sprinkle cake! We hope you enjoy this cake as much as we did and continue to use it for various celebrations and decorate it in all kinds of different ways since it's so versatile.
I hope you enjoy Dash baking this delicious birthday Funfetti cake and that it inspires YOU to bake with your kids!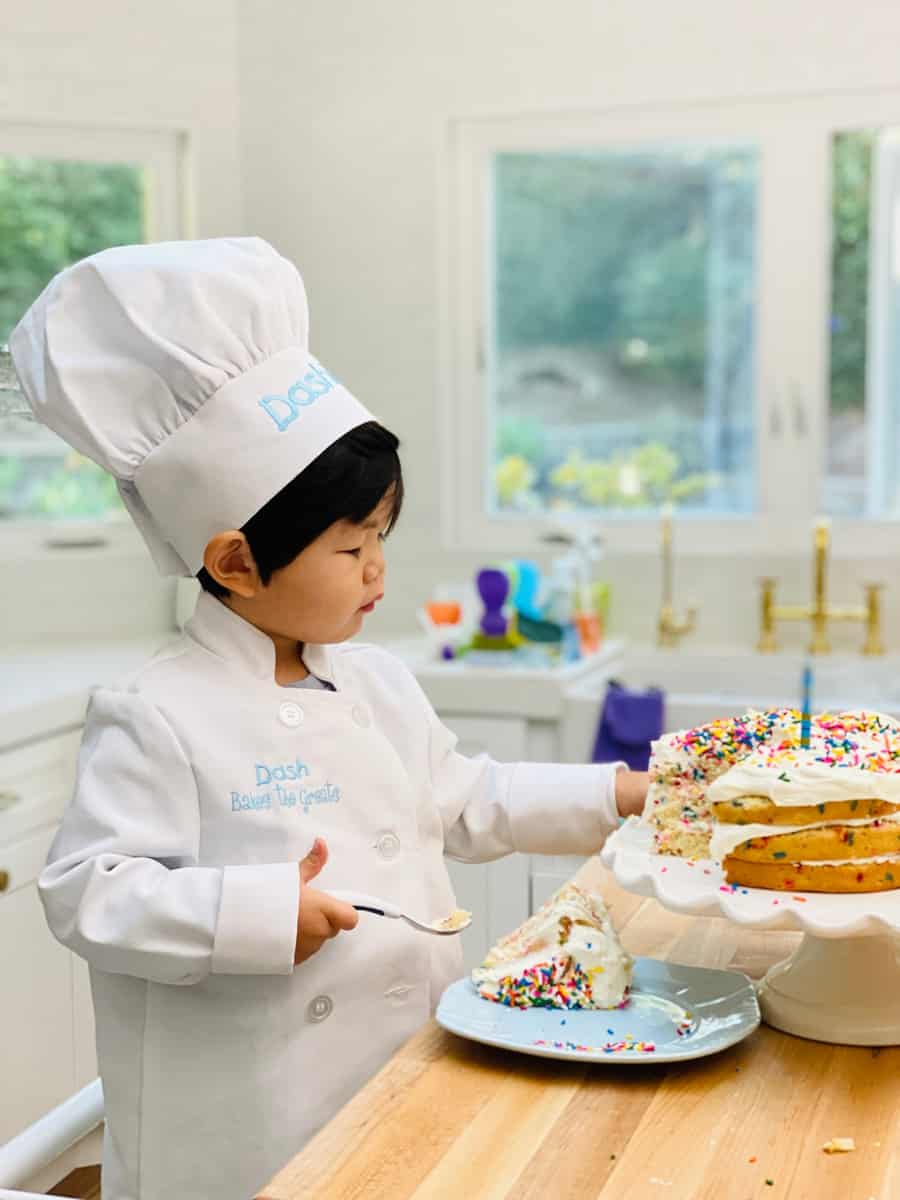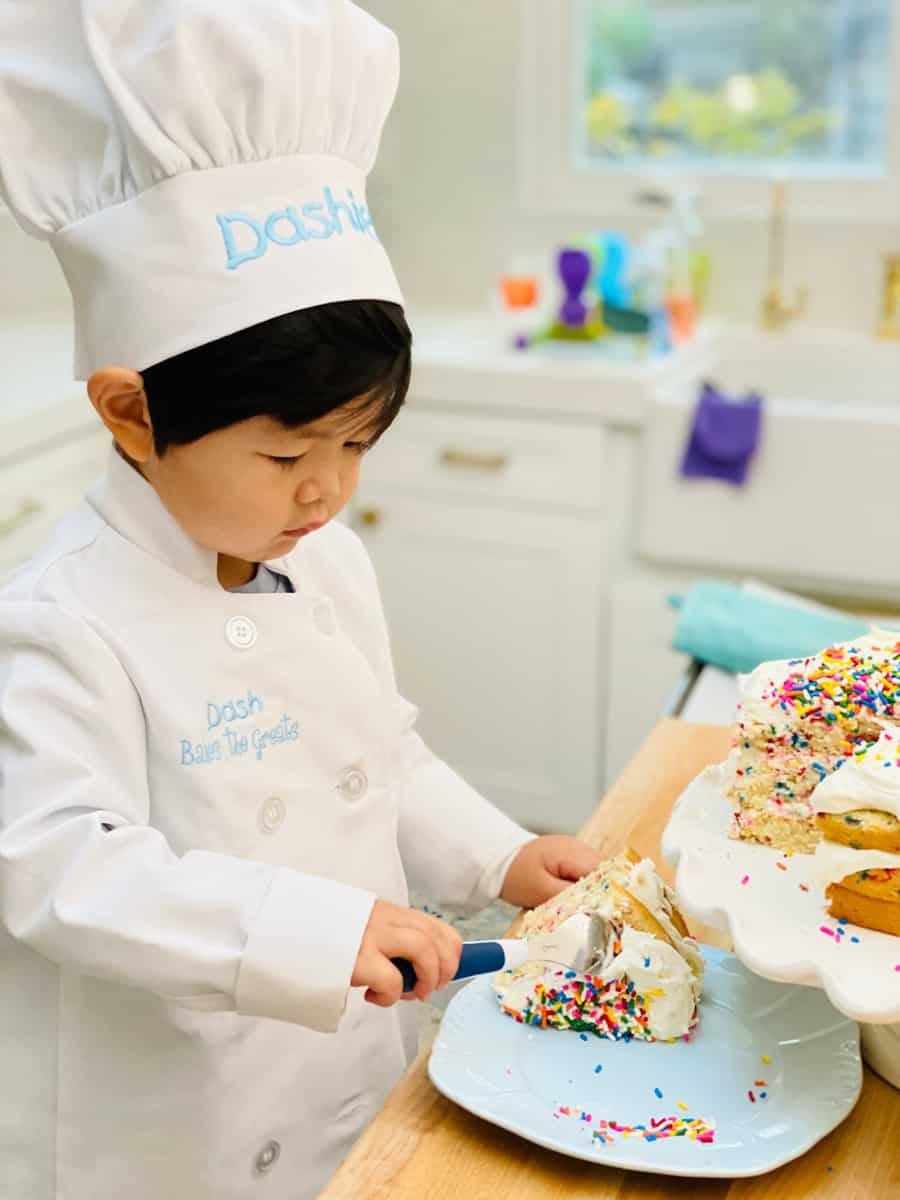 You Might Also Like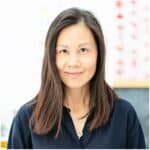 Agnes Hsu is a mom of three and has been inspiring parents and kids to get creative with easy activities and family friendly recipes for over 10 years. She shares her love for creative play and kids food to her 2MM+ followers online. Agnes' commitment to playful learning and kindness has not only raised funds for charity but also earned features in prestigious nationwide publications.