Follow us on Instagram for more fun food ideas for kids!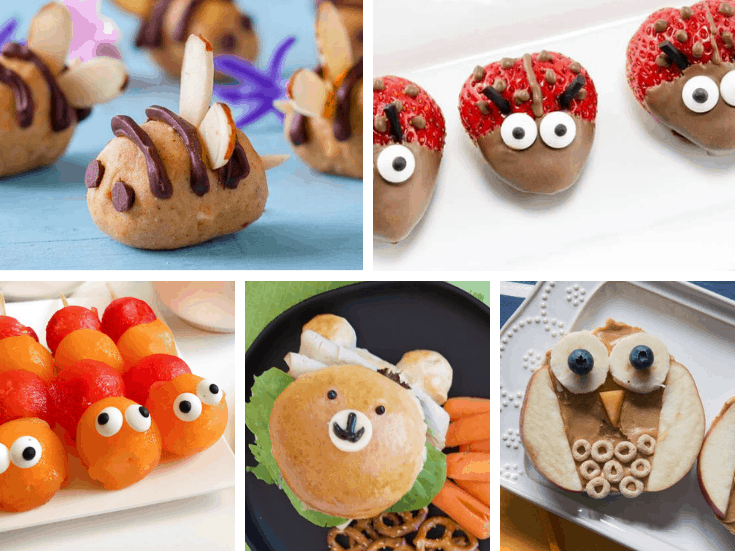 If you need a great afternoon kid snack or a fun meal for the kids, check out some of these super cute foods that look like animals.
There are everything from bears and bees to bugs and gorillas, many done up in yummy fruits and vegetables.
The kids will love eating these sweet little animals and you'll love that most of them are healthy!
These super cute foods that look like animals make fun kid snacks and will appease even the pickiest eaters!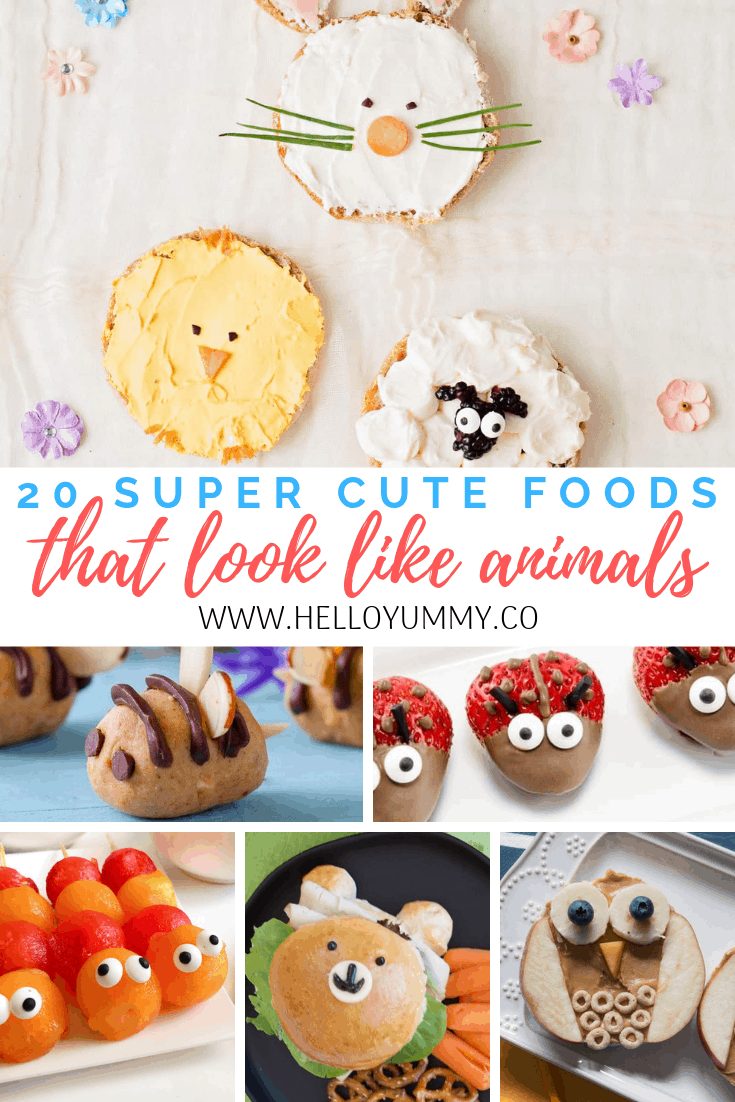 Make sure to click on the links below to take you to the full tutorial on how to make these adorable animal themed snacks for kids!
So cute you could just eat 'em! 😋 Perfect for breakfast or an after school snack, Animal Toast will keep your little animals happy and occupied for at least 5 minutes. And in these times, that's priceless. pic.twitter.com/GWp2FhcJpq

— Smart & Final (@smartfinal) September 26, 2020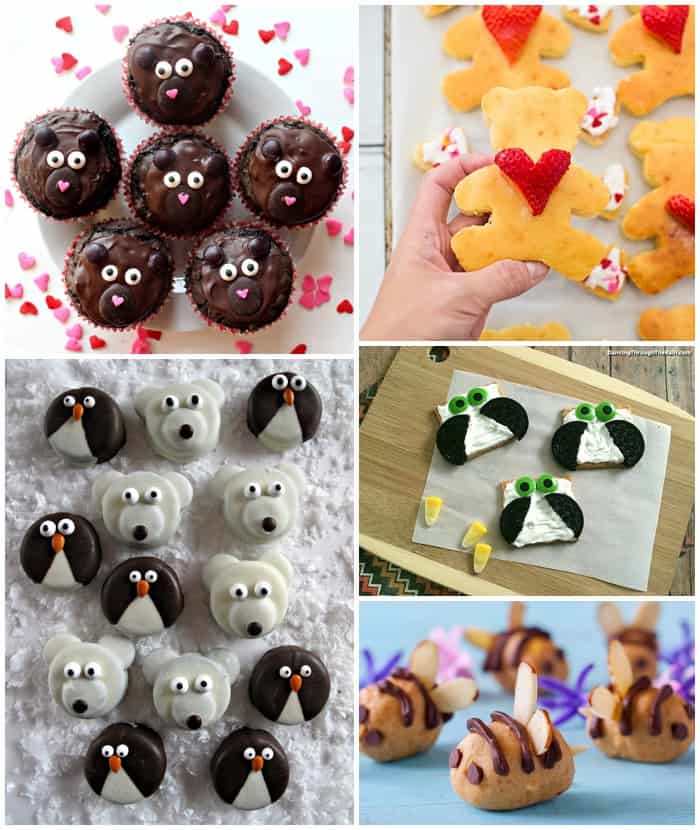 Caterpilla Sandwich Platter – this is a great way to serve sandwiches for a kids' party! Especially if the theme is Very Hungry Caterpillar!
No-Bake Owl Cookies – The kids will love these Owl Cookies that are put together with just a few ingredients. Best of all? No baking required!
Beary Chocolate Brownie Bears – Not only are these brownies packed with chocolate, but they are beary cute!
Sheet Pan Bear Heart Pancakes – We combined our love of easy sheet pan pancakes with adorable bears. We did a twist with these irresistible Sheet Pan Bear Heart Pancakes!
Penguin and Polar Bear Oreos – This one is a bonus because there are two super cute winter animals in this post from The Monday Box.
Healthy Peanut Butter Ball Bumble Bees – Kids will love turning healthy peanut butter balls into adorable chocolate drizzled bumble bees almost as much as they'll love eating them!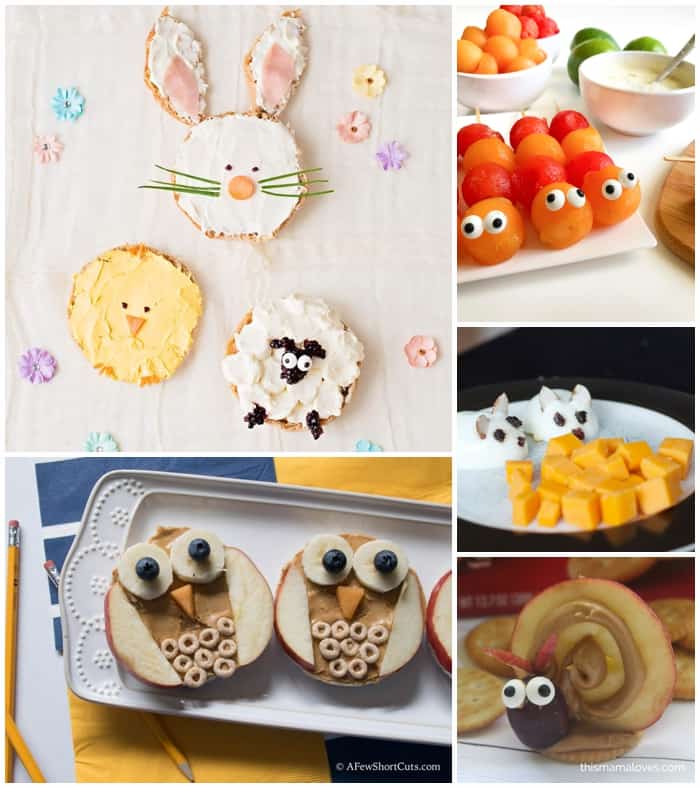 Owl Rice Cake Snacks – You can set up the ingredients for these and let the kids get creative and make their Owls. A fun afternoon project and snack!
Caterpillar Fruit Kabobs With Yogurt Dip – These fruit kabobs from On My Kids Plate are a hit with kids. Don't forget to make the easy yogurt fruit dip to go with it makes these adorable caterpillars even more fun.
Cute Snail Snacks – I wouldn't necessarily say snails are always cute, but these little snacks with peanut butter, apples, and crackers are sure to put a smile on your face.
Bunny, Chick and Sheep Toast – This adorable Bunny, Chick and Sheep Toast is super easy to make. They are perfect for a spring lunch.
Hungry Mice – If you don't think mice are cute, wait until you see this cute little snack that The Bewitchin Kitchen put together.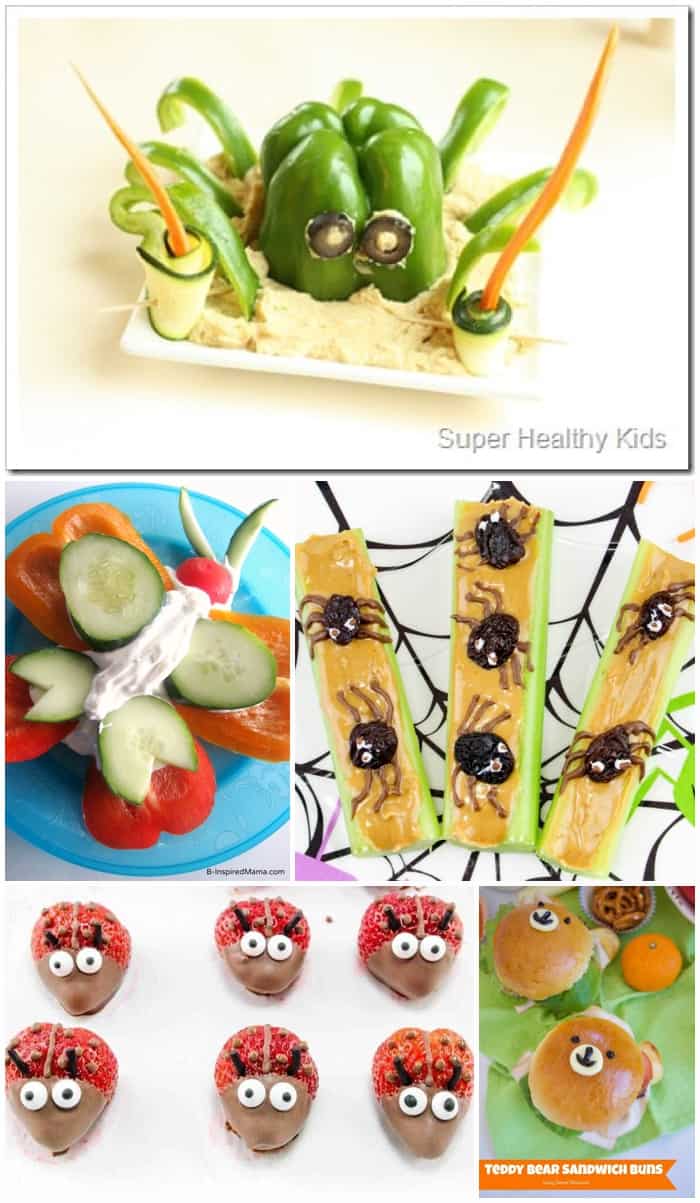 Cute Teddy Bear Sandwich Buns – Check out how to make these delicious & adorable Teddy Bear Sandwich Buns. Of course, you can fill them with your favorite ingredients.
5-Minute Spider Snack – If you don't think spiders are cute, you haven't seen these sweet spider snacks from On My Kids Plate.
Strawberry Ladybugs – Strawberries and chocolate are meant to be together! These adorable chocolate covered strawberry ladybugs are the perfect treat for your next summer party.
Bell Pepper Octopus – This is the kind of octopus the kids will definitely eat! Super Healthy Kids knows how to make healthy snacks that are fun to eat.
Vegetable Butterfly Snack – This Butterfly, made with peppers, cucumbers, and tomatoes, is all held together with a yummy dip!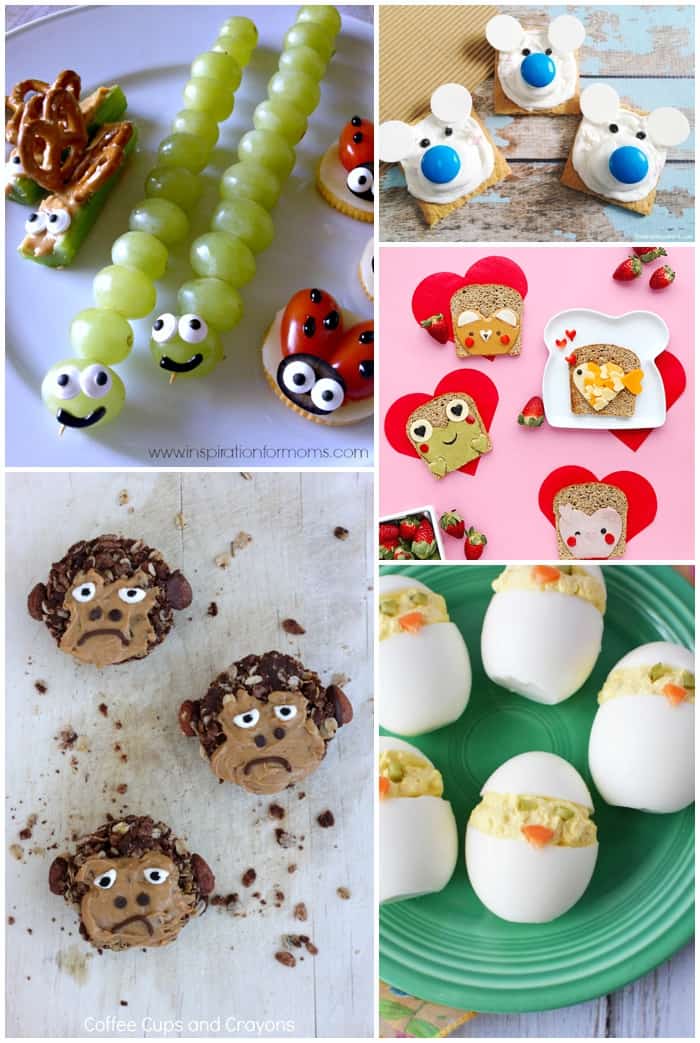 Chick Deviled Eggs – Everyone will love seeing these cute little chicks on the table.
Polar Bear Graham Cracker Squares – These sweet little graham cracker squares are the cutest little polar bears I've ever seen!
Heart-Shaped Animal Toast Art – Cookie cutters make the designs on for this special snack or lunch super simple, so your kids can join in on the fun!
Super Cute Granola Gorilla Snack – The gorilla snack is easy to make and the kids can help as there is a lot of dumping and stirring involved.
Backyard Bug Snacks – Who said bugs aren't cute? Your kids will totally enjoy creating these easy edible butterflies, caterpillars and ladybugs.
Kiwi Grape Turtles (via Pinterest) – how cute are these sea turtles made of grapes, kiwi and chocolate eyes!