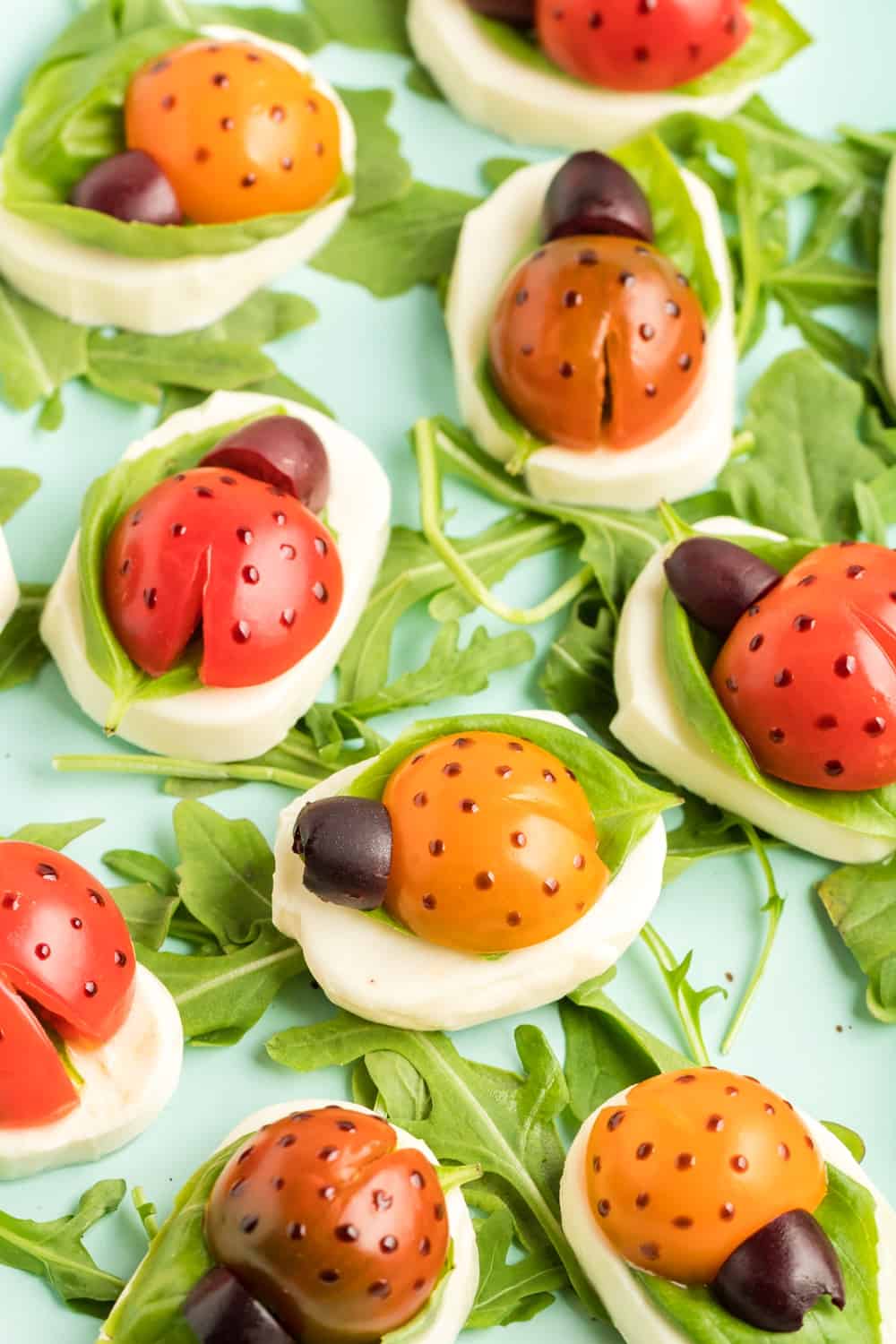 By using this site, you agree to our Terms of Use. This post may contain affiliate links. Read our disclosure policy.
Follow us on Instagram for more fun food ideas for kids!
With just five simple ingredients, these Ladybug Caprese Appetizers are the perfect finger food and treat! Kids and adults will crave them!
I love these cute appetizers! They're adorable, healthy, and so quick and easy to make. And best of all, I don't have to turn on my oven or cook anything -at all. All I need are simple ingredients that are fresh and perfect for summer.
While I've made this simple caprese appetizer a lot of times, it never gets old. It's great for a snack for the kids and is really cute to take to BBQs and gatherings as well.
Trust me when I say that when you're craving that caprese salad taste and flavor – this simple recipe is the best! It's such an adorable veggie food art!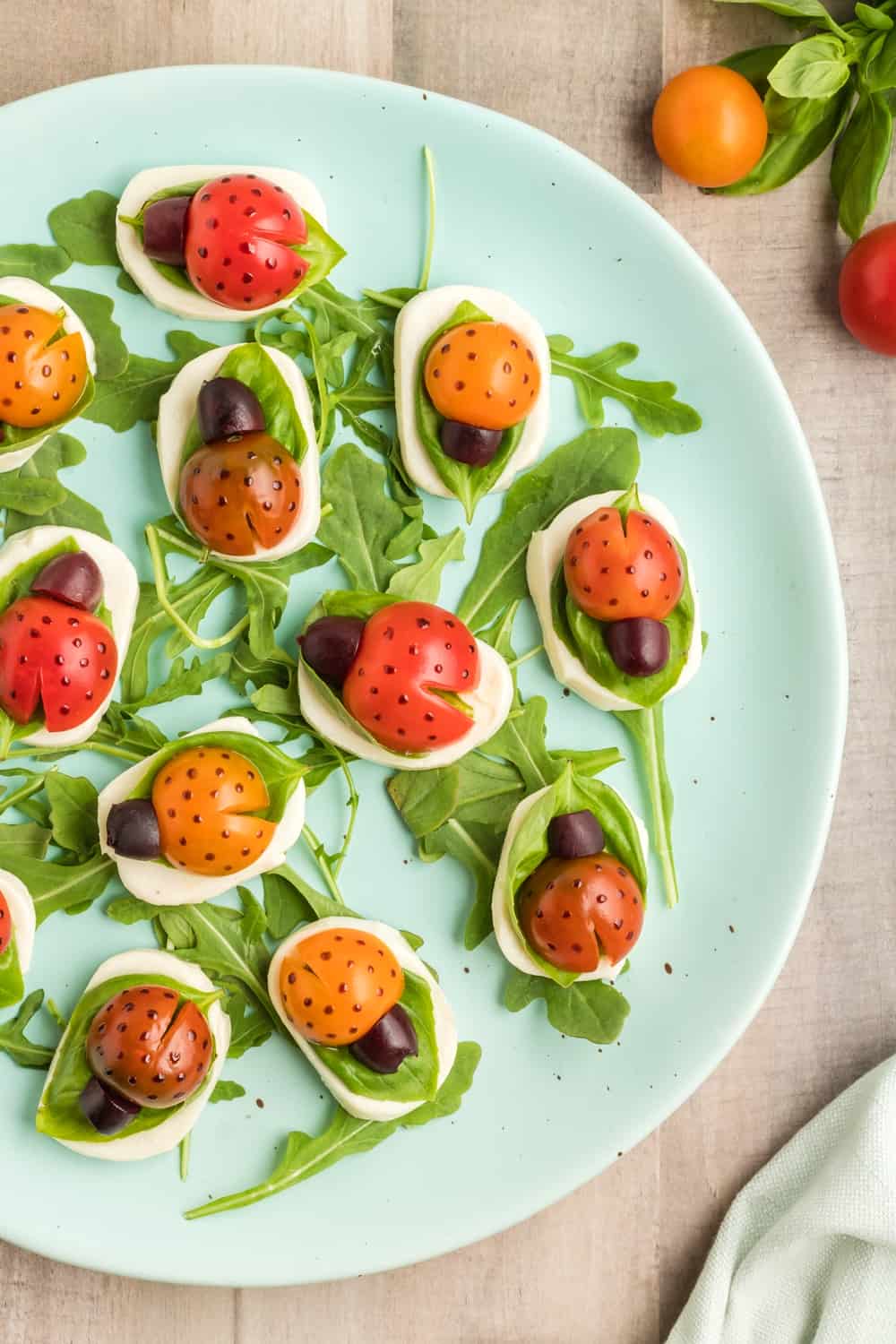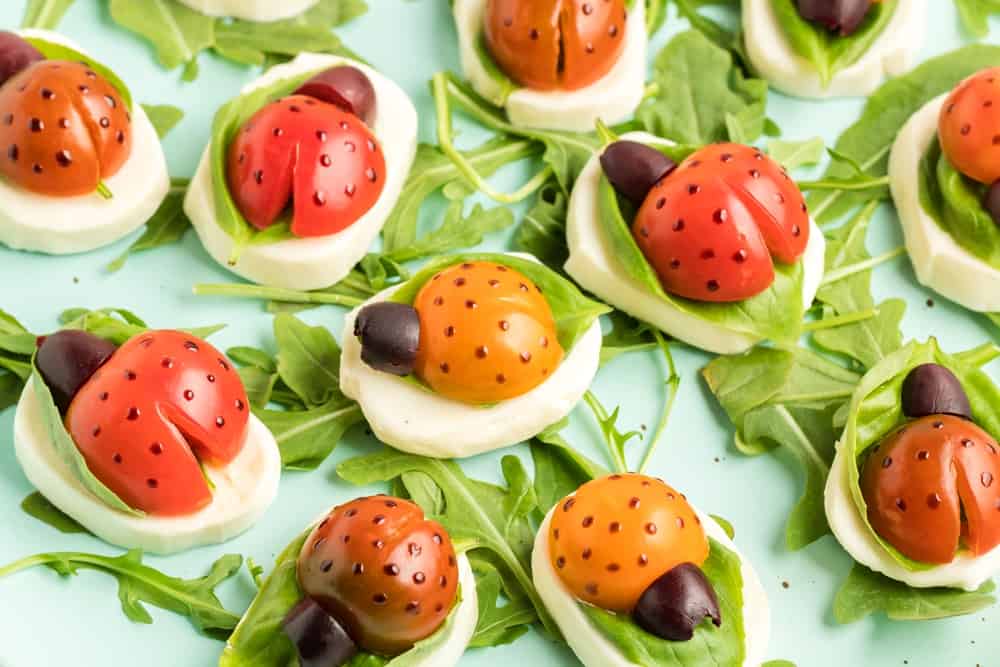 Can I make this cute appetizer ahead of time?
Yes, these ladybug appetizers can be made ahead of time. Meal prep that saves time is great for busy moms! The only thing that I recommend is that you prep and store on different plates.
If you don't, you're going to have some tomato juice on the plate, and that can get messy and soggy. Fresh plates are best for storage!
Ladybug Caprese Appetizers – Ingredients
cherry tomatoes
kalamata olives
fresh sliced mozzarella
basil leaves
balsamic reduction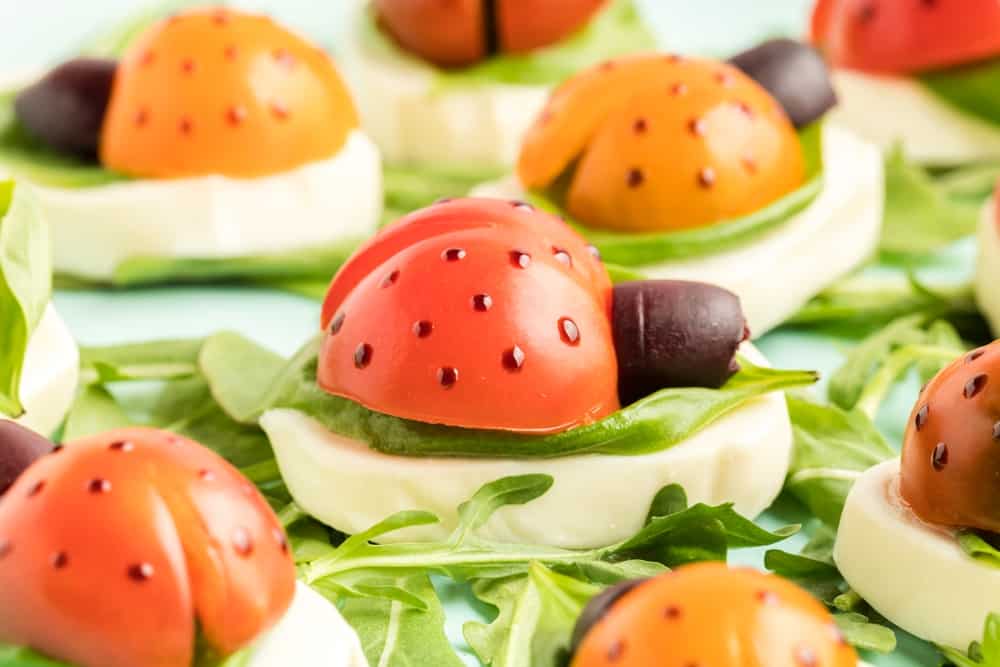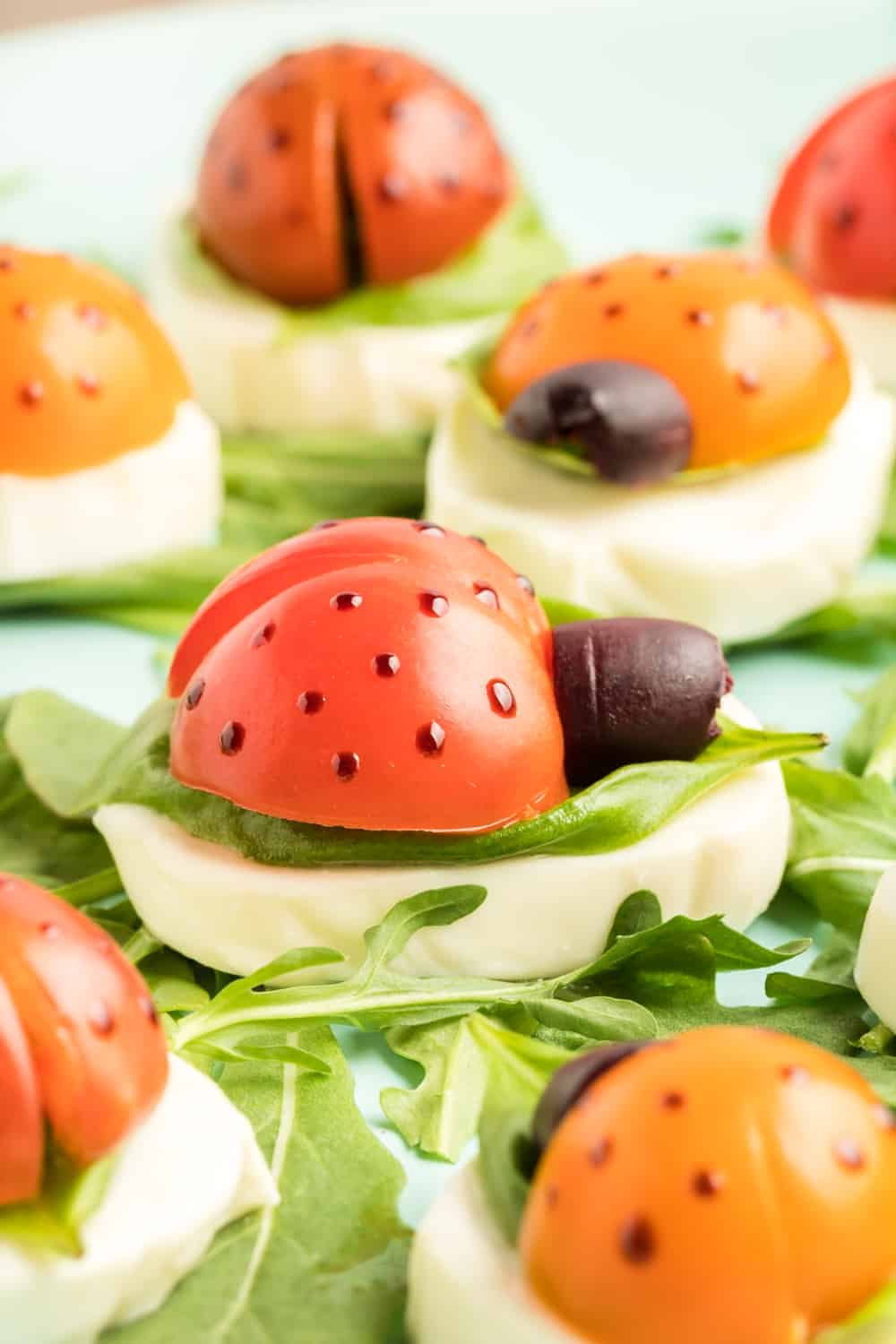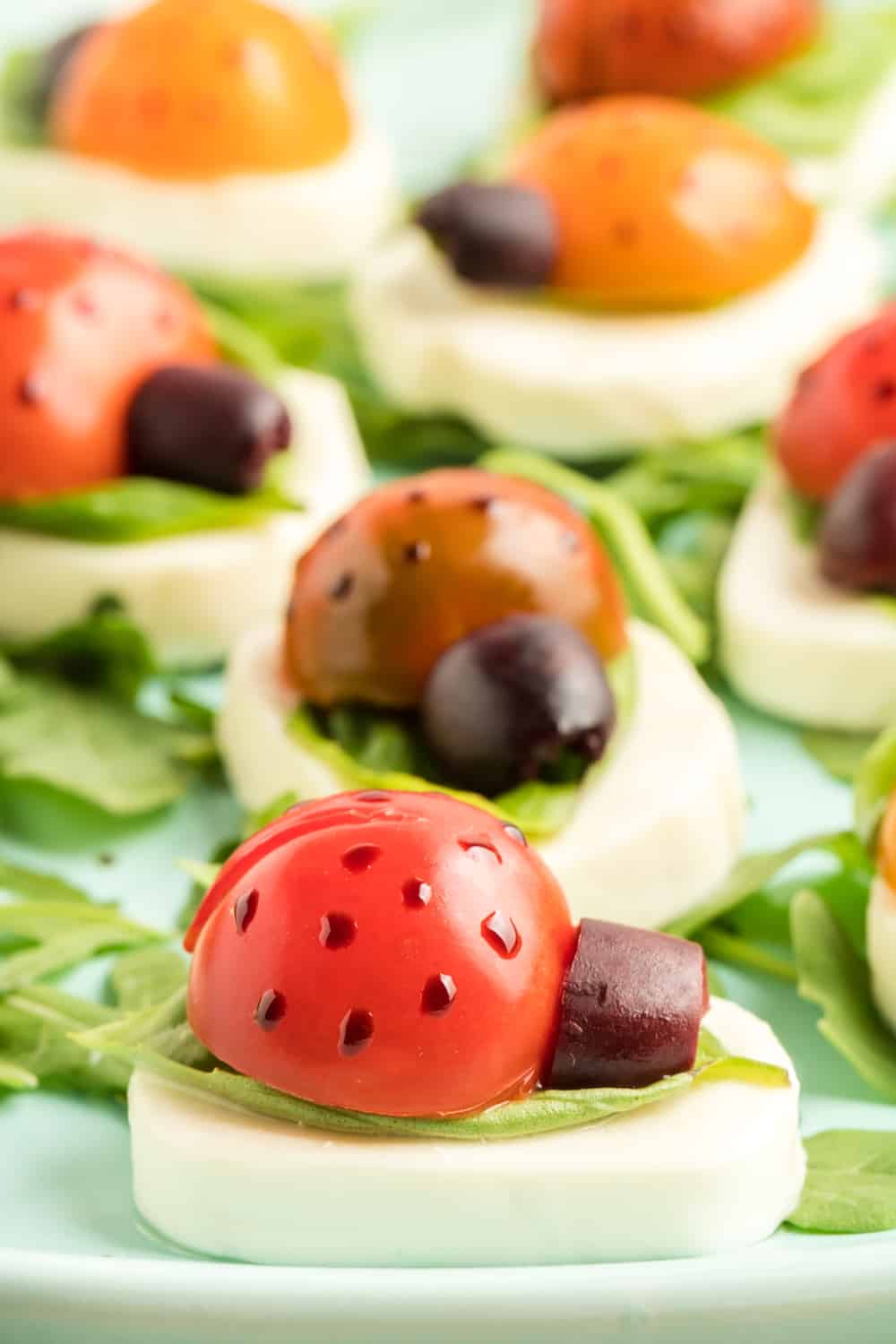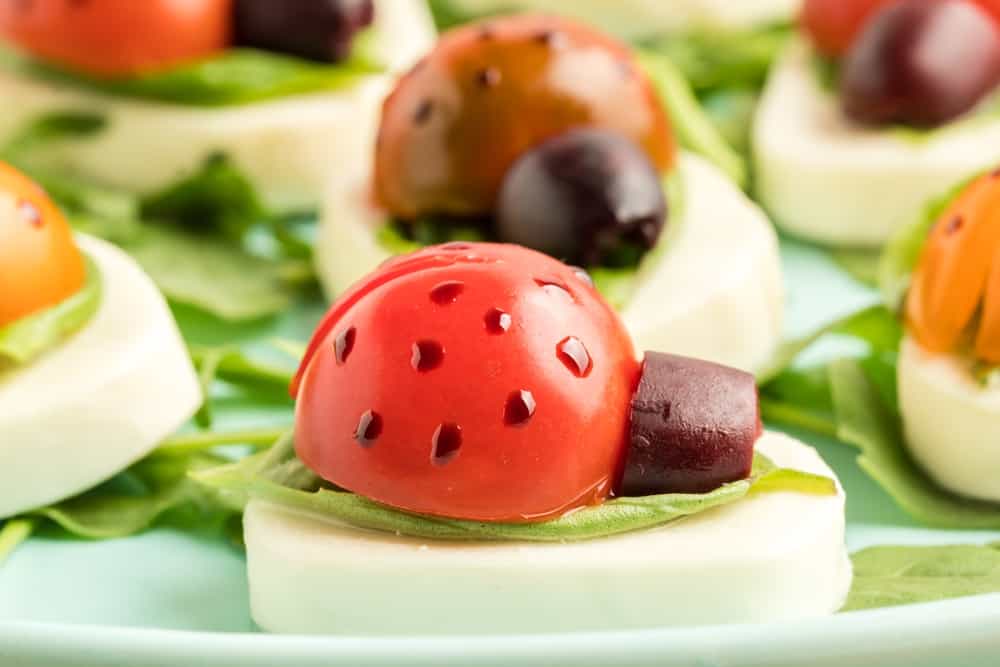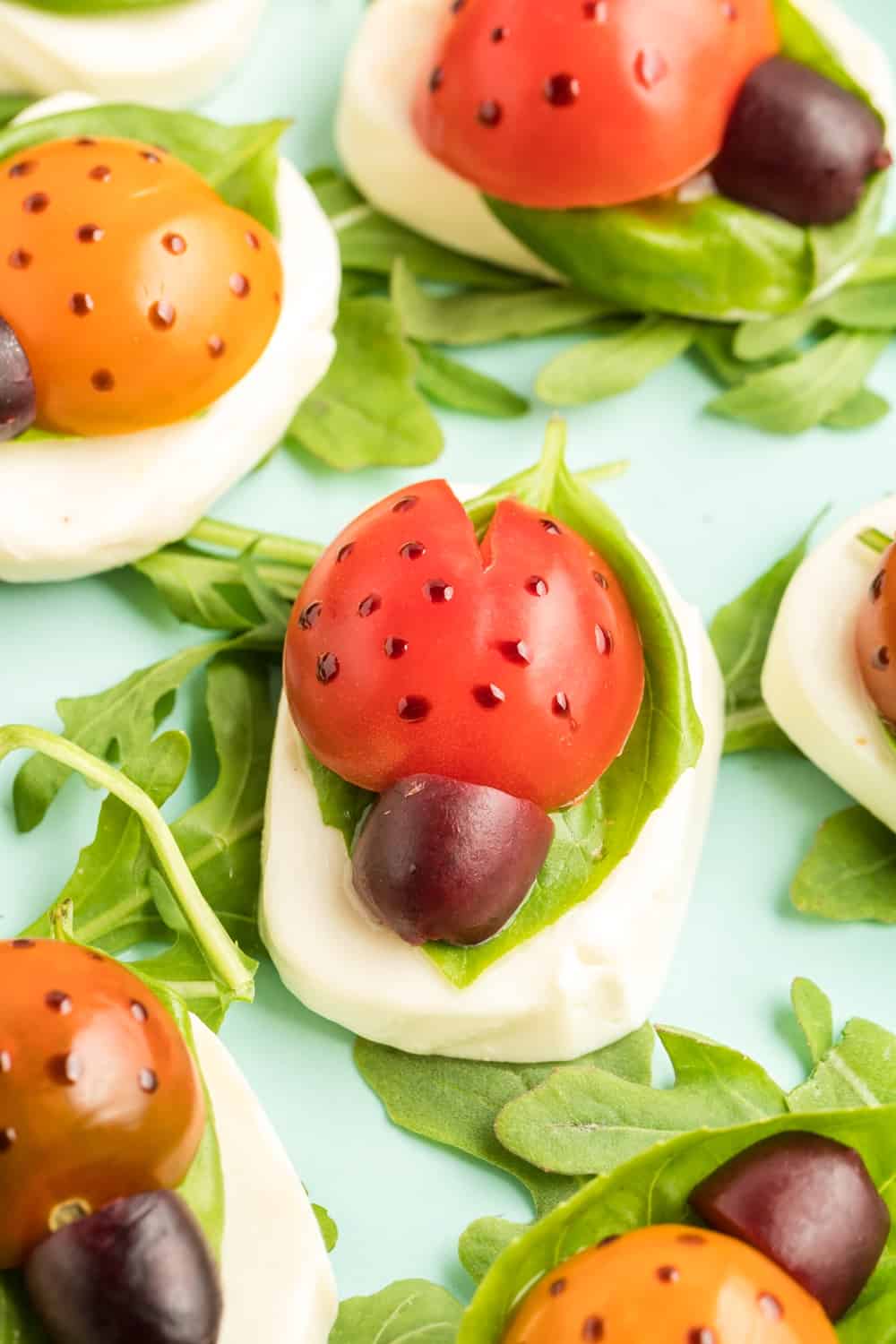 What is the difference between balsamic reduction and balsamic vinegar?
Reduction is really important for this recipe because it's sticky and sticks to the rest of the ingredients. The vinegar would taste great but isn't going to coat as it needs.
How do I cut tomatoes without smashing them?
You have to be careful when you're cutting the tomatoes as you don't want to smoosh them during the process. Just cut back and forth carefully, and don't put a ton of pressure on the knife when you're cutting.
This should help you have a nice cut without the worry of smooching the tomatoes.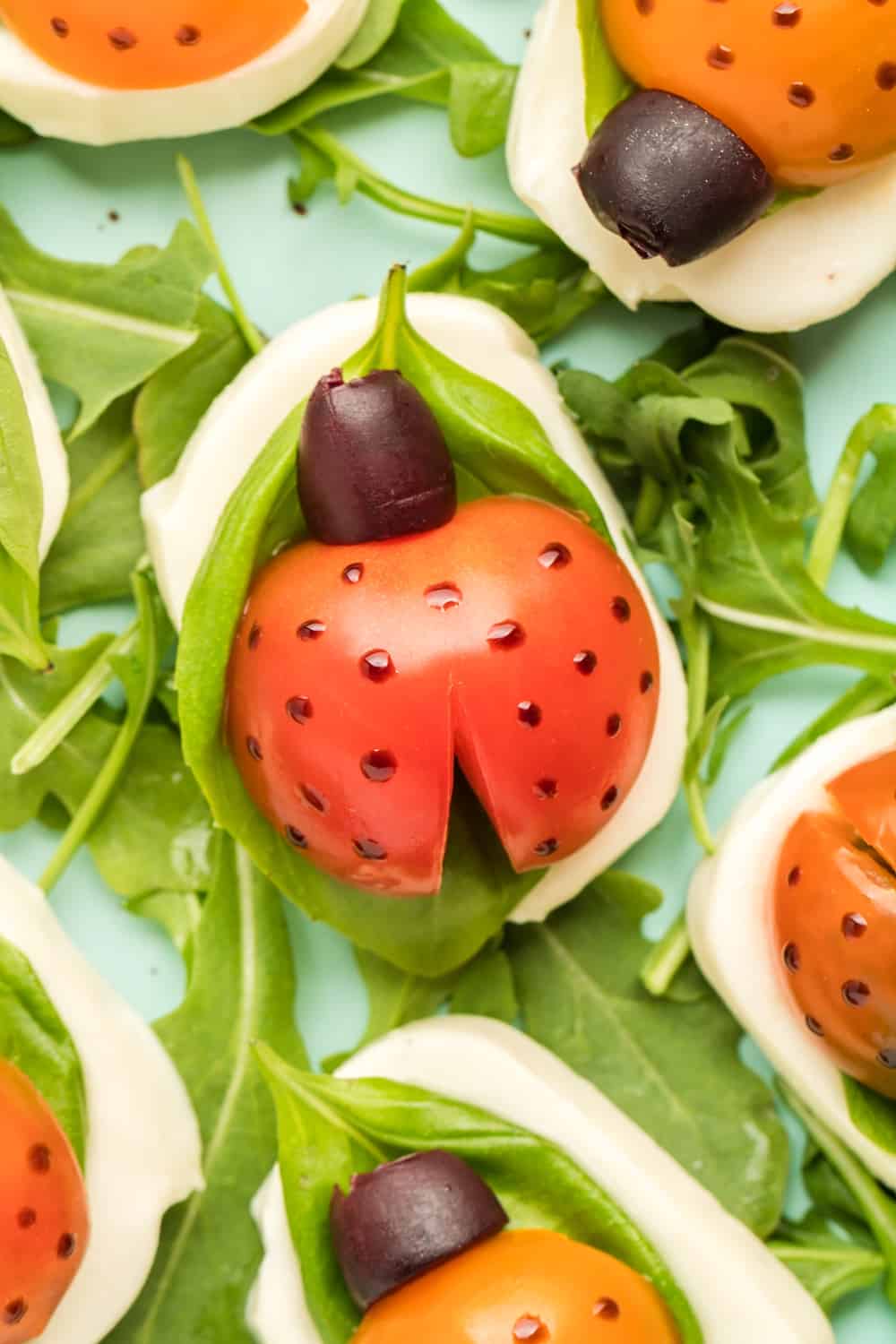 Can I use different kinds of olives?
Absolutely! One of the best things about this easy appetizer is that you can change it up as you need. Choose the best olives that everyone in the house loves and will enjoy!
I'm all about having a recipe and then tweaking it as needed so that we enjoy it and don't waste any food!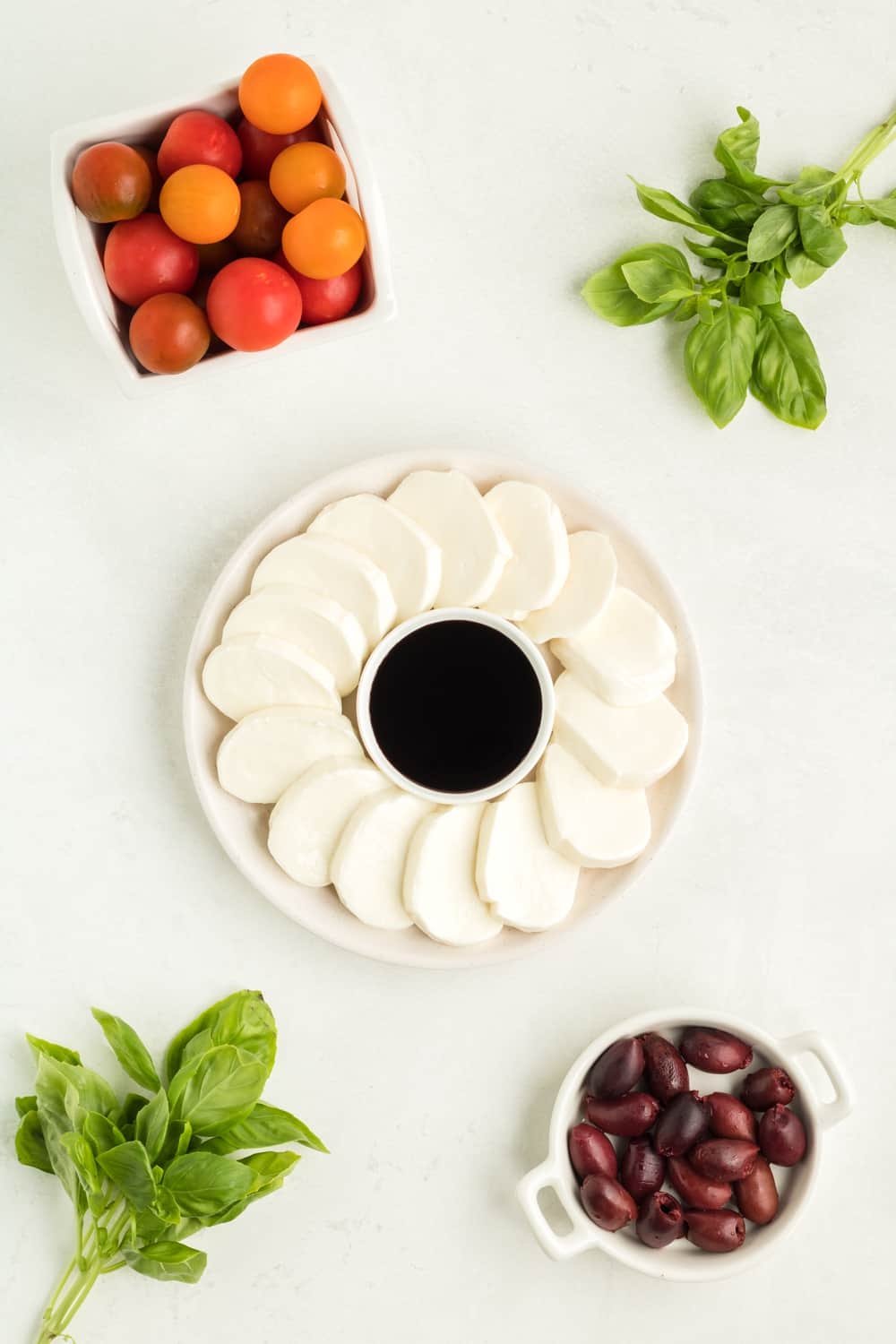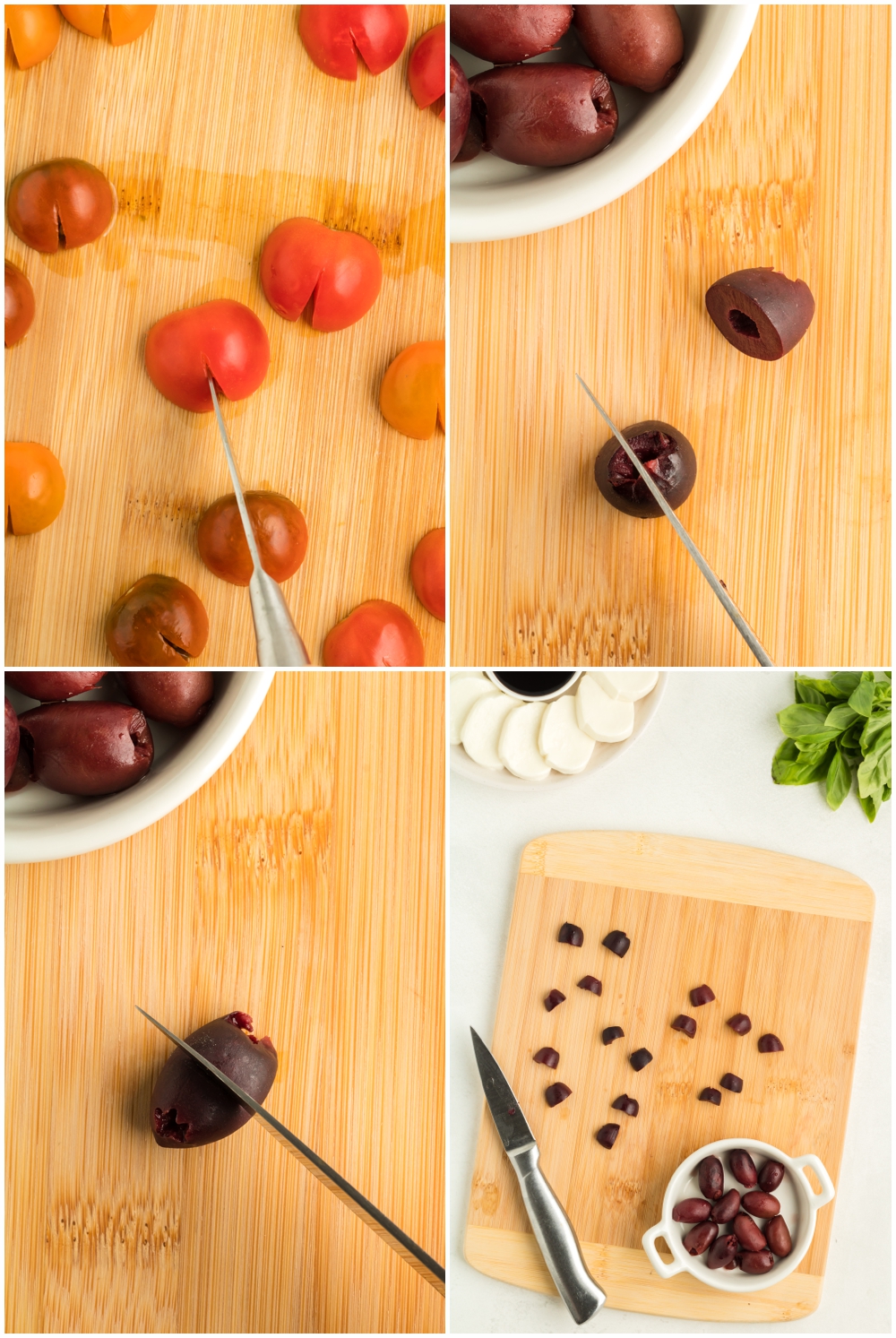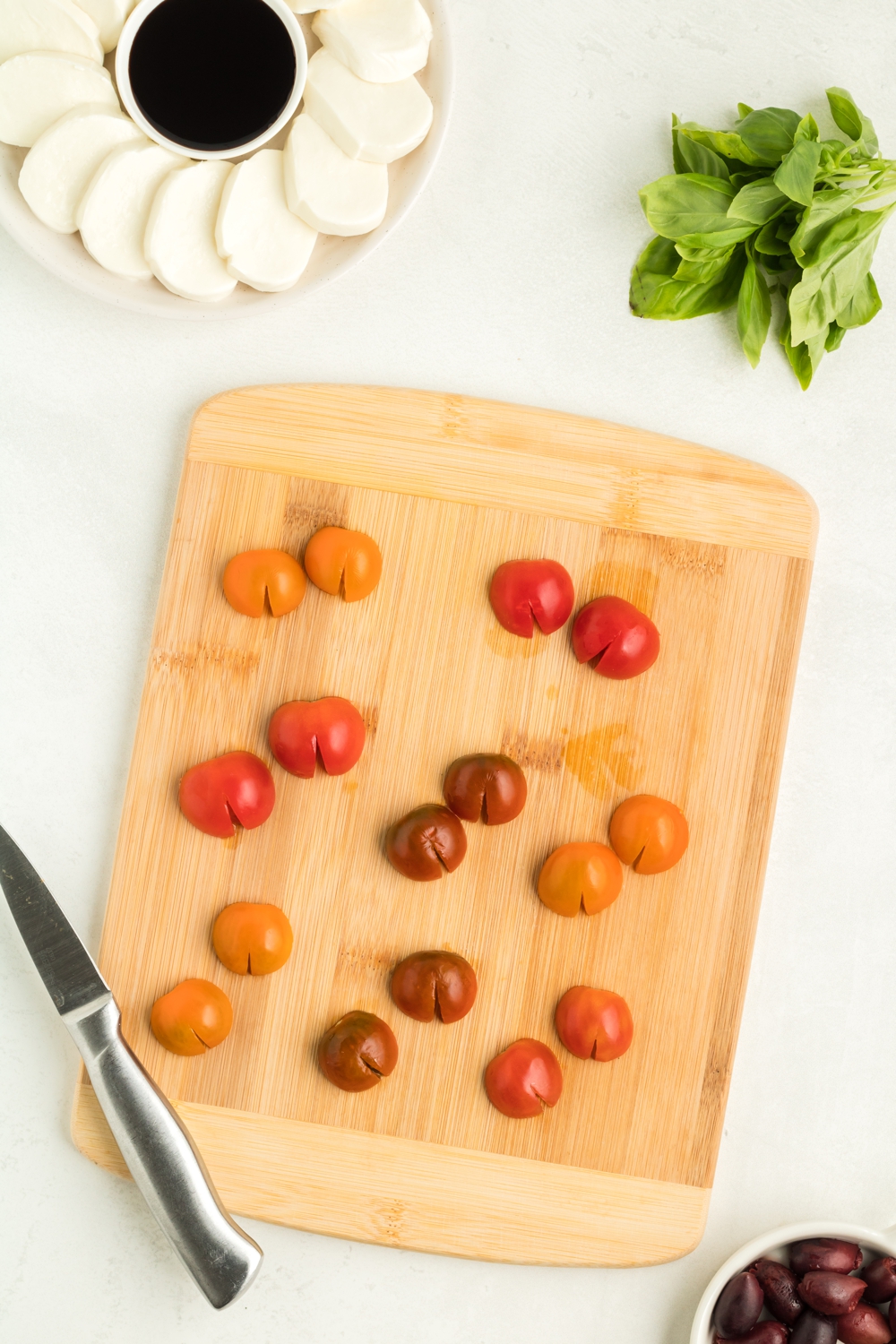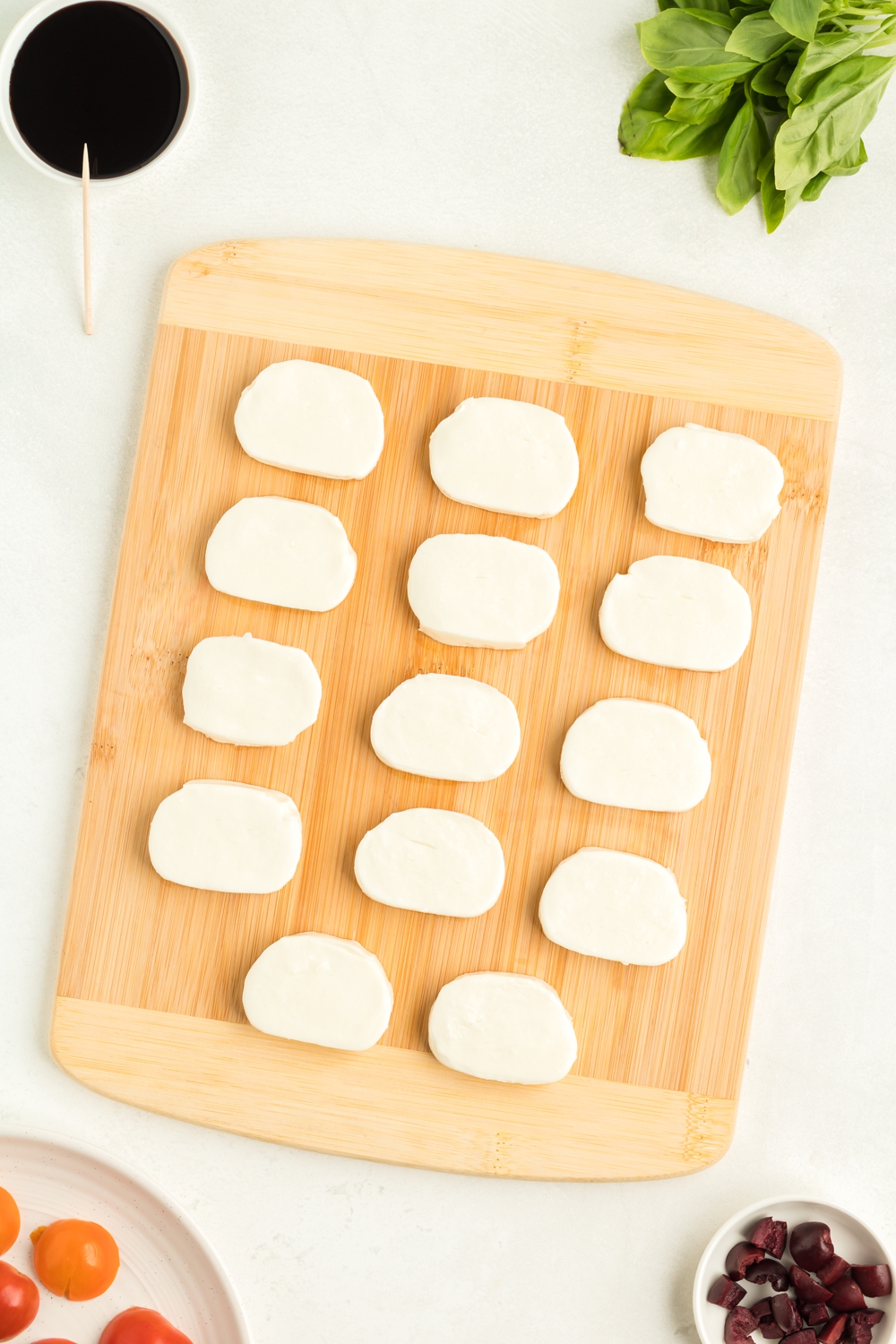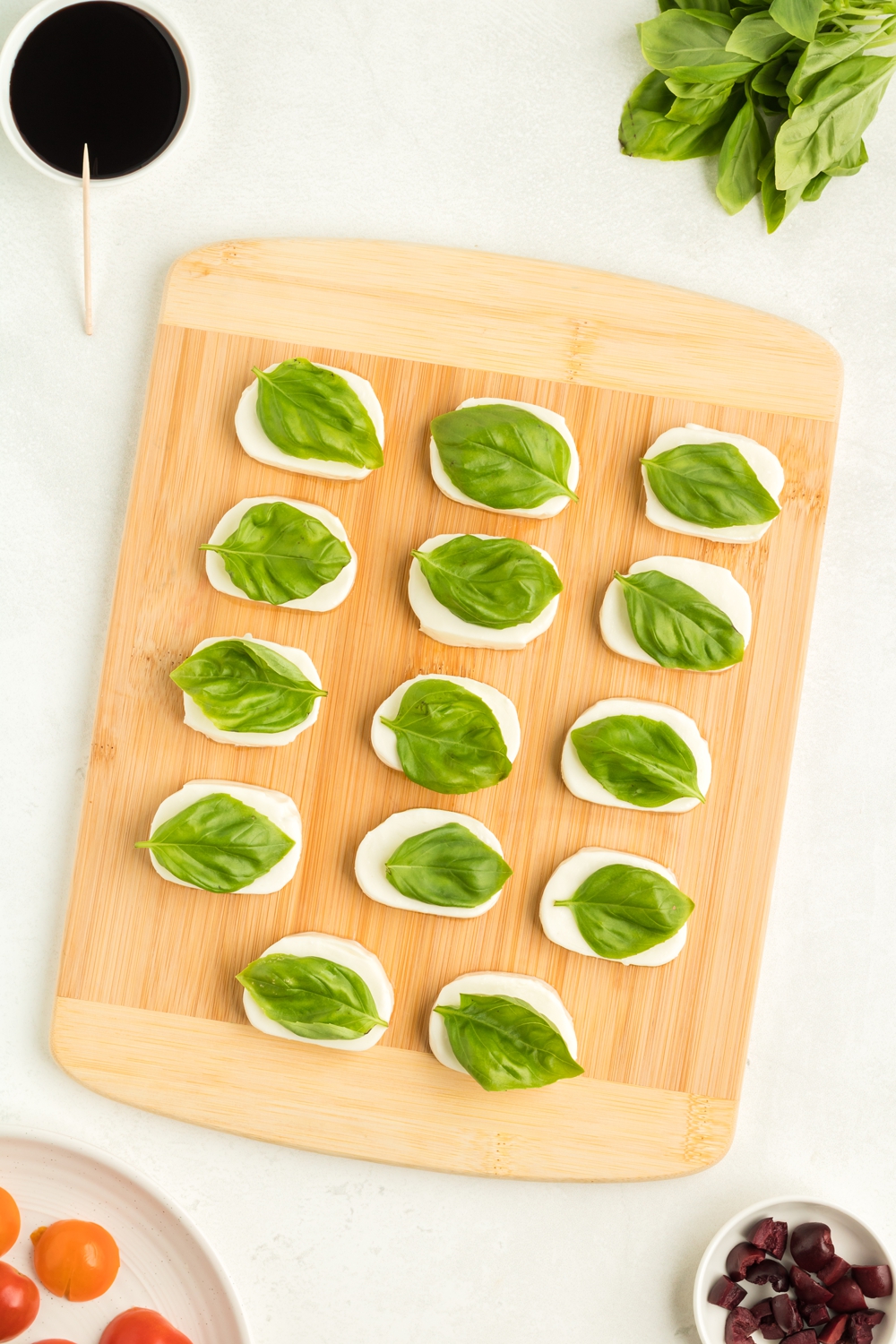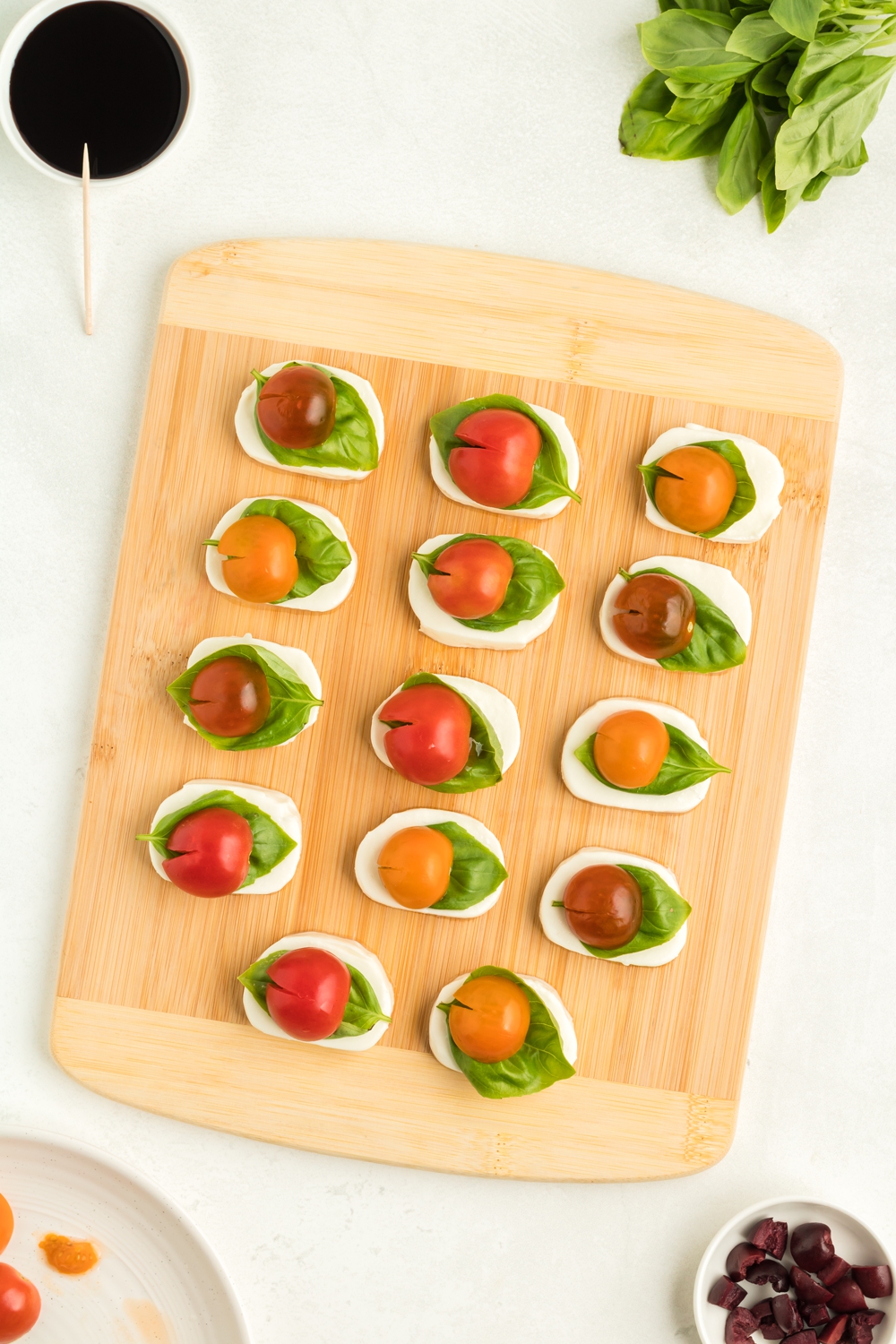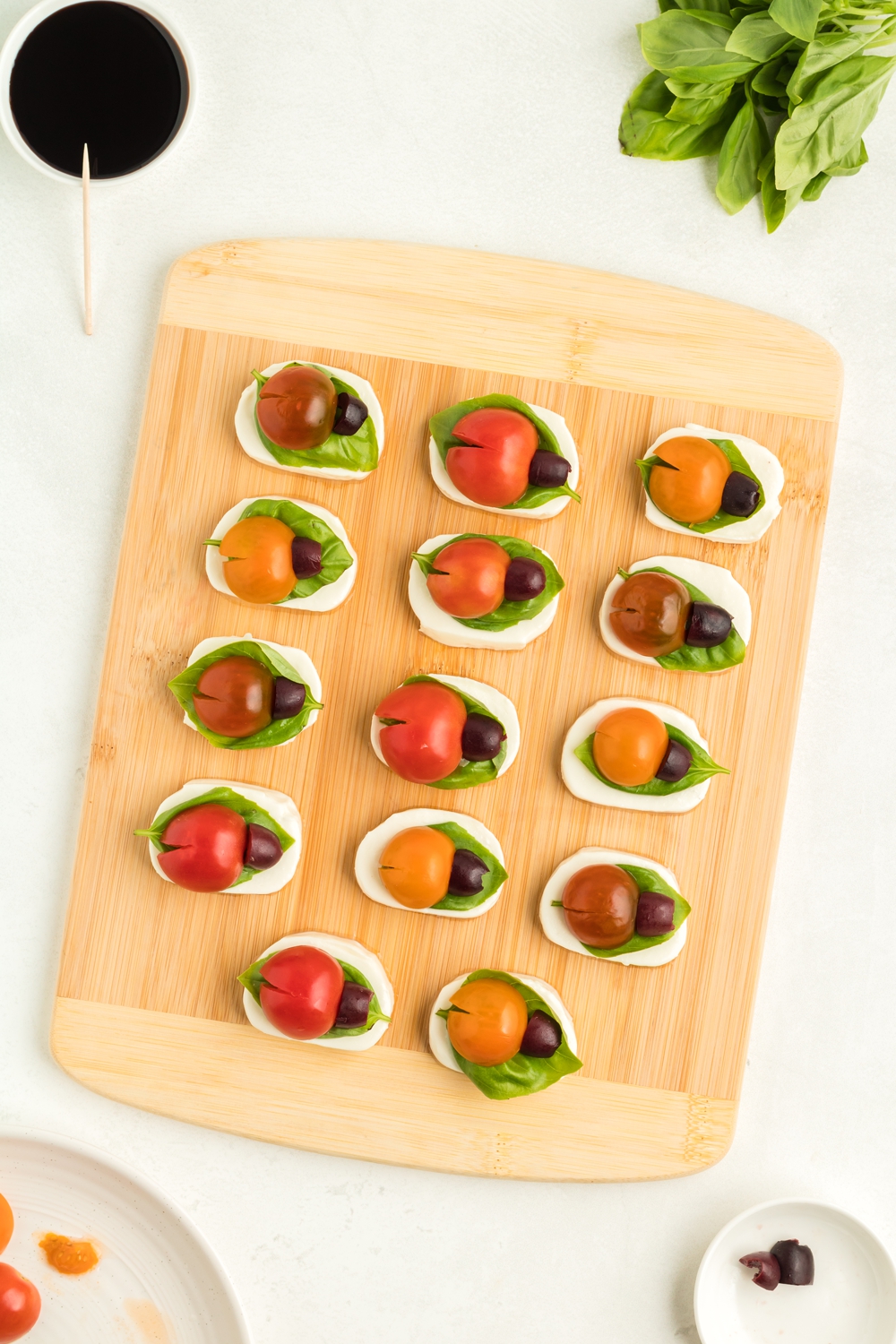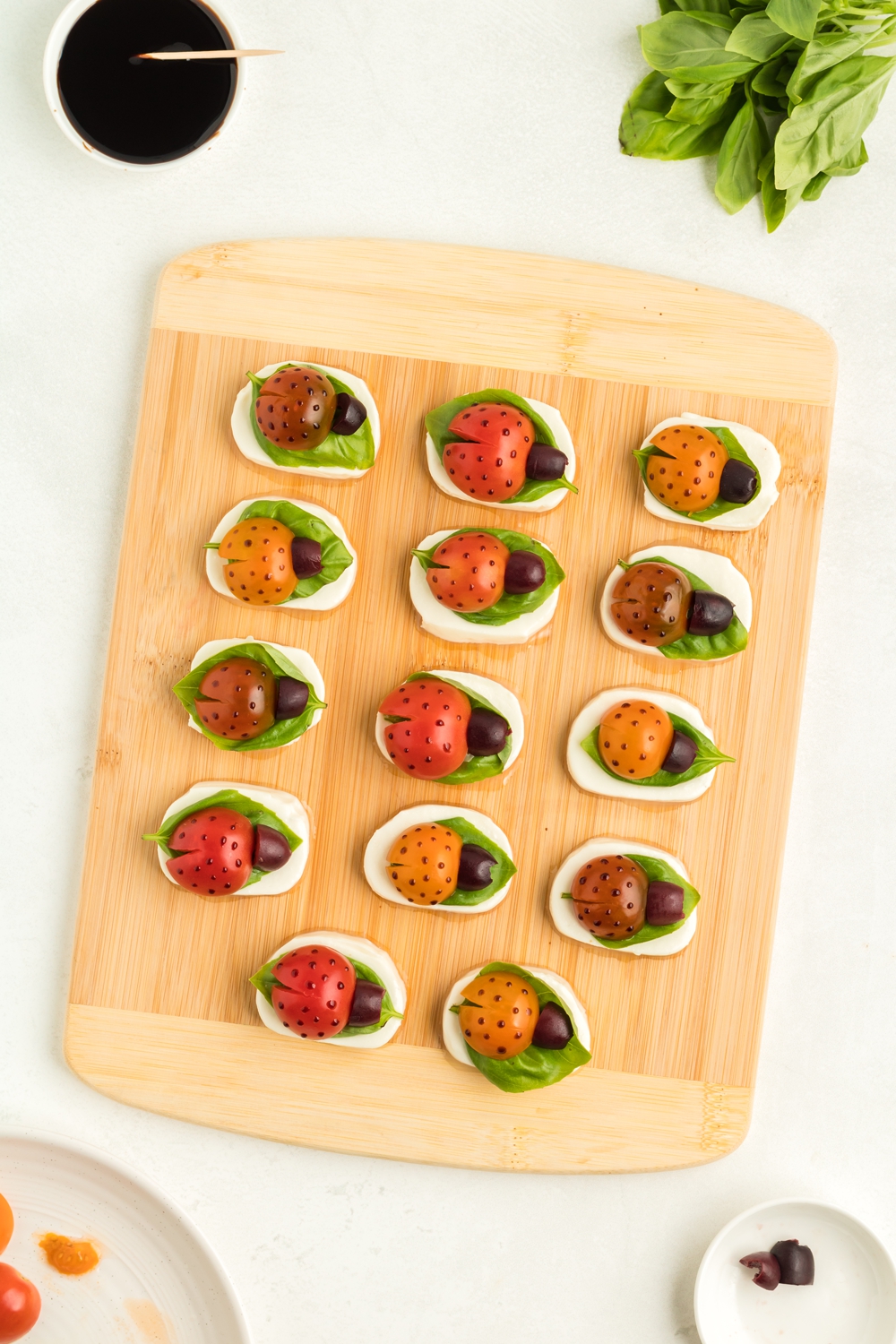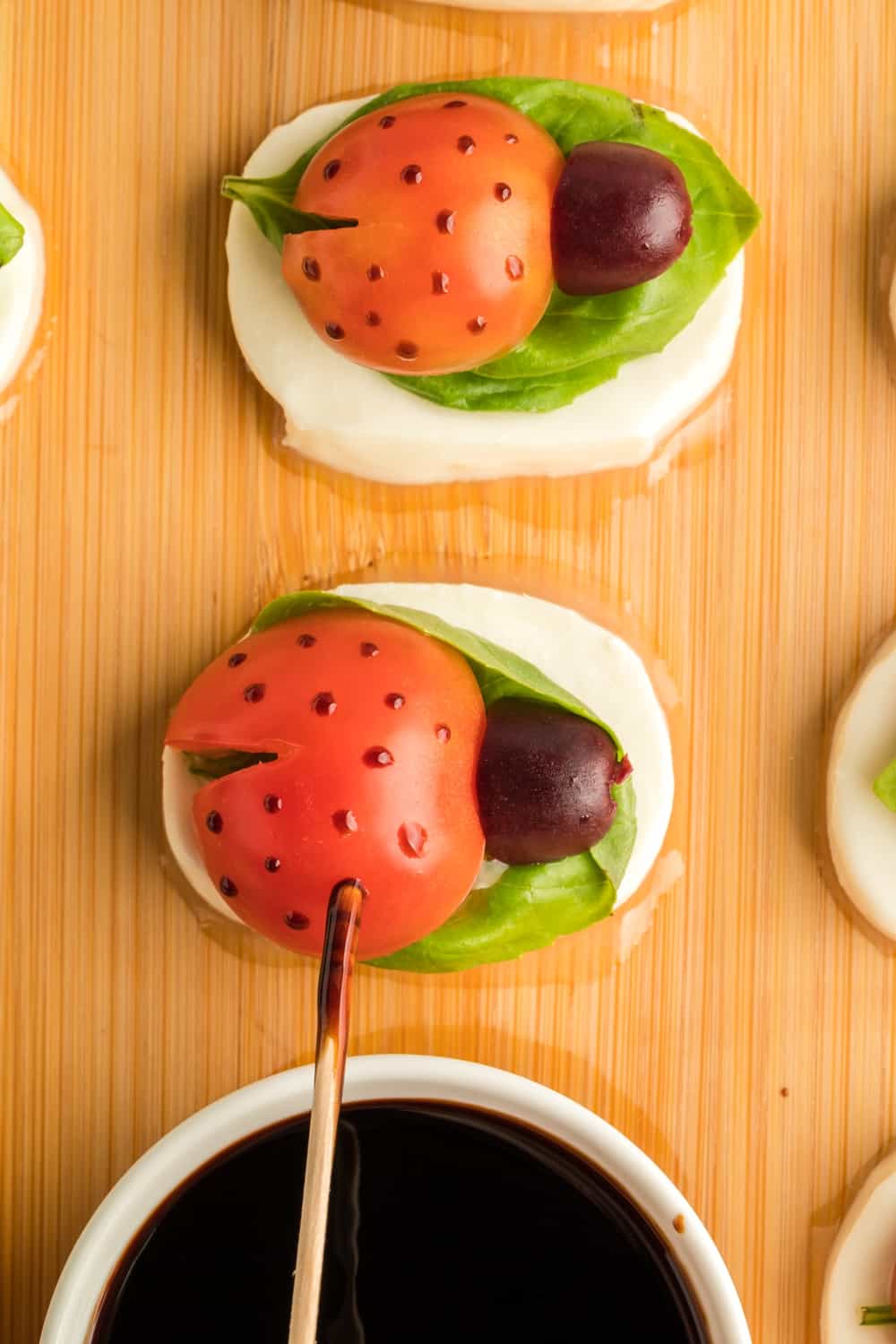 INSTRUCTIONS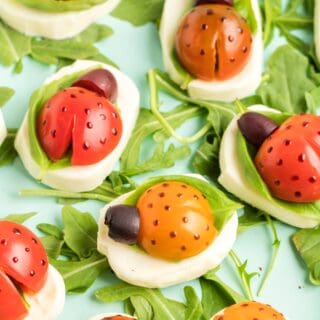 Ladybug Caprese Appetizers
You're going to love these Ladybug Caprese Appetizers! Simple and easy!
Ingredients
8

cherry tomatoes

4

kalamata olives

1

package of resh sliced mozzarella (8 ounces)

16

basil leaves

2

tbsp

balsamic reduction
Instructions
Slice the cherry tomatoes in half vertically. Lay the halves flat side down, then cut a small slit to create the wings of the ladybug. Gently wiggle the knife back and forward to open the slit to make the wings more pronounced.

Cut each olive in half horizontally, then cut each half in half again horizontally so you have four pieces. These will create the head of the ladybug.

Lay the mozzarella slices on a platter. Top each piece of mozzarella with a basil leaf. Place a cherry tomato half on the basil leaf to create the body of the ladybug. Add one of the olive pieces at the top of the sliced cherry tomato.

Using a toothpick, dot the balsamic reduction onto the cherry tomatoes to create the ladybug spots.

More appetizers you'll love