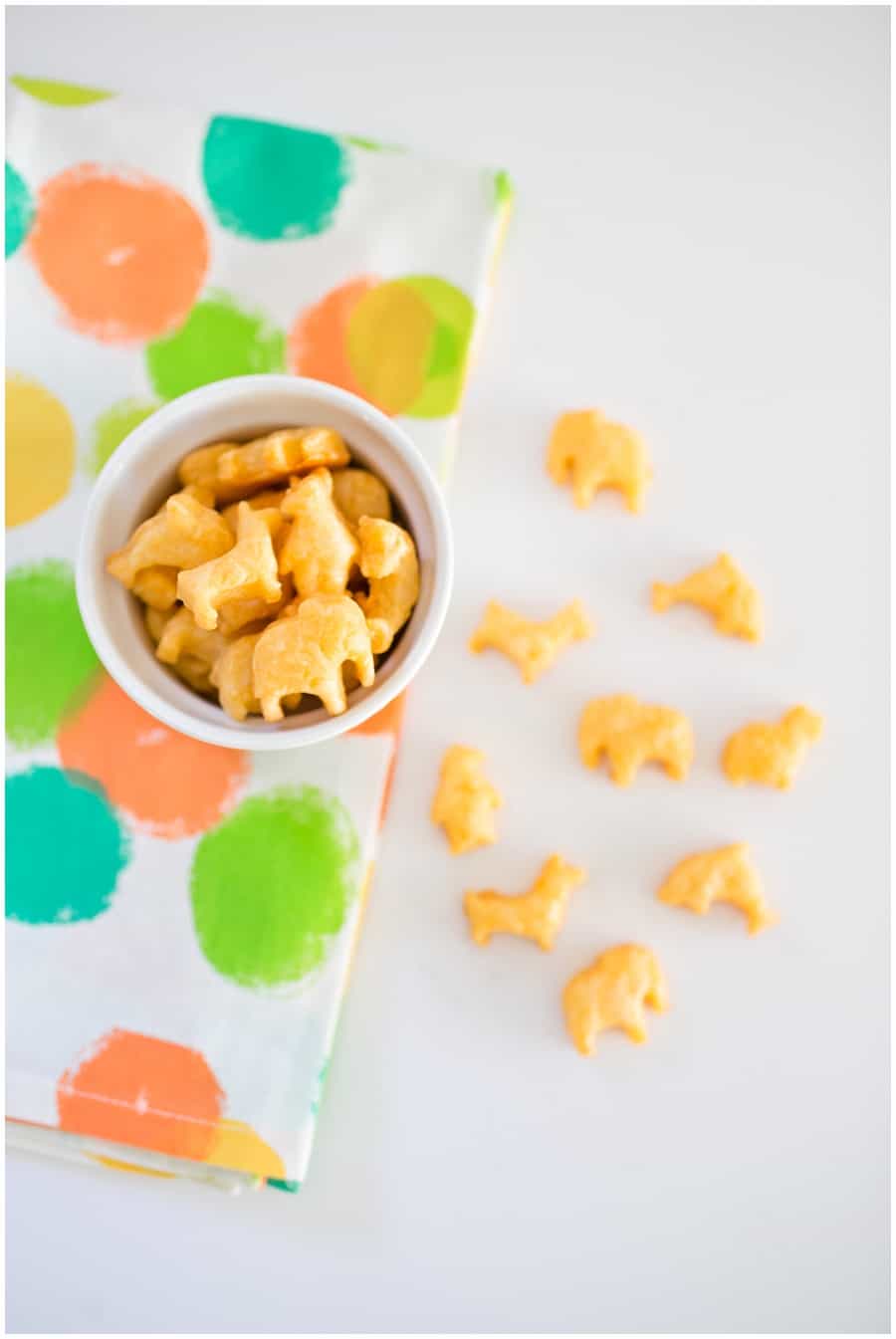 My kids can eat these homemade cheese animal crackers by the fistful (if I let them). We made these baked cheese animal crackers based on their favorite type, cheddar goldfish, except in animal shapes. These homemade animal crackers are so much healthier and taster than the store-bought version. They come together surprisingly easily too and are a yummy bite-sized kid snack.
Take a look below to see how to make these delicious baked cheese animal crackers.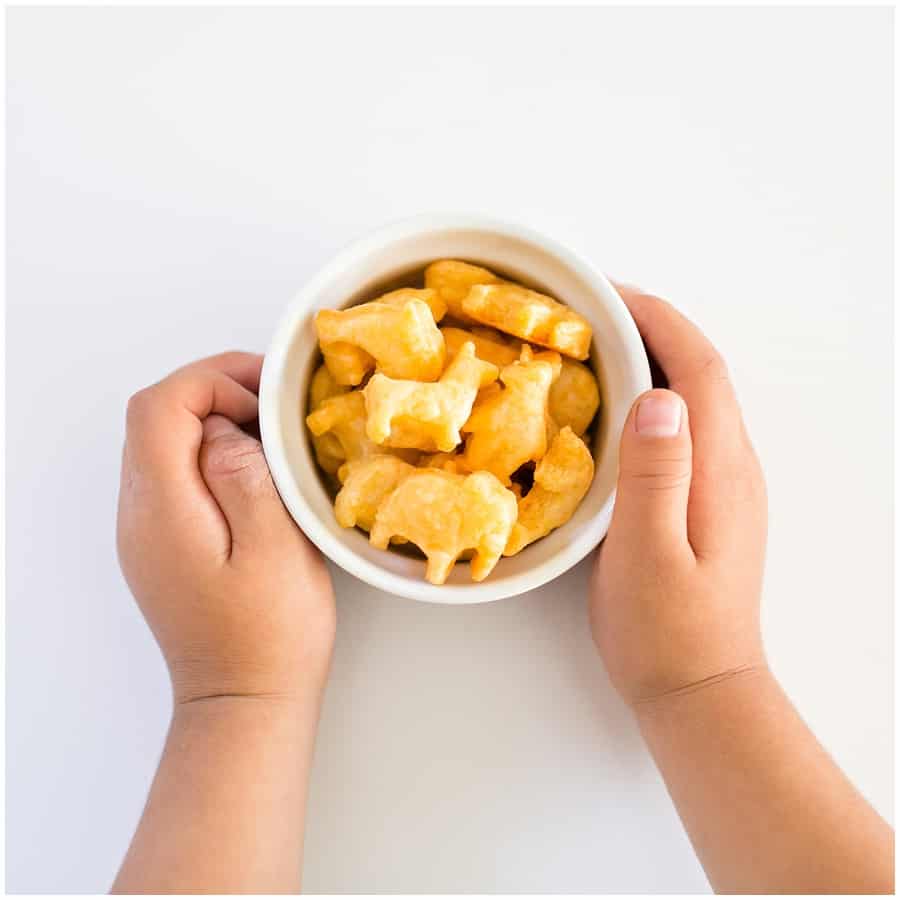 These Homemade Cheese Animal Crackers are Much Healthier Than Store Bought
This is a healthy baked snack you can make with the kids, and it's a really good introduction to making dough, rolling it out, and stamping shapes. The ingredients for baked animal crackers are super simple too, you'll be surprised at how easy it is to make.
My kids love helping me make this because think it's fun that we make edible "play doh" that we bake! Me being a mom, immediately said, "Please don't eat the play doh." Of course, they started laughing loudly at me being silly about eating play doh. Another chapter in my life of motherhood!
It will be hard going back to store bought after eating these, so I'm going to have to make huge batches of these! I sure do hope that my kids are ready to stamp out a million and one little homemade animal crackers. I love knowing what ingredients my kids are going to eat, and since they're so simple to make…we can whip these homemade animal crackers in no time! One batch actually makes around 150 mini crackers!
What are some of your favorite healthy snacks to make for kids? Here are some delicious kid snack ideas that I think you'll just love! You totally have to try my Peanut Butter and Jelly Pull Apart Bread!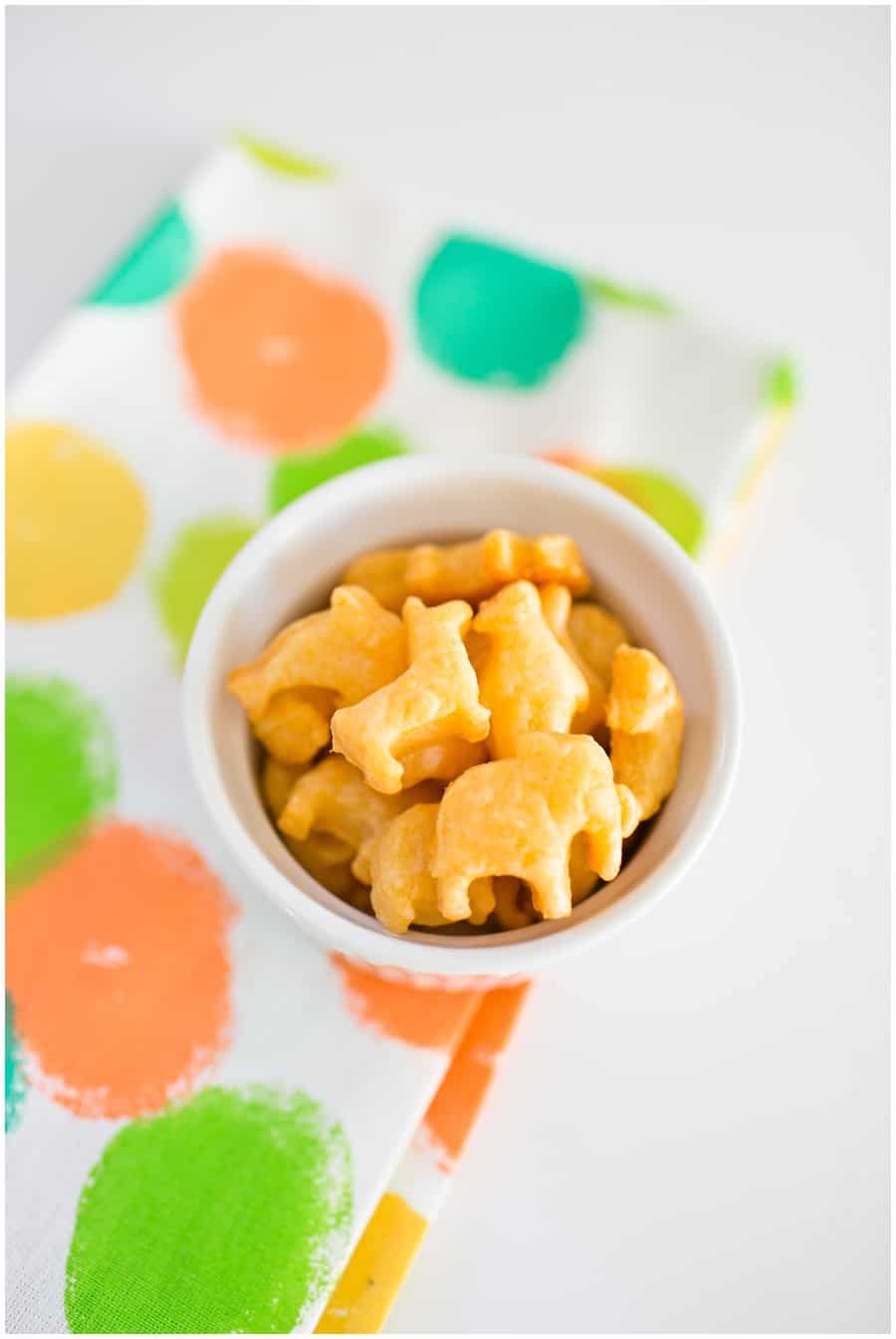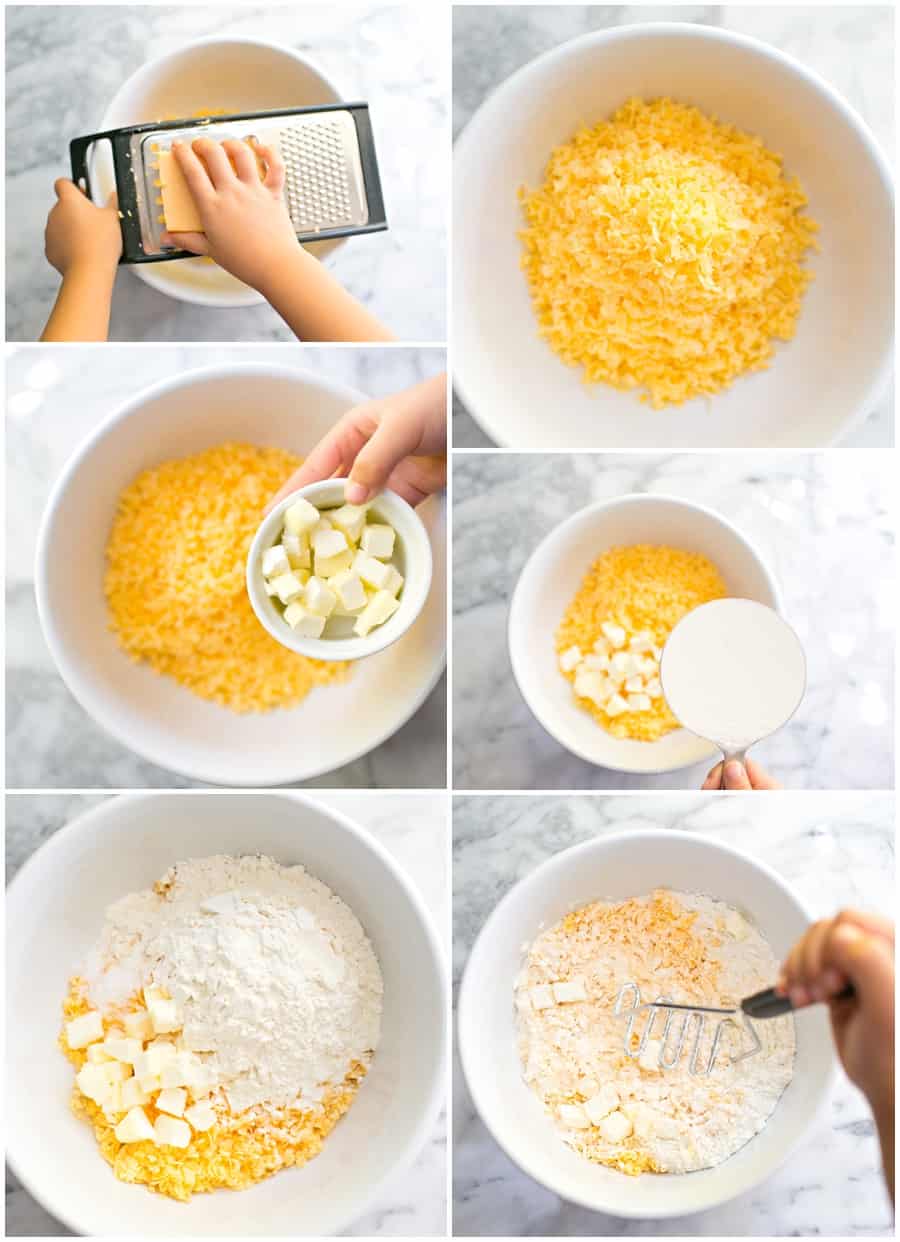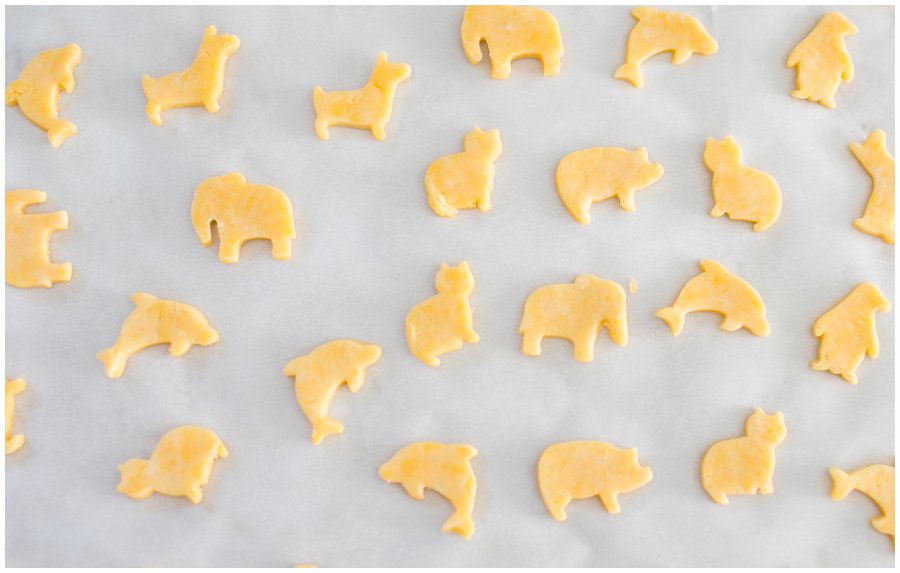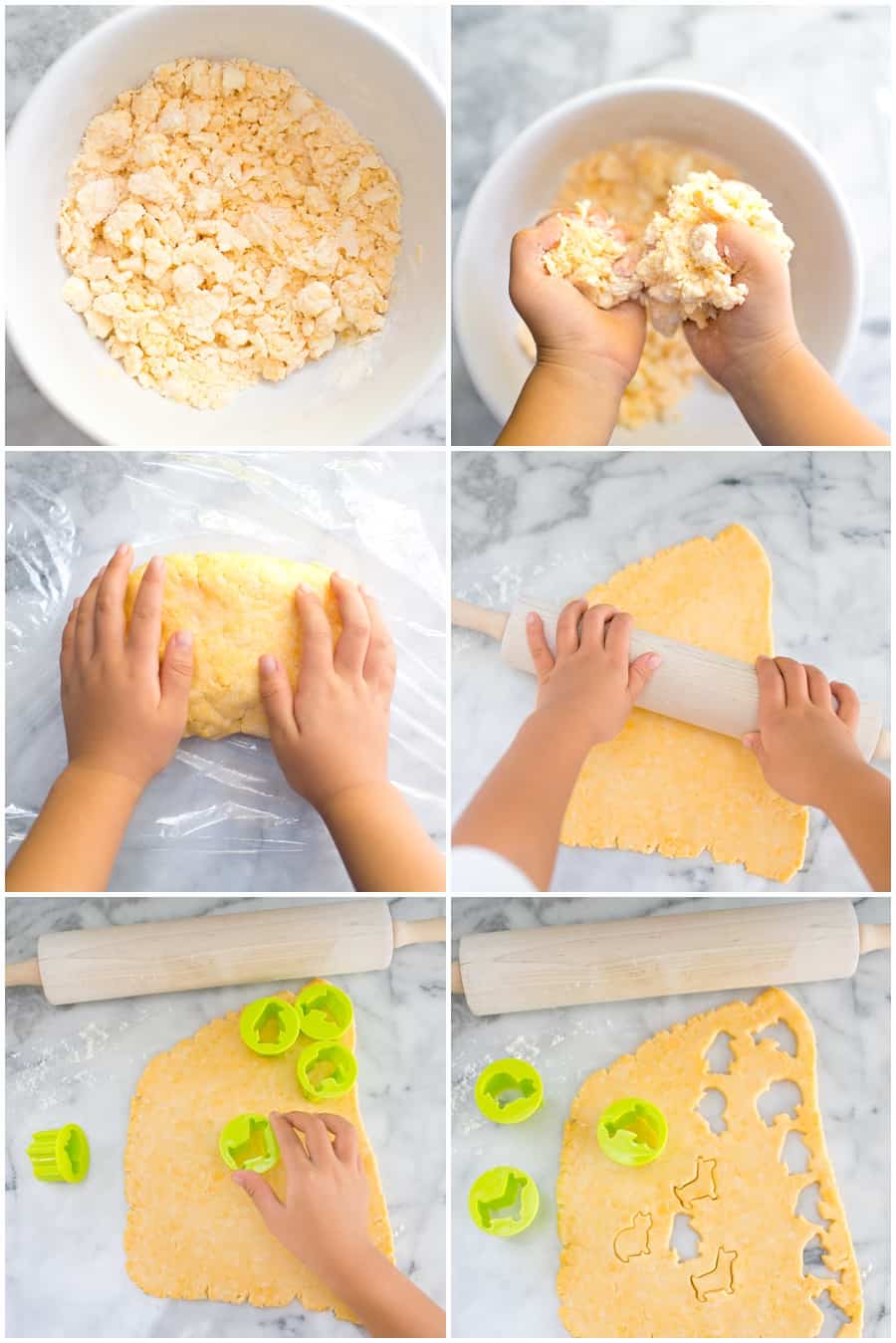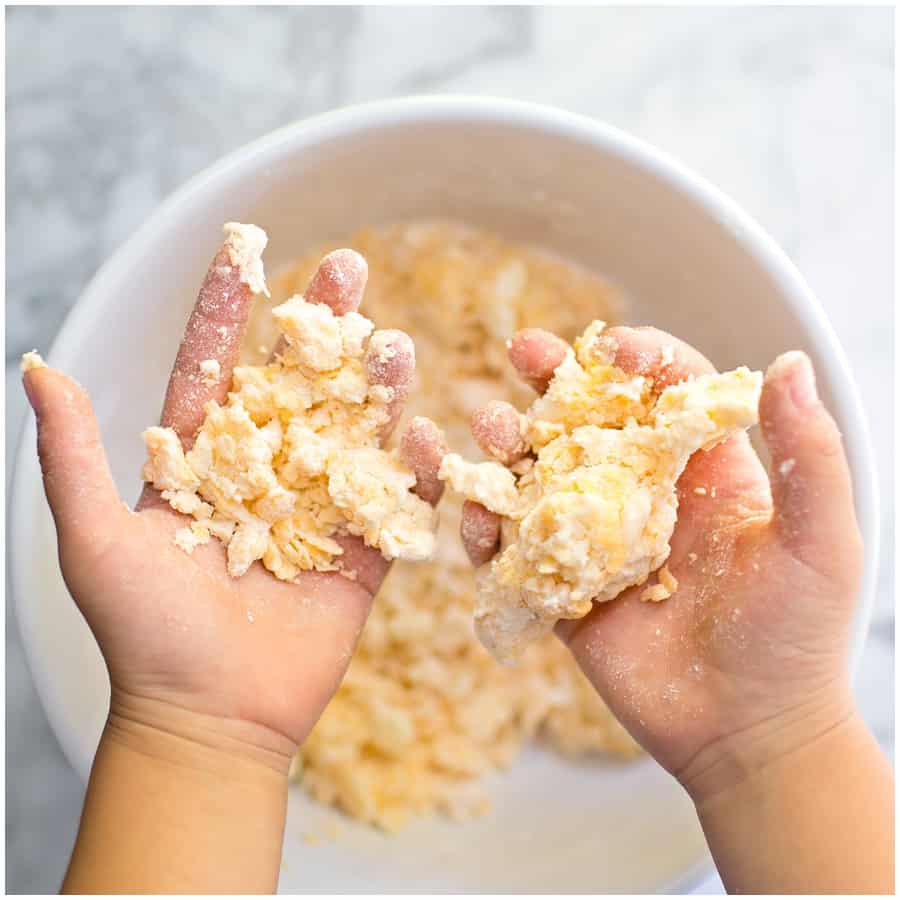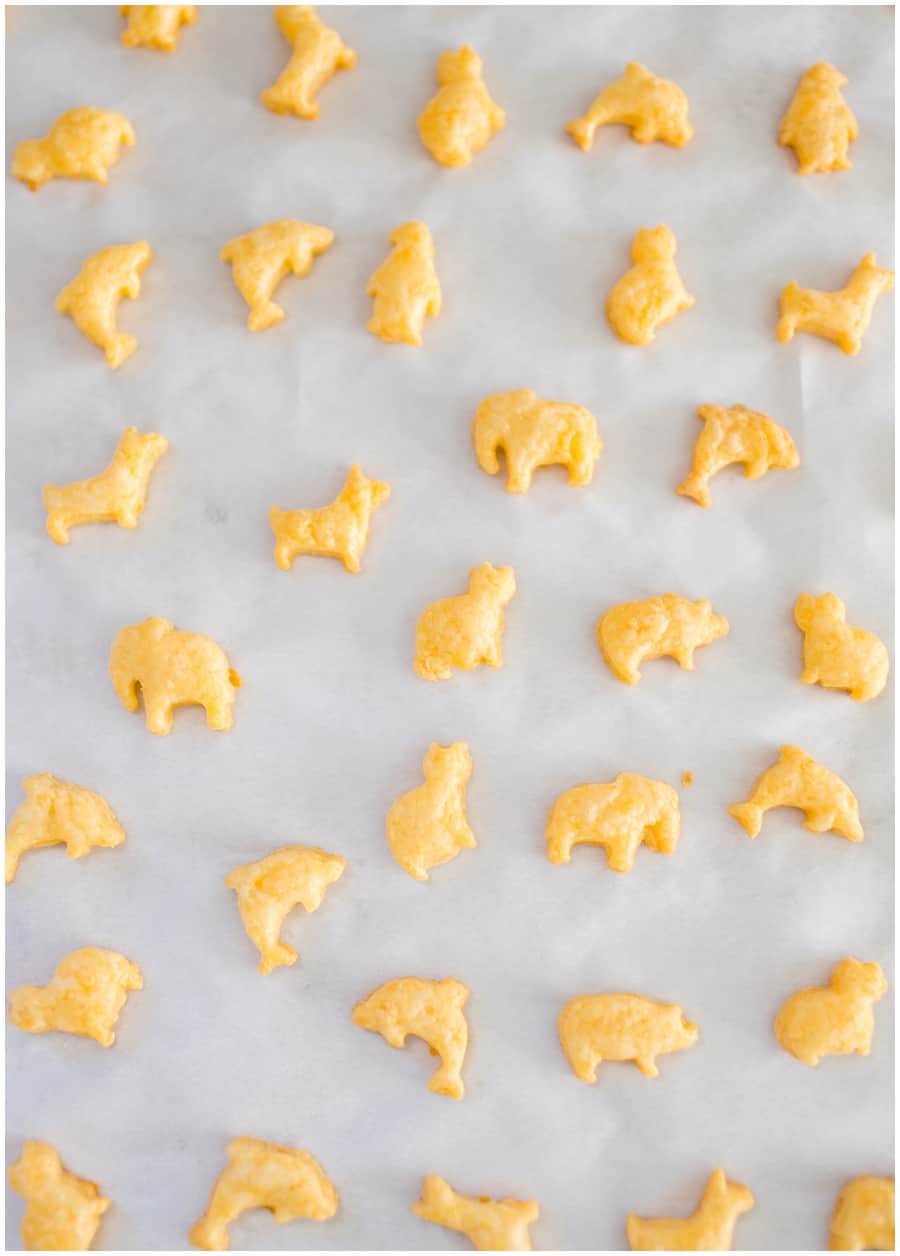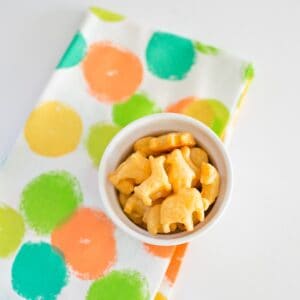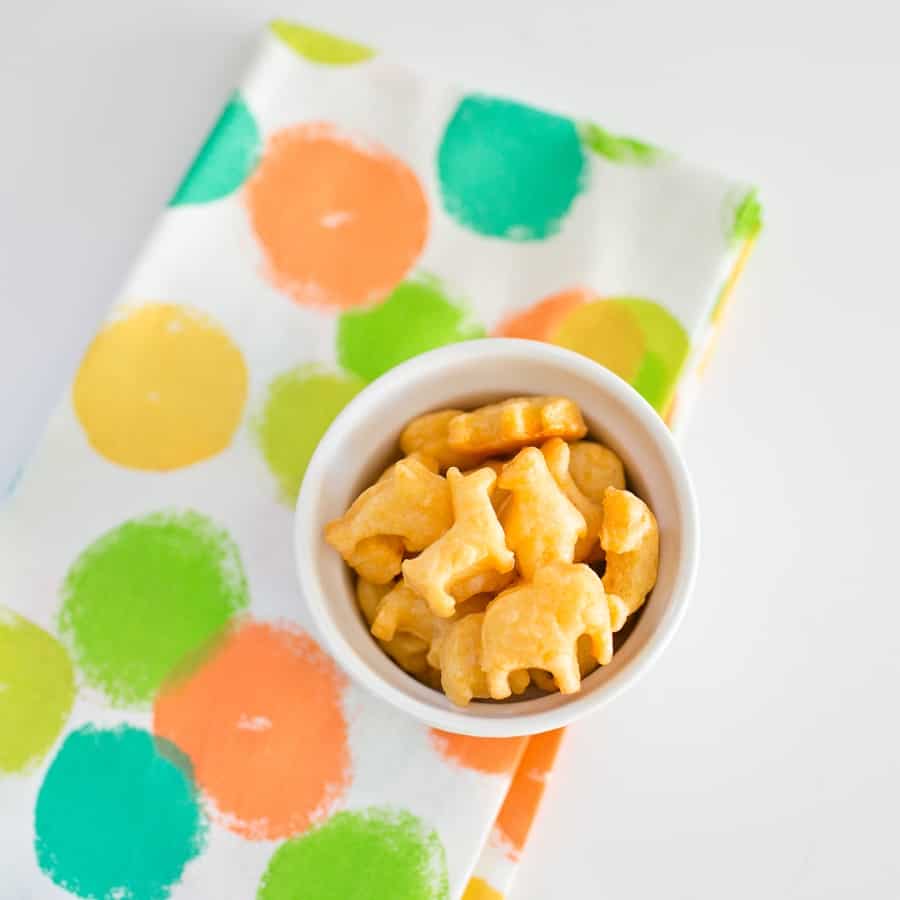 Homemade Cheese Animal Crackers
These homemade cheese animal crackers are much healthier than store bought and make an easy healthy snack for kids.
Ingredients
8

oz

shredded cheddar cheese

4

tbsp

unsalted butter

cut into cubes

1

cup

flour

1/3

tsp

kosher salt

2 1/2

tbsp

cold water
Instructions
Preheat oven to 350 degrees

Step 1. Help your child grate the cheese with a hand grater. Add butter, flour and salt to the bowl of grated cheese. Mix well and add water. Mash around (we used a potato masher, but you can use a fork, food processor, or whatever works well for you). If the dough is too dry, add a bit more water until you get a dough that comes together.

Step 2. Gather the dough into a ball and flatten into a disc. Wrap in plastic wrap and refrigerate for about 30 minutes or until slightly firm.

Step 3. Now the fun part begins. Roll the dough out between 1/4″ to 3/8″ inch thick. It's helpful to get the disc rolled out a bit first and then have your child practice with the rolling pin to get it flatter. Cut out shapes and set aside on a parchment lined baking pan.

Step 4. Bake at 350 degrees for about 15 minutes until the crackers are golden and puffed up. You're done!
Notes
Recipe slightly adapted from Tasty Kitchen
Nutrition
Calories:
12
kcal
Carbohydrates:
1
g
Protein:
1
g
Fat:
1
g
Saturated Fat:
1
g
Cholesterol:
2
mg
Sodium:
15
mg
Potassium:
2
mg
Fiber:
1
g
Sugar:
1
g
Vitamin A:
25
IU
Calcium:
11
mg
Iron:
0.1
mg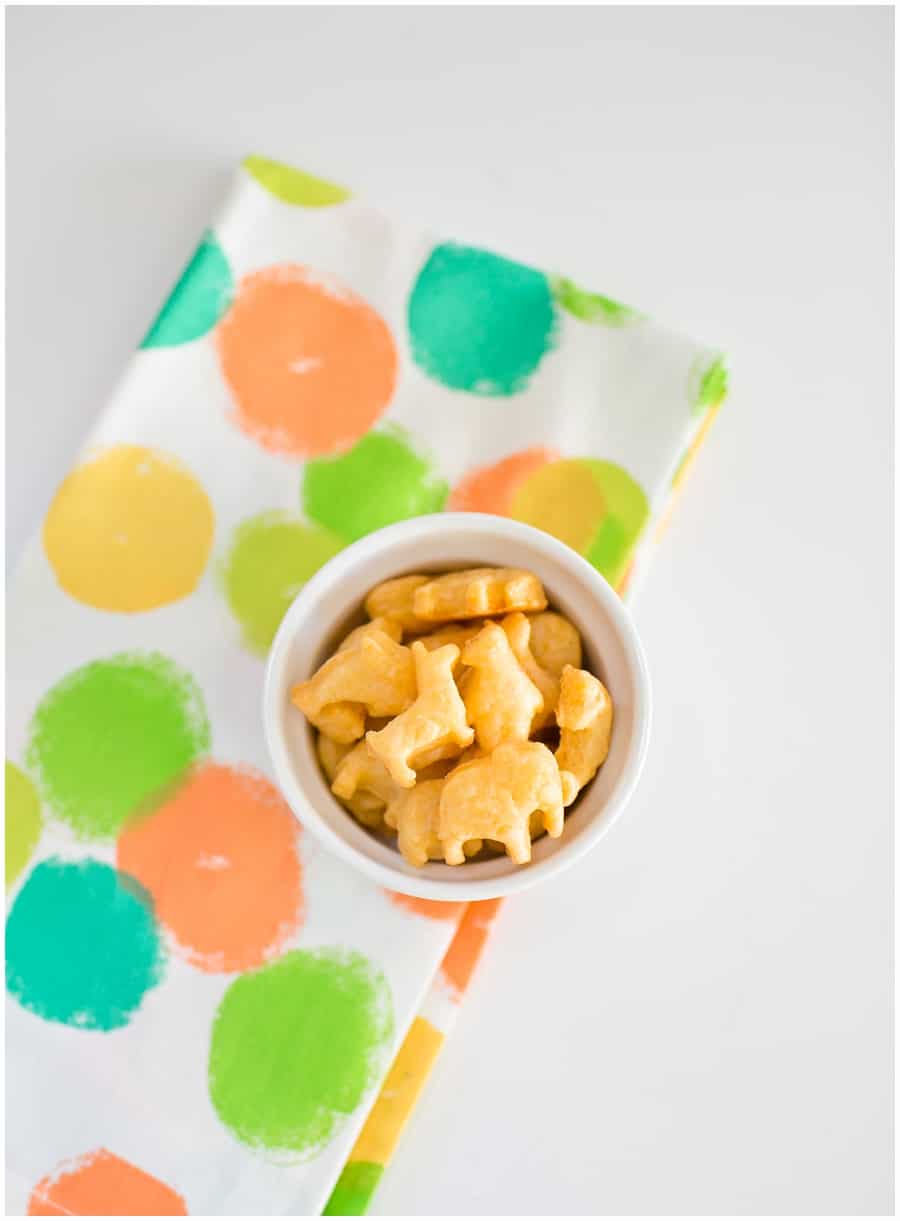 This is how they look out of the oven. They're puffy with a soft interior but crispy on the outside. The cheddar flavor really comes out and they are addictive to eat!
They store well in a sealed container at room temperature for about a week (if they last that long).
What's even more fabulous about my homemade cheese animal crackers recipe is that you can add in additional flavors to the dough. Want them to be a bit more on the savory side? Add crumbled bacon, rosemary, thyme, cracked pepper, the possibilities are totally endless.
Check out the video below to see how easy these homemade cheese crackers are to make.