By using this site, you agree to our Terms of Use. This post may contain affiliate links. Read our disclosure policy.
Follow us on Instagram for more fun food ideas for kids!
Joanna Gaines' famous buttery biscuits have a plump tender crumb and are flakey and filled with buttery flavor and goodness.
Joanna Gaines claims to have taken a year to perfect her famous biscuit recipe and we can see why they really are perfect! The recipe can be found in her Magnolia Table Cookbook which is a crowd favorite with a total 5 star rating and over 26K favorable reviews. (Scroll all the way down for the recipe we found online that is also the same as in the book).
We love a good biscuit recipe because it's something the whole family can partake in doing. Biscuits require very few ingredients, they are great for little hands to help knead the biscuit dough. And they make your kitchen smell great! The best part? That aroma of buttery, flakey goodness goes straight into your mouth. There really is nothing like the taste of warm buttery biscuits straight from the oven!
Joanna Gaines tested her famous biscuits for a year and finally found the magic ingredient, adding eggs! We've never tried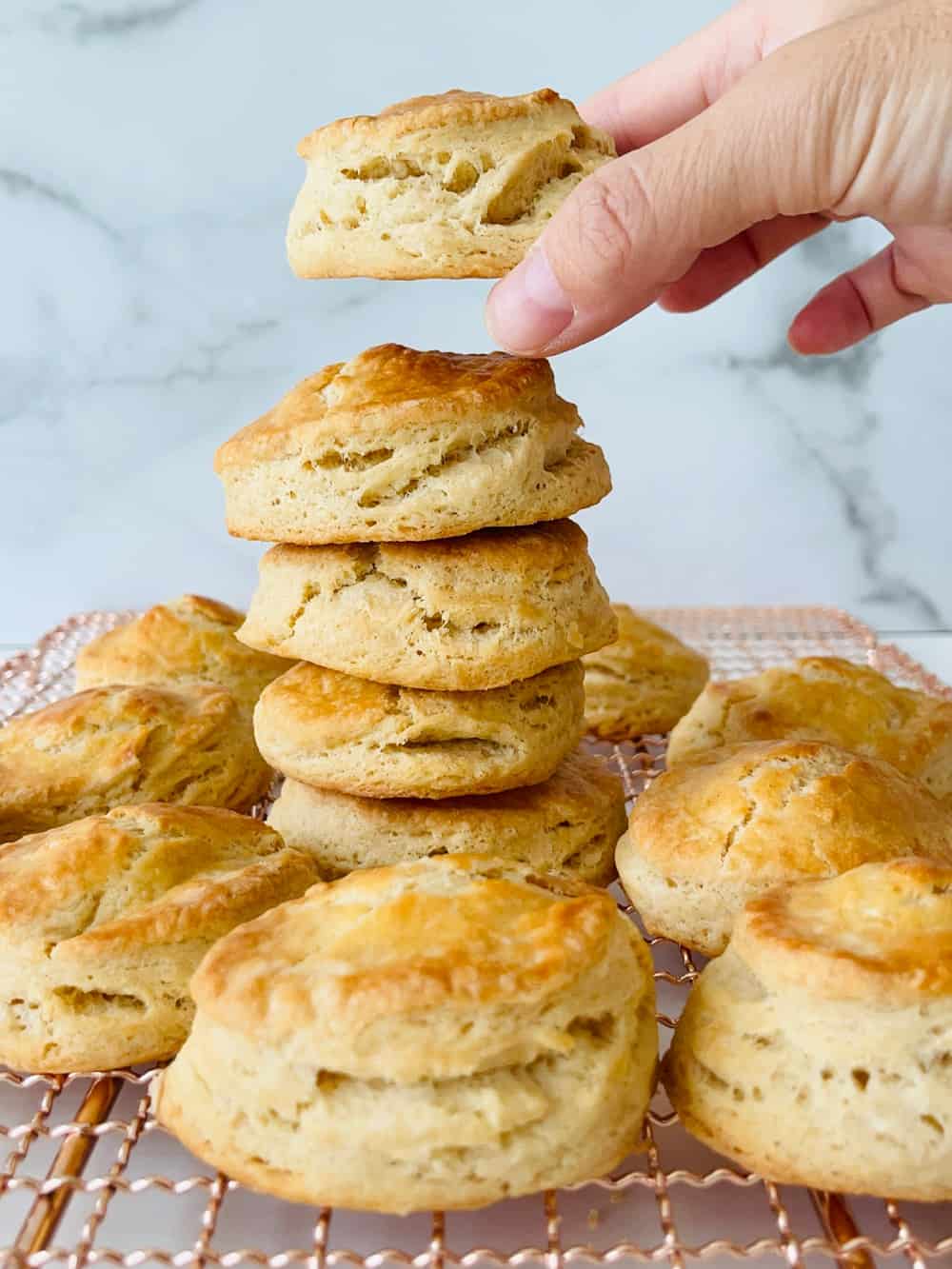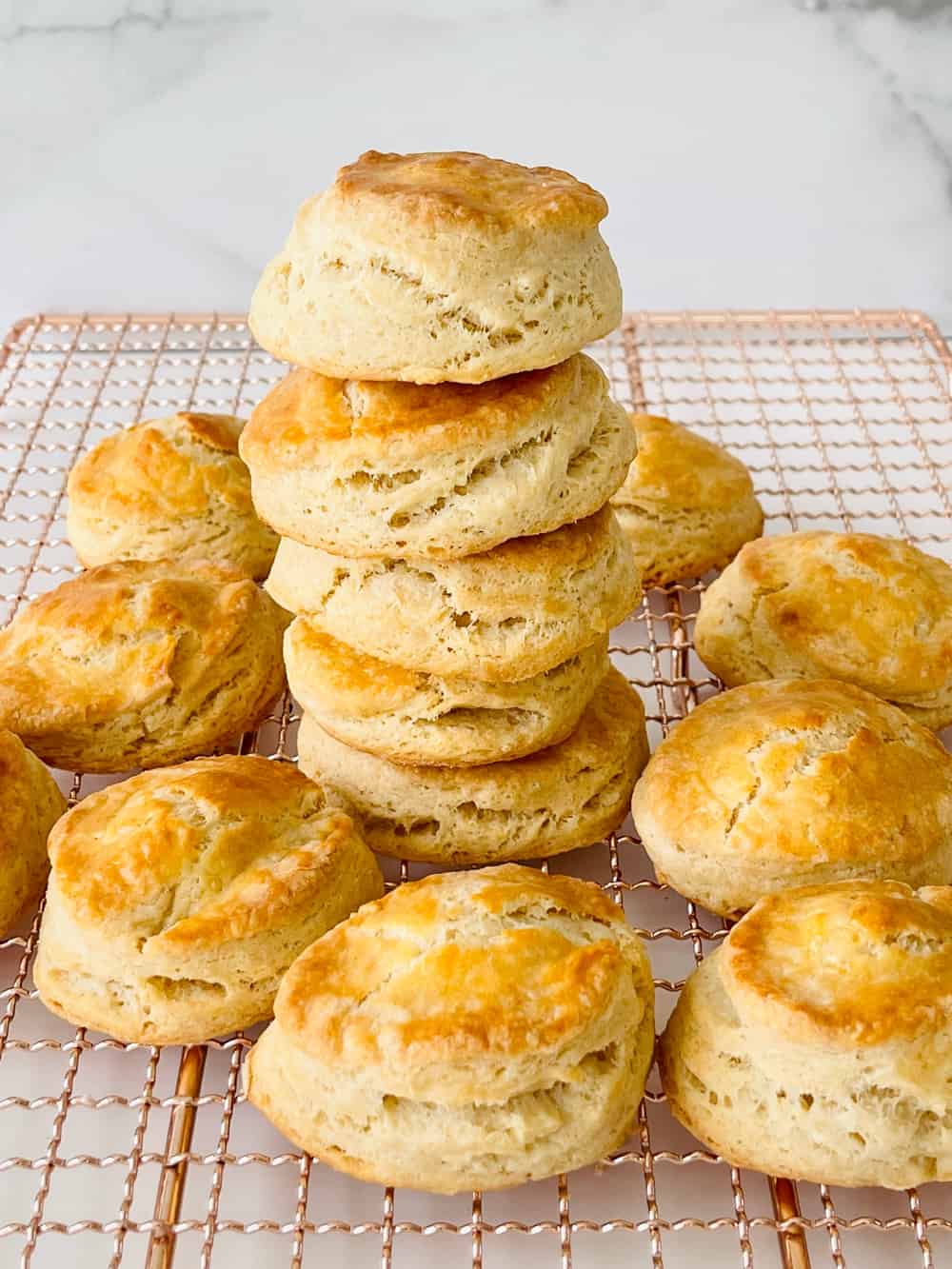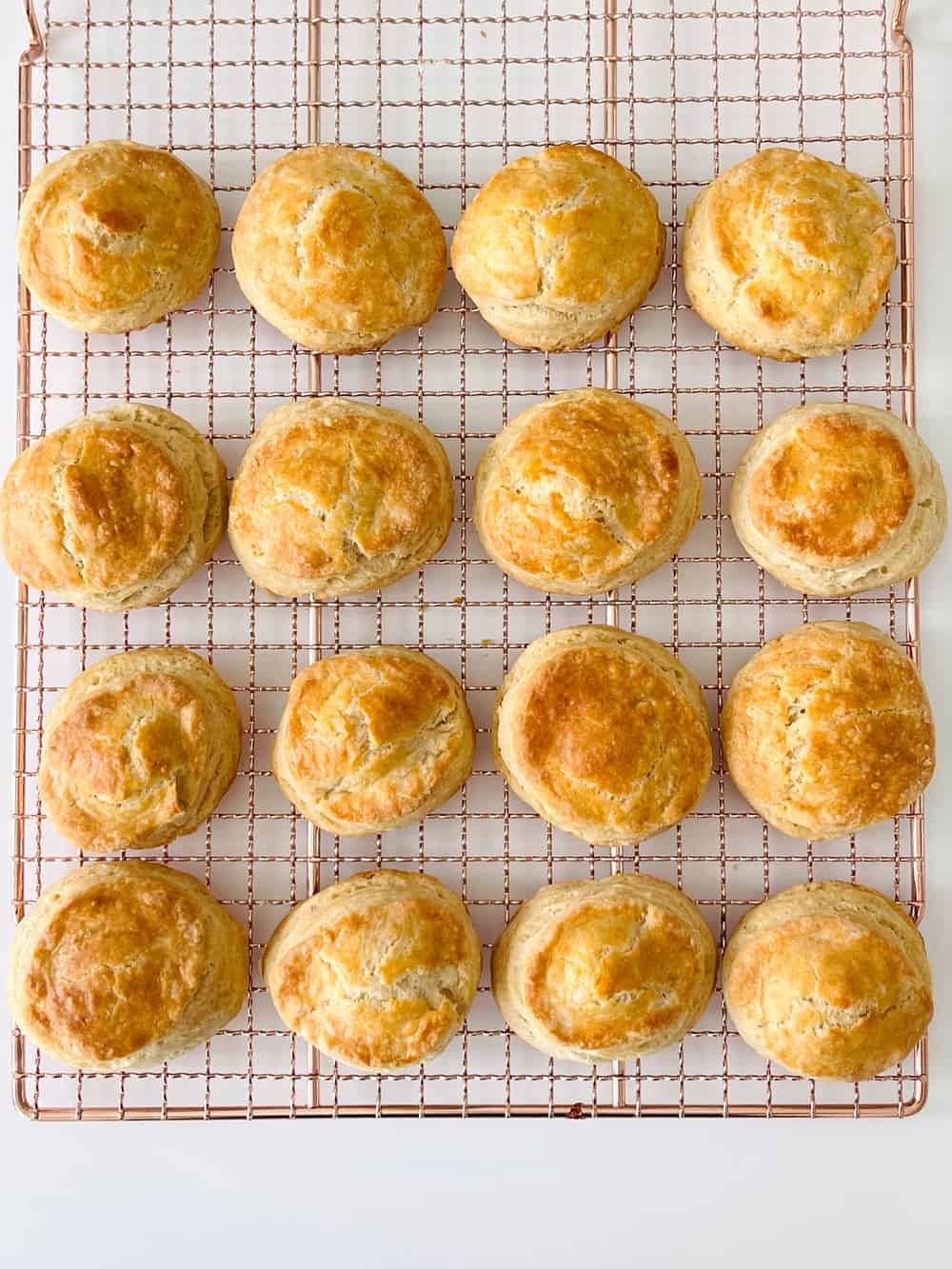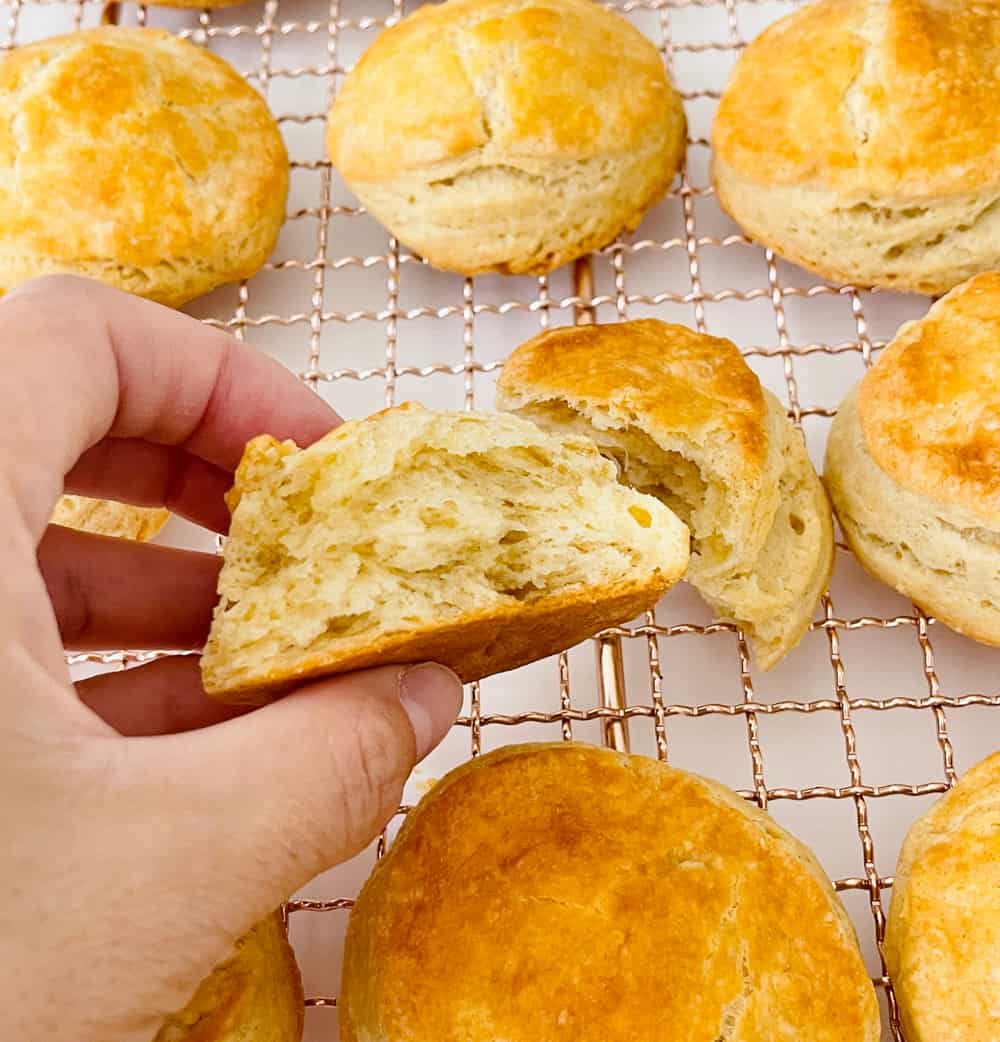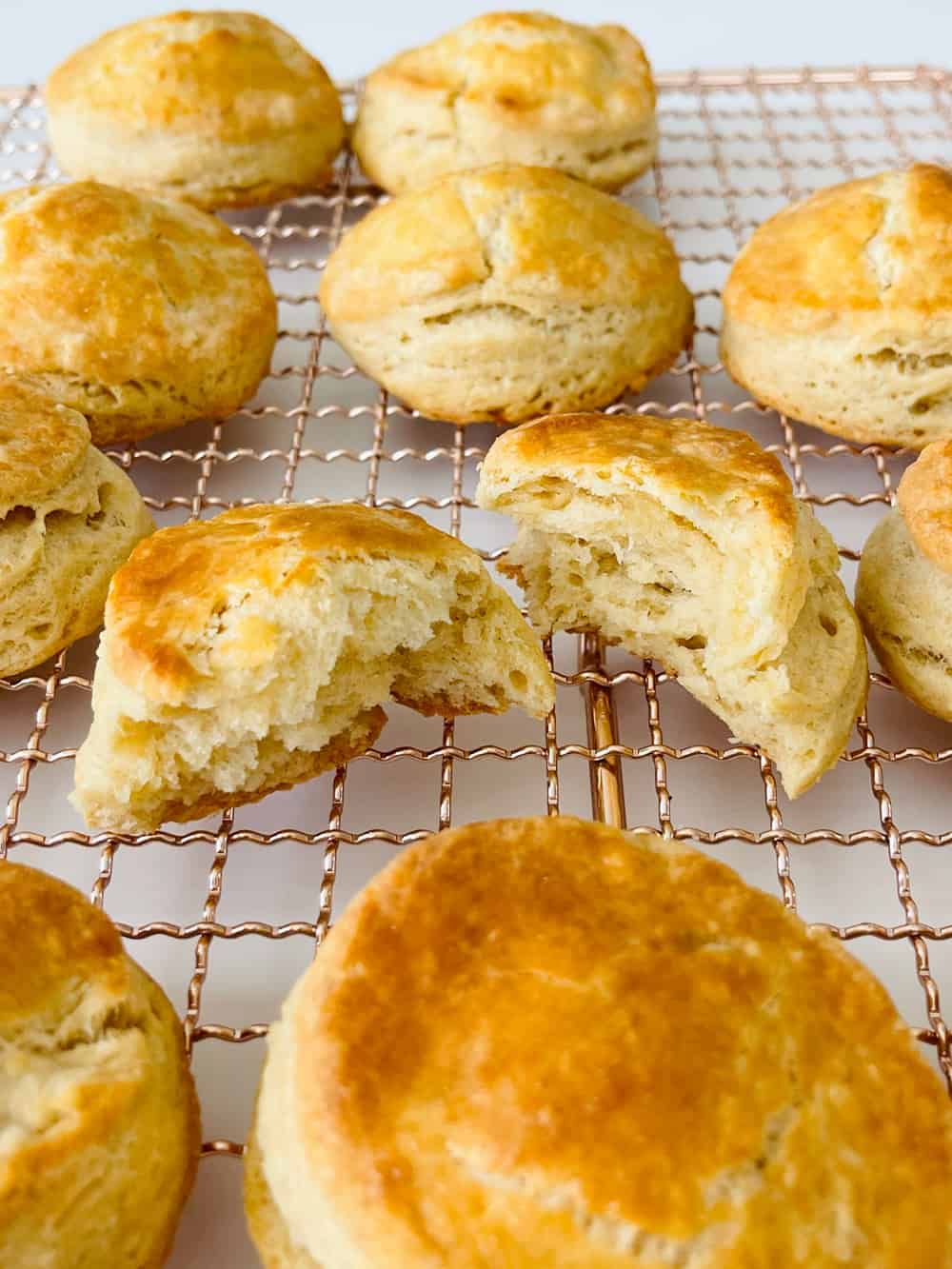 What are the ingredients in Joanna Gaines' Biscuit Recipe?
You will find the typical biscuit ingredients in Gaines' recipe such as self-rising flour, butter, buttermilk, and leavening agents like baking soda and baking powder. However, there is one secret magic ingredient which Joanna Gaines claims makes her biscuits stand out from the rest and gets their lofty look.
What is the magic secret ingredient in these buttery biscuits?
After a year of testing, Gaines found the magic ingredient was adding eggs! We've never tried eggs in our biscuits before and are a fan now. They give biscuits a rise like no other, and a moist, tender crumb. Since eggs are added to make cakes, you will find this biscuit richer in that sense. Also, note your biscuits will be more golden on the outside and inside. The crumb is also a little bit tighter than traditional biscuits, not quite like a cake, but closer than biscuits made without eggs.
Biscuit Ingredients:
Self Rising Flour
Salted Butter
Baking Soda
Baking Powder
Eggs
Buttermilk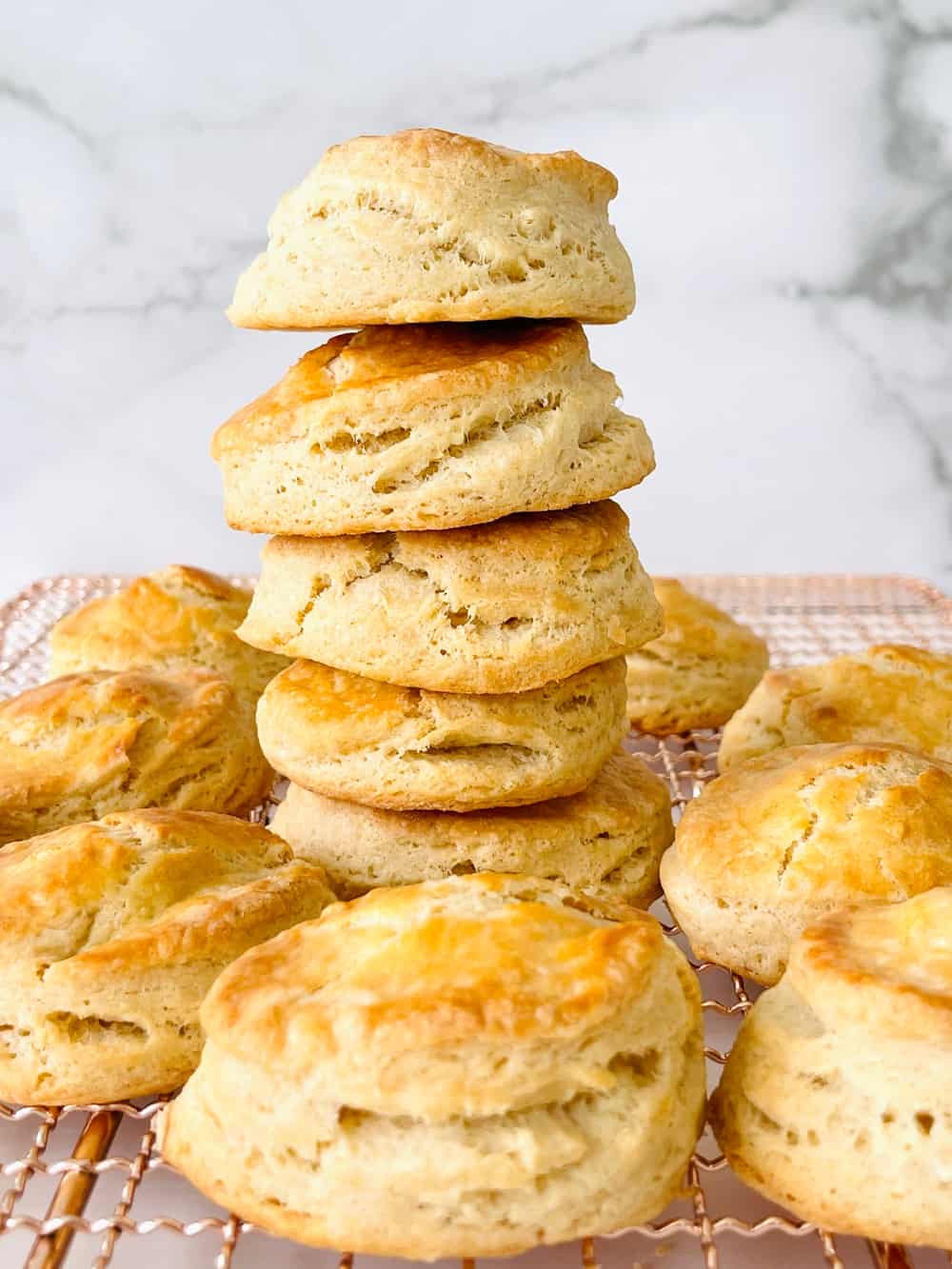 How Do you Make Joanna Gaines' Biscuits?
(Watch the video in this post)
You'll first want to which your self-rising flour with the baking powder and baking soda. Since you're using salted butter, there is no need to add salt. The butter can be grated (preferably when the blocks are super cold or even frozen) with a cheese grater right into the flour. Or diced into small 1/2 inch cubes. Then you will use a pastry cutter to blend the butter and flour until pea sized chunks form. The last step is to add your eggs and buttermilk and give that a good stir around. Wrap the dough and refrigerate for at least half an hour. Roll out onto a floured board and cut with 2-3″ biscuit cutters and place on a parchment lined baking pan. You'll want to glaze the top with a whisked egg and a bit of buttermilk to add it a goldens sheen. Then bake in a preheated oven.
What can you serve with these buttery biscuits?
Gaines recommends jam or gravy for serving. We found them delicious with butter and jam. But my kids also loved them plain! We served them with chili the next and they were superb lightly toasted again for warmth. They would also be a great starch companion to stews and soups!
Joanna Gaines' perfect biscuit recipe can be found here or in her Magnolia Table Cookbook!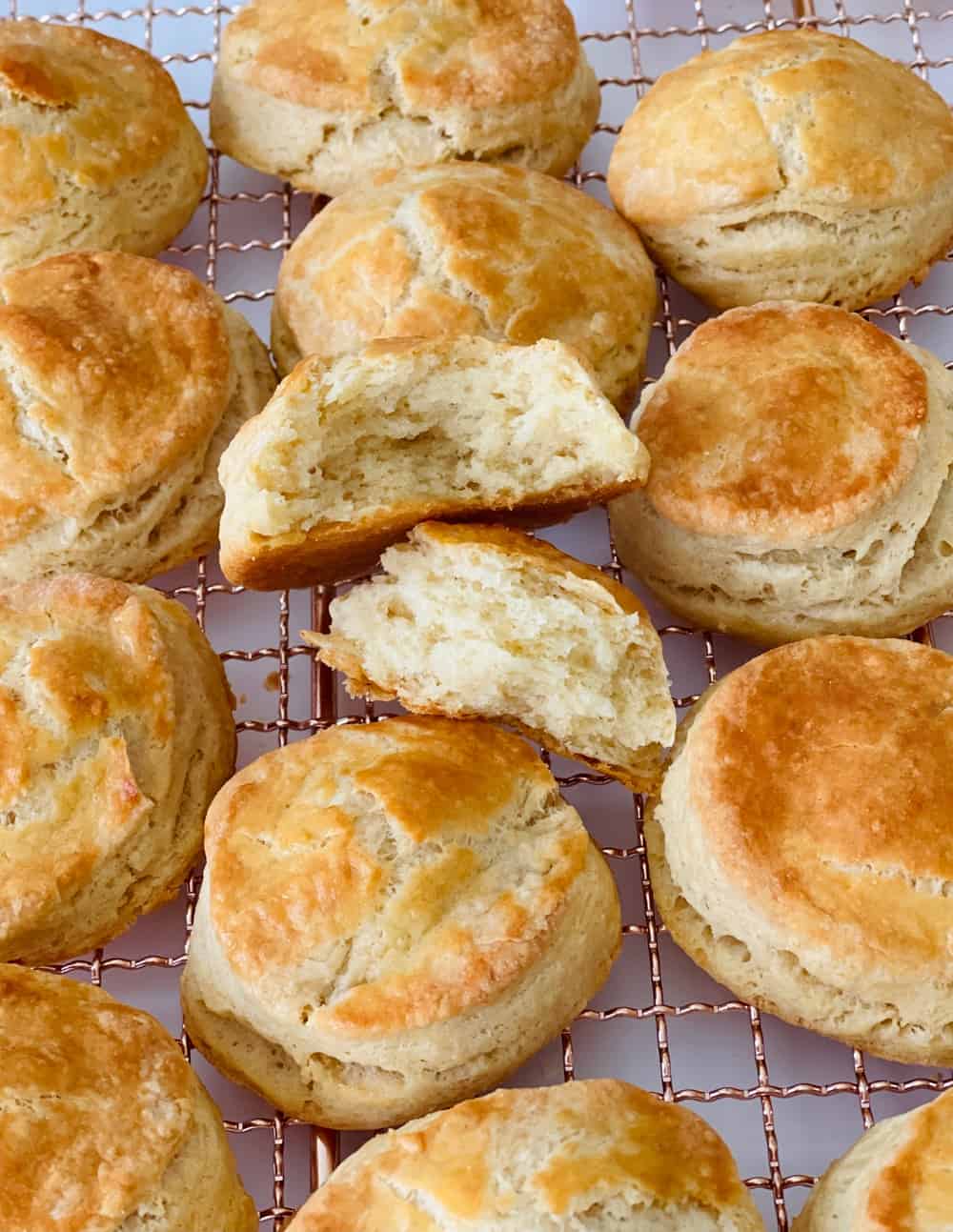 Check out more drool-worthy recipes
Jennifer Garner's Blackberry Cobbler