By using this site, you agree to our Terms of Use. This post may contain affiliate links. Read our disclosure policy.
Follow us on Instagram for more fun food ideas for kids!
This TikTok Ramen Recipe is a tasty food hack for dressing up plain ramen noodles and when you want to get a quick meal on the table fast!
I swear I have to thank the latest TikTok food trends for feeding my family dinner lately. We couldn't resist trying the next yummy-looking TikTok food hack and happened to have most of the ingredients at home (minus one) so it was a super quick meal to prep! This TikTok Ramen recipe is usually made with Trader Joe's Everything Bagel Seasoning but we didn't have that so switched it out with Furikake seasoning. If you're not aware Furikake is a Japanese seasoning of seaweed, sesame seeds and other spices. Since ramen is a Japanese-based dish, we think the seasoning is pretty tasty with the dish and complements it well.
Ramen noodles are pretty much a staple in our pantry and this TikTok Ramen hack is a great way to use it up, and cut down on the sodium and preservatives in the food packets that come with the ramen package at it doesn't require it. I wouldn't say this is a healthy meal by far, but anytime I can cut down on processed foods, I call that a win.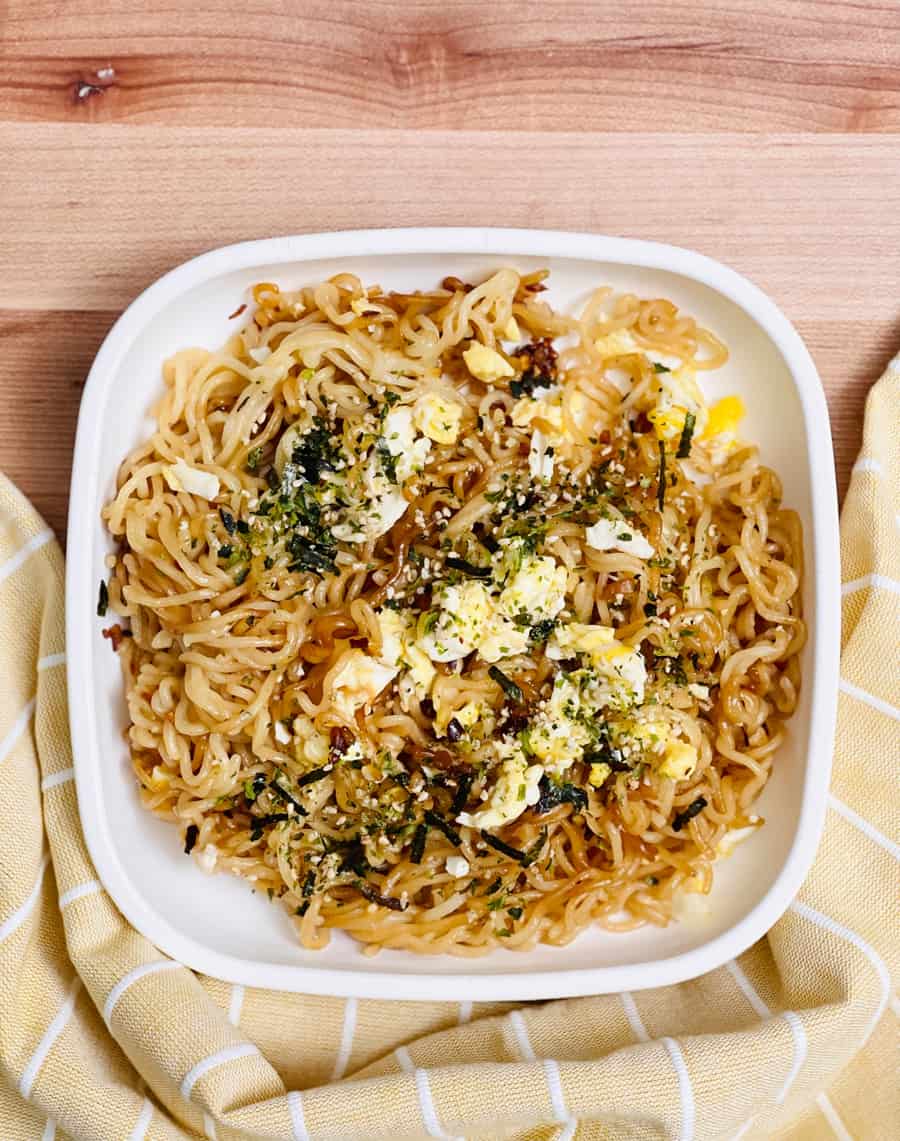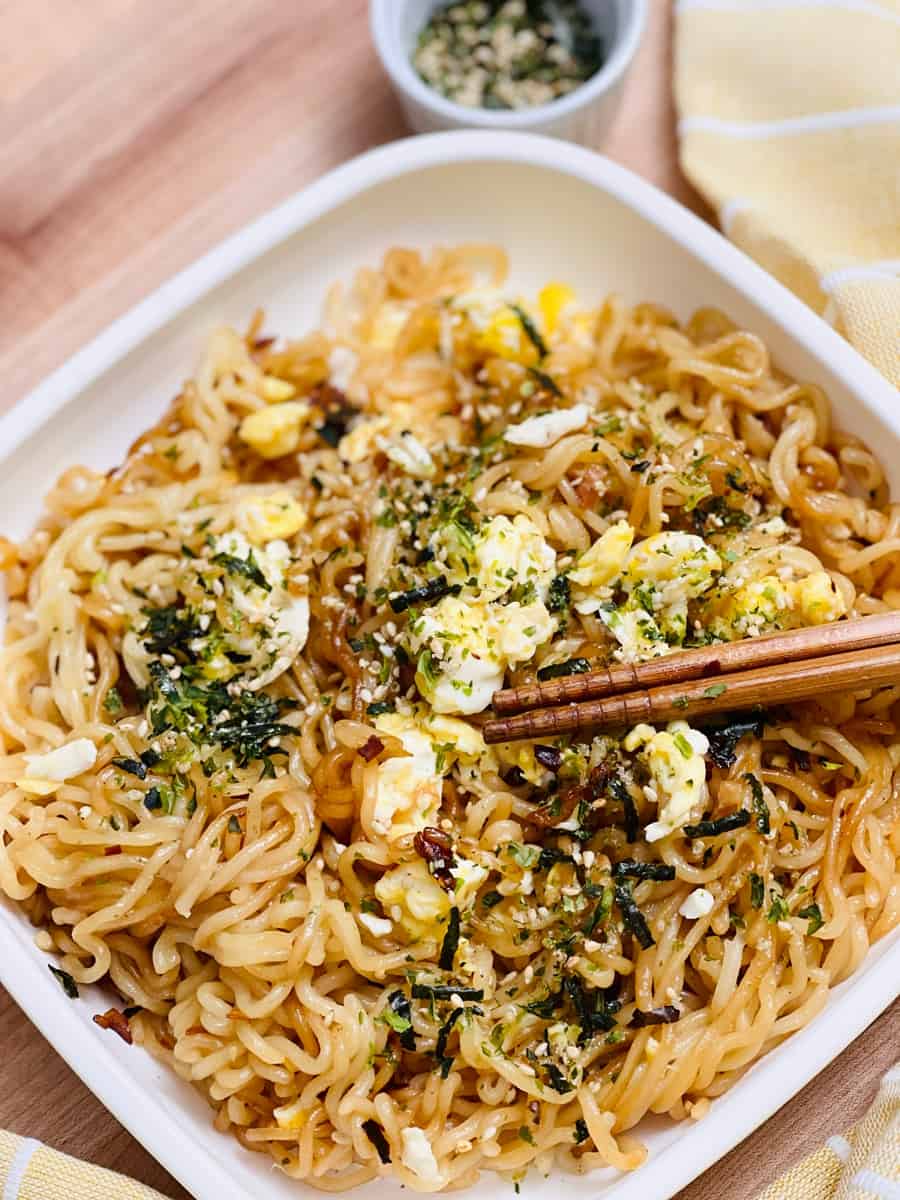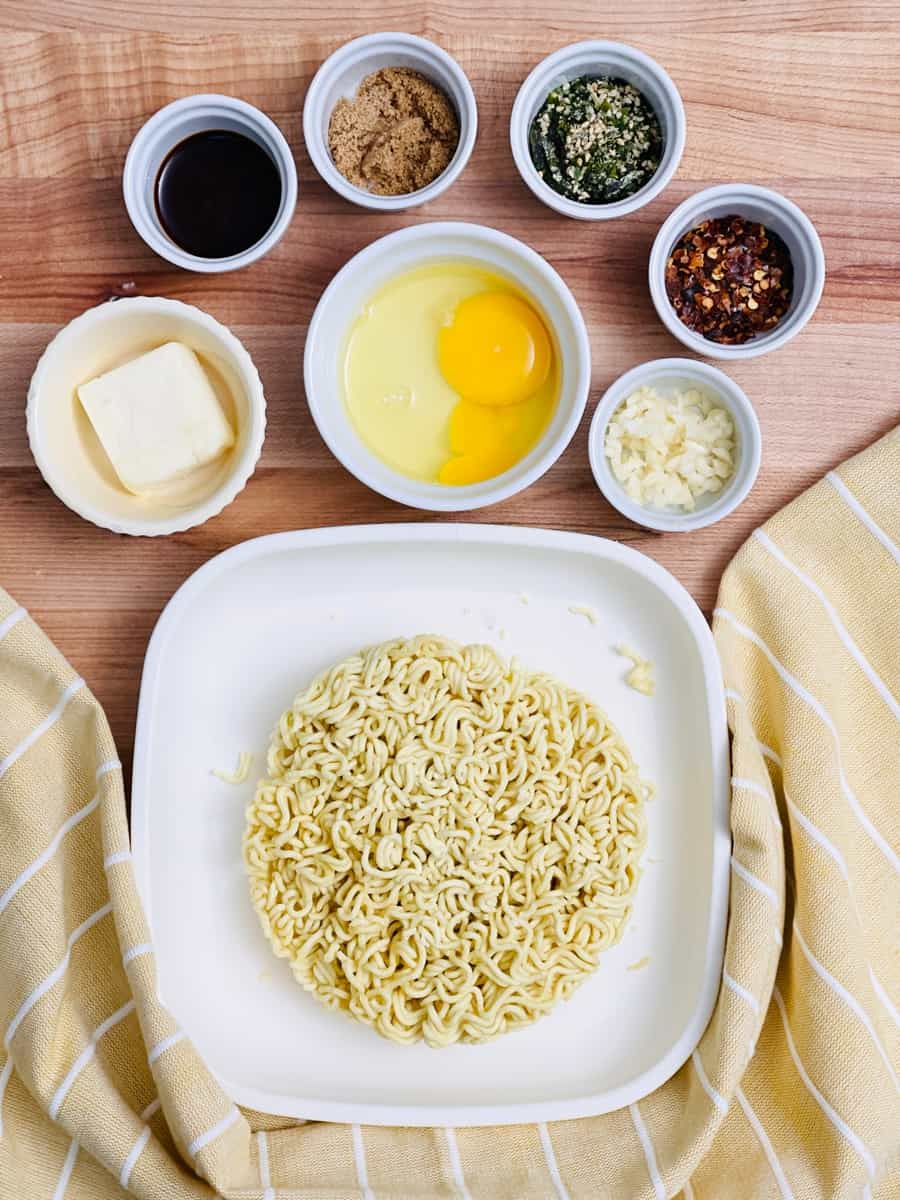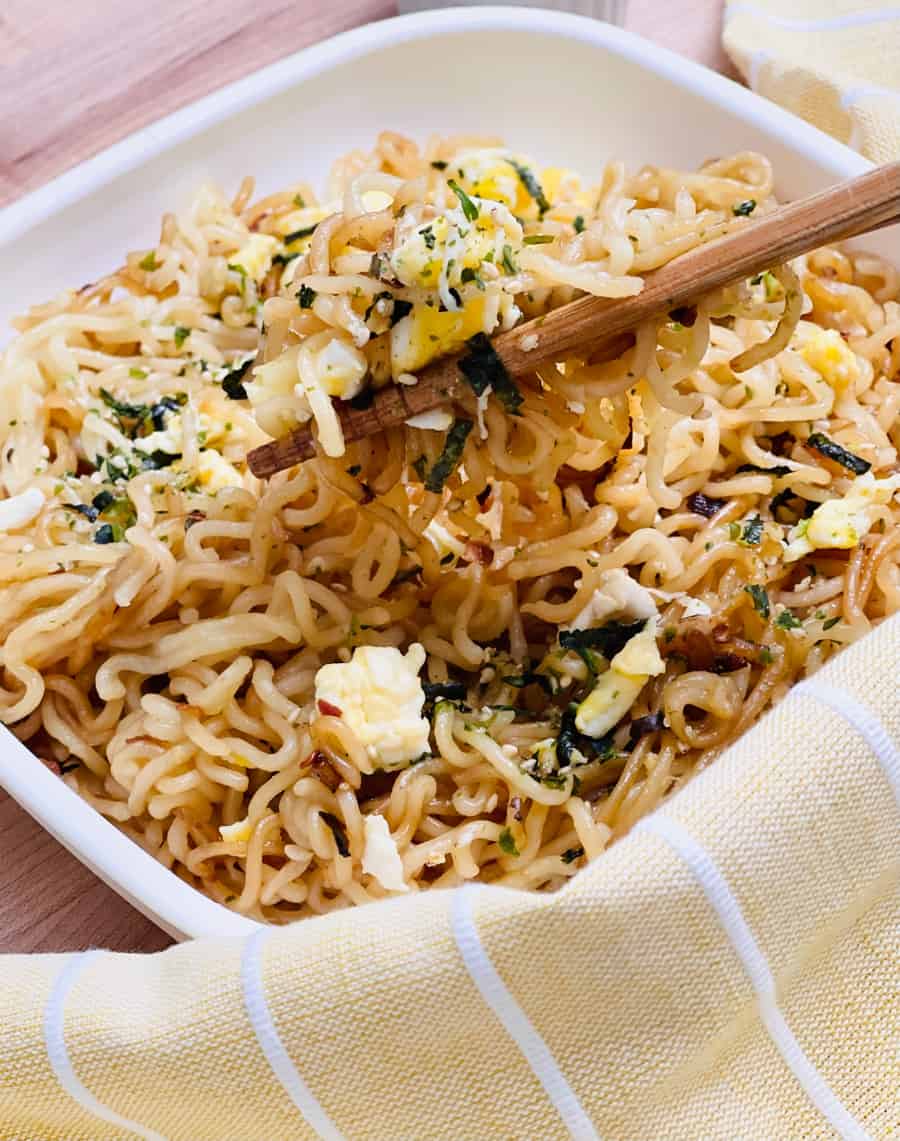 How do you make this viral TikTok Ramen?
According to the hashtag #TikTokRamen here is an example of this trending ramen from @williamcraft09 but it's hard to say who the original creator is since he also references trying the ramen hack himself. The basic ingredients are ramen noodles, butter, garlic, soy sauce, brown sugar, red pepper flakes, and eggs. The ramen calls for Trader Joe's Everything Bagel Seasoning but since we didn't have that we substituted Furikake seasoning as we mentioned which we think was an excellent tasty choice! Without having tried the bagel seasoning it's hard to say which version is better, but we can vouch for how delicious this ramen is with the Japanese seasonings.
Some modifications we made were adding much less soy sauce than it seemed others used. From watching a few videos, it looked like some used a couple of tablespoons, but we only used 2 TSP of lite sodium soy sauce. We did add the red pepper flakes as my kids actually like spicy foods, but you can definitely omit it if your kids don't like the spiciness.
We amped up the brown sugar from 1/2 tsp to 1 tsp just because my kids like things on the slightly sweeter side, and we wanted to balance the soy sauce.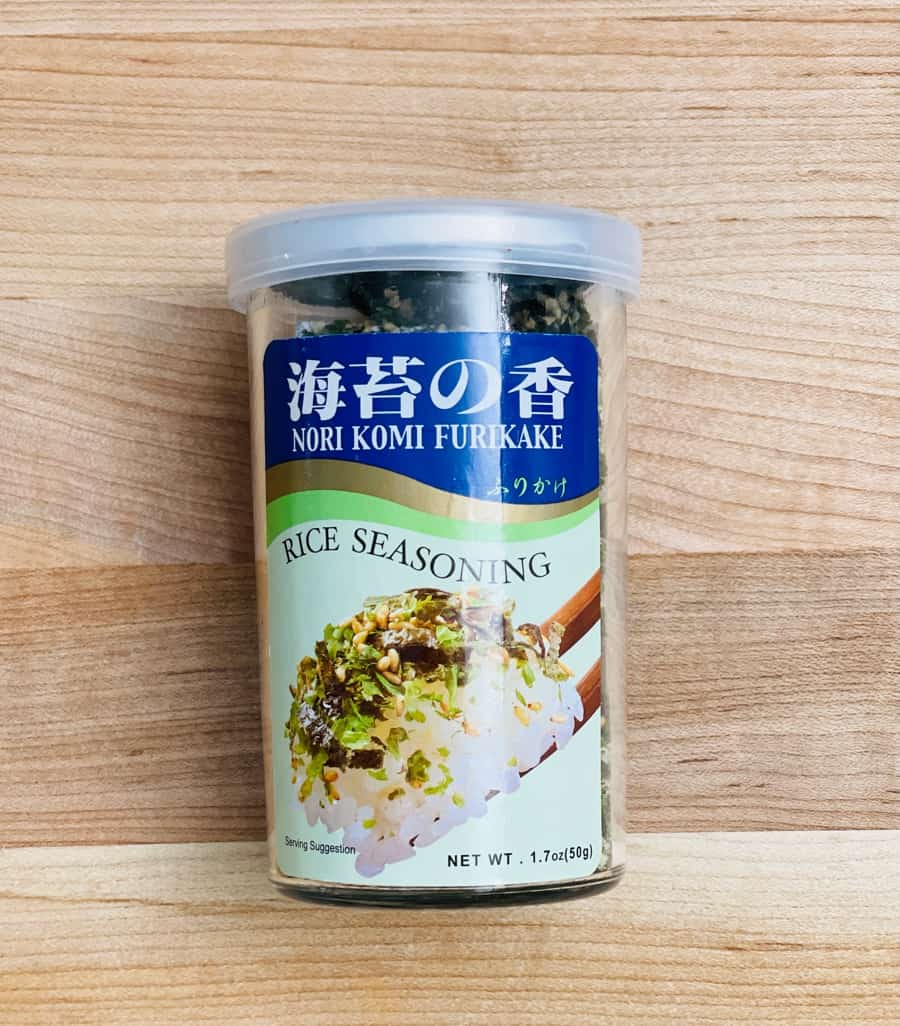 What can you add to Ramen?
If I were to make this again, I would definitely switch things up and add some of the following:
Greens like steamed broccoli or a handful of spinach

Green onions or scallions as garnish would be amazing to bring an extra fresh flavor punch

Soft boiled eggs

Shredded chicken or ground beef for extra protein

Kimchi

Hot sauce like Sriracha

A dash of mayo to make it creamier
What do these ramen noodles using the TikTok recipe taste like?
They taste both sweet and savory and spicy which is a great flavor of combination! The soy sauce and seasonings add savory and saltiness while the brown sugar with butter adds a caramelized sweet undertone. The red pepper flakes add a spicy zing along with the fresh bite of chopped garlic.
We mentioned above we didn't add much soy sauce to keep the sodium low, so the dish isn't that salty at all. If have a saltier palette a dash of salt may do the trick.
TikTok Ramen Recipe – Ingredients
Ramen noodles

Butter

Garlic

Soy sauce

Red pepper flakes

Brown sugar

Eggs

Furikake Seasoning (or tried the original version with Trader Joe's Everything Bagel Seasoning)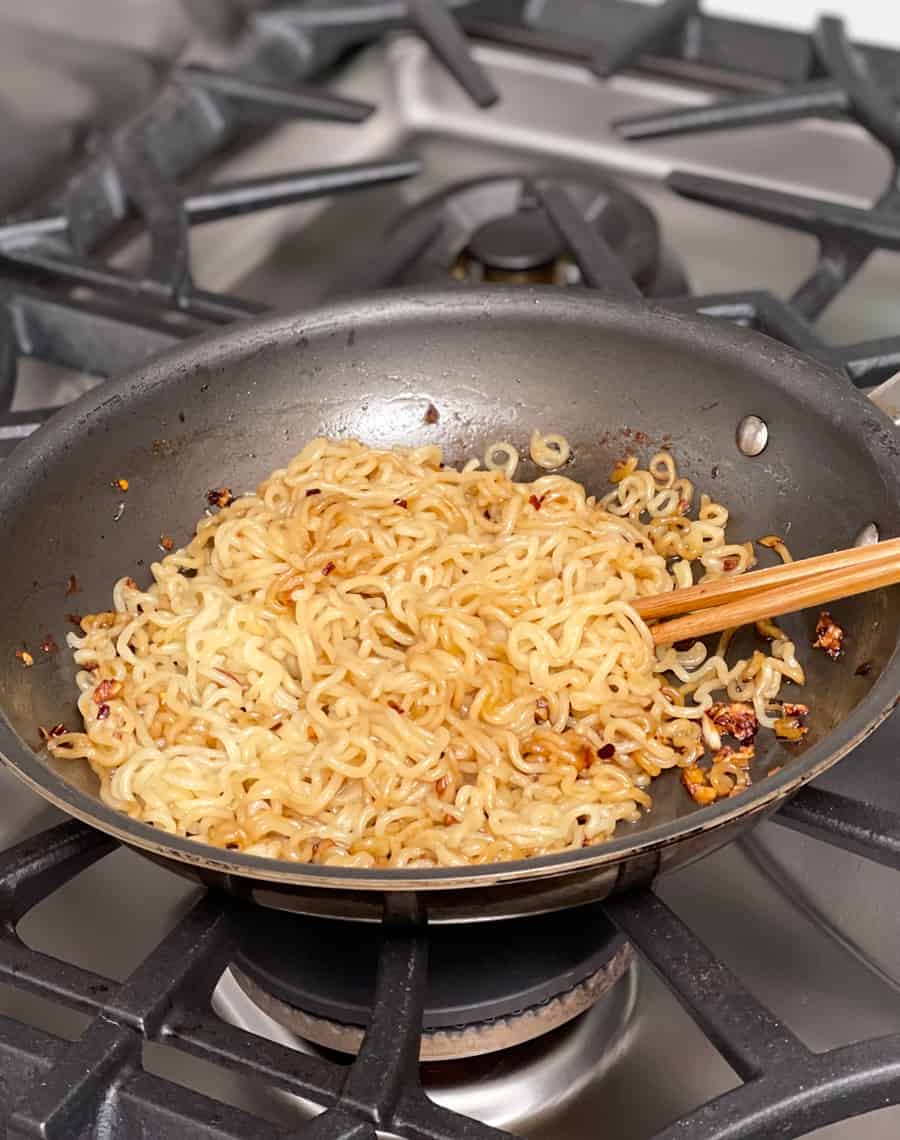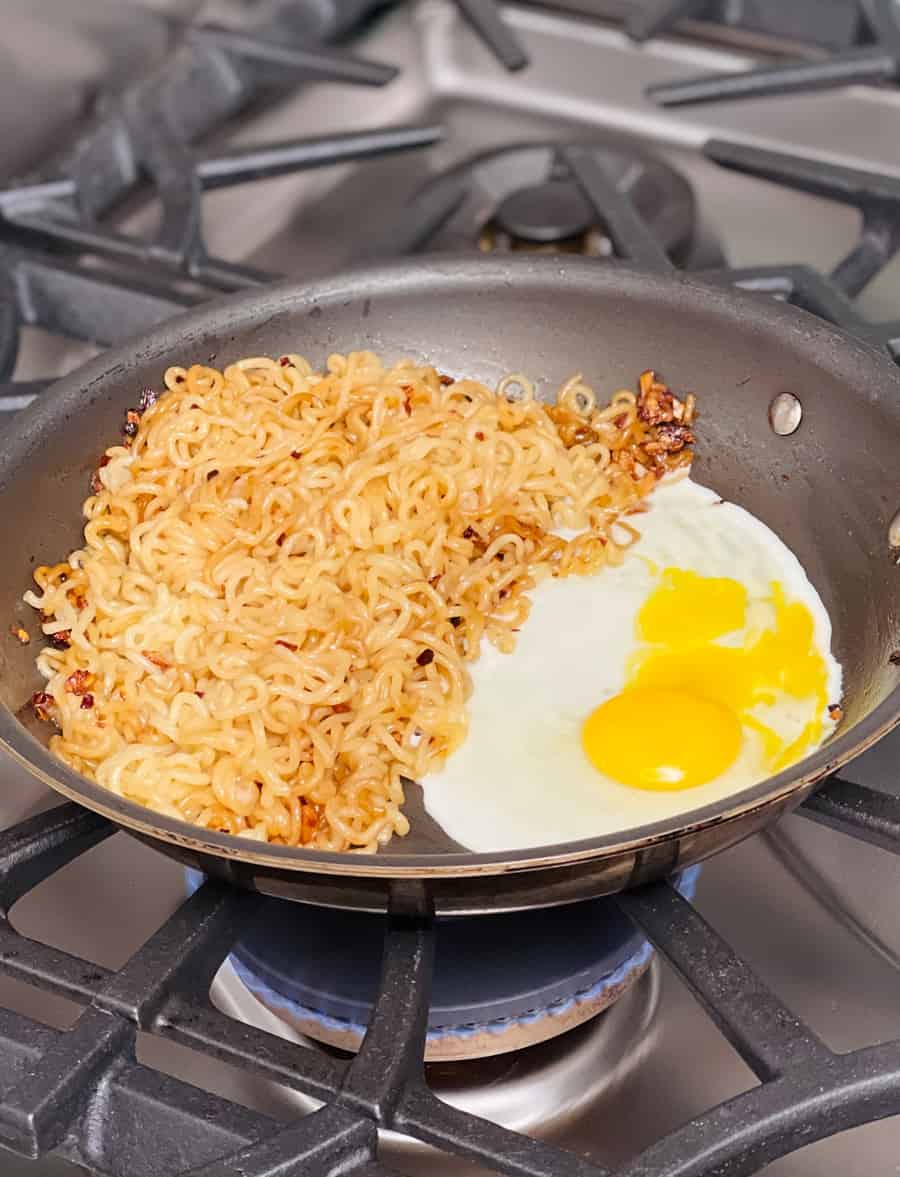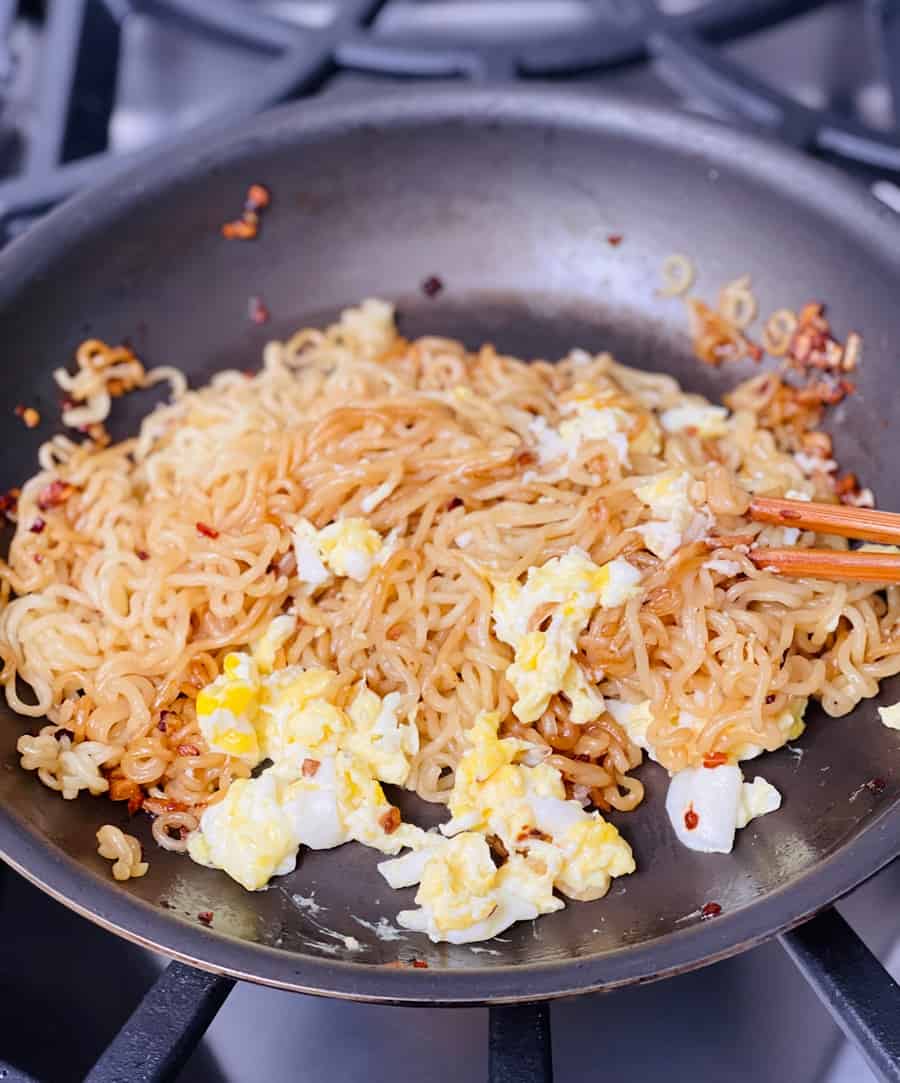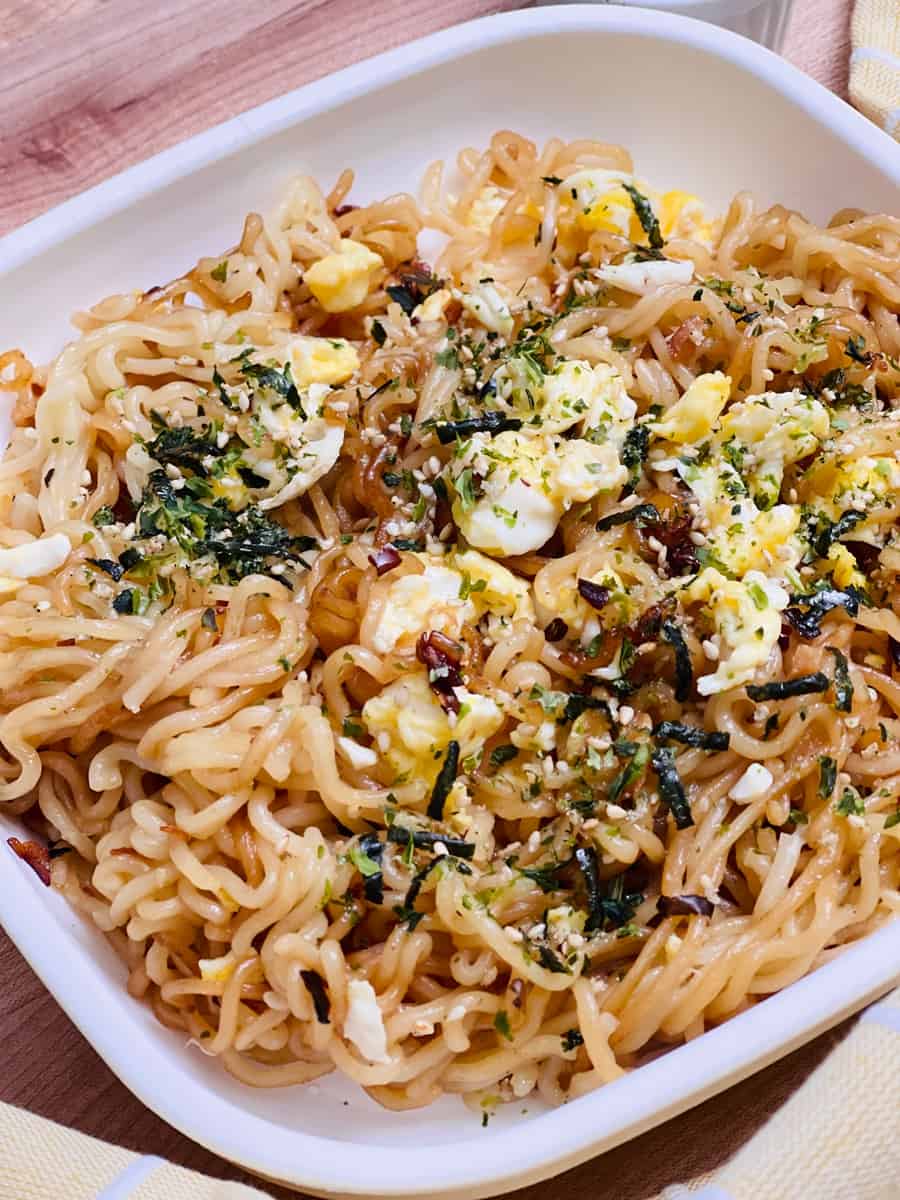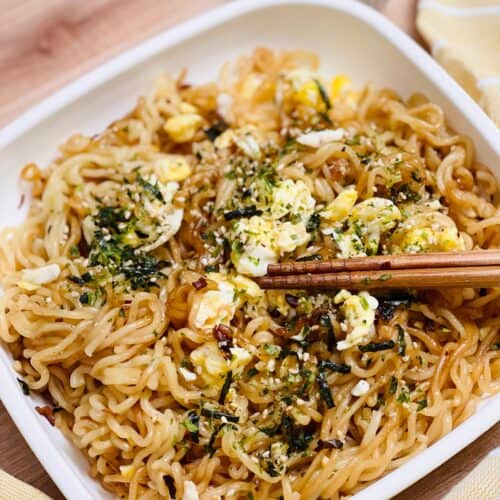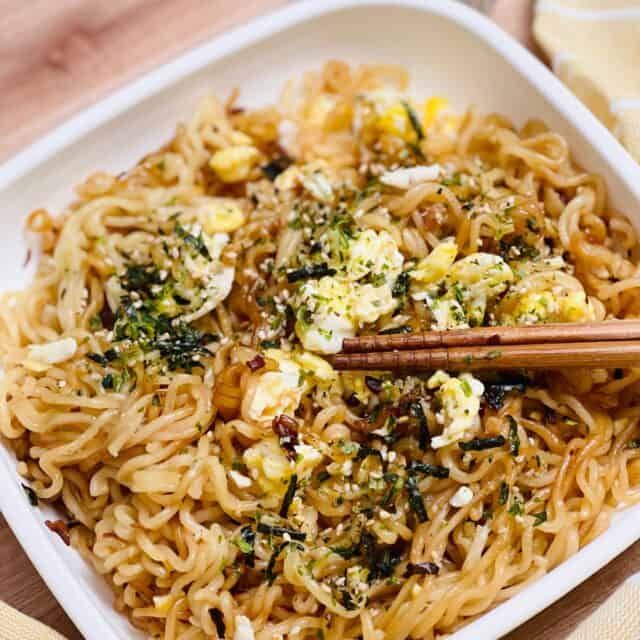 TikTok Ramen Recipe
This TikTok Ramen Recipe is a tasty food hack for dressing up plain ramen noodles and when you want to get a quick meal on the table fast!
Ingredients
1

package

Ramen noodles

1

Tablespoon

Butter

3

cloves

Garlic

Chopped

2

Teaspoons

Soy sauce

We used lite sodium

Red pepper flakes

To Taste

1

Teaspoon

Brown sugar

1

Egg

Furikake Seasoning

You can find this seasoning in most Asian markets or Asian section of your grocery store.
Instructions
Boil your ramen noodles according to your package instructions. Ours took 5 minutes.

In a non-stick frying pan over low-medium heat, add your butter until melted, then add your garlic and sautee for a couple of minutes. You want to keep your heat low-medium so it doesn't burn.

Add your soy sauce, red pepper flakes, brown sugar and sautee for just a minute.

Add your drained ramen noodles and mix around to toss.

Push the ramen noodles to the side, add your egg and quickly scramble. Mix with ramen noodles.

Transfer to a bowl or plate. Sprinkle Furikake seasoning on top.
Nutrition
Calories:
570
kcal
Carbohydrates:
62
g
Protein:
16
g
Fat:
29
g
Saturated Fat:
15
g
Trans Fat:
1
g
Cholesterol:
194
mg
Sodium:
2566
mg
Potassium:
283
mg
Fiber:
2
g
Sugar:
6
g
Vitamin A:
598
IU
Vitamin C:
3
mg
Calcium:
75
mg
Iron:
5
mg
You Might Also Like
Herb and Goat Cheese Tomato Pasta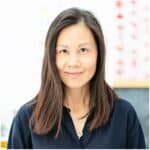 Agnes Hsu is a mom of three and has been inspiring parents and kids to get creative with easy activities and family friendly recipes for over 10 years. She shares her love for creative play and kids food to her 2MM+ followers online. Agnes' commitment to playful learning and kindness has not only raised funds for charity but also earned features in prestigious nationwide publications.