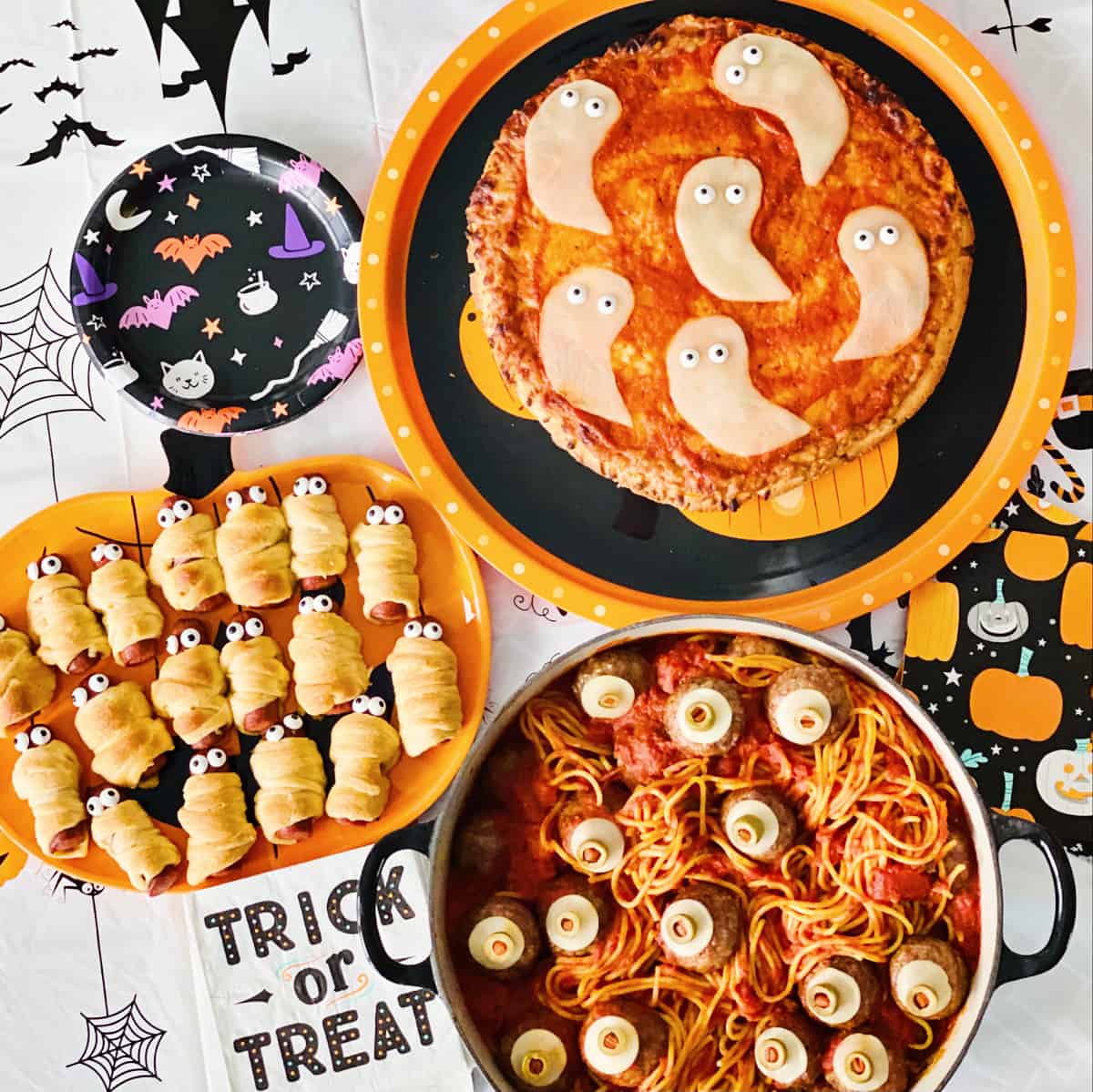 By using this site, you agree to our Terms of Use. This post may contain affiliate links. Read our disclosure policy.
Follow us on Instagram for more fun food ideas for kids!
These 3 Easy Halloween Dinners for kids are spooky and delicious! They are simple for kids to help make for a frightfully fun night!
Make Halloween extra fun this year with these 3 Easy Halloween Dinners for Kids. We recently turned a backyard shed into a spooky and fun Halloween Haunted House! Complete with a giant outdoor spiderweb, Halloween crafts, books and even an egg hunt! However the night couldn't be complete without some ghoulish treats! Like these Pinterest friendly Easy Halloween dinners for the kids that are always a big hit every Halloween in our home! Ghost Pizza, Mummy Hot Dogs and Eyeball Spaghetti and Meatballs.
What's so great about these easy Halloween foods for kids is that they can be readily made with store bought ingredients. So you can rest up and enjoy dressing up and trick or treating.
If you want to go all out and make handmade meatballs and sauce or homemade pizza crust that is completely fine and up to you too! Either way your little monsters will have fun helping you dress up Halloween dinner for a ghostly night of fun!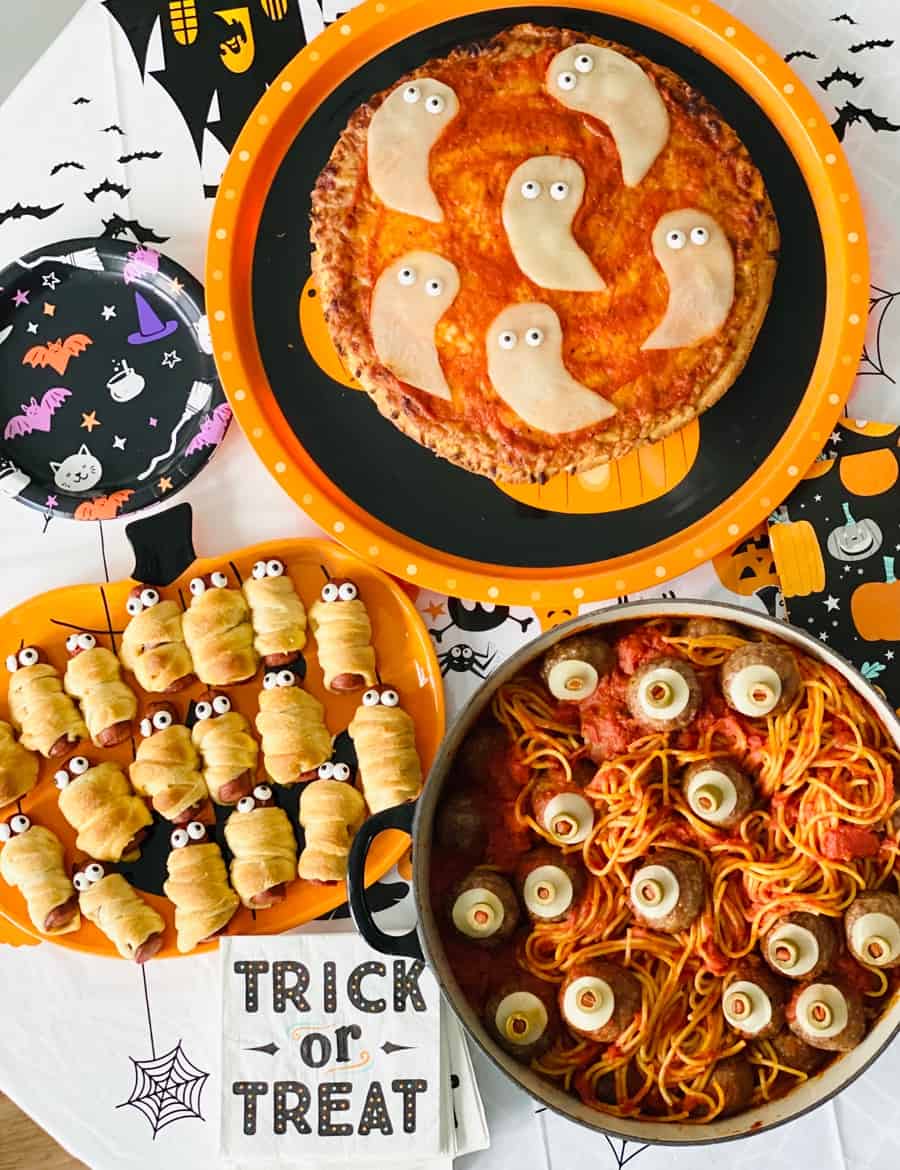 Eyeball Spaghetti and Meatballs – Ingredients:
Your favorite spaghetti sauce (we love Rao's brand)

Spaghetti noodles

Olive oil

Italian meatballs

Green olives

Sliced mozzarella cheese

Small round cookie cutter

Salt and pepper to taste
INSTRUCTIONS:
Step 1. Cook your Italian meatballs in the oven on a foil lined preheated oven. We cook ours around 30-35 minutes at 400 degrees, but it will depend on the size of your meatballs. The ones we got are around 1.5″
Step 2. Cook your spaghetti noodles, drain, toss in a bit of olive oil. Add your jarred sauce, and cooked meatballs.
Step 3. With your cookie cutter, cut circles of mozzarella cheese and add one on top of each meatball.
Step 4. Slice you olives and add one per meatball for the eye.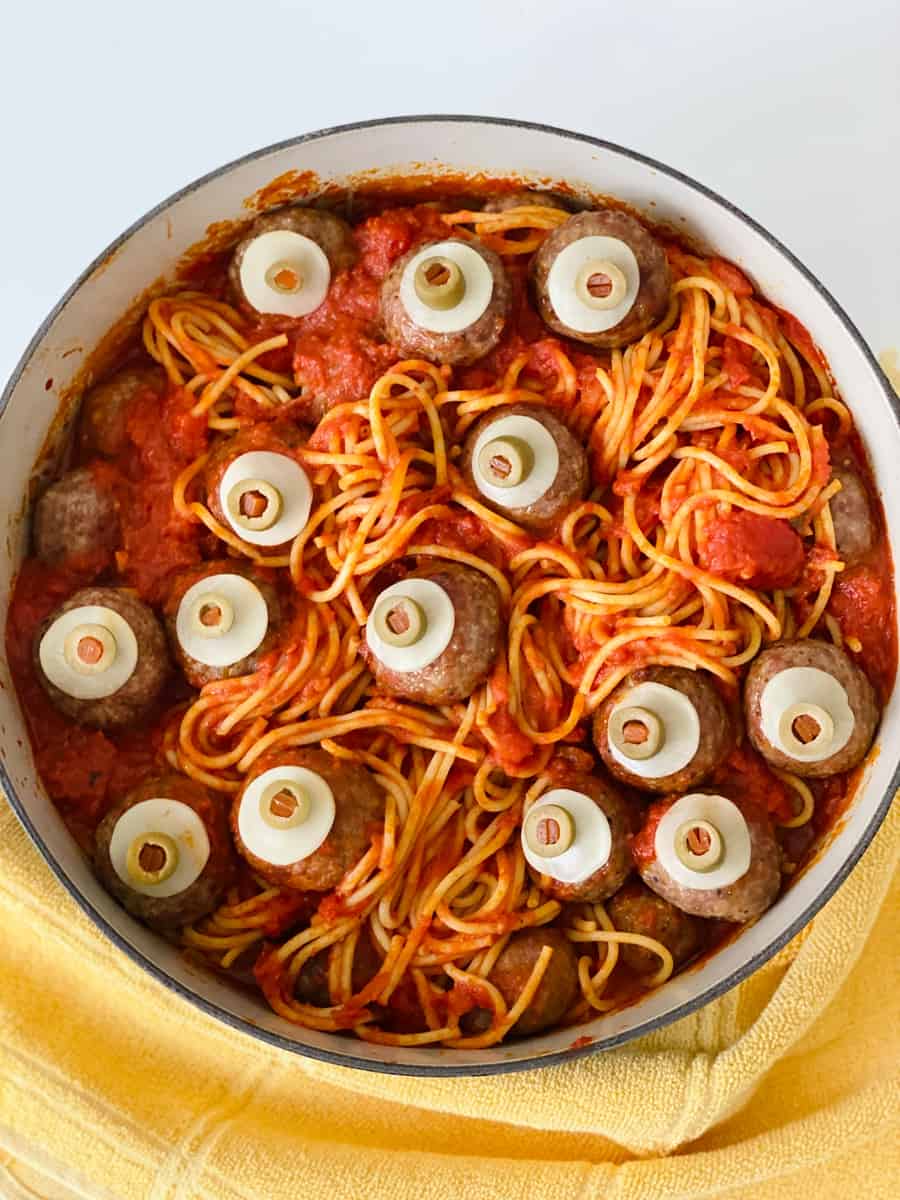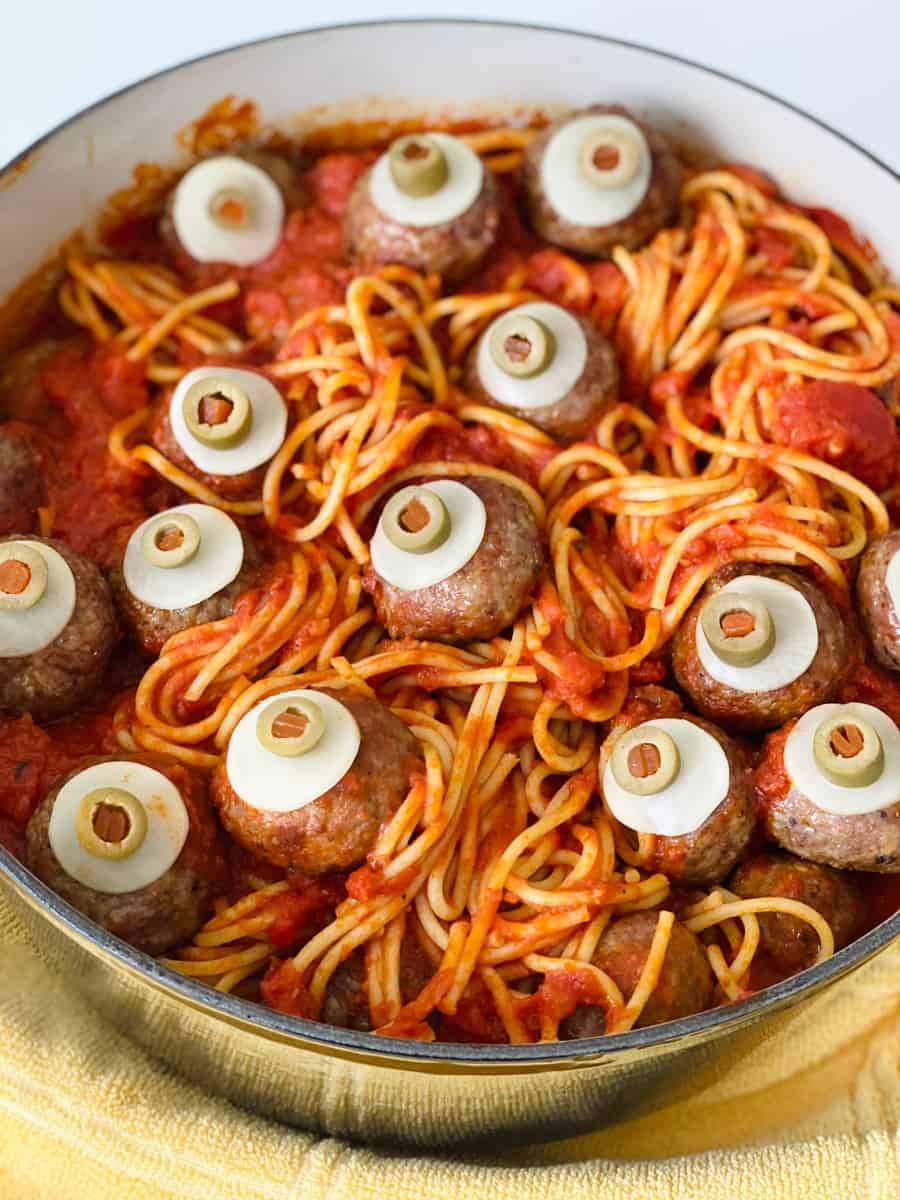 Mummy Hot Dogs – Ingredients:
Refrigerated Crescent Dough (we used Pillsbury brand)

Hot dogs (sliced in half)

Candy googly eyes

Ketchup
INSTRUCTIONS:
Step 1. Cut thin strips of the crescent dough and wrap around your half hot dogs leaving the top exposed to add the eyes.
Step 2. Cook in a preheated oven 375 degrees for around 20 minutes or until the tops are golden brown. Allow to cool.
Step 3. With a toothpick or small utensil, dab a bit of ketchup to each candy eye and adhere to the hot dog face.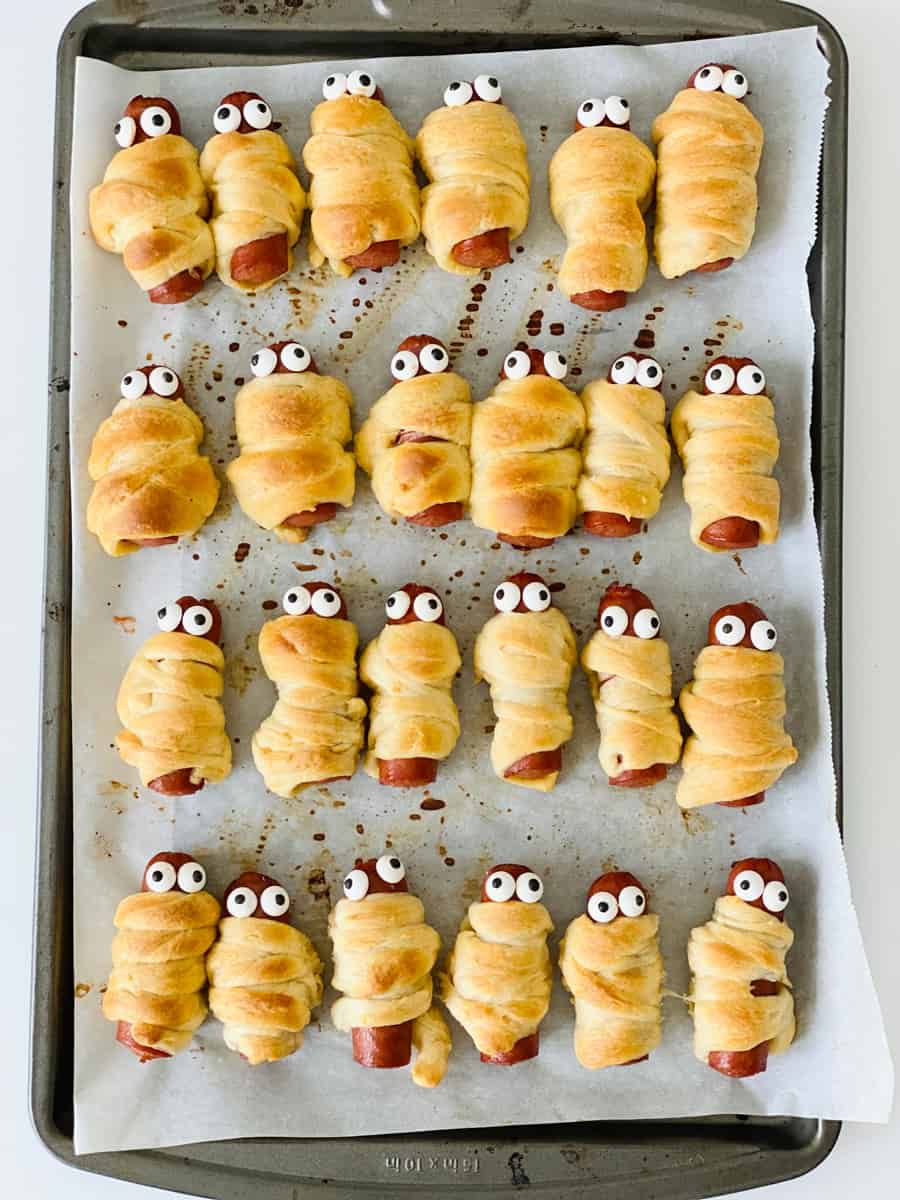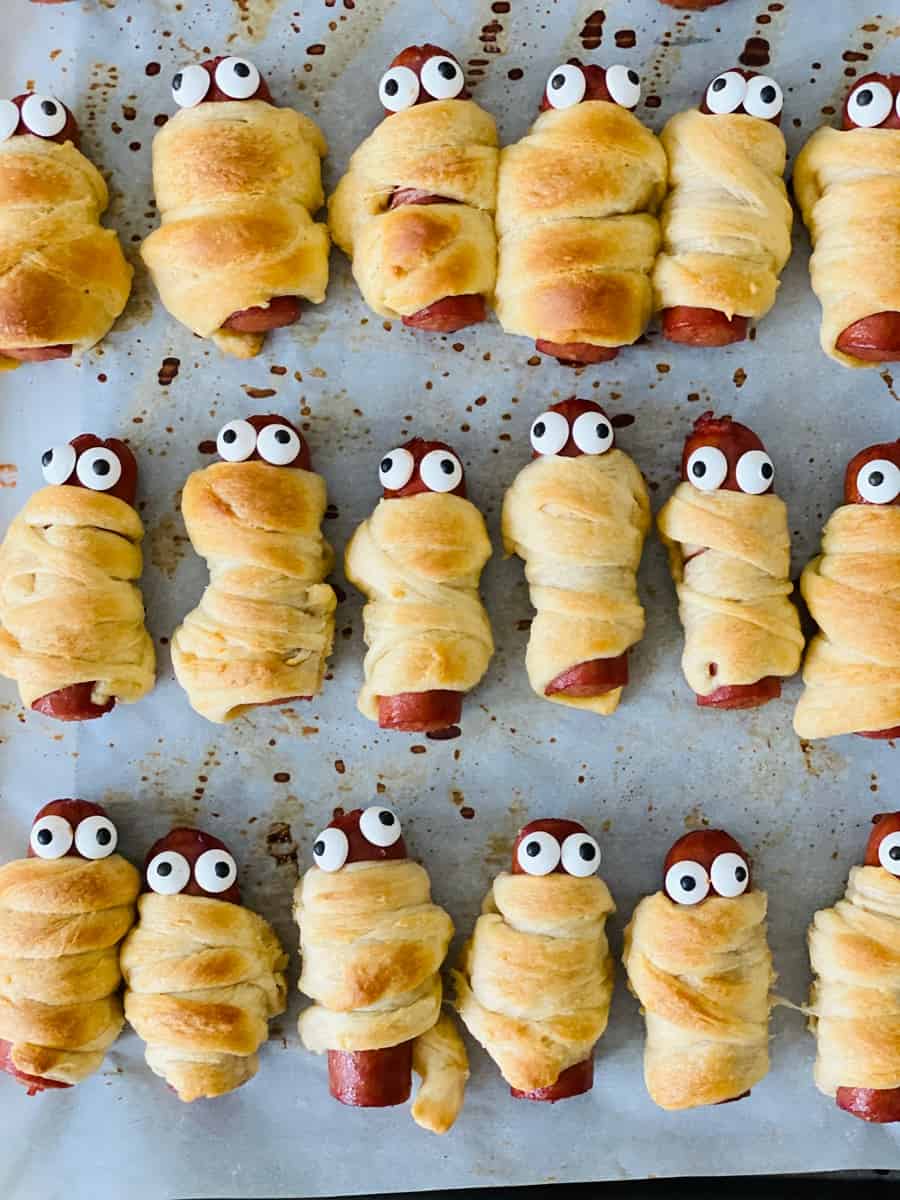 Ghost Pizza (we got the inspiration from this site) – Materials:
Your favorite frozen cheese pizza

Pizza sauce

Sliced mozzarella cheese

Candy googly eyes
INSTRUCTIONS:
Step 1. Cut the mozzarella cheese into ghost shapes.
Step 2. Cook the frozen pizza according to the directions.
Step 3. Once you take it out from the oven, spread additional pizza sauce on top to look "bloody."
Step 4. Immediately add your ghost cheese and let them melt on top.
Step 5. Add the candy googly eyes.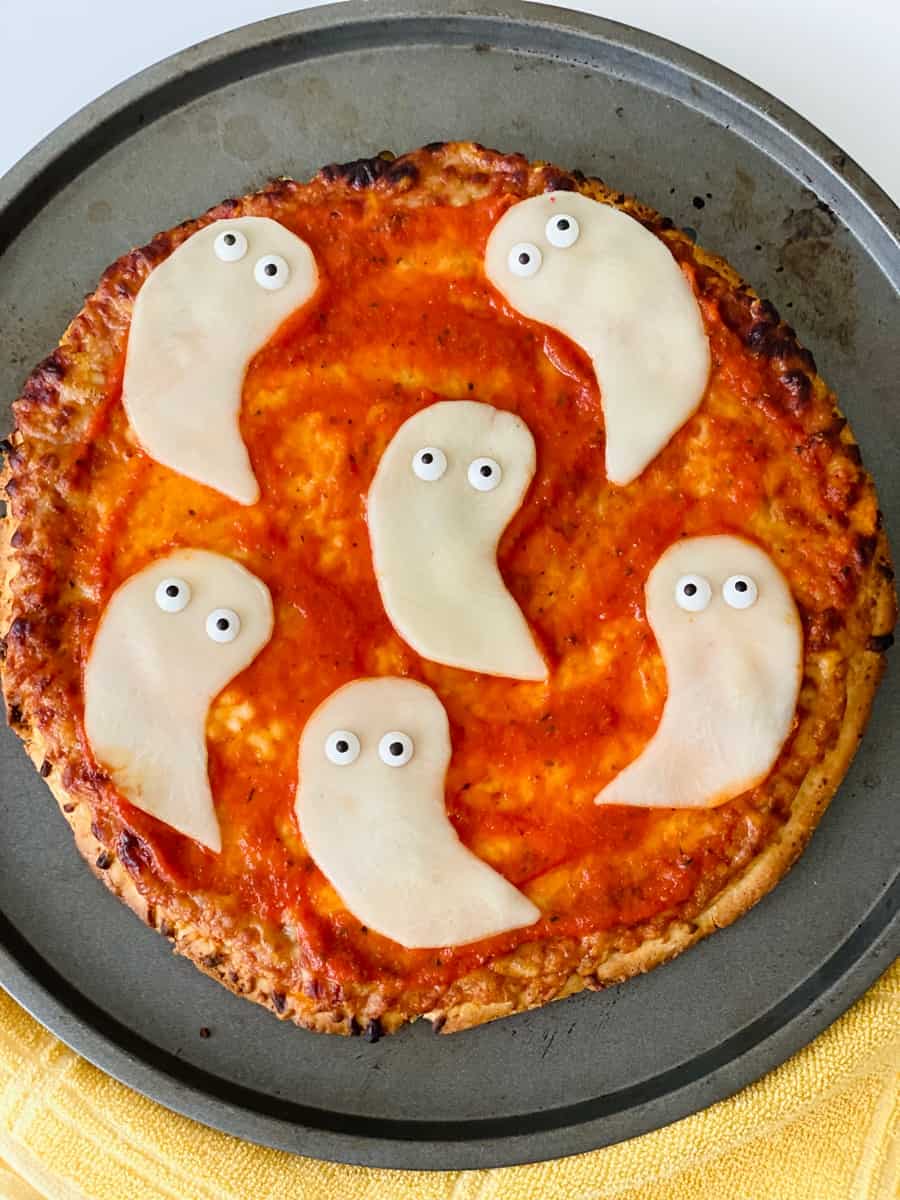 We also served these adorable Pink Velvet Spider cupcakes (just use your favorite mix, store bought and add clean and washed toy spiders on top) and Ghost Marshmallow Fruit Skewers at the party.
As well as decorated a store bought pumpkin pie for dessert with icing and cookies!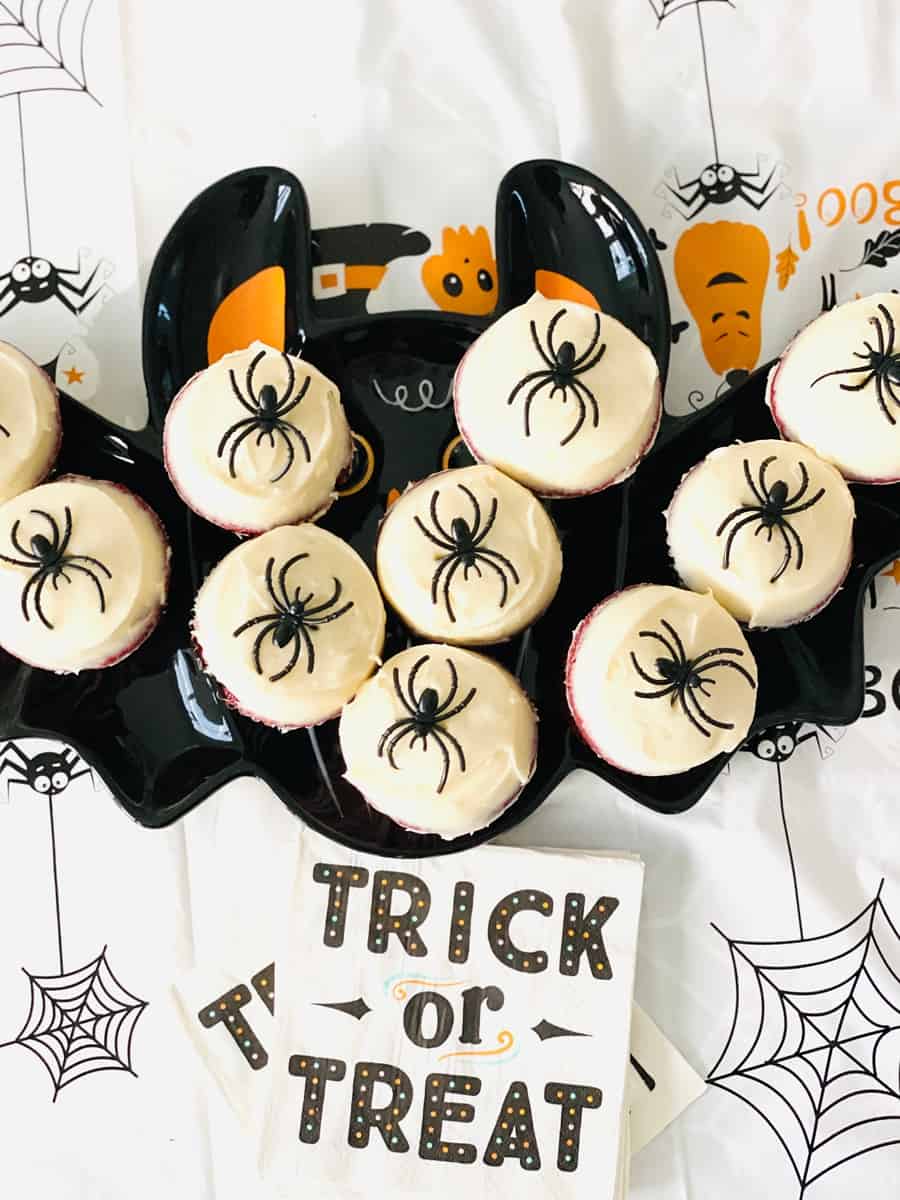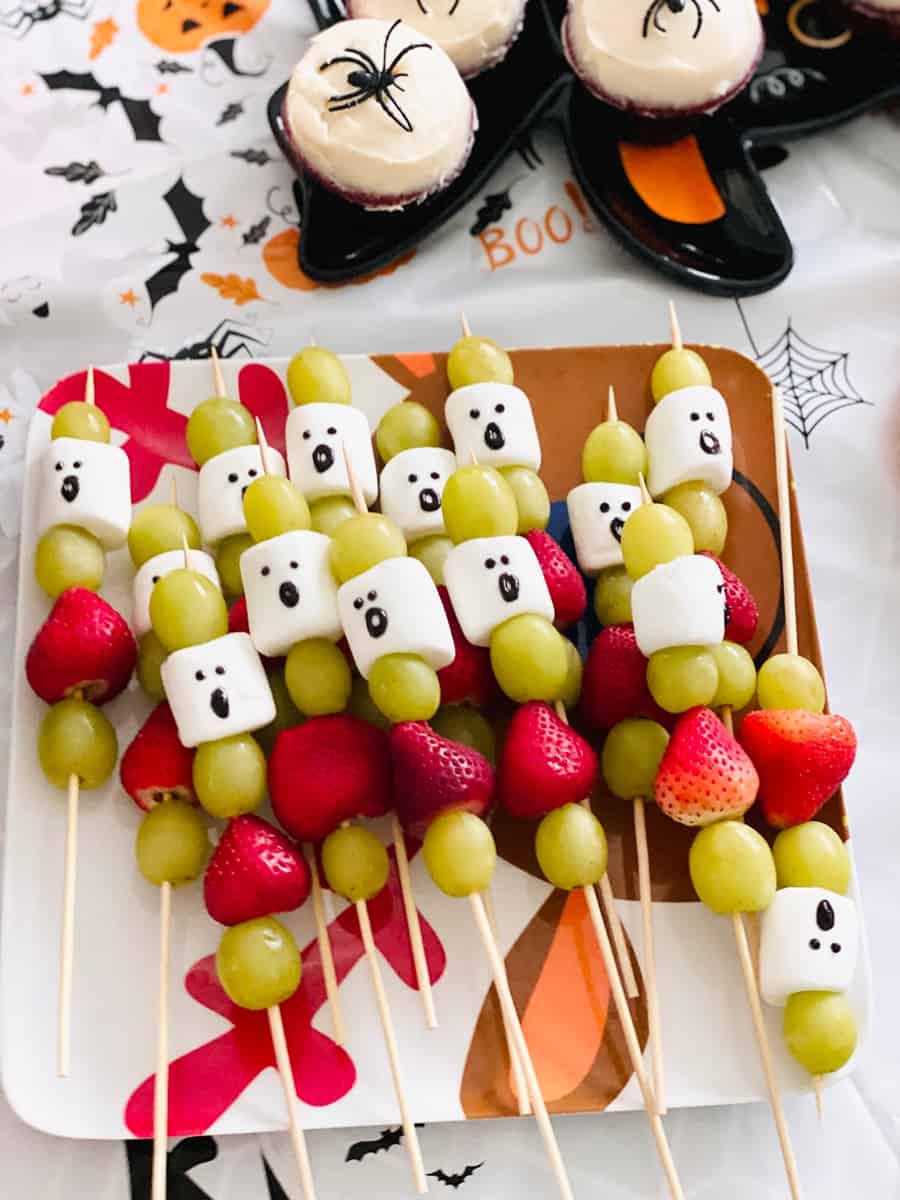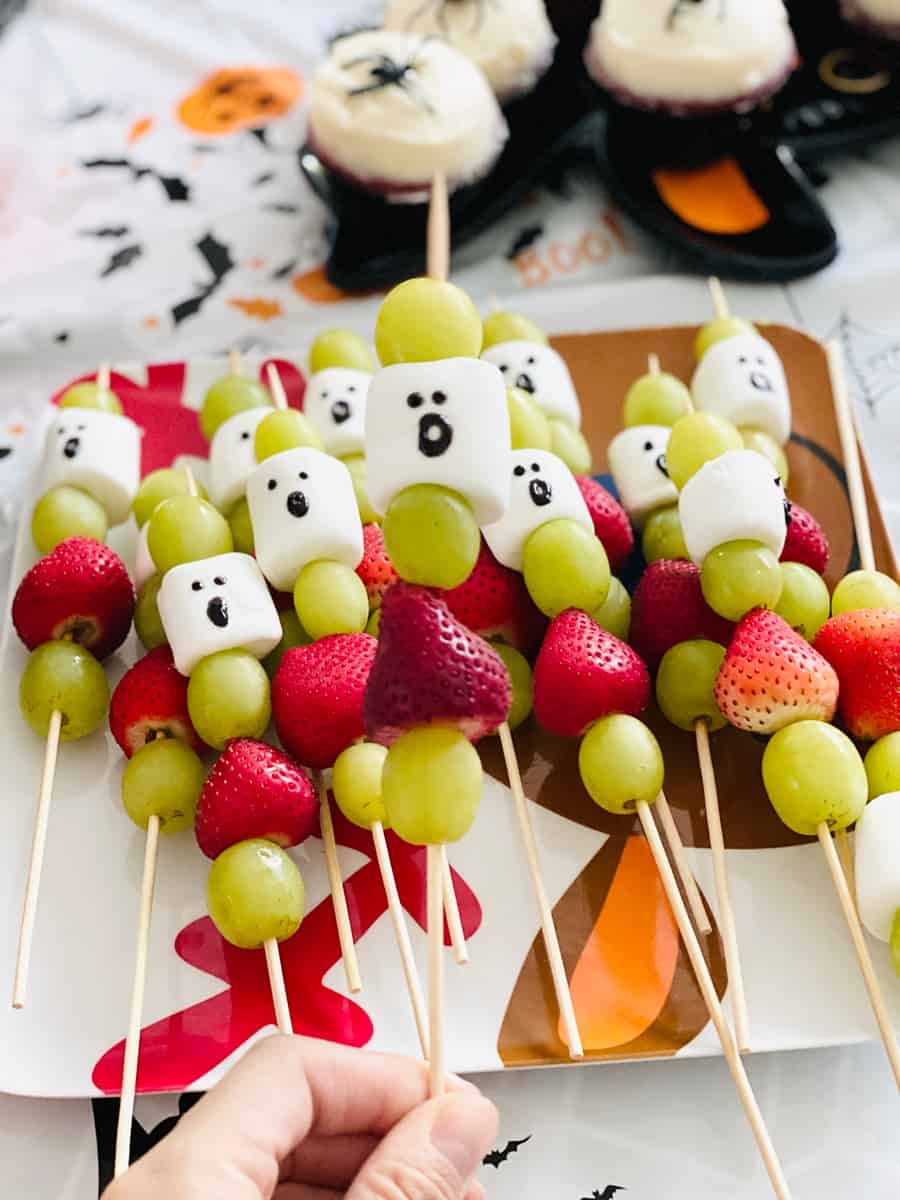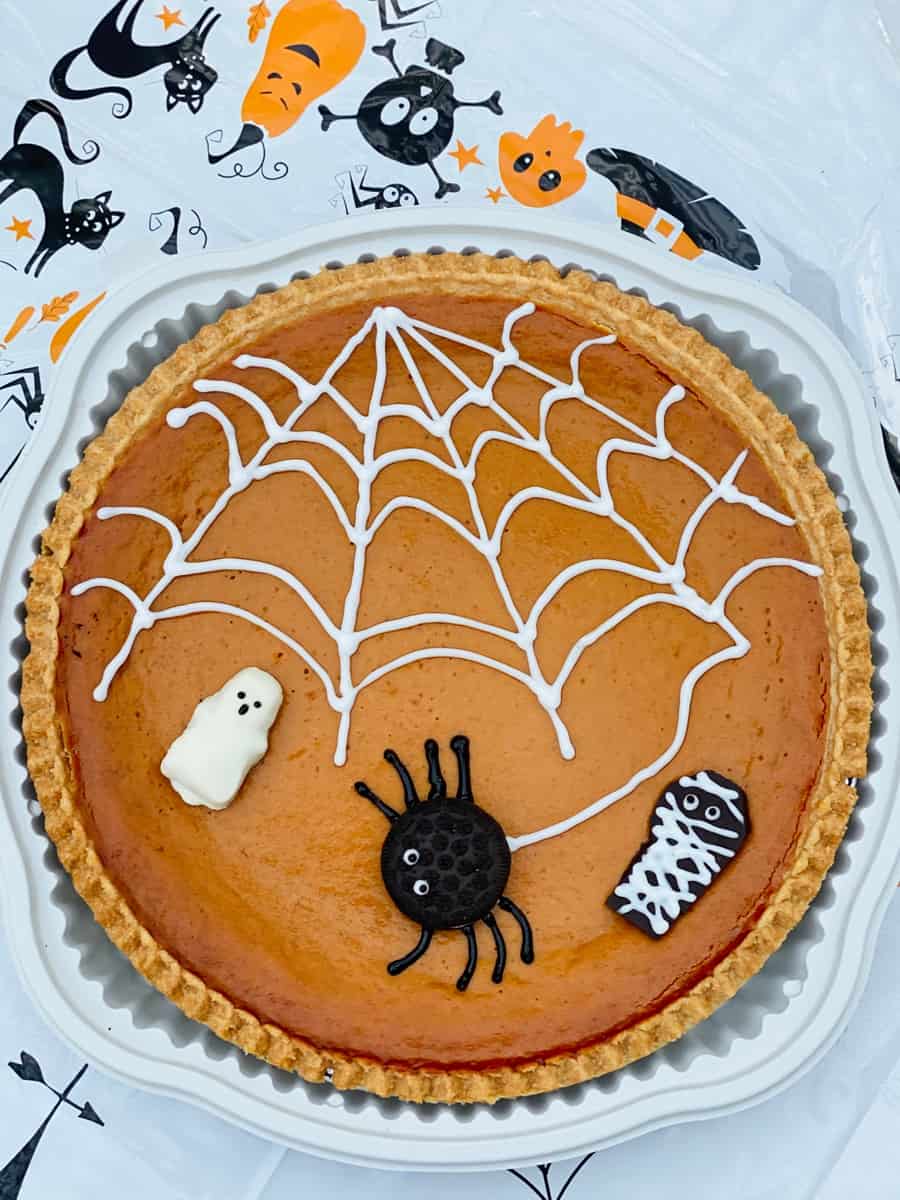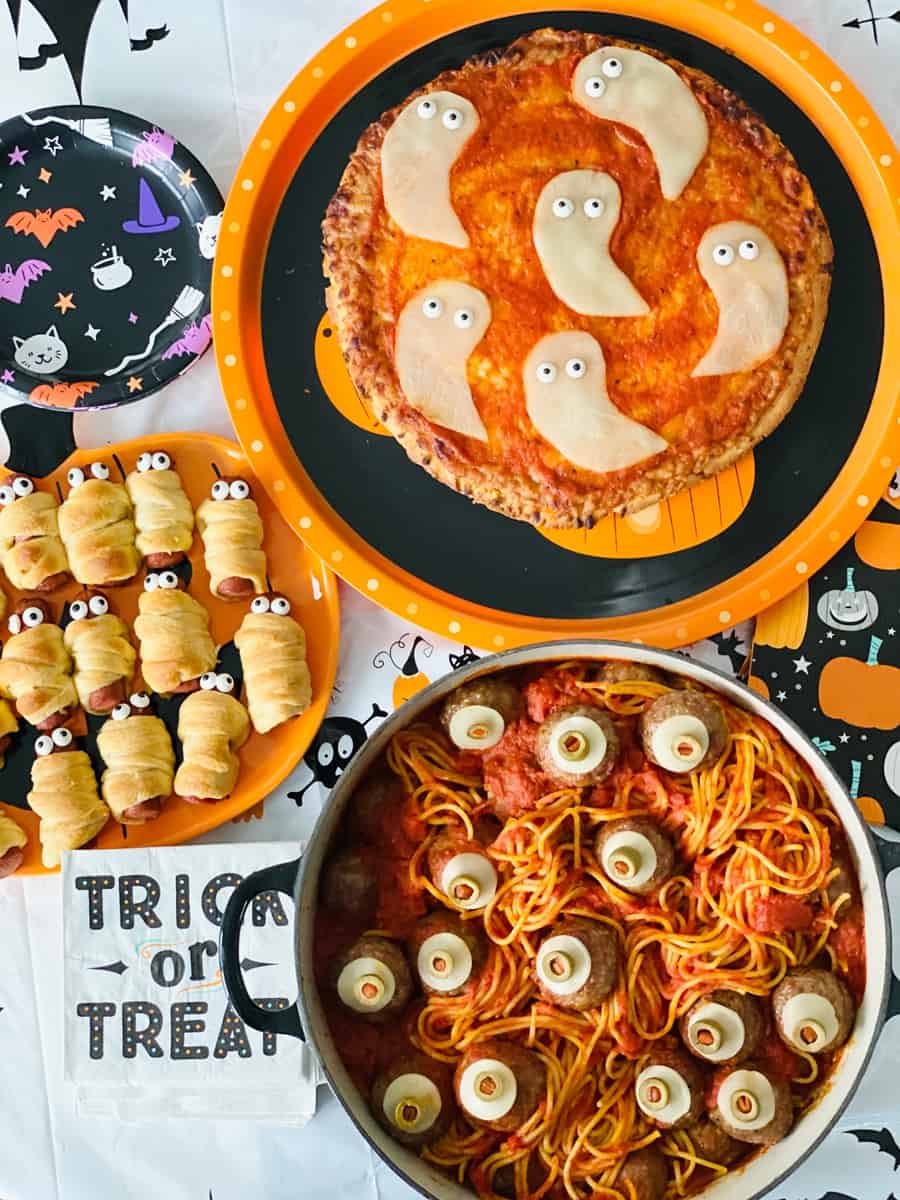 Hope these easy Halloween ideas will make your Halloween night a delicious, simple and spooktacular feast for the kids!
Check out these other fun Halloween Foods for Kids