By using this site, you agree to our Terms of Use. This post may contain affiliate links. Read our disclosure policy.
Follow us on Instagram for more fun food ideas for kids!
These Mini Muffin Tin Ghost Pizzas are such a simple and easy Halloween recipe for the kids. Fast and delicious! Just 3 simple ingredients!
With Halloween right around the corner, the time is now to start thinking about all the fun food items that you can easily whip up. We LOVE to create fun and funky recipes in our house and we tend to do a lot of seasonal fun recipes as well. This Halloween, we're excited to whip up these easy Ghost Pizzas but they're not only tasty, but they're also just super cute, too. (in a scary, ghost sort of way!)
You can check out a larger size ghost pizza here!
The kids will love eating this tasty Halloween dinner, but they'll also love being able to get into the kitchen and help create as well. There's no doubt that any and all help in the kitchen is always appreciated so when the kids jump in to make this tasty treat, I love all the help.
In all reality, you don't even have to wait until Halloween to cook this up. You can easily make this any time that you want and just help to build up the excitement for Halloween as well.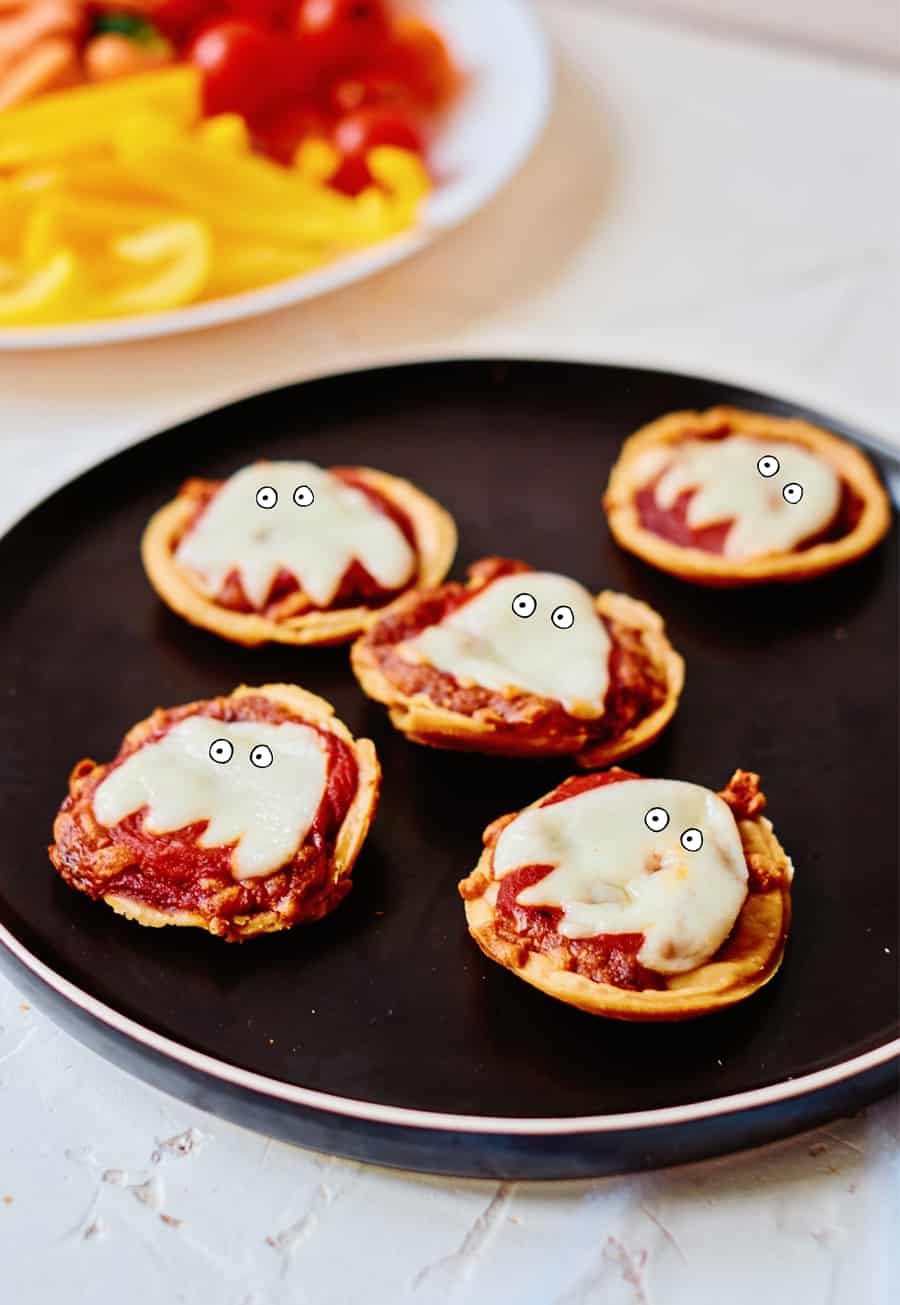 What is muffin tin pizza?
It's really like like it sounds. We used our muffin tin pizza recipe to create these little hand-held pizzas and it couldn't be more simple. As you'll see from the recipe, you really just need a few simple ingredients and a muffin time to whip them up.
While other people are using their muffin tin to create muffins and cupcakes, I'm over here using it to make mini pizzas for the kids! This is just one of the ways that creativity in the kitchen really can be a ton of fun.
There are minimal ingredients that are needed for this simple ghost pizza recipe so it really is a simple one to do.
How long does it take to make these Mini Muffin Tin Ghost Pizzas?
Literally minutes. The hardest part is probably going to be to wait for them to cool down enough to take a bite. Talk about a true struggle, right? If the kids start to get anxious over how long it's taking, distract them by talking about their Halloween costumes or something fun such as that!
Note: we added some illustrated eyes to our finished photos since we ran out of olives to add as eyes! Or you can use some candy eyes like we added to this larger pizza ghost version.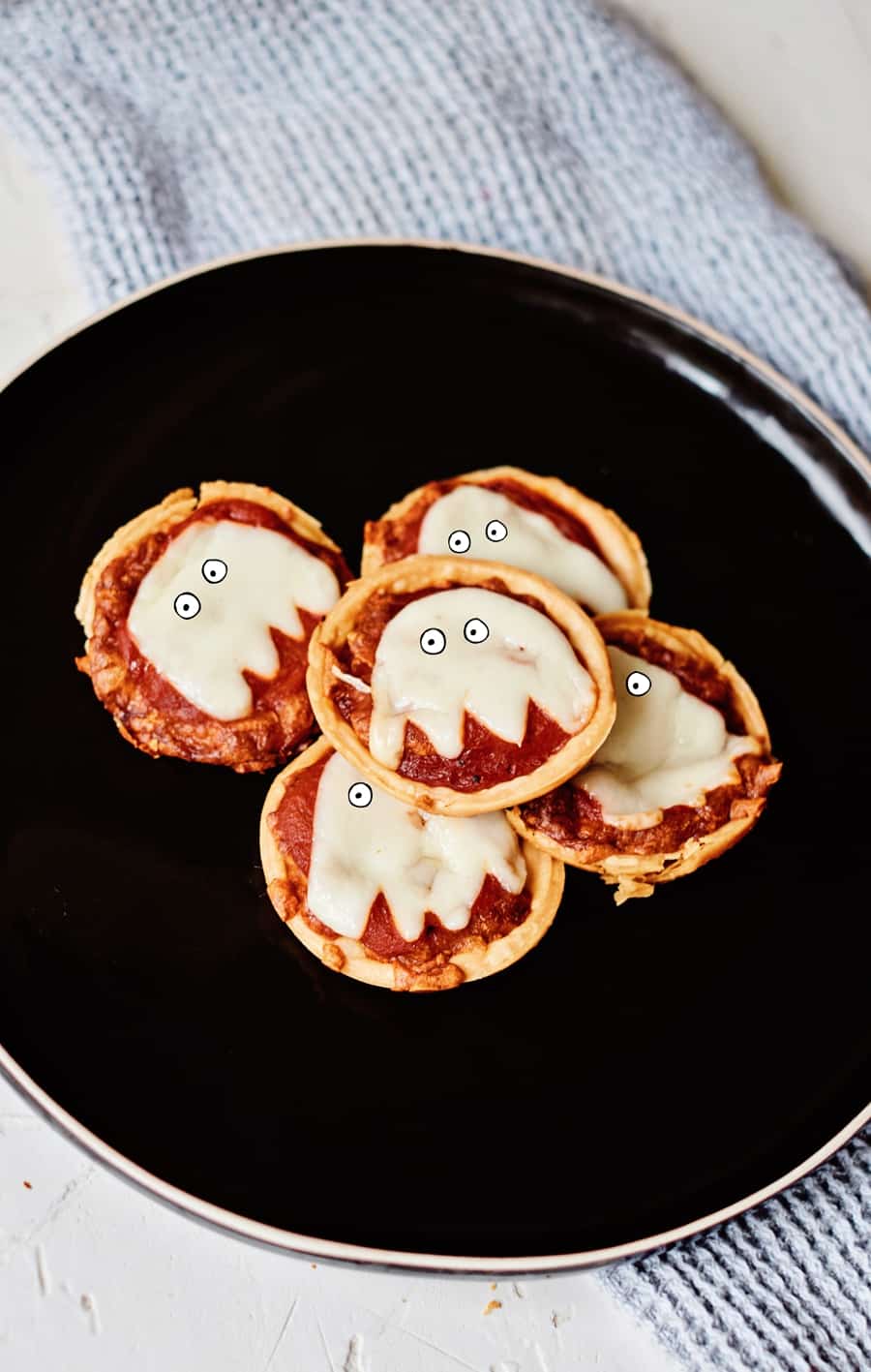 Mini Muffin Tin Ghost Pizzas – Ingredients
There are not a ton of ingredients needed to make these mini-pizzas. See what you'll need below:
Refrigerated Pie Crust

Pizza Sauce

Mozzarella Cheese

Black olives or candy eyes, optional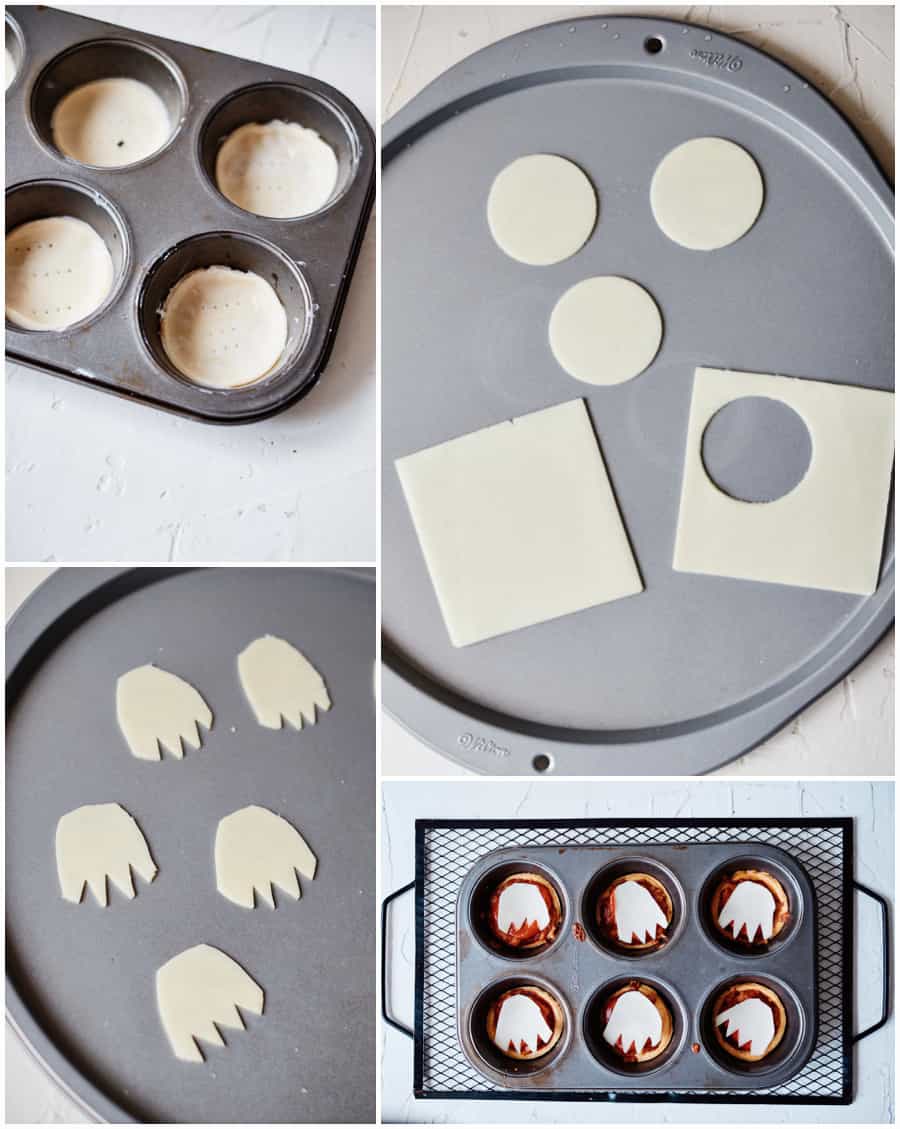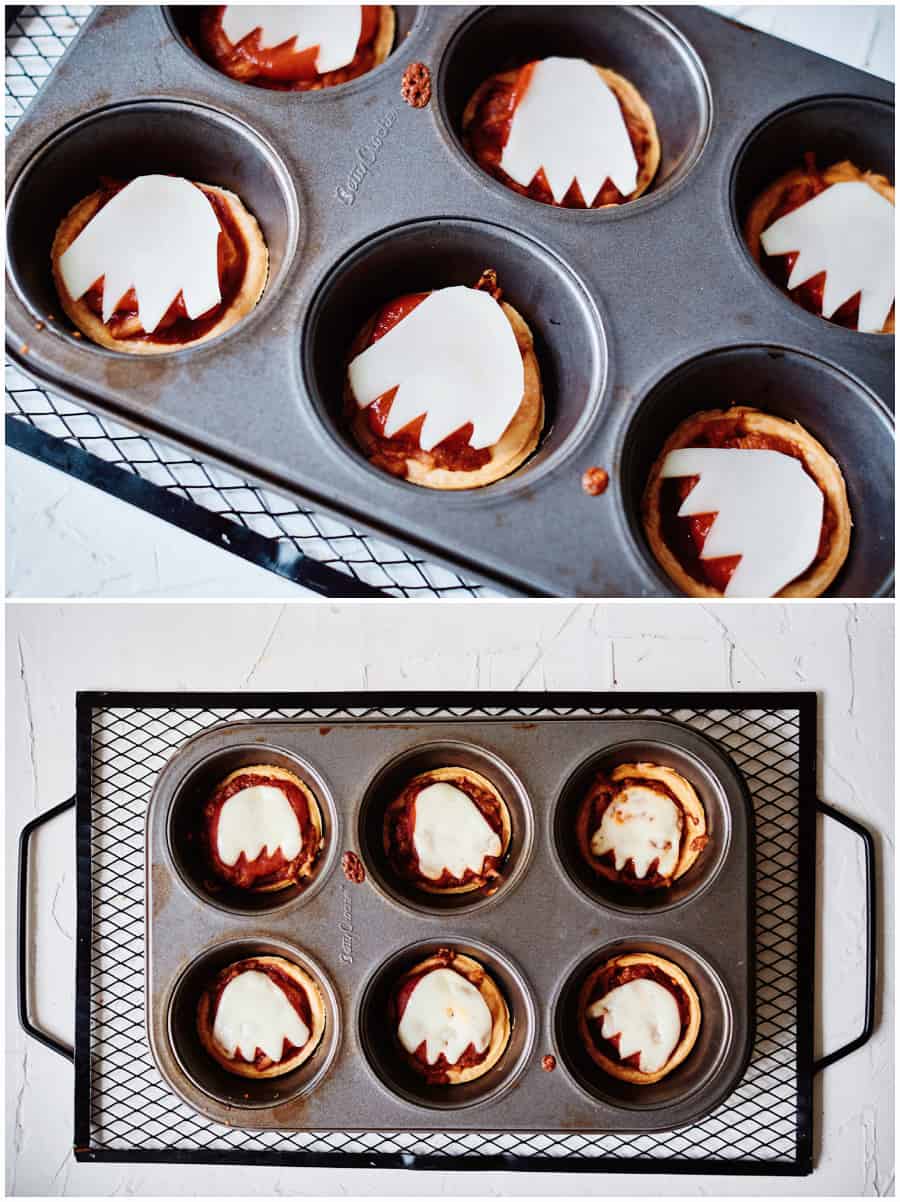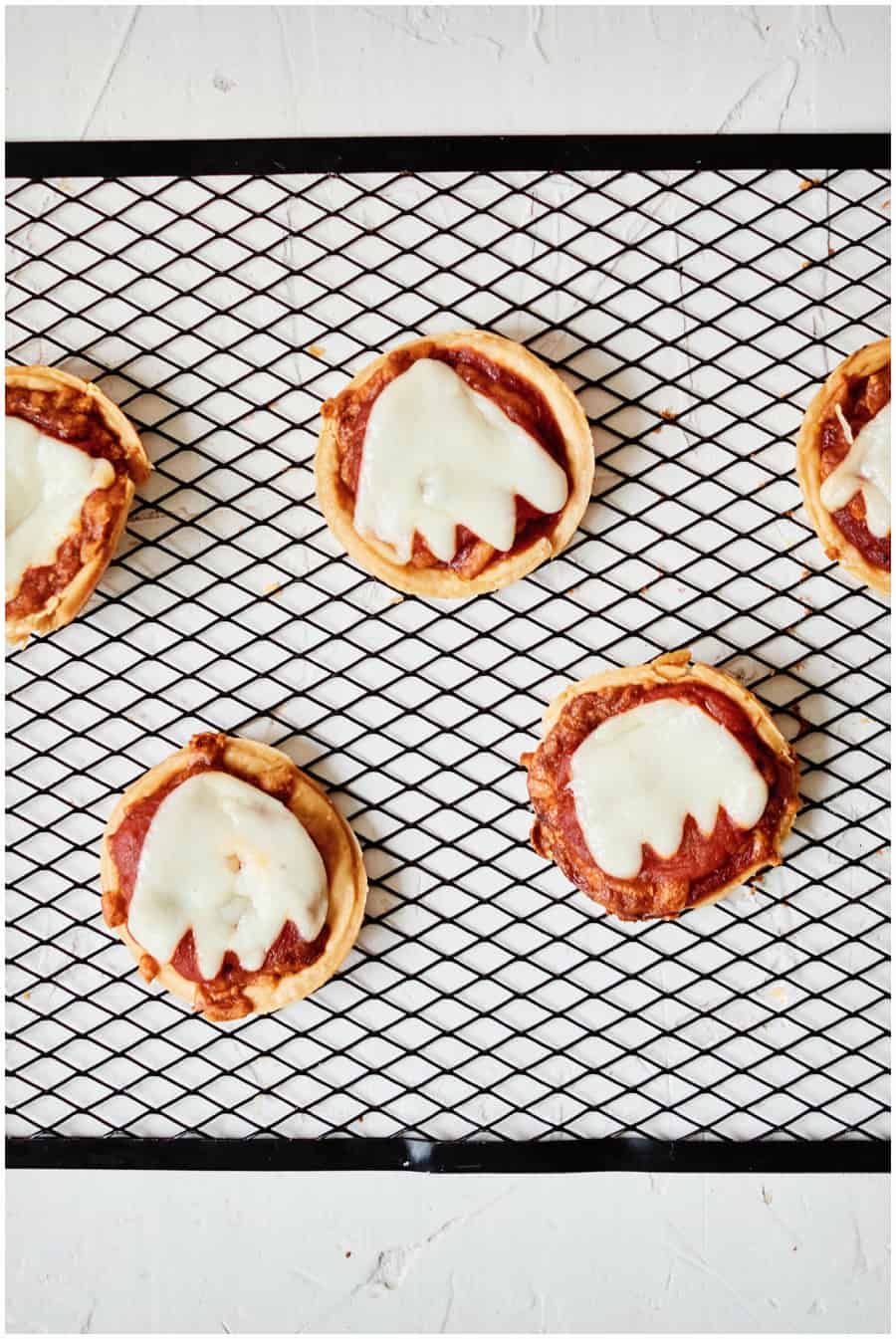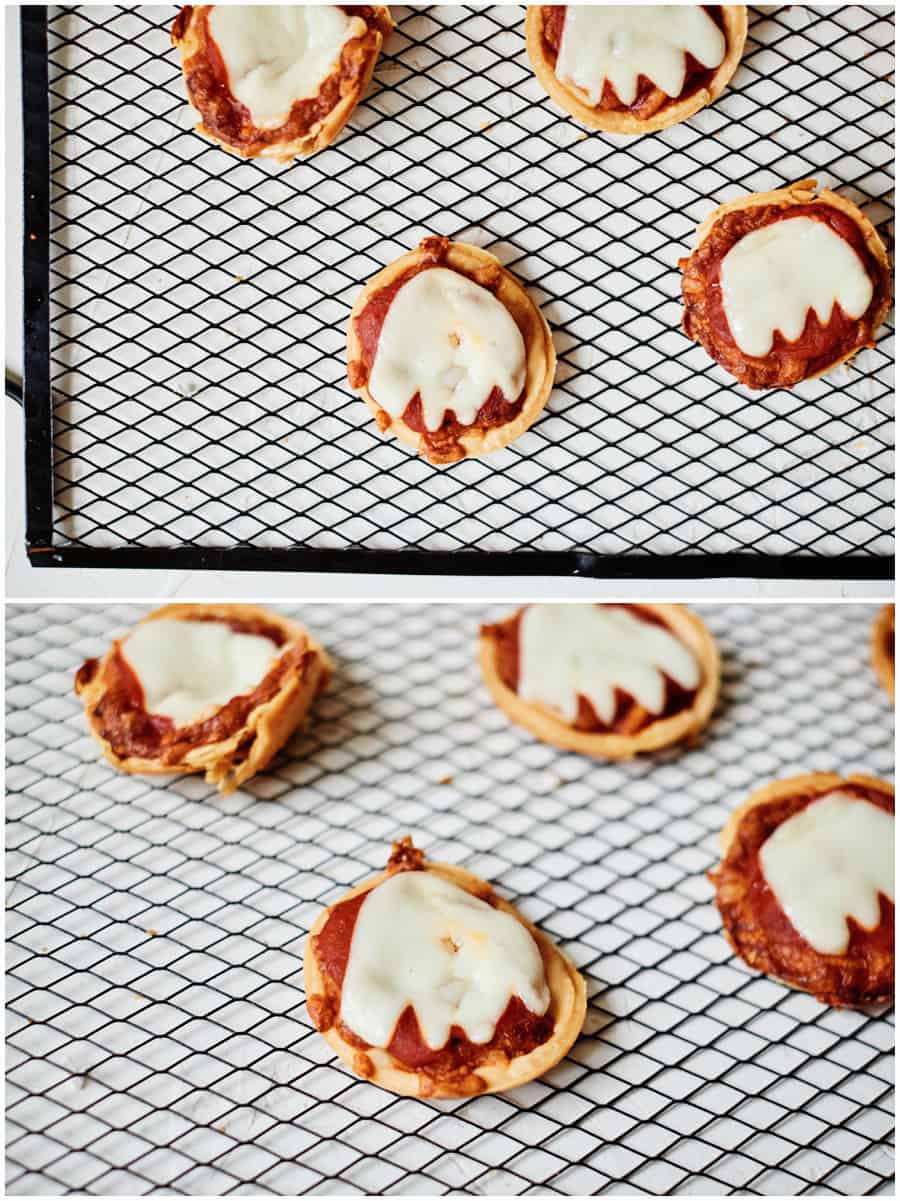 Simple tips for making these Mini Muffin Tin Ghost Pizzas
Be certain to let them cool completely before eating. The sauce will be super hot and can burn your mouth if you're not careful.
Also, have fun with the eyes! Use something that is safe to eat and really make those ghost eyes stand out.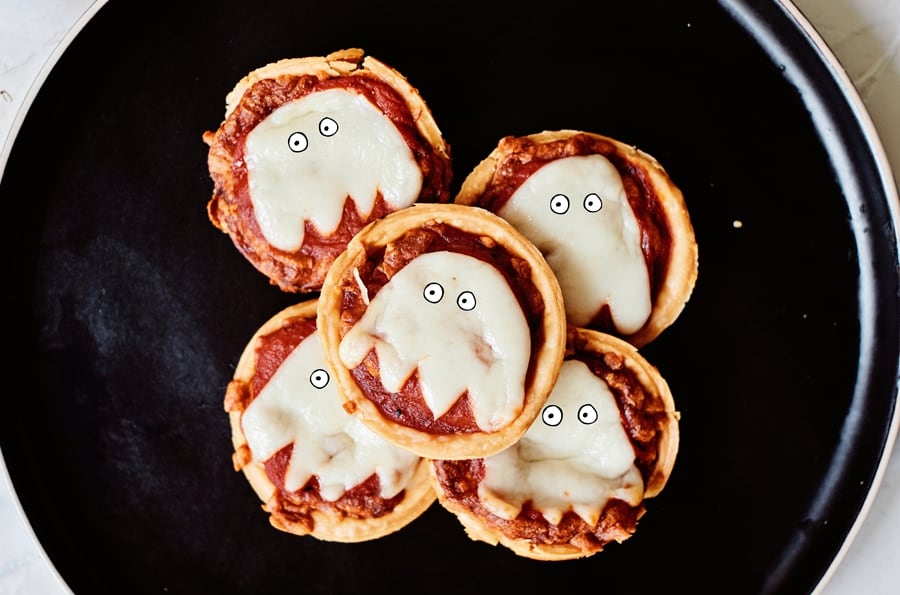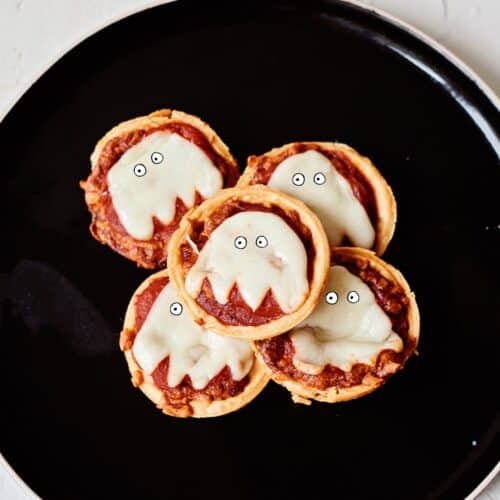 Mini Muffin Tin Ghost Pizzas
These Mini Muffin Tin Ghost Pizzas are such a simple and easy Halloween recipe for the kids!
Ingredients
1/4 cup of pizza sauce

12 Tbps of shredded mozzarella cheese

3 regular sized pepperoni (cut in pieces to fit 12 mini muffin tin pizzas)

Sliced mozzarella cheese

Nonstick spray
Instructions
Preheat oven to 400 degrees. Spray your 12 muffin tin pan with nonstick spray.

Unroll your pie crust and use a rolling pin to flatten a bit so the crust is between 1/8" to 1/4" thick.

Use your 3" round cookie cutter to make 12 circles of dough. You may need to re-roll crust scraps.

Place each pie round inside a muffin tin cavity and lightly press up on the sides. Prick with a fork.

Add 1 teaspoon of sauce on top of each muffin tin cavity.

Bake in the oven for about 15 minutes until the cheese is bubbly and the sides of pie are crisp. Take out of the oven and allow to cool before removing.

Next, cut the white mozzarella cheese slices into ghost shapes.

Once the muffin tin pizzas are done baking, add in more pizza sauce and then the cheese immediately on top so it can start melting a bit.

Adding olive eyes or candy eyes is optional. We didn't have any on hand, so we added some illustrated eyes for fun.
More delicious Halloween recipes to try: