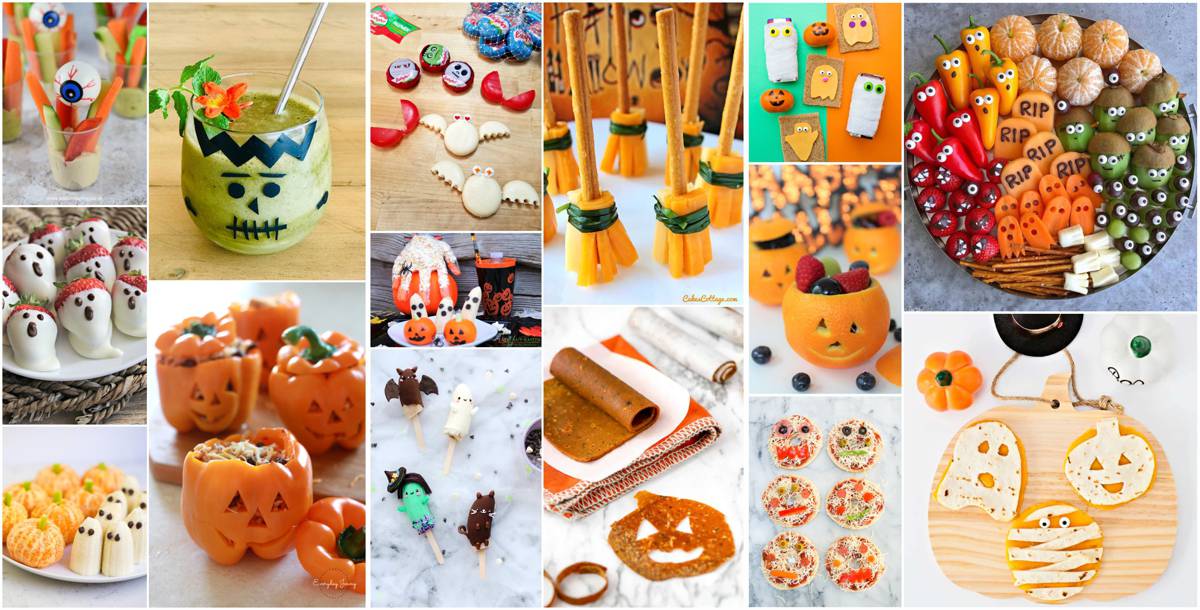 Follow us on Instagram for more fun food ideas for kids!
Halloween doesn't have to be all about the candy. Check out these 25 Spooky Healthy Halloween Treats for Kids that are still sweet, without the extra sugar.
Make Jack O' Lantern bell stuffed bell peppers, ghost quesadillas, or monster bagel pizzas for dinner.
Whip up a healthy and bo0-licious Halloween snack fruit and veggie trays. Or make easy healthy Halloween snacks like popcorn hands,  cheese broomsticks and more!
See them all below and make sure to click on each link to get you to the tutorial on how to make these healthy Halloween snacks, treats and desserts!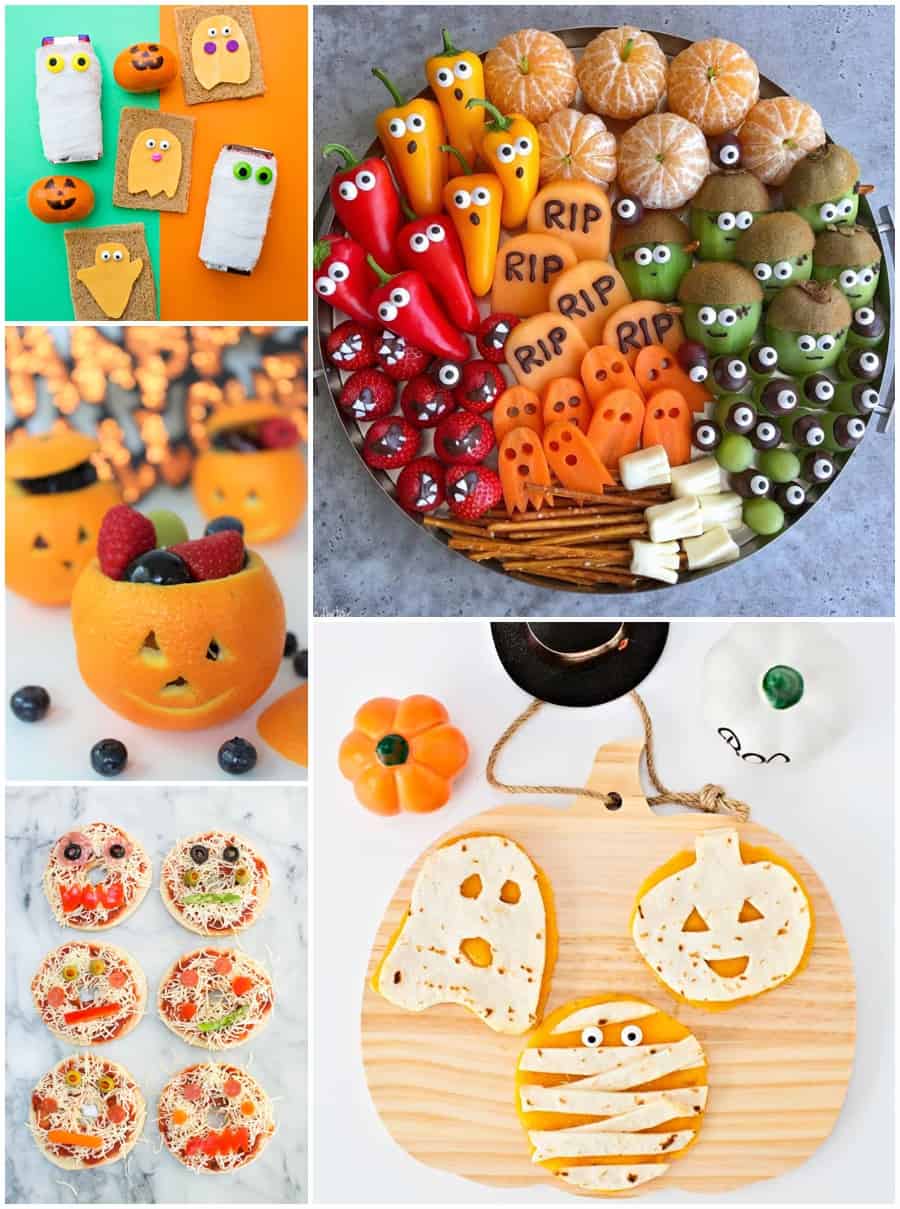 Halloween Lunch For Kids – whip up this easy spooky lunch with ghost cheese sandwiches and pumpkin oranges.
Halloween Fruit and Veggie Tray – the cutest Halloween fresh fruit and veggie tray you'll ever see!
Jack-O-Lantern Orange Fruit Cups – these mini orange pumpkins are easy to carve and double as a mini fruit basket.
Monster Pizza Bagels –  kids can help decorate their own monster faces with this fun take on pizza.
Mini Halloween Quesadillas – One tortilla can turn into 3 mini ghost, mummy and pumpkin quesadillas in a flash for Halloween lunch!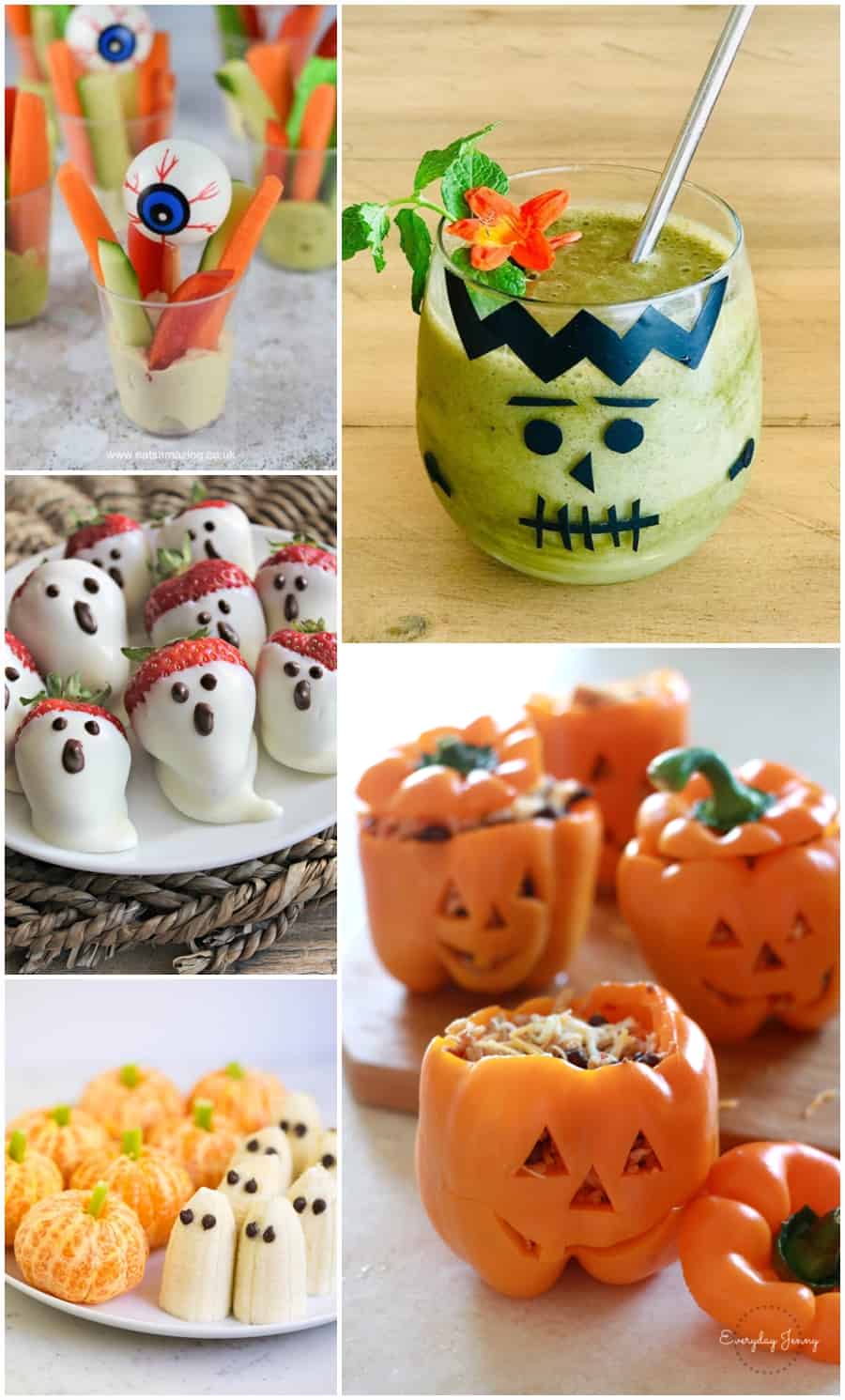 Halloween Crudités Cups – Kids will fancy having their own crudités cup complete with spooky eyeball.
Green Smoothie Frankenstein – Start Halloween morning off right with a green Frankenstein smoothie. So easy to customize the face!
Strawberry Ghosts – your mouths will open in awe like these berry cute ghosts once you find out how easy they are to make.
Healthy Halloween Fruit – It doesn't get easier than these tangerine pumpkins and banana ghosts when you're looking for a five minute healthy Halloween treat.
Jack O' Lantern Stuffed Bell Peppers – Stuff these healthy bell peppers with a yummy chicken rice.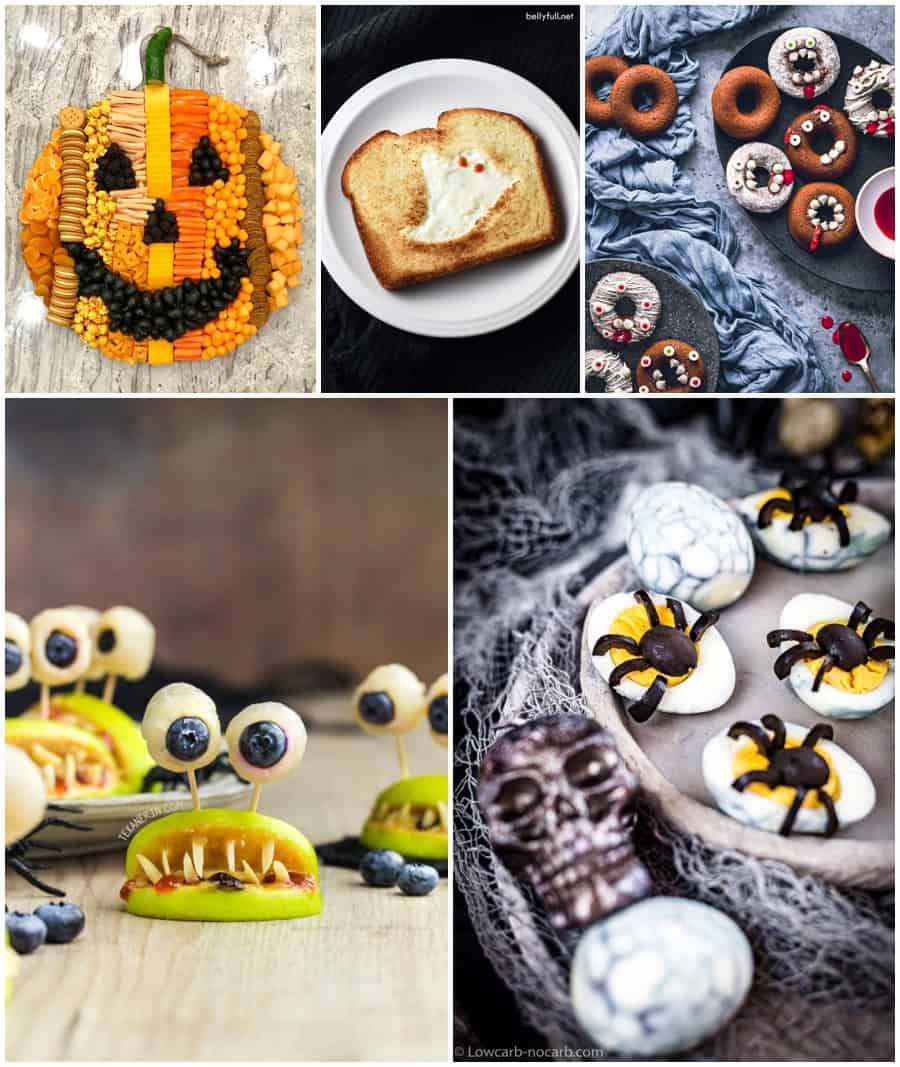 Pumpkin Snack Board – Gather all your orange snack to make this edible Jack O' Lantern pumpkin.
Easy Ghost Toast – An easy Halloween lunch that's boo-licious!
Baked Halloween Donuts – Why fry donuts when you can make your own healthier, delicious baked ones?
Healthy Halloween Monster Mouths –  Kids won't be able to stop staring at these huge googly eyed fruit monsters!
Spider Web Eggs – not only are these healthy deviled eggs, they are low carb and keto too!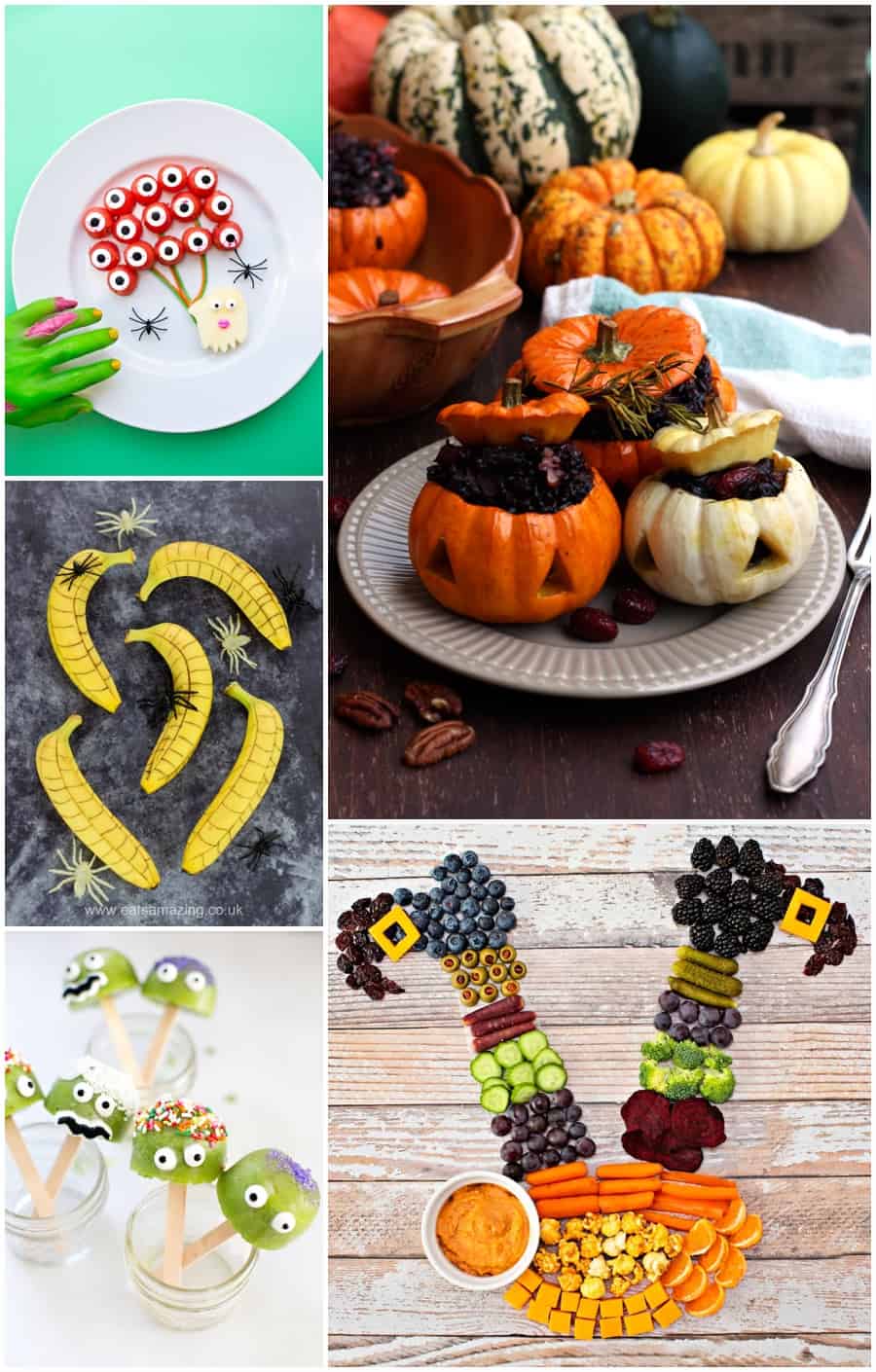 Halloween Eyeball Watermelon Snack – Give the kids an eyeful of bloodshot watermelon eyes for an easy Halloween fruit snack.
Halloween Stuffed Pumpkins – these delicious, savory filled baked mini pumpkins make clean up a breeze as well so you can head straight to trick or treating.
Spiderweb Bananas – short on time Halloween day? Grab a Sharpie and make these webbed bananas in no time.
Green Monster Smoothie Popsicles – These frozen treats are filled with spinach but kids won't even notice.
Witch Halloween Snack Tray – Grab your favorite purple, green and orange fruits and veggies to make this cute witch Halloween board.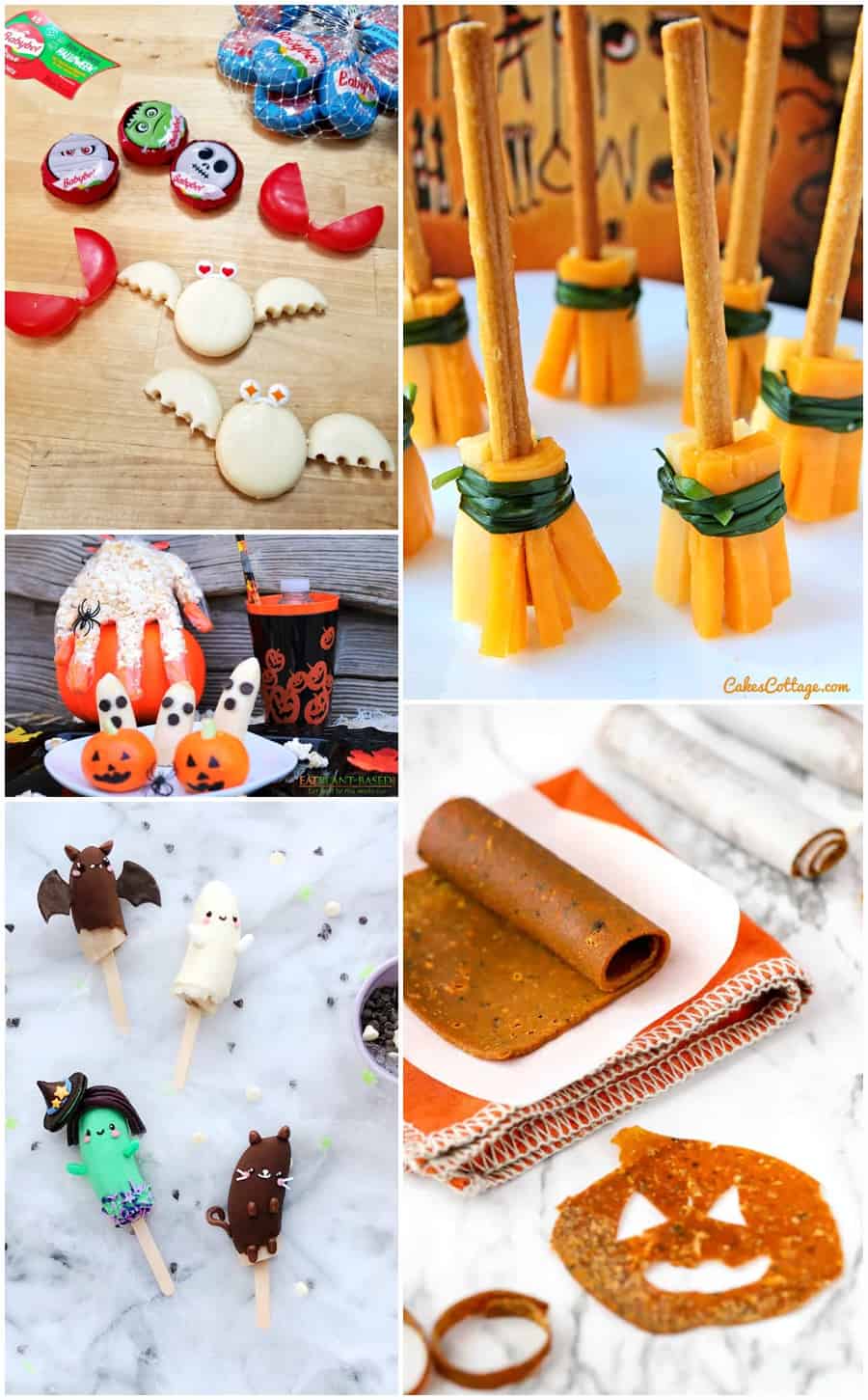 Bat Cheese Halloween Snack  – Your kids will go batty over these Mini Babybel cheese bats.
Cheese Witch Broomsticks –  Turn cheese into witch brooms with an easy fringe technique.
Popcorn Hands – these popcorn hands will grab your kids' attention and make fun party favors to hand out.
Halloween Frozen Banana Treats – frozen bananas never looked so spooky cute. Who can resist that adorable witch with Oreo cookie hat?
Pumpkin Fruit Leather – the fruits of your labor in creating this slow baked fruit snack will be rewarded in knowing you made this popular store-bought food by hand.