By using this site, you agree to our Terms of Use. This post may contain affiliate links. Read our disclosure policy.
Follow us on Instagram for more fun food ideas for kids!
Make Halloween spooky and sweet for the kids with these Graham Cracker Haunted Houses. A fun Halloween treat that's sure to delight your little trick or treaters.
This year Halloween may look a little different but that doesn't mean we won't be celebrating. You can make these cute and spooky Graham Cracker Haunted Houses at home (if you're opting out of trick or treating this year) to still indulge in some sweet Halloween fun!
These graham cracker houses are so fun to make and the perfect size for little hands. Plus they really require just assembly, no baking or difficult materials required.
We do have some tips on how to keep this Halloween house activity as mess free as possible as it can get sticky!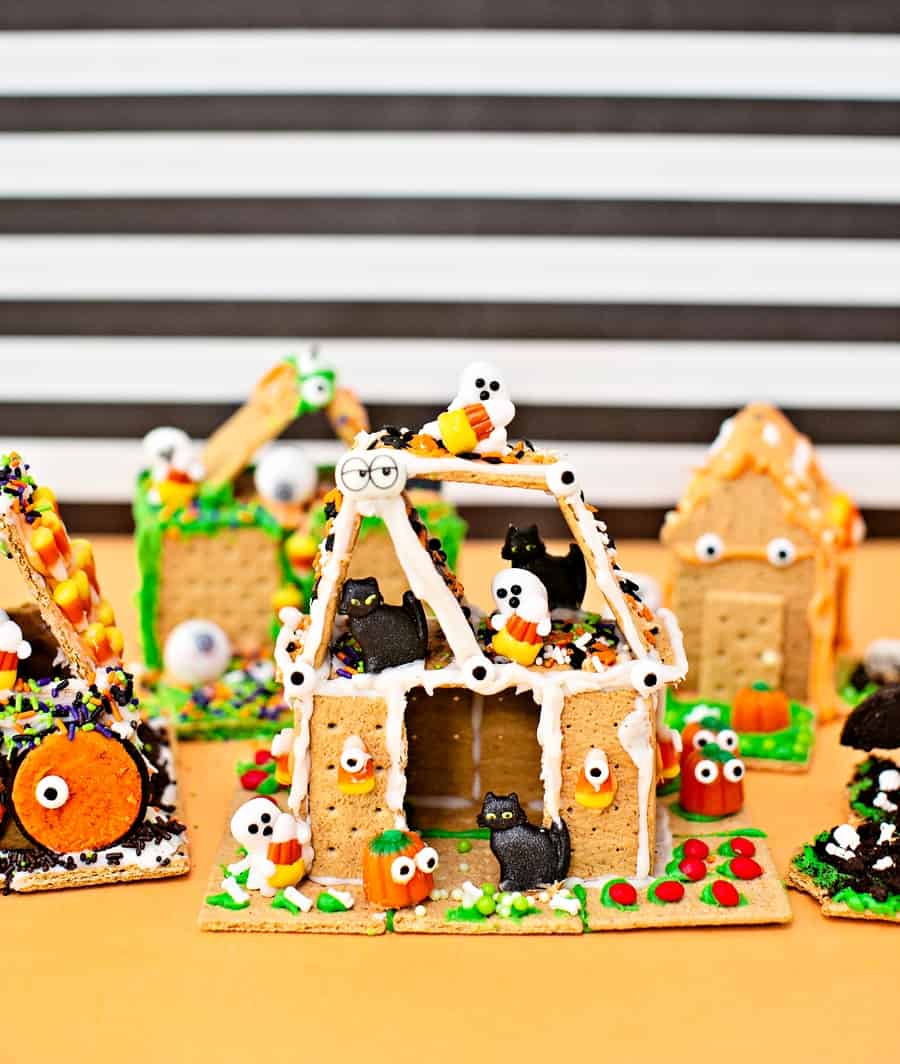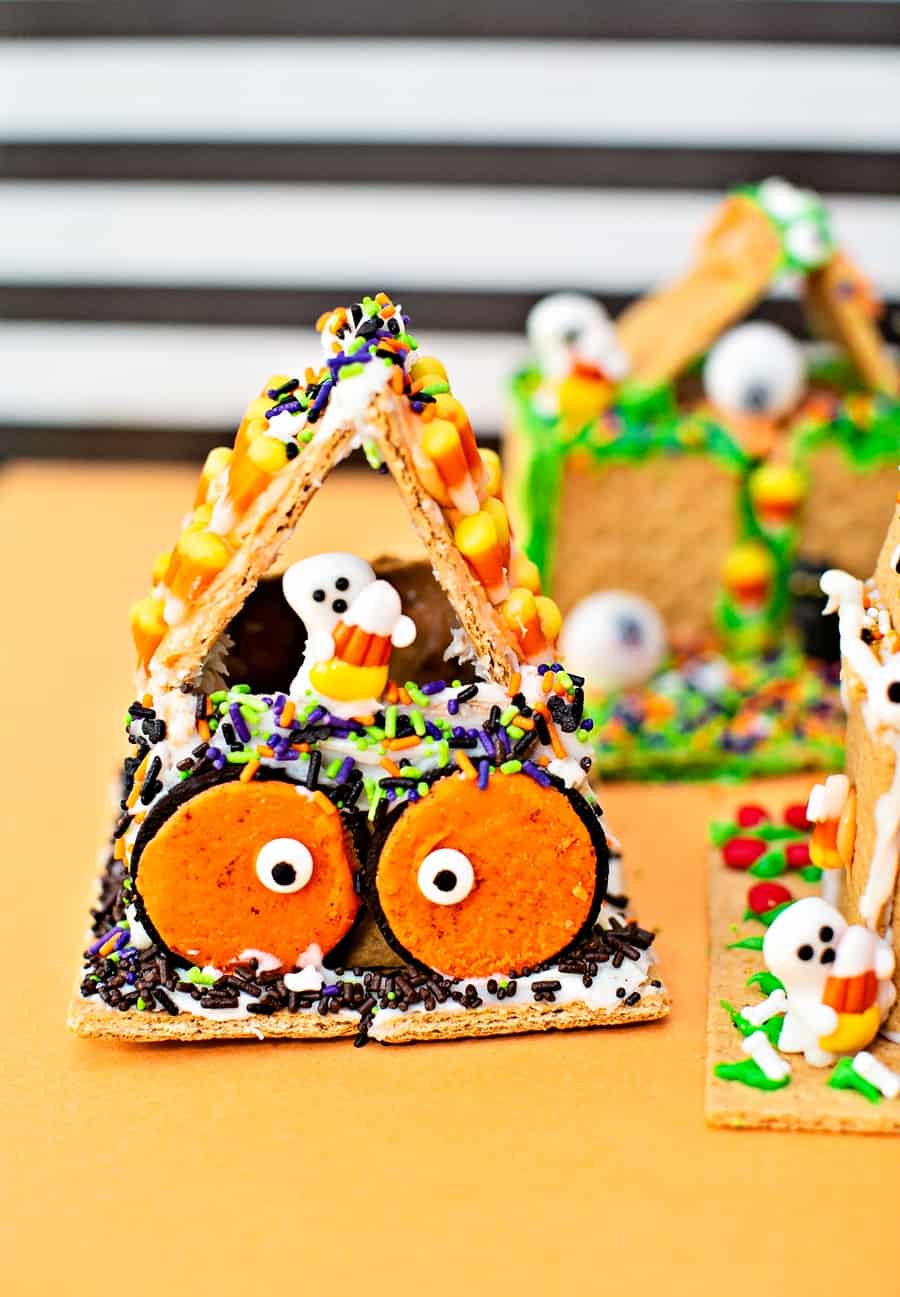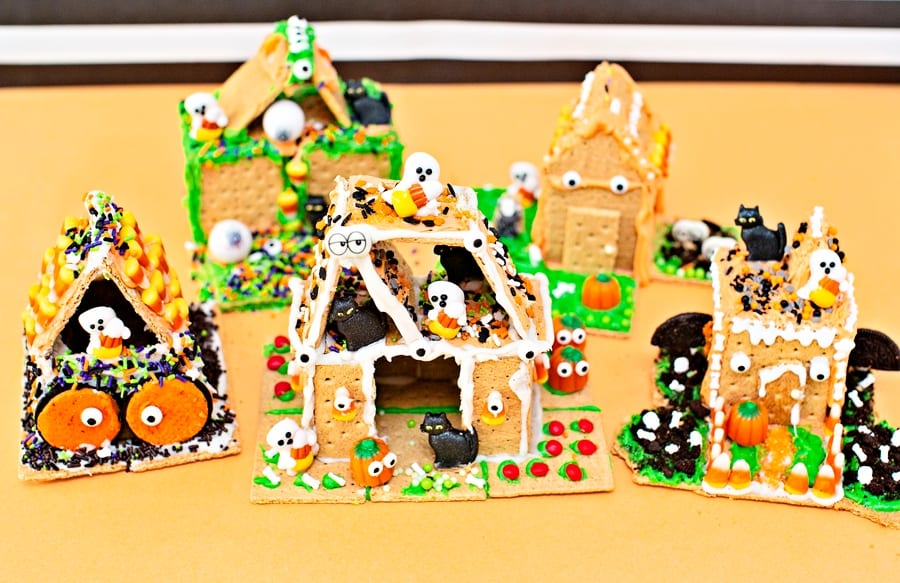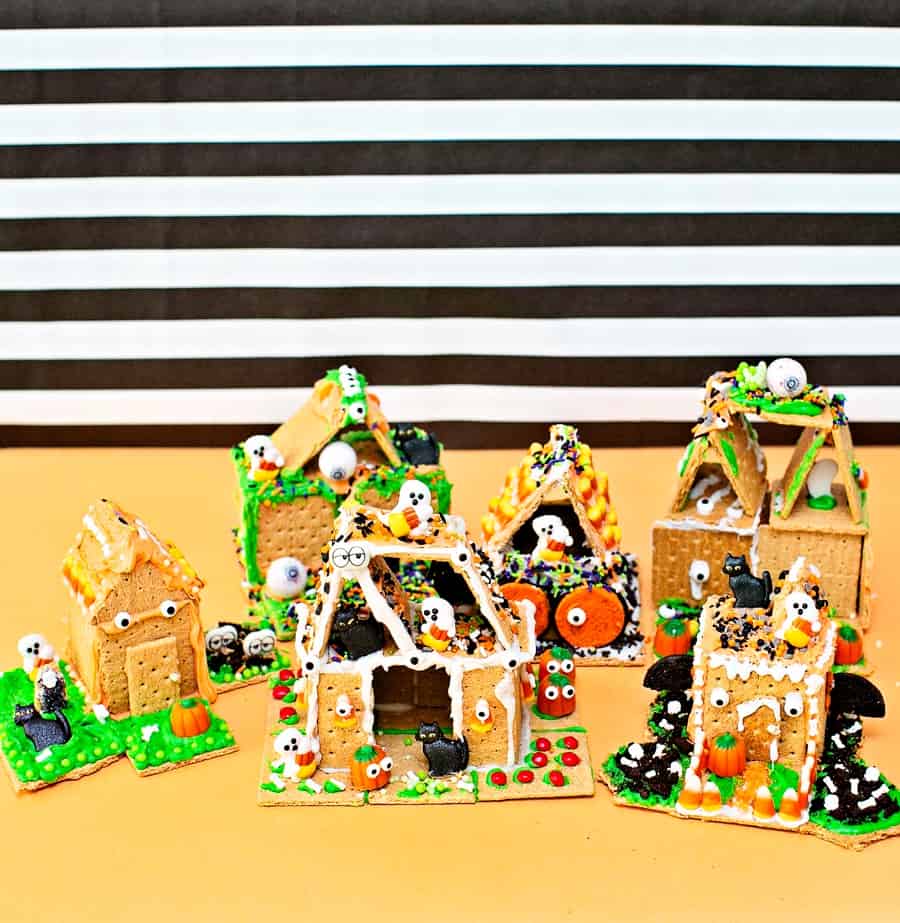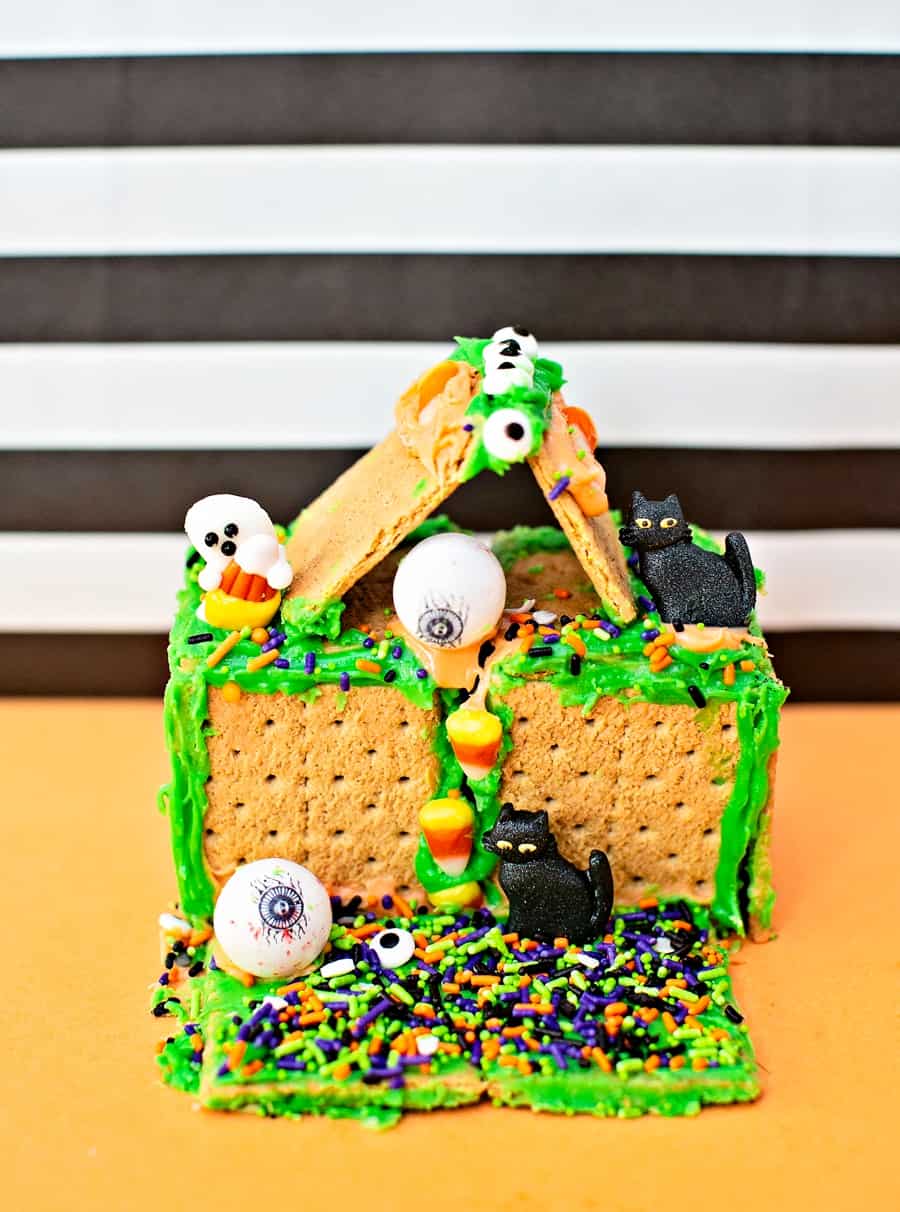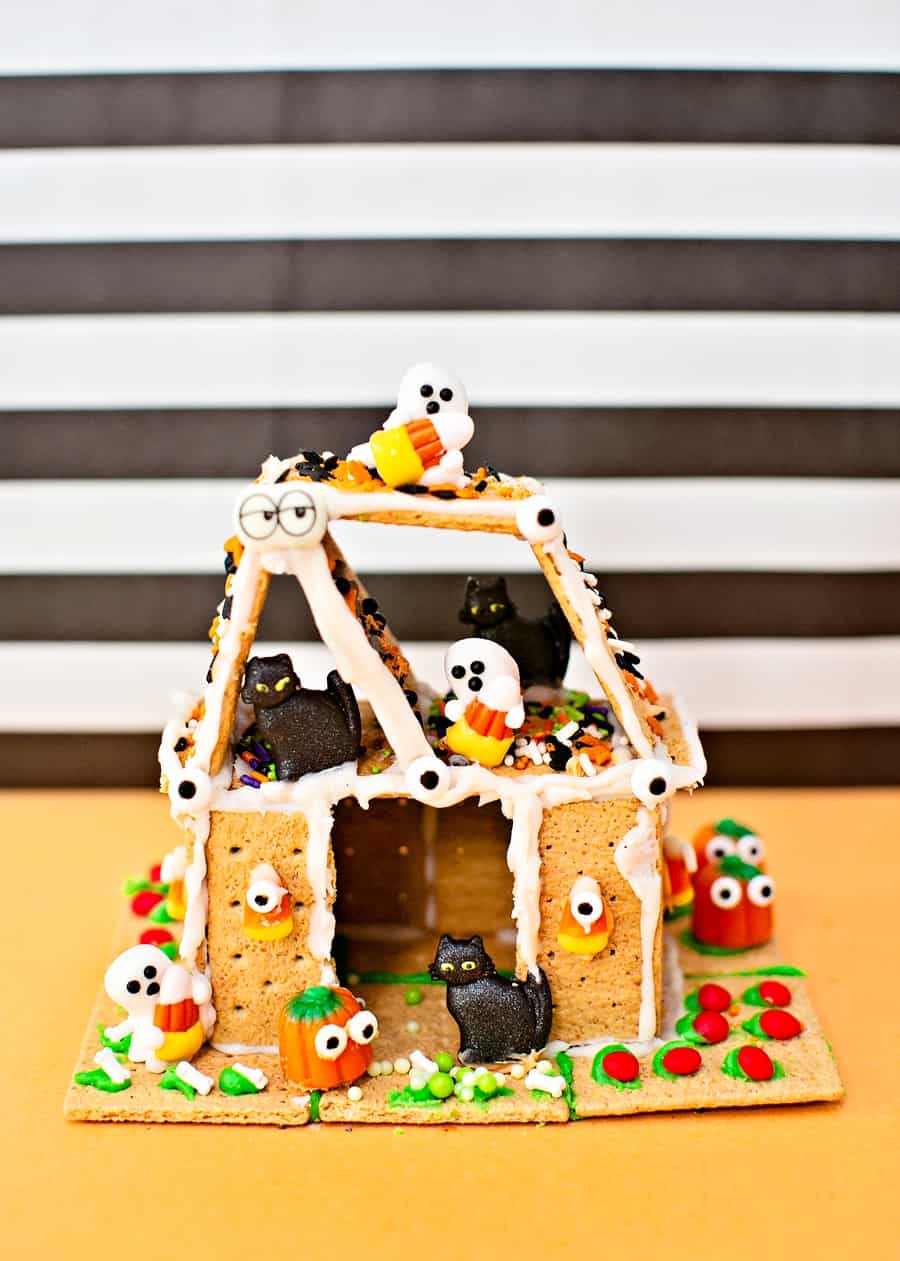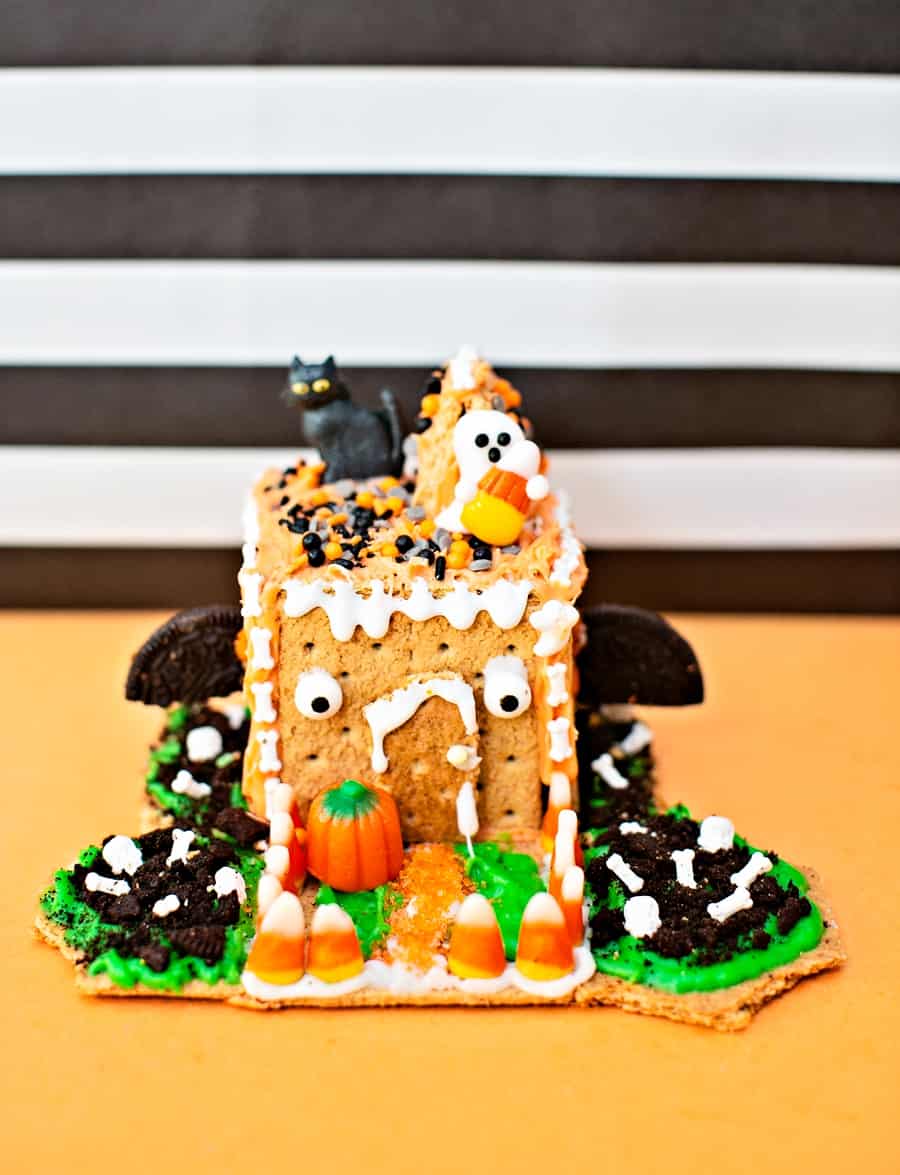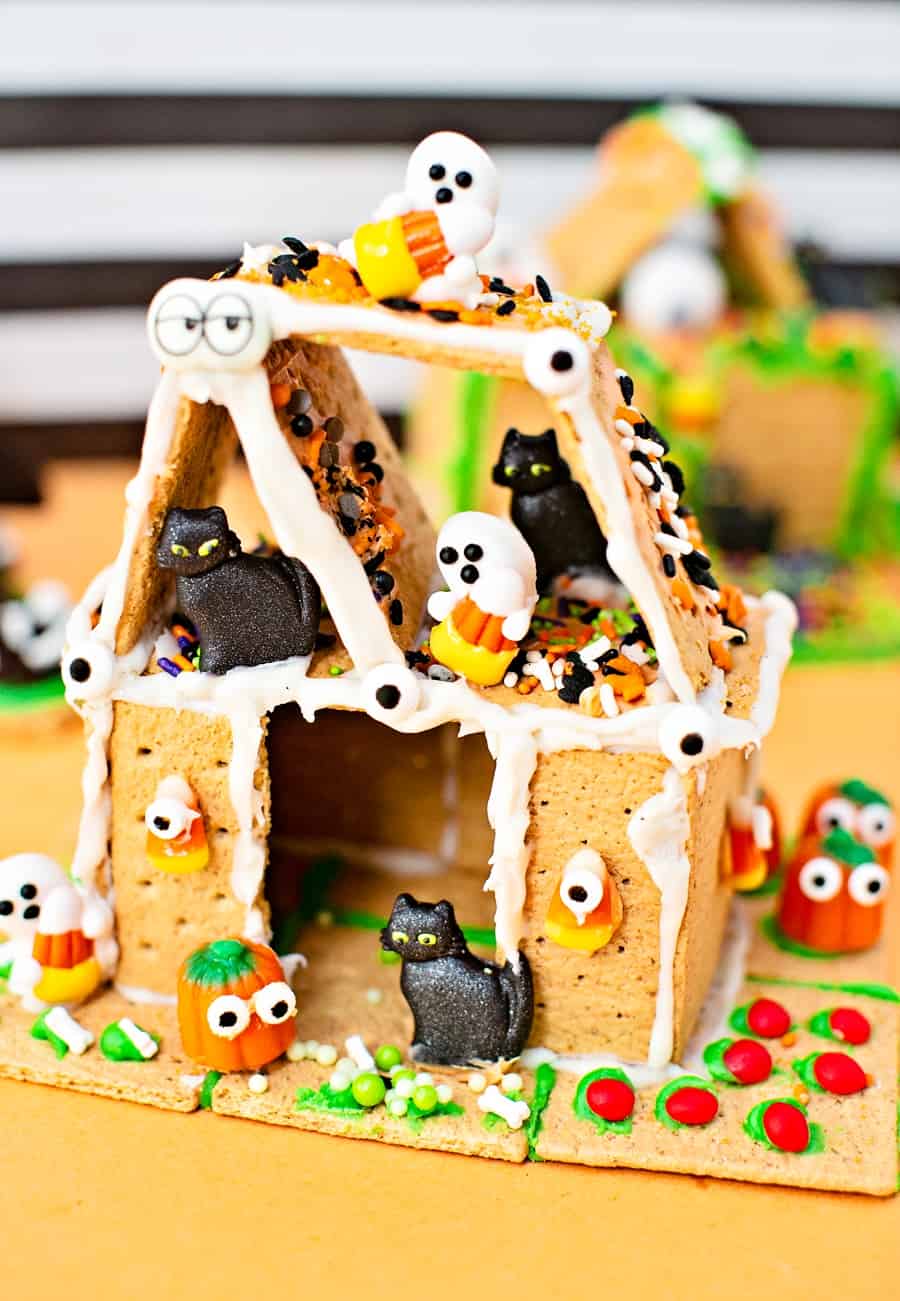 What will I need to make Graham Cracker Haunted Houses?
You definitely need graham crackers for your houses. There aren't any right or wrong ways to build them. Some have walls, some have gardens, we let our kids' imaginations run wild!
You also need a great icing that dries hard (like this cookie icing) or else your house will keep toppling over! If you have very little kids we suggest having some pre-built houses that have fully cemented so they don't get frustrated and can get straight to the fun part – decorating!
Speaking of, you can scour your Halloween decor stores, or grocery baking aisles for seasonal Halloween treats. We found these adorable ghosts and cats and laid out an assortment of candy pumpkins, Halloween sprinkles and candy corn. You'll also need colored icing in fun Halloween colors like orange, purple and black to stick on your decorations.
How do I keep my Halloween candy houses as mess-free as possible?
Did we mention this food craft can get messy? Here's out trick to keeping it low-mess. Give each kid their own piece of large parchment paper so after they decorate, you can just wrap it up and throw away the crumbs.
Another trick is not handing out the entire containers of sprinkles but having small little cups of them so they are easy to contain and pass around.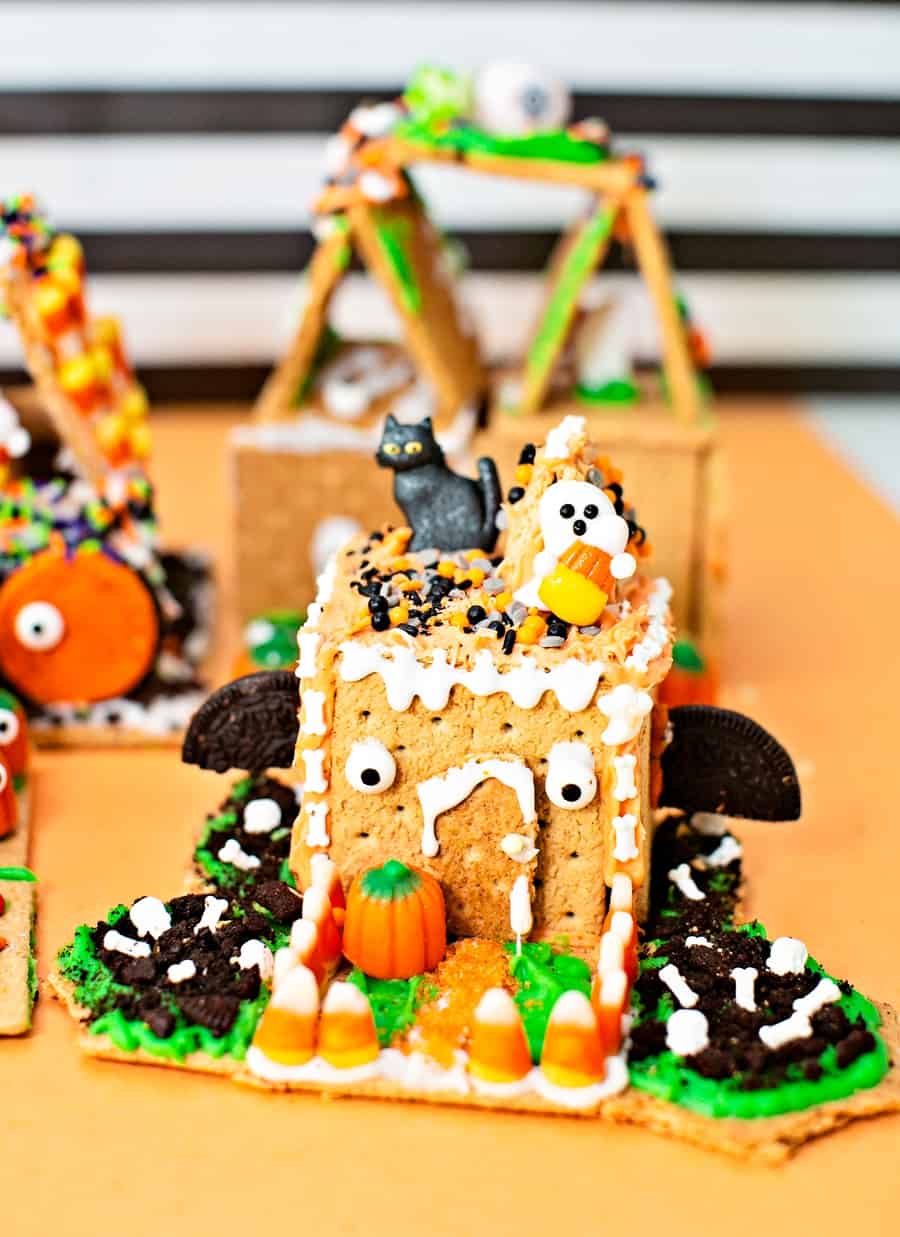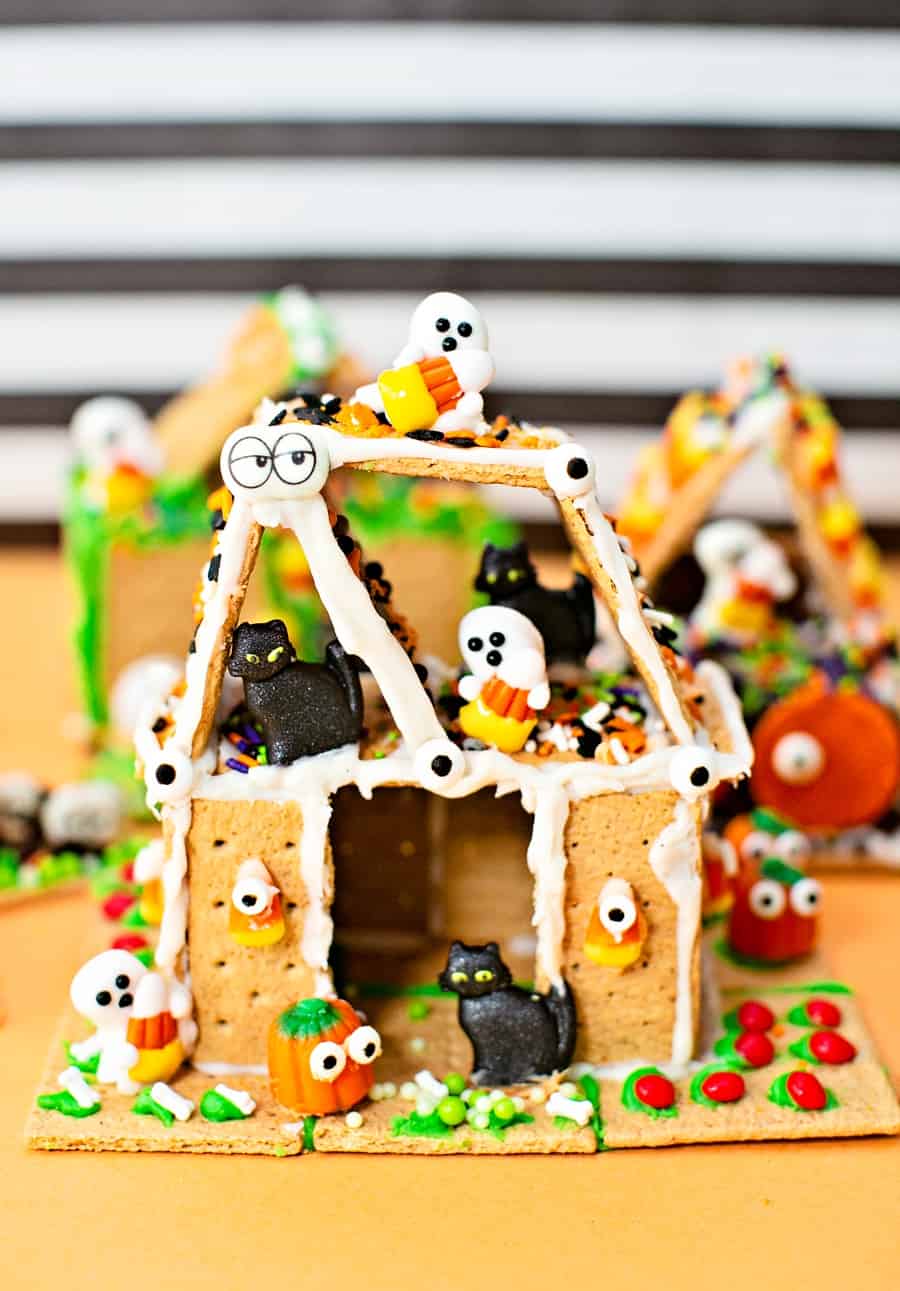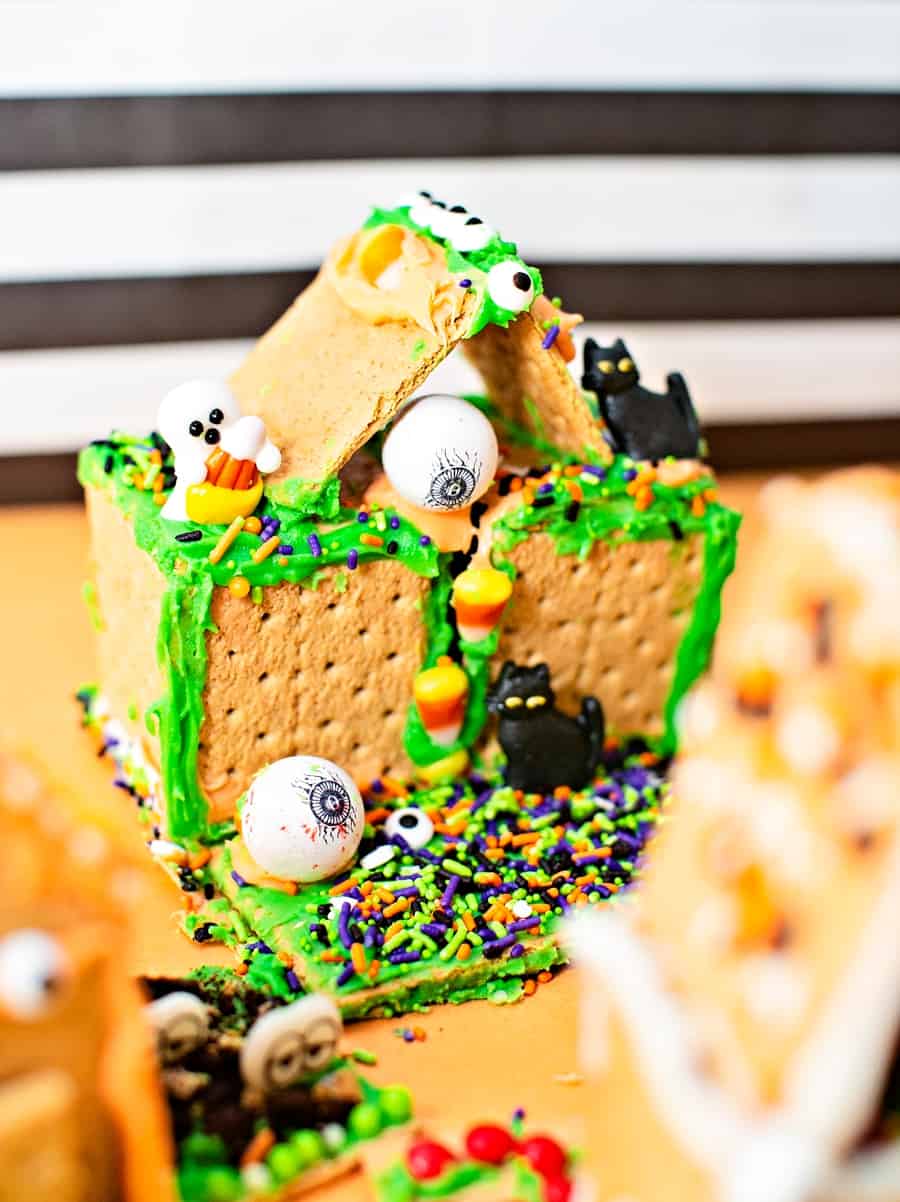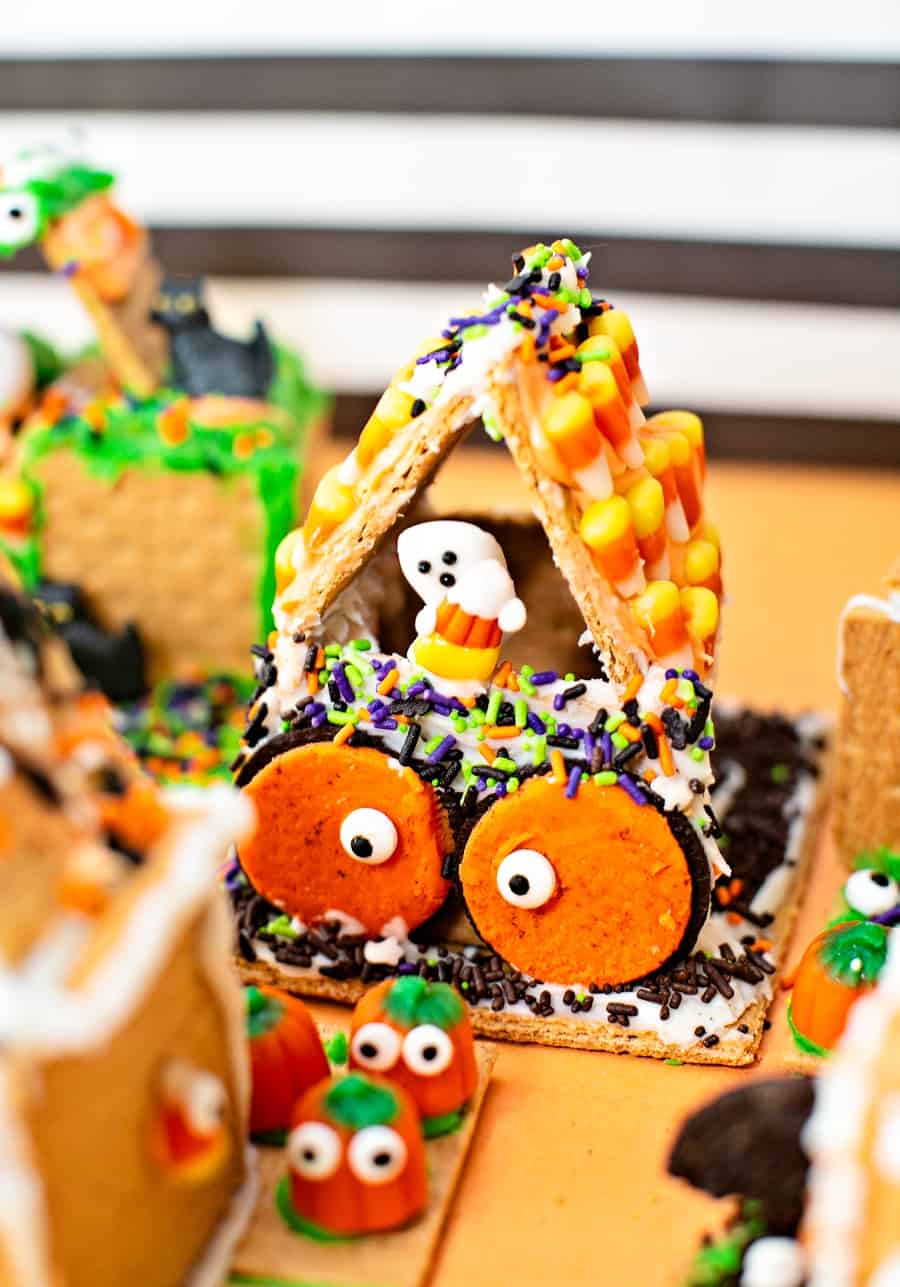 How do I keep my Cookie Haunted House to display on Halloween?
We kept ours in the freezer (which we recommend doing anyways overnight to "cement" your icing." Then on Halloween you can bring out your house and display and it will look as good as new!
Graham Cracker Haunted Houses – Materials:
Graham Crackers

Cookie Icing (for building house, or any icing that dries hard)

Various Halloween colored frosting/icing (black, orange, green)

Decorative Halloween candies (pumpkins, candy corn, ghosts, cats)

Halloween sprinkles

Candy eyeballs

Chocolate sandwich cookies (great for making dirt)

Optional – parchment paper, small cups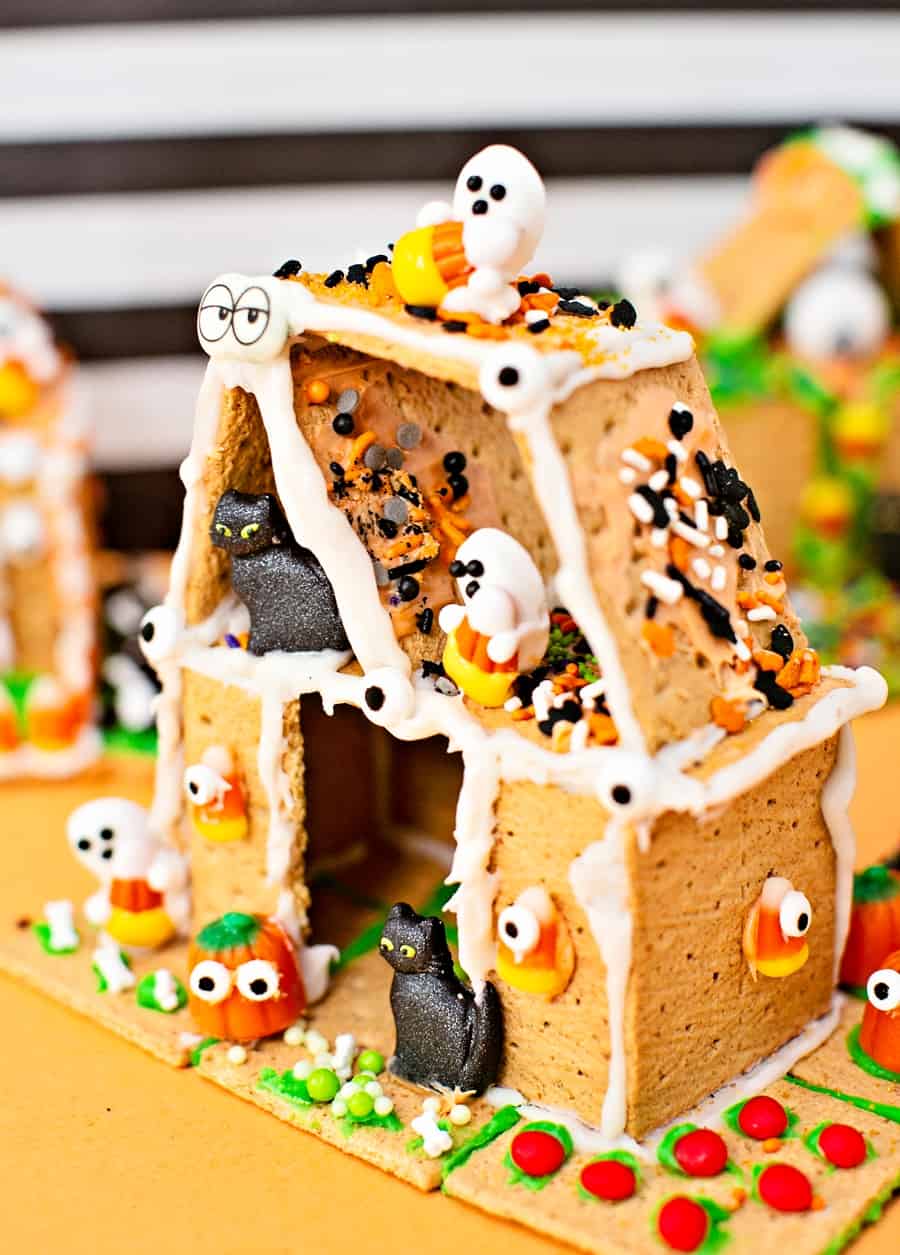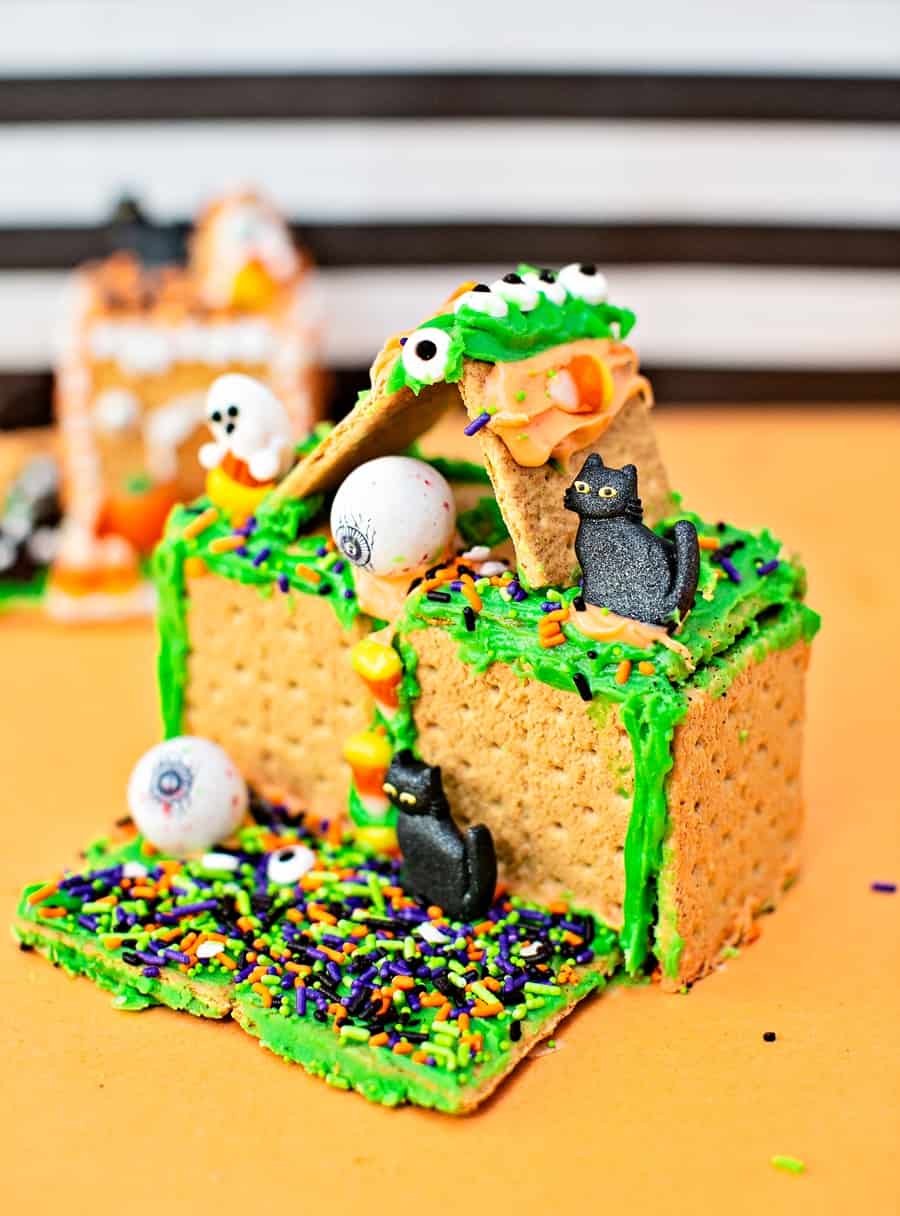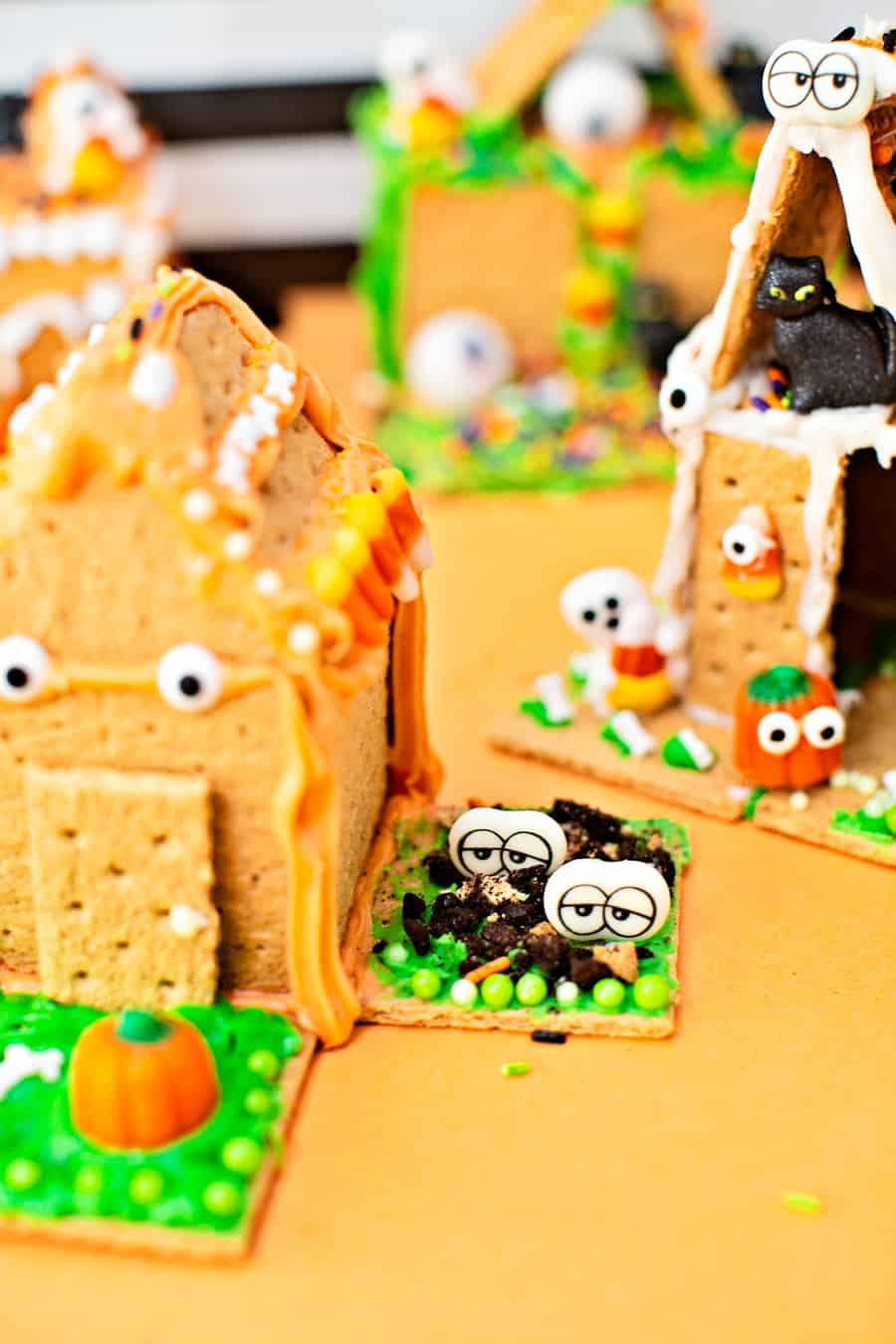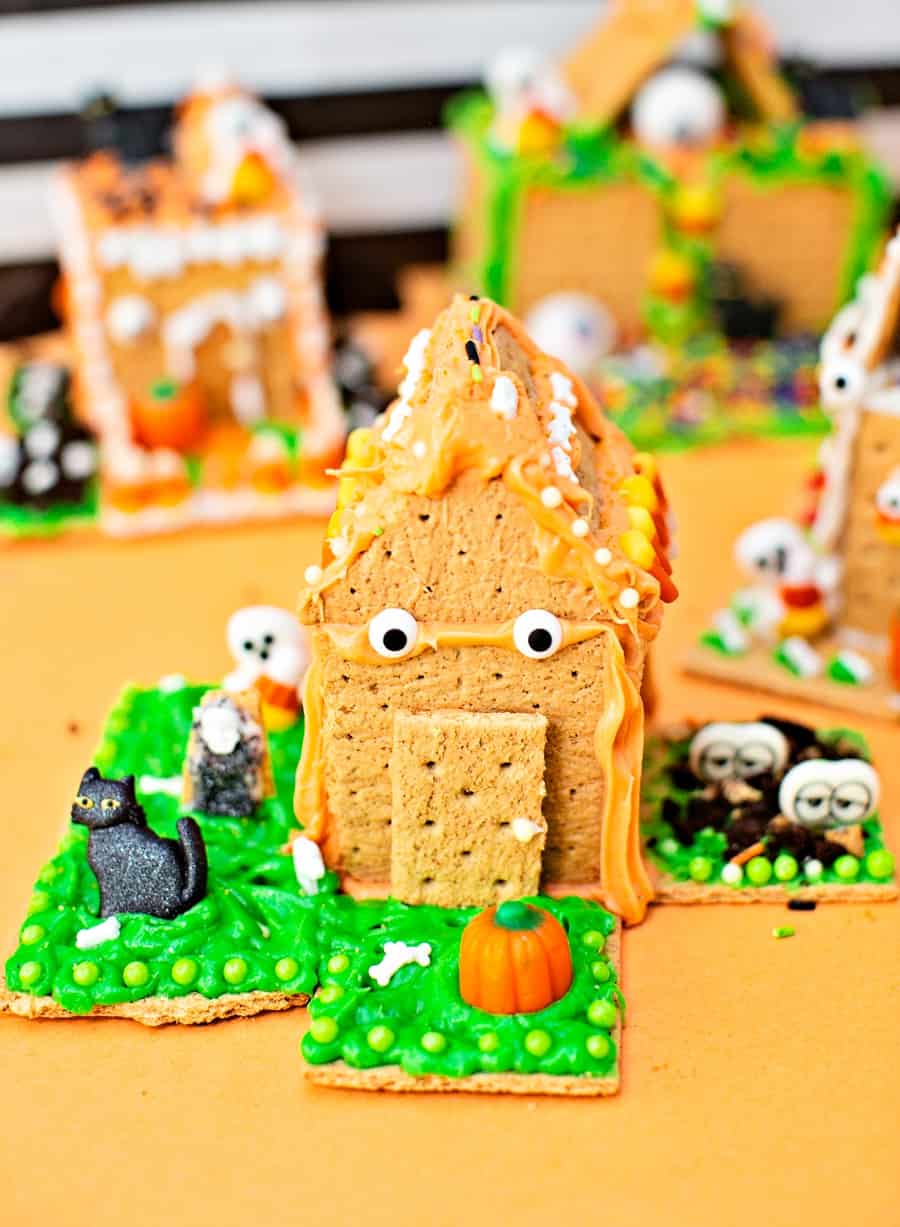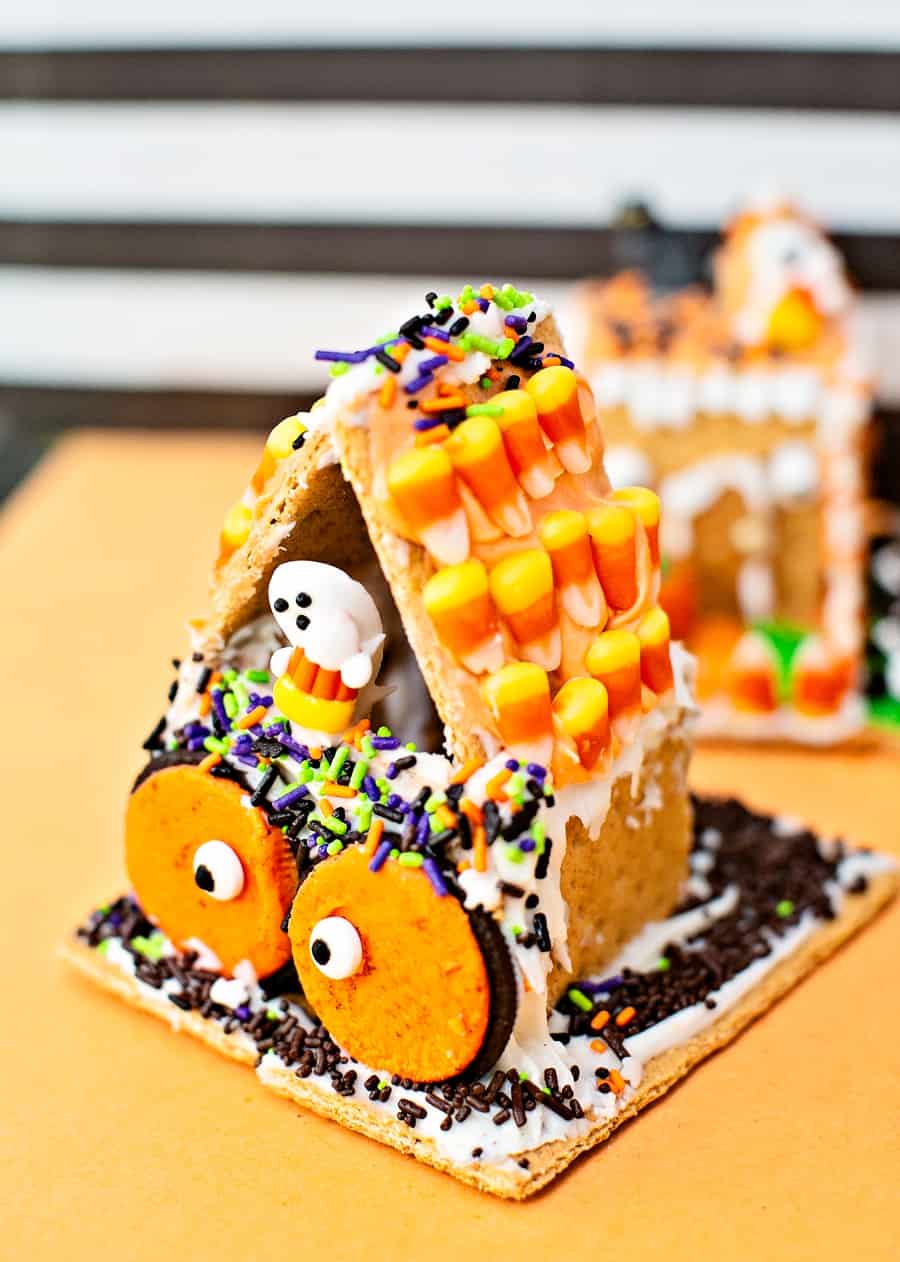 INSTRUCTIONS:
Step 1. Lay out an assortment of graham crackers, Halloween candy, sprinkles, icing or frosting.
Step 2. Give each child their own parchment paper and small cups (Dixie cups) work great of small decorative candies, sprinkles. The frosting can be shared and passed around.
Step 3. Remember to have some patience when building the graham cracker houses. They icing does need to set for several minutes or will topple! If you find kids won't have the patience for that, work on the houses first separately so they set and then set up the decorating on a separate day/time.
Each haunted house comes out super unique! Let your child's imagination wander and come up with the spooky sweet house of their dreams. Here are some fun ideas we did to get you started:
Crush dirt and created a "graveyard" and added bone and skull sprinkles

Get Halloween themed Oreos with orange icing inside, separate cookies and add to roof as "eyes."

Make a spooky garden with "poison apples" and pumpkin candy patch with googly eyes.
YOU MIGHT ALSO LIKE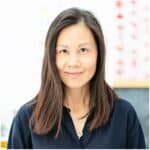 Agnes Hsu is a mom of three and has been inspiring parents and kids to get creative with easy activities and family friendly recipes for over 10 years. She shares her love for creative play and kids food to her 2MM+ followers online. Agnes' commitment to playful learning and kindness has not only raised funds for charity but also earned features in prestigious nationwide publications.