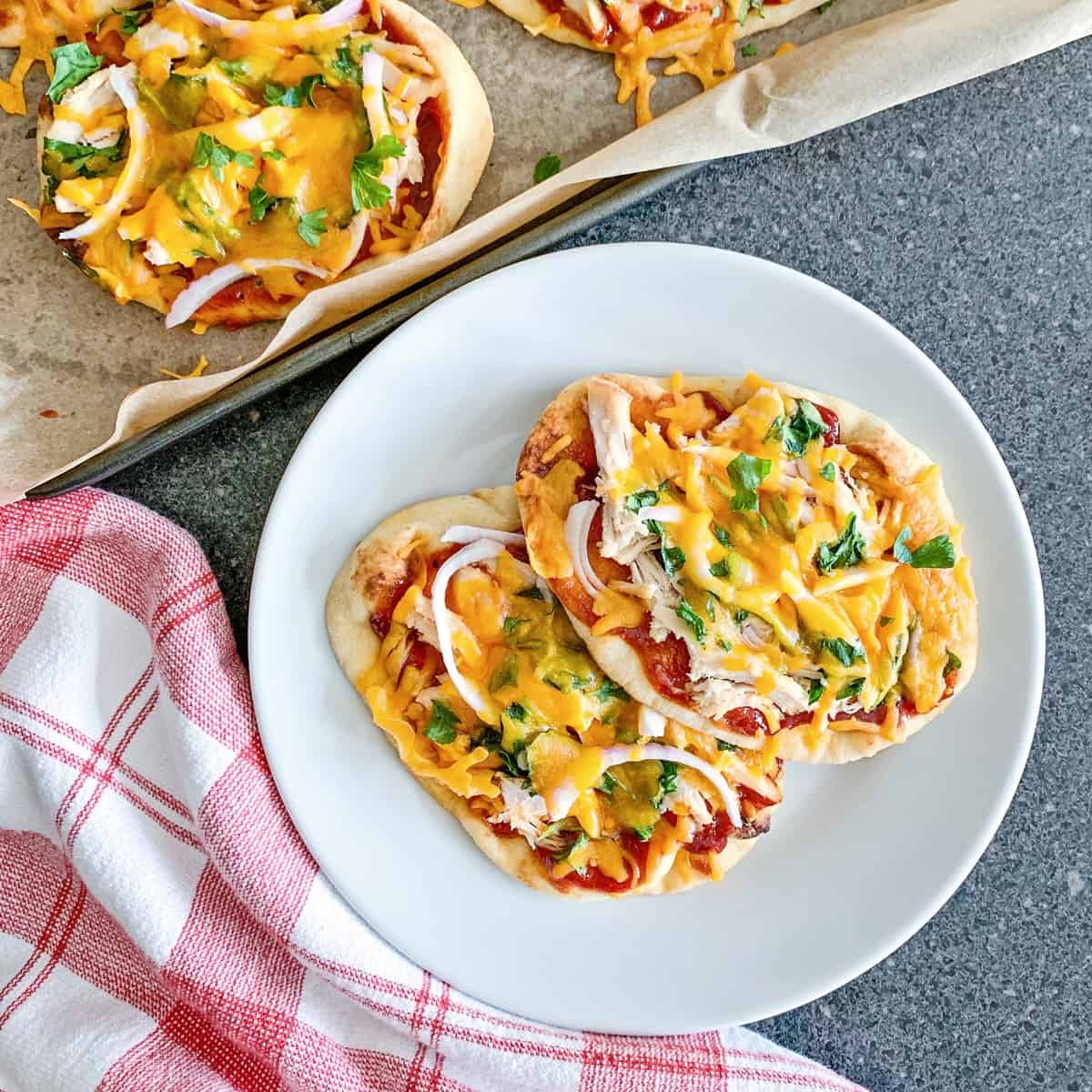 By using this site, you agree to our Terms of Use. This post may contain affiliate links. Read our disclosure policy.
Follow us on Instagram for more fun food ideas for kids!
These BBQ Chicken Naan Pizzas are the perfect meal when you want pizza and want it on the dinner table fast! Easy kid-friendly pizza.
In our house, we really like pizza and we love making it different ways like this BBQ Chicken Naan Pizza. But half the time as long as it's in the form of a pizza, it doesn't matter the taste and flavor as much as the ability to eat it all on our own.
Now that doesn't mean that we don't like to share, but it does mean that when we get a chance to have an entire pizza all to ourselves, no one in my family is going to say "no" to that offer or chance.
Ever since I realized that naan bread was the perfect base for individual pizzas, I couldn't get this recipe off my mind. And pairing it up with the taste of sweet BBQ sauce made me realize that this was going to become a family favorite after just one meal.
Since each person can have their own pizza, there's no worry about making portions or anything complicated like that. This simple pizza recipe is basically just the beautiful simplicity of having each person be able to add toppings, warm, and eat!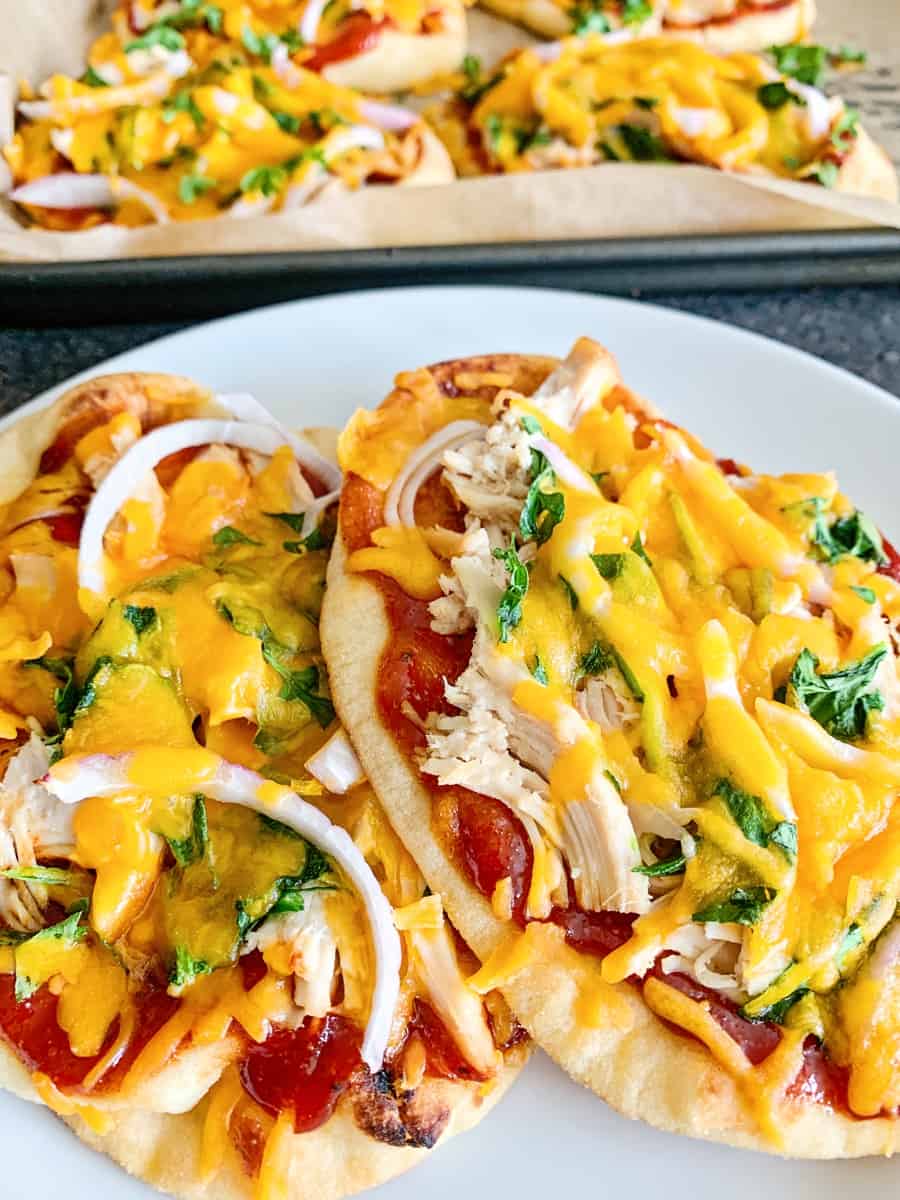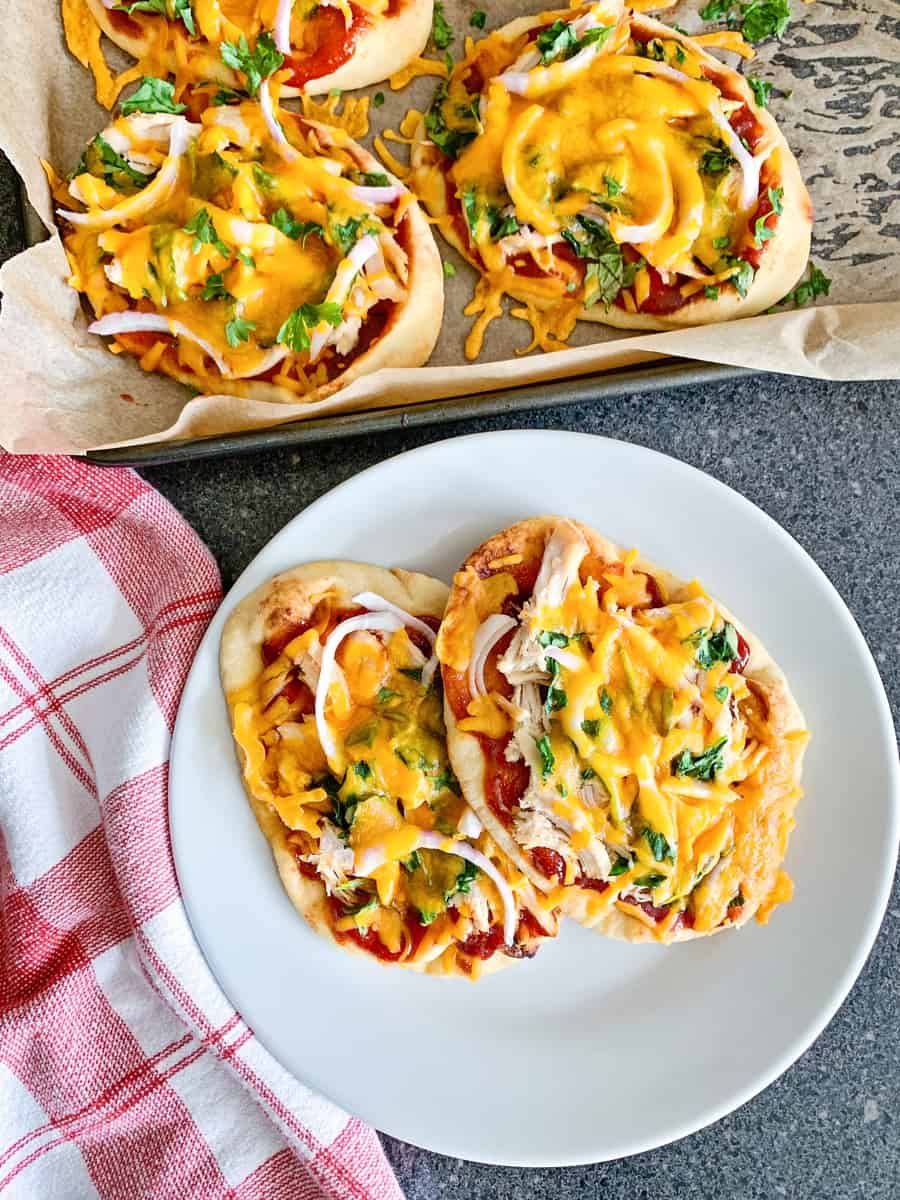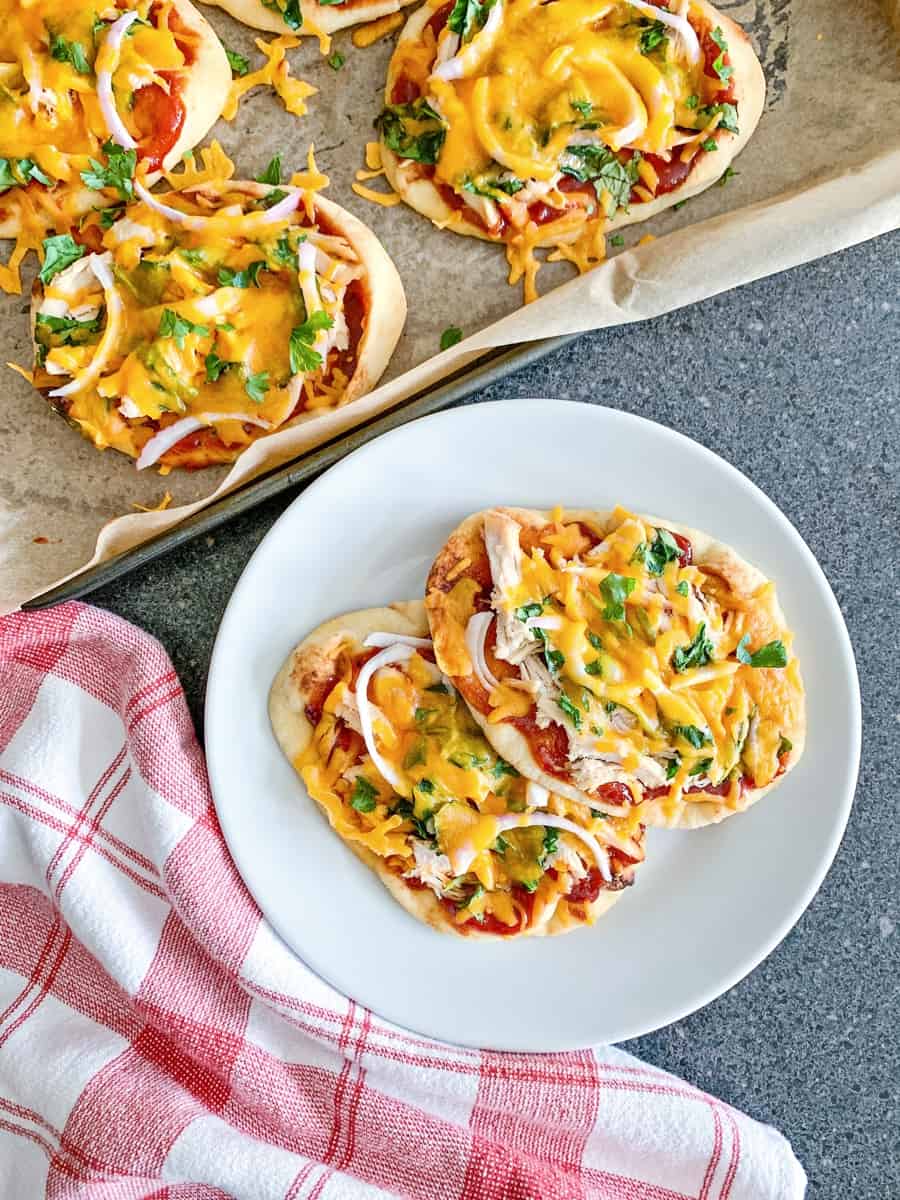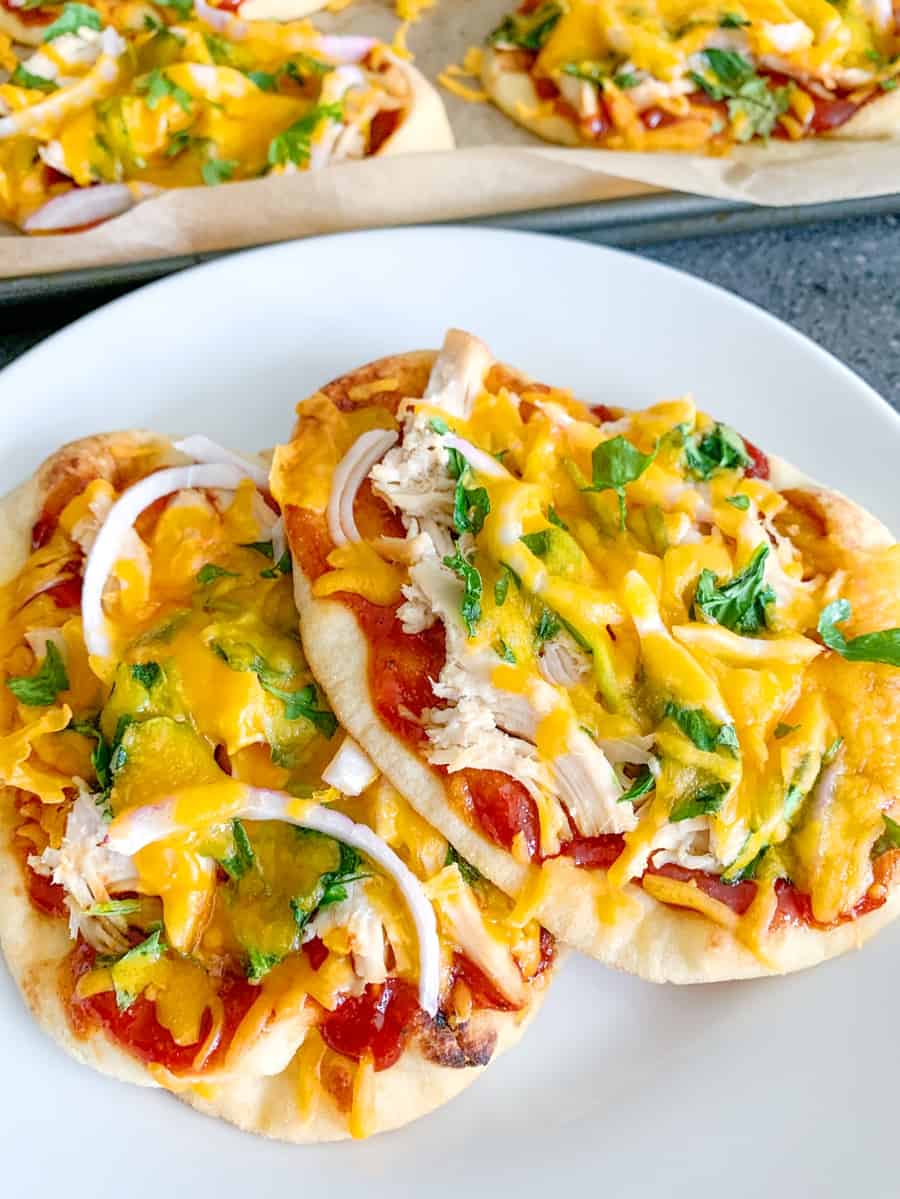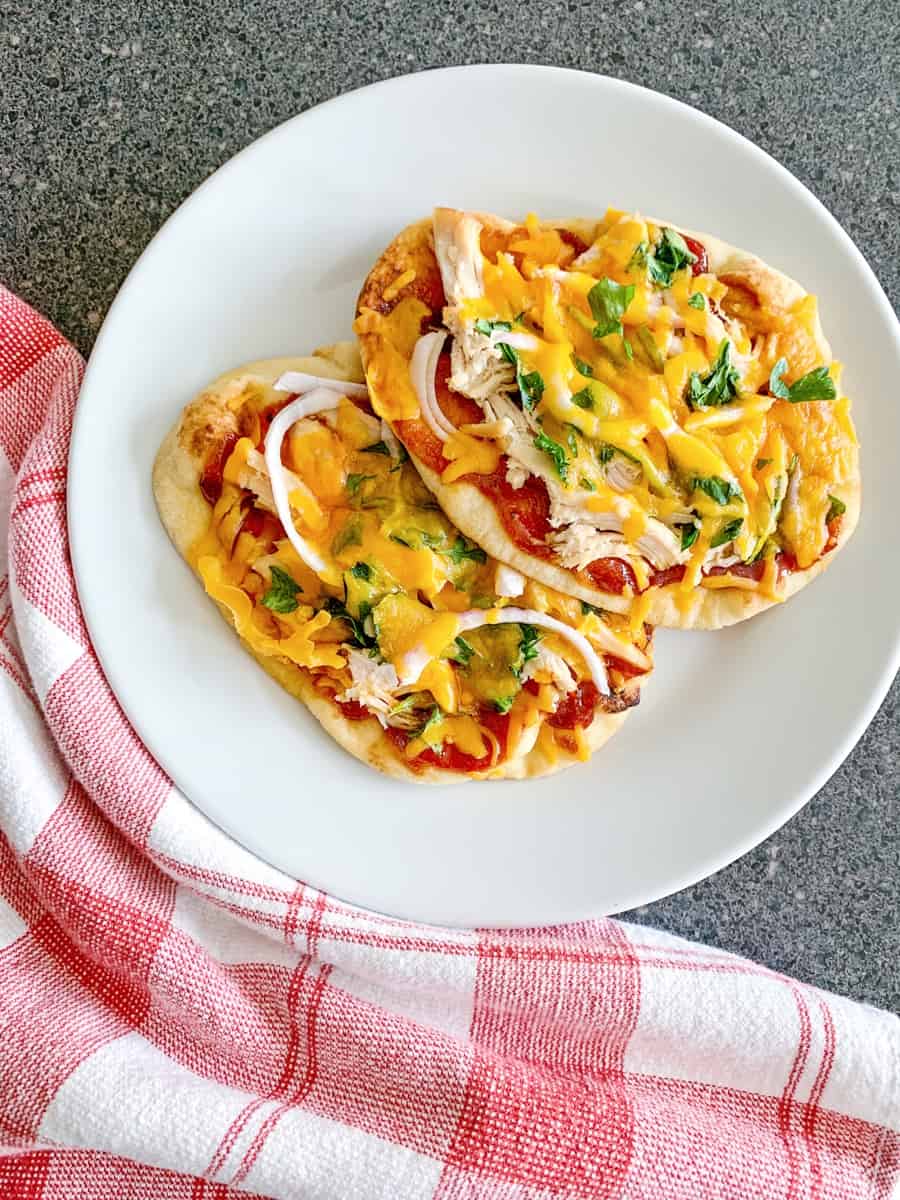 What are some simple variations that you could make to this simple naan pizza recipe?
Since this recipe is so versatile, you can literally change it up however you want to. If someone in your family doesn't want chicken, leave the ingredient off their pizza. And if someone else in your family likes spicy BBQ sauce while everyone else prefers sweet, they can easily make their naan pizza be spicier than everyone elses without worry.
The best part about this simple pizza recipe is that there are no rules! You can add all the ingredients to the naan bread, some of them, or none of them if you want. It's a great choice to have!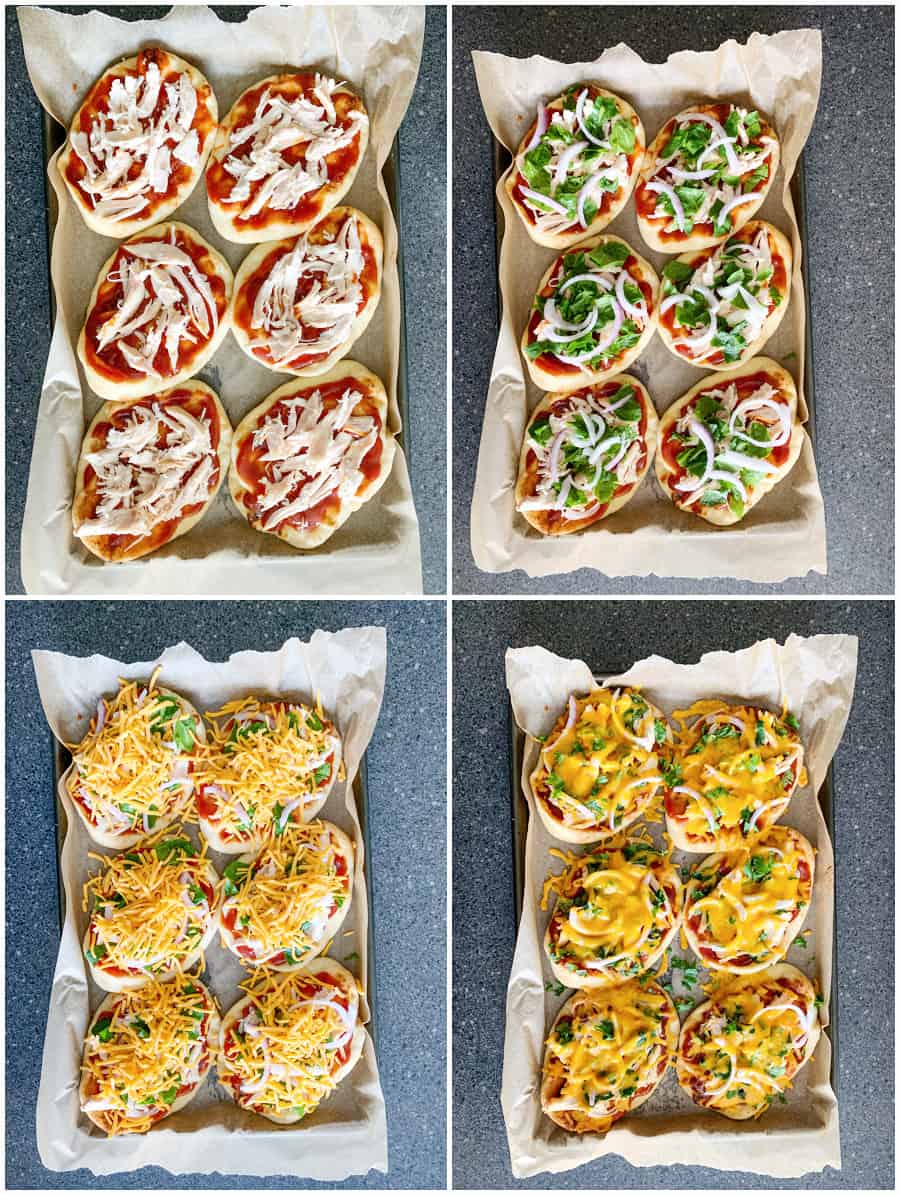 How do you store leftover BBQ Naan Pizzas?
If you happen to have any leftovers of this pizza, just store it in an airtight container and place it in the fridge. Then, when it's time to reheat and eat, it's just as simple as that.
However, keep in mind that you can literally make these up one at a time so that there's fresh and delicious without worry. They're so simple that they literally take just a few moments to make.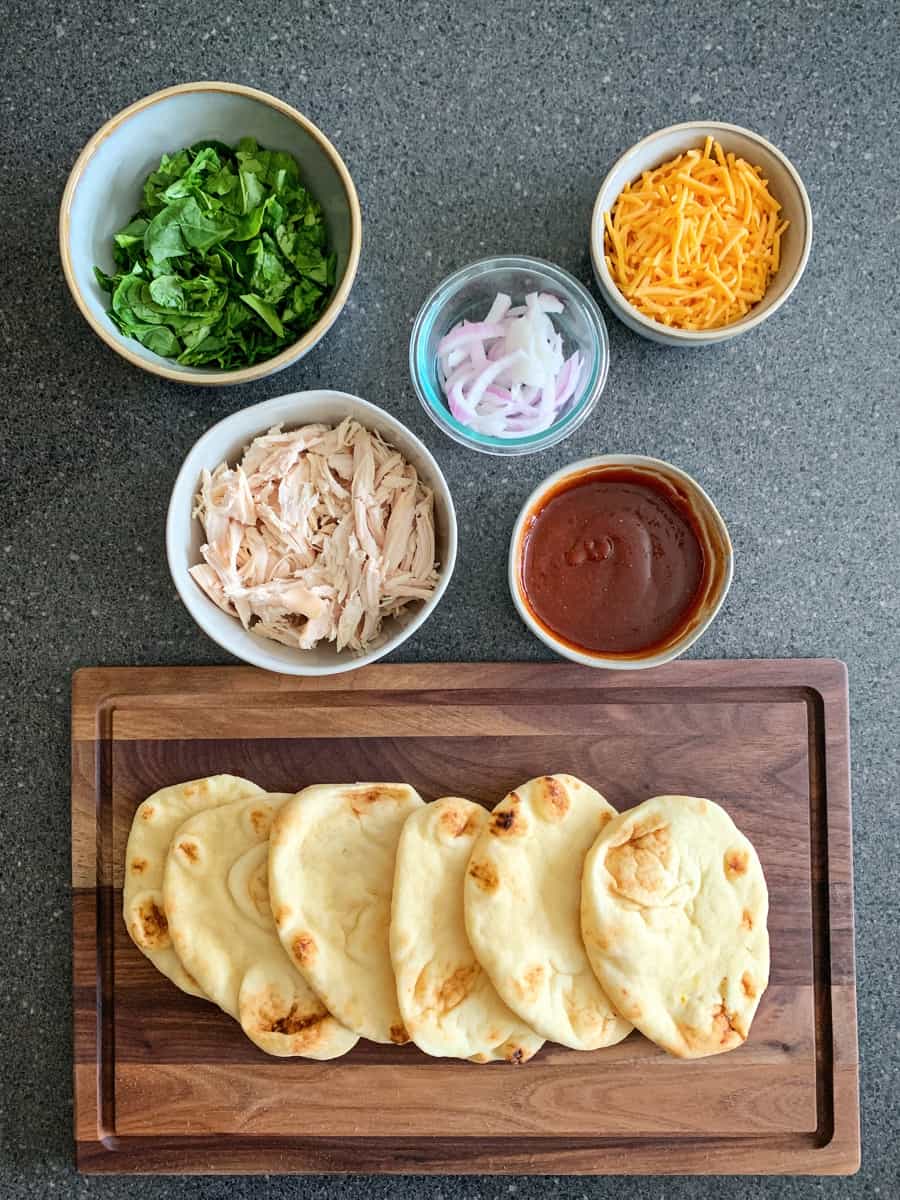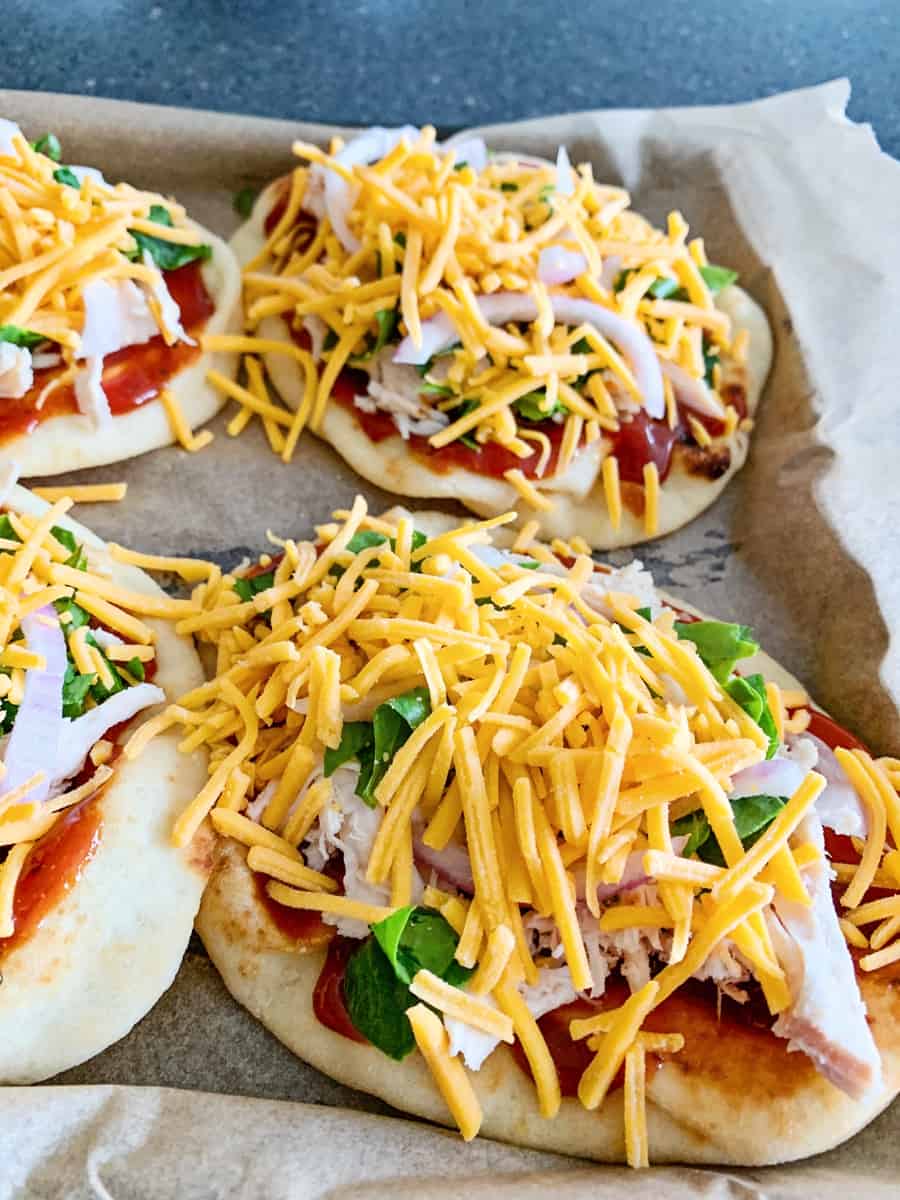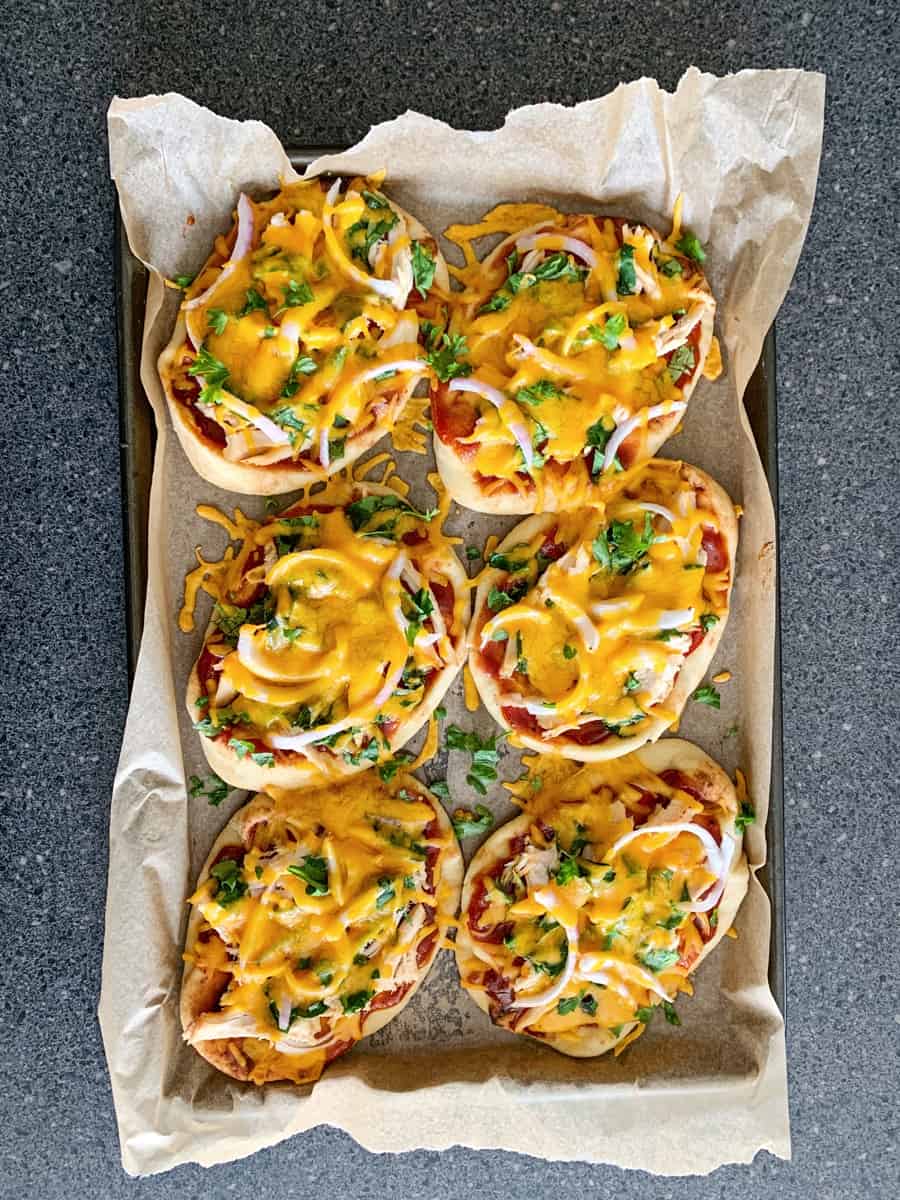 BBQ Chicken Naan Pizzas- Ingredients
Naan Bread

Rotisserie Chicken

BBQ Sauce

Shredded Cheese

Red Onion

Spinach
Once you gather up all the ingredients, it's literally as simple as layering them on and melting or warming it up slowly in the oven or microwave.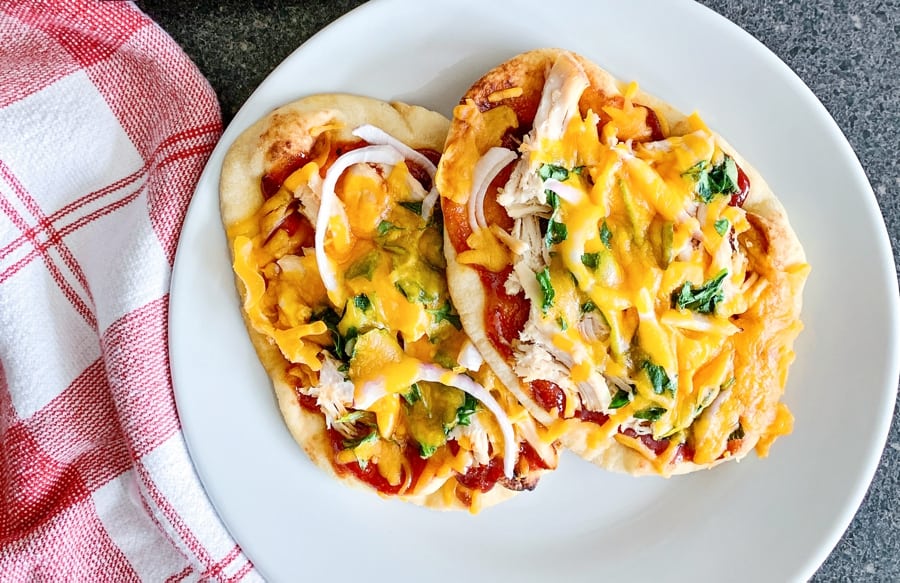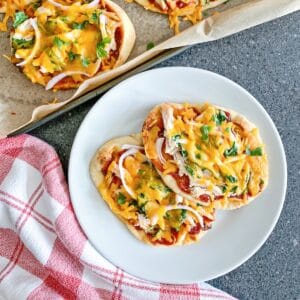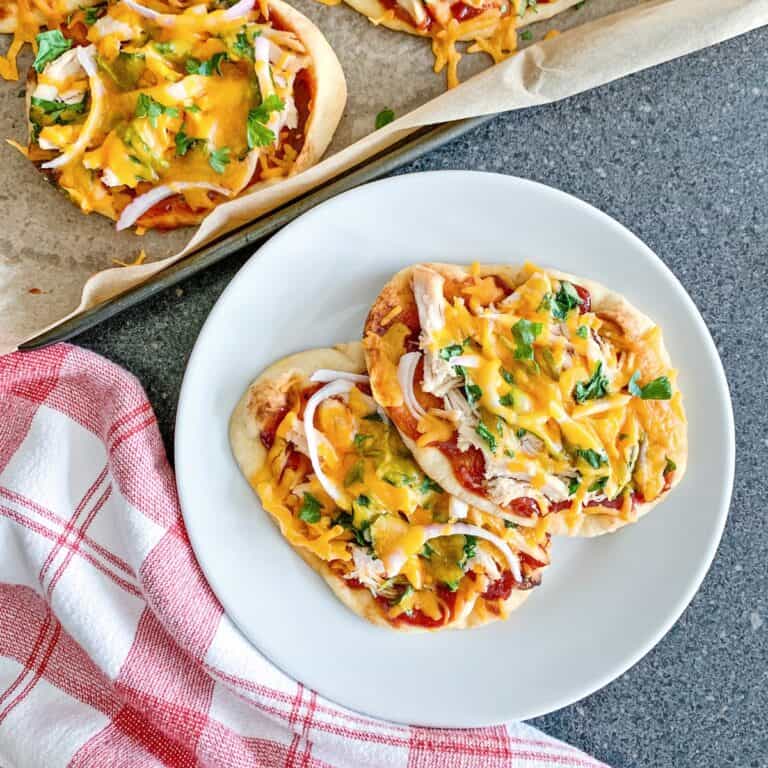 BBQ Chicken Naan Pizzas
These BBQ Naan Pizzas are the perfect meal when you want pizza and want it on the dinner table fast! Easy kid-friendly pizza.
Ingredients
6

Naan breads

small, store-bought or homemade

1

cup

Rotisserie chicken

shredded

1

cup

BBQ Sauce

1 1/2

cup

Cheddar cheese

shredded

1/2

Small red onion

sliced thinly

1

cup

Fresh spinach

roughly chopped
Instructions
Preheat oven to 425F and line a baking sheet with parchment paper.

Spread the BBQ sauce across each naan bread, evenly. Top with chicken, onion, spinach, and shredded cheese.

Bake in the preheated oven for 8-10 minutes or until the cheese is melted.
Simple tips for making these BBQ Naan Pizzas
The biggest thing to remember is that the kids can totally help with this recipe! It's the perfect way to create a fun and tasty dinner together in the kitchen where they can each make up their own!
More delicious dinner recipes to try: