Follow us on Instagram for more fun food ideas for kids!
This cute Valentine Apple Frog is a healthy Valentine's Day snack for kids and will have your heart "hopping" all over the place with how adorable and tasty it is.
We can all benefit from less sugar and candy even though it's Valentine's Day! This sweet Valentine Apple Frog is a cute and healthy Valentine treat for kids to balance the candy.
And can we all just agree that making cute and fun Valentine's Day treats is one of the best parts of the holiday?
What better way to get kids interested in eating their fruit than by disguising it as a handsome and adorable frog? The best part about this cute Valentine apple frog is that it's all edible and so simple to make!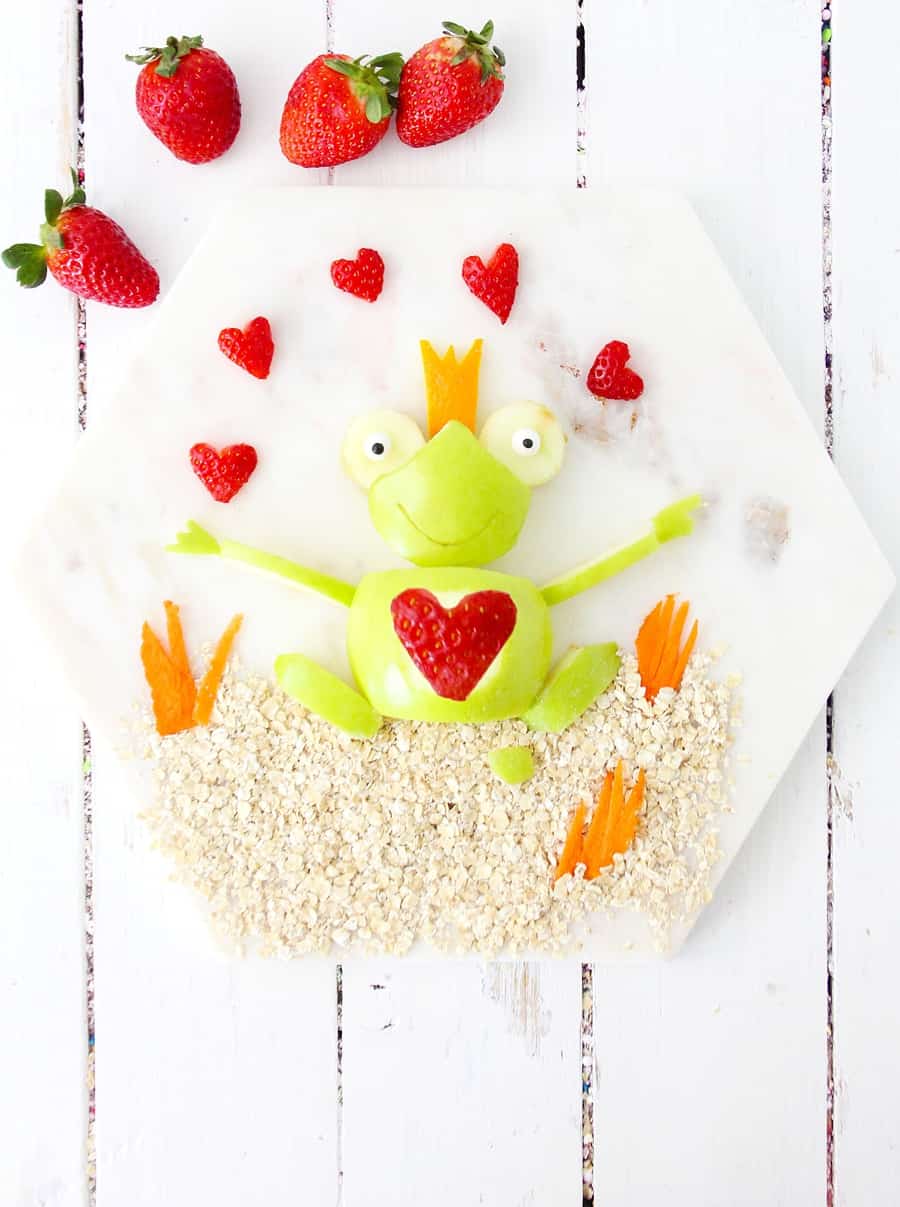 This apple frog is a fun way to encourage kids playing with their food in a positive way!
As parents, we've all probably spent a ton of time telling our children not to play with their food only to now turn around and give them permission to with this cute snack for kids.
Once we made this frog treat once in our house, the kids were already asking for it again. There's a reason that children like to play with their food because it allows them to use their imagination in the process. And as a mom who is pro-creativity and imagination, I'm all about letting them create and then eat this adorable Valentine's Day treat.
Not only does it turn out perfect because of the simplicity but it's a great food activity to work on together as a family. Each person can make their own frog and then have fun comparing and talking about how they all look different.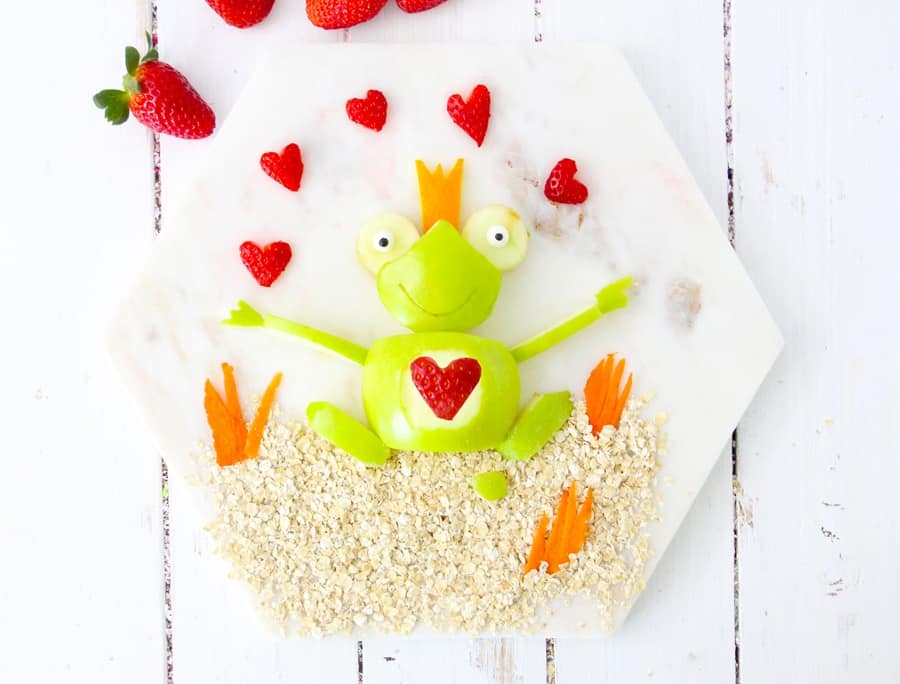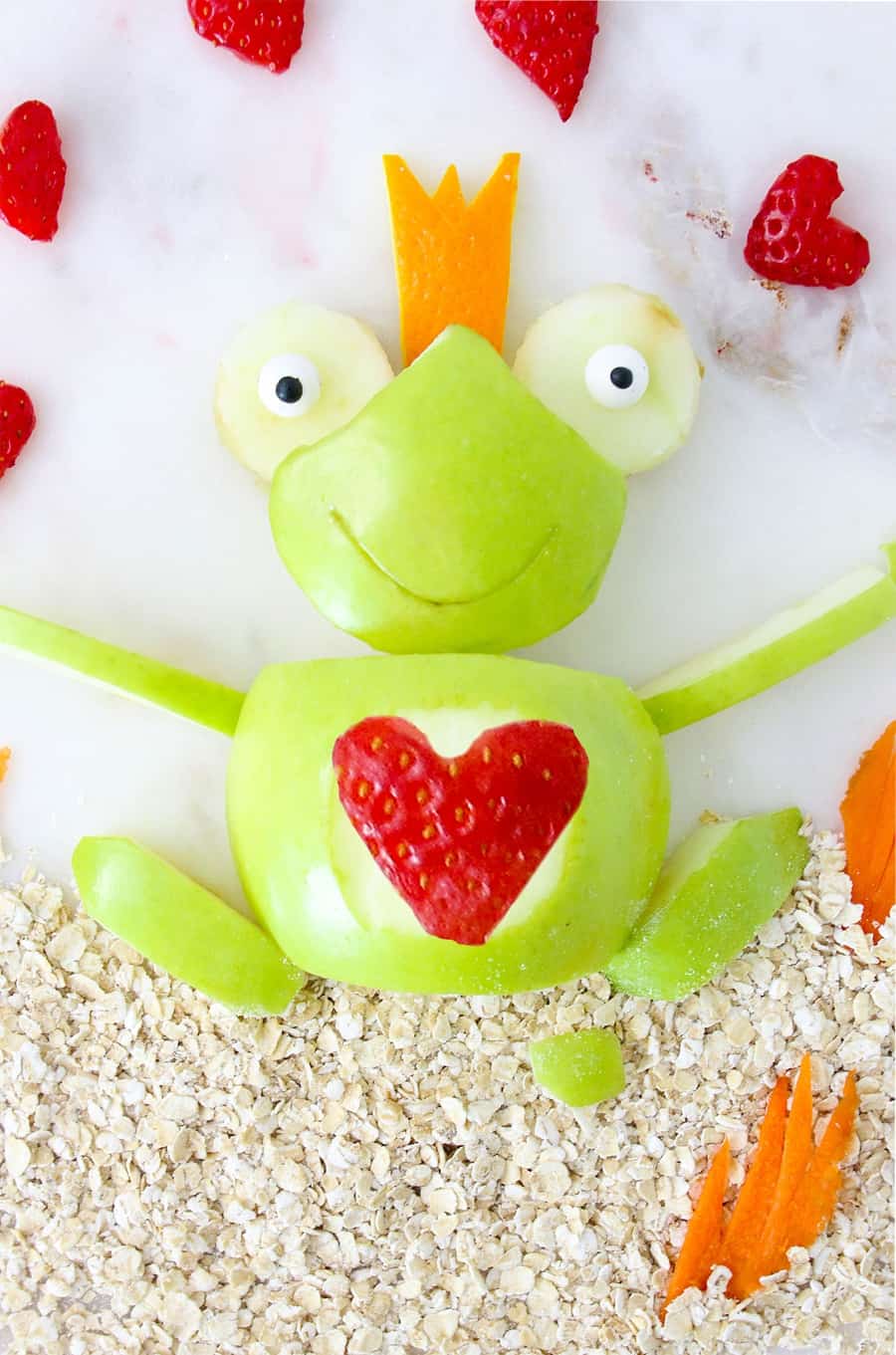 What type of apple works best for this cute Valentine apple frog?
Since frogs are green, a Granny Smith Apple works best! Plus, that tart taste is always a nice treat for the tastebuds! However, if you don't have a Granny Smith apple in your house, you can easily use any type of apple that you want but just know that your frog isn't going to be green.
How do you stop the apple from turning brown once cut?
There are actually a couple of ways to stop your apples from turning brown once you cut them. You could put your slices of apple in water and let them soak until you're ready to use them.
Another way is to have them in lemon juice as well so that the acidity stops the oxygen from turning the apple brown. Just don't soak them for too long because they'll soak up that lemon taste and flavor!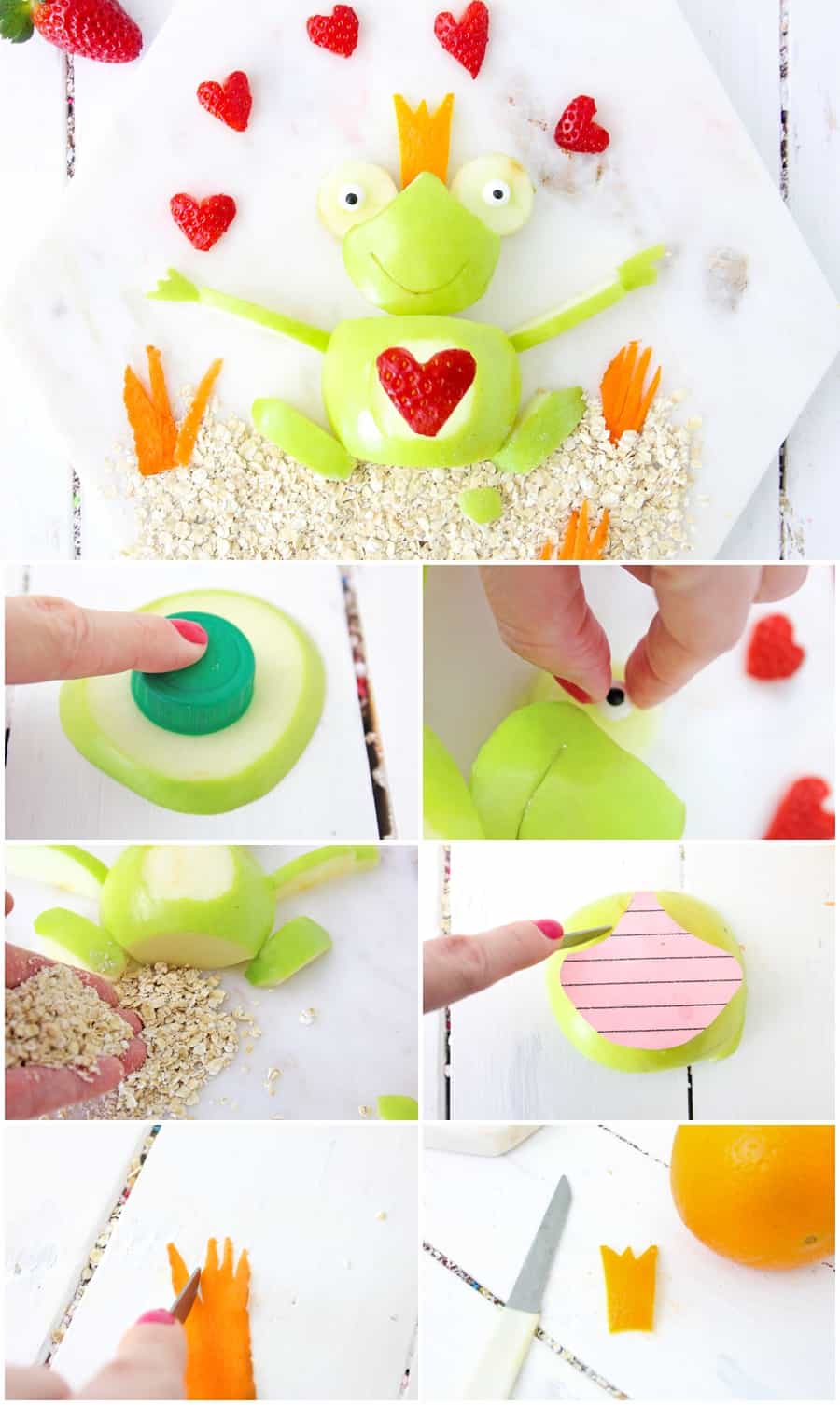 Valentine Apple Frog – Ingredients
2 green apples
5 strawberries
1 carrot
1/2 cup of oatmeal
2 candy eyes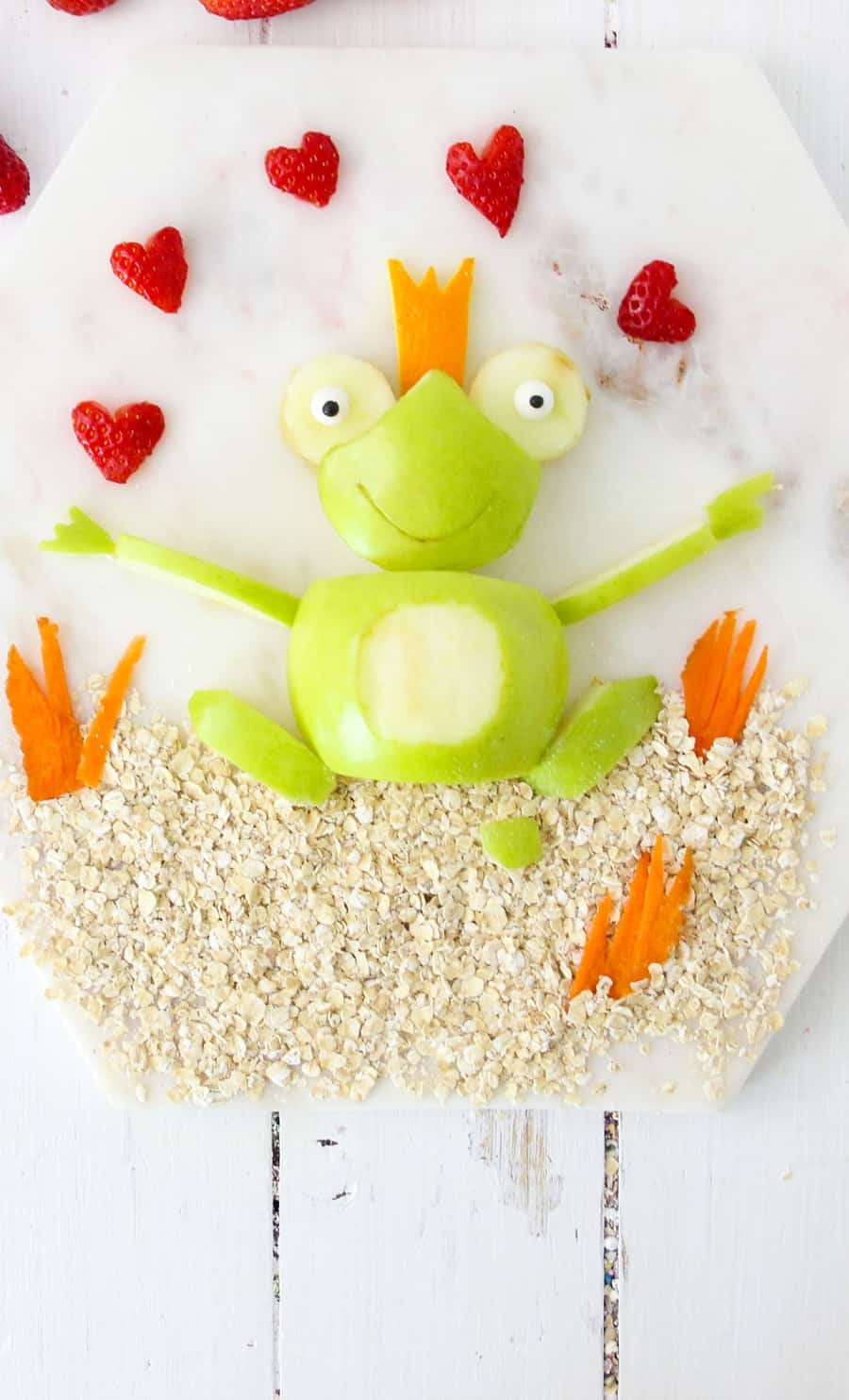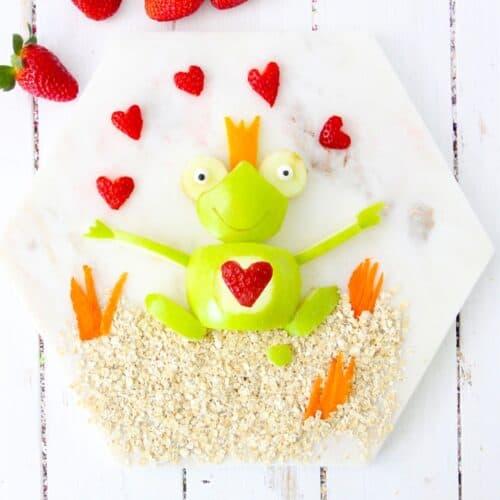 Valentine Apple Frog
This cute Valentine Apple Frog is a healthy Valentine's Day snack for kids and will have your heart "hopping" all over the place with how adorable and tasty it is.
Ingredients
2

green apples

5

strawberries

1

carrot

1/2

cup

oatmeal

2

candy eyes
Instructions
Cut green apple in half and use template to cut out the head of the frog.

Then draw a smile on the frogs head with a small knife.

Slice the strawberries in half and cut out red hearts and place aside.

Use the other half of the apple and cut out the frogs body, round the edges and slice off the top of the peeling to show the inside of the apple.

Cut another apple in half and cut out the long pieces for his arms.

Next, cut out shorter pieces for his legs and angle the edges of the apple pieces.

Cut out apple slices an use a bottle cap to cut out pieces of the apple for his eyes.

Cut the skin off of an orange and cute into a crown shape to place on his head.

Sprinkle oatmeal below his body and assemble his legs over the oatmeal.

Place carrot peelings on oatmeal for grass and place his apple eyes at the top and place candy pieces on top.

Cut out two small pieces of apple and shape to look like hands, place at the end of the apple arms.
Simple tips for making this Cute Frog Valentine Apple
Make certain to supervise the making of this treat since there is a lot of cutting involved.
The great part about this snack is that you don't have to cook anything at all! Just cut, place, and enjoy!