By using this site, you agree to our Terms of Use. This post may contain affiliate links. Read our disclosure policy.
Follow us on Instagram for more fun food ideas for kids!
These simple and spooktacular Halloween Snacks For Kids have just the right ghoulish touch to get your kids excited about celebrating Halloween!
One way to the entire family excited for Halloween is to serve up some spooktacular Halloween Snacks For Kids! These are easy to prep as quick Halloween treats, but can also be used as complements to a fun Halloween lunch, too!
Most of these easy Halloween snacks have been around for ages, so we thought it'd be fun to do a helpful round-up of the most popular Halloween foods and also show you visually how to make them. So make sure to watch the video in this post to see how easy these treats are to make!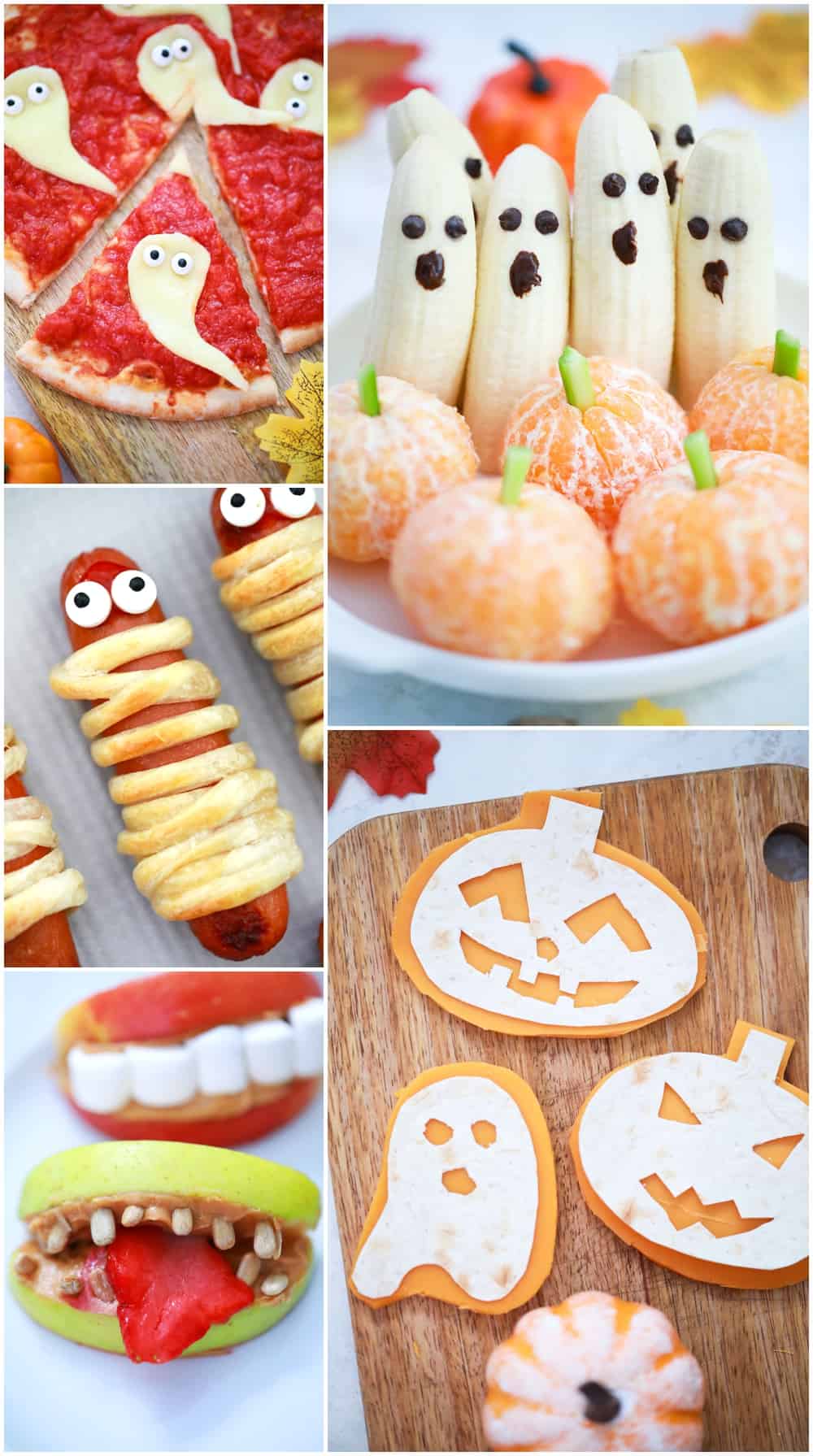 The Best Halloween Snacks To Make For Kids
Halloween Ghost Pizza
For this ghostly take on pizza, you'll need your favorite pizza dough, red pizza sauce, mozzarella cheese slices, and candy googly eyes. Spread cheese and sauce on the pizza and bake in the oven until done and then add more pizza sauce on top. Slice the cheese into ghost shapes and place them immediately on the hot pizza so the cheese melts slightly to resemble ghosts. Add candy googly eyes on top.
You can see how we made an easier version here just using store-bought cheese pizza, baking it, and adding pizza sauce on top along with our cheese ghosts.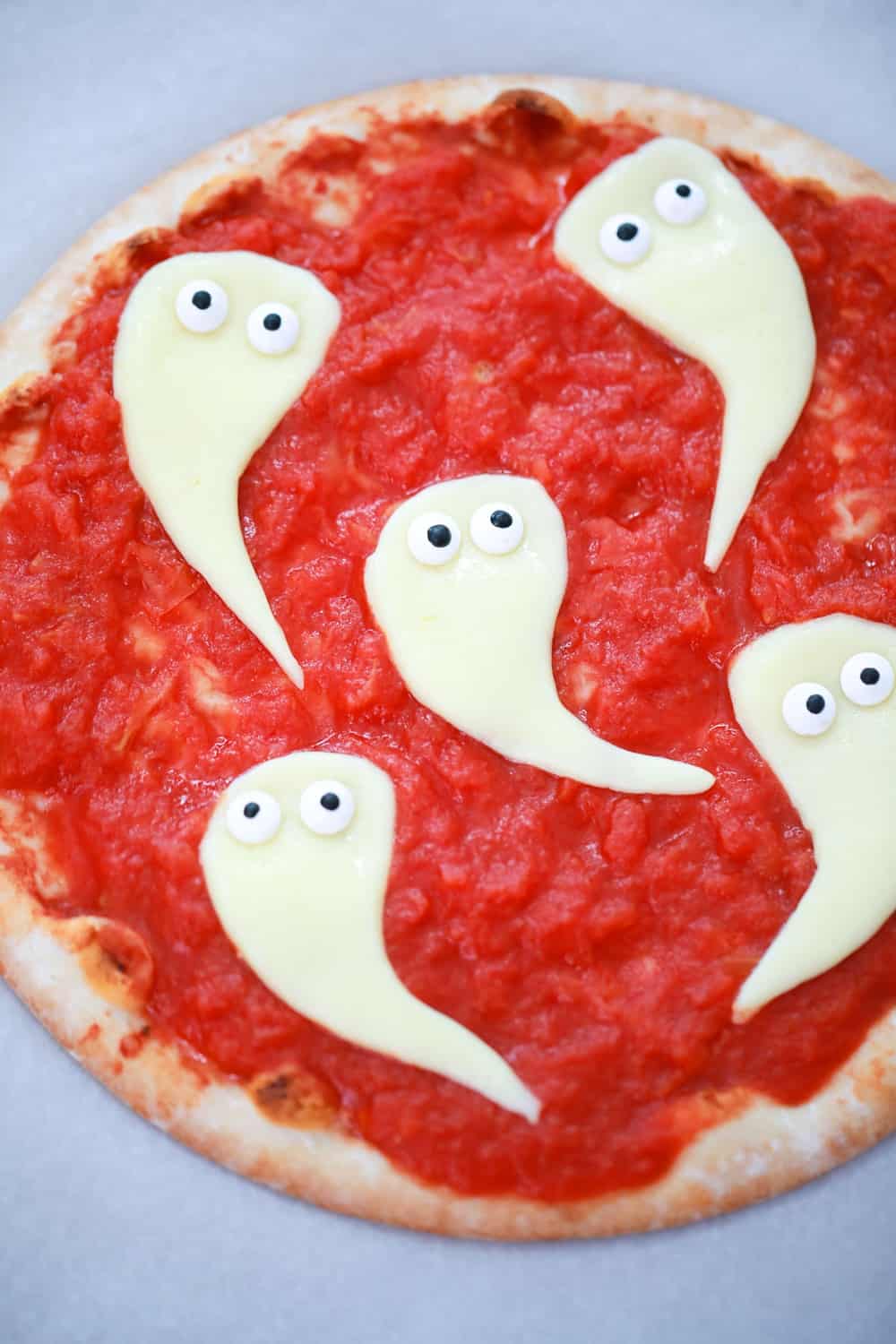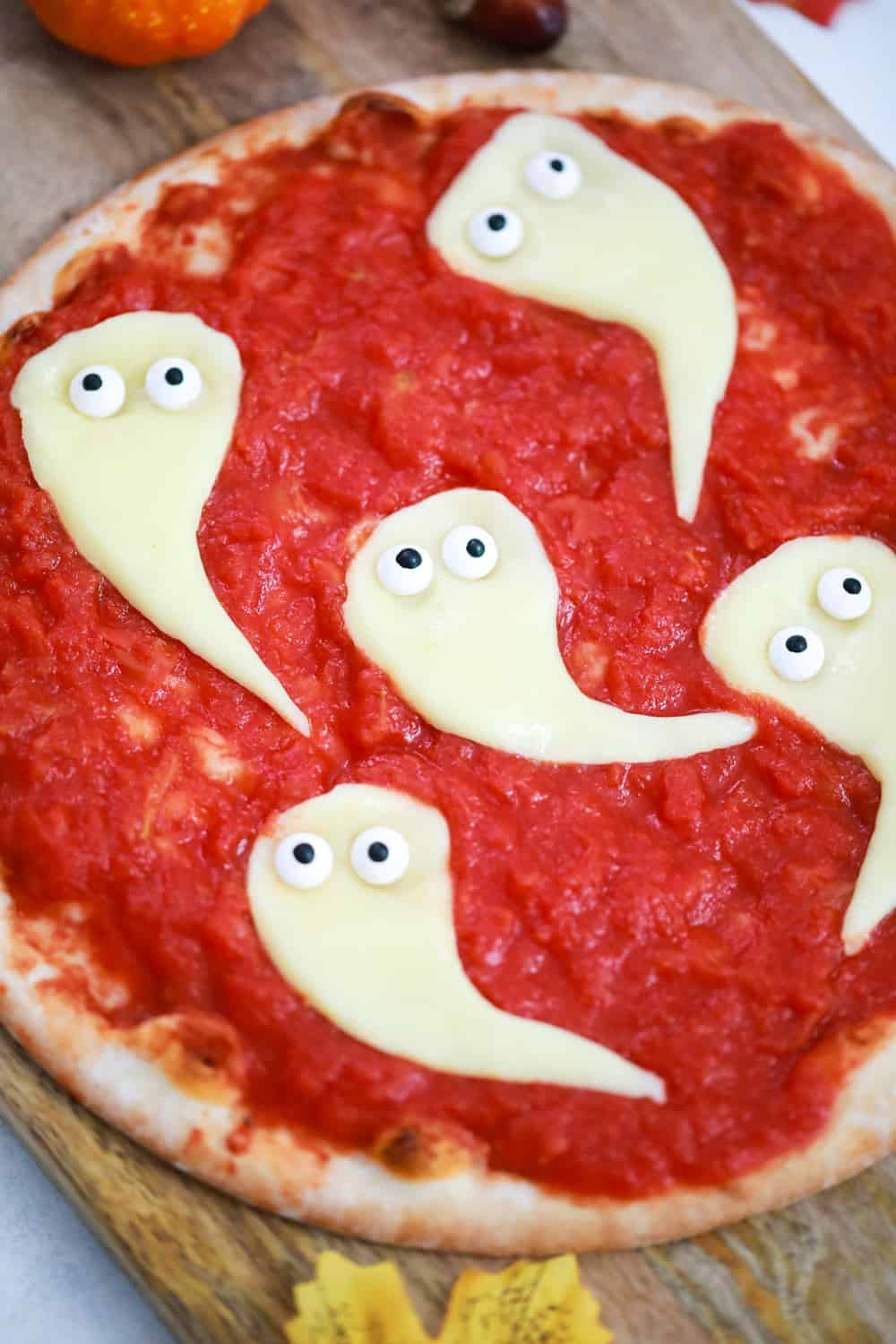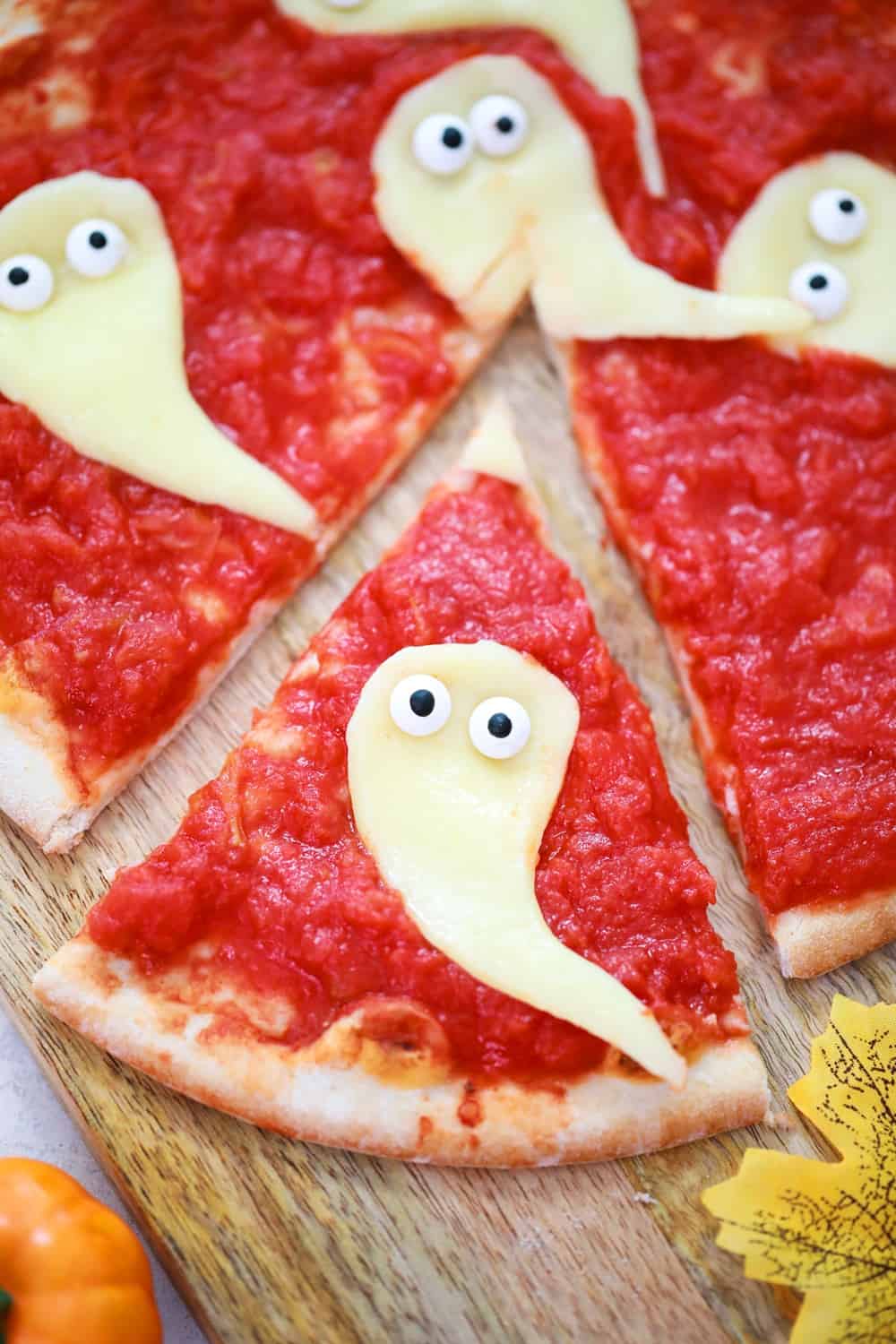 Halloween Quesadillas
Kids love quesadillas! And this cheesy Halloween version doesn't get easier. Just cut pumpkin, ghost or any spooky shapes out of tortilla and cheddar or your favorite flavor cheese to fit inside the shapes. Place on a parchment lined baking sheet for a few minutes in a preheated 400 degree oven until the cheese melts. Take them out to cool after they have cooled on the oven for several minutes.
You can see another version of our Halloween quesadillas here where we used quesadilla to cover both the tops and bottoms! It's up to you how you want to serve them up, and we hop both options help.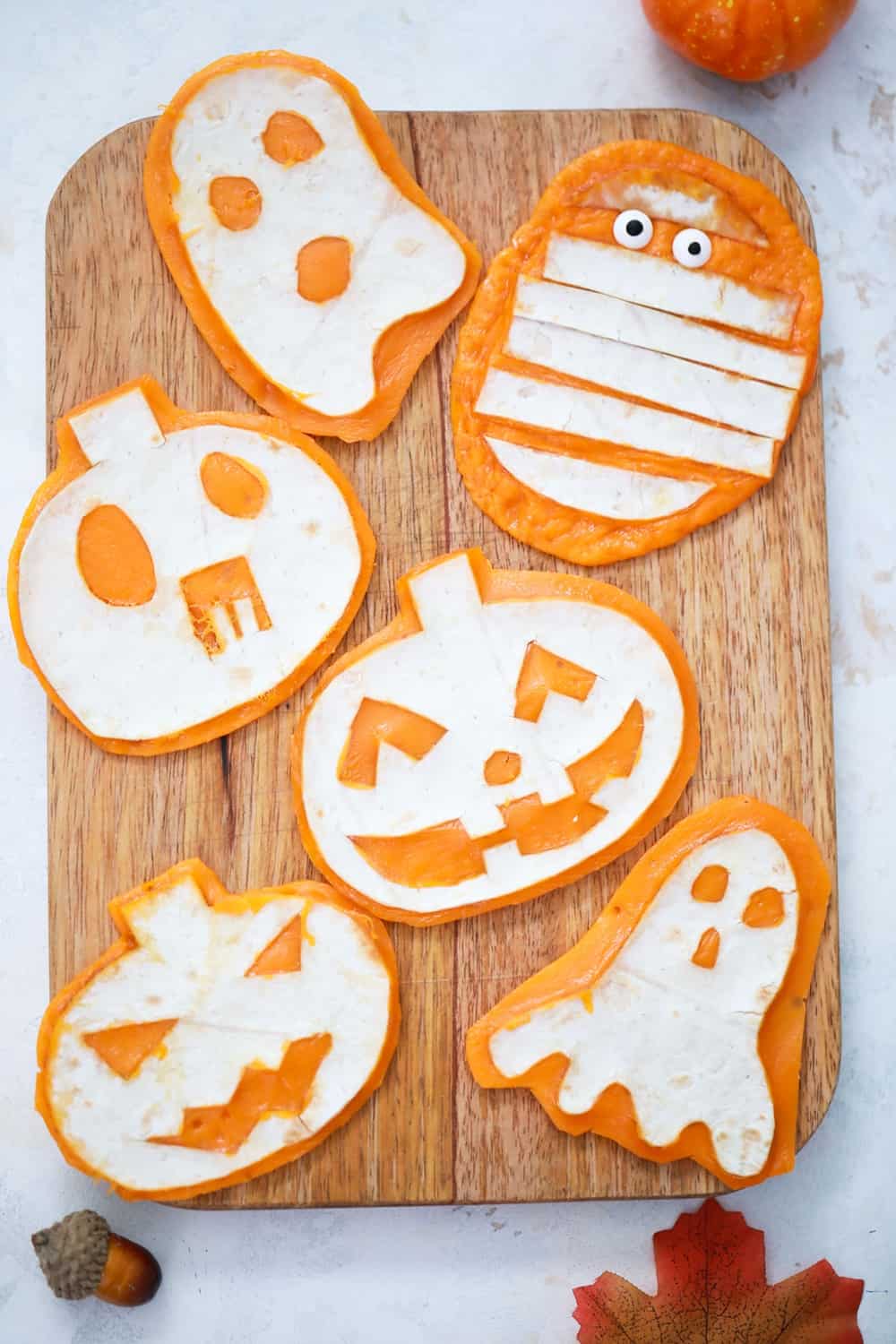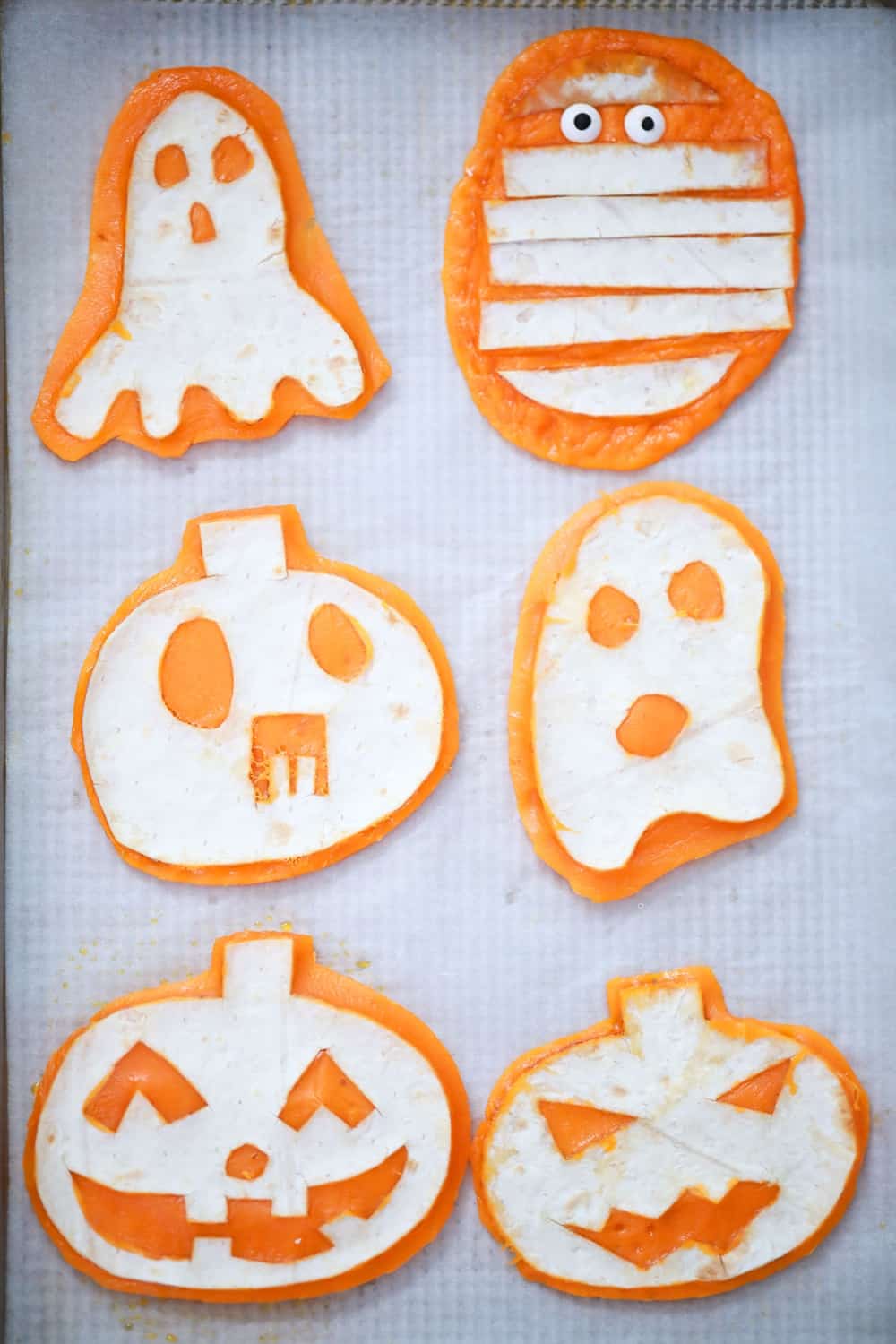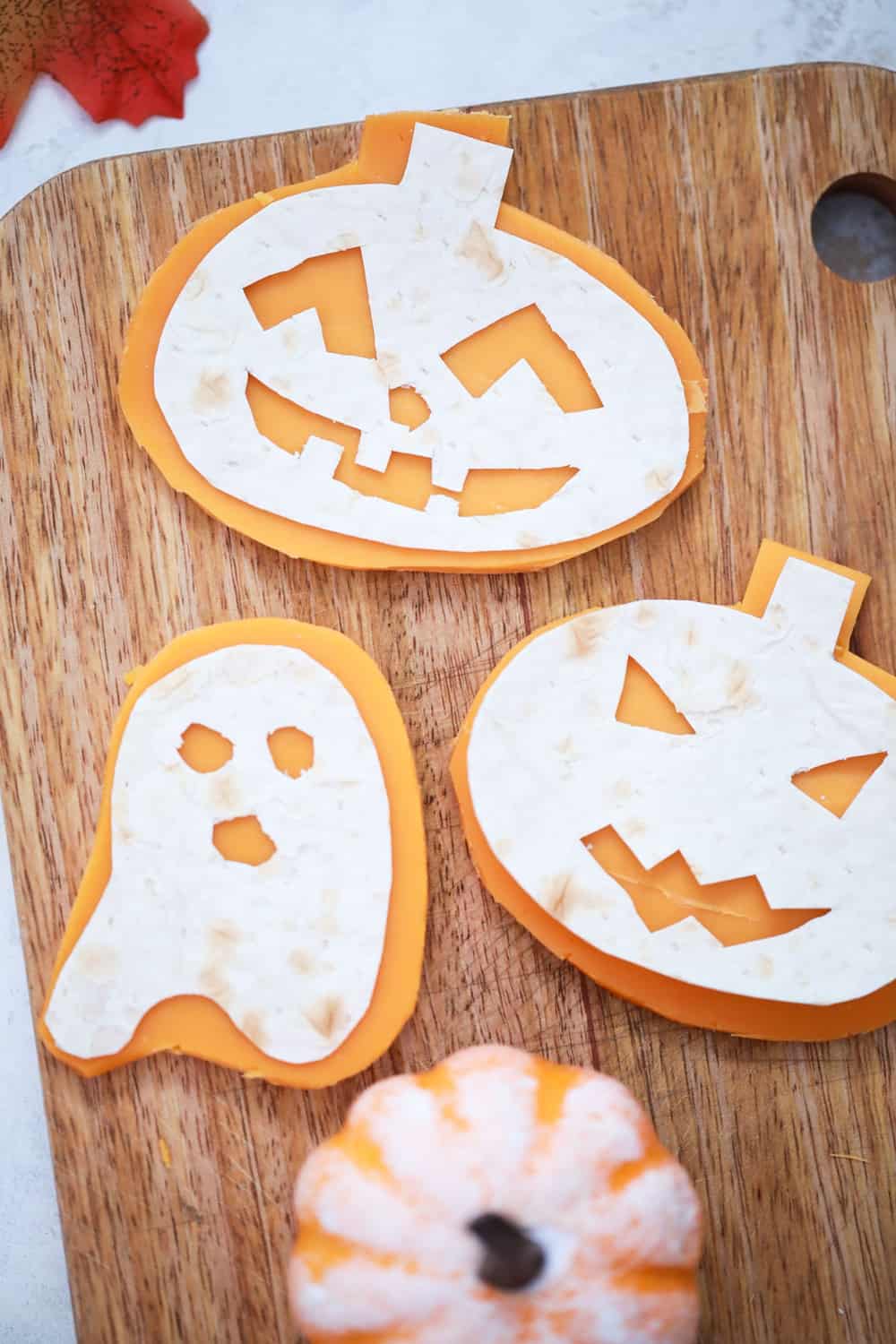 Halloween Mummy Hot Dogs
These mummy dogs are a classic Halloween lunch or dinner and we make them every year! Cut strips of store-bought refrigerated crescent dough and cut into thin strips. Wrap around hot dogs and bake in the oven at 375 degrees for about 15-20 minutes or until the tops of the dough are golden brown. Add candy googly eyes to the hot dogs and stick on with a bit of Ketchup.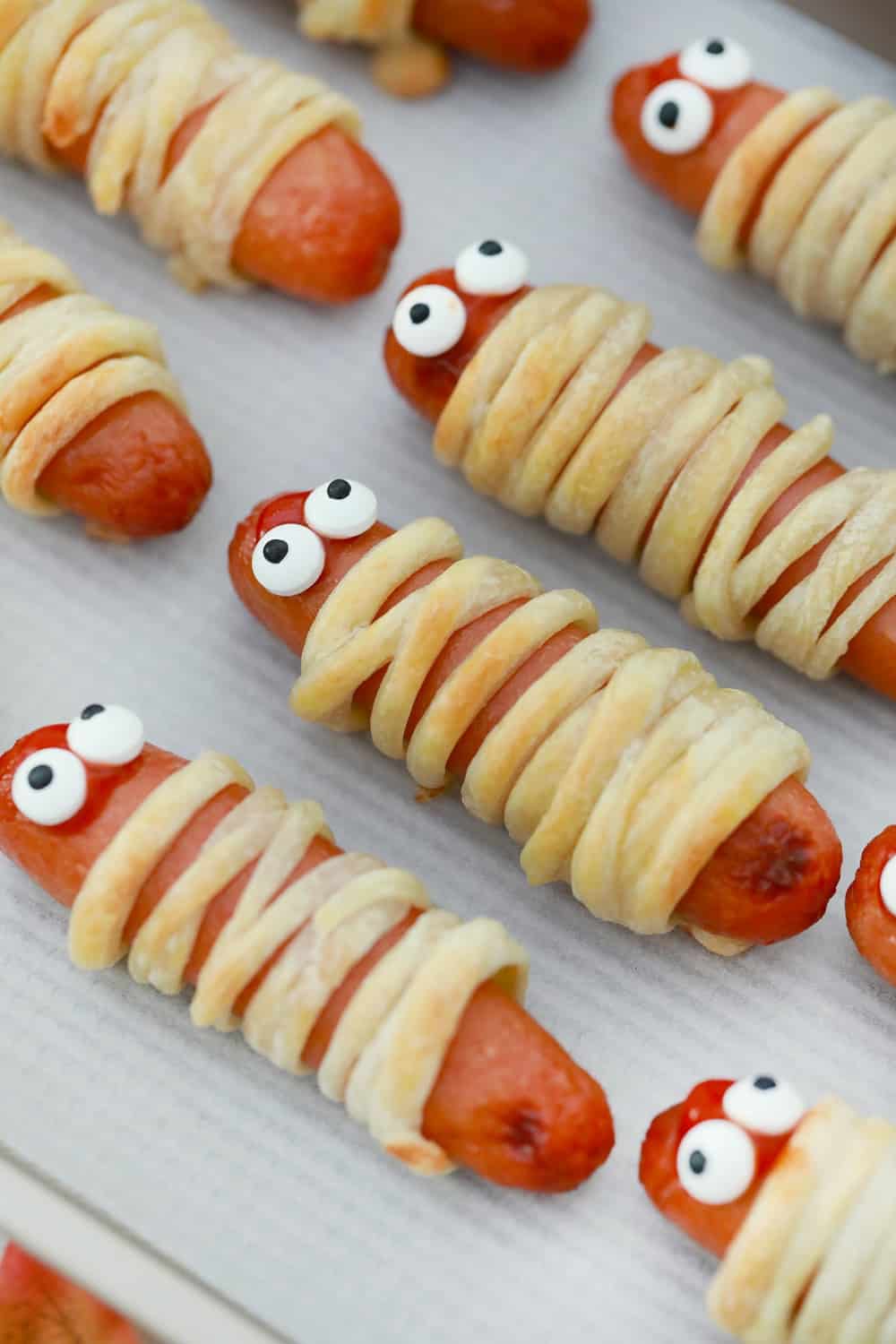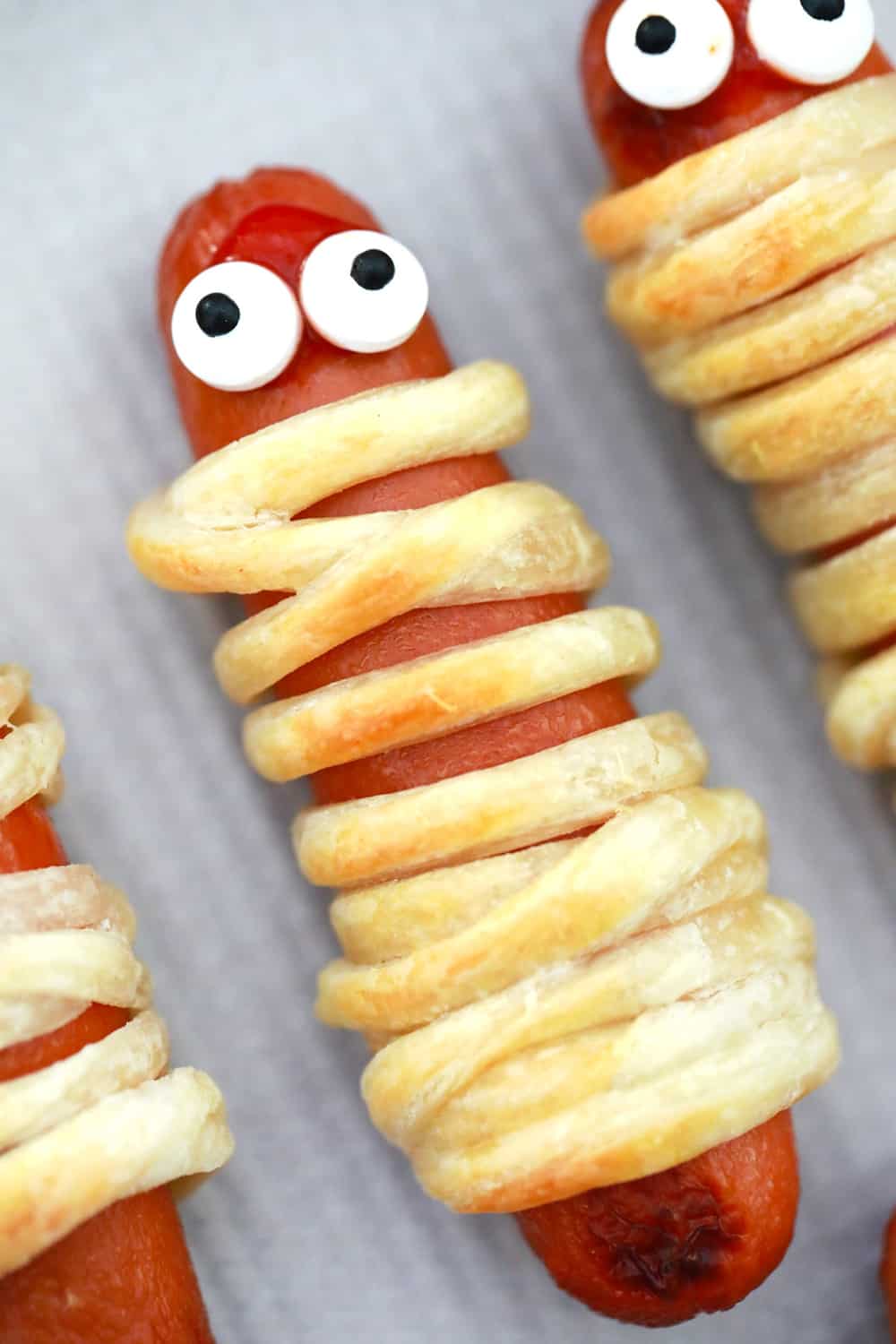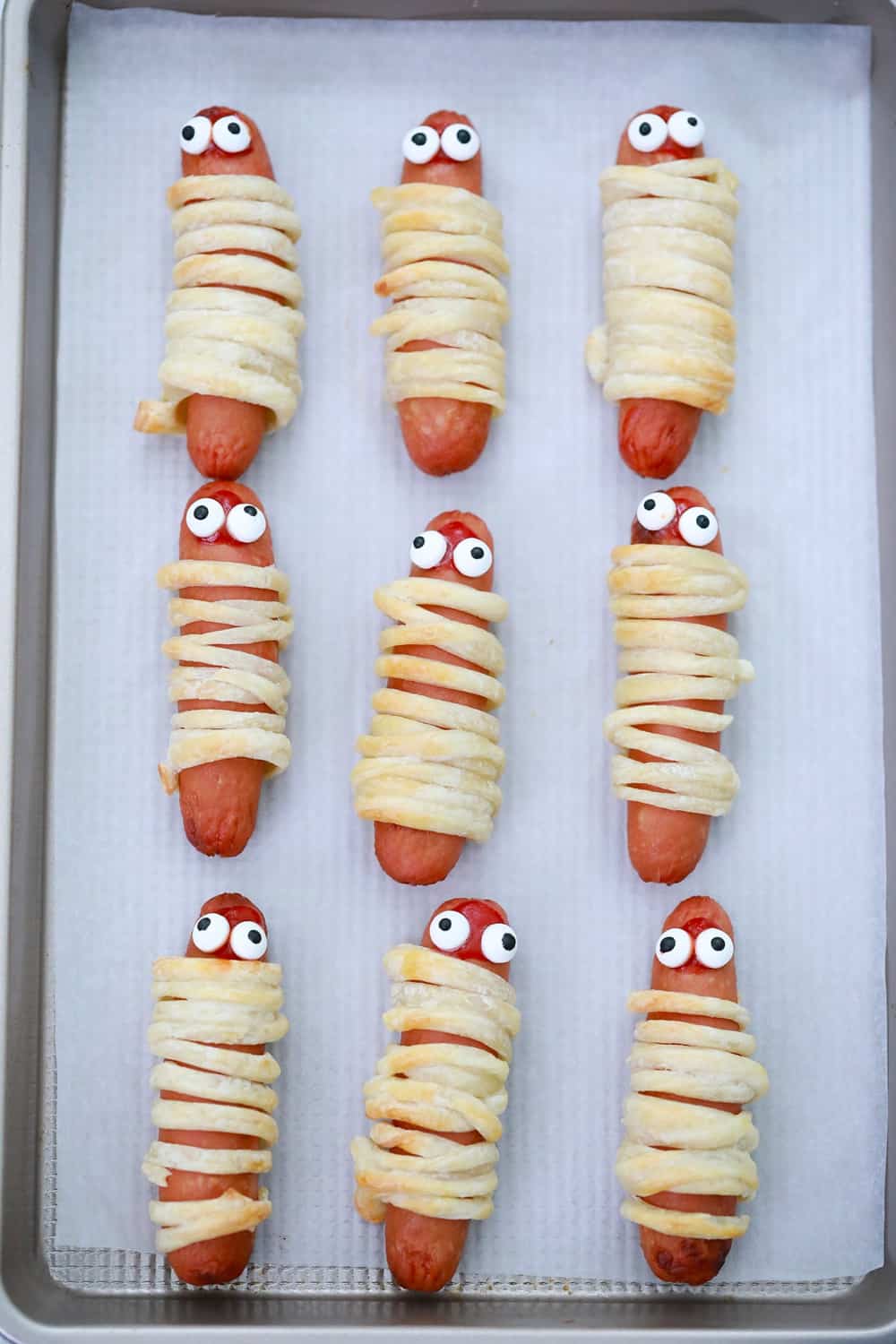 Halloween Banana Ghosts and Orange Pumpkins
We love making Halloween fruit each year and have made orange pumpkins along with our Jack O'Lantern pancakes! The pumpkins are super easy, just peel Mandarin oranges and add a small sliced celery stalk on top.
The banana ghosts are equally easy. Slice bananas in half, add on mini chocolate chips. To give a surprised ghost look for the mouth, melt the mouth chocolate chip with a little toothpick or any small, rounded kitchen tools.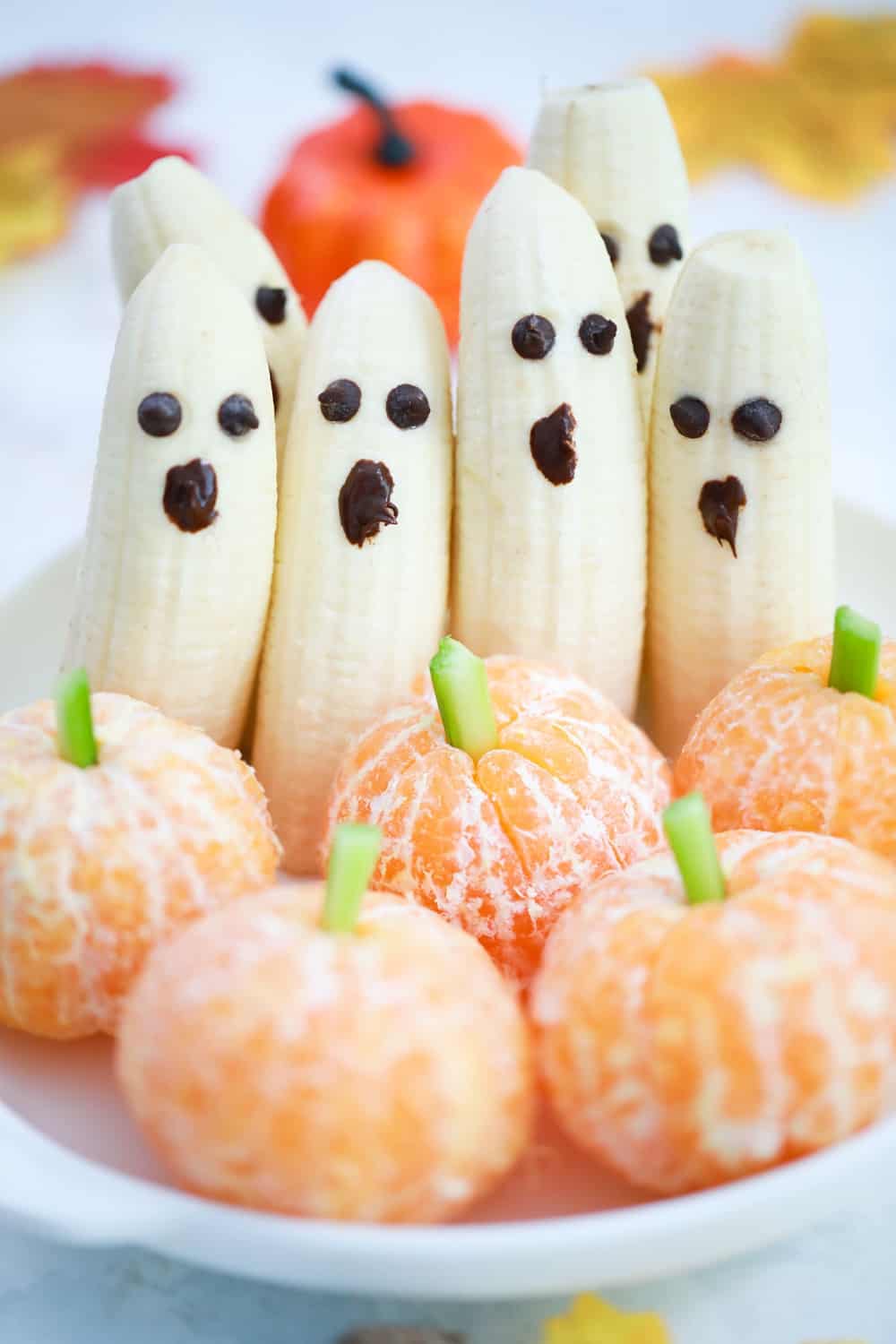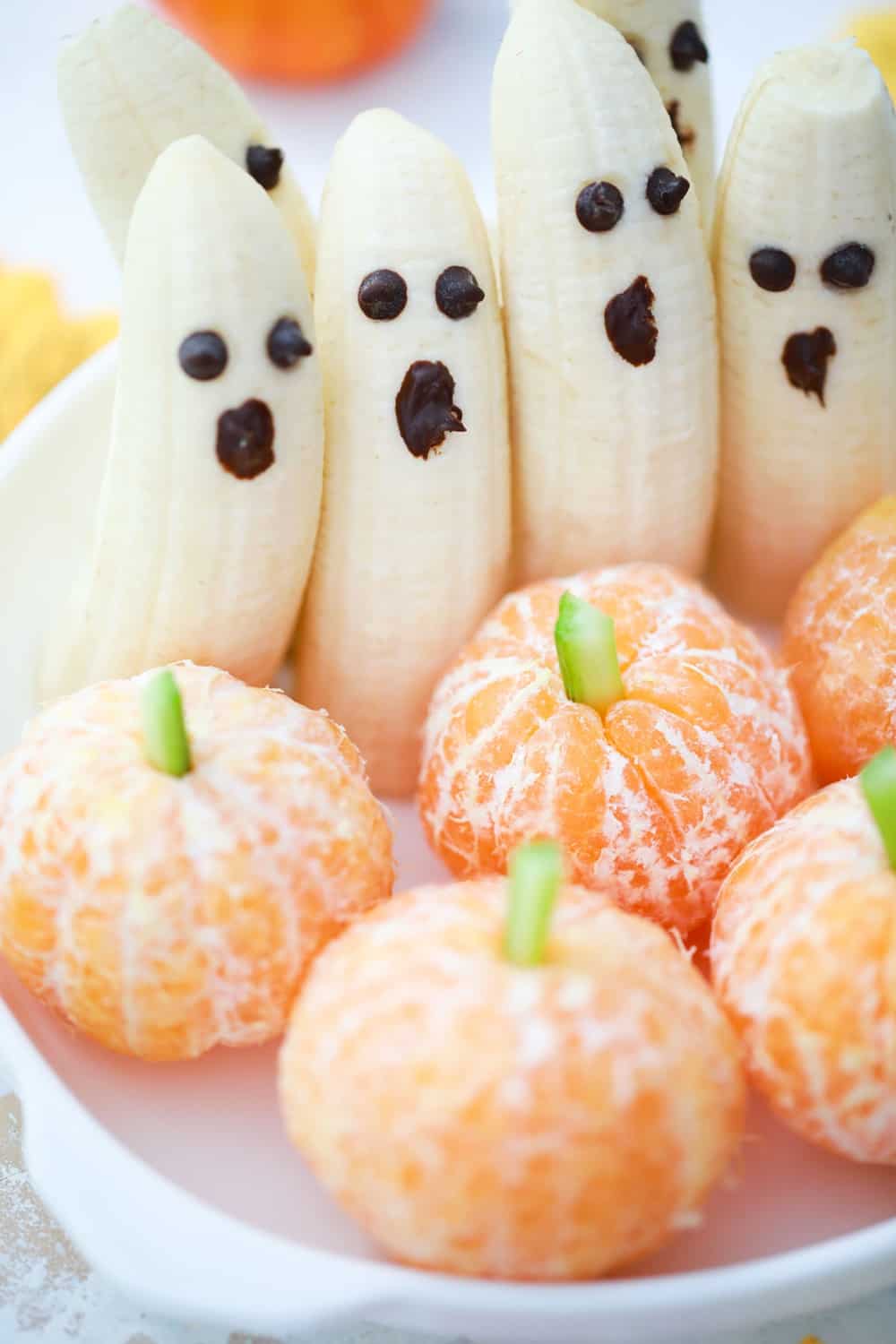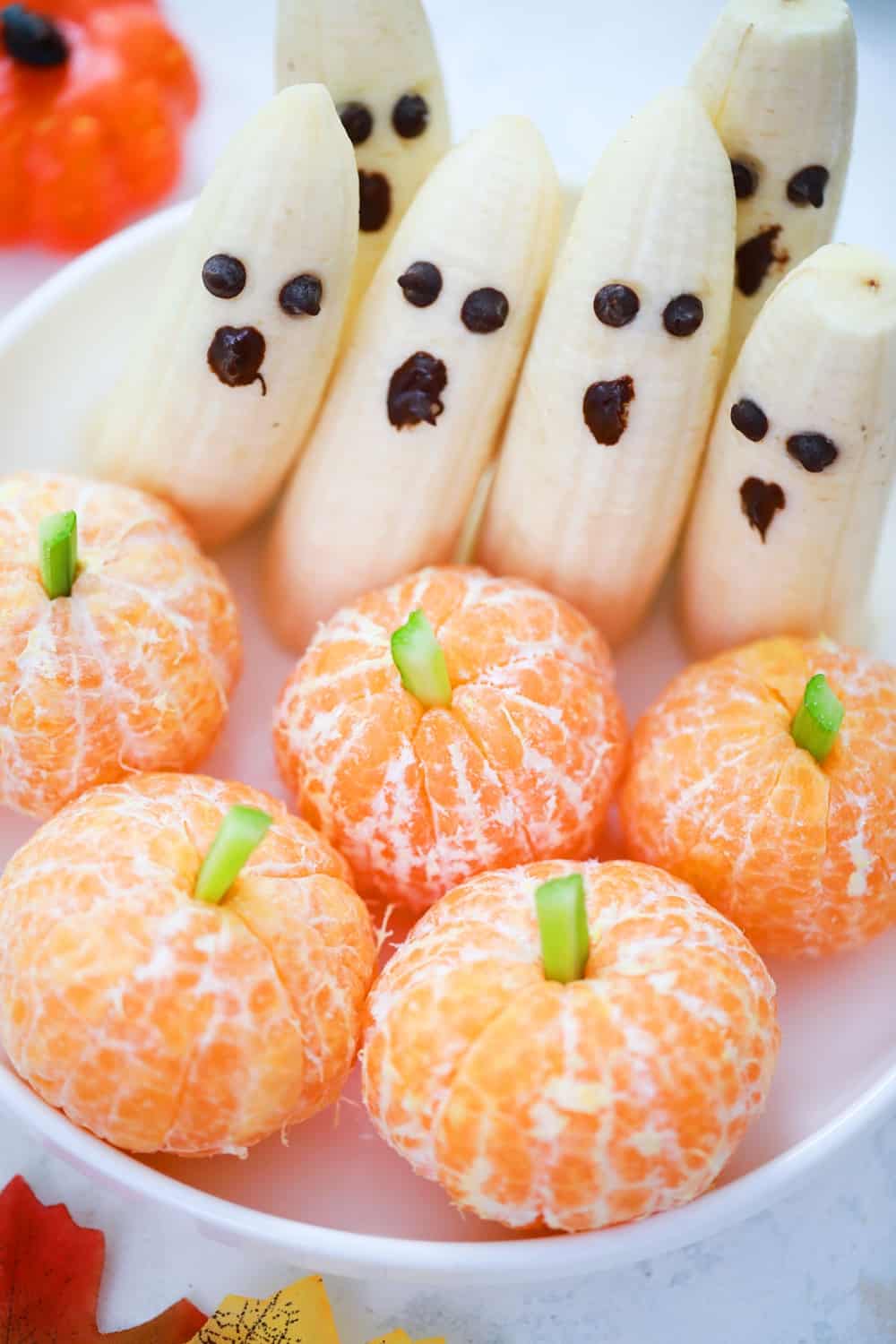 Halloween Apple Teeth
These scary teeth are actually quite sweet to assemble! You can make them in a couple of different ways. The green teeth you can make with green apple slices and mini marshmallows (add a bit of melted white chocolate to stick them on) like we did with this Halloween Fruit Platter. The red apple teeth are made with peanut butter, and sunflower seeds or almond slices are used as crooked yellow teeth! Just insert a sliced strawberry for the tongue. Of course you can mix and match to make both red and green versions for each type.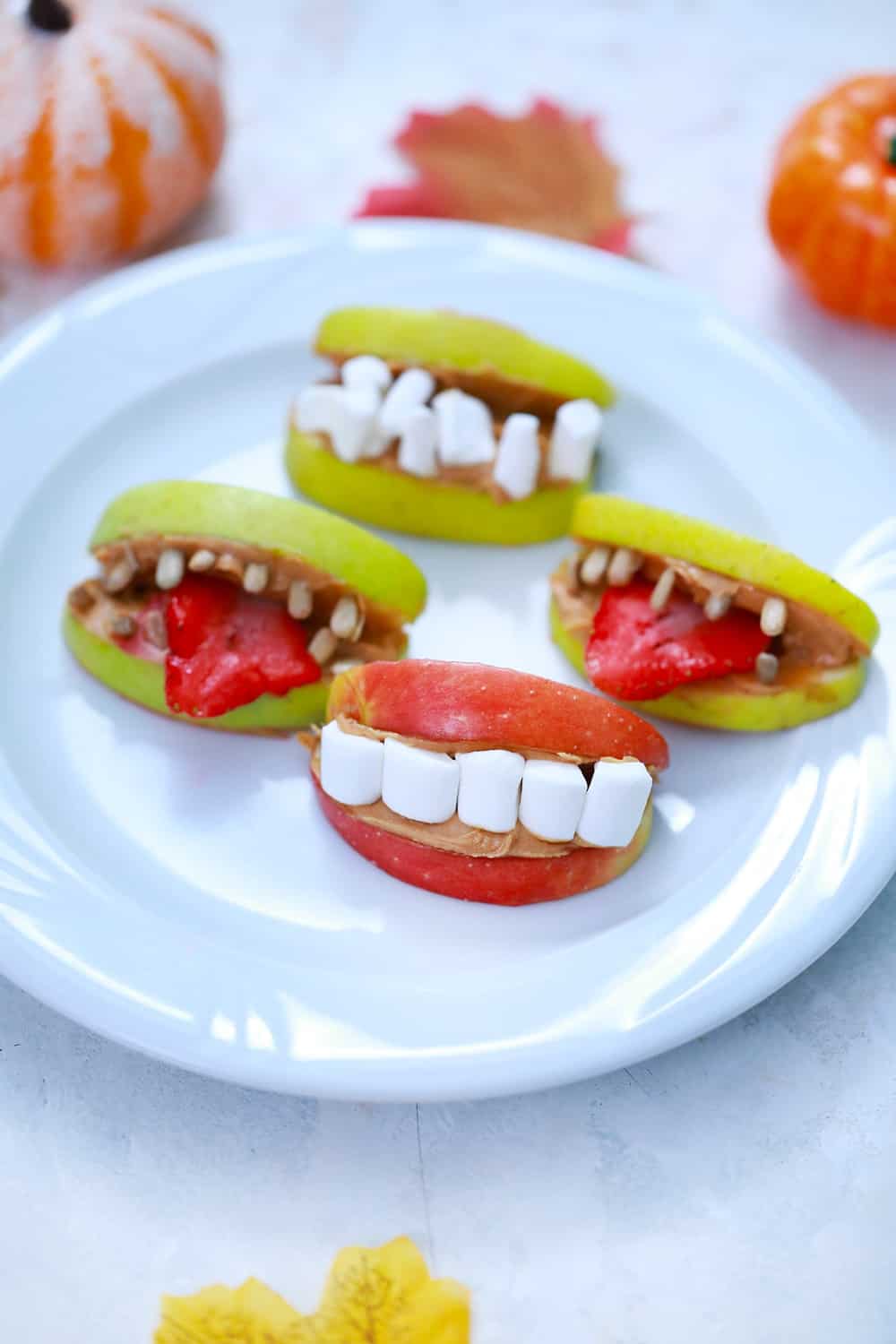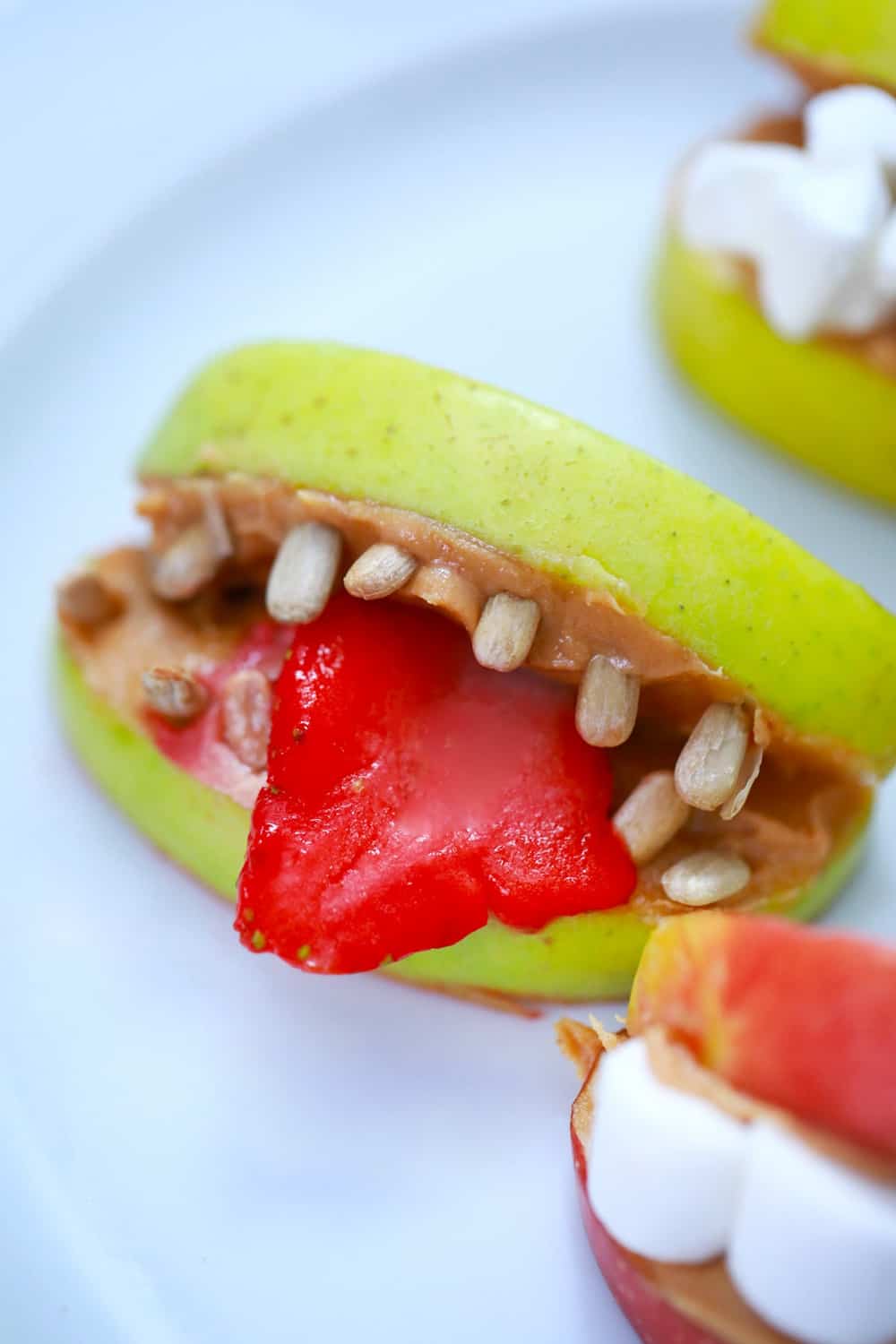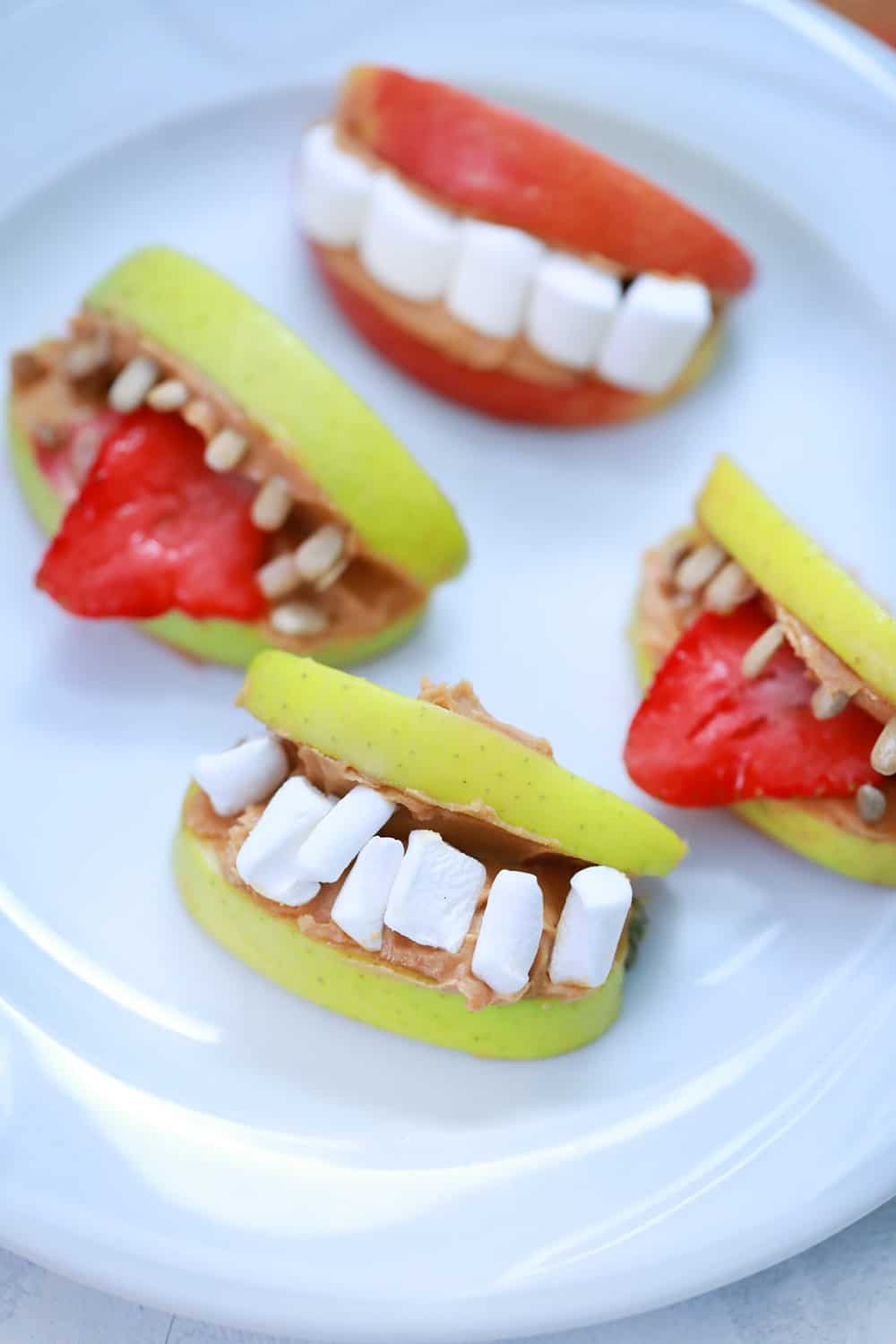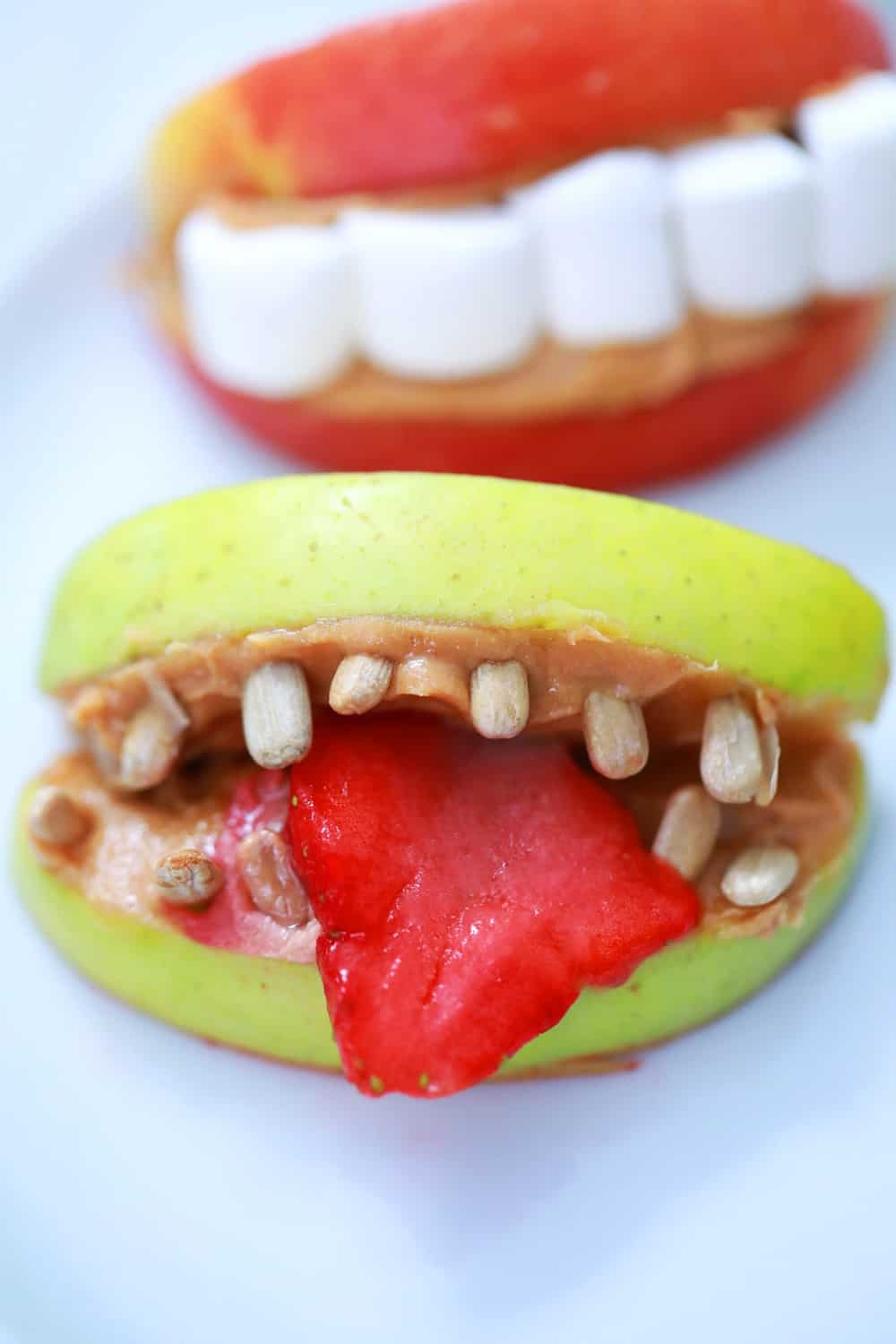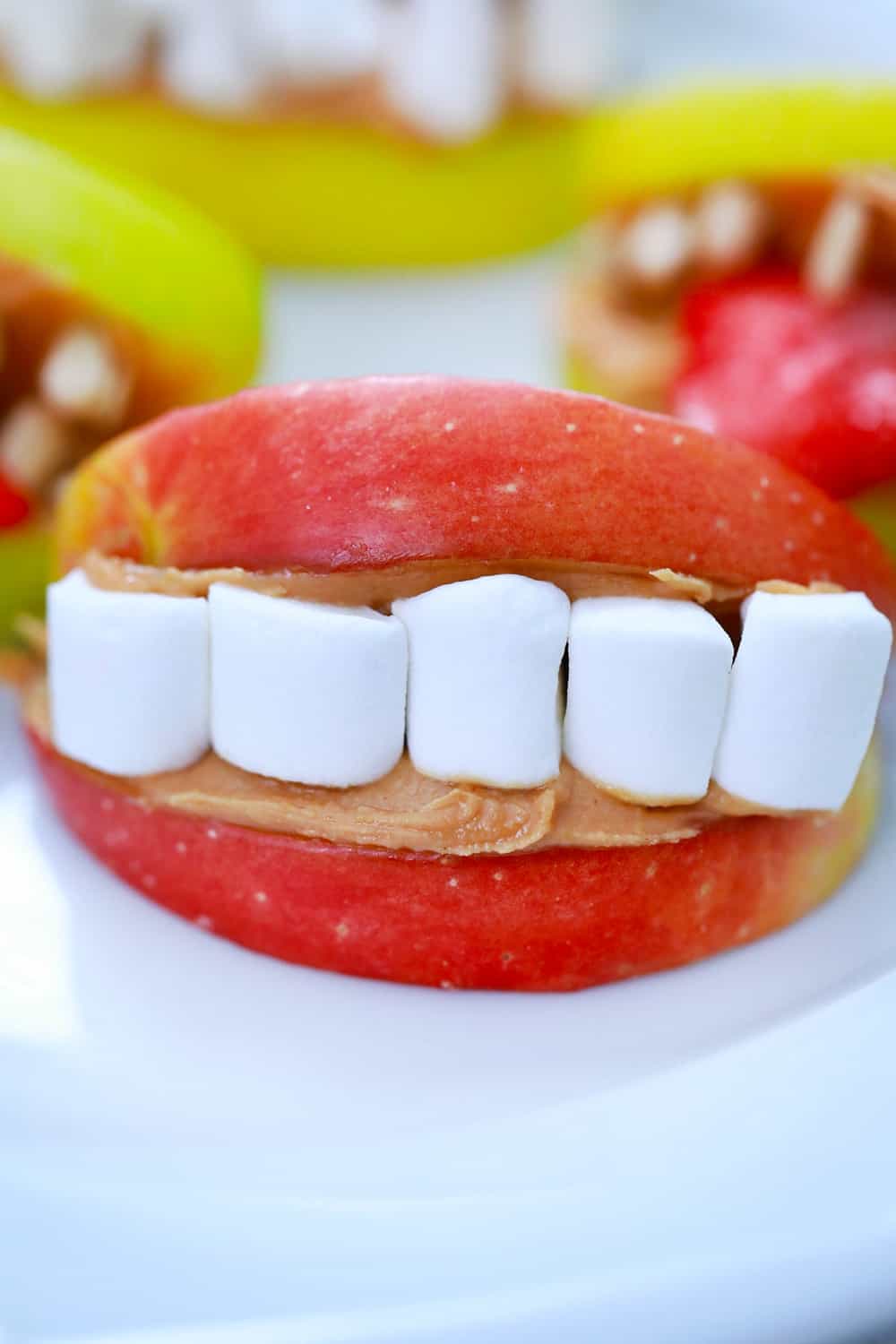 Watch the vide in this post to make these fun Halloween foods for kids! They will delight al your little trick or treaters this Halloween season!