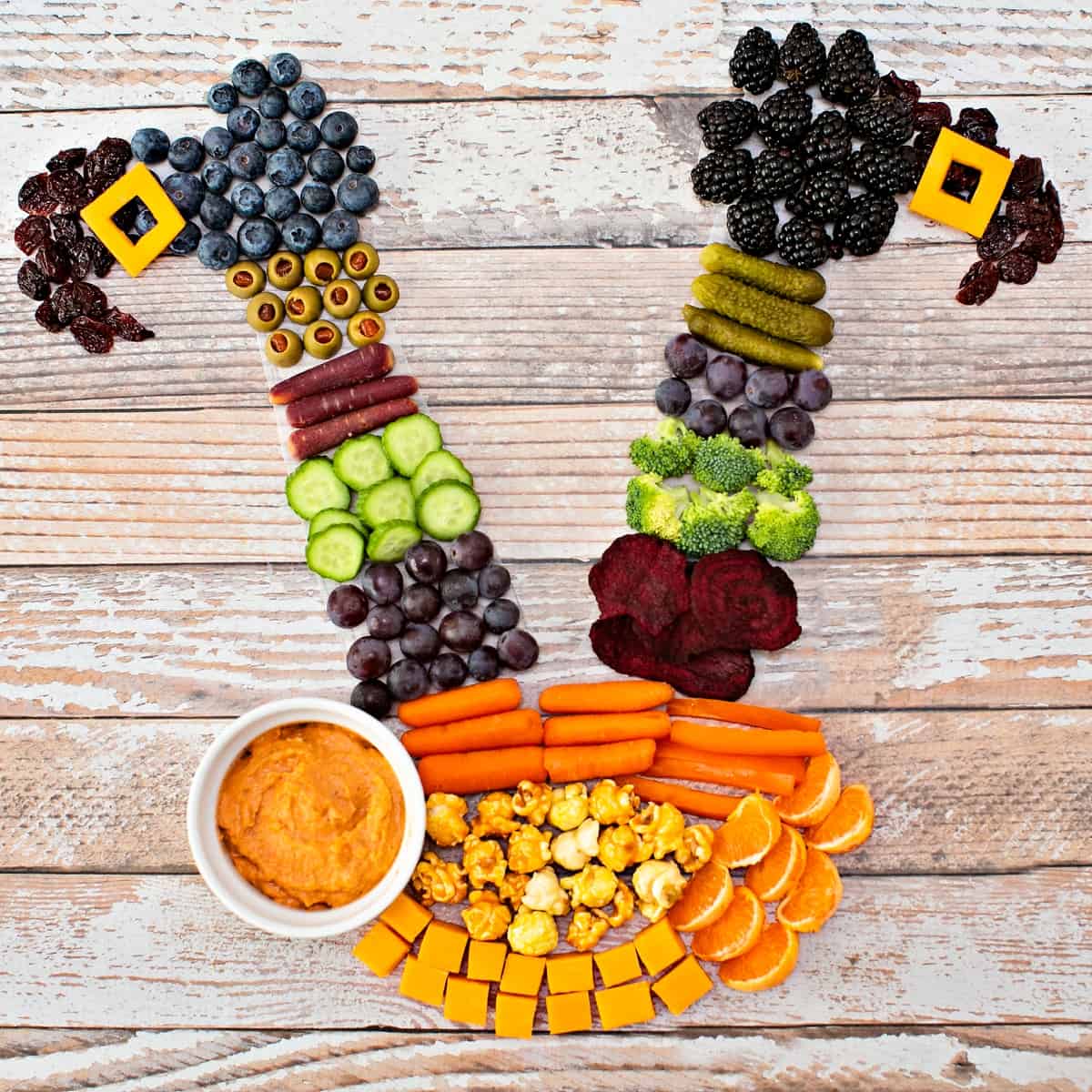 Follow us on Instagram for more fun food ideas for kids!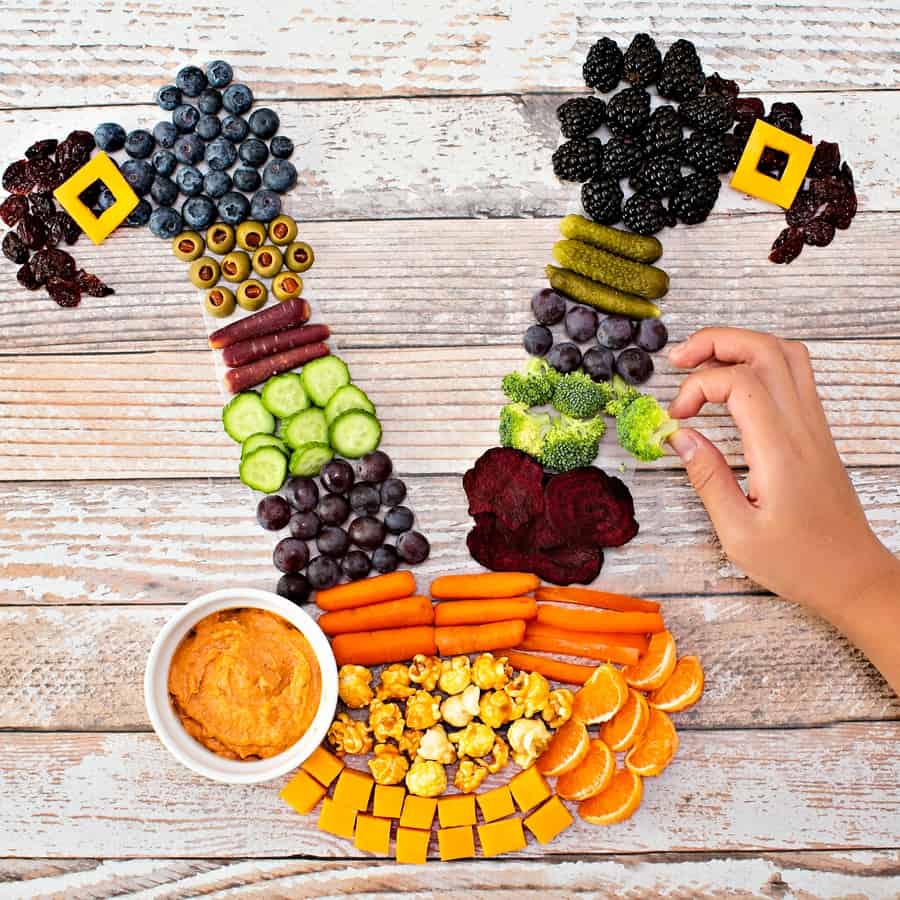 This spooky cute Halloween Witch Fruit and Veggie snack tray is the perfect Halloween platter or appetizer to dazzle your guests!
It also makes a cute Halloween snack for kids. My kids gobbled up this funny witch leg themed Halloween snack! I served it with a yummy tomato basil hummus dip from Trader Joe's and it got them to eat a few veggies!
I had the idea to make this witch leg Halloween snack board after seeing this adorable Jack O' Lantern version.
I knew I wanted to make a twist by having witch's legs teetering upwards and looking like they were askew. So I enlisted the help of my friend, food artist, Jessica from Luxe and the Lady to help me come up with the perfect fruit and veggie witchy combination you see on this platter!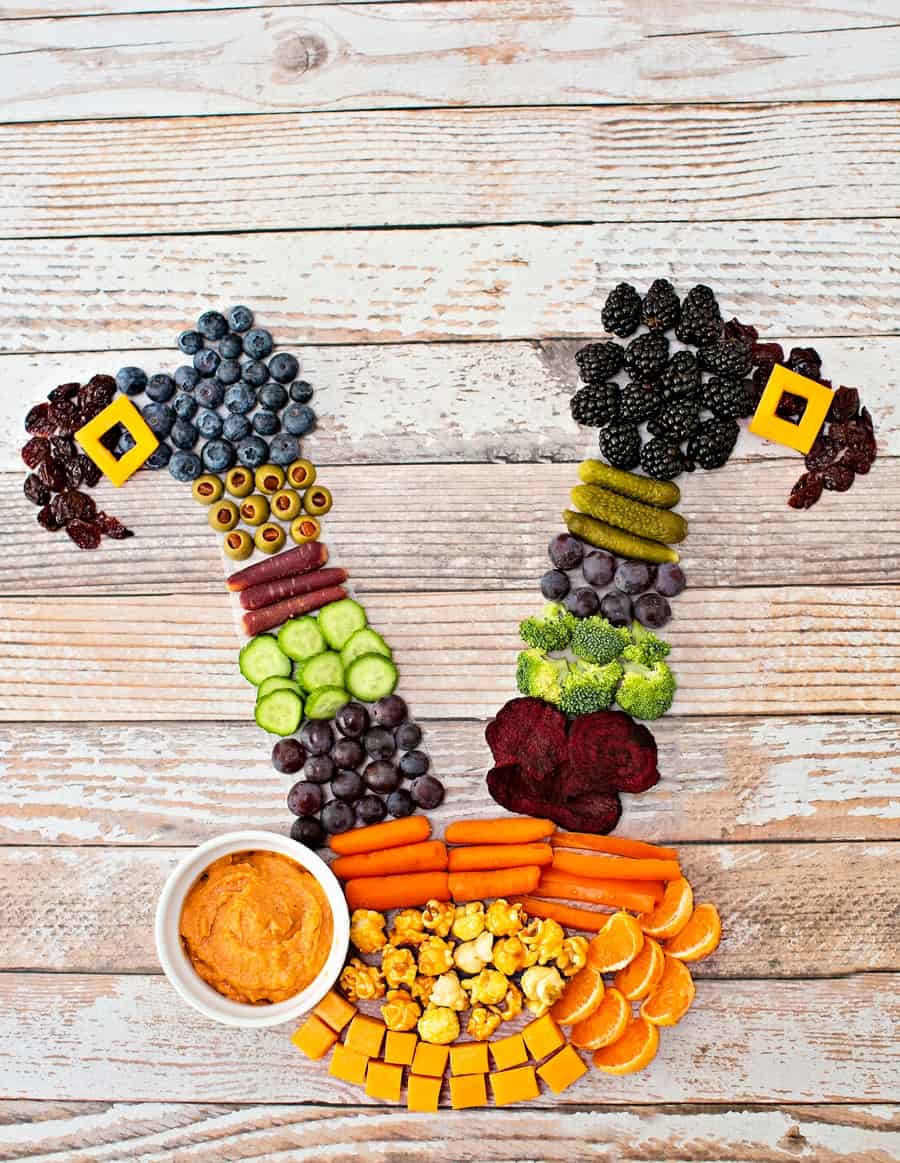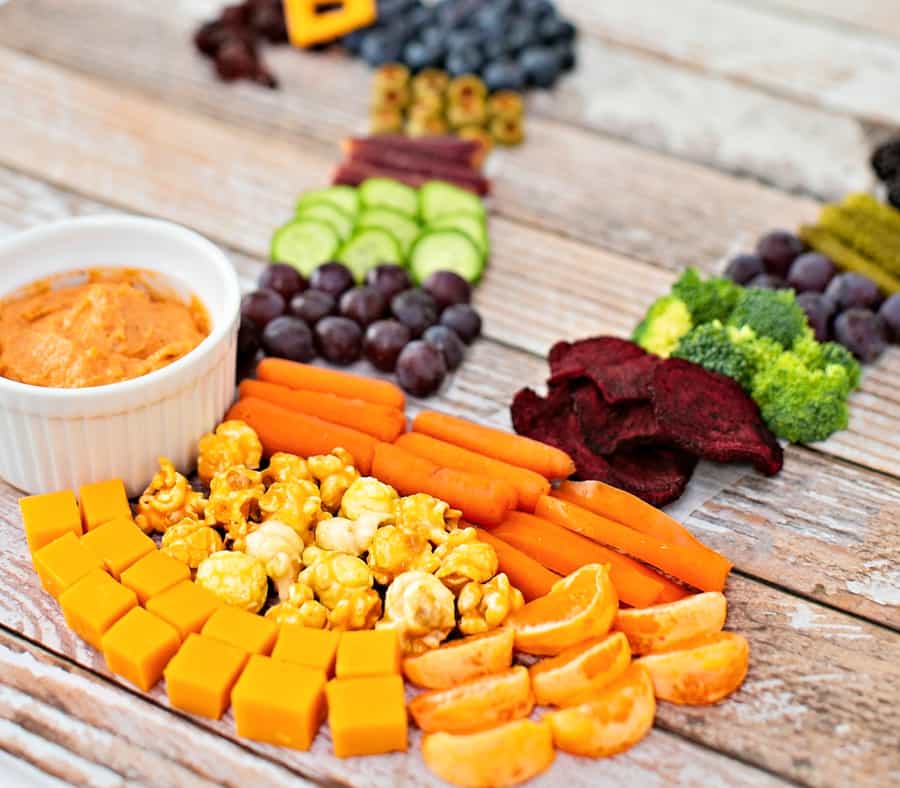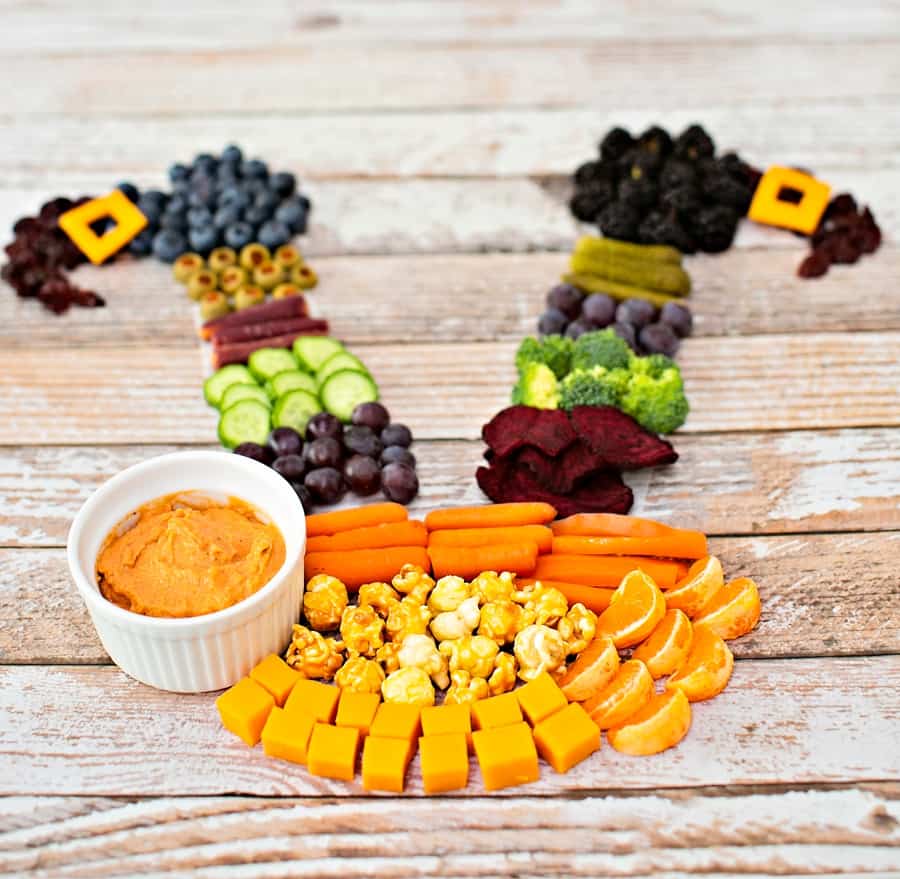 How do you design a Halloween Fruit and Veggie Snack Tray?
First narrow down a few color choices. I knew I wanted the food color theme for the witch snack tray to be green, purple and orange. Once I had that in mind it was easy to brainstorm which fruits and vegetables fell in those color categories.
Note, I also included candy corn popcorn, so keep in mind you can easily include a small treat if you're missing a color to fill in the gaps. Plus, I assure you, the kids won't mind a bit of sweet to balance out the fiber!
How do you make your Halloween snack board look perfectly shaped?
One tip is to draw out your shape on parchment paper, which is what we did as you see below. We drew out the witch legs on parchment and laid the food right on top!
So it was easy for the shape to come alive. You can do this with any Halloween shape to create your fruit and veggie board, a Jack O' Lantern, ghost or even Frankenstein would look cute! The green would be fun with many veggies and you could include a guacamole!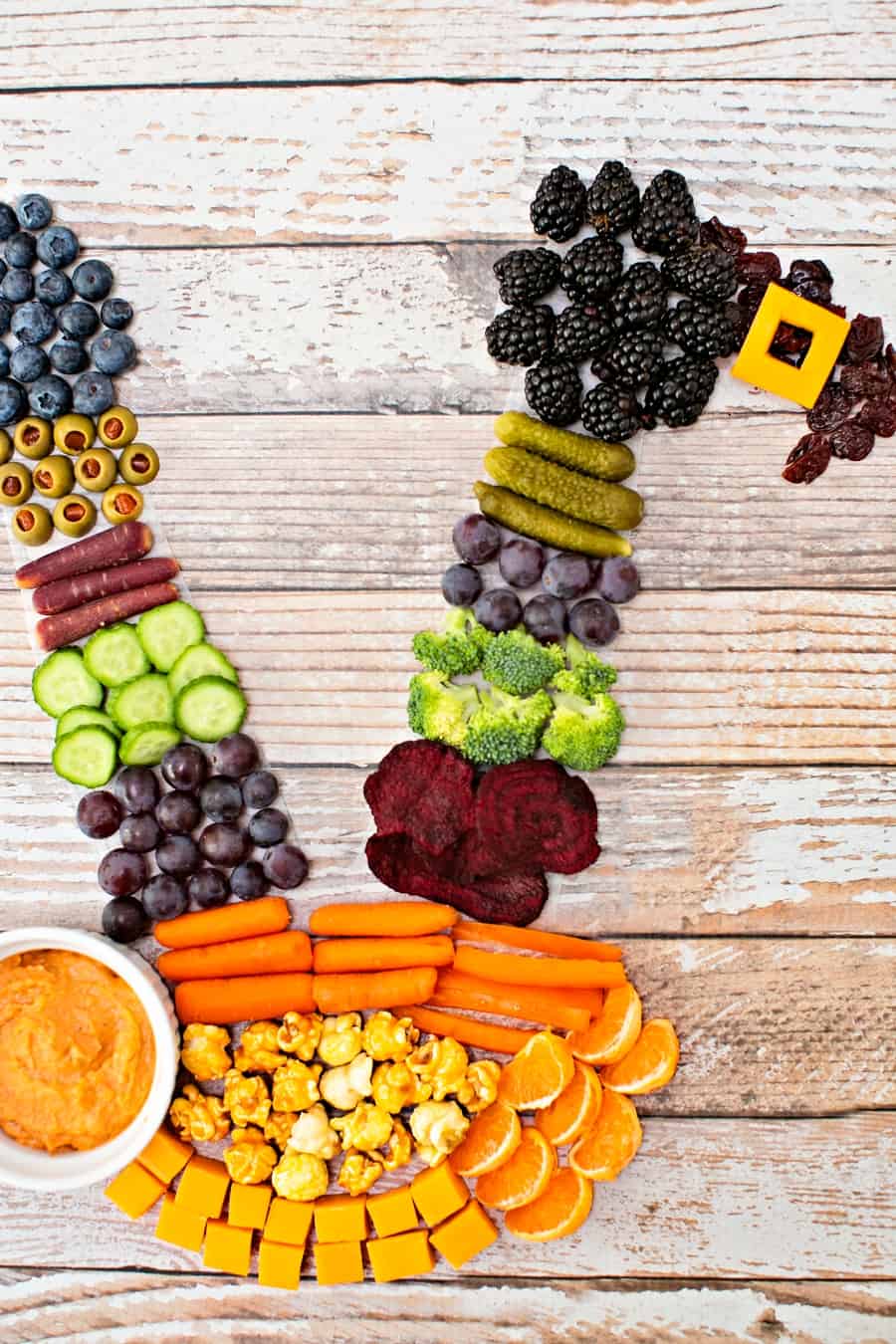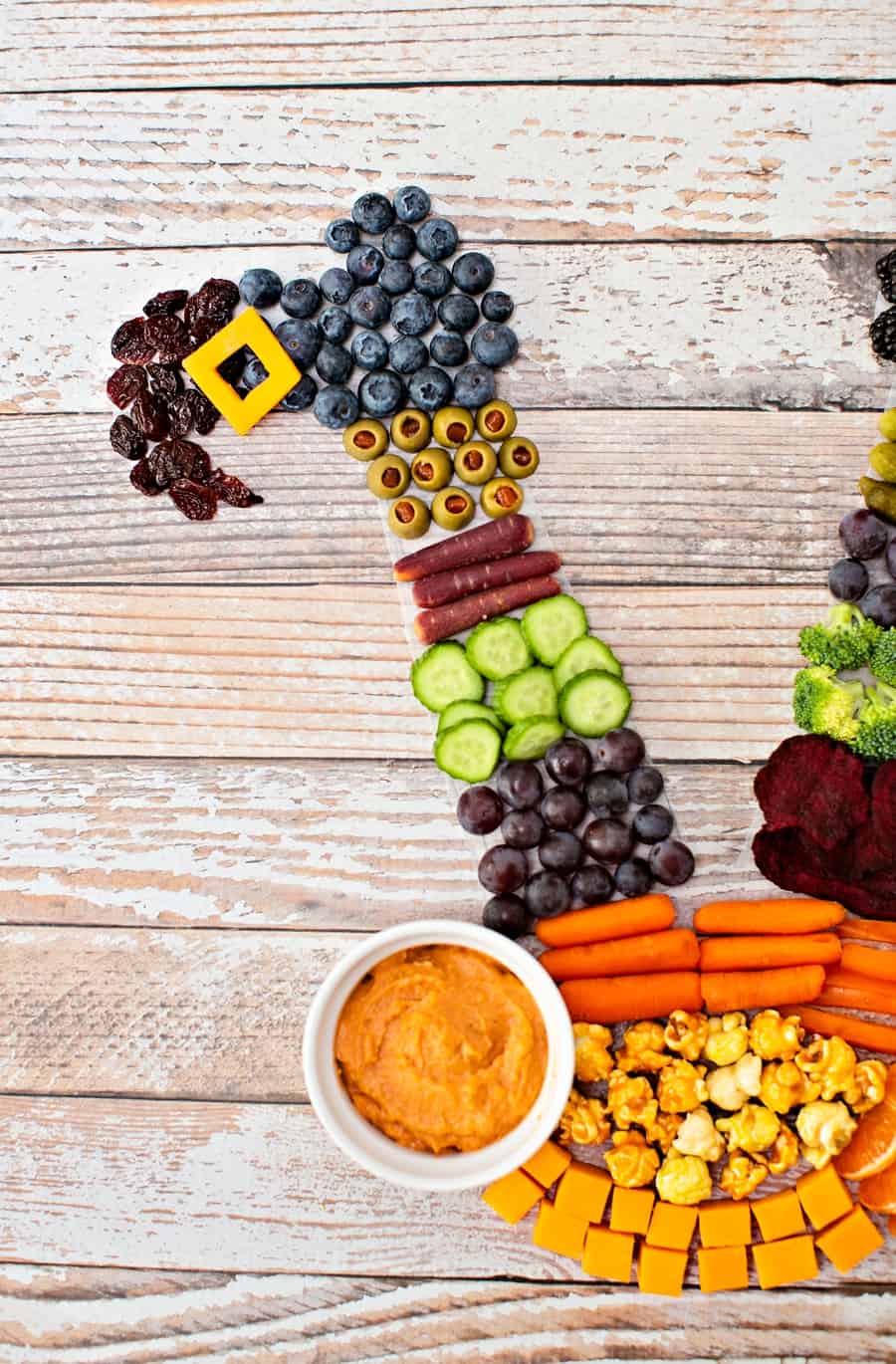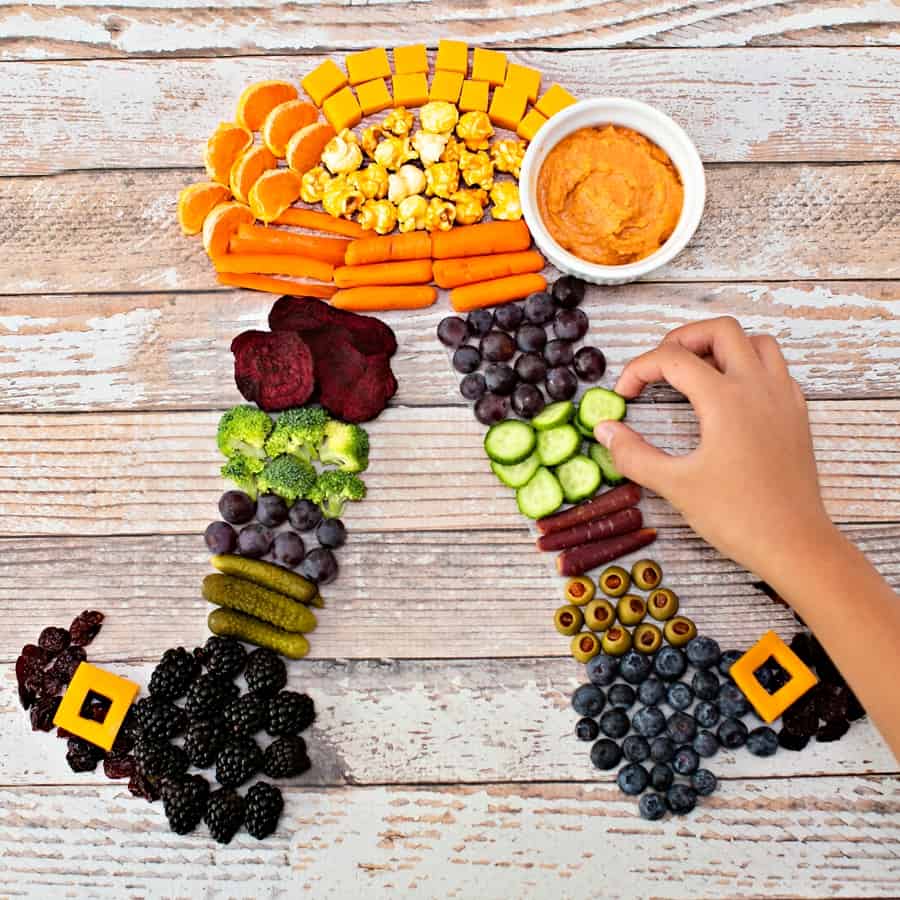 What do you serve with your Halloween veggie snack platter?
We served it with Trader Joe's tomato basil hummus dip to keep with the orange-y theme, but we could have easily used a basil pesto or guacamole to match the green. Just make sure you don't leave your guacamole dip out too long or present right before serving as it can brown easily.
Do you serve the dip with the witch legs upside down?
Ha! That's a great question, of course there isn't any "right way" to serve your Halloween witch snack! I envisioned it upside down so that's what you see here, but my daughter thought it looked better right side up so I included some of those photos too!
Which version do you like best?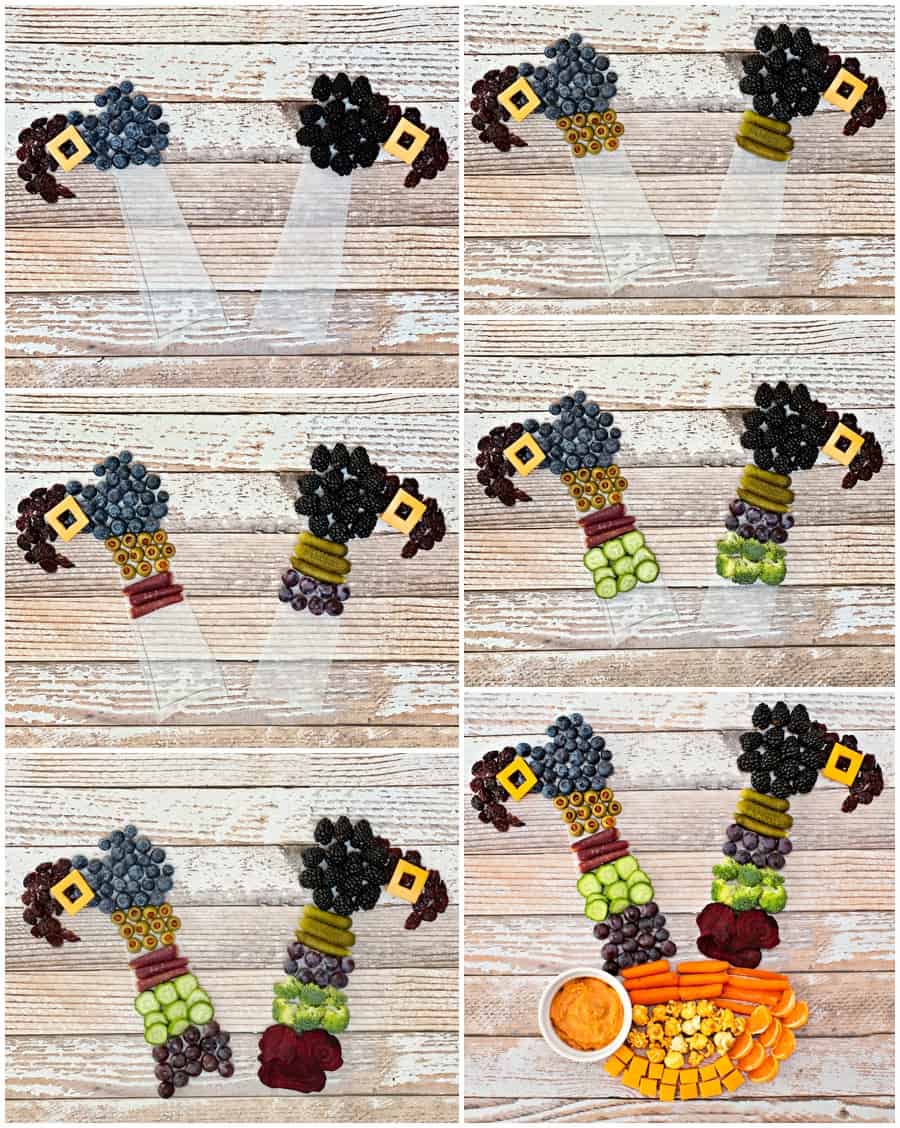 Halloween Witch Fruit and Veggie Tray – Ingredients:
From top to bottom if looking at the witch legs upside down.
Left Leg Witch Shoes:
Dried cherries, blueberries, cheese buckle
Left Witch Leg:
Olives, purple carrots, cucumbers, purple grapes
Right Leg Witch Shoes:
Dried cherries, blackberries, cheese buckle
Right Witch Leg:
Cornichons, purple legs, broccoli florets, beet chips
Dip
Tomato Basil Hummus from Trader Joes
Witch shirt:
Outer: orange carrots, orange bell peppers, mandarin oranges slices, cubed cheddar cheese
Inner: Candy corn popcorn (Trader Joe's) but you can also use any caramel corn.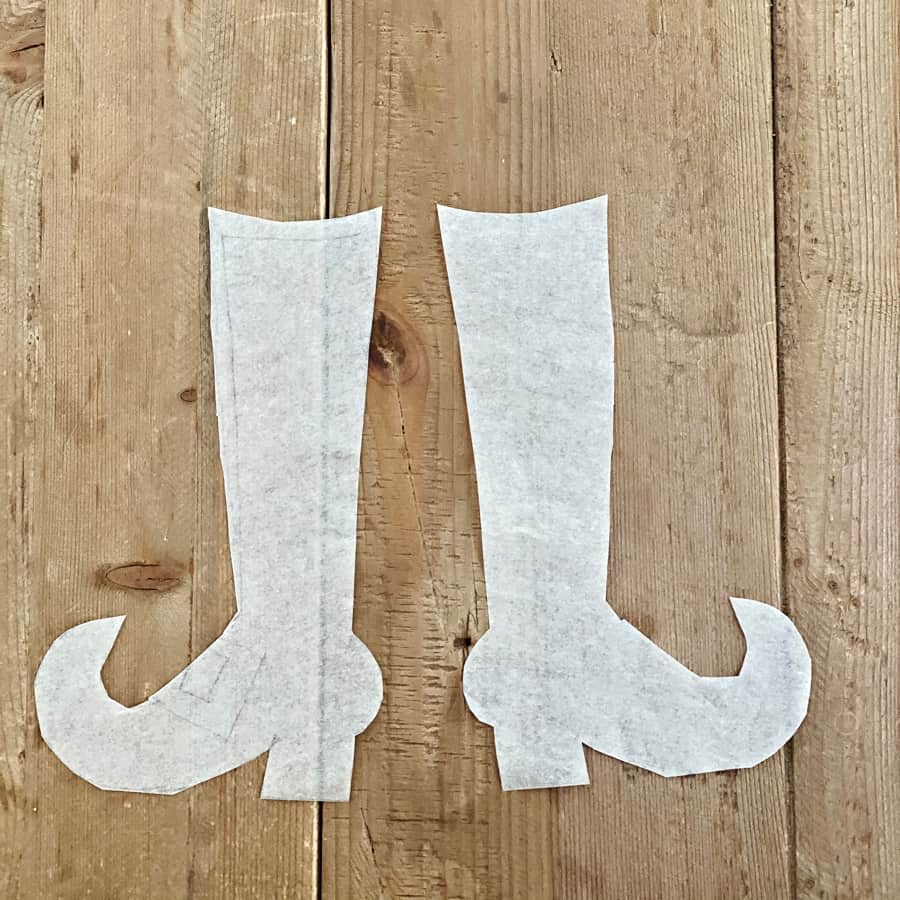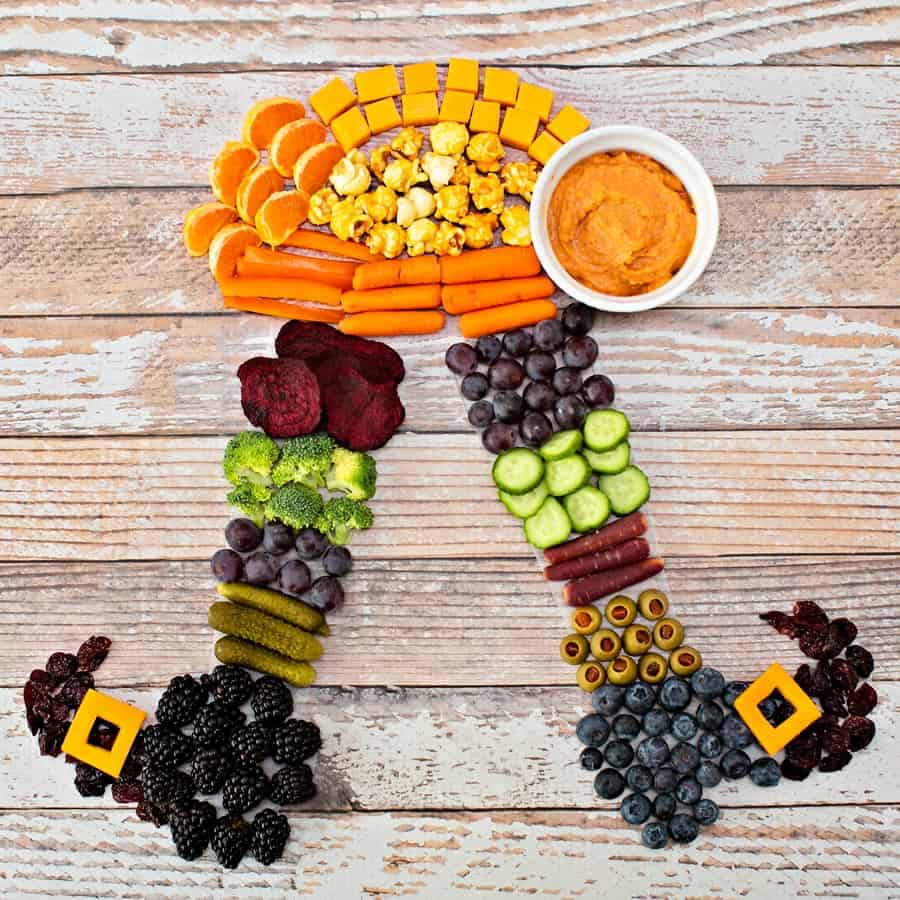 Instructions:
Cut out parchment paper into witch leg shapes, one for the right and left side.

Lay on your serving plater or tray, or table.

Arrange your fruit and veggies on the parchment in the order above.
You might also like these Halloween treats and snacks: