Follow us on Instagram for more fun food ideas for kids!
This Pumpkin Cinnamon Pull-Apart Bread is one of the easiest fall treat you'll ever make.
It's so easy in fact that my 10 year old daughter made it all by herself! Watch the video on our Instagram page.
As parents I know we're always telling our kids not to play with their food, but when it comes to this simple and delicious bread recipe, you just might have to break your own rules.
Not only is it tasty good, but it's so much fun to take apart and eat, piece by piece.
And since the flavor is pumpkin, now is the time to whip up this delicious homemade bread recipe. It's literally perfect for a cool fall day or a fun recipe to make and take on an outing or a picnic.
Or, if you're anything like me, sitting around with a nice cup of coffee and some of this pumpkin bread just might be the morning jumpstart that you've been needing.
Take the time to make this simple bread recipe inspired by our peanut butter and jelly pull-apart bread. You're not going to be disappointed in the outcome.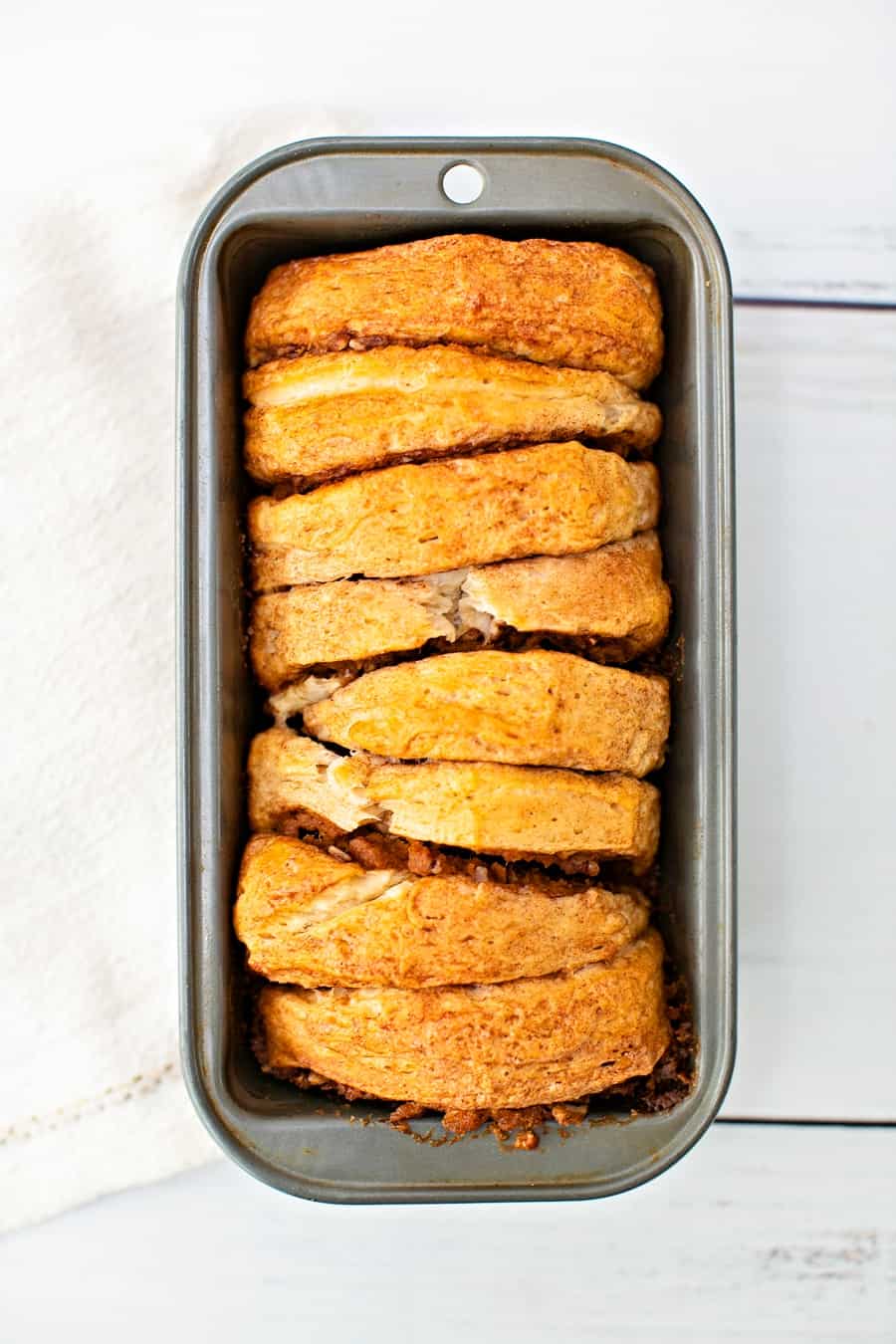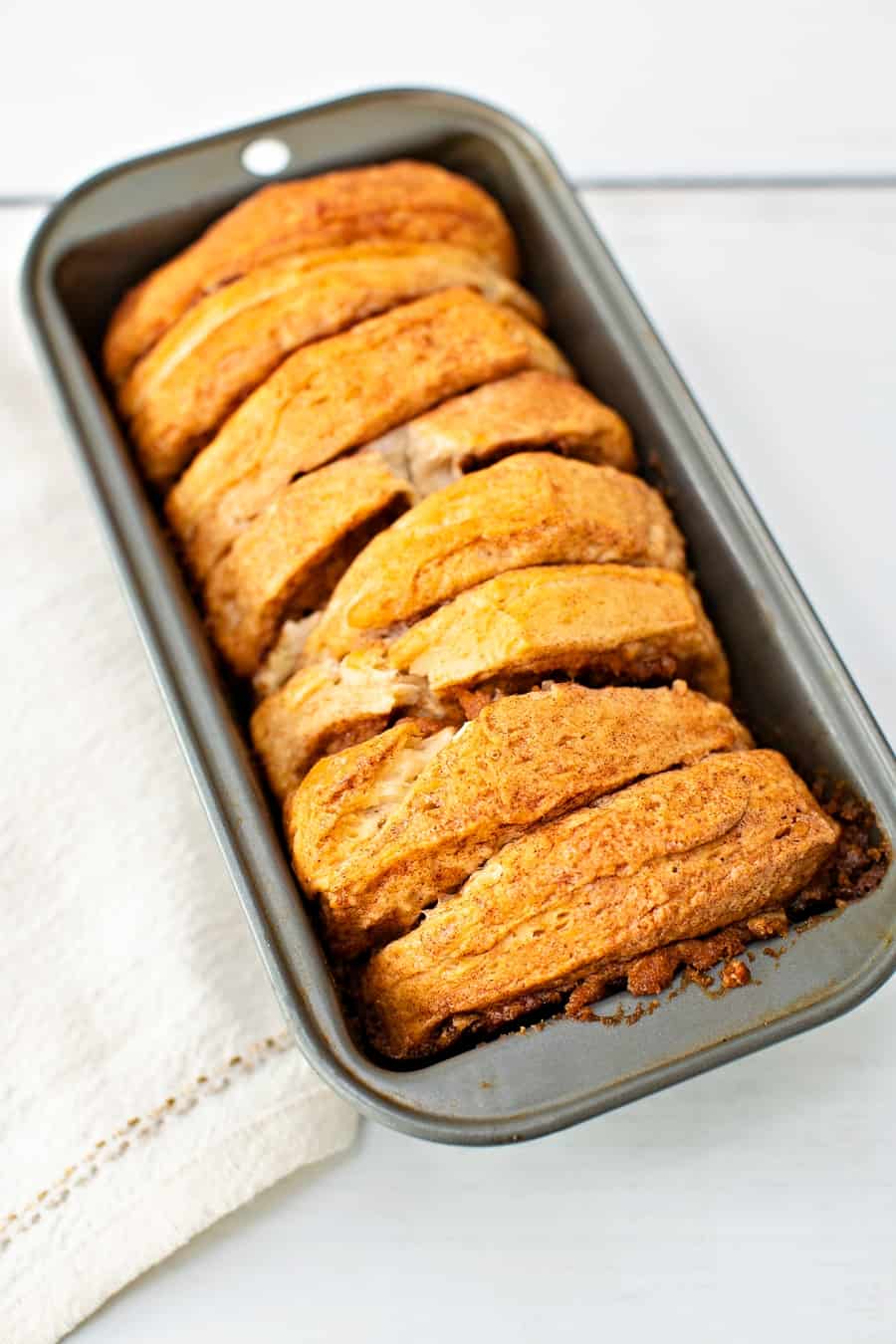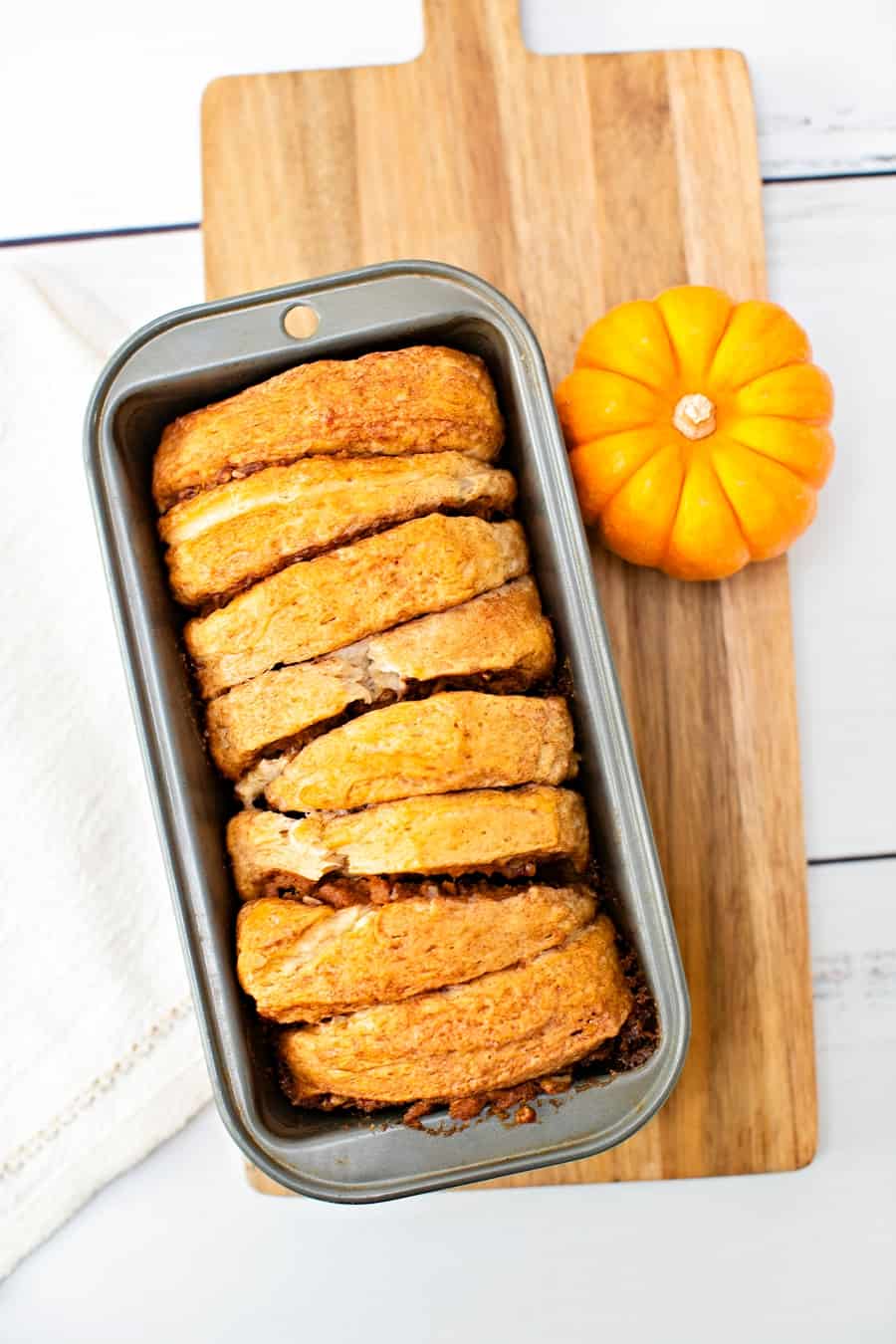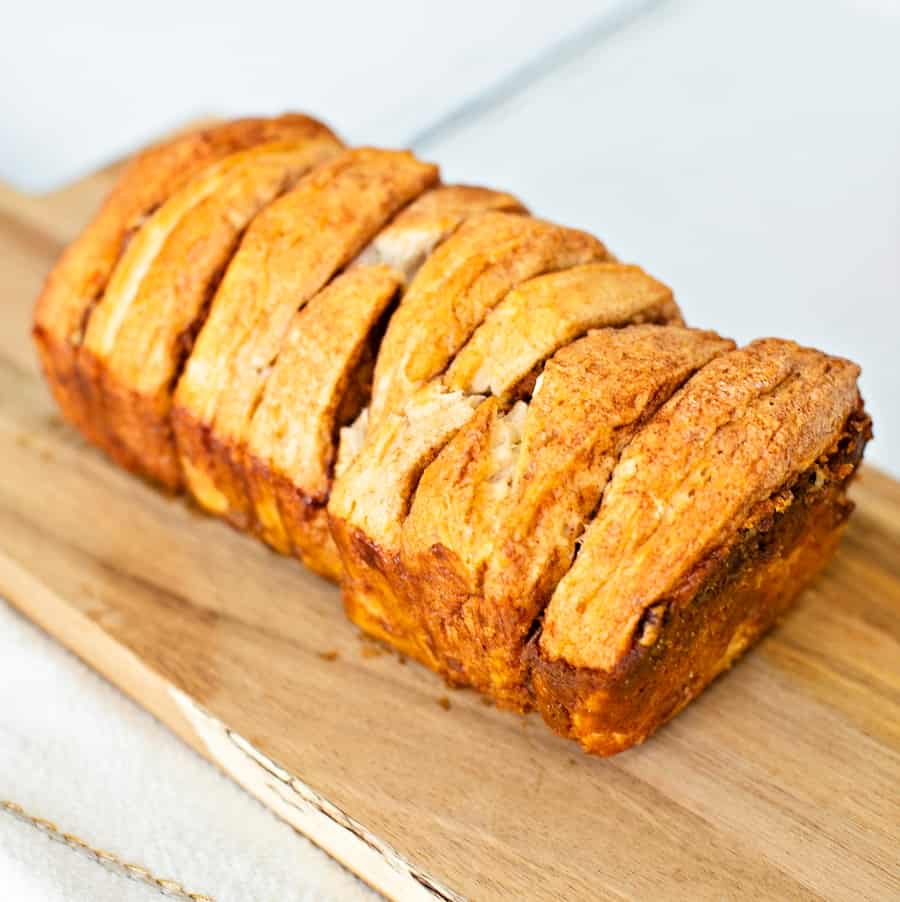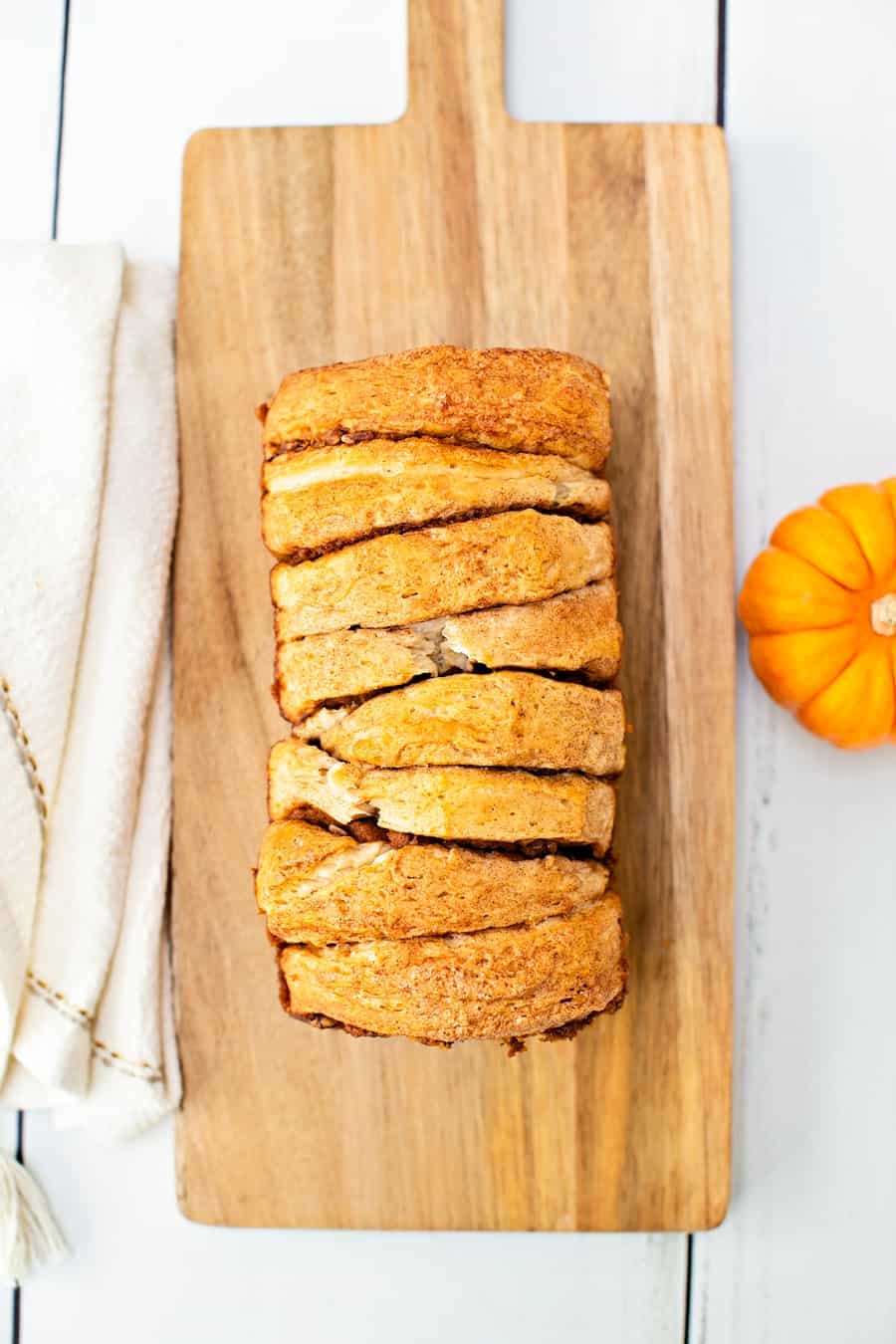 Ca you make the dough homemade for this pumpkin pull-apart bread recipe?
Yes you probably can but why would you? 🙂 This is where this recipe is totally awesome. You're actually using a can of bread dough, pre-made! Talk about a huge time saver, right? You'll need 20 minutes top to whip this fresh pull-apart bread together.
If you really want to make it homemade, you can make homemade biscuits, but if your days are crazy like mine, this little shortcut really is a lifesaver. Plus using ready-made biscuit dough really cuts down the time for kids to help make this fall treat. And is much easier for them!
Just be ready for the "pop" of the seam of that bread can…it still gets me every time!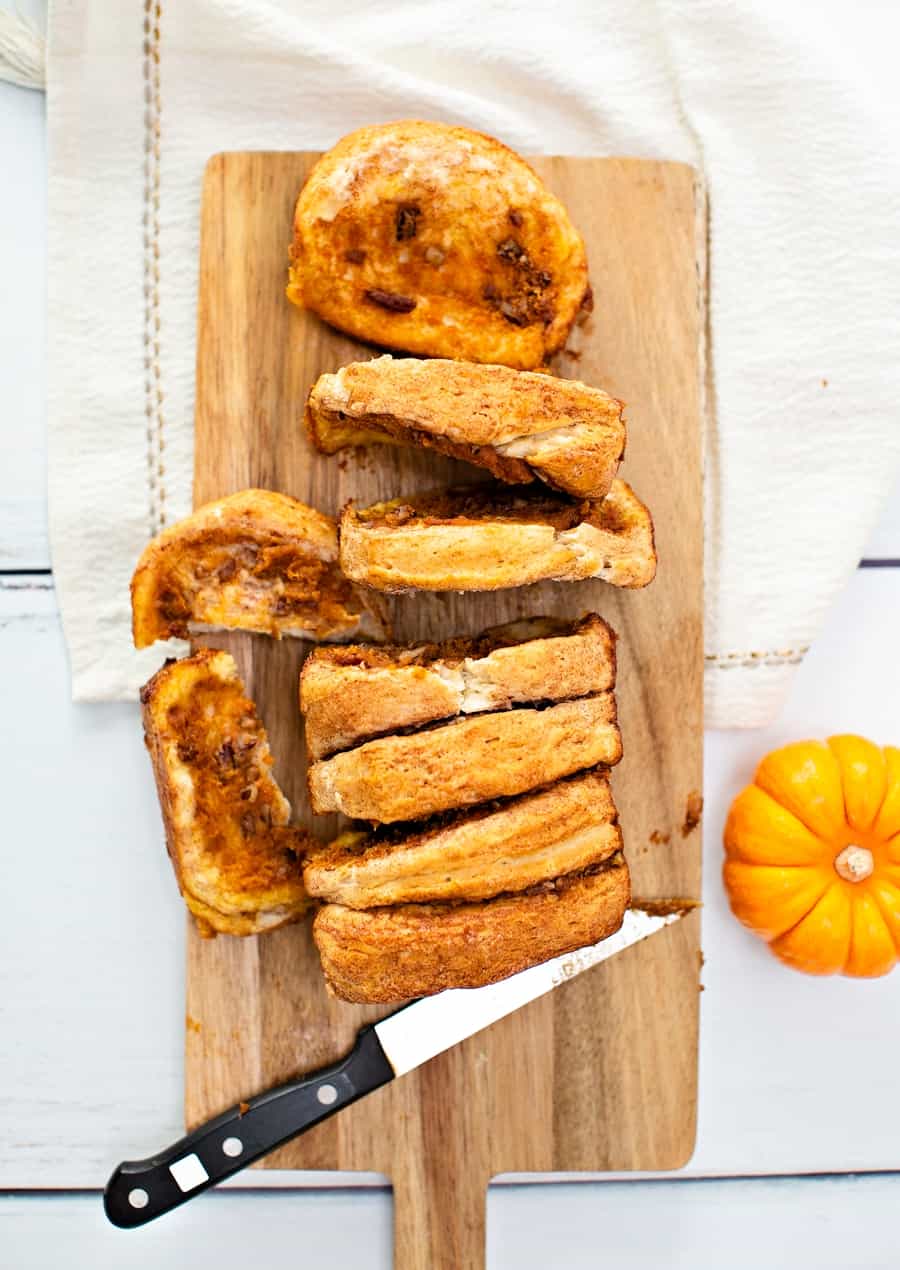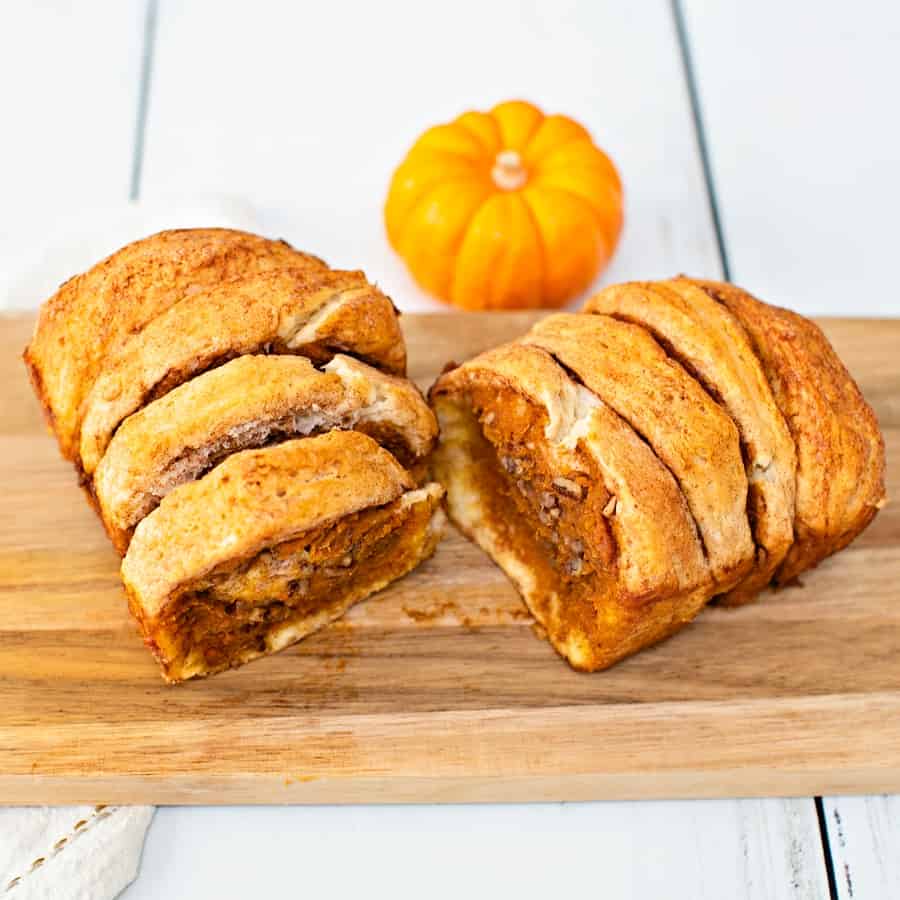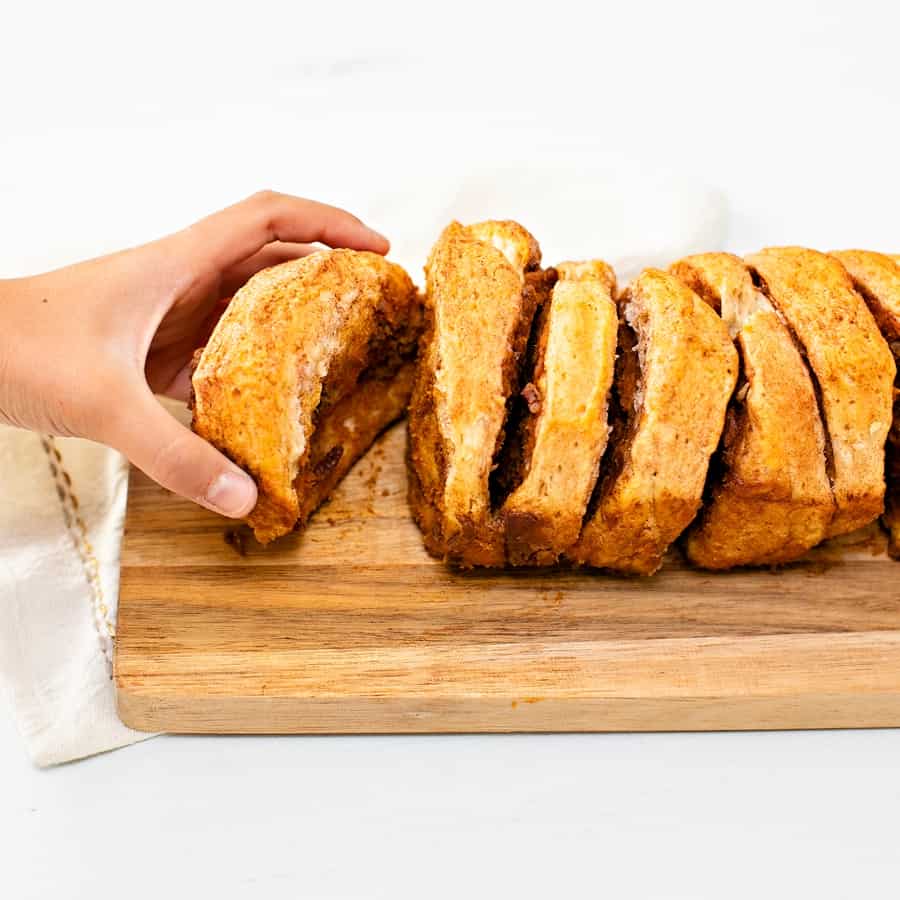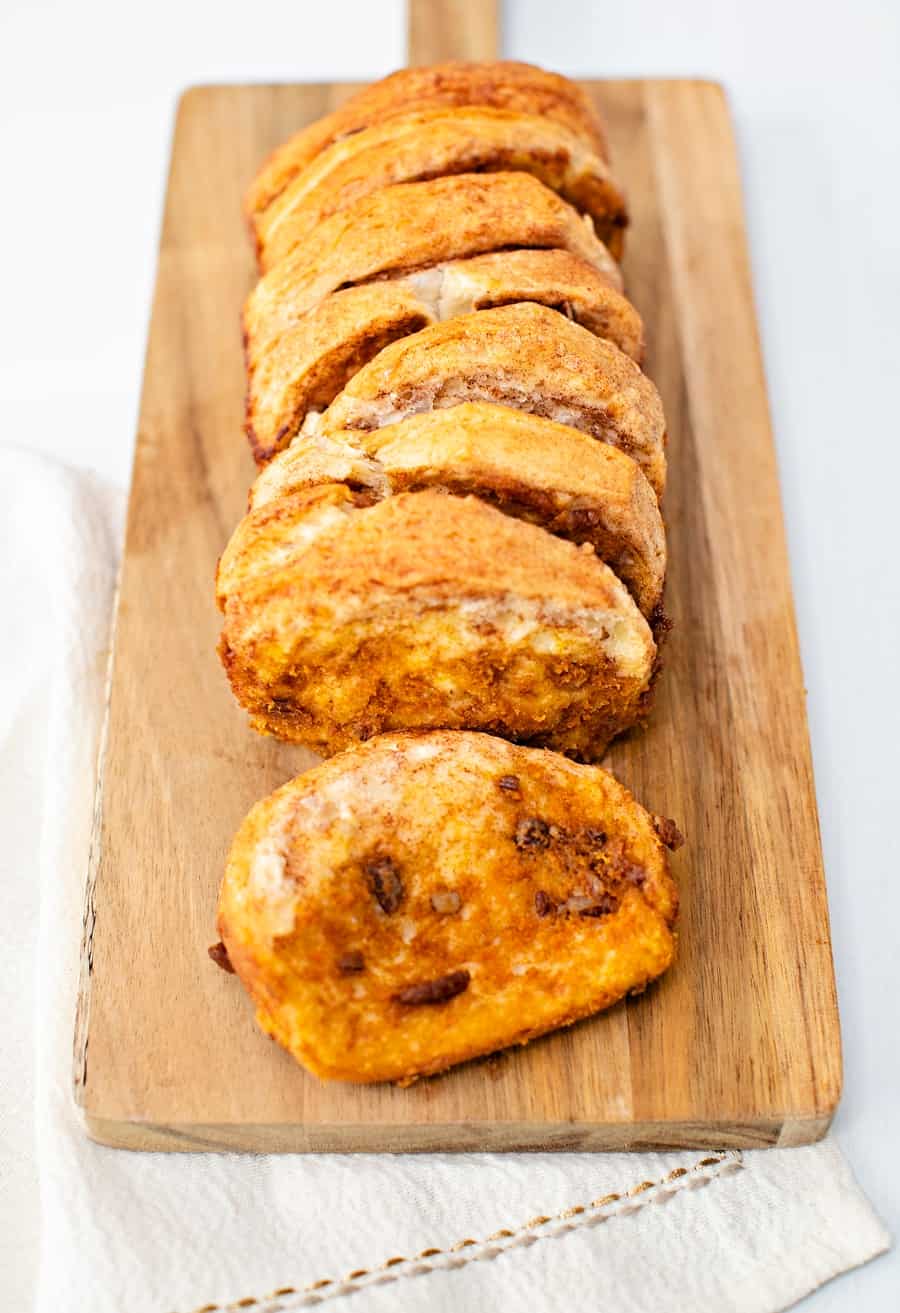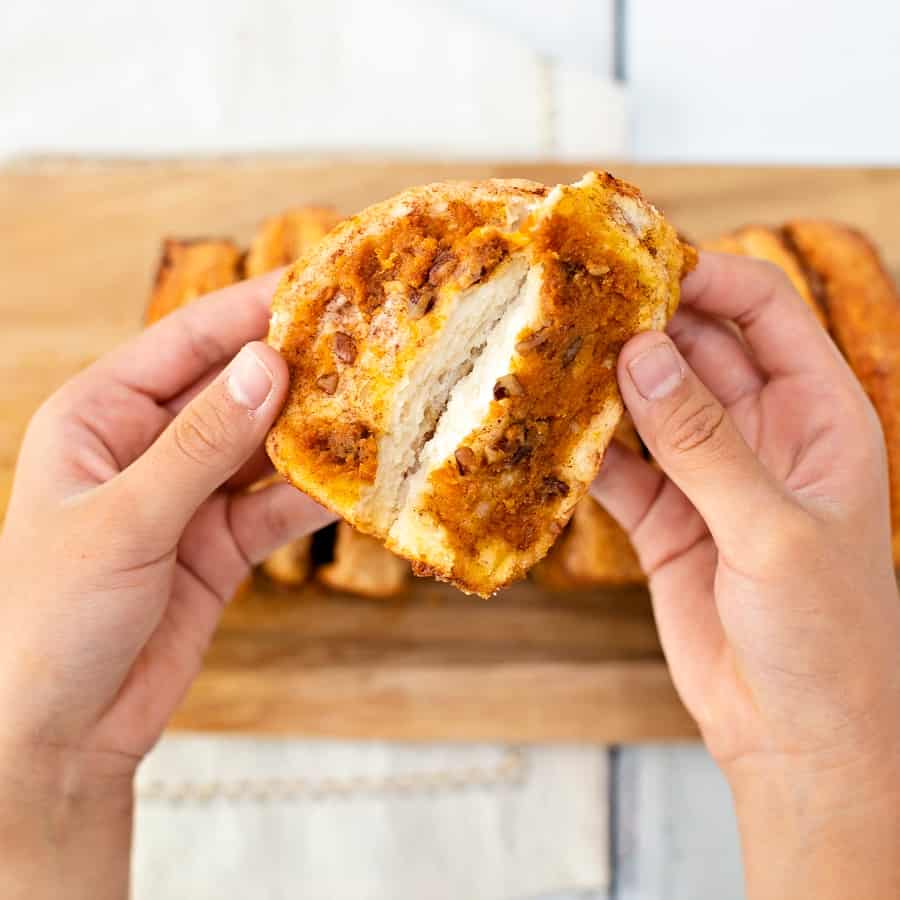 What does this pumpkin cinnamon bread taste like?
It's definitely got a nice cinnamon flavor from the all around dusting. It's not too sweet at all. There is just enough pumpkin spread per biscuit so it's basically like you spread a nice pumpkin butter on top. I would say it's definitely more of a breakfast or brunch treat like a muffin or bread vs. a sweet dessert.
How do I know when the bread is cooked and ready to be pulled from the oven?
There are a couple of ways that you can tell that the bread is done cooking. First, let your nose be the guide. If you smell a totally delicious pumpkin scent, it's time to check on your bread.
And secondly, turn on your timer and cook it for the duration that the recipe states. You'll want a nice golden and not too crispy crust.
If you notice that the bread is starting to look really dark or brown, remove it and see how it feels at that point in time.
Pumpkin Cinnamon Pull-Apart Bread – Ingredients
Can of Pillsbury Grand Biscuits (8 pieces)

Butter

Cinnamon

Sugar

Brown Sugar

Pumpkin Puree

Pecans (optional)
Is your mouth watering right now?!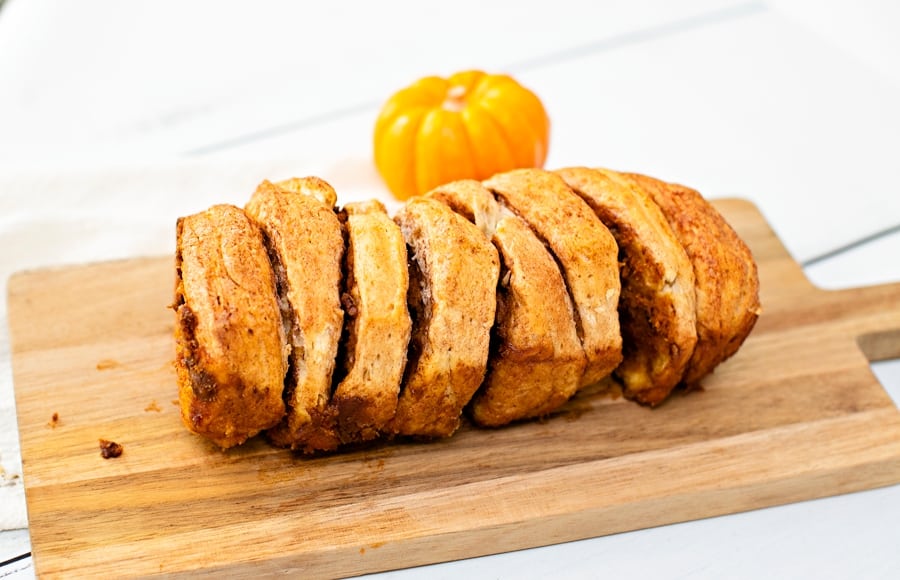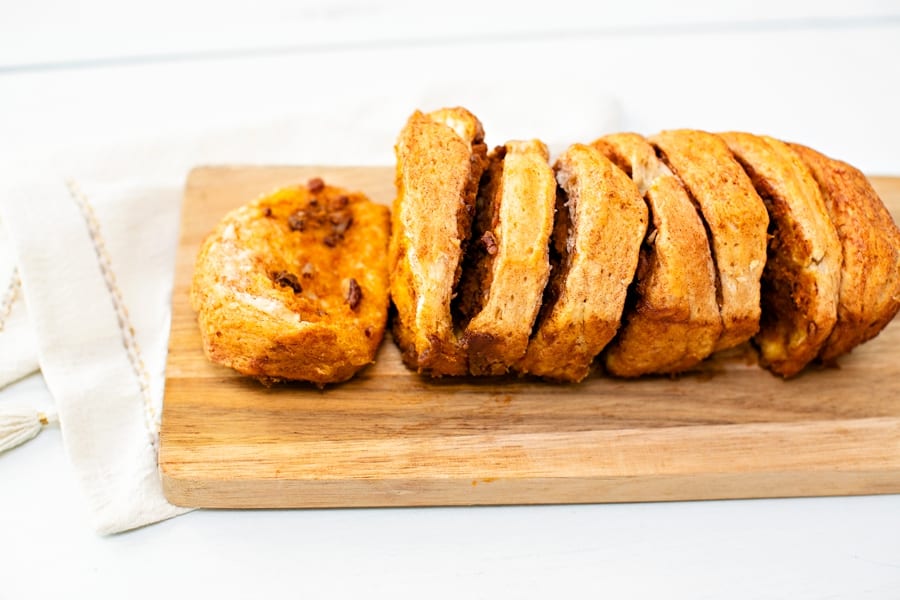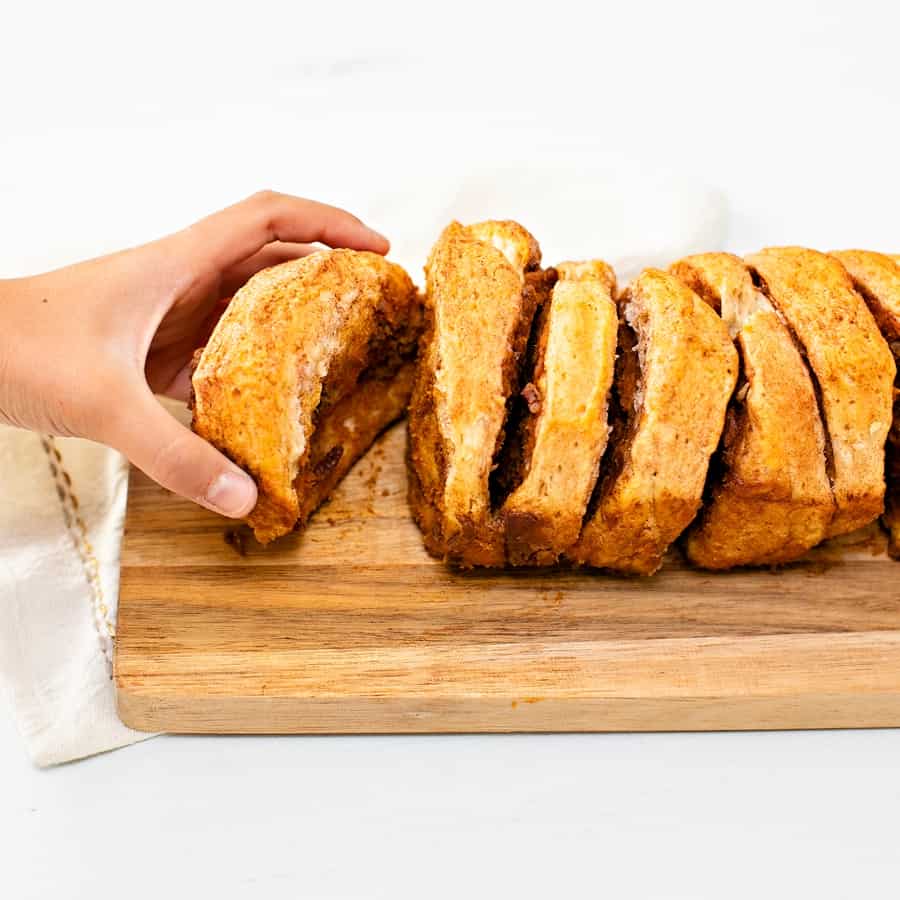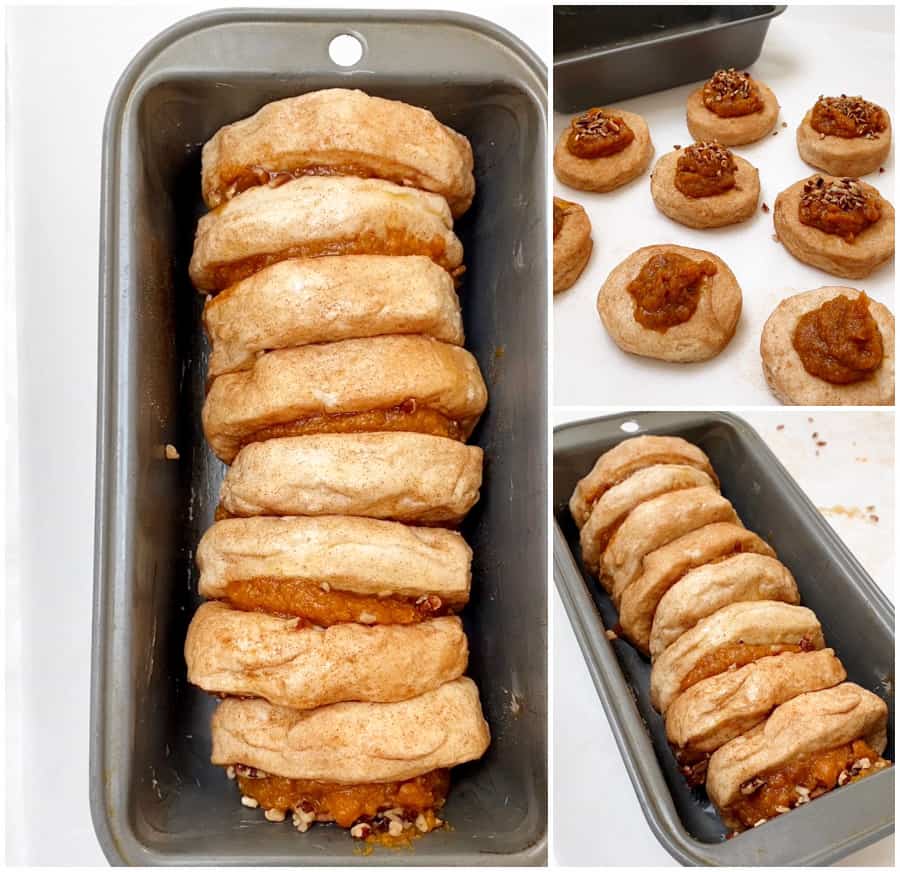 Simple tips for making this Pumpkin Cinnamon Pull-Apart Bread
Make certain that you let the bread cool before digging in but it's best eaten warm from the oven. The insides of the bread will be hotter than the outsides and you don't want to take the chance of anyone burning their mouth.

If you have leftovers, store it in an airtight container and just reheat a few seconds the microwave when you're ready to eat.
These are just a few simple tips to keep in mind when you're whipping up a loaf of this delicious pumpkin bread. It's seriously so good and simple to make.
It also make an easy breakfast or brunch treat, or neighborly gift when you need to bring a last minute dish.
Did we also mention it's the perfect fall treat too? Great for when you have half a can of pumpkin puree leftover from pumpkin pie and need to get rid of it in a delicious way!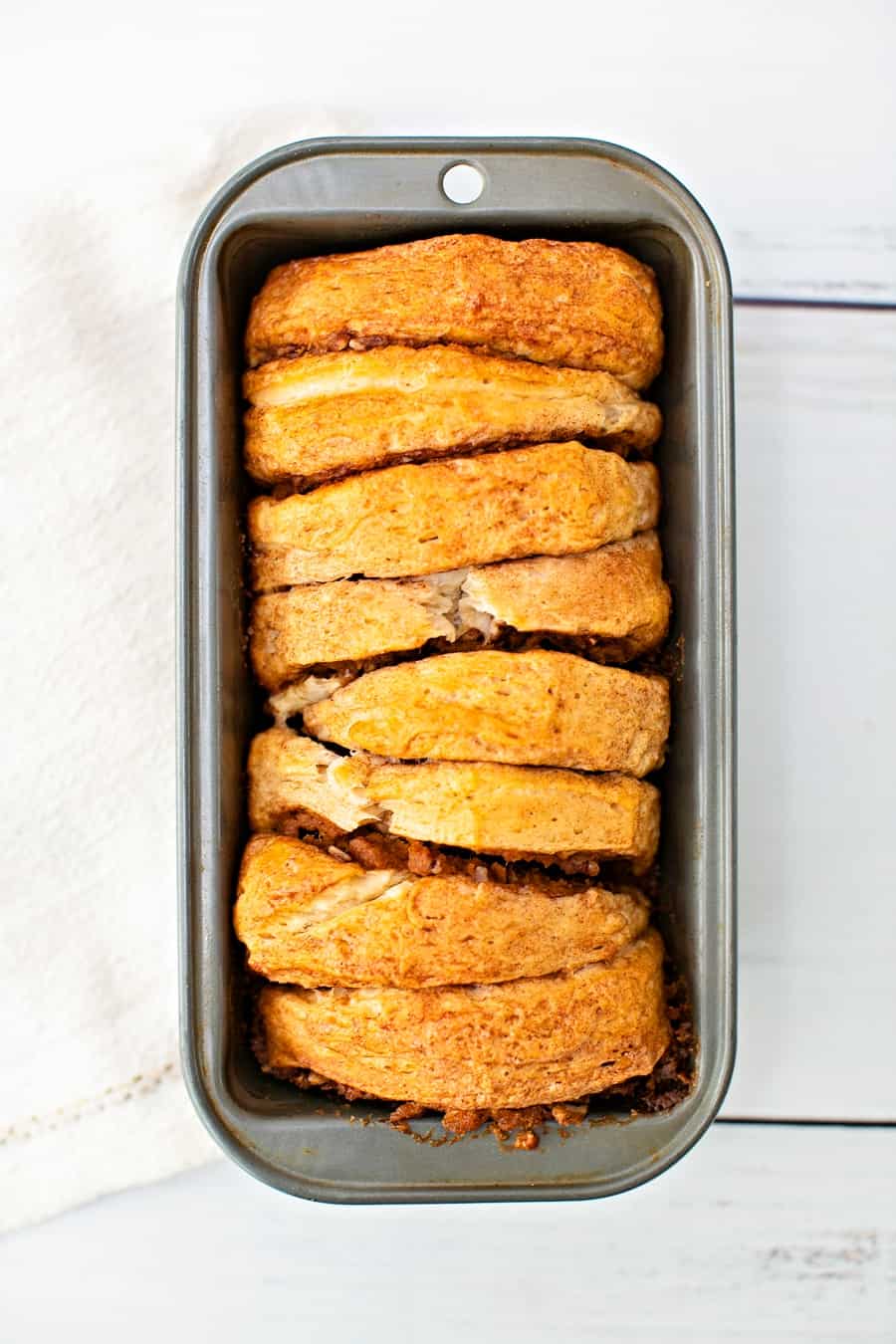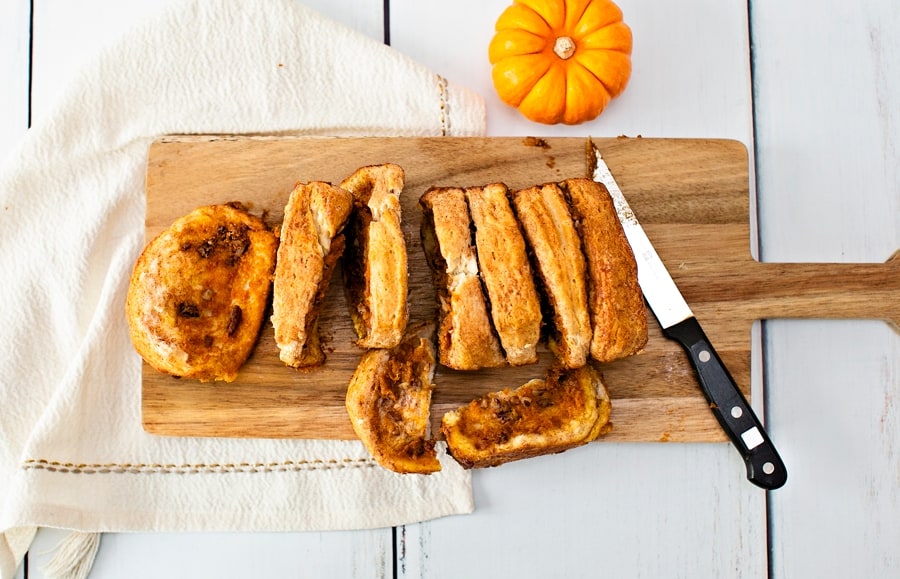 More sweet recipes to try: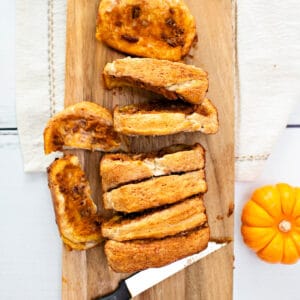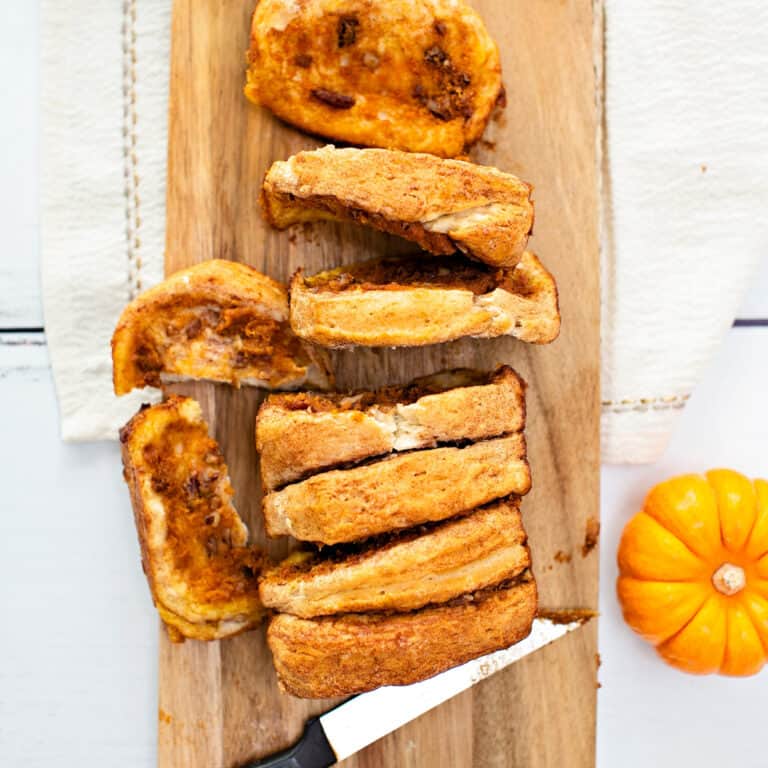 Pumpkin Cinnamon Pull-Apart Bread
This Pumpkin Cinnamon Pull-Apart Bread is one of the easiest fall treat you'll ever make.This Pumpkin Cinnamon Pull-Apart Bread is one of the easiest fall treat you'll ever make.
Ingredients
1

Can

Pillsbury Grand Biscuits Refrigerated

8 pieces

5

TBSP

Butter

melted, reserve 1 TBSP for brushing on top

1/2

Cup

Brown Sugar

1/2

Cup

Canned Pumpkin Puree

heaping half a cup

1/4

Cup

Pecans

chopped, optional
Cinnamon Sugar
1

TBSP

Cinnamon

1/2

Cup

Sugar
Instructions
Preheat your oven to 350 degrees.

Pop open your can of refrigerated biscuits. Separate the 8 biscuits.

In a gallon size zipper bag, add your sugar and cinnamon, shake to mix. Add your biscuits in one layer. Gently shake the cinnamon on both sides of the biscuits. Remove biscuits and shake off excess cinnamon. Line on a parchment lined baking tray.

Make your pumpkin filling. Combine your puree, 4 TBSP melted butter, brown sugar and pecans.

Add a heaping TBSP of the pumpkin mix on top of each biscuit.

Butter a 9" x 5" loaf pan.

Add your biscuits lengthwise to the pan. It helps to pick up 2-3 pieces at once and squeeze them in. Refer to the process photos on the post.

Brush top with 1 TBPS melted butter.

Bake in a preheated 350 degree oven for 40-45 minutes or until top is golden brown. Remove and best served warm.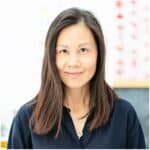 Agnes Hsu is a mom of three and has been inspiring parents and kids to get creative with easy activities and family friendly recipes for over 10 years. She shares her love for creative play and kids food to her 2MM+ followers online. Agnes' commitment to playful learning and kindness has not only raised funds for charity but also earned features in prestigious nationwide publications.