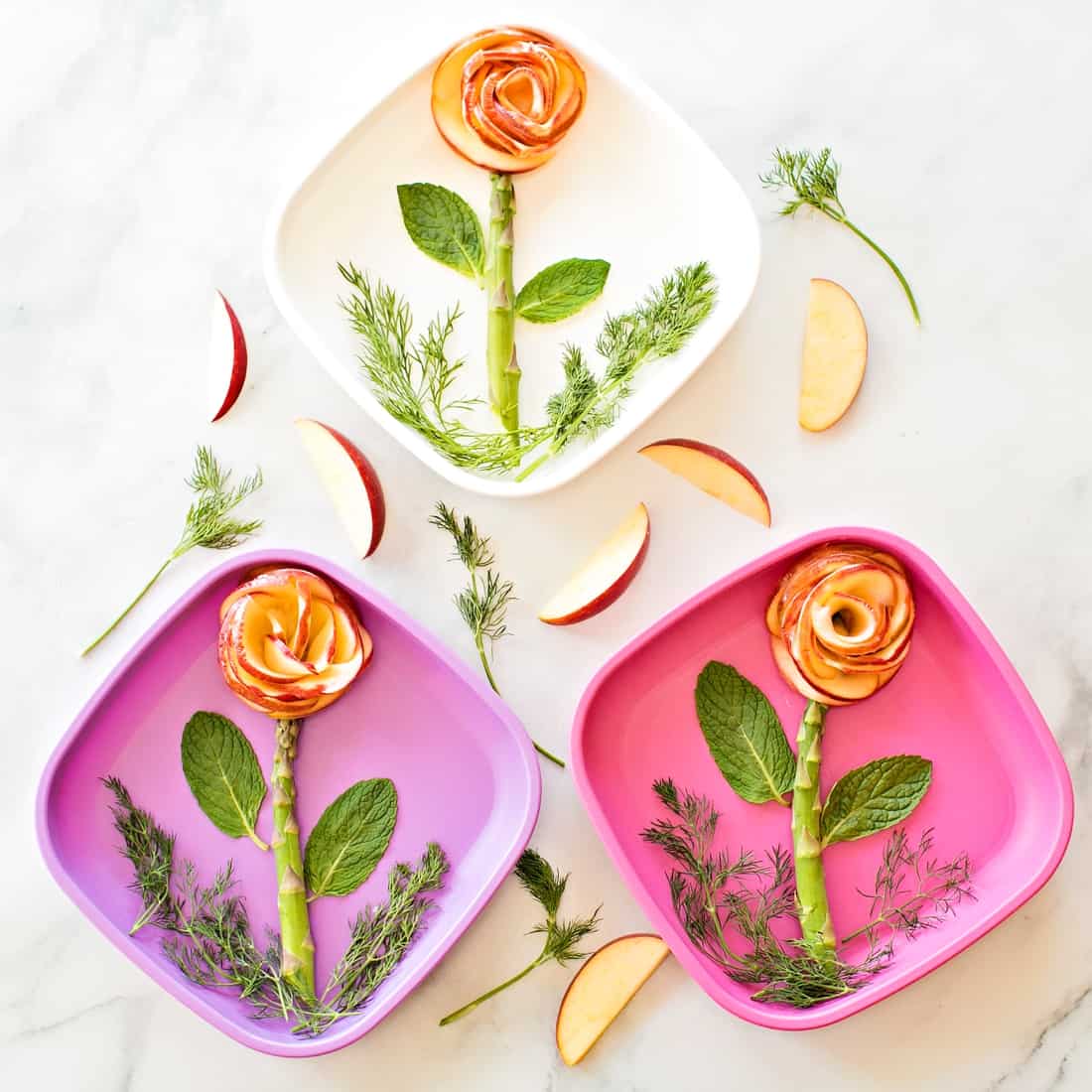 Follow us on Instagram for more fun food ideas for kids!
Make sure to scroll down for the video to make these Apple Roses.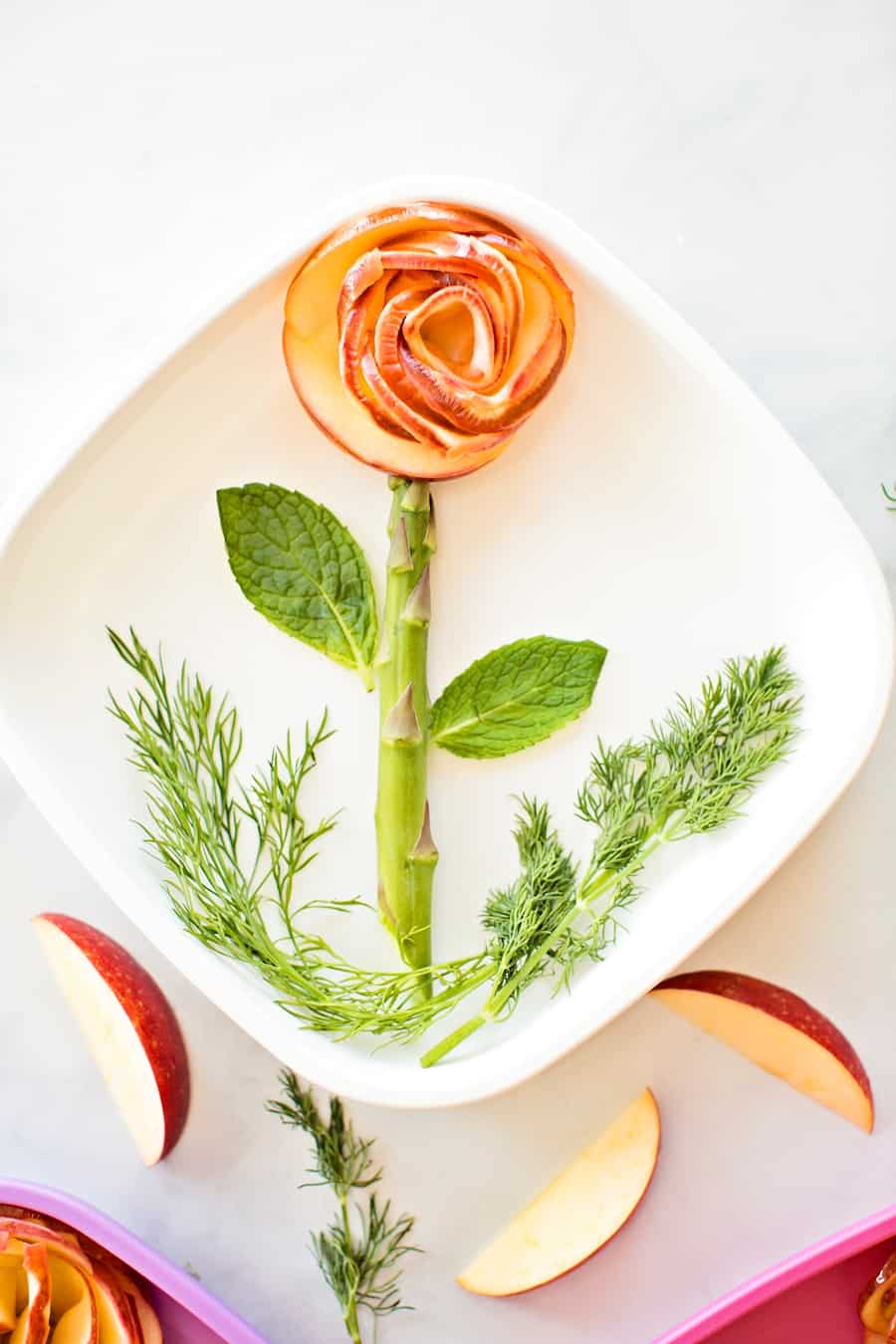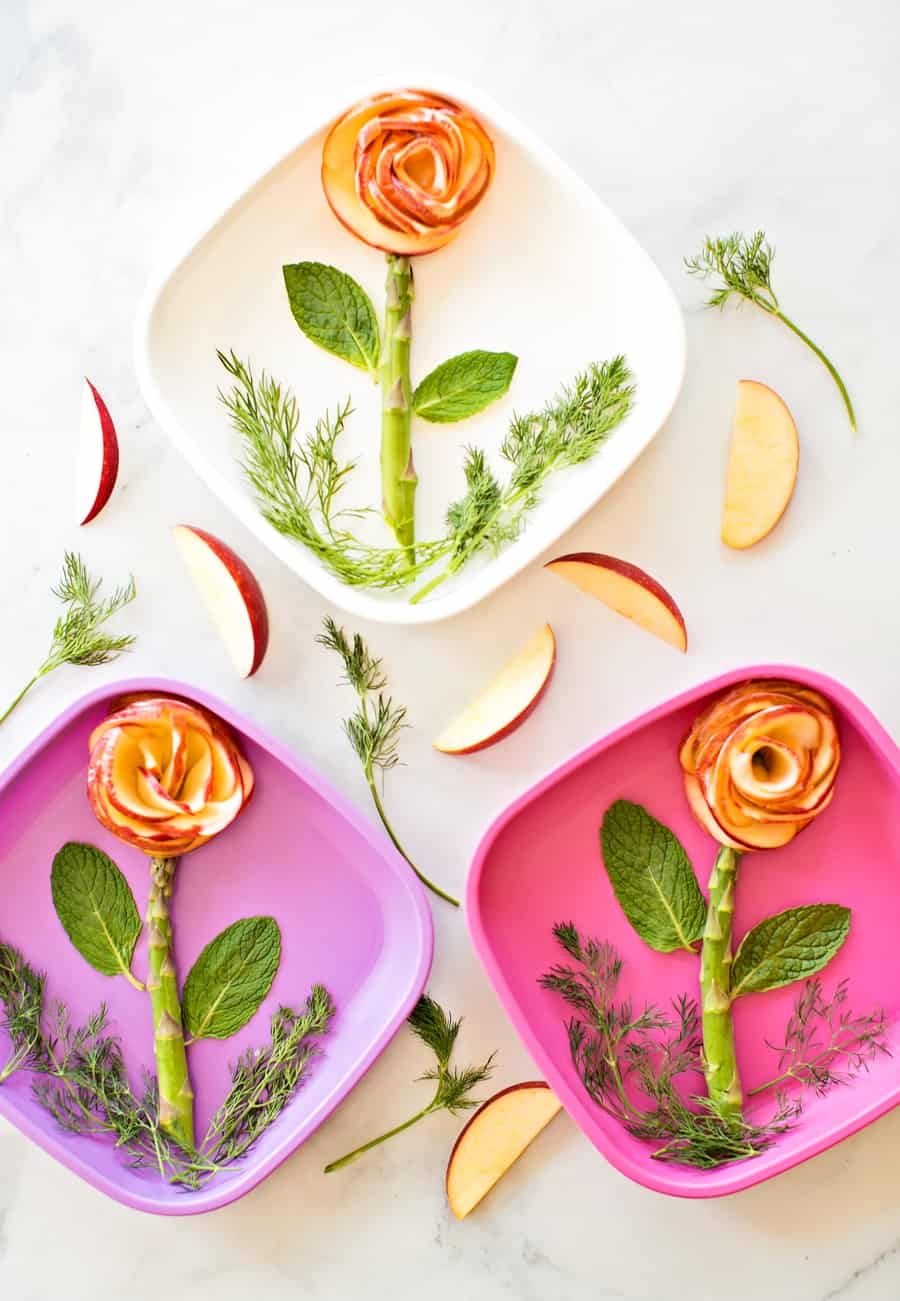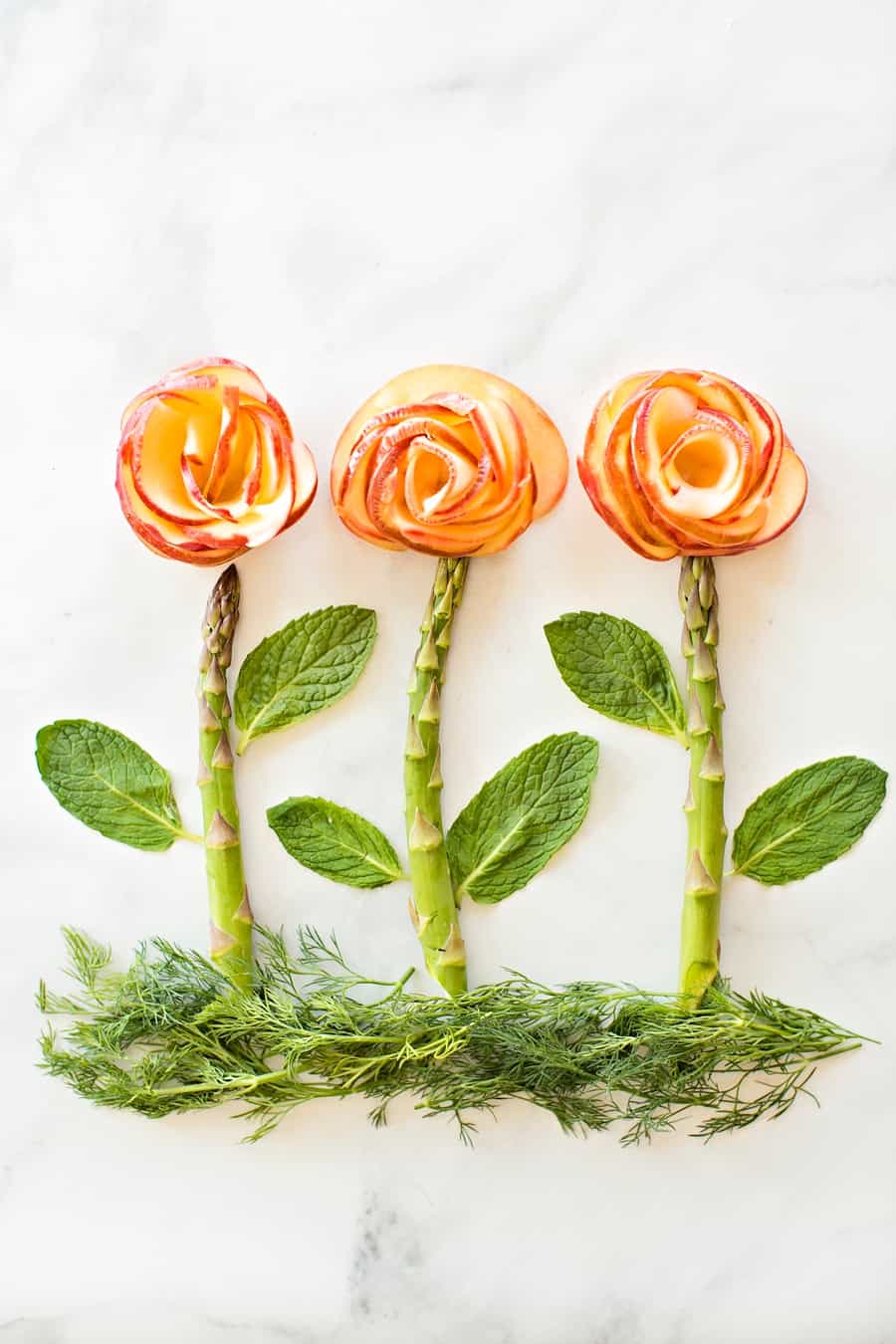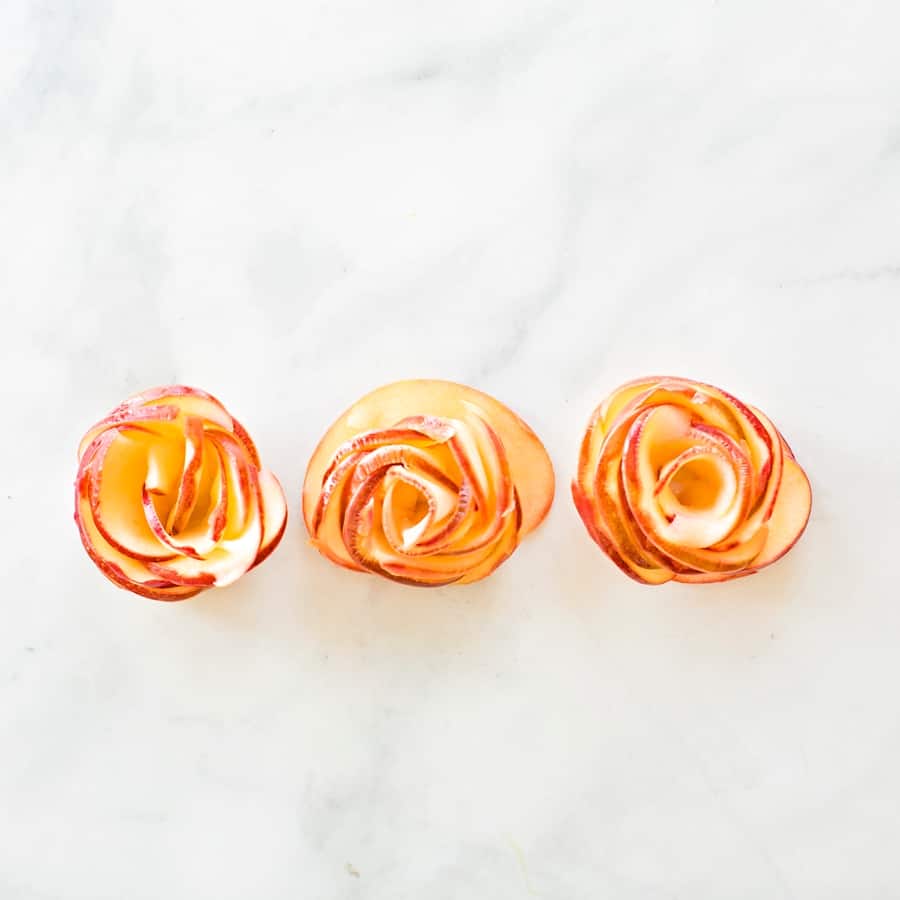 These gorgeous edible roses make a beautiful addition to any brunch, breakfast or lunch! With Mother's Day coming up, they would make a lovely pairing with breakfast. They're also a wonderful opportunity for kids to get in the kitchen and make mom a lovely gift-from-the-heart. A beautiful homemade bouquet that mom will be sure to love, appreciate and enjoy eating!
Pair them with mom's favorite morning foods. Or serve them as a side fruit, they are lightly sweetened and taste great!
I first saw the concept of these apple flowers on Living Wonderment's Instagram who made apple flower roses to create Belle's dress from Beauty and the Beast. How stunning is that?
Find out how easy it is to make Apple Roses for a pretty spring or Mother's Day treat.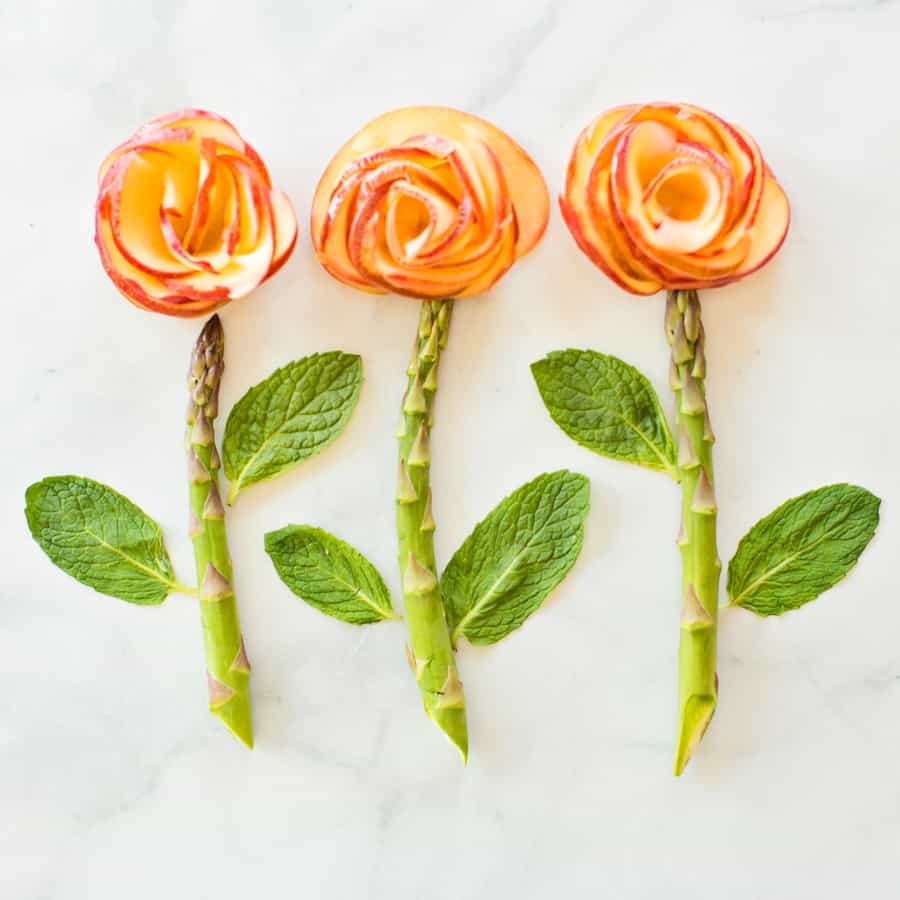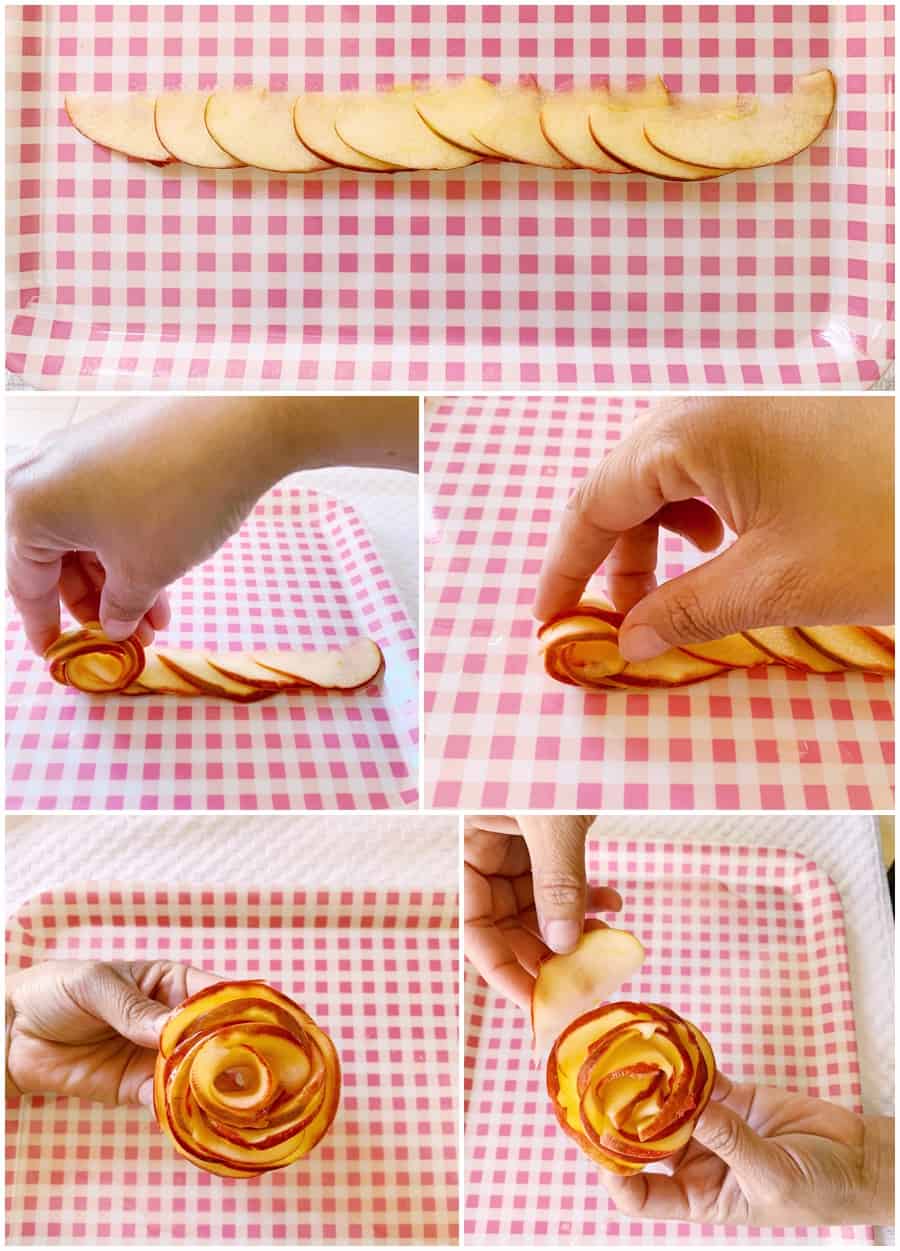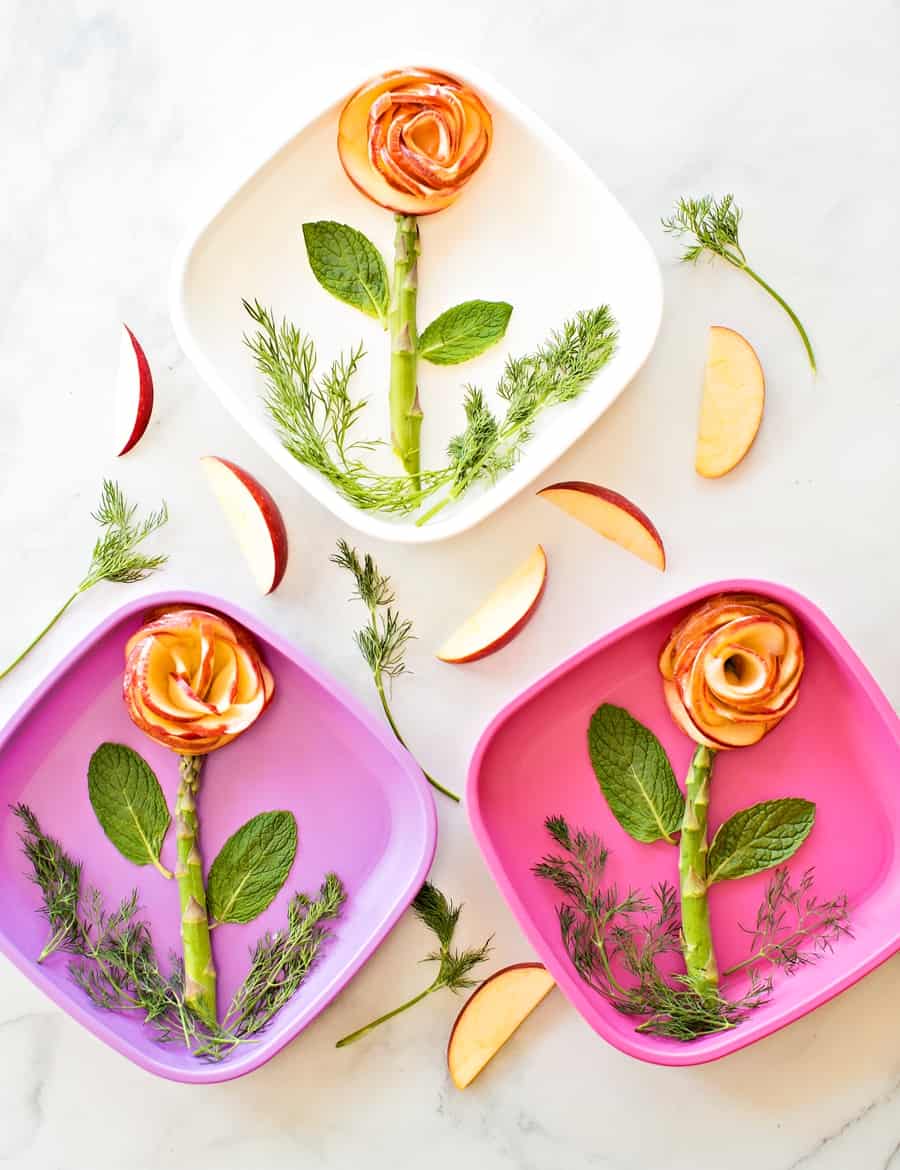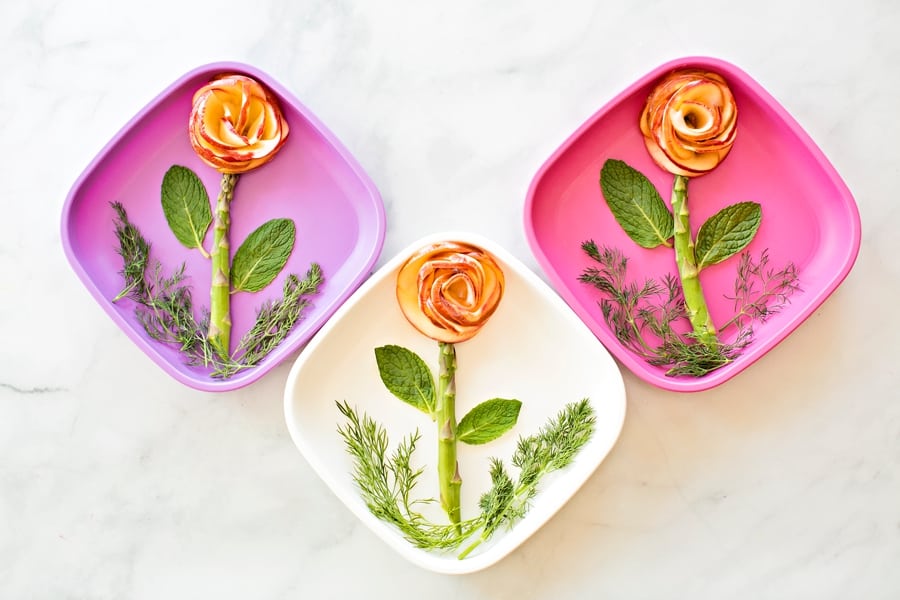 Upon further research online I found several version of apple roses, many of them have been made into tarts and pies before. Who knew they were such a popular thing?!
We just love the simplicity of the apples as roses, so dressed them up to look like real roses with some veggies. An asparagus looks like it has thorns, and mint leaves and dill as grass complete this nature food art.
Scroll down to watch the video on how to make these and follow the instructions below.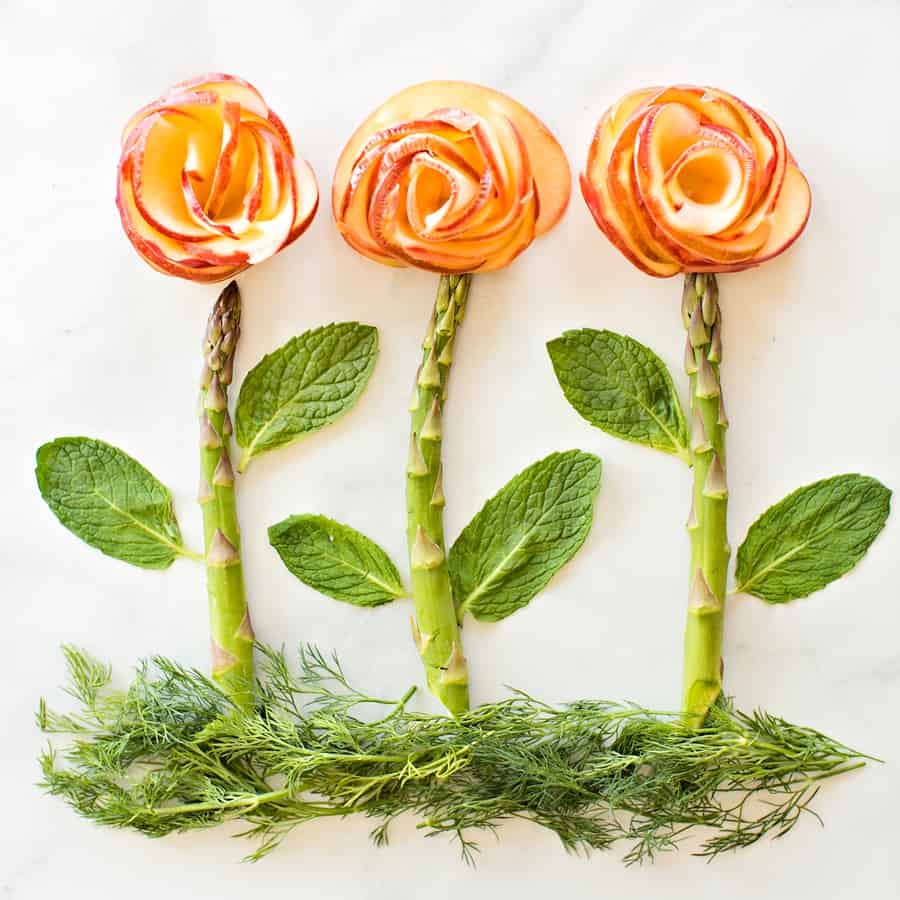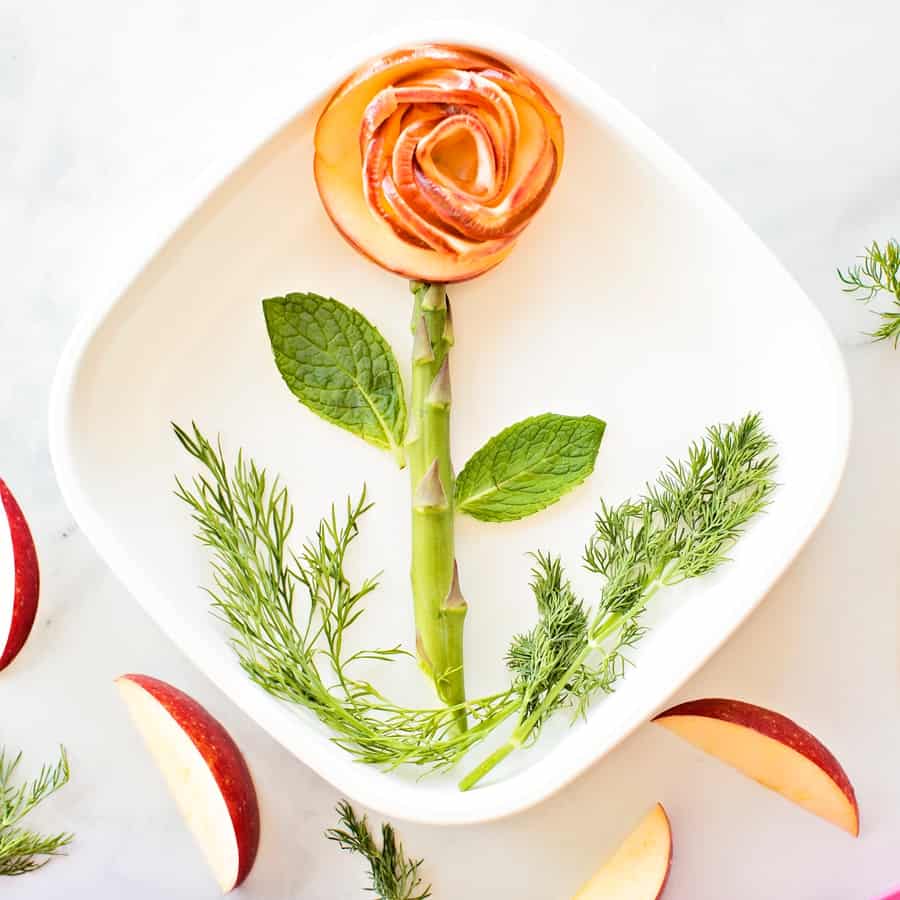 The warm apples combined with the asparagus, dill and mint create a sweet + savory flavor combination that's a fun twist on the apple-pie like versions we've run across. These don't call for added sugar, so they're also a little healthier than most.
If you'd like to "sweeten" yours up a bit, add a dash of cinnamon – you'll be surprised at the difference the flavor of it can make on all it's own! I've found a tiny dash adds just enough of that classic pie spice can trick my mouth into enjoying "sweet" without having to add an actual sweetener.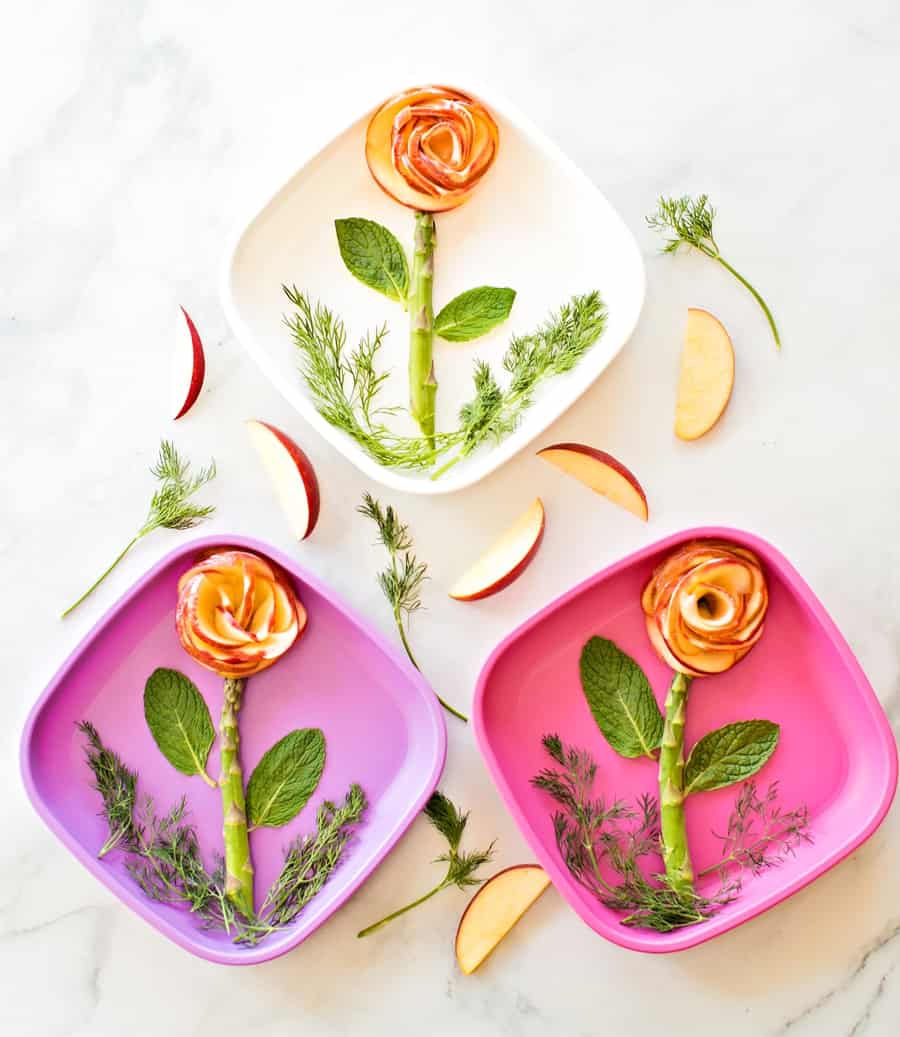 How to Make Apple Roses
These beautiful apple roses make a great Mother's Day brunch or breakfast fruit or special occasion fruit dessert.
Ingredients
1

red apple

large, very thinly sliced

2

lemons

small

4

tbsp

white sugar

or to taste

3

asparagus stalks

mint leaves

dill leaves
Instructions
1. Thinly slice your apple. One large yielded us 3 roses. You'll need approximately 13 thin slices per rose.

2. Add your apple slices in a microwaveable bowl, squeeze two lemons and add your sugar. Stir and let that marinate a bit, 10 minutes or so.

3. When you are ready to start rolling, microwave your apples in lemon/sugar water for 1-2 minutes or until soft and pliable. You don't want to cook them, just get them soft enough to roll.

4. On a clean tray, line up 10 apple slices slightly overlapping (watch the video). Slowly start rolling from one end to the other.

5. Pick up your rose to keep it intact once fully rolled. Add 3 more slices around it to round it out and give it that "in-bloom" look.

6. Add to a plate. Add a clean asparagus stalk, some mint leaves and dill leaves for grass.

Done! Present your beautiful apple rose to make someone's day.
Nutrition
Calories:
114
kcal
Carbohydrates:
31
g
Sodium:
2
mg
Potassium:
164
mg
Fiber:
3
g
Sugar:
24
g
Vitamin A:
35
IU
Vitamin C:
40.9
mg
Calcium:
22
mg
Iron:
0.5
mg
These pretty apple roses would also look lovely for a spring party or bridal shower! They are such stunners, I can picture gifting these for so many special occasions that call for a special, but small gift. Birthdays, holidays, anniversaries -they're so perfect for just about any special occasion.
Are you making mom something special for Mother's Day, and loving this gorgeous flower food art?
Be sure to visit this post with 20 easy ideas for creating food that looks like flowers! There are so many fun flower food options for kids to make AND eat.
Or bake, build and pot an adorable Rice Krispie treat flower – another edible treat that's perfect for party favors or Mother's Day table decoration and gifting.
And these sweet bear holding heart cookies are a simple recipe kids can easily make themselves, then share with friends or box up and send to loved ones!
Watch the video below on how to make edible roses