Follow us on Instagram for more fun food ideas for kids!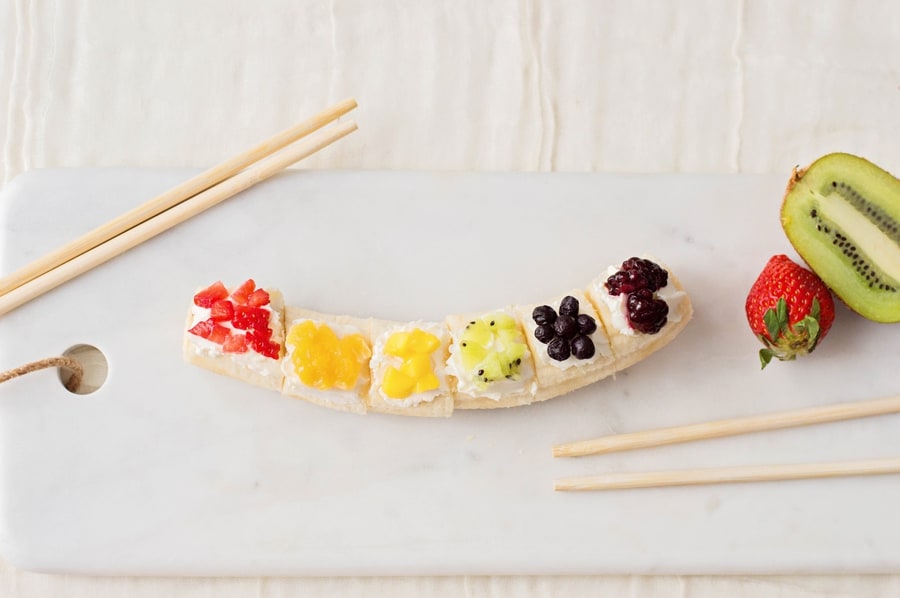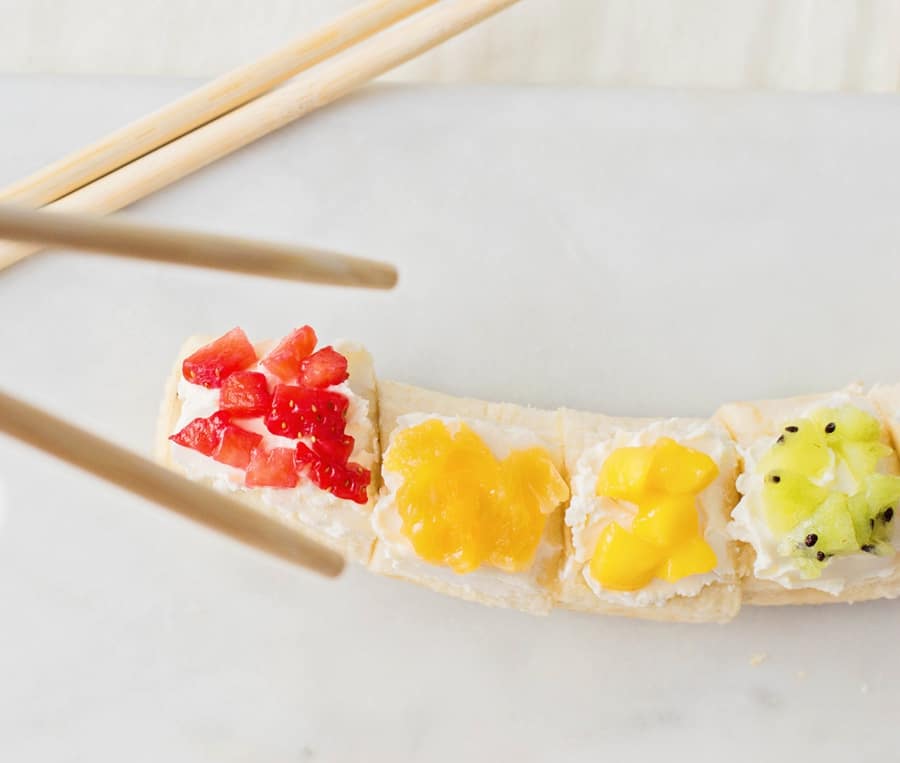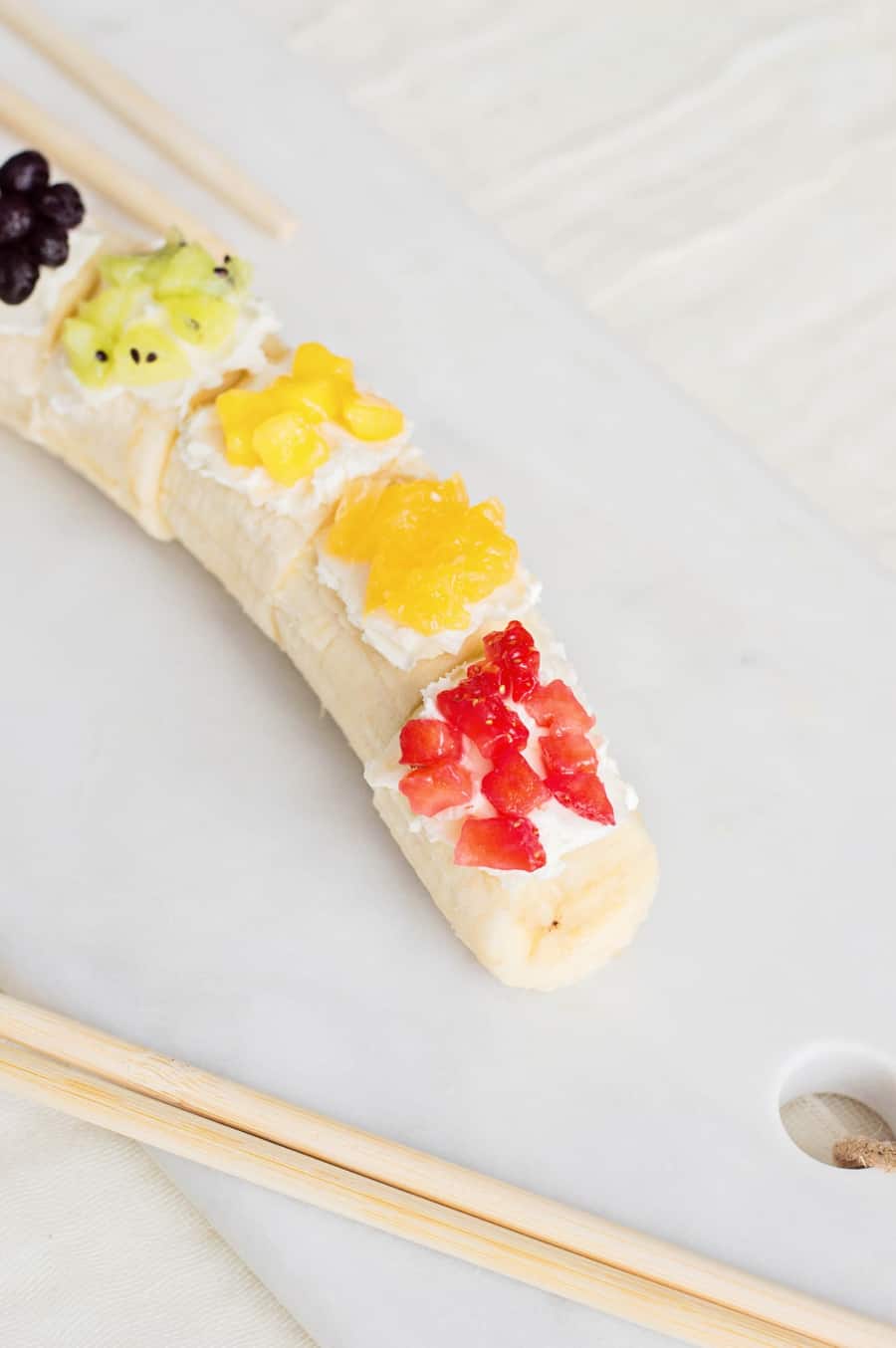 Your kids might pull their noses away from traditional raw fish sushi (mine do, serious kudos to yours if they can appreciate this fine Japanese food!). But they might love this Rainbow Fruit Banana Sushi.
Kids will love THIS Rainbow Fruit Banana Sushi as a snack because it's made with just fresh fruit!
It's a great way to "eat the rainbow" and pile on all your favorite fruits in a few bites.
Check out how easy it is to make this colorful Rainbow Fruit Banana Sushi below.
This delightful fruit sushi is a great start to the day as part of breakfast or add it to round up lunch for some fruit "dessert."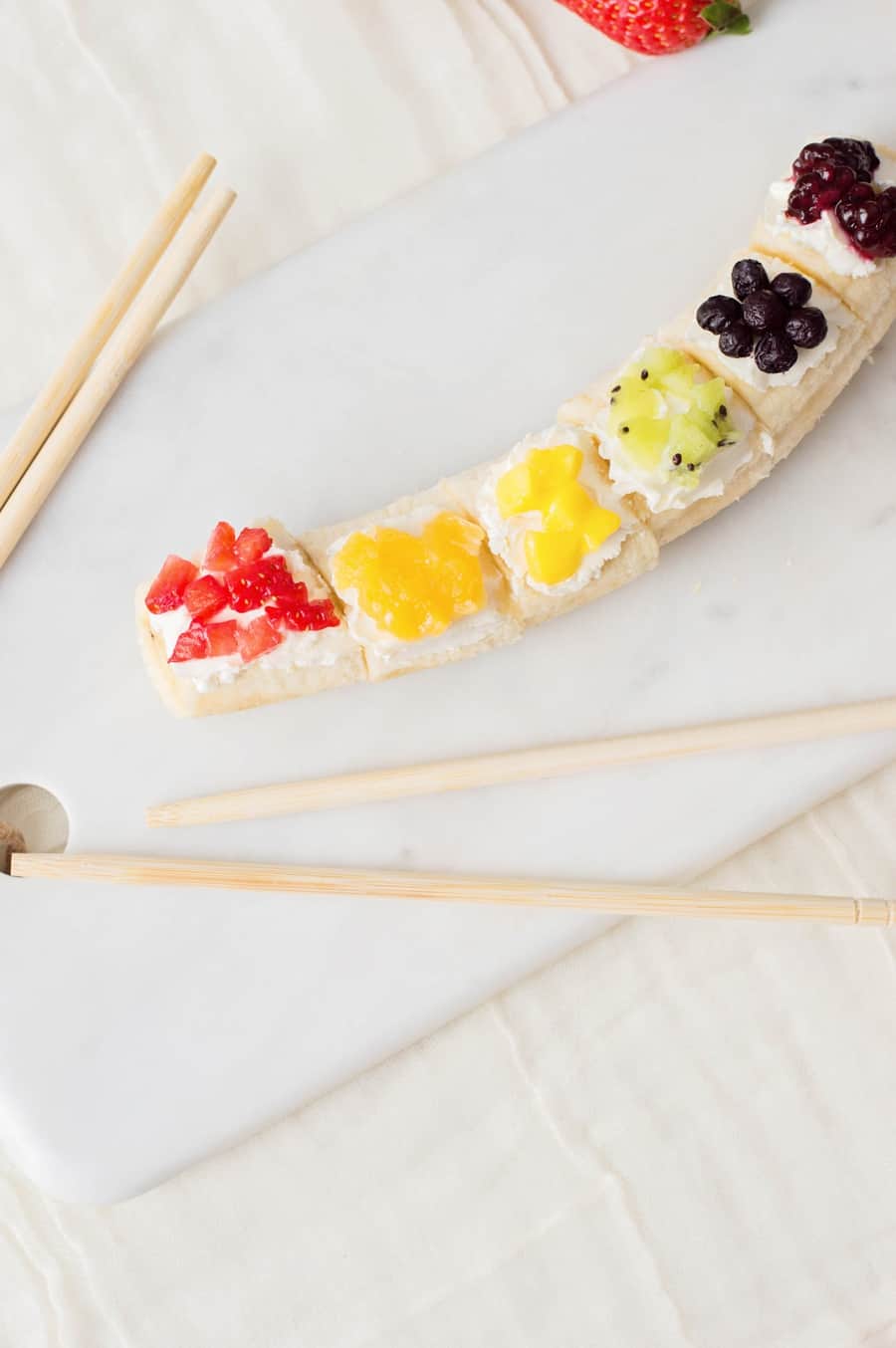 One of my favorite things about this guilt-free treat is that it's packed with antioxidants, vitamins and light proteins.
My kids also have a blast learning to eat with chopsticks. Introducing chopsticks creates a wonderful opportunity for a lesson in the food traditions of other cultures. They're also a great way to get kids to slow down while snacking. Instead of throwing back a handful of something, focus and time must be spent on the process of eating.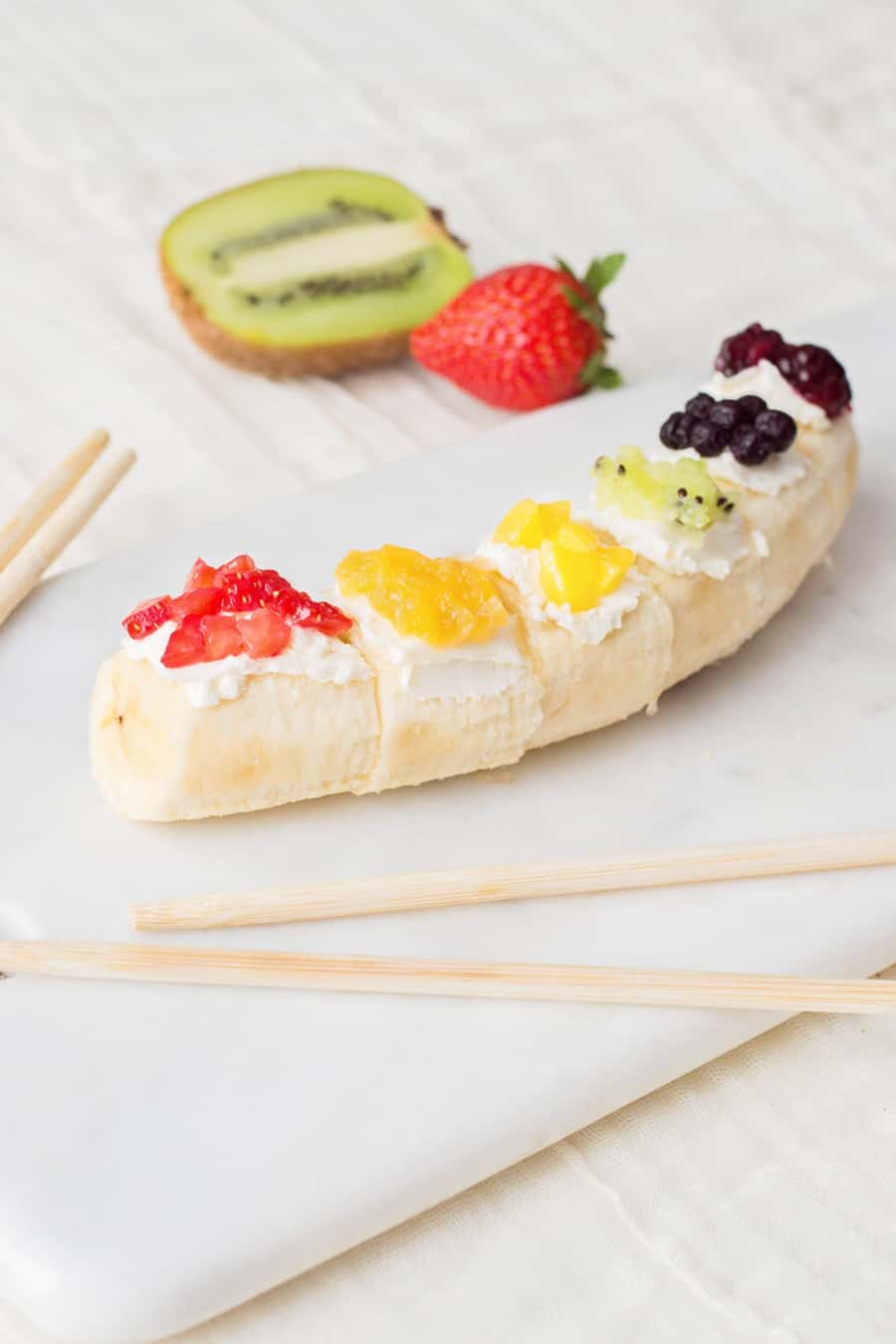 You can also use this snack as a unique way to explore in-season fruits and local shopping.
Creating a game out of finding a "fruit rainbow" for your sushi is a fun way to teach kids about so many things…why fruits are different colors or the colors (types) of fruits that are grown in your area.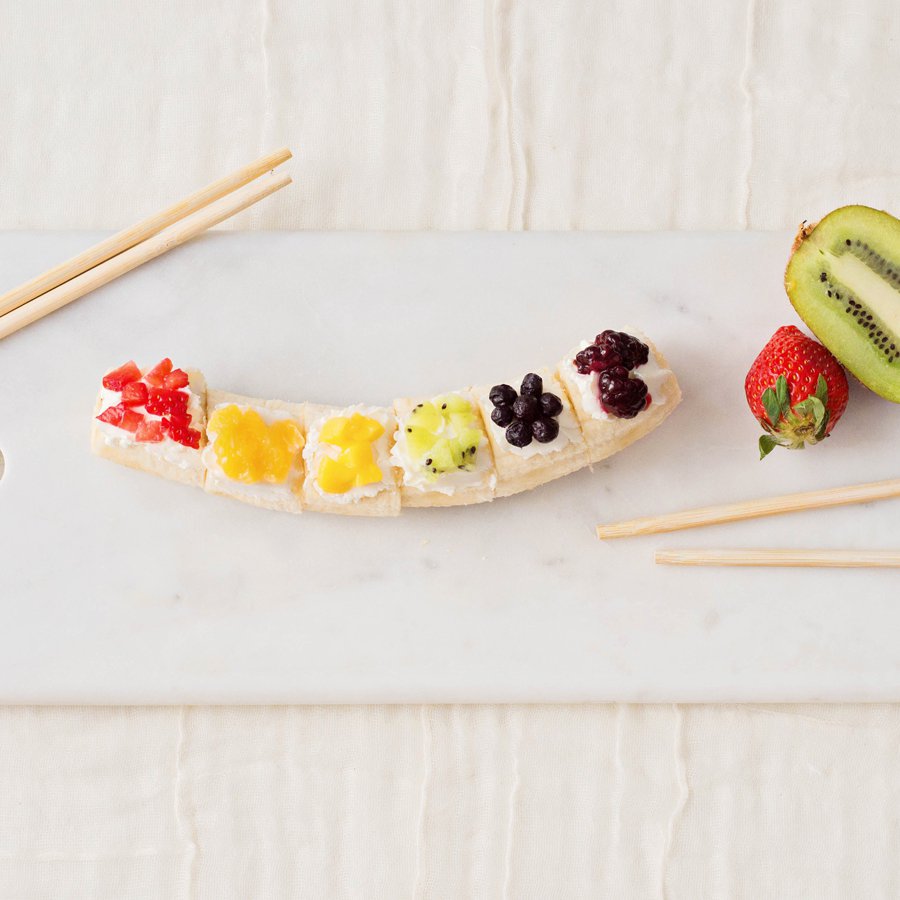 For older kids, this snack is a perfect make-it-yourself intro to chopping and the proper use of kitchen tools like paring knives.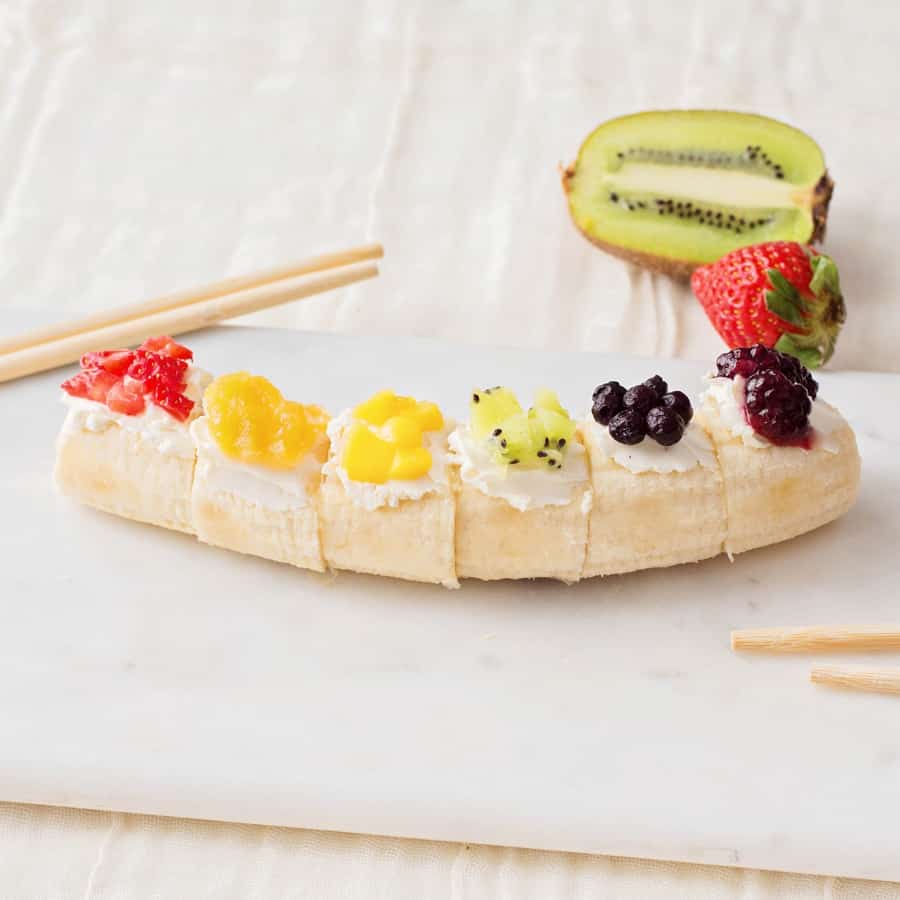 To assemble 1 sushi banana, you'll need the following ingredients (But, don't waste! 1 sushi banana only requires a little bit of each fruit, so be ready with some tasty leftovers… perhaps a fruit salad at the end of the day?)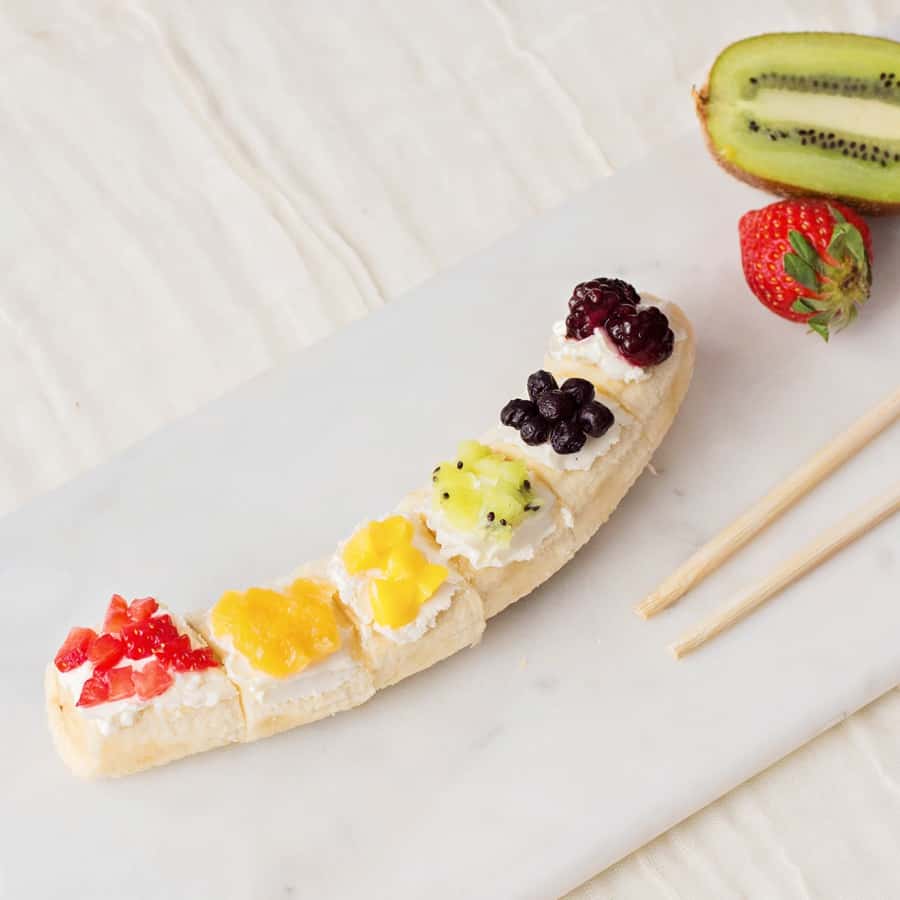 This yummy snack is so beautifully colorful, but also such a TASTY treat!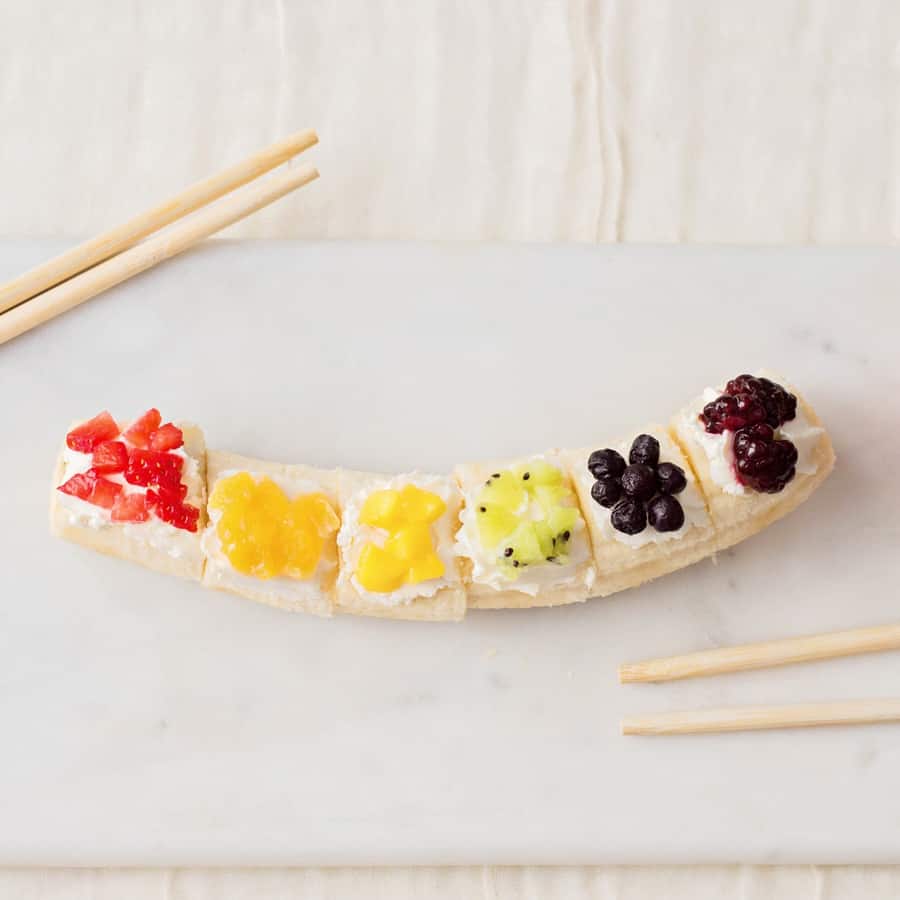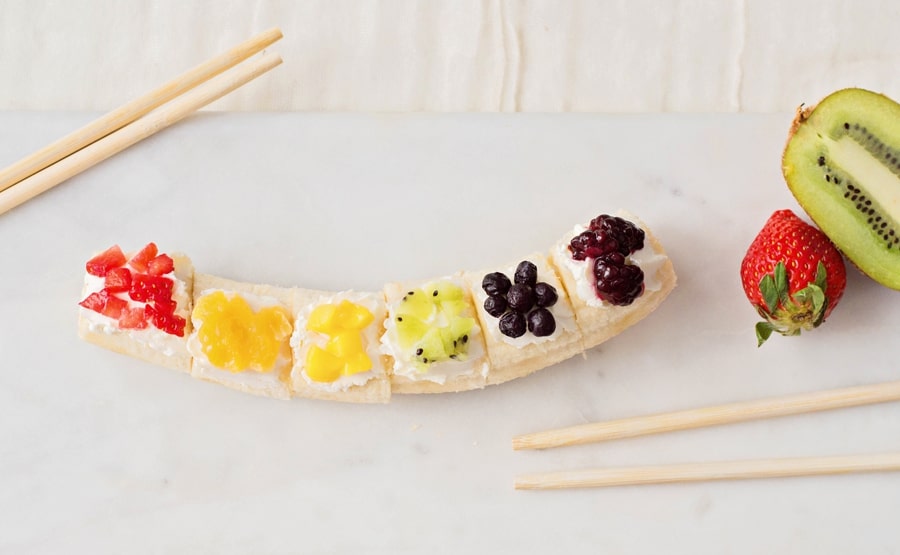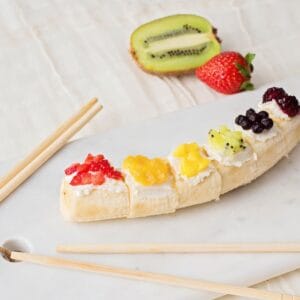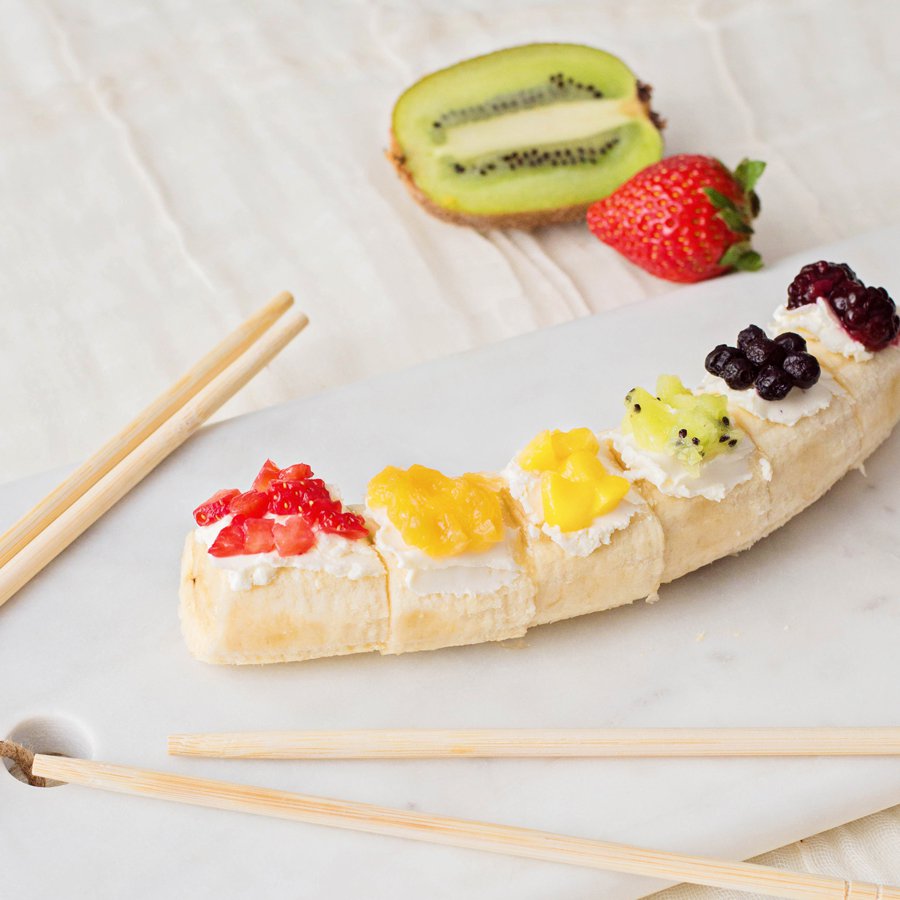 Rainbow Fruit Banana Sushi
Make this healthy rainbow fruit banana sushi. A great way for kids to taste different flavored fruits!
Ingredients
1

Banana

1

Strawberry

1

Orange Slice

1

Mango

1

Kiwi

4-4

Small or wild blueberries

1-2

Small Black berries

2-3

TBSP

Cream Cheese

Whipped or Softened
Instructions
Peel your banana and lay it on a cutting board. Cut it into 6 even pieces and set aside.

Dice a portion of each of the following fruits: strawberry, orange slice, mango and kiwi.

You may cut your blackberries in small pieces, or dice if you prefer.

**The wild blueberries are small enough that you can fit a few on the surface of the banana piece.

Spread cream cheese on top of each banana piece.

Sprinkle each banana with your fruit, in the following order: strawberry, orange, mango, kiwi, wild blueberries and blackberries.

Serve with chopsticks and enjoy!
Nutrition
Serving:
1
g
Calories:
372
kcal
Carbohydrates:
69
g
Protein:
5
g
Fat:
11
g
Saturated Fat:
5
g
Cholesterol:
31
mg
Sodium:
98
mg
Potassium:
1023
mg
Fiber:
8
g
Sugar:
48
g
Vitamin A:
2330
IU
Vitamin C:
168.6
mg
Calcium:
77
mg
Iron:
0.8
mg
For more yummy twists on classic foods, be sure to check out:
Peanut Butter and Jelly Pull Apart Bread – revisit an old favorite with this warm, gooey twist on a traditional kid lunch.
Our Sheet Pan Breakfast Pizza – pizza AND breakfast are reimagined with this simple mashup!
This One Bowl Skillet Chocolate Chip Cookie – the yummiest, easiest way to create a delicious, eye-popping classic dessert!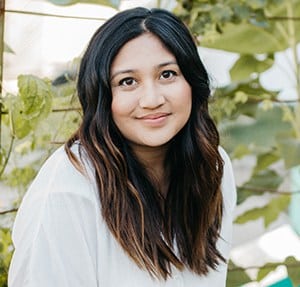 Lisa Favre is a mom, wife, content creator, and full-time dessert enthusiast. When she's not busy in the kitchen, Lisa loves travelling with her family, exploring new cities and territories. As the blogger of fabuloushabits.com, you will often see her looking through a lens, photographing her next project!
______________________________________________________________________________________________________
Disclosure: Some of the links in the post above are "affiliate links." This means if you click on the link and purchase the item, we will receive a small affiliate commission. Regardless, we give our promise that we only recommend products or services we would use personally and believe will add values to our readers.