Follow us on Instagram for more fun food ideas for kids!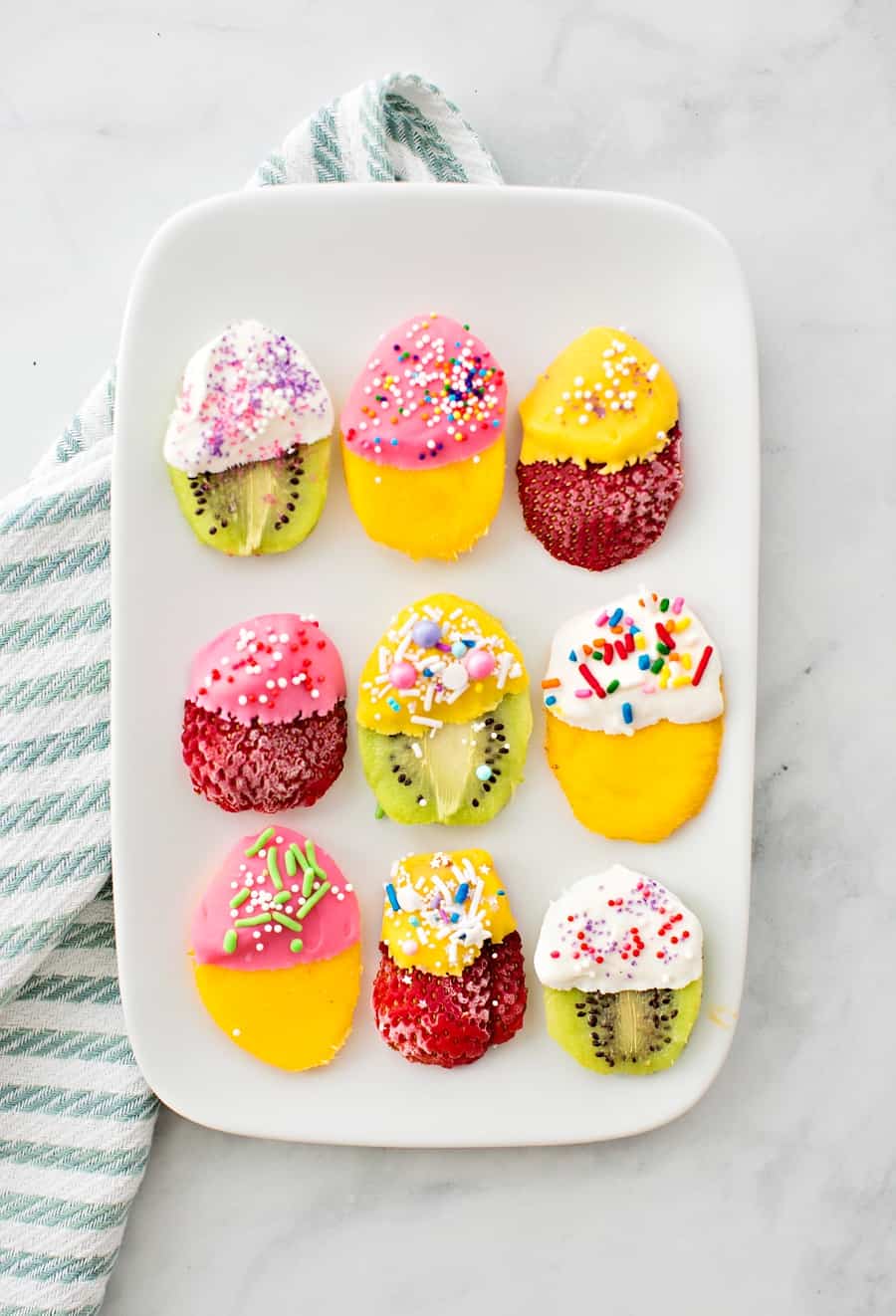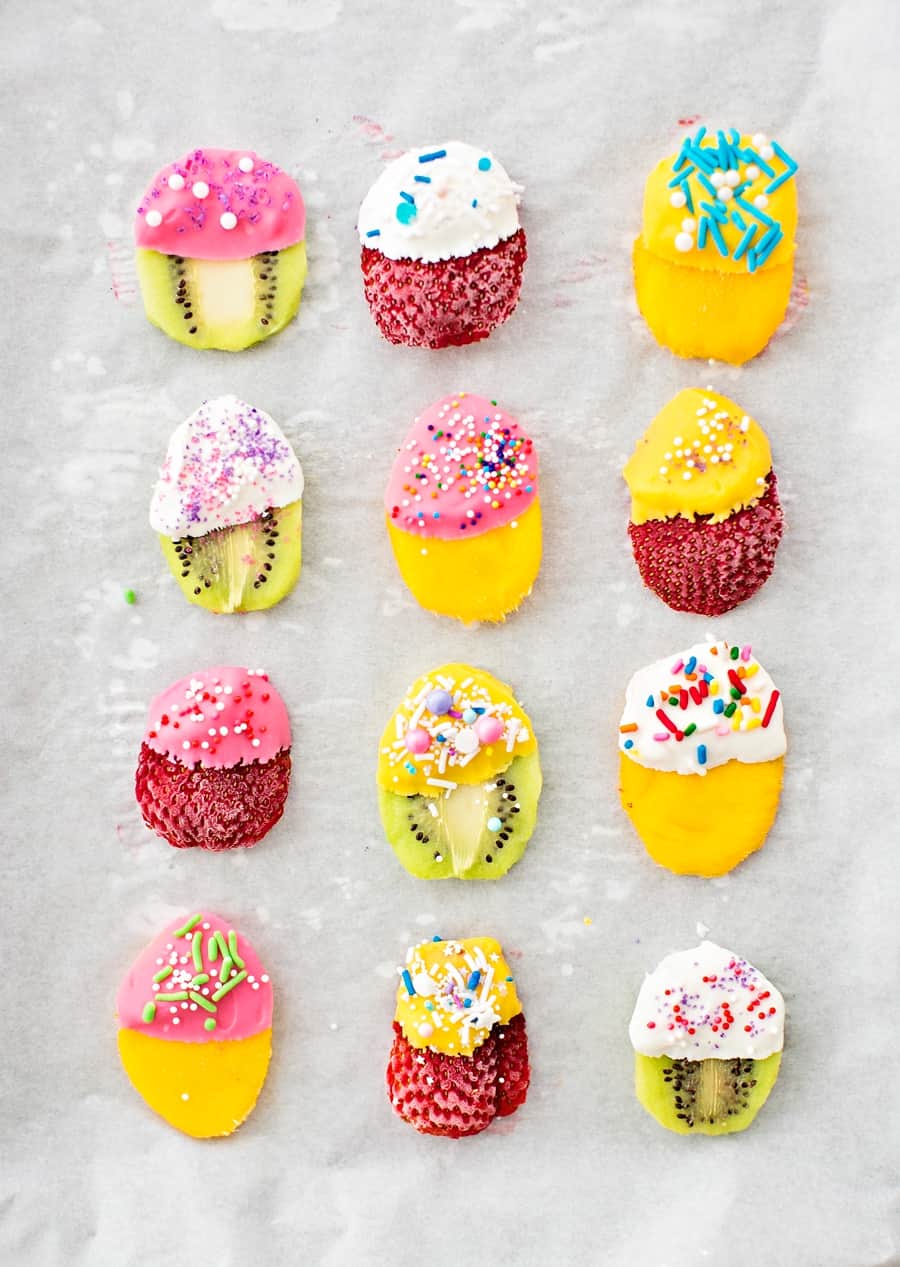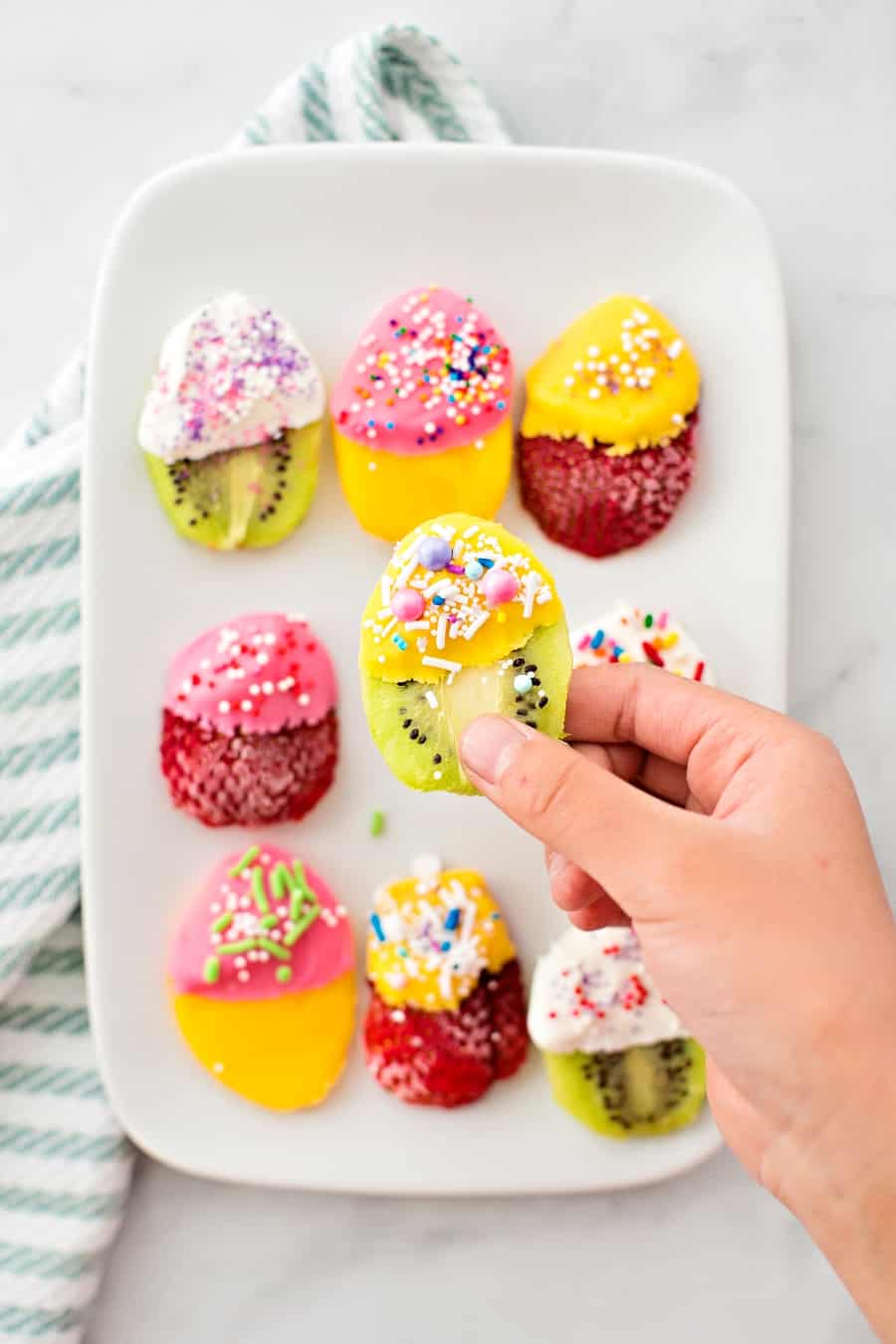 Looking for a cute and easy Easter Treat for the kids? Look no further than these Easter Egg Fruit Snack for Kids. 
These Easter Egg Fruit Snacks make an adorable and healthy Easter treat for kids.
We used candy melts to dip the fruit but you could go healthy with some yogurt instead! We like these frozen so the melts harden right away. You could easily do the same and have a frozen yogurt fruit treat! We love making frozen yogurt bark this way for an easy yummy snack for kids. 
Simply slice your favorite fruits, and use kitchen scissors or a sharp knife to cut around the shape to turn into an oval for an egg shape!
Don't worry about getting it perfect as you can tell ours aren't perfectly oval egg shapes. Once you dip and sprinkle they will look more like decorated eggs!
This post was originally published on 4/8/19 and republished on 2/18/2020.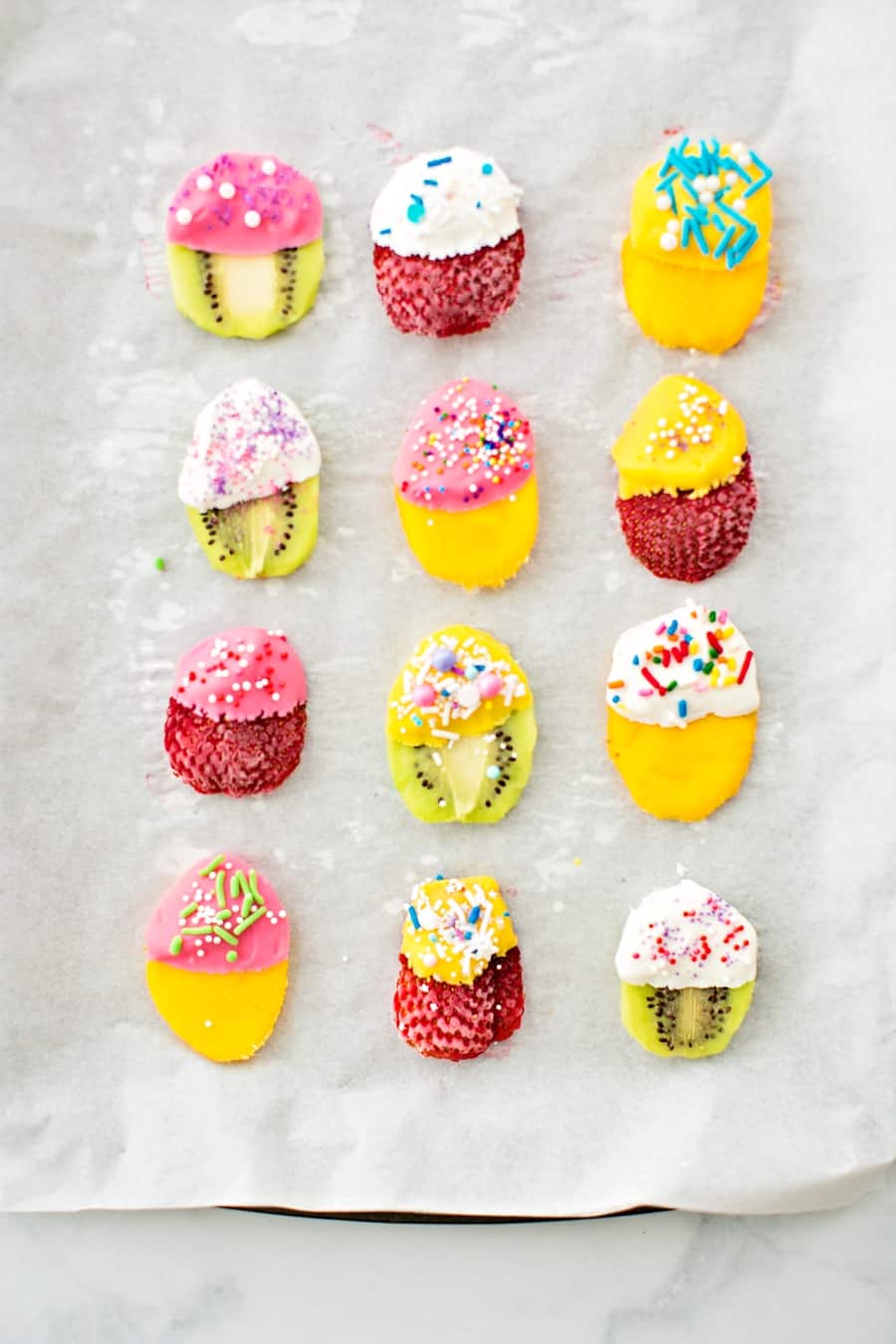 Spring is a season filled with color and scents, and this bright little spring finger food favorite is all about the fruit. You can use whatever is in-season (a great opportunity to discuss the importance of shopping local with kids) and create your own variety of spring color combinations.
The touch of candy with the natural fruit flavor is guaranteed to satisfy your sweet tooth.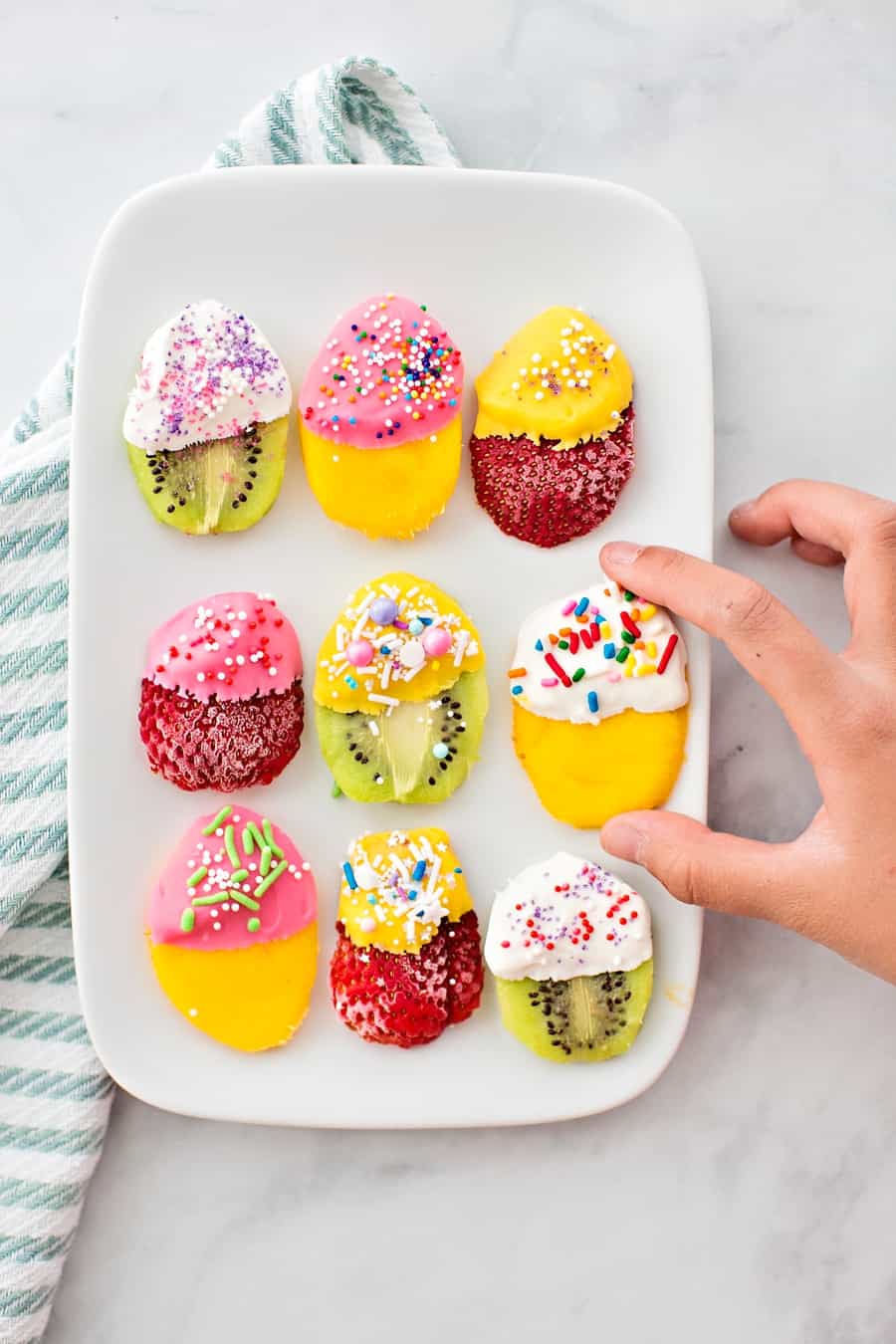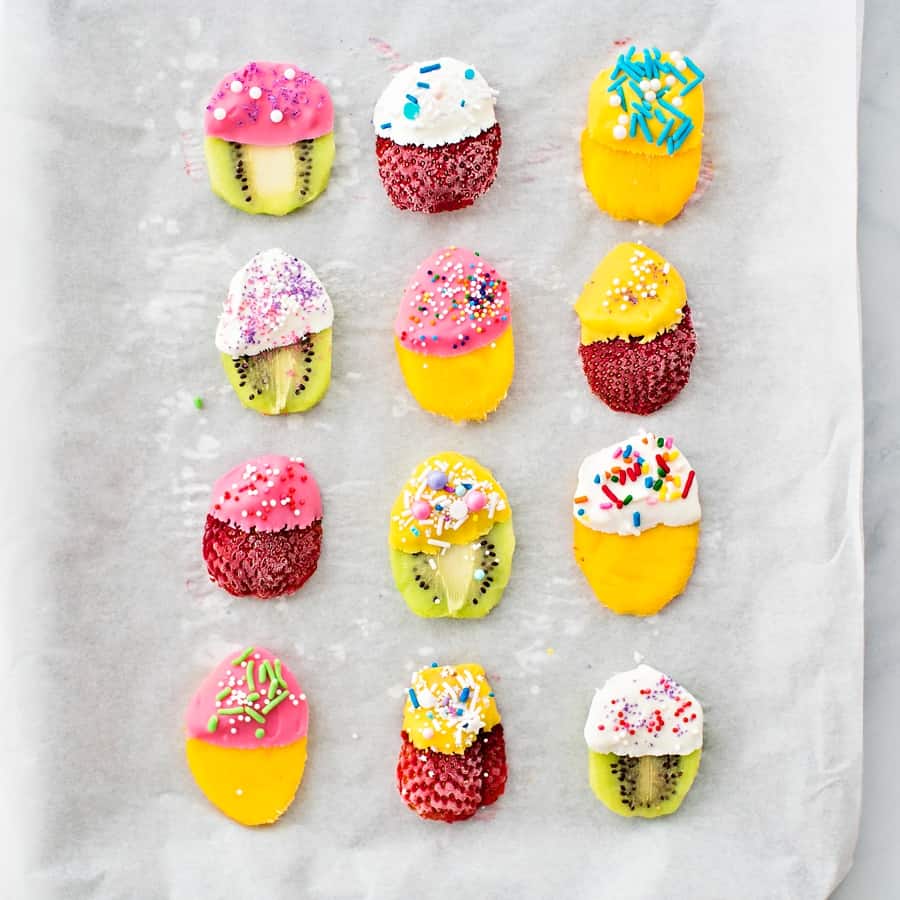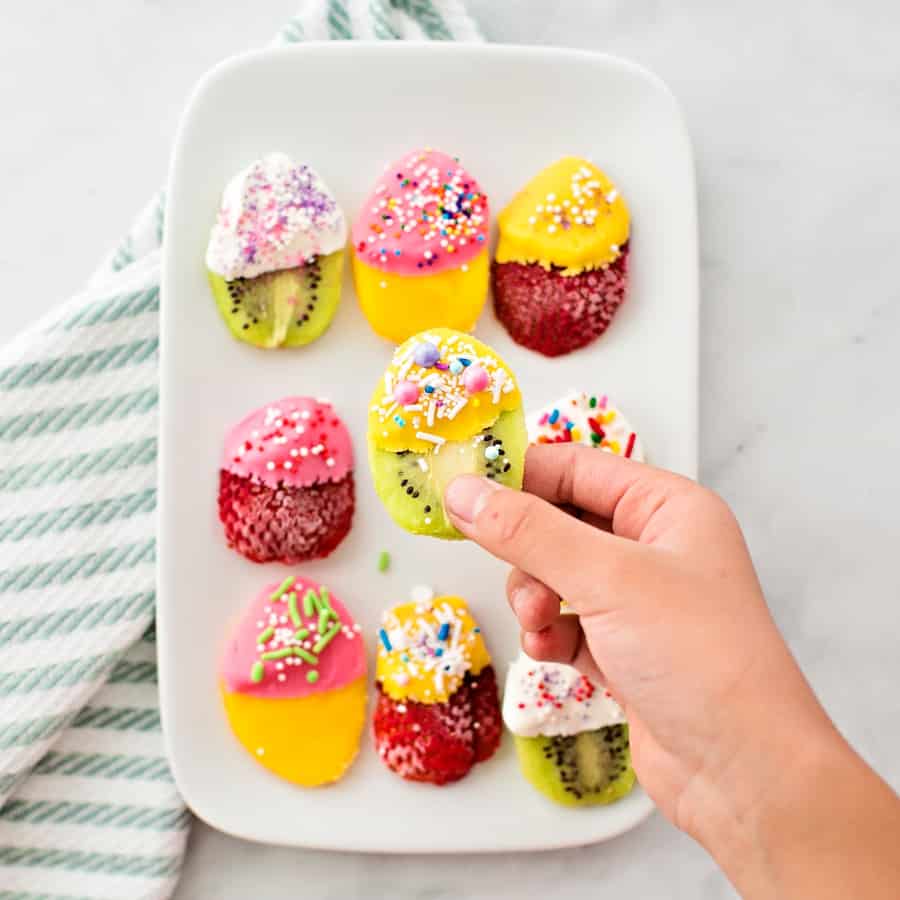 How to make this Easter Egg Fruit Snack for Kids
Freezing the fruit makes them easier to handle and dip. We simply laid out the cut fruit on some parchment paper and froze for an hour or until firm.
The dipping and sprinkling is fun for kids! Lay out a sprinkle station, small bowls filled with sprinkles and have kids dip and add sprinkles on top. Remember since the fruit is cold, the dip will freeze fast so you have to sprinkle quick before it sets! We chose sprinkles in spring colors, but you can use any variety of toppings.
Use melted chocolate, candy melts or yogurt! Add back to the freezer for a quick freeze before consuming. We actually keep them cold this way, my kid love frozen fruit! And they last much longer this way. However you can also just refrigerated for a few days for softer fruit.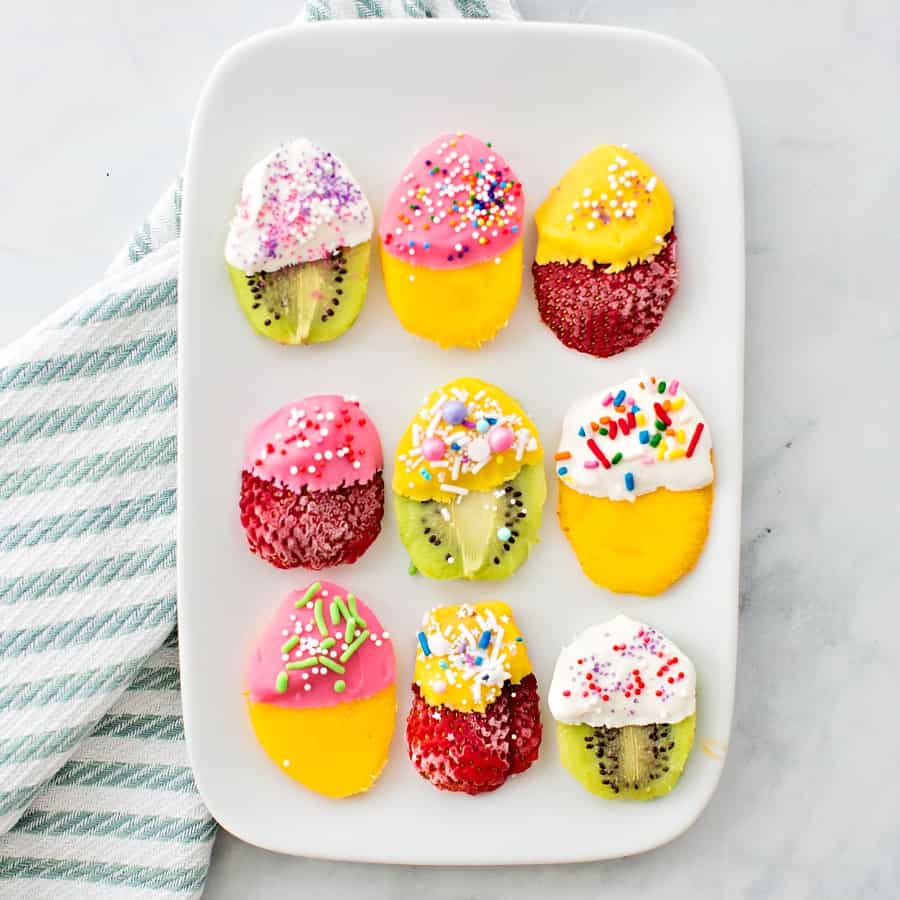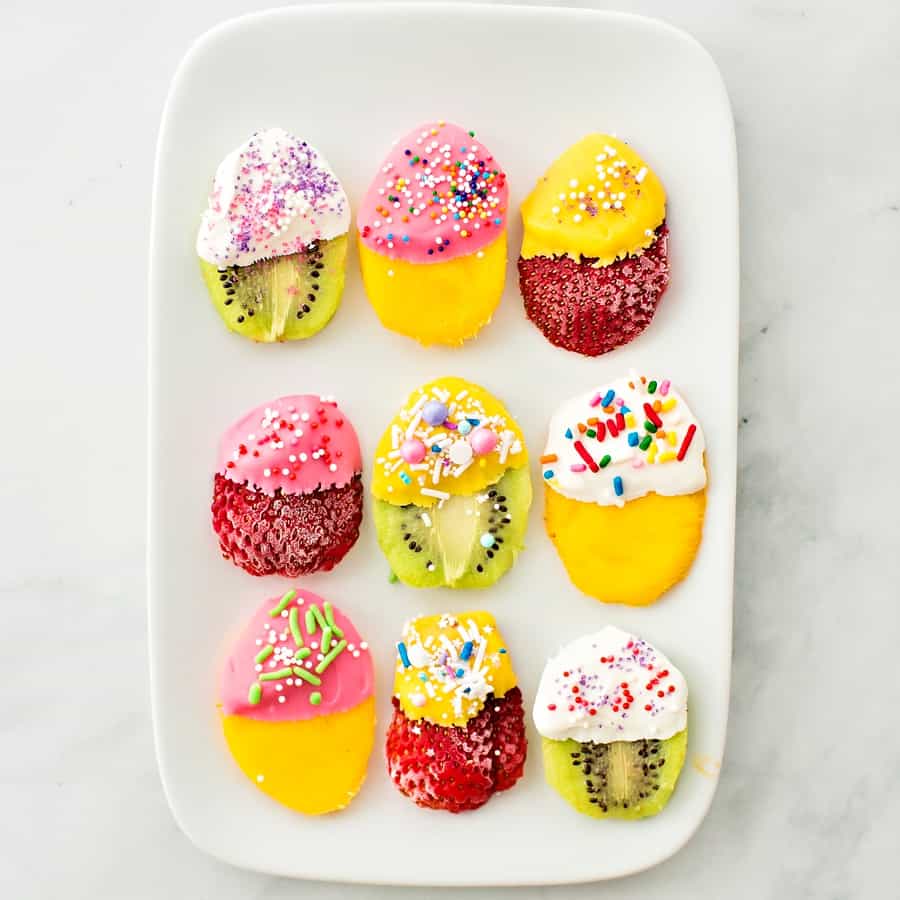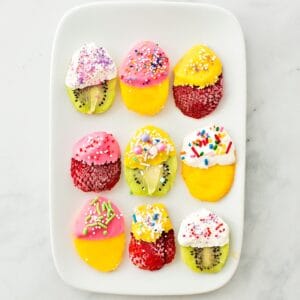 Easter Egg Fruit
Make this easy healthy Easter Fruit Snack or Treat for kids!
Ingredients
1

Kiwi

1

mango

2

strawberries

1/2

cup

yellow candy melt

1/2

cup

white candy melt

1/2

cup

pink candy melt

3

tsp

vegetable oil

various sprinkles
Instructions
1. Slice your fruit into an oval egg shape. Use kitchen scissors or a sharp knife to trim into an egg shape.

2. Line the fruit on a parchment lined baking tray and freeze until hard, about an hour.

3. Melt your candy melts in 3 separate microwave proof per color, add a teaspoon of vegetable oil per bowl. Microwave one bowl at a time in intervals of 30 seconds, stirring in between until candy melt is smooth and melted.

4. Remove your frozen fruit from freezer, dip halfway in candy melts, sprinkle immediately as the melts will harden once it reaches the cold fruit.

5. Keep in freezer or refrigerator to keep fruit fresh.

Note: you may use yogurt instead of candy melts. Tint if you'd like using food coloring and follow the same steps above except there is no need to melt.
Nutrition
Calories:
42
kcal
Carbohydrates:
5
g
Fat:
2
g
Saturated Fat:
1
g
Sodium:
4
mg
Potassium:
49
mg
Sugar:
5
g
Vitamin A:
155
IU
Vitamin C:
13.2
mg
Calcium:
4
mg
Iron:
0.1
mg
During a season when there's so much emphasis on candy and sweet treats, this is nice way to sneak in some fresh fruit for a kid-friendly special spring snack. The fruits we used are high in vitamins and antioxidants, and you don't need much melted candy or very many sprinkles to make them look festive.
Seasonal snacks are some of our favorite – especially come spring!
For a super cute spring-themed snack that's loaded with protein, try these bunny, chick and sheep Easter toasts. The adorable-ness is off the charts!
These cake-in-eggshells Easter treats are hiding a sweet surprise…they're filled with yummy baked-in dessert! Easter eggs have never been so delicious.
Or fill your spring table with  a blooming garden of potted flower Rice Krispie treats. Definitely one of my new favorite spring party favors and a fun twist on an edible bouquet.