By using this site, you agree to our Terms of Use. This post may contain affiliate links. Read our disclosure policy.
Follow us on Instagram for more fun food ideas for kids!
My 3 Year Old Baked Ina Garten's Bittersweet Chocolate Cake and it was the perfect, fudgy, rich chocolate cake!
Dash, my 3-year-old has a series called Dash Bakes the Greats where he bakes a favorite chef recipe. For his second episode, he chose Ina Garten's Bittersweet Chocolate Cake. Chocolate cake is a favorite among children and adults alike, and this cake doesn't disappoint. It really is like a giant fudgy, perfectly rich brownie topped with whipped cream! The taste is decadent, but the best part is how simple this easy chocolate cake recipe is! You need just a few key ingredients and one bowl and pan to mix and bake it all up! It's the ideal chocolate cake to make with your kids.
Watch the video in this post to watch Dash bake this chocolate cake recipe by Ina Garten.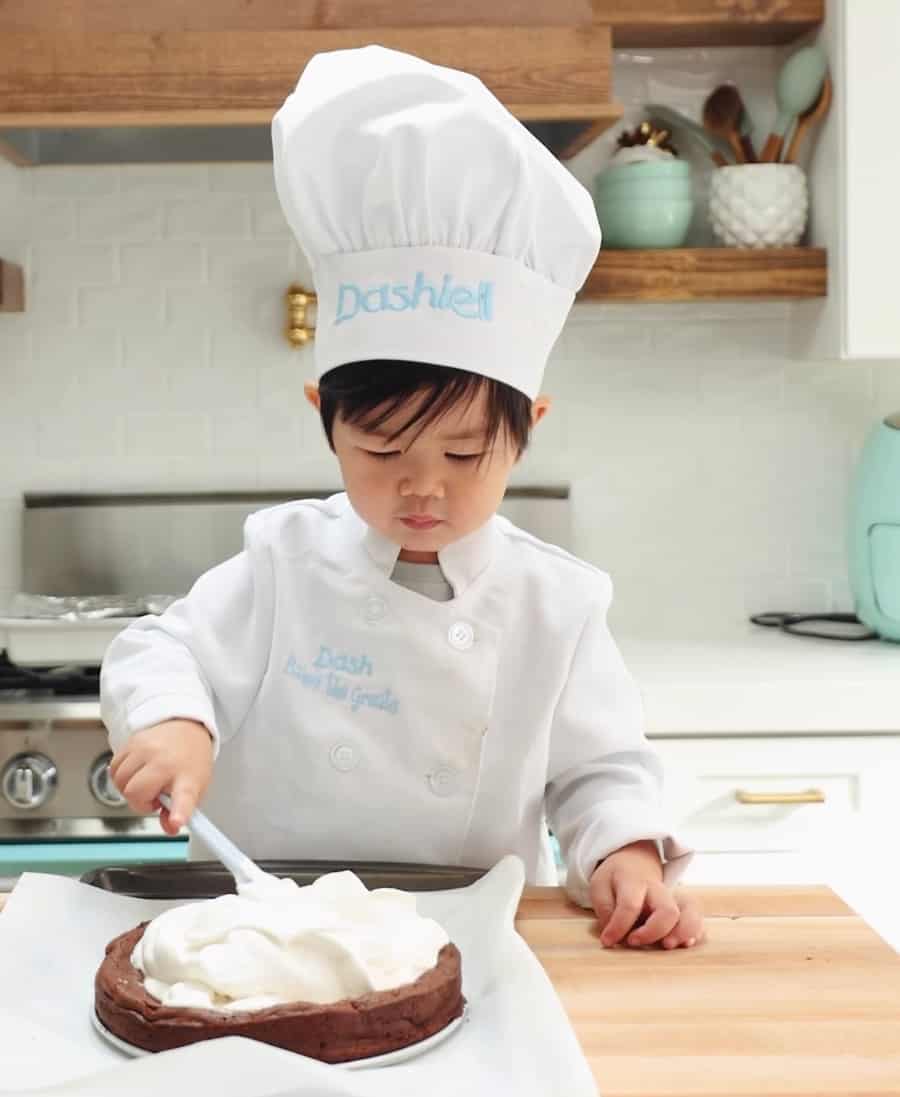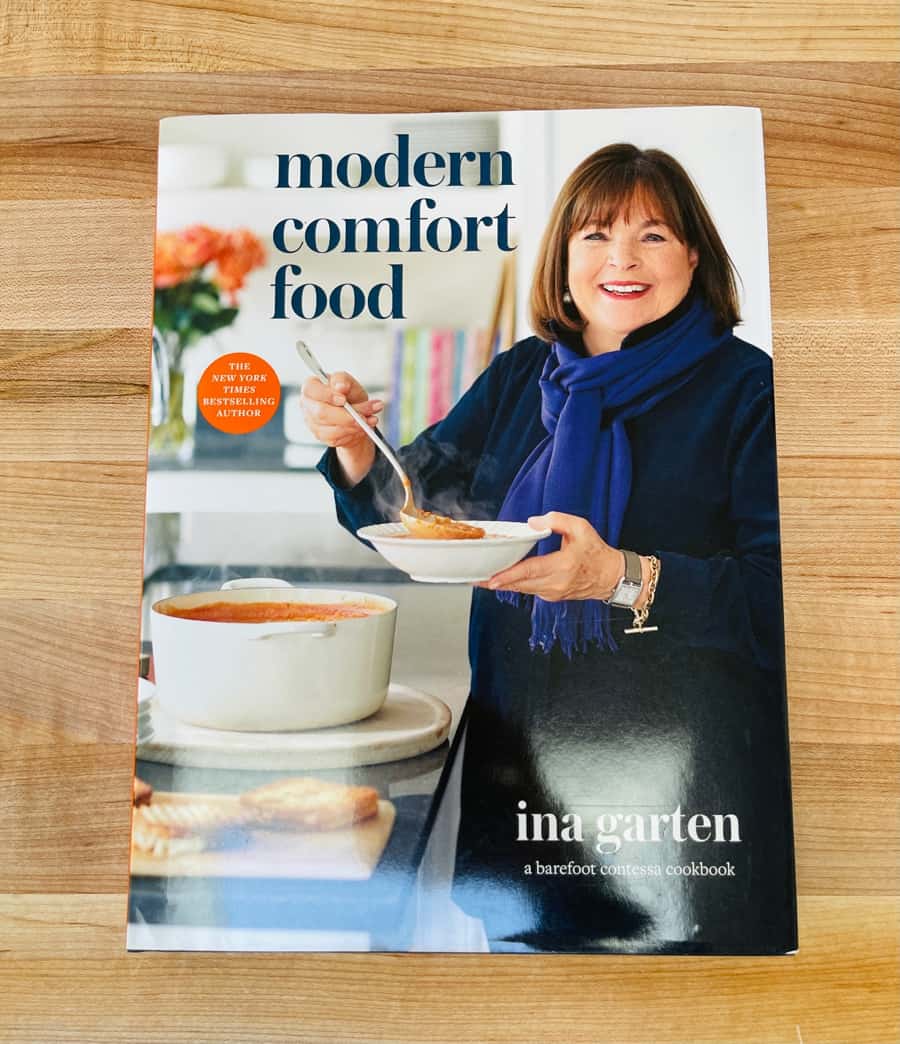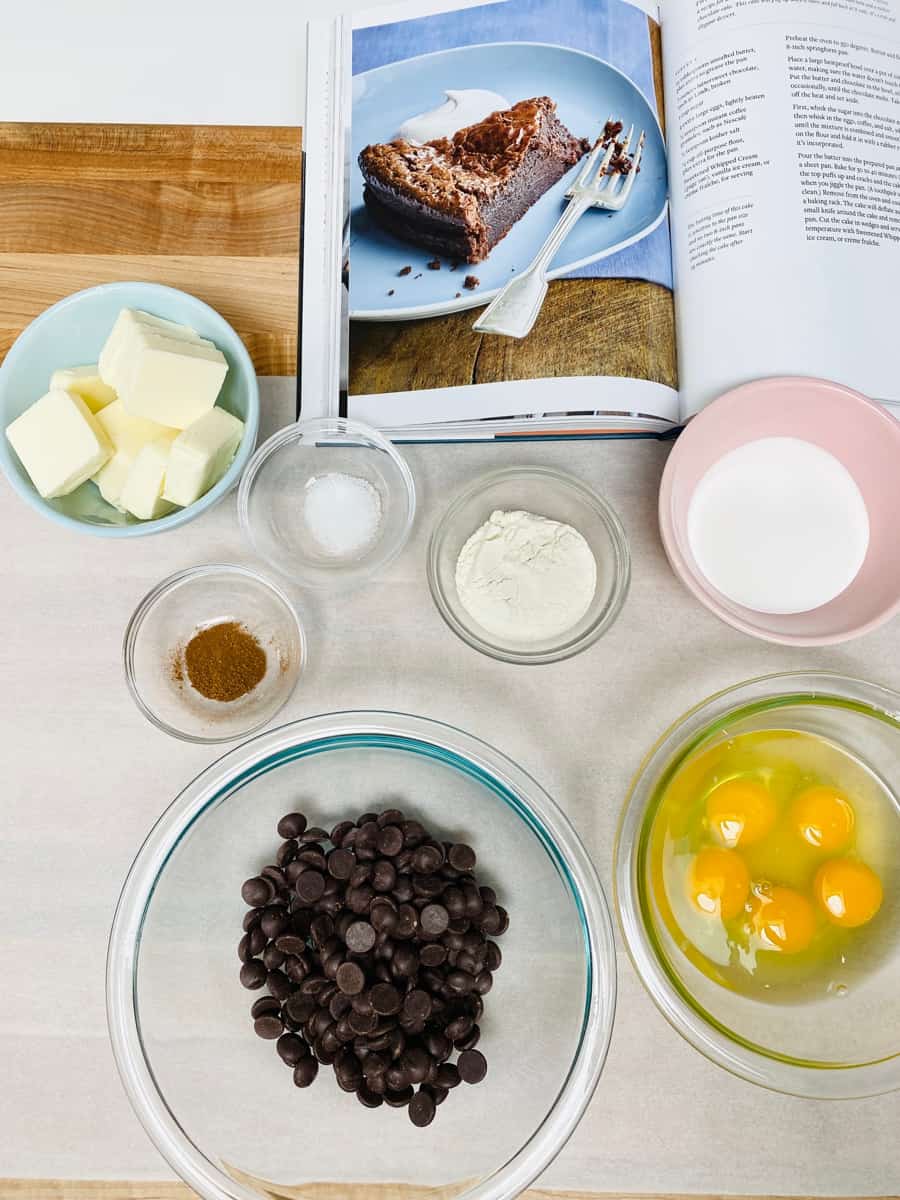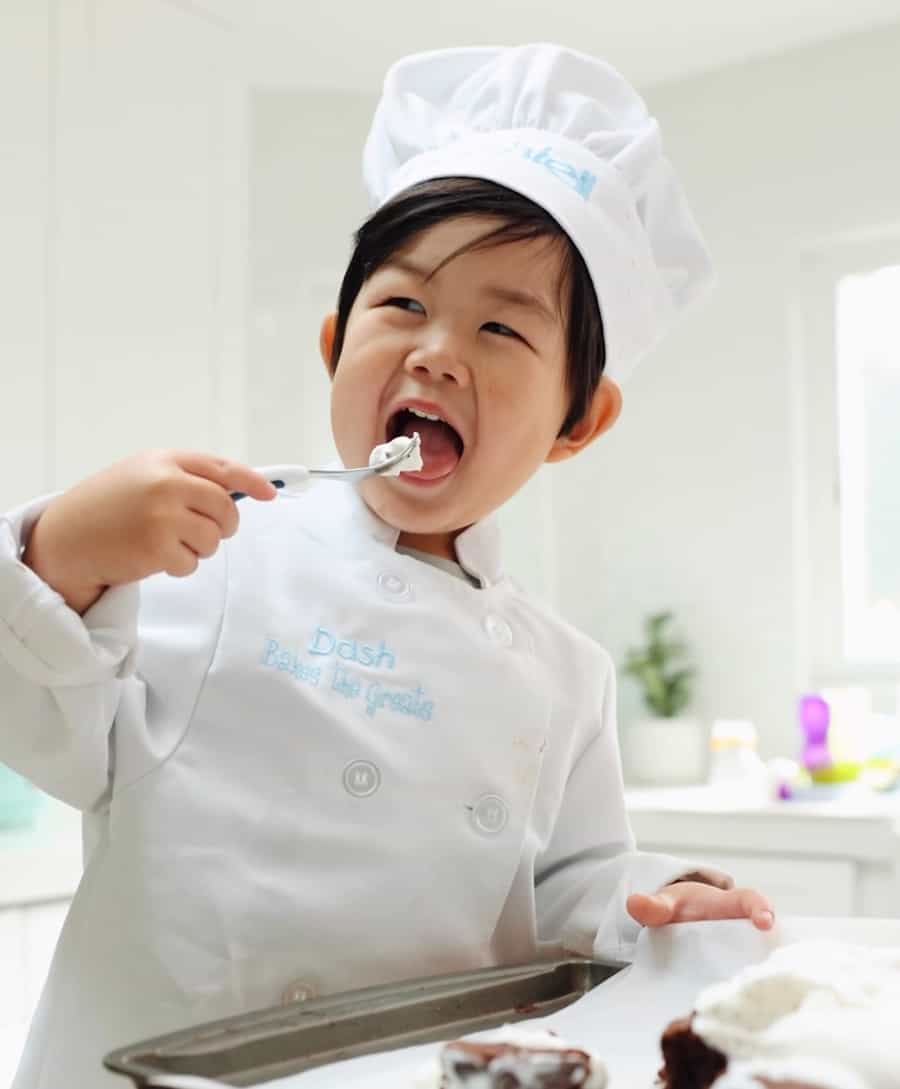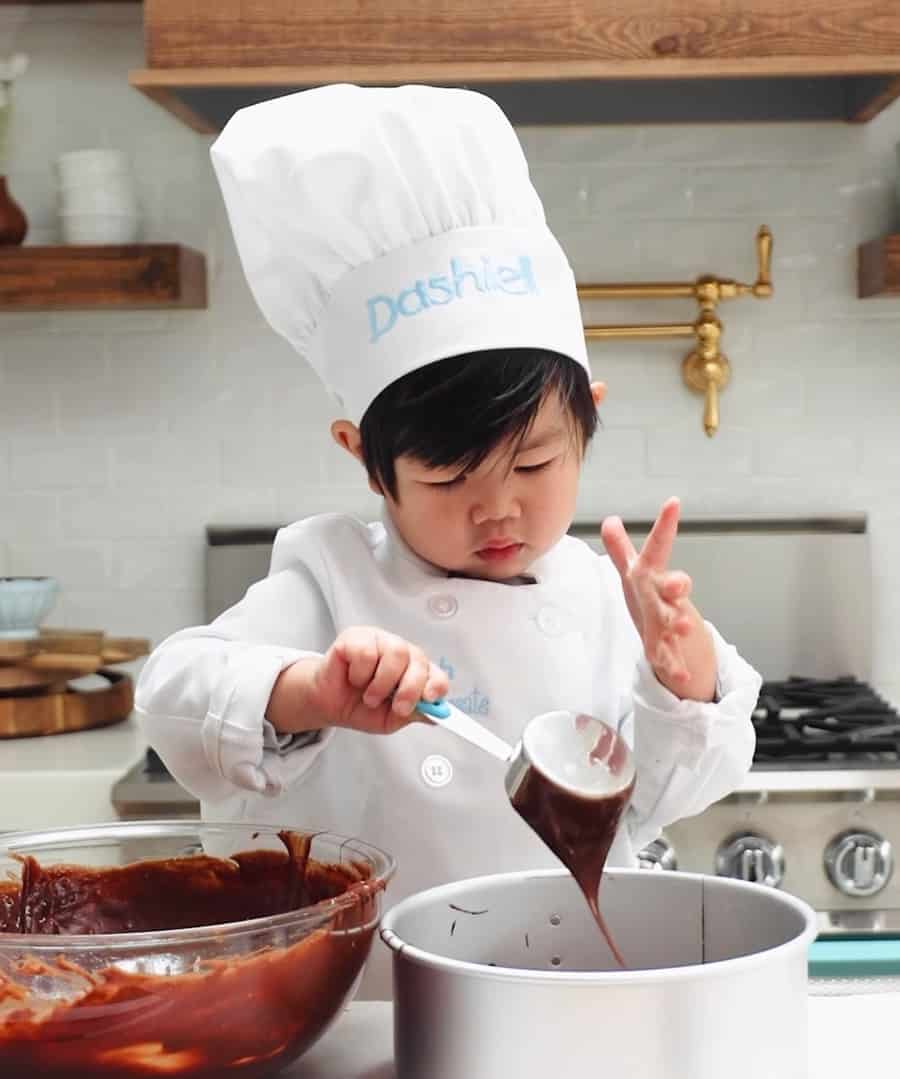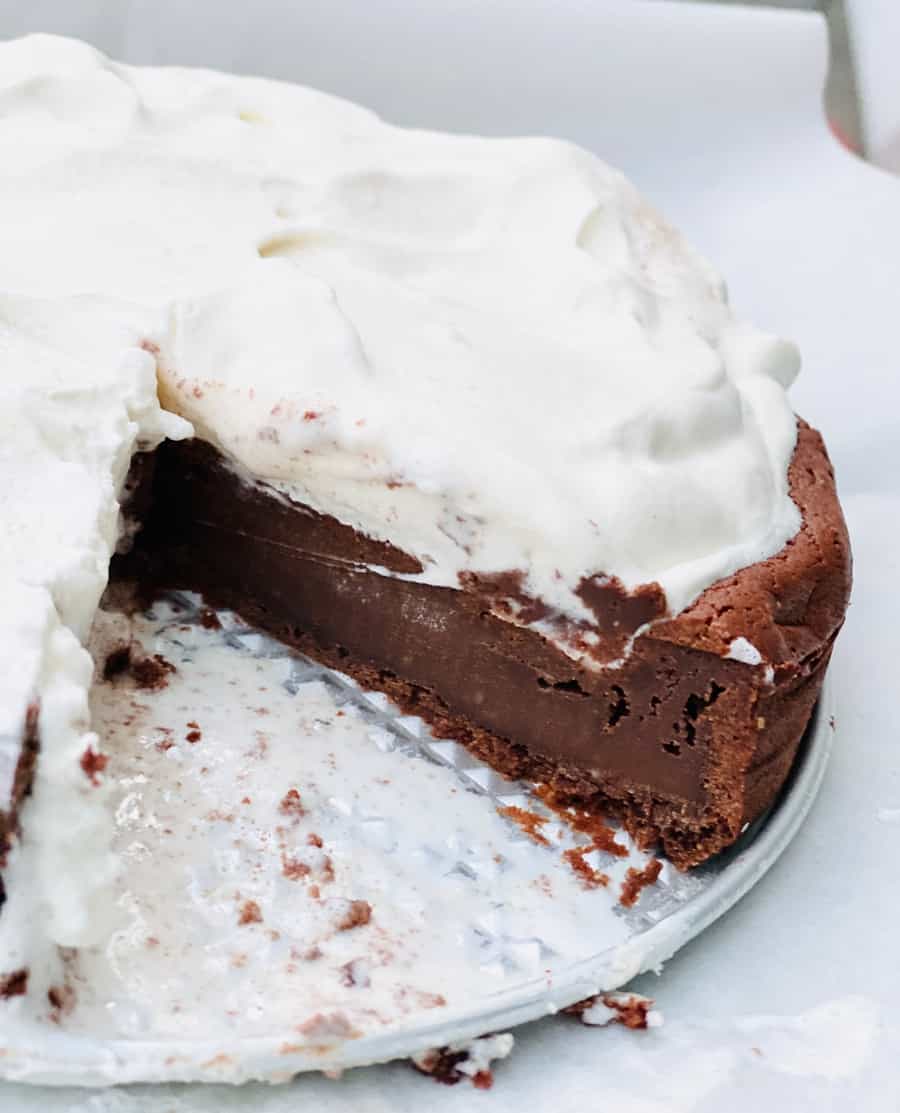 Ina Garten's Bittersweet Chocolate Cake can be found in her latest cookbook Modern Comfort Food.
Ingredients for Ina Garten's Bittersweet Chocolate Cake
The key to this easy cake is in the type of chocolate that you choose. It requires dark chocolate and a good quality one will make or break this cake. You can simply use your favorite dark chocolate bar and break it into pieces. The process for melting the chocolate is pretty easy, you will take a heat-proof bowl and put it on top of hot water – the butter and the chocolate will melt together nicely. Or you can use a microwave in small increments like we did with a microwave-proof bowl. The decadence comes from 4 large eggs and just a small amount of flour. There is also a bit of espresso in this which helps to bring out the chocolate flavor. Of course we use decaf since kids were eating this cake. The cake is more tart-like in texture as it will puff up a little while baking and then will deflate a bit making this a very thick, dense and chewy chocolate cake.
The addition of the sweetened whipped cream as a topping, both hides the deflated and cracked parts of the cake. It also adds a nice creamy sweetness that balances out the bitterness of the chocolate. Whipping this cream from scratch really makes a great balance of rich and light flavors. The cake is surprisingly not too sweet and the lightly sweetened whipped cream is perfect as it doesn't add too much sugary flavor as well, unlike rich frosting would.
Watch the video in this post to watch Dash bake this chocolate cake recipe.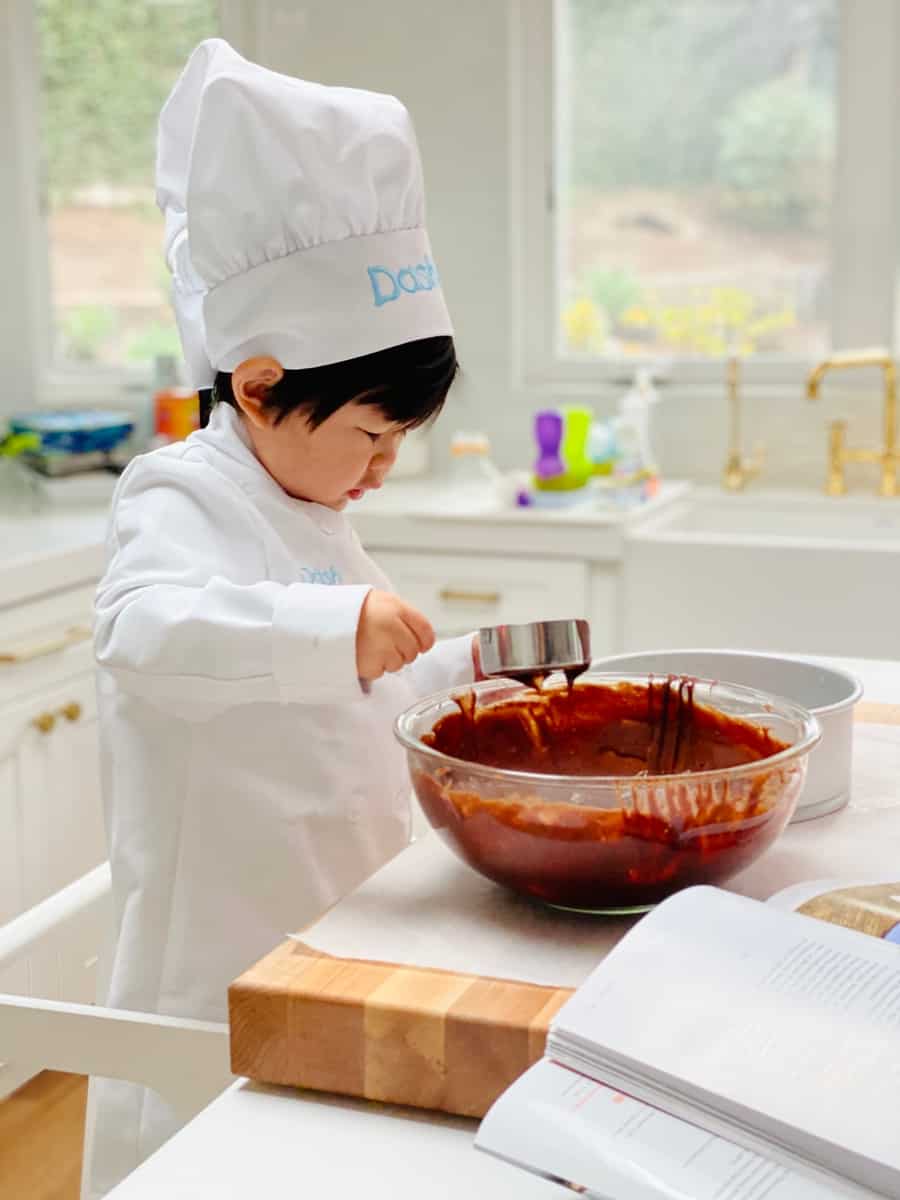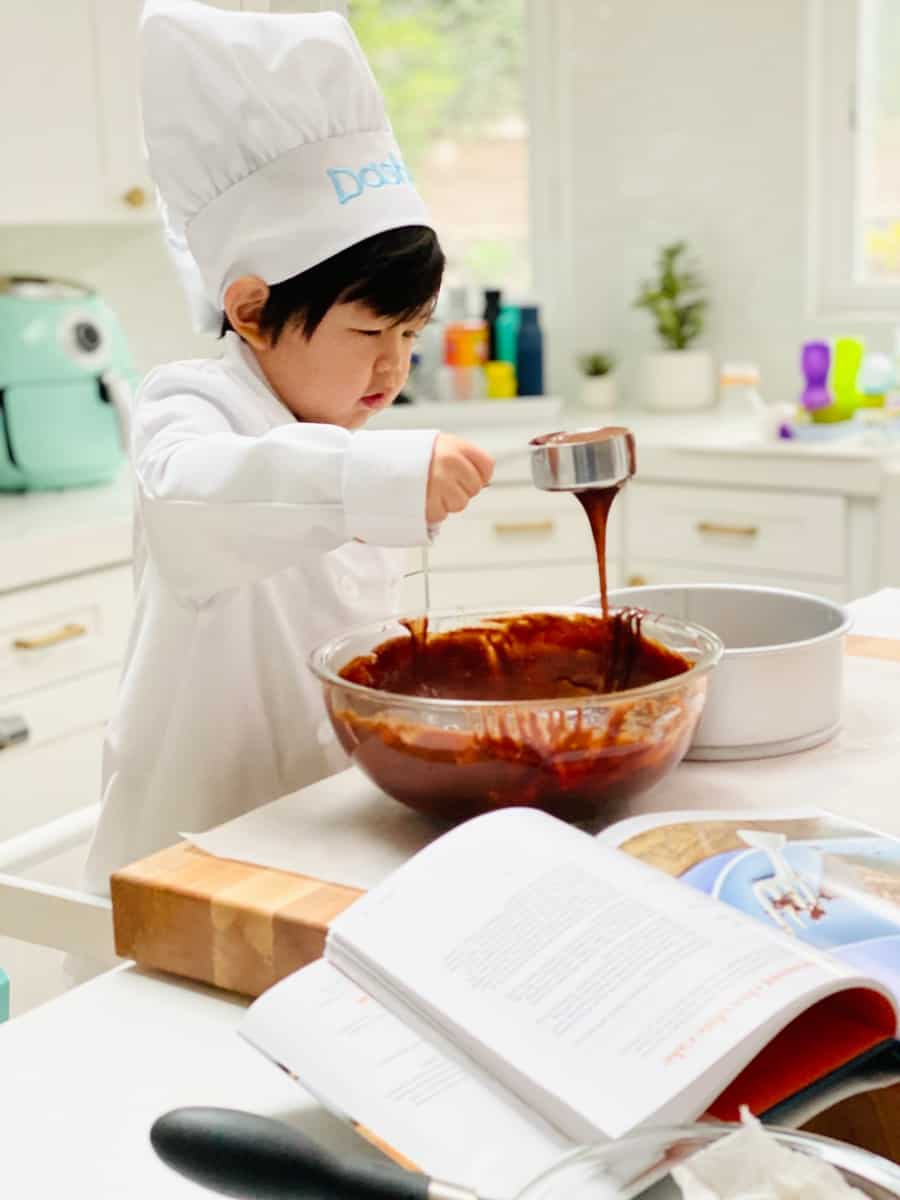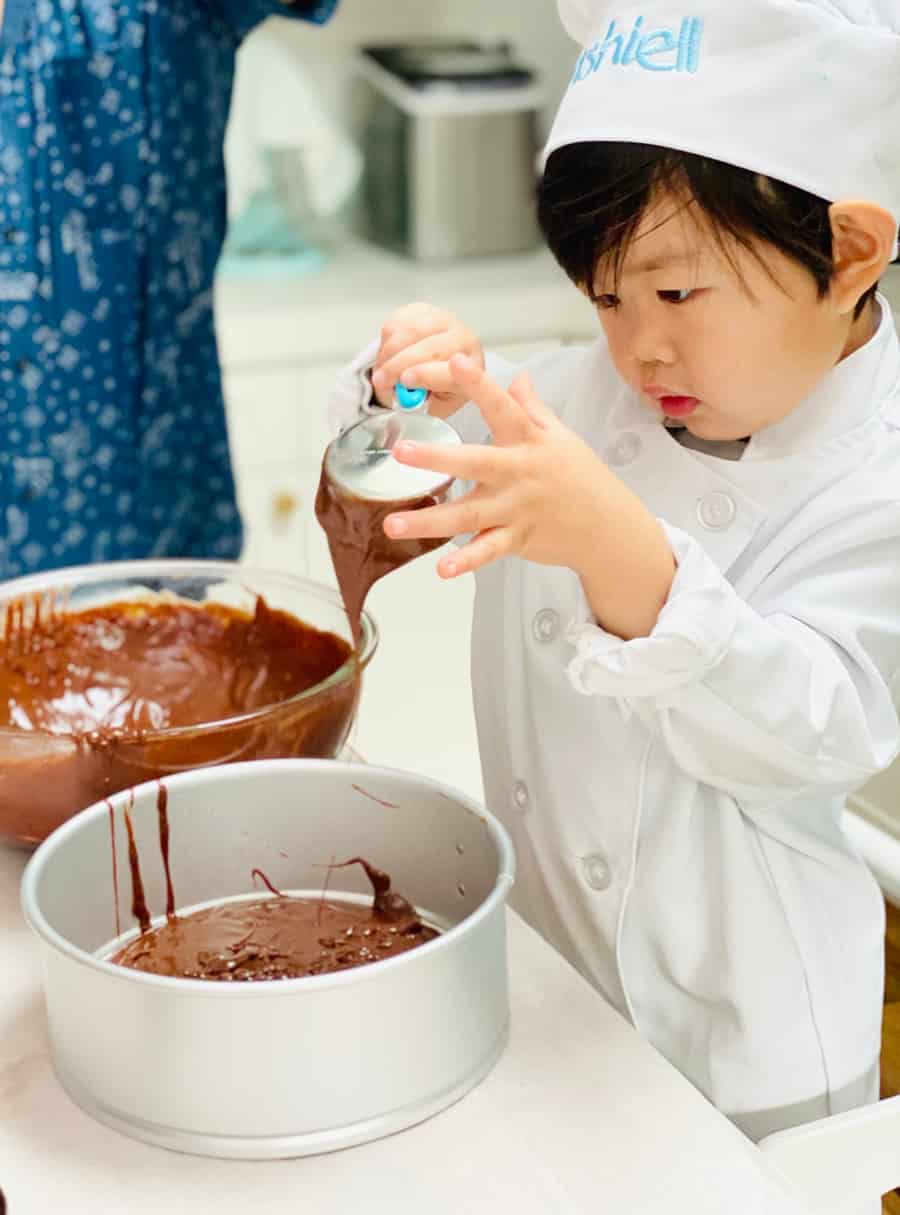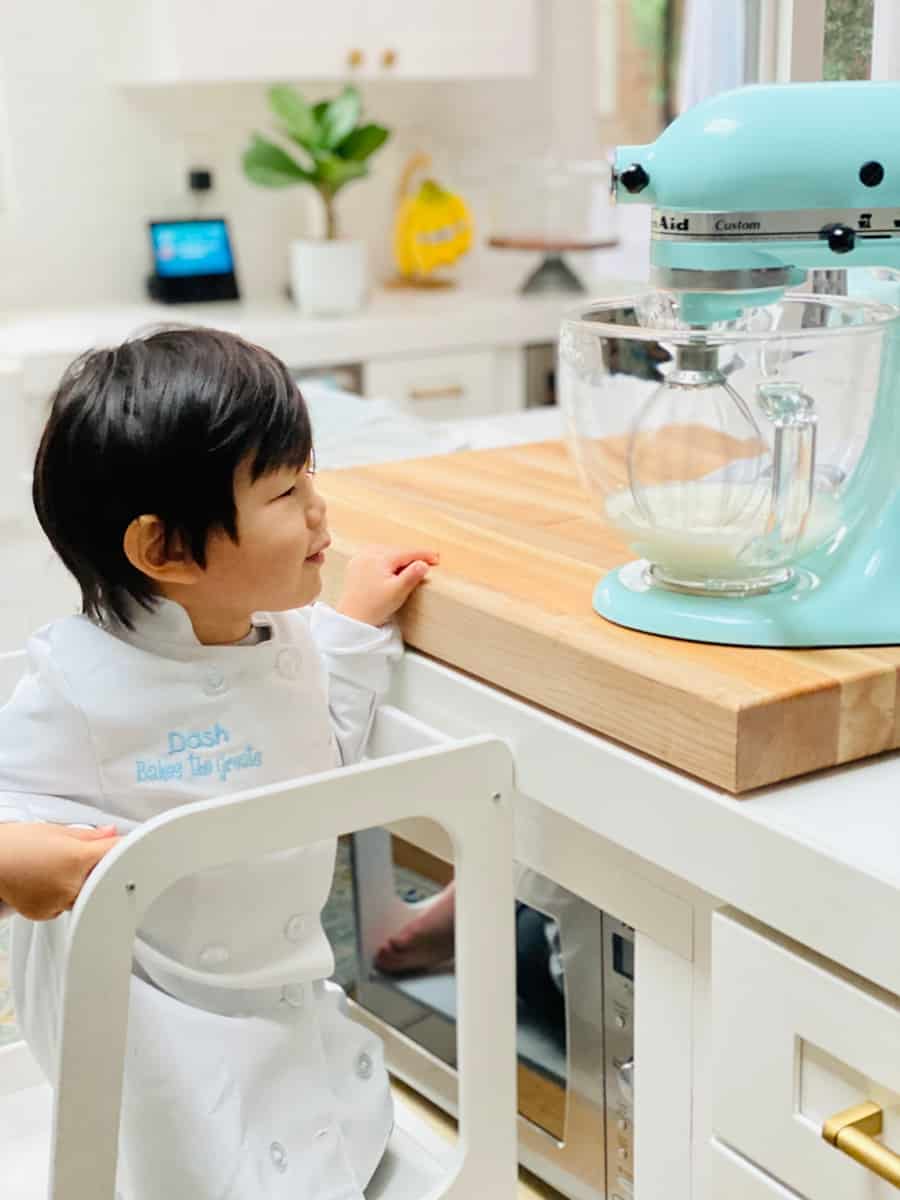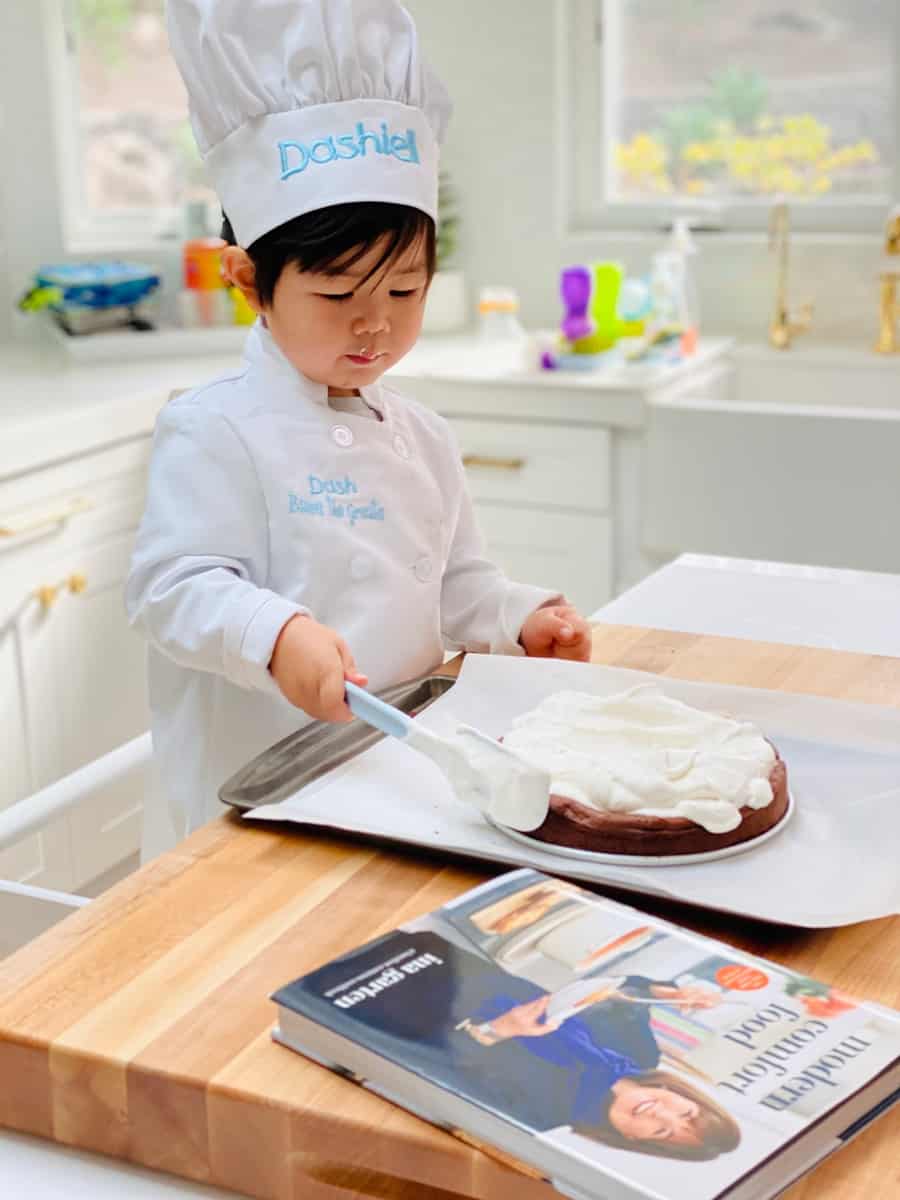 Tips for making Ina Garten's Bittersweet Chocolate Cake
If you are making this with children, you could melt the chocolate with butter in the microwave, just be sure not to scorch the chocolate and use a lower temperature and stir and check it often. This would be easier than a double boiler method.
When baking with children it helps to portion out all the ingredients beforehand in small bowls. You can do that together with them and also use a scale (highly recommend for precise baking). Since young children naturally like to measure and scoop this is a fun way to get them involved in breaking down the steps of making a cake.
The cake doesn't require decorating and it looks wonderful with just the layer of freshly-made whipped cream on top. To make the cake look more festive, you could add chocolate shavings on top of the whipped cream, or even some sprinkles. Next time we would also add fresh fruit such as strawberries or blueberries.
The cake doesn't need refrigeration once baked, but remember the whipped cream topping does. So if you want to wait a day, before serving you should make the whipped topping separately and not refrigerate with it on top or it will deflate and get the cake top soggy.
This dessert pairs really well with coffee or tea and would make a great finish to any special meal. The dessert's beauty is in its simplicity. Simple ingredients and simple plating, make this an understated, yet elevated dessert for any time you have a chocolate craving.
Ina Garten's Bittersweet Chocolate Cake can be found in her latest cookbook Modern Comfort Food.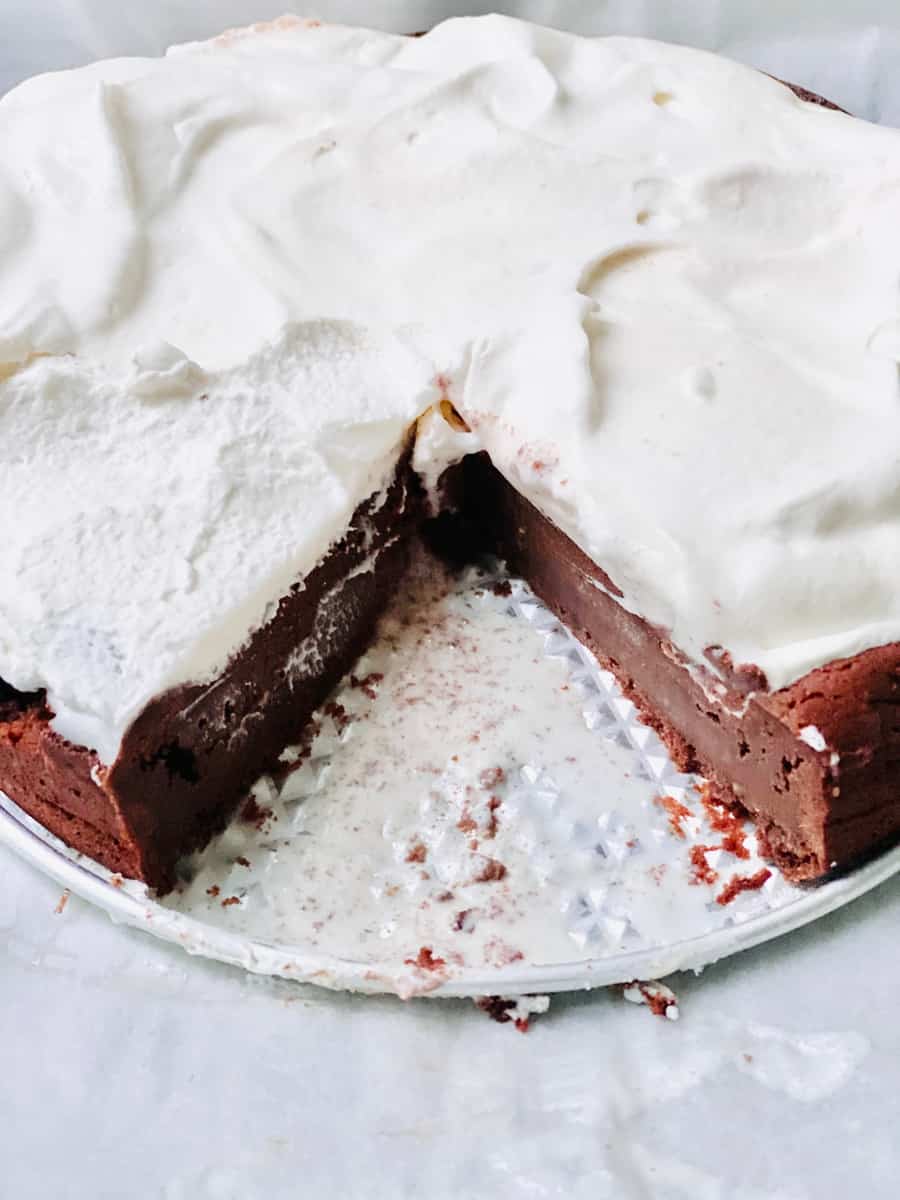 You Might Also Like