By using this site, you agree to our Terms of Use. This post may contain affiliate links. Read our disclosure policy.
Follow us on Instagram for more fun food ideas for kids!
This Peppermint Ice Cream Chocolate Cake is made using a cake mix with a hidden surprise. Not only is this minty, but it's nice and cool as well!
Holy moly, this chocolate cake literally has it all. The frosting screams "minty" freshness but wait until everyone takes a bite and dives into what is waiting in the middle. This simple ice cream cake recipe is perfect for Christmas and also super fun to make. And since you get to start this recipe with a simple cake mix, you know it's going to be a breeze! We drew our inspiration for this recipe from this Peppermint Ice Cream Cake Recipe!
The great part about this cake recipe is that it's like having two desserts in one. The chocolate cake is moist and delicious and the internal ice cream is the perfect finish to each and every bite. We really love making these types of cake as you can tell from our Easy Pumpkin Ice Cream Cake as well!
The kids are certain to love helping out with this recipe because it's just so much fun to make. Anytime they can join in on the baking fun, it's a family memory and possible new tradition in the making!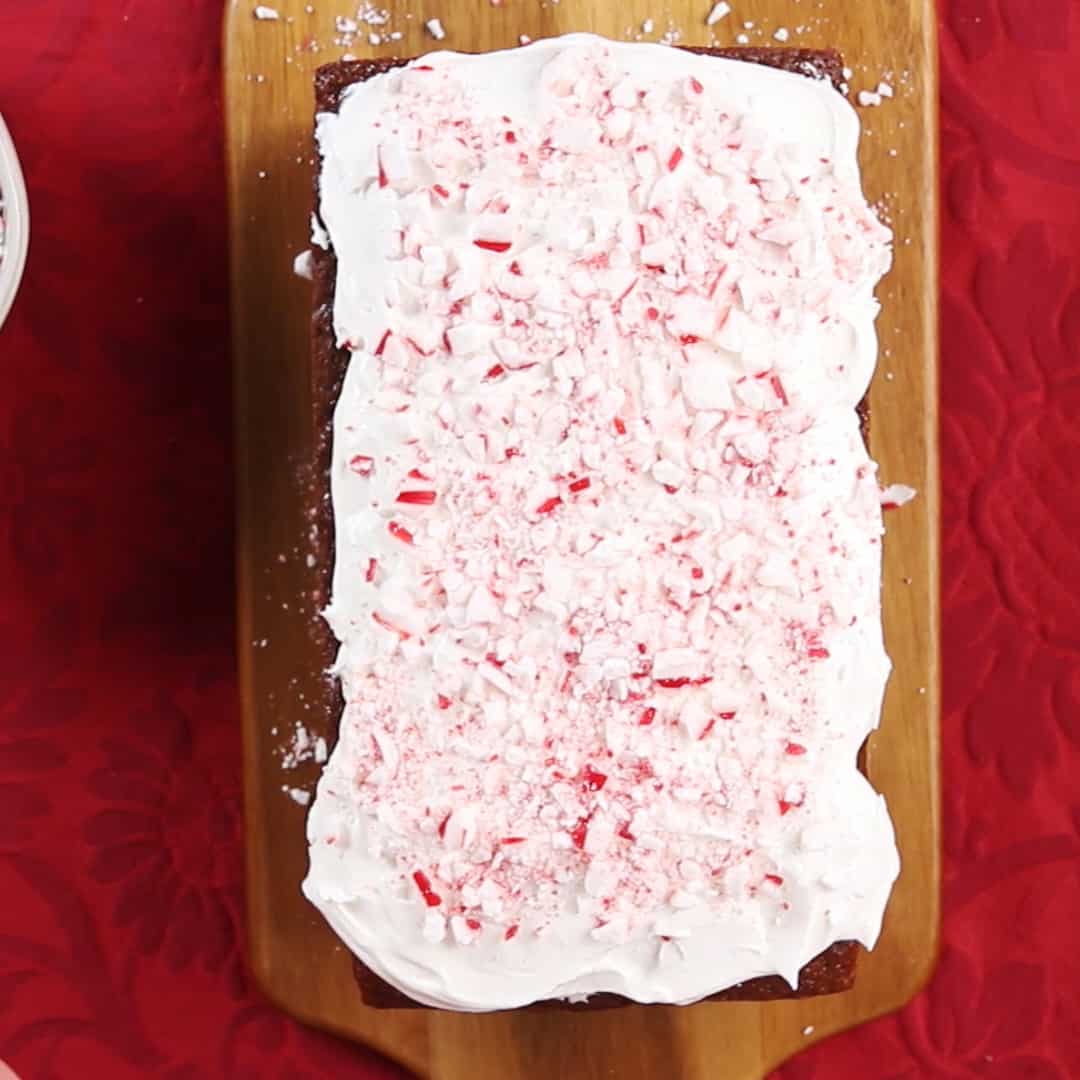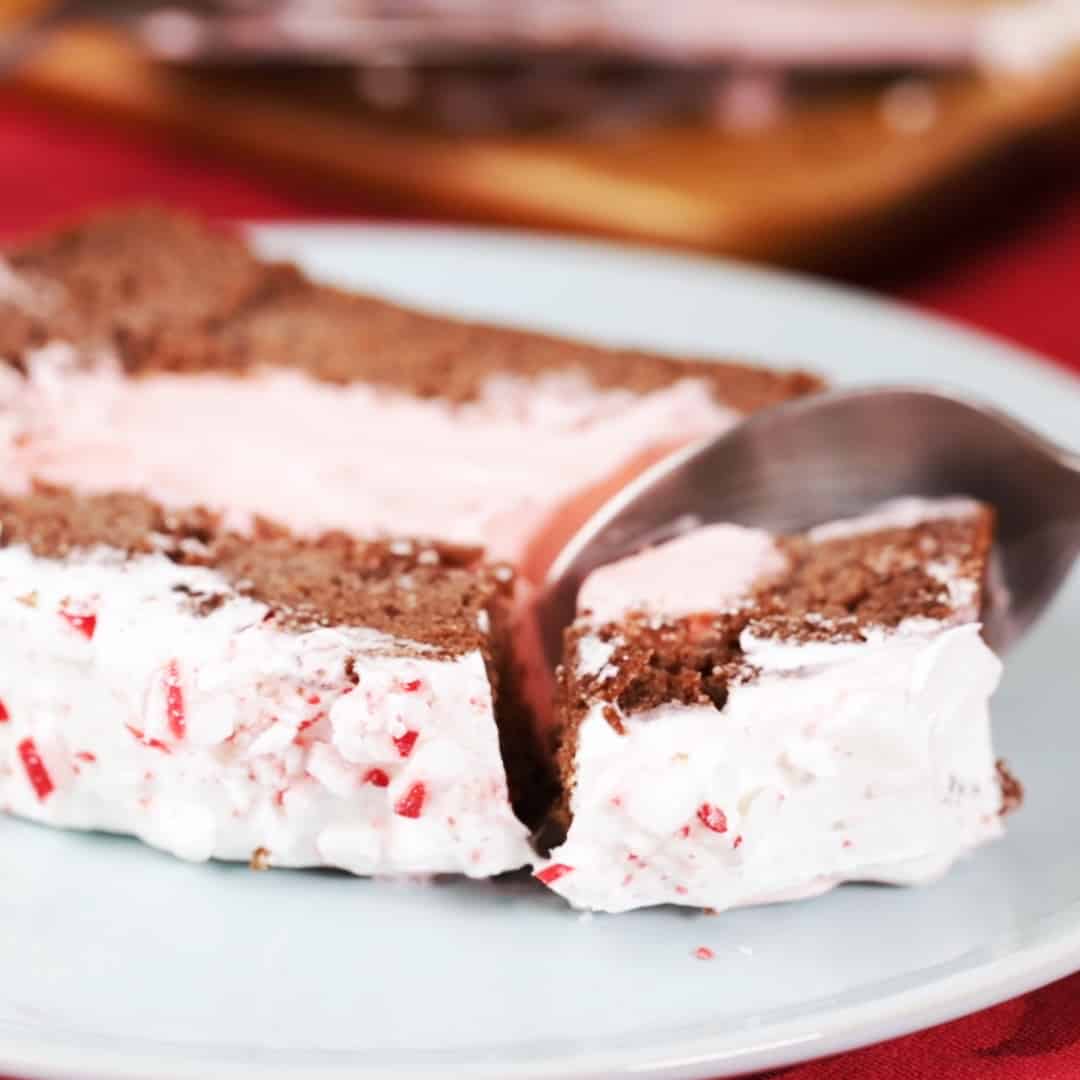 What's the easiest way to hollow out an ice cream cake?
This is actually a really fun part of the recipe! I like to use an ice cream scooper to "scoop" out the middle of the cake but a spoon or anything with a dull edge will work.
This just so happens to be the kid's favorite part of the recipe as well and they do a great job with some parental supervision, of course.
And a major perk of being a part of this recipe and helping is that the helpers get to enjoy snacking on that extra cake that was taken out of the middle because it's just too good to let go to waste!
Can you add other flavors of ice cream to this peppermint cake?
Of course, but to go along with the theme of the Peppermint Cake, Peppermint Ice Cream just makes sense. But if you can't find that type of ice cream in your store, have fun and mix up the flavors a bit. Any type of ice cream is going to be awesome, without a doubt.
Peppermint Ice Cream Chocolate Cake
Below you'll find the simple list of ingredients that you need to get started making this simple ice cream cake.
Chocolate Cake Mix – we used Betty Crocker's Chocolate Cake Mix.

Milk

Egg

Peppermint Ice Cream (if you can't find peppermint use vanilla and add some pink food coloring and a few drops of peppermint extract to your liking)

Whipped Topping like Cool Whip

Crushed Peppermint Candy
' '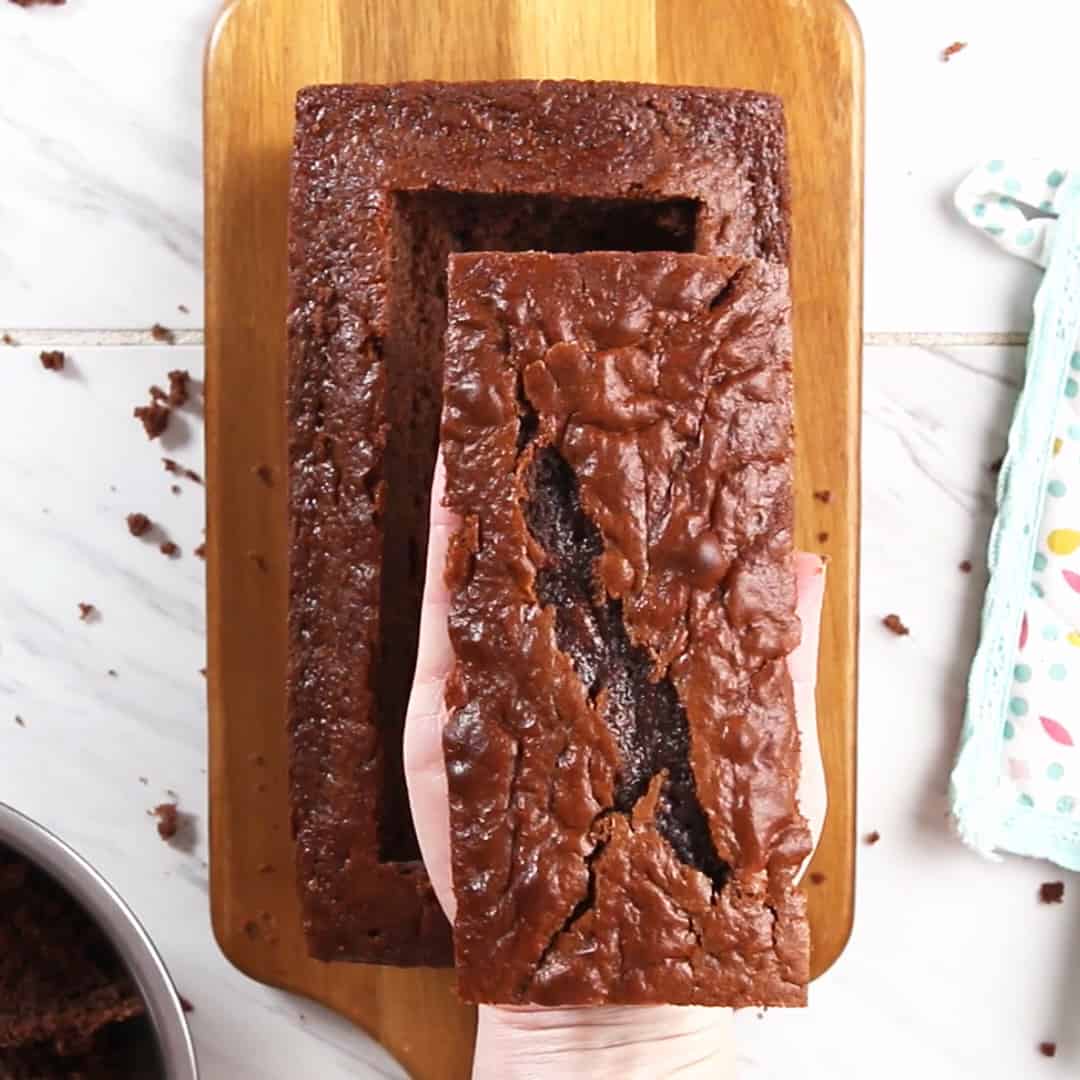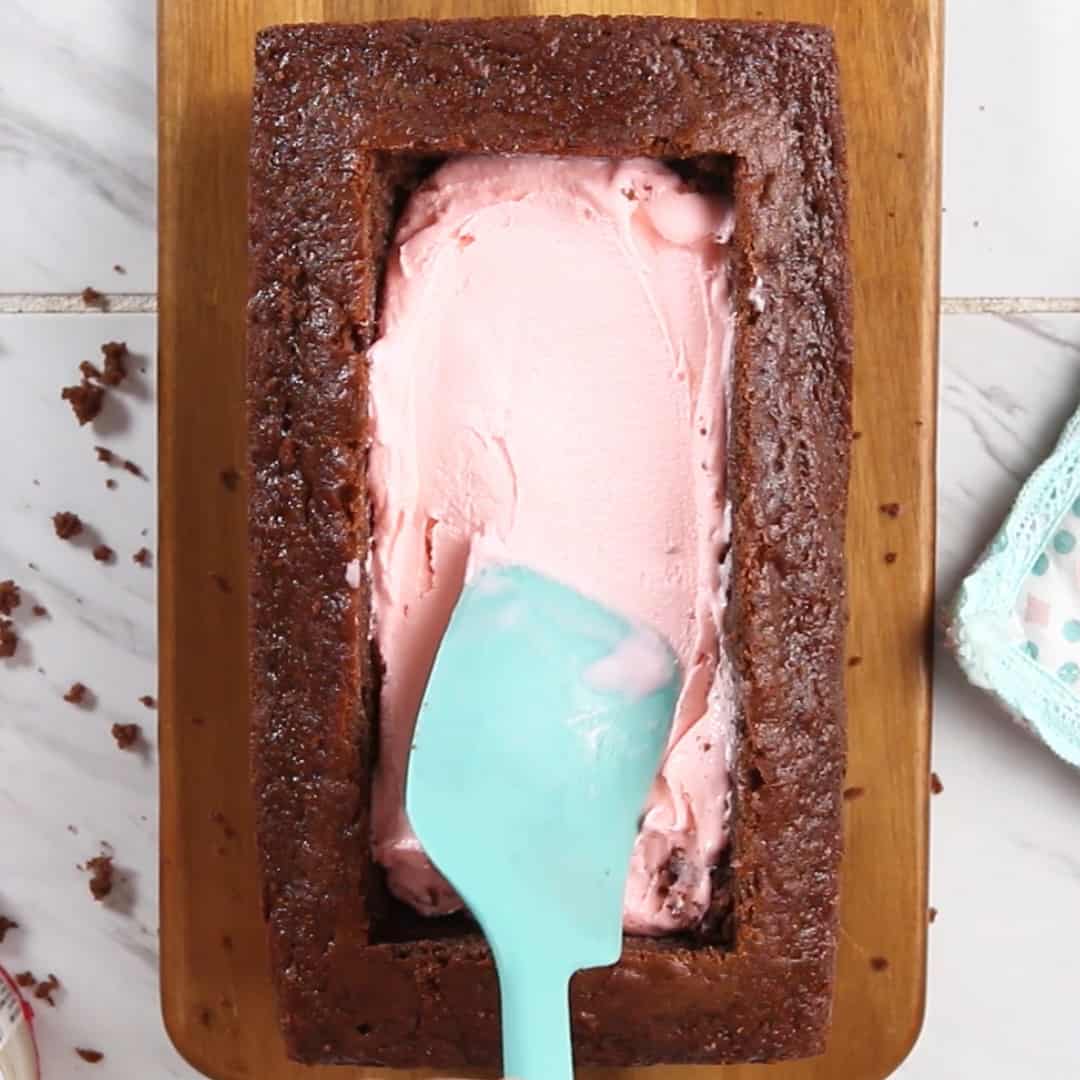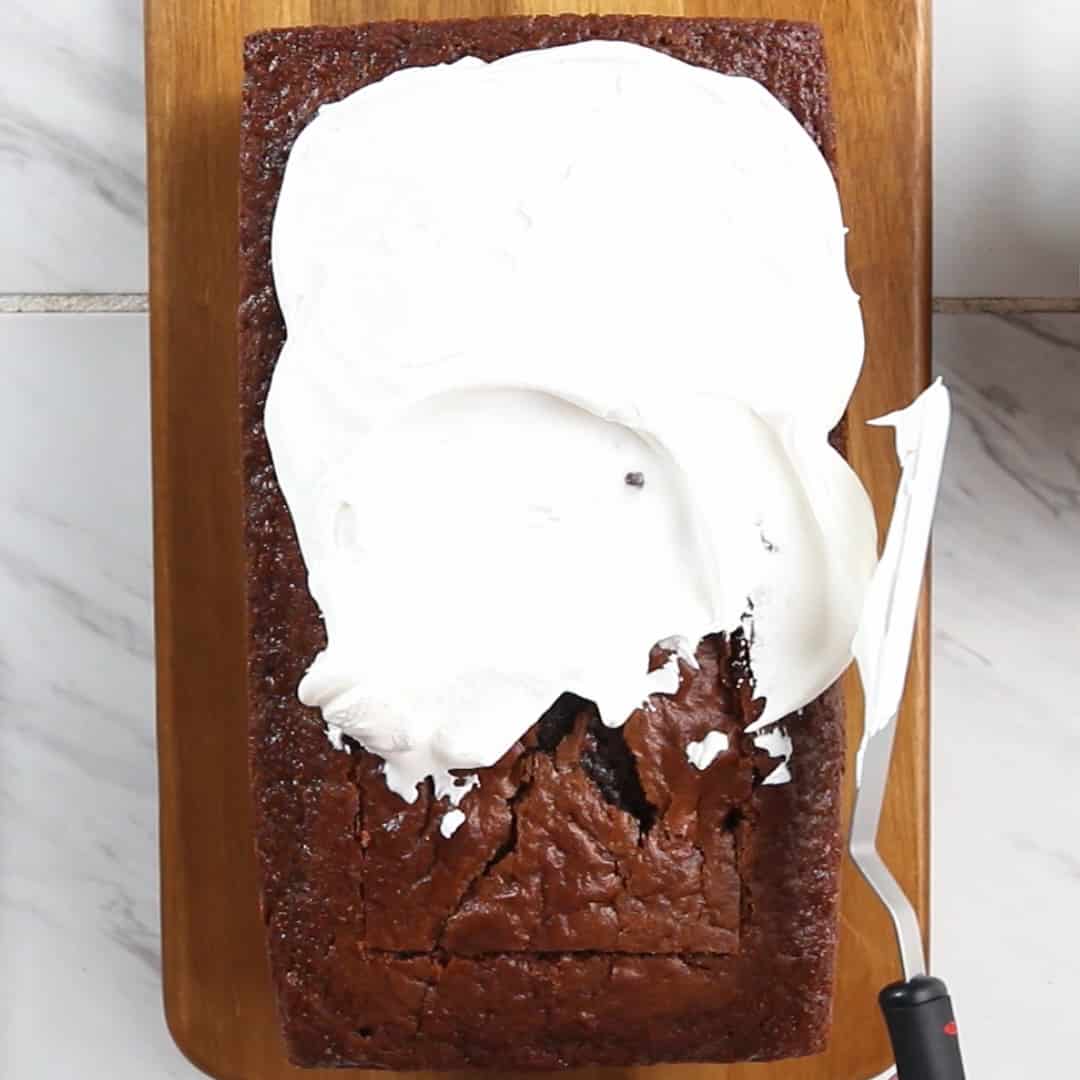 INSTRUCTIONS:
Watch the video in this post to see how to make this easy and delicious Ice Cream Peppermint Chocolate Cake.
1. Follow the instructions to make your chocolate cake mix.

2. Scoop batter into a 9×5″ loaf pan (spray nonstick spray before baking) inside a preheated 350 degree oven. Bake around 50-60- minutes. The loaf pan will be full. You will know it's ready when the tops spring back lightly. *We substituted whole milk for the water called for in the cake mix for better flavor but that's optional.

3. Once the cake is cooled, cut out a rectangle on top and scoop out excess cake. Add your peppermint ice cream, leaving enough on top to add the rectangle back on.

4. Spread whipped topping over the cake and top with crushed peppermint. Place the cake back in the freezer to store and serve chilled.
Simple Tips for Making This Easy Peppermint Chocolate Cake
Be certain to be careful when you're hollowing out the cake as you want to keep it as concise as possible. You're literally making a space in the cake that will be sturdy and strong enough to hold the ice cream once added. And make certain to keep the top of the cake that you cut out because you'll be adding it back on to "close" in the ice cream and then add on the whipped topping and peppermint as well.
The kids are going to enjoy this fun and delicious cake recipe and you're going to love how festive and perfect it is for the holiday time!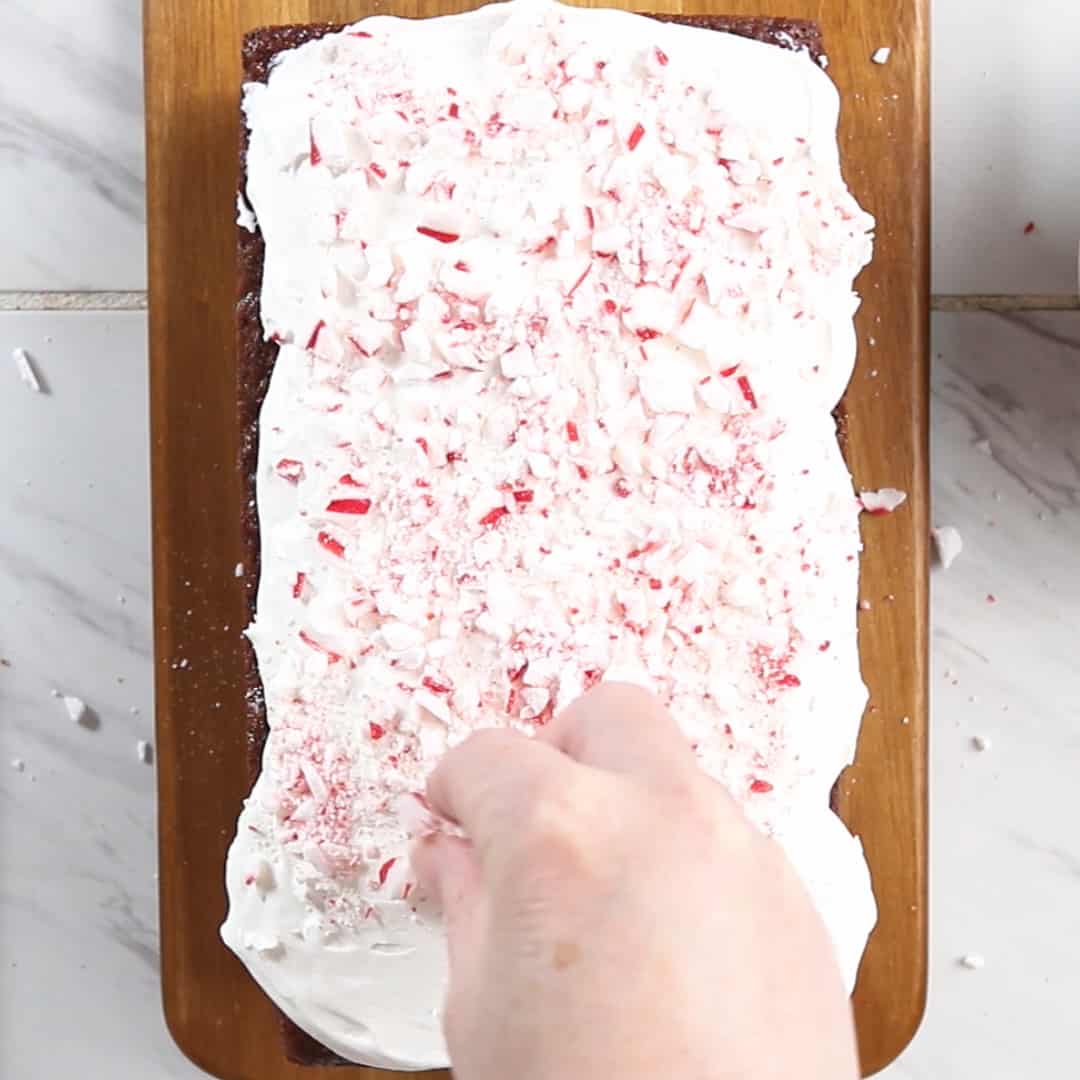 More Christmas Desserts