Follow us on Instagram for more fun food ideas for kids!
These Pancake Gnomes are cute, delicious and perfect for any quick breakfast for kids!
We're big fans of
breakfast
in our house but that doesn't always mean that we're actually morning people. While we know the importance of getting out of bed to start our day and be on our way, it sometimes takes a little motivation from delicious and
cute breakfast pancake
items like these pancake gnomes.
Makes sense, right? Who could resist a breakfast plate full of these tasty gnomes?
The best part is that this recipe is super simple and takes literally no time at all. In fact, it's a great breakfast recipe to whip up together in the kitchen bright and early in the morning.
C'mon, you "gnome" you want to try this recipe out! There's no denying that gnomes are adorable as they are but when you can create them and start your day off with these
adorable pancakes
, you just know it's going to be the best day ever.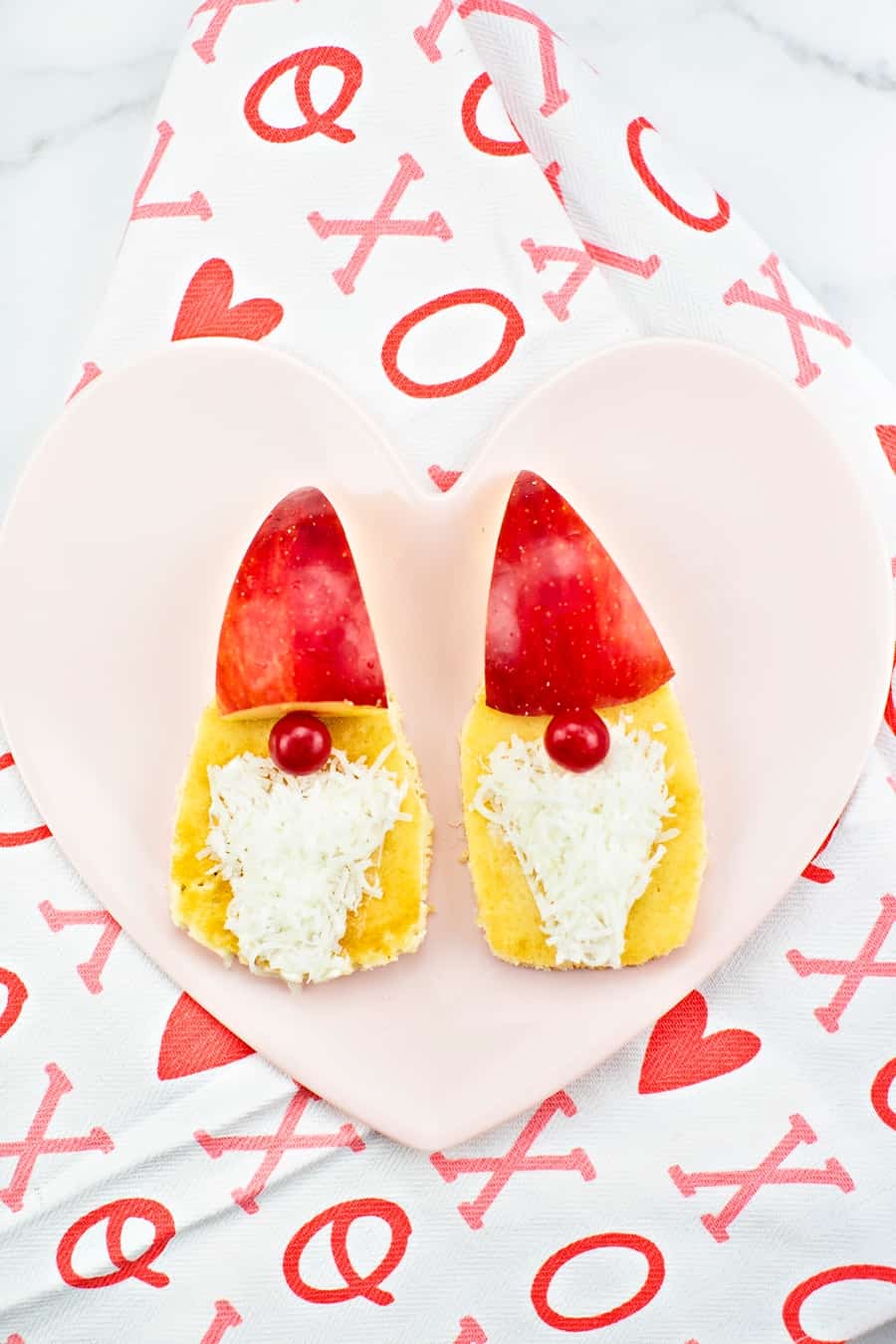 These gnomes also make a cute Valentine's Day Breakfast for kids.
Okay, confession, these were actually a
Valentine breakfast
I made for my kids but didn't have time to post pre-Valentine's Day.
However, I think they are cute seasonally year-round for a cute and easy breakfast.
What age group is this simple pancake gnome recipe appropriate for?
That's just it. This recipe is so simple, it's great for all ages to pitch it. Because here's the kicker. You're really not doing any type of "cooking" at all. (Did I mention that this recipe is seriously the easiest?!)
While there will need to be a tad bit of adult supervision for the cutting and styling of the gnome pancakes, that's really about all there is to it. And if you're child is just too little to cut or you're worried about it, let them be the "stylist" of the plate and the one that puts all the pieces of these gnome pancakes together.
Plating is just as important as creating when it comes to this simple breakfast recipe so it just makes sense to let the kids have all the fun!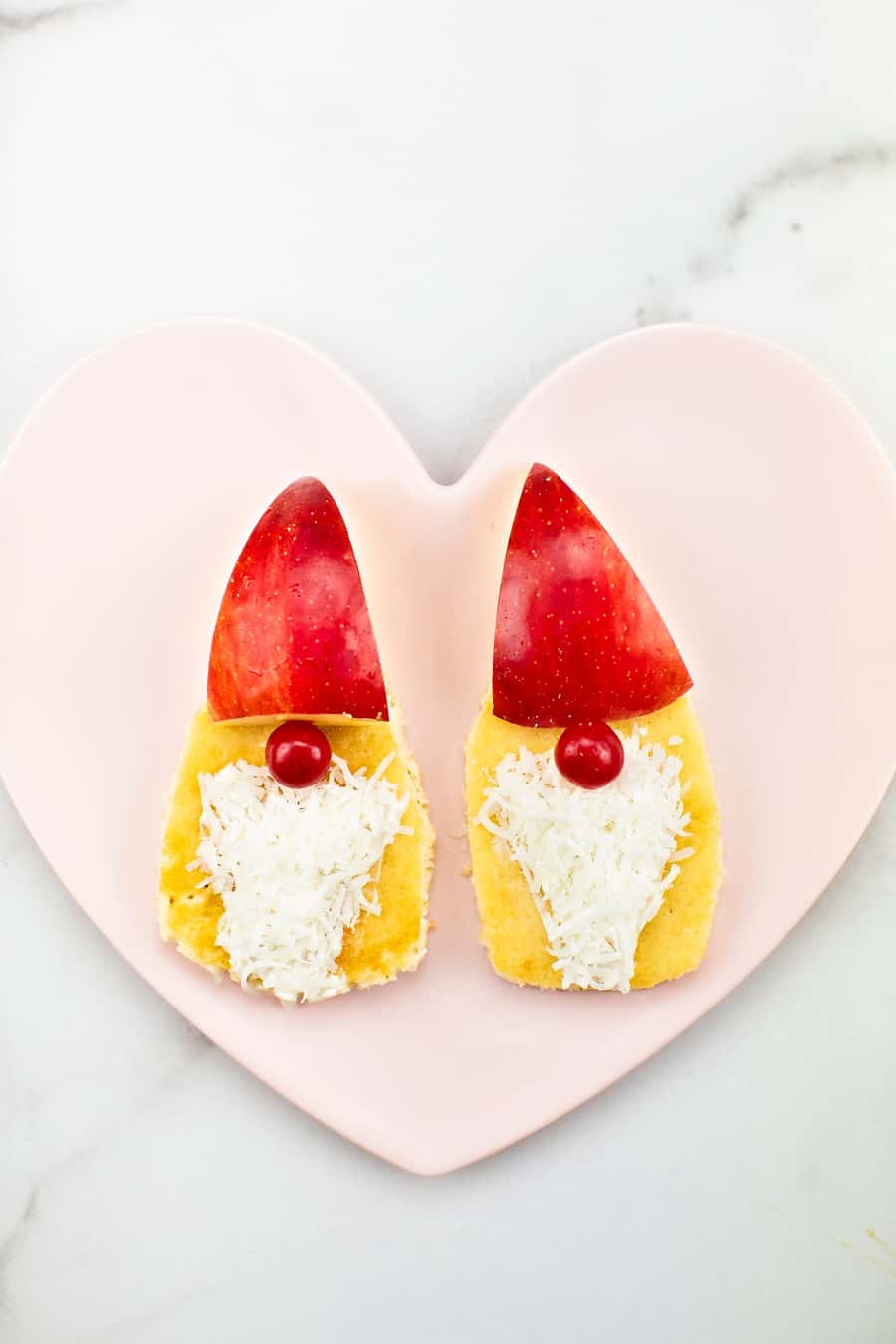 What could you serve with these simple gnome pancakes?
They actually taste great as it but you could always add in a little bit of sweetness as well. Honey, syrup and even a dollop of whipped cream is always a good idea.
I also think that these pancakes would be super cute for
Christmas holiday
breakfast celebrations as well. On
Valentine's Day
, you could add some red sprinkles to the beard to give a fun look and do the same for Christmas but with red and green sprinkles, both.
Since we consider these to be a fun and special treat, we make them for holidays and special occasions quite a bit!
Make sure to scroll down to watch the video below to see how we made these pancake gnomes!
PANCAKE GNOMES – Ingredients
Frozen Pancakes (or fresh, from scratch or mix)

Cream Cheese

Apples

Shredded Coconut

Red Candies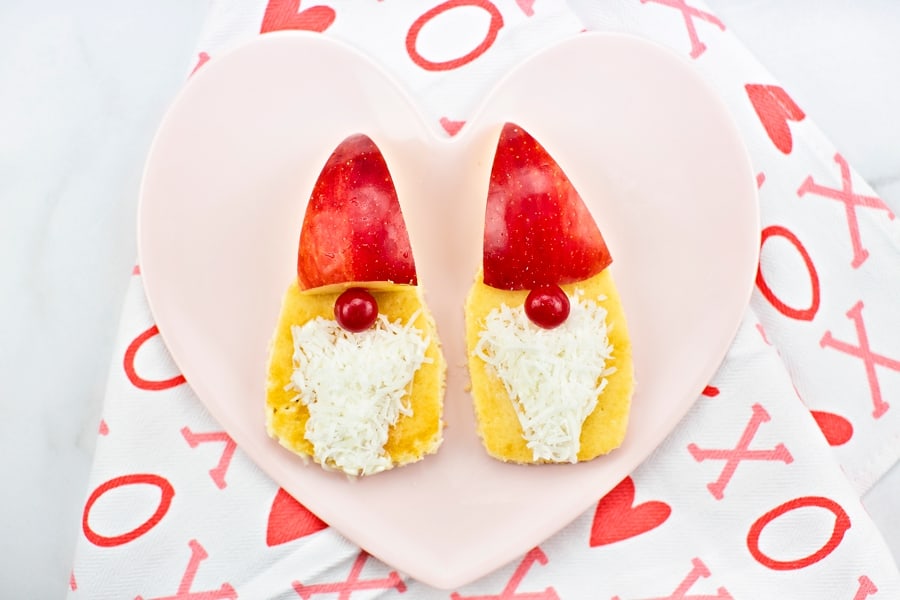 INSTRUCTIONS: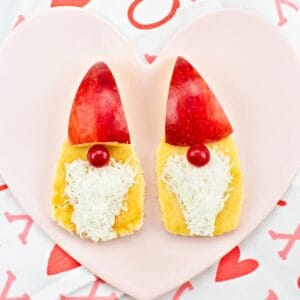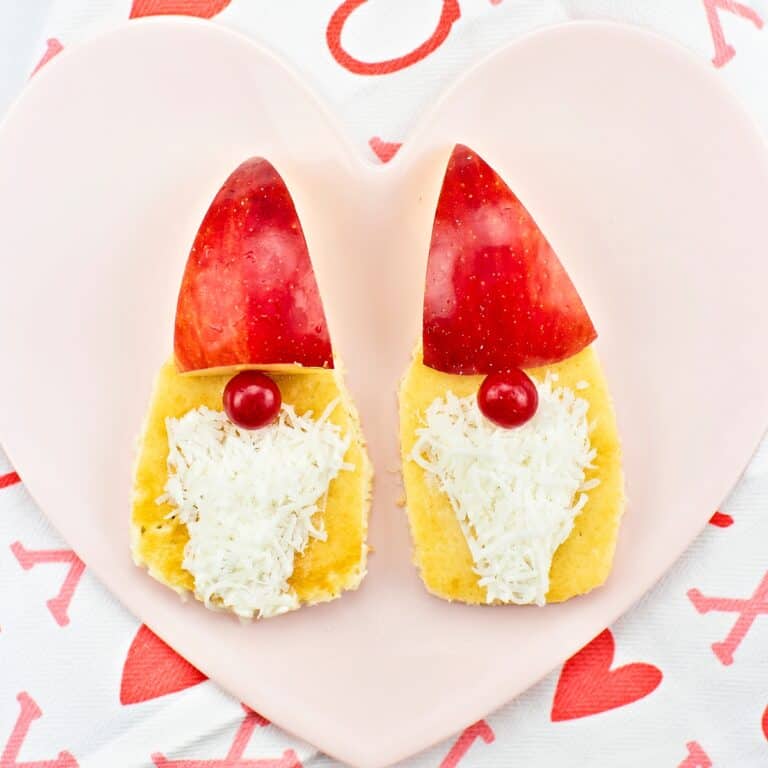 Pancake Gnomes
Ingredients
2

small pancakes

frozen, from scratch or a mix is fine

cream cheese

shredded coconut

1

red apple

two slices

2

red candy
Instructions
Cut your small pancakes into rounded rectangles that are slightly wider on the bottom.

Cut two apple slides into thick triangles. Lay on top of pancakes.

Use a bit of cream cheese (you can also use whipped cream) to spread onto the pancakes in a triangle shape for the beard.

Sprinkle coconut on top of the cream cheese.

Add a bit of frosting to your red candy and place on the pancake as the gnome nose.
With just those simple ingredients, you'll have adorable gnome pancakes in no time at all!
Simple tips for making these pancake gnomes
Make certain that you have fun and let the children help decorate! They'll love adding on the shredded coconut to make the gnome beard!
More delicious breakfast recipes to try: