Follow us on Instagram for more fun food ideas for kids!
These Stacked Christmas Tree Pancakes are about to make your holiday breakfast a whole lot more fun and tasty!
Now that the holidays are quickly approaching, it's time to start planning out all the fun Christmas recipes. These Stacked Christmas Tree Pancakes are one recipe that is really going to "stack" up. What other way would you want to start your day than by downing a fun tree made out of pancakes?
If you're on the hunt for a super fun pancake recipe to start the day, this is the one for you. And in all reality, who am I kidding? I'm also a fan of eating pancakes for dinner too so in our house, this is a great meal for any time of the day!




Kids will love waking up Christmas morning to dive into these delicious and cute stacked Christmas Tree Pancakes!
These pancakes are not only delicious, they are so cute to make for little ones. Talk about a great surprise for breakfast, this is sure to make any child want to finish everything on their plate.
It's a fun kid-friendly breakfast recipe because everyone can decorate their own tree as well!
Stacked Pancakes are a healthier alternative to stacked Christmas cookies.
Do you want to know what gave us the ideas for this stacked pancake tree? Those gorgeous and decadent stacked Christmas cookies. However, we wanted to come up with a healthier Christmas treat for kids and so pancakes made an equally delicious substitute!
This pancake tree is not only pretty to look at, it's loaded with fruit pieces to give kids a bit of a healthier Christmas treat.
We all know holiday time is a season of indulgence so it's great to provide a holiday food that's lower in sugar when you can. It's really easy to make, and your small ones will love you for this!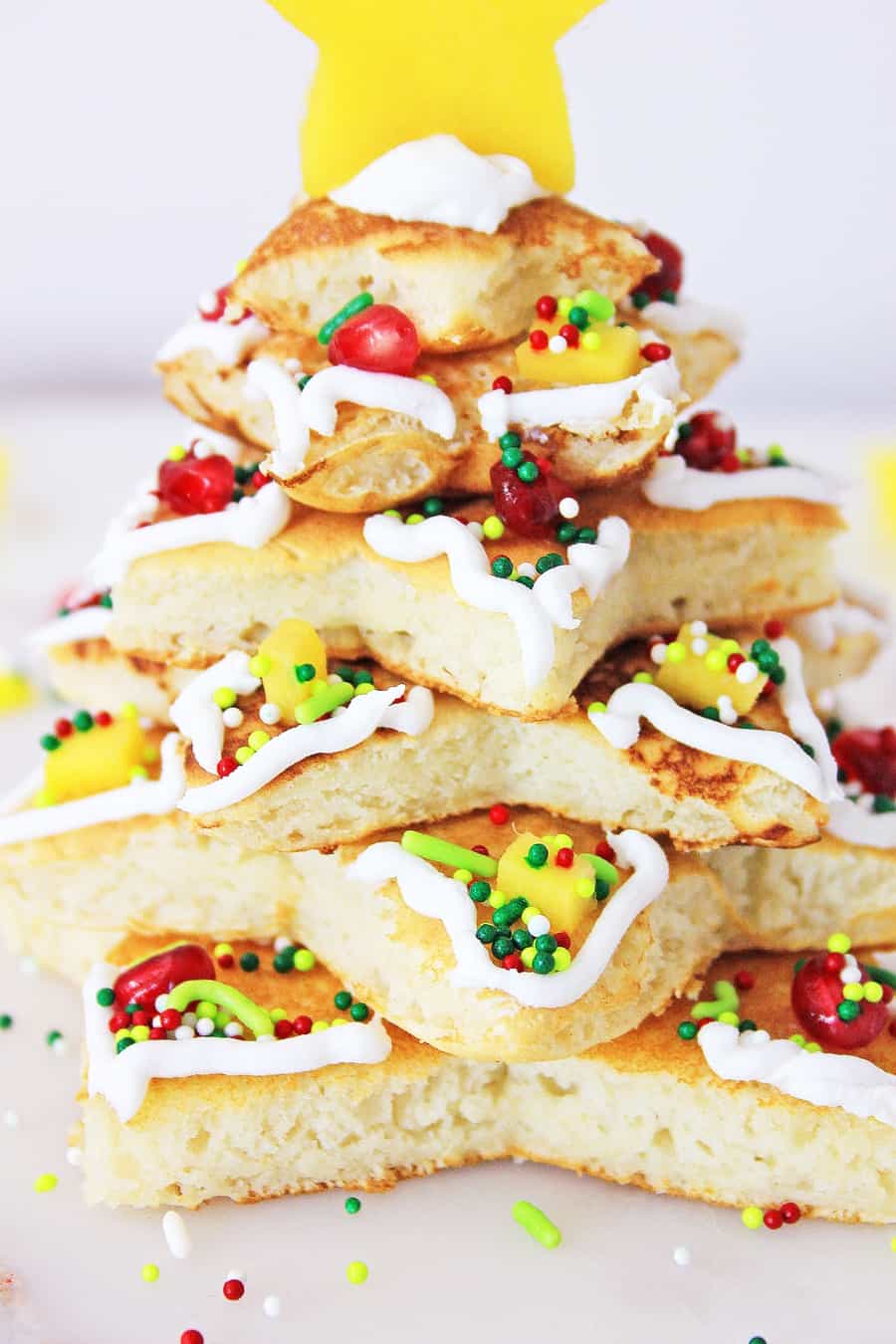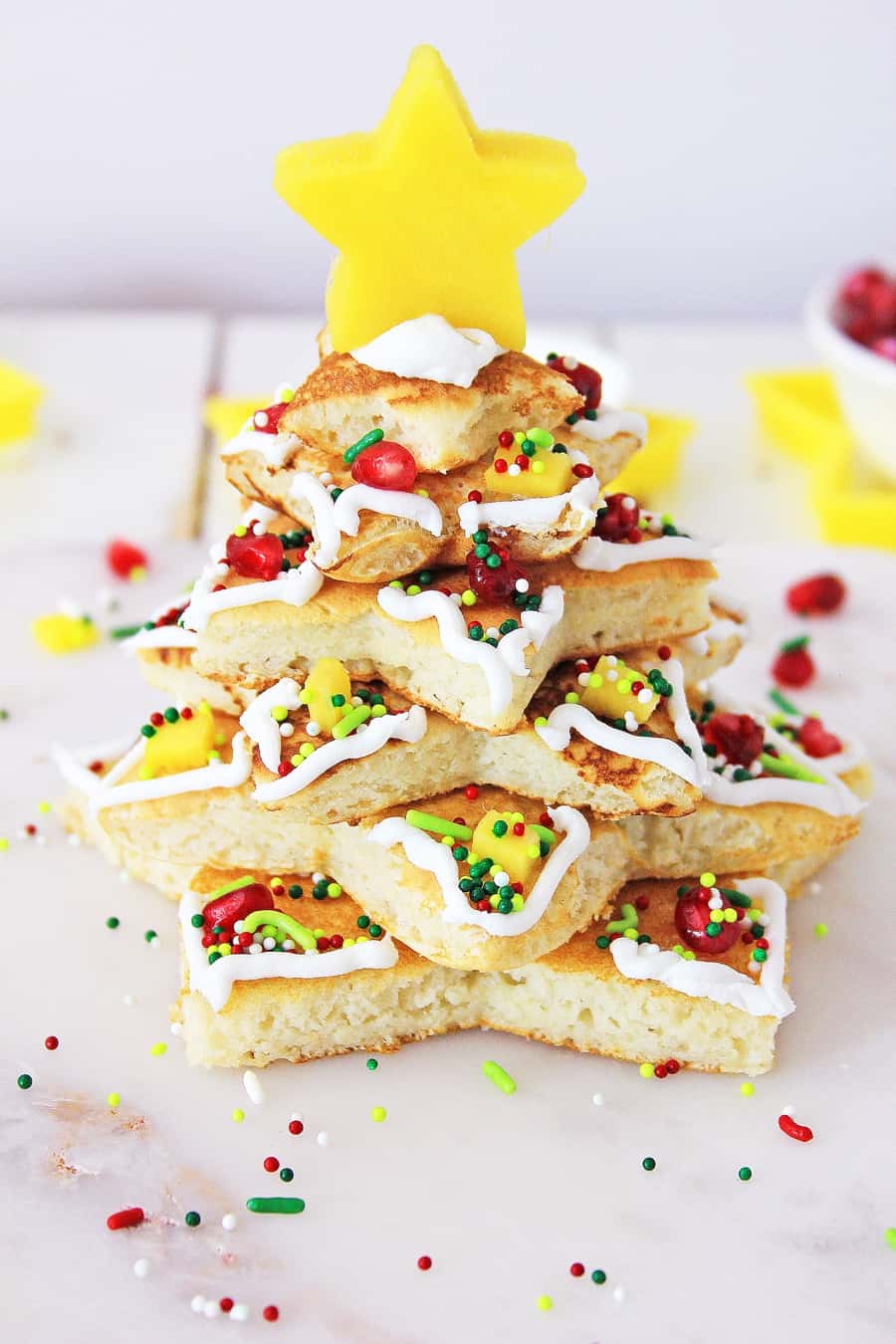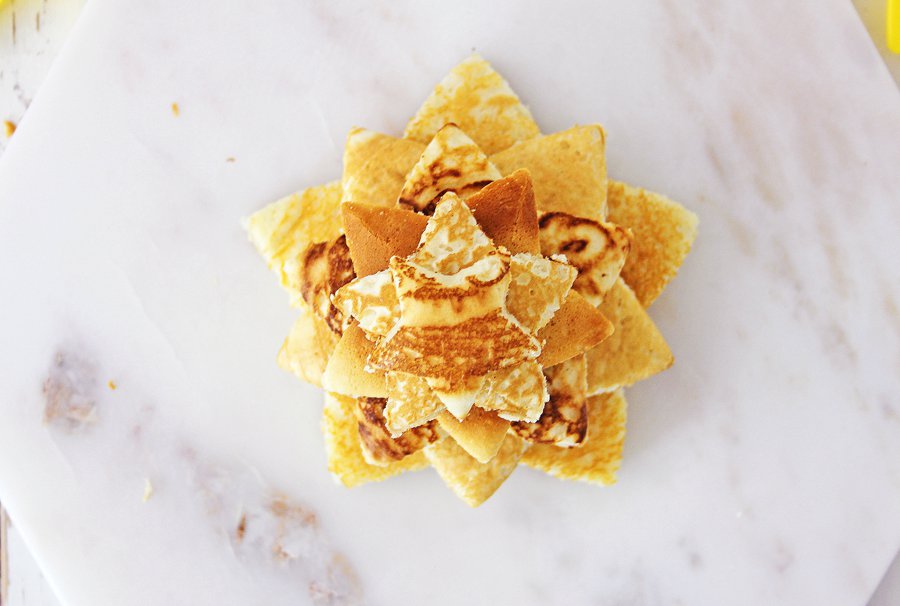 How do I get my pancakes into the shape of stars?
You actually have a few options here. One of the easiest options is to purchase a star cookie cutter to take care of the work for you. But if you don't have one, don't worry. You can use your creativity and artistic ability to freehand the stars as well.
Keep in mind that these stars are going to be gobbled up much faster than it took for you to make them, so don't stress out over it too much.
And one simple tip for when you're using them to cut out the star shape is to press hard so it goes through the pancake all the way. Otherwise, you're going to be tearing off bits and pieces of pancake and it just won't look as pretty.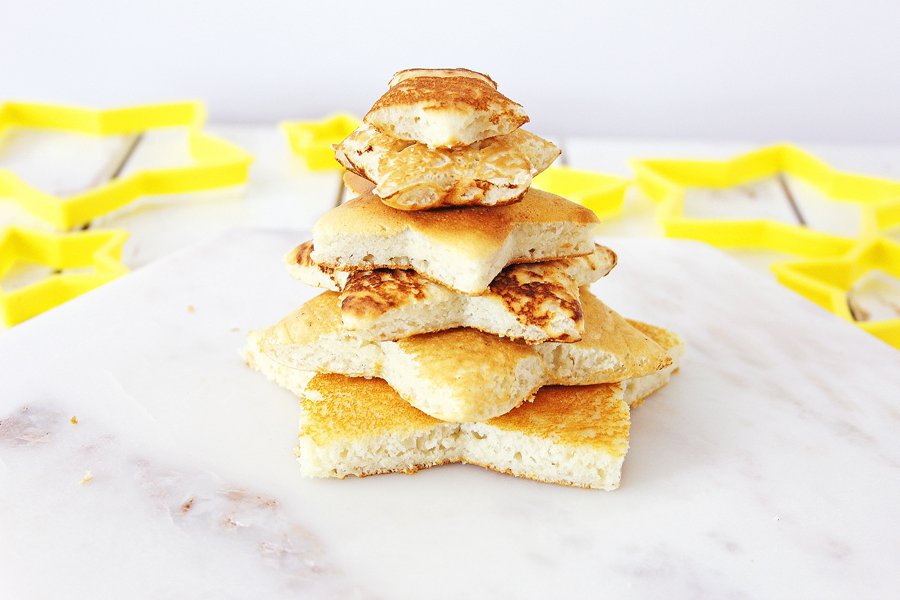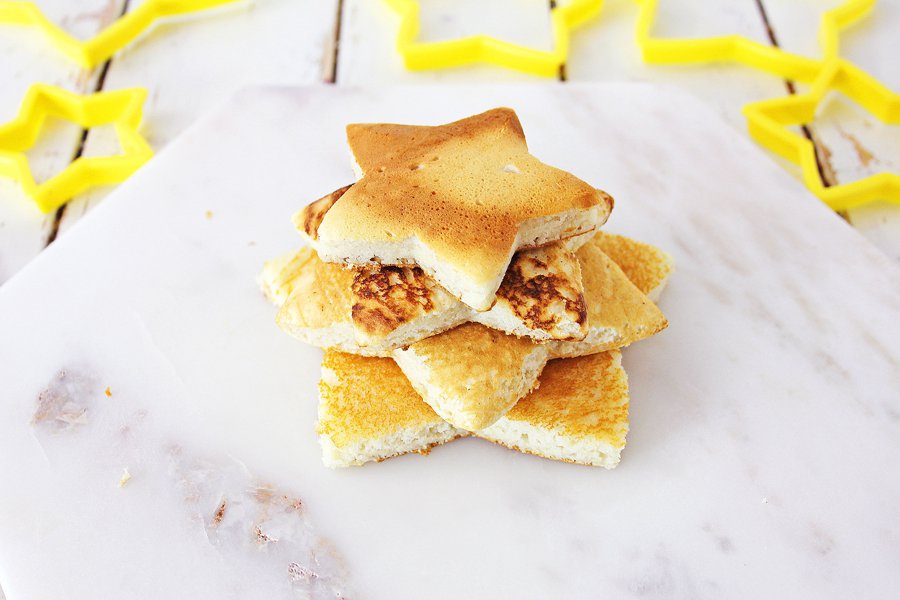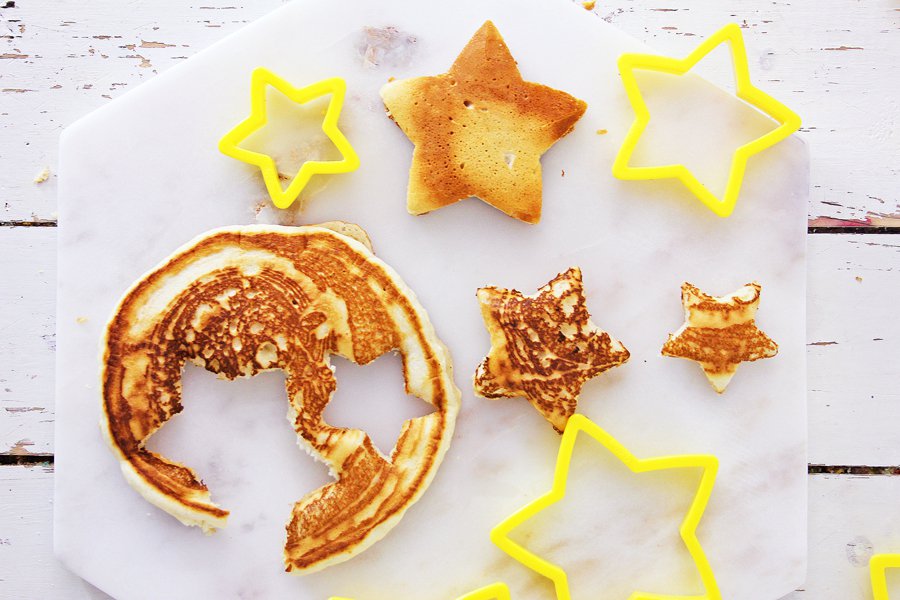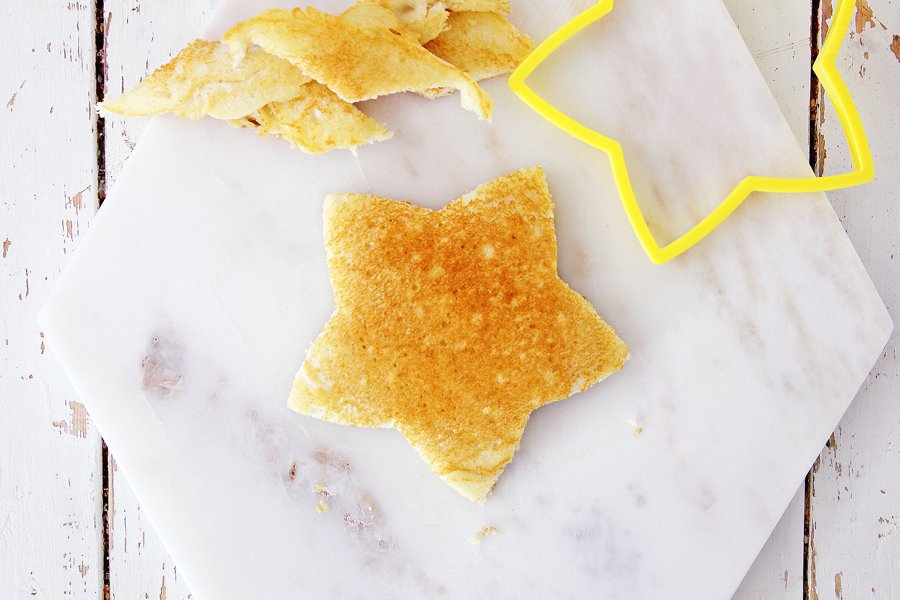 How do you store these pancakes once cooked?
If you happen to have any leftover, you can easily put them in a Ziploc bag or container and store it in the fridge.
Just in case you're wondering, you can also freeze leftover pancakes as well! (I do this all the time and it makes for a super simple breakfast that takes literally no time at all. You just have to heat up and serve!)
Stacked Christmas Tree Pancakes – Ingredients
HOMEMADE PANCAKE RECIPE:
2 1/4
cups of

flour
4 t

easpoons of

baking powder
3/4

teaspoon of

salt
1/2

cup of

sugar
2 eggs

–

beaten
2 1/4 c

ups of

milk
1/2 c

up of

oil
FOR THE PANCAKE TREE DECORATIONS:
1 mango
1 container of Pomegranate seeds
Nonpareil Christmas Sprinkles
With those simple ingredients, you'll have a beautiful stack of pancakes in no time at all!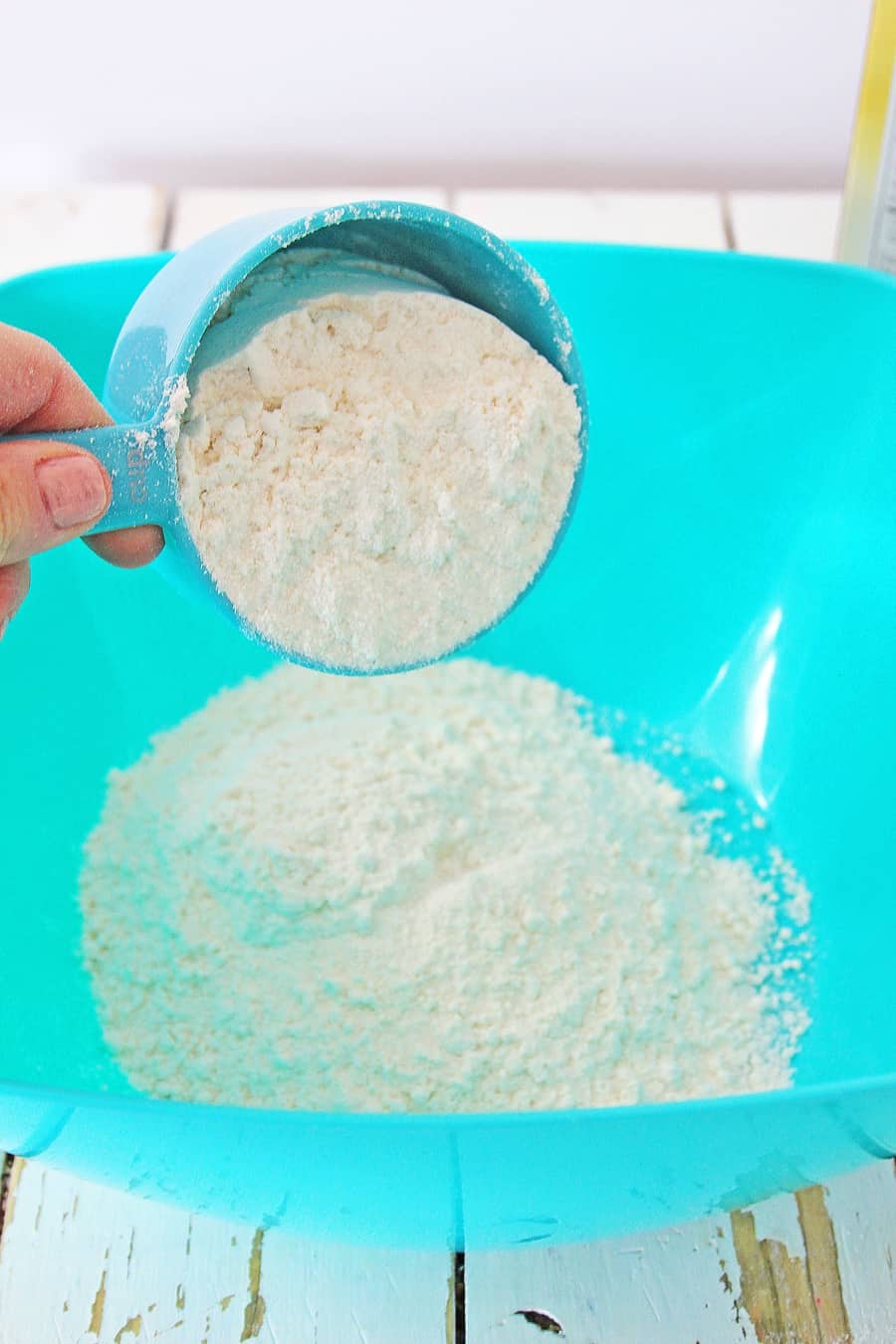 Instructions:
In a large bowl, or measuring bowl with a pour spout, mix the flour, baking powder, salt, and sugar until well blended. In the center of the flour mixture, make a hole, and pour in the milk, beaten eggs, and oil. Mix well until you have a smooth batter.
If you have an electric griddle, you can use that, or if not, a non-stick skillet will work, on the stove. Heat the griddle or skillet, and drop a drop of water on the surface – if it beads up, you'll know your griddle or skillet is hot enough.
Pour the pancake batter out onto the griddle or skillet, to form a large pancake, or two if you have room (about 4 inches across). You'll want the pancakes to be large enough to cut out the stars for the tree.
When the pancakes are cooked. Lay 4 of them out on parchment paper, and starting with the largest Star cookie cutter, place it in the center of the pancake and cut out the star, and place it on a plate. Continue until you've cut out one of each size of the star cookie cutters.
Place the smaller stars on top of the larger star, stacking them with the points at different angles to for a tree (see photo).
When all the Star pancakes have been stacked, use the small star and cut out the star for the top of the tree from the Mango. Cut small pieces of the mango to lay on each point of the Stars, or tree edges from bottom to top.
Take the white icing pen, and form a line of icing at the edge of each point on the Tree – top to bottom. Place Pomegranates inside the white icing, and sprinkle the Nonpareils on top of the icing and all over the tree to decorate.
Place a generous amount of icing on the top of the smallest Star on top of the tree, and press the Mango star into the icing to decorate the top of the Tree – see photo. Serve and enjoy!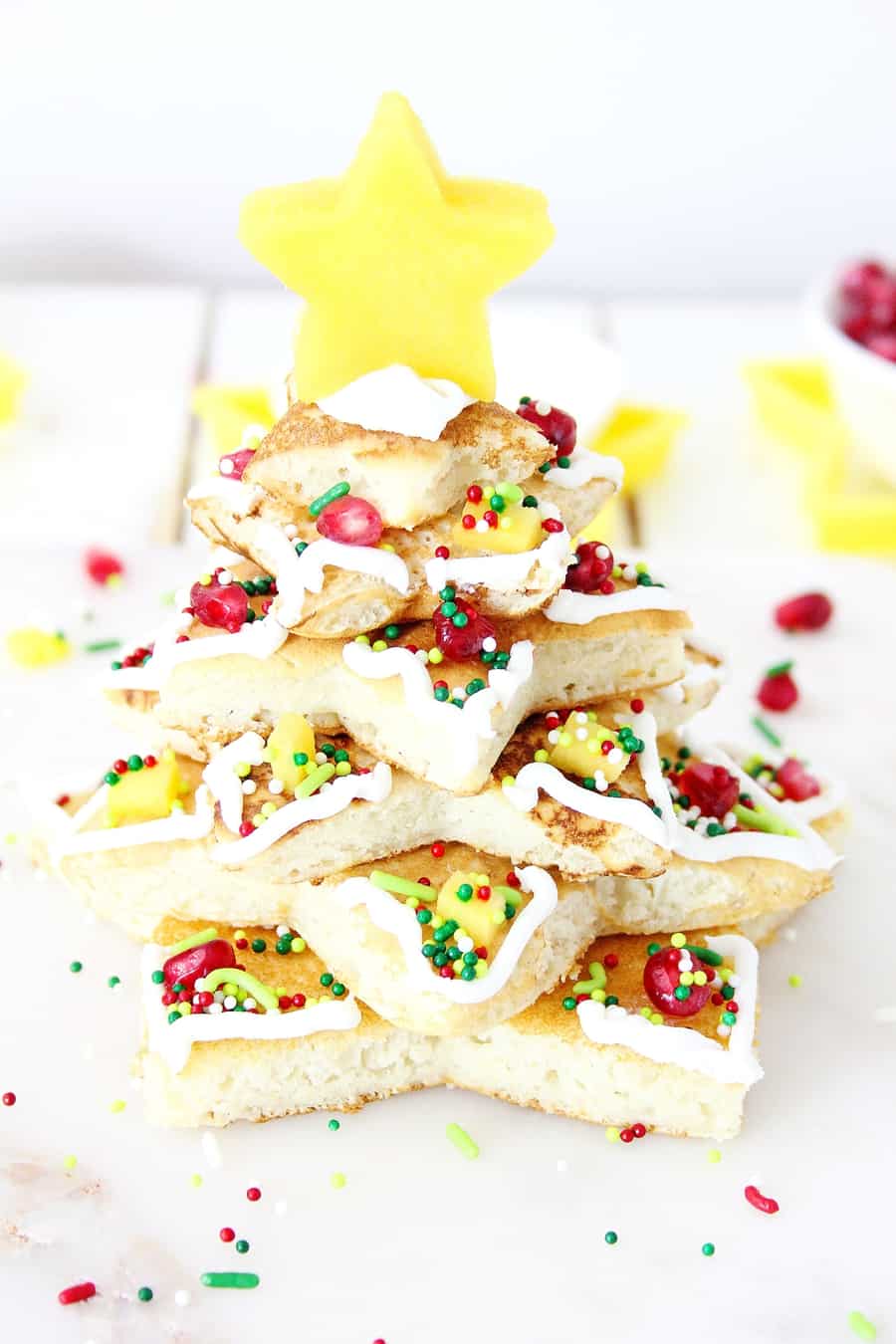 Simple tips for making these Stacked Christmas Tree Pancakes
Let everyone decorate their own star pancake! This is half the fun!
Remember to have fun creating these pancakes. Stressing out over perfecting them isn't necessary because your children are going to be in awe of your ability to eat an edible Christmas Tree!

If you prefer, you can use Whipped cream in place of the icing – but, whipped cream will melt, unlike icing that will not melt, so you'll have to work quickly in order to get the tree decorated. You could also just use whipped cream on top with the Mango Star if desired.
Get ready to enjoy the taste and flavor of these super fun holiday pancakes. They really are a delicious way to start the day.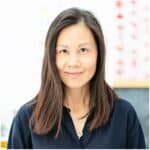 Agnes Hsu is a mom of three and has been inspiring parents and kids to get creative with easy activities and family friendly recipes for over 10 years. She shares her love for creative play and kids food to her 2MM+ followers online. Agnes' commitment to playful learning and kindness has not only raised funds for charity but also earned features in prestigious nationwide publications.