By using this site, you agree to our Terms of Use. This post may contain affiliate links. Read our disclosure policy.
Follow us on Instagram for more fun food ideas for kids!
Get all the deliciousness of S'mores marshmallows, chocolate and graham crackers in one easy-to-handle ice cream cone great for camping or on-the-go!
My family is a HUGE fan of S'mores anything. We make S'mores brownies regularly, and even Halloween S'mores! Turns out you can enjoy this iconic treat in many different ways. Including today's version: S'mores campfire cones!
These goodies are a perfect mash-up of crunchy waffle cones, ooey-gooey marshmallows, and smooth, creamy chocolate. All the ingredients of a classic s'more stuffed into a cone – now that's a delicious twist we can get behind. And the best part? You don't really need a campfire to make these. Plus they are super fun to make, especially for kids in your family.
My kids love the classic versions which we share below but you can stuff these with so many fun toppings as you'll see below!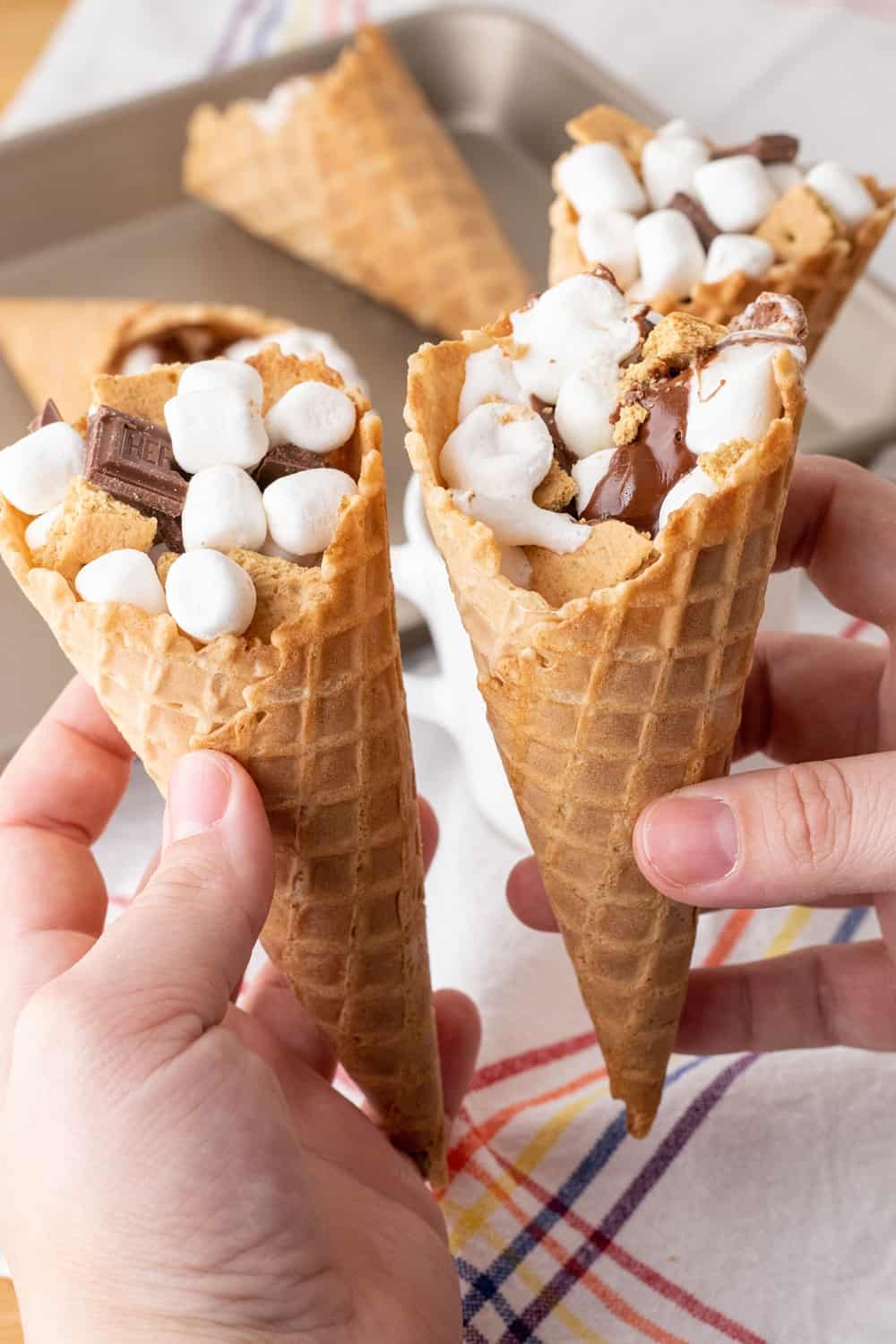 What are campfire S'mores?
S'mores campfire cones are basically all the ingredients of a classic S'mores (graham crackers, marshmallows and milk chocolate) stuffed in side an ice cream cone and "roasted" this way. The cones are covered in foil to heat up and once uncovered and cooled, are an easy way to eat S'mores while camping or on the go
Do you need a fire to make S'mores campfire cones?
Nope! You can do this over any source of heat and right at home in the oven like we did here. Of course these taste delicious over a campfire and are even more fun to roast this way. But we recognize that going camping isn't something everyone can do regularly. You can bake these in a pan, covered in foil, just follow the easy instructions below.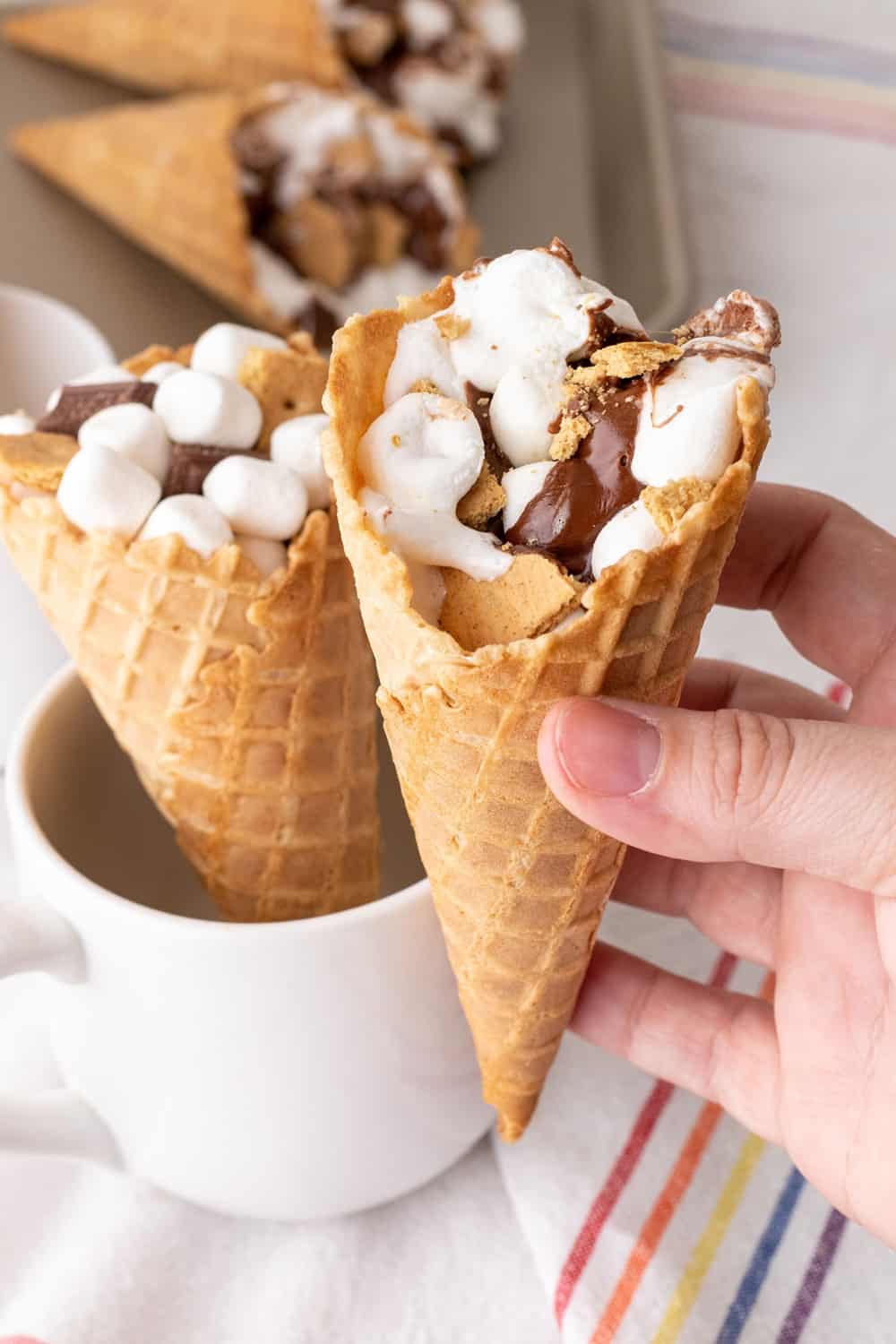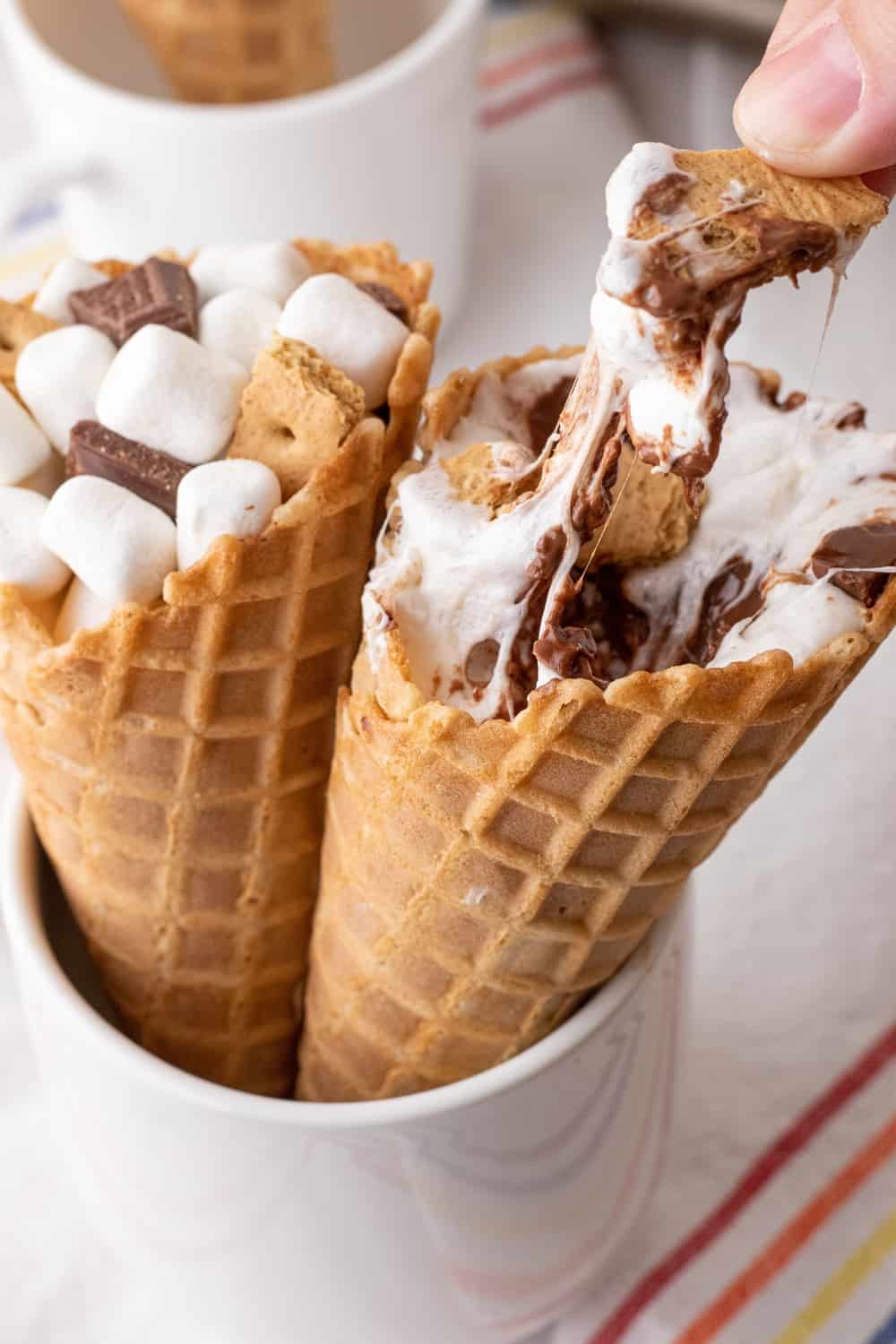 What can you add to S'mores Cones?
S'mores Cones are easily customizable with endless delicious options. Here are some fun additions you could consider:
Nuts: Almonds, peanuts, or pecans would add a nice crunch.
Fruit: Sliced bananas or strawberries would bring in some freshness. Raspberries or cherries would cut the sweet with the tartness.
Sweet Spreads: Nutella, peanut butter, cookie butter or caramel sauce would add to the gooeyness.
Candy Bars: Chopped up Snickers, Reese's, or Milky Way adds extra sweetness.
Cookies: Crumbled Oreos other than graham crackers would make it a more chocolatey and crunchy version.
Flavored Marshmallows: There are many different flavored marshmallows available now, like coconut or strawberry, which could add an interesting twist.
Remember, the key is to have fun! Let your imagination run wild and make the S'mores Campfire Cones your own.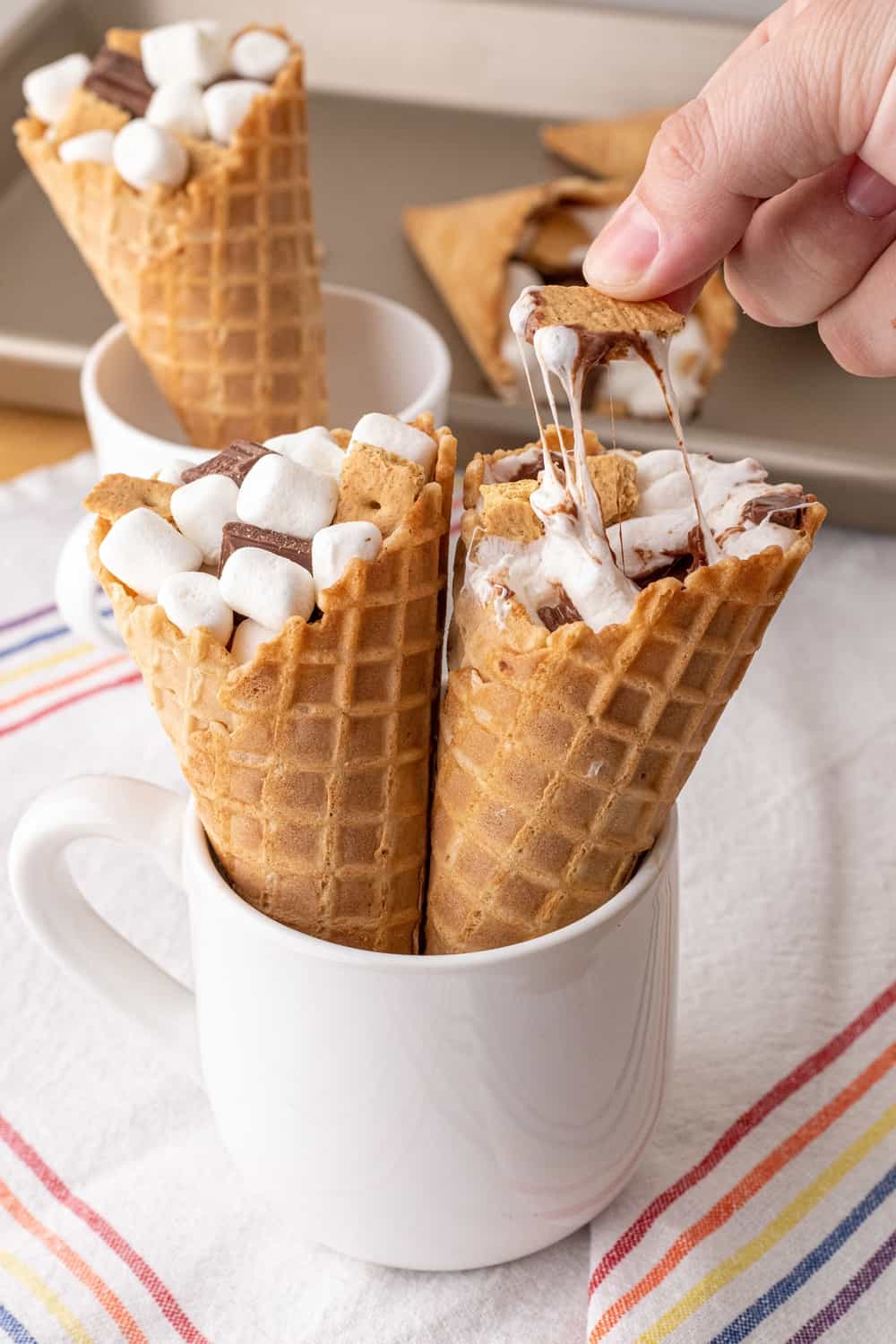 S'mores Cones Ingredients:
Waffle cones
Mini marshmallows
Chocolate (we used Hershey's milk chocolate bars)
Graham crackers
Tip: It's much easier to combine all your ingredients and then scoop straight into the cone instead of layering! This way you get an even distribution of chocolate, marshmallows and graham crackers!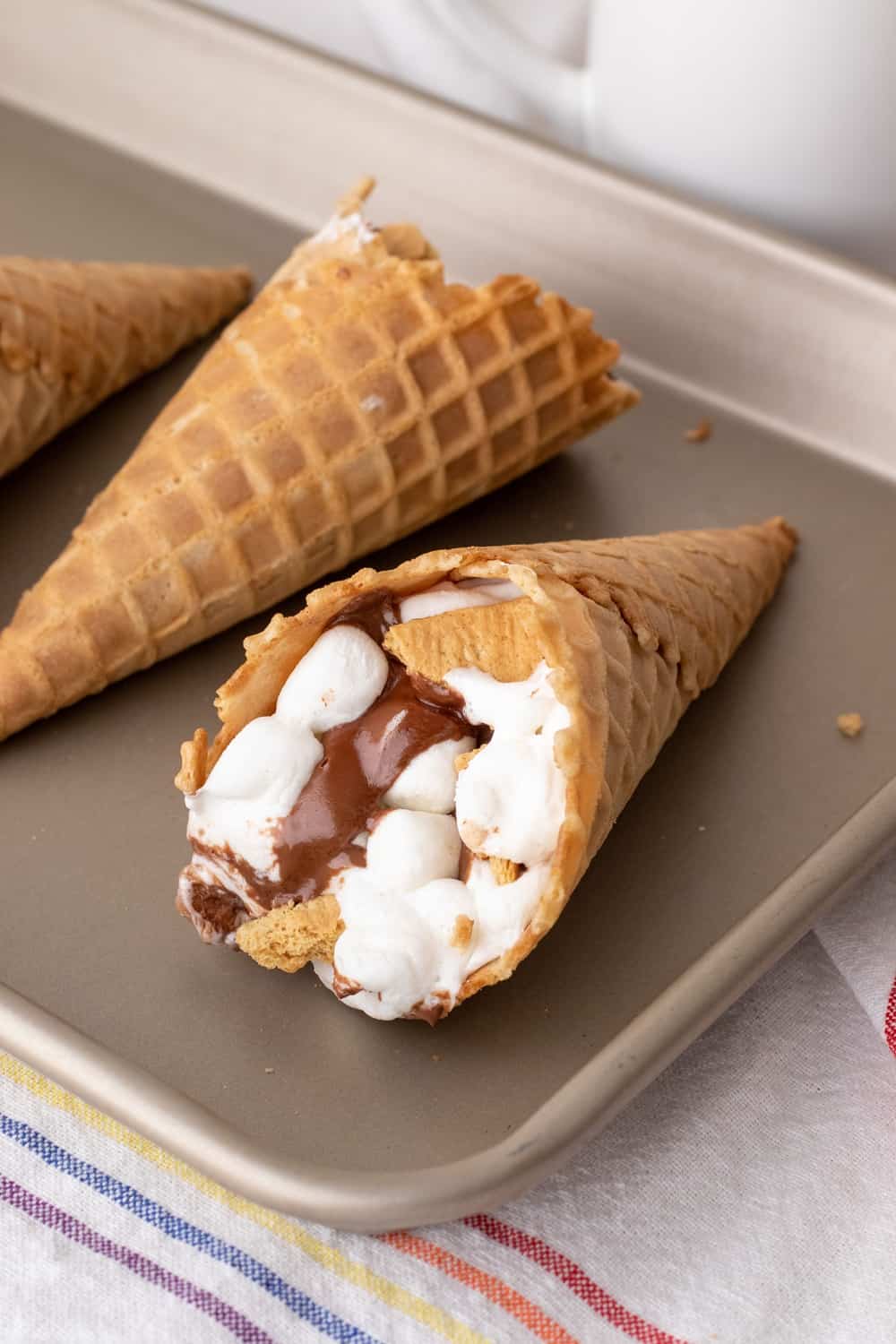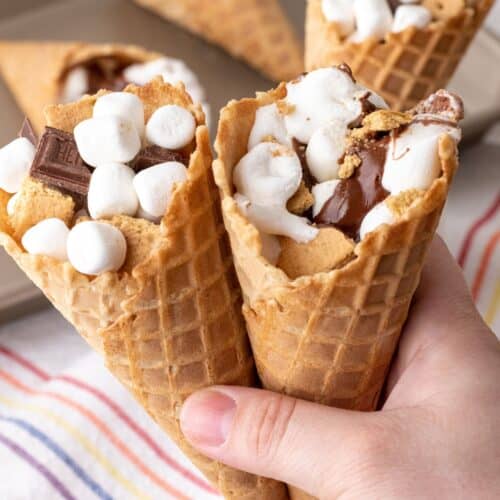 S'mores Campfire Cones
Get all the deliciousness of S'mores marshmallows, chocolate and graham crackers in one easy-to-handle ice cream cone great for camping or on-the-go!
Ingredients
Waffle cones

Mini marshmallows

Chocolate (we used Hershey's milk chocolate bars) but you can also use chocolate chips

Graham crackers
Instructions
Preheat oven to 350 degrees

1) Place mini marshmallows, broken up graham crackers and chocolate bars into a large mixng bowl.

2) Spoon mixture inside cones to the top.

3) Wrap cones completely in foil and lay on a baking pan. Bake in your preheated 350 degree oven for 5-7 minutes. You might need to unwrap and peek at one to see how it looks depending on how hot your oven gets.

4) They are done when the marshmallows are gooey and melted. Remove, allow to cool until you can safely remove the foil and enjoy!
You Might Also Like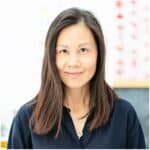 Agnes Hsu is a mom of three and has been inspiring parents and kids to get creative with easy activities and family friendly recipes for over 10 years. She shares her love for creative play and kids food to her 2MM+ followers online. Agnes' commitment to playful learning and kindness has not only raised funds for charity but also earned features in prestigious nationwide publications.