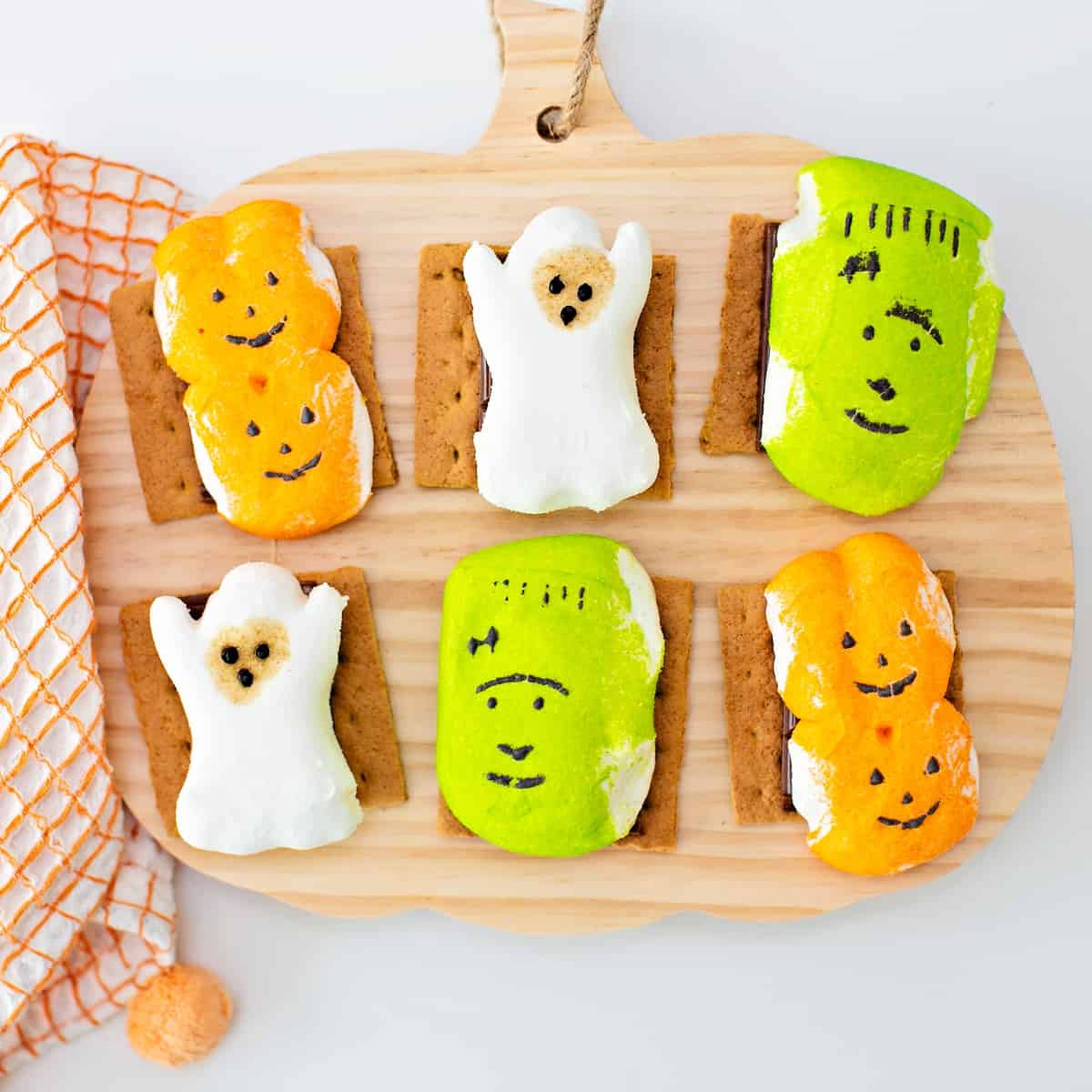 Follow us on Instagram for more fun food ideas for kids!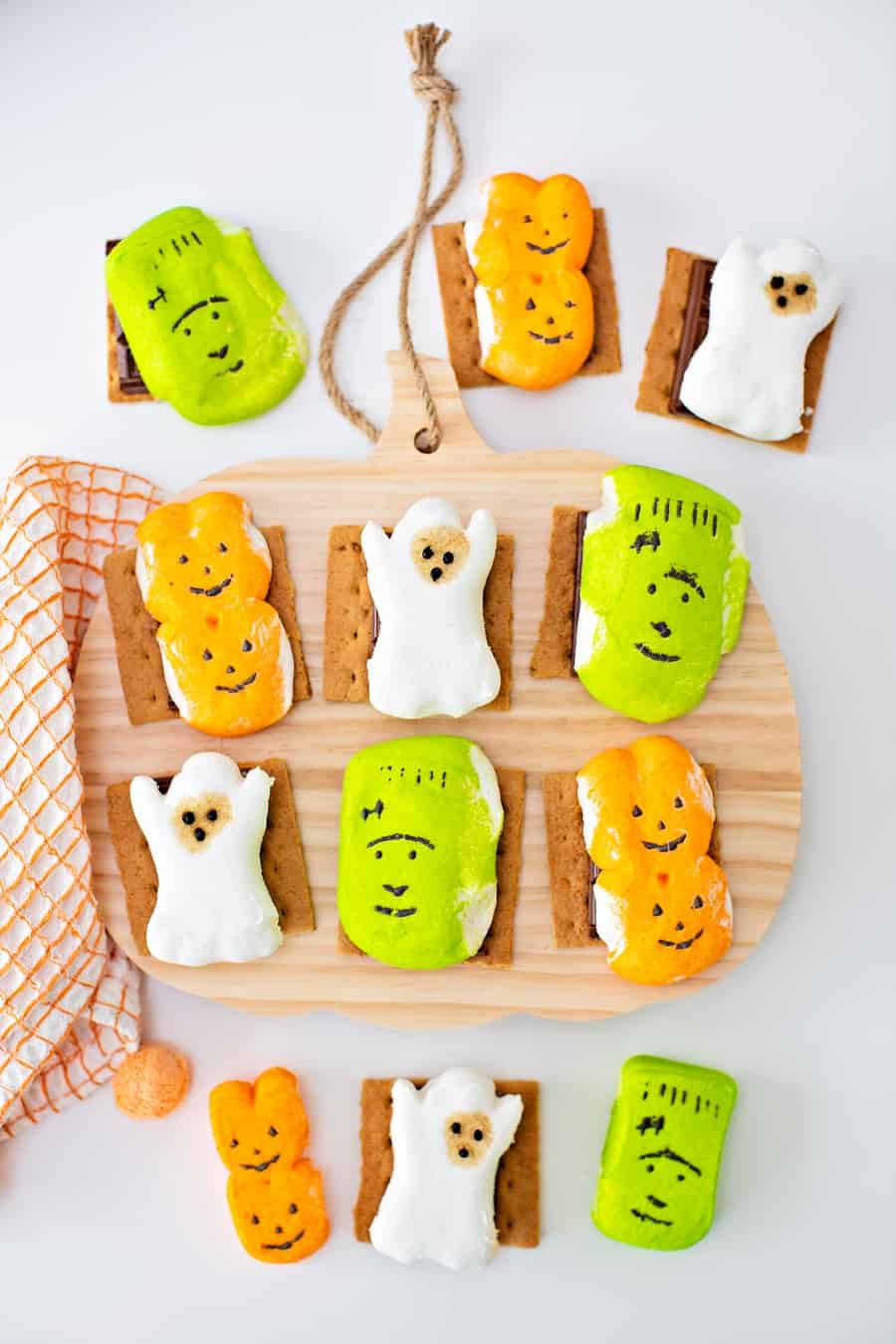 These Easy Halloween S'mores are a sweet and spooky Halloween snack.
It's always time for s'mores. But when the weather gets a bit chilly and the Halloween season rolls around, the timing is never more perfect.
After all, who doesn't love that taste and flavor of a gooey marshmallow that just happens to stick the roof of your mouth perfectly over and over again?
But the best part about s'mores? They're meant to be messy. And everyone knows this. And once everyone knows this and is agreement with this, it's just the perfect snack to be able to sit down, enjoy and get sticky with.
These easy Halloween s'mores are perfect for Halloween but in all reality, they are just a ton of fun to make together and enjoy at any point in time. If you're looking for an awesome and simple scary good snack, you're going to love these. (and it's so hard to eat just one!)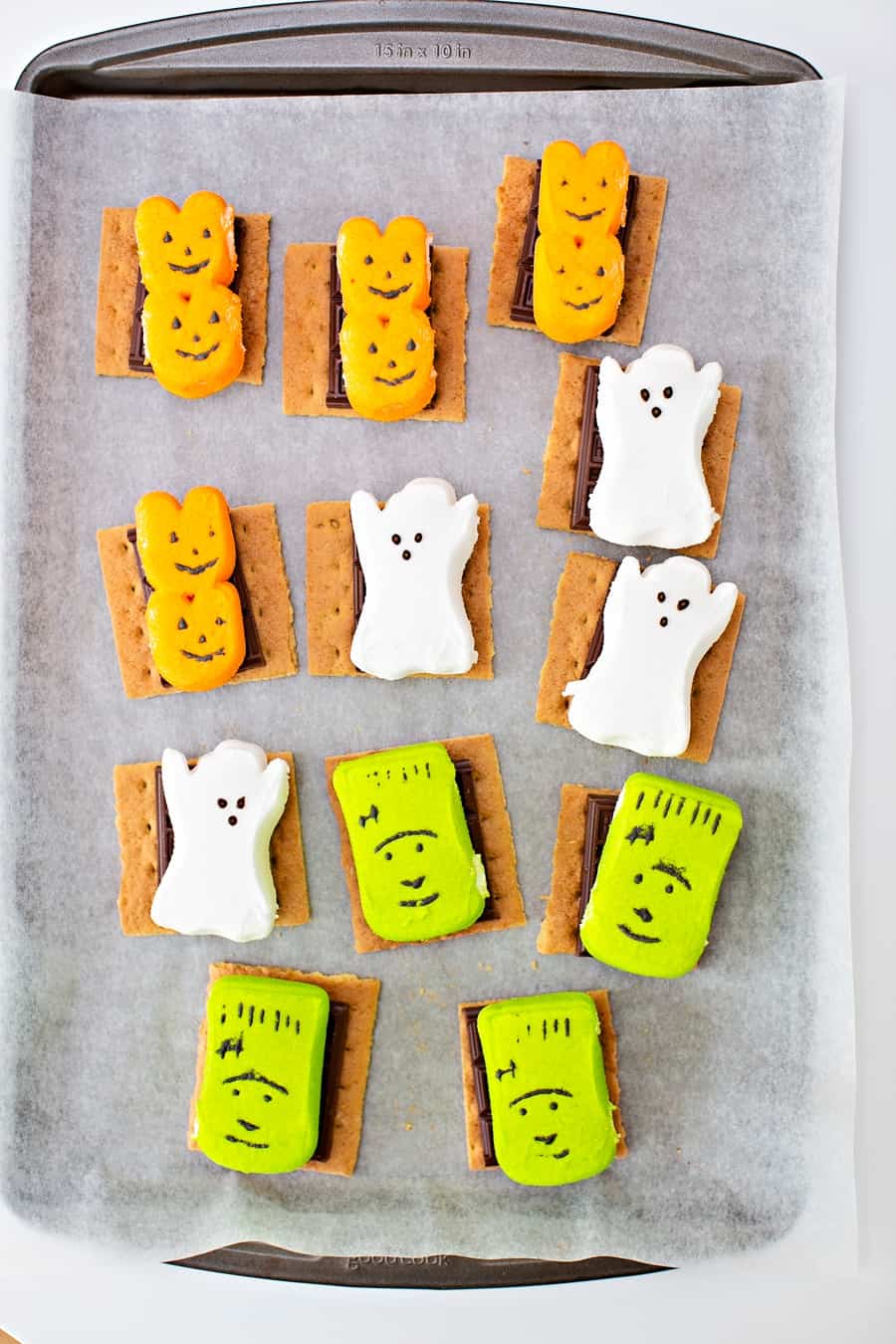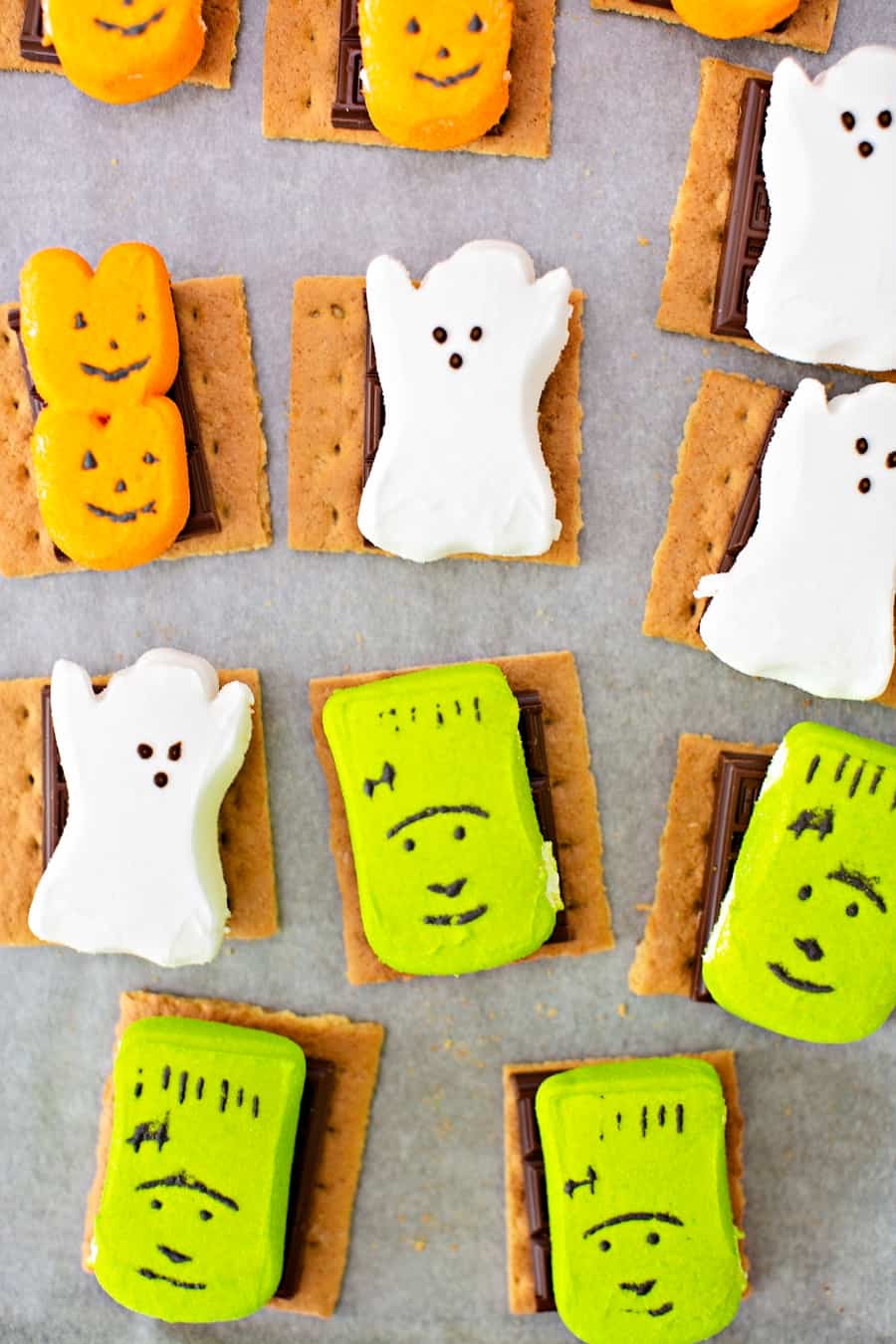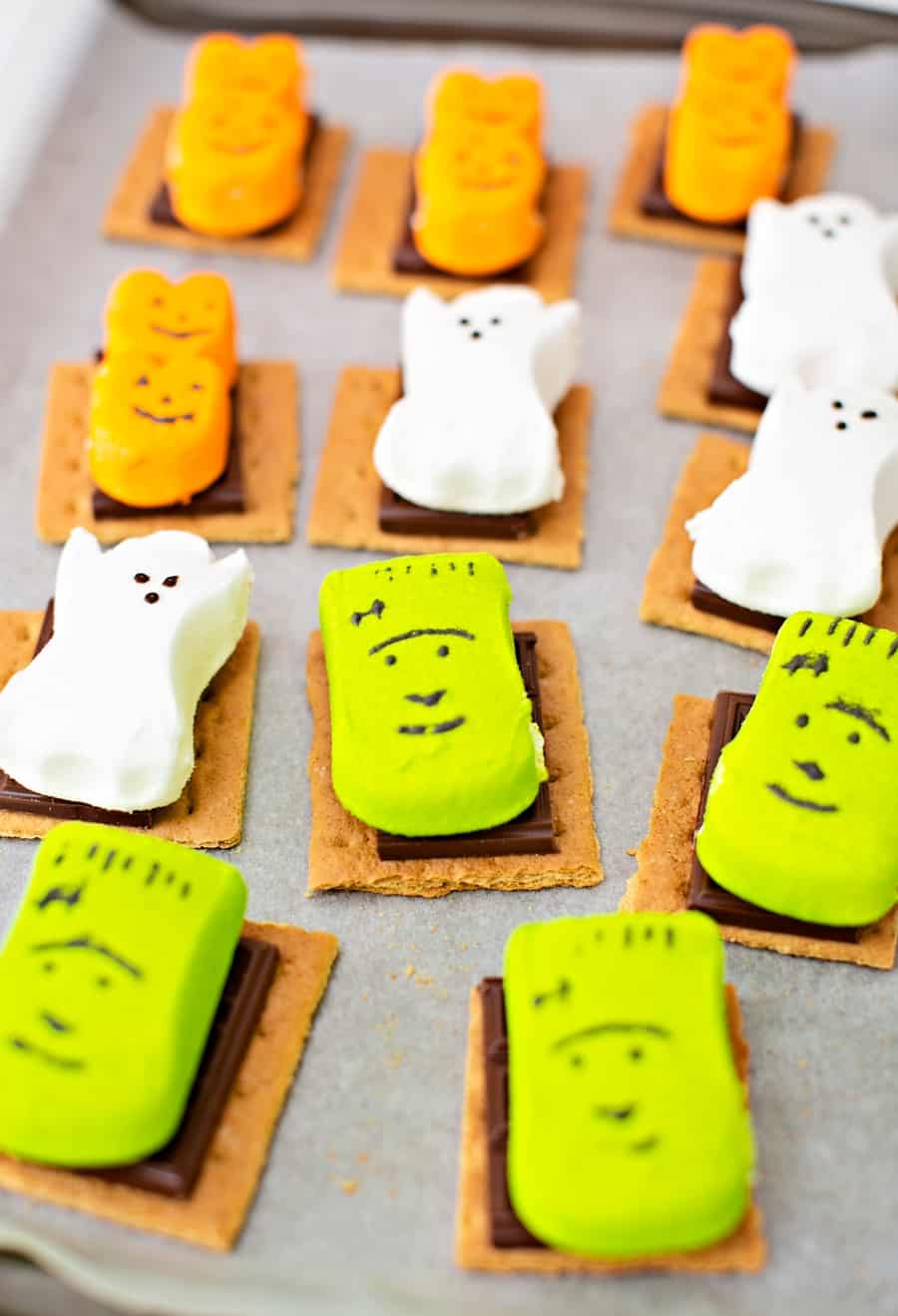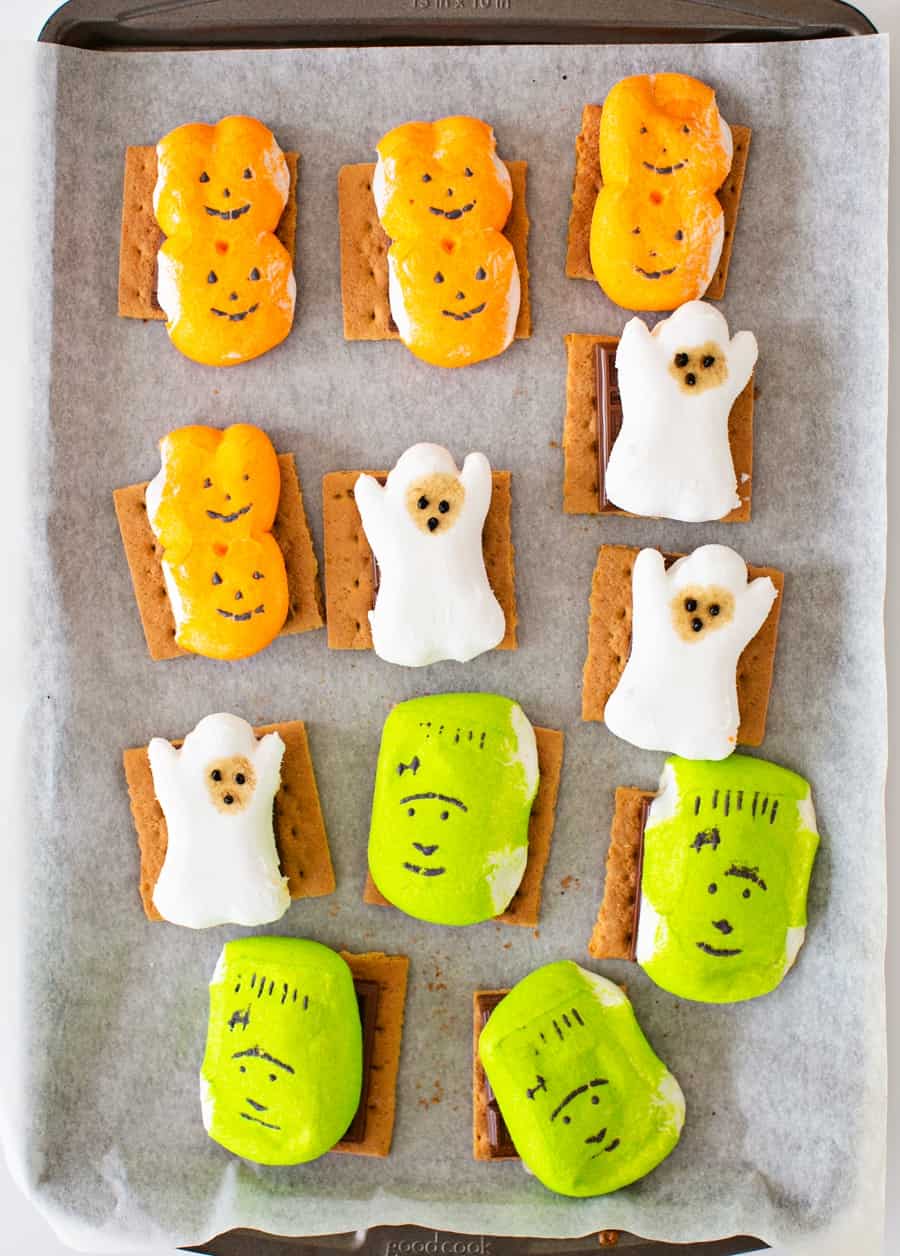 How do you get the faces on these Halloween s'mores?
These Peep Marshmallows already came with faces so that makes it super easy! However, we have to warn you, once you bake in the oven, the ghost face features DO come off!
We only experienced this with the ghost however, so we did pipe on the eyes and mouth again with some black icing after they came out of the oven. Because faceless ghosts are well..even spookier! However you can leave them faceless after the baking.
After all, these s'mores will be gobbled up and won't last long!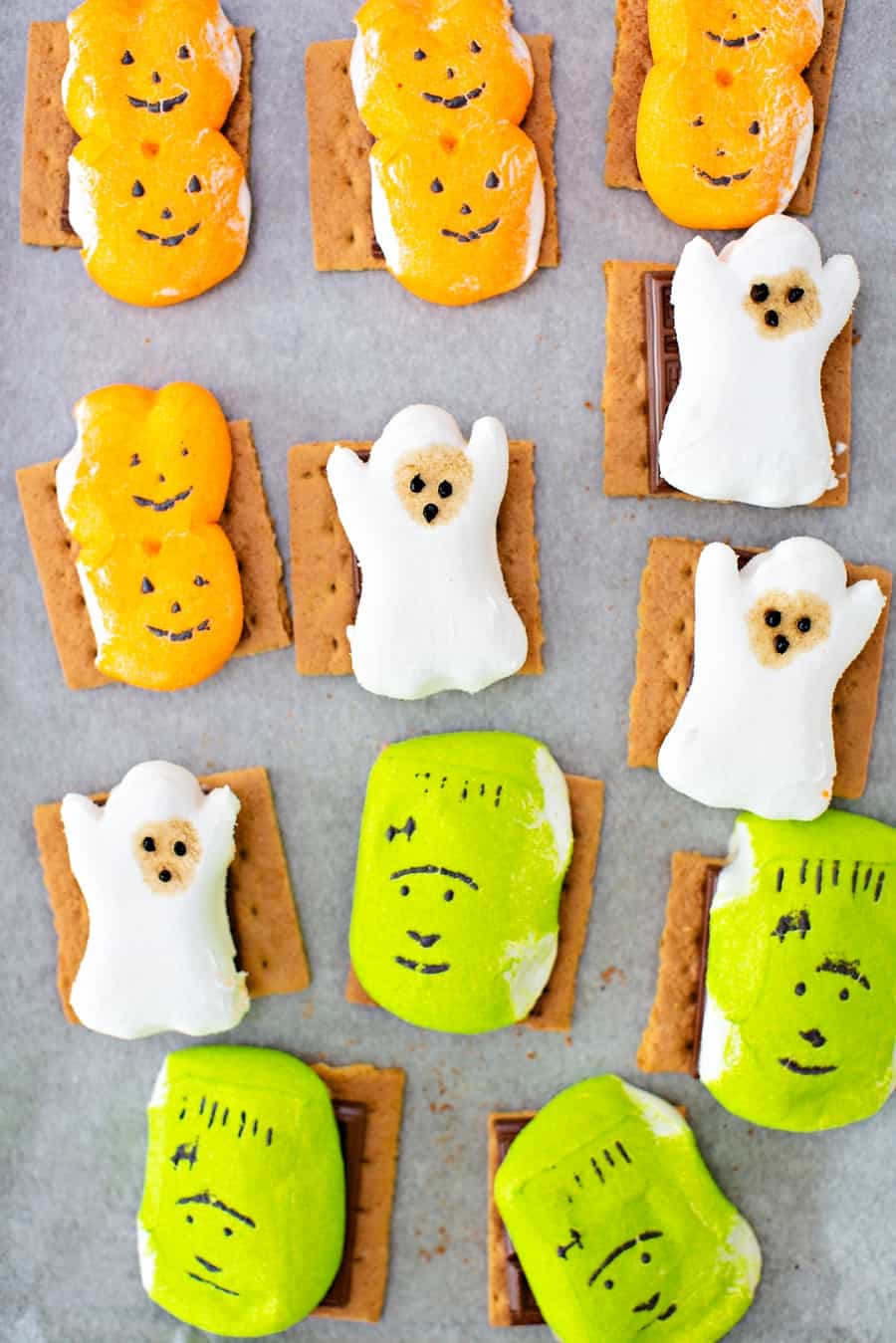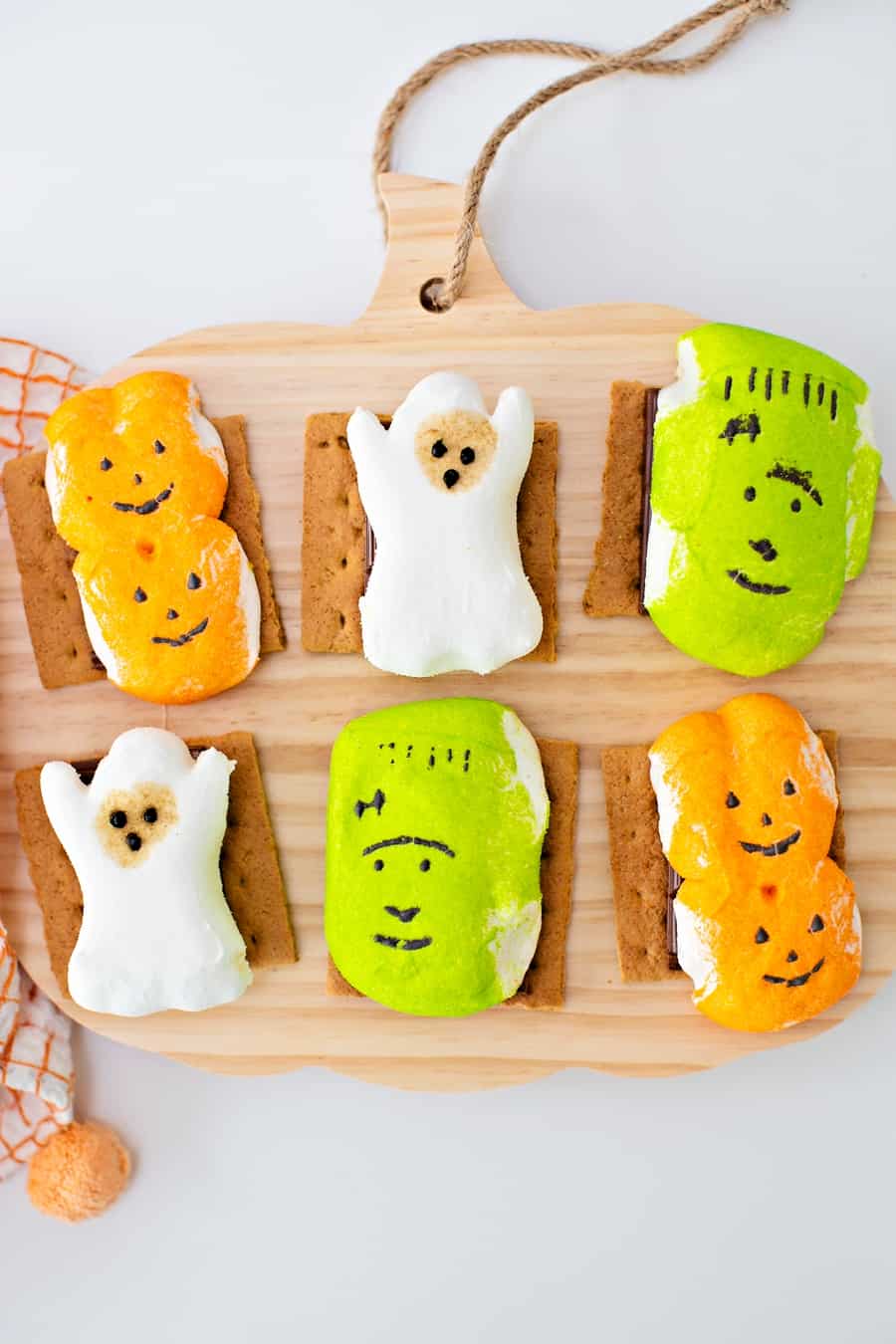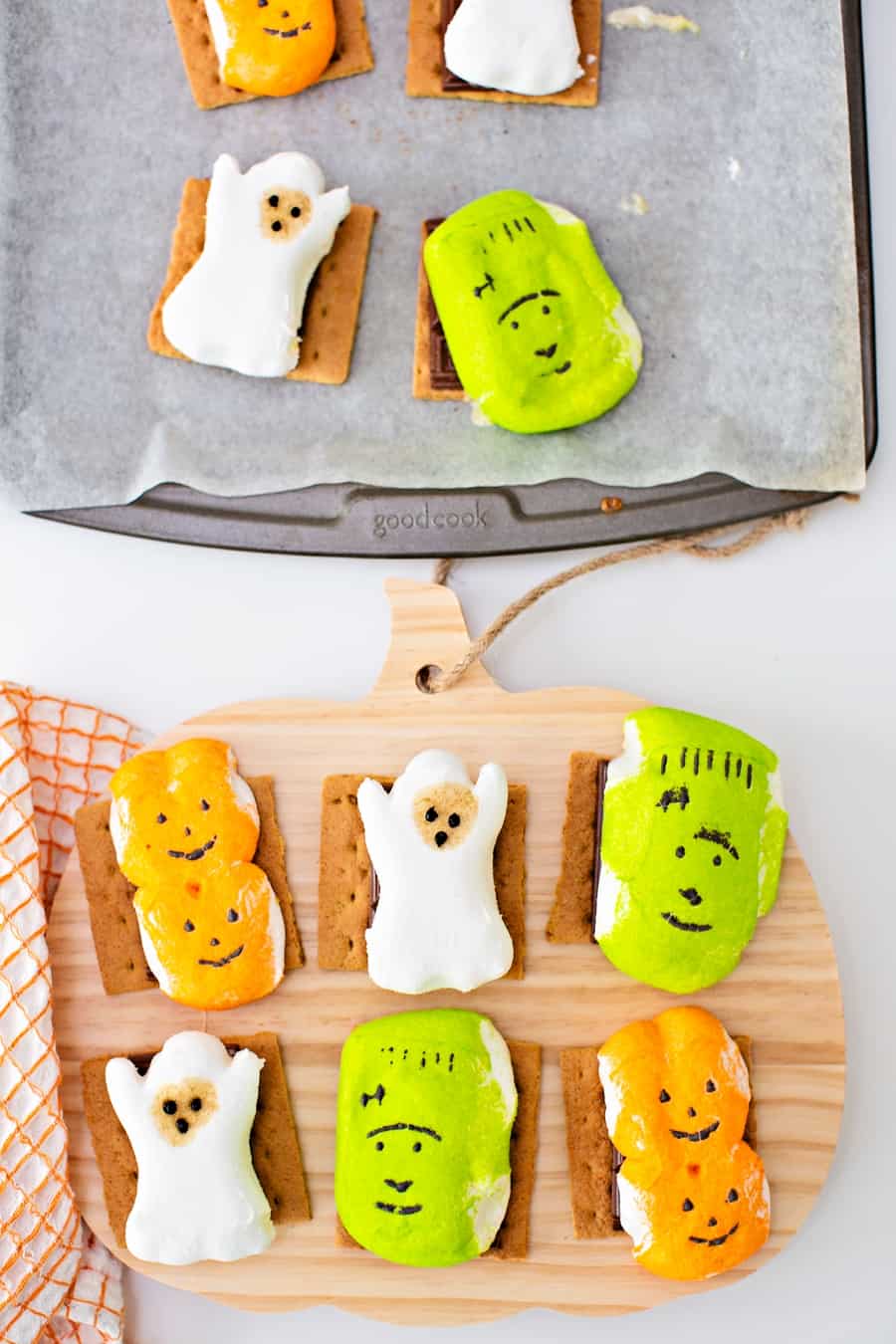 Can you make s'mores in the microwave at home?
Actually, you can! While the traditional way to make s'mores is to cook them over a fire, you can easily whip these up in the microwave as well. Just pop them in the microwave for about 10 seconds to let them get a bit gooey. And make certain that the kids watch! The marshmallows get GIANT in the microwave as they're cooking. It's really actually quite cool to see!
However, we wanted some "toastiness" to our Halloween s'mores we did pop the in the oven for about 8 minutes at 375 degrees. You can also use a toaster oven or a blow torch if you happen to have one at home!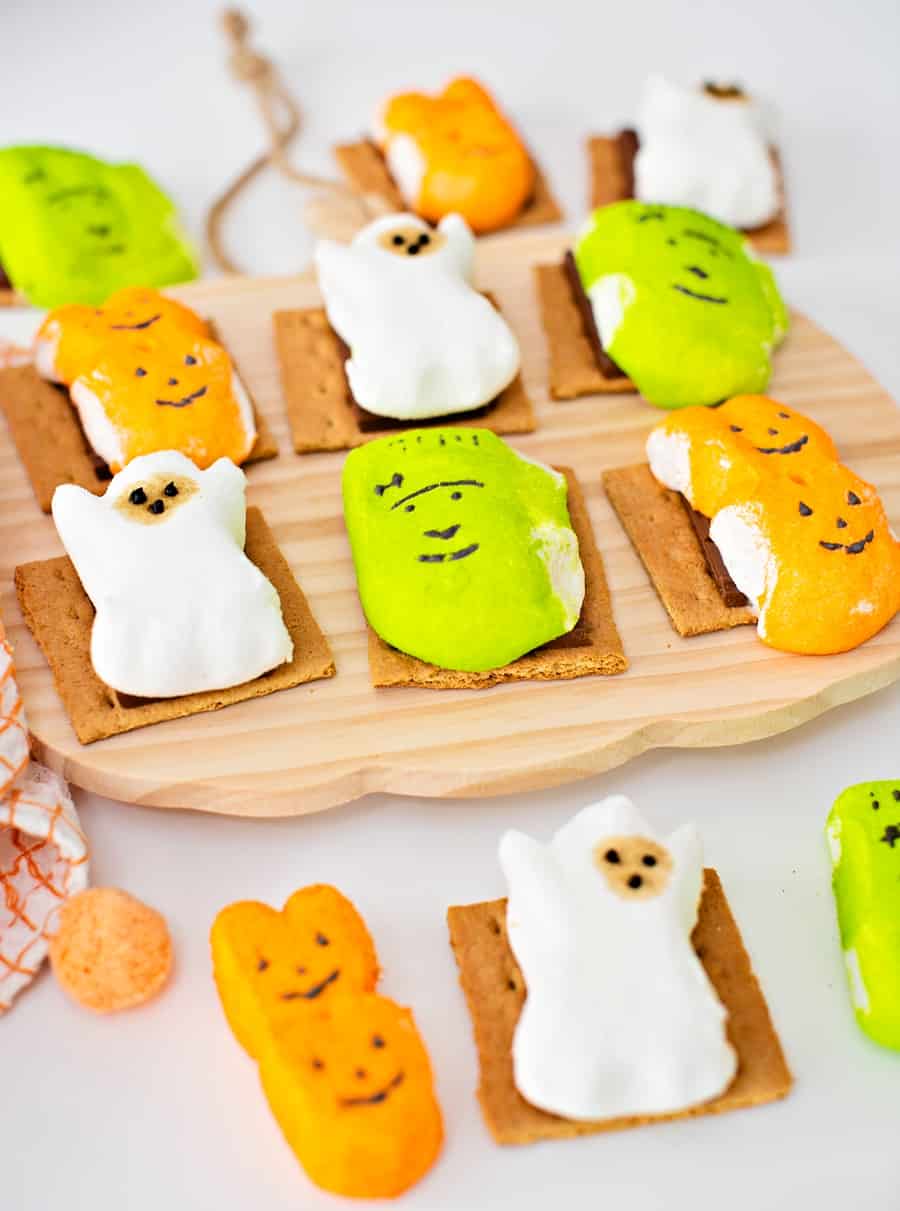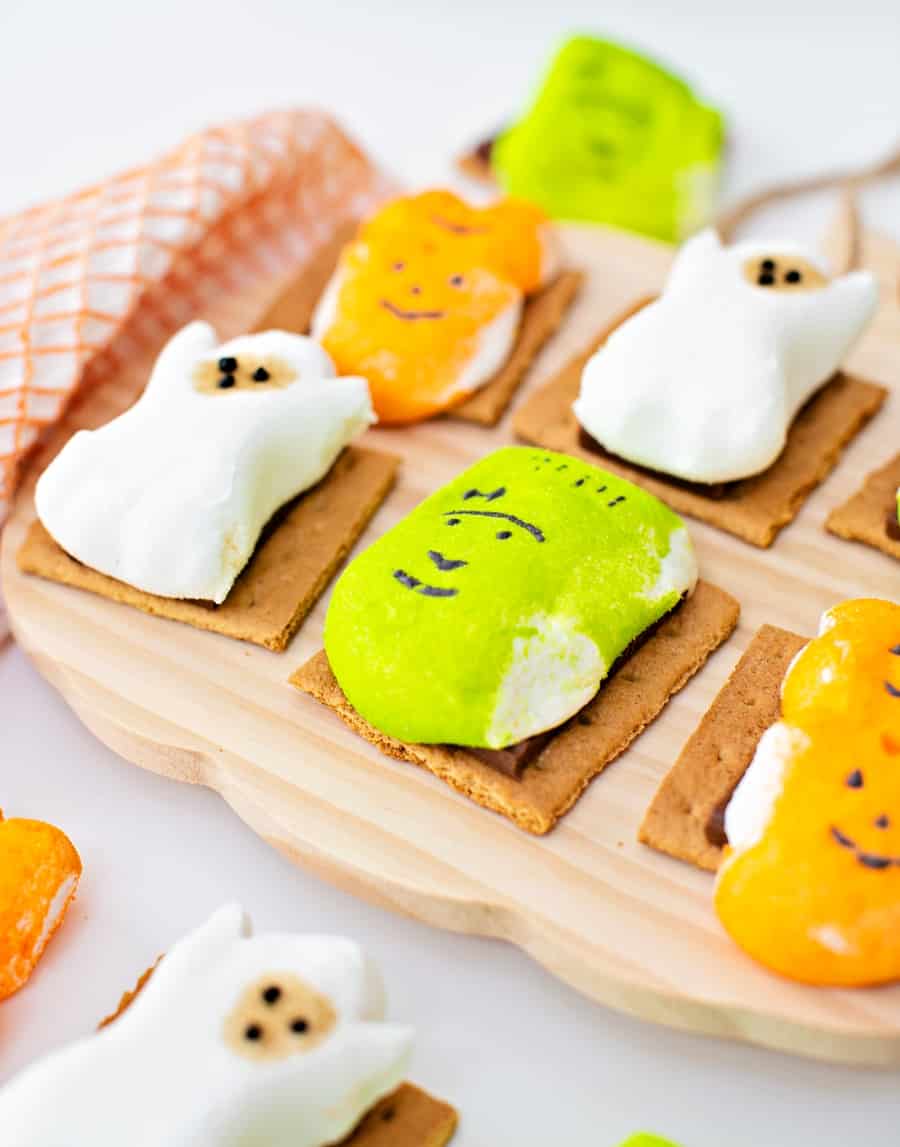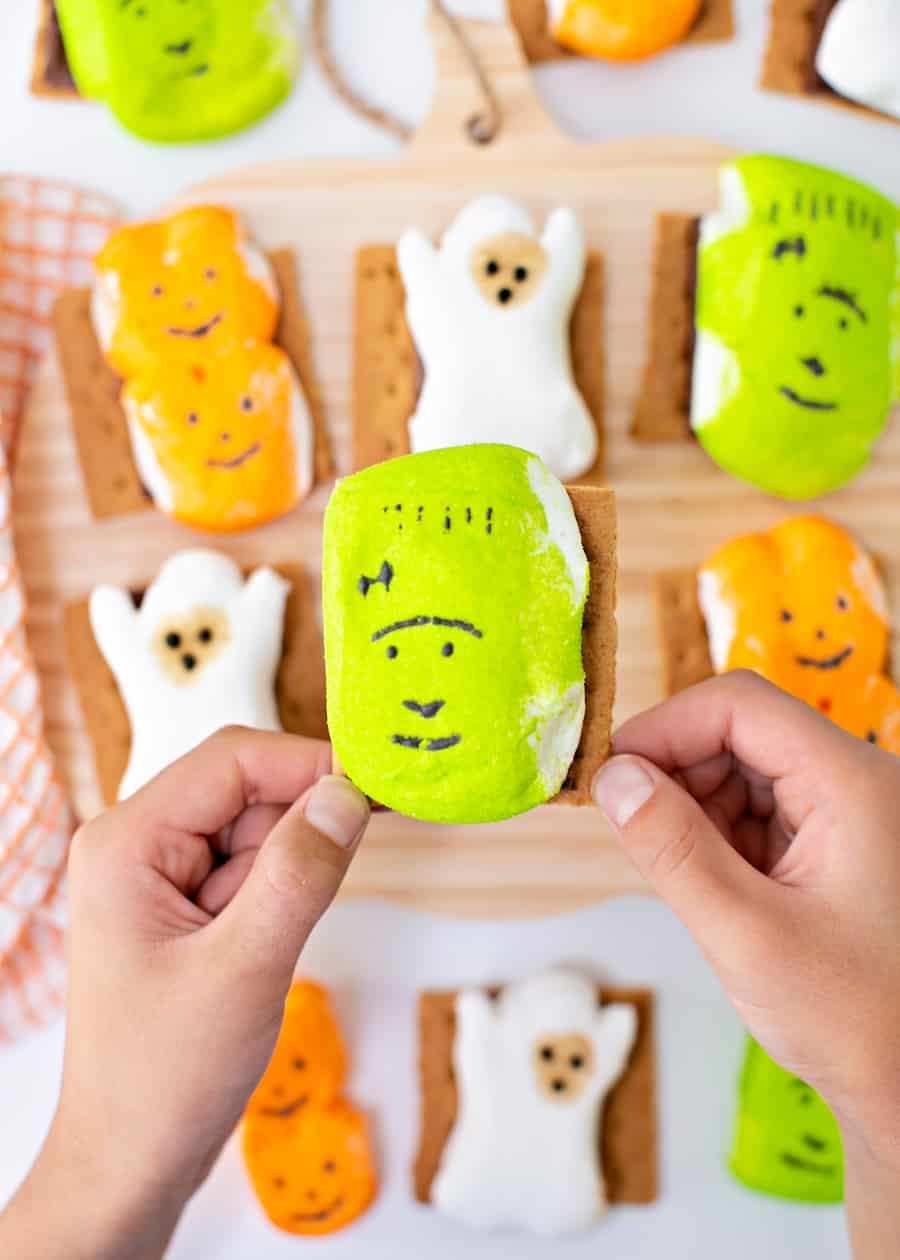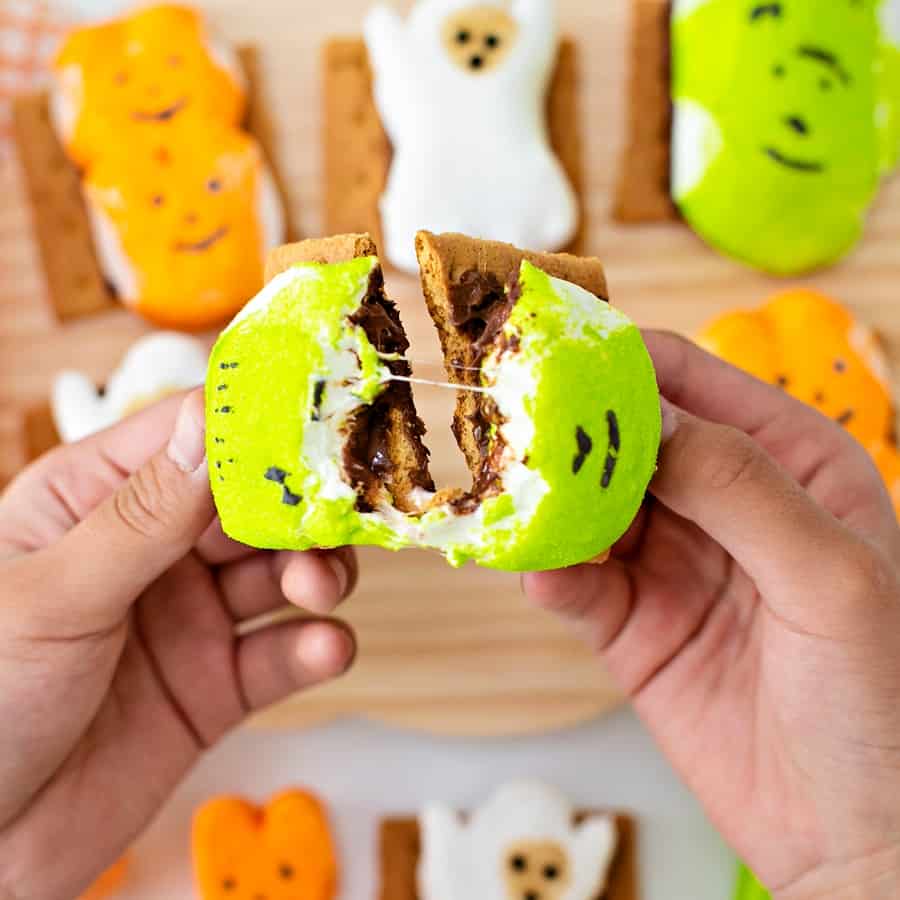 Easy Halloween S'mores – Ingredients
Halloween Peep Marshmallows

Chocolate (we used Hershey's)

Graham Crackers
You can even add some fun edible eyes for a special treat as well. Once those marshmallows are a bit sticky, they're perfect for adding on other things.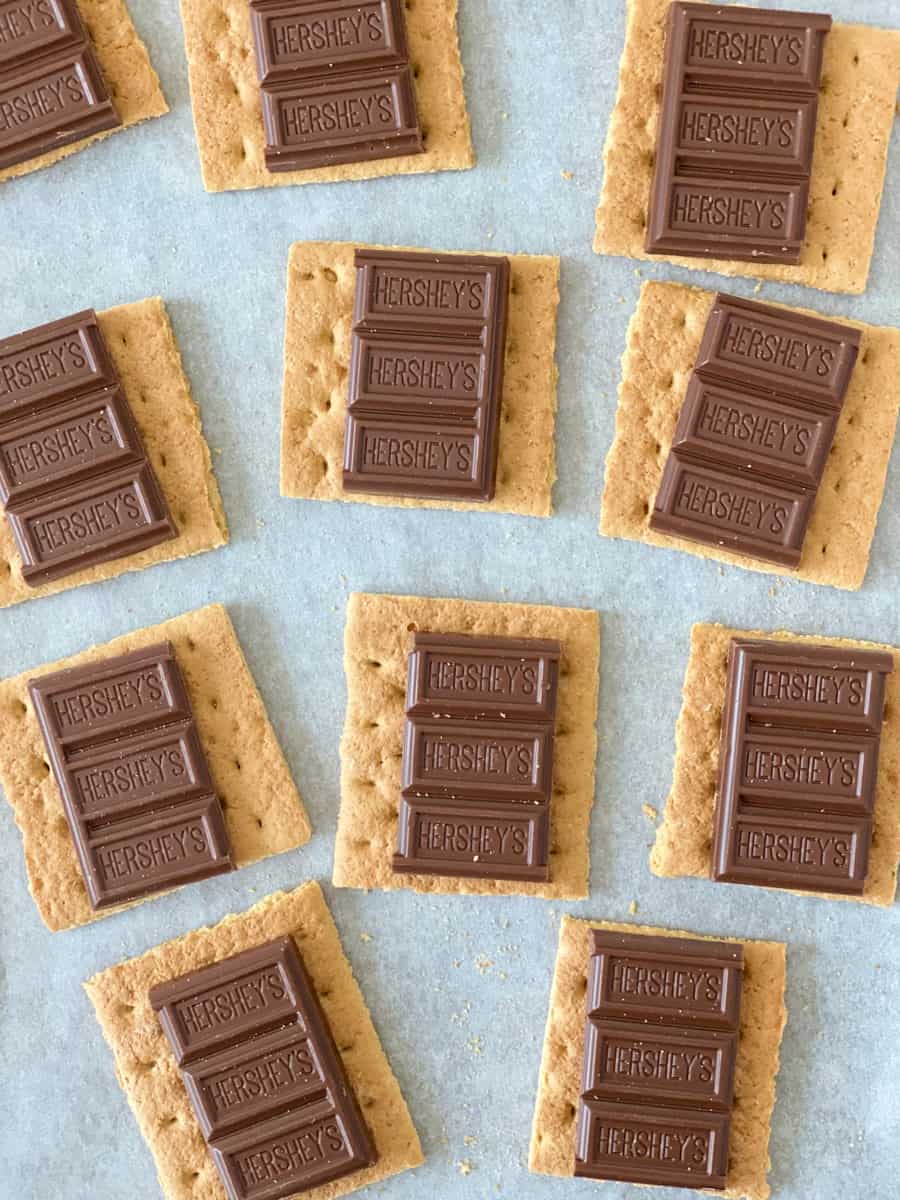 Simple tips for making these Easy Halloween S'mores
These tips for cooking up and eating s'mores are key!
Make certain to eat them while they're warm! (but not too hot!) S'mores when warm ensure that the marshmallow is good and gooey.
Let the kids have fun creating this treat. It's super kid-friendly and a fun way to let the kids cook easily in the kitchen. Just make certain that you're handling any of the heating up or anything dealing with fire when you're cooking these delicious Halloween s'mores.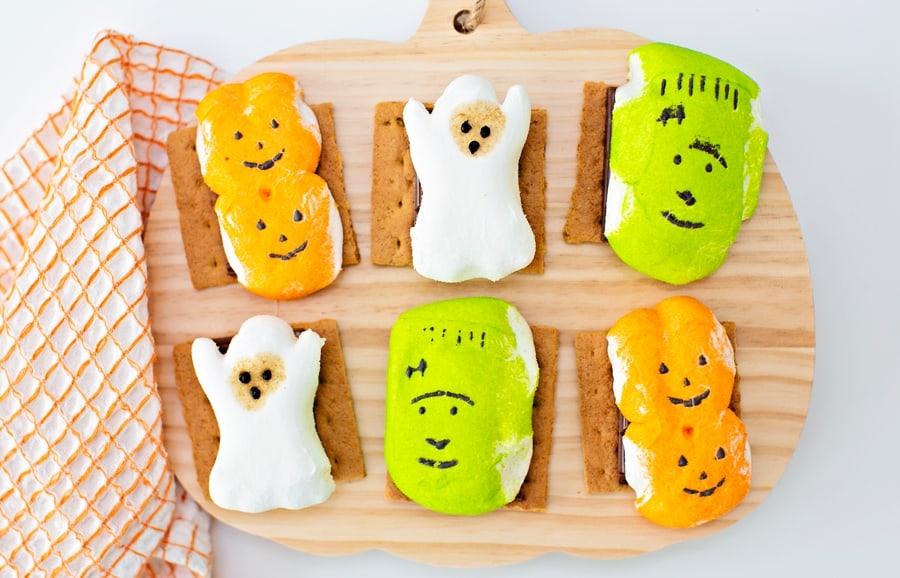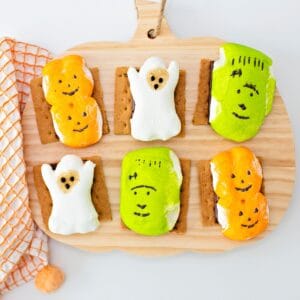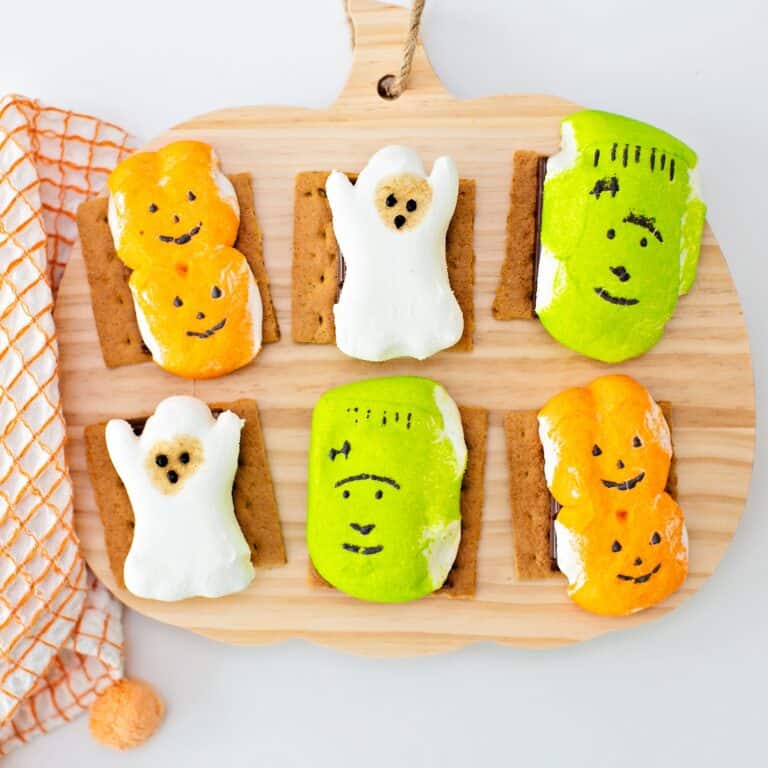 Easy Halloween S'mores
These Easy Halloween S'mores are a sweet and spooky Halloween snack.
Ingredients
Graham crackers

Halloween Peep S'mores

Chocolate Squares

We used Hershey's
Instructions
Add 3 rectangles of chocolate and one Halloween marshmallow on top of a graham cracker square.

Toast in a preheated 375 degree oven until the marshmallows get soft and pillowy - about 7-8 minutes.

Remove and enjoy s'mores while warm and gooey.
Notes
Our ghost face features disappeared while in the oven! We added them back with a bit of piped black icing. Of course this is completely optional!
You can also use a toaster oven or melt the marshmallows in the microwave fro about 10 seconds. But note they won't get that brown toasty look on top. You can also use a kitchen torch (one used for cooking or baking).
More delicious Halloween snacks and recipes to try: