By using this site, you agree to our Terms of Use. This post may contain affiliate links. Read our disclosure policy.
Follow us on Instagram for more fun food ideas for kids!
These Mini Brownie S'Mores Bites are a delicious and mess-free way to get that S'mores taste and flavor that we all love in tiny form!
S'mores are the perfect treat. They're ooey and gooey and worth every bite. The good thing about this s'more recipe is that they mini and bite-sized perfection. It's one kid-friendly dessert in our house that we can all agree on without any issues or debates.
The great part about this recipe is that the kids can hop in and help as well. My 11 year old daughter can actually make it all by herself!
It's probably one of the easiest ways to make S'mores ever and doesn't require you to have a giant campfire to make them happen, either.
All you need are a few simple ingredients and these brownie S'mores will be ready in no time at all. Once the word escapes your mouth, everyone is going to be running to the kitchen to help! This simple dessert recipe is a great way to bring the family together in the kitchen.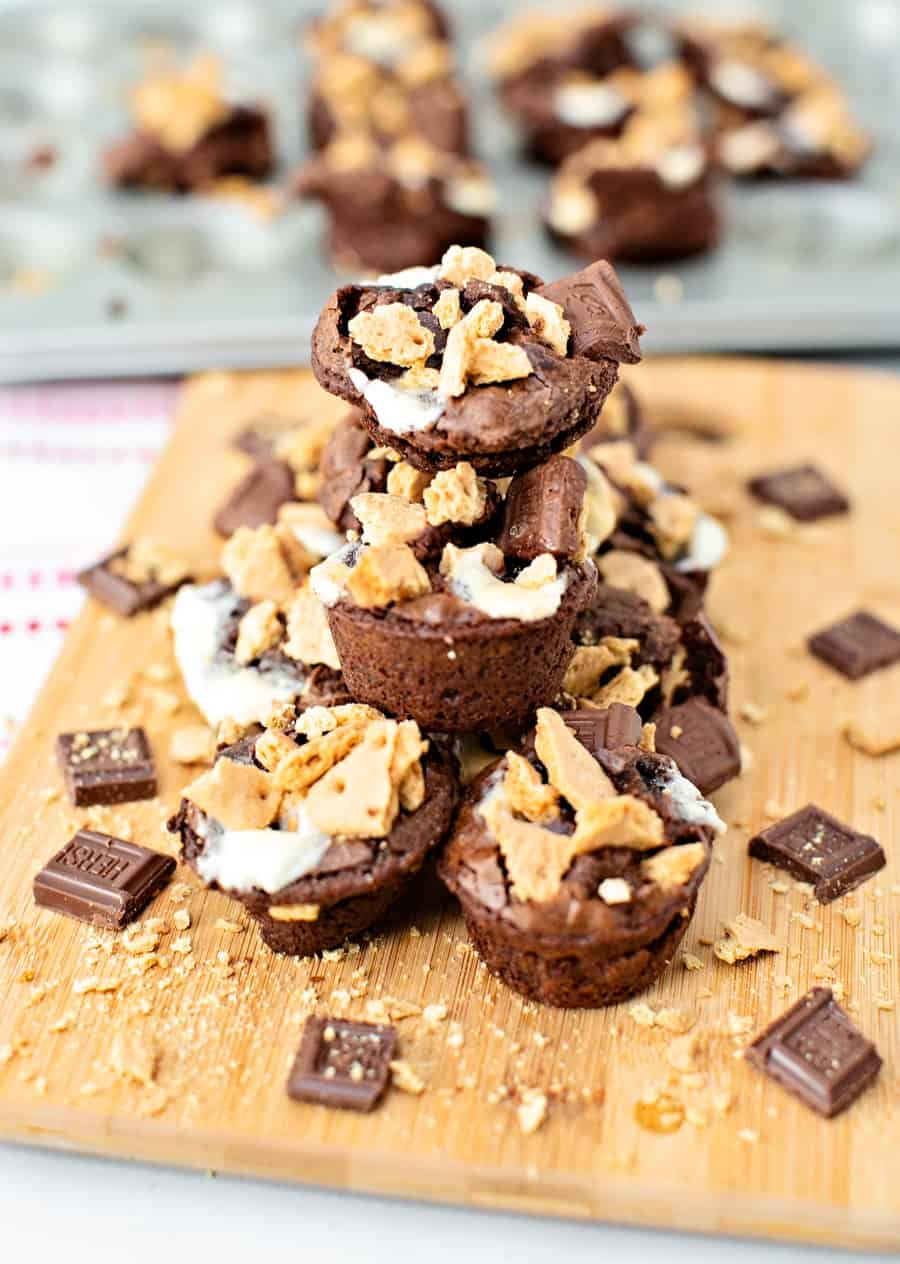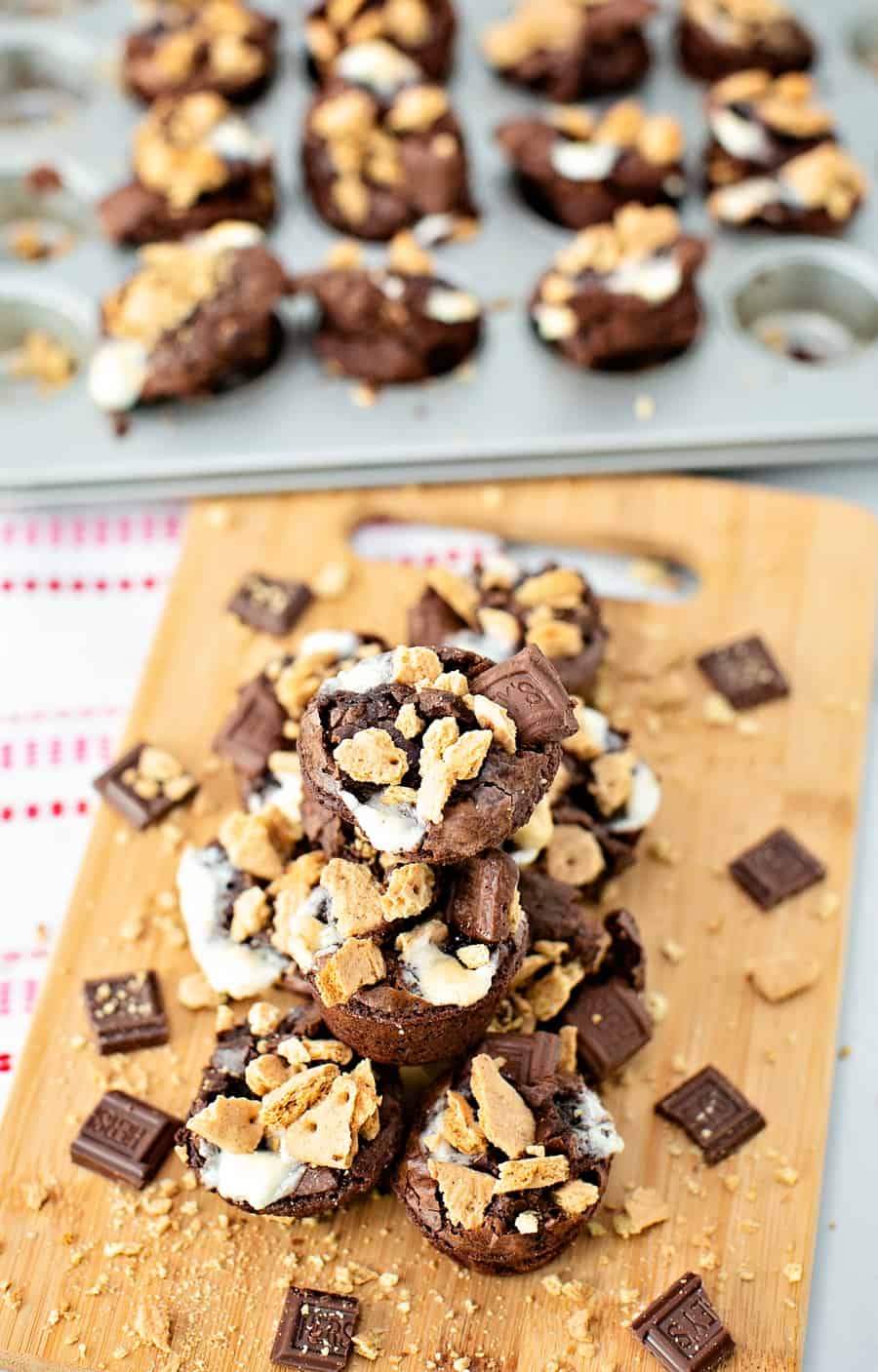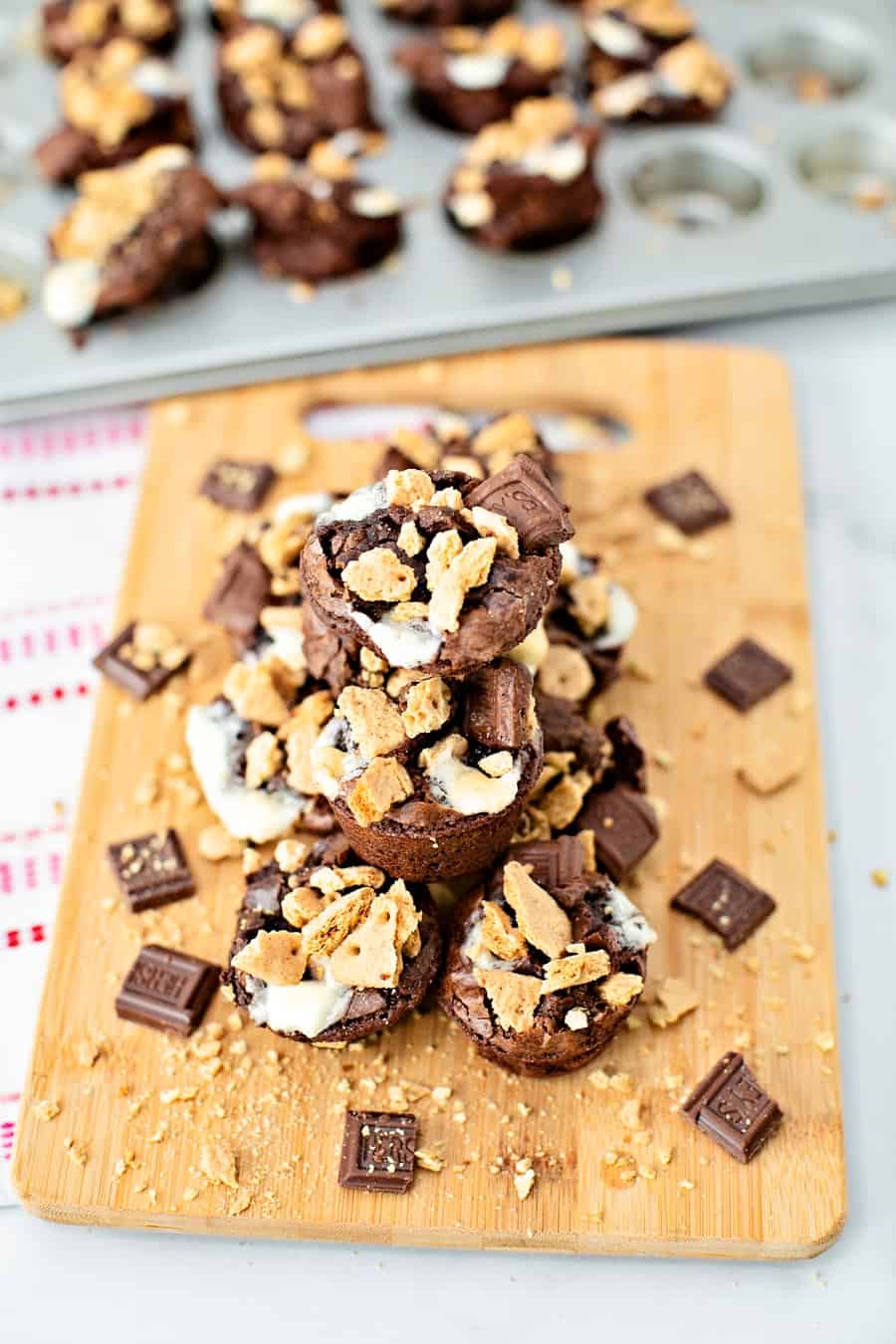 What makes this S'mores brownie recipe different?
While there are differences to our S'mores recipe, I think they're good changes to make! Instead of using the traditional graham crackers as the base that you'll find in most s'more recipes, we decided to use a brownie for the base instead. (but don't worry, there are still bits and pieces of graham crackers in this recipe!)
Not only does this add a whole other flavor of chocolate to your S'mores but it gives it a nice chewy texture as well. Plus, it's a great base that does a great job of holding onto the marshmallows and chocolate.
These mini S'mores are a fun weeknight treat or a great way to launch into the weekend activities! Or they make a delicious homemade treat to drop off to neighbors or friends.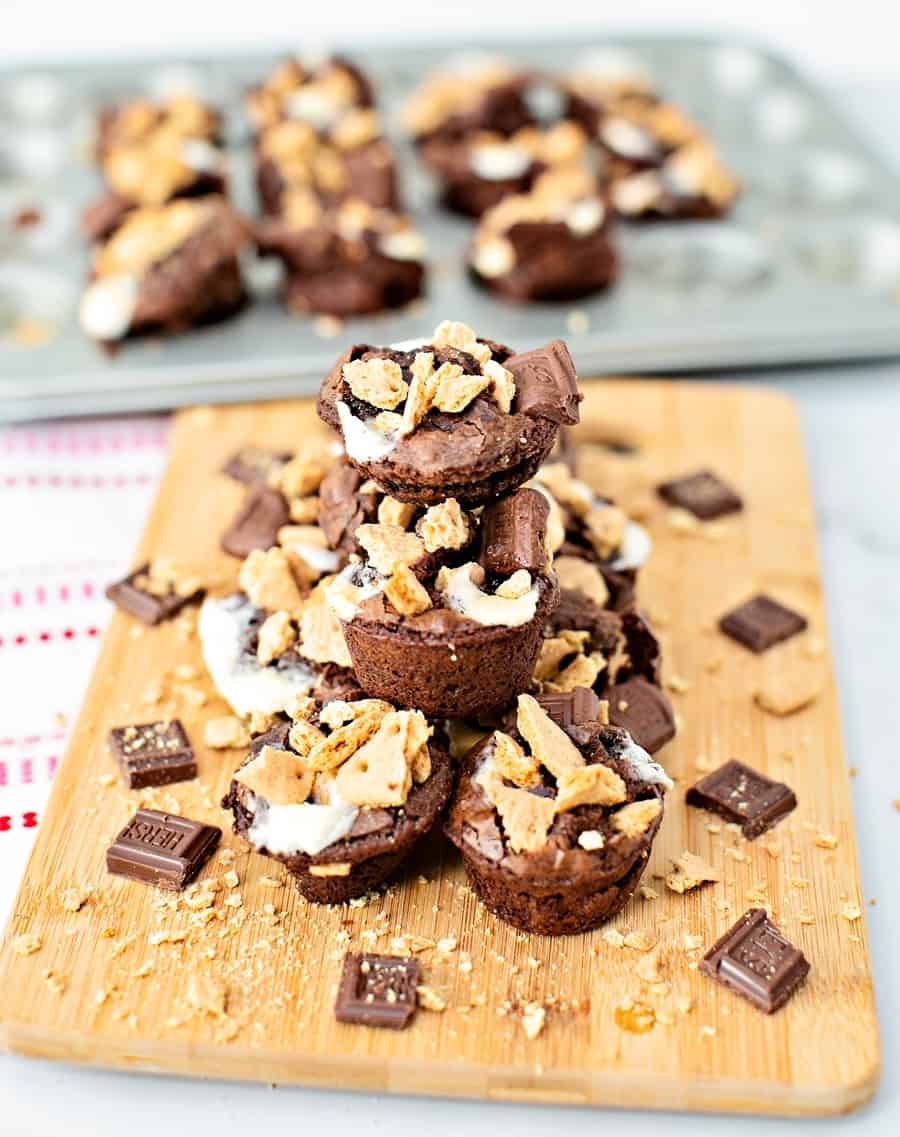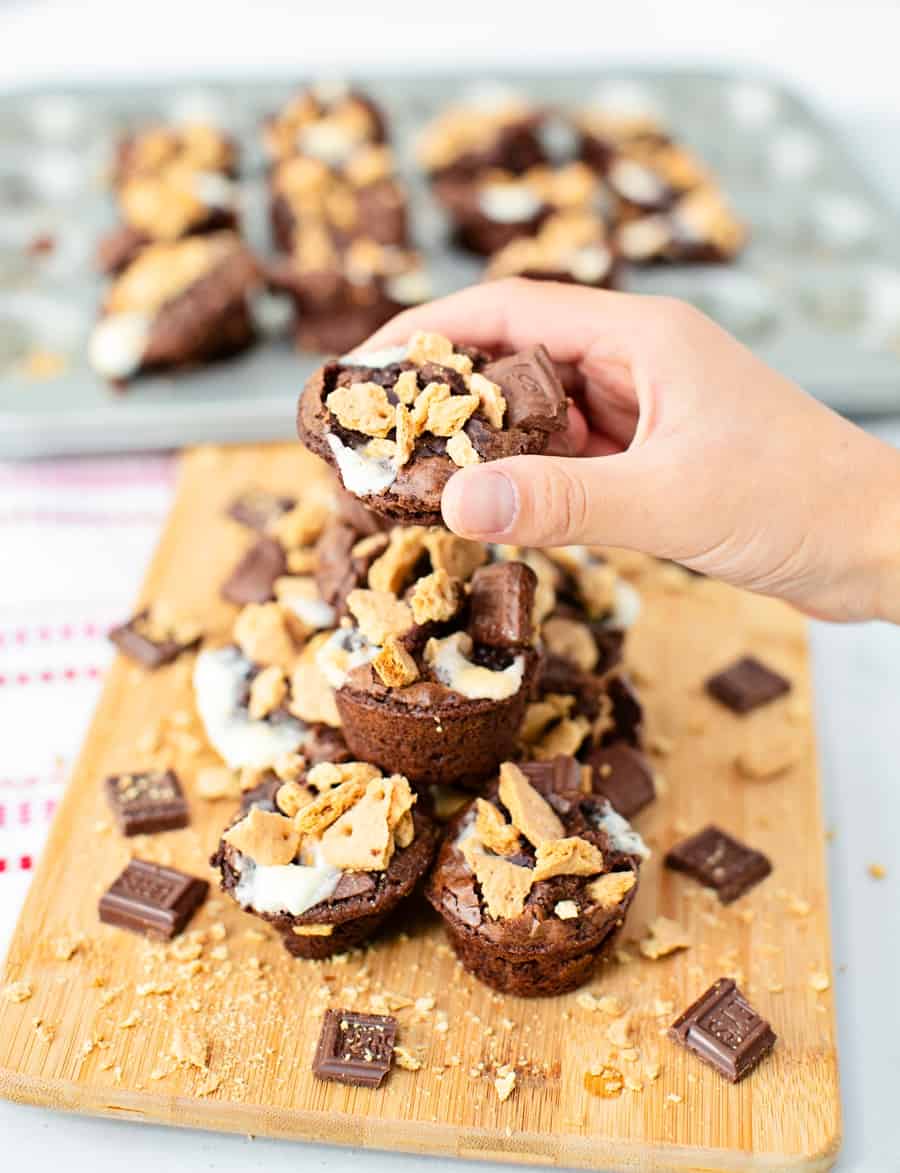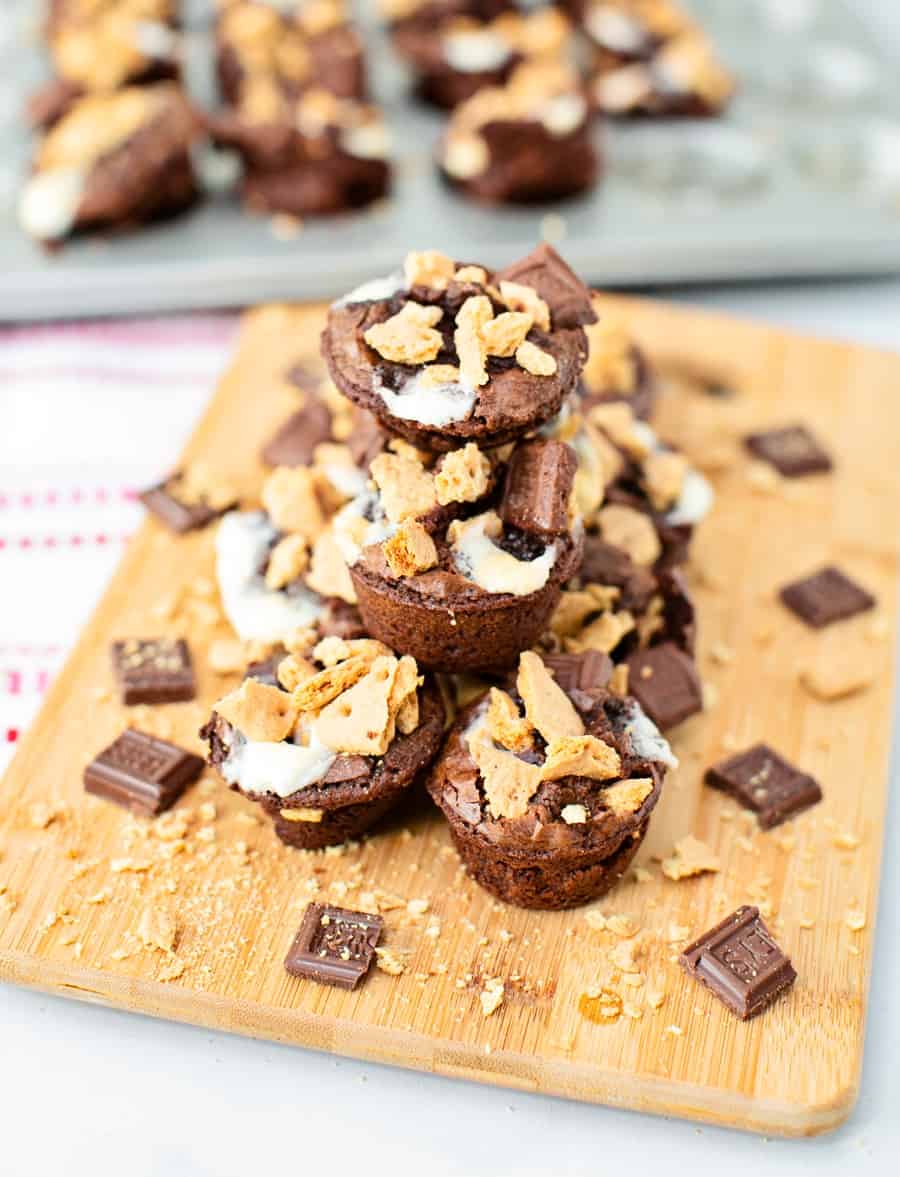 Can you use a brownie mix to make these brownie S'mores?
Yes! In fact these are made with our favorite brownie mix! Double chocolate Ghirardelli but we've made them with other brands and they taste just great too! One trick we use to make our brownie mix brownies come out tasting like homemade is to swap out the water for milk.
If your brownie mix doesn't come with chocolate chips you can also add some for more chocolate depth and flavor.
What fun variances could you add to these mini brownie s'more bites?
Even though this recipe is perfect as it is, you could easily add a few changes to make these brownie bites even more unique. Drizzle on a little bit of caramel sauce or even add on some fun sprinkles, too. Or as we mentioned above, add extra chocolate chips to the batter. Mini ones are great.
Another great idea is to add white chocolate or other flavored chocolate to really see how much you can change up the taste. The s'mores in our house never look quite the same when everyone gets to decorate their own because some of our kids like marshmallows more than others and their mound of marshmallows in quite a bit bigger on their brownie bites.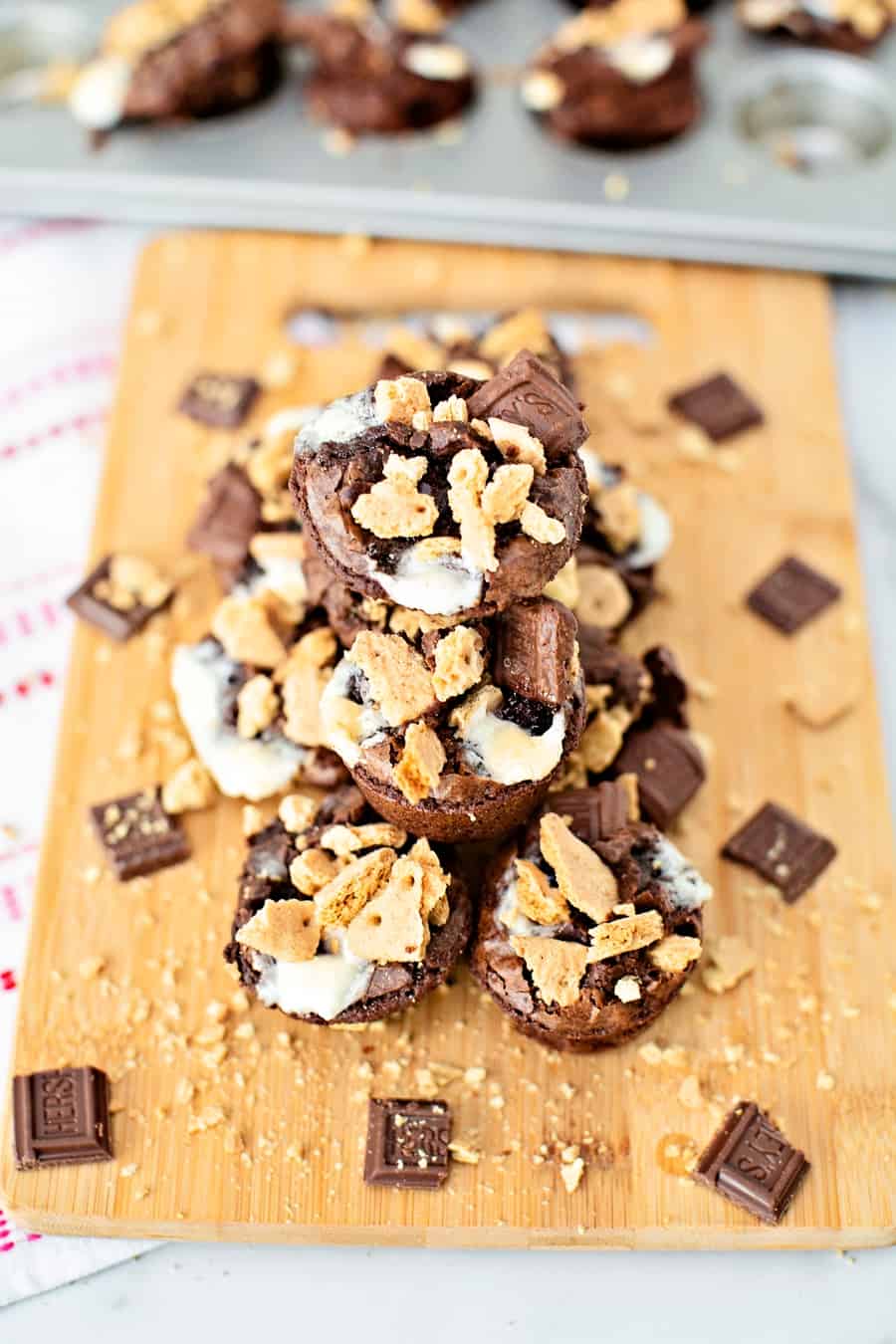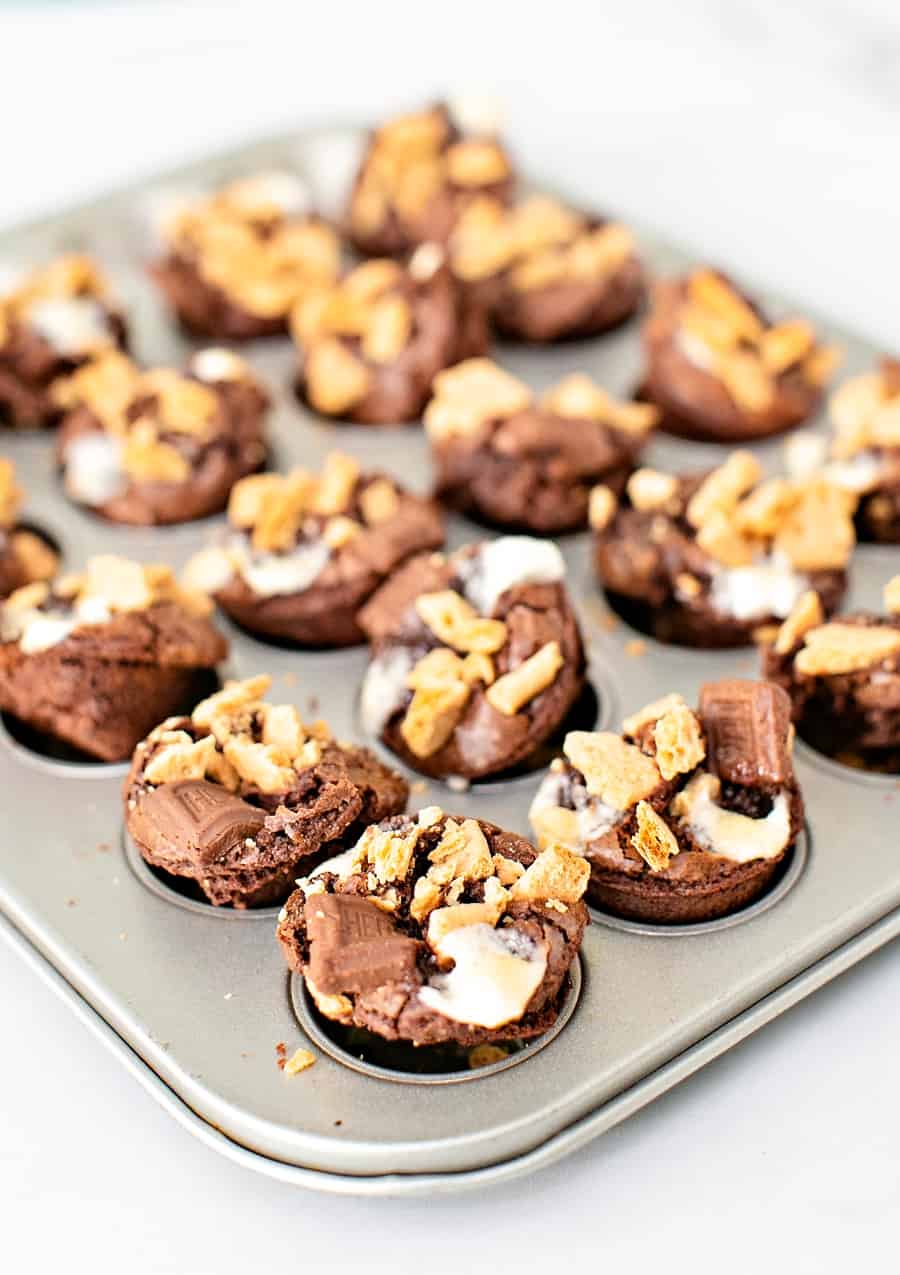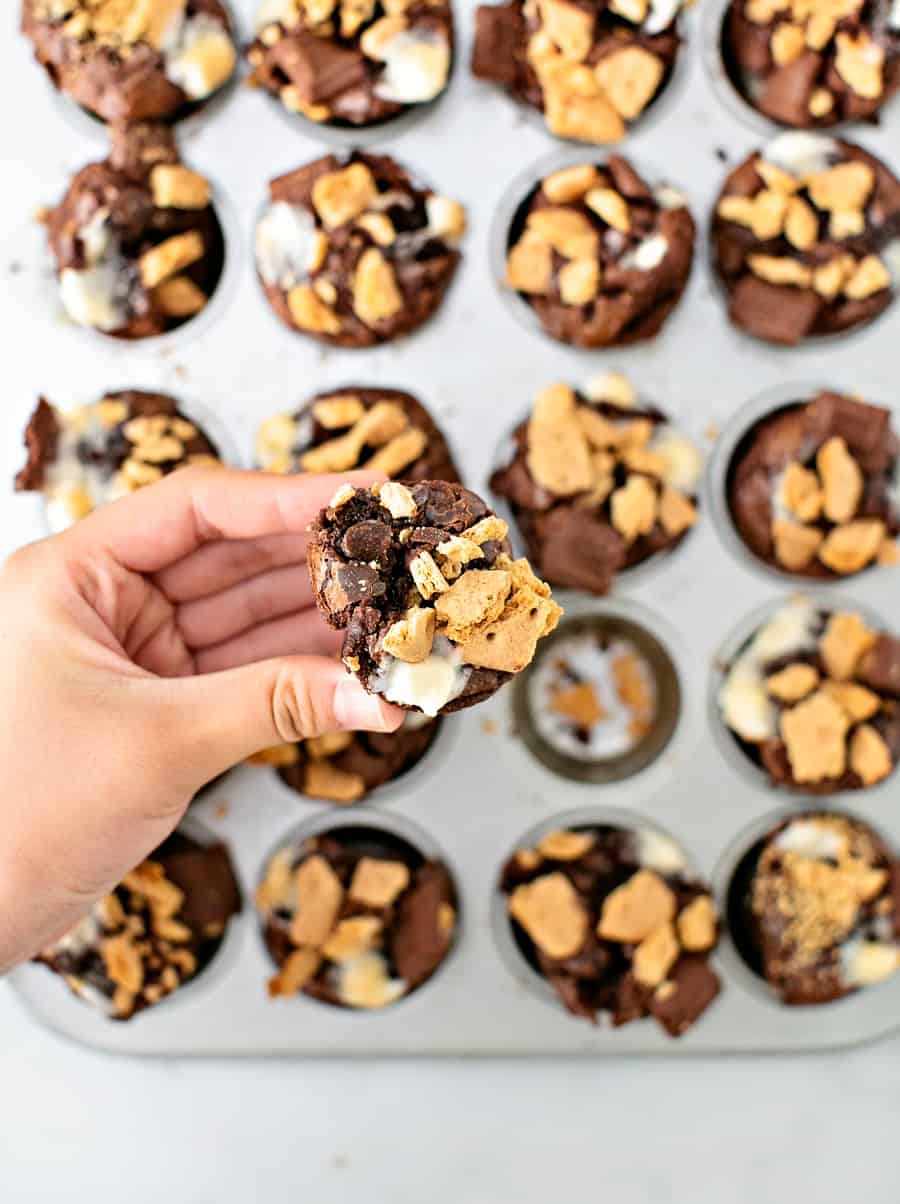 Make sure to scroll down to watch the video below to see how we made these Mini Brownie S'mores Bites!
Mini Brownie S'mores Bites – Ingredients
Brownie mix of your liking (substitute the water for milk)

Mini Marshmallows

Graham Crackers (crushed in coarse crumbs)

Hershey's Milk Chocolate (each rectangle broken in half)
See how simple this simple s'mores recipe is? Since the base is made using a mix, there's really hardly any effort that has to be done on your part.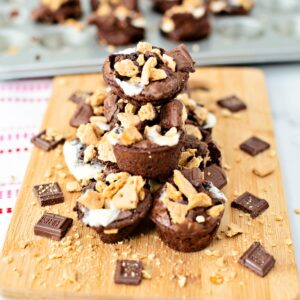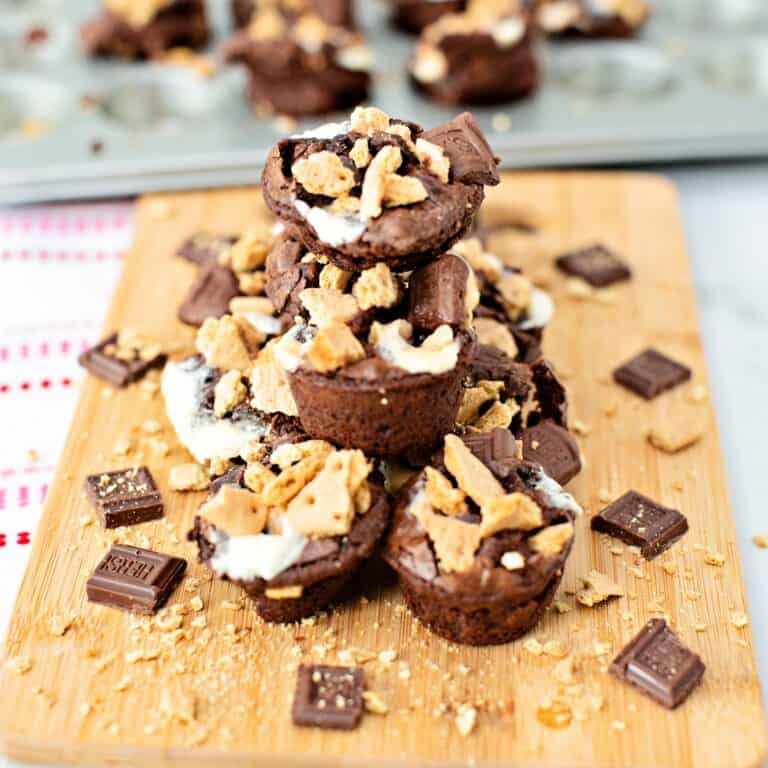 Mini Brownie S'Mores Bites
Equipment
Mini muffin pan

One oz scoop (or use two tablespoons per brownie)
Ingredients
Brownie Mix

You can make your own of course. If using a mix, substitute milk for the water asked for in the mix.

Mini Marshmallows

Graham Crackers

crushed in coarse crumbs

Hershey's Milk Chocolate

each rectangle broken in half

Baking Spray
Instructions
Preheat oven to 350 degrees. Grease your mini muffin pan with nonstick baking spray well or flour and butter it, whatever is easiest.

Prepare your mix according to the instructions. Note we substituted milk for the water. That is optional and just our preference for a more flavorful and moist brownie.

Use your one oz scooper to scoop brownie batter into your mini muffin pan. If you don't have a one oz scoop use two tablespoons per mini muffin.

Bake for 8 minutes. Take pan out of the oven. Add two mini marshmallows, crushed graham crackers and one half of a Hershey's rectangle on top, press down lightly.

Place pan back into the oven and bake for another 10 minutes or so until the marshmallows on top are light to golden brown.

Allow to cool completely before consuming or it will be too fudgy and messy!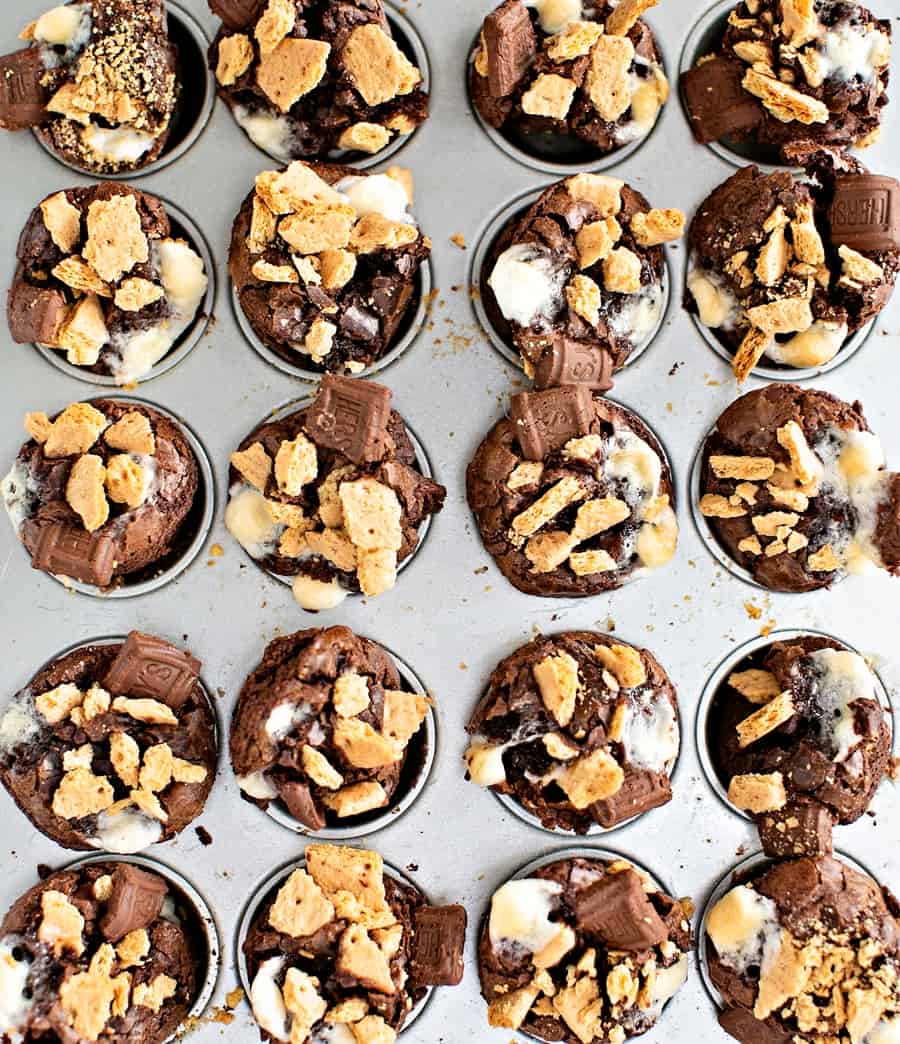 Simple tips for making these Mini Brownie S'mores Bites
Make certain that you use mini marshmallows for this recipe. The other marshmallows are going to be too big and will just turn into a big mess.
Let these brownie bites completely cool before eating or they are quite gooey and will make a mess.
More delicious dessert recipes to try: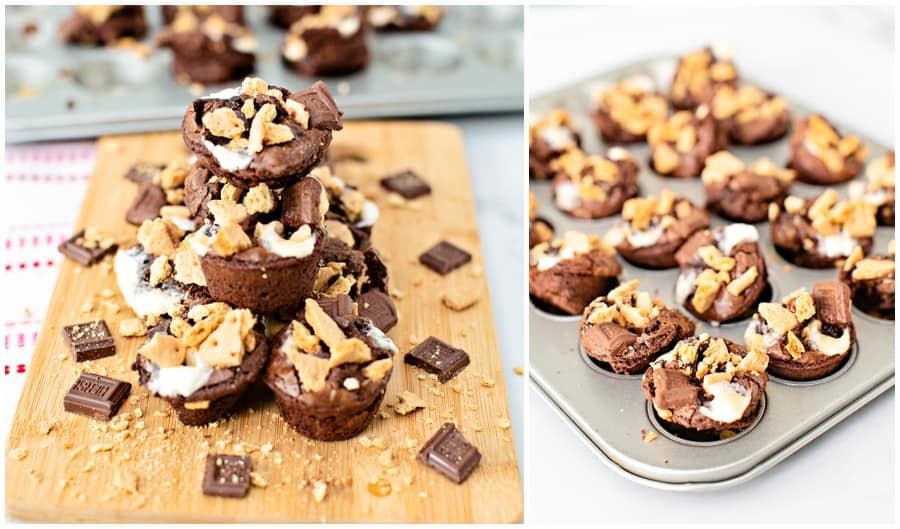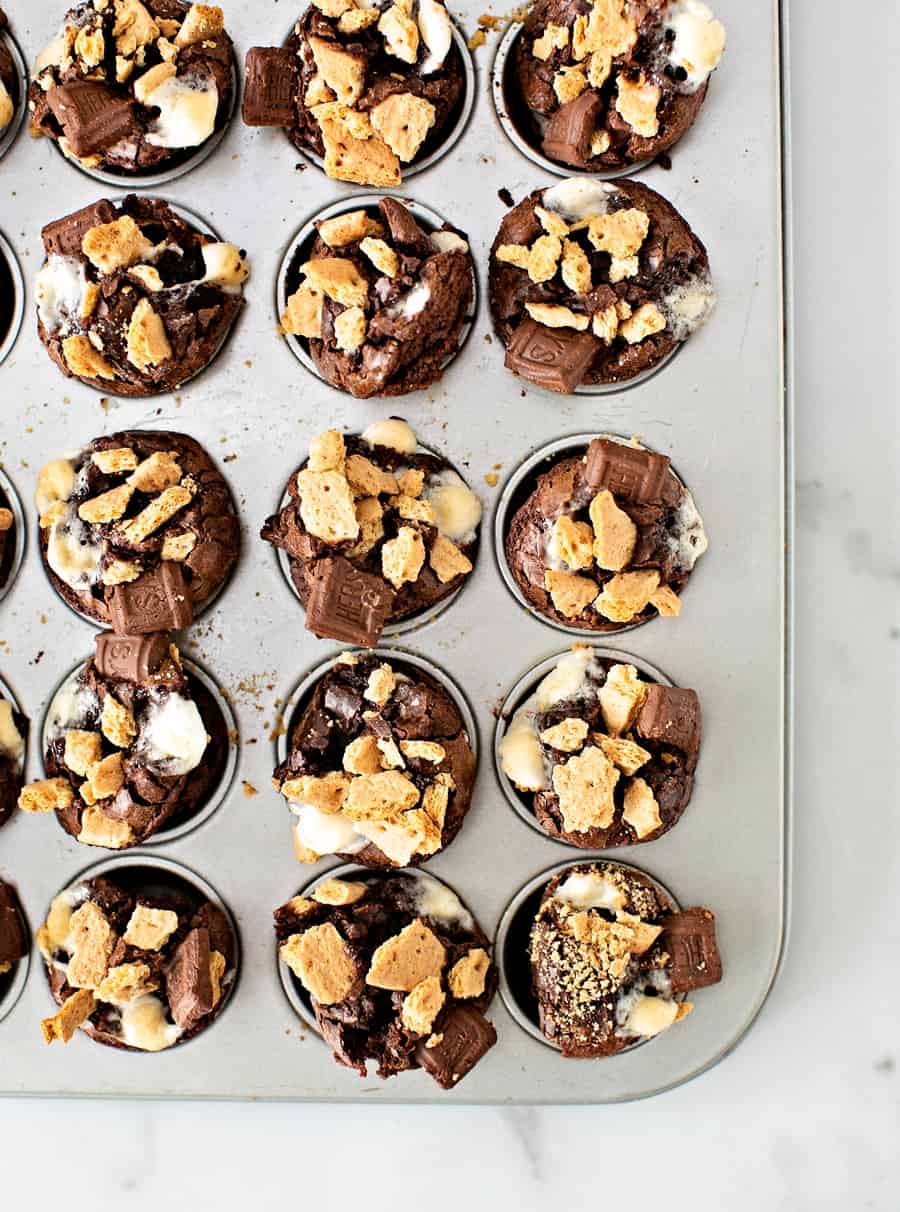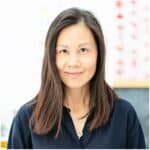 Agnes Hsu is a mom of three and has been inspiring parents and kids to get creative with easy activities and family friendly recipes for over 10 years. She shares her love for creative play and kids food to her 2MM+ followers online. Agnes' commitment to playful learning and kindness has not only raised funds for charity but also earned features in prestigious nationwide publications.