By using this site, you agree to our Terms of Use. This post may contain affiliate links. Read our disclosure policy.
Follow us on Instagram for more fun food ideas for kids!
This creamy Baked Brie Spaghetti is another baked cheese pasta to try when Feta is out of stock! It's a delicious one pan meal!
Ever since we made our version of the viral TikTok food trend baked feta and tomato pasta we can't stop thinking of more varieties of baked cheese pasta to make! Especially when we hear that stores are running out of Feta cheese everywhere! How crazy is that? Cue this delicious one pan Baked Brie Spaghetti! We love Brie cheese probably more than Feta to be honest and it pairs so well here as a creamier pasta. When thinking about another baked cheese pasta, Brie seemed to be a great fit since it has a great melt to it. We also included complementary ingredients such as sweet onions, ham and peas. Our baked brie pasta is sure to be an effortless meal you can add to your family meal rotation as well.
Watch the video in this post to make this yummy baked Brie Pasta recipe!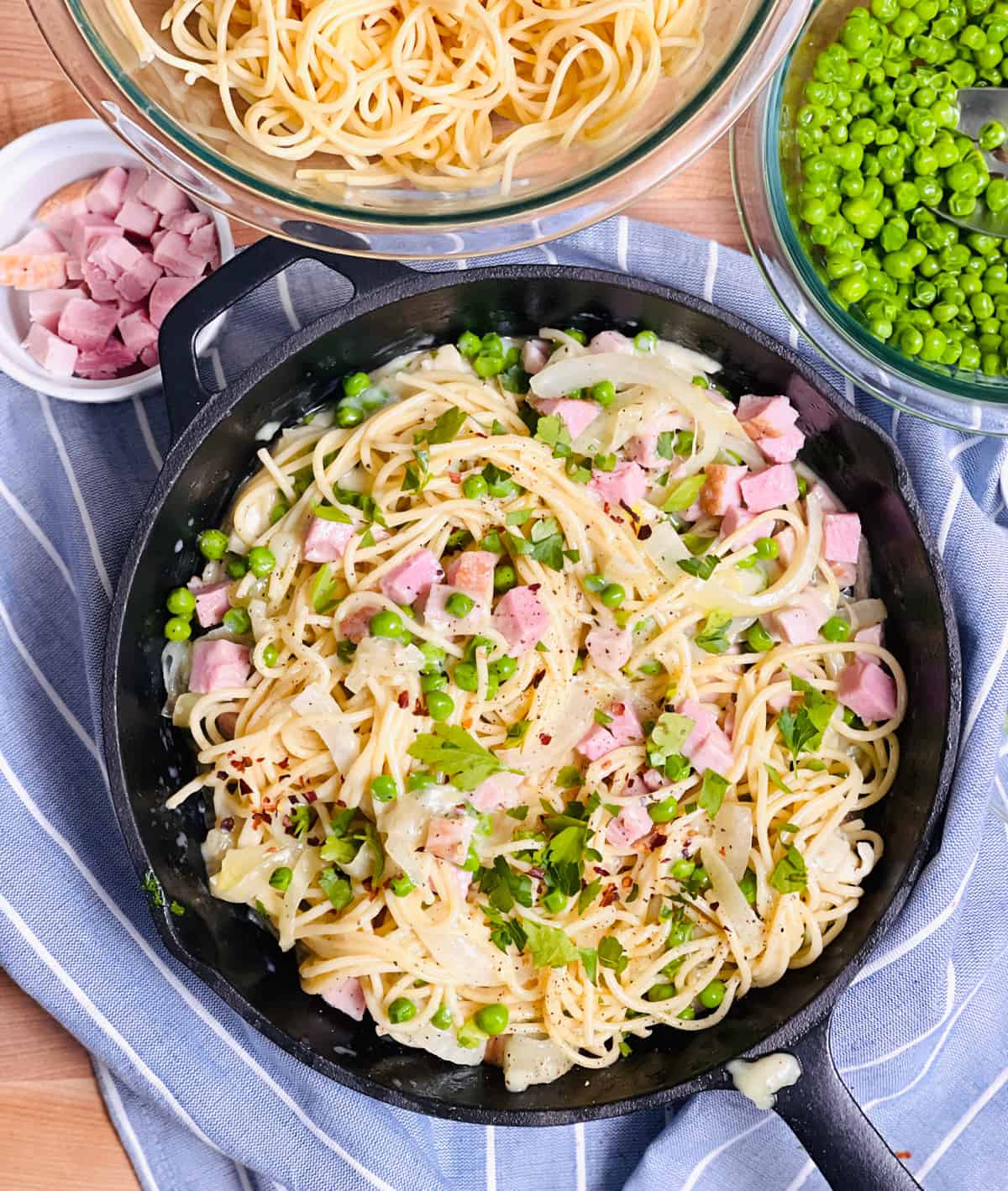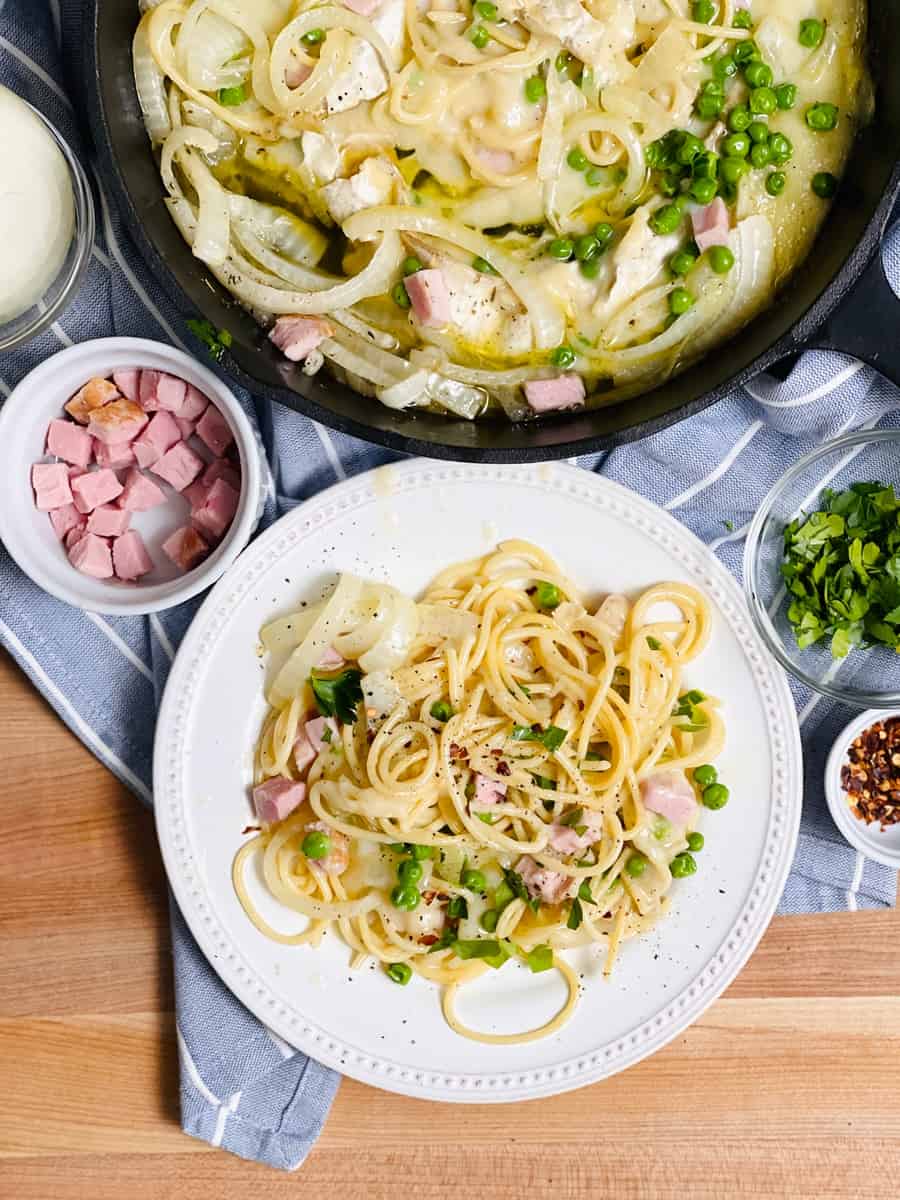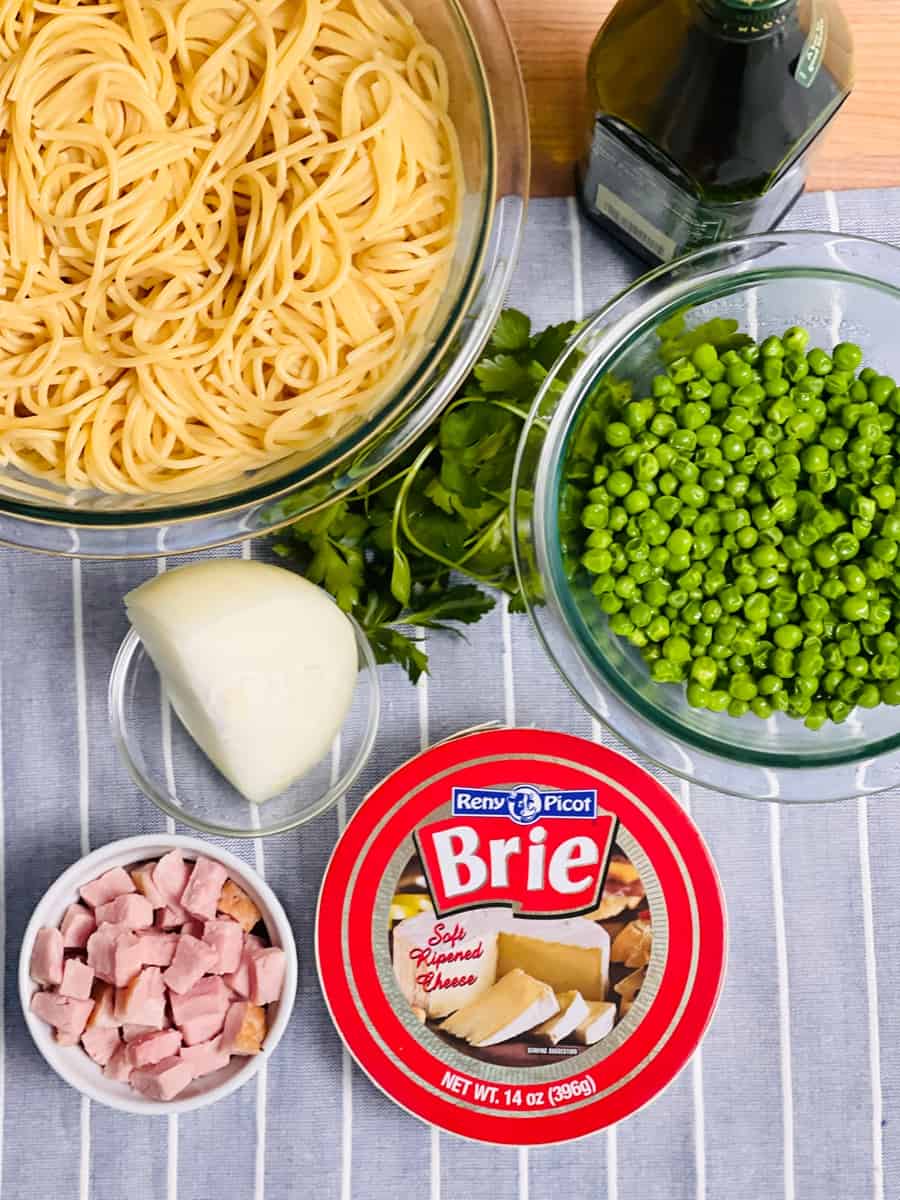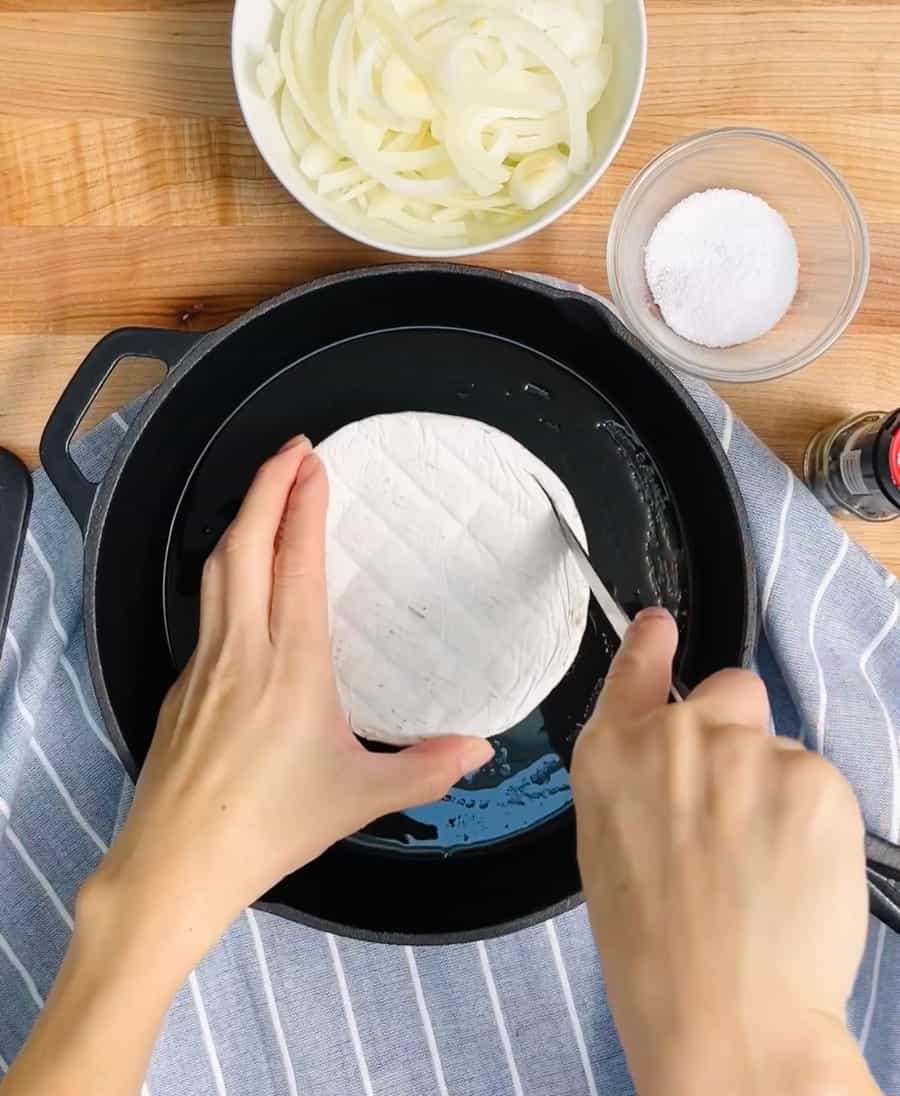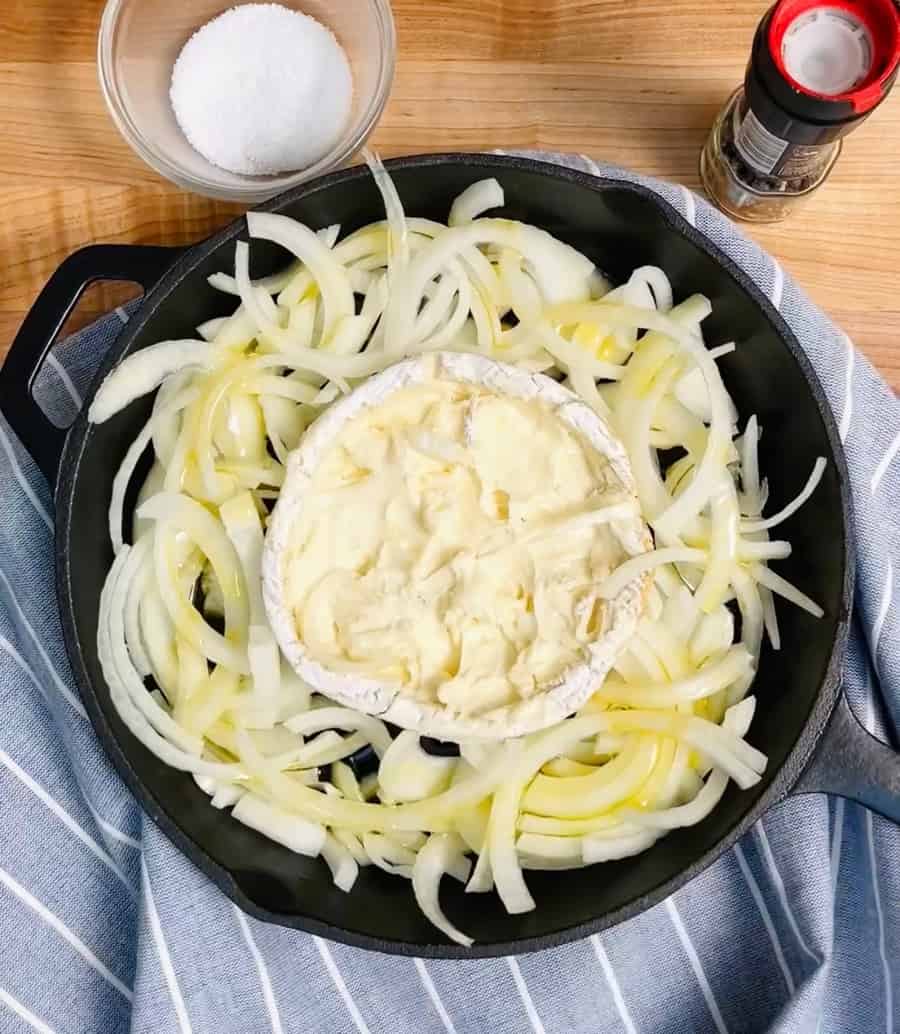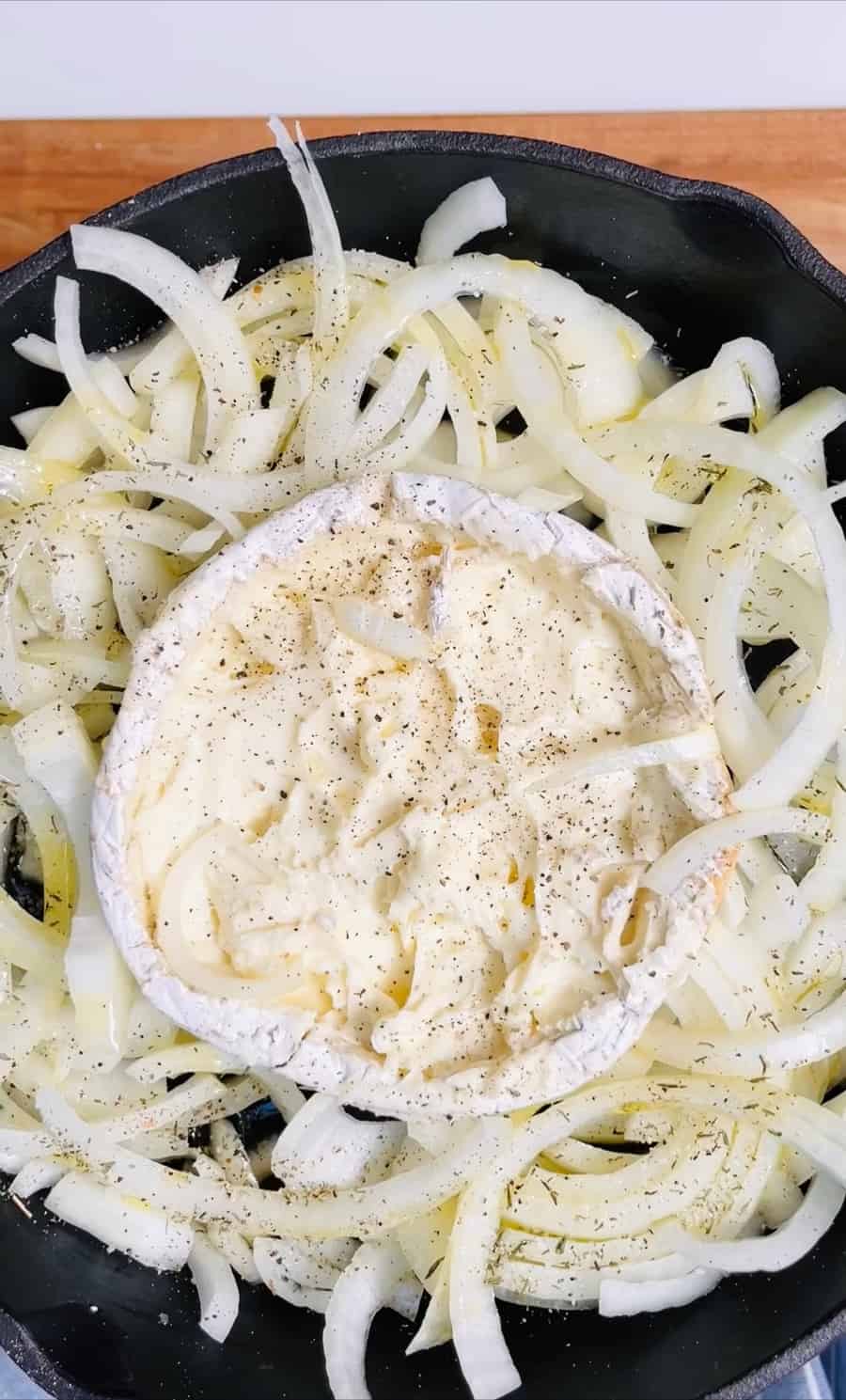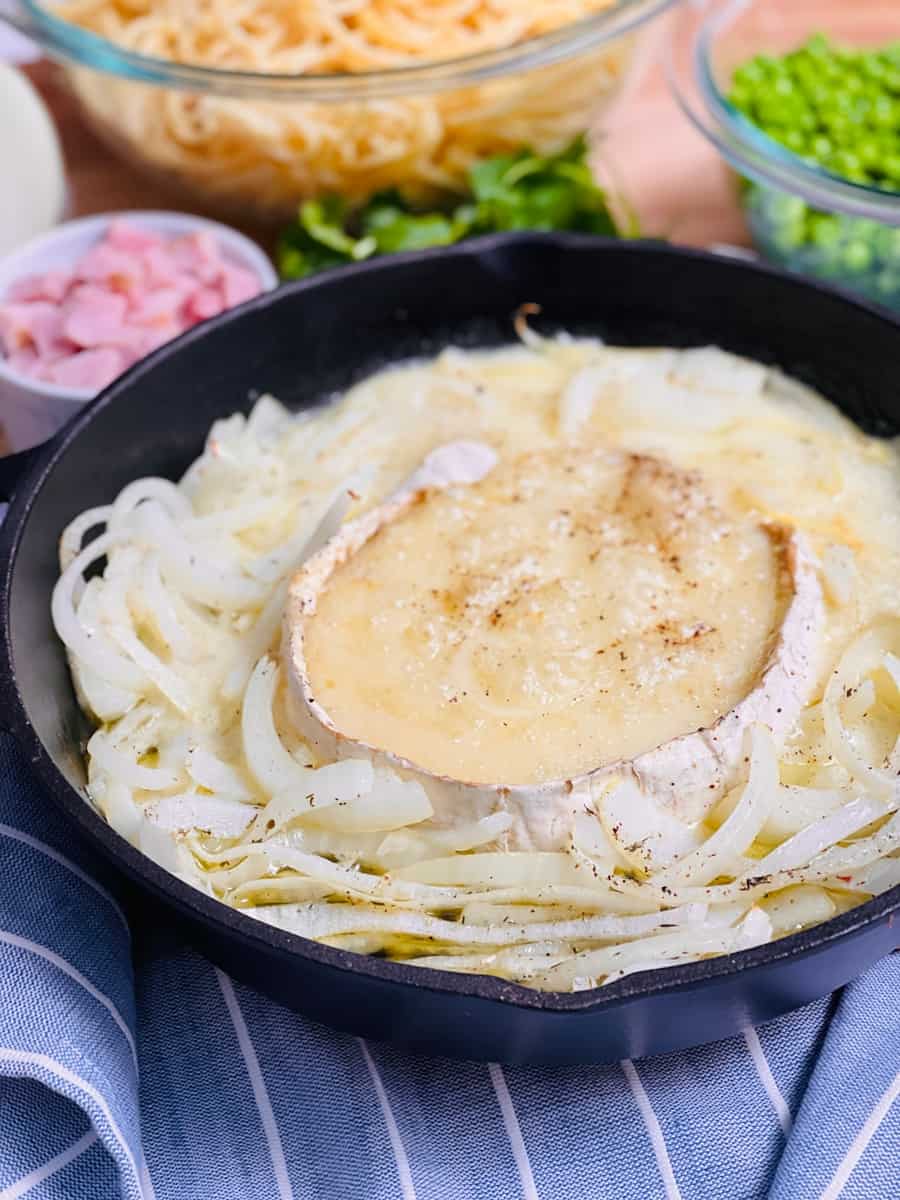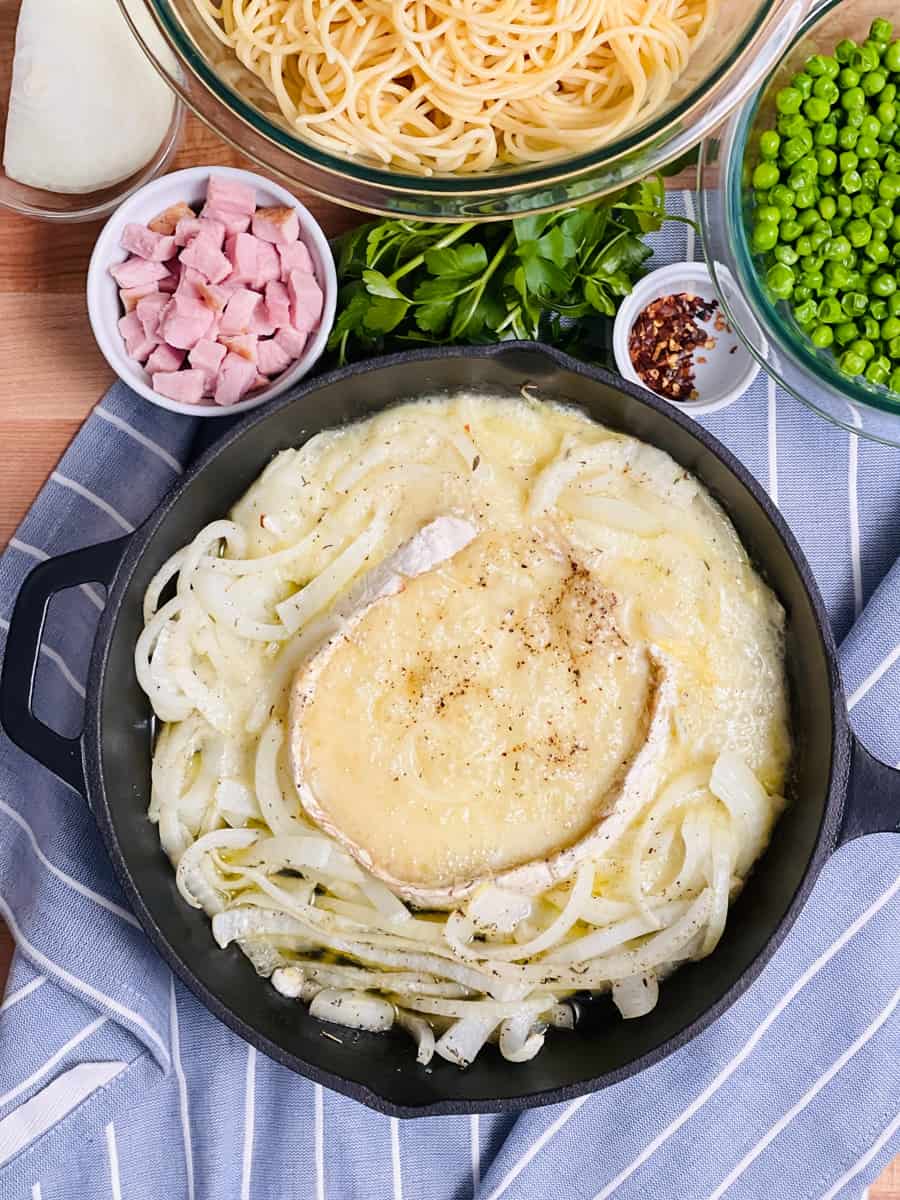 How do you make this Baked Brie Spaghetti Recipe?

We were inspired by this Brie Spaghetti recipe, but added some family friendly ingredients that would make it more hearty. First, you'll use a whole round of Brie in the center of a cast iron skillet, then add some thinly sliced onions around the cheese to add sweetness and caramelized flavor to the dish. You'll then add some salt and pepper, thyme and olive oil to the onions and bake. Once the Brie is melted and the onions cooked well through, you can add the ham, peas and pasta to the dish. When everything is incorporated, top with more pepper, red pepper flakes and parsley.
Why is Baked Cheese Pasta so popular?
Everyone's feeds seem to be filled with easy dinner recipes everyone will love and it's probably because we're cooking a lot more at home lately. We are all busy and when we find great tasting, but quick to make meals, we all love to give them a try. Our dressed up version of the Feta pasta was such a hit because it was a flavorful pasta everyone enjoyed, but also because it was a fast and simple yet healthy meal. This Brie pasta is definitely on the richer side but it still has all the hallmark of a family friendly dinner with minimal ingredients and prep.
What can you add inside baked Brie pasta
For this amazingly cheesy baked pasta, you can really change up the ingredients however you or your family may like. Instead of ham you could definitely use pancetta or bacon, even chunks of chicken. Instead of peas you can add some broccoli or spinach. It really is a fancier dressed up macaroni and cheese-like dish and you can customize it with ingredients your family will love.
The great thing about this dish is it can be served two ways. Once the cheese and onions come out of the oven and you add a bit of pasta, ham and cheese and gently mix to combine with cheese and onions to plate one dish. This is a very creamy version and you get the full flavor of the cheese.
Alternatively, you can add all the pasta, ham and cheese to the skillet and mix. But keep in mind you'll want to add some reserved pasta water as adding so many ingredients at once will clump the cheese up and be hard to mix.
Can you eat Brie cheese rind?
Brie is a soft cheese wrapped in an "outer shell" called the rind. The rind is thick and doesn't really melt but breaks apart fairly easily and it would need to be cut into pieces into the dish. We pulled the rind out in our dish, just because it looks nicer, but you can definitely keep it in and eat the pieces of rind since it's edible!
We hope you enjoy this new version of the baked cheese pasta and that you give it a try! This is definitely a great version if you have anyone who doesn't like tomatoes, or you enjoy a good creamy, cheesy pasta.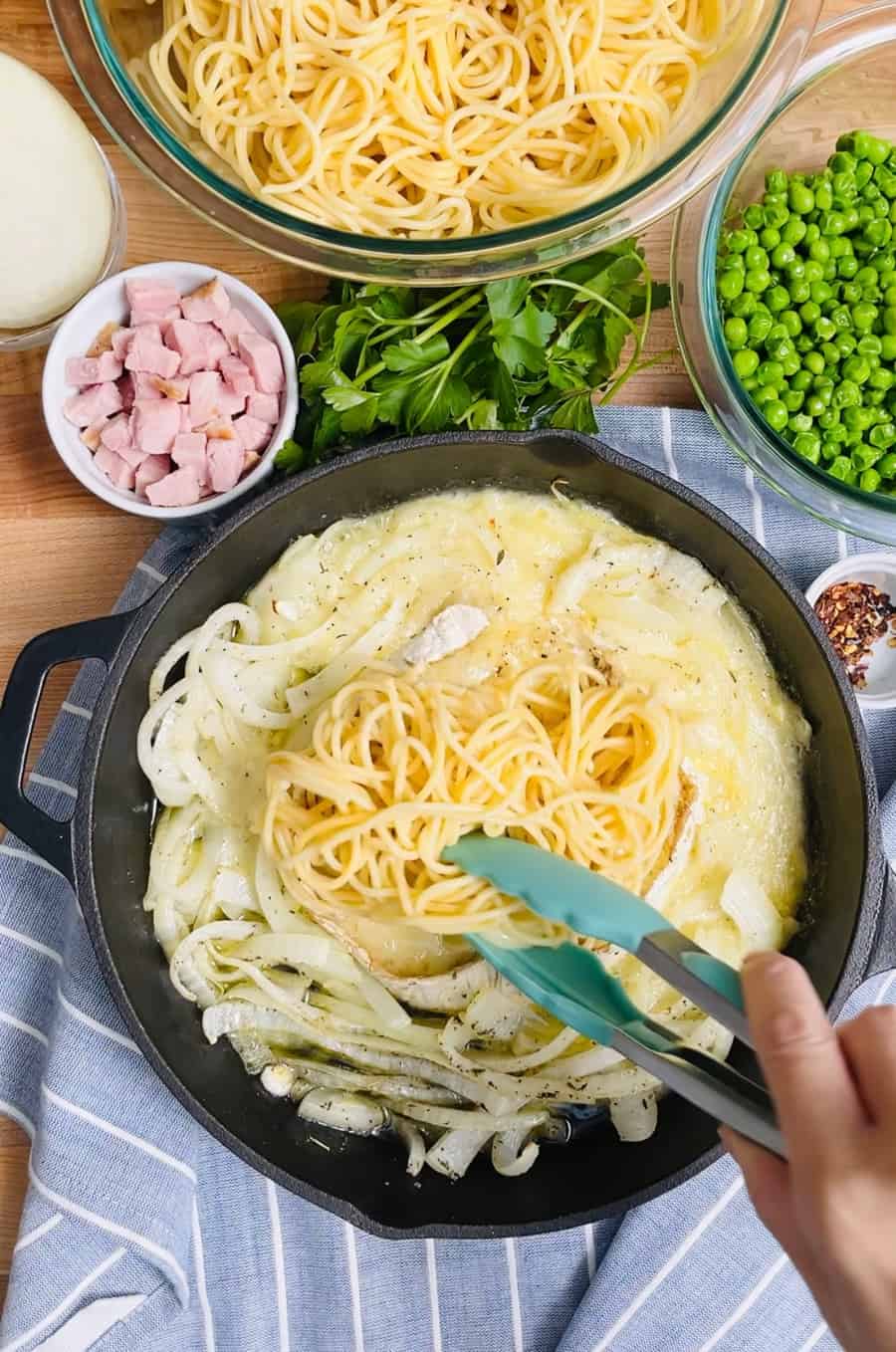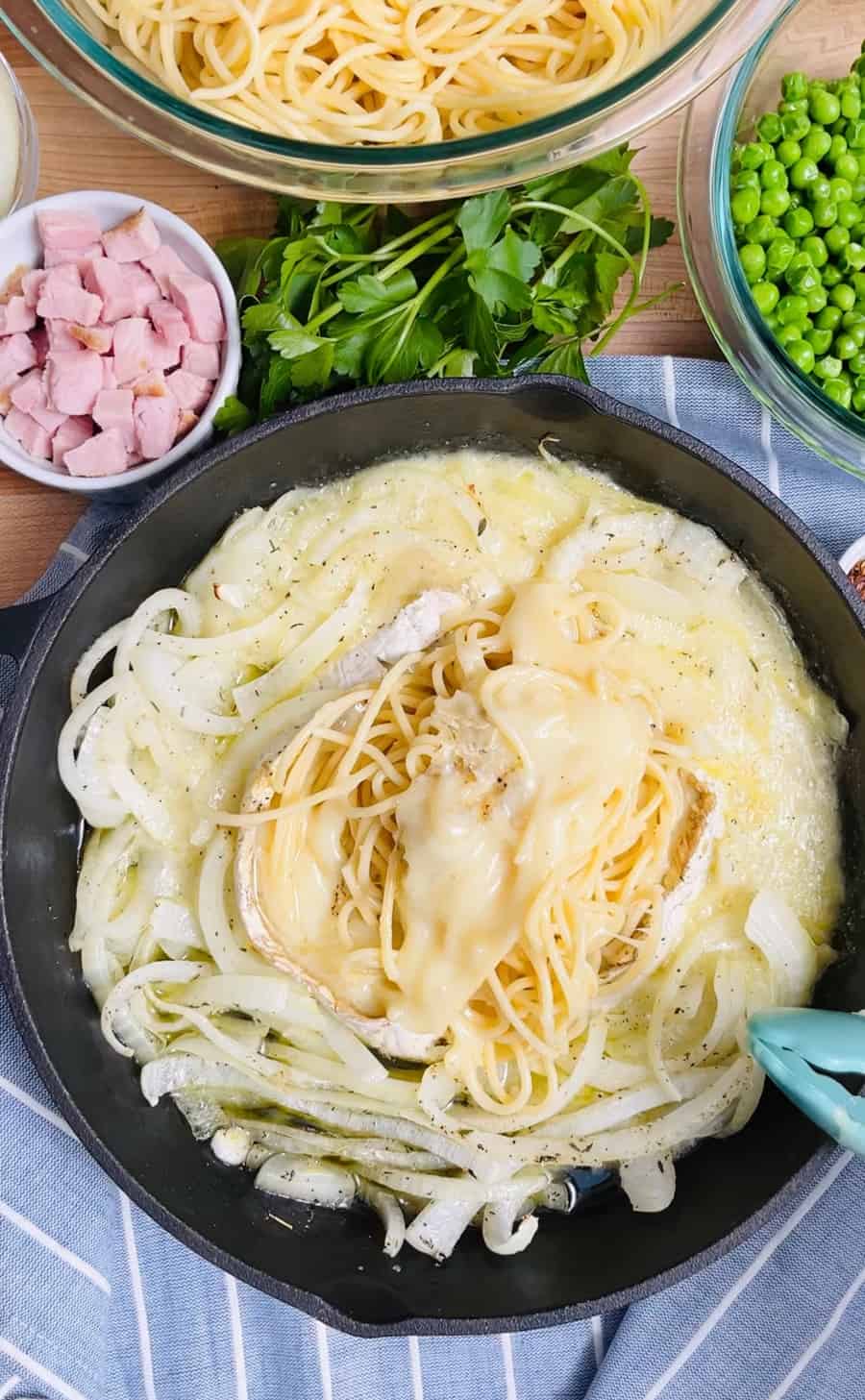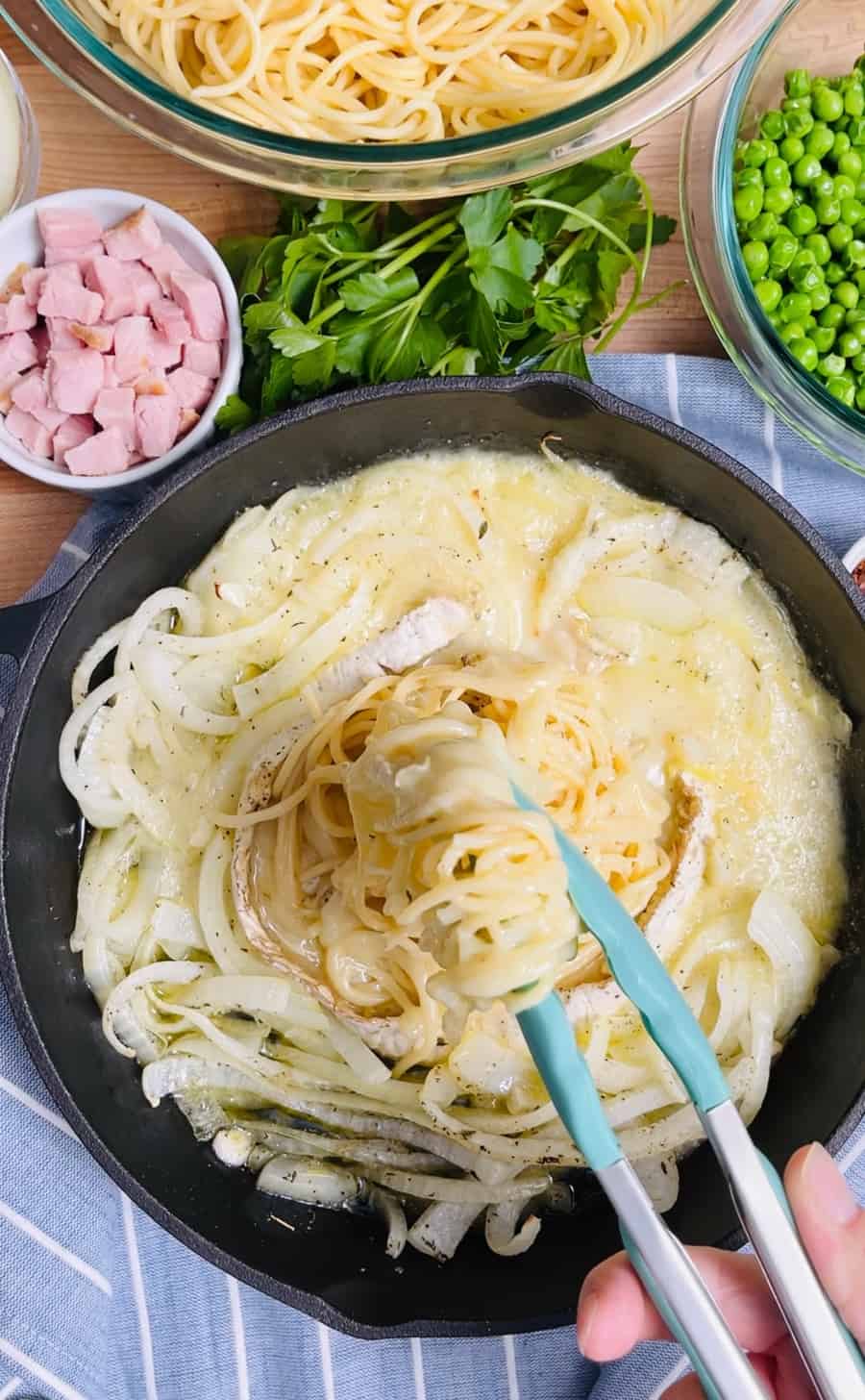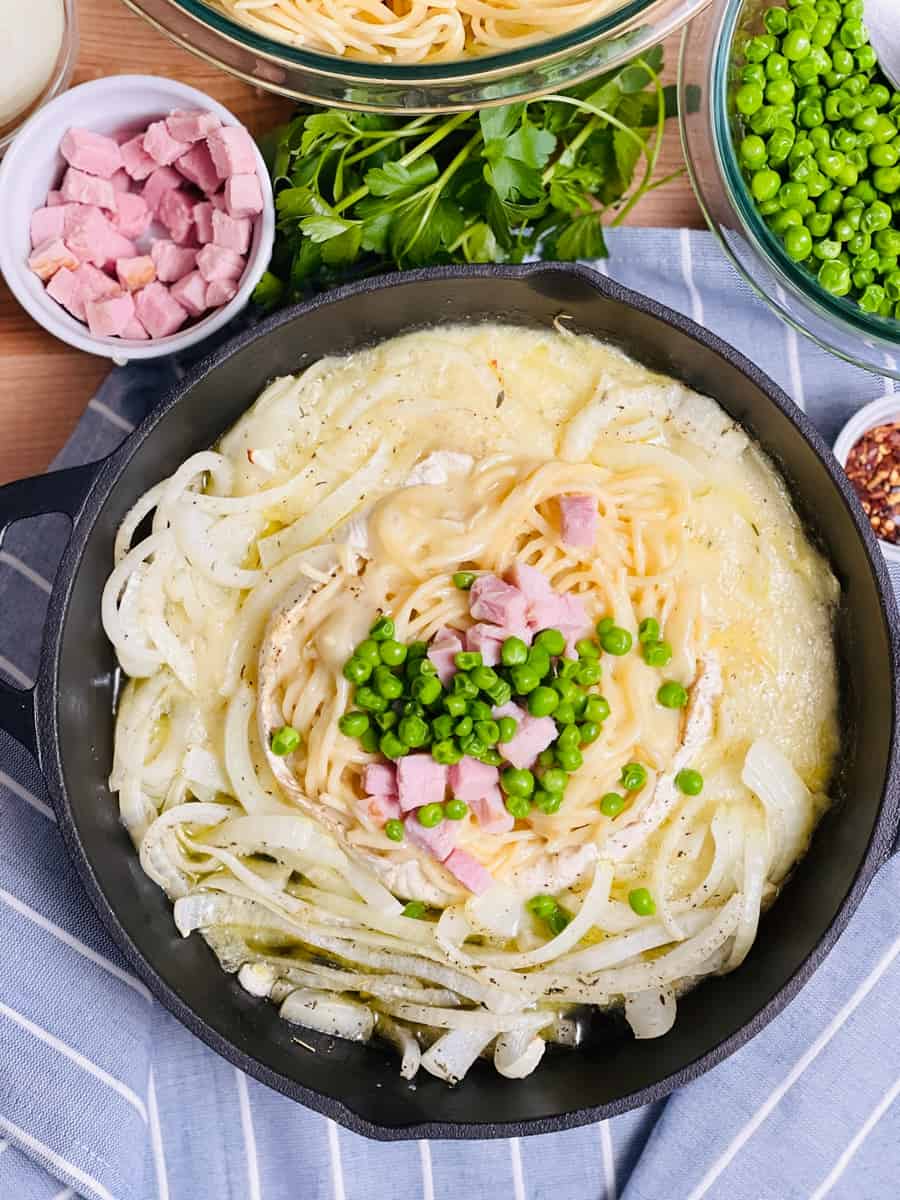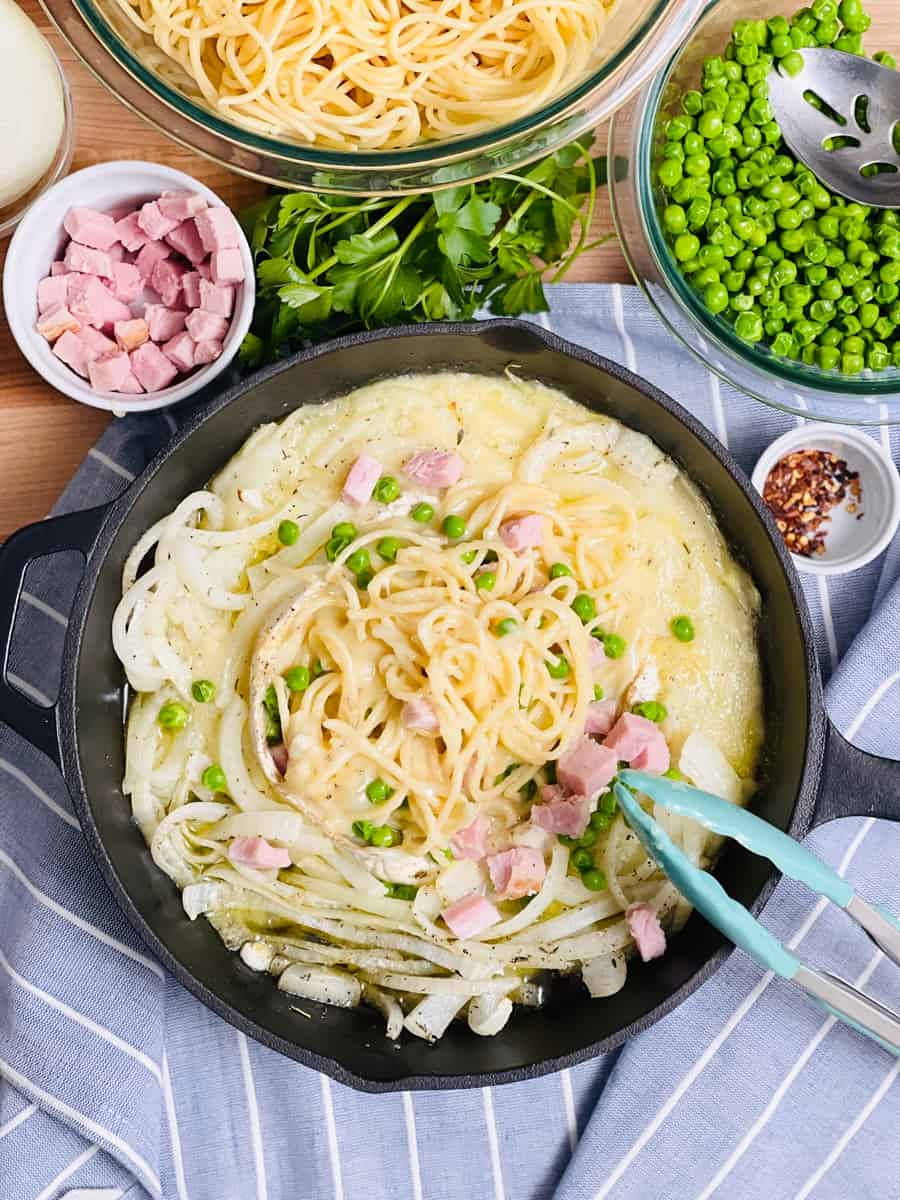 Baked Brie Spaghetti – Ingredients
Brie Cheese Round

Spaghetti

Onions

Ham

Peas

Dried Thyme

Salt

Pepper

Olive oil
Watch the video in this post to make this yummy baked Brie Pasta recipe!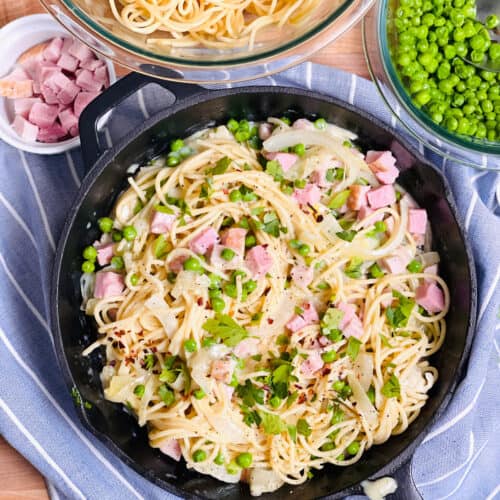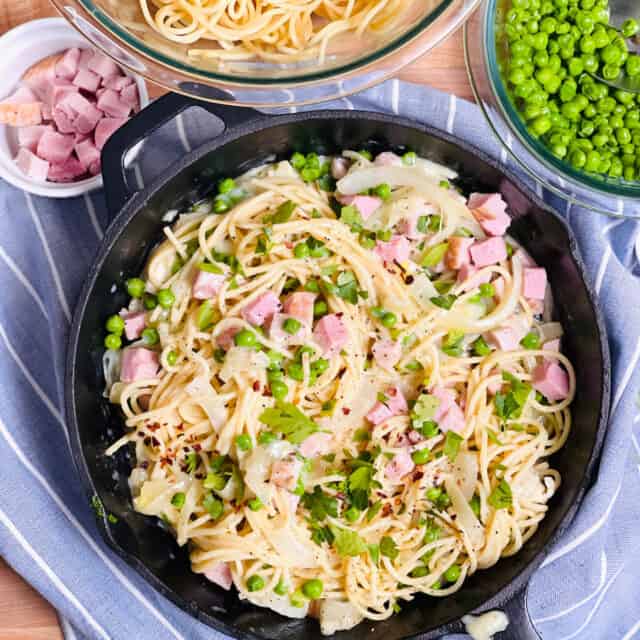 Baked Brie Spaghetti
This creamy Baked Brie Spaghetti is another baked cheese pasta to try when Feta is out of stock! It's a delicious one pan meal!
Equipment
10" cast iron skillet or oven safe skillet
Ingredients
1

14 oz

Brie Cheese Round

10

oz

Spaghetti

cooked and drained

1

Large

White onion

Thinly sliced

1/2

pound

Smoked ham

diced

1

10 oz

Bag of frozen Steam Fresh Peas

Dried Thyme

to taste

Salt

to taste

Pepper

to taste

Red pepper flakes

to taste

Parsley

chopped, to taste

2

TBSP

Olive oil

Extra Virgin
Instructions
Preheat your oven to 375 degrees.

Place your Brie cheese round in the center of your skillet and slice off the center round about 1/4" from the top. Discard rind.

Scatter your sliced onions around the Brie in the skillet. Add salt, pepper and thyme to taste. Add olive oil evenly over the onions and toss.

Place skillet in the oven and bake for 20 minutes or until the cheese is oozy and melted and onions are softened.

In the meantime, prepare your spaghetti and boil according to the package. Drain but reserve a cup of pasta water.

To plate or serve you can do it one of two ways. The first way is a creamier version. Take a small serving of spaghetti and place right in the melted Brie round. Add some peas and ham and mix around then plate with onions. Garnish with red pepper flakes, pepper and chopped parsley.

For a lighter flavor, add ALL the pasta to the skillet (note you can remove the bottom pieces of rind if you choose but it's edible). Add all the ham and peas then add some of your reserved pasta water to thin out and mix everything in the skillet. The reason you need to add the pasta water for this version is because the cheese will congeal very quickly and be hard to mix when you have so many ingredients in the mix. Plate from the skillet and garnish with red pepper flakes, pepper and chopped parsley.
Notes
Brie is a cheese and as with all melted cheese pastas (eg. Macaron and Cheese) leftovers will not reheat as well and be oilier. We recommend eating this as soon as it's ready for full creamy flavor!
We used a very nice thick ham not the ready-made thin sliced deli ham. A tip is to go to your grocery's fresh deli section and as them for a couple of slices of good smoked think ham you can dice at home.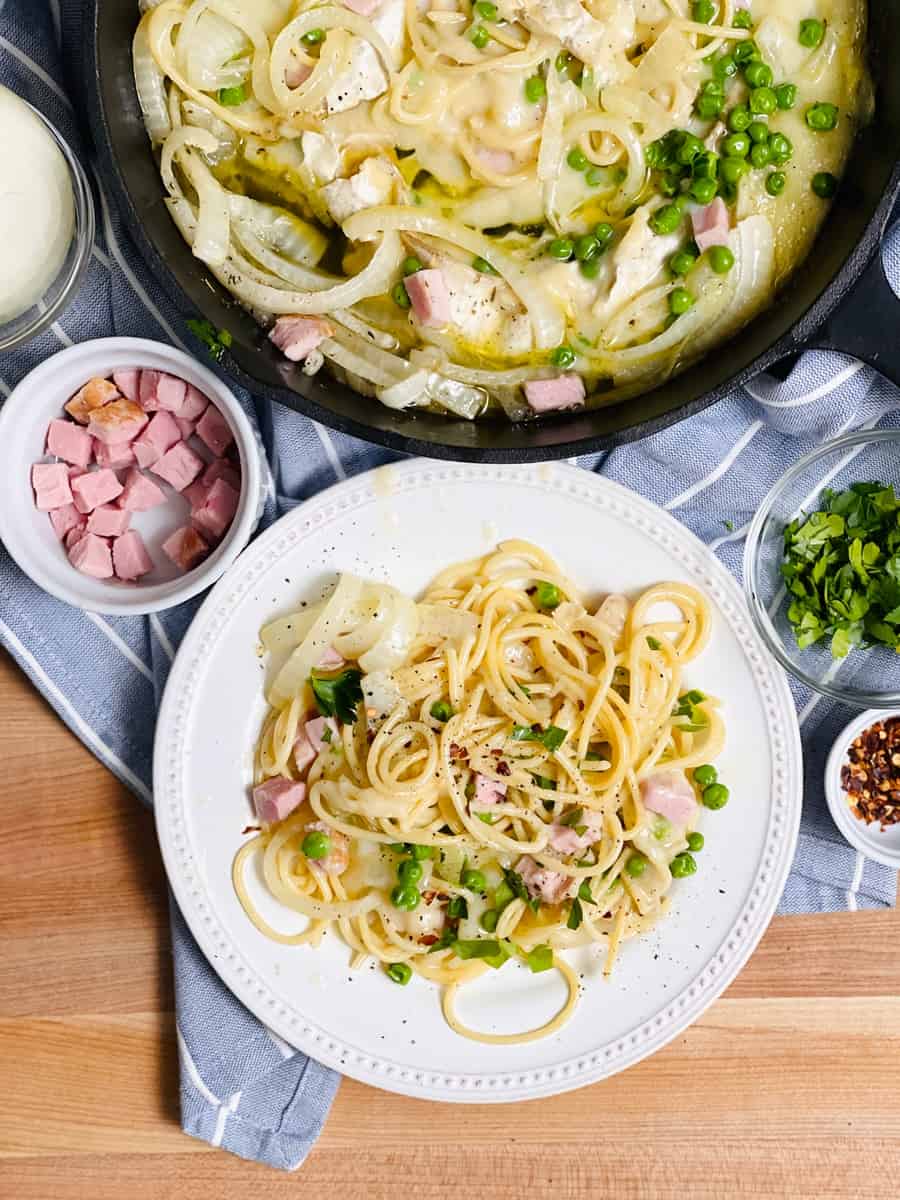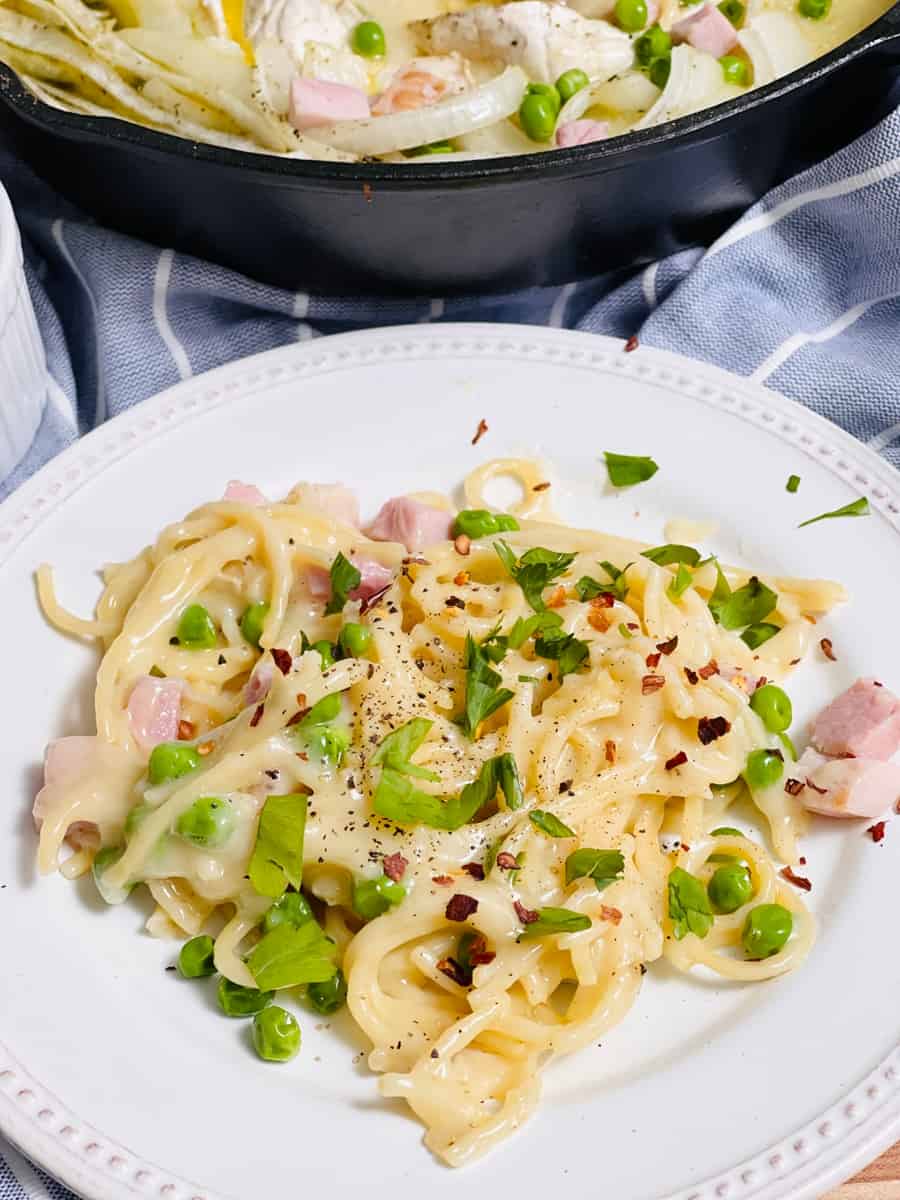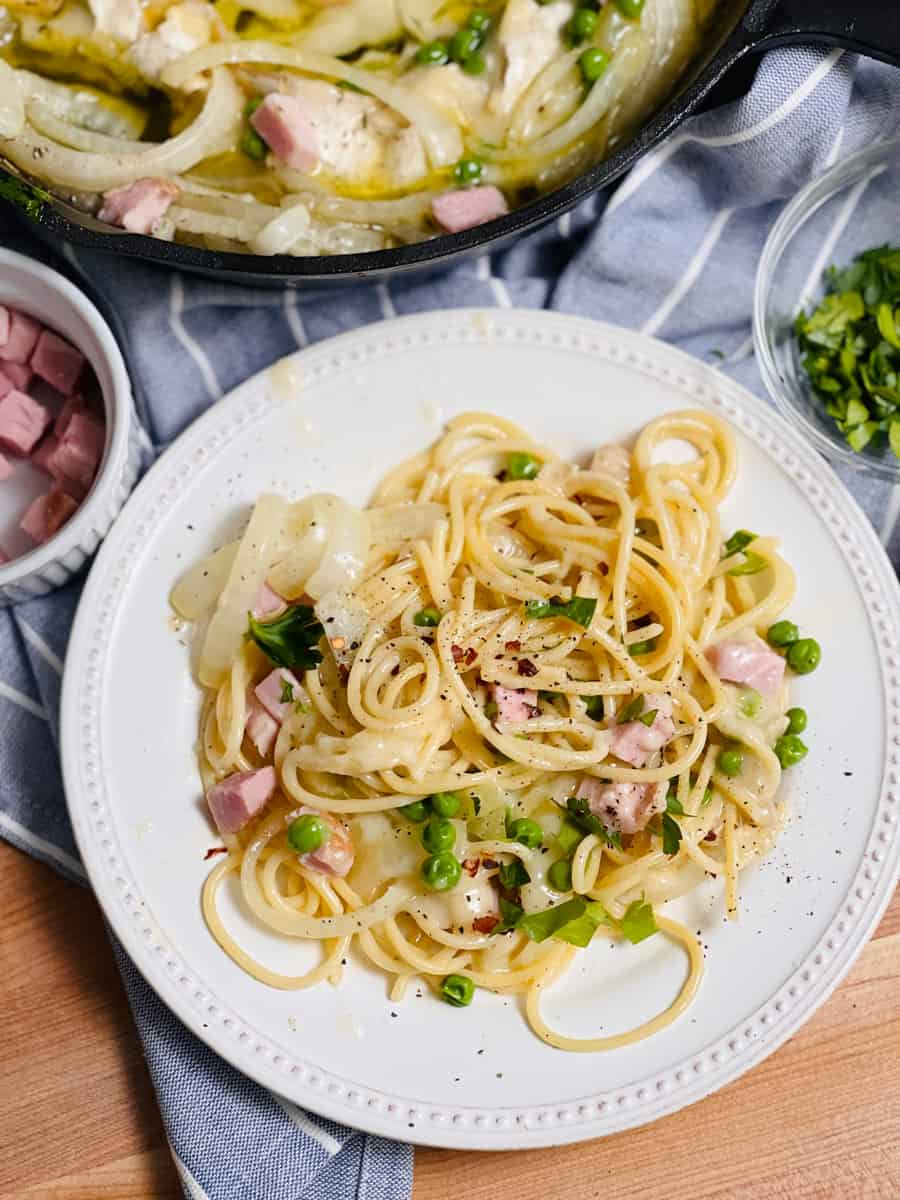 You Might Also Like