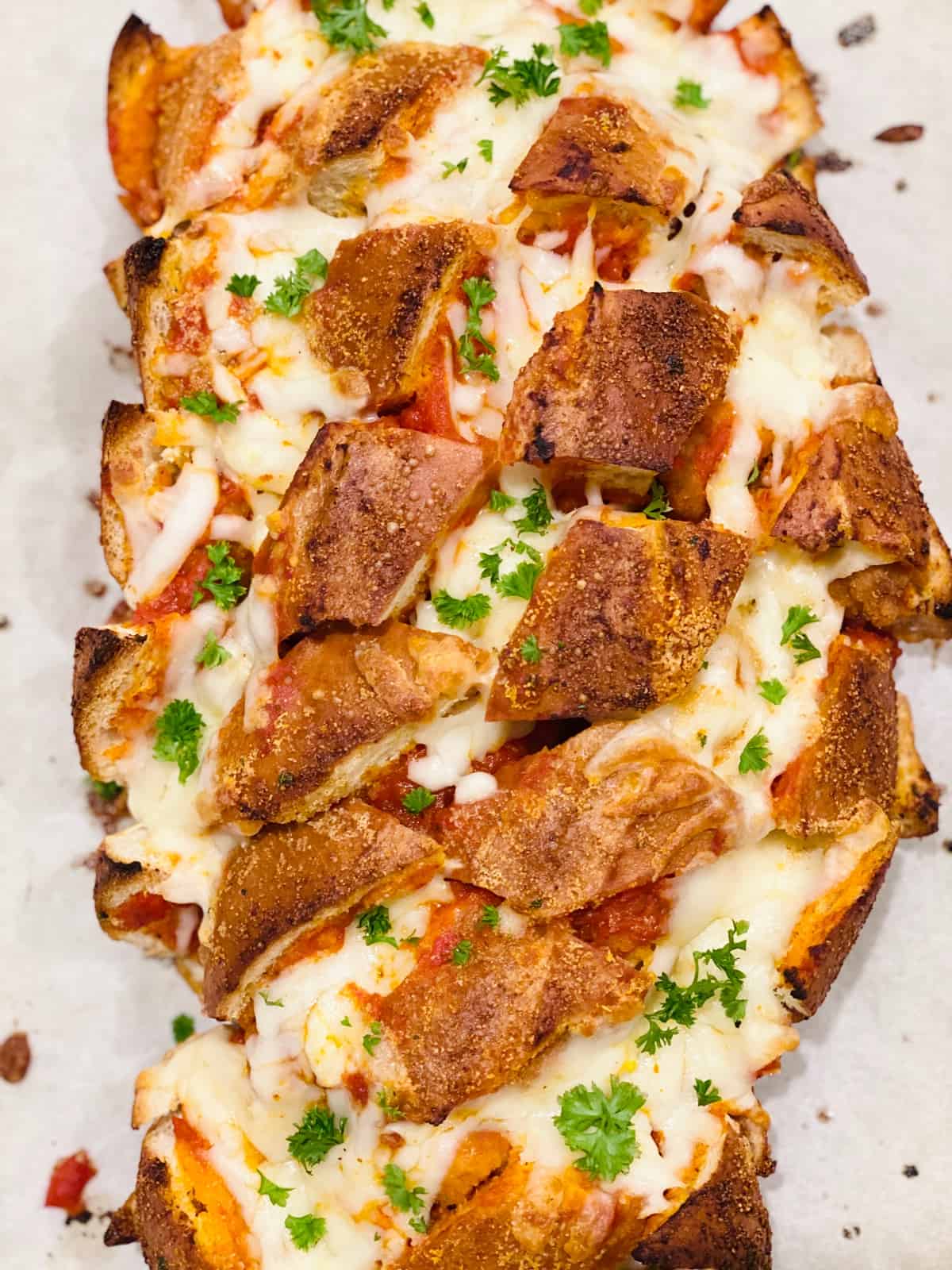 Follow us on Instagram for more fun food ideas for kids!
This chicken parmesan pull-apart bread is a simple and easy dinner (and it's really fun to eat too!).
If you're anything like me, you're always searching for fun and creative dinner recipes to get your kids to partake in anything that isn't pizza.
This is why I know you're going to love this Chicken Parmesan Pull-Apart Bread. Not only it is super fun and easy to make but it's perfect for having your little chefs in training help out as well.
It's time to stop overthinking dinner and let this recipe speak for itself. Once you make it and start pulling apart the pieces of bread, there's going to be no stopping anyone from diving right in! The cheesy goodness and chunks of chicken give this bread an awesome taste and flavor!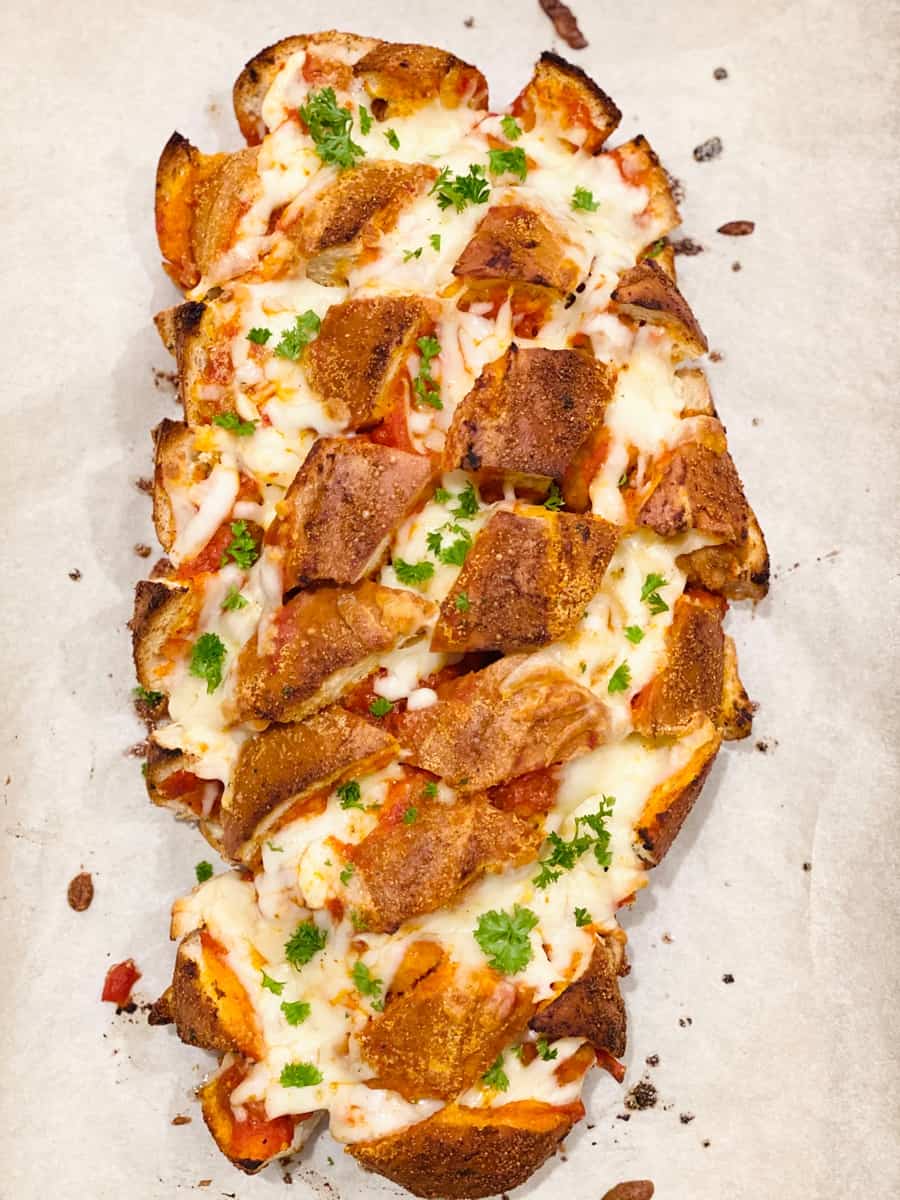 This yummy chicken pull-apart bread is a hit appetizer or meal for sharing on Superbowl Sunday or Game Day!
People love food that they can all partake and share easily in! Instead of the classic meatball sub on Game Day or Superbowl Sunday, make this impressive Chicken Parmesan pull-apart bread. It's so easy to share with family and friends. Everyone gets a bite!
Can you use shredded chicken in this recipe as well?
Absolutely! I chose frozen breaded chicken just because it lends that classic chicken parmesan flavor without a lot of work. I liked how easy it was to put into the crevices of the bread, but shredded chicken works just fine, too if you are looking to do something healthier!
Some people actually prefer to cook up their own chicken and then use that once cooked while others purchase a pre-cooked rotisserie chicken from the store and use that as well. There's really no wrong way to use your chicken in this recipe.
My kids do love chicken tenders so this was a clear pick for us in this cheesy pull-apart bread.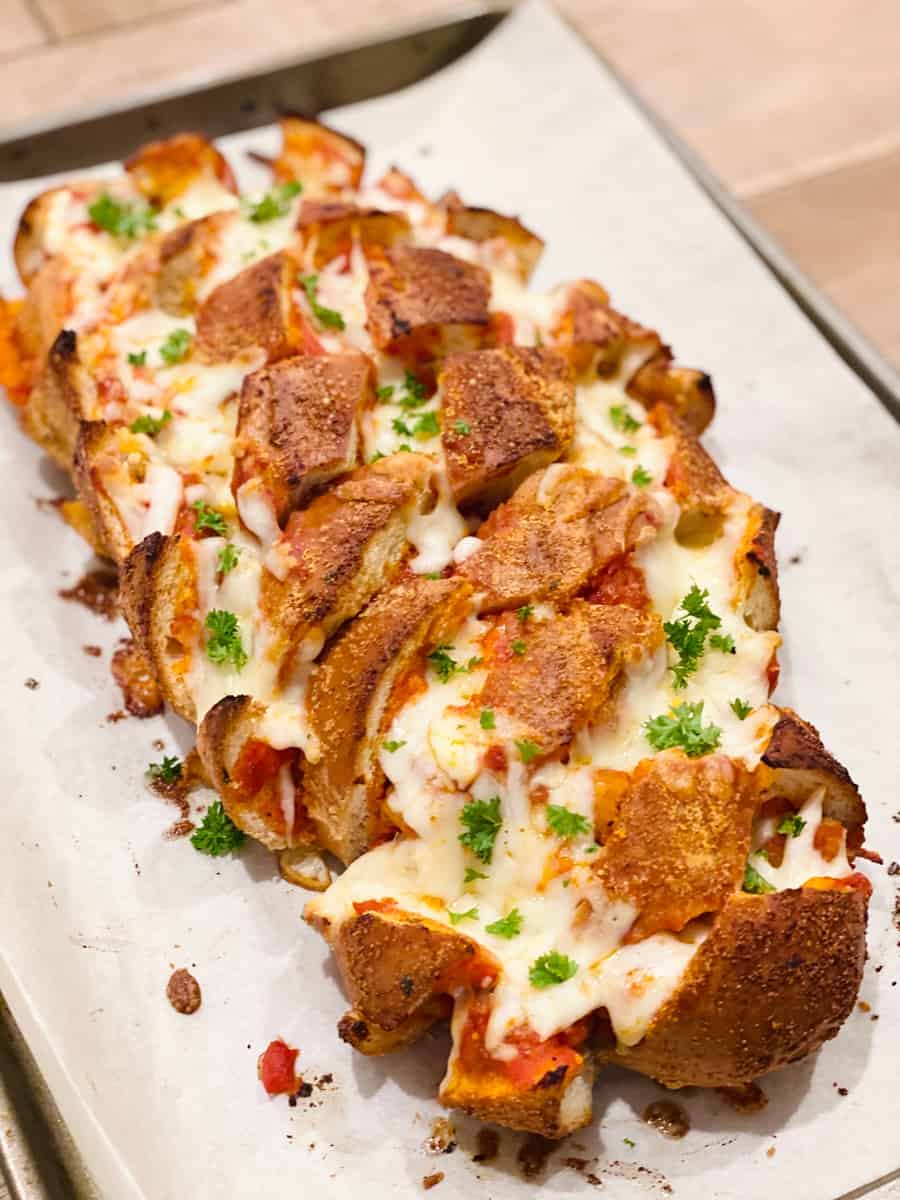 What would go well with this Chicken Parmesan Pull-Apart Bread?
While it just so happens to be quite the meal in itself, I think that adding a nice side salad or veggie tray would be a great option. My kiddos love to dip their veggies in ranch, and I have a hunch that dipping this pull-apart bread in some Ranch dressing would probably be a really great choice as well.
You can also add a nice fruit salad to eat afterward so that it takes care of everyone's sweet cravings, too.
Make sure to scroll down to watch the video below to see how we made this Chicken Parmesan Pull-Apart Bread.
Chicken Parmesan Pull-Apart Bread – Ingredients
Loaf of French Bread

Baked chicken tenders

Marinara Sauce

Shredded Cheese (Your choice but we used mozzarella)

Butter

Garlic Powder
With just a handful of ingredients, you'll be enjoying a simple and filling dinner with your family in no time at all.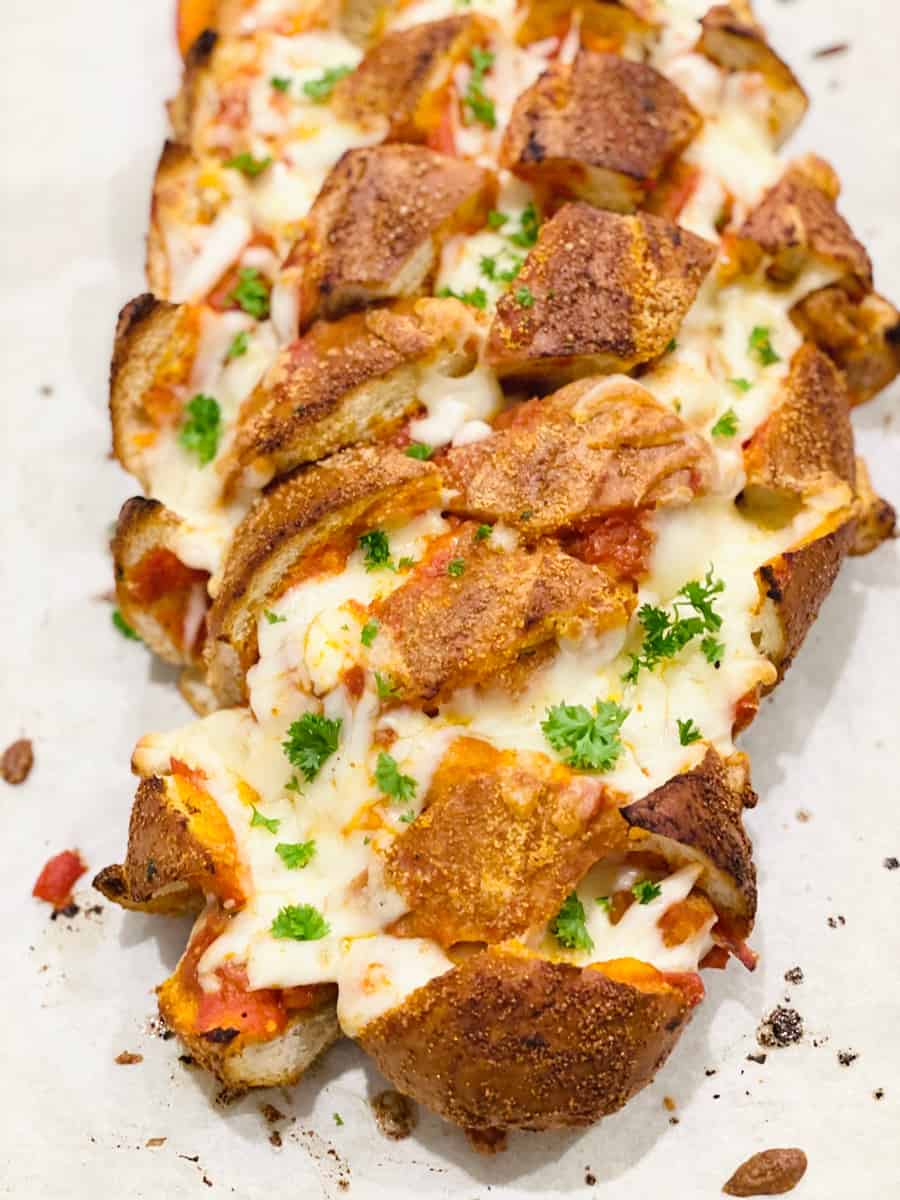 Simple tips for making this Chicken Parmesan Pull-Apart Bread
Make certain to cut the bread all the way across and deep but not through the bottom of the crust. You want to make certain it's deep enough to fit in your ingredients!
Keep in mind this is a messy meal or appetizer, but the flavors and deliciousness is worth it!
Enjoy this delicious recipe! Pulling it apart and enjoying it piece by piece is a lot of fun!
Chicken Parmesan Pull-Apart Bread
This chicken parmesan pull-apart bread is a simple and easy dinner (and it's really fun to eat too!).
Ingredients
1

Pound

loaf of French Bread

soft interior, not skinny baguette

20-25

1-2 inch pieces

Chicken breast tenders

baked and cooled

1 1/2

Cups

Marinara sauce

divided into 1 cup and 1/2 cup

2

Cups

Shredded mozzarella cheese

2

Tbsp

Melted butter

2

Tsp

Garlic powder

Parsley

chopped, optional for garnish
Instructions
Preheat oven to 400 degrees and line a baking pan with foil.

Make slits diagonally across your French bread about an inch to inch and a half apart.Cut down the bread but not all the way down so that it's still intact. Repeat the slicing this time going across.


Add a spoonful of sauce into each bread crevice (spoonful equal to about 2 teaspoons' worth). That should use up about a cup of sauce.


Insert one chicken tender in each bread crevice on top of the sauce.

Now add the rest of the 1/2 cup of sauce on top of the chicken pieces.

Spread 2 cups of shredded mozzarella cheese inside the bread crevices.

Combine your melted butter with garlic powder. brush on top of bread and on sides.

Bake on your foil-lined baking pan for about 10-15 minutes in a 400 degree preheated oven, or until cheese is bubbly and fully melted.

Sprinkle chopped parsley on top. Serve warm. So messy but worth it!

Video
More dinner recipes to try: