By using this site, you agree to our Terms of Use. This post may contain affiliate links. Read our disclosure policy.
Follow us on Instagram for more fun food ideas for kids!
We made the viral food trend TikTok Baked Feta Pasta Recipe and are sharing how to make it even more delicious and amazing!
It's no secret we're big fans of TikTok viral food trends and have tried the clever Tortilla Wrap Hack, mesmerizing Hot Chocolate Bombs and adorable pancake cereal dishes. We haven't yet tried one of TikTok's savory recipes though so we were excited to check out the latest trending dish, this Baked Feta Pasta recipe.
It seems the recipe was actually first created in Finland in 2019 from Finnish food blogger Jenni Häyrinen.
Edit (2/5/21) it's come to our attention that the ORIGINAL dish was actually created by ANOTHER Finnish blogger Tiiu Piret! Please check her version out!
Store run out of Feta? Try our Baked Brie Spaghetti instead for another baked cheese pasta recipe or try our Spinach Dip Pasta Bake with just 4 easy ingredients!
What is Baked Feta Pasta?
The premise is simple, simply place a block of feta on a baking dish, surround by cherry tomatoes and drizzle with seasonings and olive oil. Bake until the cheese is soft and the tomatoes are roasted to perfection. You'll then mash up the cheese and tomatoes a bit and then add your favorite pasta of choice. We added some tomato sauce to make it more sauce-like, olive oil and parmesan and voila! You've got this amazing, tantalizing dish! What we love about this Feta tomato pasta dish is that it's really one pan and makes for a super easy and delicious dinner when you're strapped for time!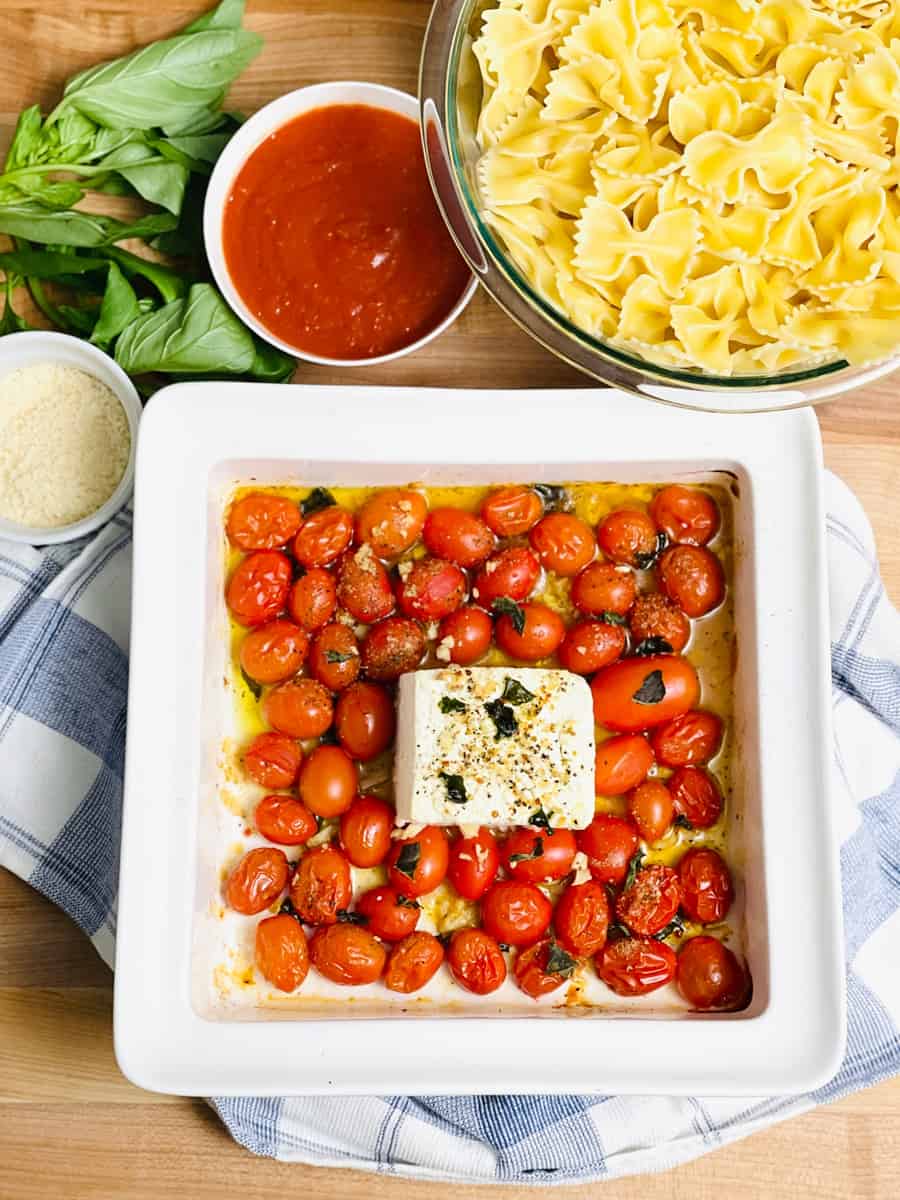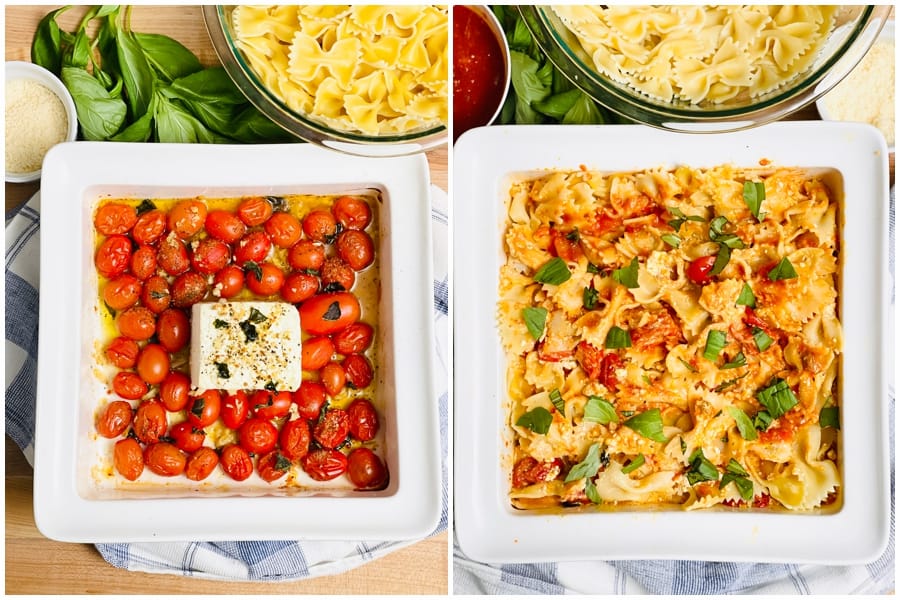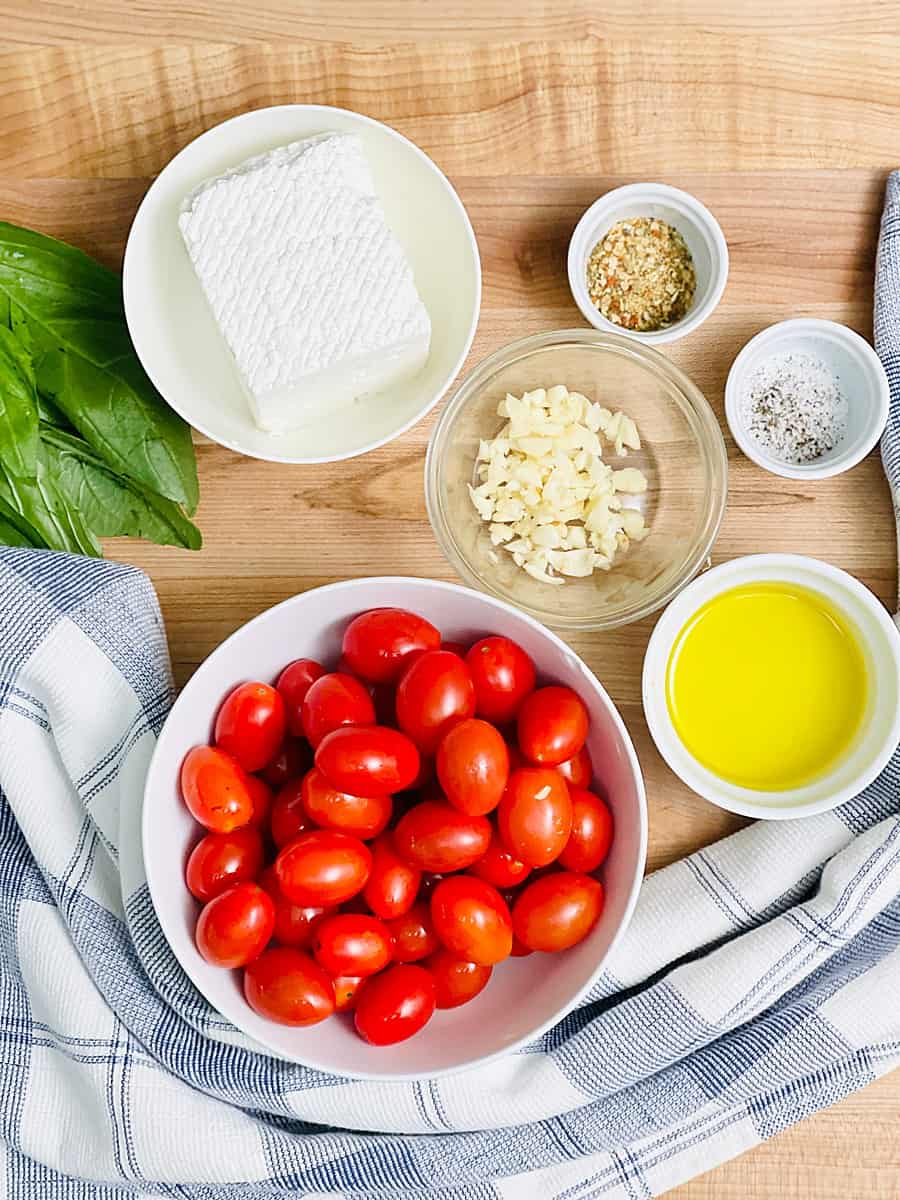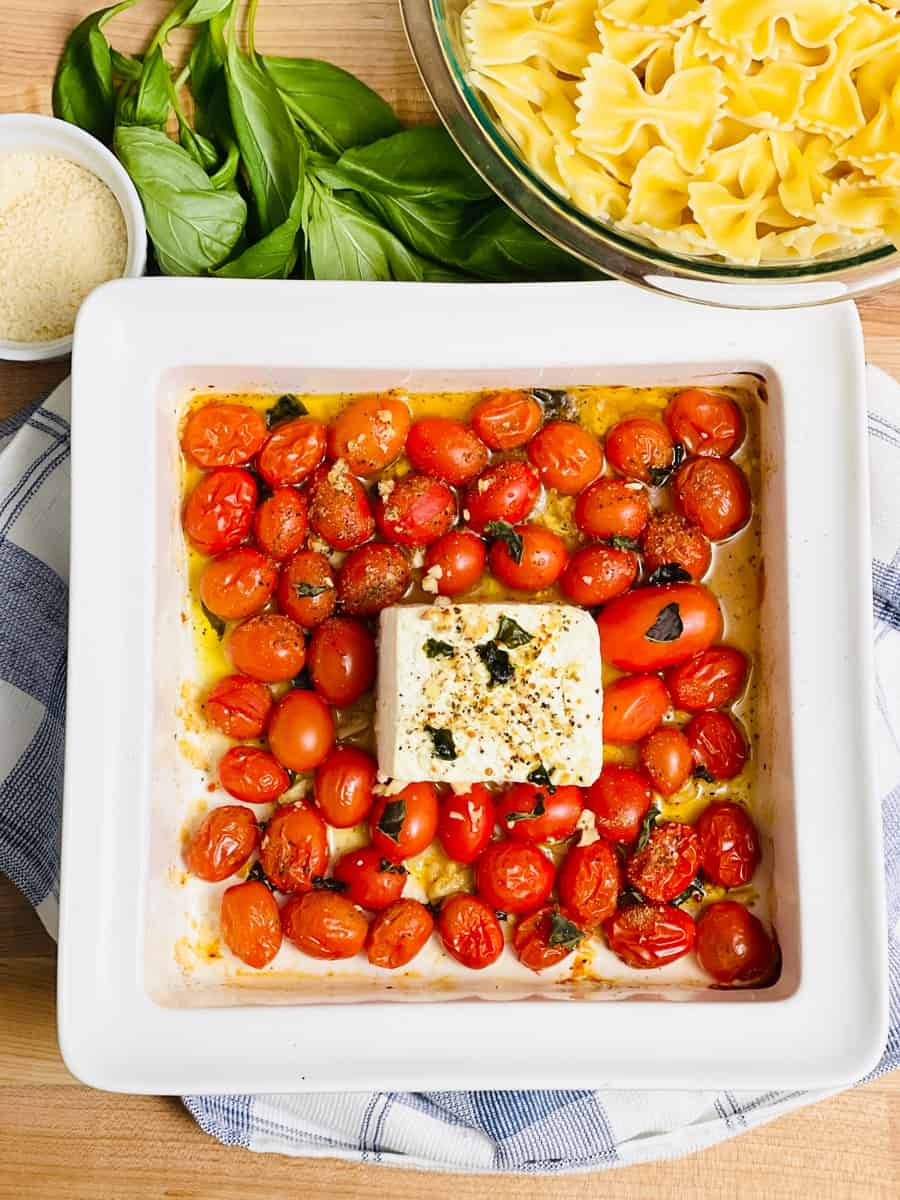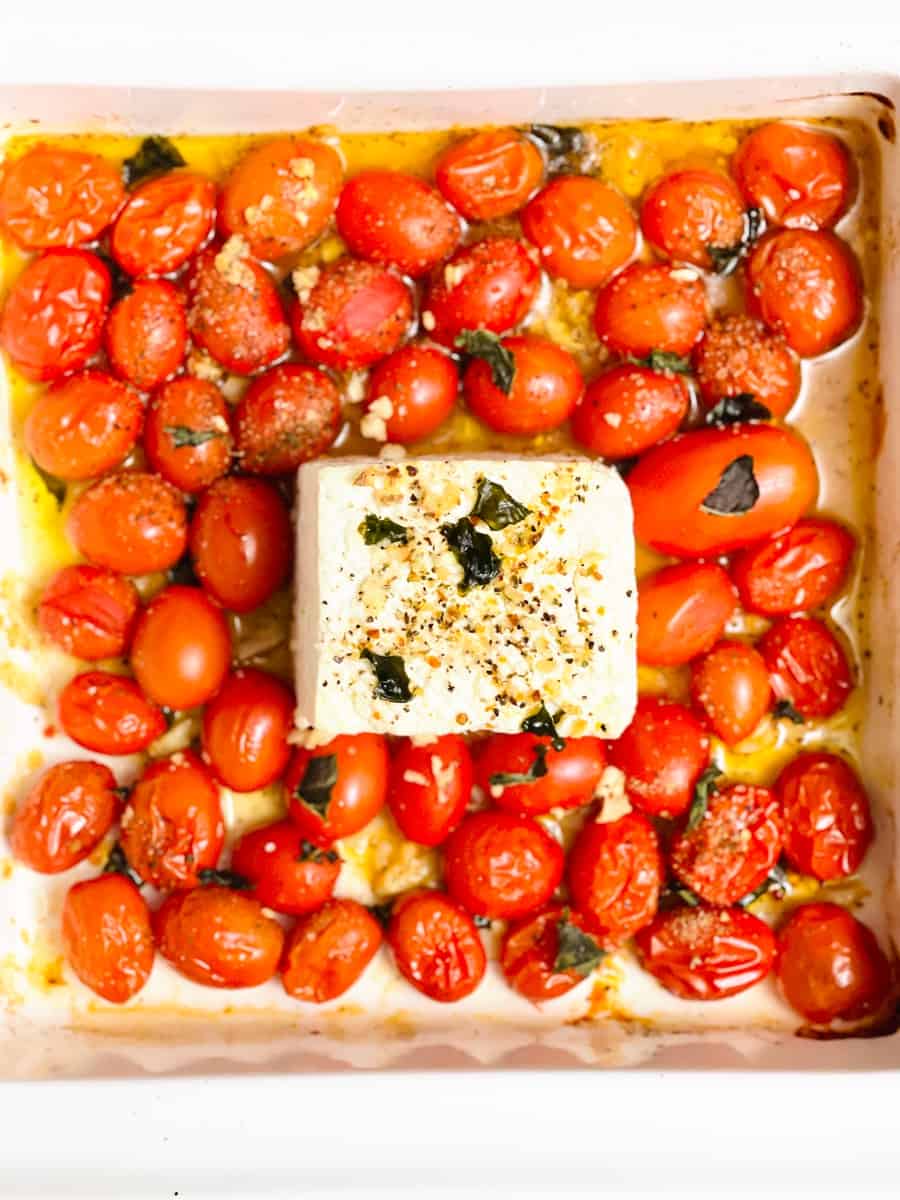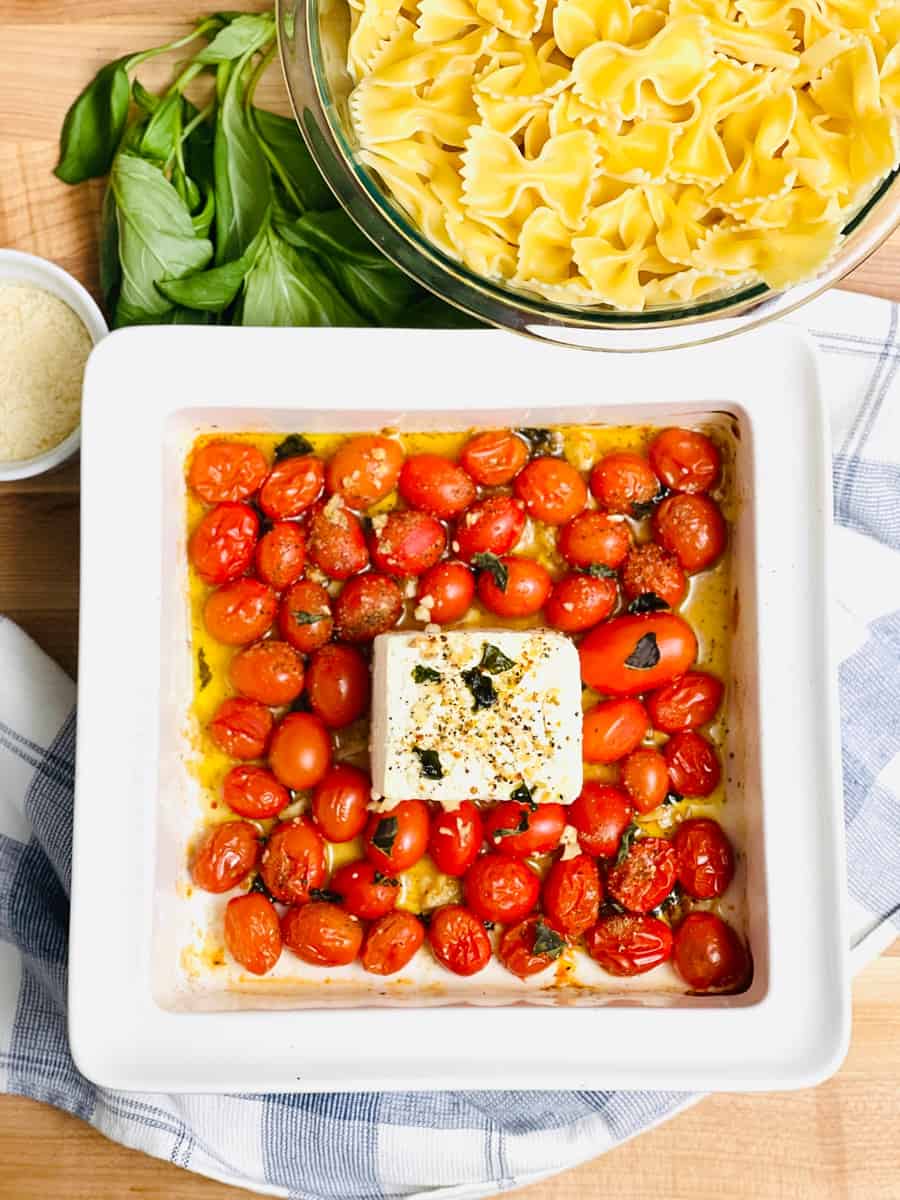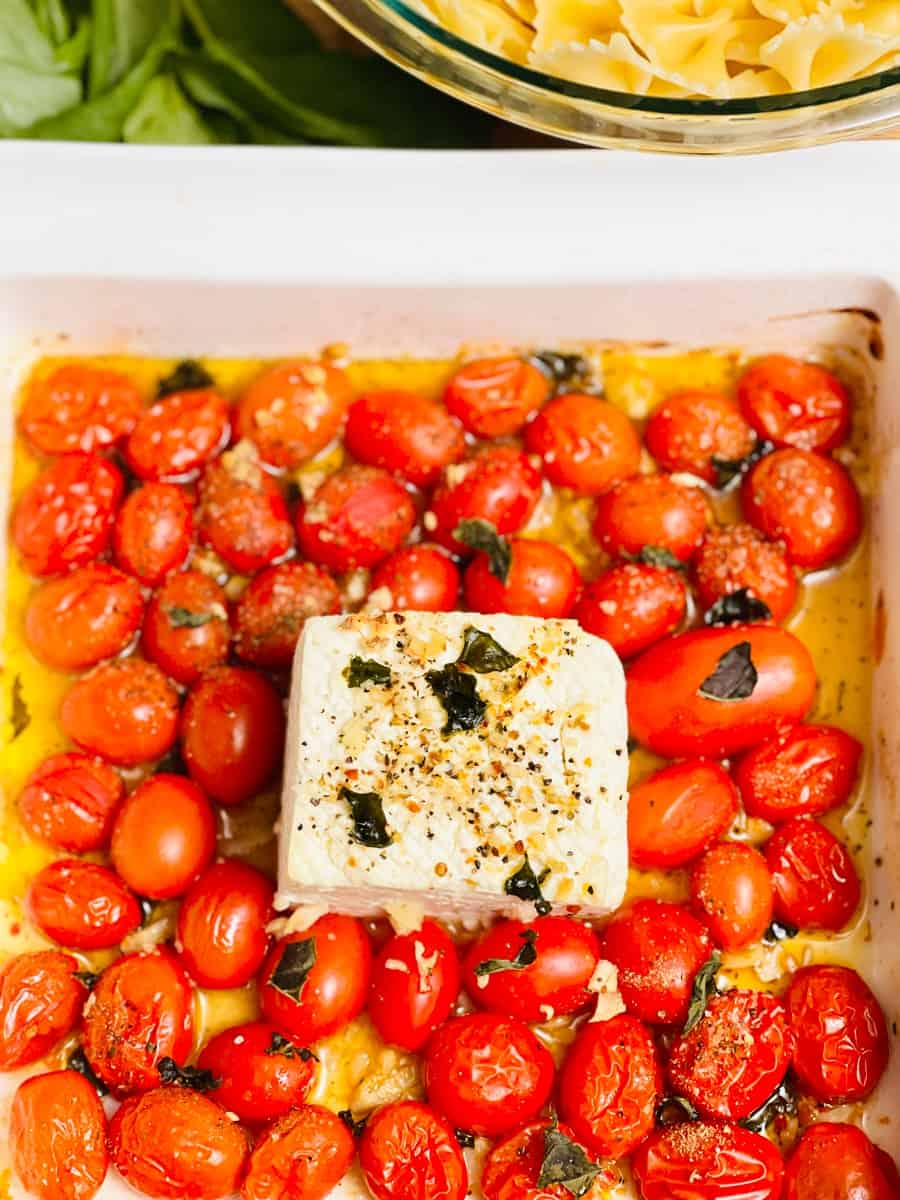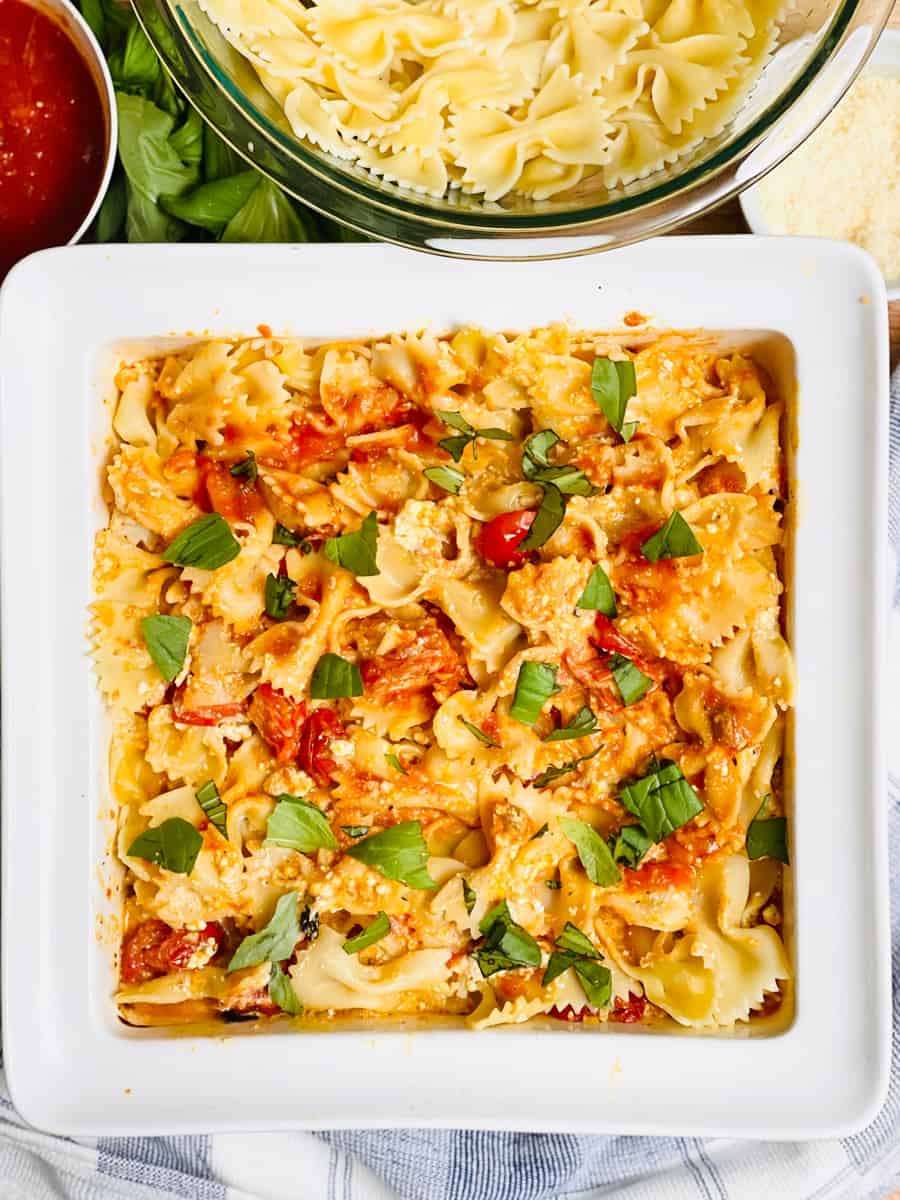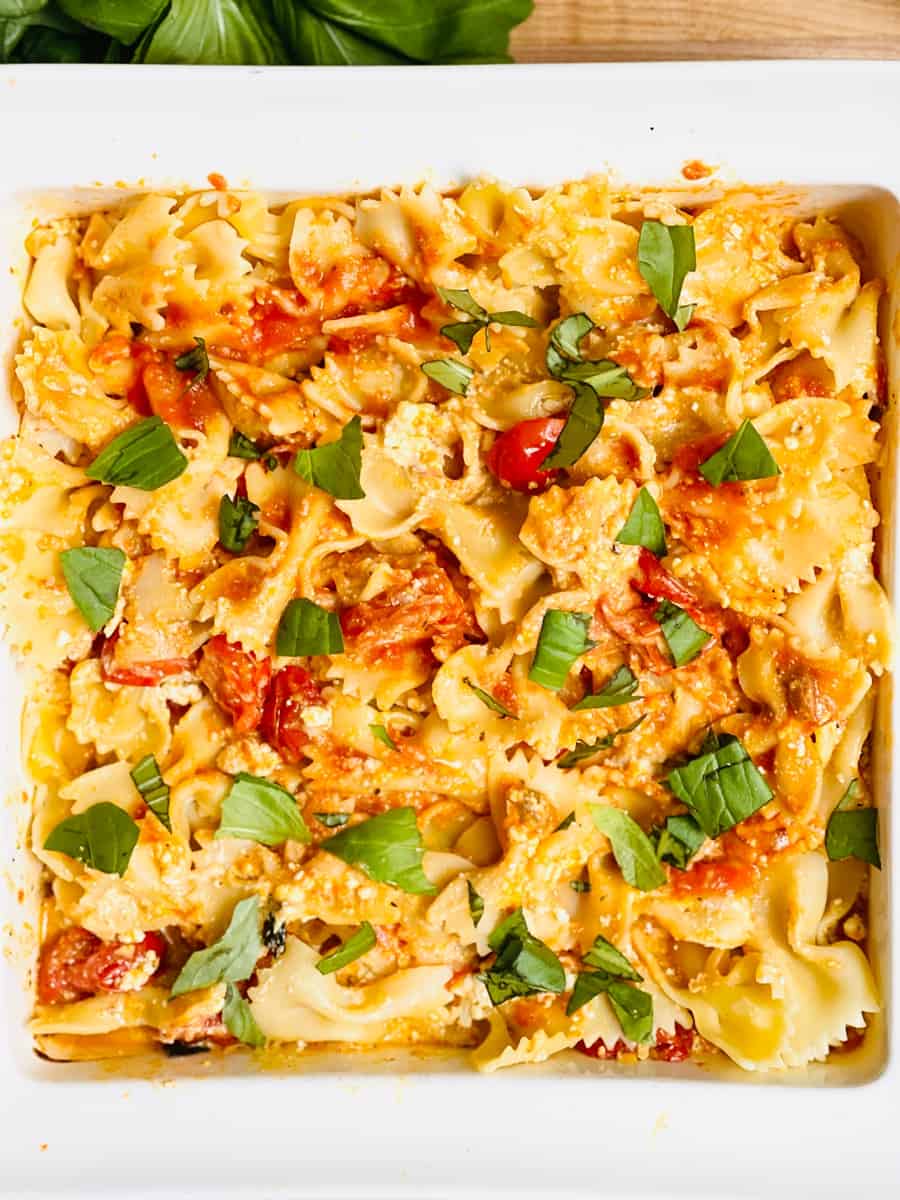 Watch the video in this post to see how to make this easy Baked Feta Pasta.
What can you add to make Baked Feta Pasta taste even more amazing?
We did a few things that we think really amped up the recipe here. First, use really good ingredients as there are so few in this dish they each need to be the best you can source. We used organic sugar plum tomatoes, fresh garlic and basil, plus a high quality olive oil. You can grab all these easy ingredients at Trader Joe's, our favorite market for super easy family dinners!
We added our favorite seasoning blend, Trader Joe's 21 Salute Seasoning, which has onion, black pepper, celery seed, cayenne pepper, parsley, and a few other herbs and spices that really flavor any dish. But of course you can just add your own Italian seasoning. We also added fresh basil before and after the dish baked. Of course only fresh chopped garlic was used.
After baking, we enhanced the sauce by adding extra tomato sauce, olive oil, fresh basil and grated parmesan cheese.
My husband who's big on protein added some cooked chicken breast. This would be really good with some Italian sausage too!
Watch the video in this post to see how to make this easy Baked Feta Pasta.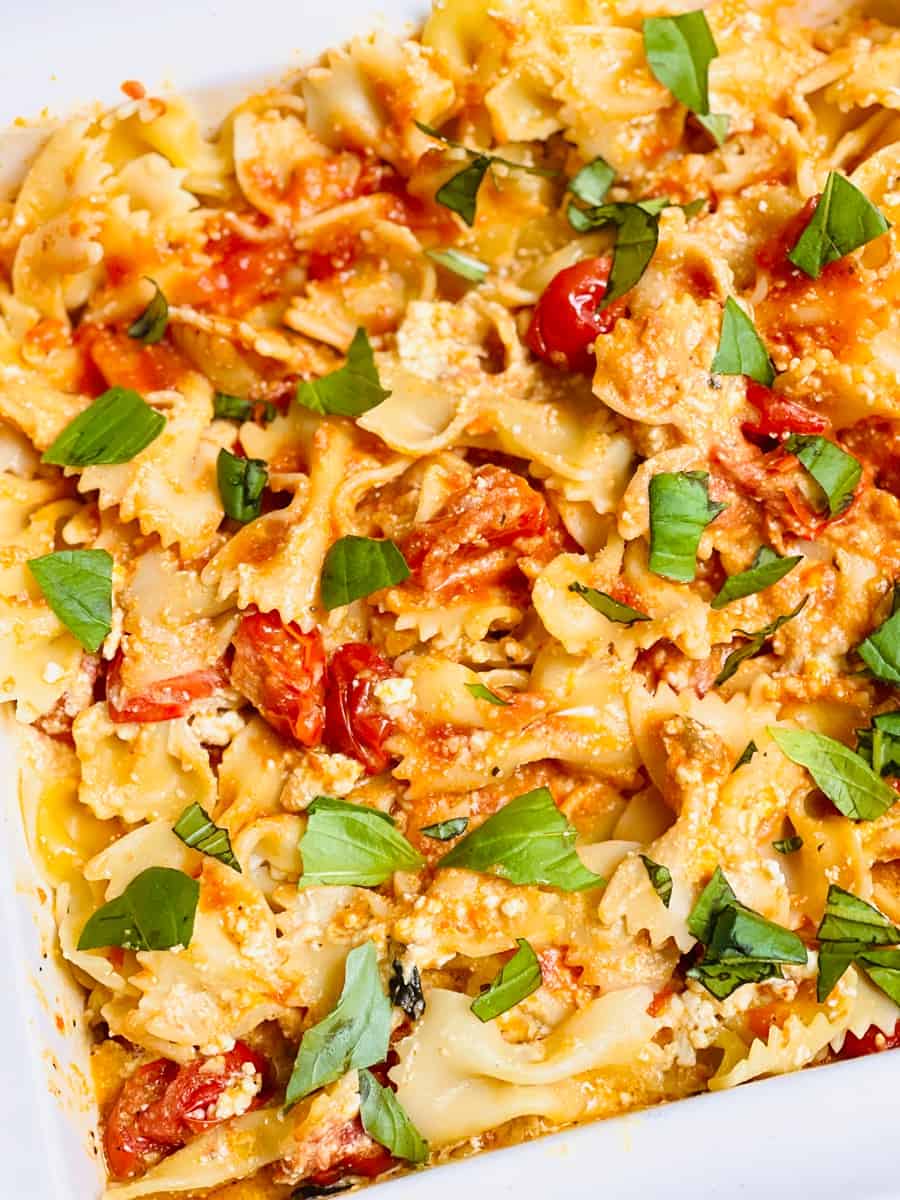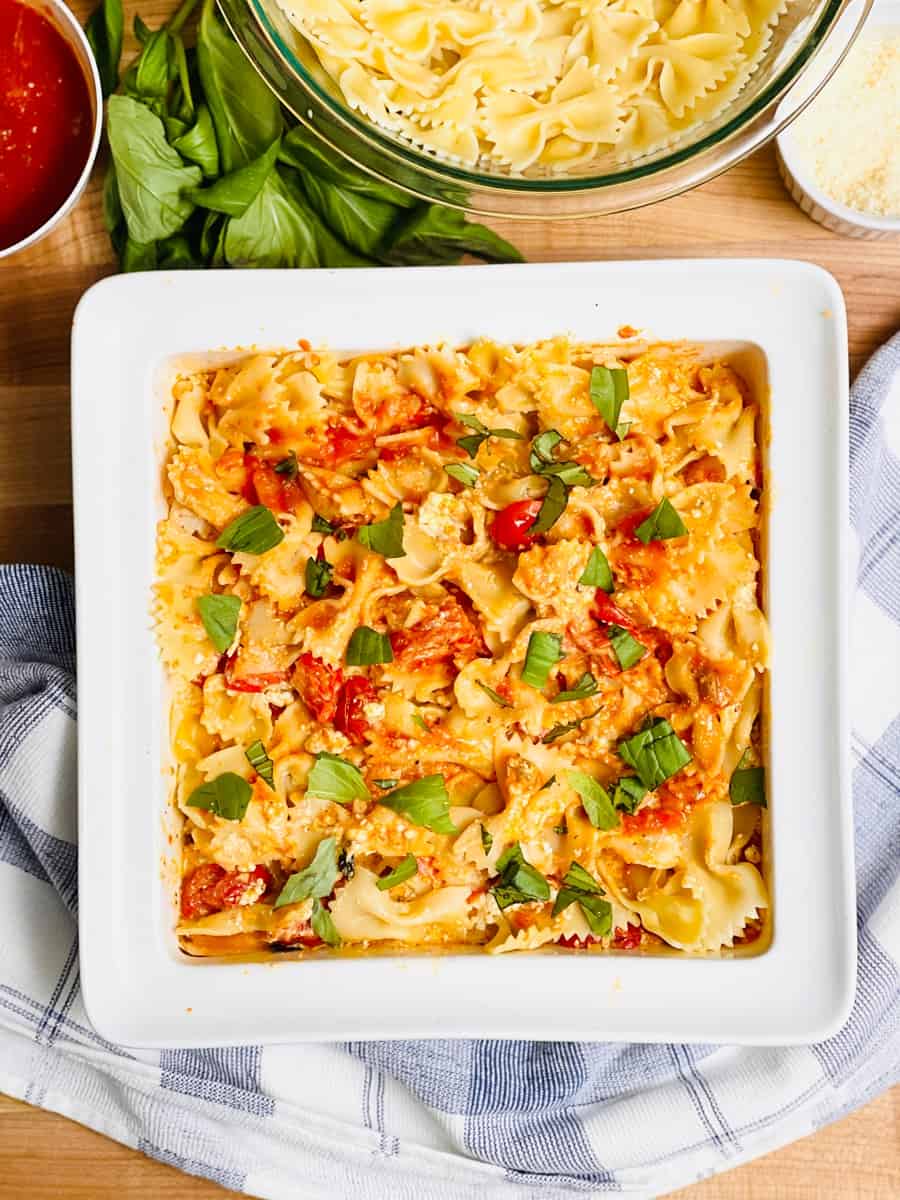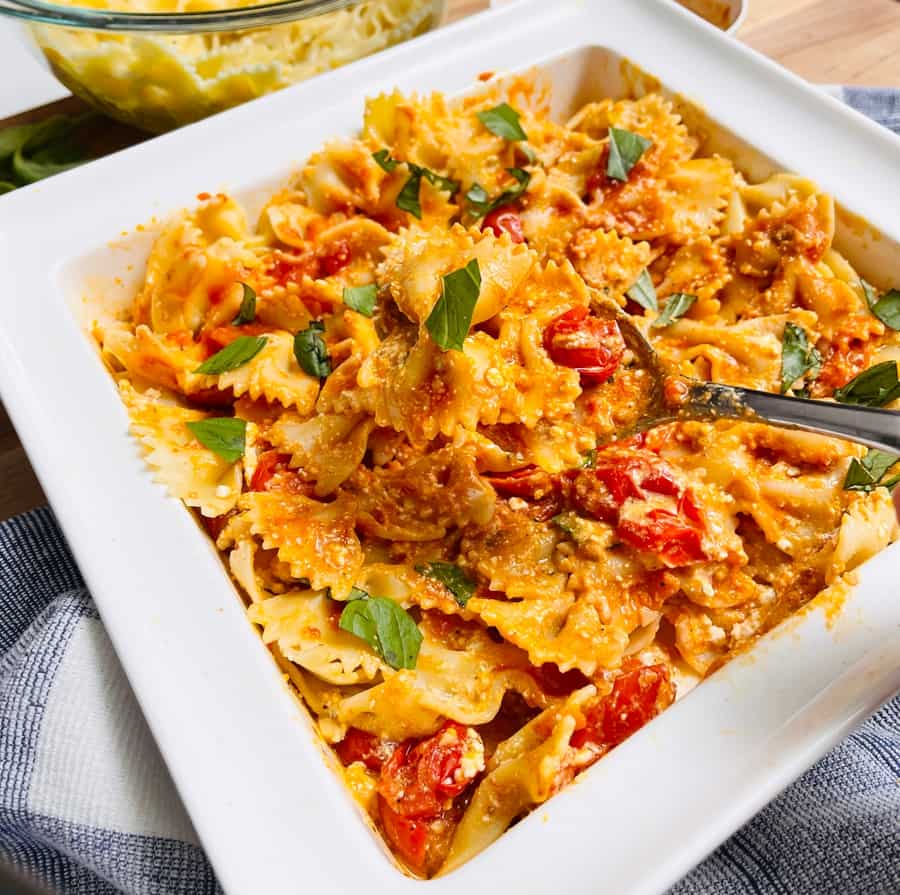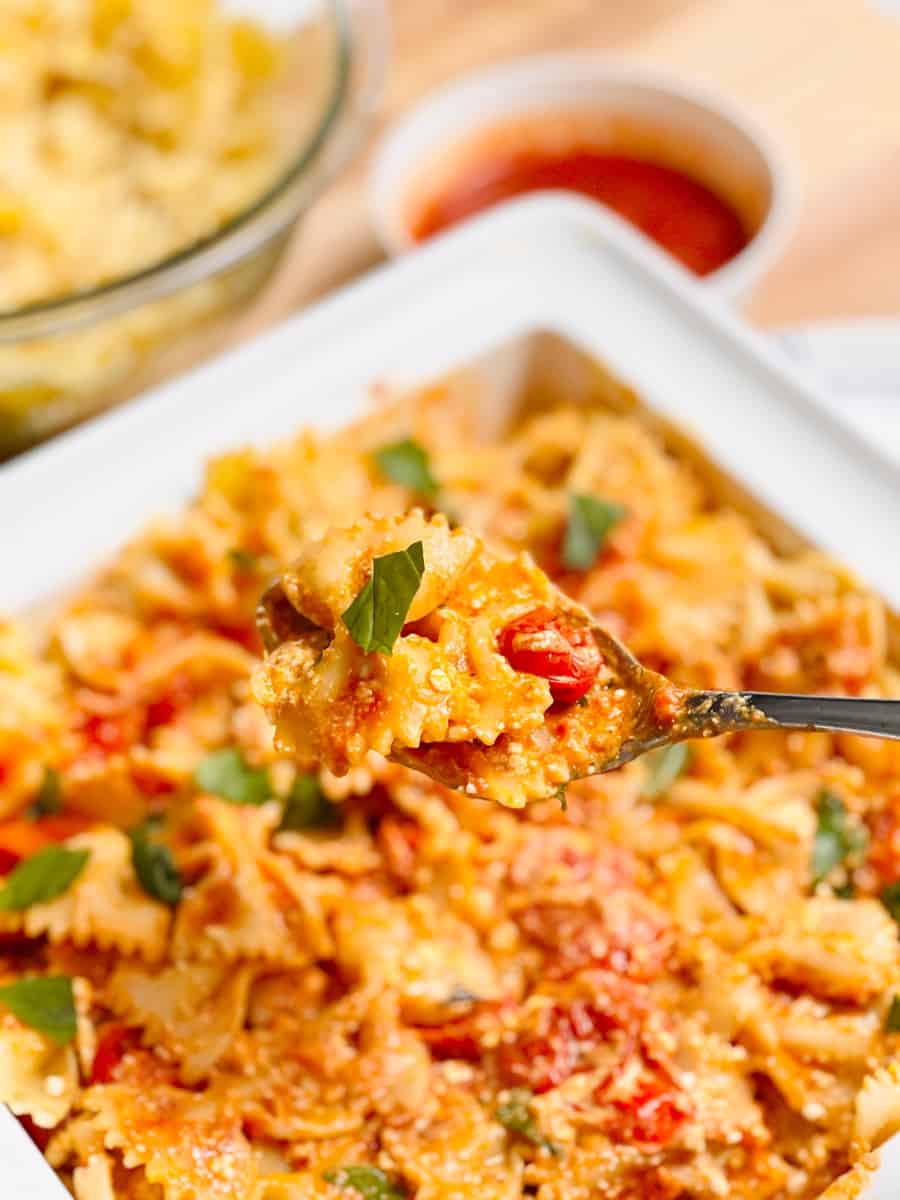 Does the type of Feta matter?
You need to use the block type, we love Trader Joe's Israeli Block Feta. The crumbled kind won't really melt as well and isn't the most authentic Feta you can use.
Baked Feta Pasta – Ingredients:
Cherry tomatoes

Fresh chopped garlic

Block Feta

Olive oil

Dried Italian seasoning

Salt and pepper

Tomato sauce

Grated parmesan cheese

Fresh basil

Pasta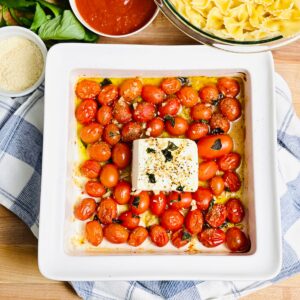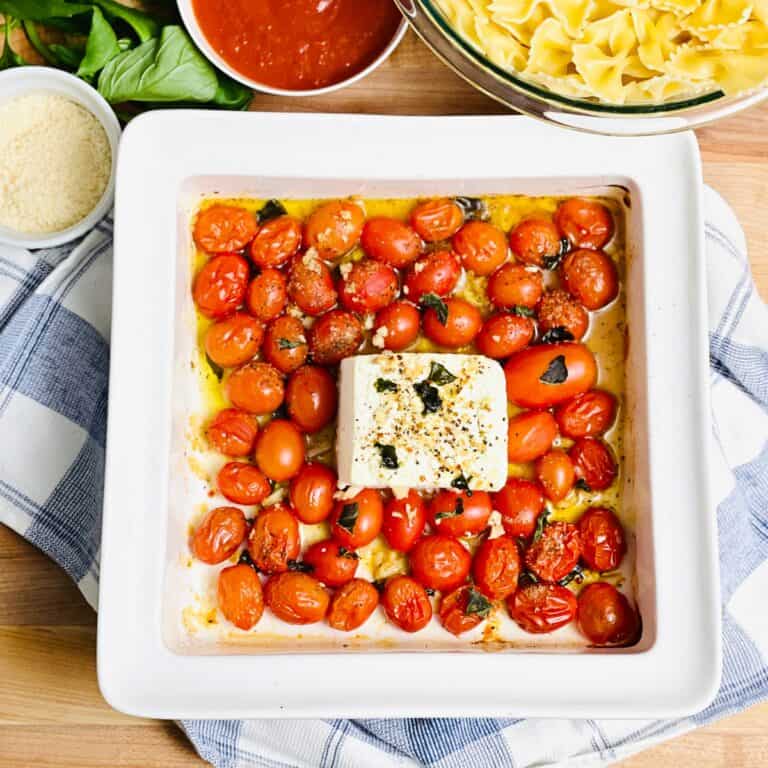 Baked Feta Pasta
Ingredients
16

oz

Cherry tomatoes

We used Trader Joe's organic sugar plum tomatoes

4-5

Cloves

Fresh chopped garlic

4-5

TBSP

Olive Oil

1

tsp

Dried Italian seasoning

We used Trader Joe's Salute 21 Seasoning

Salt and pepper

To taste

1/2

Cup

Tomato sauce

2

TBSP

Grated parmesan cheese

Fresh basil

4-5

Cups

Cooked pasta

9

oz

Feta Block

We used Trader Joe's Israeli Feta in Brine
Instructions
Preheat your oven to 400 degrees.

In a 9" x 9" baking pan, add your feta block (drained) in the center.

Add the tomatoes around it.

Sprinkle your chopped garlic over feta and tomatoes.

Drizzle 2-3 TBSP of olive oil all over the cheese and tomatoes.

Sprinkle seasoning on top.

Bake for 30 minutes or until the cheese feels soft.

While baking, boil water and cook your pasta then drain.

Take out your feta tomato dish lightly mash with a fork or potato masher. Add your drained pasta.

Optional: add your fave tomato sauce, drizzle with more olive oil, add fresh basil and parmesan cheese.
Notes
If your garlic is toasting too much on top of the feta, cover with a piece of foil.
You Might Also Like