By using this site, you agree to our Terms of Use. This post may contain affiliate links. Read our disclosure policy.
Follow us on Instagram for more fun food ideas for kids!
This Easy Rainbow Cupcake Flower Bouquet is a gorgeous treat and dessert for spring or Mother's Day!
Do you and the kids want to wow mom this year on Mother's Day? Why buy her fancy desserts when you can make your own? My daughter and I have never made rainbow cupcakes or cupcake bouquets. Plenty of home-baked cupcakes though 🙂
So we are here to show you how easy it is to achieve bakery-style worthy goods with minimal ingredients, time and effort.
These beautiful rainbow cupcakes are such a happy and colorful spring dessert too!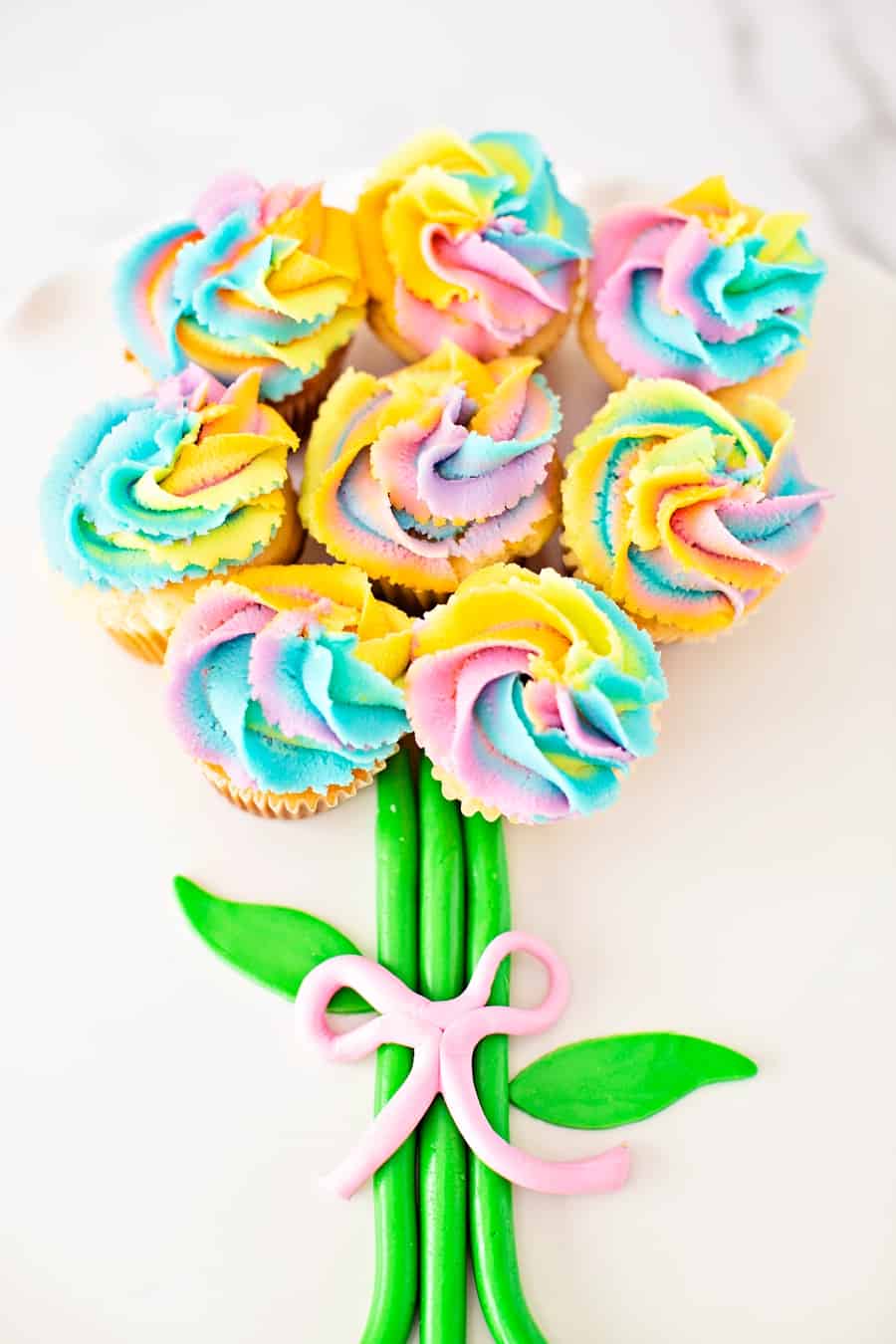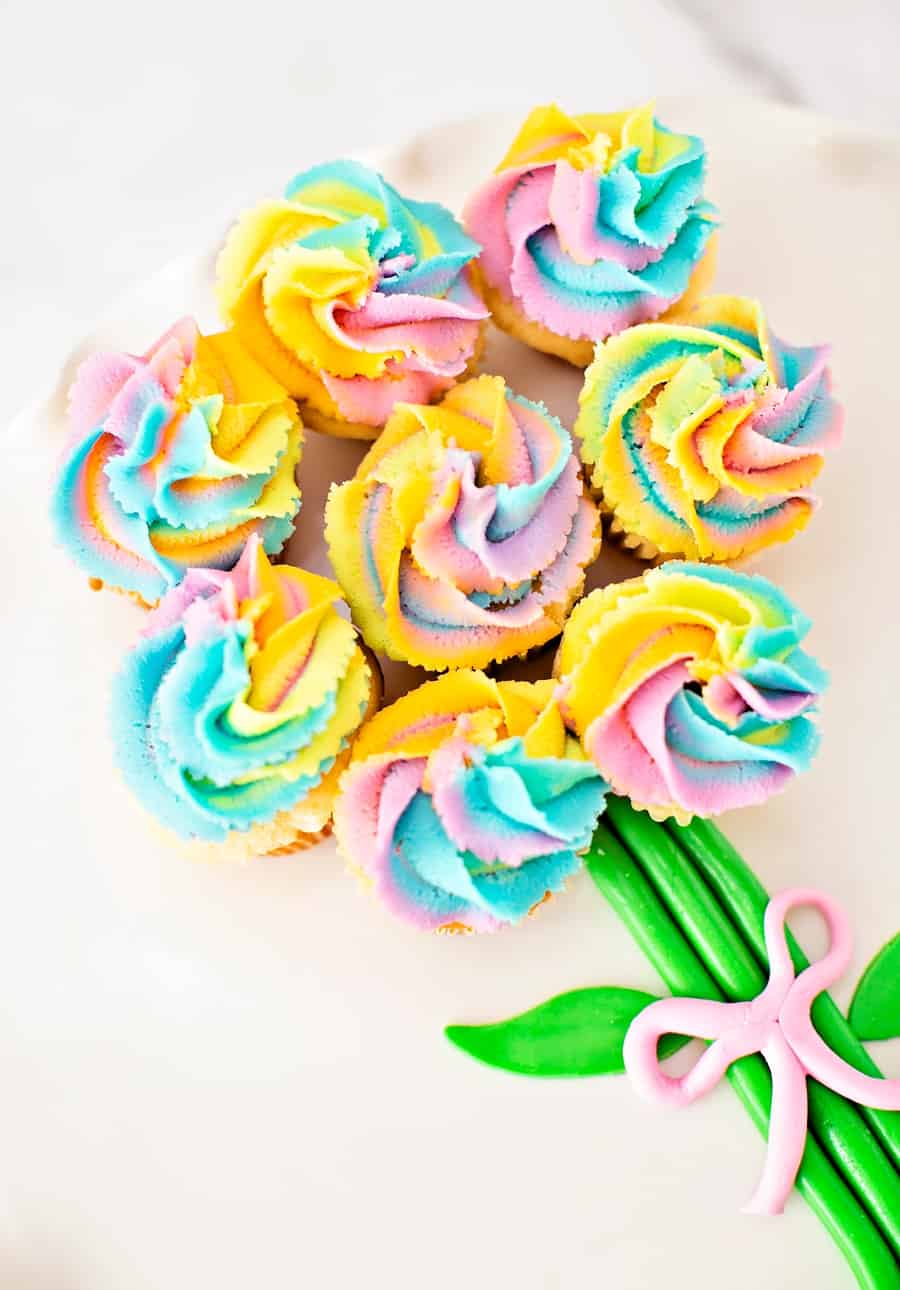 Do I need to make cupcakes from scratch to make this rainbow cupcake flower bouquet?
Especially in these quarantine times, we want to make baking in the kitchen as fun and stressless as possible. We used a cake mix for these. But other times, we've made plenty of homemade from-scratch baked cupcakes.
So short answer is no, you can do what you want as long as you have some finished cupcakes to decorate! You can also buy store bought plain cupcakes.
You can opt for any flavor too. We choose vanilla in ours.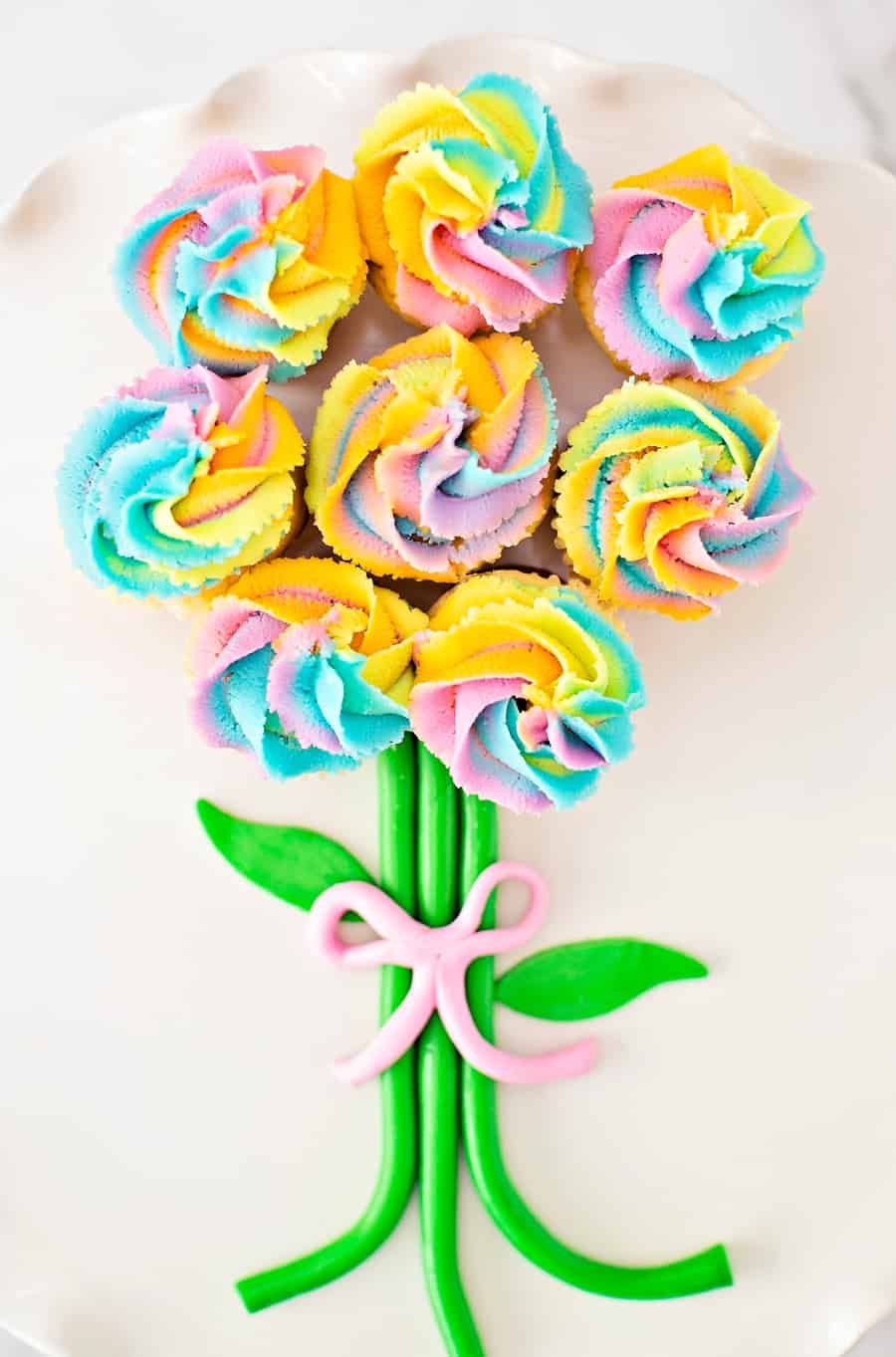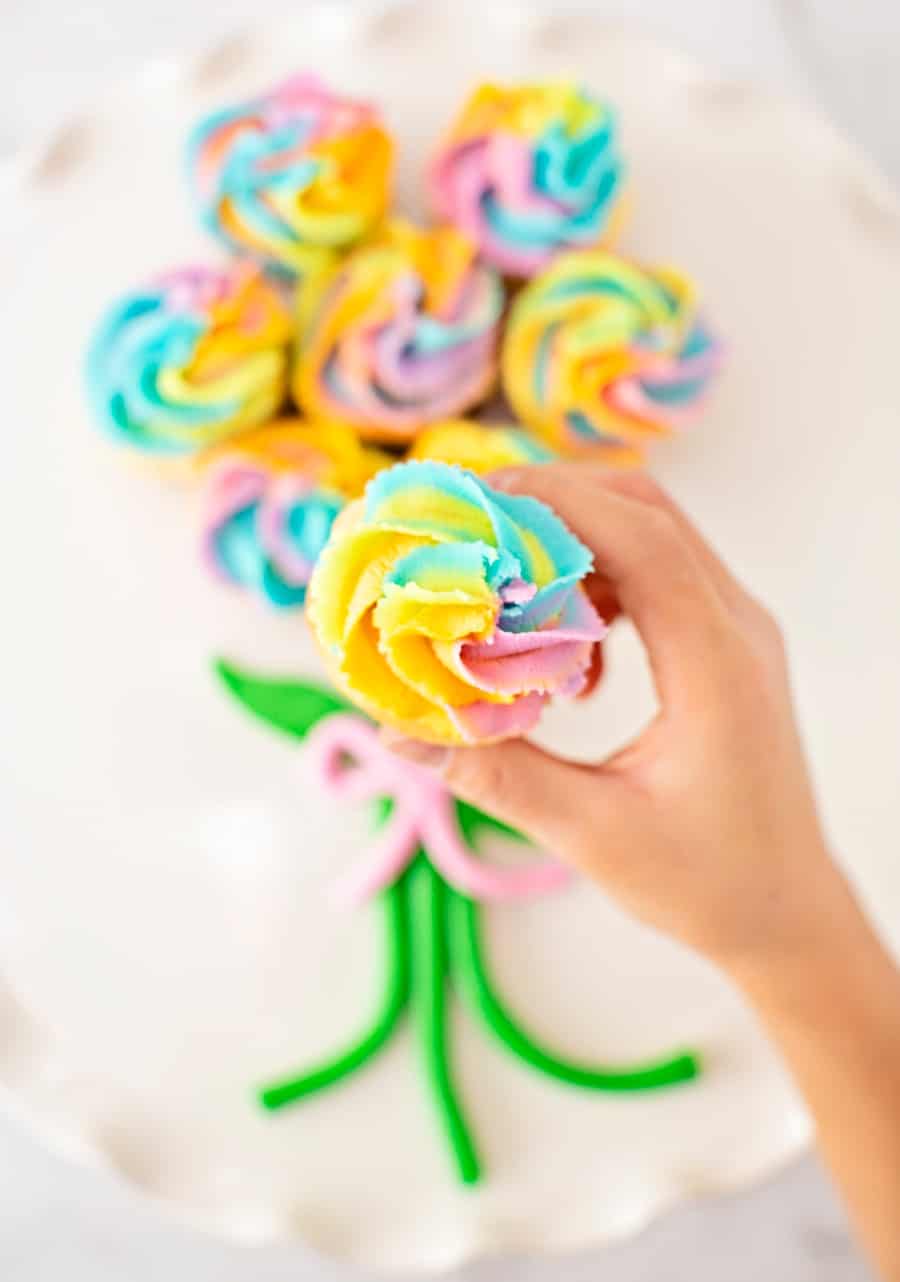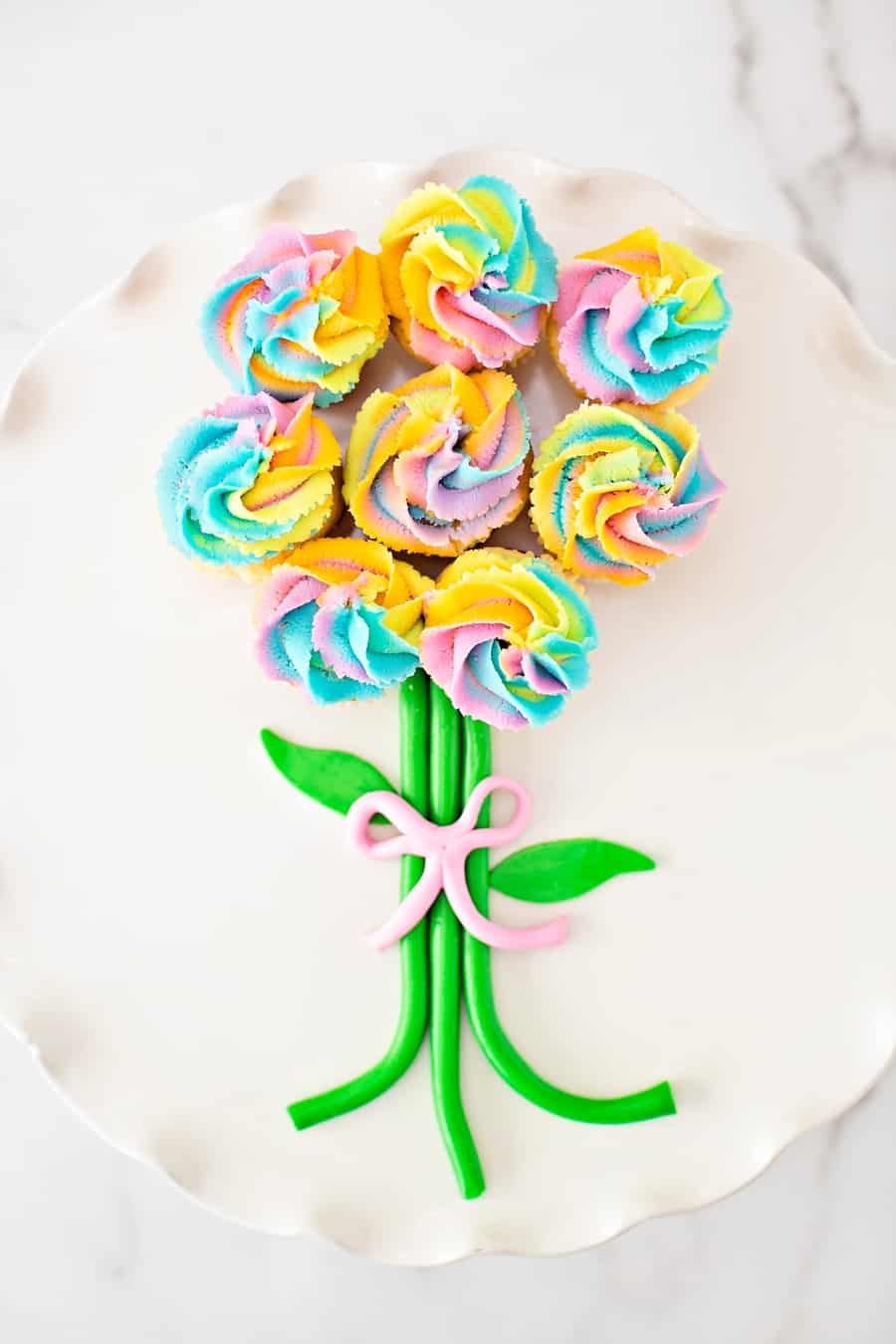 What size are your cupcakes for the flower bouquet?
We chose to make mini cupcakes. They are easier for kids to hold, and are less sugary than having one whole cupcake. Mini is cuter too! But that's just our preference.
Plus it's much easier to decorate flower bouquets with mini cupcakes. We only needed 8 for ours but our cake mix made at least 3 dozen so the the good news is that you can make more than one cupcake flower bouquet with mini cupcakes!
Do I need fondant for the stems and leaves
No, we actually had some green fondant on hand, so used that but you can color some of your frosting green and pipe on stems and leaves if you wish.
Follow our easy instructions below to make this rainbow cupcake bouquet. Please note we are not professional cake decorators. Although what you see are finished photos, my daughter and I had a lot of fun creating this together and improvising in the kitchen!
Easy Rainbow Cupcake Flower Bouquet – Ingredients:
Plain un-decorated baked mini cupcakes (make your own or use a mix or store-bought)
Green fondant
Pink Fondant
Leaf cookie cutter (optional)
For the buttercream:
2 sticks of unsalted softened butter
4 cups of sifted powdered sugar
1 tsp vanilla extract
1-2 tsp milk.
Food coloring in blue, orange, purple, pink and green.
Note: To use the least amount and for these types of rainbow pastel colors, we like using McCormick's neon food coloring, but it doesn't come with orange, so we used regular orange food coloring for that color. If you are not making the stem out of fondant, you will also need regular green food coloring.
You will also need these materials:
Piping bag
Plastic wrap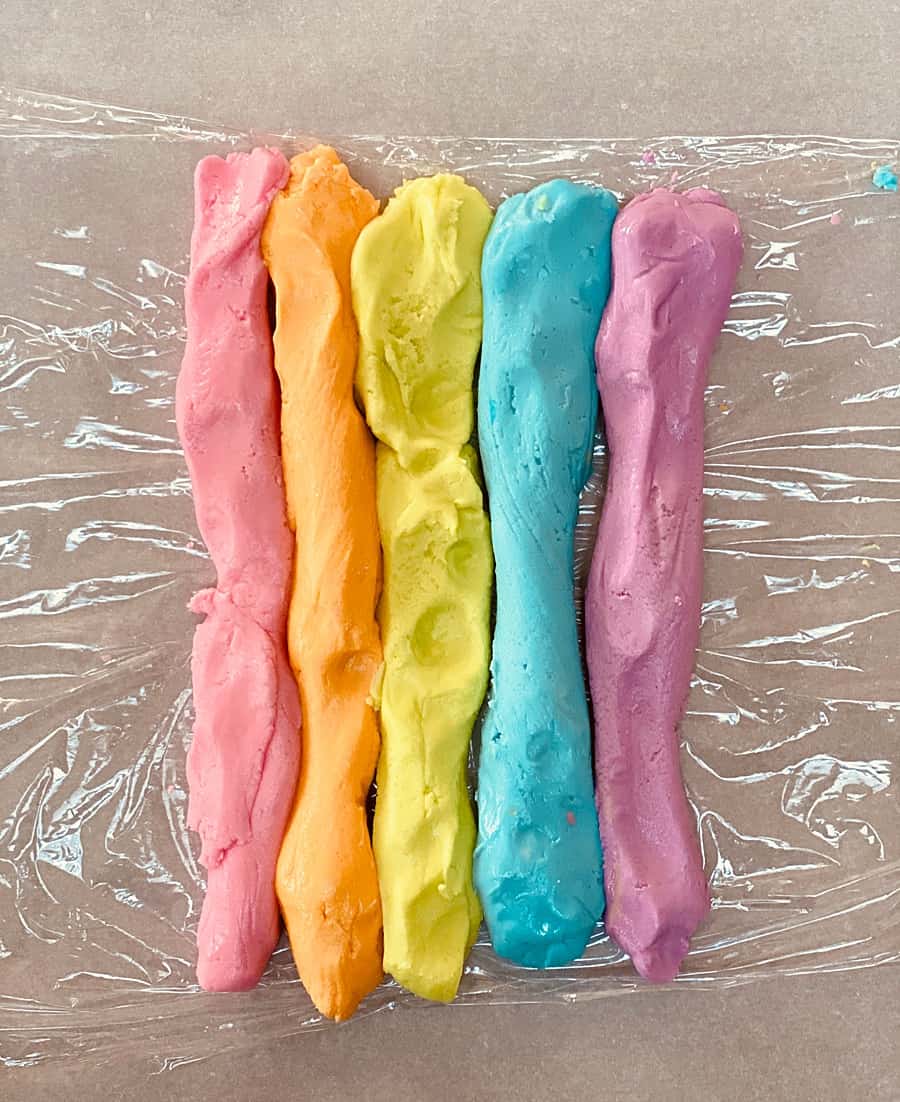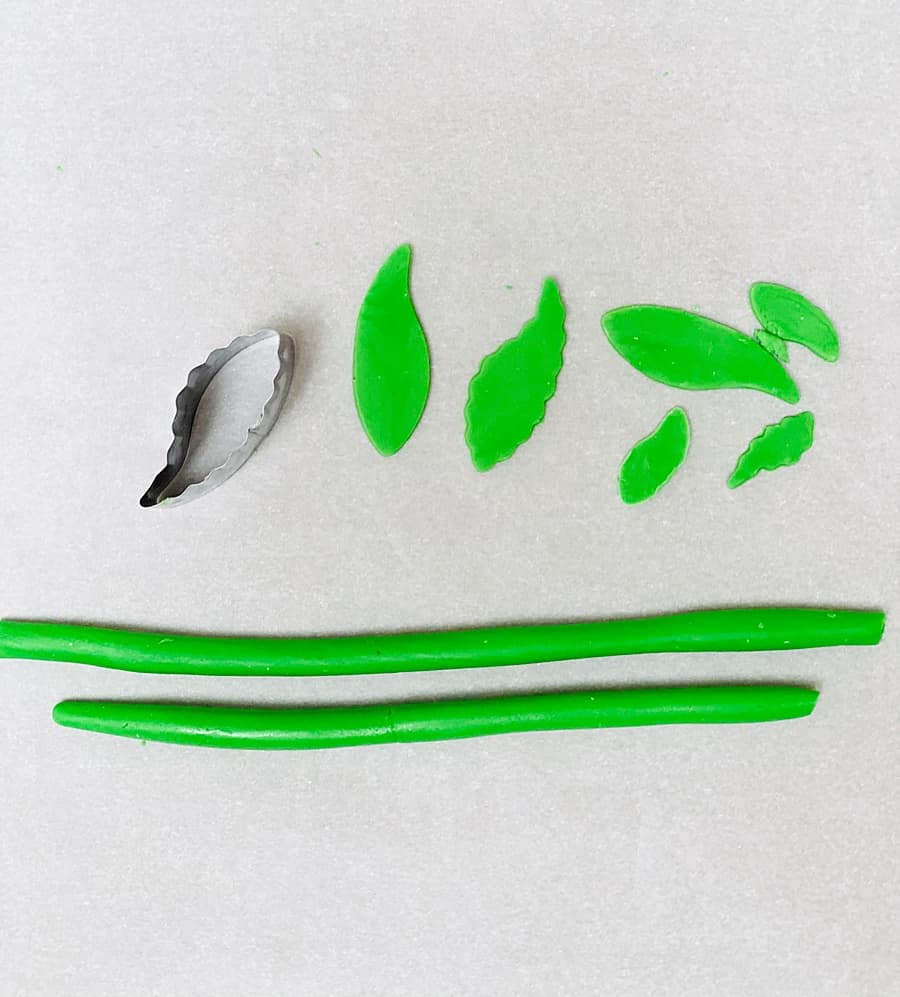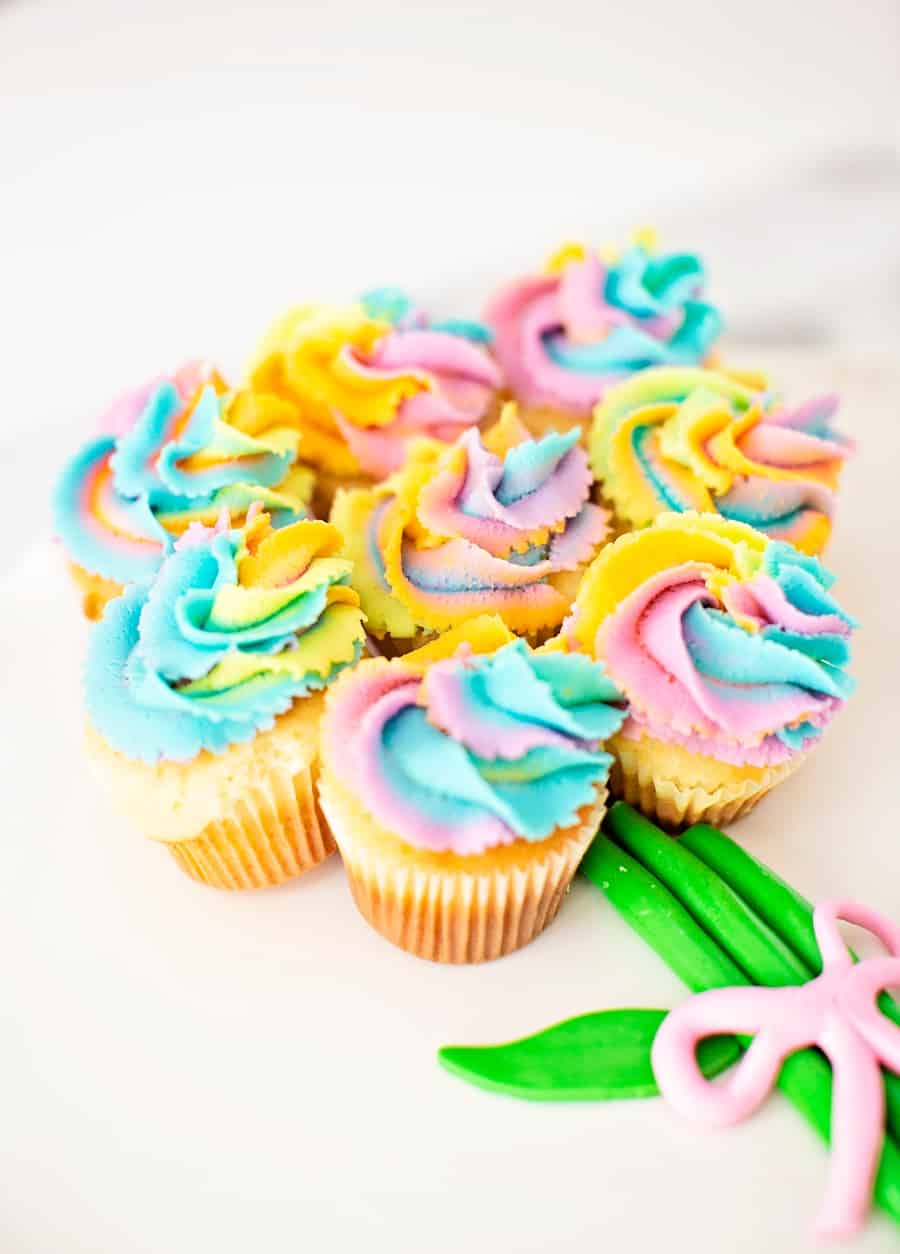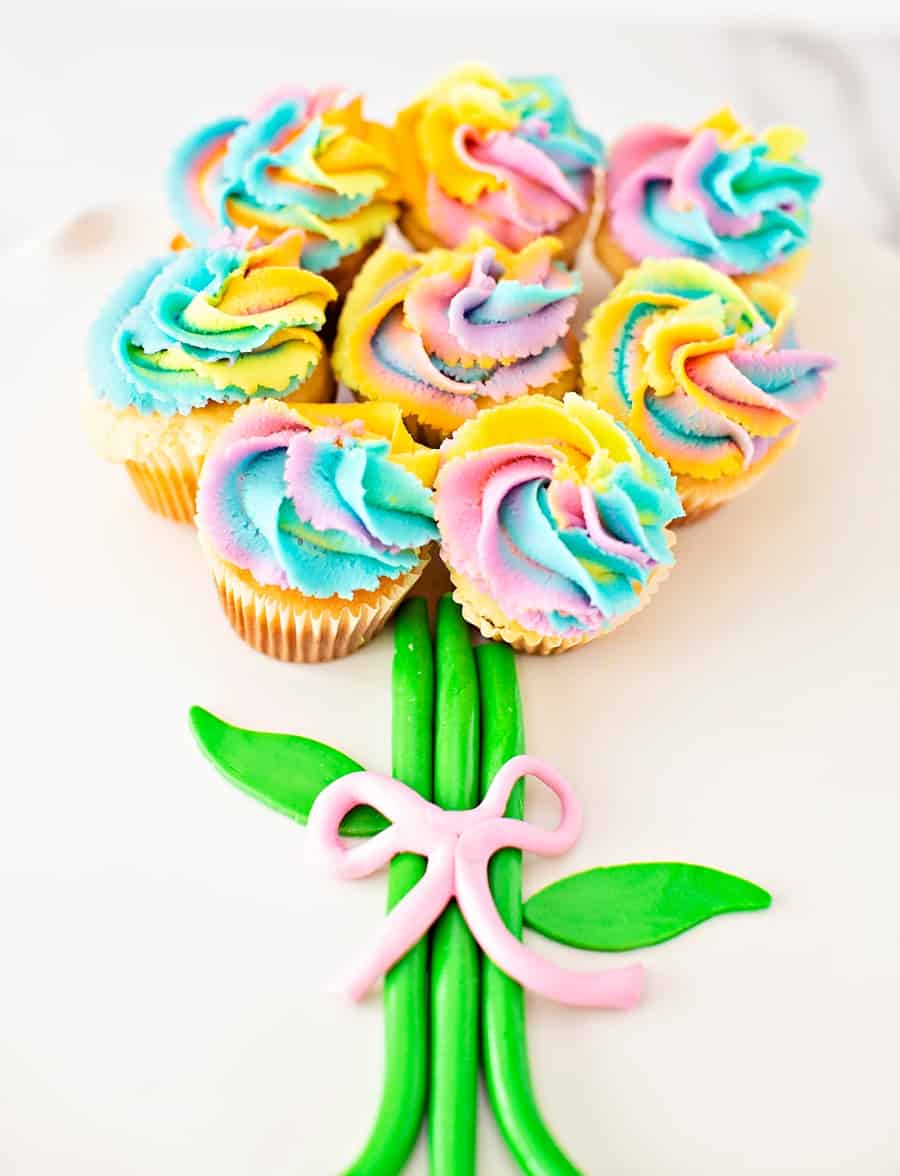 INSTRUCTIONS:
TO MAKE THE FROSTING:
Step 1. Beat the butter for a few minutes on medium to high speed using a stand or hand mixer.
Step 2. Add powdered sugar in two batches and beat on medium to high speed at least 3 minutes each round. On the second round, add vanilla and milk (1 tsp at a time). Stop beating when your frosting is a smooth and spreadable consistency. Add milk by a tsp full if it is too stiff. Beat more if you feel the frosting is still looking grainy and not smooth. Make sure to use your spatula to fold down the frosting in between beatings to make sure the butter and powdered sugar are well incorporated.
Step 3. Separate your frosting into 5 bowls (or 6 if you are choosing to make the stems and leaves out of frosting). Color with a couple of drops of the food coloring in rainbow colors. The sixth bowl green if you are using this option.
Step 4. Spread out some plastic wrap on your counter and with gloved hands scoop each color frosting into a log for each color side by side. See photo.
Step 5. Use the plastic wrap to roll the the colors on top of each other. They should all be now in a larger plastic wrap log.
Step 6. Insert your Wilton 2D tip inside your piping bag and then insert your plastic wrap log. Cut off the piping bag tip and you are ready to frost.
Step 7. Before decorating, squeeze out frosting out of the tip to make sure the colors are coming out nicely.
Step 8. Arrange your mini cupcakes on a plate that fits the stems too. We made a circular shape with 8 cupcakes as shown.
Step 9. To decorate, pipe a circle (2 times around) wide and low on top of your cupcakes so they resemble roses or flowers.
Step 10. For the stems, roll out green fondant thinly on the counter gently to make skinny logs. Snip off the ends with a sharp knife. We did 3 stems but you can do more. Lay each stem down on the plate pressing lightly. You can use a touch of frosting to make them stick but we didn't feel that was necessary.
To make the leaves we had a leaf cookie cutter, but you can simply roll out fondant and cut leaf shapes with a knife.
To make the ribbon, roll out pink fondant into a long skinny log similar to the stem but thinner and shape into a ribbon. Place in the middle of the stems.
Alternatively you can make the stems, leaves and ribbon by using colored buttercream. You will need a small round tip.
This Easy Rainbow Cupcake Flower Bouquet turned out so gorgeous and was not difficult at all! They make a cheerful and happy Mother's Day dessert or treat. We hope you try them out!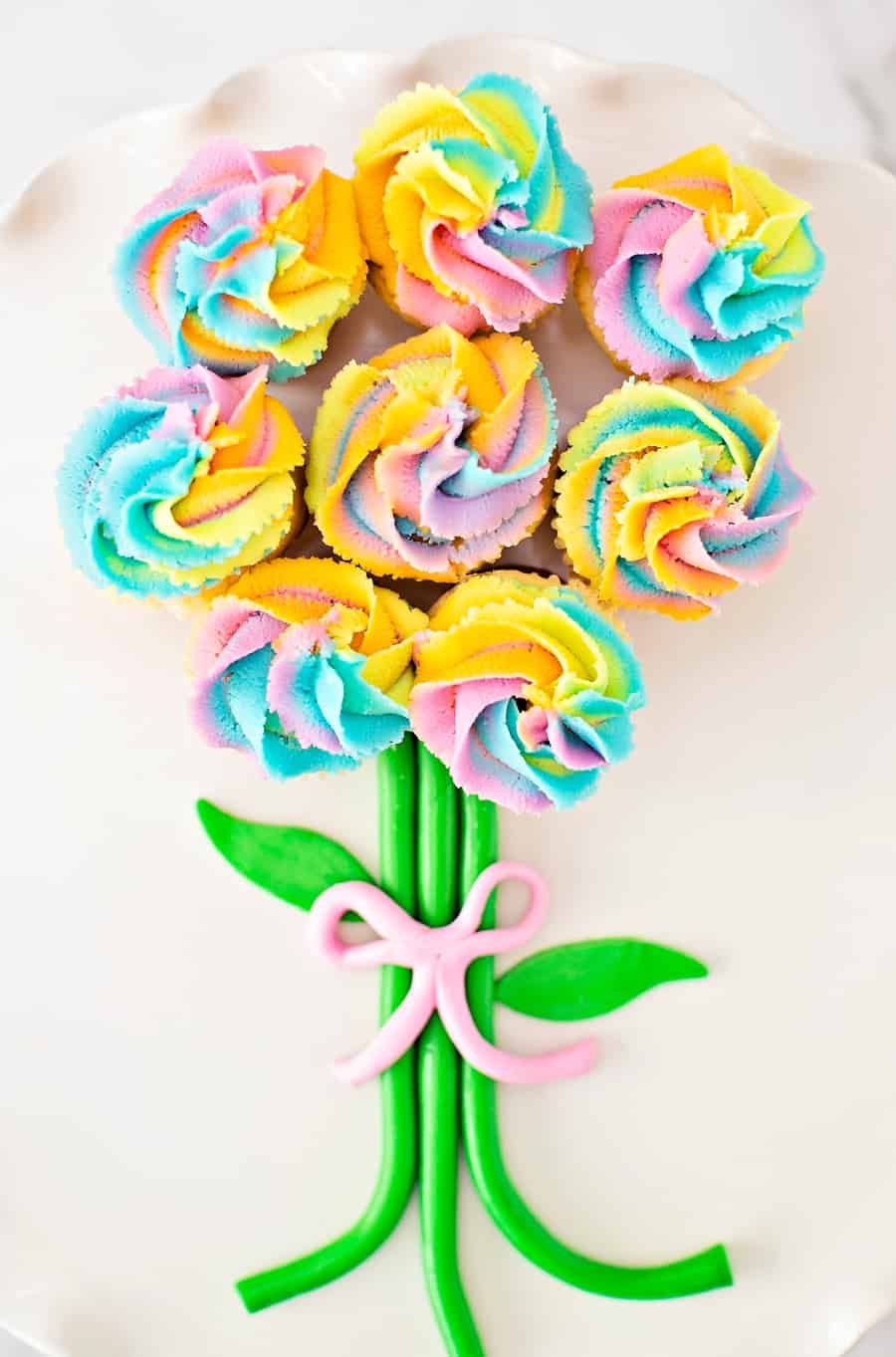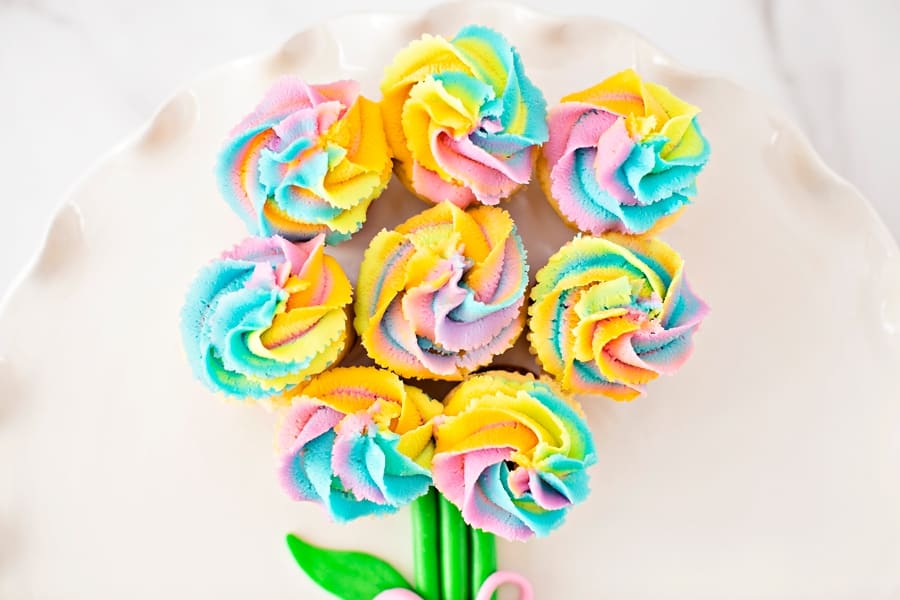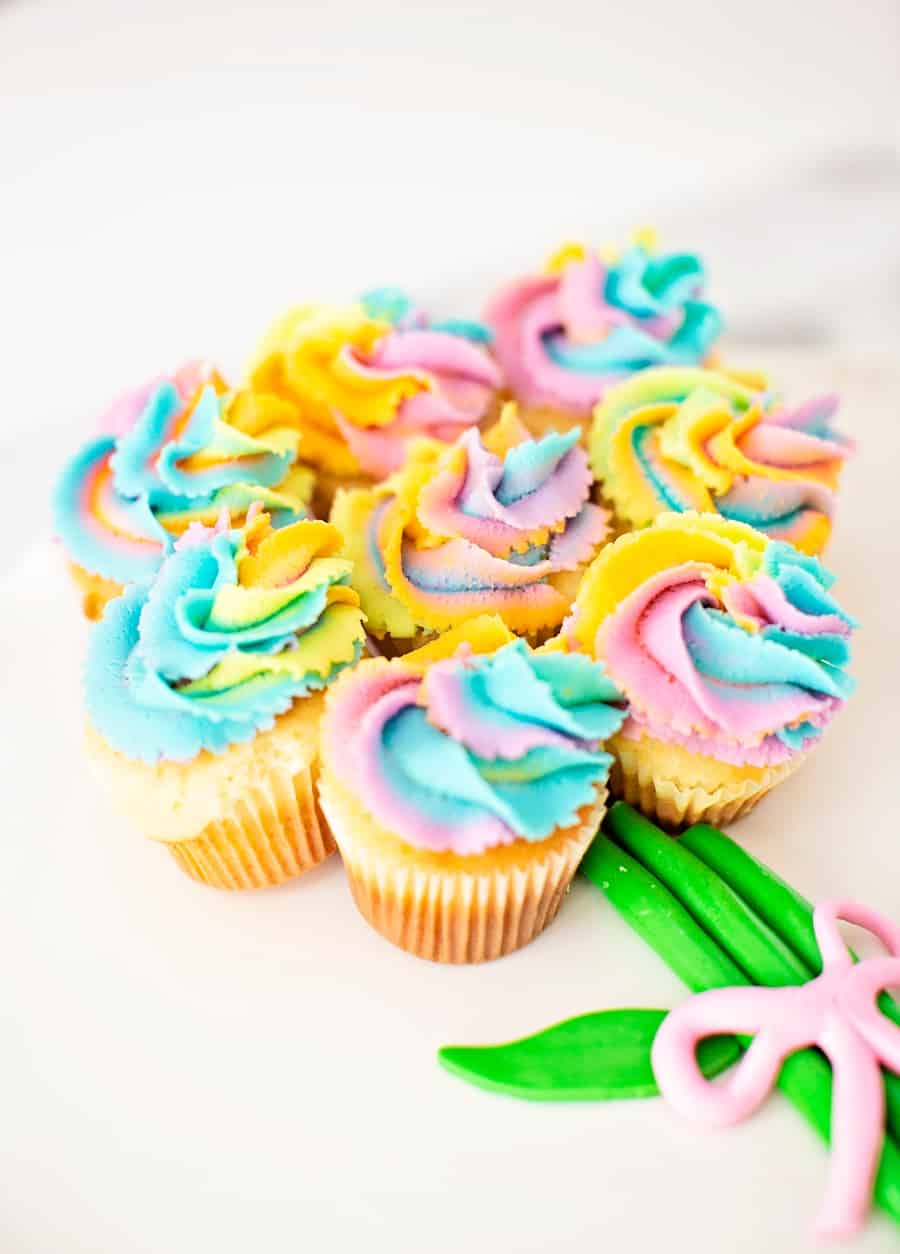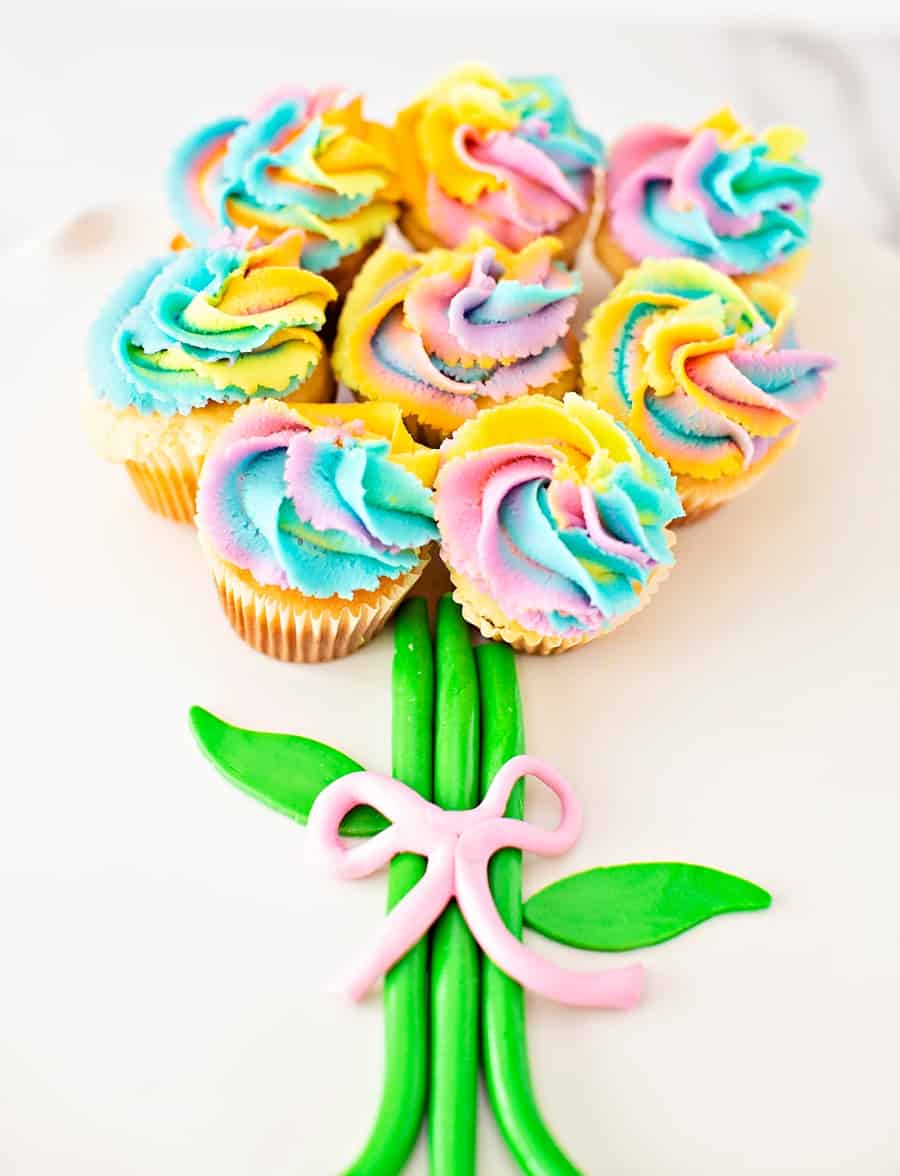 You Might Also Like: