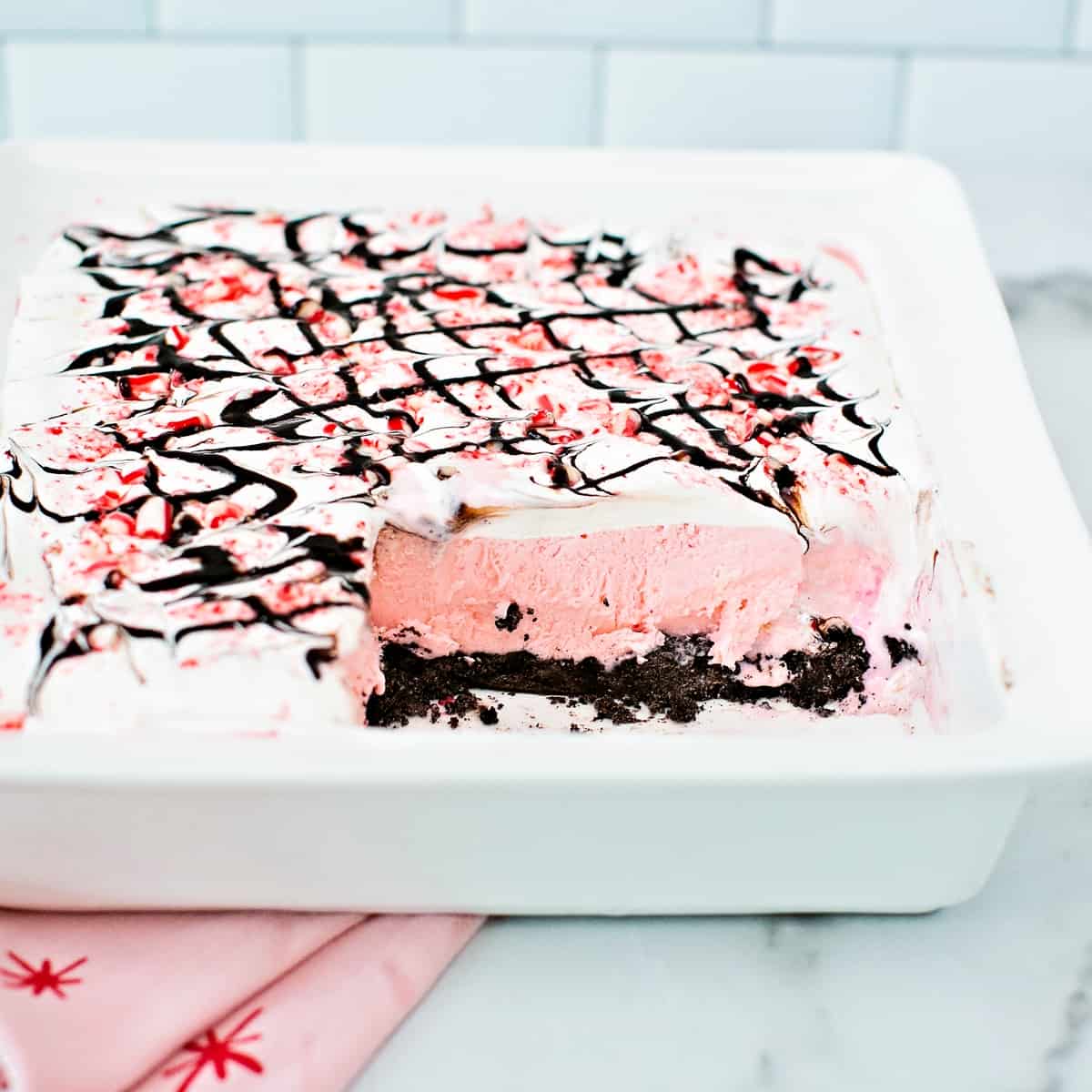 Originally posted on 11/12/2019

With the holiday season underway, your head may be filled with ideas for delectable Christmas desserts – gingerbread cookies and hot chocolate bombs, just to name a few. But have you thought of peppermint Christmas desserts?
We love making this easy peppermint ice cream cake during this time of year – it's simple, delicious, and a great sweet treat. Every single bite is packed full of peppermint but in just the right amount. This is one holiday recipe that you're going to want to make over and over again!
I'm a big fan of the flavor of this dessert because the peppermint really isn't all that overwhelming. It's the perfect aftertaste once dinner is done to give you that delicious and refreshing finish that you've been looking for. Be sure to check out our Instagram page for more fun ideas for kids.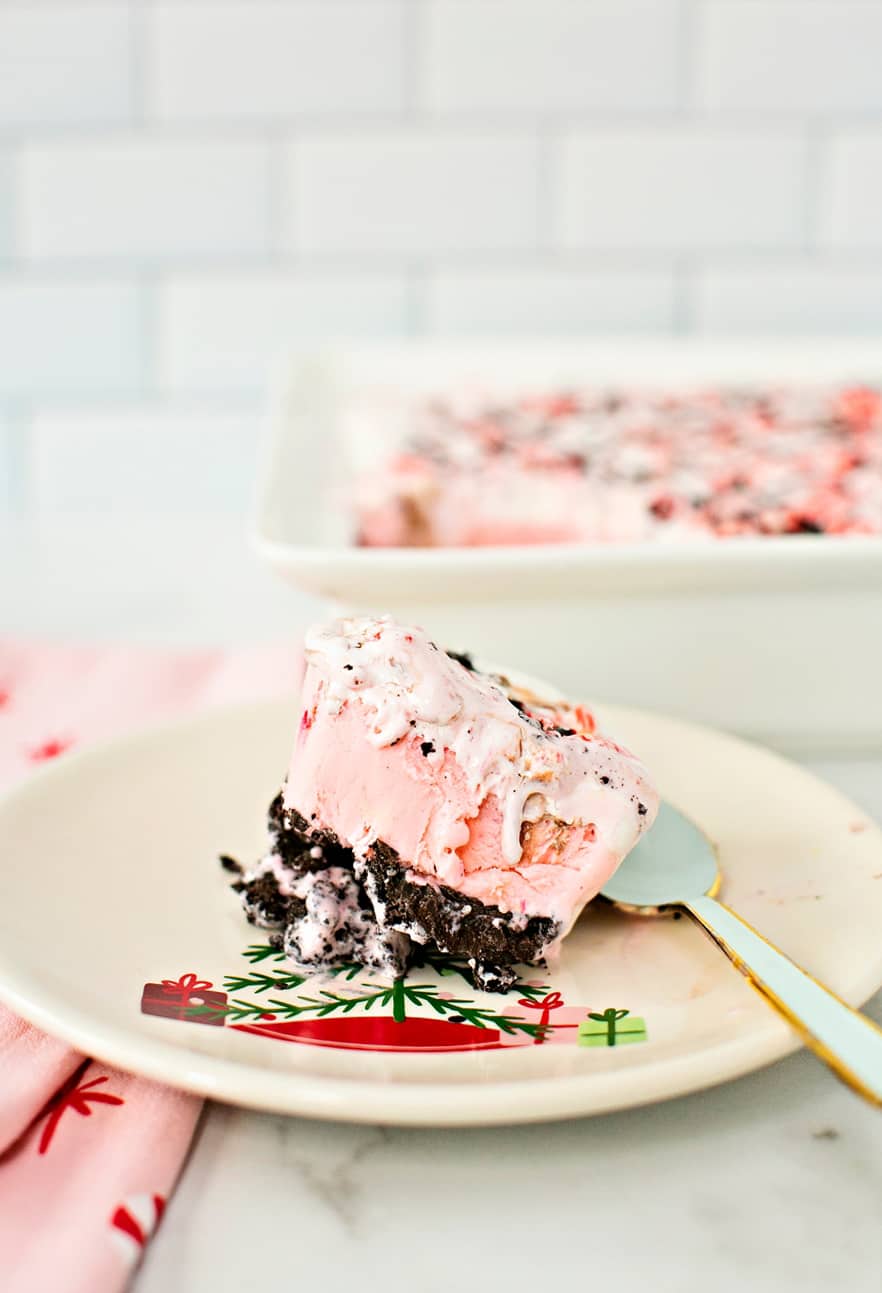 Want to Use Another Flavor in This Christmas Ice Cream Cake?
One of the best things about this Christmas treat is that it is actually very versatile. In fact, this is one recipe that you'll never have to worry about – it comes out perfectly every single time.
You can also make this dessert using a variety of ice cream flavors. We've tried rocky road, vanilla, and mint chip – the options are endless. You can also decorate it using several different toppings like crushed candy, nuts, cookies, or sprinkles.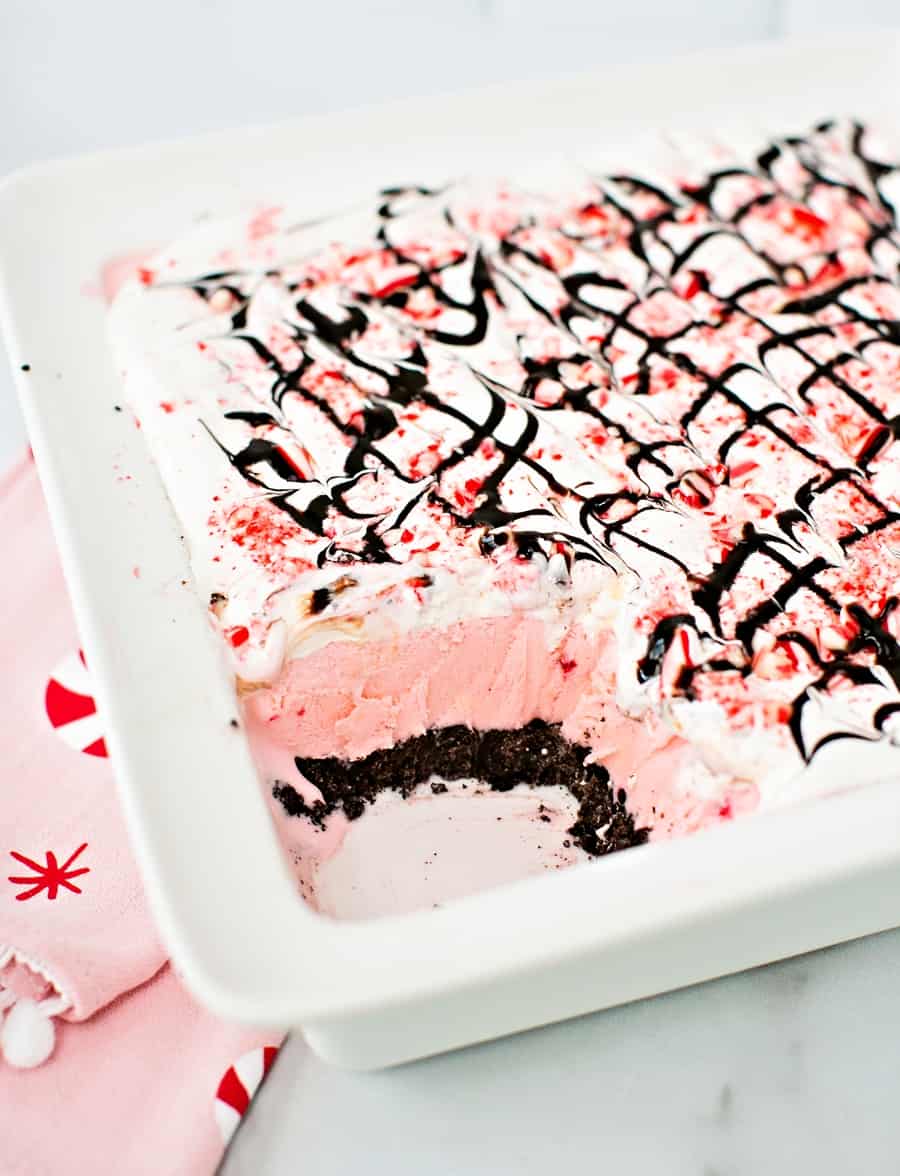 What If You Can't Find Pink Peppermint Ice Cream?
Can I let you in on a little secret? I went to three grocery stores looking for the perfect pink peppermint ice cream. There were lots of white and green mint flavors in their freezers, but no pink peppermint anywhere.
If you're in the same boat, there is no need to worry; you can still have your peppermint ice cream cake and eat it too. Simply get some vanilla ice cream, then add some food coloring to get that pink tint and peppermint extract to get that yummy flavor. Top it off with crushed peppermint candies, and you've got yourself the perfect, homemade peppermint ice cream for your recipe.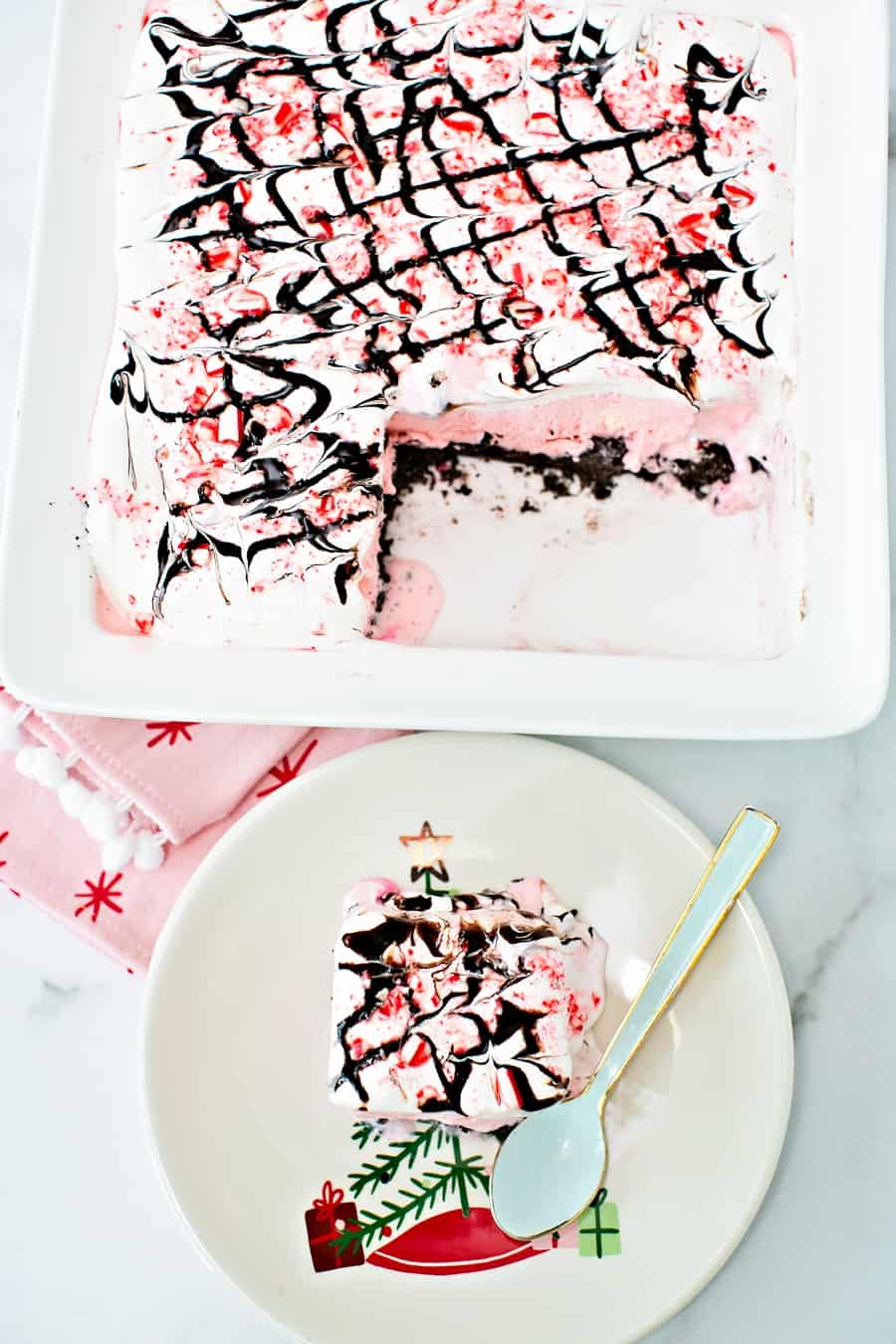 Of course, if you're lucky enough to find pink peppermint ice cream in your grocery store, that'll be great too! This is also just the thing you need to make a chocolate peppermint ice cream cake.
Want to Make This Christmas Peppermint Ice Cream Cake With Your Kids?
Children will actually love this recipe because it was created with them in mind. What little kid wouldn't want to crush up cookies or make a (contained) messy crumble?
Once you hand them the rolling pin, they will likely crush those cookies into a fine crumb. And when they get done with that, they can help crush peppermint candy or candy canes too. They can also help drizzle the candy and chocolate on top of the cake.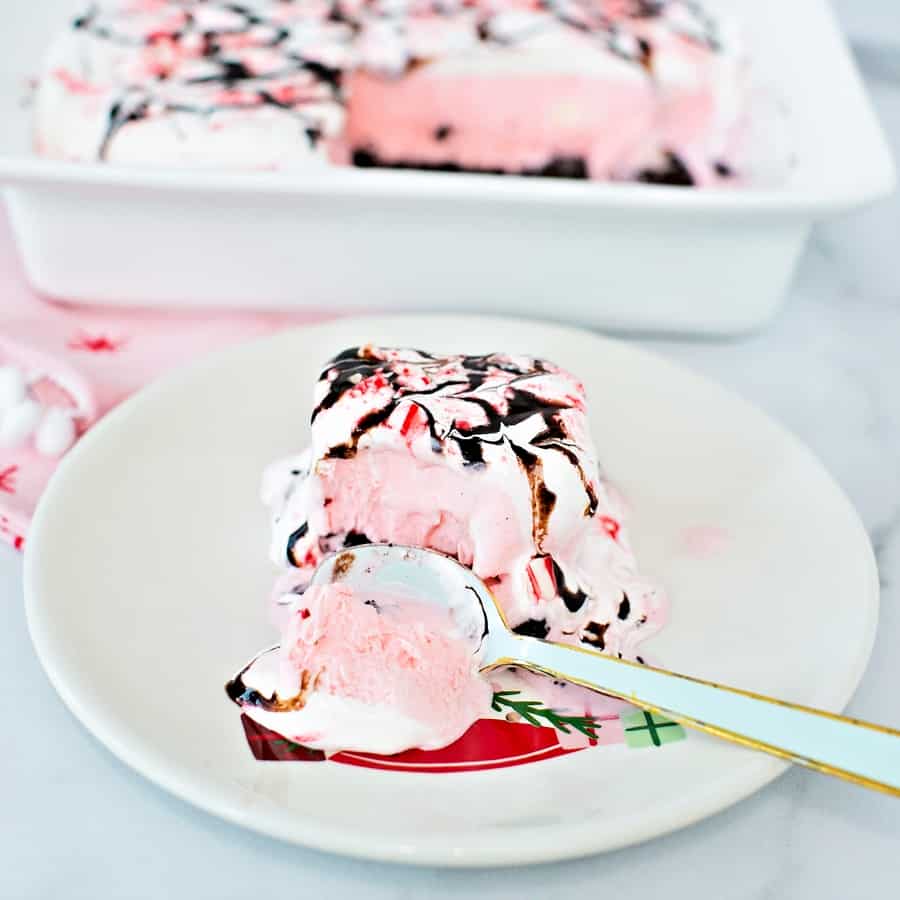 Rest assured, if you're kids are wanting to help and are looking for a job, there are plenty of tasks that are kid-friendly in this recipe. As long as you're there supervising, they really can help with the majority of the tasks. And I think that we can all agree that cooking in the kitchen together is really just so much fun!
How Do You Store This Peppermint Ice Cream Dessert?
Well, this peppermint dessert is an "ice cream" cake, so you really do need to store it in the freezer to prevent it from melting into a pink mess. When doing this, you should be sure to store it using a freezer-proof container and cover it with a lid or with wrap. We like to do a layer of plastic and then a layer of foil to keep the oxygen out.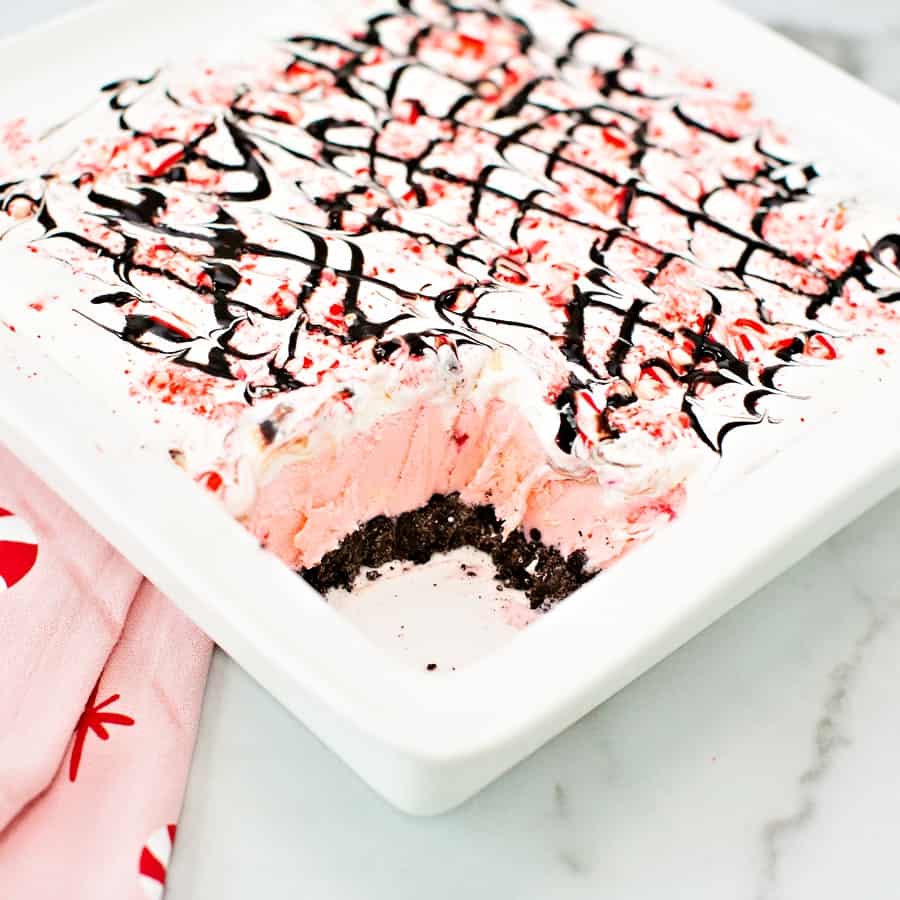 Although it's highly unlikely that you're going to have to do this – the kids will gobble up every last bit of this Christmas ice cream dessert.
How to Make This Peppermint Ice Cream Cake
This peppermint ice cream cake recipe is easy to make; it requires few ingredients and minimal hands-on time. So, without further ado, let's jump straight into this recipe.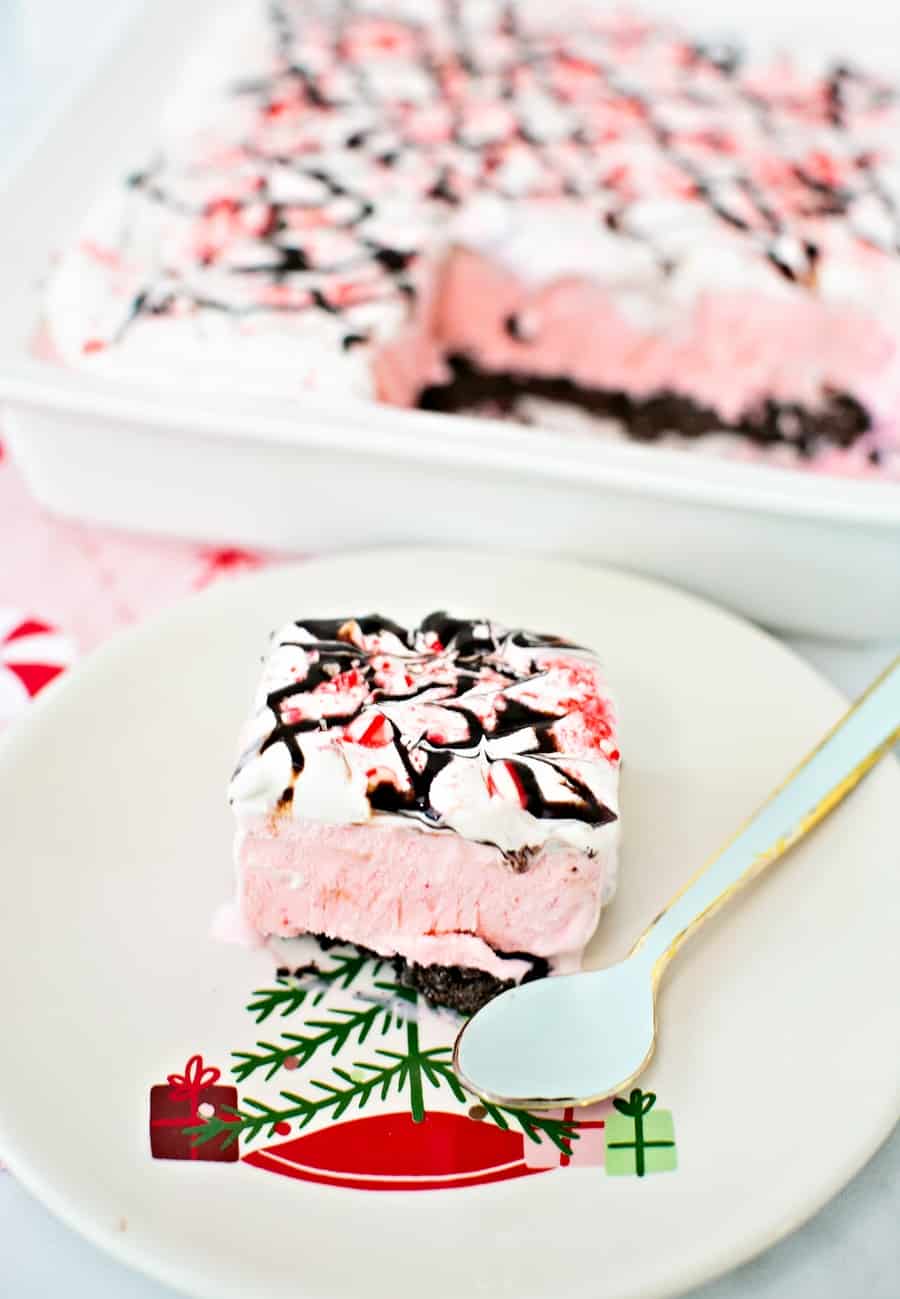 Ingredients for This Peppermint Ice Cream Cake
You'll easily find these ingredients at your local grocery store – one quick shop, and you'll have everything you need to make this peppermint ice cream dessert.
A container of Oreo or chocolate sandwich cookies
Melted butter
Candy Canes
Cool Whip
Chocolate Syrup
Peppermint Ice Cream (if you can't find peppermint flavored ice cream, use vanilla and add some pink food coloring and a few drops of peppermint extract to your liking)
Can you see just how simple and fun this recipe is going to be?!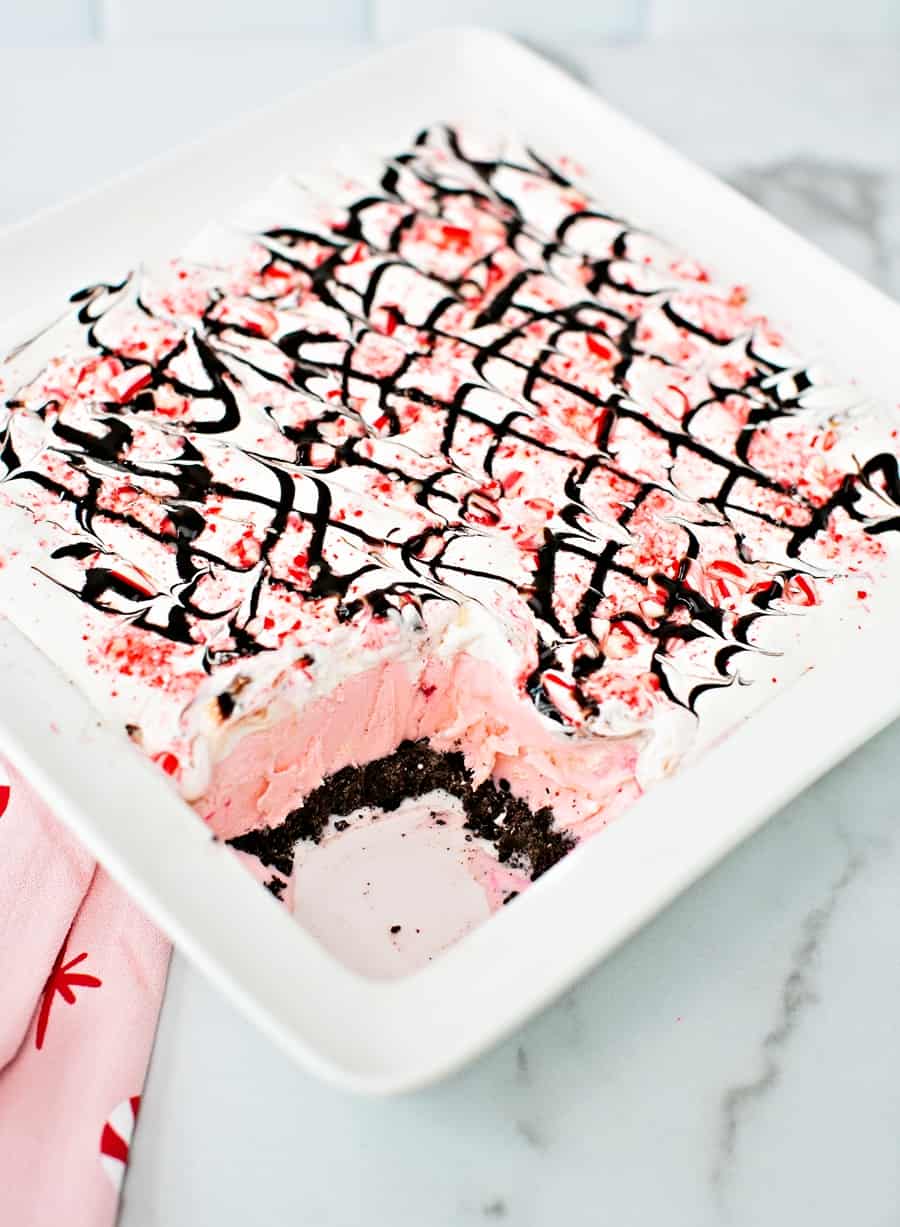 Ready to Make This Peppermint Ice Cream Cake?
This peppermint ice cream cake is so delicious and easy to make. Be sure to let the ice cream soften thoroughly to get that nice, smooth look.
Your little ones will also love making and eating this Christmas treat; it's sure to be a holiday hit! If you've tried this recipe, let us know what you loved most about it!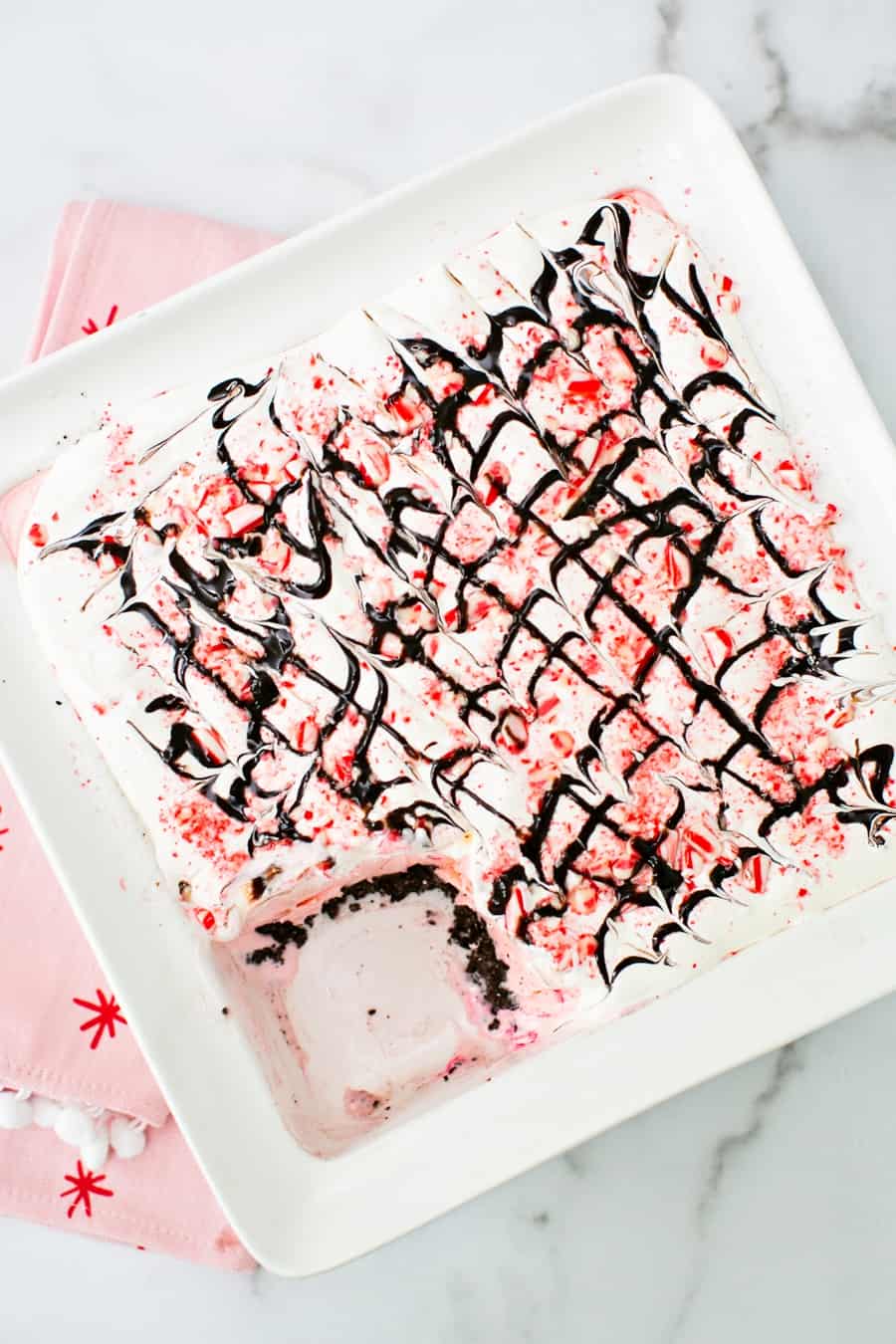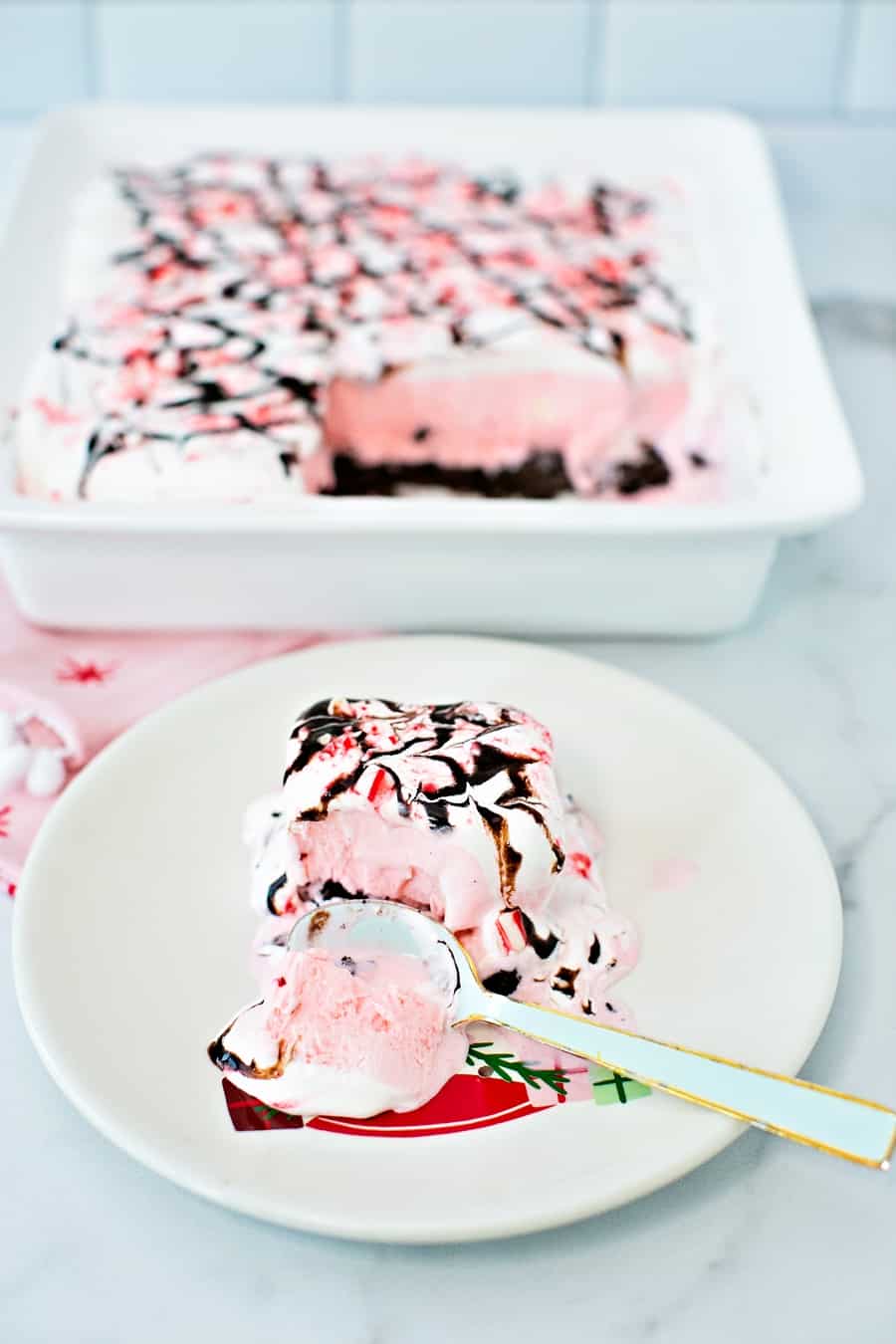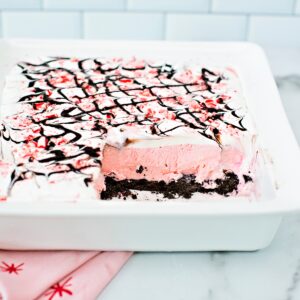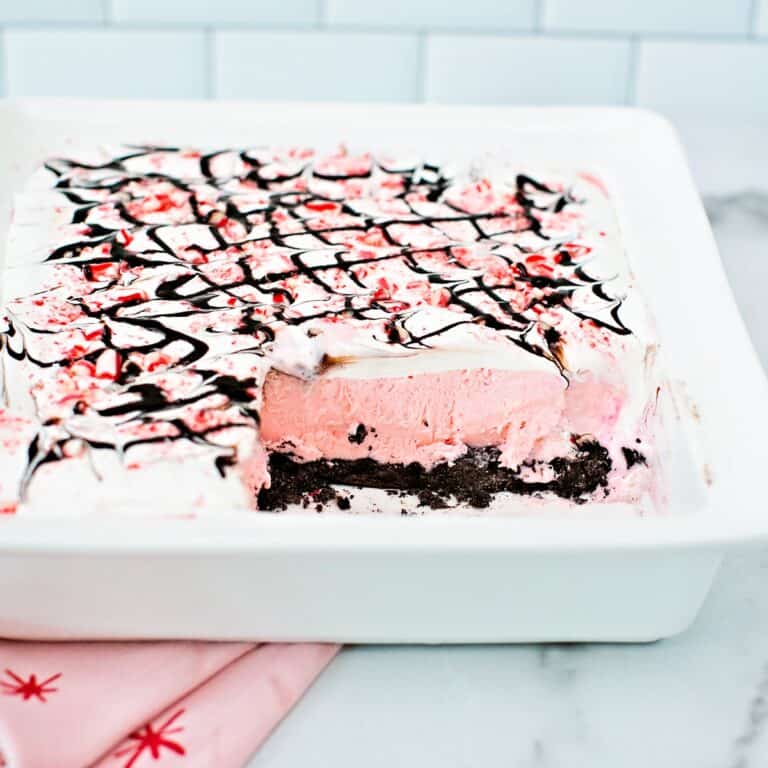 Easy Peppermint Ice Cream Cake Recipe
Ingredients
14

oz

of Oreo cookies

or similar chocolate sandwich cookies

6

Tbsp

of unsalted butter,

melted

1

Gallon

of peppermint or vanilla ice cream

Pink gel food coloring

(if you're using vanillaice cream)

2

tsp

of peppermint extract

(Only if using vanilla ice cream. If you prefer a stronger or weaker flavor, adjust accordingly)

6

Medium-sized candy canes,

crushed

8

oz

of Cool Whip,

softened (leave it at room temperature for about 20 minutes, pop it in the microwave for a few seconds and then stir through to remove any lumps)

Nonstick spray

Hot fudge or chocolate sauce

9" x 9" freezer-safe pan
Instructions
Take your ice cream out of the freezer and allow it to soften. It should have a semi-liquid appearance to it. Pour the ice cream into a mixing bowl and stir so that the softened ice cream has a uniform consistency and no lumps.

If you're working with vanilla ice cream, now's the time to add in the peppermint extract and pink food coloring. Stir this through.

Place the oreo (or other chocolate cookies) into a gallon-sized zipper bag. Use a rolling pin, or similar tool, to crush the cookies into a coarse, medium-to-fine crumb. Alternatively, you could also use a food processor to do this.

Pour the cookie crumbs into a bowl and mix in the melted butter. Using your hands is the best way to mix these two ingredients together. Use gloves if you don't want to get your hands dirty.

Take your 9" x 9" pan, and spray it with nonstick spray. Be sure to cover the base and sides.

Take your cookie crumb and press the mixture onto the bottom of the pan.

Pour your softened ice cream mixture over the crumb. Use a silicone spatula to even it out.

Place the dish in the freezer and leave for 4 hours or until the ice cream has hardened.

Once the ice cream has become solid again, take it out of the freezer and spread the Cool Whip on top. Using a silicone spatula, evenly spread the whip.

Now it's time to drizzle the hot fudge (or chocolate) sauce over the dessert. Going back and forth, first drizzle in a vertical direction, then horizontally. Take a toothpick and drag it across the drizzled sauce to create a pretty patterned design.

Sprinkle the crushed candy over this and return the dish to the freezer until the Cool Whip has hardened. This will take at least one hour.

Once the Cool Whip has solidified, remove the dish from the freezer and allow it to sit at room temperature for 10 - 15 minutes. Now it's time for the best part! Dip a knife in hot water, slice, serve and enjoy your delicious peppermint creation.
Video
More Delicious Christmas Holiday recipes to try: