Follow us on Instagram for more fun food ideas for kids!
This easy Peppermint Ice Cream Cake recipe is on holiday recipe that you're going to want to make over and over again!
Watch the video below to see how to make Peppermint Ice Cream Cake.
Now that the holiday season is officially underway, visions of sugarplums might be dancing through your head…but on my mind is anything and everything peppermint. This is why we love making this easy Peppermint Ice Cream Cake.
It's a simple, yet delicious and sweet holiday treat in our home. Every single bite is packed full of peppermint but in just the right amount.
I'm a big fan of the flavor of this dessert because the peppermint really isn't all that overwhelming. It's just like the perfect aftertaste once dinner is done to give you that delicious and refreshing finish that you've been looking for.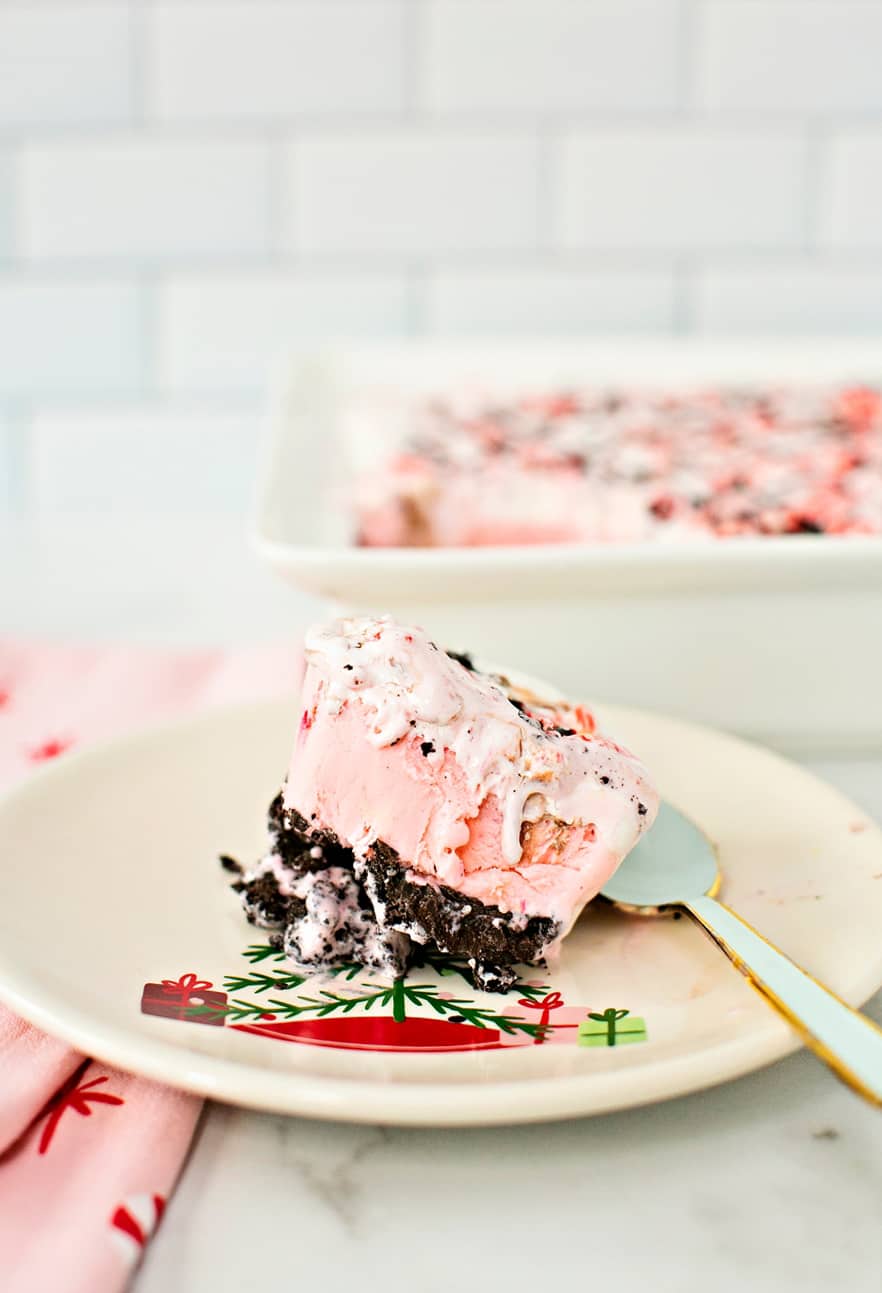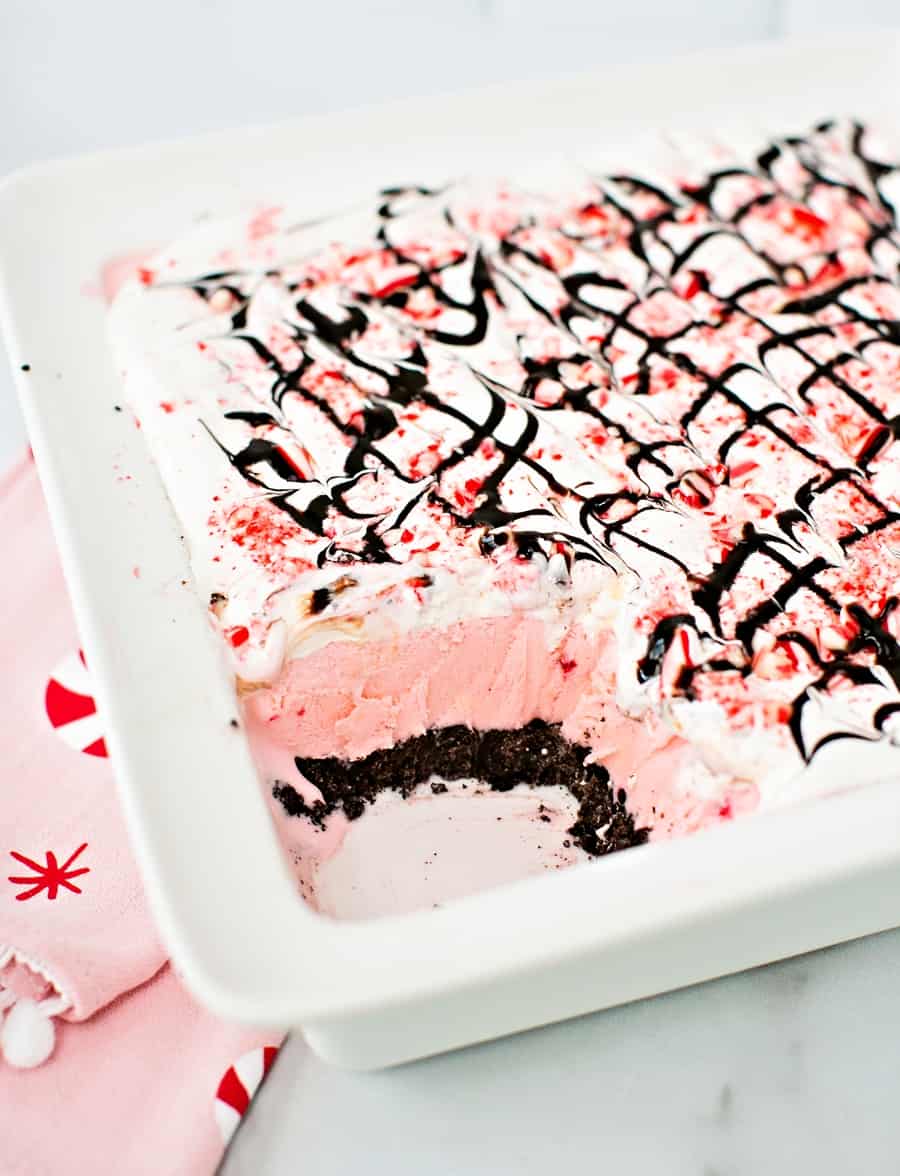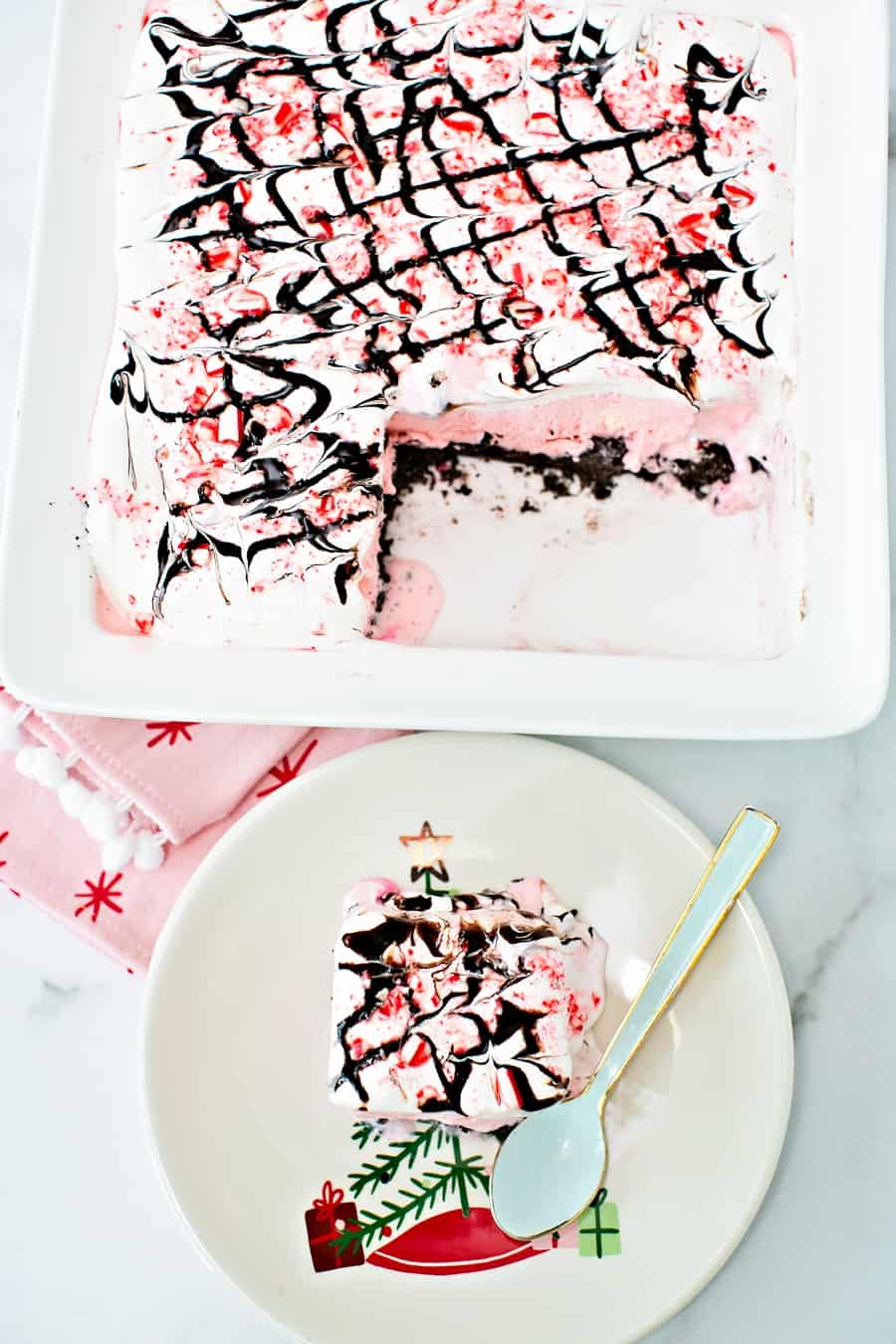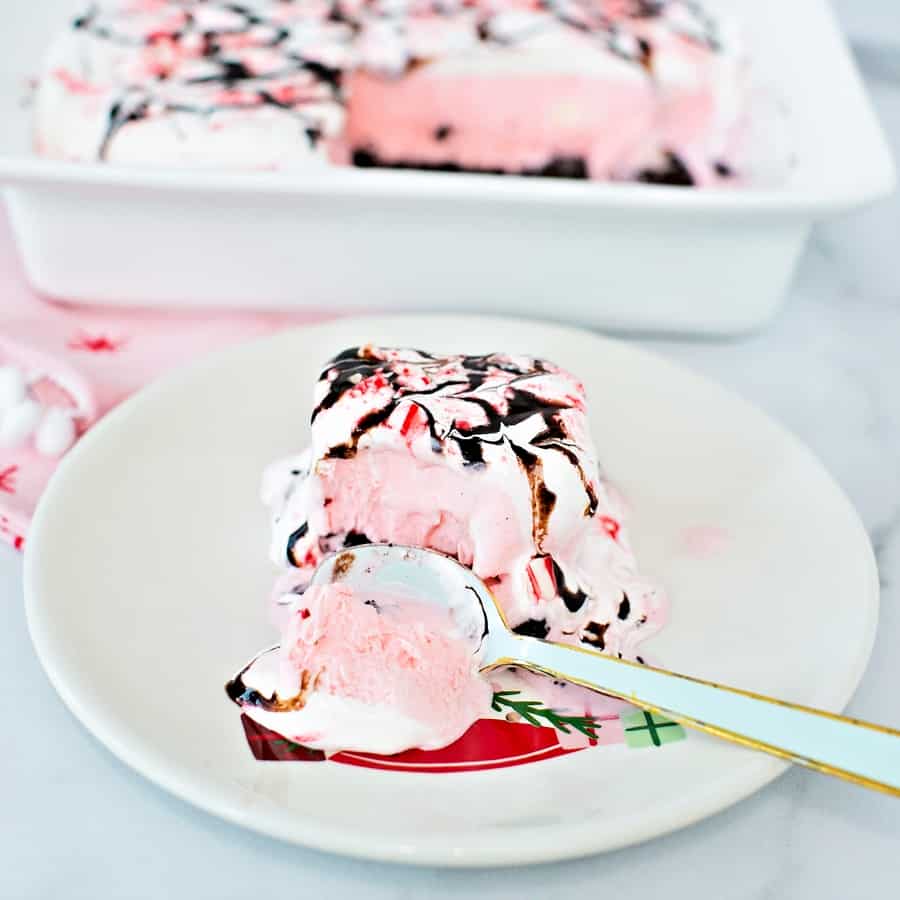 Can I use any other flavor ice cream other than peppermint?
What I love the most about this recipe is that it's actually very versatile.  In fact, this is one recipe that I never really worry about because it comes out perfectly every single time.
You can virtually make any variety of ice cream cake with our recipe!
We've done rocky road, vanilla, mint chip, the flavors are endless. Top with a variety of toppings like crushed candy, nuts, cookies, or sprinkles.
What if I can't find peppermint ice cream?
Can I let you in on a little secret? I went to 3 grocery stores looking for the perfect pink peppermint ice cream but couldn't find it! I found lots of white and green mint ice cream in my grocery freezer aisle but not pink peppermint.
But no worries if you're in the same boat, you can still have your peppermint ice cream cake and eat it too. We used vanilla ice cream and tinted with pink food coloring and added peppermint extract. That along with the crushed peppermint candies gives the ice cream cake a really nice minty flavor on its own.
Of course if you're lucky enough to find pink peppermint ice cream in your grocery store, even better!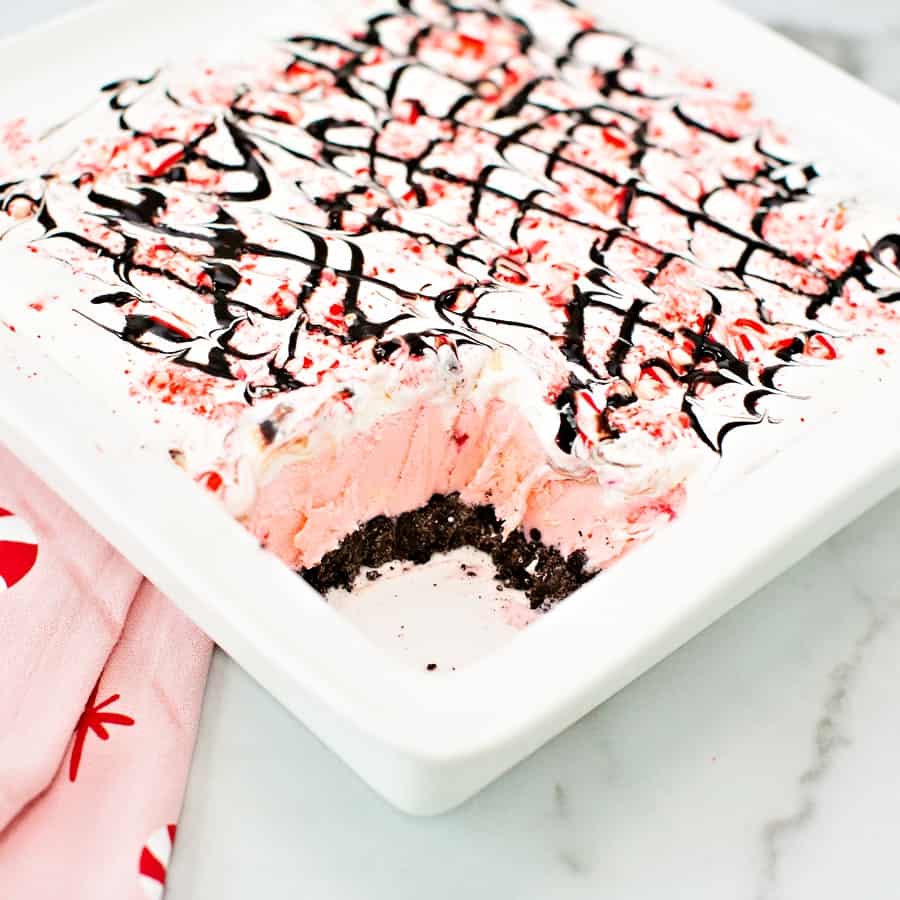 What are some ways that kids can help make this peppermint ice cream cake?
They'll actually love this recipe because it was created with them in mind! What little child wouldn't want to crush up the cookies for the crush and make them a crumbly (but contained!) mess?!
Give them the power of the rolling pin and they'll likely to crush those cookies into fine crumbs.
And when they get done with that, they can help crush peppermint candy or candy canes too. They can also help drizzle the candy and chocolate on top of the cake.
I can assure you that if they're wanting to help and are looking for a job, there are plenty of tasks that are kid-friendly in this recipe.
As long as you're there supervising, they really can almost help with the majority of the tasks! And I think that we can all agree that cooking in the kitchen together is really just so much fun!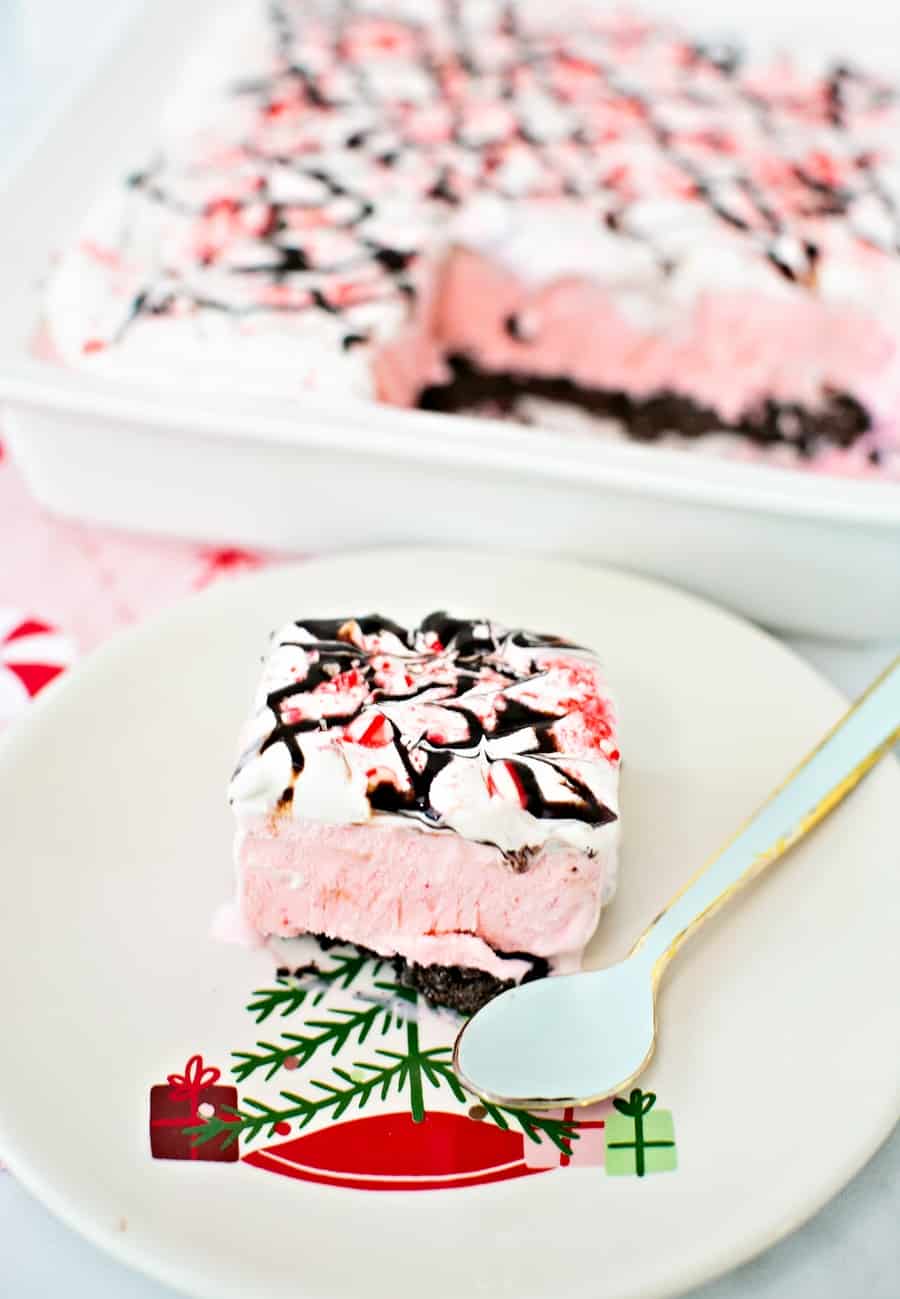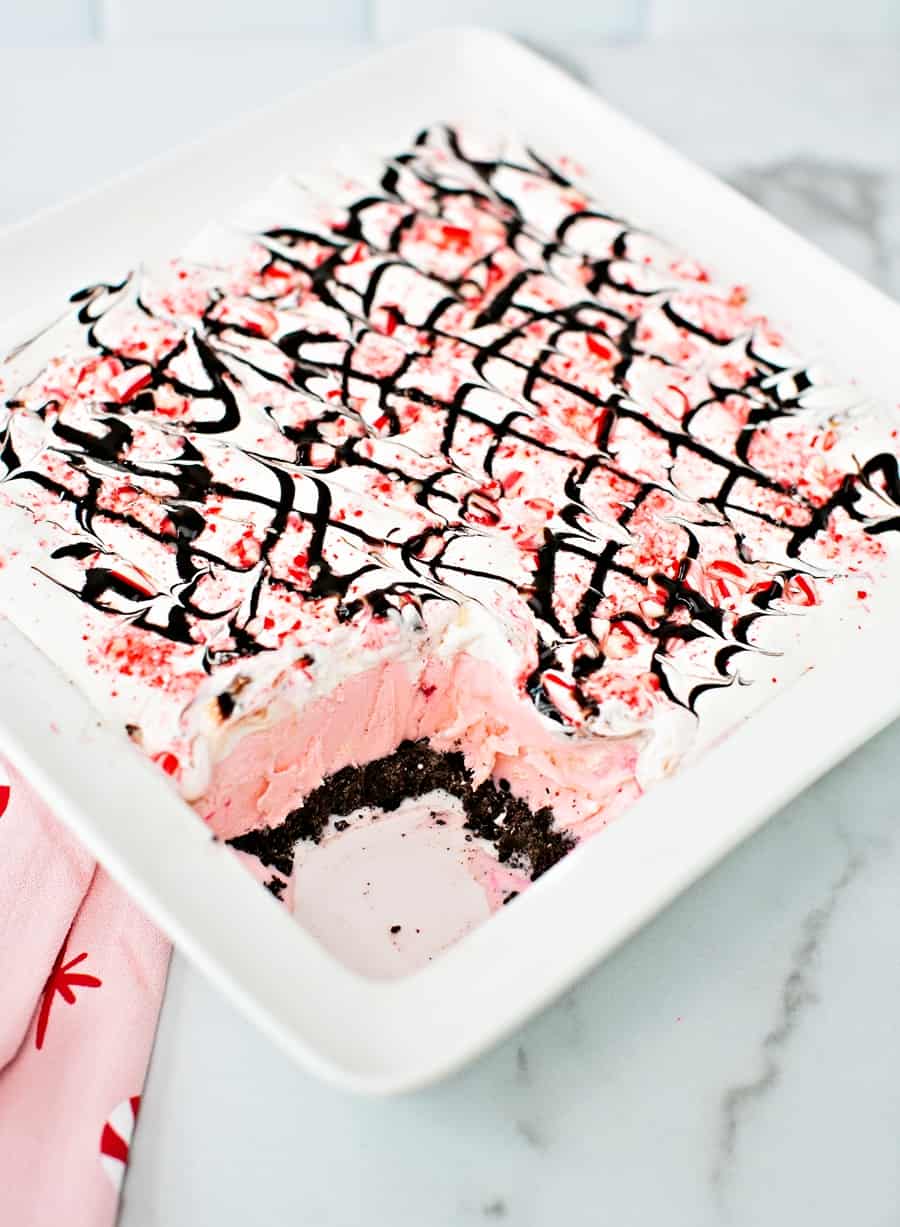 How do you store this peppermint ice cream cake?
Well, technically since it's an "ice cream" cake you really need to make certain that you're storing it in the freezer so it doesn't melt.
You can put it in the freezer if you want as long as you have a freezer-proof container, and make sure to cover tightly with wrap. We like to do a layer of plastic and then a layer of foil to keep the oxygen out.
I will say  however, that I'm highly skeptical that you're going to have that much leftover to really worry about where to store it!
Make sure to scroll down to watch the video below to see how we made this peppermint ice cream cake!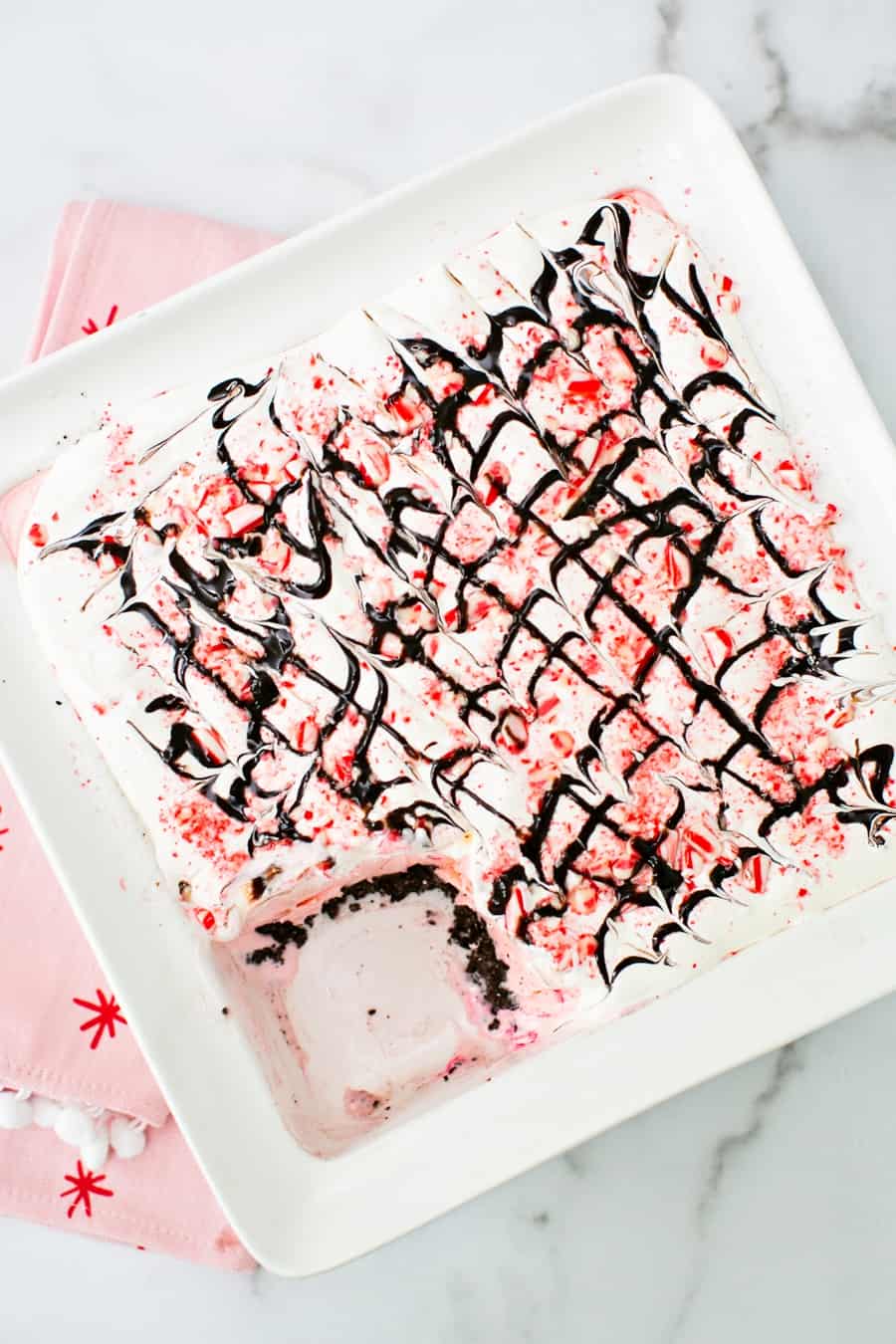 Peppermint Ice Cream Cake – Ingredients
Oreo or chocolate sandwich cookies

Melted butter

Candy Canes

Cool Whip

Chocolate Syrup

Peppermint Ice Cream (if you can't find peppermint use vanilla and add some pink food coloring and a few drops of peppermint extract to your liking)
See how simple and fun this recipe is going to be?!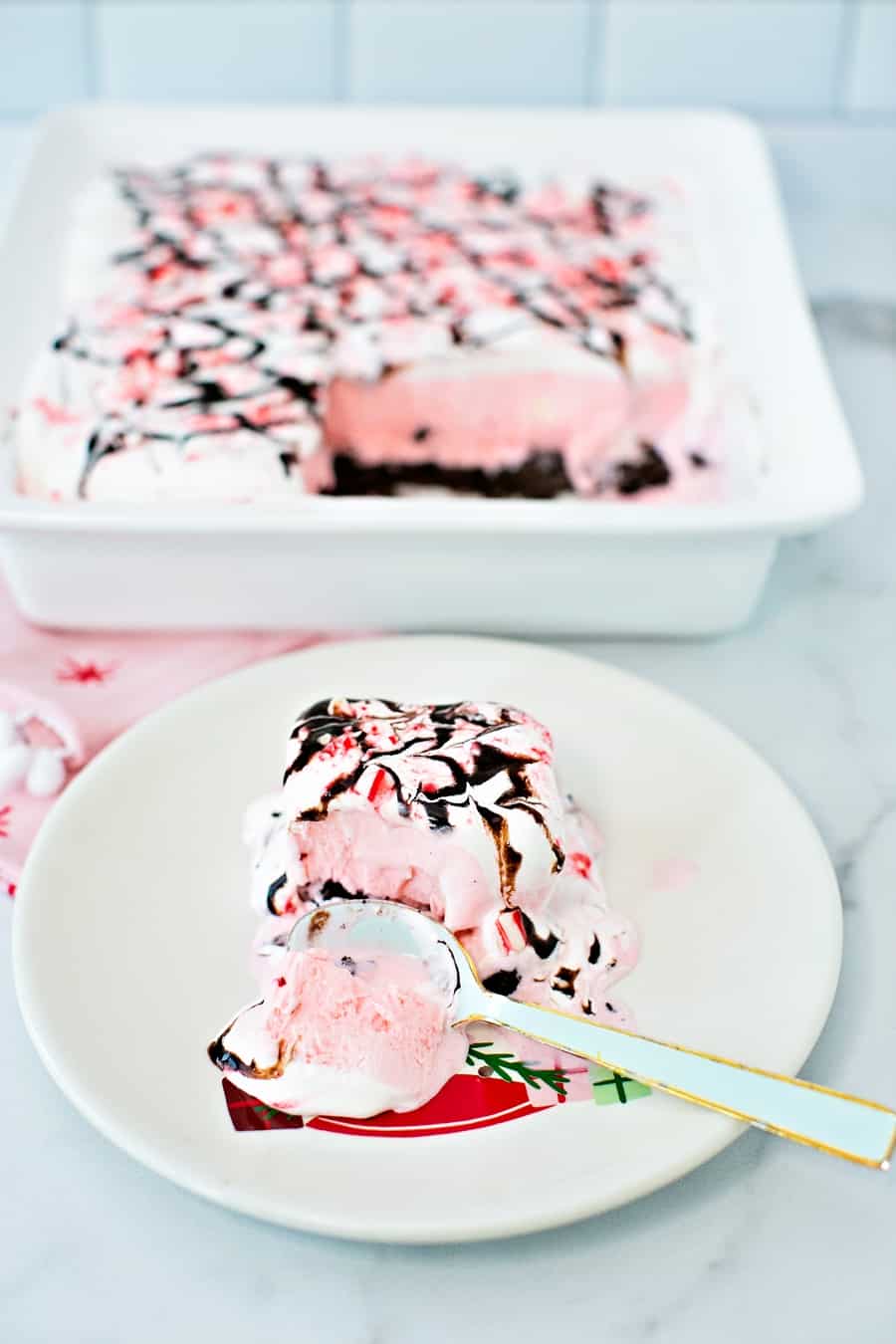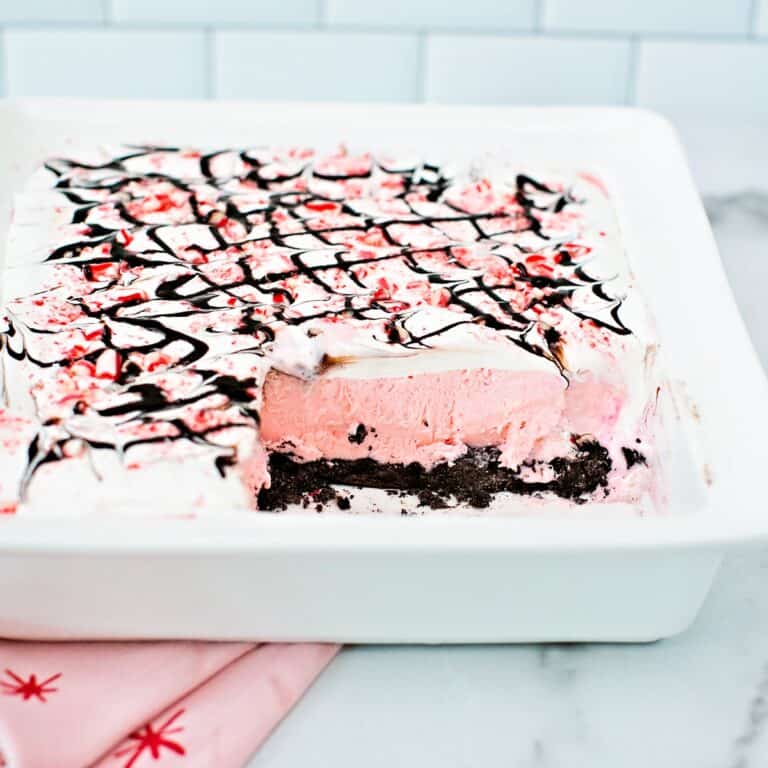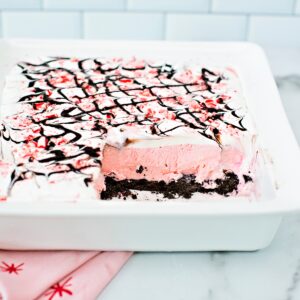 Easy Peppermint Ice Cream Cake Recipe
Ingredients
14

oz

Container of Oreo Cookies

Or similar chocolate sandwich cookies

6

TBSP

6 unsalted butter

melted

1

Gallon

Peppermint OR vanilla ice cream

Pink gel food coloring if using vanilla ice cream 

2

tsp

Peppermint extract if using vanilla ice cream

adjust how much you use to your liking of mint

6

Medium candy canes

crushed

8

oz

Cool Whip 8oz

softened

Nonstick spray

Hot fudge or chocolate sauce

9" x 9" freezer safe pan
Instructions
Take out your ice cream and let it soften until it's pretty soft and almost liquid-y on the countertop. Add to a bowl to mix it so it's uniform and not lumpy. (If you are adding peppermint extract and pink food coloring do so here when mixing out any lumps). 

Add your Oreos to a zipper gallon bag and crush into coarse medium fine crumb with a rolling pie or similar tool. You could also use a food processor.

Add crumbs to a bowl and mix in your melted butter. Using gloves and your hands helps here to really mix in the butter and cookie crumb. 


Spray your 9"x9" pan with nonstick spray and on the sides too. 


Press down your cookie crumbs on the bottom of pan.

Pour your ice cream in the pan.

Freeze for at least 4 hours or until ice cream is hardened. 


Take out of freezer and spread your Cool Whip evenly on top. 


Drizzle hot fudge sauce on top. Go one direction then the other. Use a toothpick to drag out the sauce to make it look prettier. 

Sprinkle your crushed candy cane on top. Return to freezer until Cool Whip is hard. At least an hour.

Remove pan from freezer and allow it to sit at room temperature for several minutes 10-15 minutes before slicing and serving. It helps to use a knife dipped in hot water to slice.

Video
Notes
Your ice cream cake will look nice and smooth if you wait until it's really softened almost liquid-y. 
If your Cool Whip is in the freezer, leave it out at room temperature for 20 minutes or so and give it a few seconds in the microwave (on a microwave safe bowl) then stir it around to make sure there are no lumps and it's creamy.
More Delicious Christmas Holiday recipes to try: