By using this site, you agree to our Terms of Use. This post may contain affiliate links. Read our disclosure policy.
Follow us on Instagram for more fun food ideas for kids!
This Puking Pumpkin Guacamole is the perfect spooky appetizer to bring to your Halloween party!
If you're like us, pumpkin carving is one of the main activities during Halloween. Puking Pumpkin Guacamole is perfect for serving as a dip or spread for your Halloween-themed snacks.
Plus, it's easy to make with store-bought or homemade guacamole and doesn't take long to prepare – so you can get started right away!
The way it can be showcased by pouring outside of the pumpkin's mouth can add a welcomed spook factor to your next Halloween party.
They're perfect for serving with crackers, chips, veggies, and even some pumpkin pie! You'll love how easy and festive this recipe is.
It's sure to be a hit with your friends and family this Halloween! Kids will love it too, making it the perfect easy appetizer or snack. Let's get started!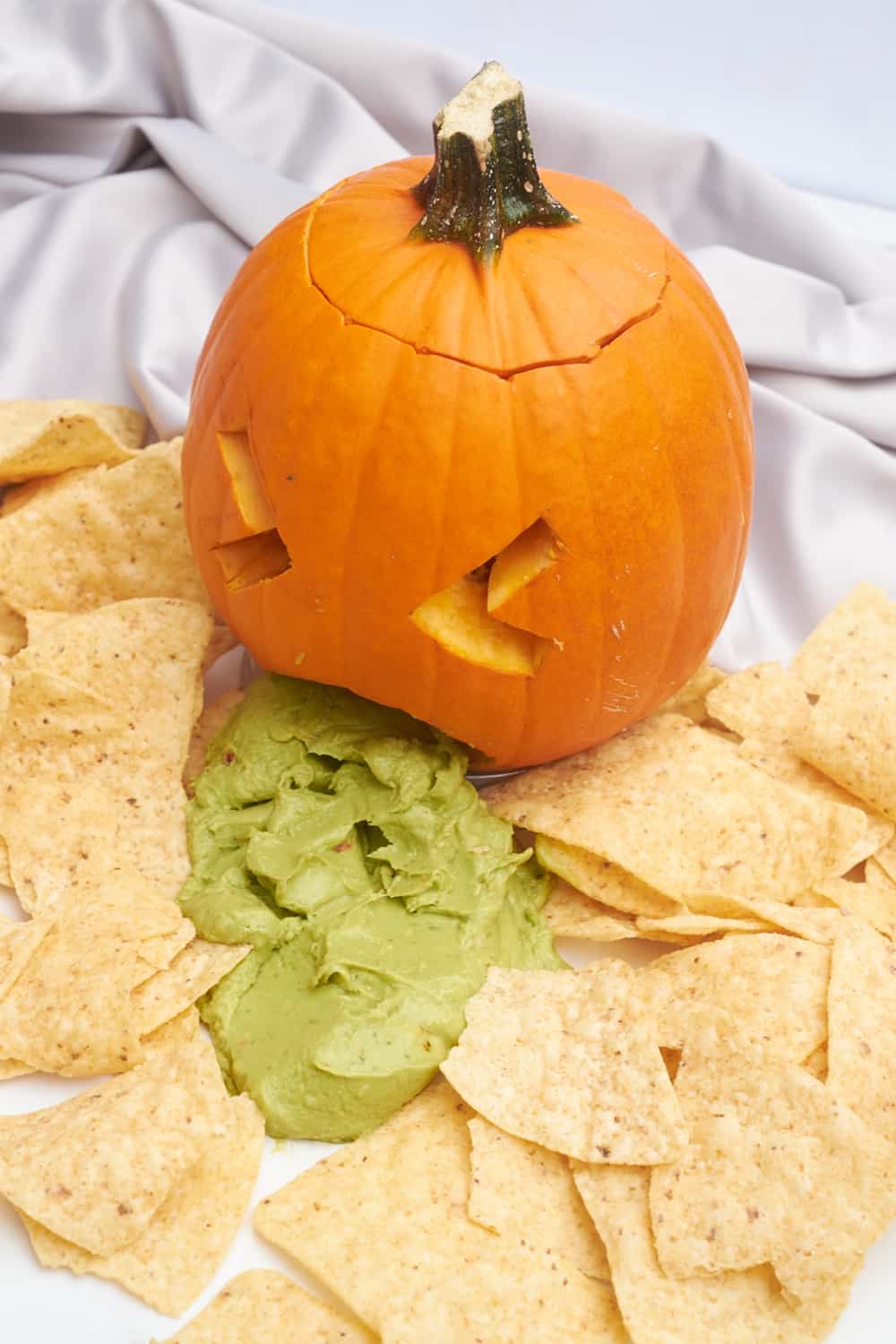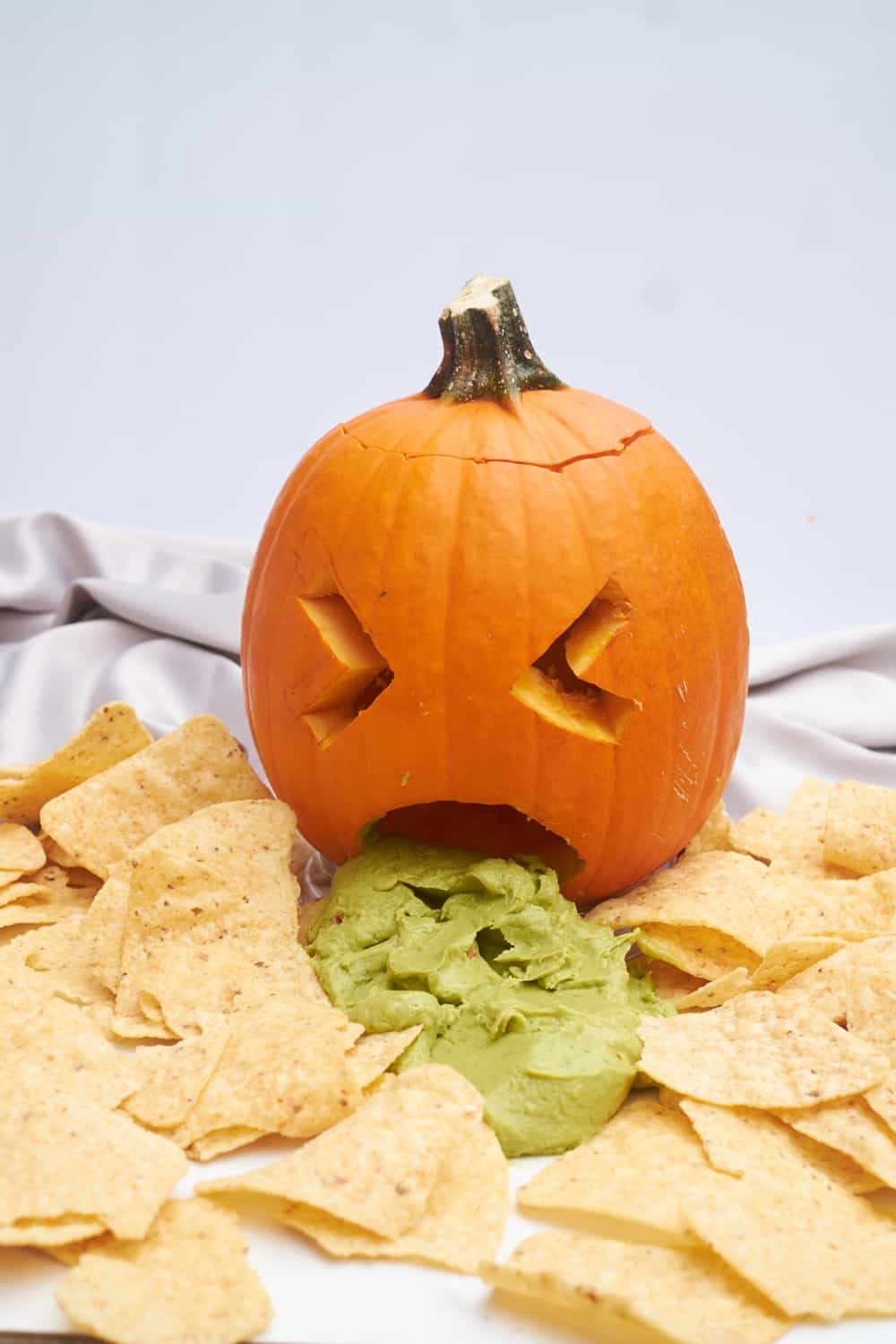 Puking Pumpkin Guacamole – Ingredients
Pumpkin
Carving tools
Guacamole (make your own or store bought)
Tortilla chips
How to Make Pumpkin Guacamole
Step One: Carve the Pumpkin
First, take a pumpkin and clean out the insides. Carve it out as you usually would, carving the eyes and mouth. You'll want to leave a small "door" on the top for pouring your guacamole if you decide to fill the pumpkin this way instead of placing it outside the pumpkin.
Step Two: Place the Guacamole
Place some guacamole just at the mouth's edge so it looks as if the pumpkin is spewing its wicked green innards out! If you're going to fill the pumpkin with guacamole, you'll want to do this step now before the next step.
Step Three: Add the Chips
Lastly, place some chips around the pumpkin for its final touches for a fun Halloween snack. Some chips can really help to bring out the "ooze effect" in your guacamole, so put a lot of them around the pumpkin! Now you're ready to serve!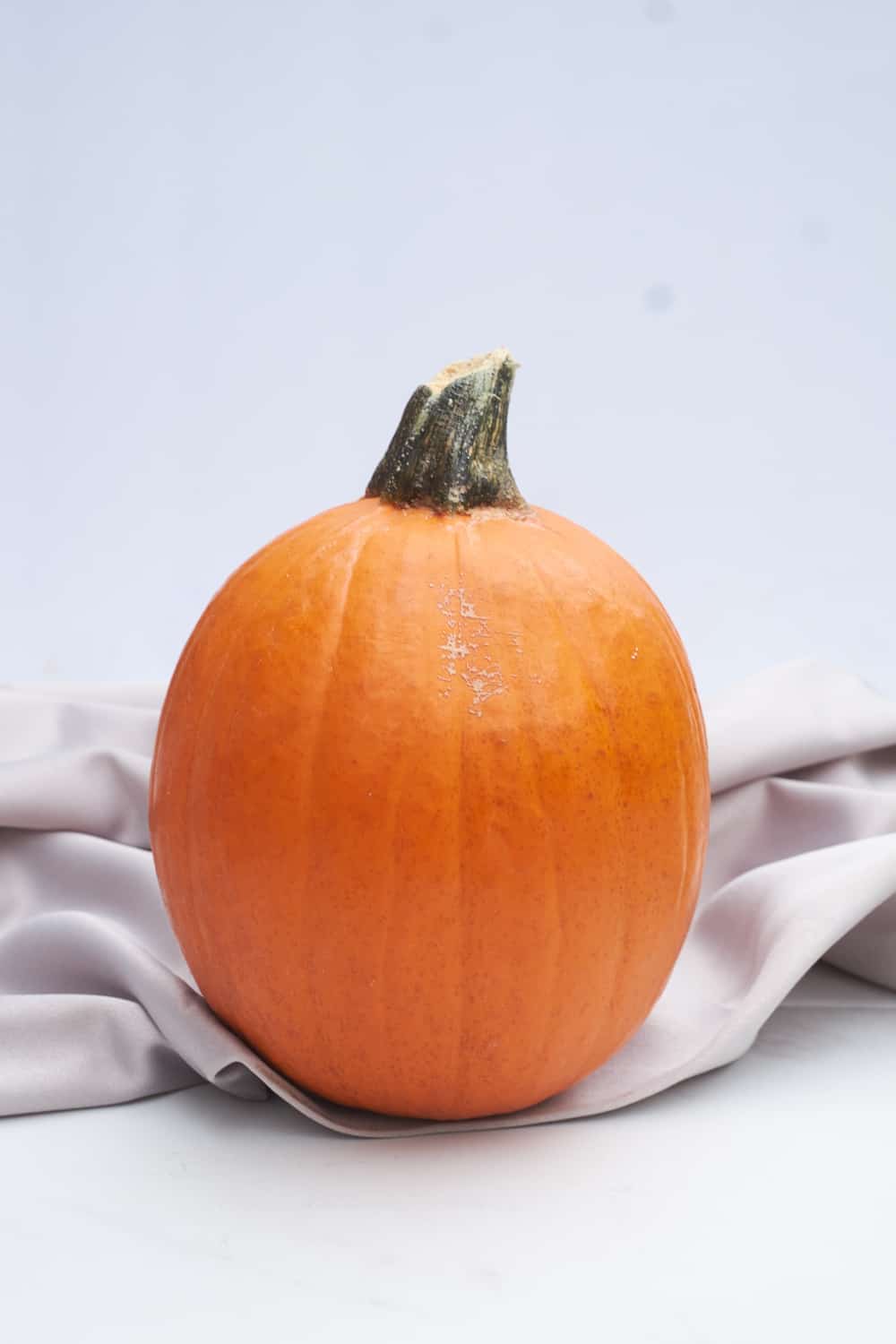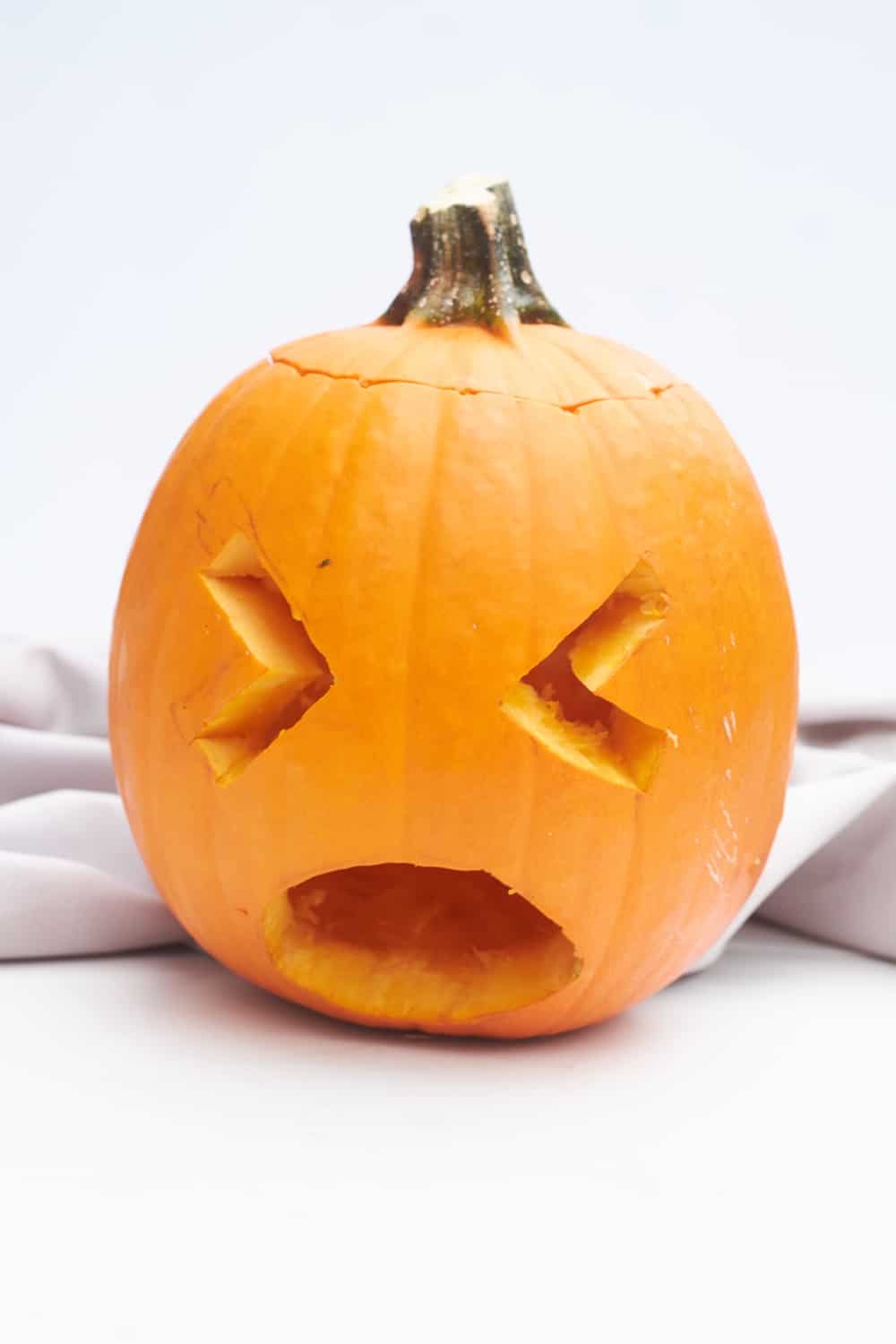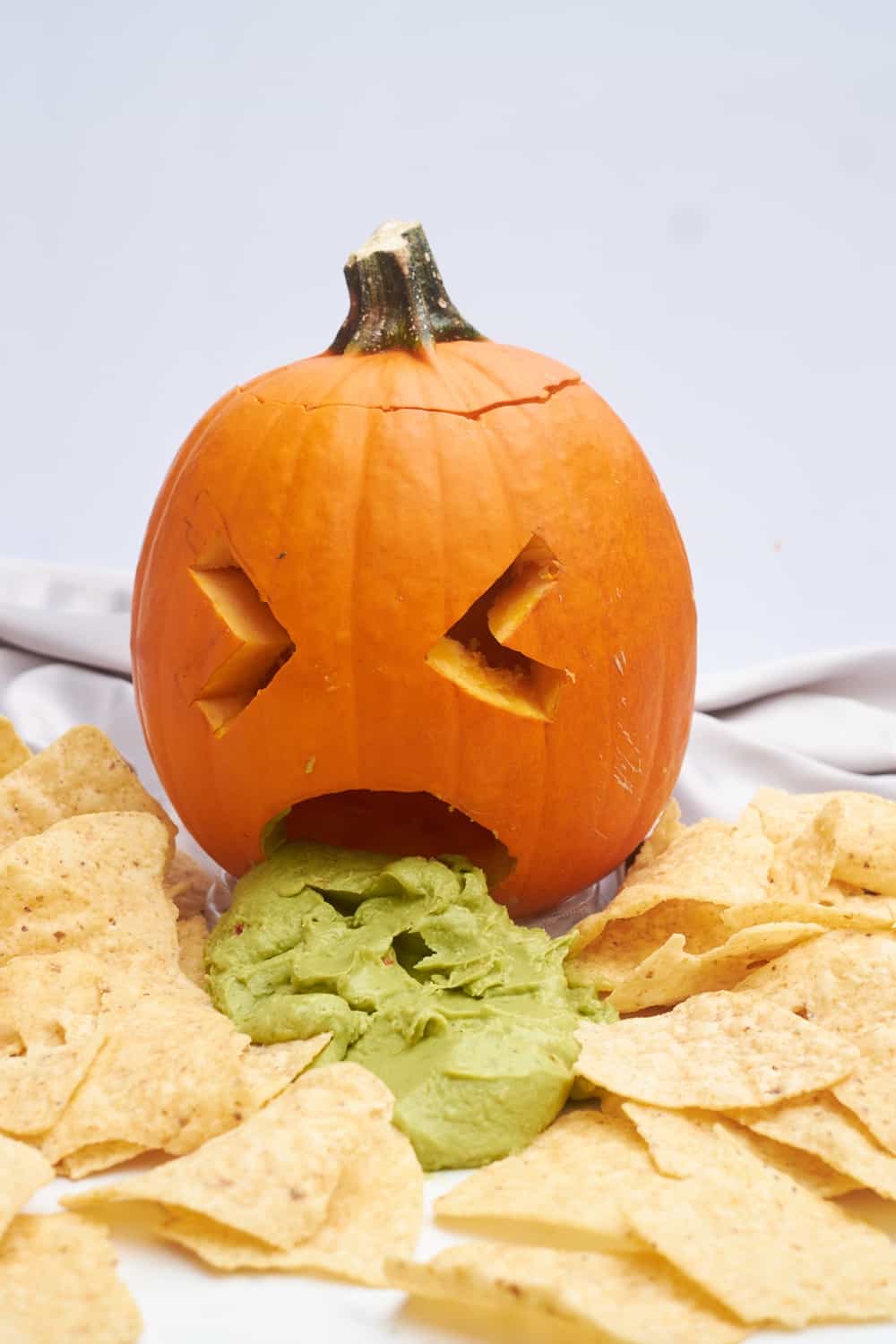 How to make Spooky-Looking Guacamole
If you want to make your own guacamole, start by cutting the avocados in half lengthwise. Next, remove the pit from the center of each avocado half. Finally, use a spoon to scoop out the flesh and add it to a medium bowl.
Use a spoon to mash the avocado until it reaches your desired consistency. For example, some people like their guacamole chunky, while others prefer it smooth.
Next, add the lime juice, chili powder, cumin, and garlic powder to the bowl to taste and stir until everything is evenly mixed. You can add dollops of sour cream for added creaminess.
Once everything is combined (including any salt or pepper that you may need), taste the guacamole and add more salt or pepper as needed before serving.
You can also add a dash of green food coloring to the guacamole for an extra spooky effect.
Tips to Make your Pumpkin Look even Spookier
Paint your Pumpkin with Edible Black Paint
This will make the Pumpkin look even more ominous and will add to the Halloween atmosphere! Make sure to use something that will stick to the Pumpkin without leaving a residue, like Glitter.
Some people also like to write Halloween-themed phrases or stories on their Pumpkins, which will make them even more creepy!
You could print out some fun phrases and stick them to skewers on the pumpkin!
Add Some Fake Blood
Fake blood can really add to the spooky look of your Pumpkin, and it's easy to make too! You can buy red food gel icing and add drops around the face or mouth!
Make Spooky Faces on your Pumpkin
This is a great way to add some extra character to your Pumpkin. Just take a picture of yourself or someone else and add it onto the Pumpkin using Photoshop, or another photo editing app.
This will really bring out the Halloween spirit in your snack! You can also try painting around the eyes or other spooky faces on your Pumpkin using edible paint or markers.
Put Black Frosting on the Top
Many people like to put black frosting on top of their Pumpkins in order to add even more darkness and horror. This is a great way to finish off your Pumpkin snack perfectly!
You can use any type of frosting, but black is usually the most iconic for this effect. Frighten your friends and family with a spooky Pumpkin this Halloween! Add some Halloween sprinkles on top of the head for more ghoulish fun.
Tips for Carving a Spooky Pumpkin
Firstly, choose an appropriately sized pumpkin. The bigger the pumpkin, the more details you can include in your design. Also, start by sketching out your idea on paper.
This will help to focus your creativity and prevent frustration while carving. You should also use pumpkin carving tools to avoid nicking yourself while cutting the Pumpkin open.
When it comes time to carve, use a steady hand and work from top to bottom instead of trying to do it all at once.
As you go, leave space for the eyes, nose, mouth, and other details that make up a realistic sculpture. This will make your guacamole pumpkin truly come to life!
Takeaway
Guacamole is the perfect Halloween snack for around the house, and carving one can be surprisingly fun for both kids and adults.
By adding some spooky details like guacamole, you'll give your guests a truly frightful treat. Be sure to use safe carving tools and avoid nicking yourself while carving!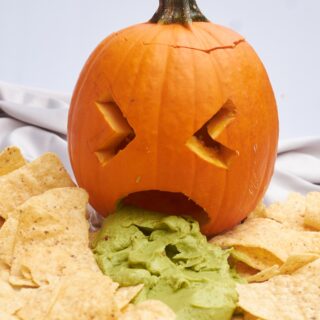 Puking Pumpkin Guacamole Recipe
This Puking Pumpkin Guacamole is the perfect spooky appetizer to bring to your Halloween party!
Ingredients
Pumpkin
Carving tools
Guacamole (make your own or store bought)
Tortilla chips
Instructions
First, take a pumpkin and clean out the insides. Carve it out as you usually would, carving the eyes and mouth. You'll want to leave a small "door" on the top for pouring your guacamole if you decide to fill the pumpkin this way instead of placing it outside the pumpkin.

Place some guacamole just at the mouth's edge so it looks as if the pumpkin is spewing its wicked green innards out! If you're going to fill the pumpkin with guacamole, you'll want to do this step now before the next step.

Lastly, place some chips around the pumpkin for its final touches for a fun Halloween snack. Some chips can really help to bring out the "ooze effect" in your guacamole, so put a lot of them around the pumpkin! Now you're ready to serve!Step Two: Place the GuacamoleStep Three: Add the Chips