Originally posted: February 24, 2020
Follow us on Instagram for more fun food ideas for kids!
This Frozen Unicorn Yogurt Bark is a colorful, magical, and absolutely delicious snack.
I love anything unicorn, even in unicorn popsicle form! In fact, our entire house does.
Maybe it's the magical aspect of them, or maybe it's the fact that they're so bright and colorful… but whatever the reason, we love anything and everything unicorn.
This includes clothing, games, and most importantly, unicorn-related food. Who knew that there were so many foods out there with ties to unicorns? Even unicorn shortbread! Luckily for us, we're willing and wanting to try every single one.
This is why we created our own delicious recipe, Frozen Unicorn Yogurt Bark. What I can promise you is that it's a super simple snack that doesn't disappoint.
It's a refreshing and easy kid snack to have waiting when they get home from school or as a wonderful weekend treat. No matter when you decide to try and make this yummy yogurt snack, just do so as soon as possible. Every single bite is 100% worth it.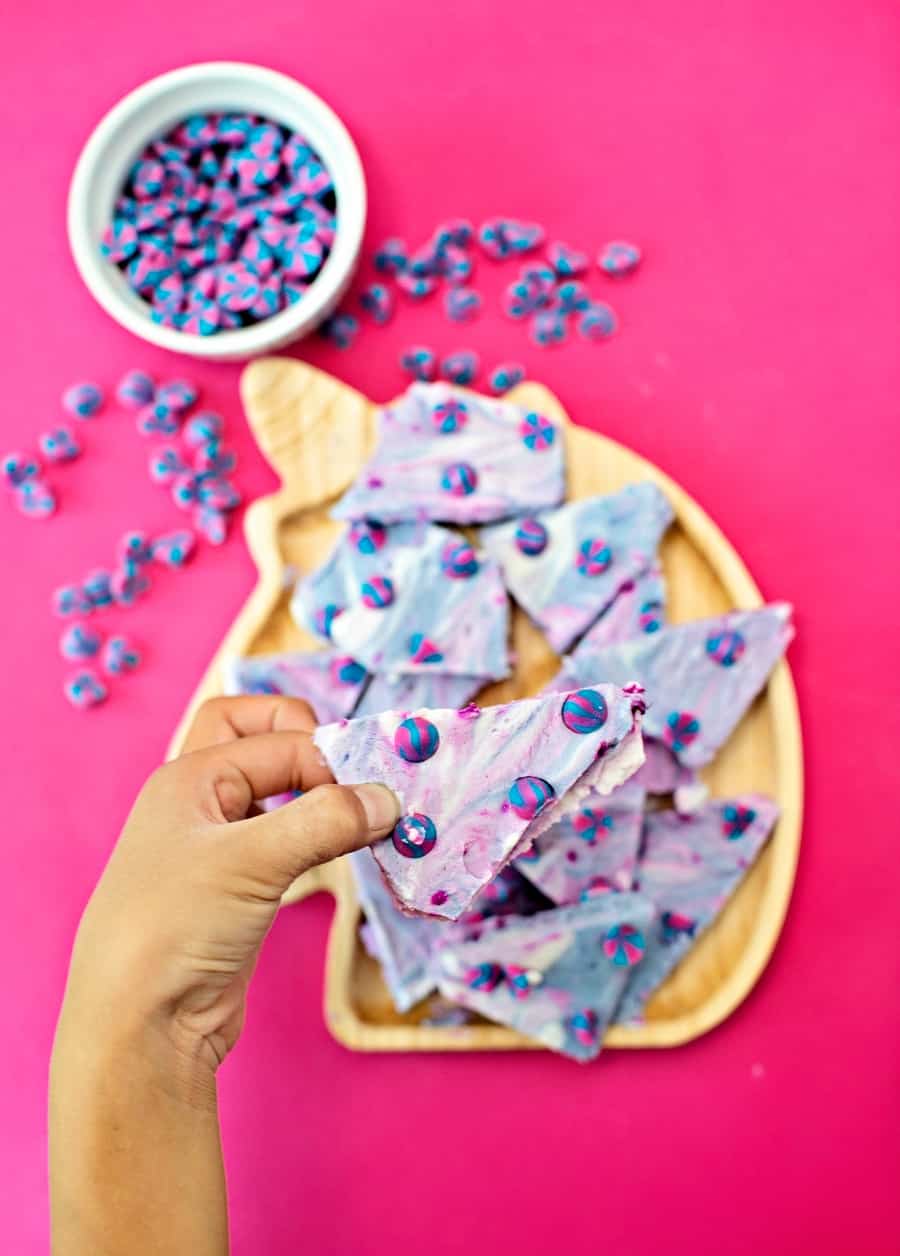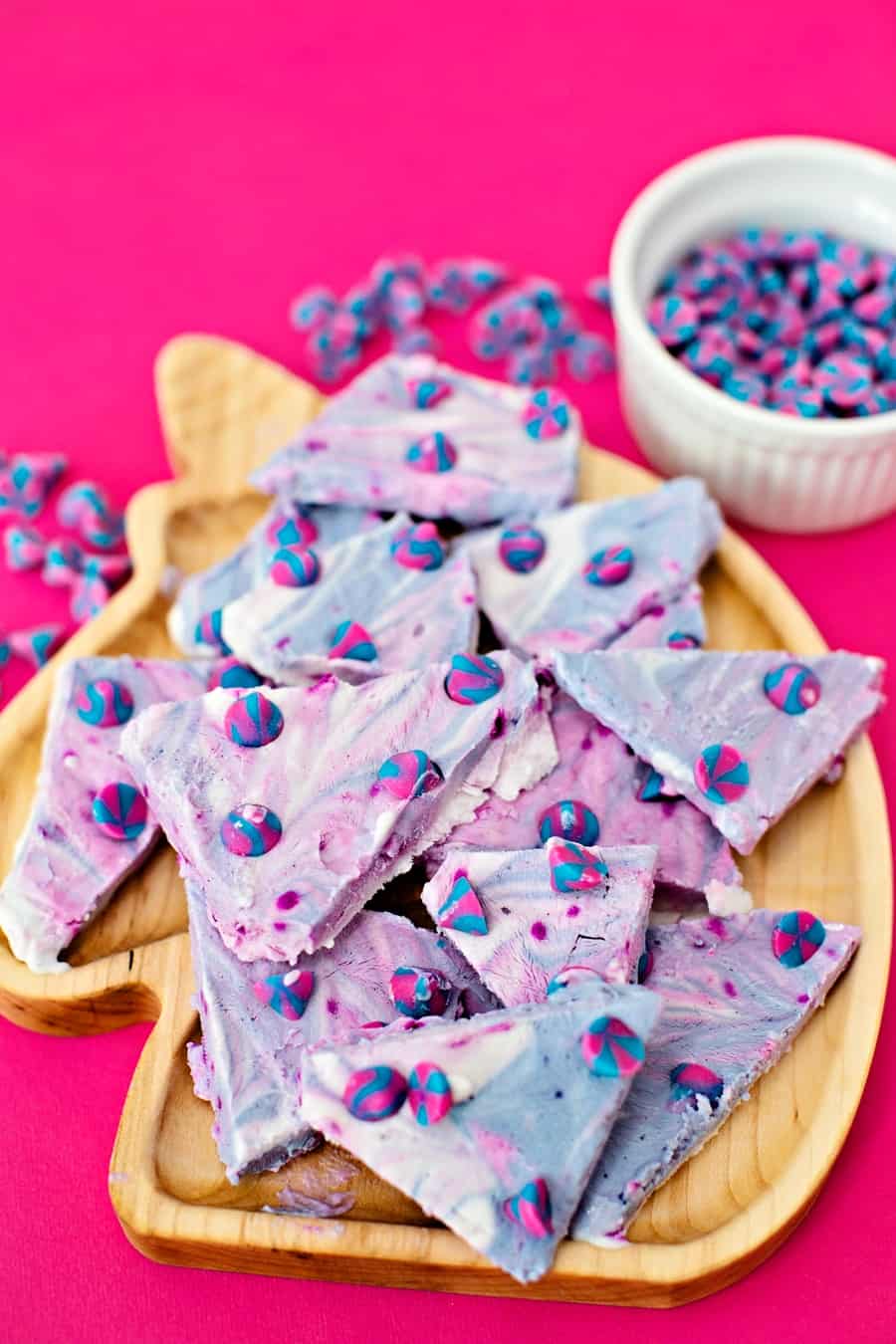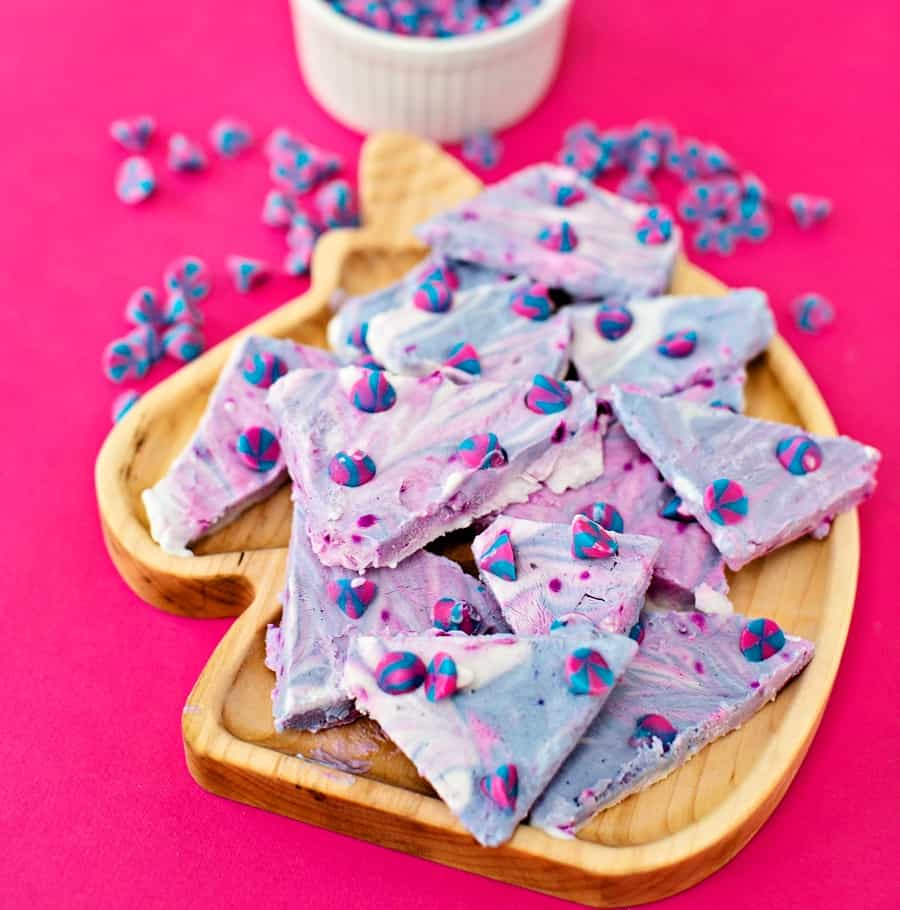 Best Yogurt for this Unicorn Yogurt Bark Recipe
Technically, you can use any type of yogurt that you want, but in our house, we're a fan of using Greek yogurt. Not only do I feel that the creamy texture enhances the bark, but I love all the extra nutrients that the kids receive as well.
Greek yogurt is great to use for this recipe, and we make certain that we always buy the vanilla kind, so there is a bit of sweetness in this healthy snack. If you want it to be less sweet, you can use plain Greek yogurt and simply add a little honey till it's as sweet as you like it. This is also an extra healthy source of sweetness!
Note that you will get some ice crystals after freezing, which is normal, but that isn't anything that severely impacts the taste.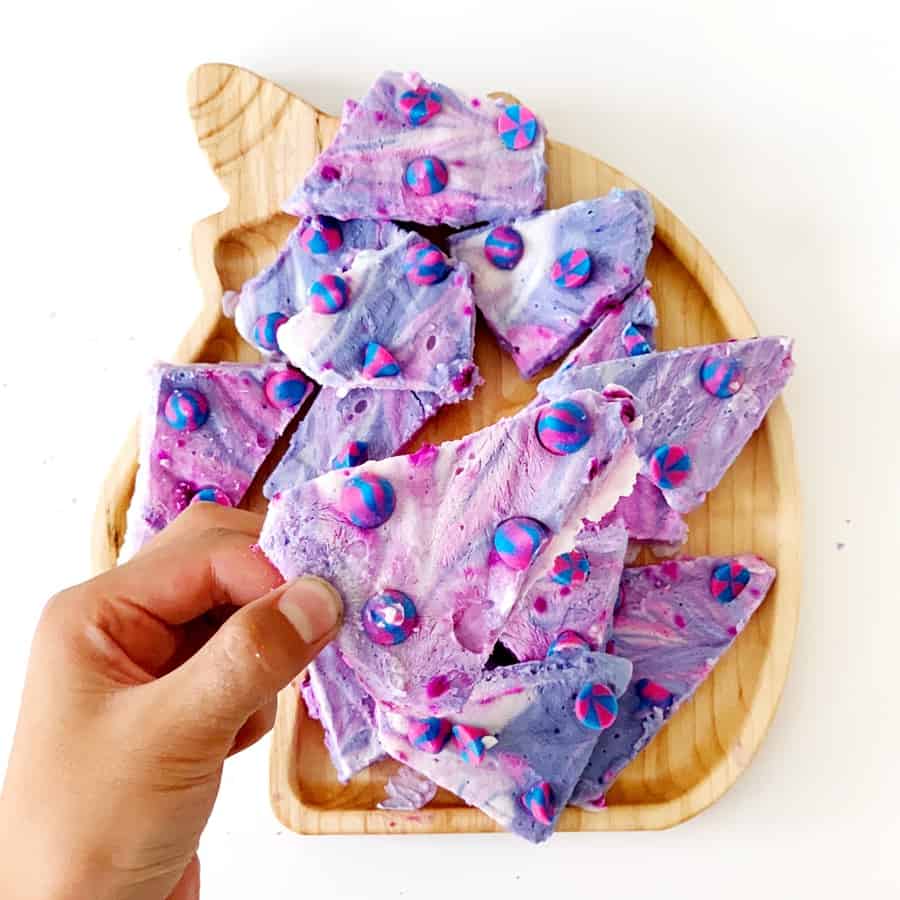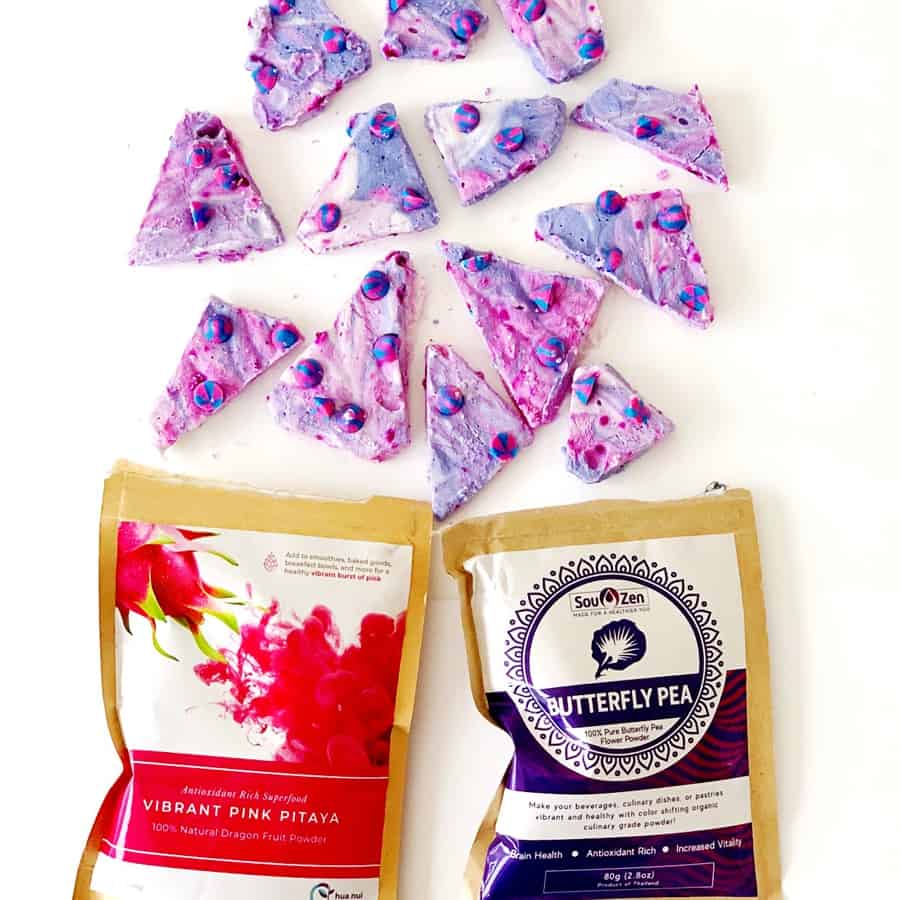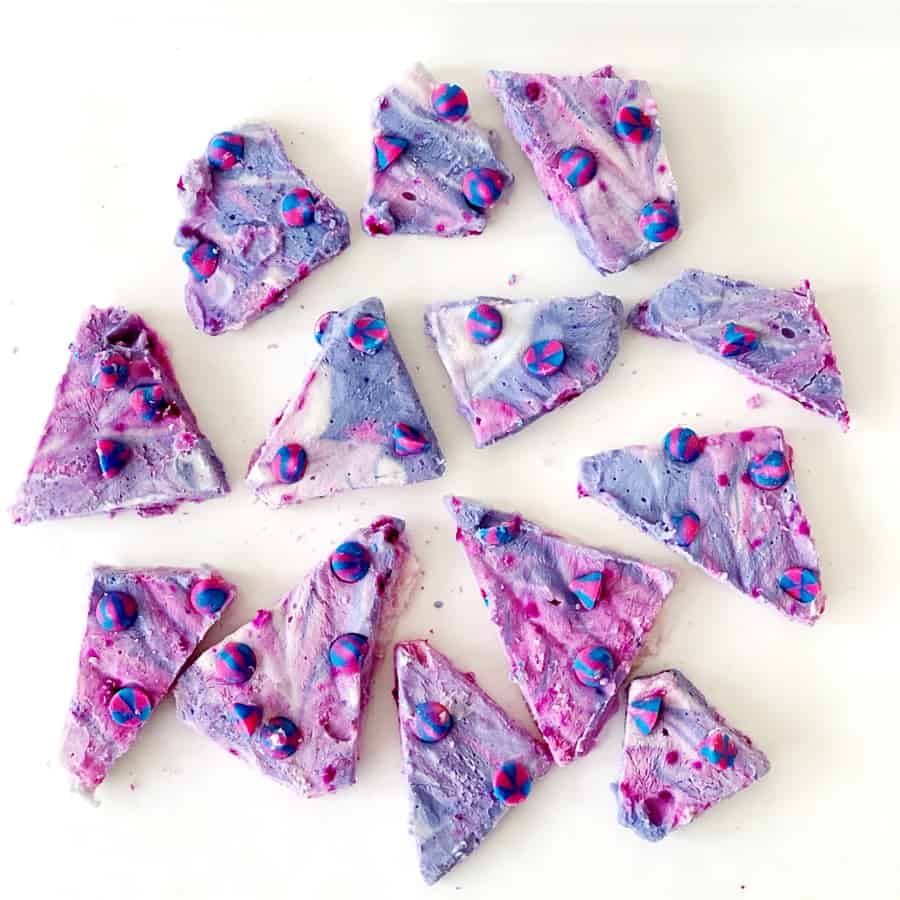 How to Store Leftover Unicorn Greek Yogurt Bark
If you happen to have any left over once the kids have gotten stuck in, you'll want to store it in an airtight container and place it in the freezer. Before eating, you'll want to take it out 5 – 10 minutes before you start snacking so that it's not super rock hard.
Note that this is the kind of treat you'll want to eat quite quickly because once it starts melting it won't stop! My kids have never had any issues finishing their yogurt bark before it completely melts however, and I'm sure yours won't too.
With it containing yogurt, you're not going to want to leave it just sitting out on your counter. It'll quickly melt and become yogurt once more. Which isn't too shabby either!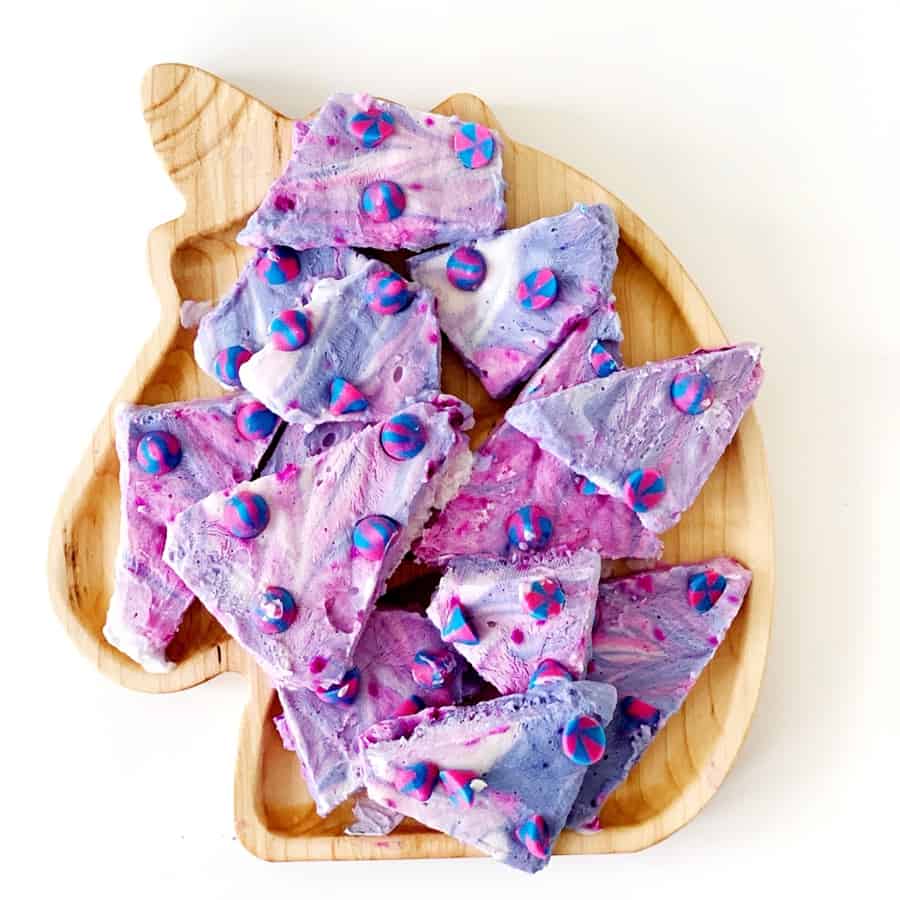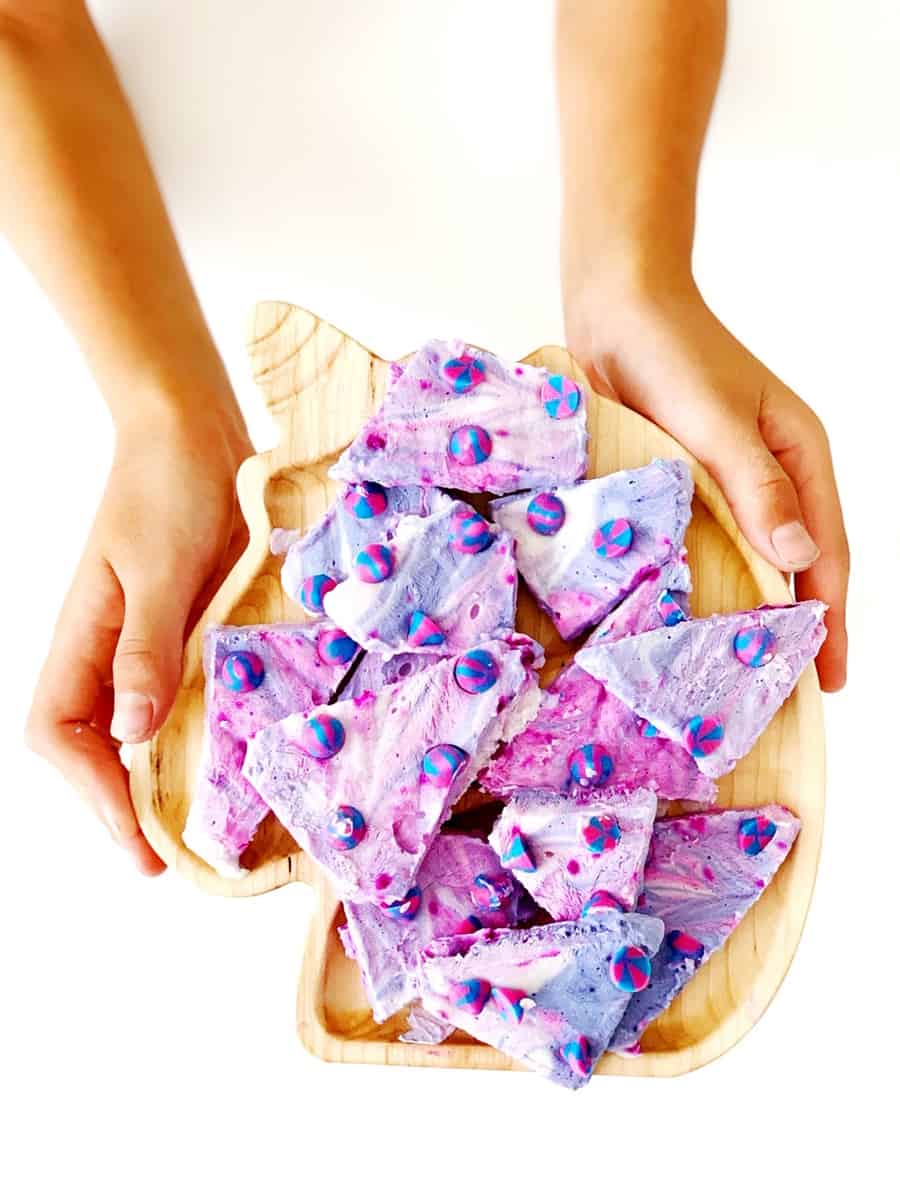 How to Get Magical Swirls of Pinks and Purples
What makes this yogurt treat extra special is that we used natural pink Pitaya and blue Spirulina to make the galaxy colors on this magical unicorn bark.
So you have some added nutrients from these naturally derived plant powders. Plus, you won't be taking in anything that isn't beneficial to the health of yourself and your children. So, it's a completely guilt free pink and blue yogurt snack!
The pink Pitaya powder is made of pink dragon fruit, which is a super fruit that can provide you with vitamin C, antioxidants, omega 3 and more. The blue Spirulina is just as good for you and includes a number of wonderful nutrients, including protein, antioxidants, vitamins and minerals.
Alternatively, if you're happy with less beautiful swirls, consider using berries instead. This would add some extra tasty flavourings, and you would still get a gorgeous, colorful result.
Crushing different berries in separate containers before adding it to the yogurt and swirling it in will allow the colors to remain bright and clear.
Scroll down below to see how we made this Colorful Yogurt Unicorn Bark!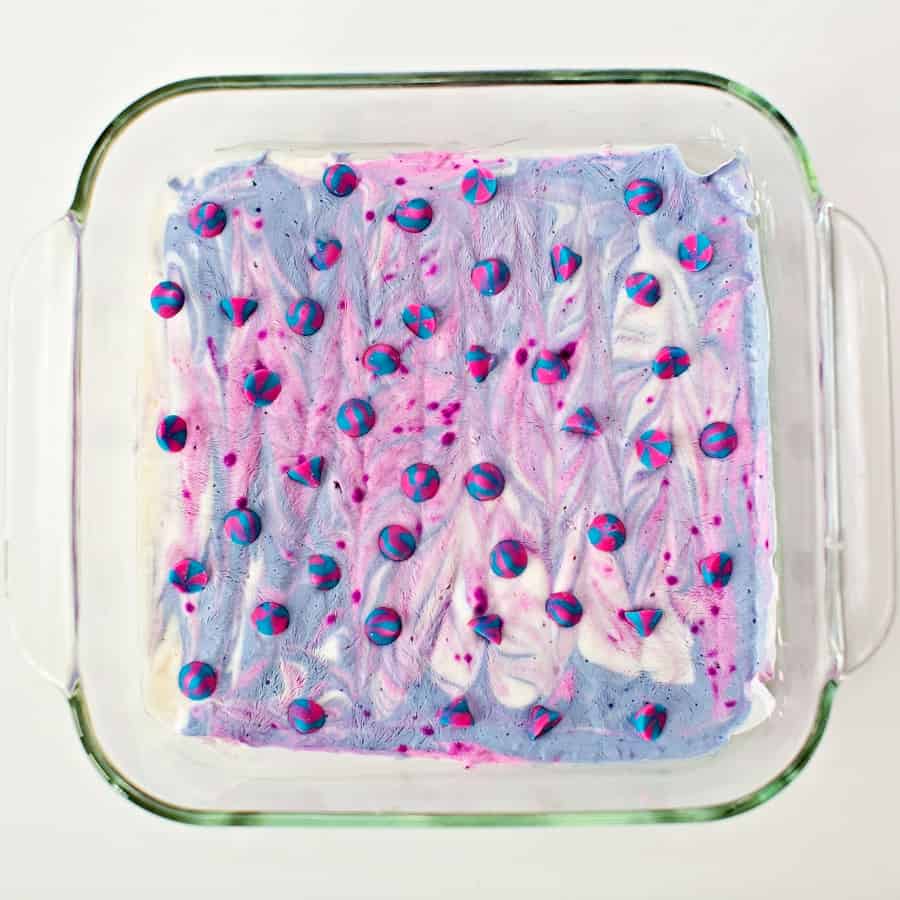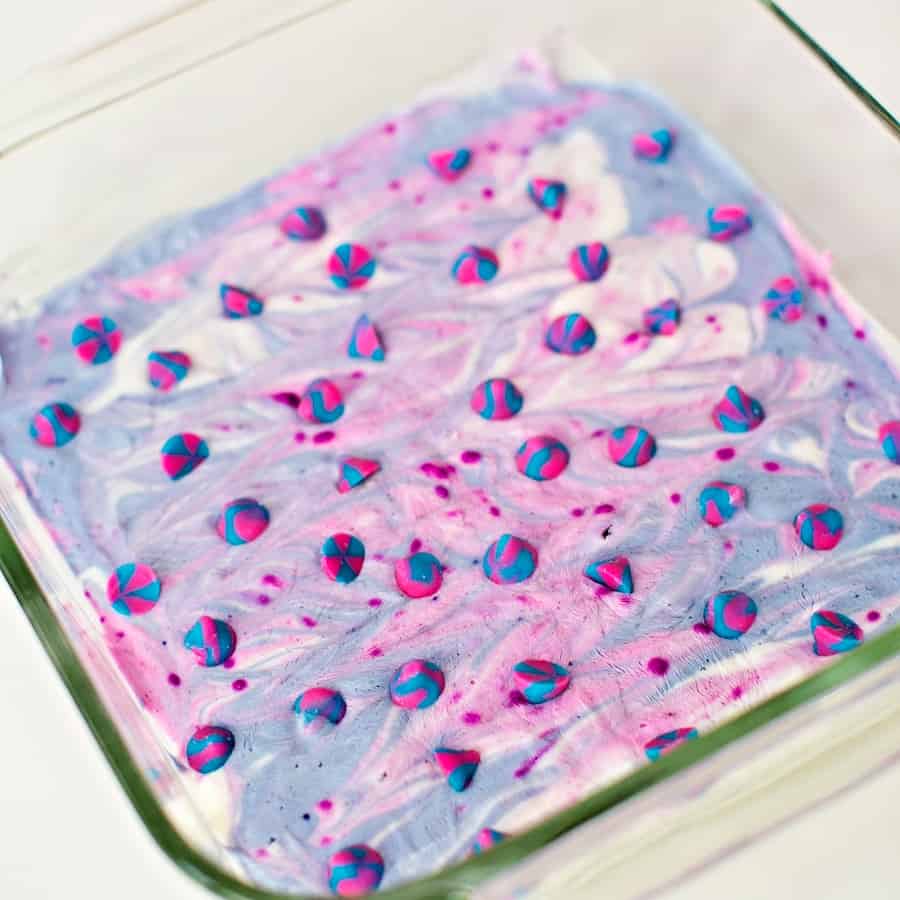 Unicorn Frozen Yogurt Bark – Ingredients
Vanilla Greek Yogurt
Natural Pitaya
Blue Spirulina
To add to the unicorn theme, we used this wonderful unicorn platter from Timber Child. This can come in handy when you're making any wonderful unicorn snacks, and the kids love it!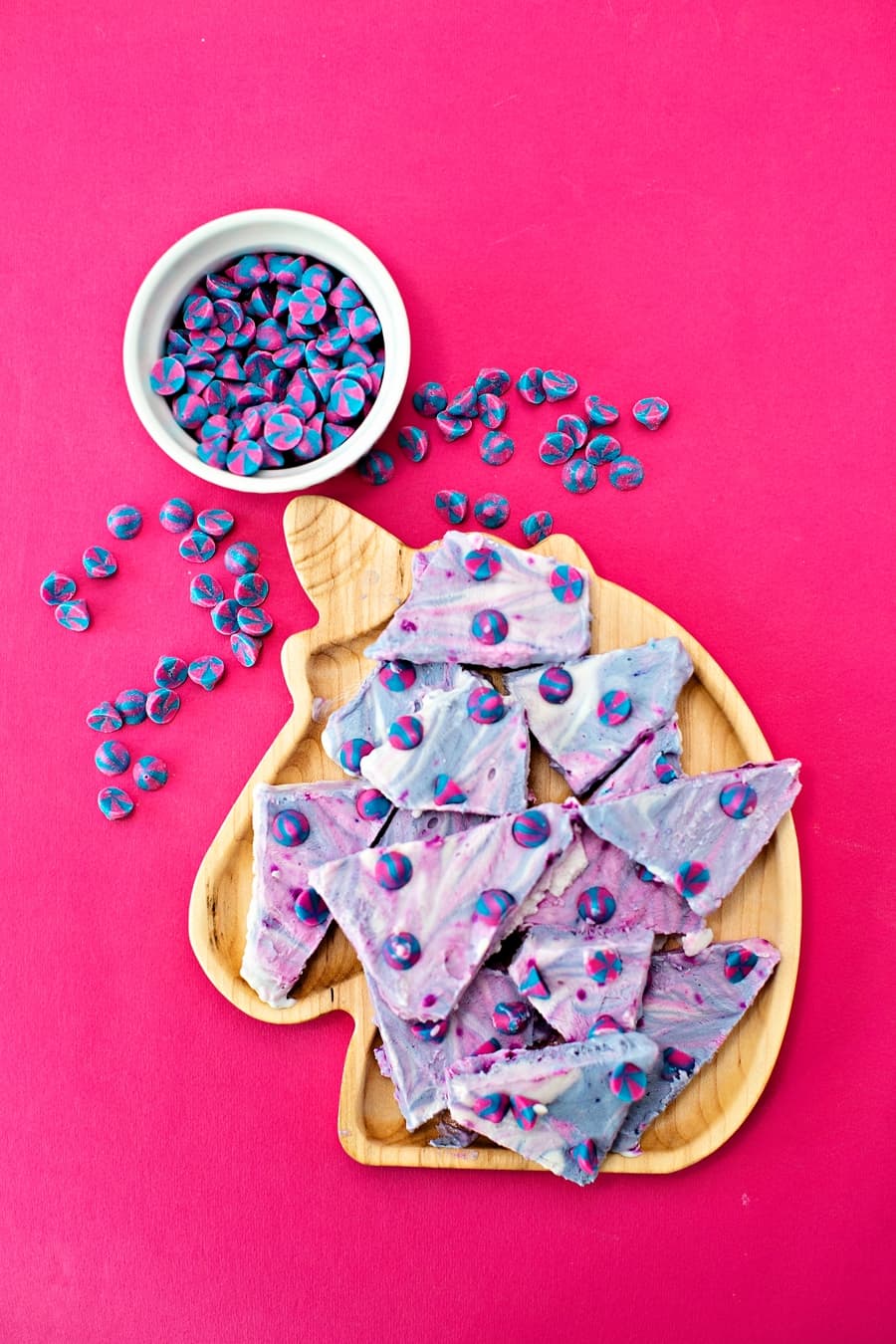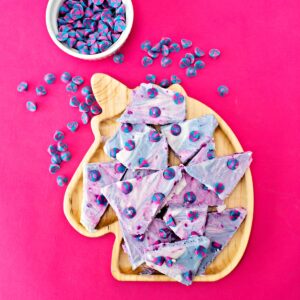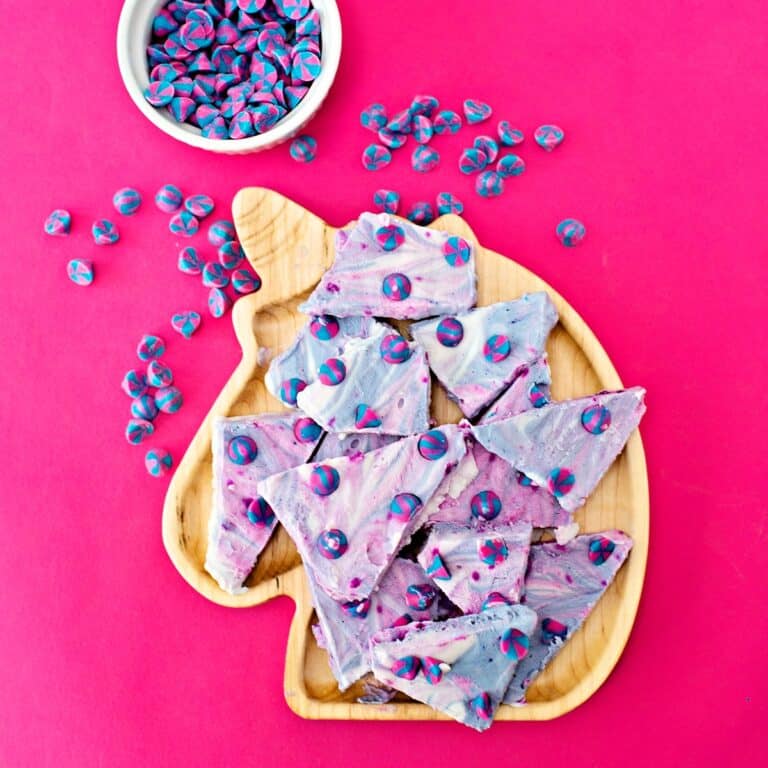 Unicorn Frozen Yogurt Bark
This Unicorn Frozen Yogurt Bark is a colorful, magical and absolutely delicious snack.
Ingredients
Greek Yogurt

May use vanilla flavored

Pink Pitaya Powder

Blue Spirualina

Unicorn Chips
Instructions
Add parchment paper on top of your freezer safe pan. We used an 8" glass pan. Add your yogurt in an even layer, at least 1 inch thick. Too thin and it will break too easily when you break into bark pieces.

Add some pitaya and blue spirualina powder on top and use a toothpick to swirl. You can add according to how deep you want your colors. Note the more you add, the more the yogurt will absorb the powder's natural flavors.

Sprinkle unicorn chips on top.

Freeze for at least 4 hours or until the bark is frozen. Take it out to defrost for 10-15 minutes before breaking it into bark pieces. Eat immediately.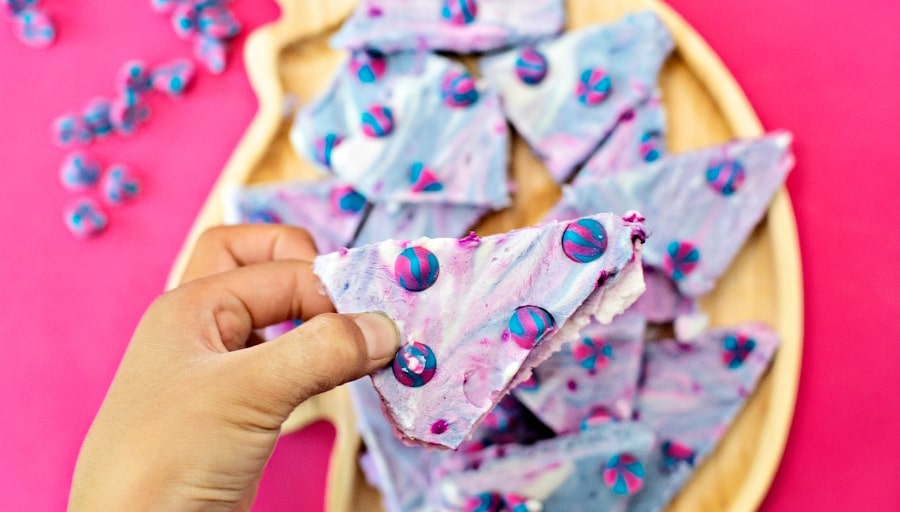 Final Thoughts on These Healthy Unicorn Snacks
These beautiful, colorful snacks are sure to charm any child or adult who comes across them. And best of all, they're just as tasty as they are pretty! Whether you're planning a unicorn themed birthday party, or just making a midday snack for the kids, this frozen yogurt bark recipe is sure to be a hit.
They're best enjoyed on warm summer days, since they're a chilly treat. But you may just find that you want to snack on these throughout the year. So get the kids into the kitchen, and get creative with these frozen yogurt treats.
More unicorn snacks to try:
____________________________________________________________________________
Disclosure: Some of the links in the post above are "affiliate links." This means if you click on the link and purchase the item, we will receive a small affiliate commission. Regardless, we give our promise that we only recommend products or services we would use personally and believe will add values to our readers.