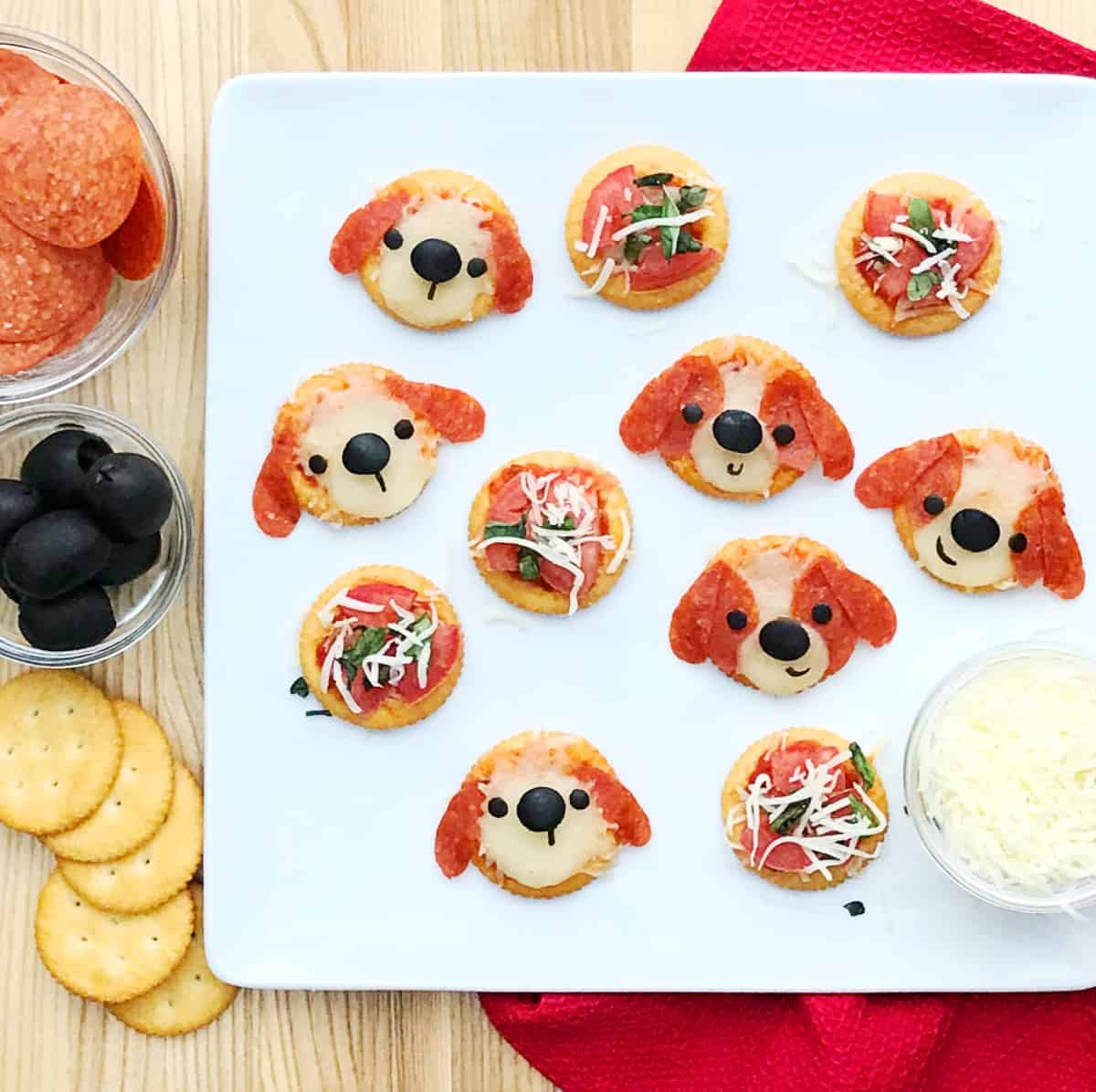 Originally posted on 23/01/2020
Follow us on Instagram for more fun food ideas for kids!
What's not to love about homemade pizza? There are so many different ways to make pizza. And it can be served any time of day, any time of year, and is a kid-friendly food that even adults love.
You can make pizza a million different ways with loads of creative pizza ideas. I have rounded up the most innovative pizza ideas for kids that they're sure to love.
I set out to find pizza in fun pizza shapes, themes, or just crazy unique toppings for kids and some of our pickiest eaters.
Creative Ways to Make Pizza for Kids
If you are wondering how to make a pizza for kids, then you'll find everything you need in this list of creative kids' pizza ideas. From ghost and puppy shapes to mac & cheese and chicken pot pie. I love that these homemade pizza ideas are quick and easy to make and family-friendly.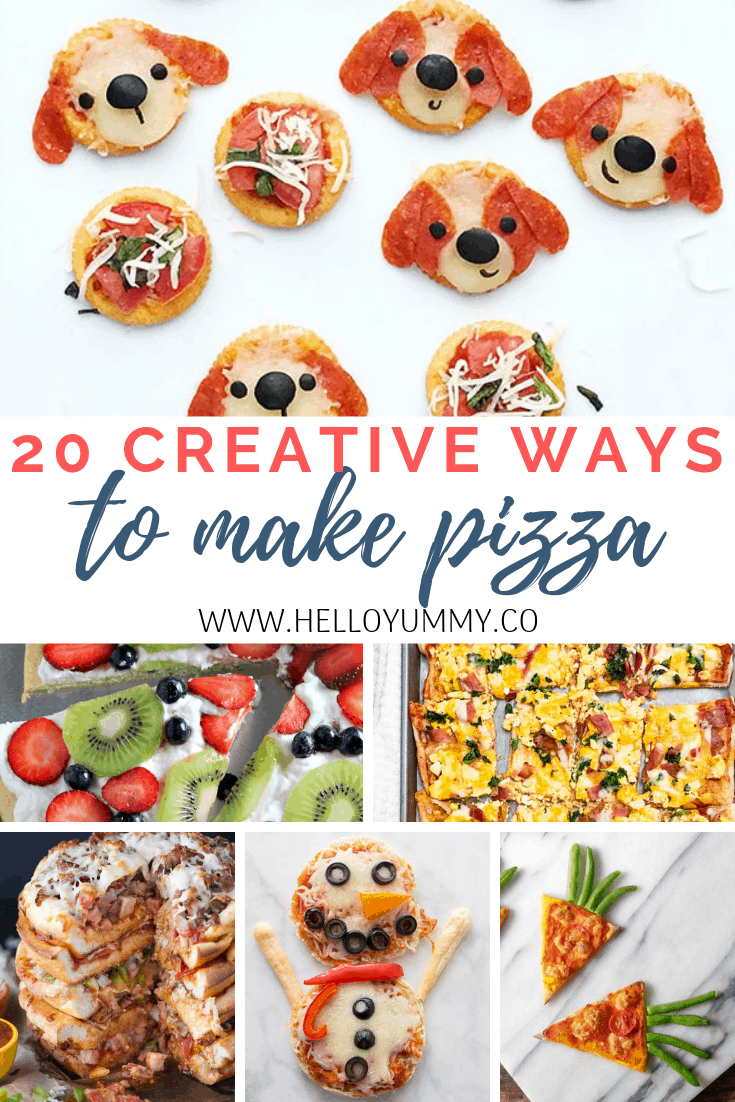 Make Creative Pizza Shapes
Who doesn't love food in an interesting shape? Pizza makes for a great opportunity to create fun shapes that your kids will love.
Check out these awesome and delicious pizza shapes that the whole family can enjoy.
These little pups probably count more as a snack pizza than a meal, but they're super cute and the kids will love helping make them.
Ghosts don't have to be only for Halloween. I'm sure the kids will get a kick out of these mini pizzas any time of year. And they taste as delicious as they look!
These adorable snowman pizzas are made with English muffins. This is a great idea for a fun family dinner in Winter or any time of the year. Get the whole family involved as the kids can help decorate these cute and tasty treats.
This is such a fun pizza shape to make and you can get creative with the toppings to make it seem as realistic as possible. The kids will also love ripping the tentacles off this octopus pizza and eating each one as they go.
Not only do these pizza slices look like a carrot, but there are carrots in the crust and sauce. Masking some vegetables in a pizza is a clever way to get the kiddies to get some extra nutrients in a fun and exciting way.
With bagels and only a couple of ingredients, these tasty treats are super easy and fun to make kids' pizza. Mix and match your own monster pizzas, you and your kids will love this versatile take on pizza.
These mini Winnie the Pooh pizzas are just super cute and your kids will go crazy over them. Serve up the cutest lunch they'll have all week with these delicious treats, which are also a real hit on playdates.
Creative Ways to Serve Pizza
There are many ways to mix up traditional pizza with innovative ingredients. Serve these creative pizza ideas to your family or even guests and you are sure to keep everyone satisfied.
This huge pancake is made with marshmallow fluff, cream cheese, and plenty of fruit. Slice it up like pizza and serve it for breakfast, a healthy snack, or dessert.
You can throw this fun dinner together very quickly with the help of store-bought staples. This combines two family favorites, so you know it's going to be a hit.
Serve pizza on a stick with these fun kabobs. Choose any of your favorite pizza toppings for kids, all of these toppings are then skewered on a kabob and wrapped in pizza dough.
These hand pies are easy to take on the go and great for play dates as well. They're a fun project to make together and they'd be great to pack in the lunch box too!
Who doesn't love rainbows and unicorns? Combine the two and make a magical, sparkly pizza. This colorful tasty treat will delight everyone.
Turn your favorite dip into pizza for a yummy dinner that both the kids and adults will love. You can serve this as an appetizer when you are entertaining or as a main meal for the whole family.
Other Fun Ways to Make Pizza
There are great ways to serve pizza in unique and interesting shapes and ways. Here are some more fun and innovative ideas when making pizza. Some of the ideas even combine other much-loved recipes creating the ultimate meal.
If you love a good chili cheese dog, this is the pizza for you. It's loaded with all the chili cheese dog toppings and even includes the actual hot dog sausage.
Kids love fish sticks! Why not serve them up on pizza? You can create a great seafood pizza with some alfredo sauce and veggies.
This pizza is perfect for a backyard summer dinner. It's light and refreshing. Who would have thought strawberries go great on pizza?
Everyone will be talking about this pizza cake for quite a while. It's basically a bunch of individual size pizzas piled on top of each other and is great for kids' parties, they go a long way and are sure to fill everyone up.
This pizza combines two favorite comfort foods. It's super quick and easy to make up for a busy weeknight dinner.
What's better than Mexican pizza? Mexican pizza for breakfast. This pizza is bursting with delicious flavors and it's loaded with the protein your family needs to keep going all day.
Sheet pan meals are so easy. For your next breakfast-for-dinner night, try these simple breakfast pizzas for kids and adults.
Final Thoughts on Kids Pizza Ideas
Pizza is always a hit in the house. What's better than a cheesy meal with all your favorite toppings? Nothing really. All of these creative pizza ideas will keep everyone in the family smiling and is a great way to get the whole family involved in the meal preparation.