By using this site, you agree to our Terms of Use. This post may contain affiliate links. Read our disclosure policy.
Follow us on Instagram for more fun food ideas for kids!
These Thanksgiving Leftover Hand Pies are a delicious way to use up our Thanksgiving dinner leftovers for lunch or snack the next day!
By the time Thanksgiving comes around we're pretty excited for the usual far like turkey, stuffing and cranberry sauce! And who can forgot the pies. We put all our favorite Thanksgiving foods into these delicious Thanksgiving Leftover Hand Pies! These are great for lunch or a robust snack the next day. Everyone knows Thanksgiving is all about the leftovers anyways!
These hand pies come together so easily with your favorite Thanksgiving dishes and a ready-made frozen pie crust. Of course you can easily make your own crust, but not sure if anyone has the energy to bake from scratch the day after Thanksgiving!
We also happened to have these super cute mini pie molds we got recently from Williams Sonoma. But of course you don't need these molds to make the hand pies, you can simply cut large round shapes or even rectangles.
Watch the video in this post to see how to make these Thanksgiving Hand Pies.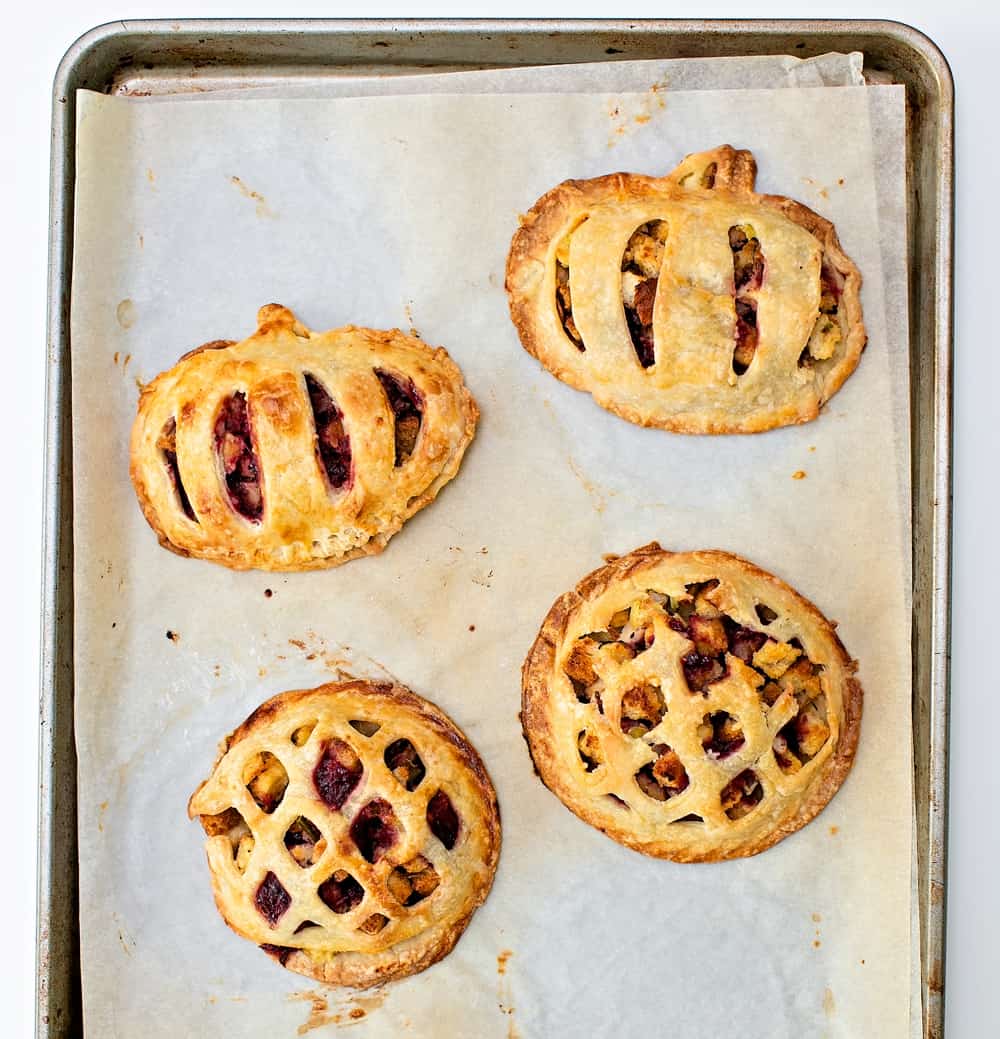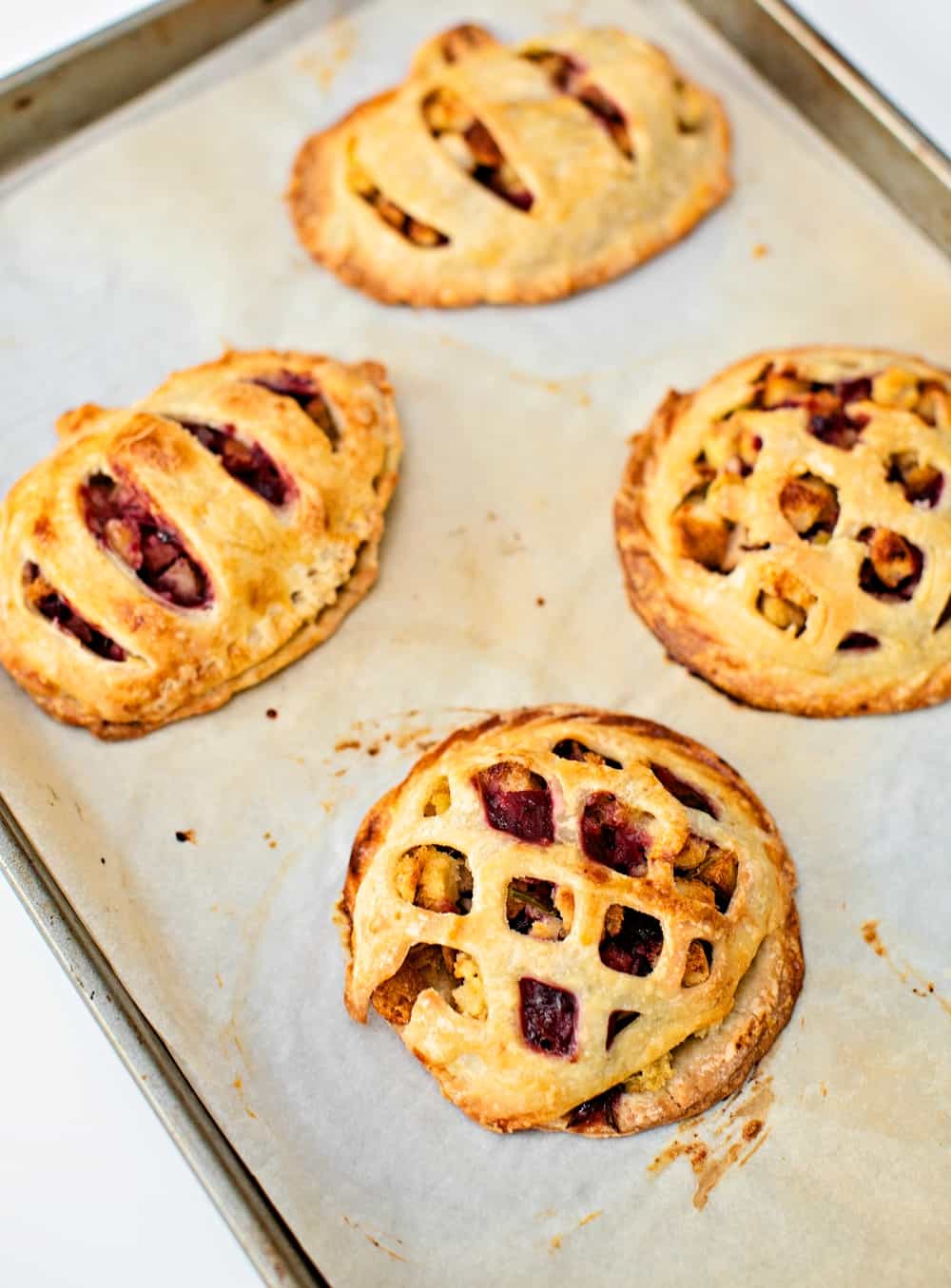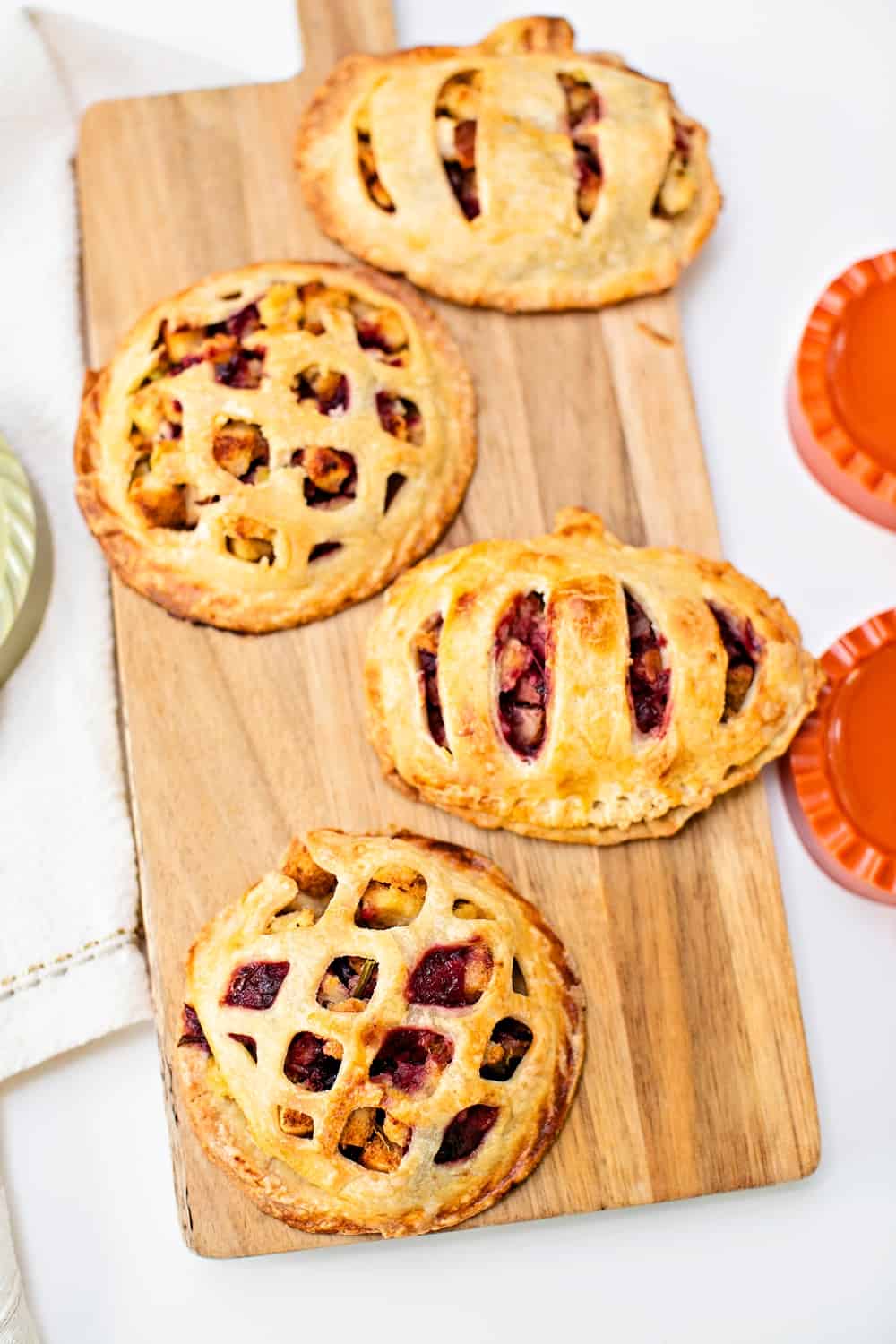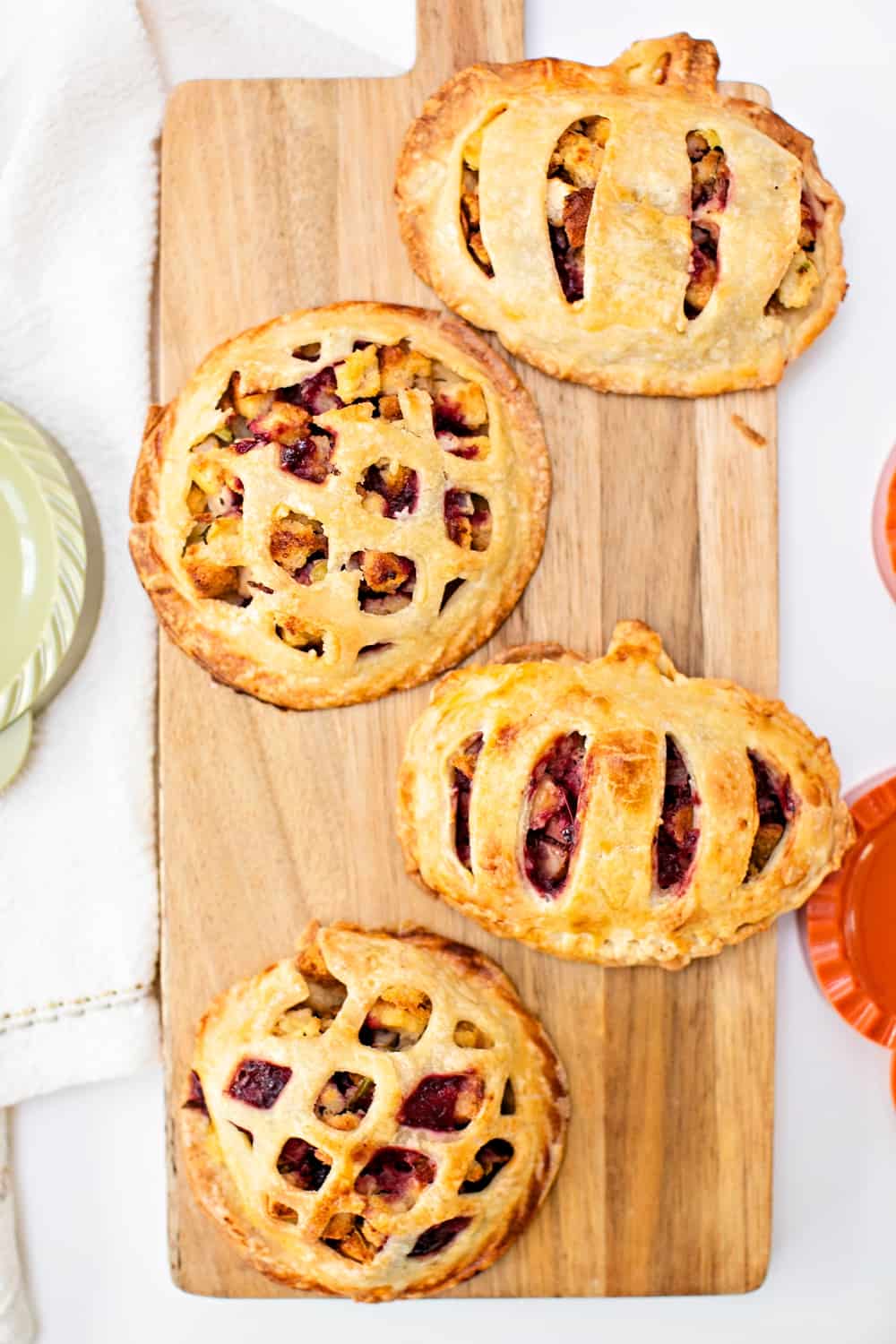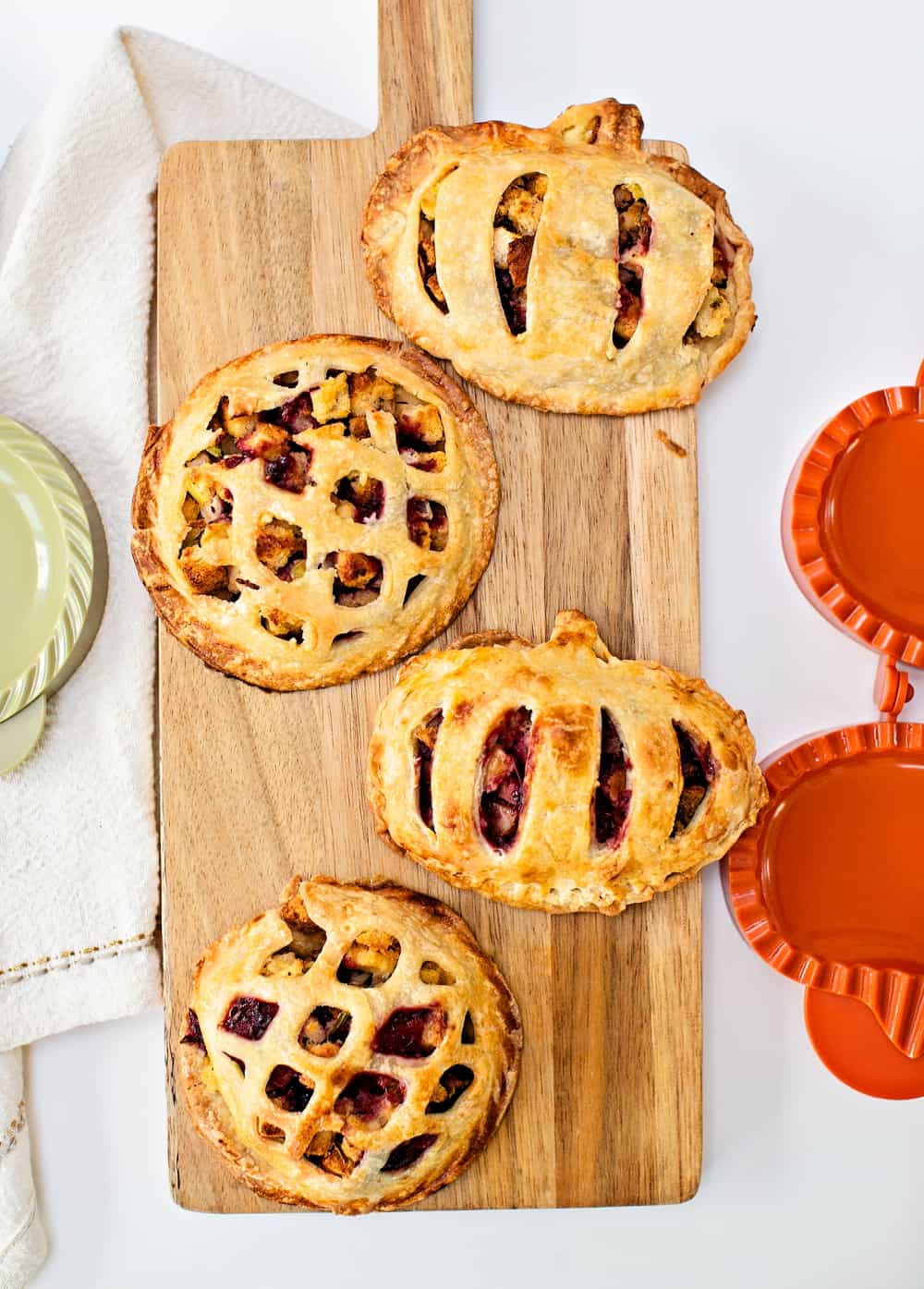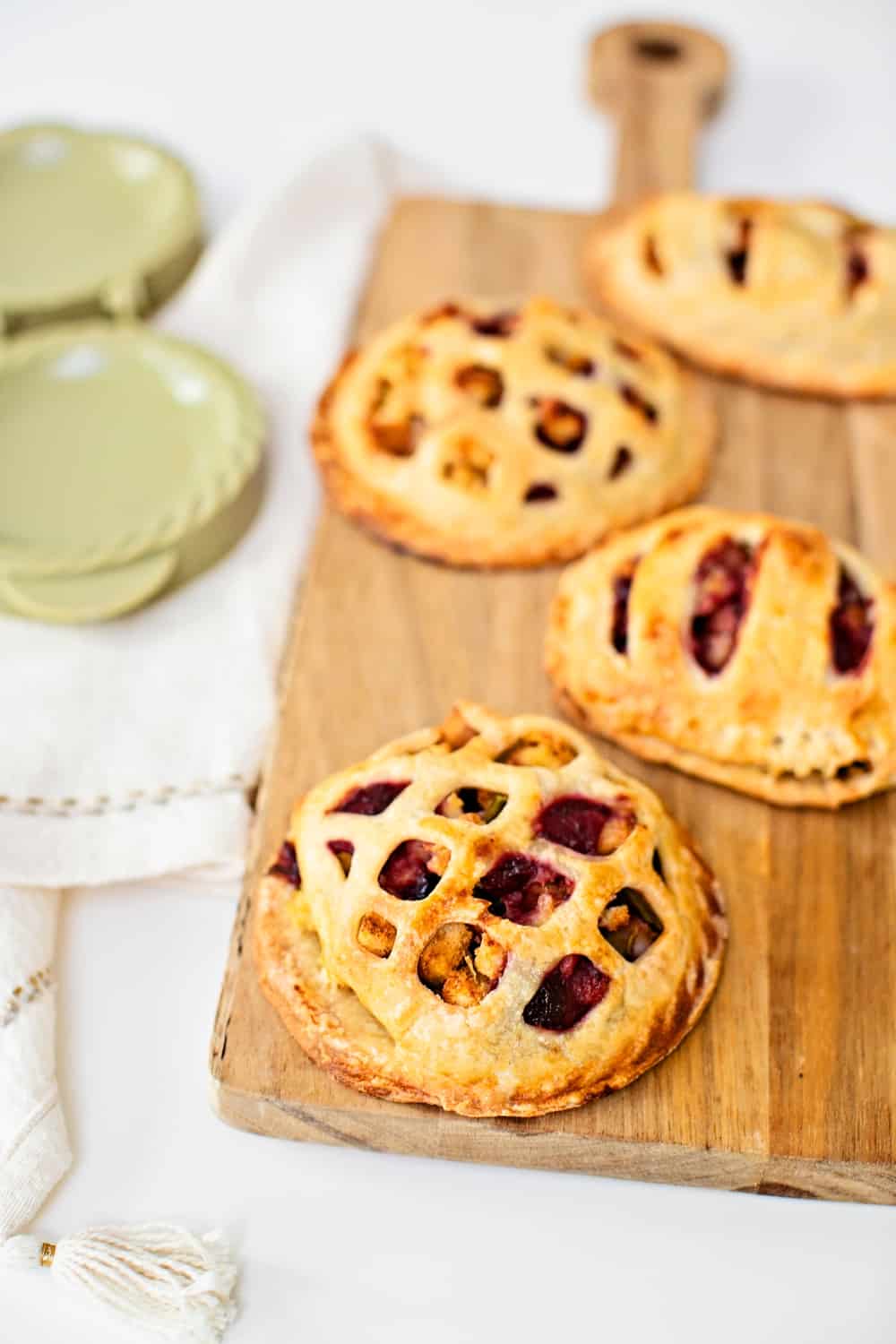 Thanksgiving Leftover Hand Pies – Ingredients:
Leftover stuffing, cranberry sauce and turkey
Store-bought refrigerated or frozen pie crust (two rounds, 16 oz total)
One egg (for egg wash)
Pie molds (optional)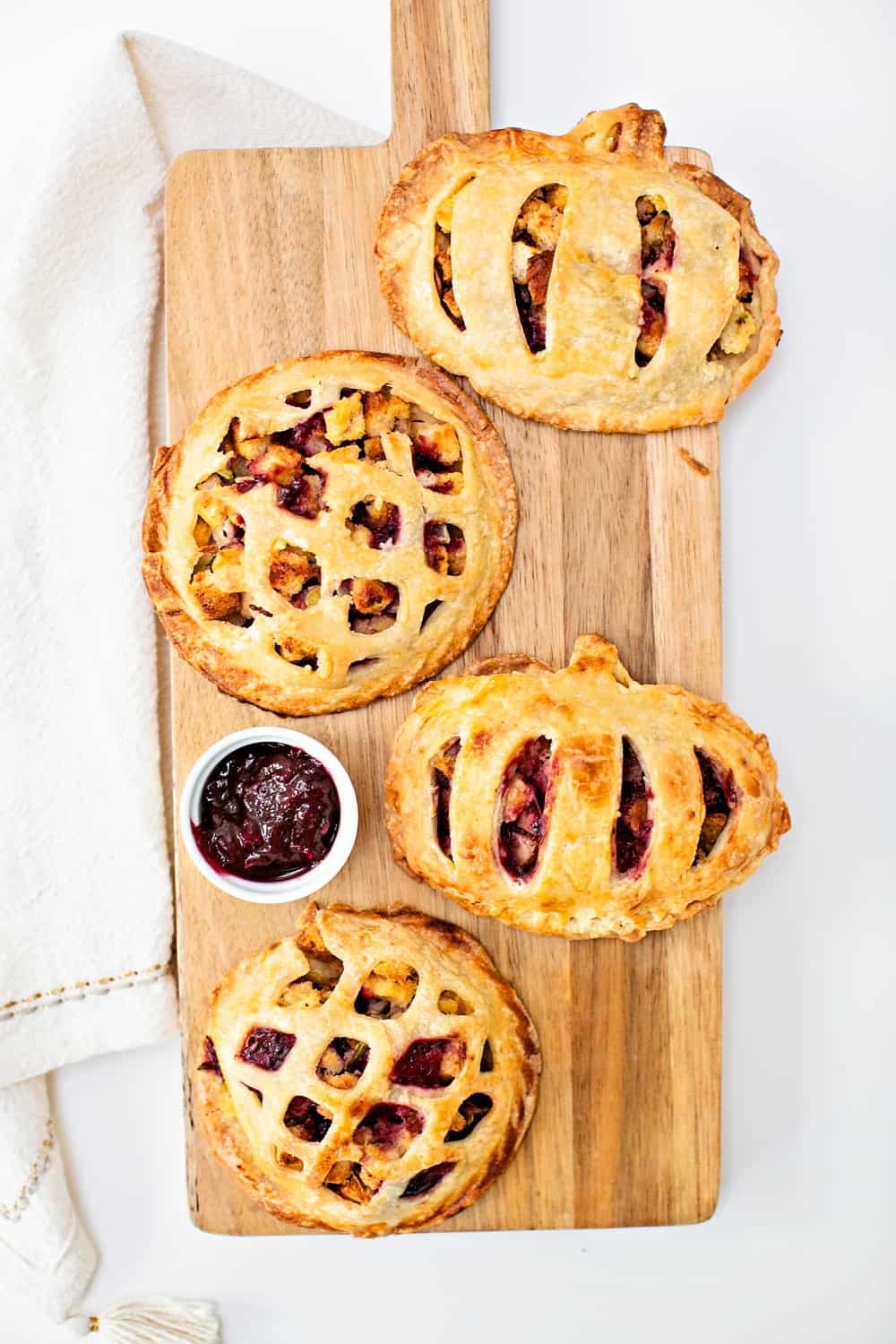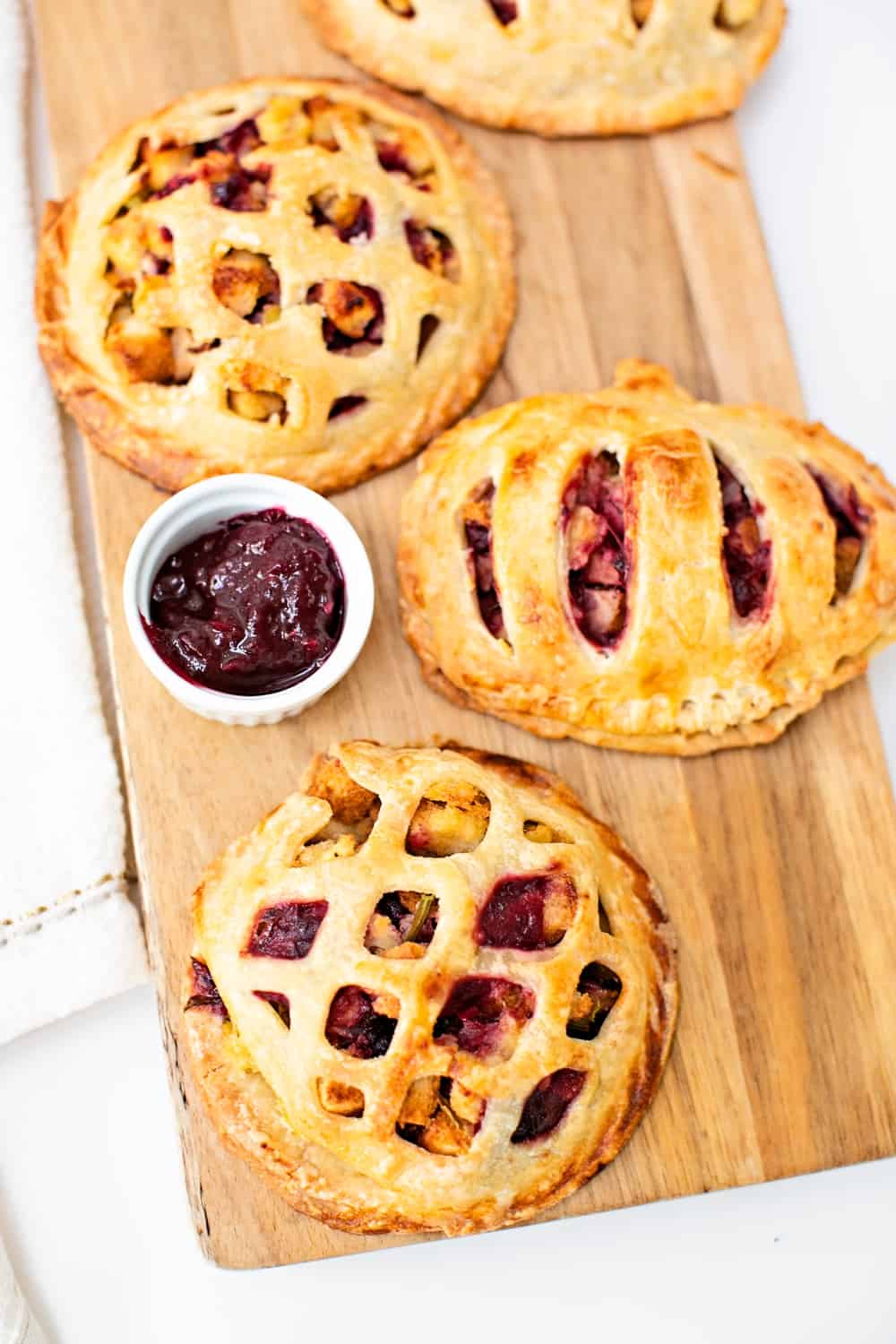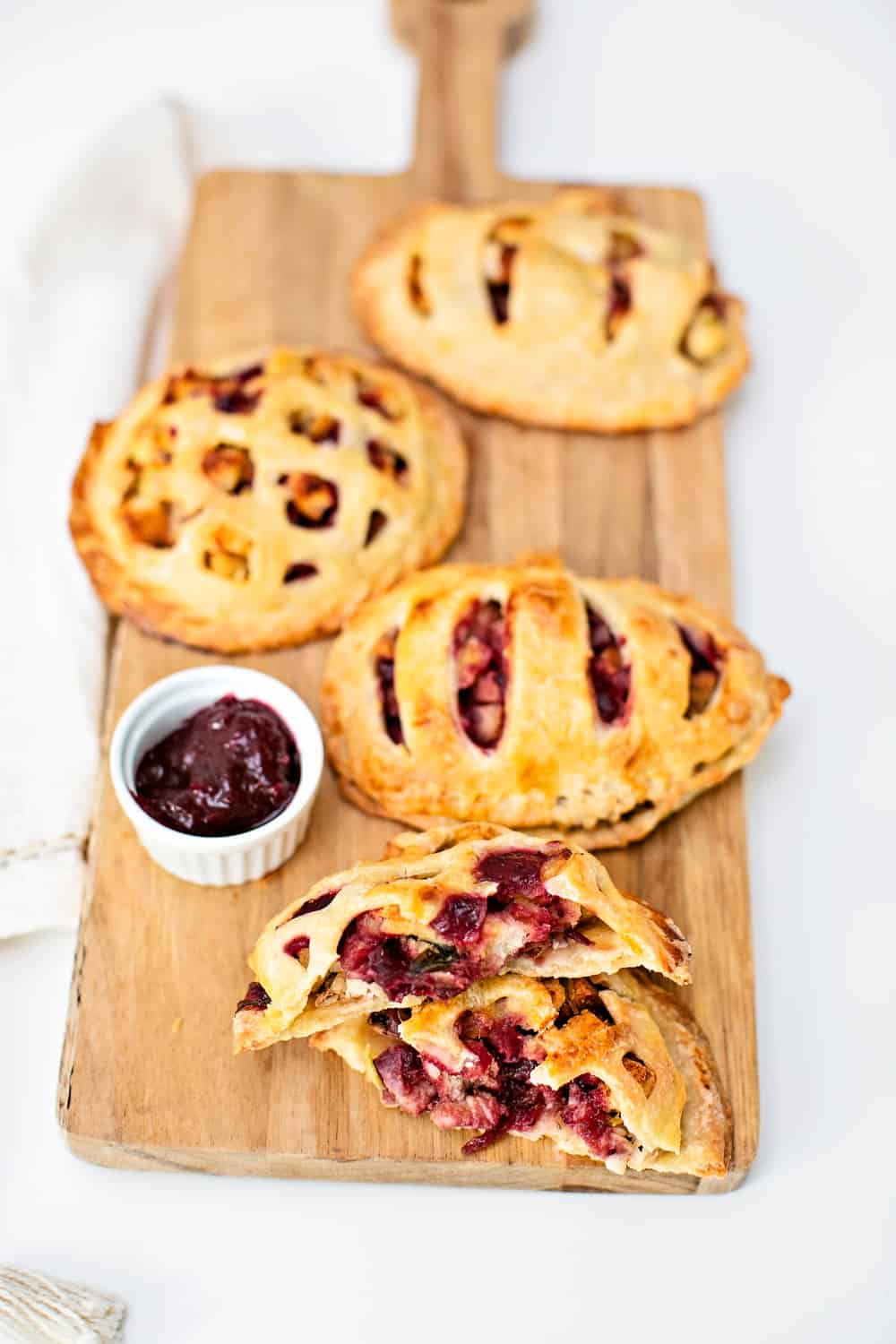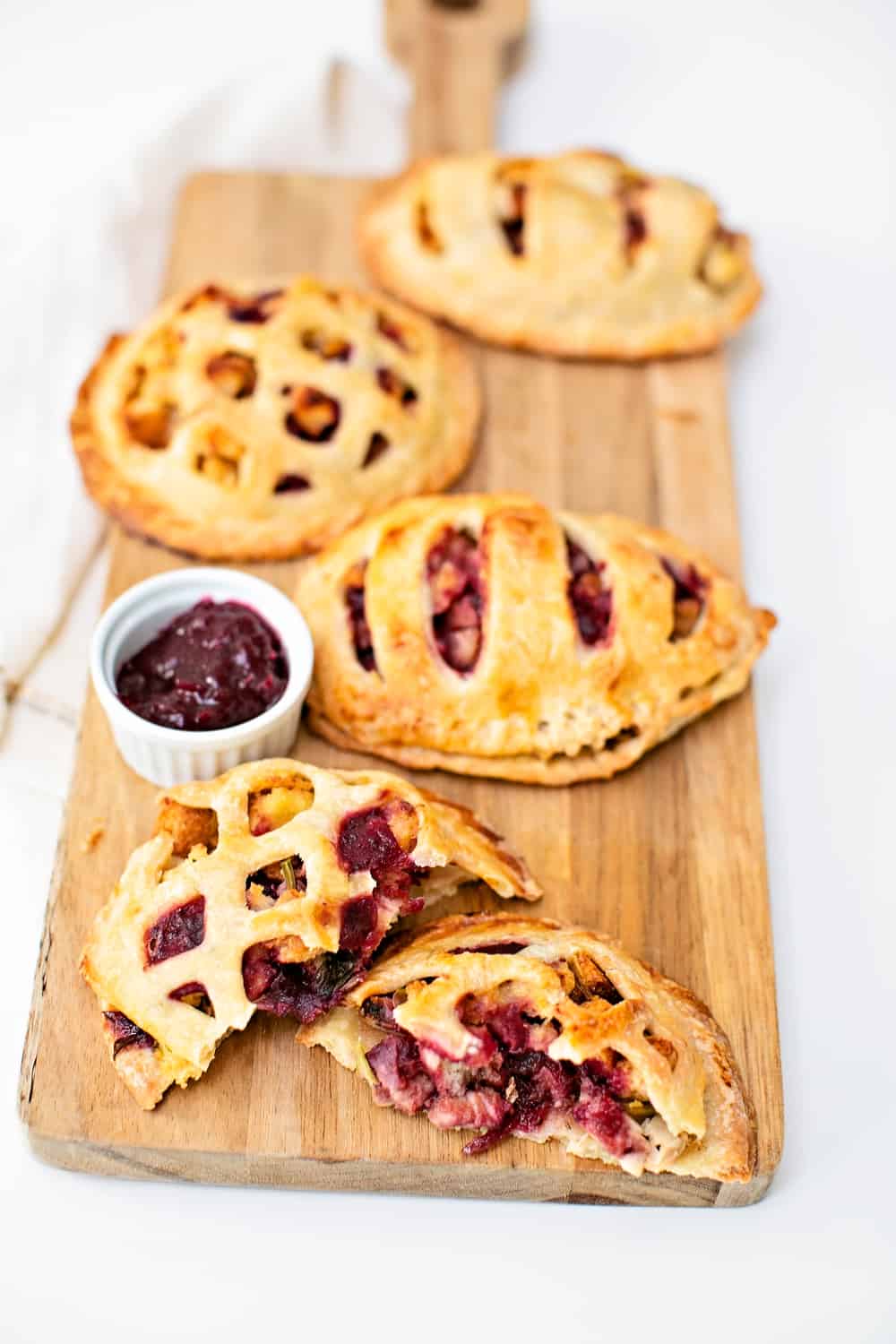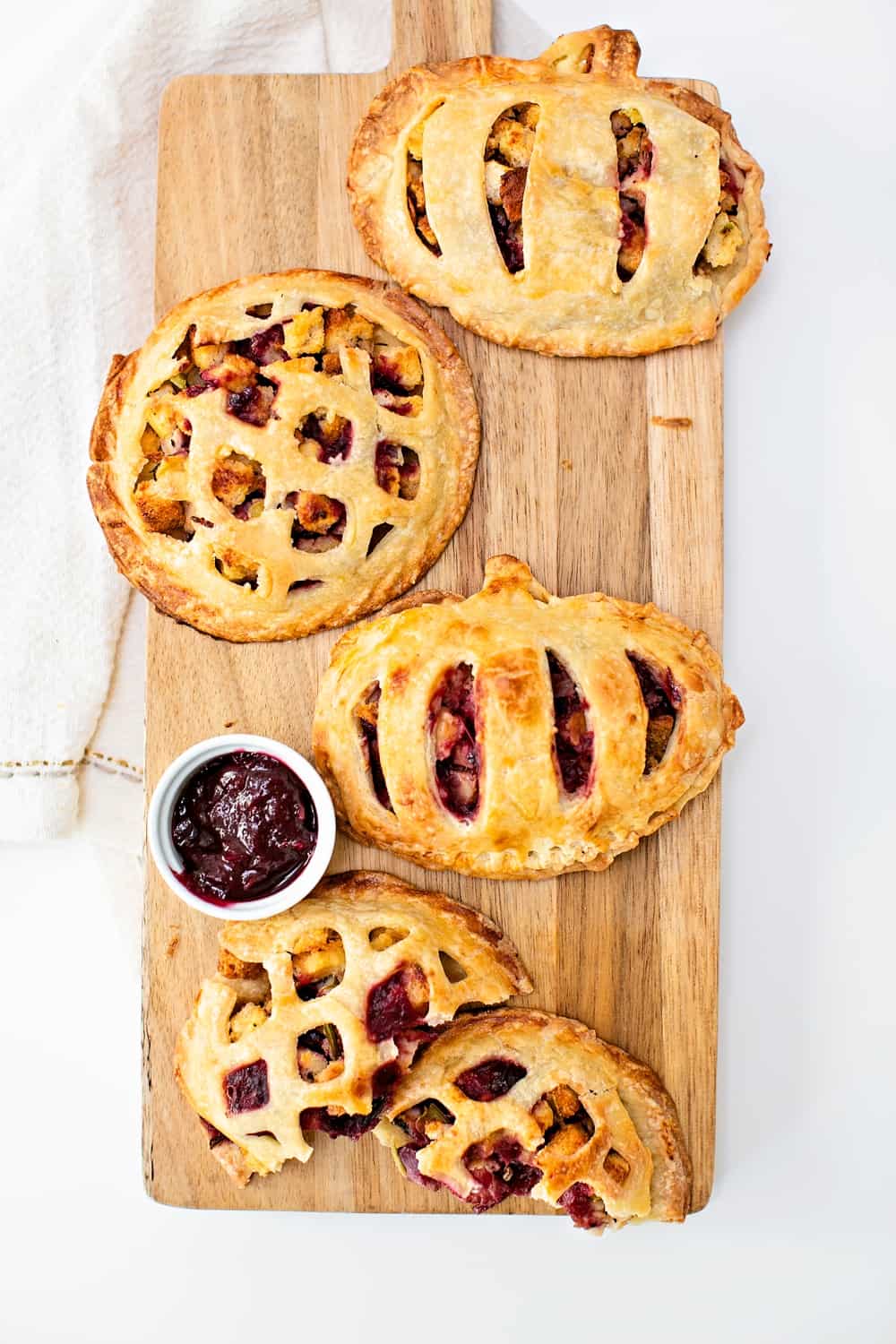 INSTRUCTIONS:
Watch the video in this post to see how to make these Thanksgiving Hand Pies.
Preheat oven to 375 degrees
Step 1. Roll out your pie crust rounds until they are 1/8″ thick.
Step 2. If using the pie molds follow the instructions on how to cut out the rounds and use the molds. If not using the molds, cut out approximately 4 inch circles of pie crusts.
Step 3. On one circle, add about 2 TBSP diced turkey, followed by a heaping TBSP of cranberry sauce, topped with 2 TBSP of stuffing and a bit more cranberry sauce to top off.
Step 4. Add another pie round over. If using the molds they have holes and are already pressed, you're ready to bake. If not using molds, crimp the edges with a fork, and make an X with a knife in the center to vent. Add the pies to a parchment lined baking pan.
Step 5. Mix an egg with a teaspoon or so of water and brush over the pie tops before baking.
Bake at 375 degrees for about 18-20 minute until the tops are golden brown. Let cool on the pan for at least 10 minutes before removing.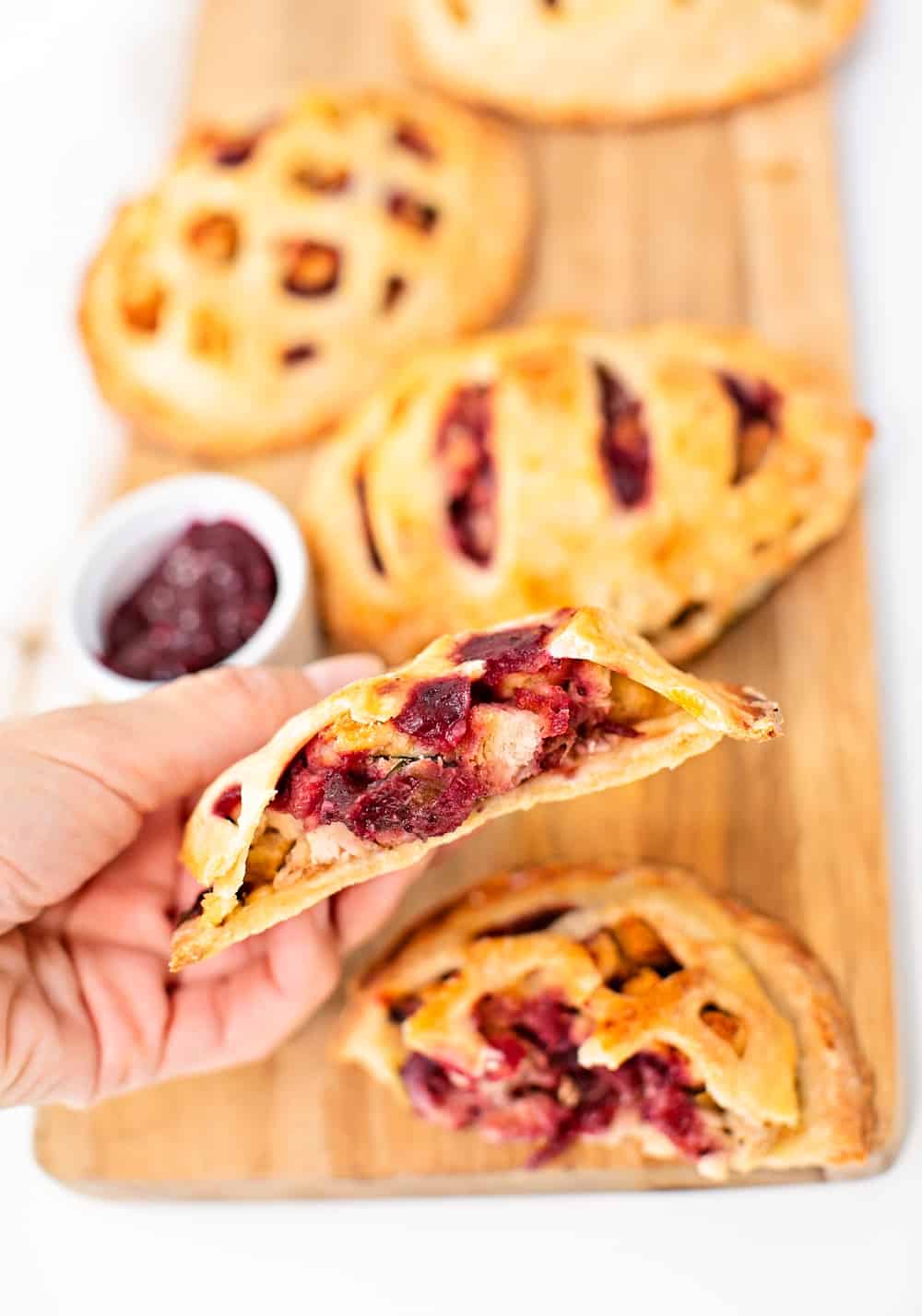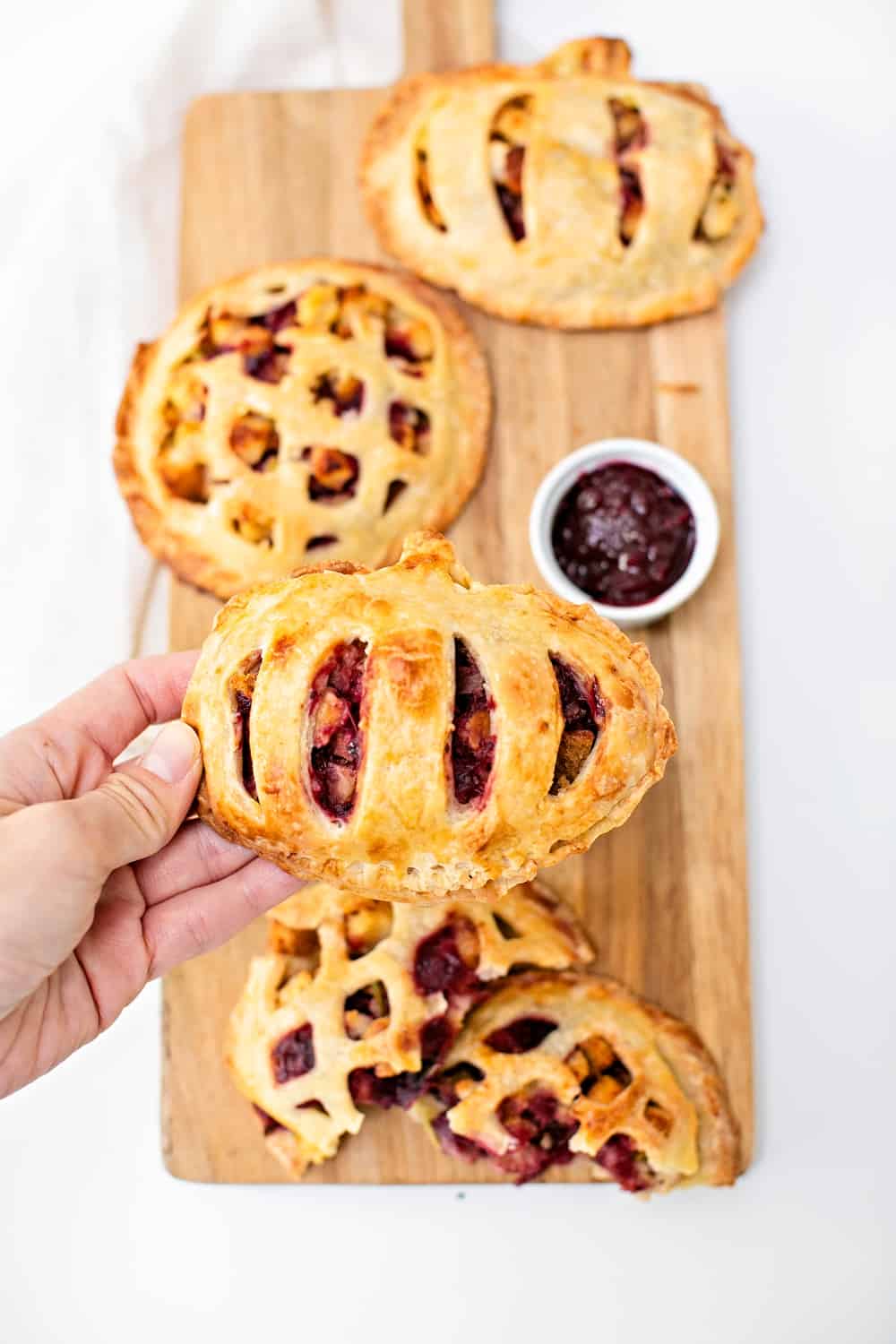 You Might Also Like: