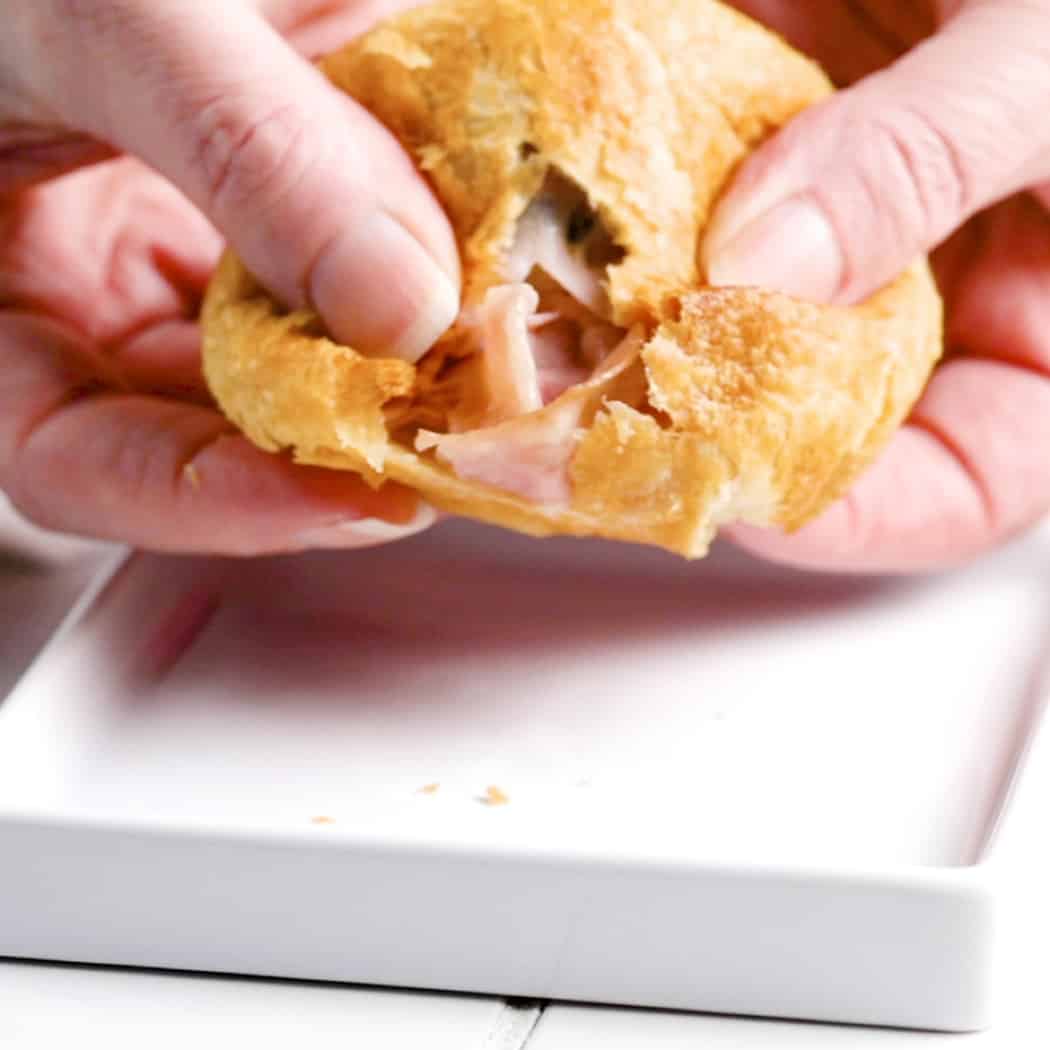 Follow us on Instagram for more fun food ideas for kids!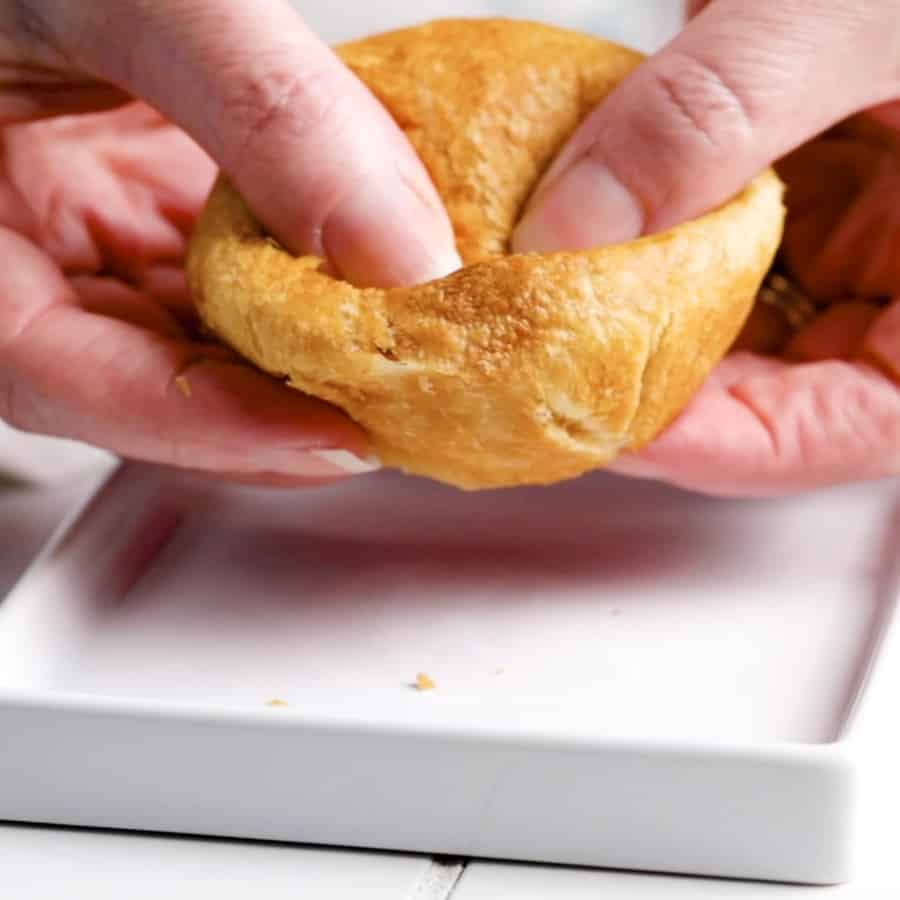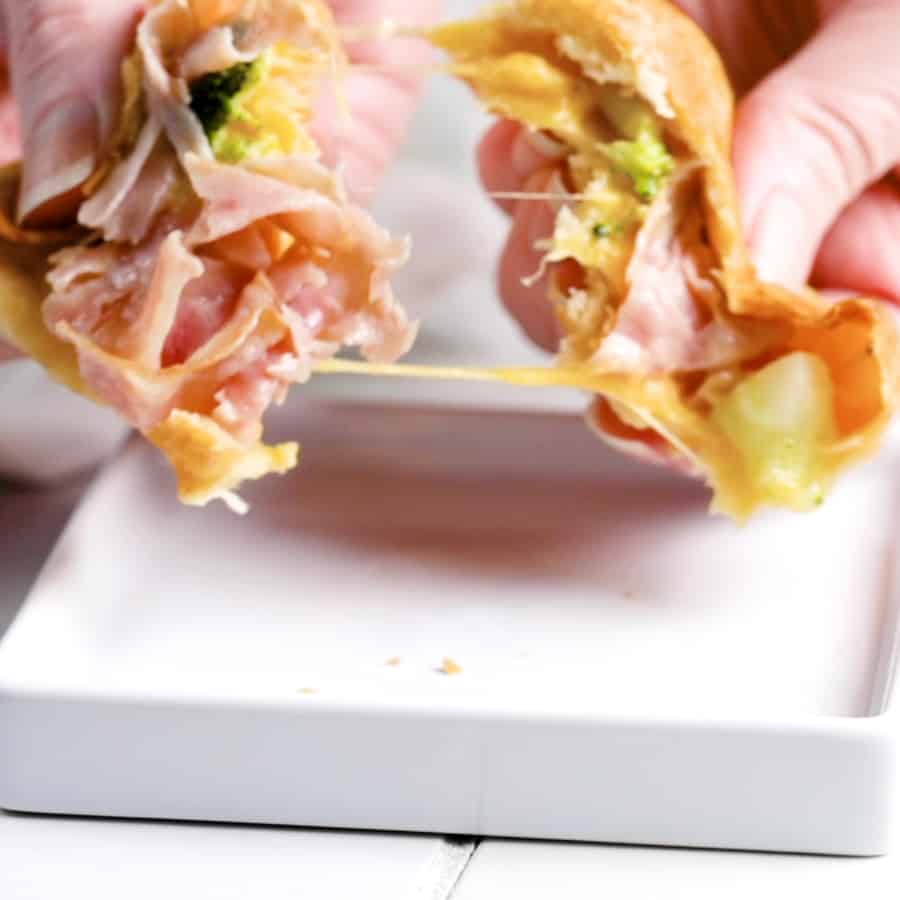 These Ham and Broccoli Cheddar Cheese Bombs just might be the easiest dinner recipe, ever.
It's no secret that finding easy dinner recipes as a busy mom is one of our top priorities, right? And while we might have visions of being able to create these beautiful and massive dinners, our reality is that sometimes, it just doesn't happen that way.
Quick dinners can still be delicious dinners and this ham and broccoli recipe proves that time and time again.
What I love most about this delicious dinner recipe is that it's so simple and easy to make. All you need are literally 4 simple ingredients and a very short amount of time to create.
The hardest part is probably opening up that can of dough, to be honest! (Seriously, when it "pops" it still scares me every single time!)
What I hope this recipe gives you is the confidence to realize that you can create a tasty bite-sized dinner without a ton of time. This is so simple that your older kids are even capable of creating this from start to finish with ease!
Since each of these little ham and broccoli cheddar bombs is individual, you can have little helpers working right along beside you every step of the way.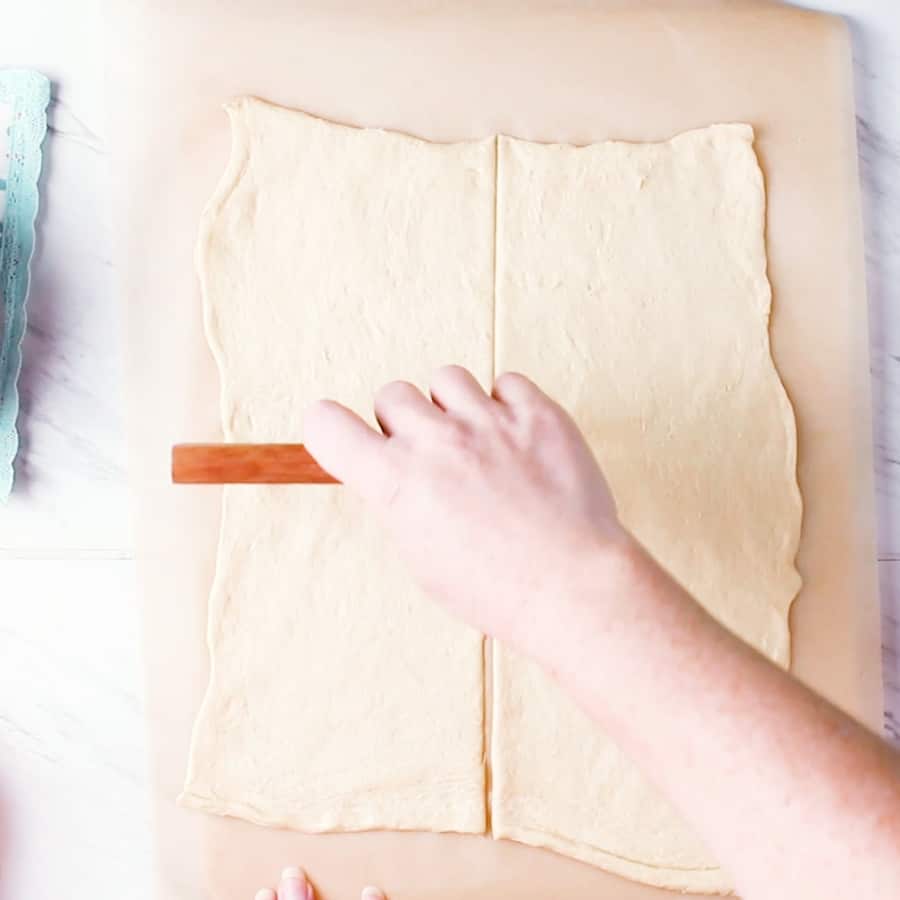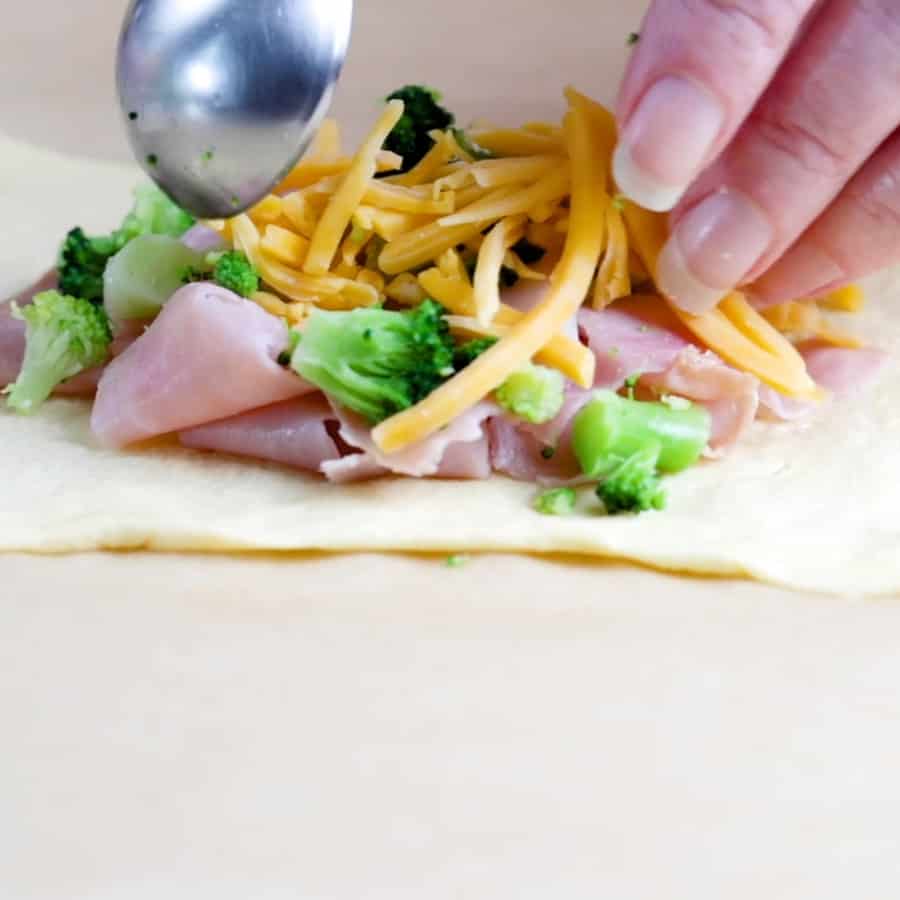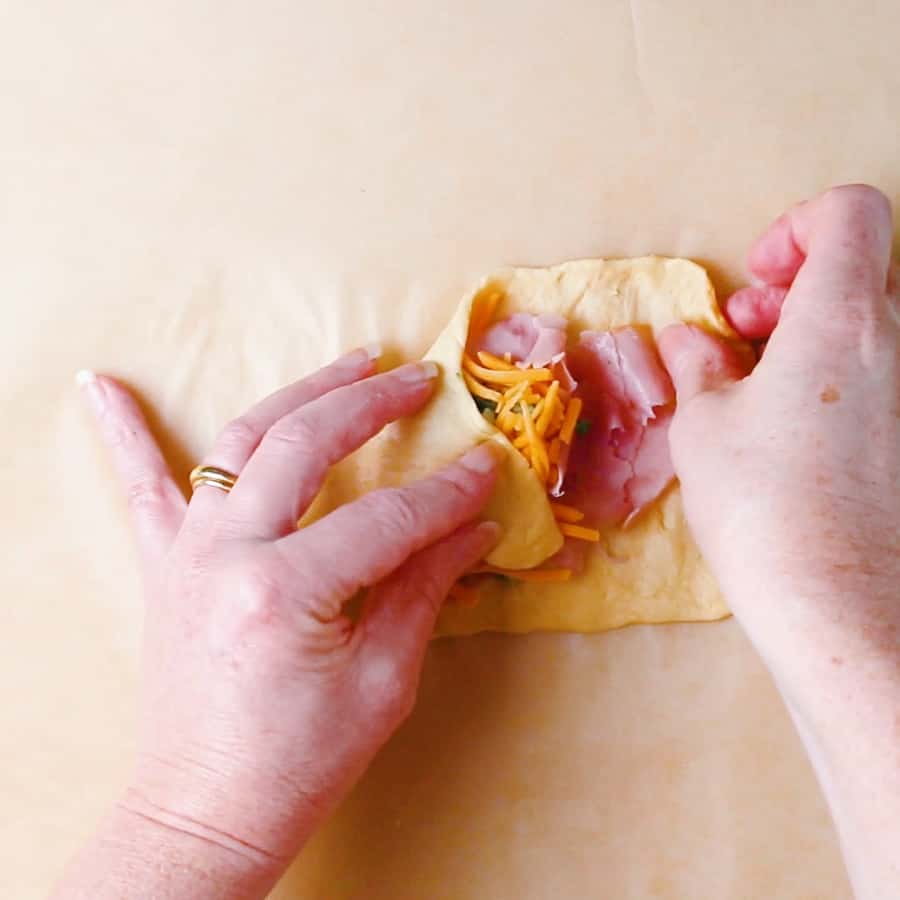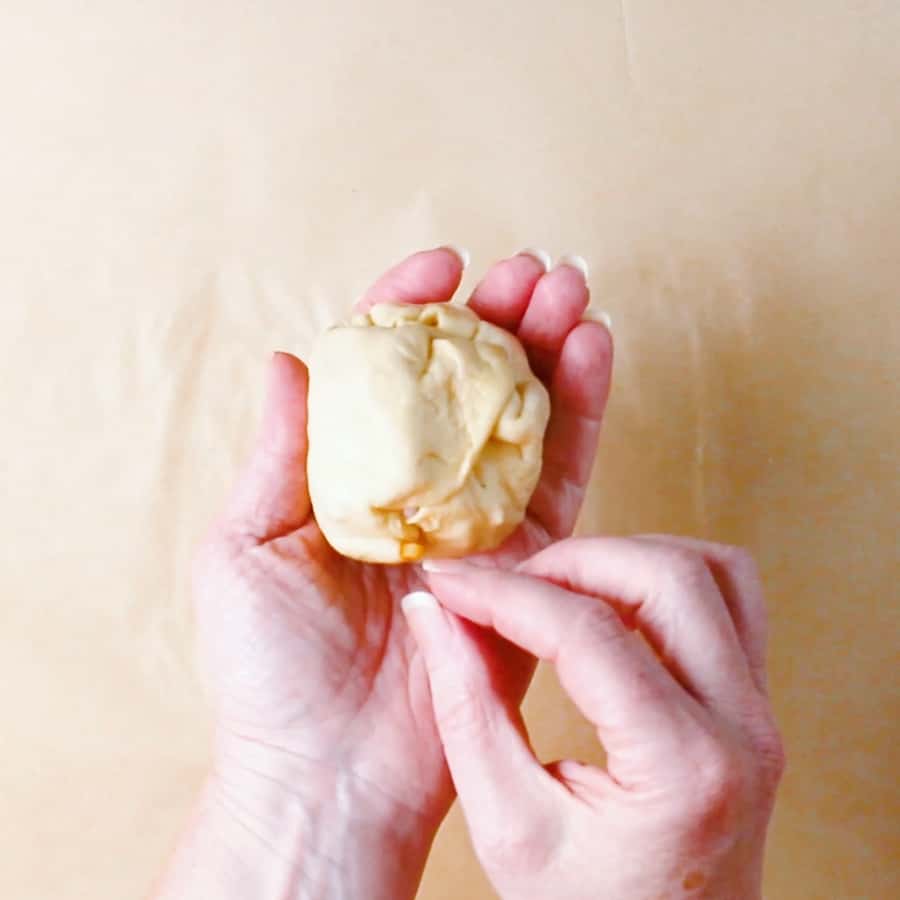 Can you use homemade dough instead of store-bought?
I haven't tried it, and I'm not quite sure that crescent dough is an easy dough to make. However, I do know pie crust dough from scratch is super easy and I bet these would taste delicious as pie wrapped balls, just make sure you roll them out thinly and be prepared for a much flakier curst.
You could also use store bought puff pastry dough and instead of bombs, make hand pies!
To be honest, I don't often find that I have the time to make everything purely from scratch these days, so this is why the store-bought dough really works well for me. If you try it with homemade dough, please let me know how it goes!
How long do you cook these ham and cheese bomb bites in the oven for?
The time on this will vary, so you'll want to make certain that you keep a close eye on it. You're going to want to pull them from the oven once they turn a golden-brown color, so I would say that would be anywhere from 7-8 minutes after you've put them in the oven.
Make sure to scroll down to watch the video below to see how we made these delicious Ham and Broccoli Cheddar Cheese Bombs!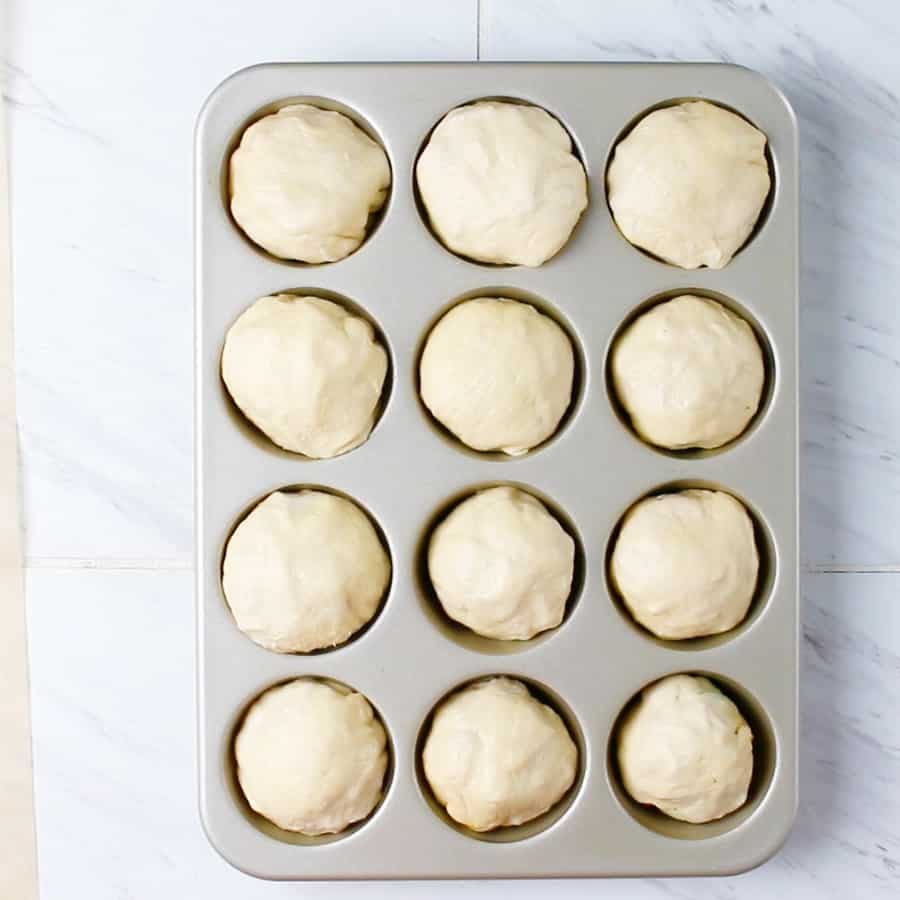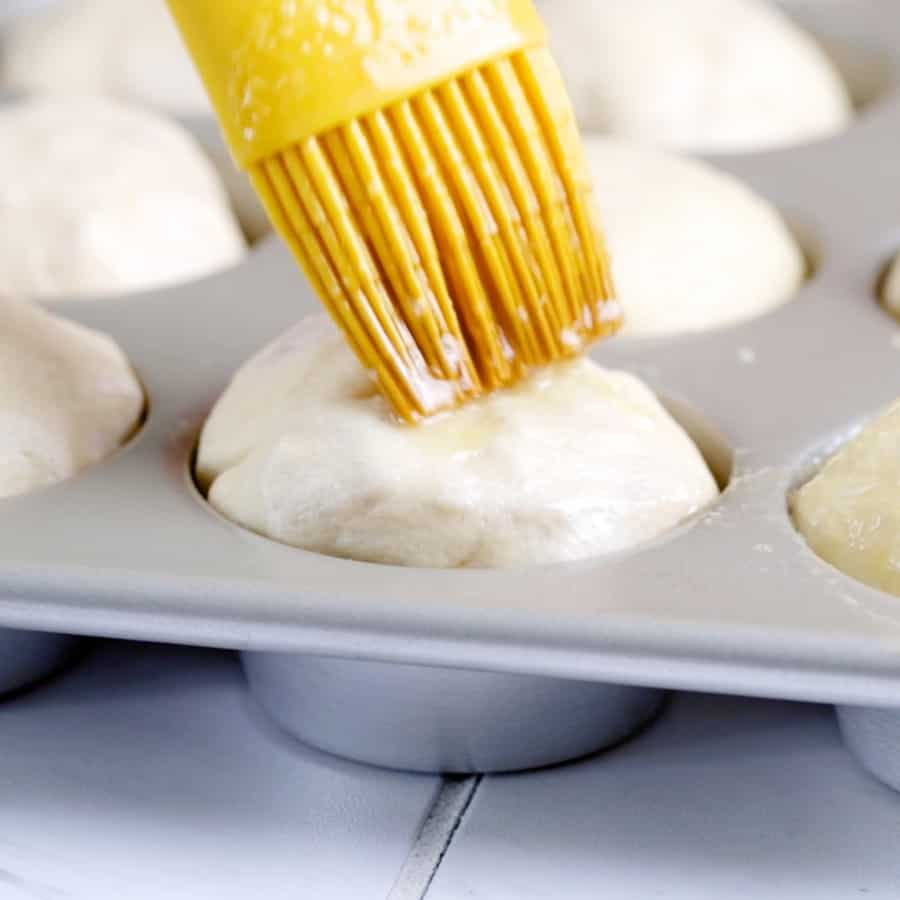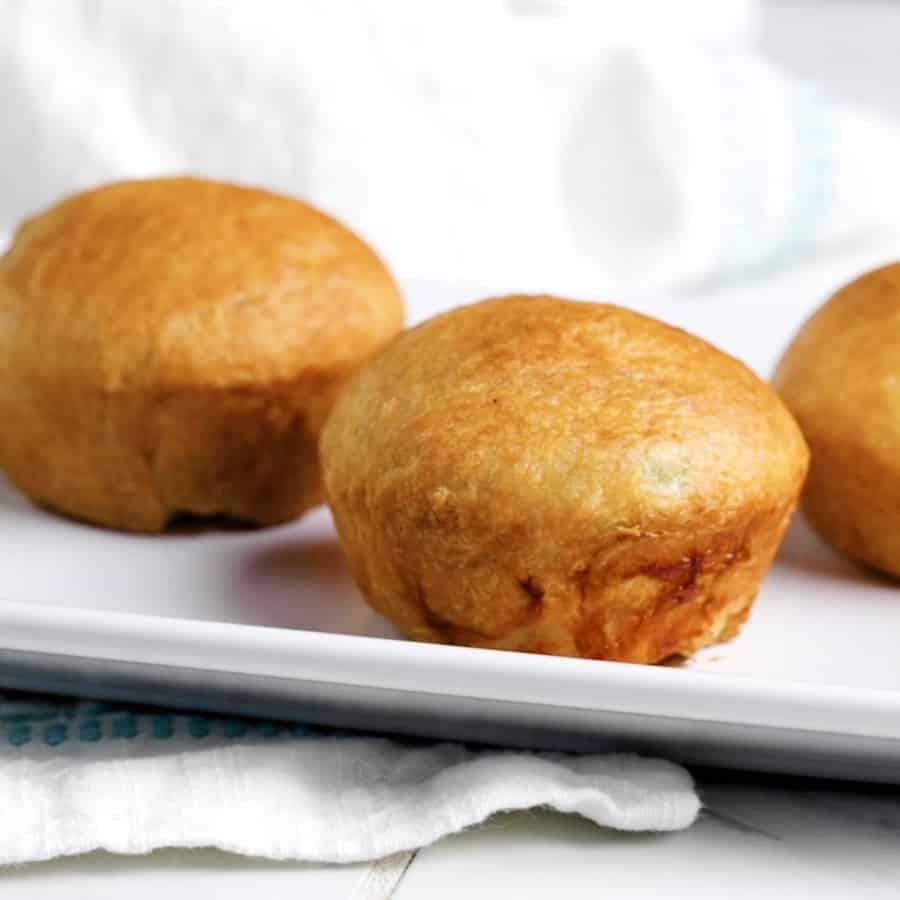 Ham and Broccoli Cheddar Bombs – Ingredients
Store Bought Refrigerated Crescent Dough

Shredded Cheddar Cheese

Thin Deli Sliced Ham

Broccoli

Melted butter, garlic powder (for brushing tops)

Chives for garnish
When I said that this recipe is super simple, I meant it! With these 4 ingredients, you can easily create a tasty lunch, dinner or after-school snack!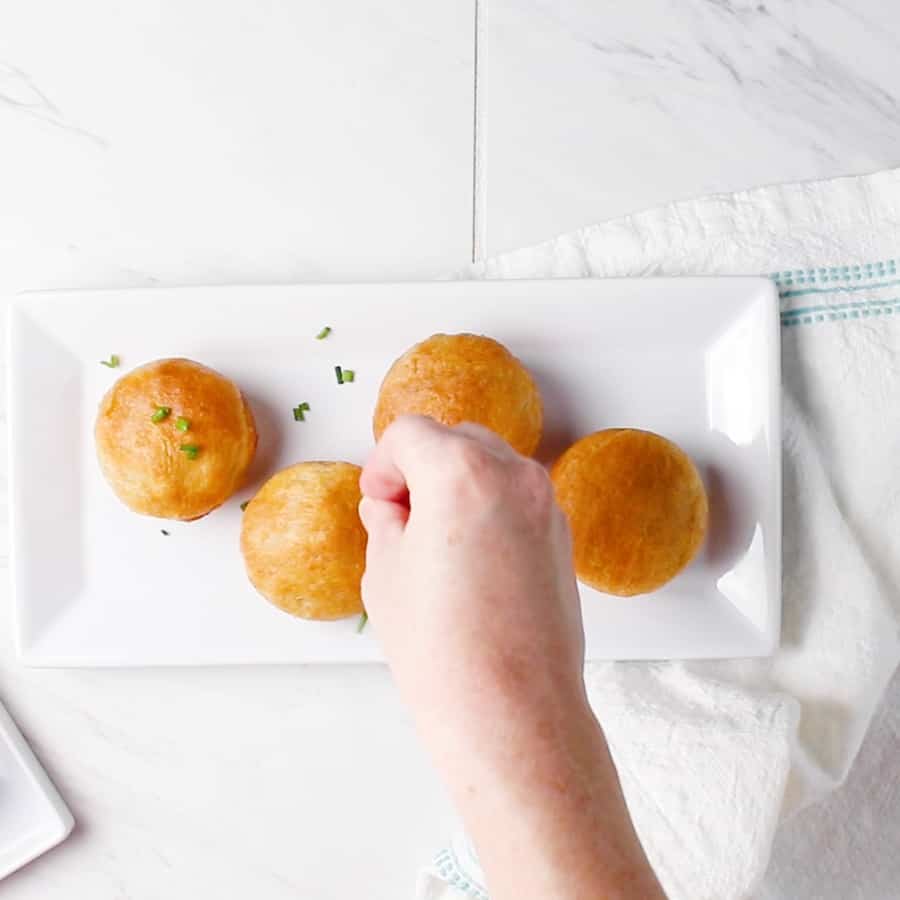 How do you reheat these Ham and Broccoli Cheddar Bombs?
If you happen to have any leftover, you can easily reheat them in the microwave. I recommend putting them in for 15-20-second intervals that way you don't get the insides too hot.
And if you're worried that you have them too hot once reheated, break them apart a bit and let some of that heat out. That way you don't take the chance of little mouths getting burnt.
I know my kids always request me to do this just to be certain that they don't take the chance of getting burnt!
These would make great leftovers for the next day for lunch. Although they can be eaten cold, they do taste much better warmed up so I wouldn't pack them for school lunch unless your kids don't mind eating these cold.
More dinner recipes to try: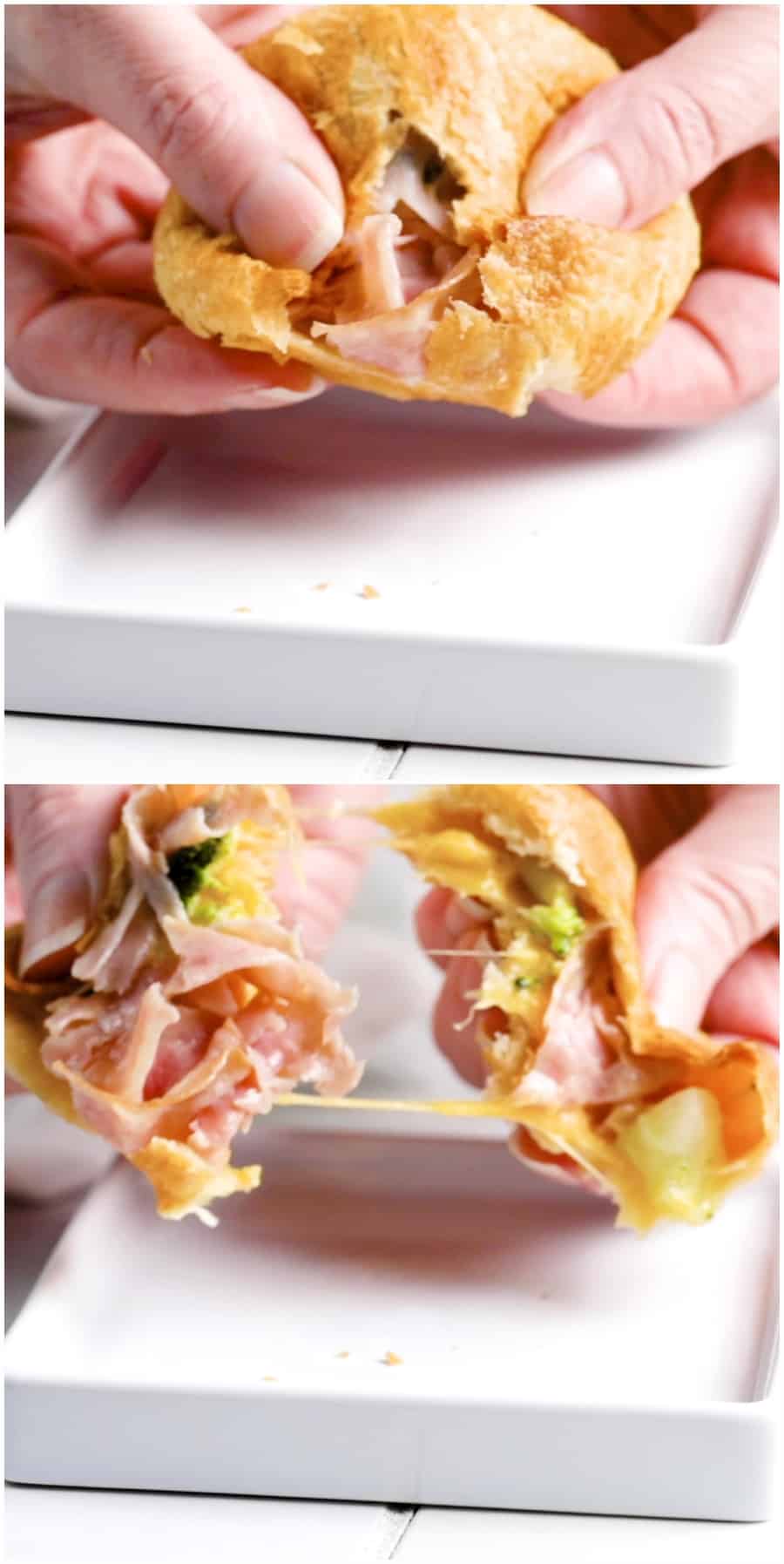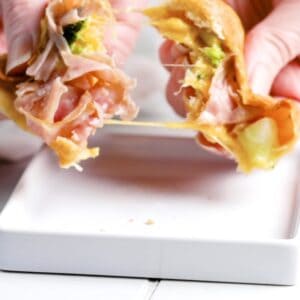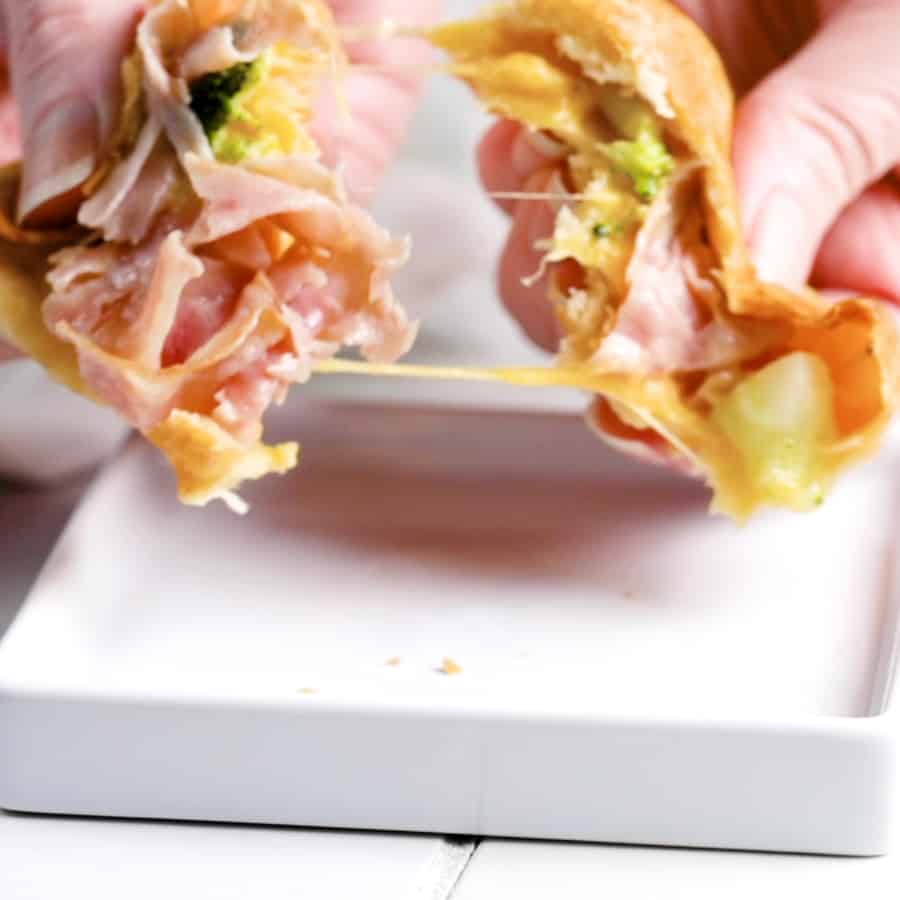 Ham and Broccoli Cheddar Cheese Bombs
These Ham and Broccoli Cheddar Cheese Bombs just might be the easiest dinner recipe, ever.
Ingredients
2

Tubes

Pillsbury Crescent Sheets

16

Slices

Thin deli ham

16

TBSP

Shredded cheddar cheese

16

TBSP

Finely chopped steamed broccoli

3

TBSP

3 Tbsp melted butter

1

TSP

Tsp garlic powder

Chopped chives for garnish
Instructions
Preheat oven to 375 degrees. Unroll crescent dough tubes and divide into 16 even square-ish pieces.

For each piece, stretch the squares out before filling, add 1 slice deli ham, 1 Tbsp finely chopped broccoli, 1 Tbsp shredded cheddar cheese.

Pull 4 sides of dough to cover and then pinch all into a ball.

Grease muffin tin with melted butter and add your bombs seam side down

Repeat to make all the bombs.

Before placing in oven, add 1 tsp garlic powder to your remaining melted butter and brush tops of bombs.

Bake for 15-20 minutes or pull out when tops are brown.

Garnish with chopped chives.

Video