Follow us on Instagram for more fun food ideas for kids!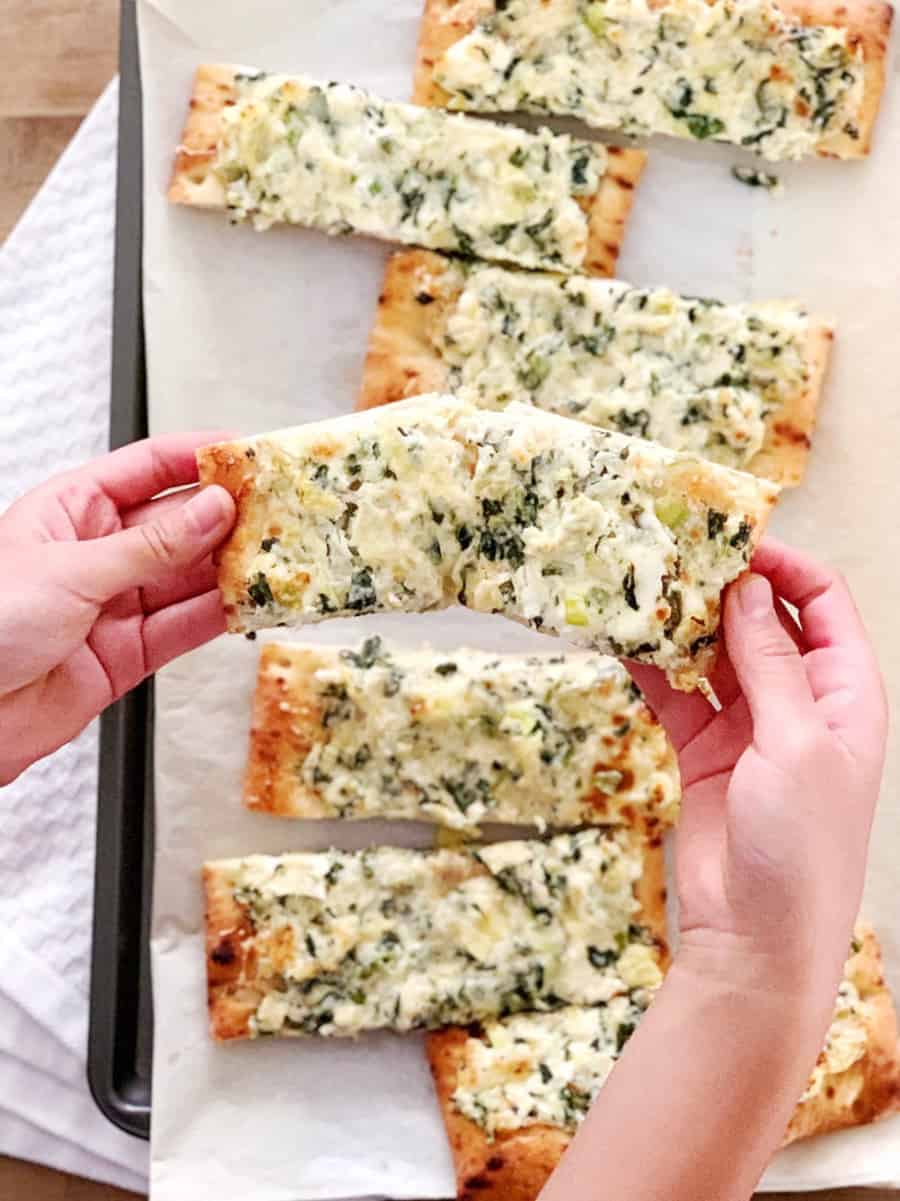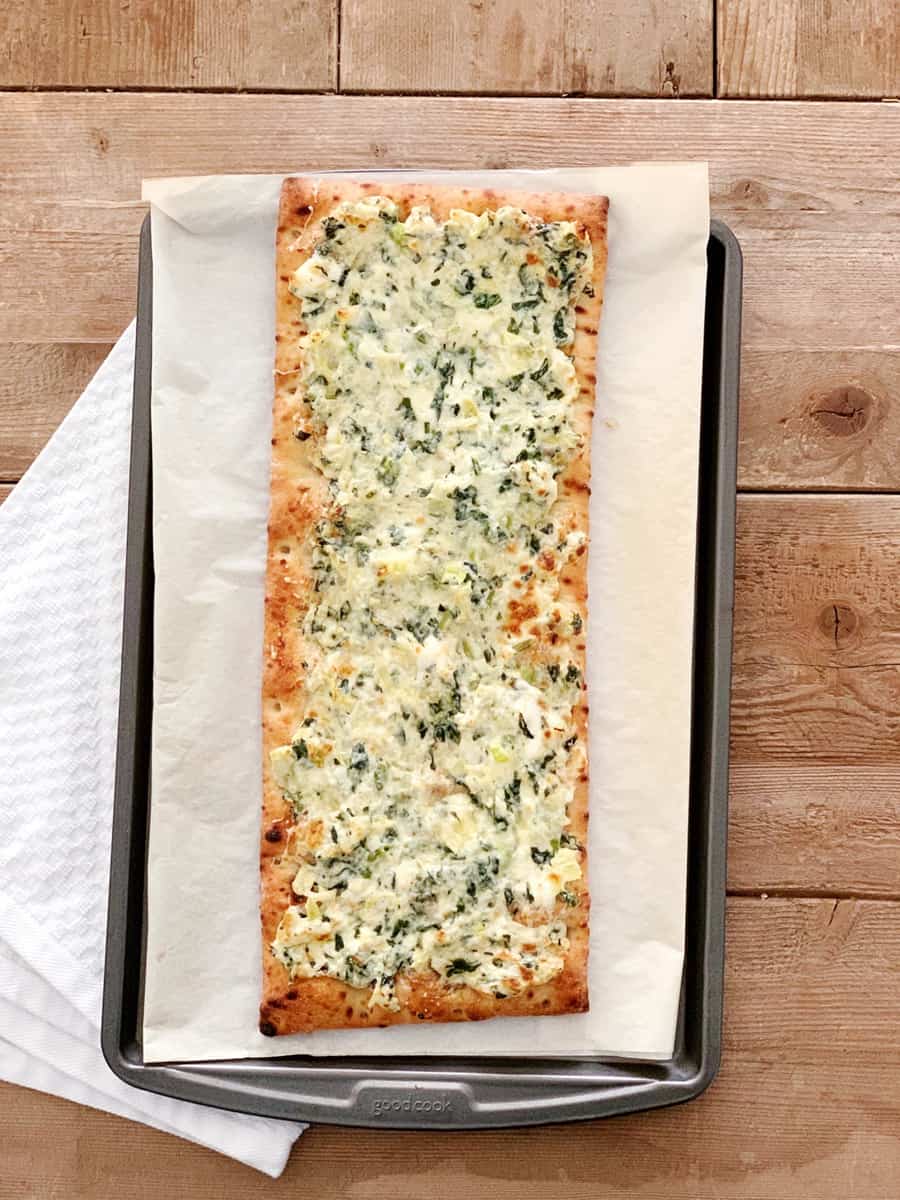 Who else always orders spinach artichoke dip when eating out? It's one of my favorite appetizers and surprisingly easy to make at home. I usually bake it then serve it inside a hollowed out sourdough bread bowl or crackers.
Turn your favorite dip into Spinach Artichoke Dip Pizza for a yummy dinner kids and adults will love!
The lightning bolt struck that it would be great as a pizza. No need for the crackers or bread – it's an all-in-one recipe!
Seriously so good and what was once an appetizer has now became our favorite spinach artichoke dip pizza dinner.
We love using Trader Joe's ready made pizza crust for this (heads up, they ALSO have a great spinach artichoke dip)!
The crust is already pre-baked and comes with two large rectangular flats so it serves a lot (or save for leftovers) and doesn't take long to bake at all. The thin size makes it tastes like a flatbread pizza. So good and versatile for any toppings, really. It isn't the least bit oily – a problem I sometimes find with pizza when we go out for it.
We used the same crust on our Rainbow Glitter Pizza if you want to see a variation.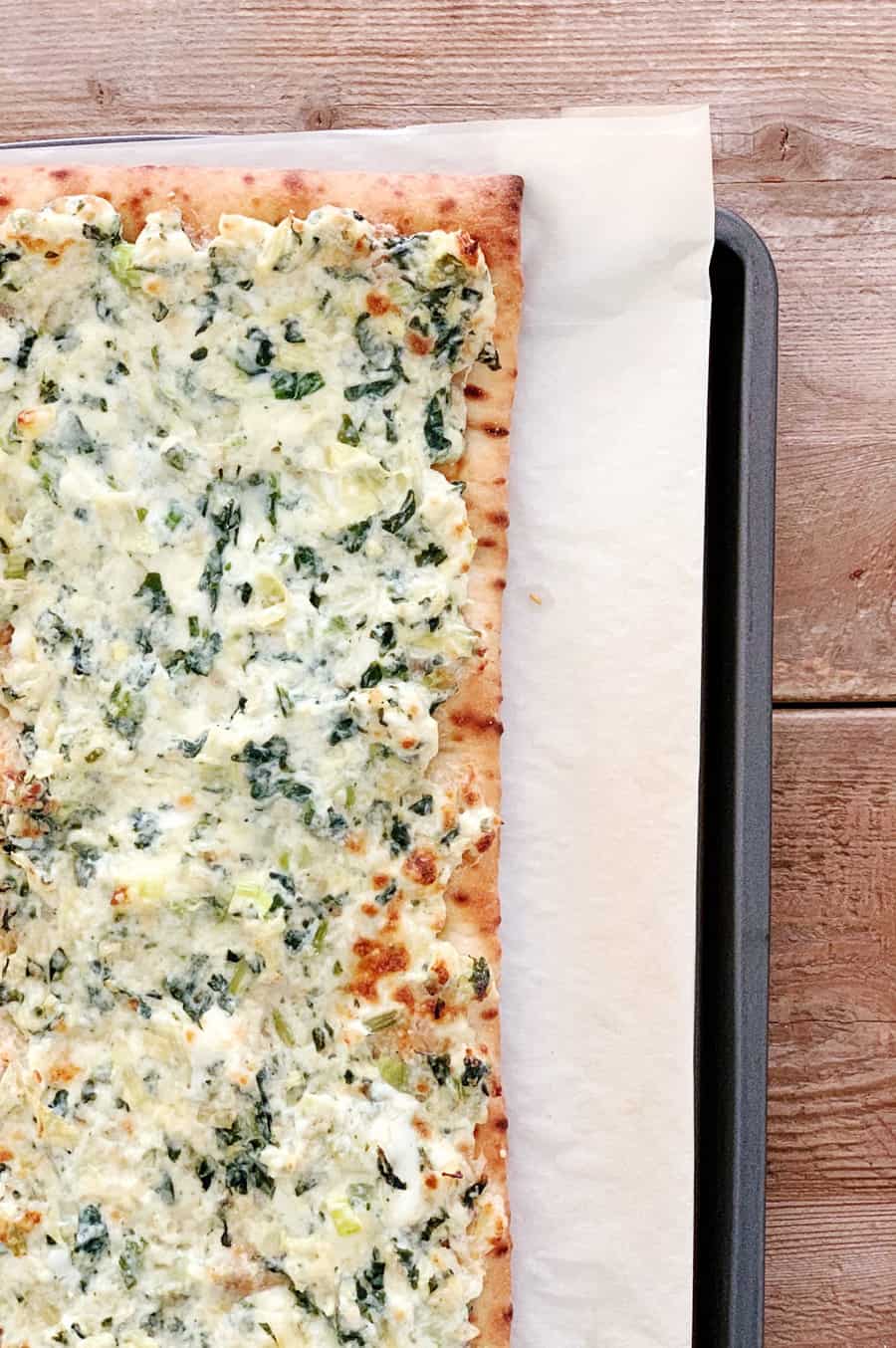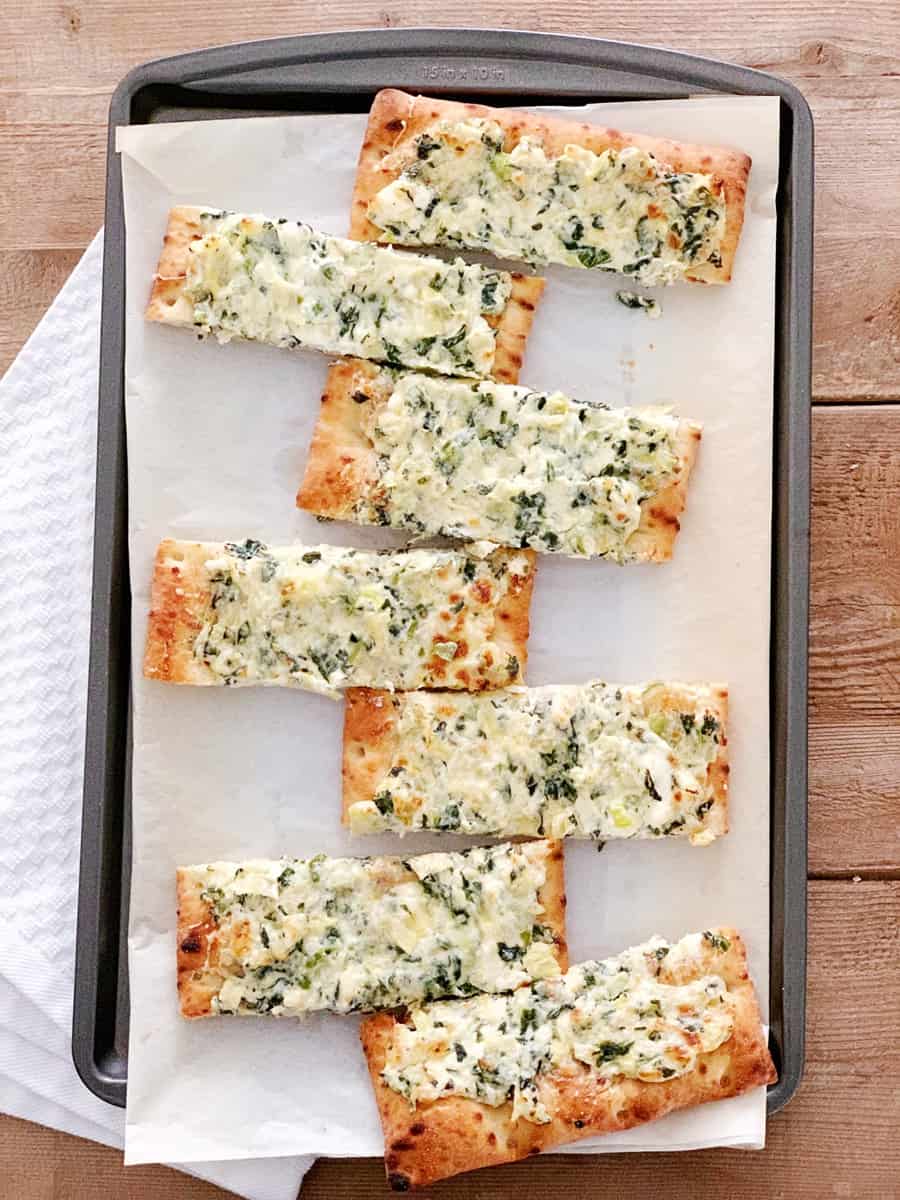 For the spinach artichoke dip, we adapted this recipe. The major changes was adding a second type of cheese, Gruyere, which tastes so good melted as a dip, and increasing the spinach considerably to cut down the creaminess, and increase the greens. We also added more garlic and some green onions (scallions) for a sweet, mild onion flavor.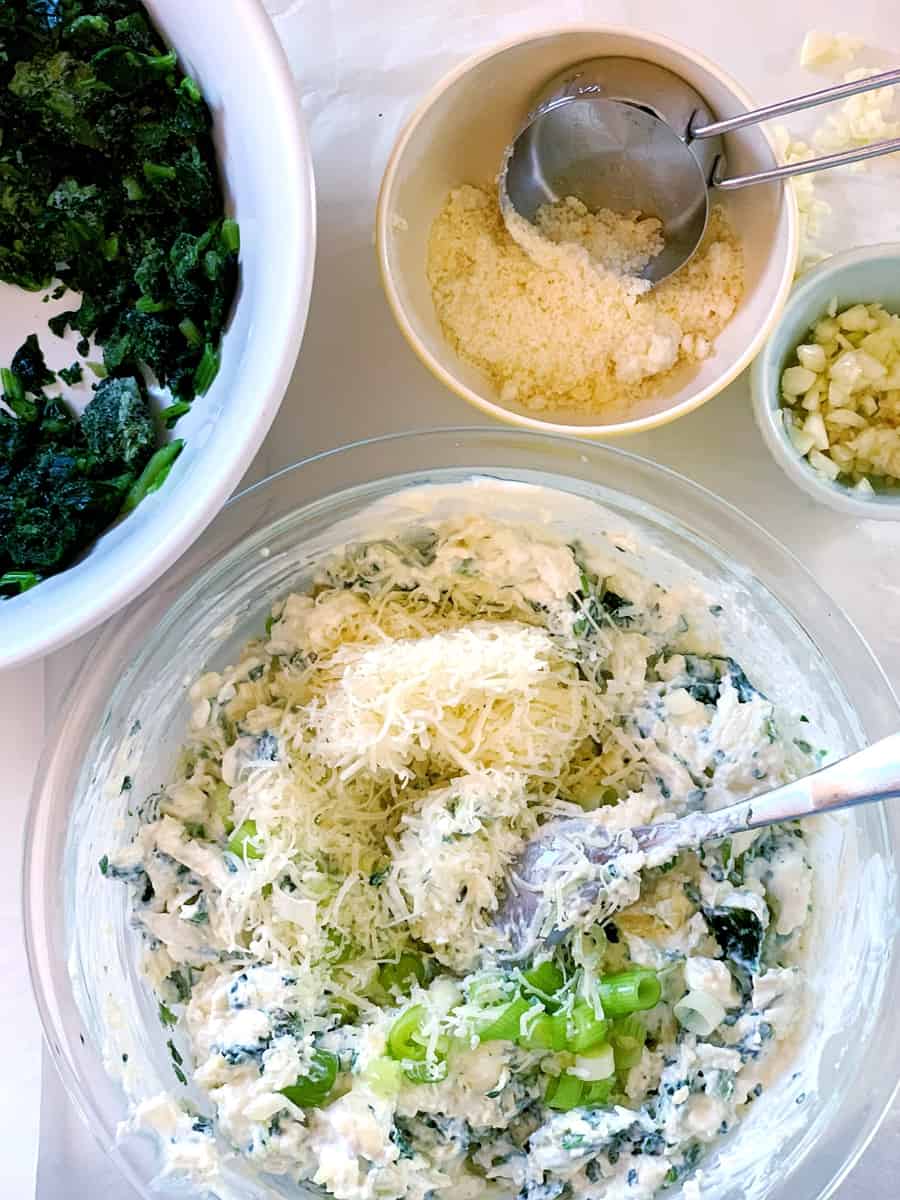 With lighter ingredients and the substitution of more spinach for less cheese, you can create an extremely healthy and satisfying alternative to the original dip/sauce. Simple substitutions are actually an easy way to make any dip a little more nutritious. Low-fat, high-protein ingredients yield a healthier spinach dip that you can use as your pizza sauce without compromising the taste – creating a fun variation on normal pizza, or a much healthier alternative to "white" pizzas (that tend to have a ranch dressing sauce base).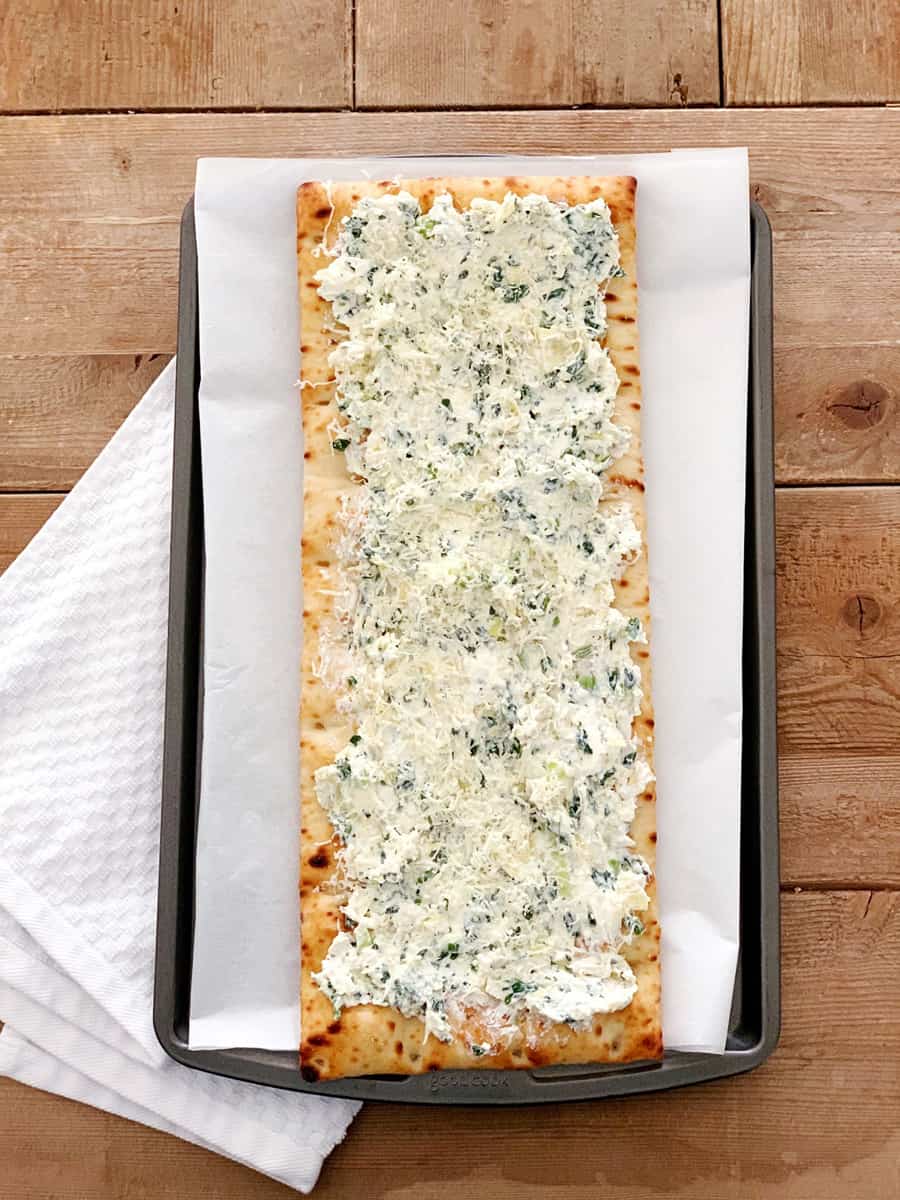 Want to include even more protein to your pizza? Try adding a layer of hummus, or substituting a thick, plain greek yogurt for a portion of the cheese. These simple substitutions and additions can pack in almost 20 extra grams of protein.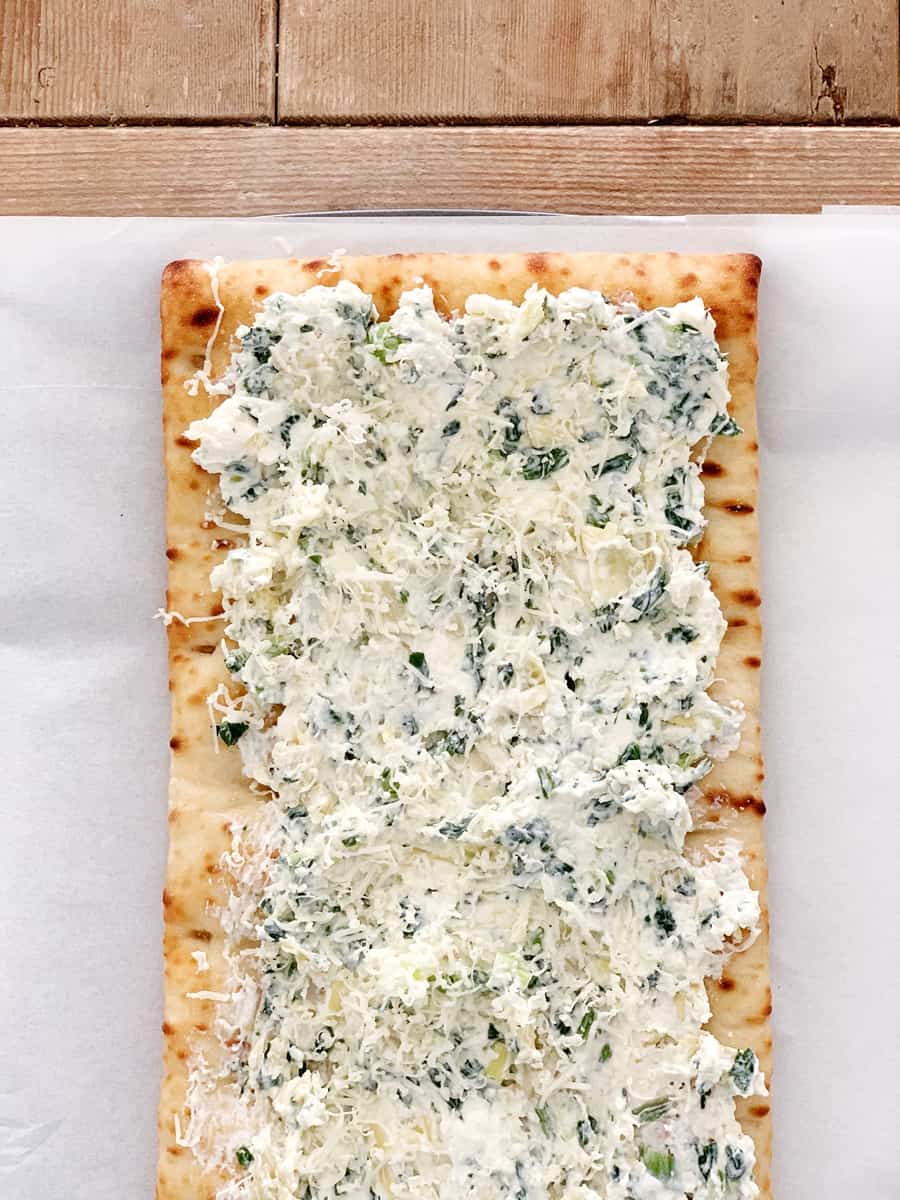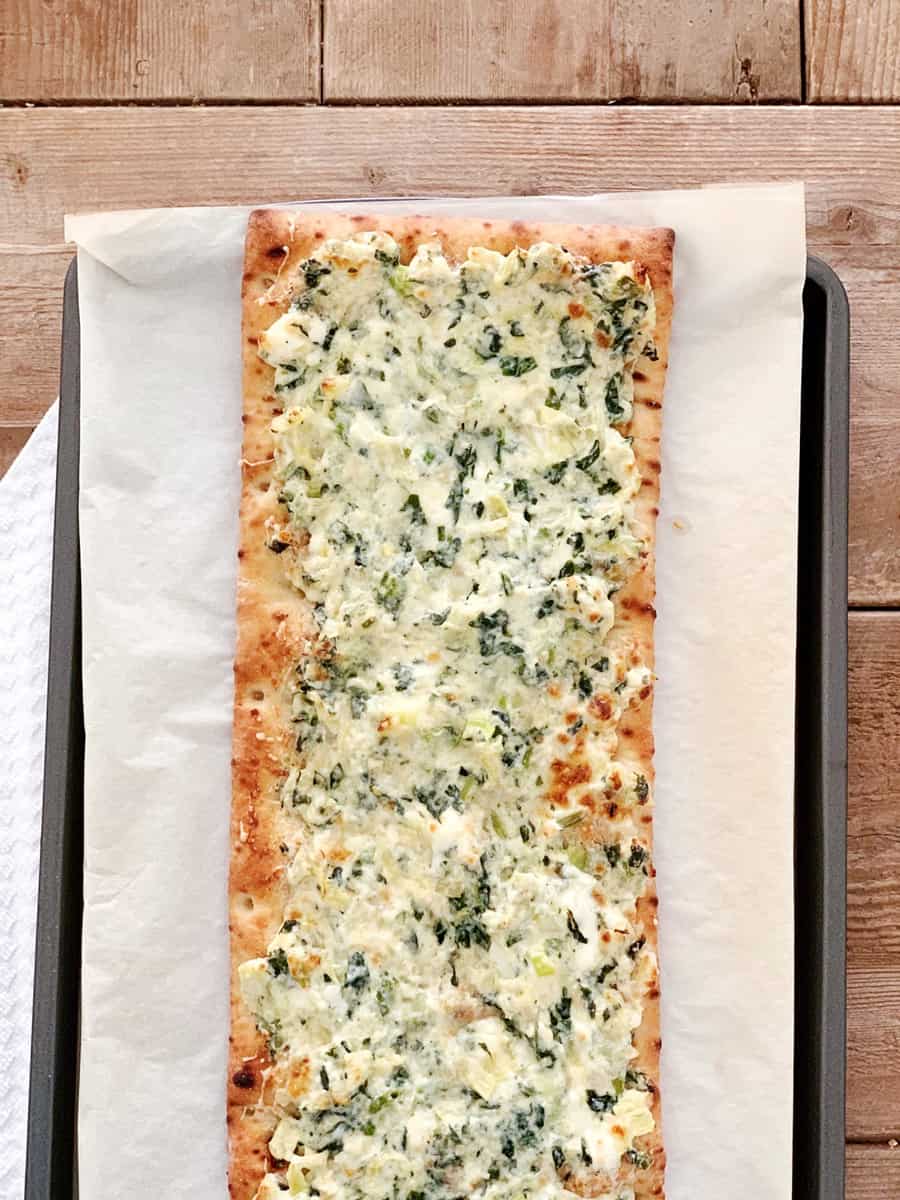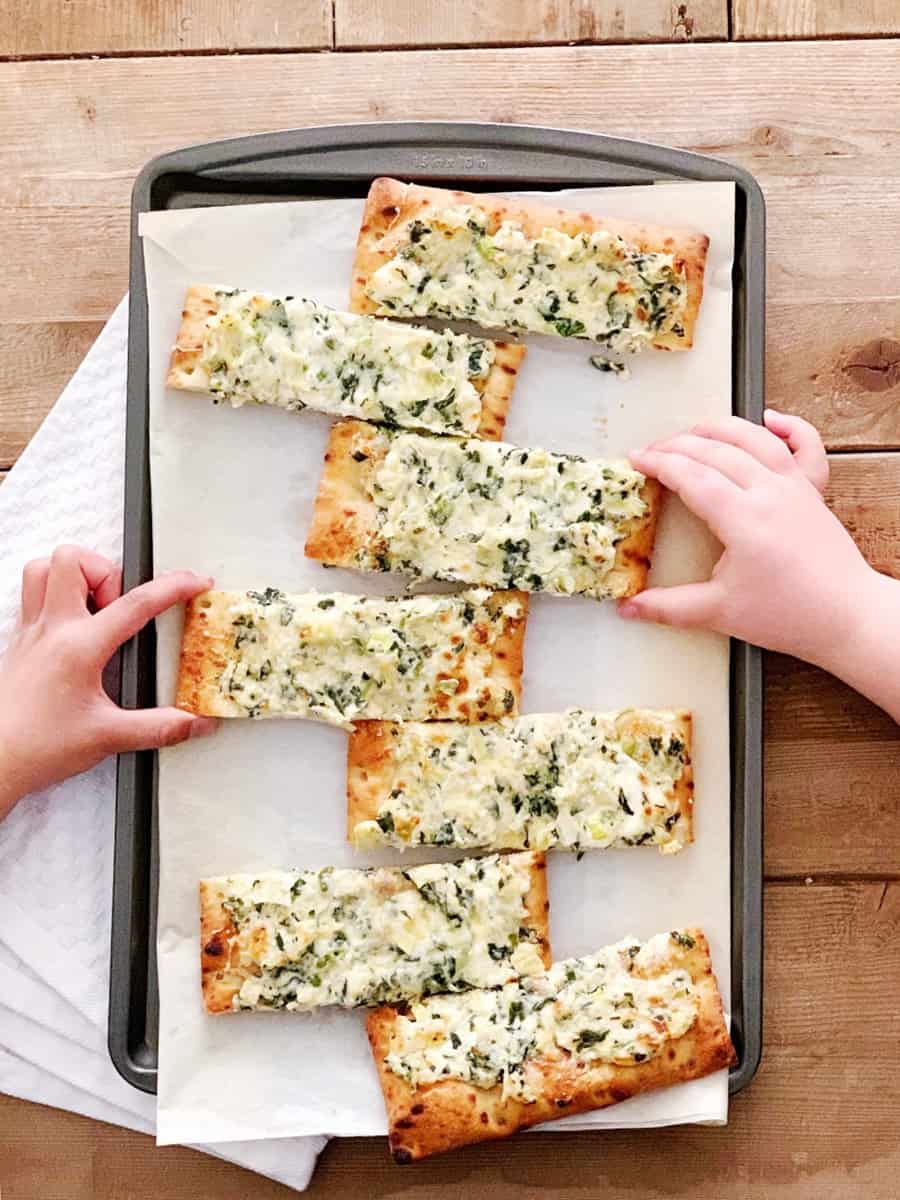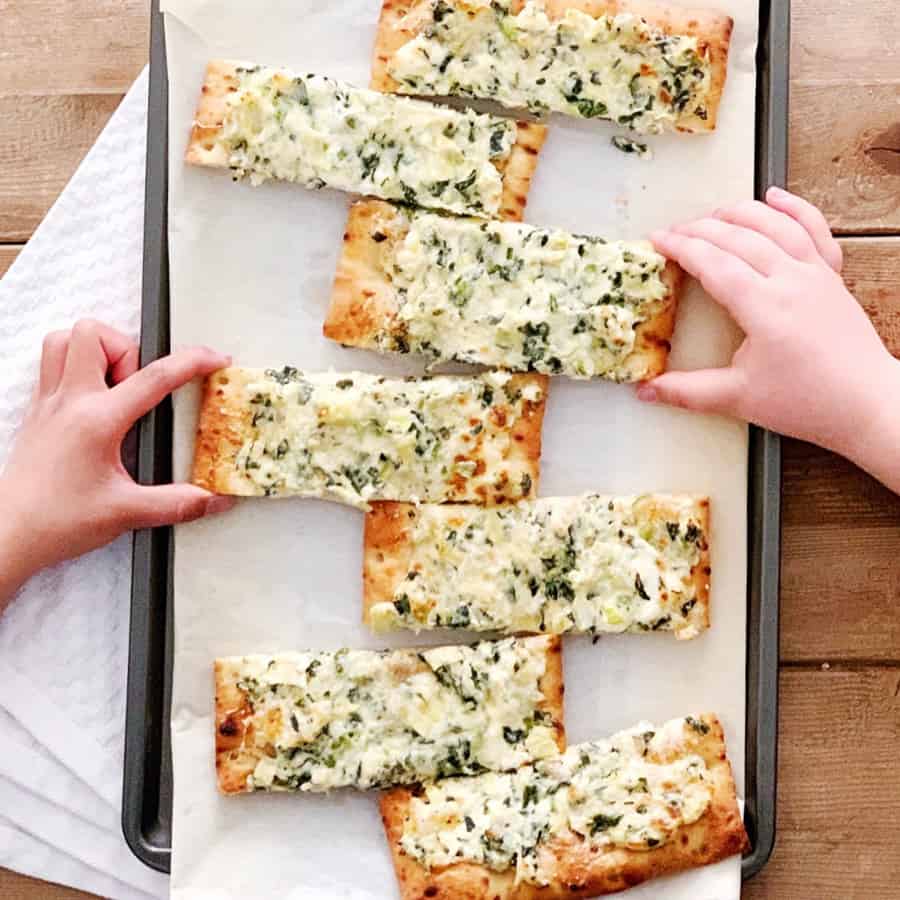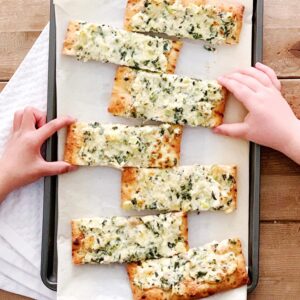 Spinach Artichoke Pizza
Turn this crowd-pleaser dip into pizza! Great for for an easy kids lunch or dinner.
Ingredients
14

oz

artichoke hearts, can

drained and chopped

8

oz

cream cheese

room temperature

1/2

cup

sour cream

1/2

cup

mayonnaise

2

scallions

whites, with some greens, chopped

2

cups

frozen spinach

chopped and squeezed dried

4

cloves

garlic

chopped

1 1/4

cups

grated Parmesan cheese

reserve 1/2 cup

1

cup

grated Gruyere cheese

reserve 1/2 cup

2

flatbread pizza crusts

ready baked, we used Trader Joe's
Instructions
1. Preheat oven to 425 degrees.

2. Combine all the ingredients except for the pizza crust minus the reserved 1/2 cup each of Parmesan and Gruyere. Mix well.


3. Spread the dip evenly on your two pizza flatbread crusts.


4. Top each crust each evenly with your reserved 1/2 cup each of Parmesan and Gruyere cheese (so 1/4 cup of each per pizza)

5. Bake for 12-15 minutes until top is bubbly. If you want those brown crispy cheesy tops, broil for 1-2 additional minutes.

6. Allow to cool for at least 10 minutes before slicing and serving.
Nutrition
Calories:
379
kcal
Carbohydrates:
30
g
Protein:
12
g
Fat:
23
g
Saturated Fat:
9
g
Cholesterol:
43
mg
Sodium:
806
mg
Potassium:
138
mg
Fiber:
2
g
Sugar:
4
g
Vitamin A:
3355
IU
Vitamin C:
7.8
mg
Calcium:
256
mg
Iron:
2.4
mg
There is something so rewarding about creating a new family-favorite meal option from classics. It's so wonderful to be able to make these with my kids, watching their creative wheels turn as they make these meals their own.
For more simple weeknight dinner options your kids will love taking part in making, try these easy chicken parmesan bites (only three ingredients!).
Rediscover the childhood joy of french fries and franks with our curly fries mini hot dogs.
Or combine the yummy flavors of barbecue chicken (baked, not fried!) and crunchy potato chips with a simple recipe for healthier barbecue ranch potato chip chicken tenders.