By using this site, you agree to our Terms of Use. This post may contain affiliate links. Read our disclosure policy.
Follow us on Instagram for more fun food ideas for kids!
Fall is in full swing which means it's time to break out those delicious fall recipes! I love this time of year when it starts to cool down and the leaves start to fall. It's the perfect time to start baking yummy fall treats as well as warm, cozy soups. Boursin cheese pasta is one of our favorites to make for a cozy meal. So the other day, when I came across this TikTok Boursin Baked Tomato Soup I knew I had to share it with you. TikTok creator @shicocooks brings us this recipe which is similar to the viral Baked Feta Pasta. This Boursin Baked Tomato Soup is the only soup recipe you'll need this season. The warm, flavorful herbs and spices in this recipe make the perfect autumnal remedy for any gloomy day. If you love tomato soup, this recipe is for you!
How to Make TikTok Boursin Baked Tomato Soup
@shicocooks starts by throwing a bunch of cherry tomatoes, garlic, onions, Boursin cheese, olive oil, paprika, oregano, salt, and pepper in a dish. She then bakes the dish in the oven for 30-35 minutes at 200C. If you've made Baked Feta Pasta, then you'll be super familiar with this method of cooking. Once the dish comes out of the oven, @shicocooks squeezes out the garlic and breaks up the block of Boursin cheese. She then tosses the ingredients into a blender and blends until combined. She finally pours the soup into a bowl and tops it with croutons. Voila! Your Boursin Baked Tomato Soup is ready!
I would like to make a note that I did change up the recipe a little bit. Instead of cherry tomatoes, I opted for on-the-vine tomatoes. Next, I added one bell peppers. Then, instead of four tablespoons of olive oil, I cut it back to two tablespoons. Lastly, I got rid of paprika and added cayenne and parsley.
How To Make Boursin Baked Tomato Soup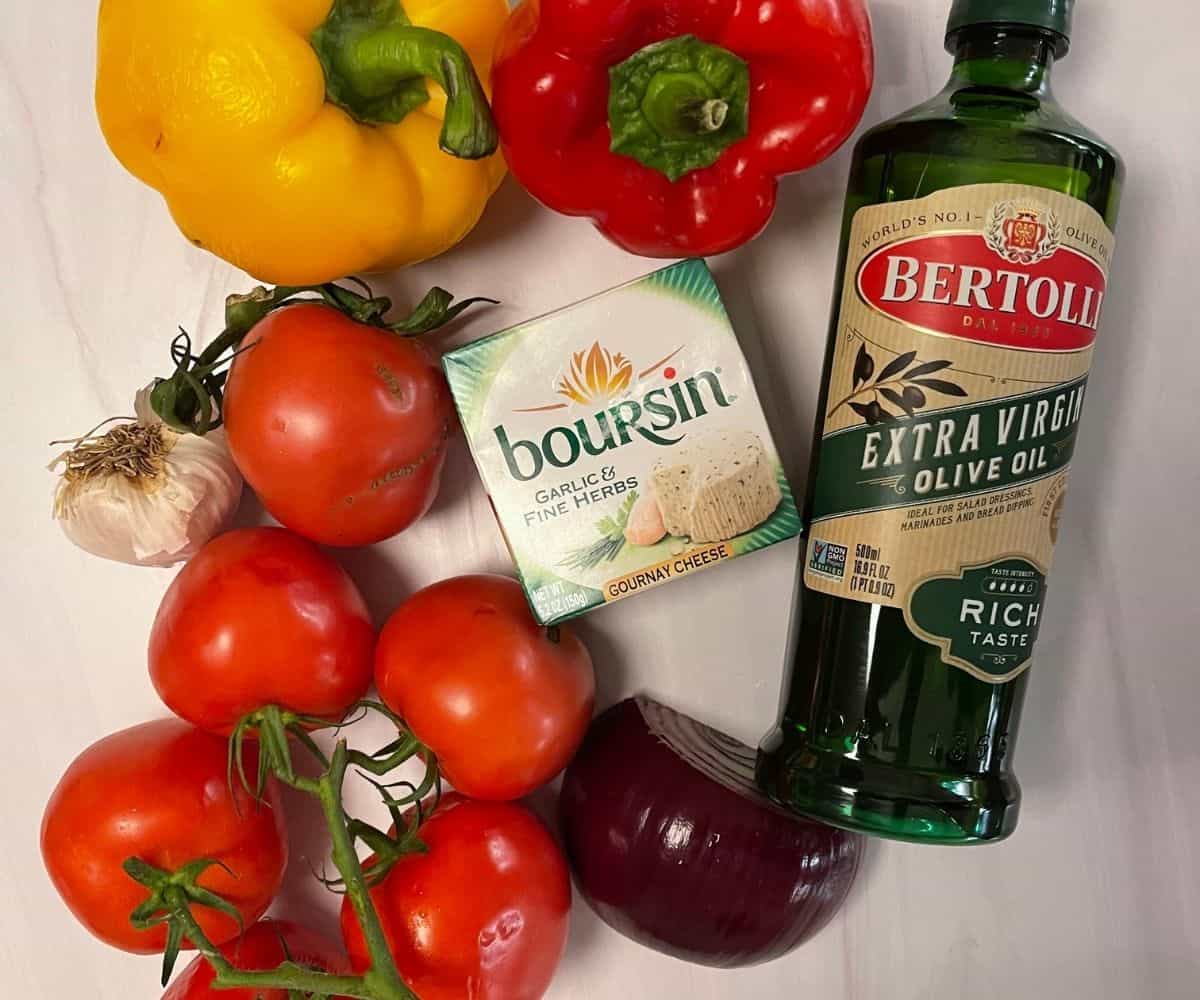 Gather your ingredients.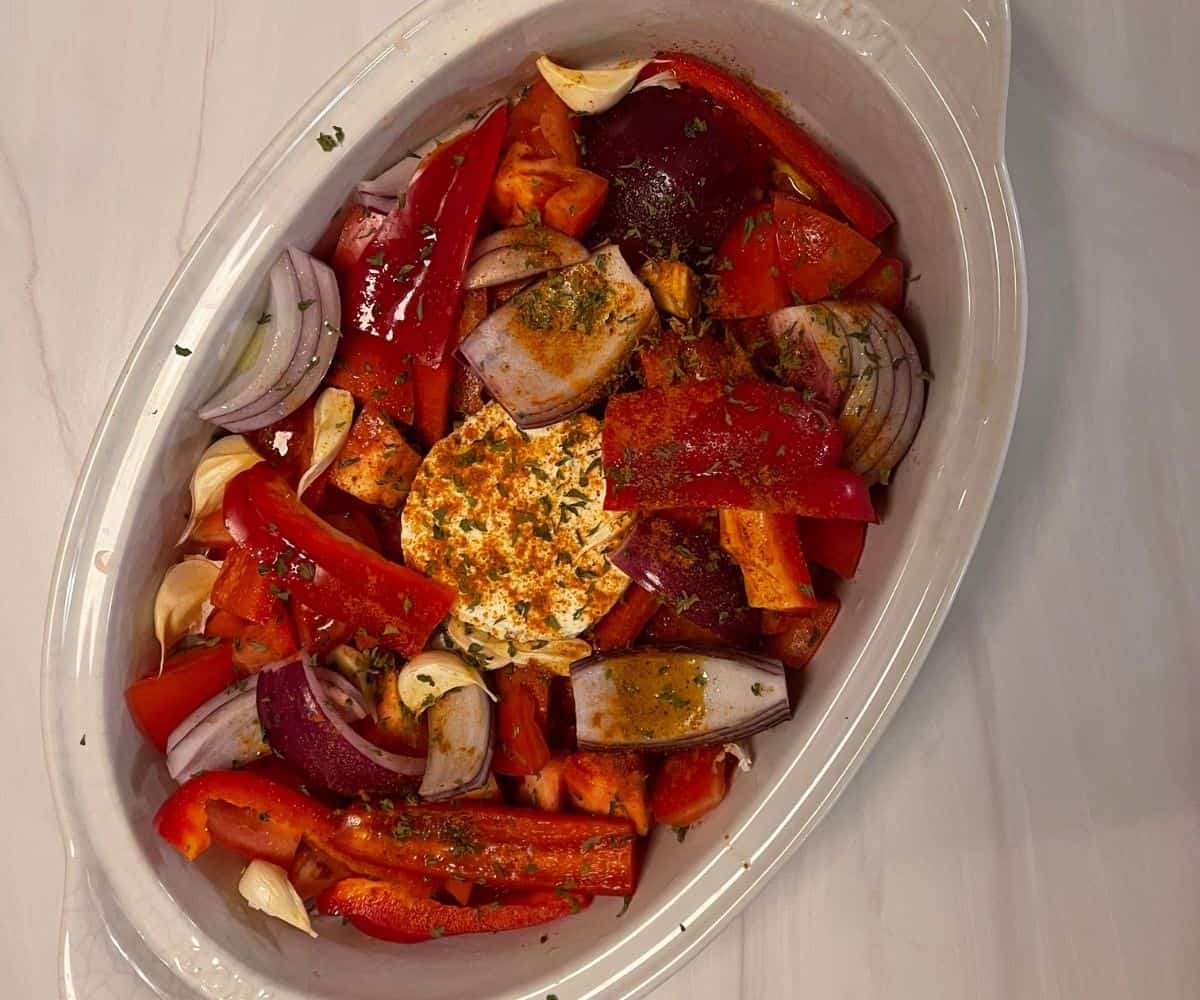 Preheat your oven to 400F. Grab a pan (I used a Lodge Casserole Dish) and start layering all of your ingredients. There's no right or wrong way to do this!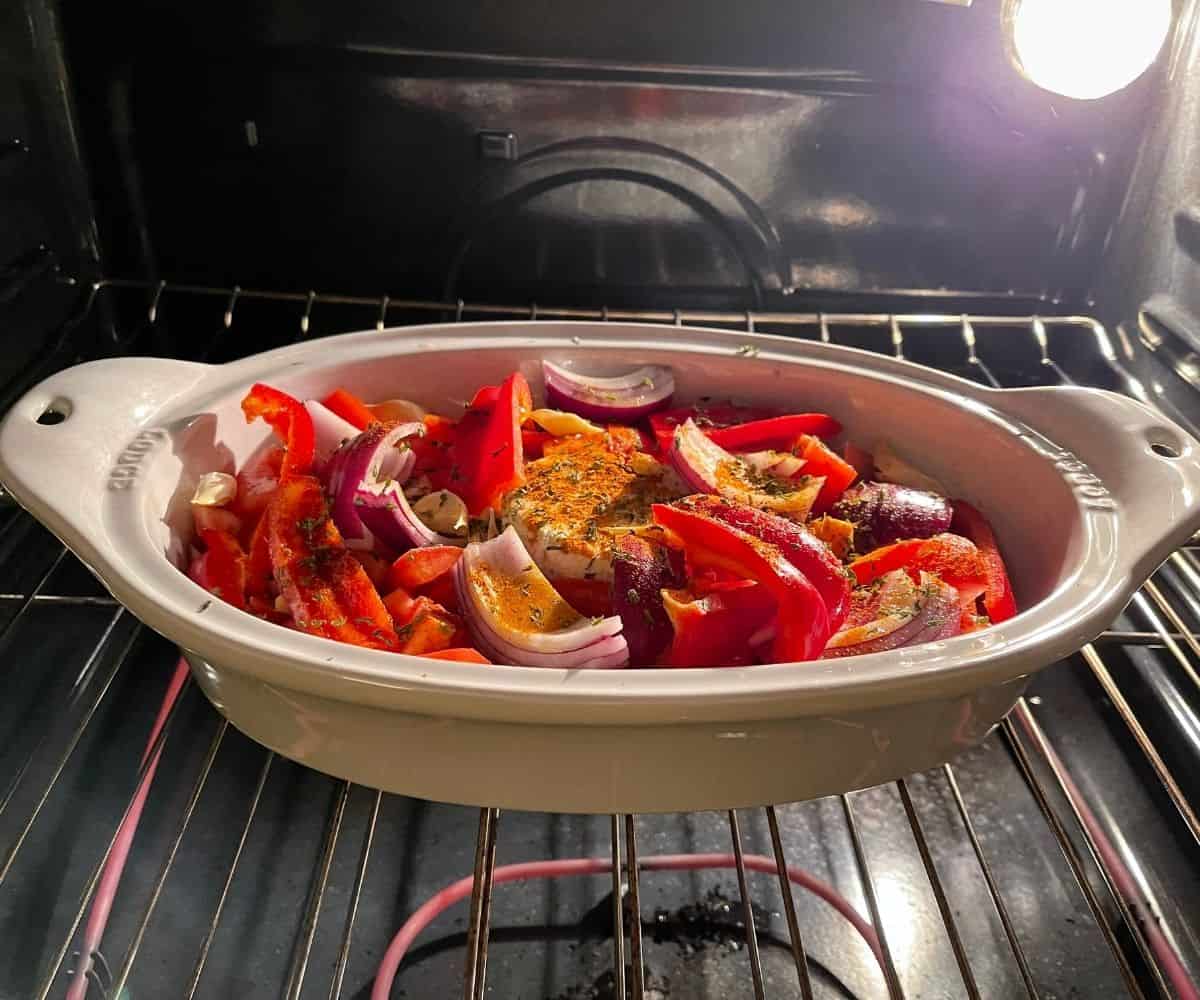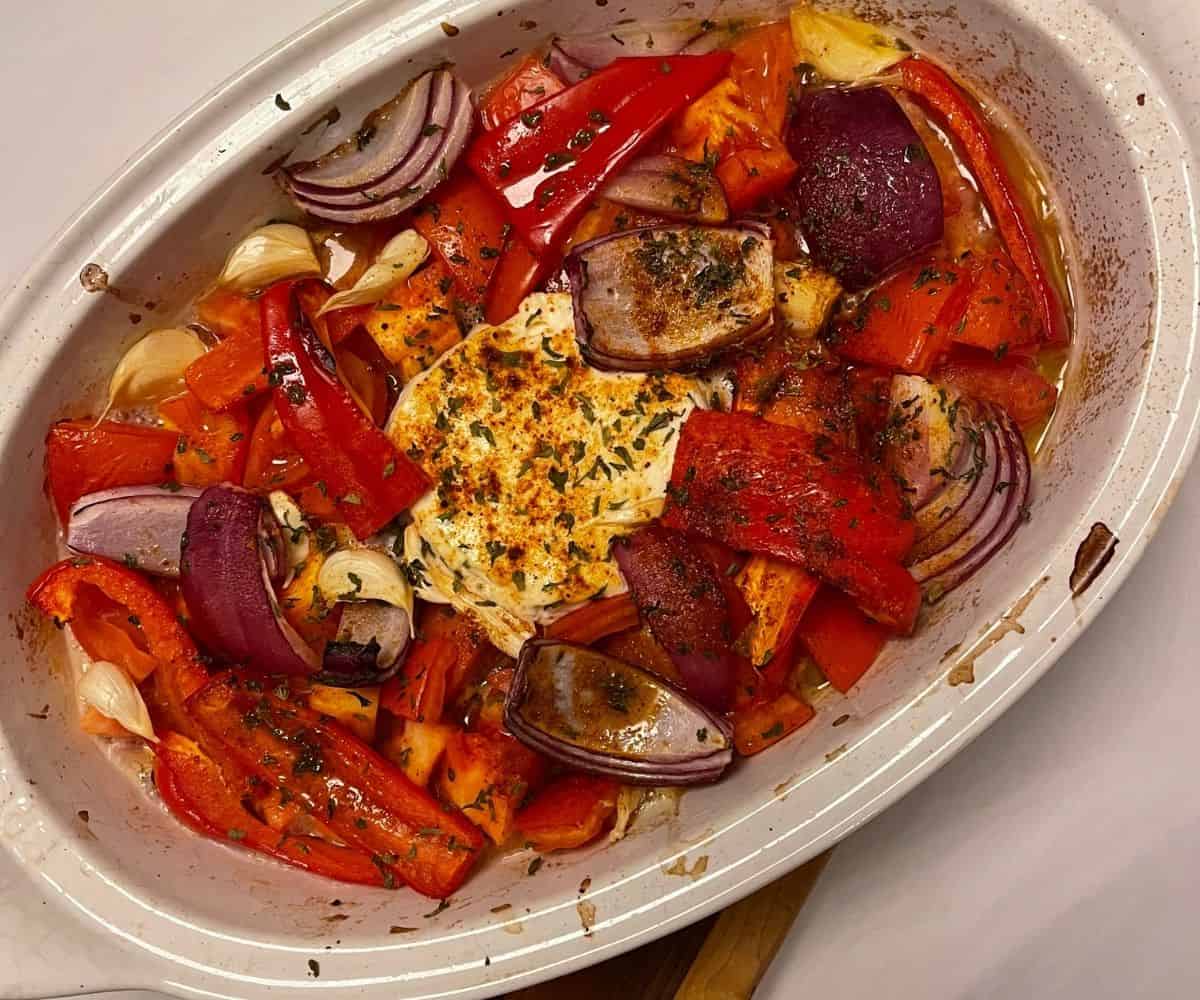 Bake for 30 minutes, or until cheese is golden and bubbly.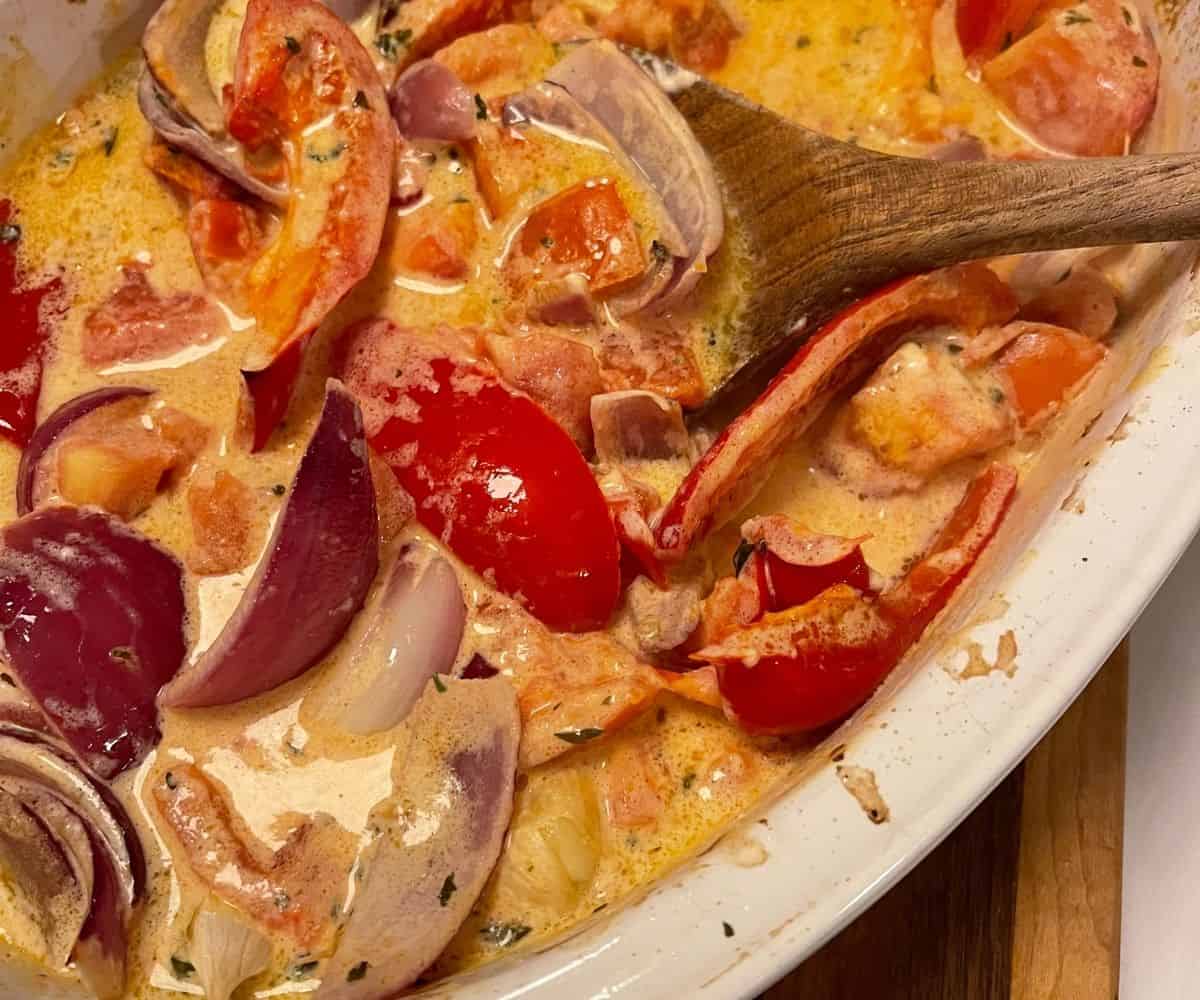 Mix everything together.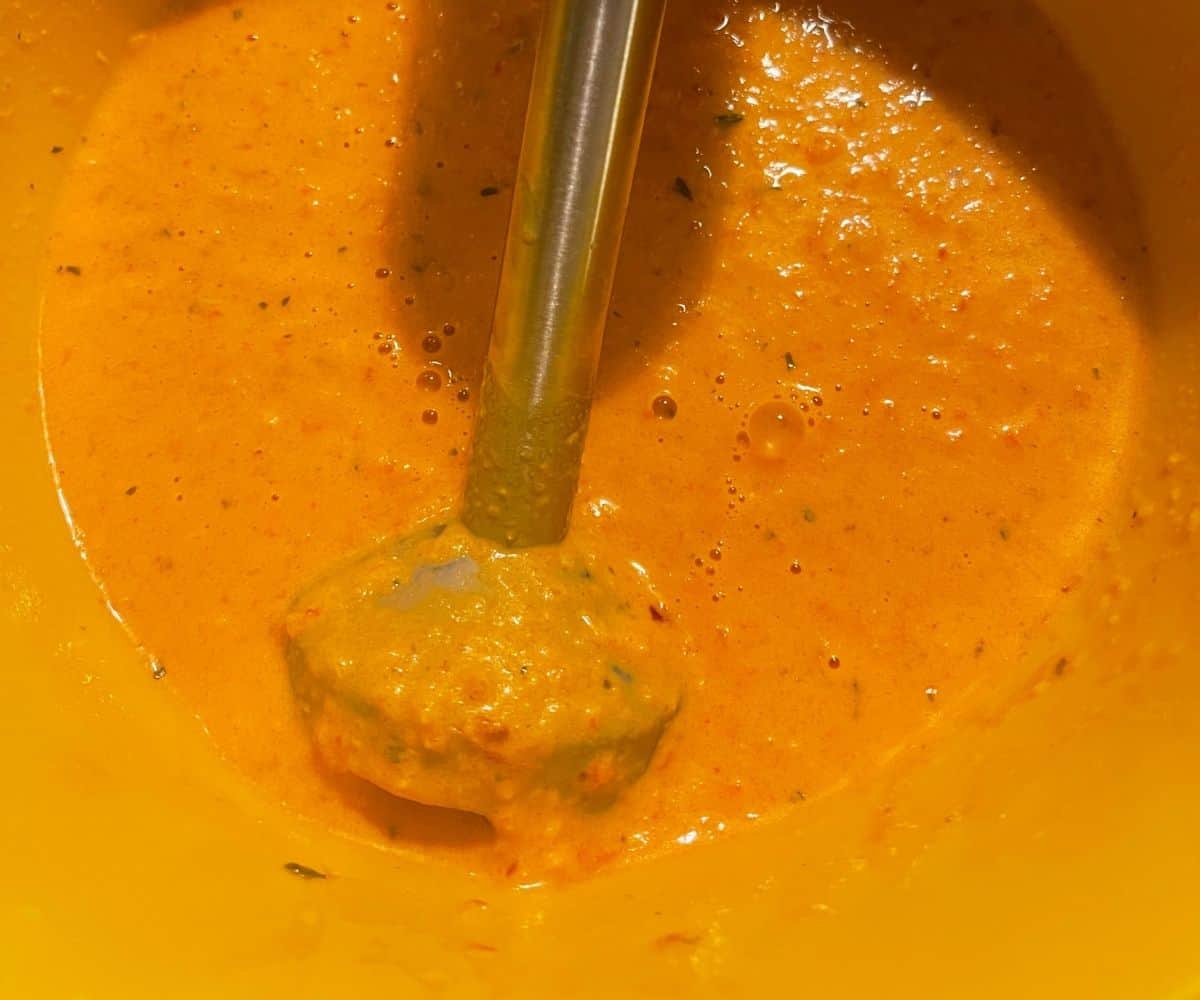 BLEND!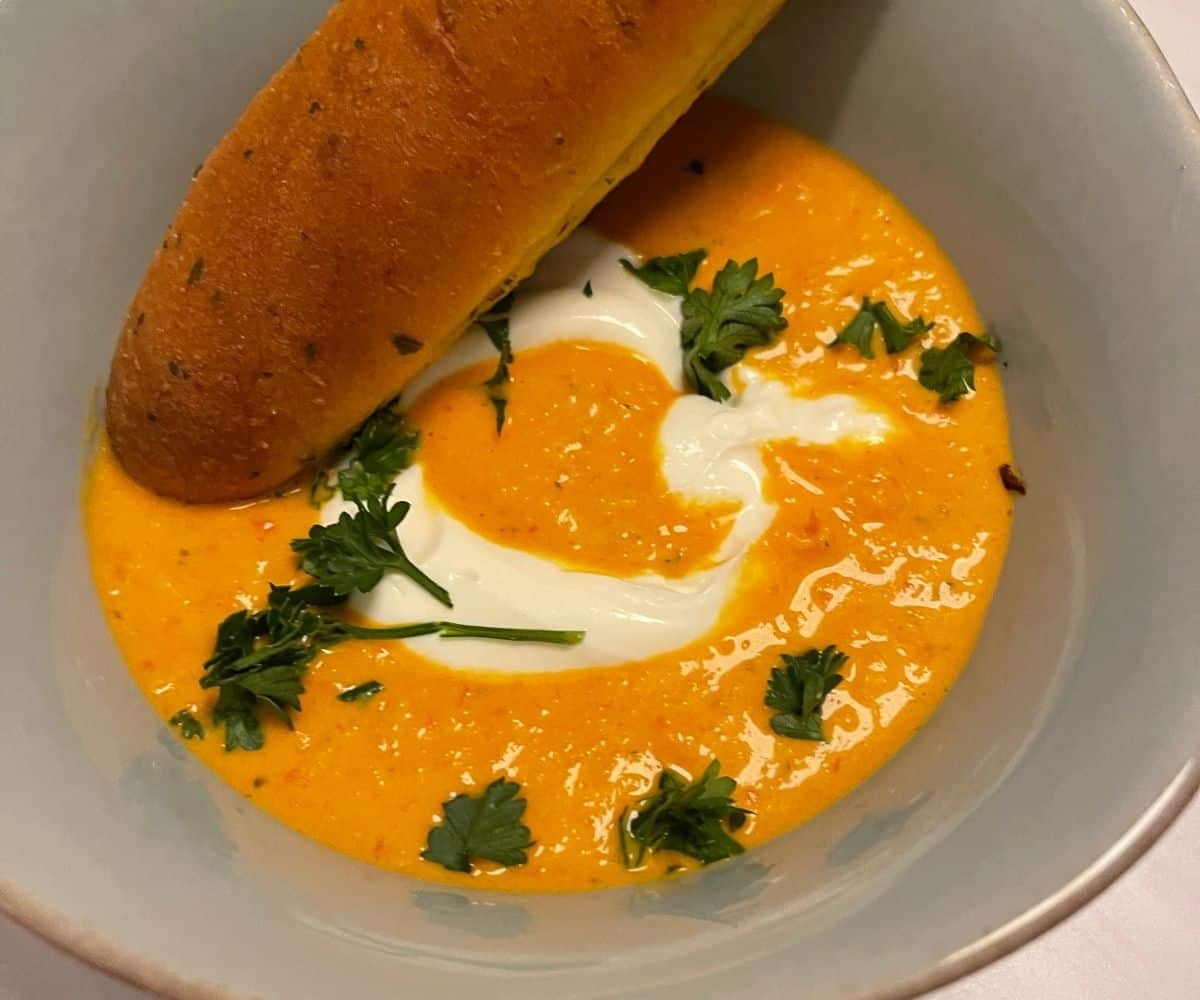 Serve up with a side salad, some breadsticks and enjoy!
Why This Recipe Hits a Home Run
This recipe hits a home run for several reasons. First, it's super easy to make and doesn't take a super long time to put together. Second, you probably already have all the ingredients in your kitchen to make the soup. Third, it's fall y'all which means it's officially soup season. The summer has cooled off and now you can enjoy some warm soups and cozy up with a good book.
I especially love that this recipe only uses one pan. If you're the kind of person who's overwhelmed by a ton of ingredients and supplies, this recipe is for you. One-pan recipes are basically foolproof and are perfect for beginners and lazy cooks.
Who Should Make this Recipe?
This Boursin Baked Tomato Soup Recipe is good for anyone who loves tomatoes and garlic. This recipe is perfect for chilly fall days, meal prep, or to bring over to a friend's house for dinner. My family loved it too so it's a win for a quick and easy family dinner!
I love meal prepping so this recipe would come in handy when I don't have a ton of ingredients to work within my kitchen. You can prep this recipe and have it for lunch or dinner for the entire week! Talk about a lazy mom's guide to meal prepping!
Need a last-minute recipe to make for an impromptu dinner? This soup is for you. If you've got an hour, you can easily whip this up.
Some Tasty Q&A:
What if I don't have Boursin cheese?
If you don't have Boursin cheese, you can totally use cream cheese according to @shicocooks.
What if I don't have all the spices?
If you don't have all the spices, it's totally okay to substitute or leave them out if preferred. For example, if you're not a cayenne fan, you can leave it out or opt for a more mild flavor.
What if I don't have a food processor?
A blender or mixer will work just fine! Just note that if you use a stand-alone mixer, the consistency will be more chunky and not as creamy.
Final Thoughts
I can already feel this Boursin Baked Tomato Soup warming me up as we speak. I will definitely be making this recipe for the next gloomy fall day. If you try this recipe out, let me know what you think in the comments below!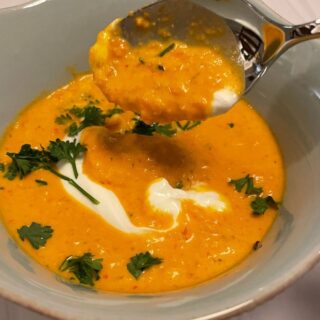 TikTok Boursin Baked Tomato Soup
This Boursin Baked Tomato soup is full of tomatoey, garlicky goodness for those crisp fall days!
Ingredients
8

Large On-the-Vine Tomatoes

Or 12 smaller on the vine tomatoes

2

Bell Pepperd

Sliced, any color of your choice

1

Clove

Garlic

1

Boursin Cheese

Garlic and Herb blend

2

tbsp

Olive Oil

Cayenne

To taste

Parsley or basil

To taste

Sour cream

optional
Instructions
Put all ingredients into a dish

Bake for 30-45 minutes at 400°F or until tomatoes are roasted and cheese is melted.

Place all ingredients into a food processor or in a pot to use with an immerson blender.

Let cool for a minute. Garnish with sour cream, parsely or basil.

The soup was so good we made it again except substituted 12 small on-the-vine tomatoes since our local store didn't have large ones anymore.
Here are some updated photos!