By using this site, you agree to our Terms of Use. This post may contain affiliate links. Read our disclosure policy.
Follow us on Instagram for more fun food ideas for kids!
Are your kids bored with eating yogurt? Are you desperately trying to find new, exciting snacks that will have them begging for more? Luckily, I have some 5 super easy yogurt snacks for kids that your kids will love! All the recipes contain yogurt and some sort of fresh fruit, so they're healthy and fun!
My kids love these frozen yogurt pops! All you have to do for this recipe is open up a few packages of plain or vanilla yogurt, place popsicle sticks in them, then freeze. Once you take them out of the freezer, place them in a bowl filled with lukewarm water, so they can easily slide out of the containers. Place them on a plate and let them sit for a couple of minutes, so they melt a tiny bit. This will make it easier for the toppings to stick to the yogurt! You can then add any toppings you want! I added some rainbow sprinkles, slivered almonds, coconut shavings, and some granola! You can also add fresh fruit such as kiwi, pineapple, strawberries, or blueberries! My kids love these because they are portable and taste like ice cream!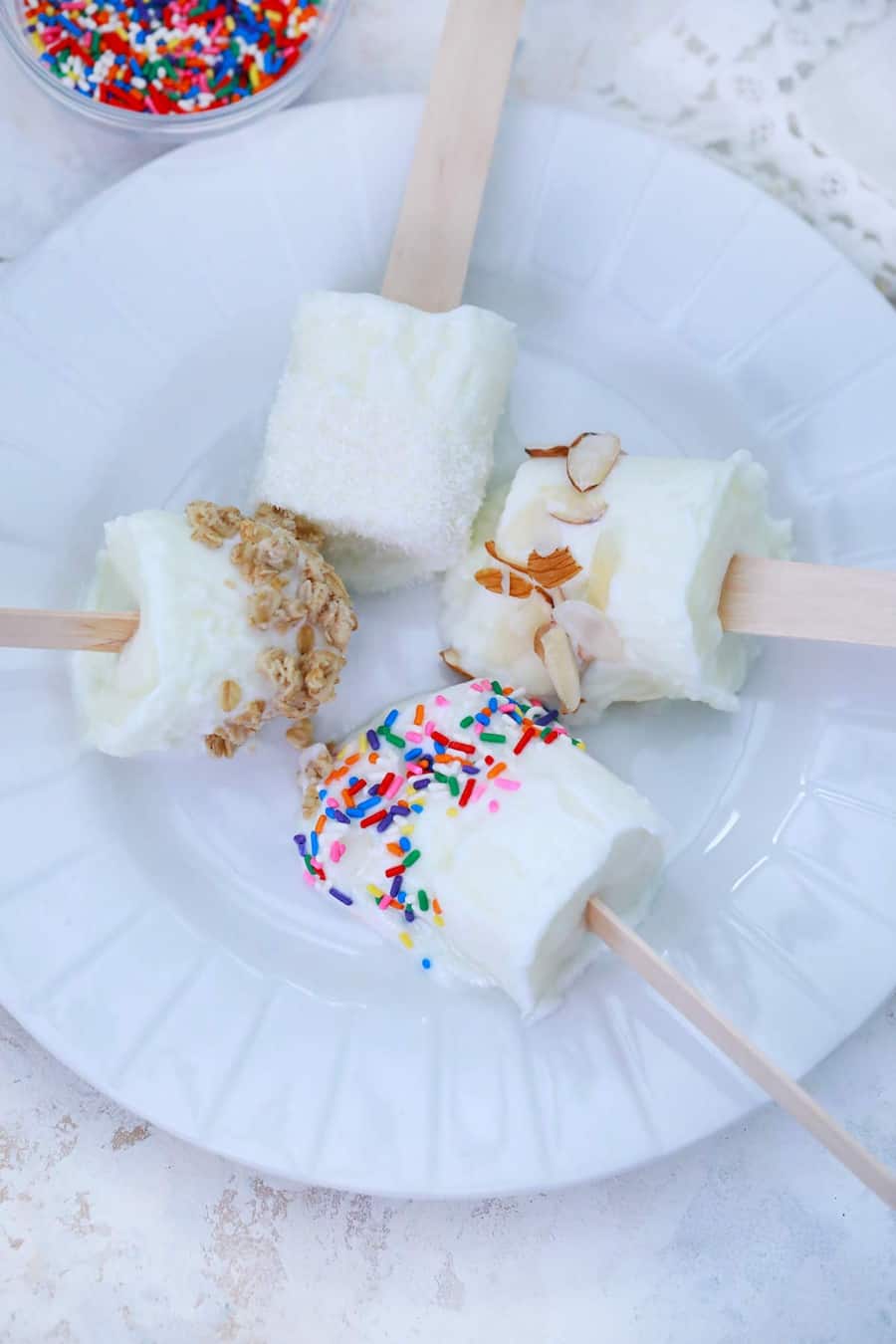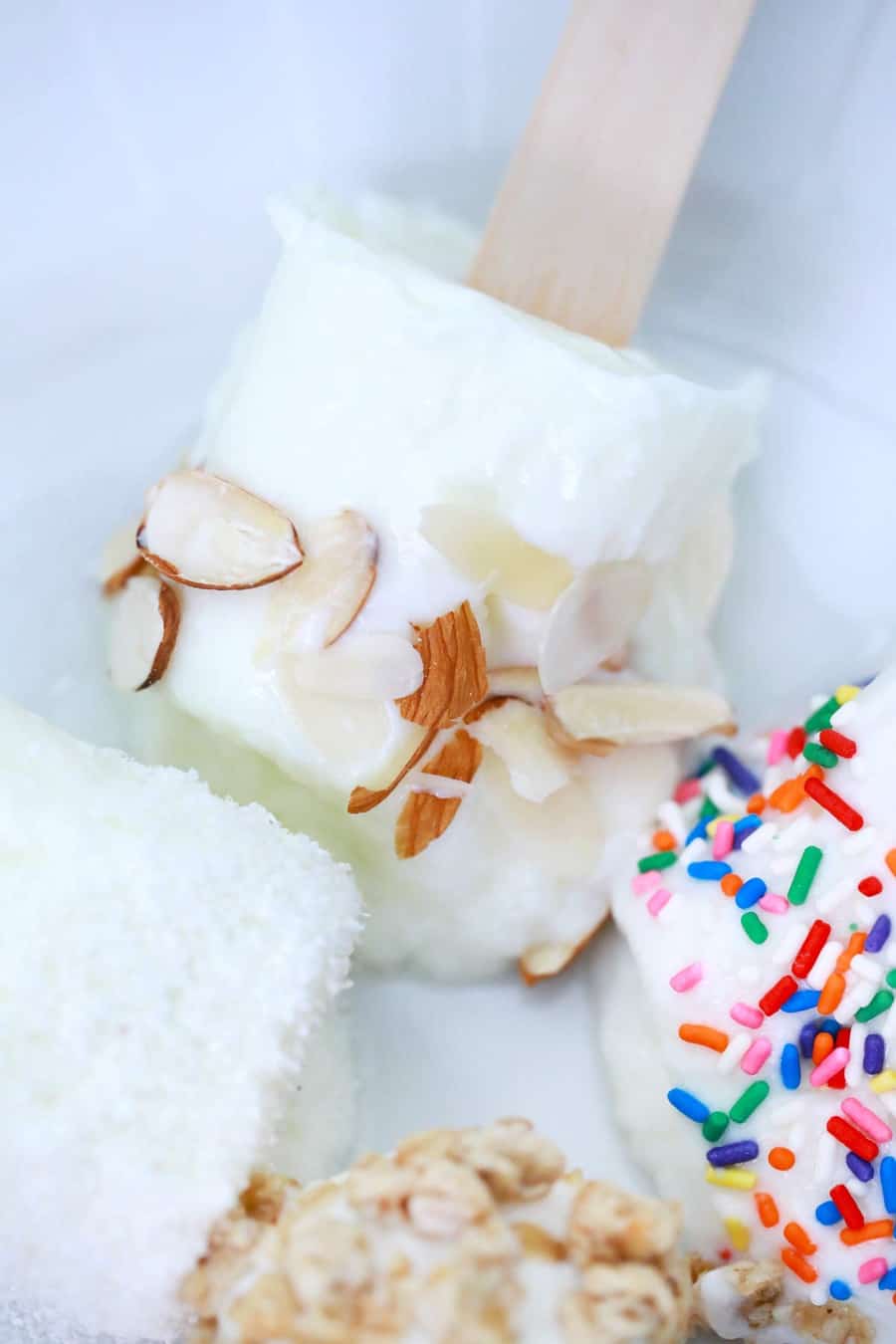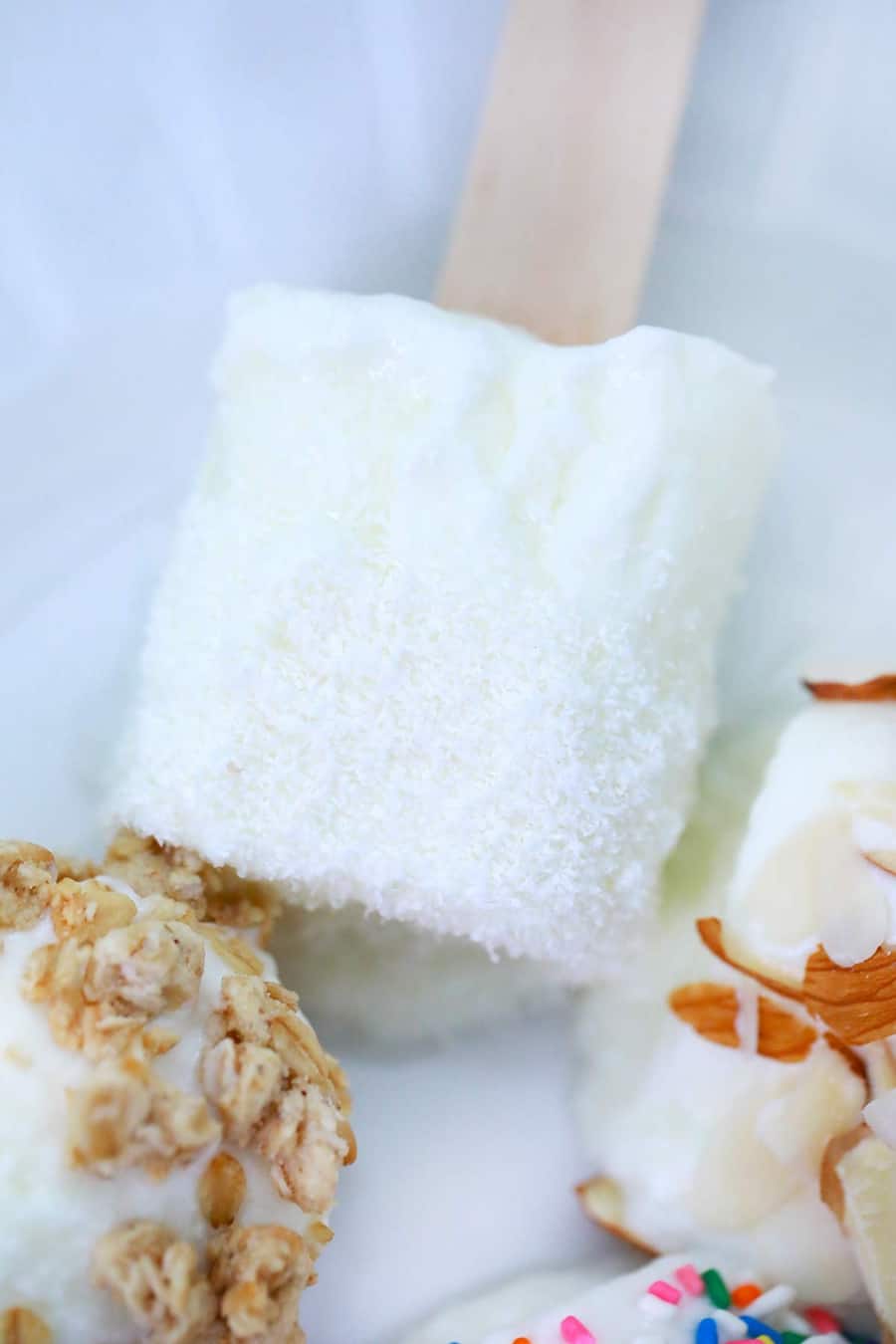 This frozen yogurt bark are a huge hit with my kids! I take some plain or vanilla yogurt, whatever I have on hand, and I pour it into a 8×10 baking dish lined with parchment paper. I cut up some fresh mangoes, strawberries, kiwi, and blueberries for the topping. All you have to do is place your fruit on top of the yogurt, or even make a fun design! You can also put granola, coconut shavings, slivered almonds, or any other fruit you want on top! I place the dish in the freezer and let the yogurt freeze. Then, I cut the frozen yogurt into snack-sized squares and let the kids have at it! These are so fun because it's all in one dish, and they taste like ice cream bars!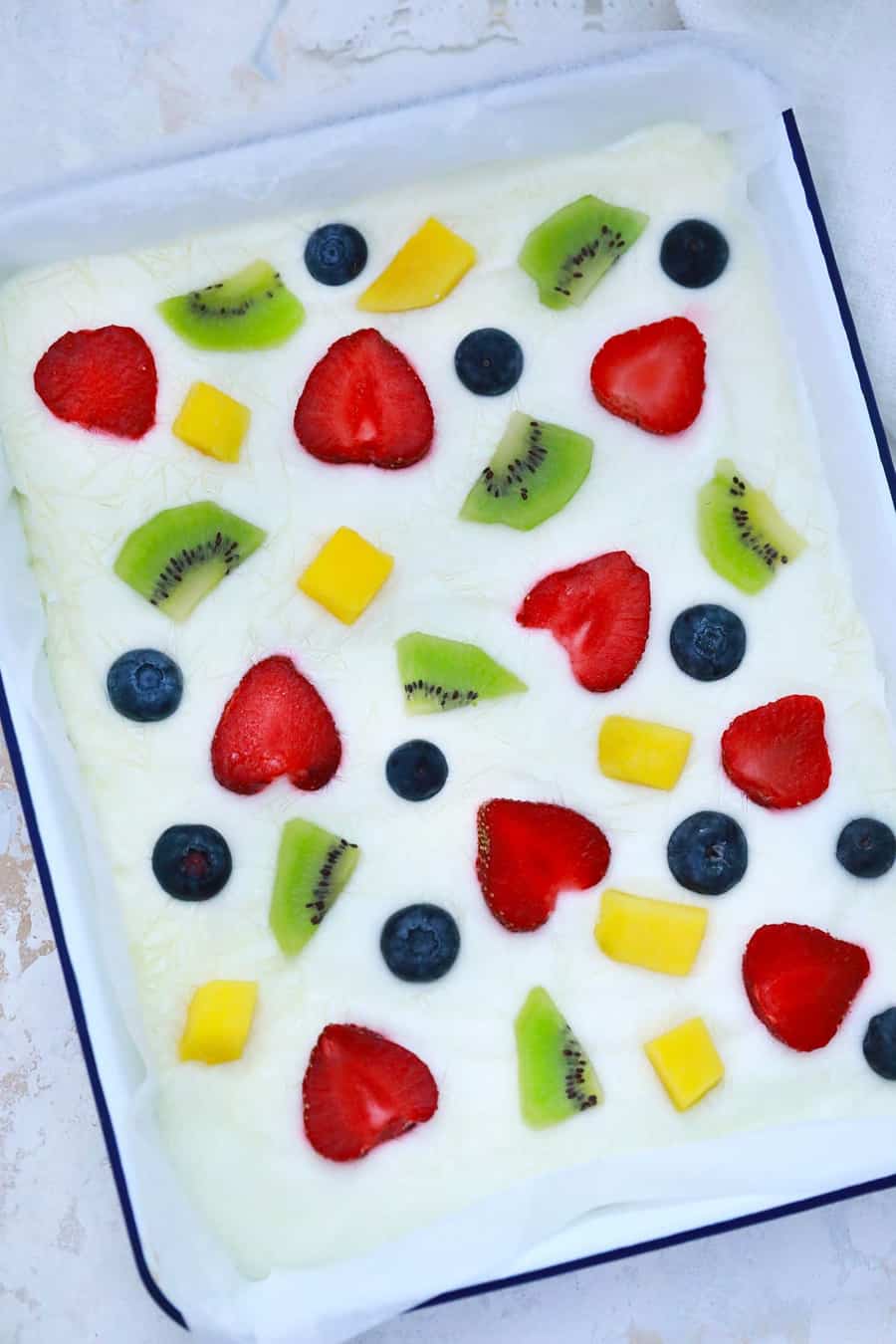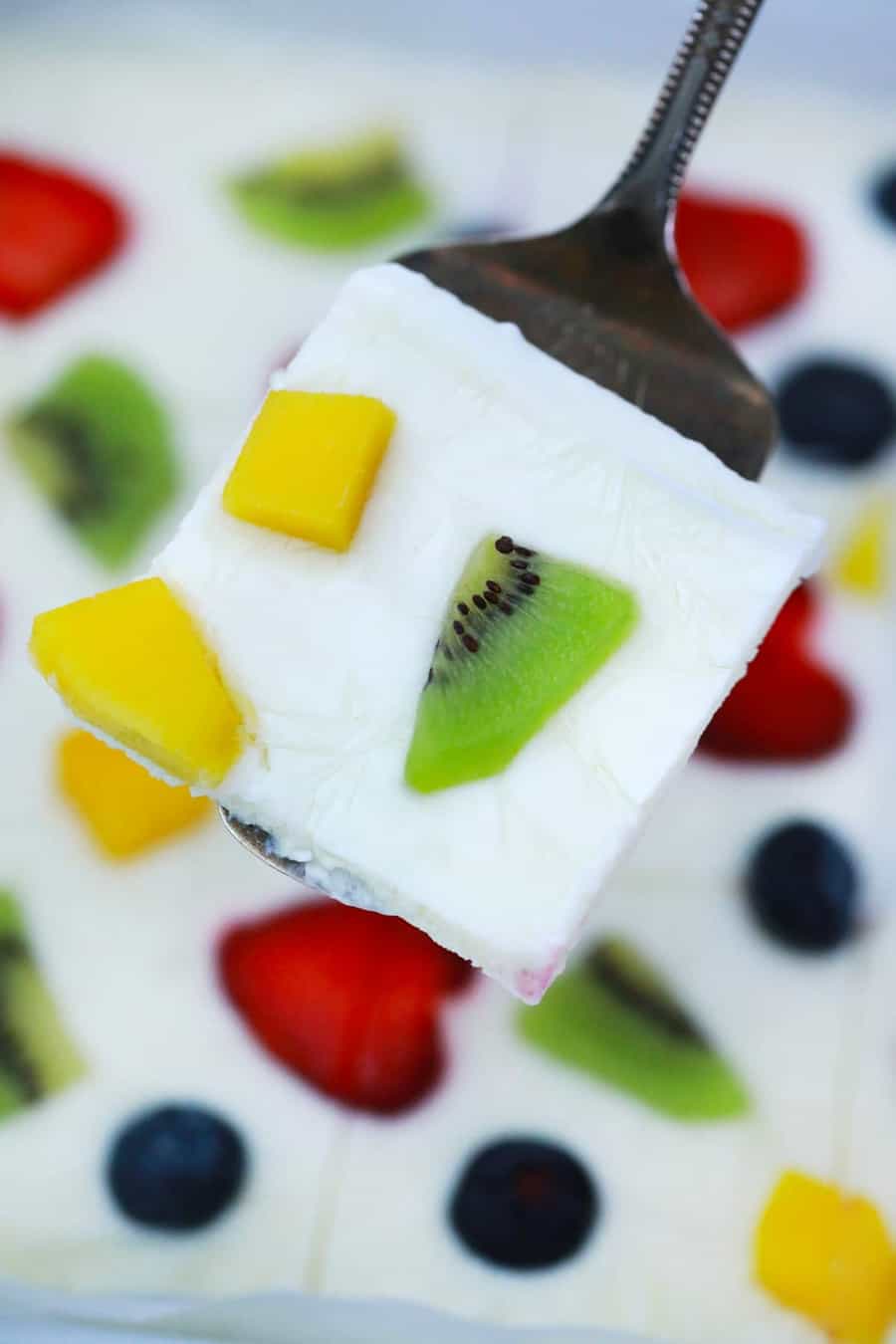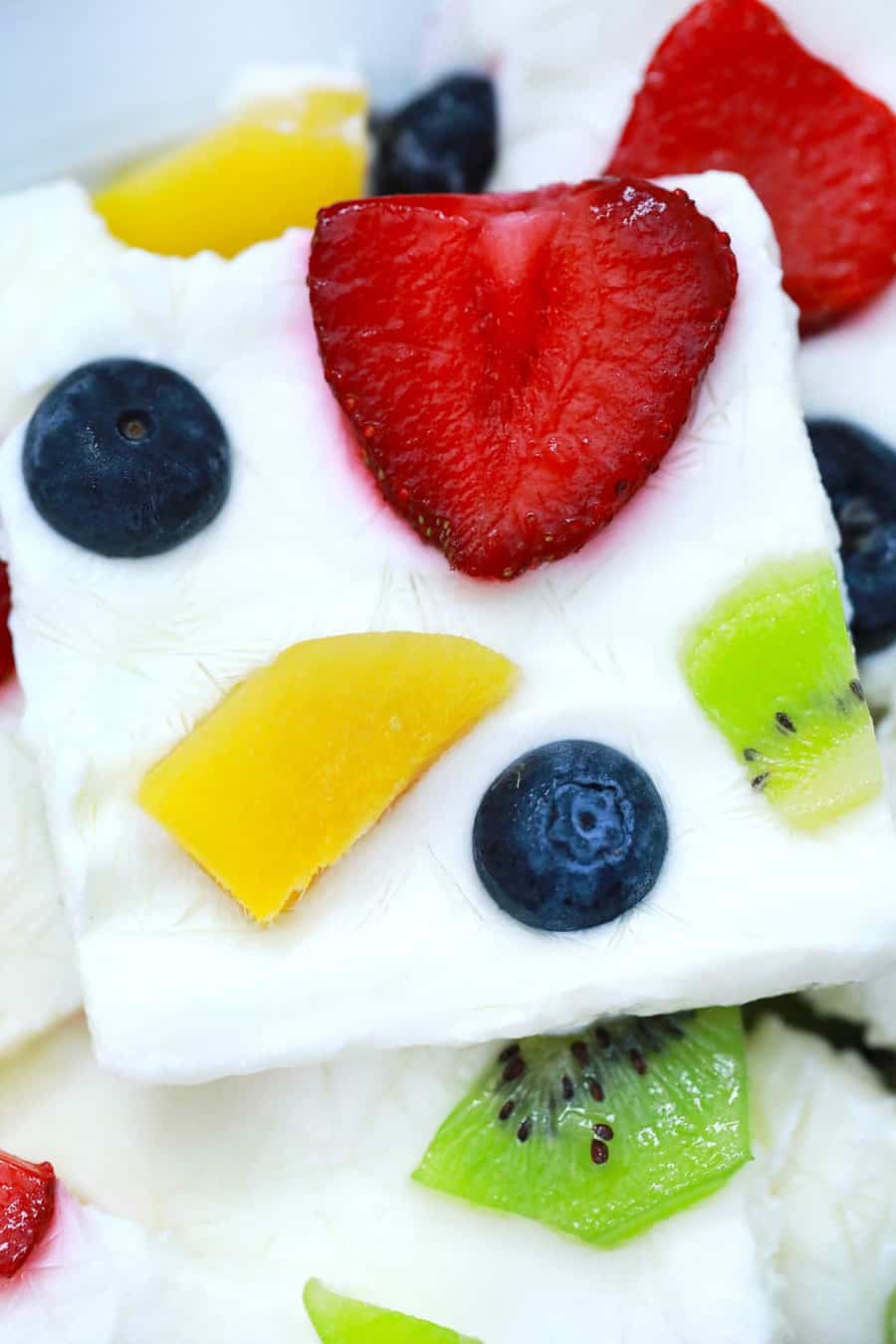 My kids love these yogurt-dipped banana pops because they taste like a banana split! What you need for this recipe is a couple of bananas split in half, some small fruit chunks, popsicle sticks, and of course, yogurt! You can either use plan or vanilla for this recipe. What I like to do is put the popsicle stick in the banana, completely submerge it in yogurt, and then put in on a plate for decorating. Once your bananas are covered in yogurt, take your fruit chunks and sprinkle them all over each banana pop! I usually use kiwi, strawberry, mango, and pineapple chunks for this recipe. You can totally use other toppings such as sprinkles, slivered almonds, coconut shavings, or anything else you think will stick! These are so fun to make, and they make a great on-the-go snack!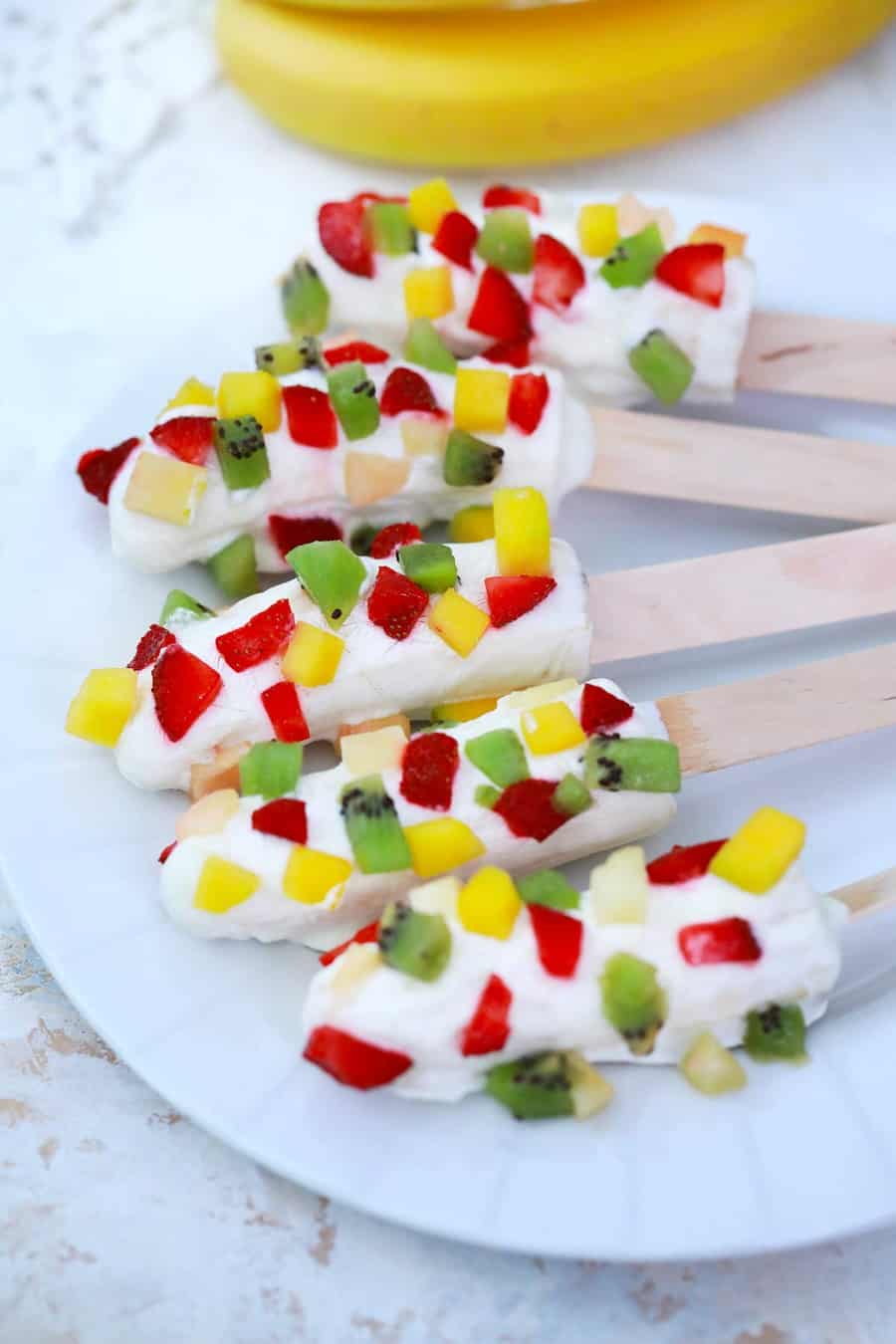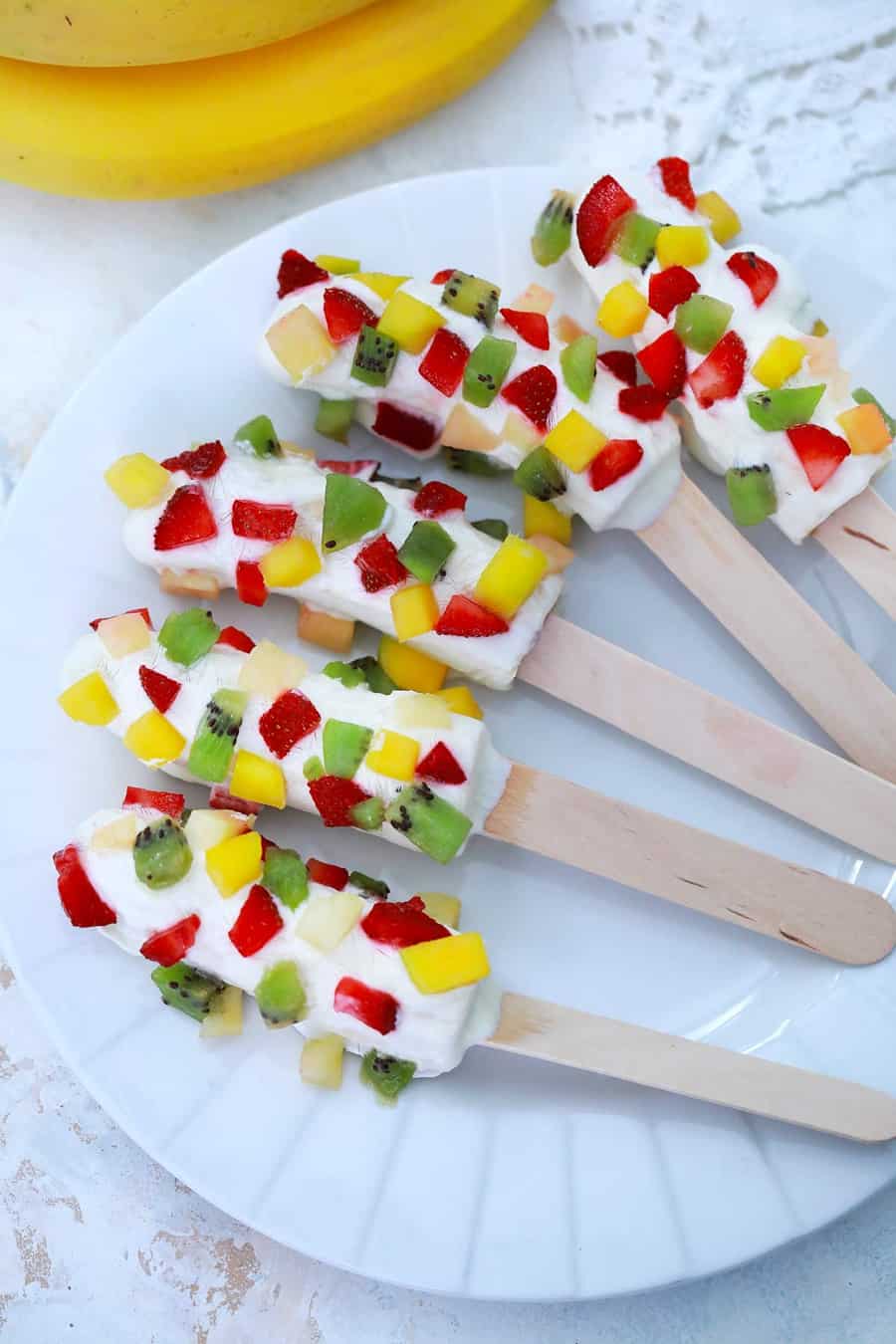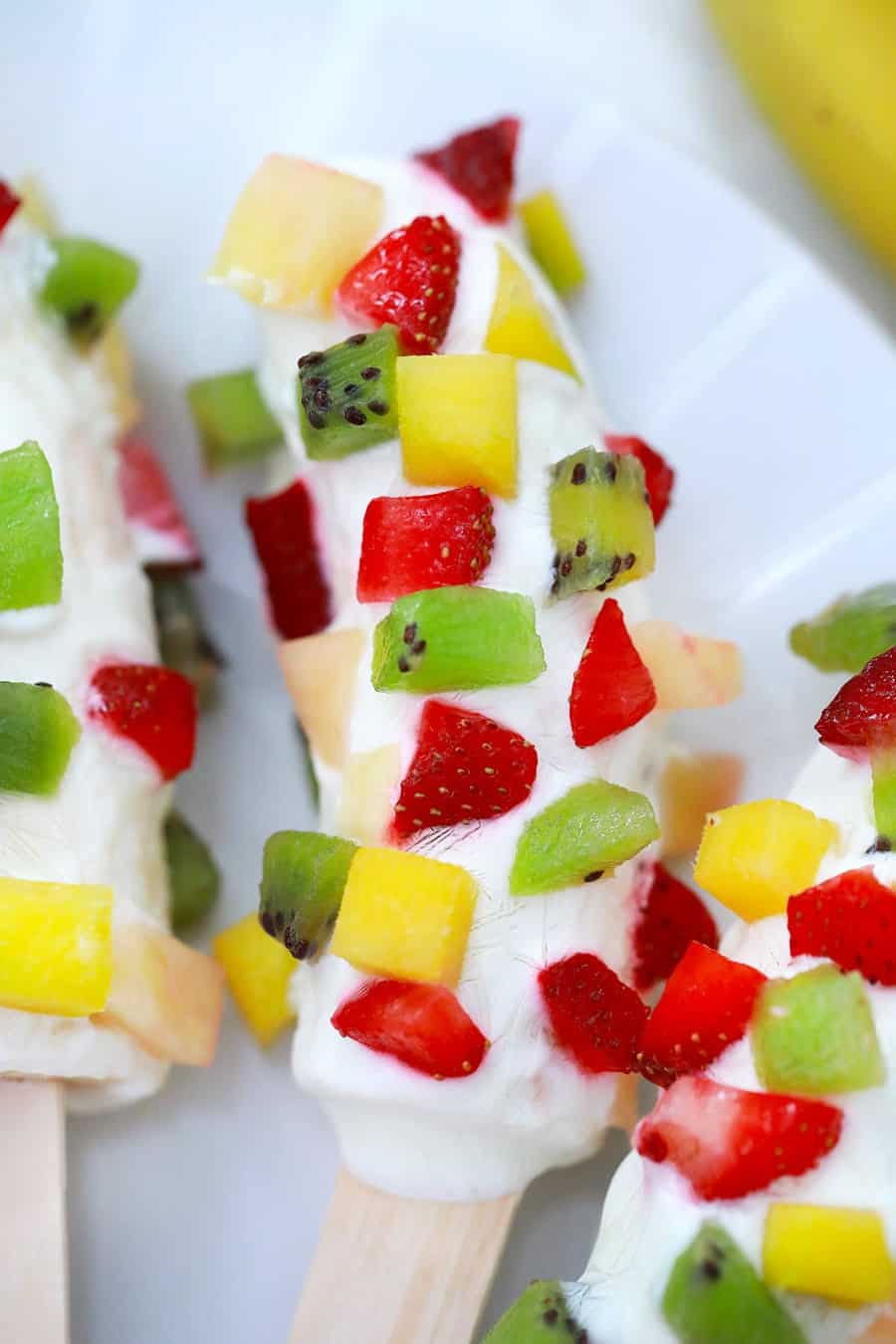 Take your pizza game to a whole new, healthy level with this watermelon yogurt pizza! I love this recipe because it's such a fun twist on pizza as well as a healthy snack! What you'll need is a thick slice of watermelon, fresh fruit chunks, and yogurt! You can use plain or vanilla yogurt for this recipe. Before you use the yogurt, add some agave syrup, vanilla, lemon juice, and salt to the yogurt. Then, mix it up to make the pizza "sauce." Cut up your watermelon into 1-2 inch thick slices. Then, take your yogurt mixture and spread it all over the slice, like marinara on pizza. Then, cut the watermelon slice into smaller, individual slices for easy snacking. Taking your fresh fruit chunks, place them all over your pizza however you like. Voilà! Your watermelon yogurt pizza is ready to be devoured!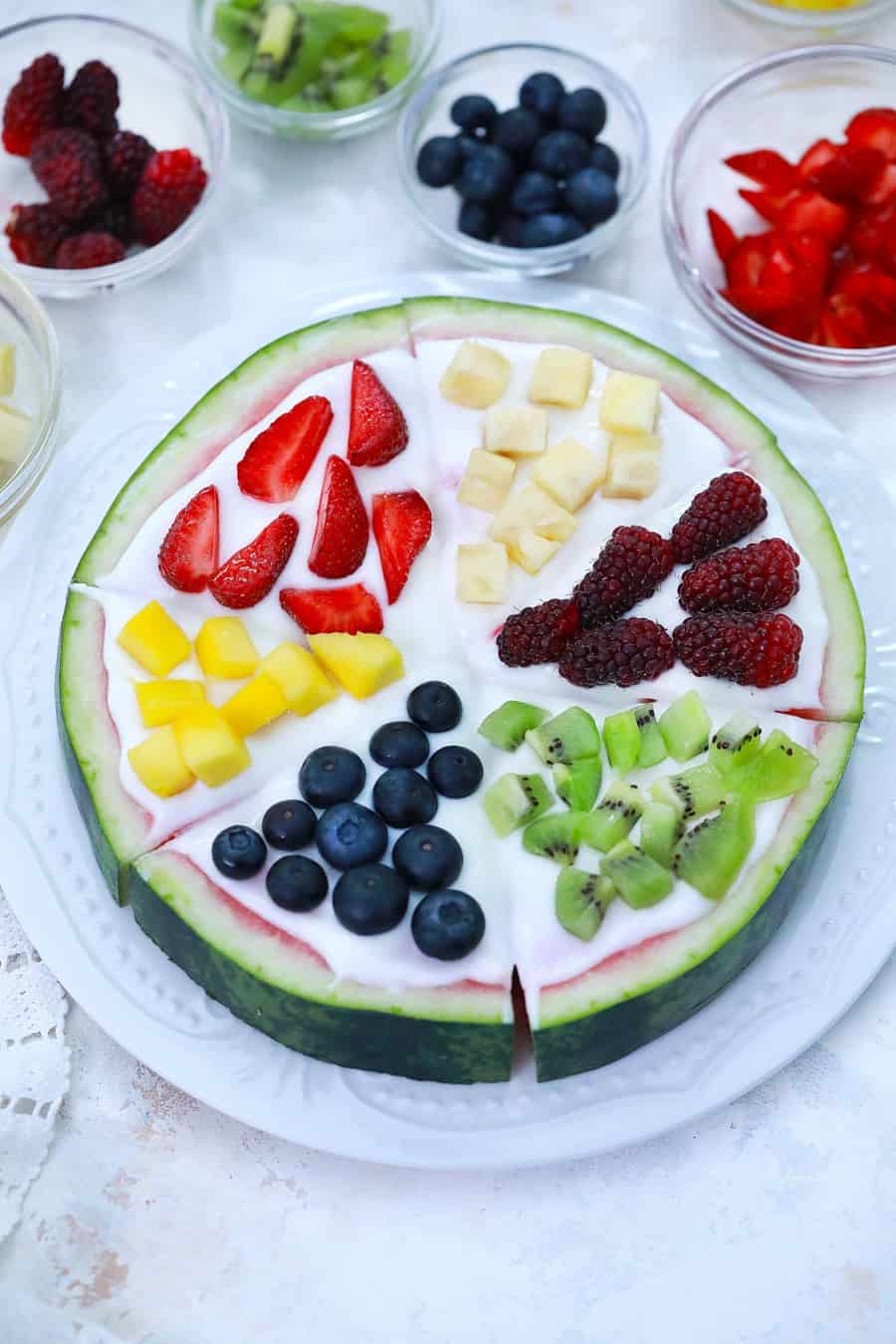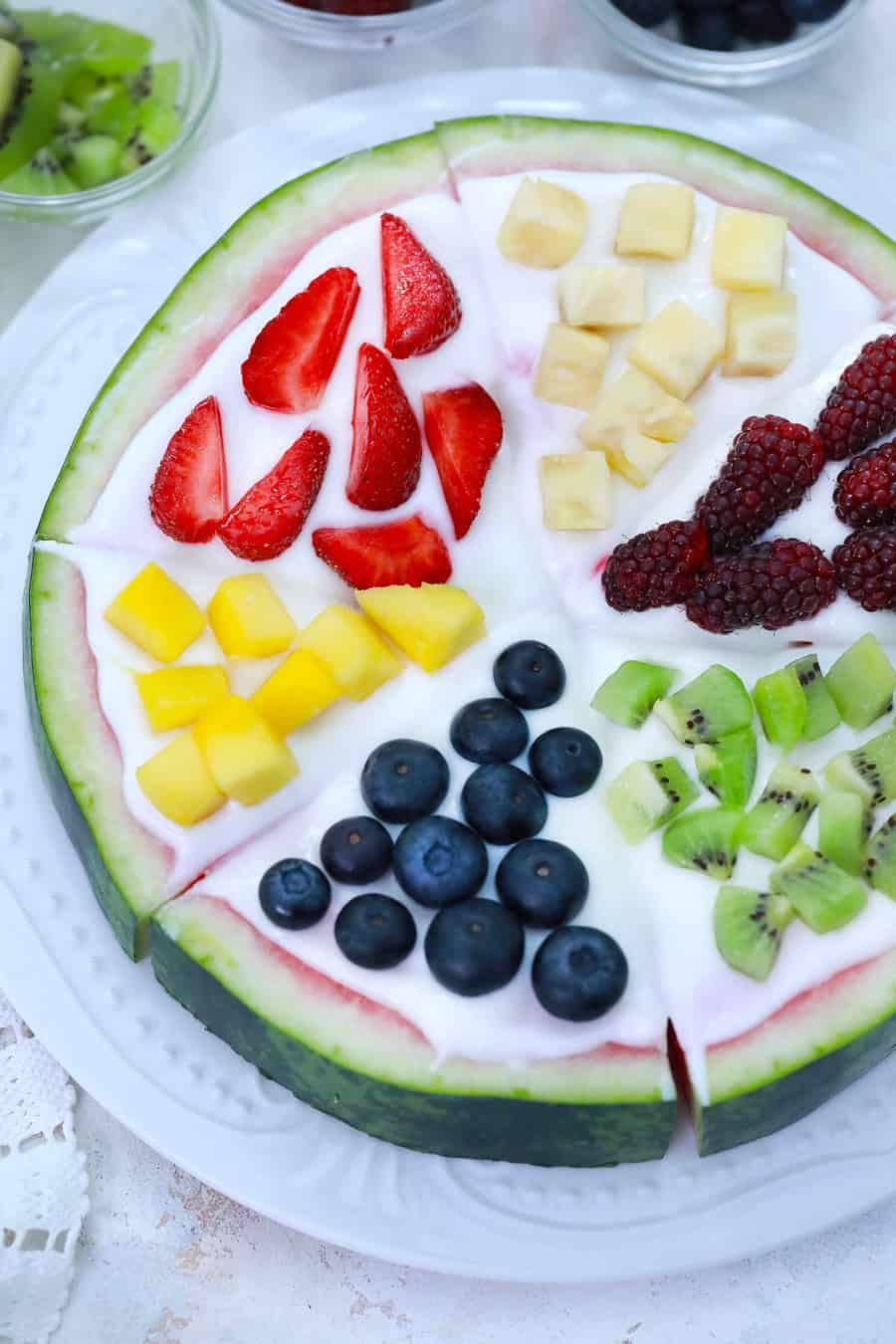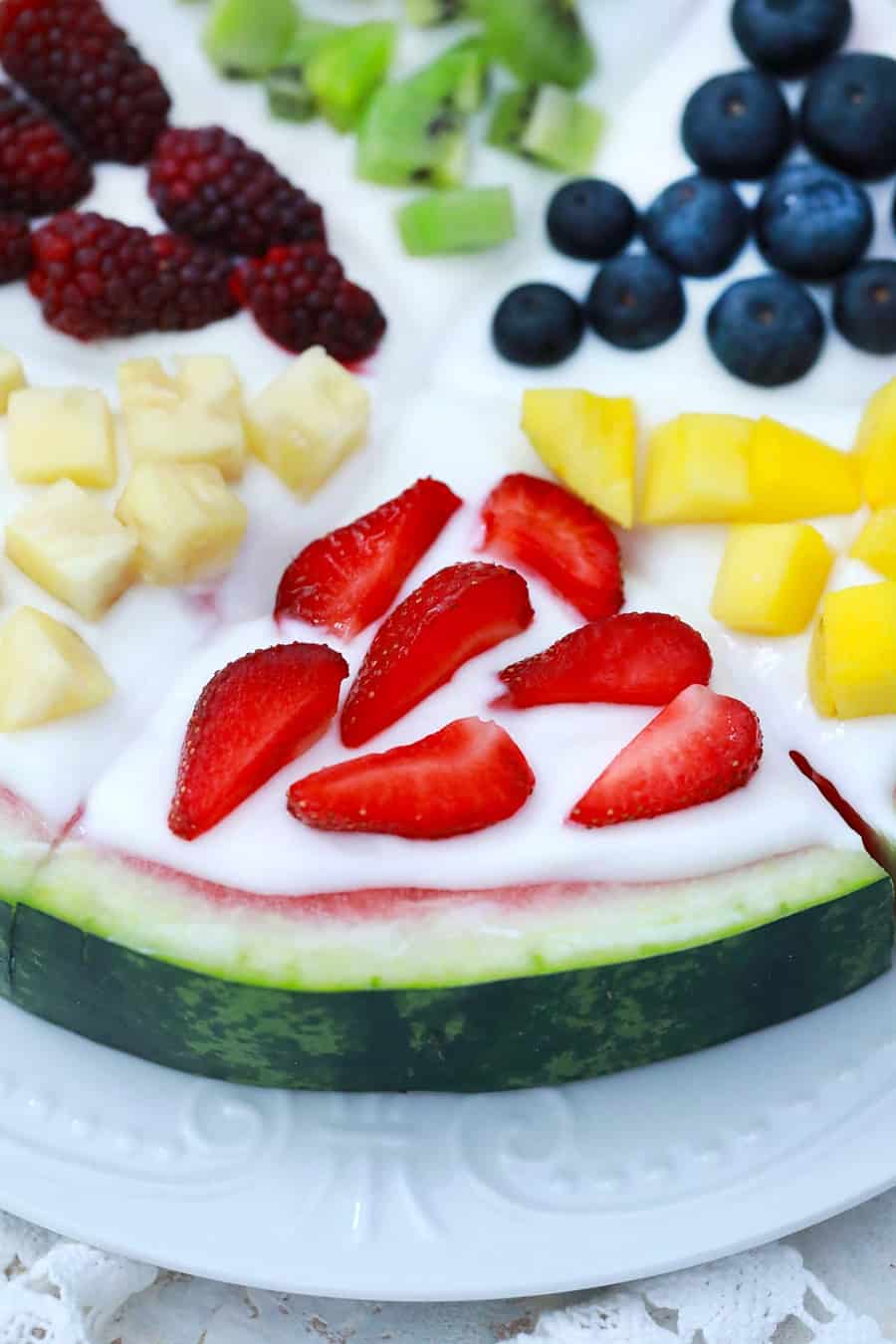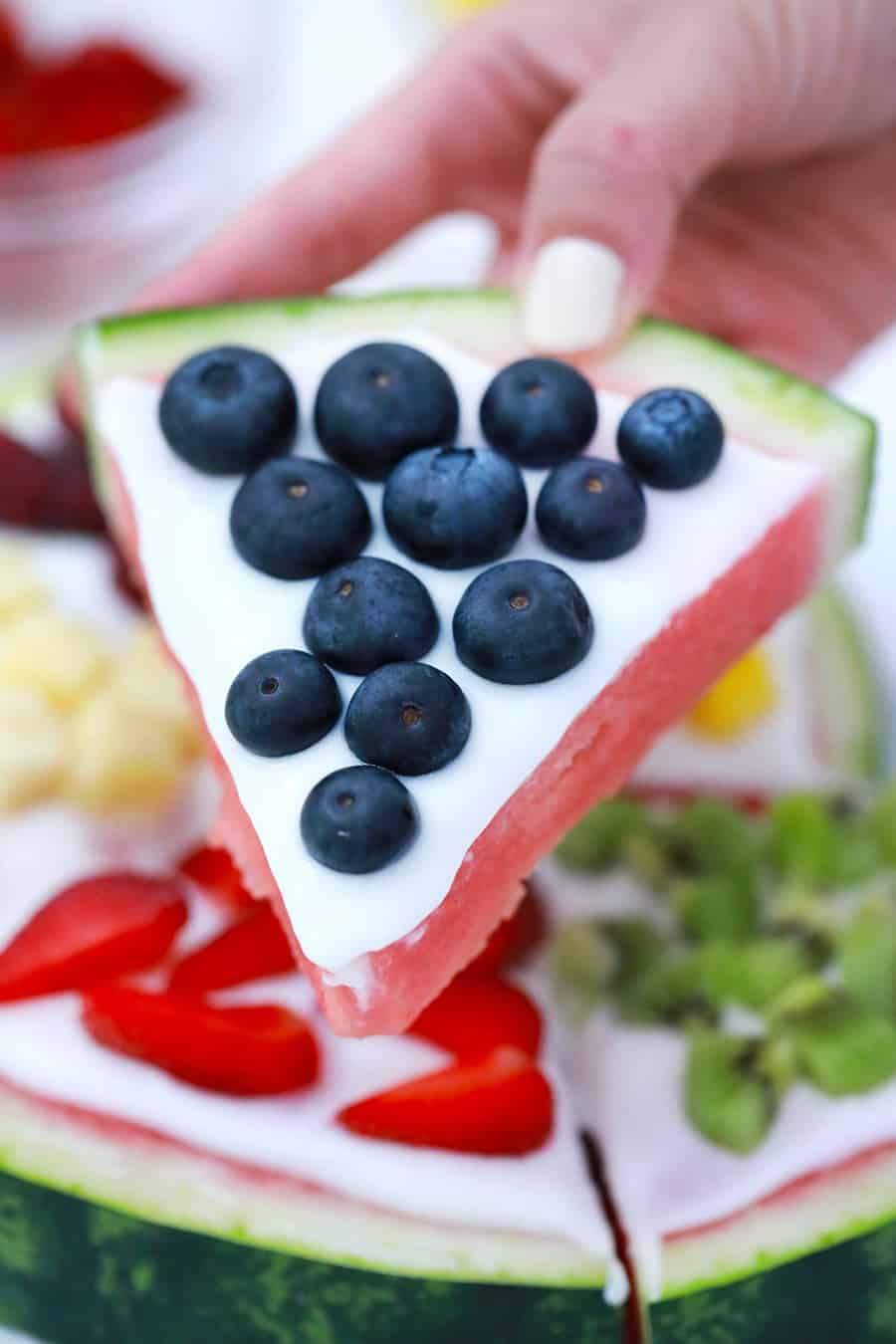 Recipe #5: Frozen Yogurt Tarts
This last recipe is the fanciest, but it's definitely my favorite! To make the crust, grab some granola and melted butter, and mix it all together. Then, take a muffin pan and fill it with liners, placing a small spoonful of the granola mixture into each cup. Mash it down so that it lies flat in the pan. I grabbed strawberry yogurt for this next part, but you can use whatever yogurt you like! All you do is take a spoonful of the yogurt and place it on top of the crust in each liner. Then, take any fresh fruit chunks or toppings you like, and place them on top! Lastly, freeze until the yogurt is set! My kids love these because they're bite-sized and taste so yummy!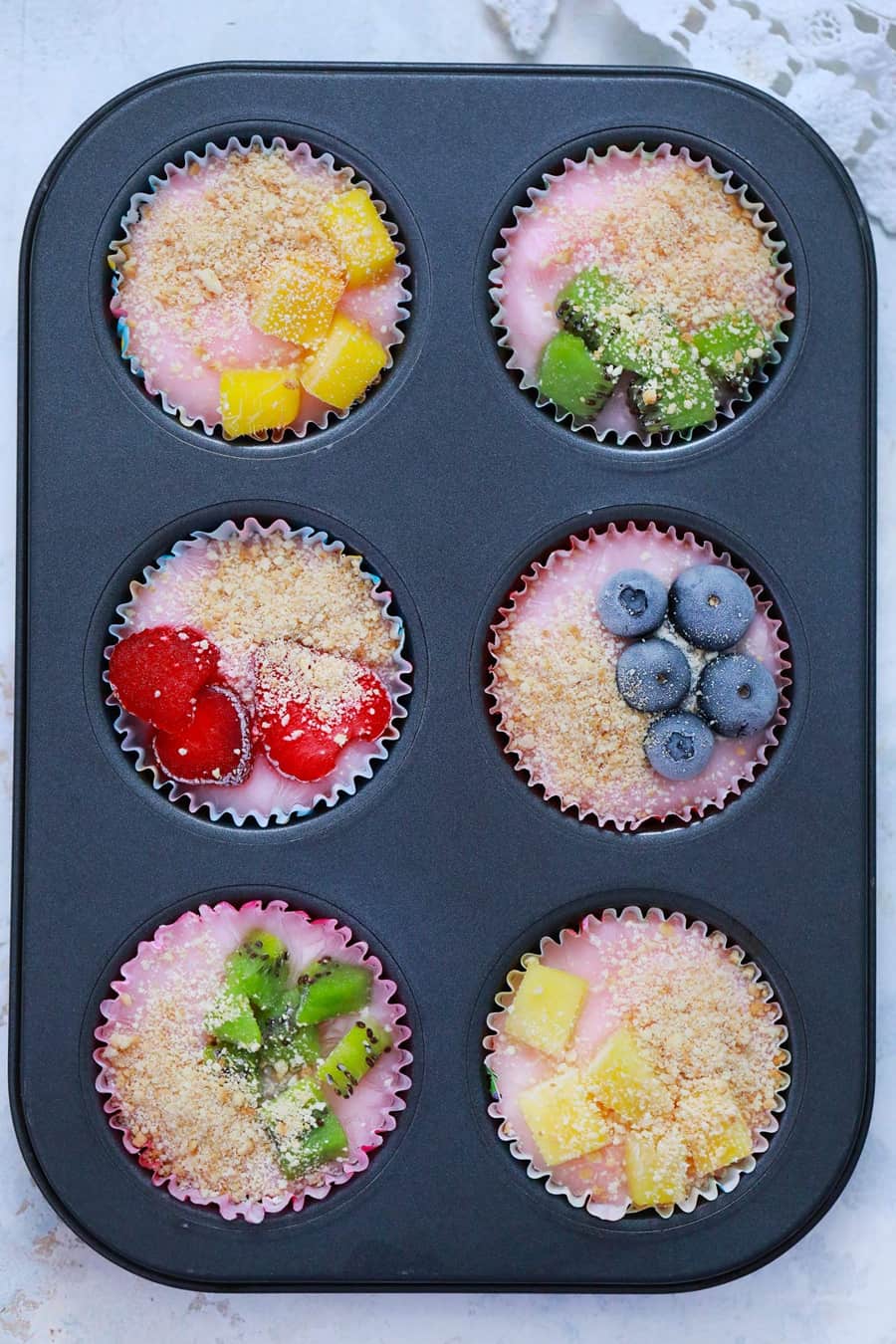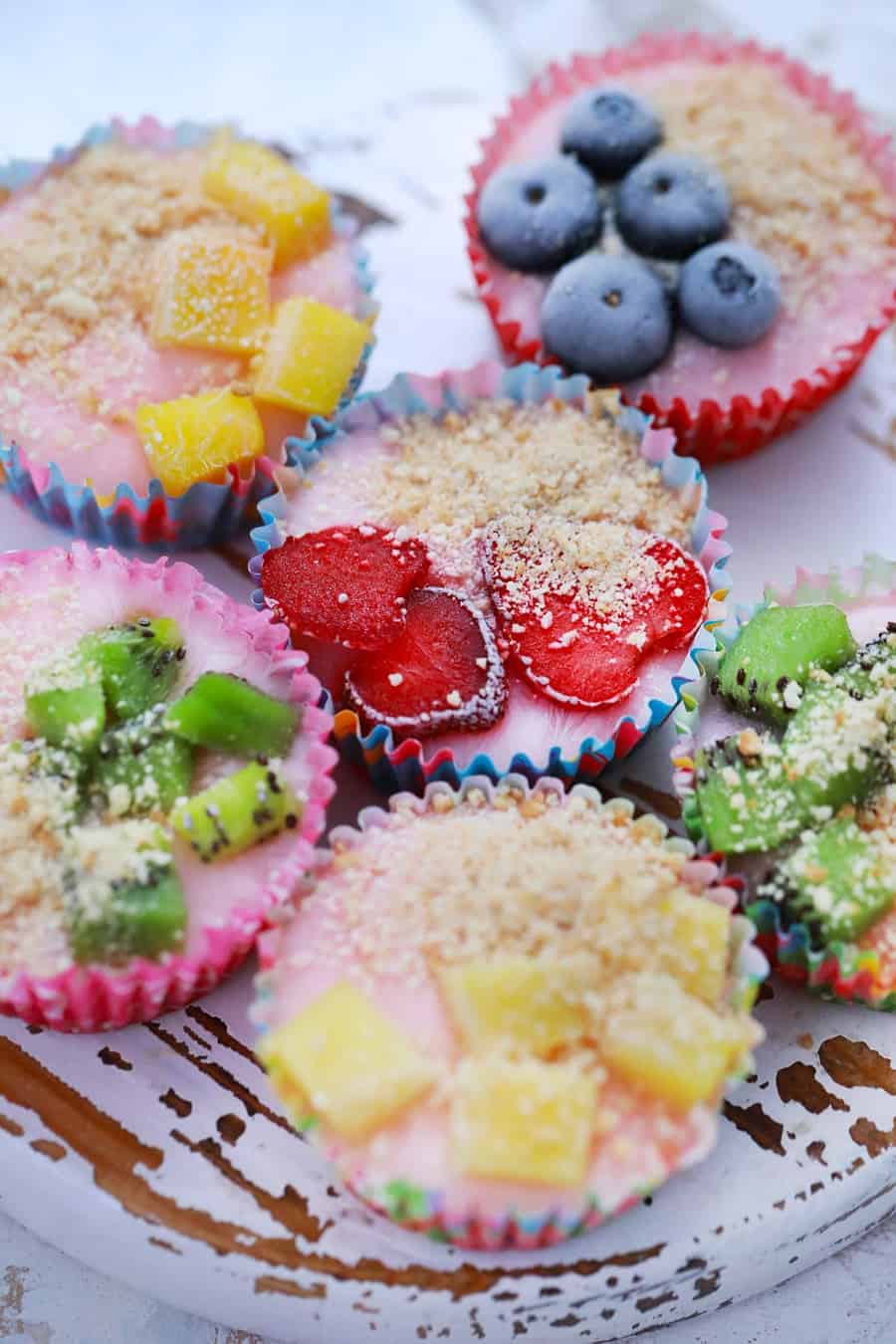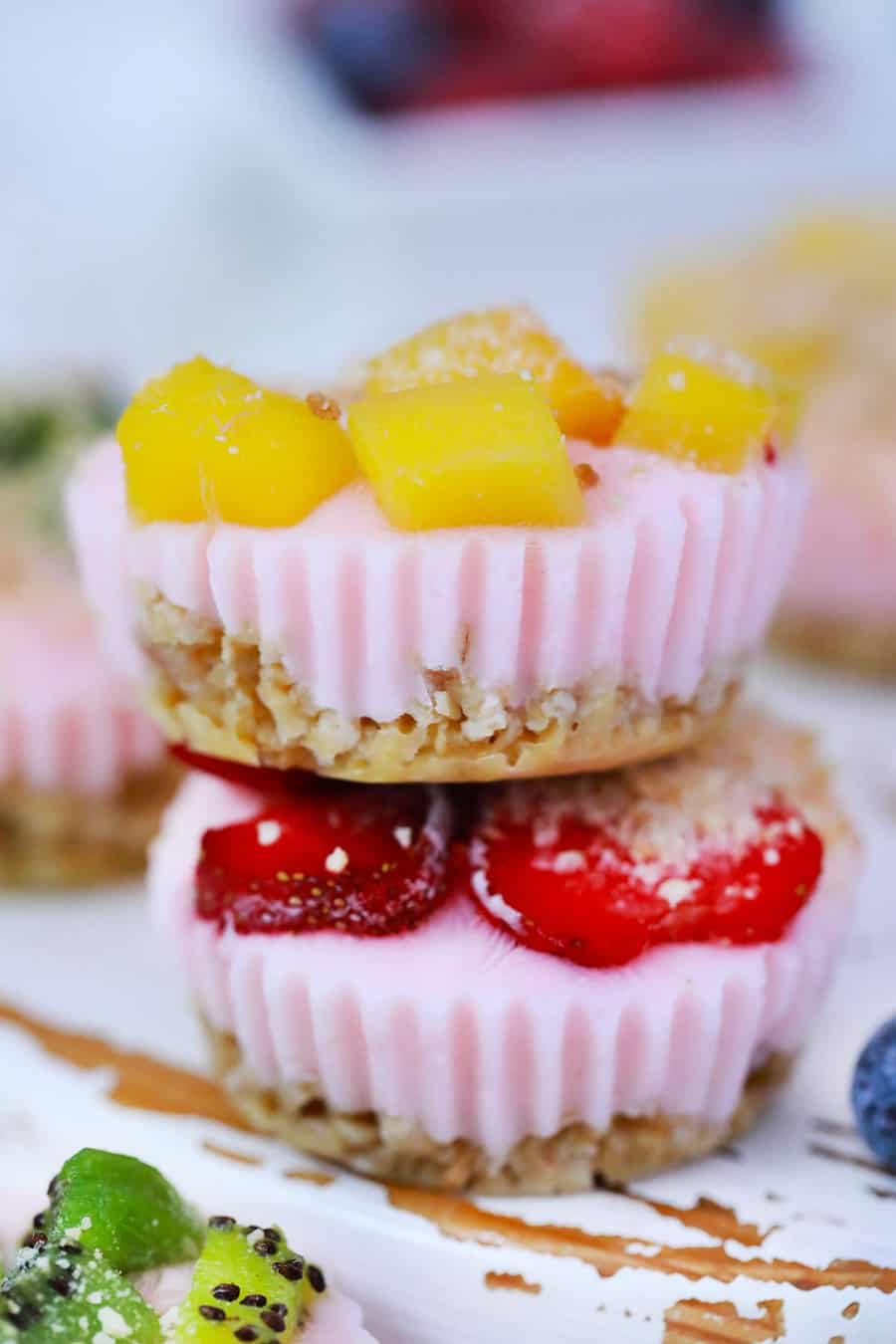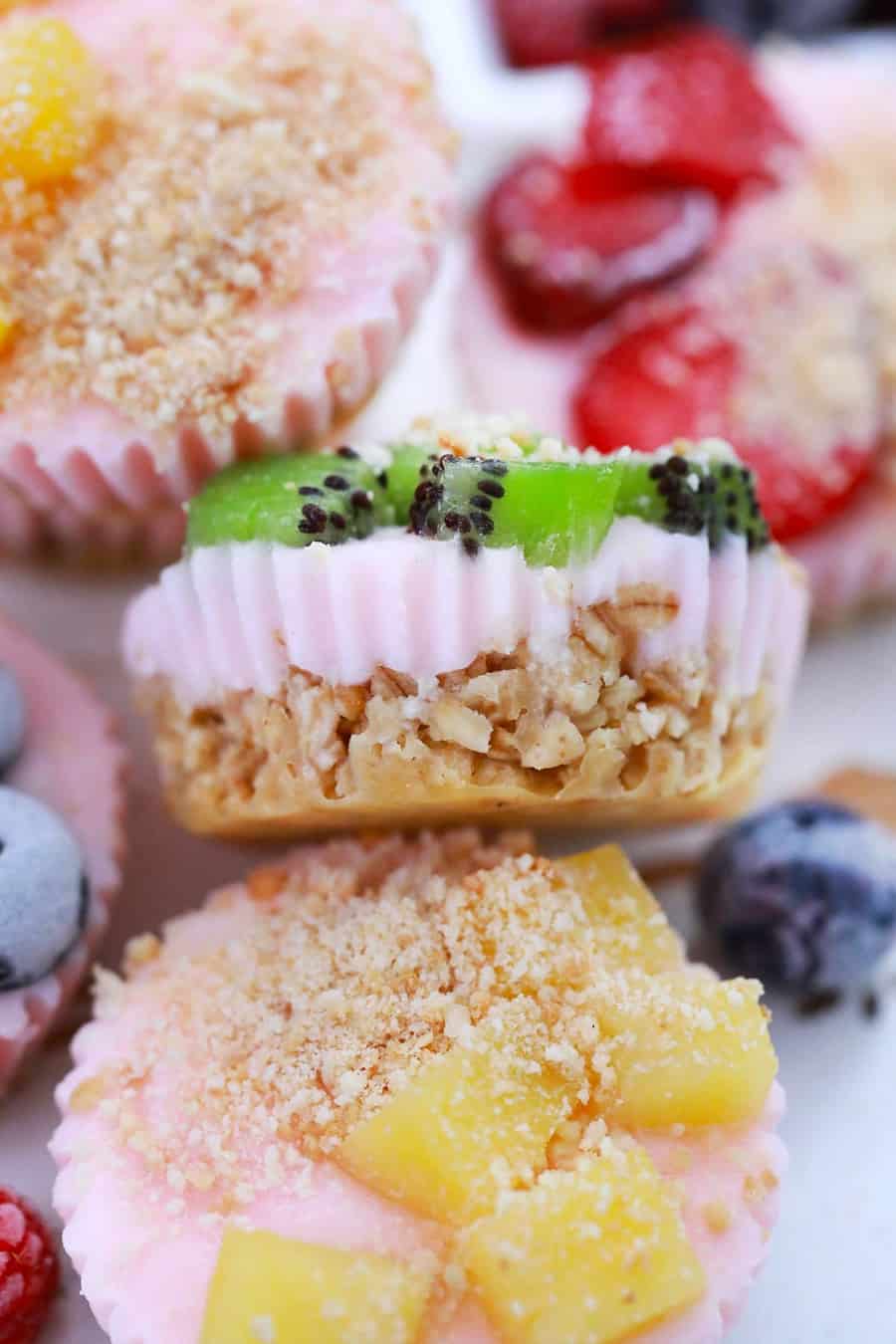 If your kids are bored with eating plain old yogurt, it's time to turn it up a notch with these recipes!
Check out more fun kid snacks
Mini Waffle Ice Cream Sandwiches