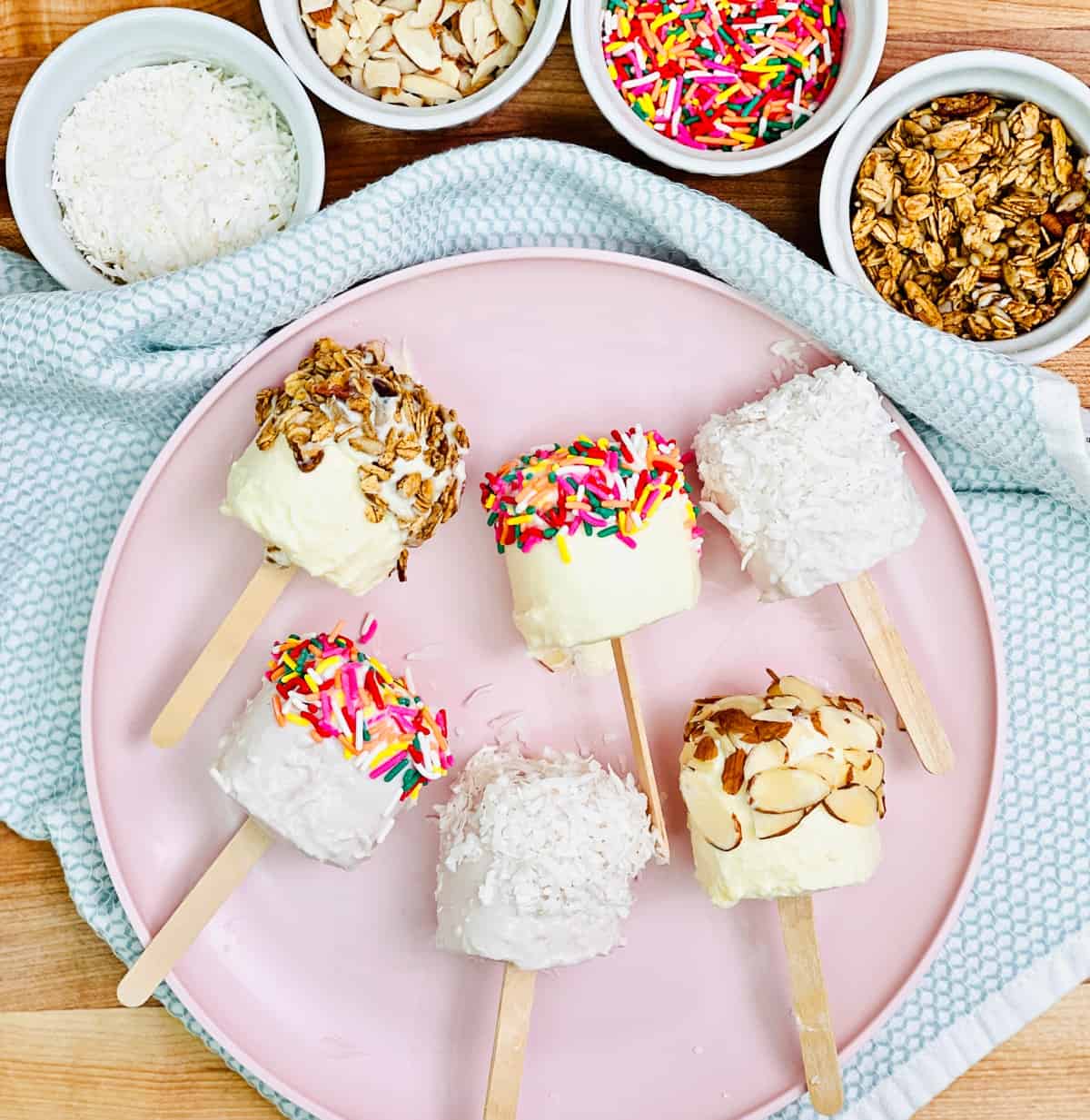 It's summertime and we're always looking for delicious frozen treats for the kids. One of our favorite ways is a healthy and easy kid snack like this frozen yogurt popsicle hack! All you have to do is insert a popsicle stick inside of a yogurt container, then freeze it. After taking them out, add toppings like granola, nuts, sprinkles, or coconut – whatever suits your palette! This is one yummy summertime treat that can be made in minutes with just 2 easy ingredients.
How To Make This Frozen Yogurt Popsicle Hack
It's easy with just store-bought yogurt and popsicle sticks! We used Trader Joe's banana and strawberry yogurt here but you can use other yogurt types. Just make sure your yogurt containers aren't too large so it will be easy for kids to hold the popsicle stick. Ours were 4oz container and a great shape. You can also freeze them in ice cube trays if you prefer that shape or smaller size! After inserting a stick, place the yogurt containers back in the freezer until frozen. We just leave ours overnight.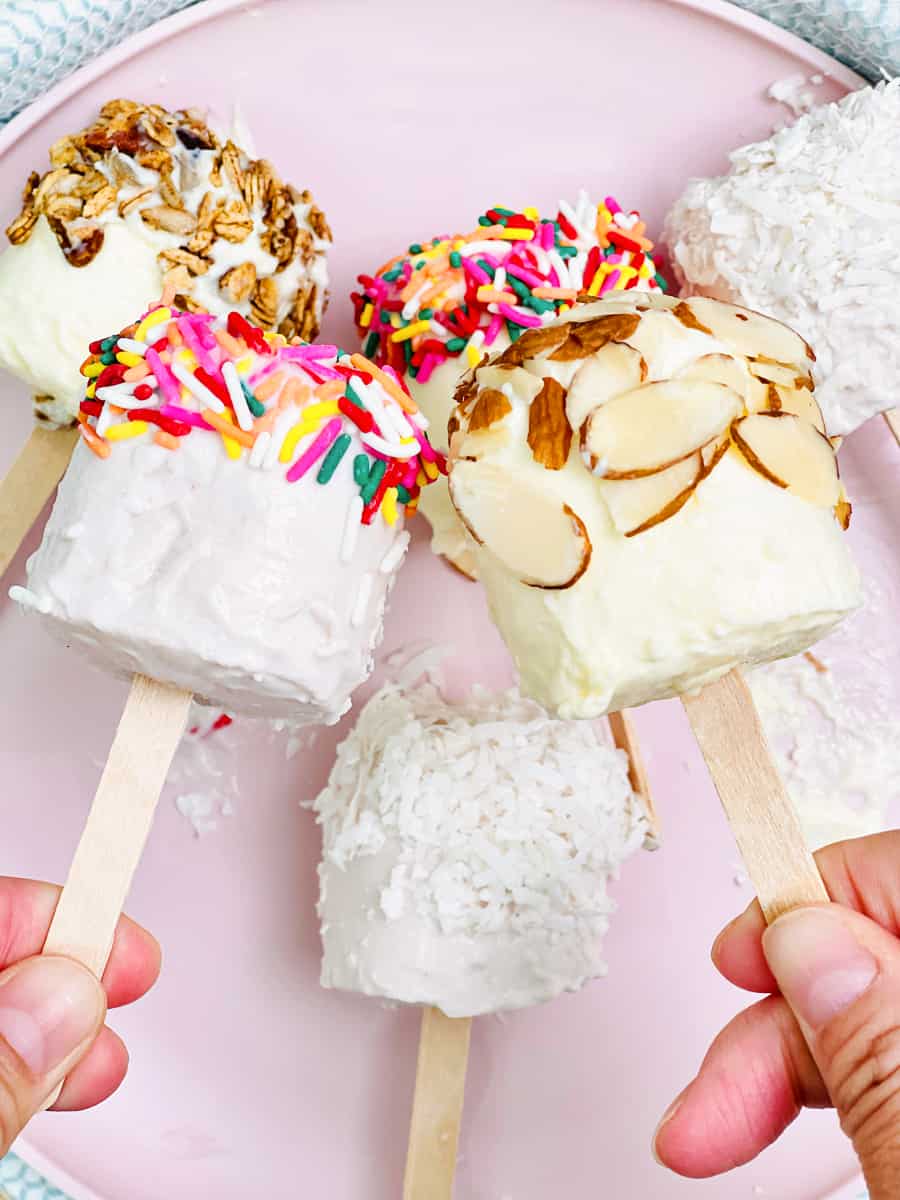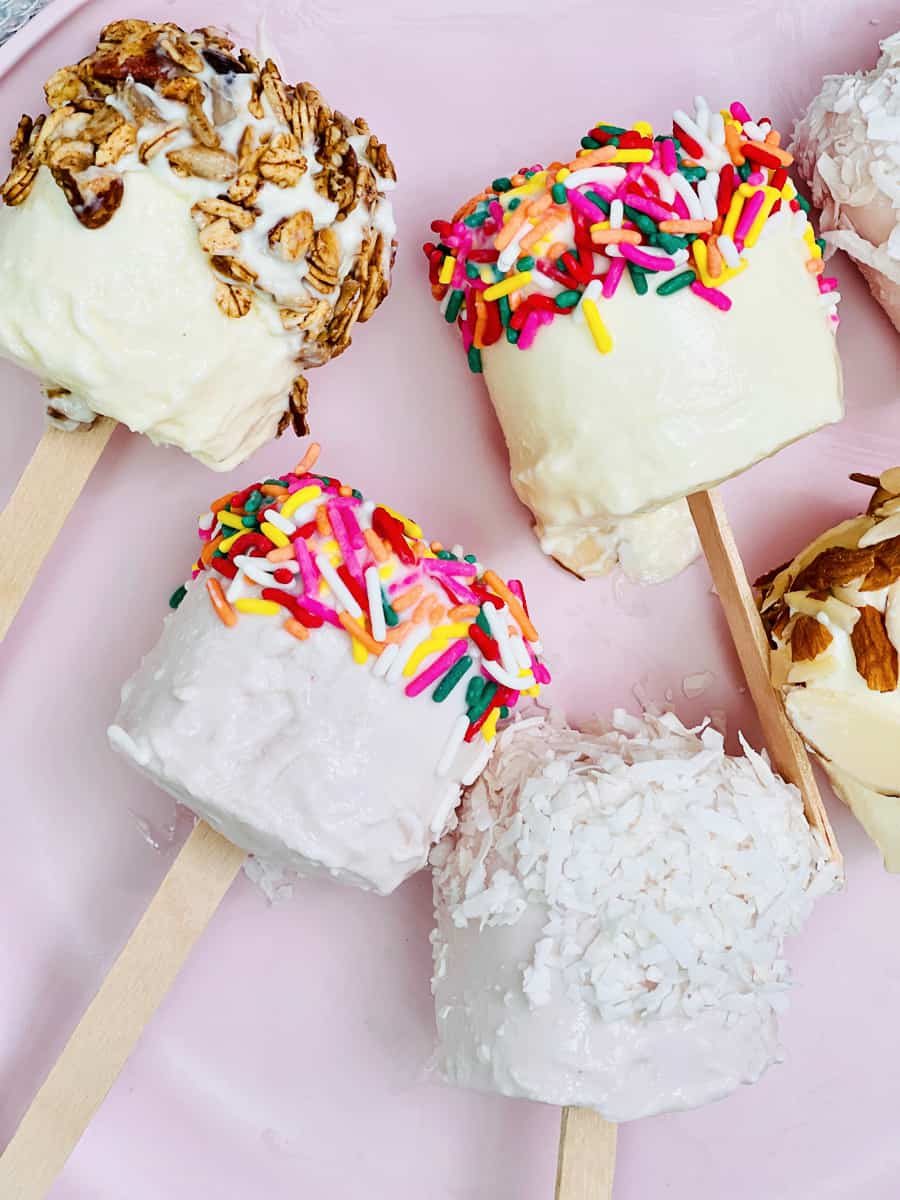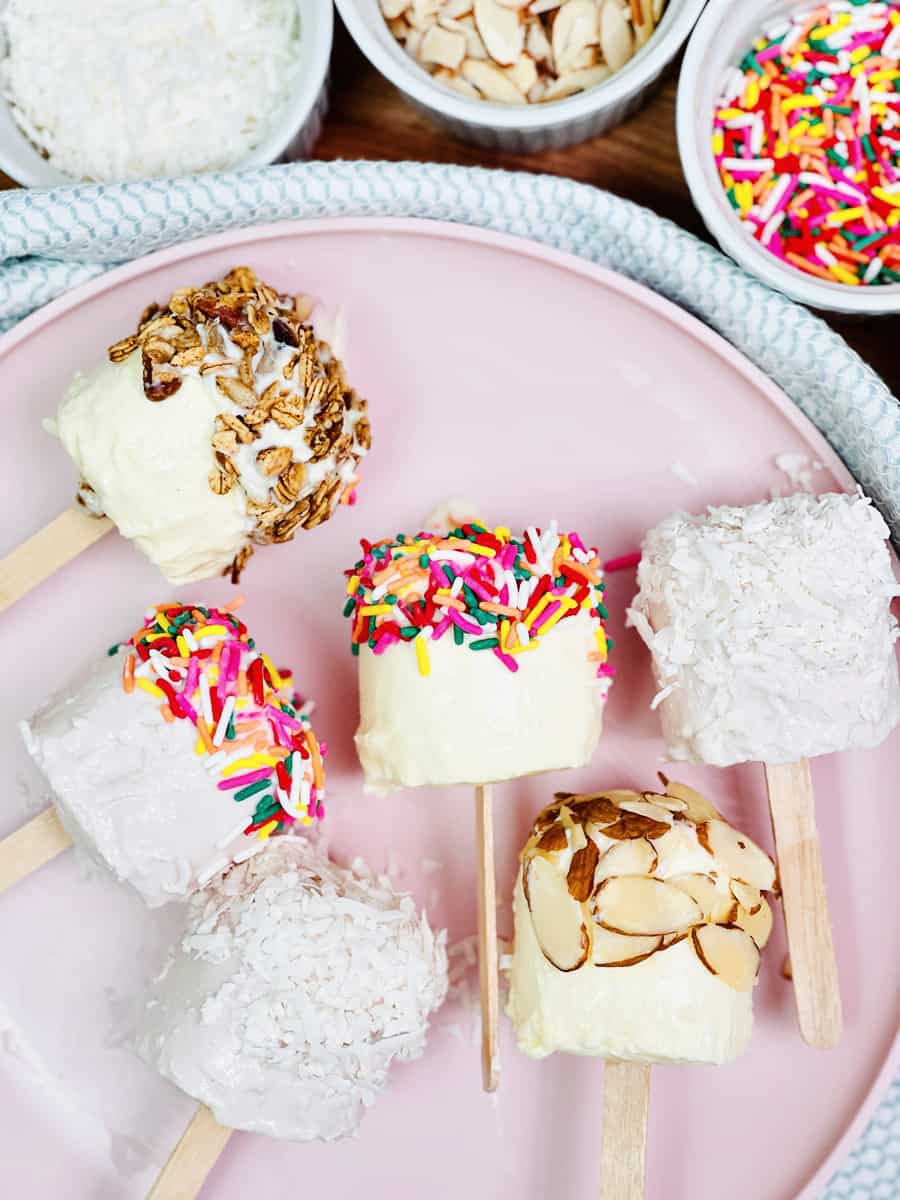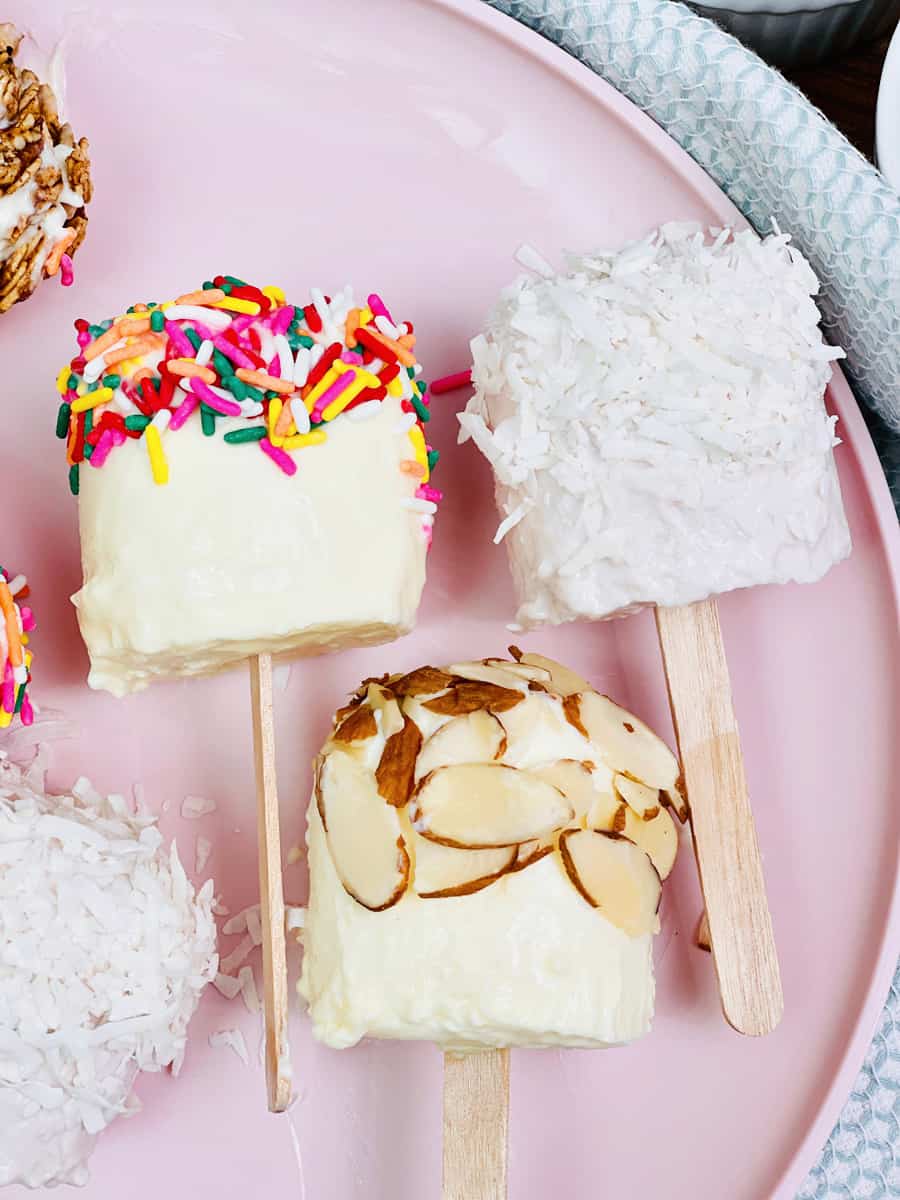 How do you take out the Frozen Yogurt From the Containers?
You'll first want to take the container out and let it siteat room temperature on the counter for at least 10 minutes. That takes the initial chill out. Then you can run some warm water over the bottom containers, making sure no water gets on top of the yogurt. This is easily done over a sink. Last you can take your hands and gently squeeze out the yogurt pops until they pop right out! Kind of like our Capri Sun Popsicle Hack!
What Toppings Can You Add On Top Of Your Frozen Yogurt Popsicles?
We added granola, slivered almonds, shredded coconut and sprinkles (because who doesn't like sprinkles?!). But you can also add fresh fruit, cereal or even chocolate chips.
Fresh fruit toppings that go well with yogurt are diced strawberries, blueberries, bananas, or mango.
It's easier for the toppings to stick when your popsicles take a few minutes to lose their immediate chill from the freezer. After you pop them out of the containers leave them on parchment paper or a plate and then add your toppings.
Be sure not to leave your popsicles out too long after adding toppings as they will lose their shape and start melting. Be prepared to dole these treats out as soon as they are decorated!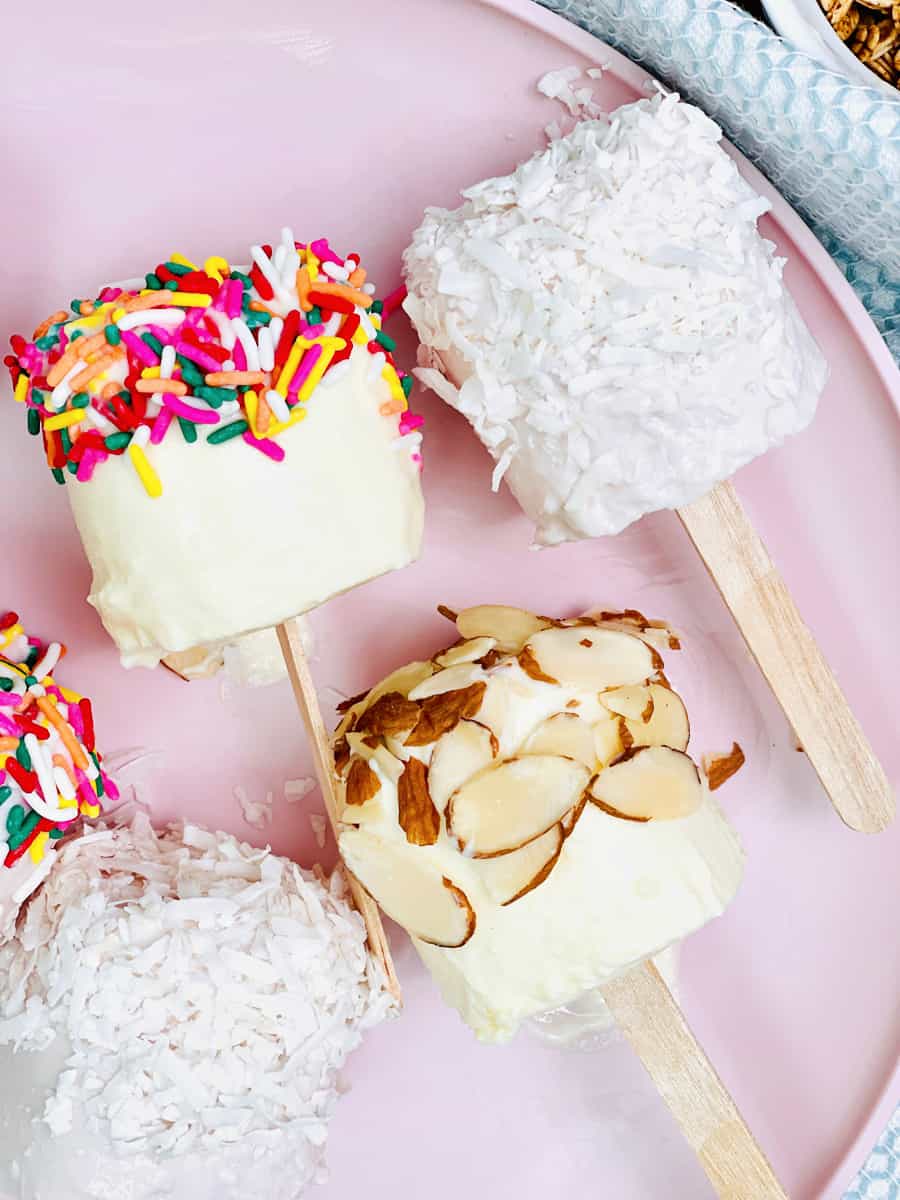 This Yogurt Summer Treat Is Fun For Kids to Decorate
You can lay out all the toppings and let the kids go to town with their favorite toppings!. This is a fun way for them to get to be creative in the kitchen. And also makes a super fun playdate snack!
These popsicle yogurts are a healthy and easy kid snack, that everyone will enjoy! Plus it's a great summer food that's easy to make and can be enjoyed by the whole family! It will become your kid's favorite dessert I'm sure of it!
Frozen Yogurt Popsicle – Ingredients
small yogurt containers (store-bought, we used 4 oz containers)

popsicle sticks

toppings (such as fruit, granola, sprinkles, shredded coconut, nuts)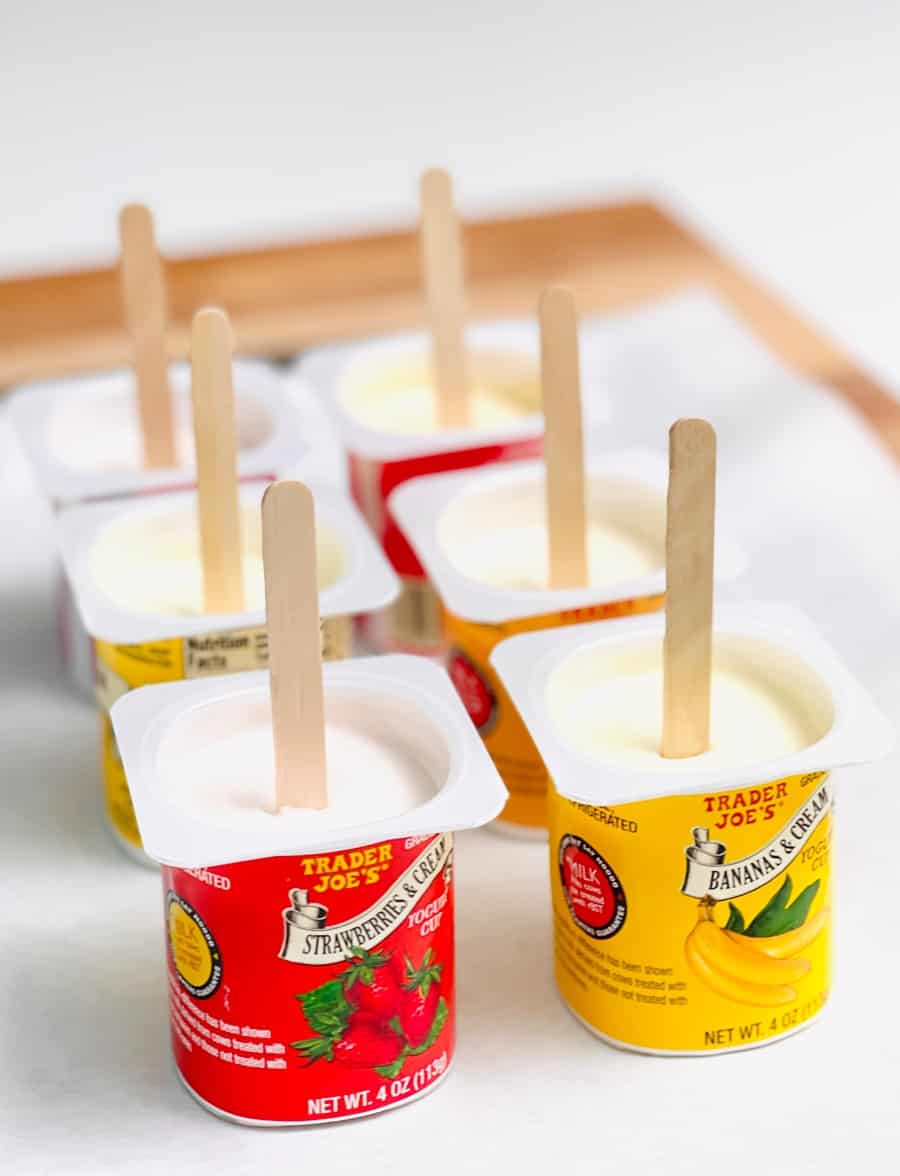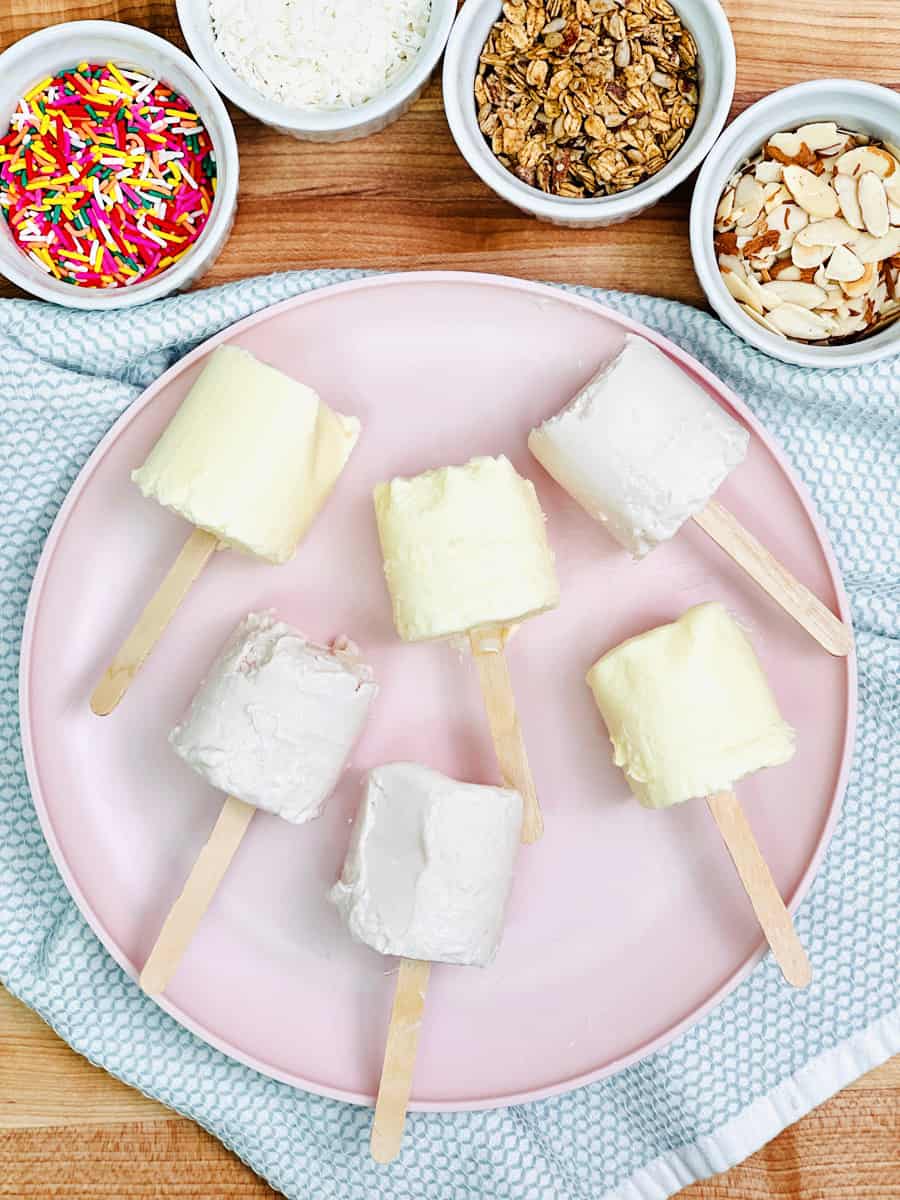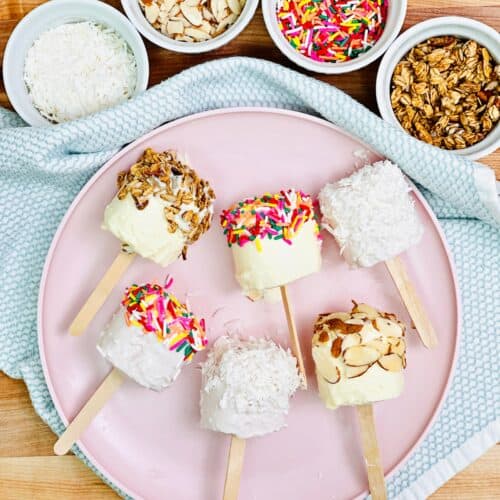 Frozen Yogurt Popsicle Hack
These frozen yogurt popsicles are a healthy and easy kid snack and perfect for summer.
Ingredients
Small yogurt containers

(store-bought, we used 4 oz containers)

Popsicle sticks

Toppings (such as fruit, granola, sprinkles, shredded coconut, nuts)
Instructions
Take the lids off your yogurt containers and insert a popsicle stick in the middle.

Freeze the yogurt until frozen.

Remove from freezer, let sit at room temperature for at least 10 minutes.

Run warm water over the bottom to loosen the frozen yogurt. Then use your hands to squeeze the popsicles out.

Lay on a plate or parchment paper and add your desired toppings on top and sides. Serve immediately.