Follow us on Instagram for more fun food ideas for kids!
This Rainbow Fruit Watermelon Pizza is made using fresh fruit and delicious yogurt. Natural sugars from the fruit make this a truly sweet treat and healthy snack for kids!
Who says you can't give the kids pizza as dessert? This tasty fruit pizza shows that anything is possible if you put your mind to it. I love that this delicious pizza recipe is a sweet treat and the kids really do, too. It makes a healthy treat and fun summer snack for kids.
With the "crust" being ripe watermelon, you know it's going to be good! And now that the watermelons are becoming in season, they're going to be ripe and perfectly sweet every single time.
If the kids are fans of eating pizza for every single meal at all times of the day, this delicious fruit pizza recipe is one that you can serve up to them and know that they're filling their bodies with healthy treats instead of sugary sweets.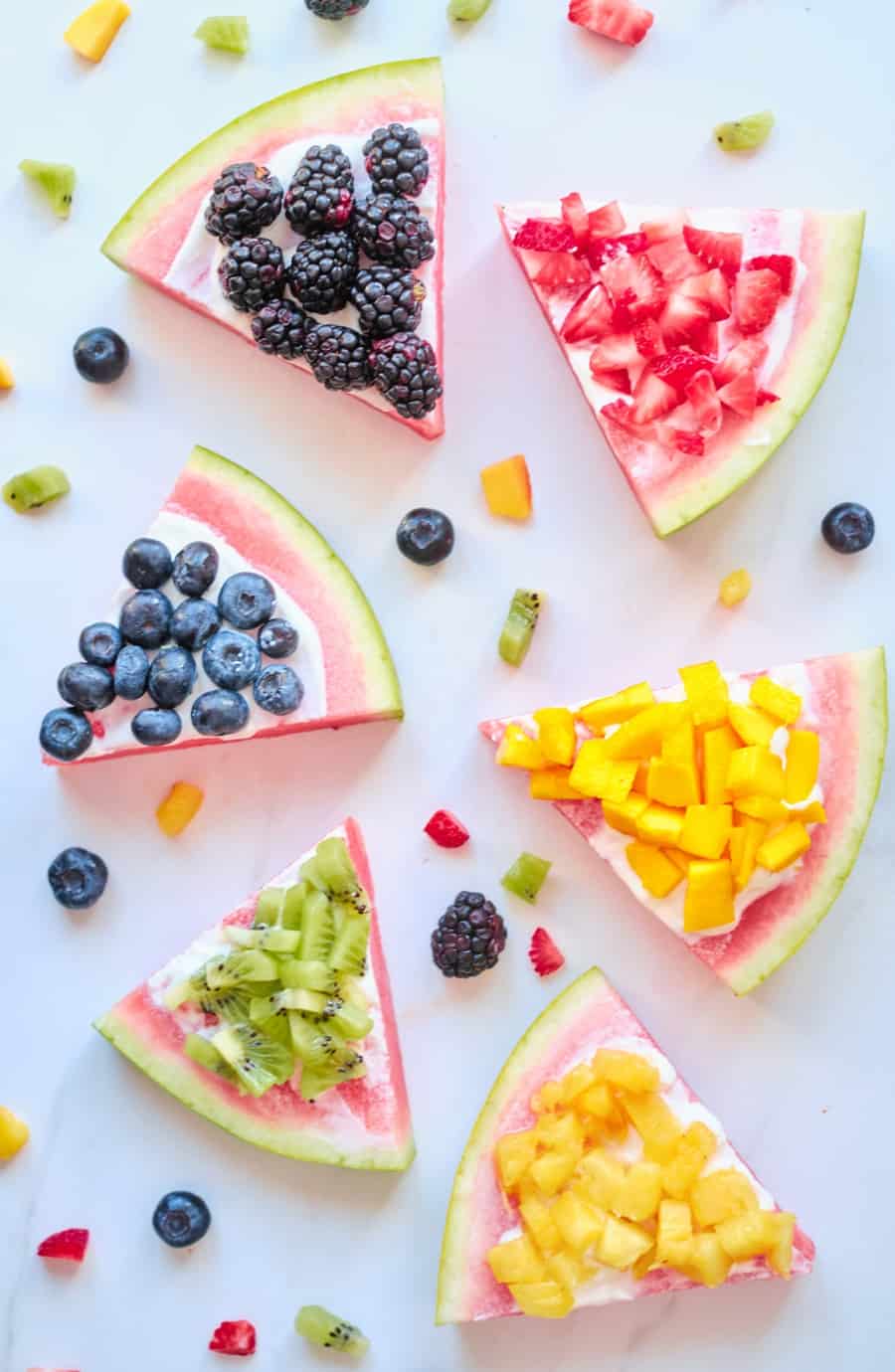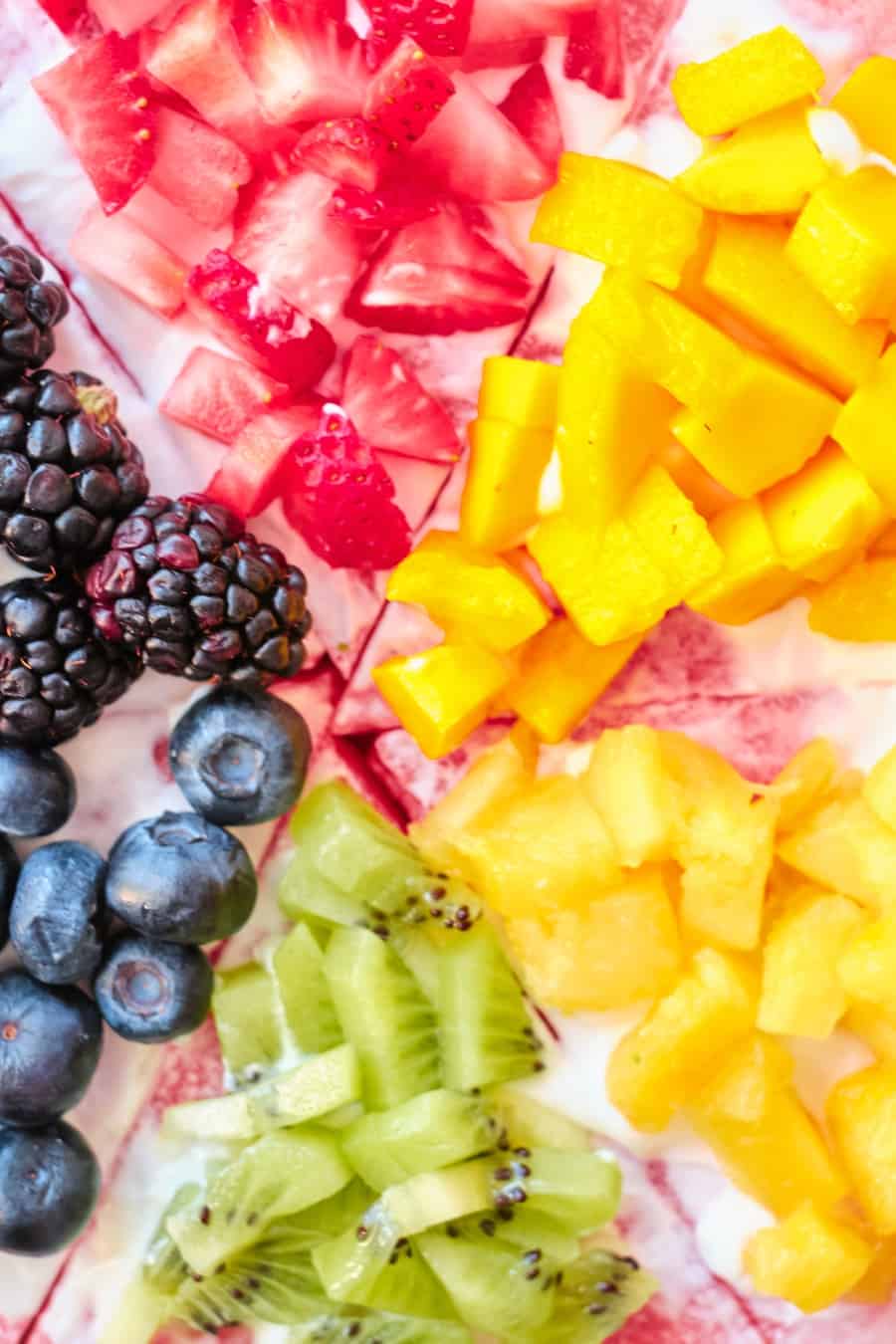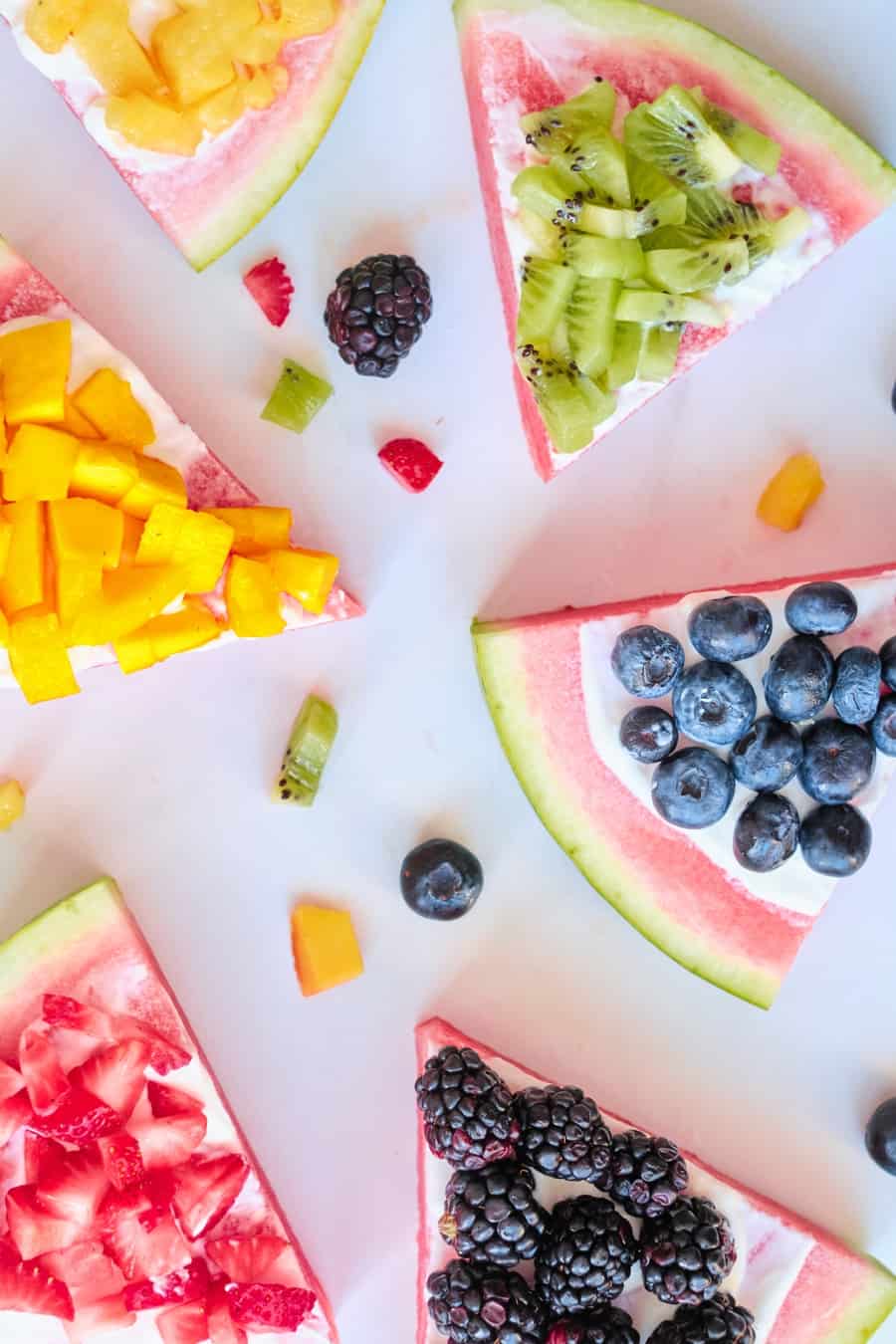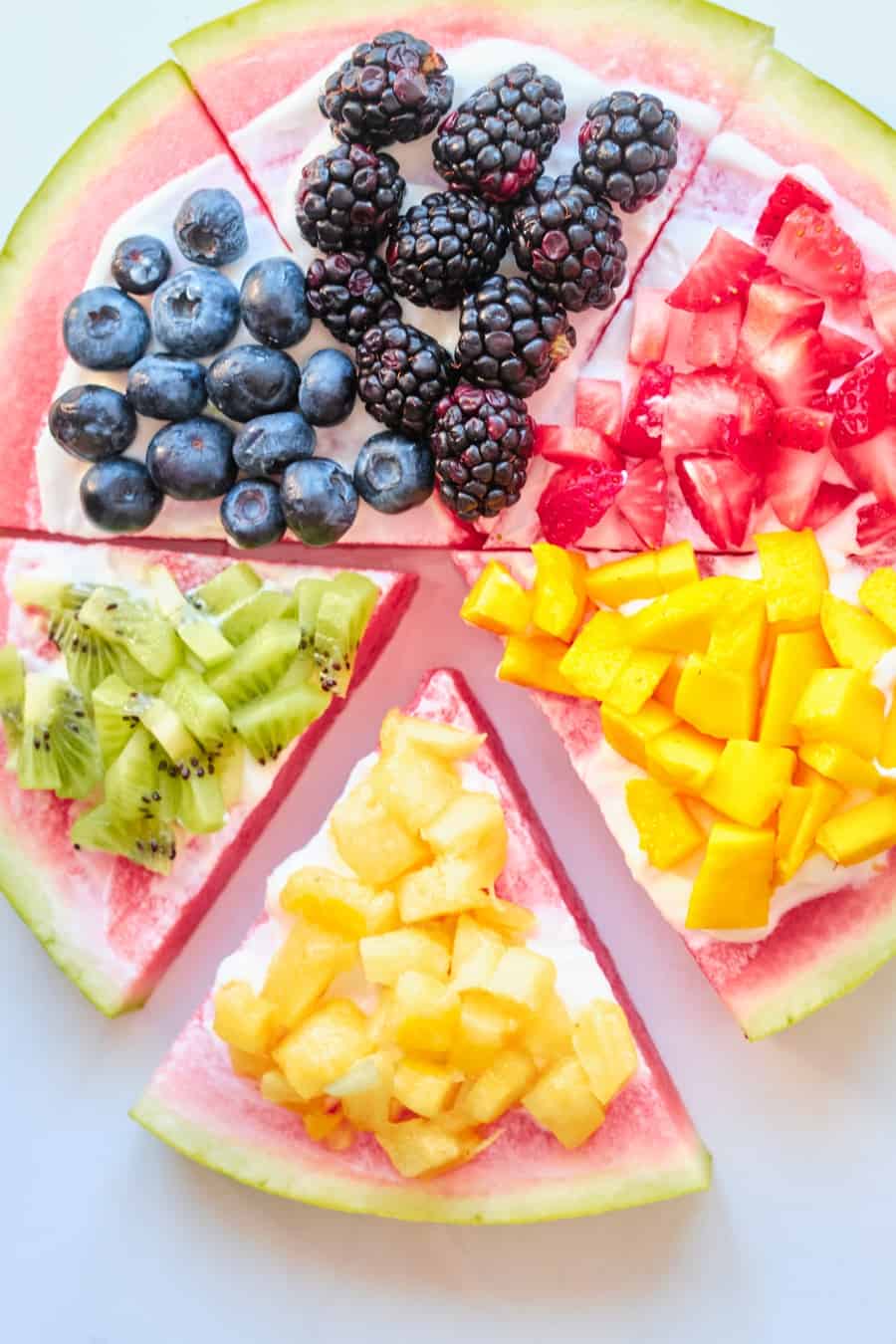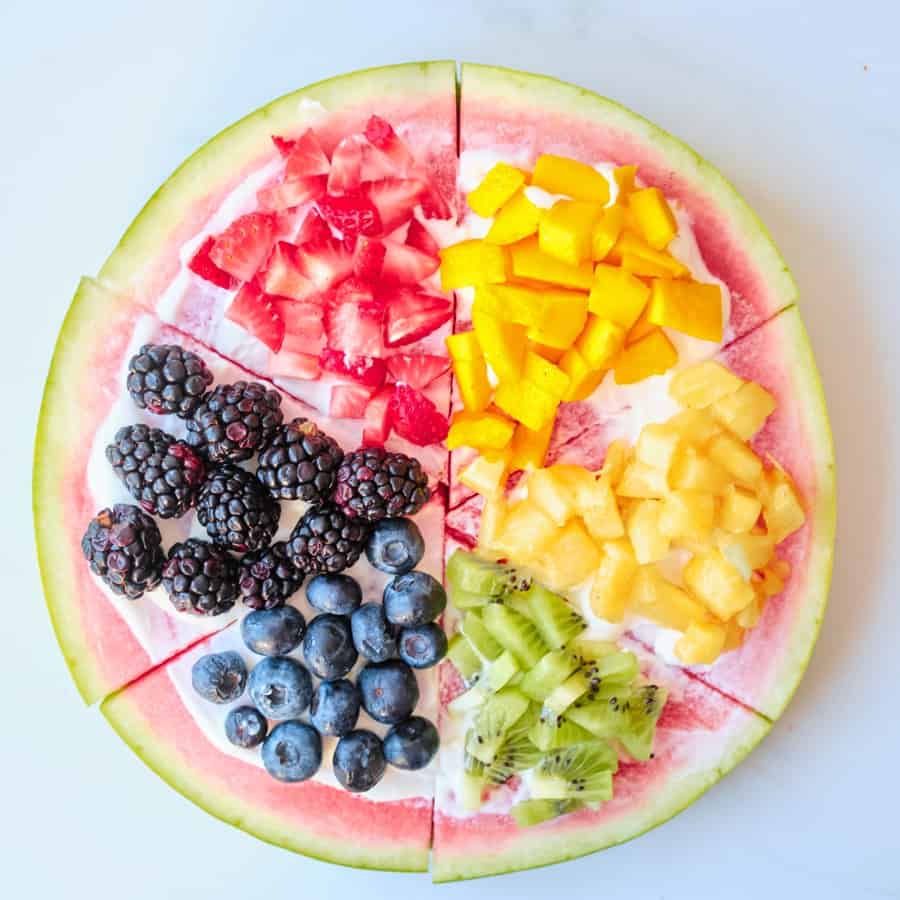 What are the best toppings for this rainbow fruit watermelon pizza?
This is the beauty of this dessert pizza recipe. You can use whatever fruit toppings that you want. I love to add any type of fruit that is fresh and in season as the flavors are just so sweet and delicious.
Some of the best fruit topping choices are blueberries, blackberries, peaches, pineapple, strawberries, and kiwi. And since the base is already watermelon, you can skip adding that on the top.
Don't forget to try these Rainbow Fruit Waffles as well.
Can you use frozen fruit for this fruit pizza recipe?
You can but fresh fruit is the best. Frozen fruit tends to hold in the liquid and release it as it thaws so there's a chance that you'll have an extra liquid that will make it look a bit messy.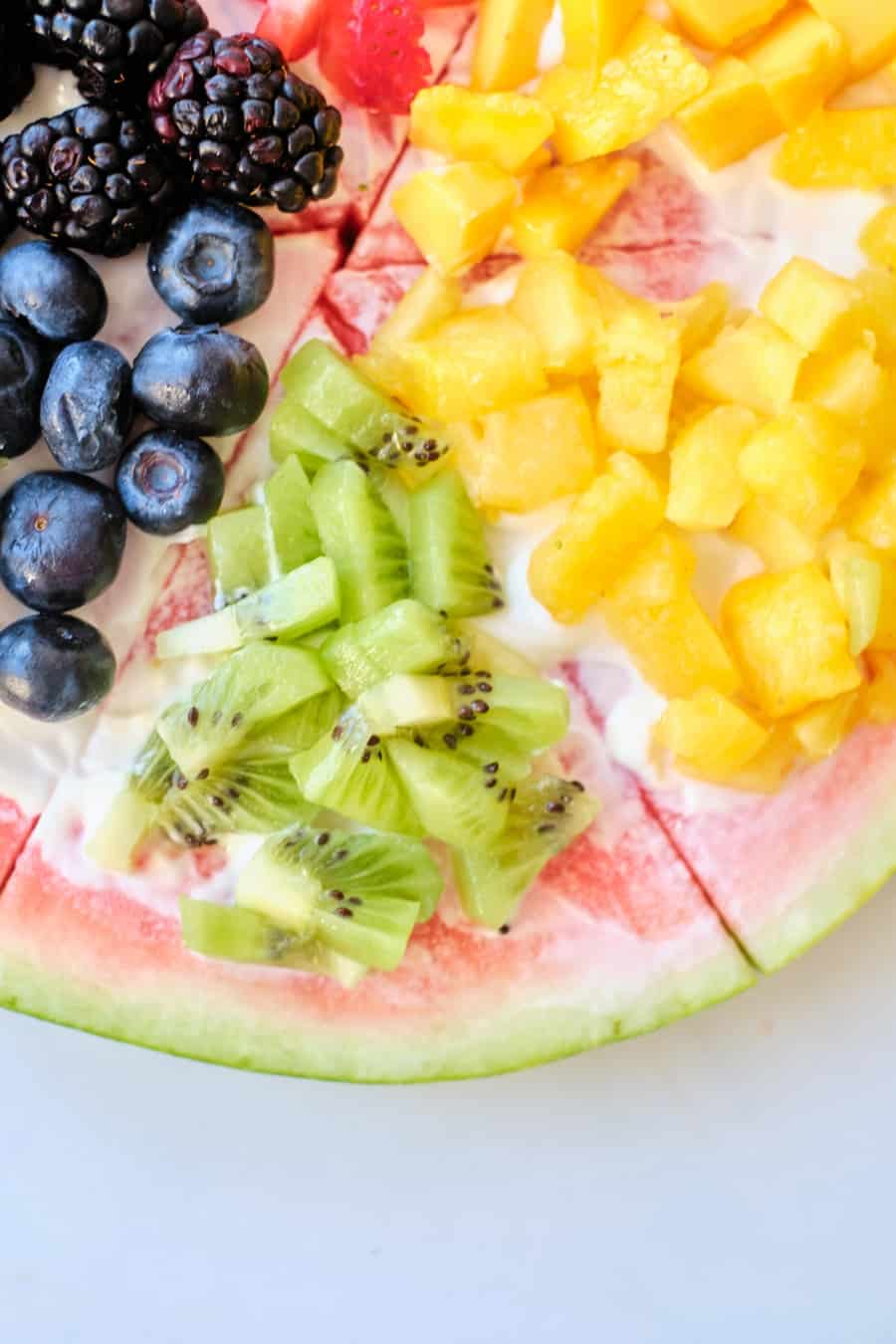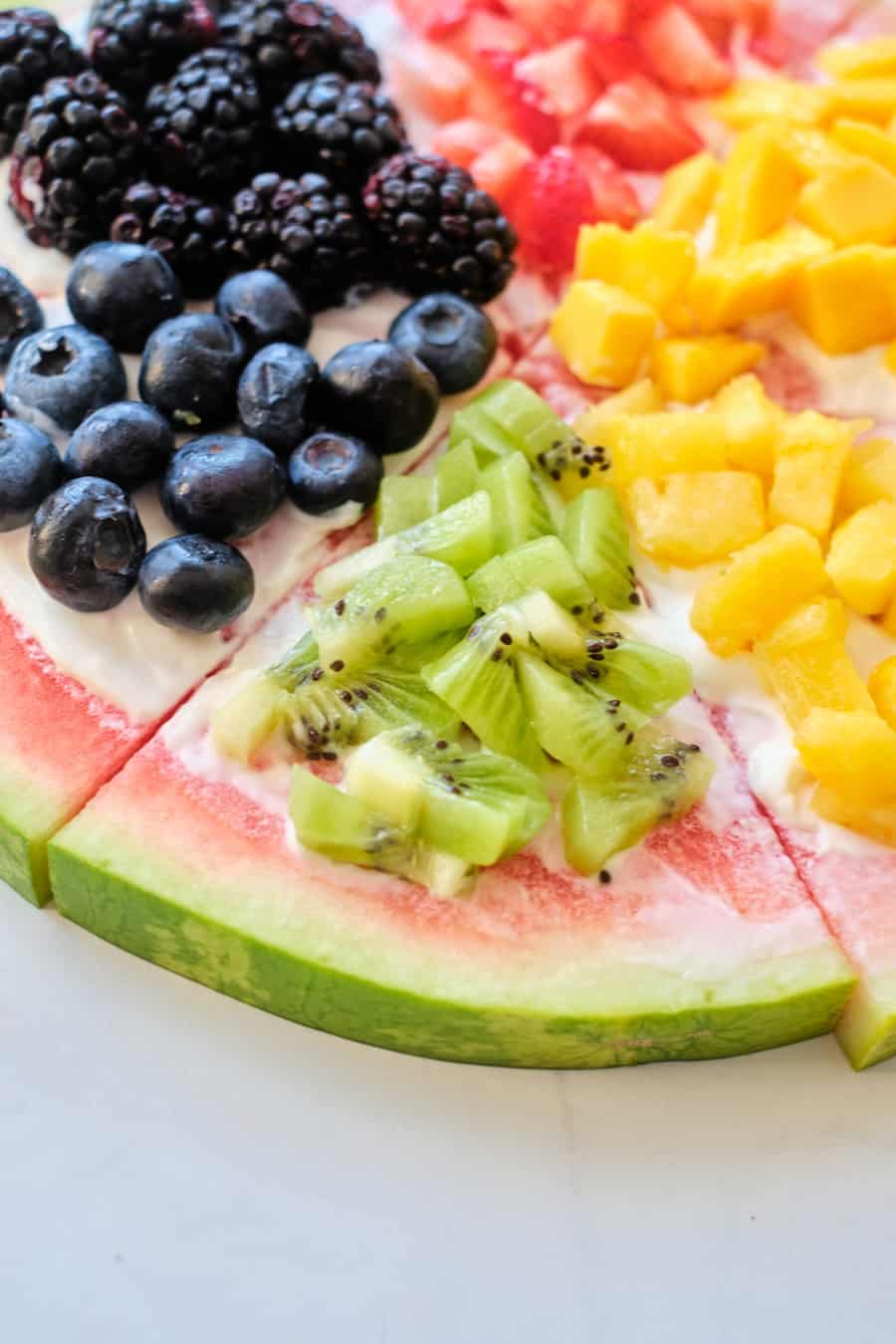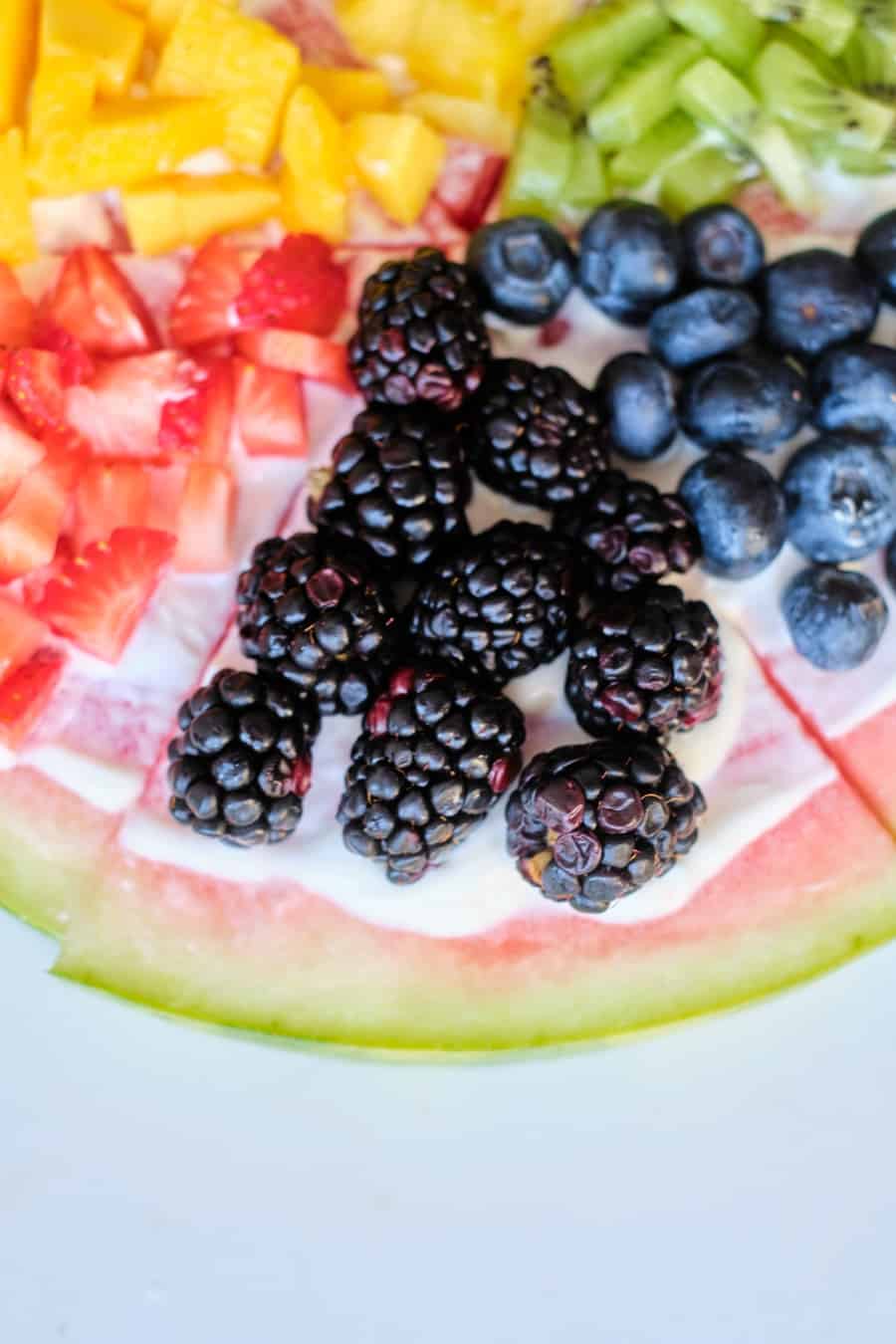 Rainbow Fruit Watermelon Pizza Recipe – Ingredients:
As I mentioned above, you can easily swap out or add in any of the fresh fruit choices that you want.
Fresh fruit of your choice (we used strawberries, mango, pineapple, kiwi, blueberries and blackberries)

Sliced fresh watermelon for the "crust"

Yogurt
Tips for making Watermelon pizza
There are a few things to keep in mind when making this watermelon dessert pizza.
When you slice the watermelon, make certain to dab off any extra watermelon juice that is on top. The juice is delicious but it will make the surface a bit too wet to have the yogurt stick on top.
Layer on the yogurt so that it's thick enough to hold the added fresh fruit in place. You can even use flavored yogurt of your choice if you'd like. I would think that vanilla yogurt would be a great addition and go perfectly well with the pizza.
If you wanted to add a different texture to this, you can always sprinkle on a tad bit of granola to give it a bit of crunch and texture.
Have fun making up this simple pizza dessert recipe! It's a healthy treat that the kids are going to love!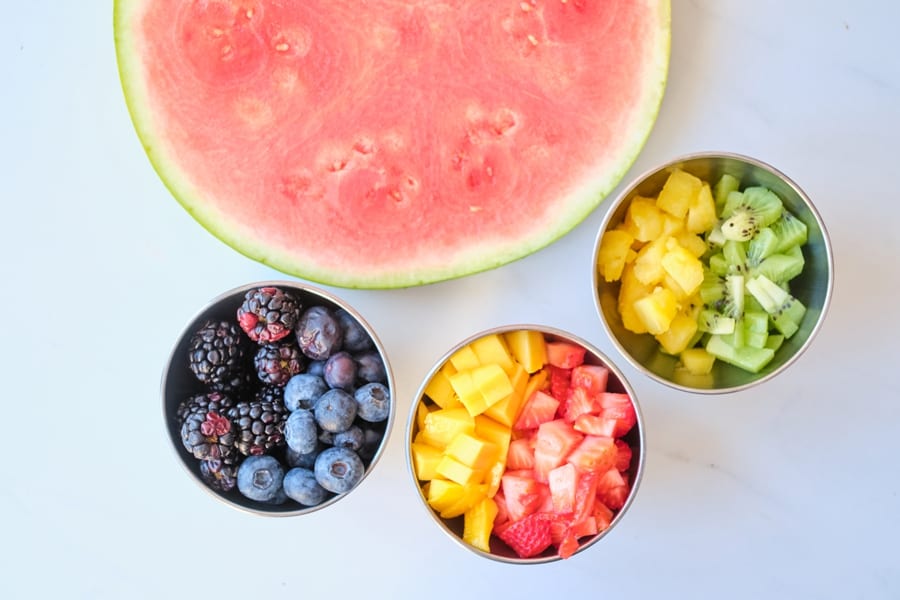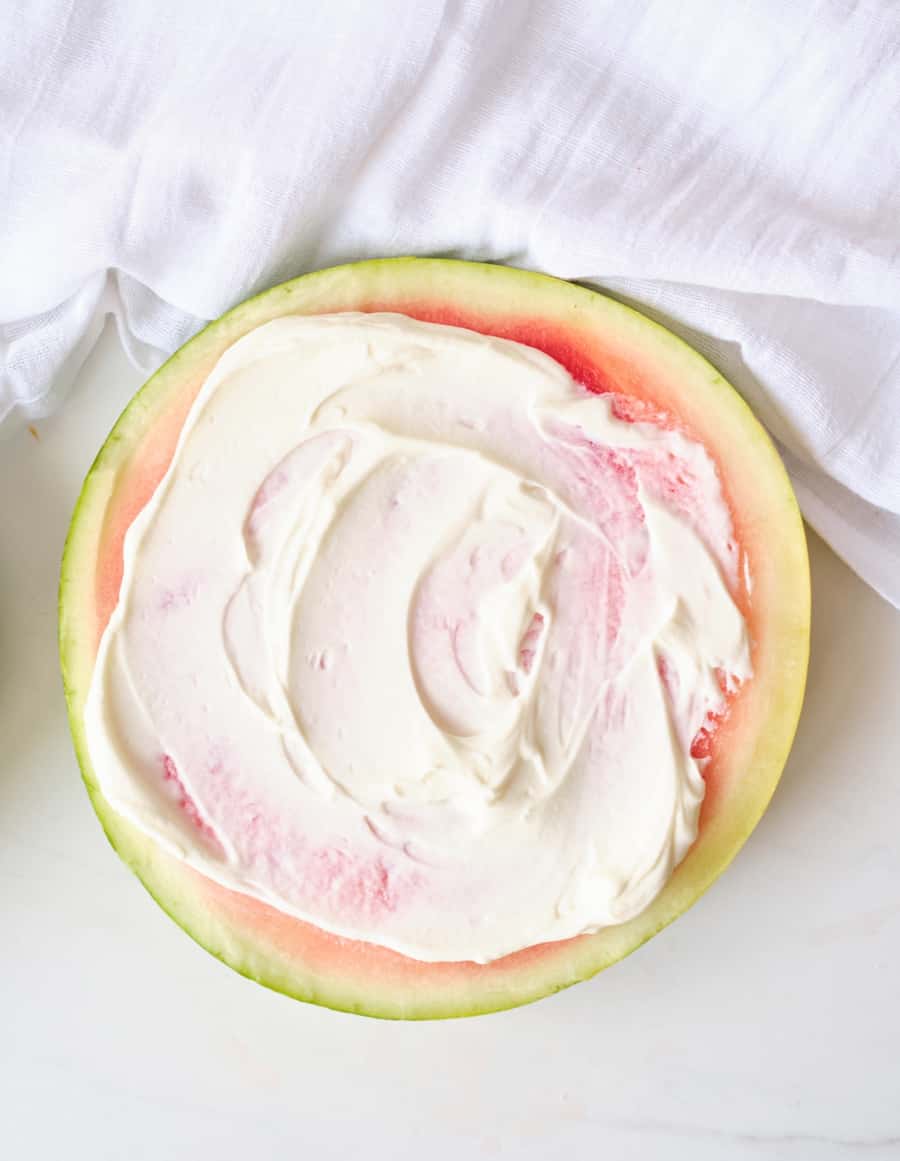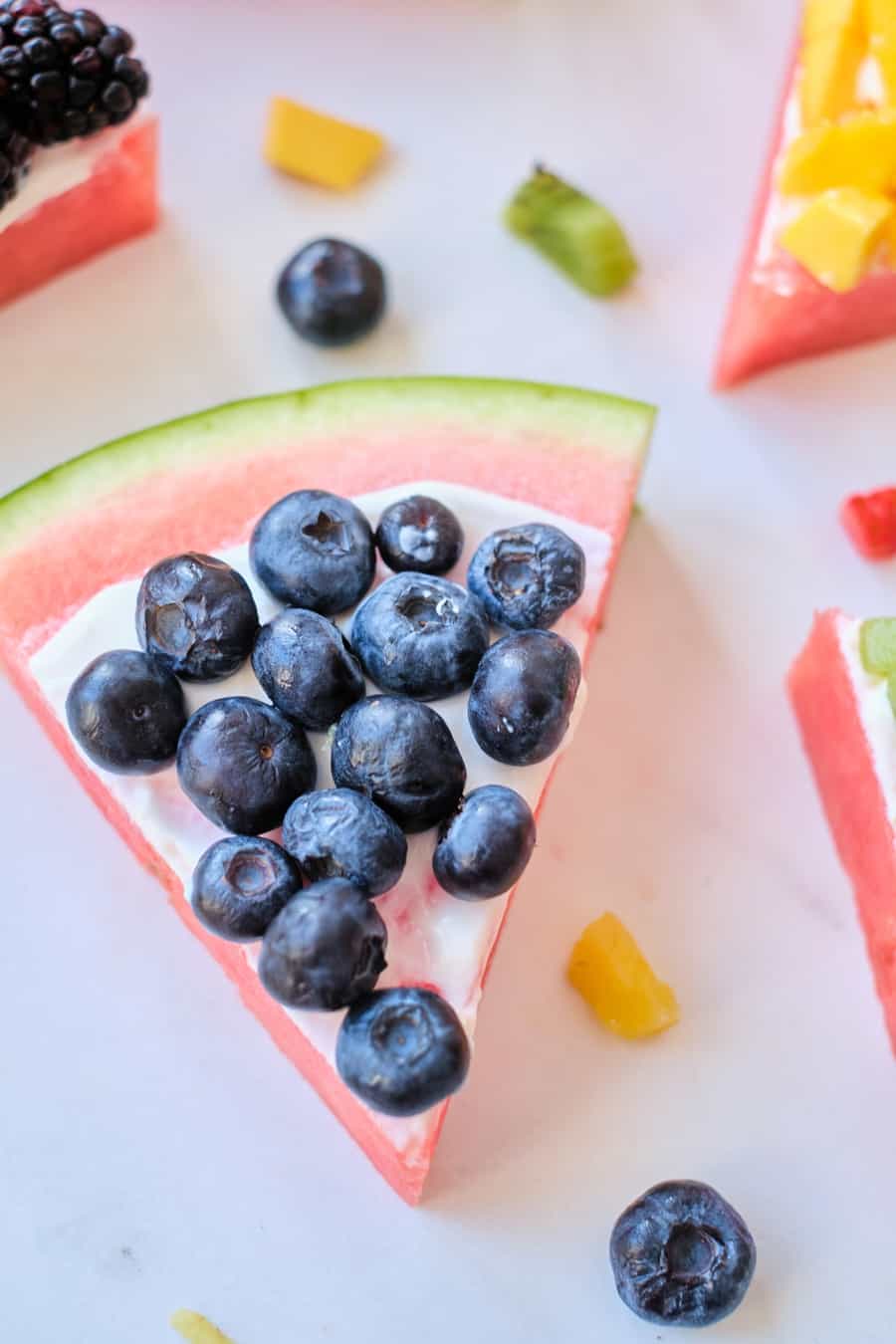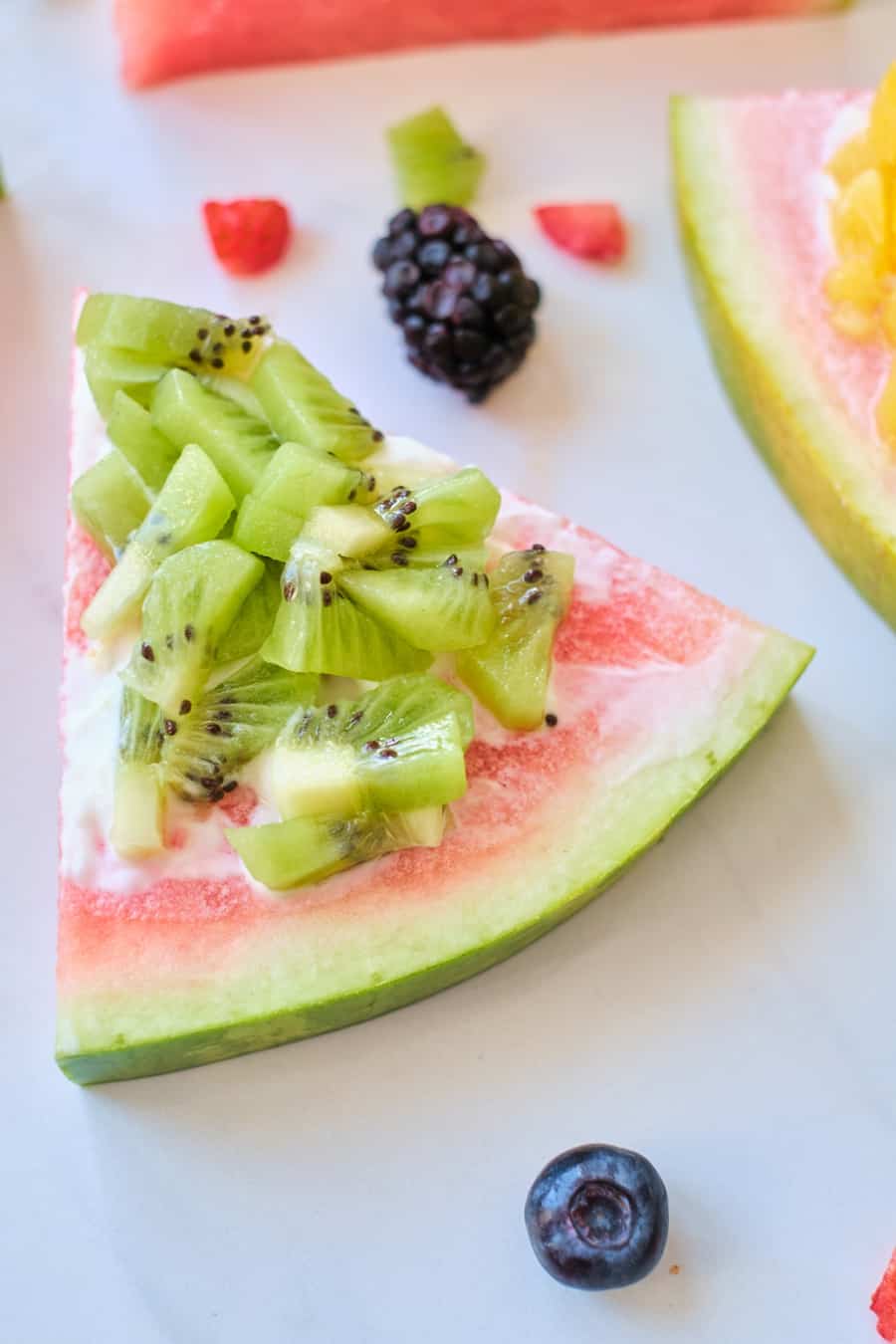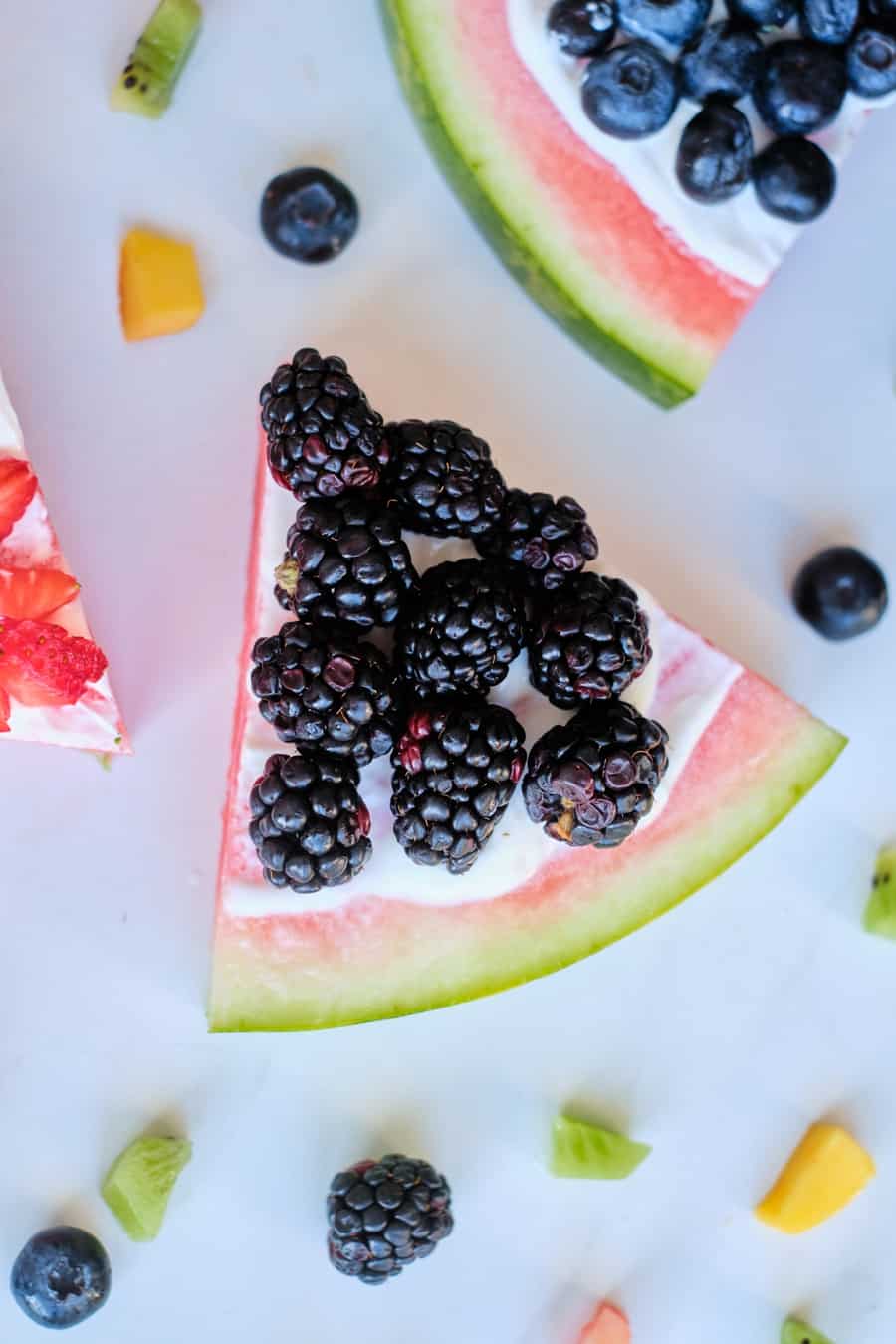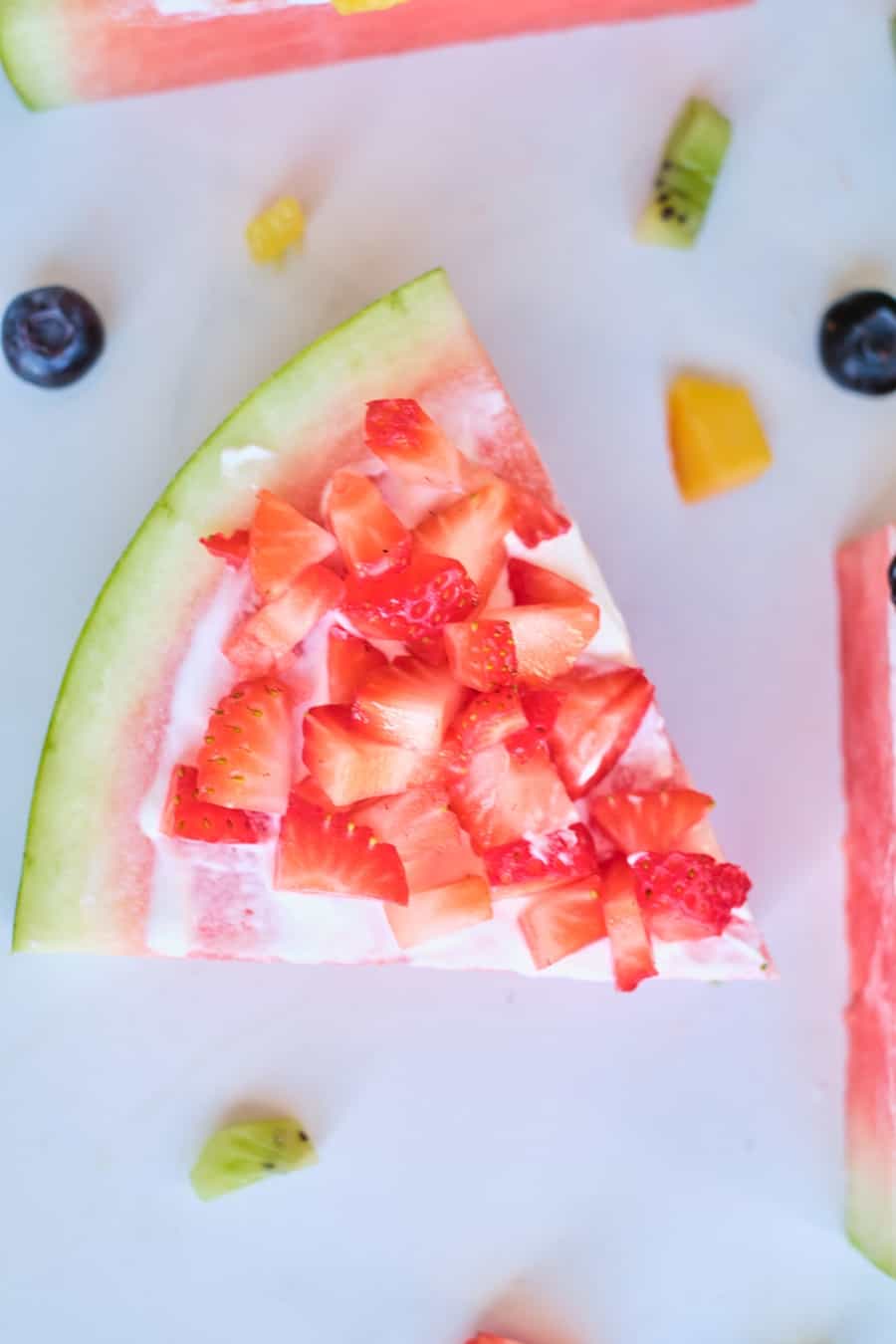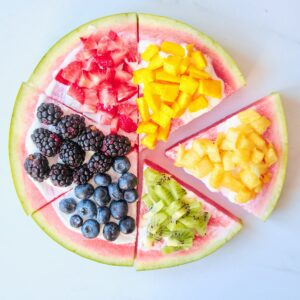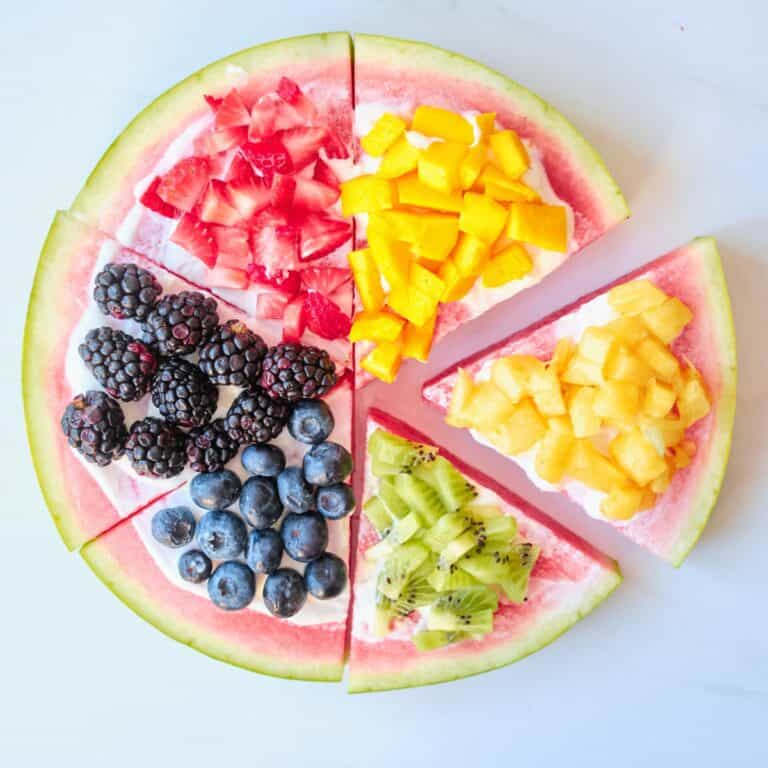 Rainbow Fruit Watermelon Pizza
This Rainbow Fruit Watermelon Pizza is a sweet and healthy snack for kids!
Ingredients
Slices of watermelon

Varied fresh fruit of your choice

Yogurt
Instructions
Slice the watermelon into triangles.

Add yogurt on top of the watermelon slices.

Put on fresh fruit to each "slice" of pizza. Enjoy!
More Rainbow Food Recipes