Originally posted: November 2, 2020
Follow us on Instagram for more fun food ideas for kids!
Watch the video in this post to see how to make Christmas Hot Chocolate Bombs.
Also, check out our Rudolph Reindeer Hot Chocolate Bombs and Snowman Hot Chocolate Bombs for more inspiration.
You've probably seen the viral TikTok hot chocolate bombs that have been driving people nuts over making these hot cocoa bombs. We made a twist by creating our own Christmas hot chocolate bombs just in time for the holiday season.
The concept is the same – take a chocolate sphere mold and fill it with hot cocoa and mini marshmallows. We'll show you 3 festive ways to make these trendy hot chocolate treats even better – by making a sprinkles ornament ball, snowman, and penguin. These hot chocolate bombs make such a cute and festive Christmas holiday treat, especially for kids. We're officially addicted!
Making Christmas Chocolate Bombs
Who is the "we" here? In this case, I teamed up with one of my favorite dessert Instagrammer Kat from @sugardevotion. Kat is primarily a macaron artist (check out her beautiful macaron art on IG). But she was game to try making something sweet and new, lucky for me!
Kat and I met online but it so happens we are neighbors too! So I invited her over for a fun Christmas chocolate bomb-making session. We learned a lot and had a blast creating these cute Christmas hot chocolate bomb designs. Make sure to read the post below for our tips and tricks.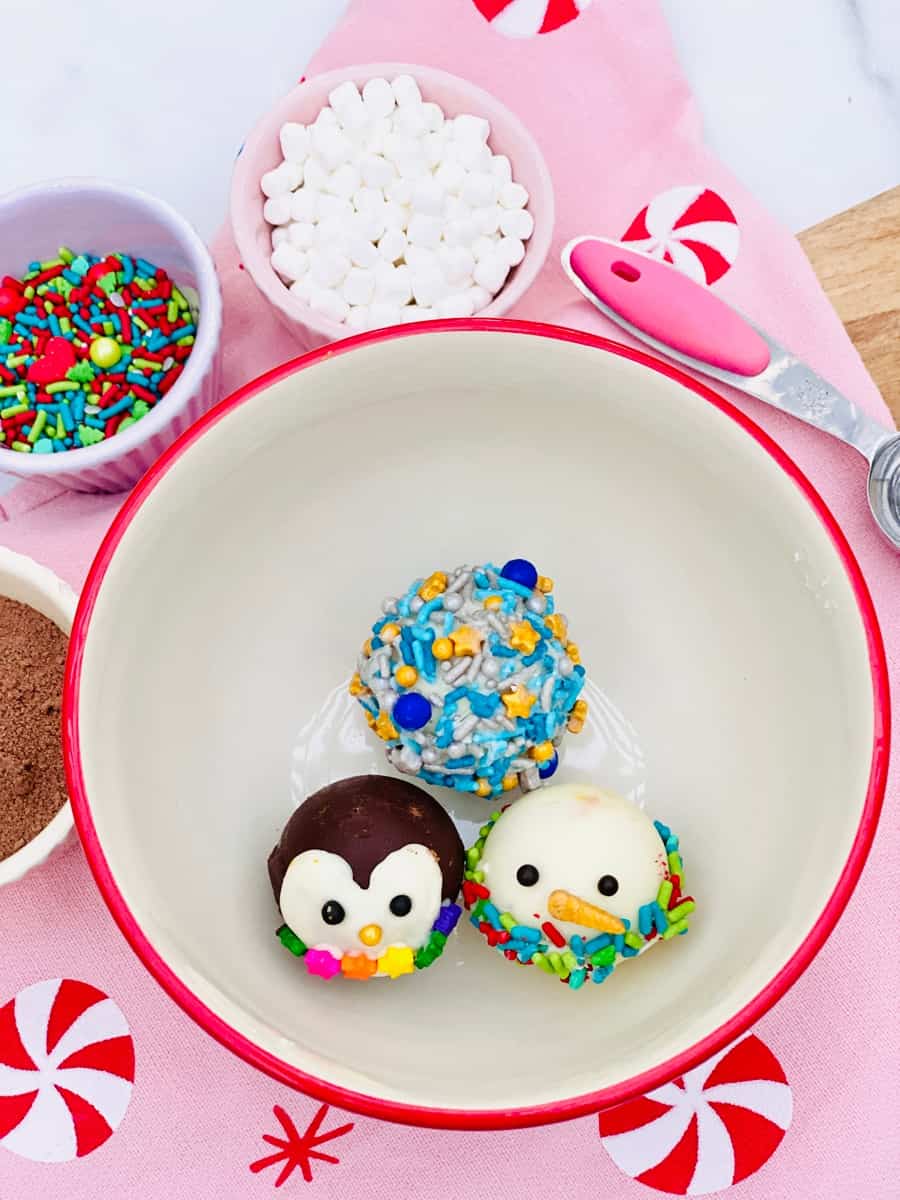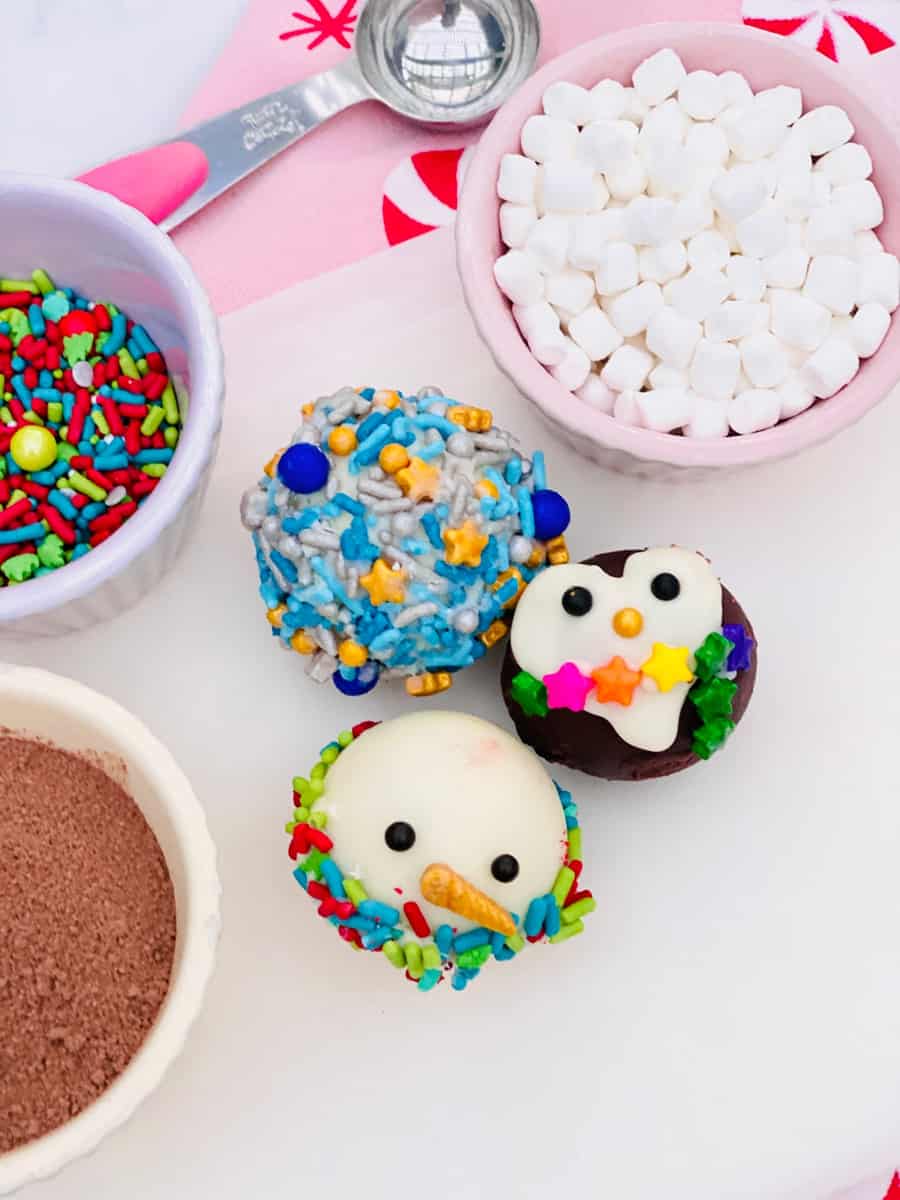 Basic Ingredients for Christmas Hot Cocoa Bombs
The most important thing you need is a round mold to make the chocolate bomb size. These molds typically come in silicone molds as half-spheres and then you join them together. You need the ability to join them so you can fill the inside with cocoa powder and mini marshmallows.
We only had mini molds, about 1.5″ in diameter, so 3 of our hot cocoa bombs fit into an extra-large mug as you see here. You can use round silicone molds in various sizes, but whatever you end up making – make sure they will fit in your container/mug.
Other important items that you will need are hot cocoa powder mix and mini marshmallows.
How to Make Christmas Cocoa Bombs
The sky is really the limit and this is up to your imagination as you can use an assortment of sprinkles and decorative elements. You can also color your chocolate to make designs on top of the chocolate bombs, to add to the festive decorations.
If you want to make the ornament ball, penguin and snowman you will need an assortment of sprinkles, unicorn horn sprinkles, dark and white chocolate, and black sprinkle balls.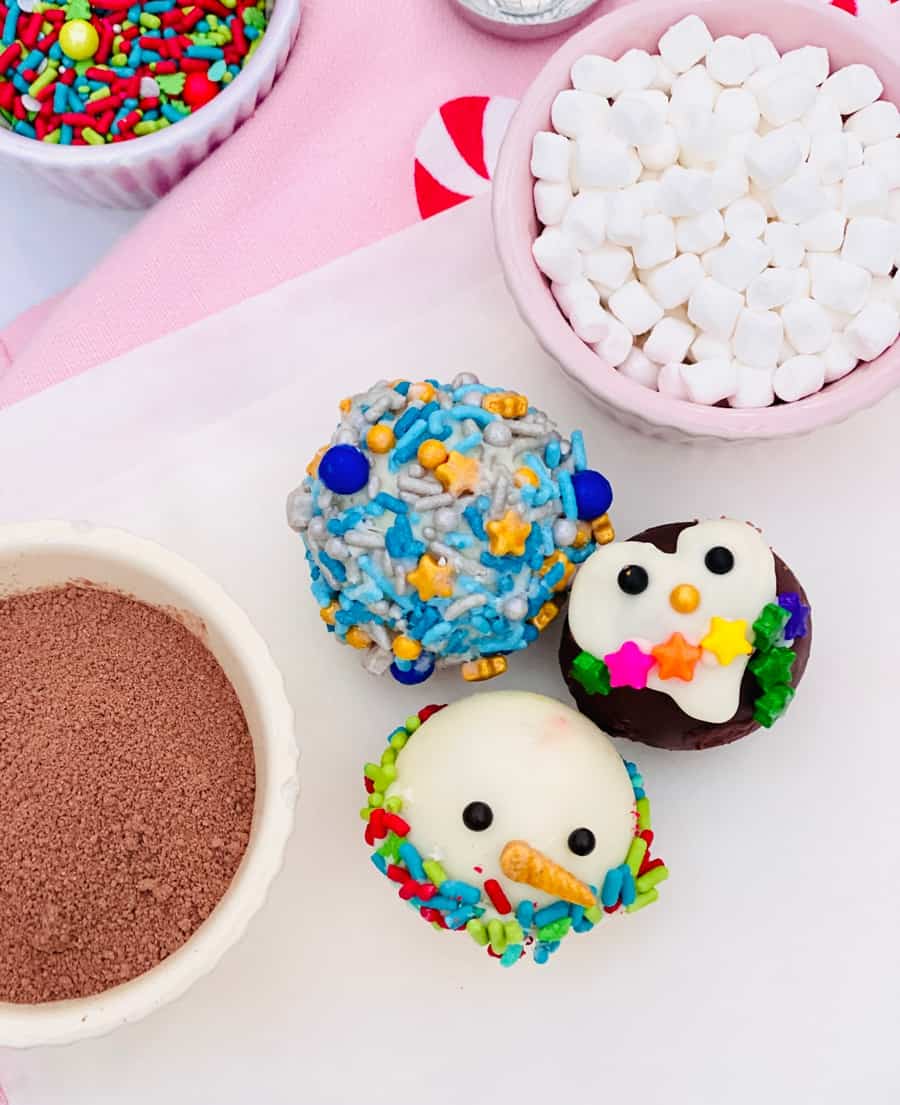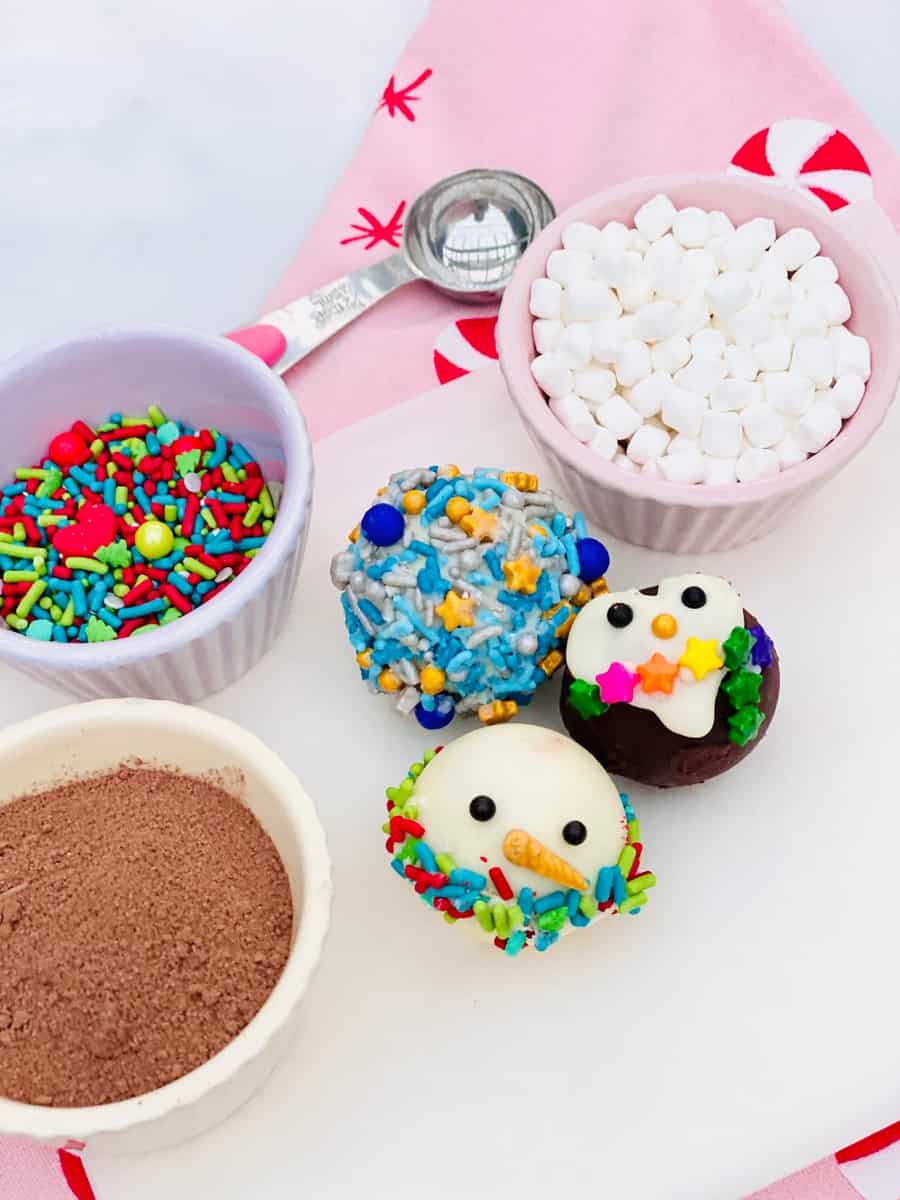 Optional Additions to Your Hot Chocolate Ball
You definitely need the hot cocoa mix, we think that's pretty important. But you don't have to fill with marshmallows. The bombs can be filled with additional sprinkles, crushed candies, mini M&M's, crushed peppermint. Anything sweet and small that you can fit inside your mold!
But be sure that they can take the heat. After all, it may sound good to add little cookies to your chocolate ball – but once they touch the liquid, they'll go soft and squishy, wrecking the whole experience.
Can I use candy melts to make hot chocolate bombs?
Yes! You can use either chocolate chips or candy melts, they will melt when the hot milk is poured over it. So if you've run out of hot chocolate mix, consider this tasty alternative.
Hot Chocolate Bombs Recipe
Now that you know what to expect, you're ready to make and fill the balls. This is a great opportunity to get the kids involved if they have a little experience in the kitchen. Otherwise, you might just want to wait for the decorating phase!
Christmas Hot Chocolate Bombs – Ingredients:
White and semi-sweet chocolate chips
Holiday sprinkles
Black ball sprinkles (for eyes)
Unicorn Horn Sprinkles (snowman nose) You can also color white chocolate orange or use orange candy melt and pipe on an orange nose. We just happen to have the unicorn sprinkle on hand!
Pastry brush
Toothpick
Silicone round mold (ours was small, about 1.5″ since we wanted to add a few inside one mug). You can use larger mold and make one design per mold.
Small pastry bag or a small sandwich bag with tip cut off
Hot cocoa powder mix
Hot milk
INSTRUCTIONS
Watch the video in this post to see how to make Christmas Hot Chocolate Bombs.
Step 1. Melt your white and dark chocolate until smooth and use the back of a spoon to fill the chocolate mold half-spheres in a smooth layer all the way to the top. Make sure it's not too thin or it will break easily once frozen. But make sure it's not too thick so there is room to add the cocoa powder and marshmallows inside.
Step 2. Freeze your mold for at least 30 minutes or until it's frozen solid. Pop the now cooled chocolate out of the mold and onto a plate and take two half-spheres out while keeping the rest in the freezer.
Step 3. Warm a plate (we just microwaved one for a minute) and hold one sphere down so it melts the rim a bit, then add cocoa powder and mini marshmallows inside (for our sphere size, 1.5″ diameter, we added one tsp hot cocoa powder and 1 tsp marshmallows).
Step 4. Take the other half-sphere and dip the rim on the hot plate – then immediately turn it over to cover the other half round. Use your fingers to smooth the centerline or take some of the melted chocolate from the plate and smooth over with your finger as the "glue".
Step 5. Place the finished hot chocolate bomb back in the freezer and work one at a time on the other ones. Once they are done, they can be decorated as Christmas bombs.
Decorating Hot Chocolate Christmas Bombs
Now that you have prepared hot chocolate bombs with marshmallows and other goodies inside, you can decorate them to make festive gifts and treats for kids and adults alike. Your little ones will love getting involved, so have them paint, stick and sprinkle these cocoa bombs. We've made and added three cute designs for you to try!
Sprinkle Ornament Hot Chocolate Bomb
Take your white chocolate bomb and use a pastry brush to add a layer of melted white chocolate, one section at a time, adding sprinkles on top. Do this over a bowl to contain the mess! Add it back to the freezer to set.
For this ball, you can use whatever colors take your fancy. You could also use glitter sprinkles to add a little shine.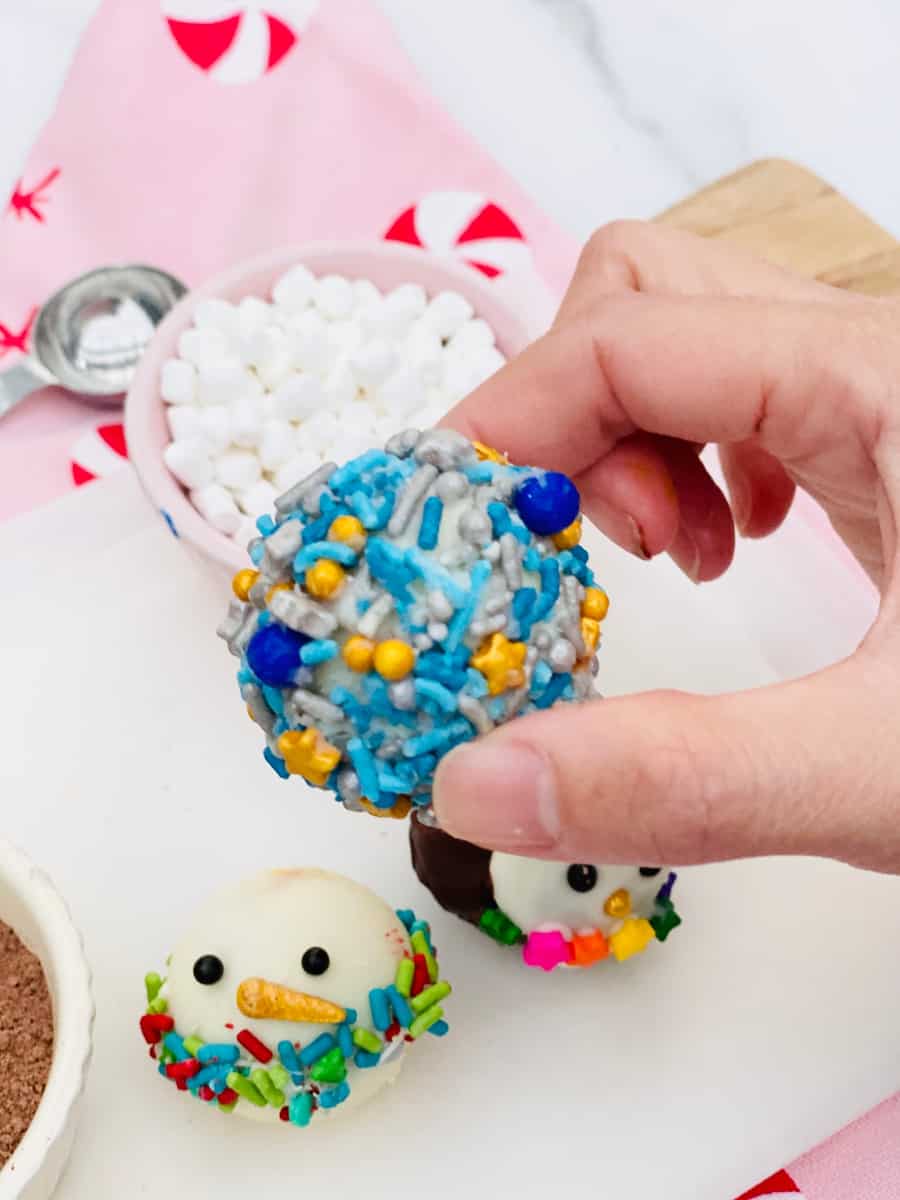 Penguin Hot Chocolate Bomb
Add melted white chocolate to your pastry bag or sandwich zipper bag. Take your dark chocolate bomb and pipe a white chocolate heart over it. Pipe two dots and add two black sprinkles for eyes. Pipe a nose and add a gold sprinkle for the nose.
Pipe a scarf line and add star sprinkles to make a scarf. Note that you don't need star sprinkles, you can use any sprinkles you like. Add it back to the freezer to set.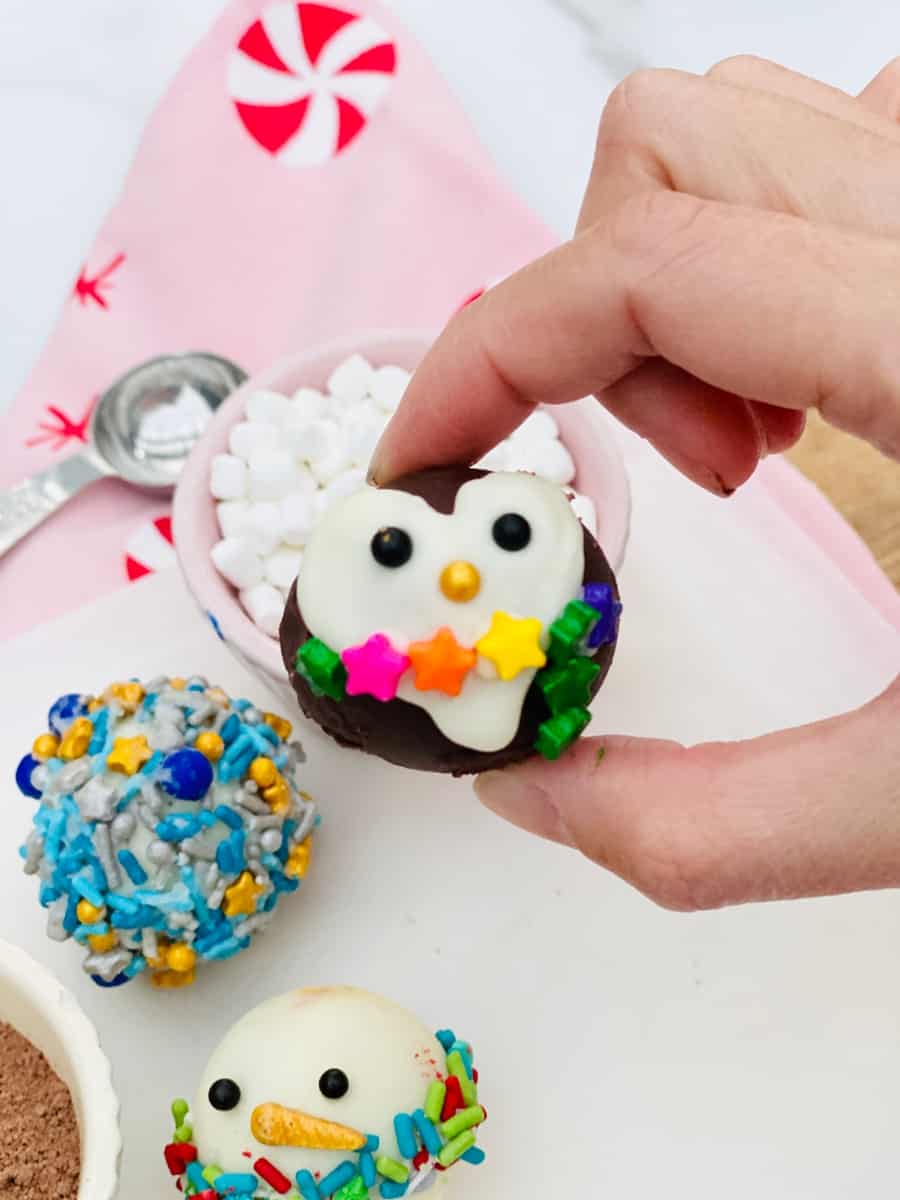 Snowman Hot Chocolate Bomb
Take your white chocolate bomb and, using a toothpick, take a dab of white chocolate and place on a small black dot sprinkle for the eye. Repeat for the other eye.
Dab white chocolate in the center and place a unicorn horn sprinkle for the nose. You can also color white chocolate orange or use orange candy melt and pipe on an orange nose. We just happen to have the unicorn sprinkle on hand!
Use the toothpick to add a line of white chocolate around the center of the bomb and add festive sprinkles for the snowman scarf.
Melt Your Hot Chocolate Christmas Bombs
Place your hot chocolate bombs inside a mug and pour very hot milk over it until the chocolate melts. Then watch the marshmallows explode and come out! The key is to keep your pour targeted and steady right in the center of the bomb to have that cool marshmallow effect. The kids will love it!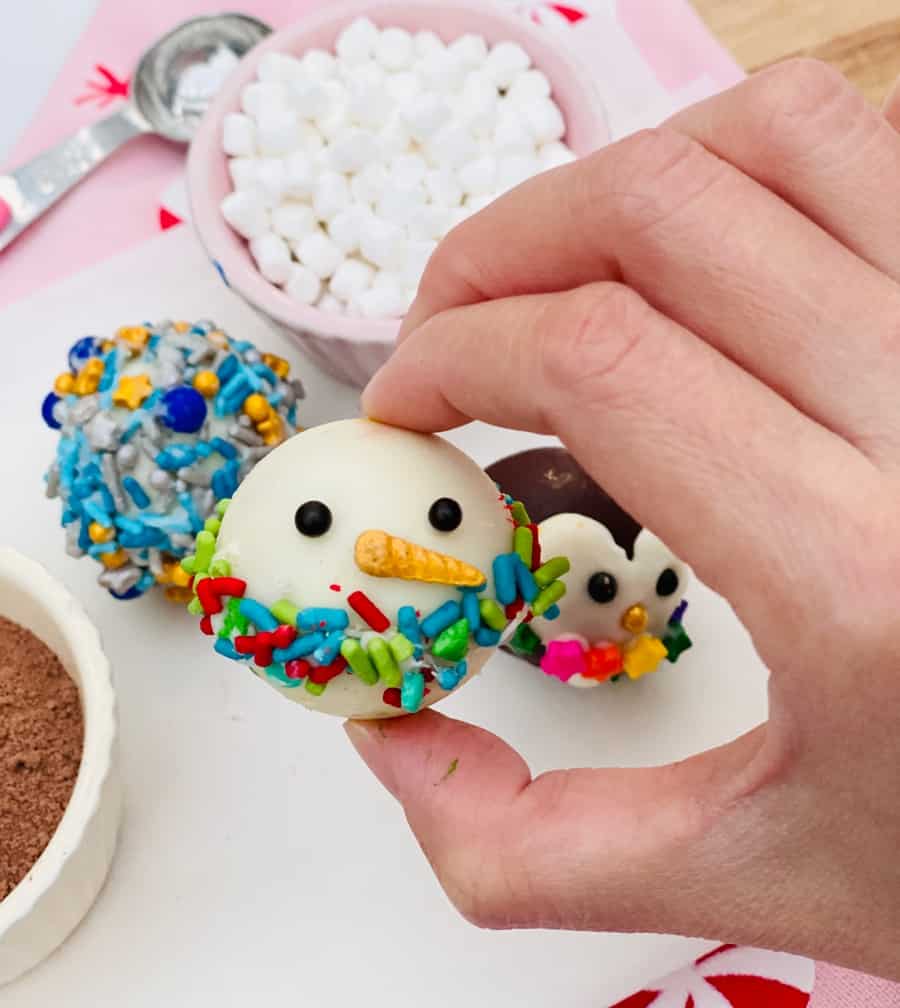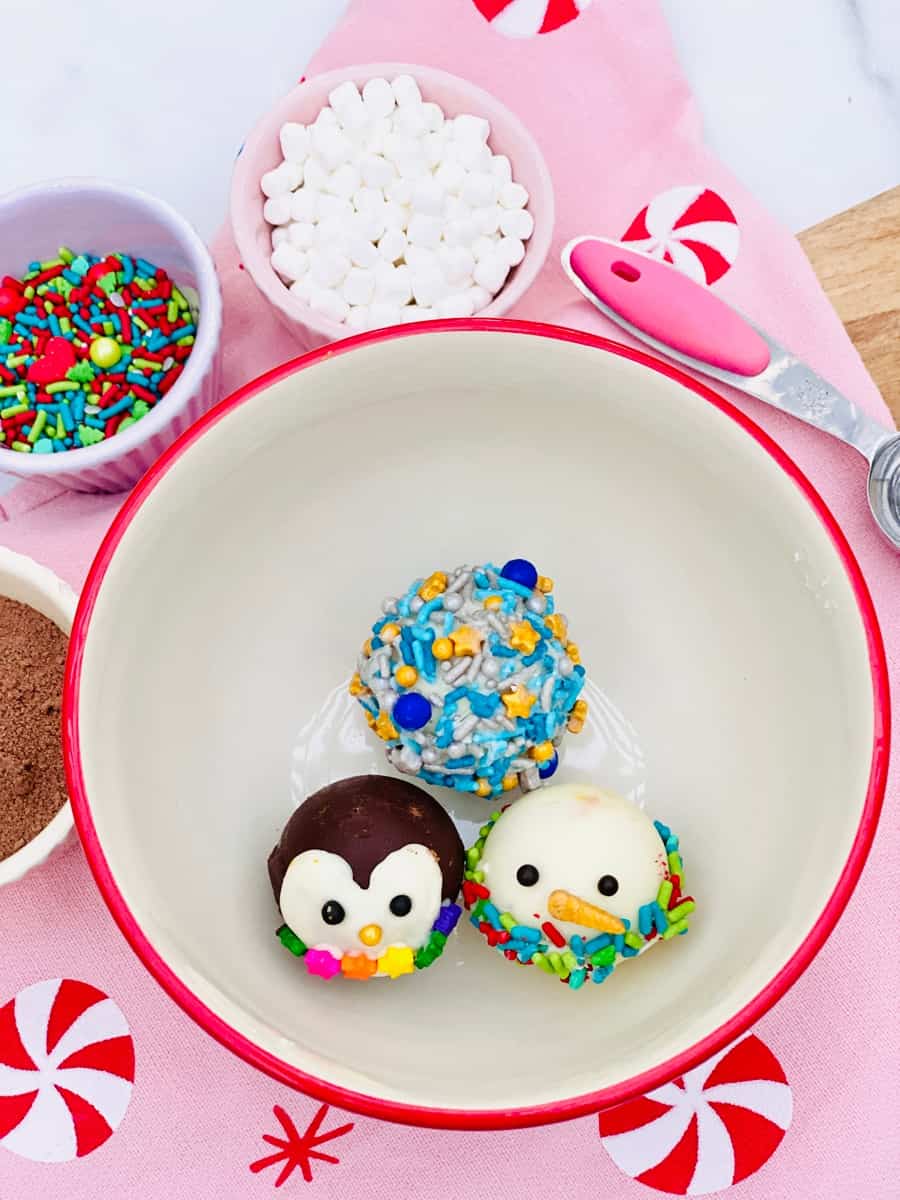 Ready to Make These Hot Chocolate Bombs for Kids and Adults?
A chilly Christmas season never looked so good. With this fun, festive recipe, you and your loved ones can enjoy a hot cocoa drink every night, while enjoying the hot cocoa bombs that took TikTok by storm.
If they look to cute to eat, consider making this a gift for a friend, or maybe even a colleague. They're sweet, colorful, and fun – sure to get a smile from anyone.
You Might Also Like:
By using this site, you agree to our Terms of Use. This post may contain affiliate links. Read our disclosure policy.