By using this site, you agree to our Terms of Use. This post may contain affiliate links. Read our disclosure policy.
Follow us on Instagram for more fun food ideas for kids!
Mini Snowman pizzas are one of the most fun and festive pizzas you can make for your holiday celebrations. Not only are they great for kids, but they also make a delicious Christmas snack.
These edible snowmen are perfect for bringing a little bit of happiness to everyone at Christmas time.
Many variations of this pizza are possible, so be creative and have fun! Put together a colorful array of toppings for your mini snowman pizza to create the perfect festive feast.
Kids will love assembling their own mini pizzas, making them a fun and hands-on activity.
Let's take a look at all the reasons why mini snowman pizzas are so fun to make and so popular during the holidays, and how to make them!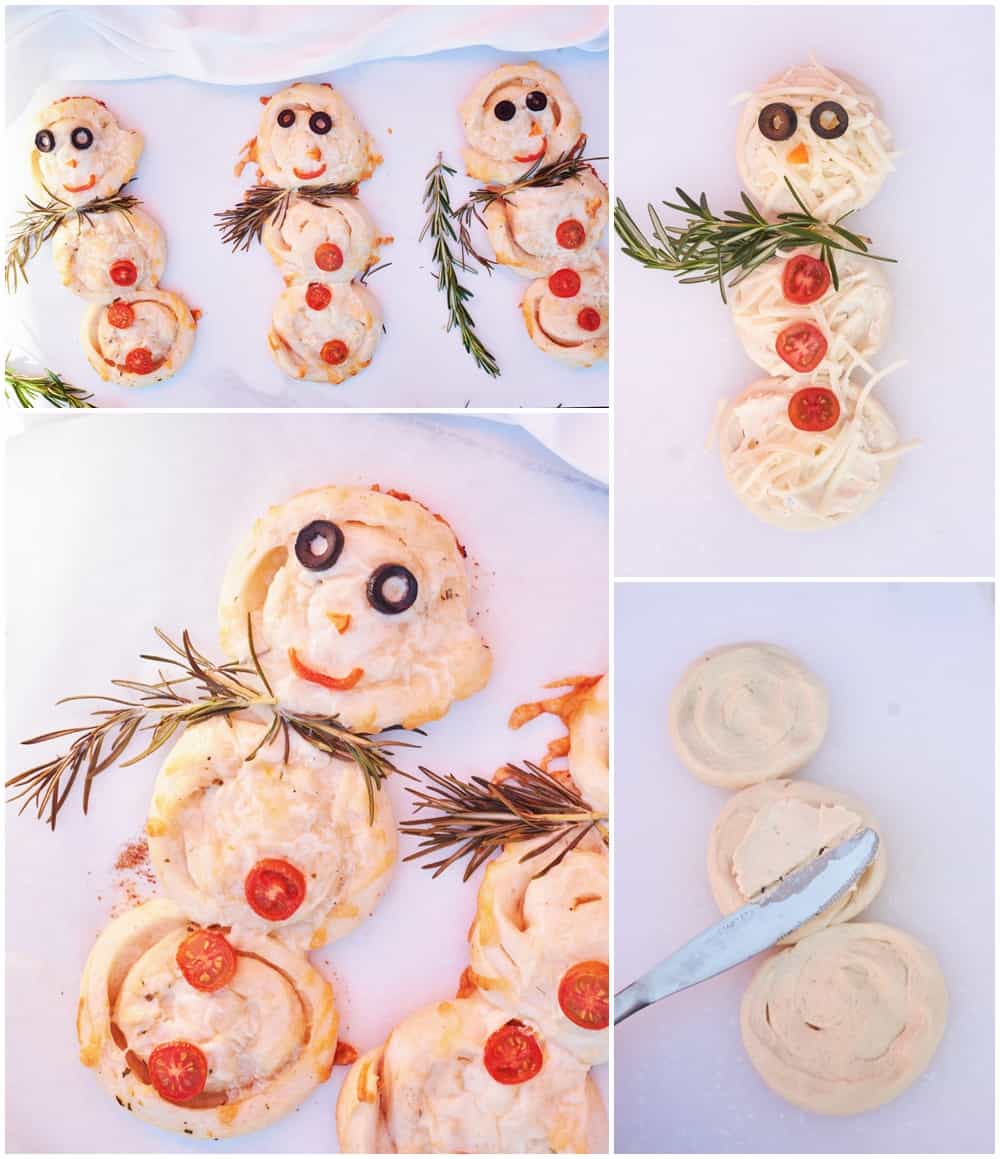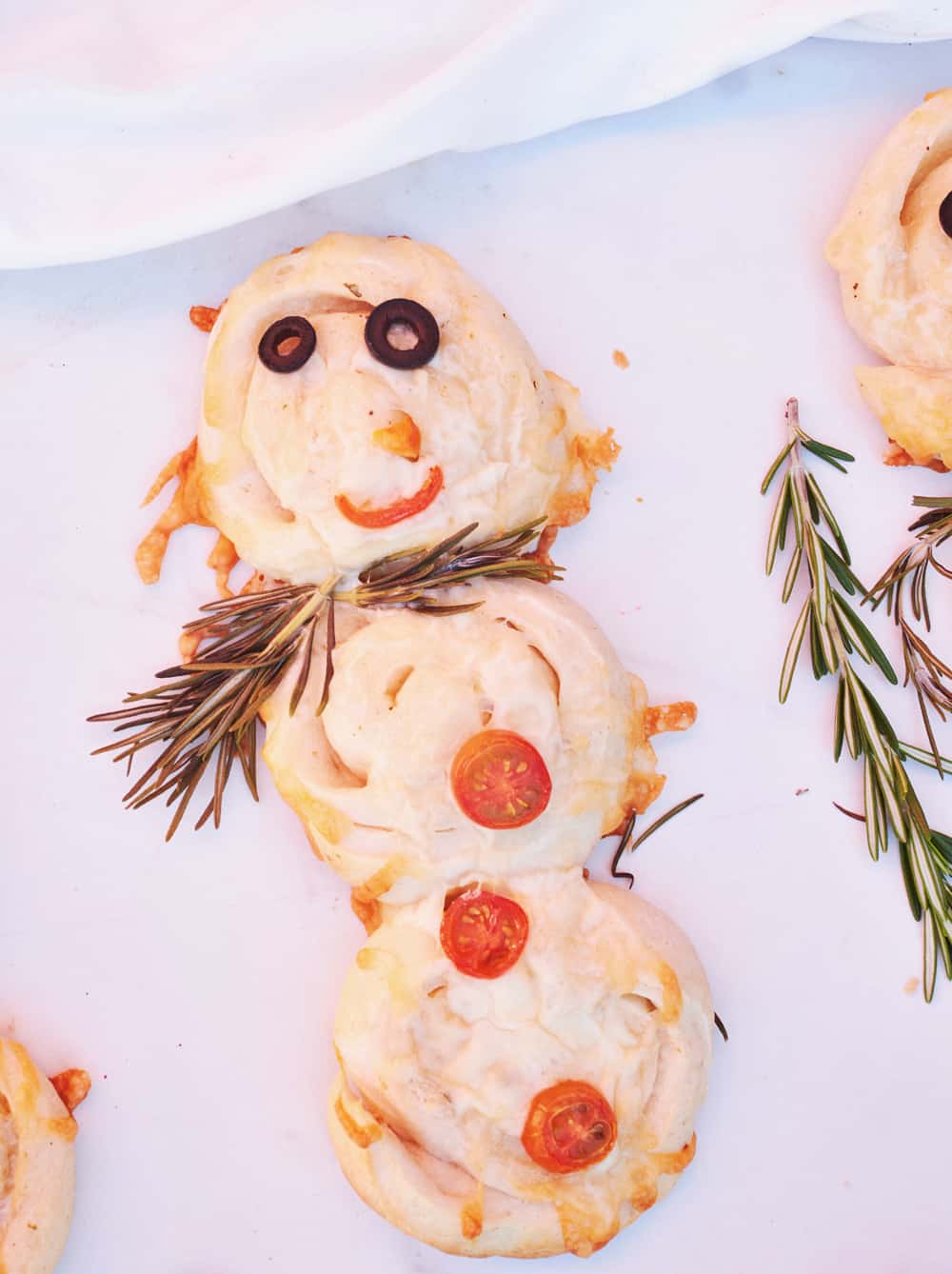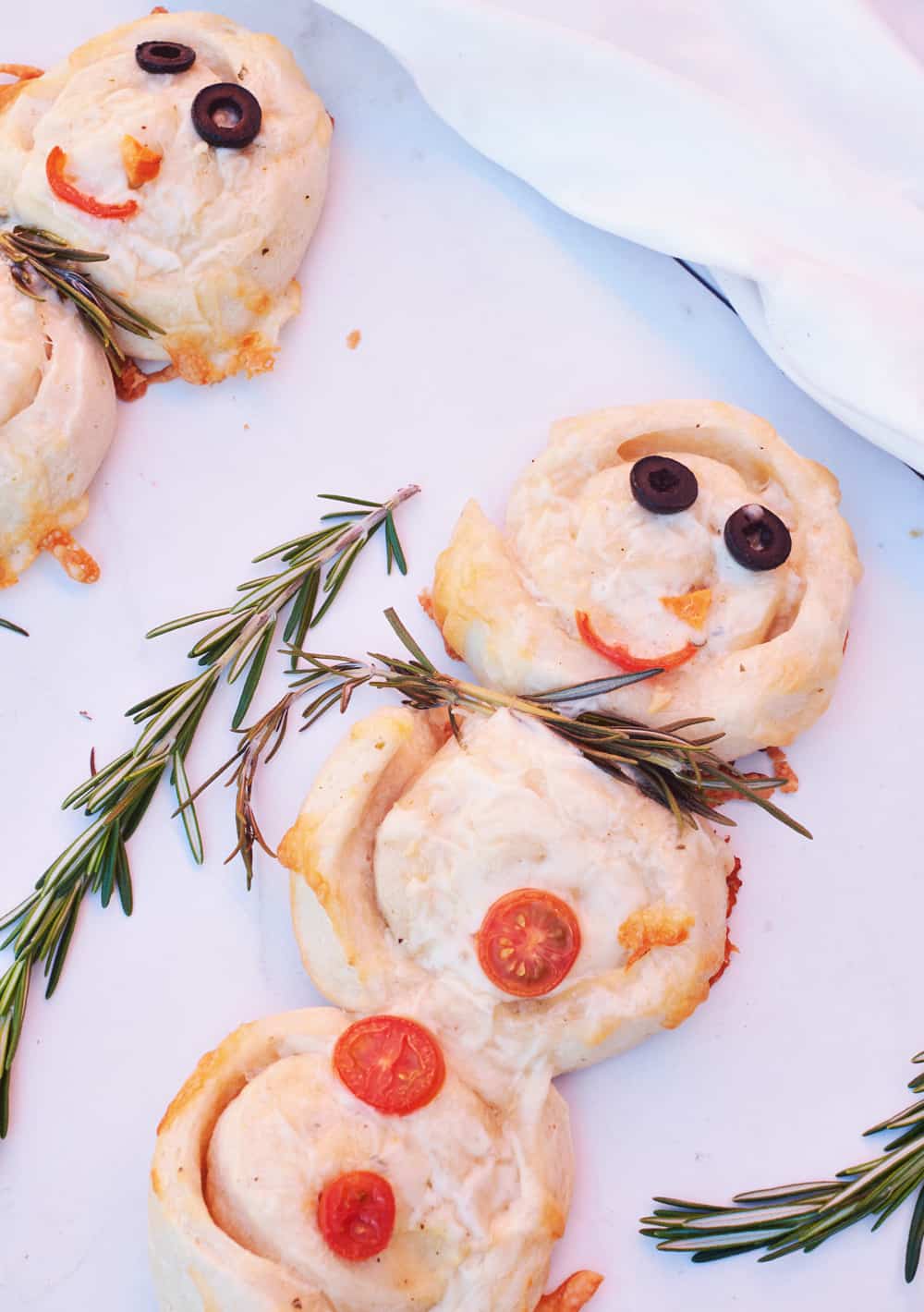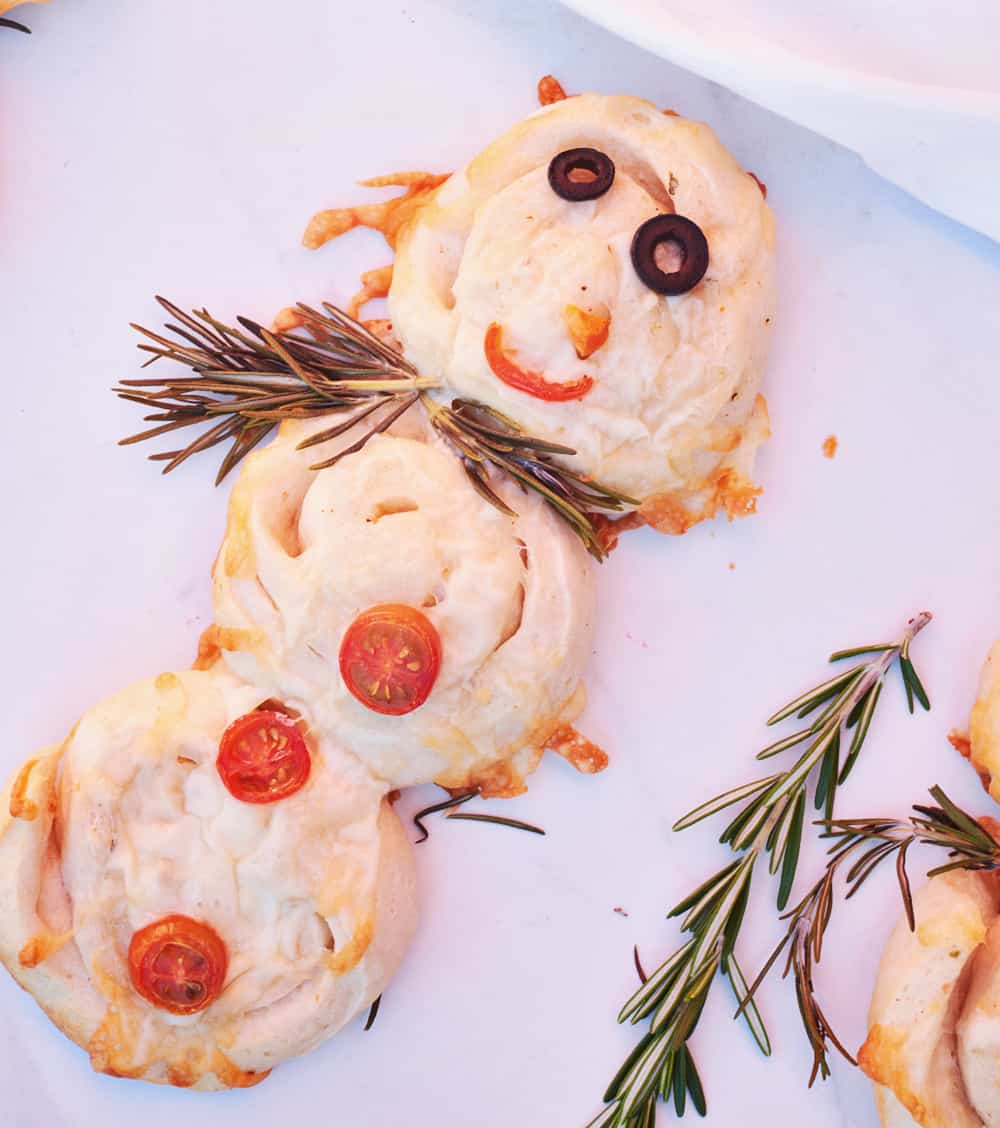 Mini Snowman Pizzas – Ingredients:
Pizza dough
Cheese
Garlic spread
Olives
Rosemary
Tomatoes
Red onion
Carrots
Why Mini Snowman Pizzas Are So Popular
What we love about these mini snowman pizzas is that they're perfect for bringing a little bit of happiness to everyone during the holidays.
All you need is some simple ingredients and you can create any variation you like! Making them yourself is a great way to get some hands-on activity during the holiday season.
Kids will also love making their own mini pizzas, making it a great way to get them engaged in the Christmas season.
So whether you're looking for something quick and easy or something that's sure to be enjoyed by all, we think mini snowman pizzas are the perfect answer!
How to Serve a Mini Snowman Pizza for Guests
With melted cheese dip
Melted cheese dip is the perfect way to top off a mini snowman pizza. Simply take some shredded cheese and mix it with the necessary ingredients.
You'll only need garlic, olives, and thyme for a delicious topping that everyone will love. Serve leftovers in individual bowls or plates so guests can customize their own mini snowman pizzas!
As part of an antipasto platter
Mini snowman pizzas make a great addition to a charcuterie platter. Simply line them up on a serving tray and let your guests dig in!
You can also include some garlic breadsticks or mini pizzas for added flavor and simplicity.
With a side of marinara sauce
You can also serve mini snowman pizzas with a side of marinara sauce. This will not only allow them to have some dipping sauce, but can also give them something to drizzle over the pizza.
Plus, it's a great way to use up leftover marinara sauce and pizza ingredients!
Serve with a side of garlic breadsticks
Garlic breadsticks are the perfect side to serve alongside a mini snowman pizza.
Consider adding a bit of garlic, cheese, and any other favorites to give your guests a little something extra to nibble on!
Serve with a side of sliced tomatoes
If you'd like to add a little more color and flavor to your mini snowman pizza, try serving it with a side of sliced tomatoes.
You may prefer to caramelize tomatoes prior to serving them, which can add even more flavor!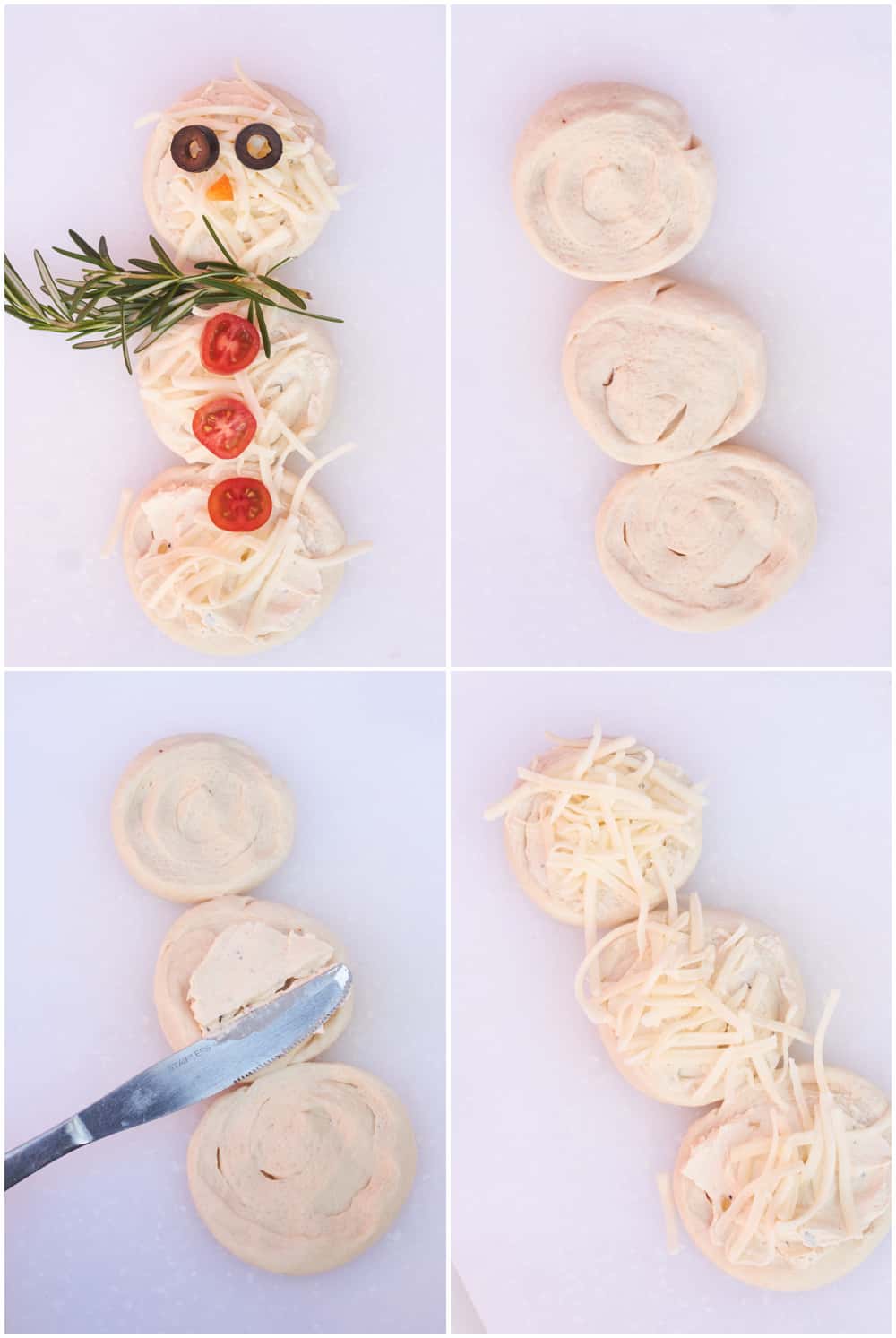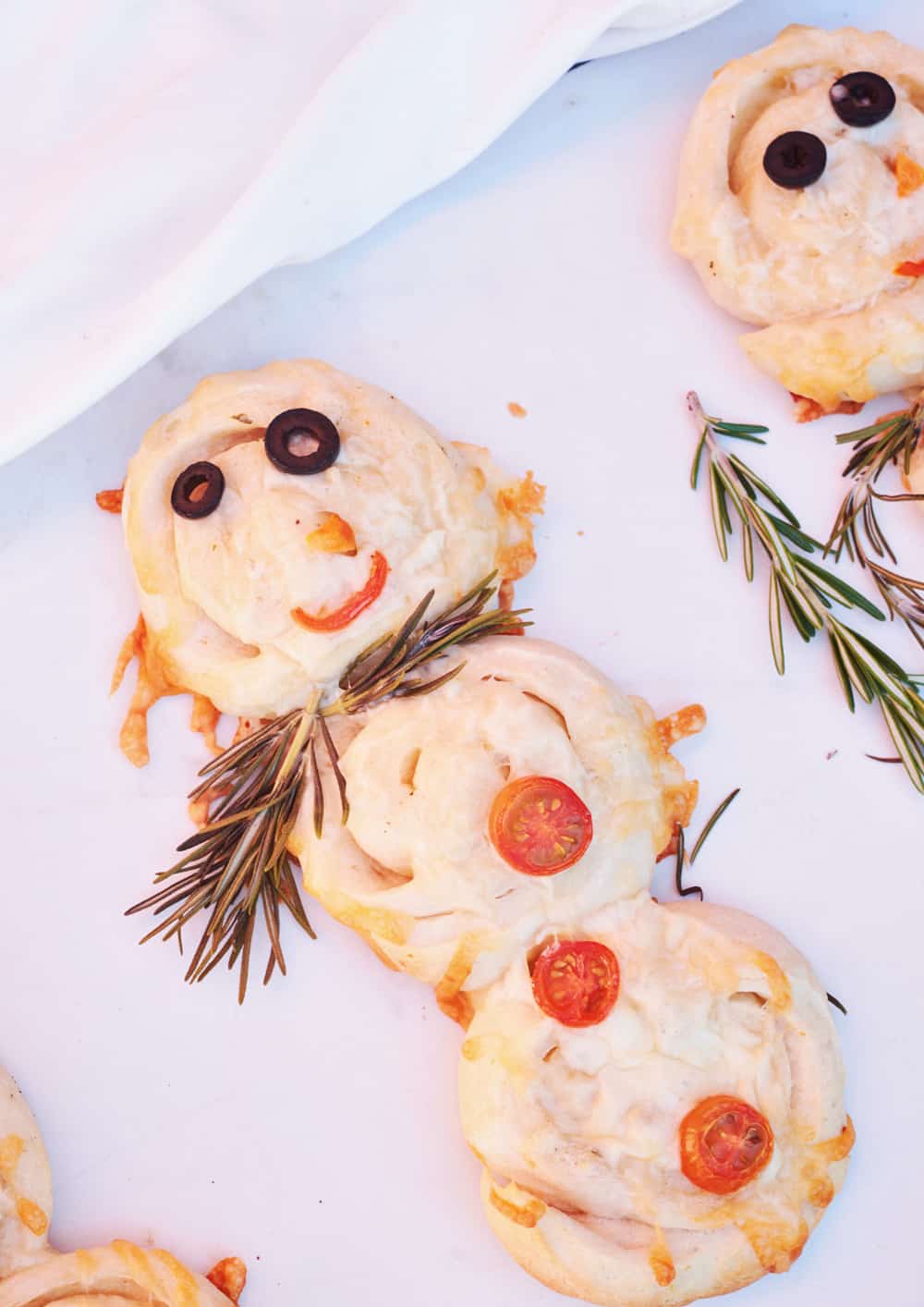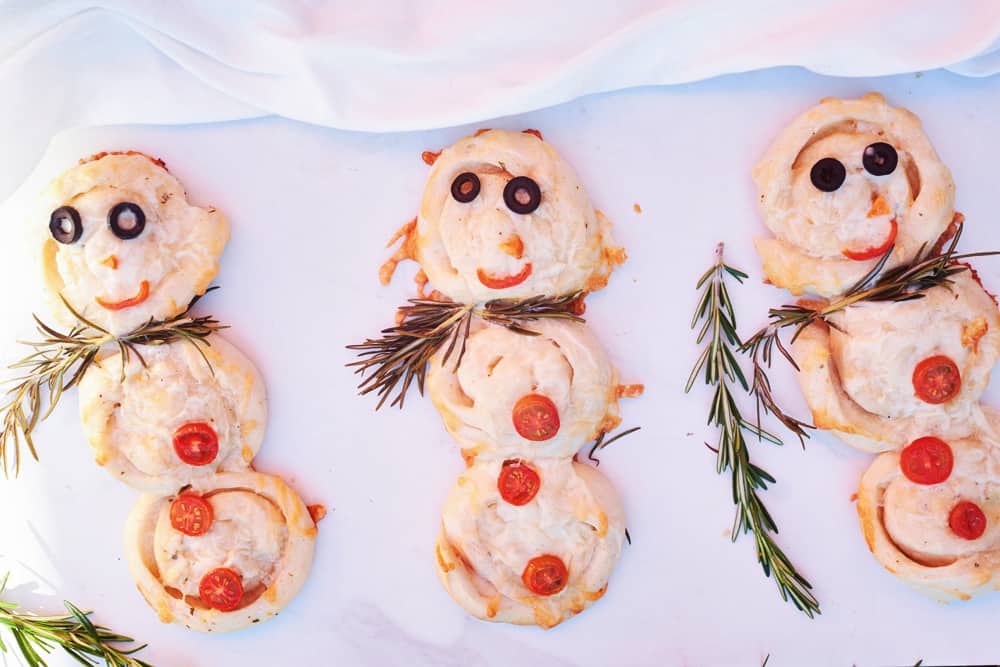 How to Make Your Mini Snowman Pizza Stand Out
Add herbs for an extra flavor burst
Try including some fresh herbs in the recipe for your mini snowman pizza if you want it to stand out. You could also use this opportunity to add more decoration.
For added flavor, you might consider adding extra basil, thyme, or oregano.
Use different colored dough circles
If you want to make your mini snowman pizza extra special, try using different colored dough circles by using food safe dye. This will help to create a unique and beautiful pizza!
Try using blue, green, or pink dough circles for an interesting visual effect. Some people even use different colors of sauce to create their own unique flavor profile.
Try creating characters such as Mickey Mouse
For an extra special pizza, try creating characters such as Mickey Mouse. This will not only add fun and excitement to the eating experience, but it will also make your guests smile!
While it may seem time-consuming at first, it will quickly become a fun and easy task.
How to Make Mini Snowman Pizza
Step One: Prepare the Dough
To make this mini snowman pizza, first, take some pizza dough and cut out three circles per snowman you plan to make, and place them on a parchment-lined tray. To make sure they don't stick to the tray, you can spray them with some nonstick oil first.
Step Two: Create the Buttons
Next, add some garlic spread on the top of each dough circle. Then add some shredded cheese. Then, add 3 small tomatoes to the middle of the snowman for its buttons. If you want, you can also add a small amount of pesto to the tomato for extra flavor.
Step Three: Add the Eyes and Nose
For this step, add two sliced olives to the top dough circle for its eyes, and a small piece of carrot for its nose. Add red onion for a smile. Bake for around 15-20 mins at 325 and enjoy! Make sure to let your mini snowman pizzas cool before serving. Add a nice piece of rosemary as a scarf for the finishing touch!
Takeaway
Pizza is a popular dish that can be enjoyed by all. This snowman pizza recipe is simple and easy to follow, making it a great choice for any occasion.
By using different colors and dough circles, you can create a pizza that is unique and special.
If you want to make your pizza stand out, try adding characters or different colors and flavors to the recipe. This will create a fun and exciting eating experience for your guests!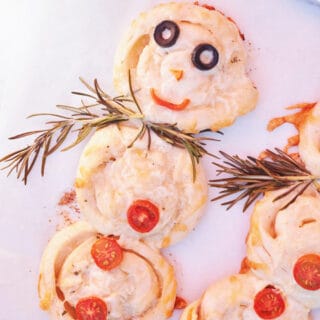 Mini Snowman Pizzas
Ingredients
Pizza dough

Mozzarella Cheese

Garlic spread

Olives

Rosemary

Tomatoes

Red Onions

Carrots
Instructions
This recipe is super versatile, you can add whatever veggies you want to make your snowman!

Cut the pizza dough in small circles and place on parchment lined tray.

Spread the garlic spread on and then top with cheese.

Now comes the fun part, add on your garnishes (olives for eyes, red onion for smile, carrot for nose and tomatoes for buttons.

Bake for 15-20 minutes or until golden brown at 325. Remove and add rosemary sprigs as scarves. Enjoy!