Follow us on Instagram for more fun food ideas for kids!
This easy Santa Pasta Christmas Dinner is a festive way to celebrate the holidays with kids!
Looking for a cute and healthy holiday treat that's savory AND gets dinner during the busy holiday season?
Look no further than this adorable Santa Pasta Christmas Dinner with adorable tortellini beard!
Kids will jolly when they see you setting this cute edible Santa down for dinner. He makes a fun Christmas holiday food for the entire family to enjoy not just kids!
We were inspired to make this cute Santa from our friend Jean over on Instagram who made a cute Santa noodle version here.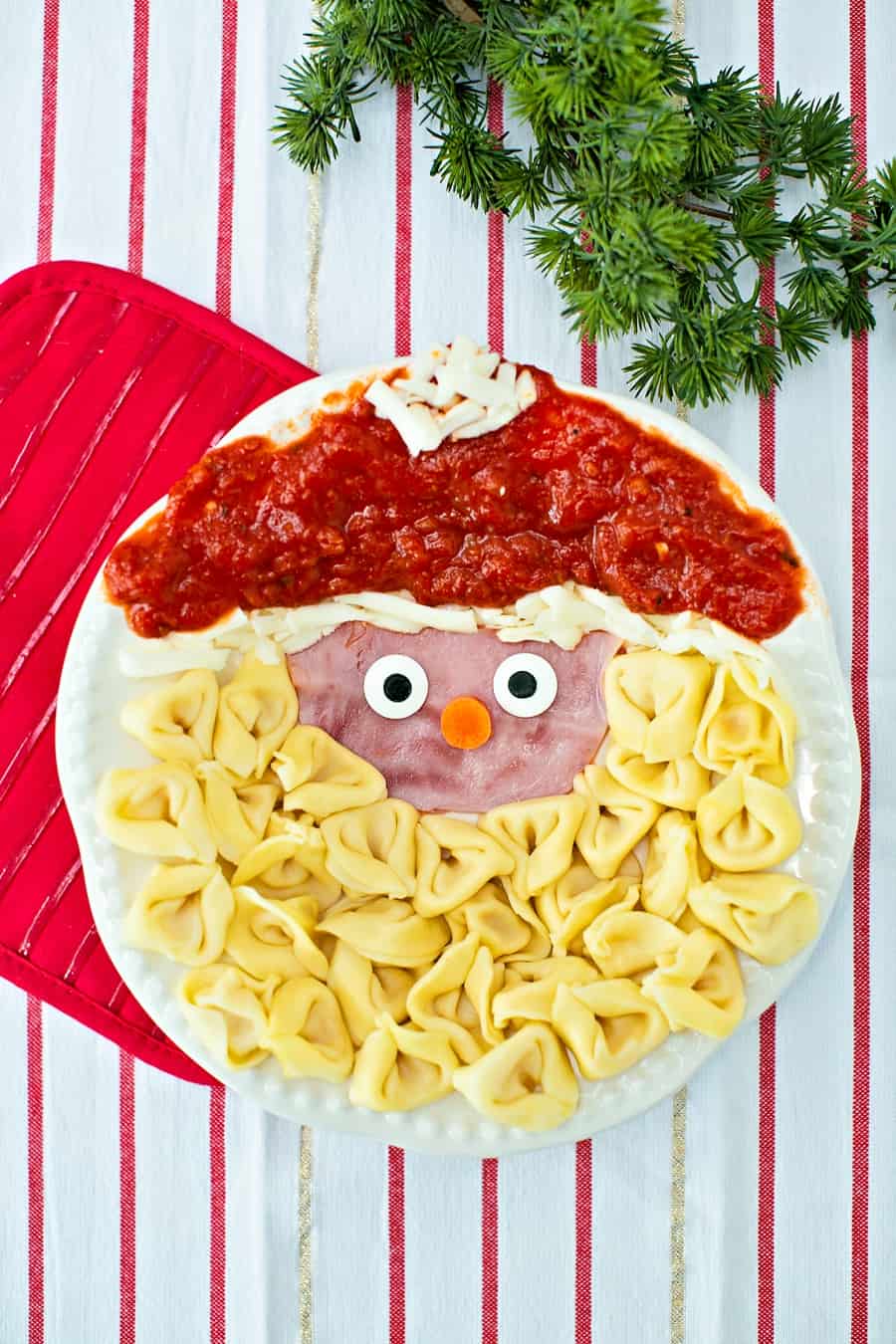 What kind of pasta can I use to make this Christmas pasta?
You can use any kind of past that you can shape into a beard shape! We used tortellini for its rounds easy shapes. And like the cheese inside. But the original inspiration for this used spaghetti!
Get the kids involved in helping make this Santa pasta.
It's really quite easy to get the kids making their own festive holiday treat with this santa pasta. They can help arrange the tortellini, and make the face with googly eyes, ham and carrots!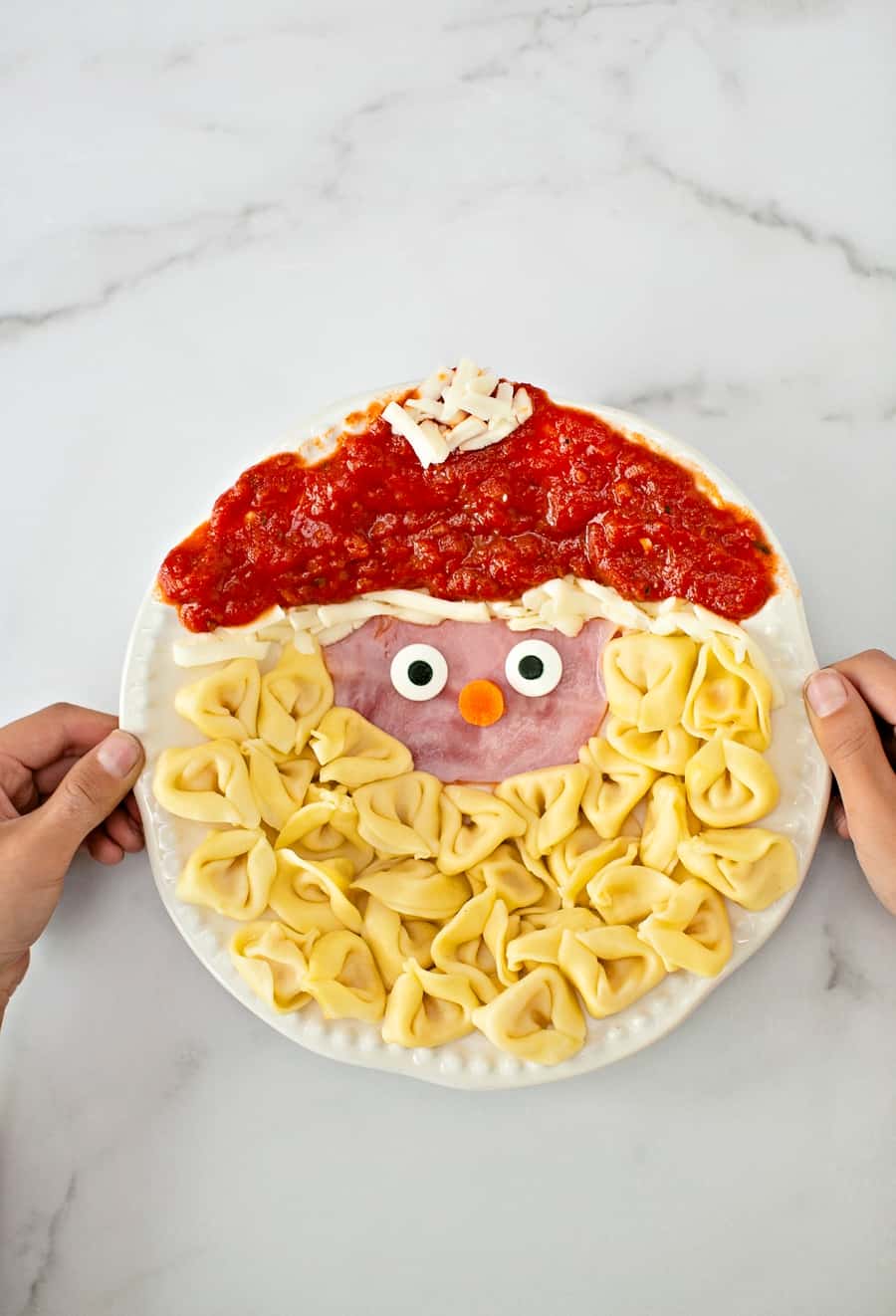 What tomato sauce do you recommend in this edible Christmas Santa tortellini?
We used regular jarred tomato sauce, why make it harder when the holiday is already so stressful and filled with things to check off the list. We also used freshly packaged tortellini from the market that boils ready in less than 5 minutes.
You can always make your own homemade sauce and tortellini too! That's the beauty of this dish. It can come together in a few minutes or be a dish you can savor and make together with the kids.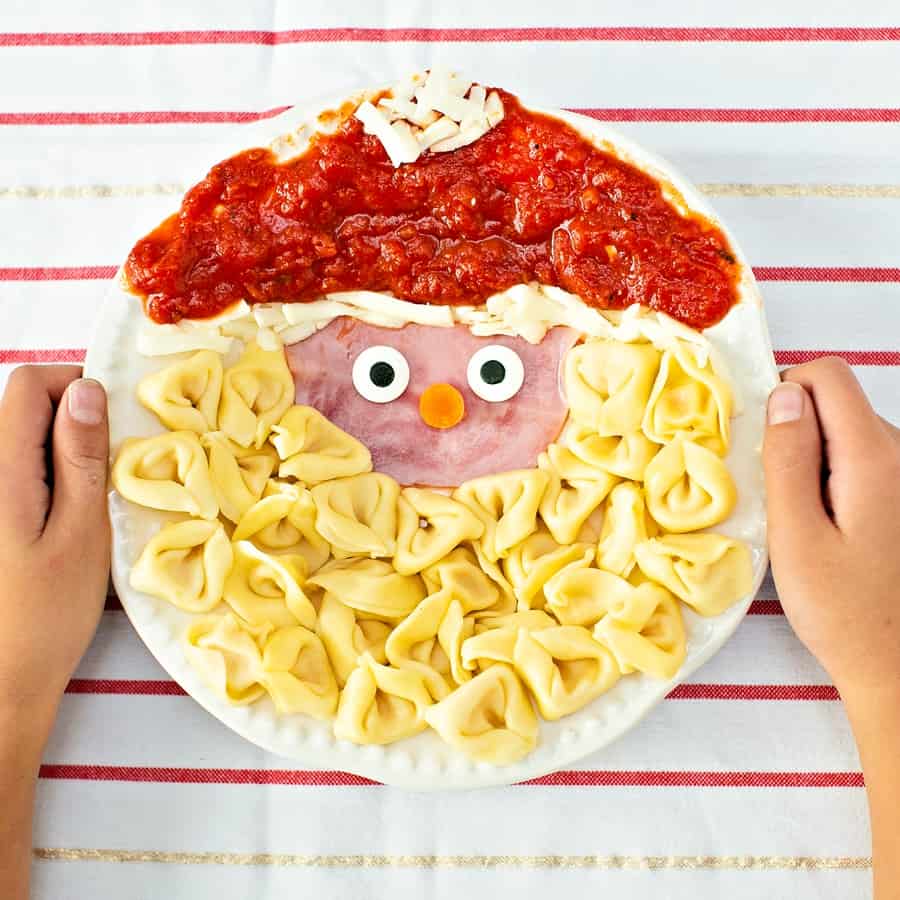 How to make Santa Pasta Christmas Dinner – Ingredients:
Tortellini Pasta

Tomato sauce

Shredded mozzarella cheese

Ham

Two googly eyes,

Carrot stick

Instructions for making Santa Dinner:
Step 1. Boil your tortellini according to the package instructions
Step 2. Cut a piece of oval shaped ham.
Step 3. Cut a small piece of round carrot from a carrot stick
Step 4. Assemble your Santa pasta. On a round plate. first add your ham, eyes and carrot nose. Then lay down your tortellini around the plate to make a beard. Add a layer of cheese on top of the forehead and then slowly ladle spoonfuls of sauce to make a loose triangle of sauce for the hat. Top the tip with more cheese to resemble a pom pom.
Enjoy your yummy Christmas Santa dinner!
More Delicious Christmas Holiday recipes to try: