Originally Posted on 04/12/2019

Follow us on Instagram for more fun food ideas for kids!
These adorable Fun Christmas Cookies are just about the cutest (and tastiest) holiday cookies, ever. There aren't many snacks and treats out there that showcase the cuteness of your child in a way that is tasty and sweet, too.
I might be just a little bit obsessed over these magical cookies. They're not only a fun way to bake up a Christmas treat and enjoy them, but they're also adorable in how they're the actual size of your child's hands.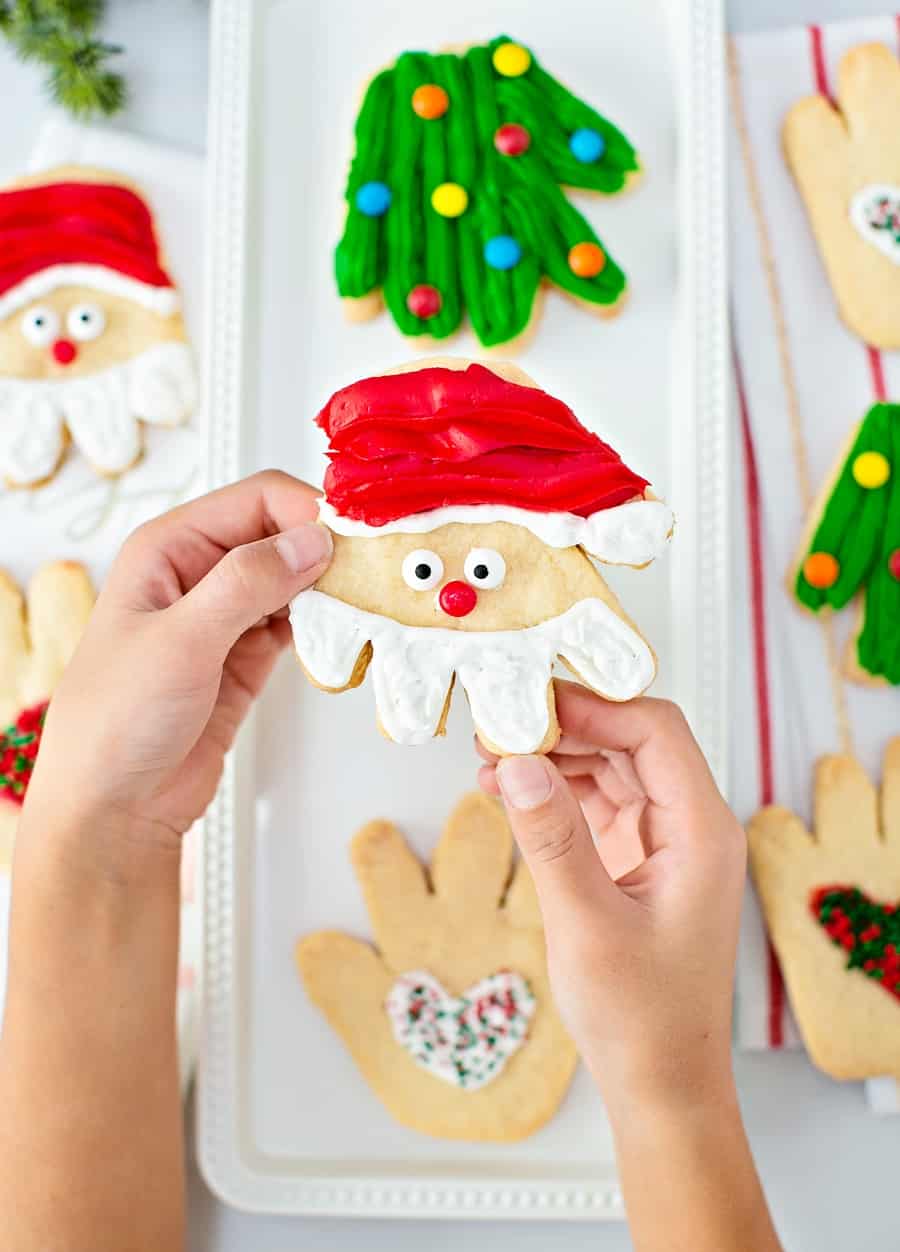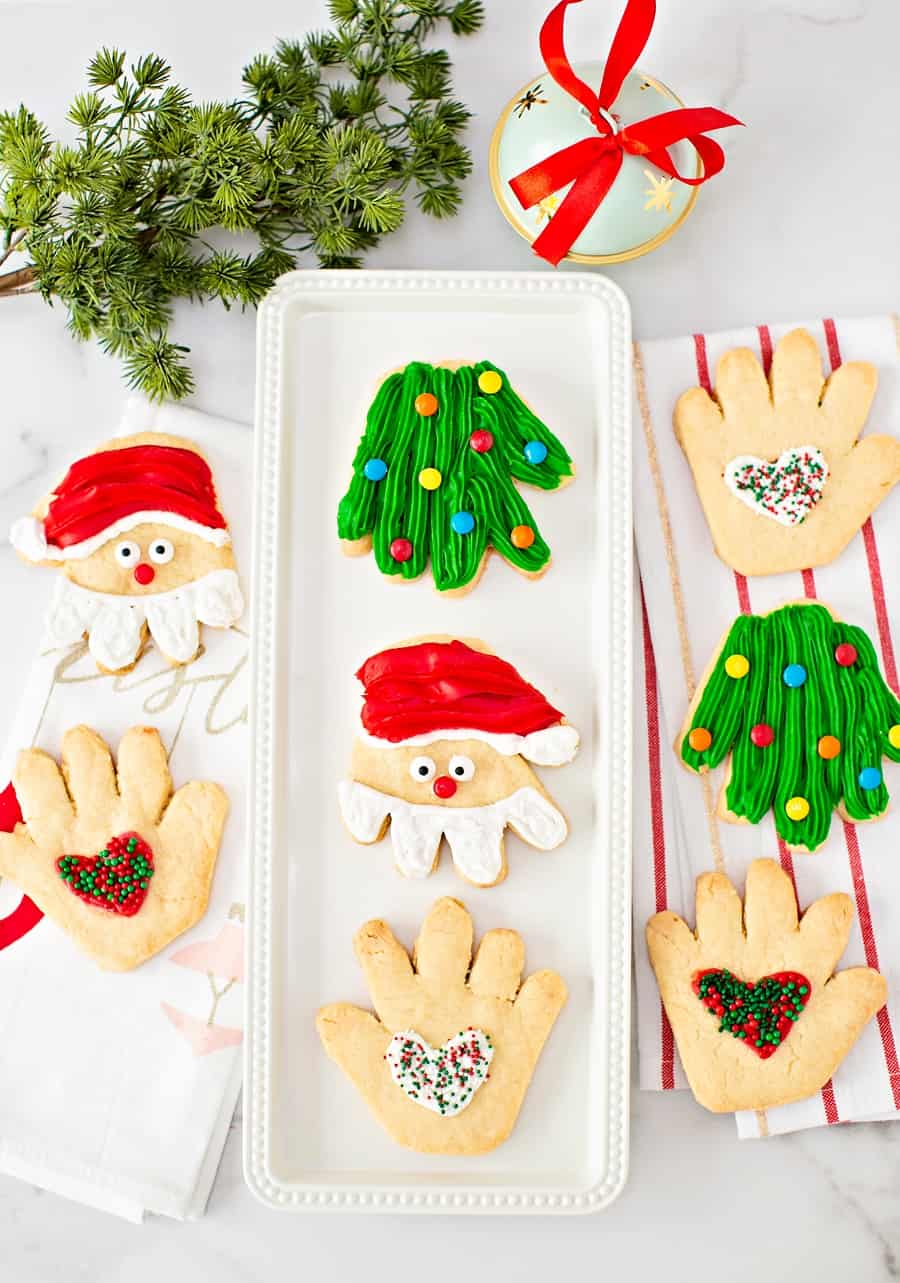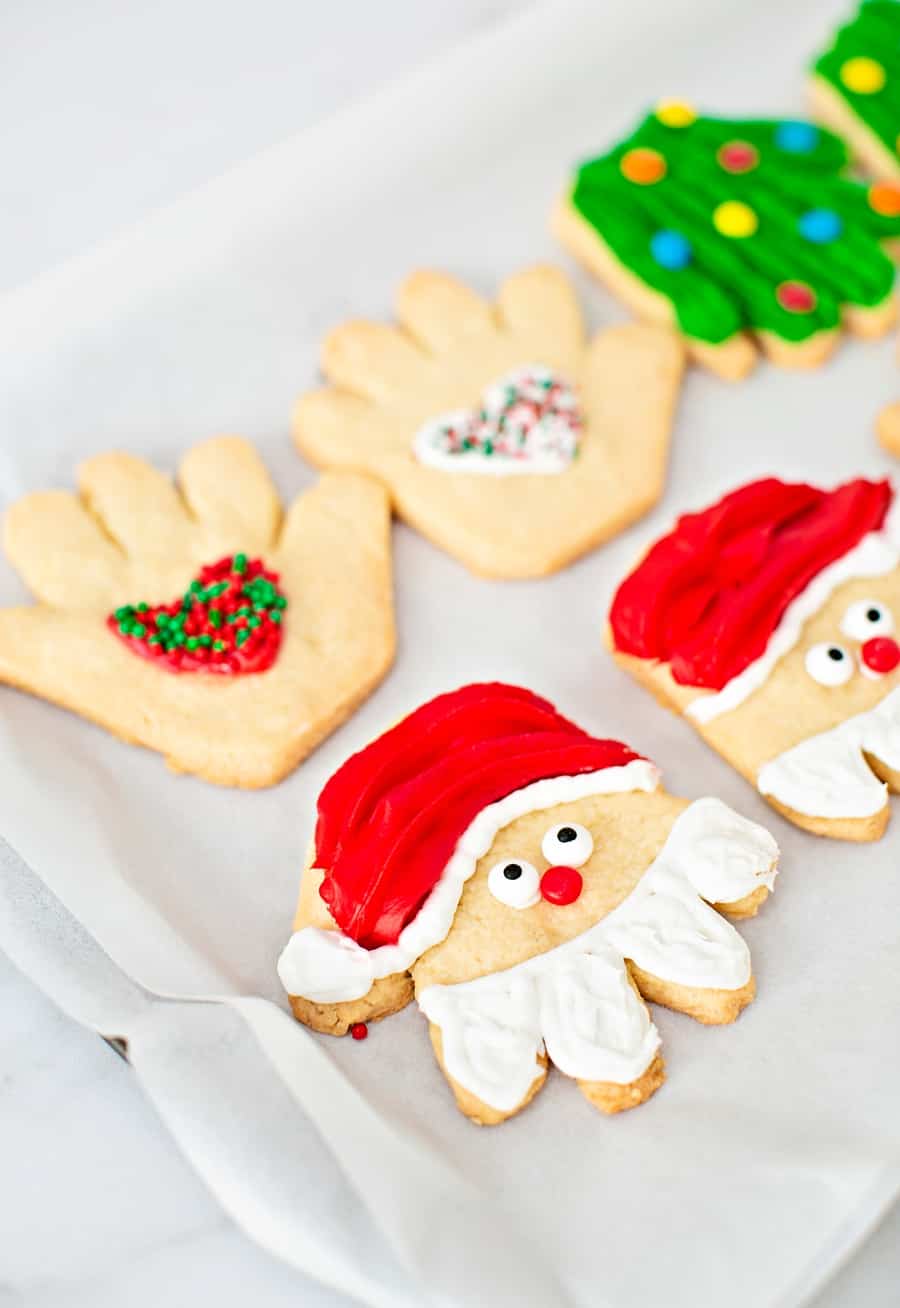 Christmas Cookies for Kids – Edible Version of Handprint Crafts
What makes these handprint Christmas sugar cookies super fun is that everyone in your family is a part of making them.
Little ones and big kids get their hands traced, while older ones can do it themselves and even help decorate. Toddlers and preschoolers can help add some sprinkles or candies. Make it a family holiday baking session that everyone can get involved in.
Have fun when making these Christmas treats for kids. It is a simple and unique way to also talk about how to make yummy Christmas cookies. Ask your children if their hands grew or if the cookies shrunk just a tad bit in the oven. Their answers are certain to make you smile.
What Age are these Cute Christmas Cookies Geared Towards?
It's actually fun for all ages, but definitely toddlers on up (or kids who have the patience to get their hands traced). This is because if their hands are too tiny, they won't bake up quite right.
And while that's okay, it just means that you'll be decorating a "blob" more than a handprint (but as long as you're doing it together, you can't go wrong).
If they are able to, have your child trace out their own hand and be a part of the action. It will teach them to concentrate and follow directions as well.
Is it Difficult to Make these Decorated Christmas Cookies?
No of course not! This is a kid-friendly food site and we strive for cute and simple here. These days, you can buy store-bought icings and sprinkles in virtually any supermarkets. We did this purposely to show how easy decorating Christmas cookies with common supplies is (so that anyone can make them).
We have included a few different handprint Christmas cookie styles for your convenience – all of which are easy to make. The Santa cookies have a simple two tone shape, the Christmas tree cookies are simply piped and decorated with colorful candies, and the heart cookie is just icing with sprinkles on top.
Best Method for Tracing Handprints
The best way to trace these kids Christmas cookies is with your own template. Trace your child's handprint over a piece of white paper with a marker and then place parchment paper over it and trace lightly with a pencil. Cut out and use that parchment handprint as a "cookie cutter" to cut the sugar cookie dough.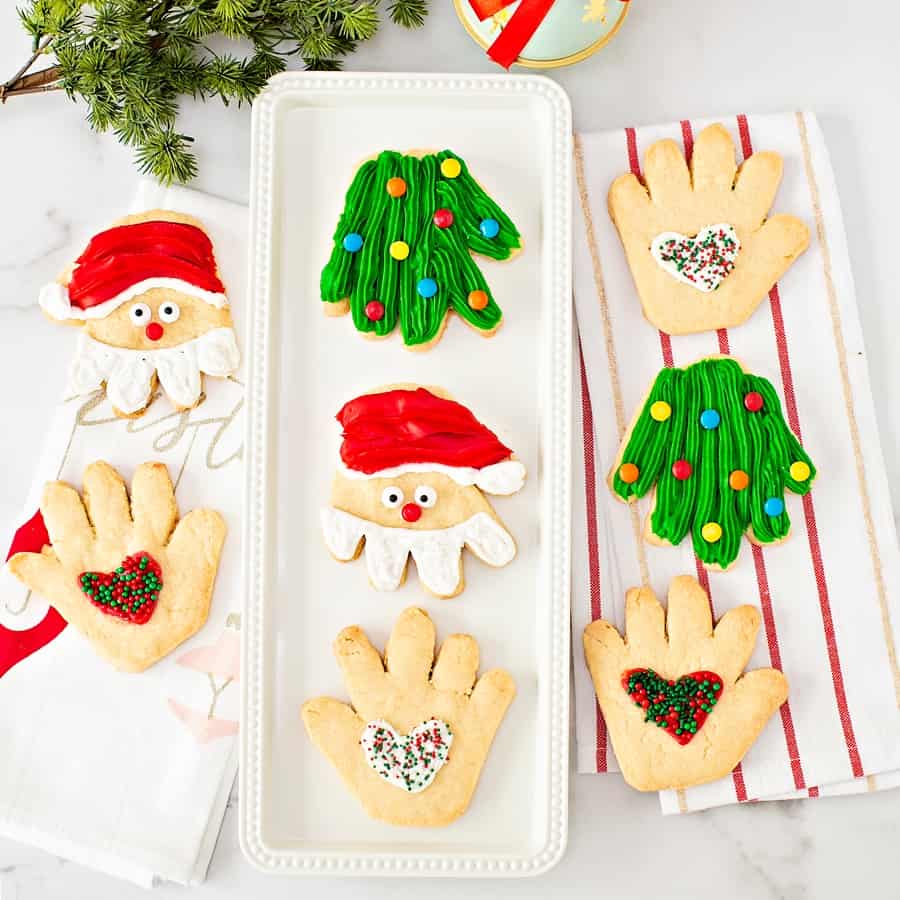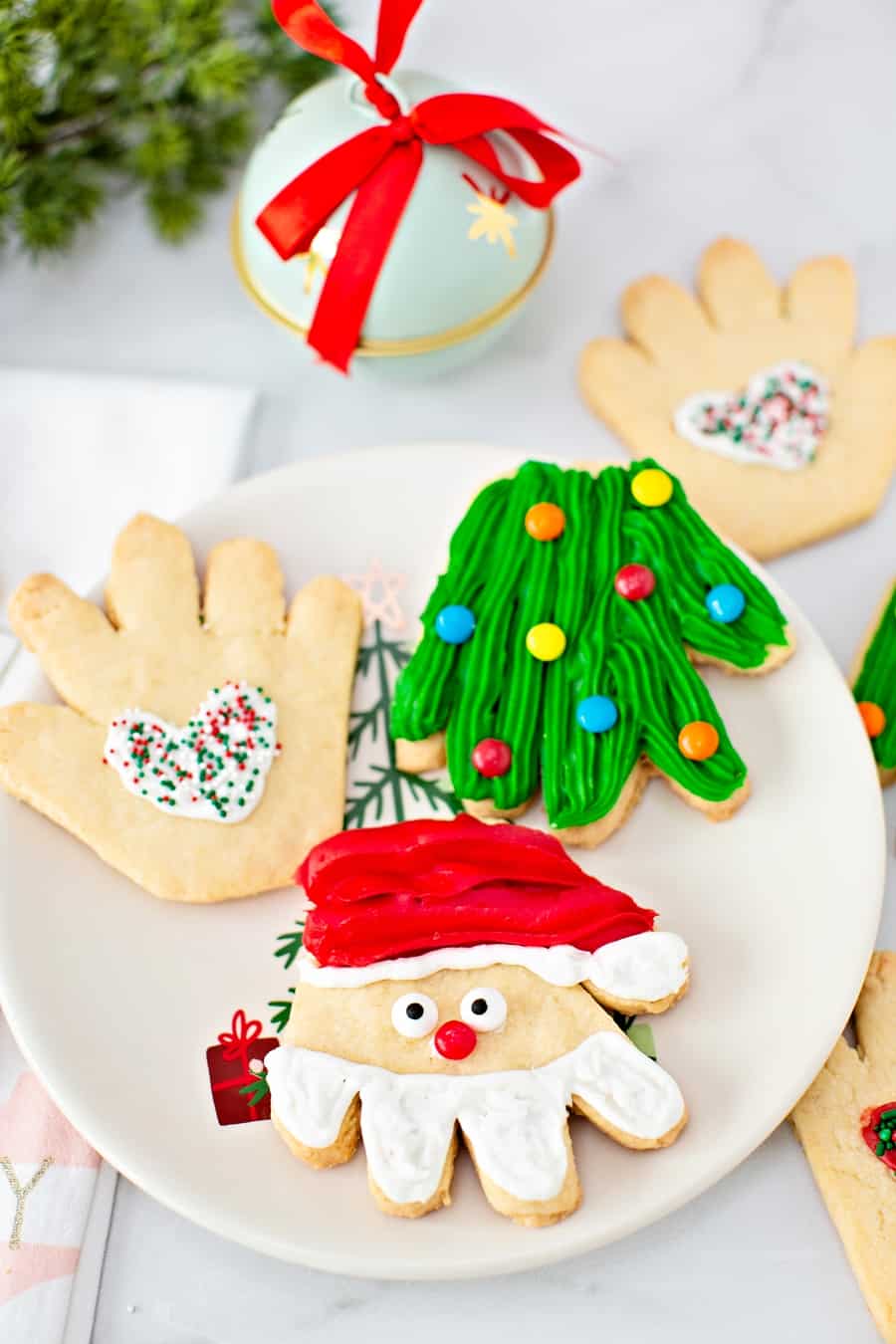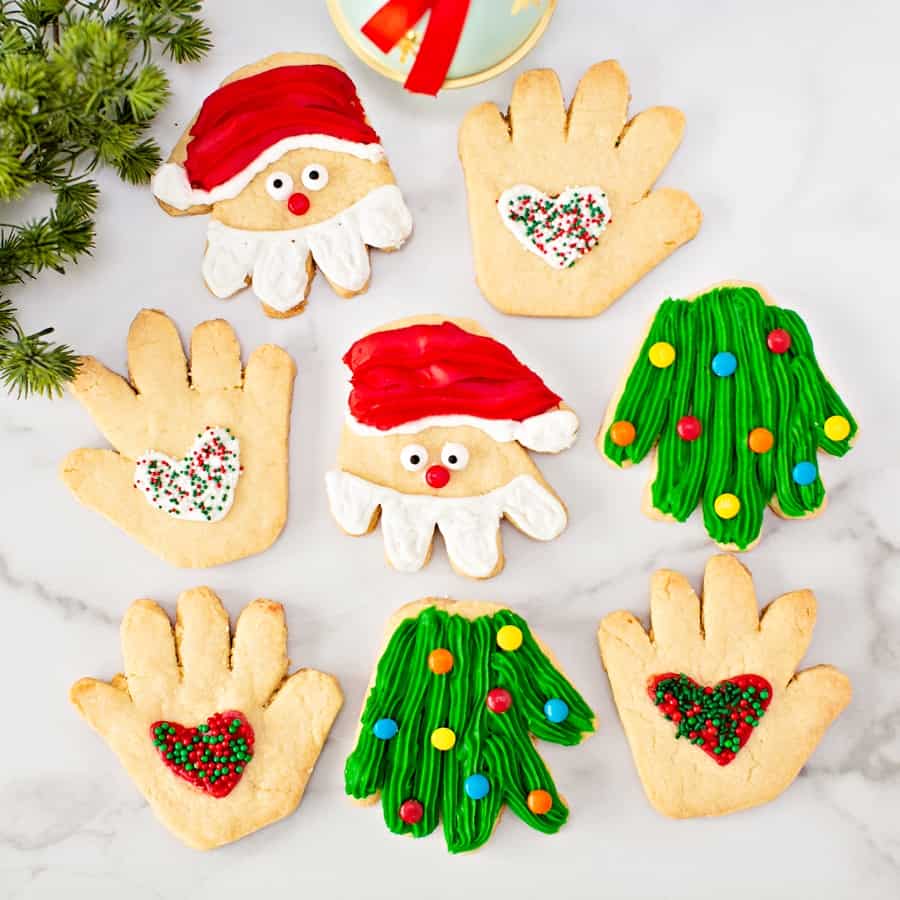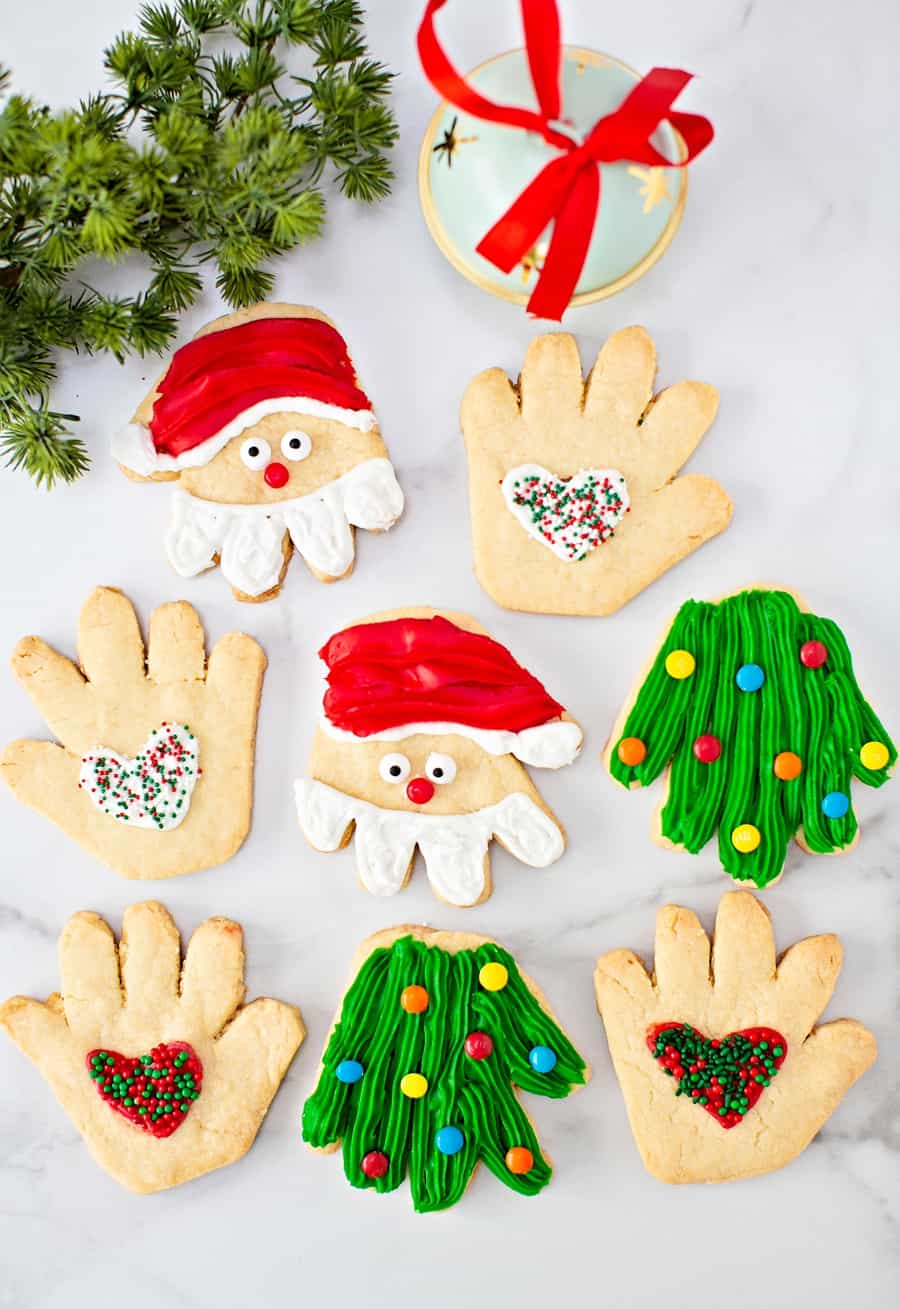 How to Store these Easy Christmas Cookies for Kids
Once you bake them and remove them from the oven (regardless of if you're going to decorate them right away) you need to let them cool completely before storing them. This is because if you store them while they're hot, they're going to have excess moisture from the steam and it will make them go too soft.
Just let them cool down and then store them in an airtight container if you aren't decorating them right away. They can last at least a week if stored properly.
Once decorated, you have to be careful to not stack them since even if the icing hardens a bit they are quite delicate. Store decorated cookies in an air-tight container at room temperature. If it's too warm in your home, the icing might melt, but I'm guessing that won't happen in winter when you'll probably be making these delicious treats.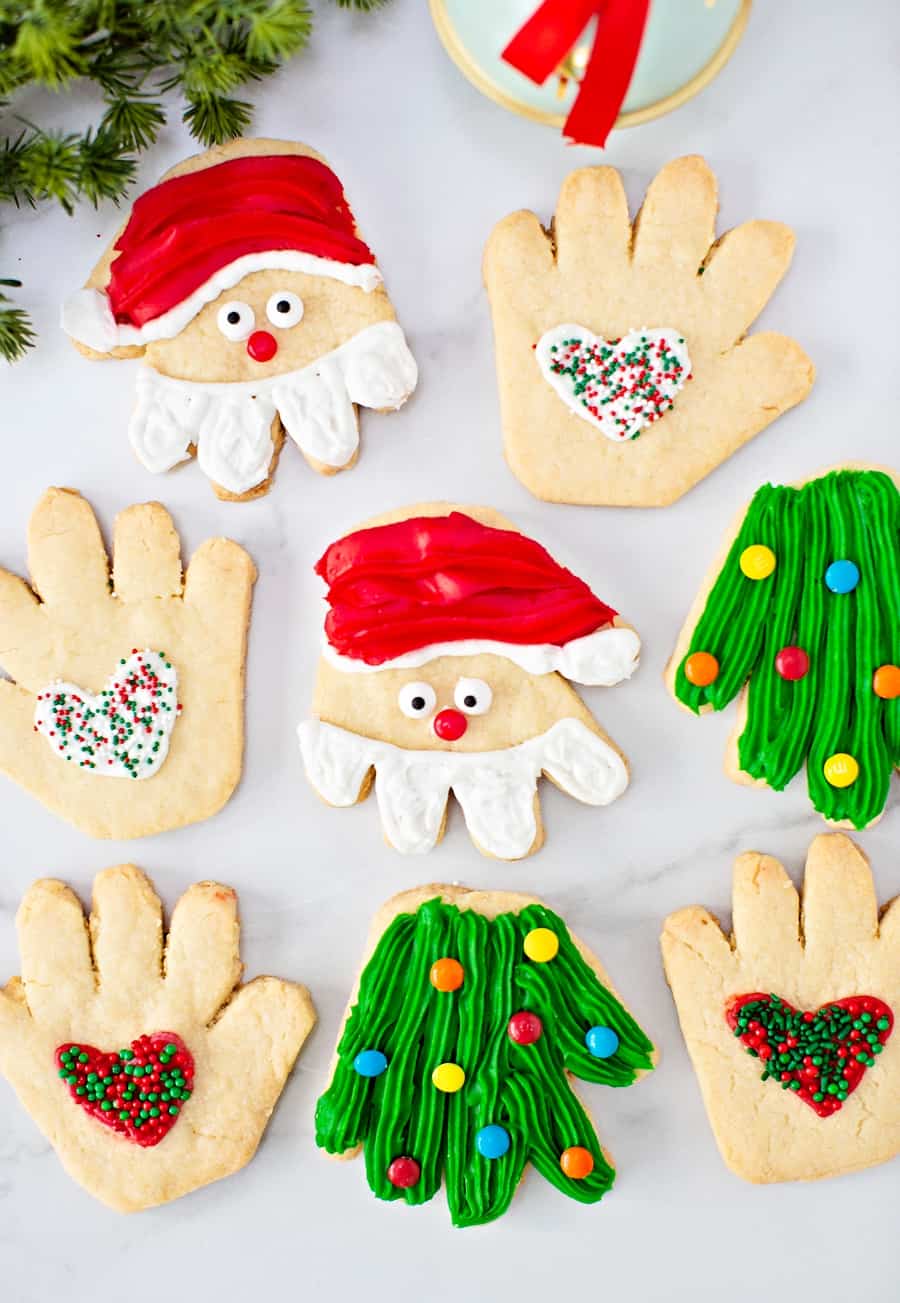 Easy Sugar Cookie Recipe for Kids
We used shortbread Christmas cookie recipes using just butter, sugar and flour (no eggs or liquids). The reason is because you want these Christmas cookies for children to remain as close in shape to your child's handprint and not to spread or break or puff up too much (like other cookies).
Make sure to scroll down to watch the video below to see how we made these adorable handprint sugar cookies.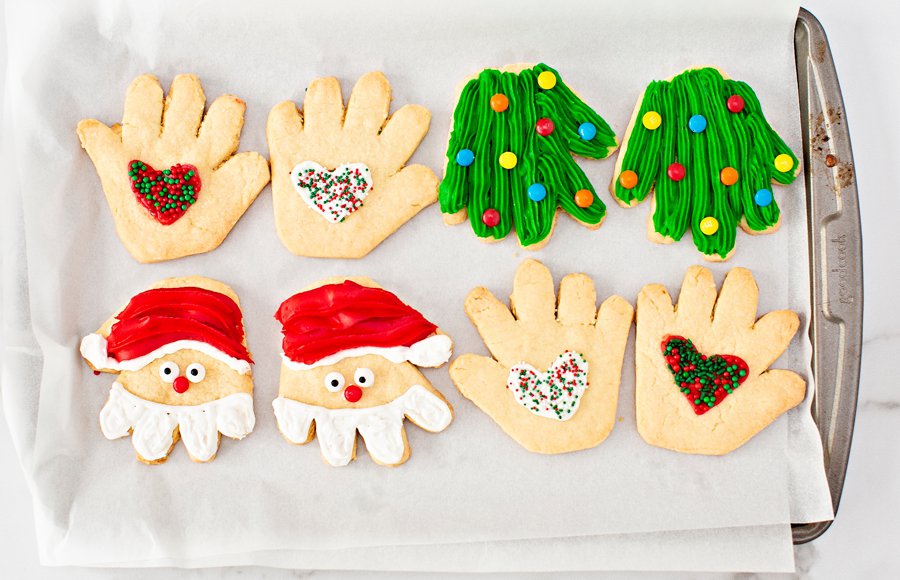 Handprint Christmas Sugar Cookies – Ingredients
We made these cookies with as few ingredients as possible to make it much easier for you (and your kids). For the actual cookies, we opted for a shortbread style using the following:
Once you have made the cookies, the fun part begins – decorating them. If you want to find out more about what Christmas cookie decorating supplies we used, keep reading for the full recipe below.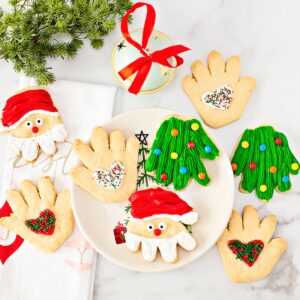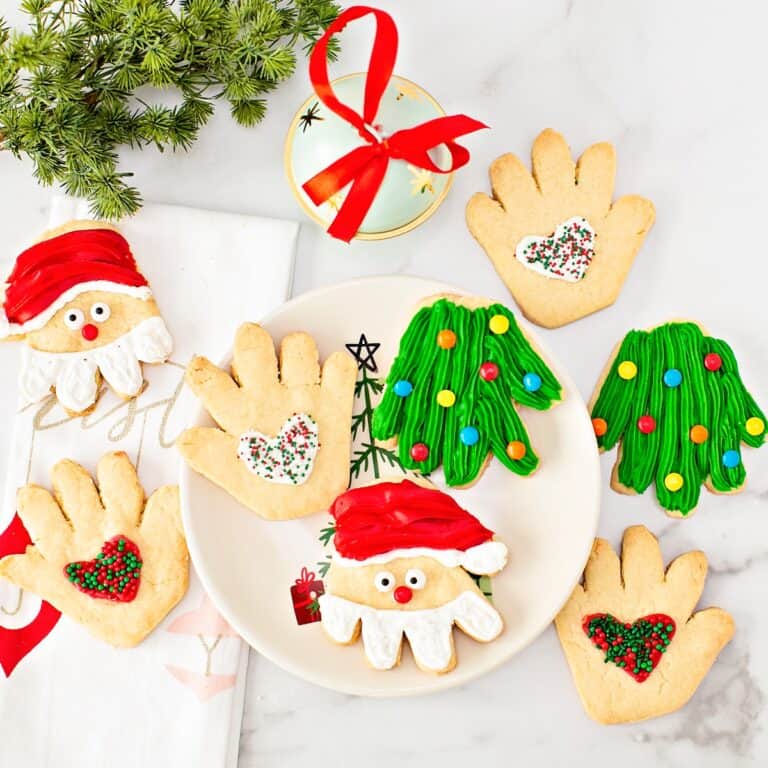 Fun Christmas Cookies - Handprint Cookies for the Holidays
These adorable Handprint Christmas Sugar Cookies are just about the cutest (and tastiest) holiday cookies, ever!
Ingredients
2

sticks

butter

unsalted

1

cup

granulated sugar

2 1/2

cups

all purpose flour

1/4

tsp

kosher salt
Decorating Ingredients
icing Tubes

in red, white and green, we used Betty Crocker

assorted Christmas sprinkles

mini M&M

cinnamon Imperials, similar to Red Hots candy.

If you can't find them, a mini red M&M should be fine too.

googly candy eyes

toothpicks

piping tips

we used the ones by Betty Crocker which fit right on top of these icing tubes
Instructions
Cream two sticks of softened unsalted butter with 1 cup white sugar in a mixer until fluffy on med-high speed - about 5-6 minutes.

Scrape down bowl in between mixing so butter and sugar are well mixed.

Add 2 1/2 Cups all purpose flour and 1/4 tsp kosher salt and mix on low-med speed until dough form. Note: it may be crumbly, but you can mix dough with your hands so it comes together, similar to a pie crust.

Separate dough into two flattened discs, wrap in plastic wrap and chill for 20 minutes or so. You just want it chill enough so it's not too sticky to roll out but not too cold so it cracks.


Lightly flour your surface and rolling pin. Roll dough out to at least 3/8" thick or a bit more, not too thin as you will need these to be thick to decorate and not break. Lightly flour dough to roll out as needed.

Use your parchment handprint and use a knife to cut around the handprint. Once you've cut out your handprint it helps to "separate" the fingers a big with the knife. and push in any jagged crumbs, you can pinch with your fingers too.

Use a spatula to lift handprint cookie to a parchment lined baking sheet.

Place handprints on tray two inches apart.

Place tray in fridge to chill before baking for 20 minutes

Preheat oven to 375 degrees and bake for 15-20 minutes until the edges become golden brown. That's when you know they are done.

Take tray of oven and allow cookies to cool on baking pan before removing to decorate.
Decorating Cookies
Please watch the video for this step, it's super easy this way!
Notes
All decorating supplies found in the baking aisles of large common supermarkets.
Don't use Silpat as they will spread too much.
Reverse handprint to make right and left hands if you'd like or trace two versions.
I was able to use the same parchment handprint template for all cookies, no need to cut out more than one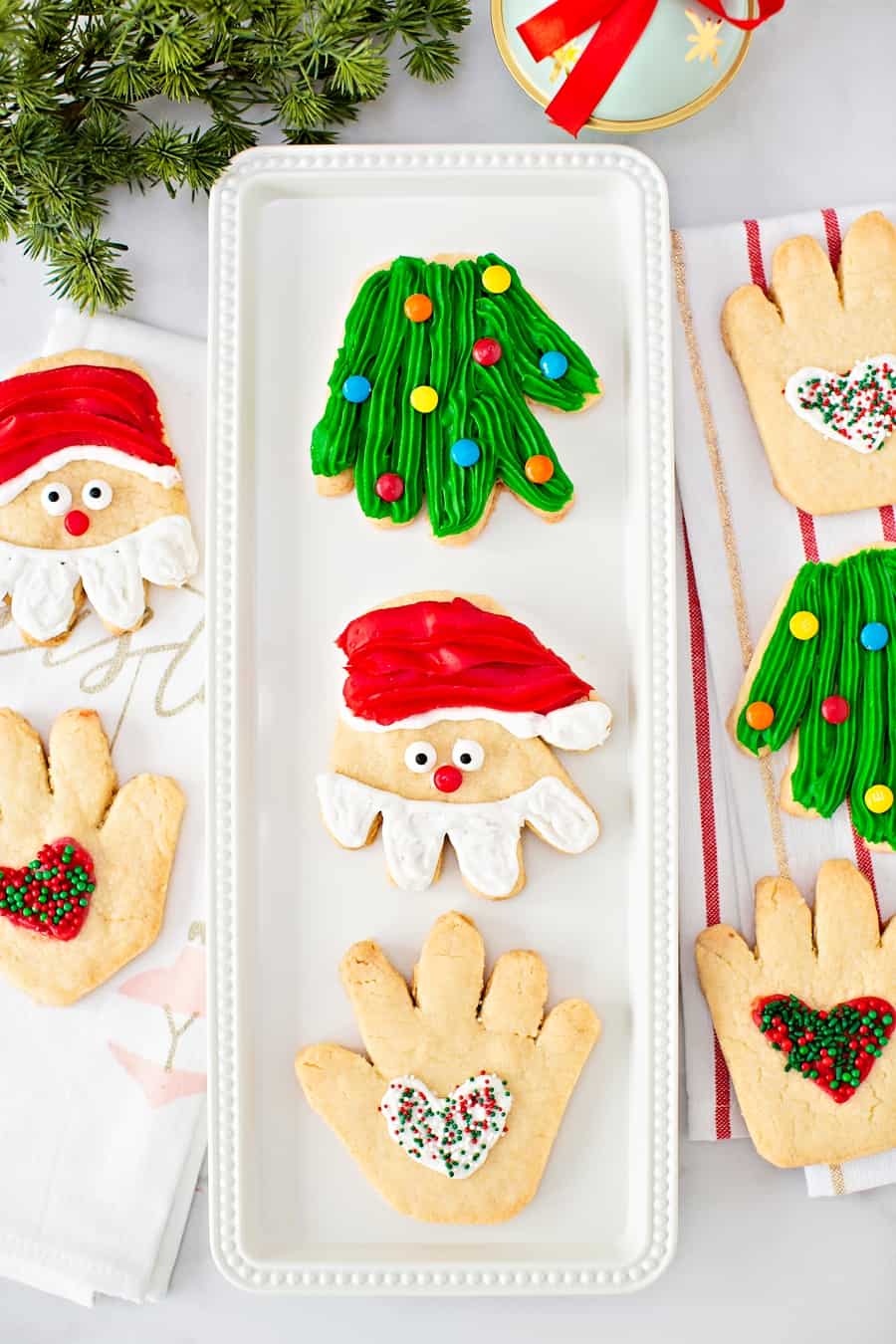 Handprint Christmas Sugar Cookies – Simple Tips
Here are some useful tips that you might need when making these delicious holiday snacks:
All decorating supplies can be found in the baking aisles of large common supermarkets.
Don't use Silpat as they will spread too much.
Reverse handprint to make right and left hands if you'd like or trace two versions.
I was able to use the same parchment handprint template for all cookies, no need to cut out more than one
You're going to love the taste and flavor of these yummy handprint cookies. Give everyone the option to decorate them up any way that they want.
Above anything else, have fun! The entire point of making these cookies is to whip them up and let everyone decorate their own hands.
Easy Christmas Cookies to Make with Kids
Christmas is meant to be a time for family and great food. Why not combine both of these holiday pastimes in one easy activity. All you need to do is head out to your local shop, buy the short list of ingredients, and you'll be ready to start in no time.
This fun cookie recipe will have all your kids involved. No matter their age, who doesn't love a nice tasty Christmas cookie – especially when you've made them yourself.
More sweet Christmas recipes to try: