By using this site, you agree to our Terms of Use. This post may contain affiliate links. Read our disclosure policy.
Follow us on Instagram for more fun food ideas for kids!
The holidays are a time to celebrate and eat! These easy and cute Christmas Treats for kids make fun holiday desserts to ring in the festive season!
If you've been following us for a while, you'll know we can't resist a cute Christmas treat! We're excited to show you how to make these easy and cute Christmas treats for kids today! These are all classic Christmas snacks that have been long-time favorites on the web and our personal faves as well. We'll show you how easy it is to turn simple fruit like strawberries and banans into adorable santas. Plus some easy hacks for making tree light cookies, tree ice cream cones, and chocolate trees!
Read More below on how to recreate these delightful Christmas snacks for kids. These make great desserts or appetizers for your holiday gatherings and parties as well!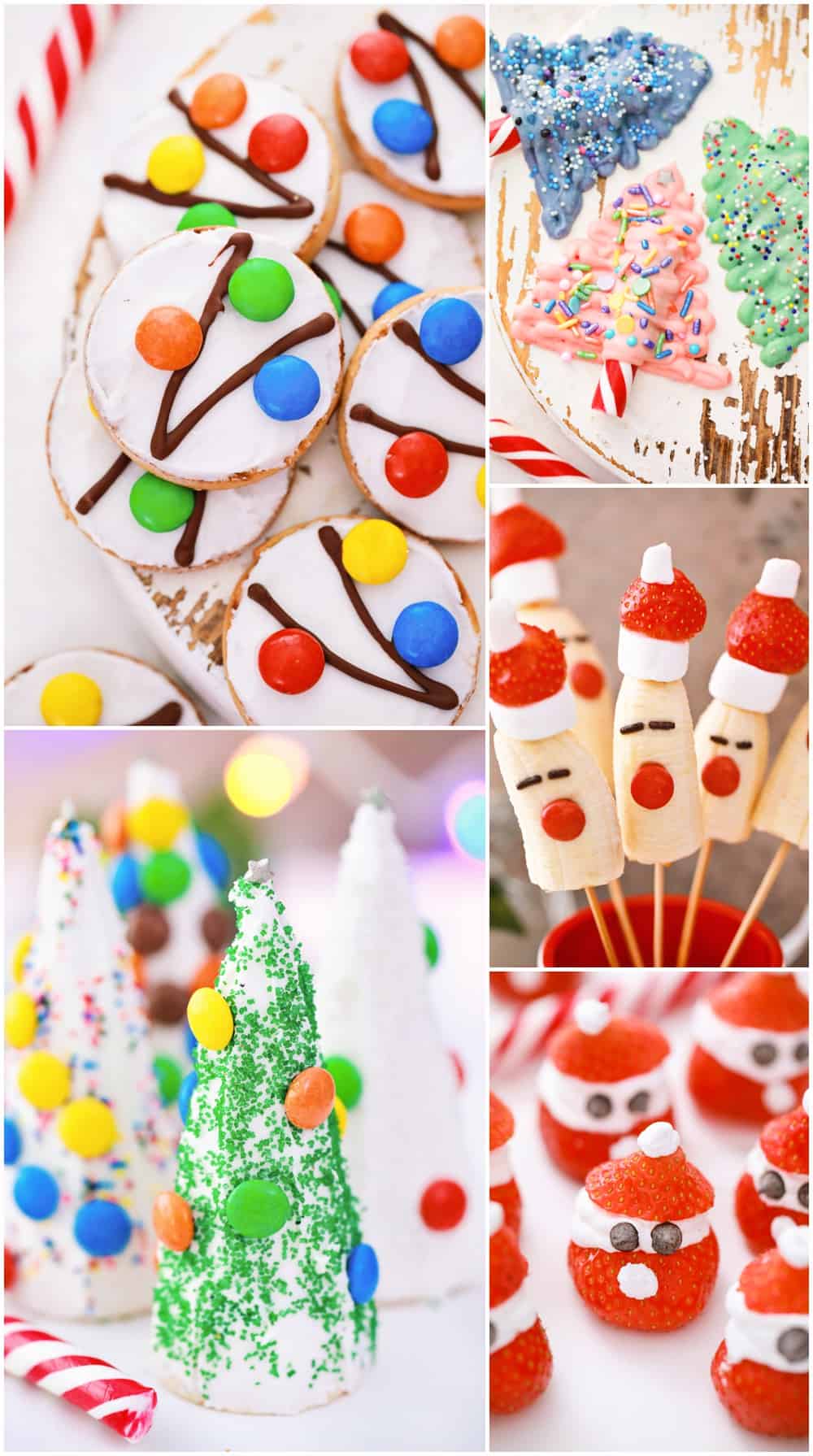 Watch the video in this post to see how to make these fun Christmas Treats!
Santa Bananas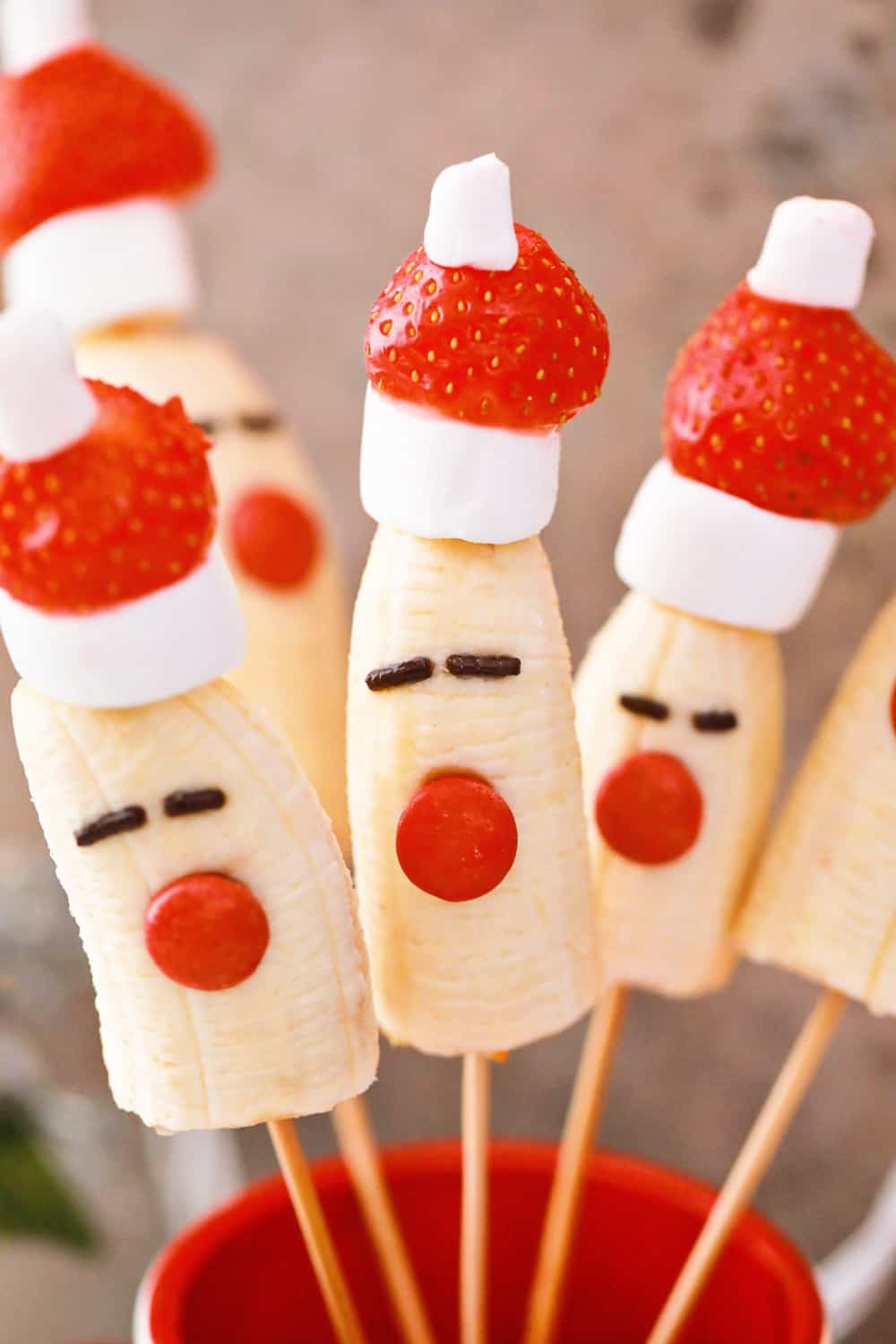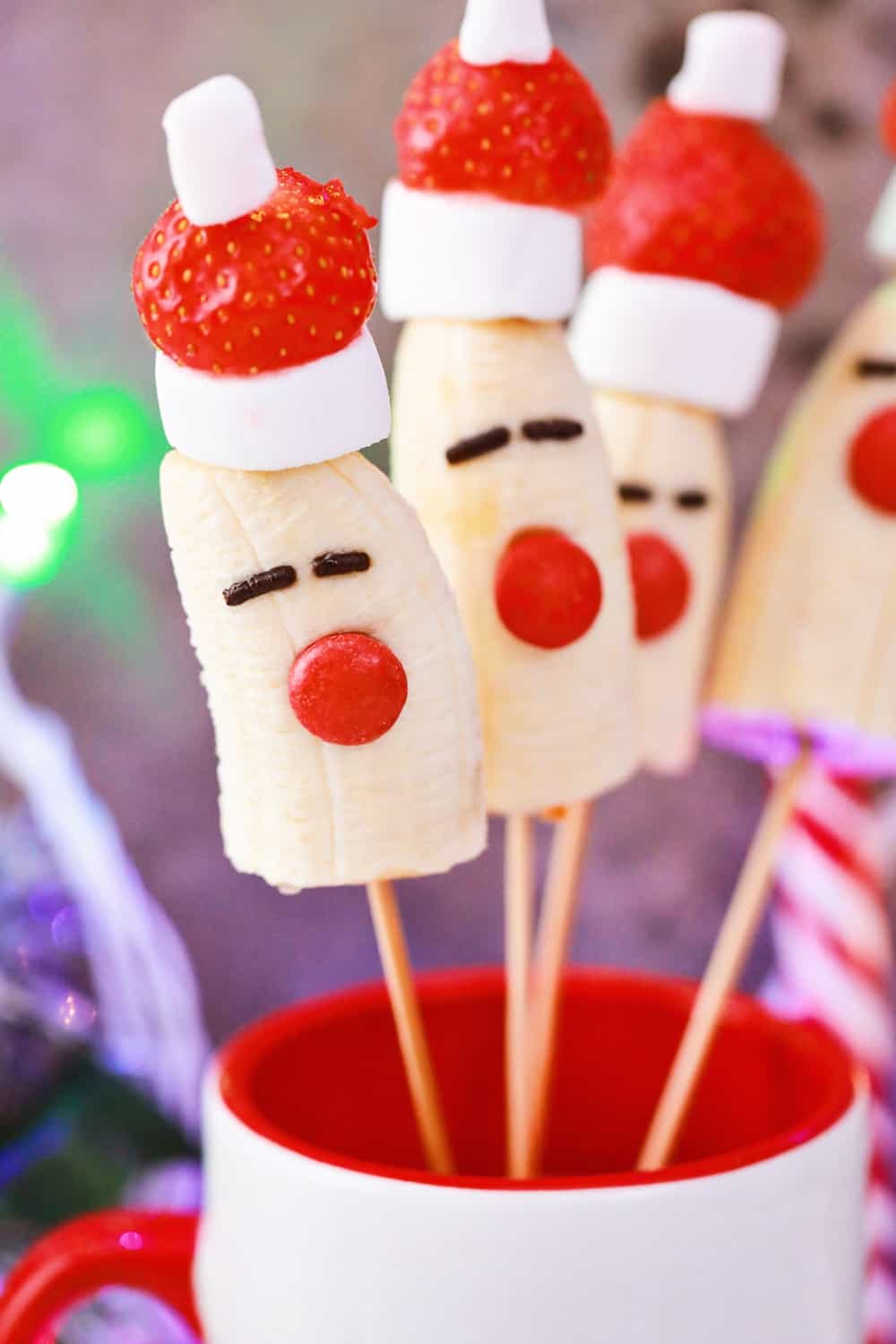 These cute santa bananas make a healthy Christmas treat! All you need are some bananas, candies, and skewers to make these fun banana treats.
Ingredients:
Bananas
Straberries
Chocolate jimmies
red candy
marshmallows (mini and regular)
skewers
Instructions:
Cut bananas in half
Stick each half on a skewer
Add half a marshmallow on top of the banana followed by a strawberry with the stem cut off, topped with a mini marshmallow)
Stick two chocolate jimmies into the bananas to make the eyes
Add a red candy for the nose (to make it stick use a bit of water or a dab of chocolate or frosting)
Strawberry Santas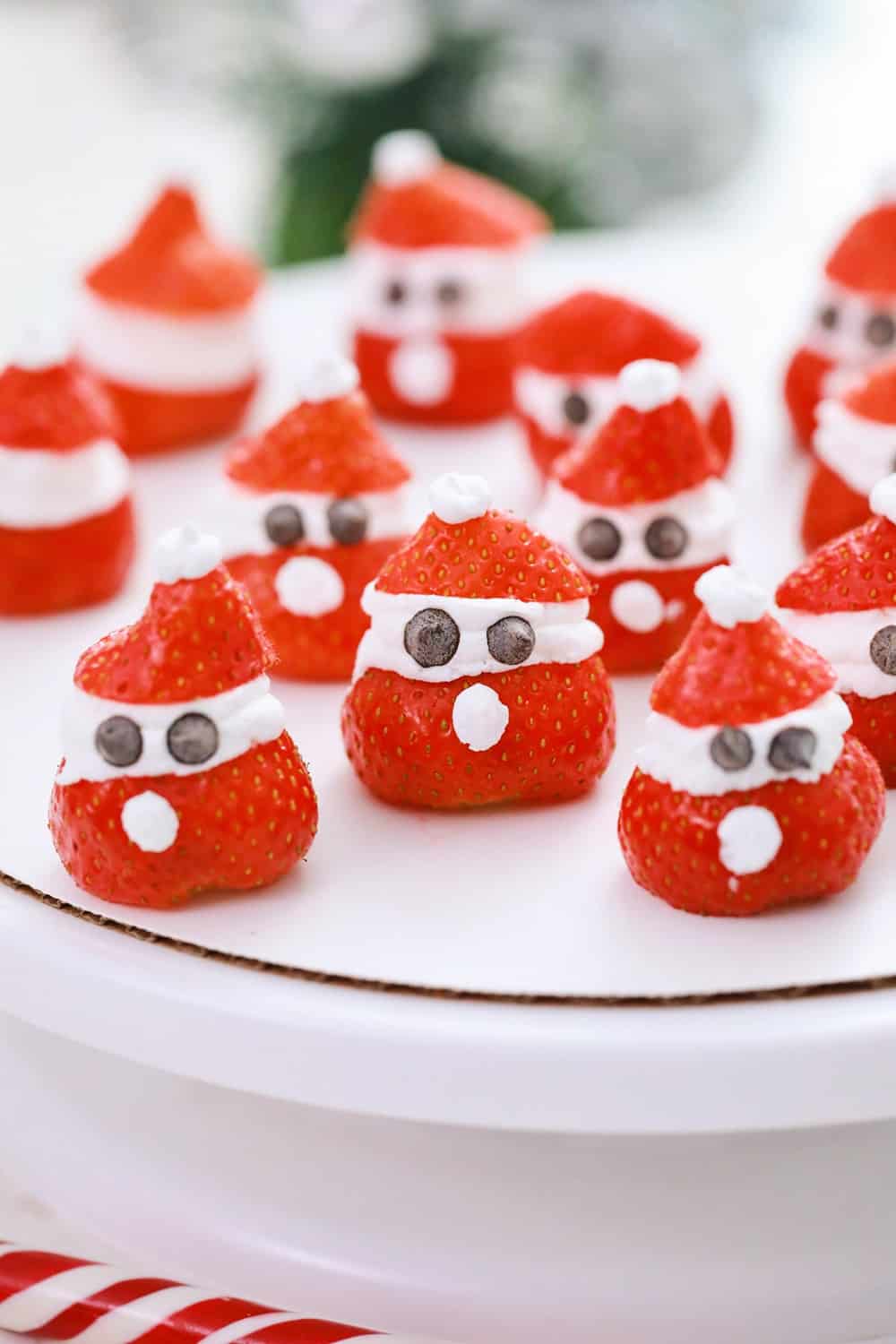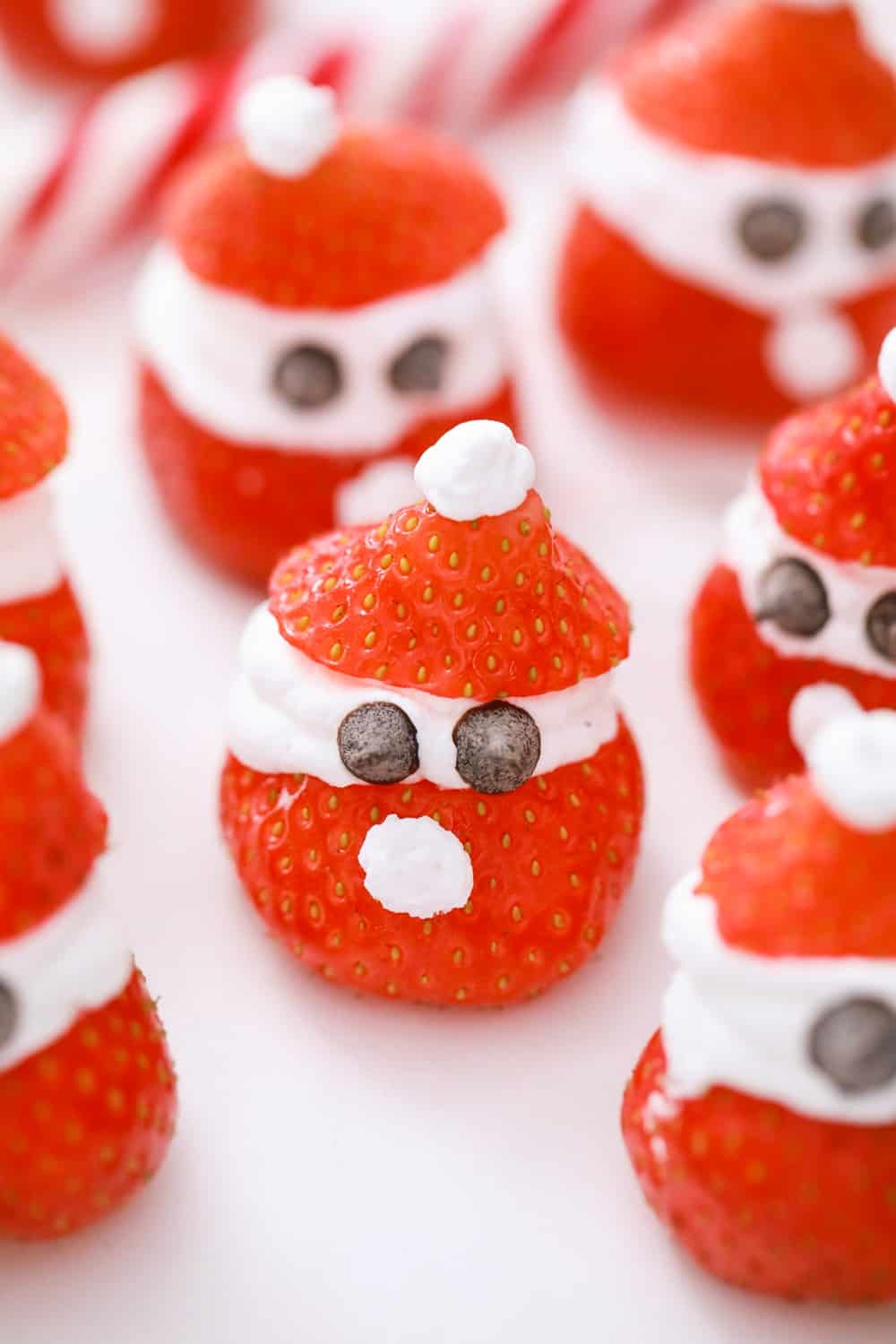 Strawberry Santas are the perfect Christmas breakfast treat as well! You can serve these with a side of bacon and eggs to make it well-rounded holiday brunch!
Ingredients:
Strawberries
Whipped cream
Mini chocolate chips
Instructions:
Cut the strawberry tops off (take off stem) and fill top with whipped cream
Add the strawberry top on top of the whip cream
Add a dab of whip cream to center of strawberry and top of strawberry top
Add two chocolate chips for eyes
Ice Cream Cone Christmas Trees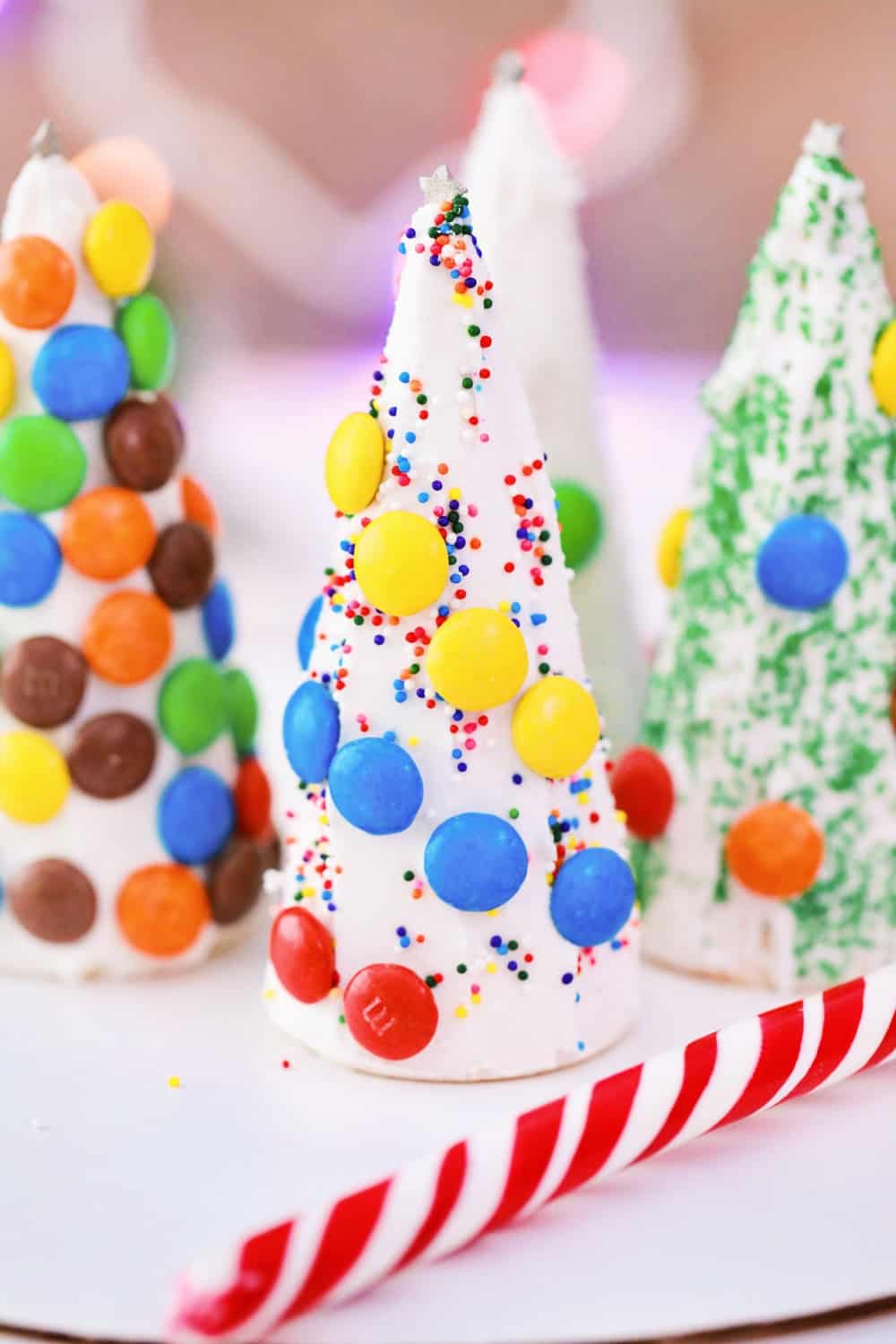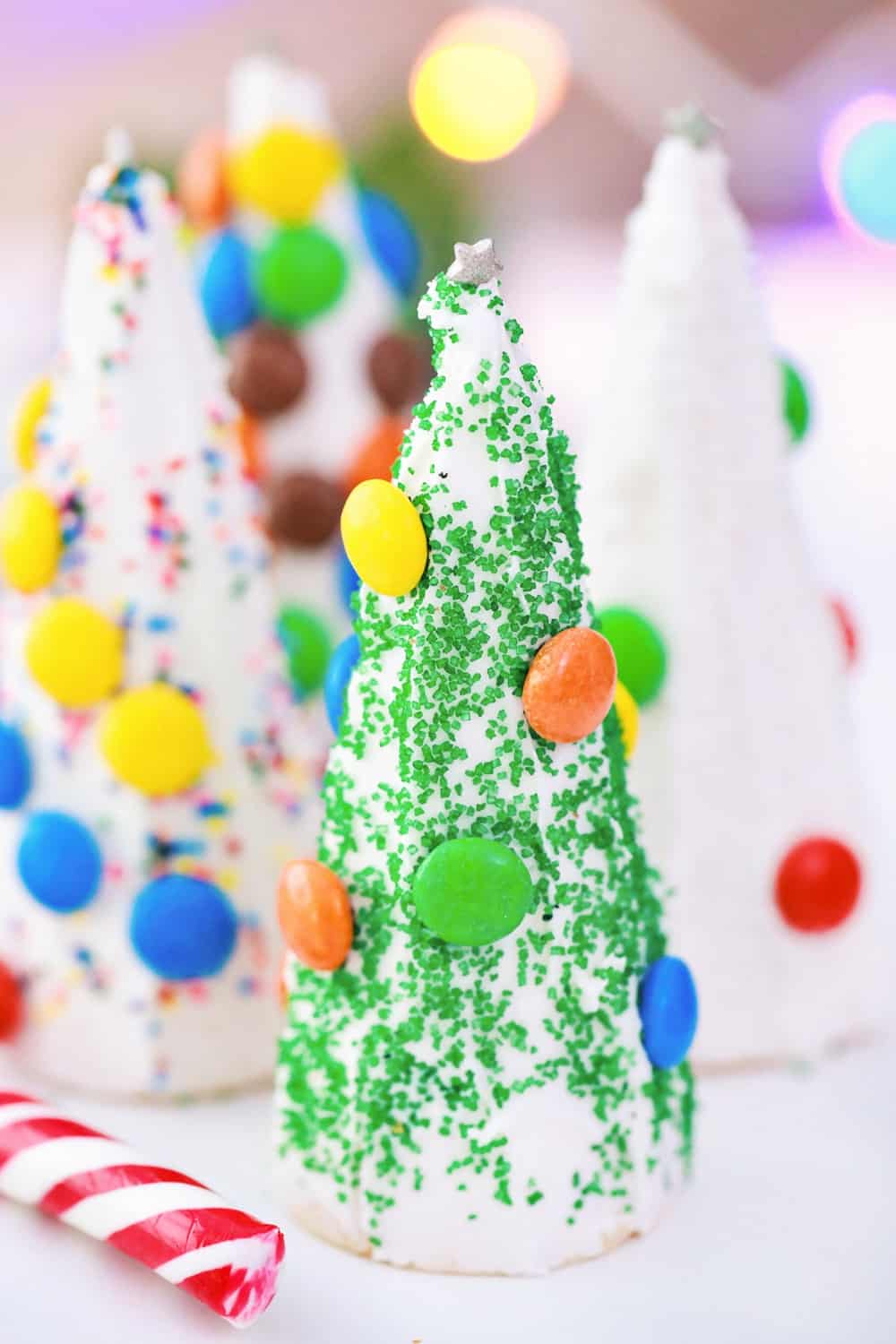 For another fun twist on ice cream tree cones you can dust powdered sugar on top! This creates a festive snowy like scene if you want to display these at a holiday party!
Ingredients:
Ice cream cones
Frosting
Various holiday sprinkles and candies
Instructions:
Top cones with frosting
Add sprinkles and candies to the frosting
Christmas Tree Light Cookies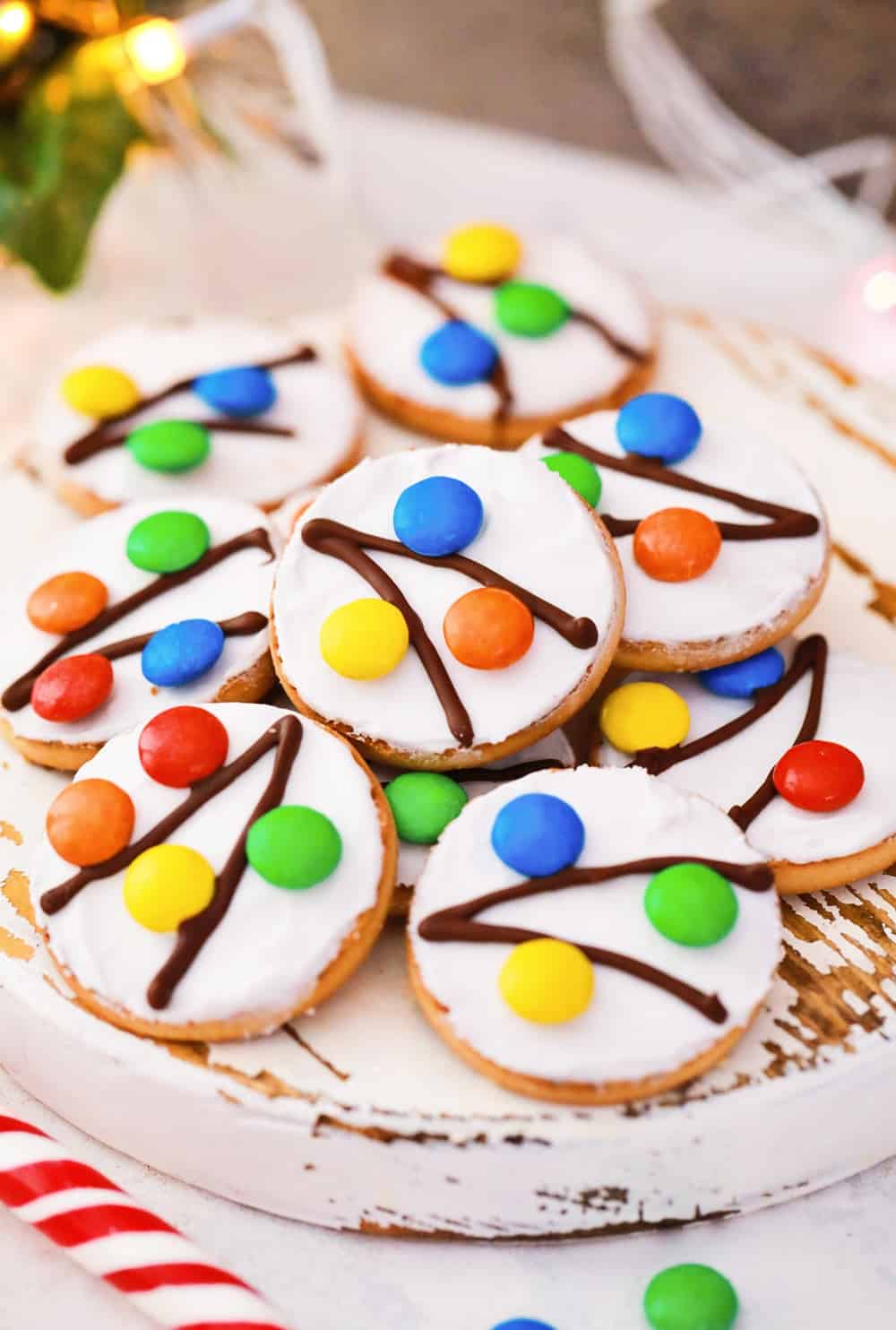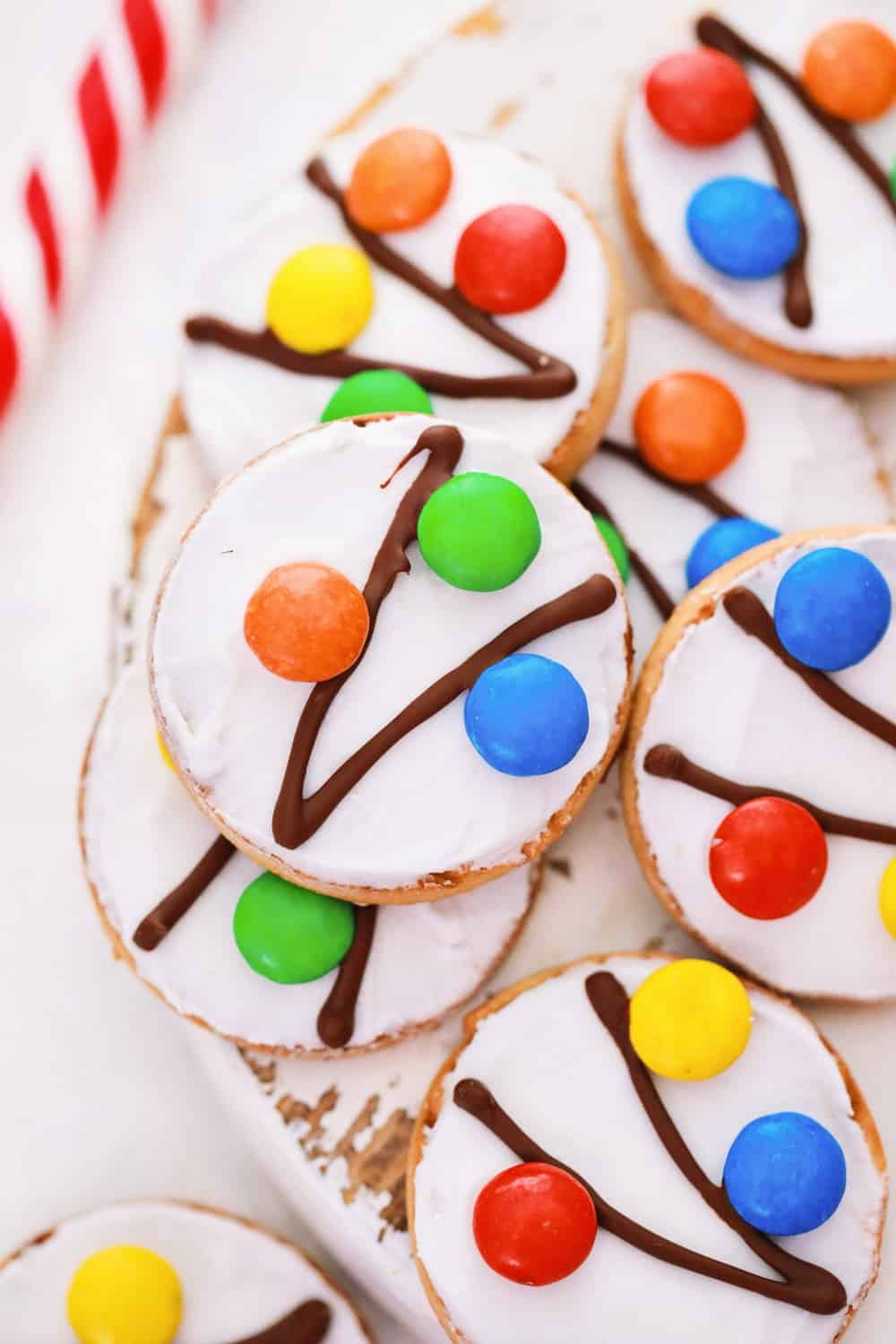 Why not create these for a 12 day of Christmas Cookie Exchange? Get the kids involved in making these super easy Christmas cookies.
Ingredients:
Store-bought sugar cookies (vanilla wafers work well too for a mini size!) OR make your own flat sugar cookies cut out into circles
Chocolate
White frosting
Colorful candies like M&M's
Instructions:
Frost the cookies with white frosting
Melt chocolate and add to a small piping bag or sandwich zipper bag with end snipped off. Make zigags of chocolate onto cookies
Top with colorful candies for the "Christmas lights"
Chocolate Christmas Trees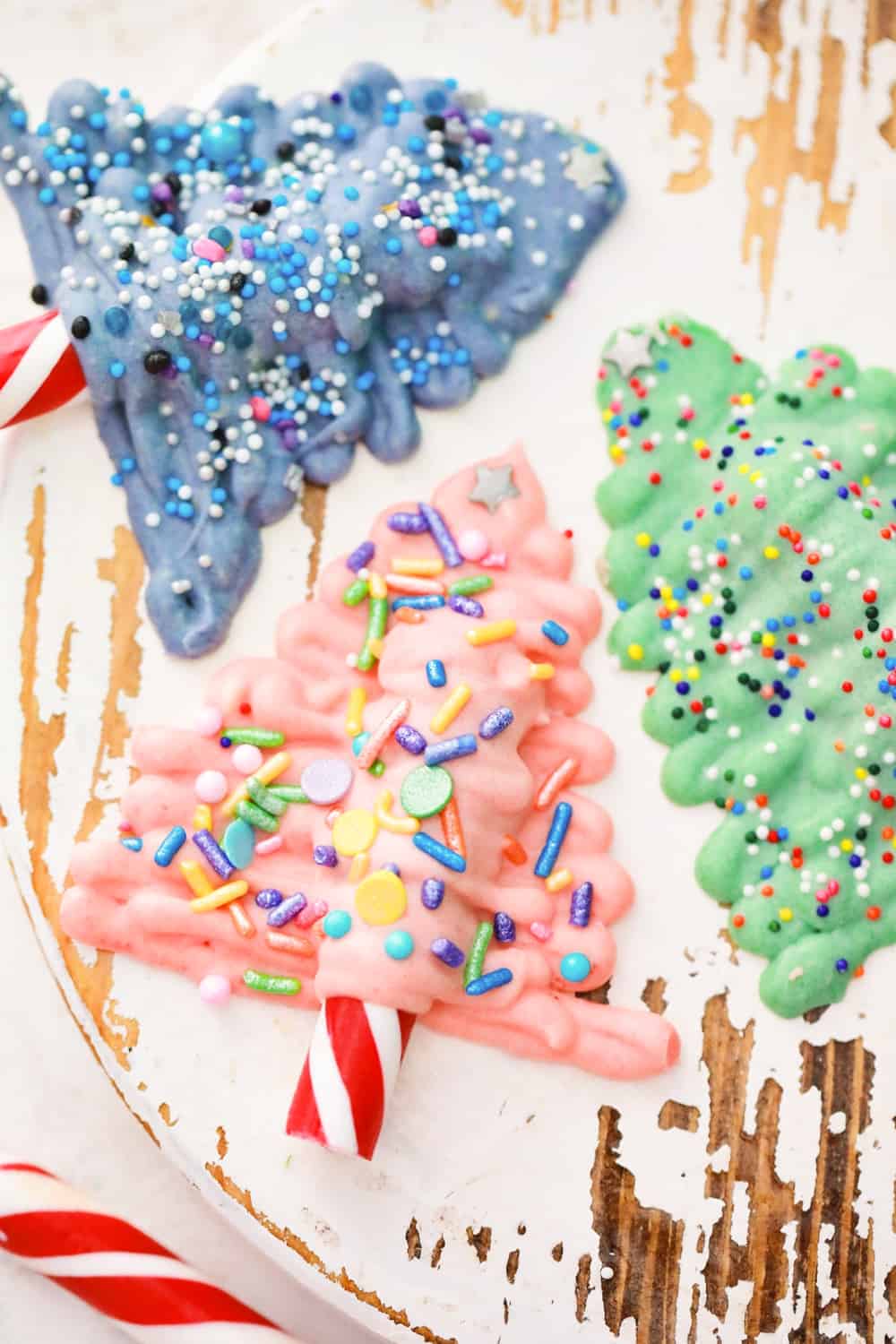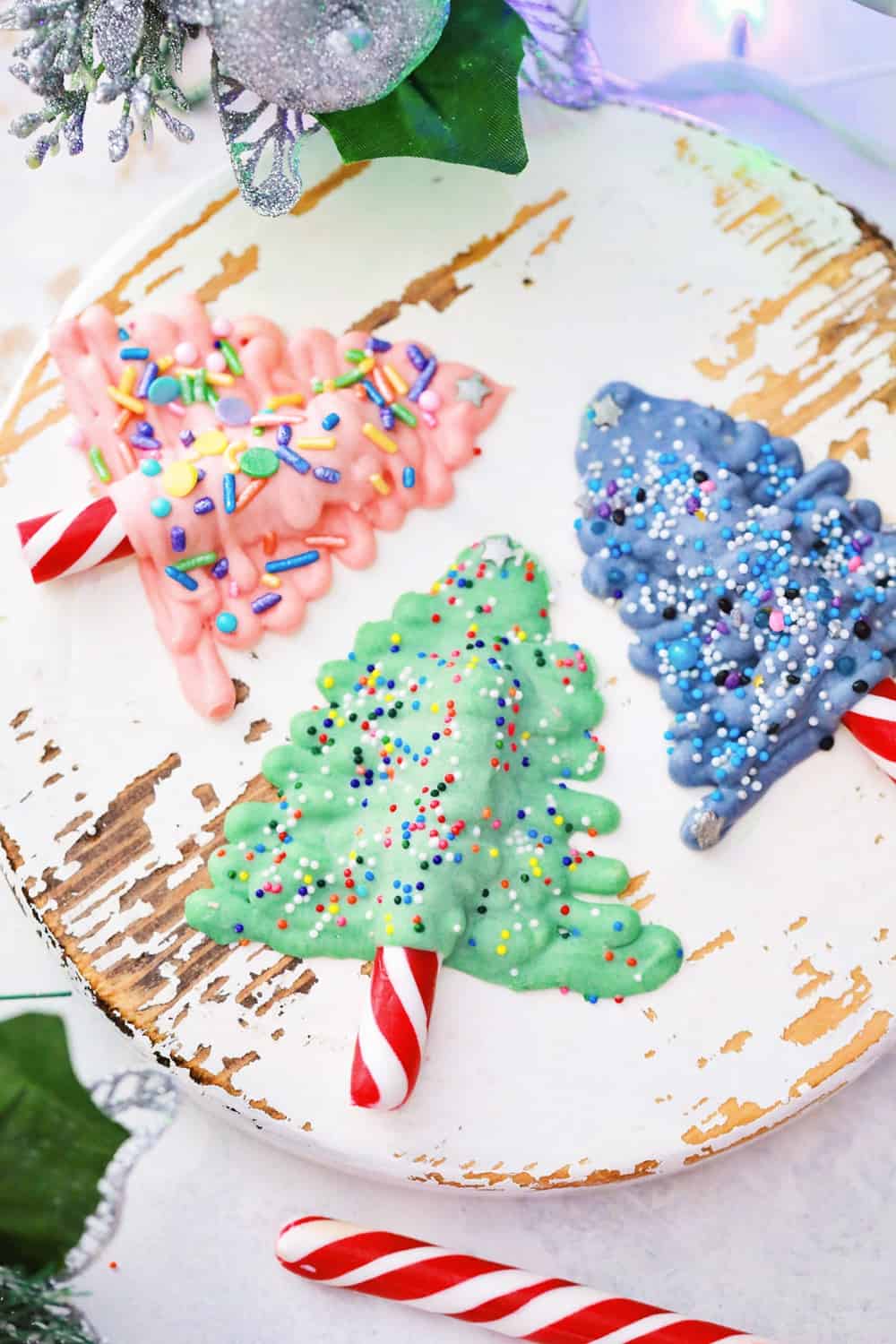 Pair these adorable edible Christmas Trees with a Christmas Tree Pizza for an adorable Christmas lunch!
Ingredients:
Colored melting chocolate wafers (color of your choice)
Candy canes
Various holiday sprinkles
Instructions:
Lay your candy canes on parchment paper
Melt your candy wafers
Add to a piping bag or sandwich zipper bag with end snipped off
Drizzle chocolate over candy cane. Refrigerate to set.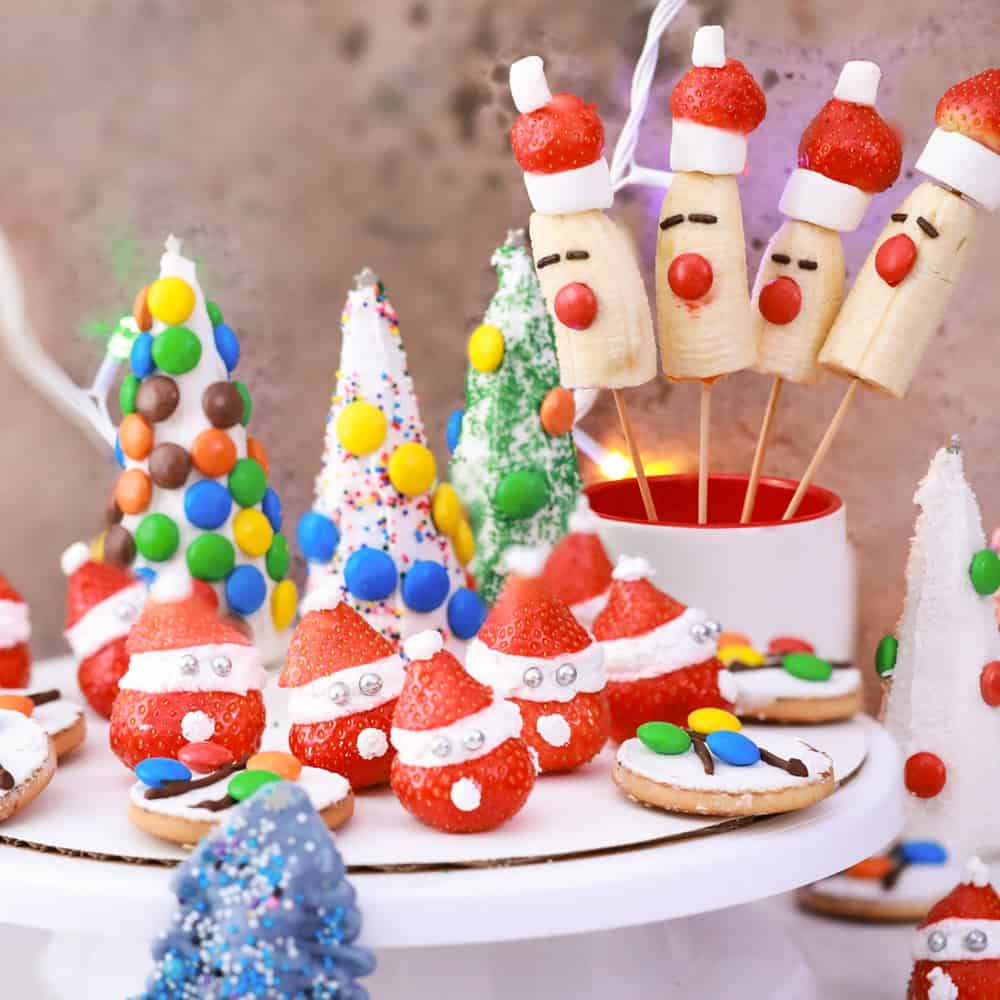 You Might Also Like
Peppermint White Chocolate Christmas Crack Recipe