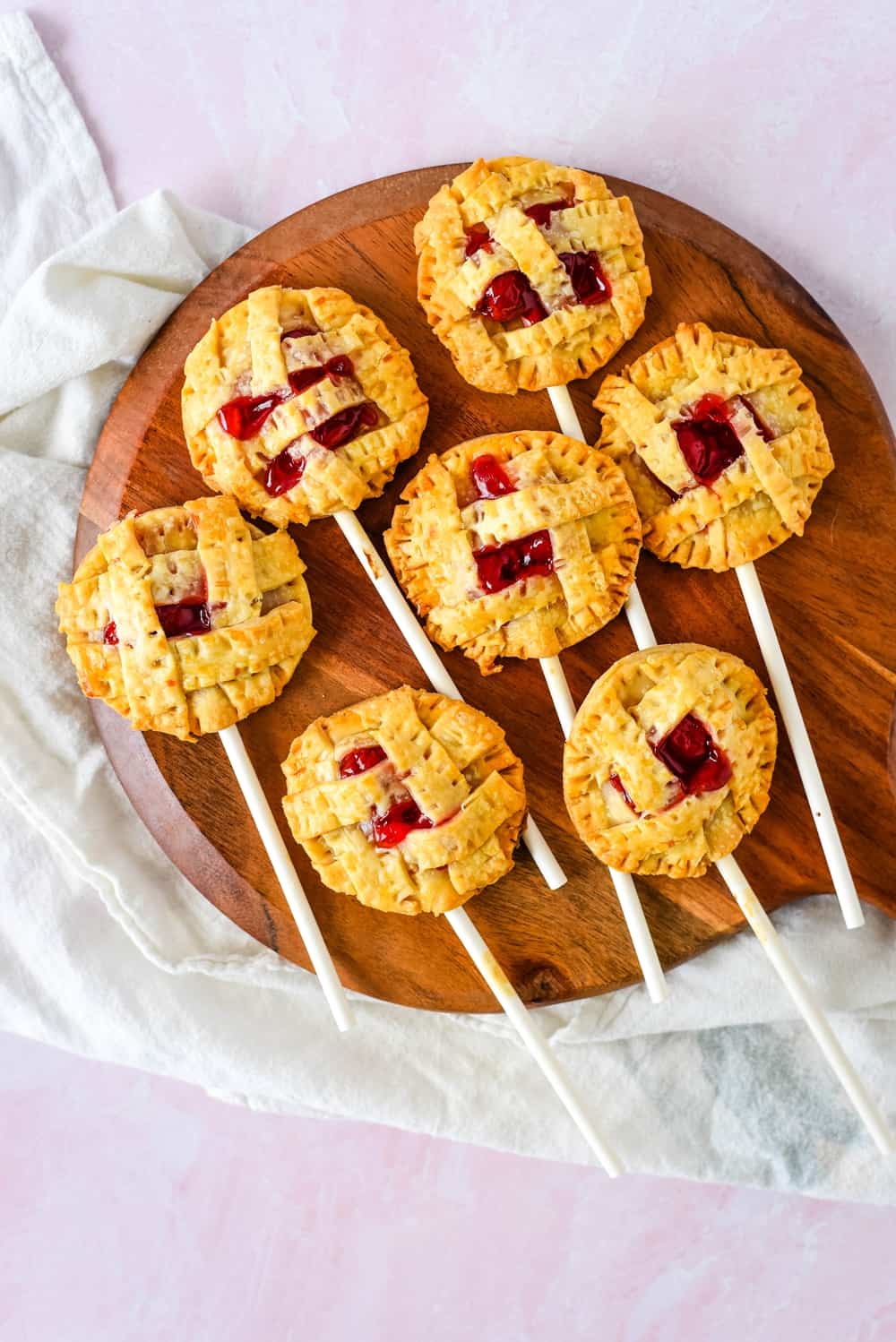 By using this site, you agree to our Terms of Use. This post may contain affiliate links. Read our disclosure policy.
Follow us on Instagram for more fun food ideas for kids!
These Cherry Pie Pops are like the perfect grab and go dessert! Just three simple ingredients are needed for this cute and simple treat.
Just when you thought that you couldn't love cherry pie any more than what you already do, along comes these cute dessert pops. The first time we made them, we were hooked – and that's why we're so excited to be sharing them with all of you!
Not only are they crazy easy to make but they're super yummy as well. I've made these for fun treats and snacks at home but they're also great for birthday parties and a super great way to get the kids in the kitchen to create right alongside you.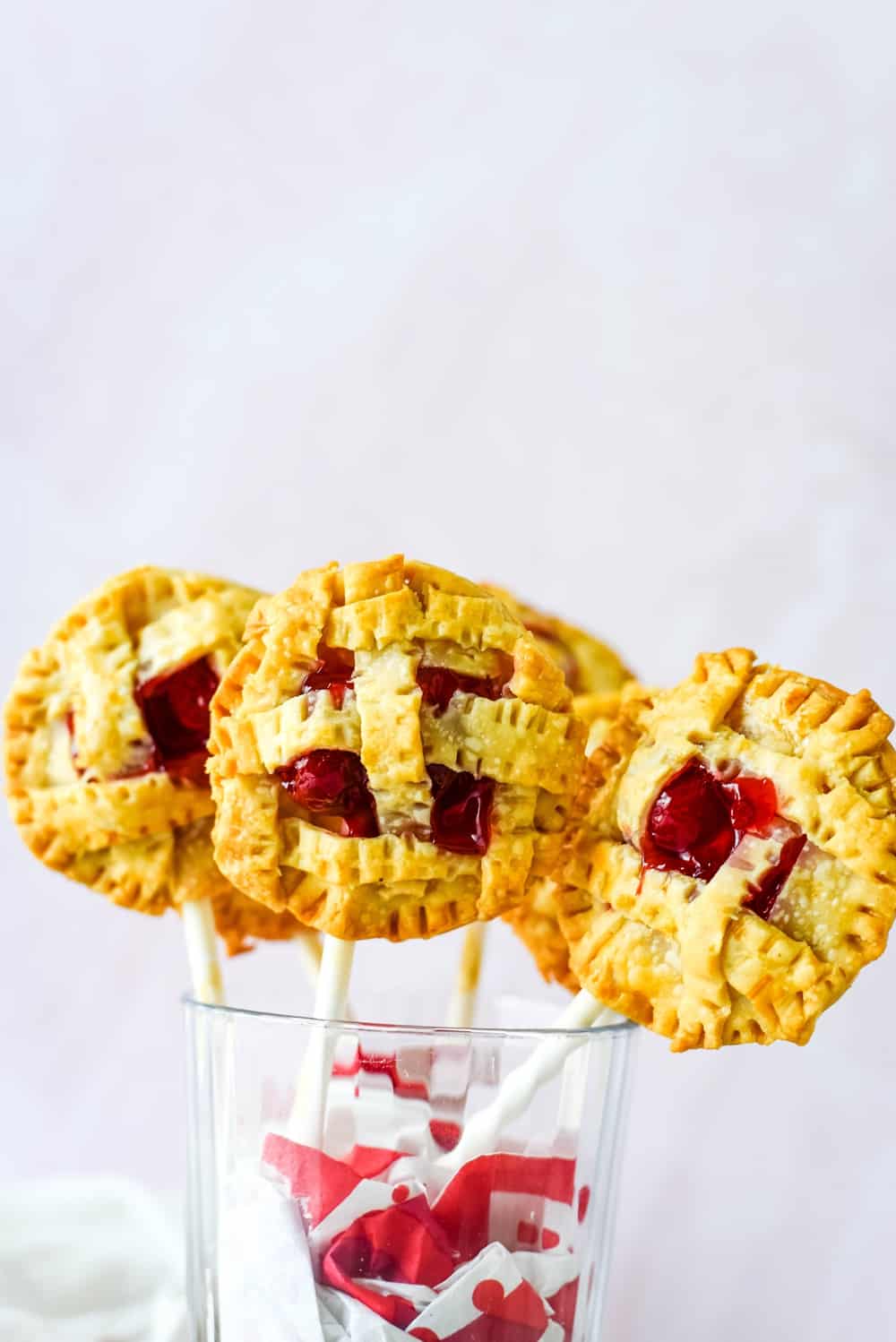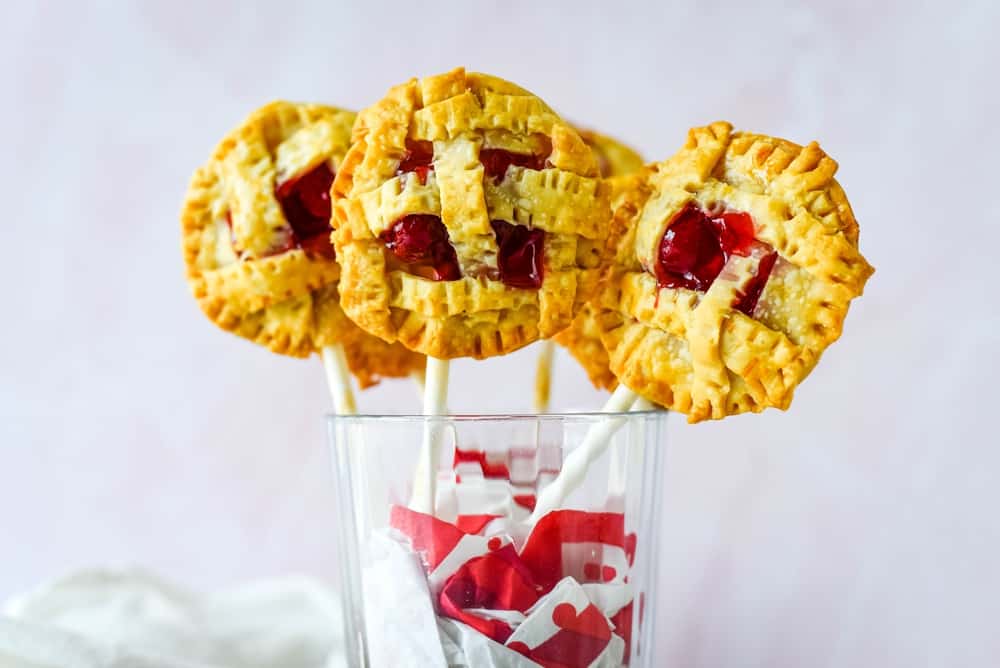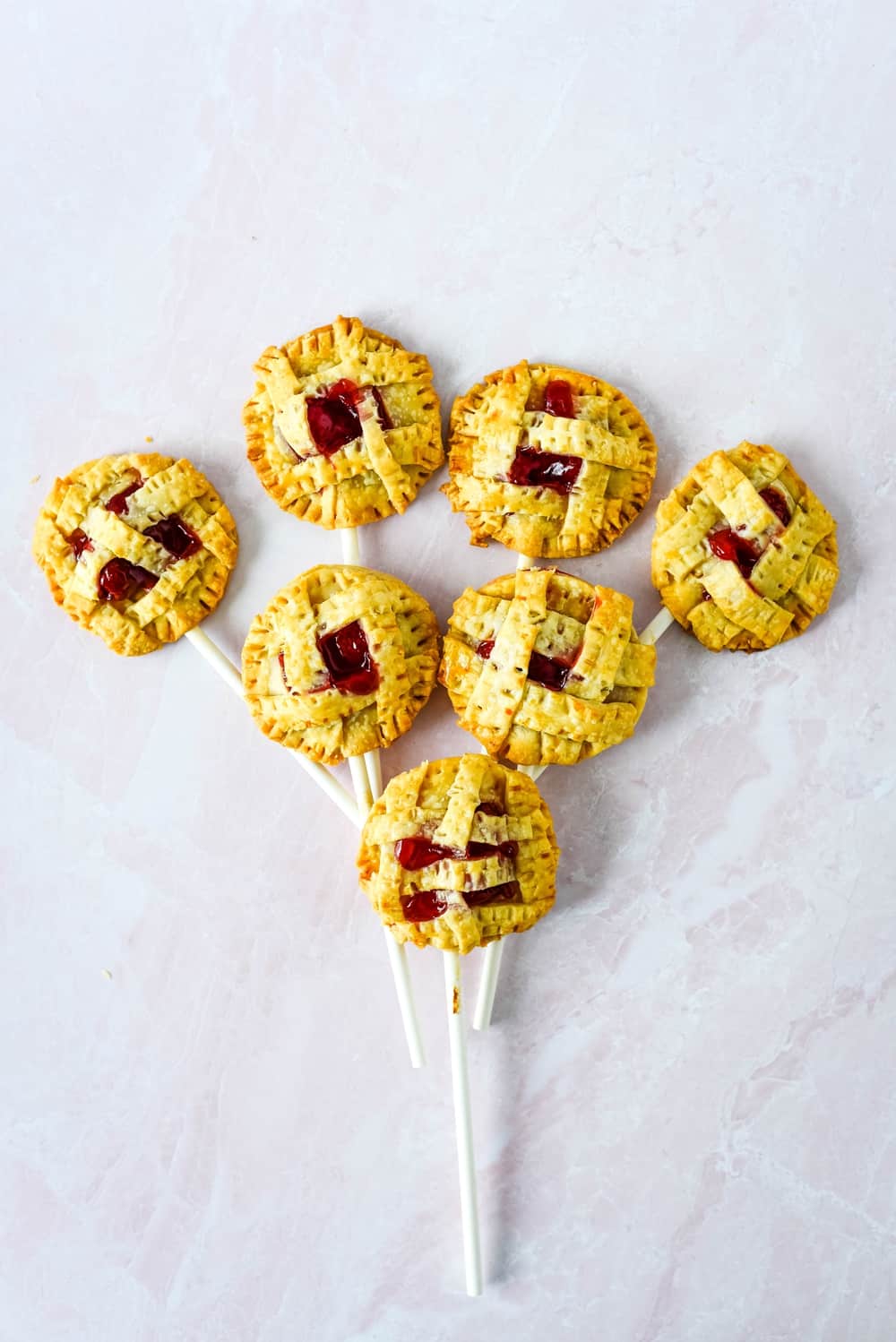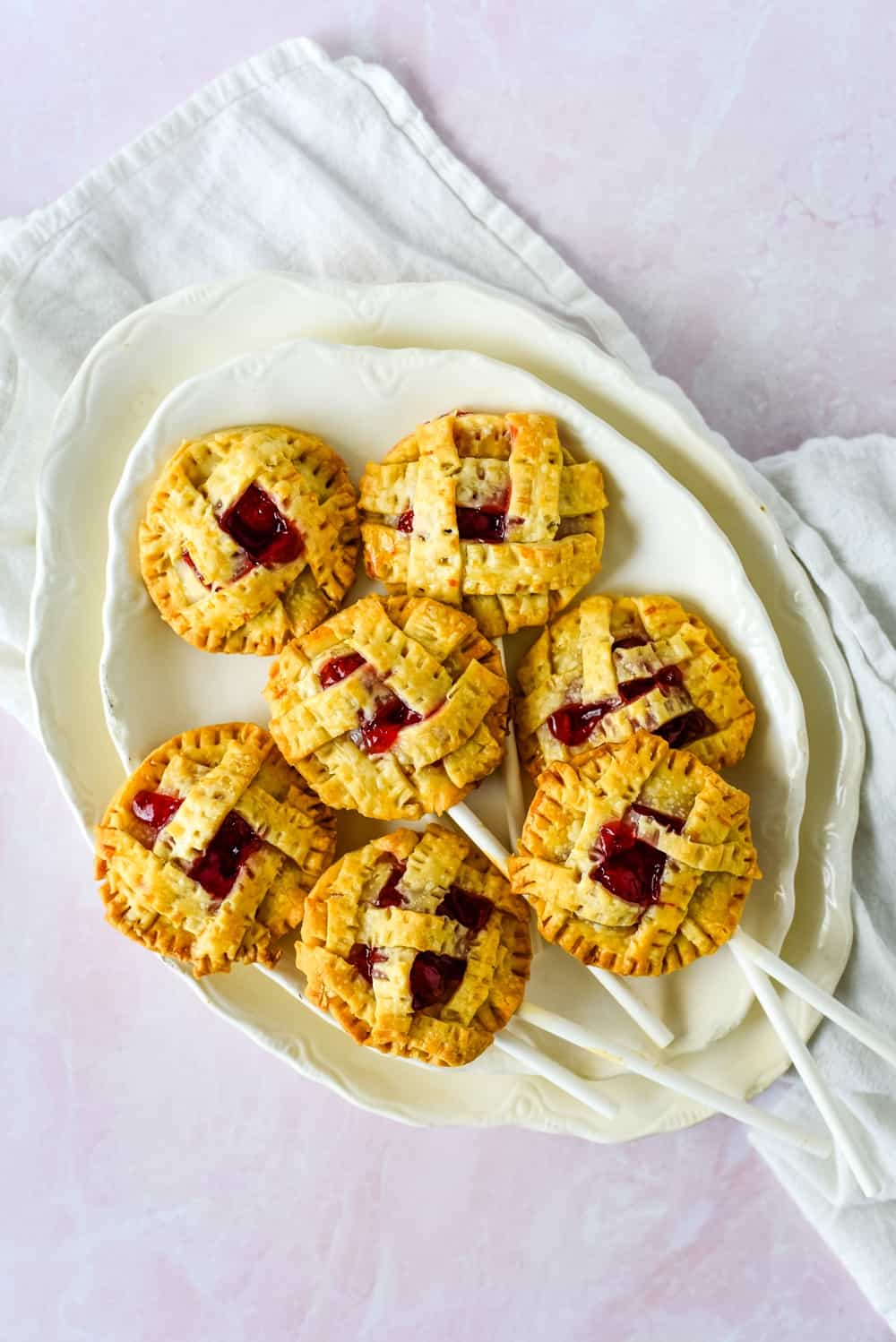 Can you use fresh cherries for this recipe?
Absolutely! If you have fresh cherries and want to make your own homemade cherry pie filling, that would taste amazing! However, if you're running low on time or are just looking for a simple dessert recipe, canned cherry pie filling does the trick as well.
Why brush egg wash on pie crust?
Add the egg wash helps to create that perfectly golden-brown look that we love and adore. You don't have to add it, but it adds that coloring and a shine that is just lovely.
Cherry Pie Pops – Ingredients + Supplies
refrigerated pie crust (2 count)
cherry pie filling
egg
Equipment needed:
Cookie sheet
Silicone baking mat
Rolling pin
3" circle cookie cutter
Sharp paring knife
Fork for crimping edges
Small bowl
Pastry brush
lollipop sticks
Wire cooling rack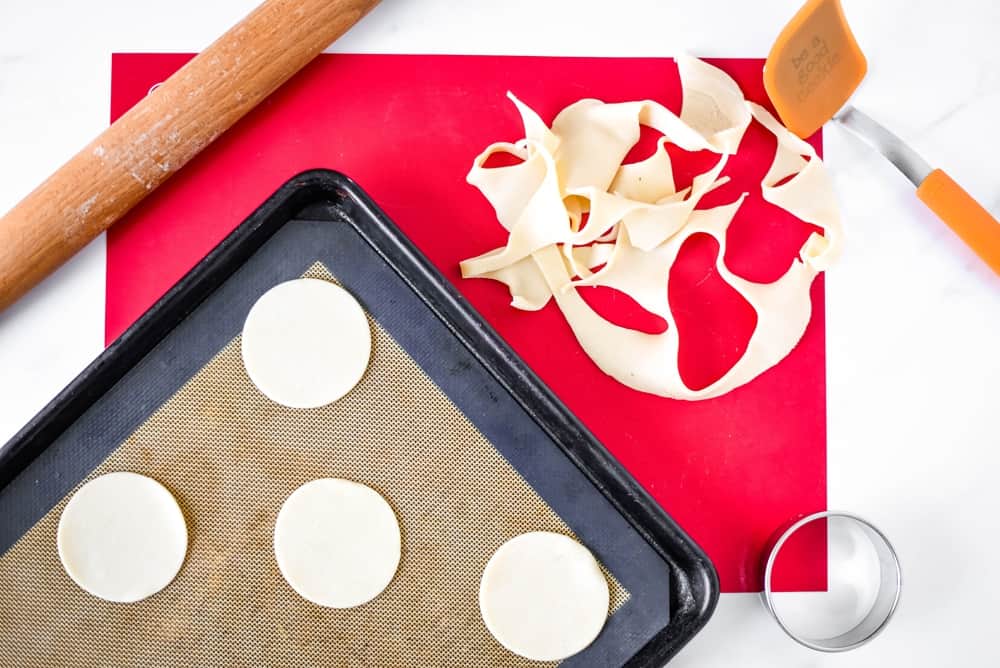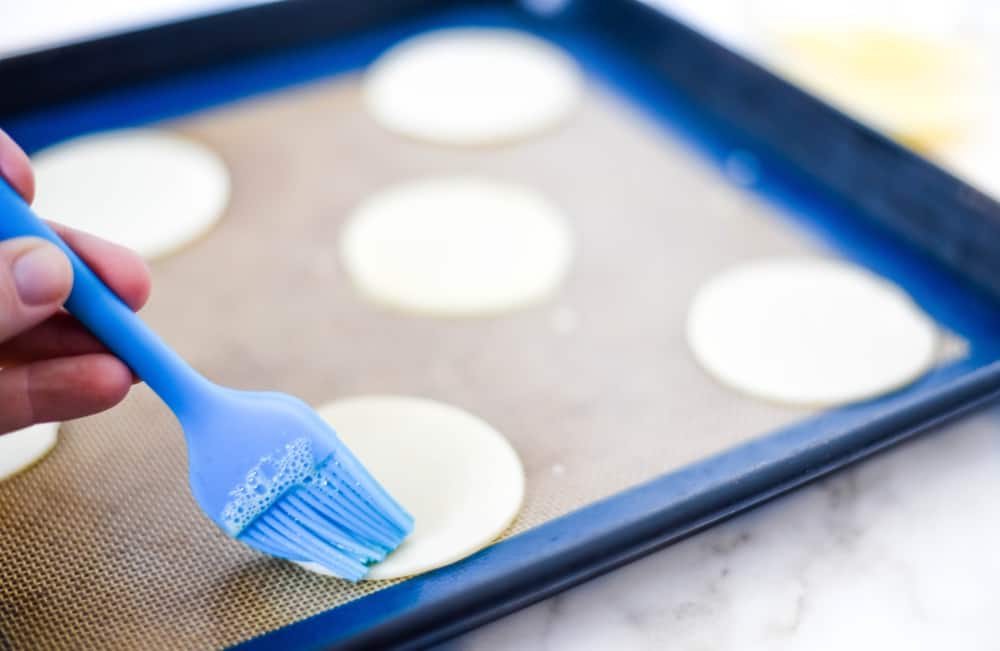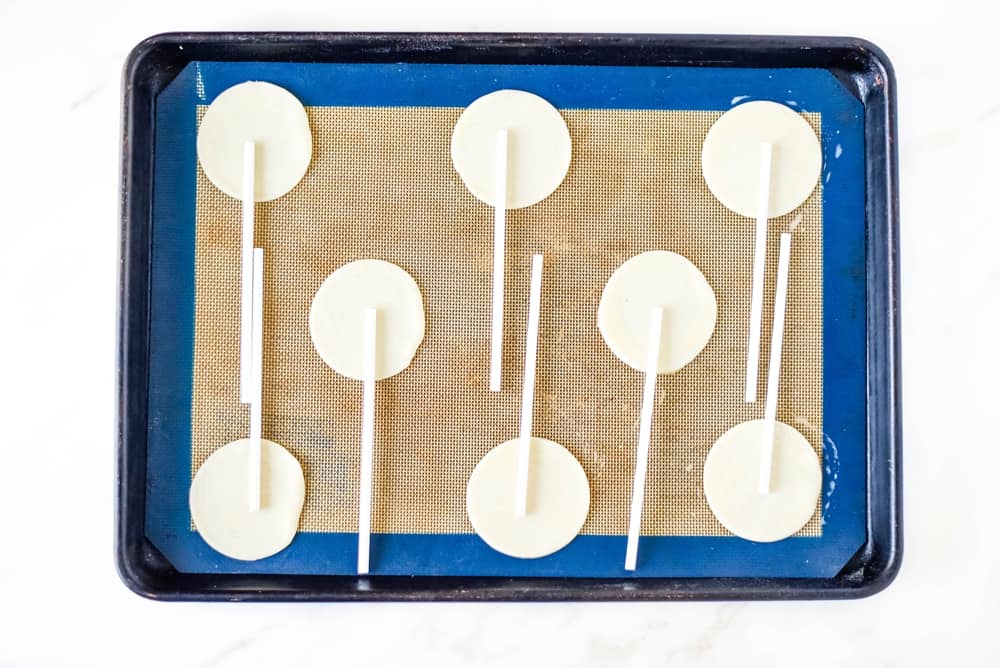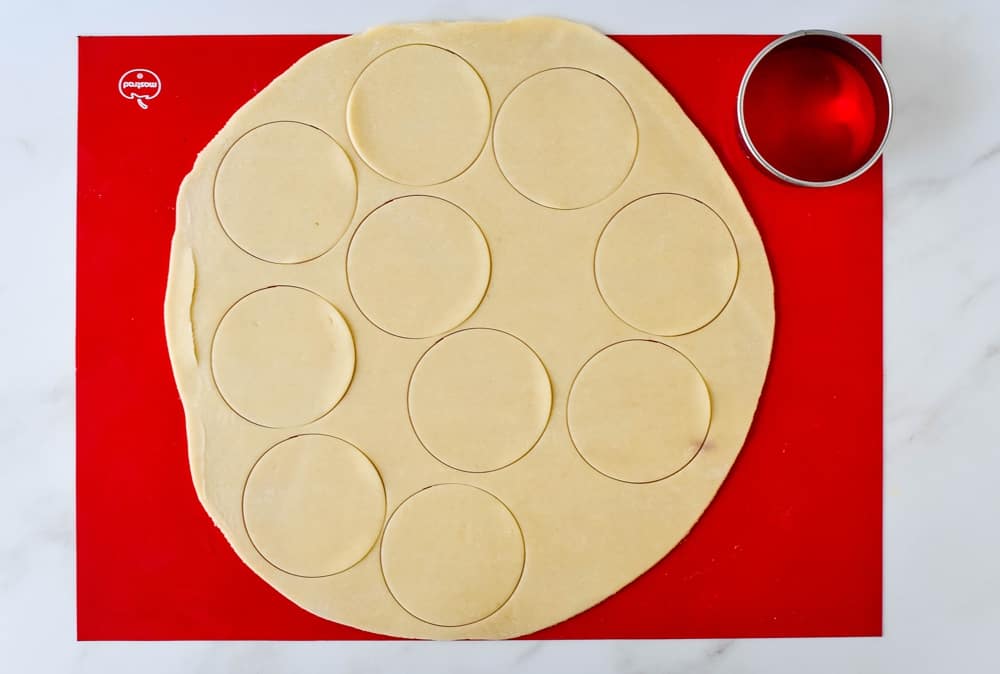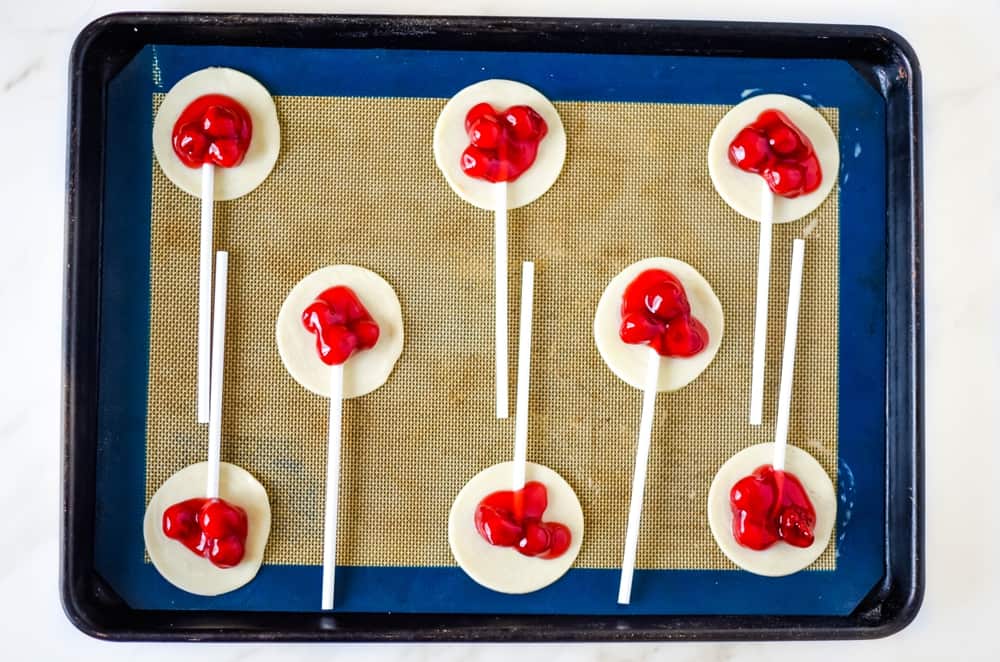 What is the best way to store cherry pie pops?
The great thing about making this simple cherry pie dessert is that once you've created them and baked them, they should be able to be stacked (carefully!) in a container for storage purposes.
Make sure that you let them cool down all the way before storing them. If you store them too soon, the heat that they're letting off will make the crusts soggy.
Can you make these dessert pops with other pie fillings?
Absolutely! What a great way to take a recipe and make it so many different ways! This would be good with apple pie filling, blueberry pie filling, strawberry pie filling, and more!
The more types of varieties that you want to try and make, the more options that you'll have.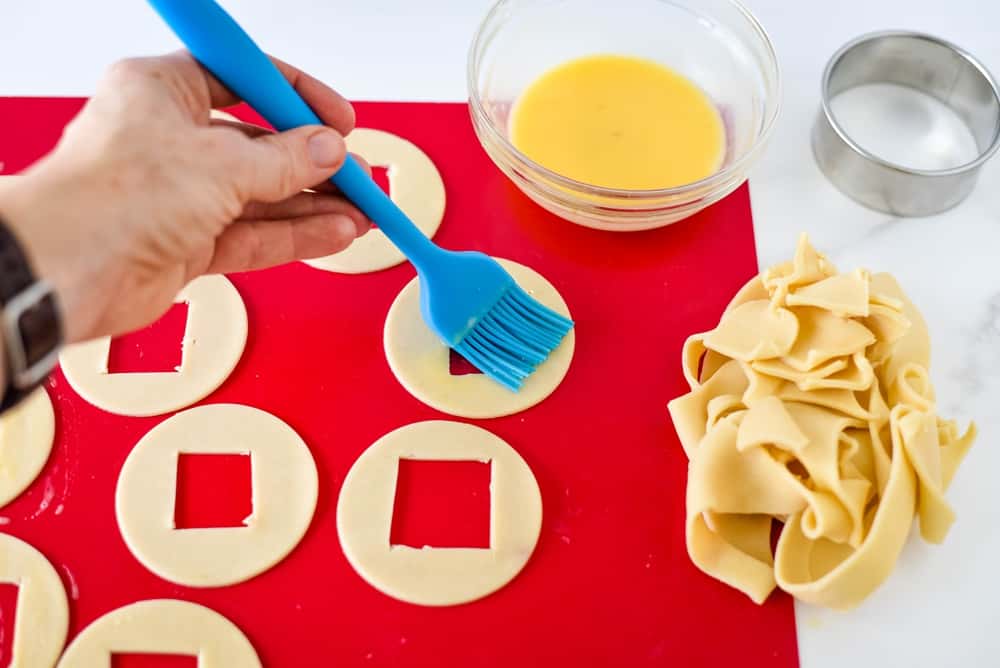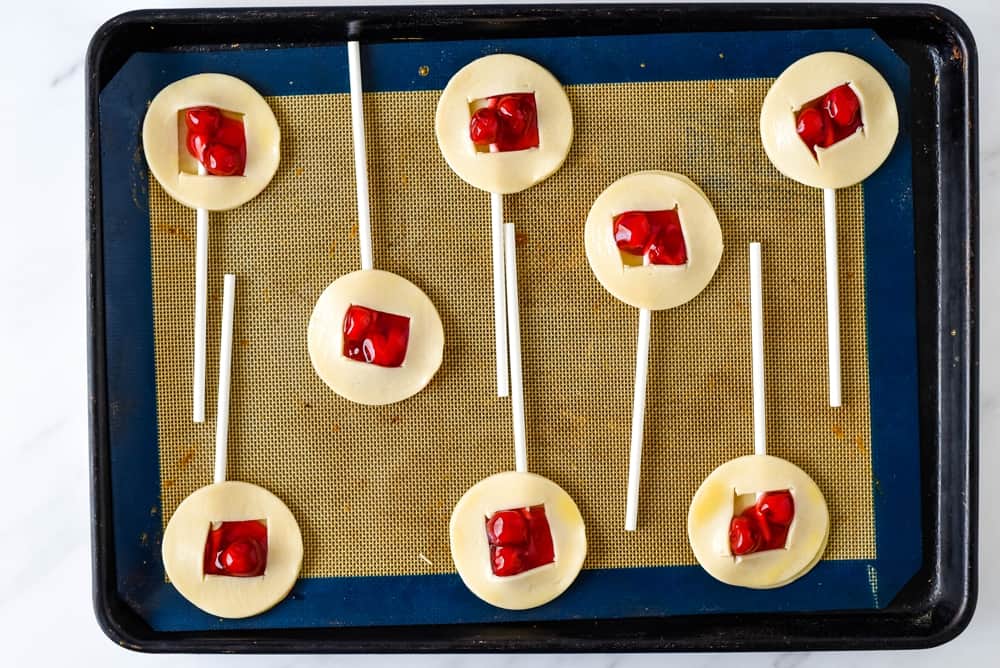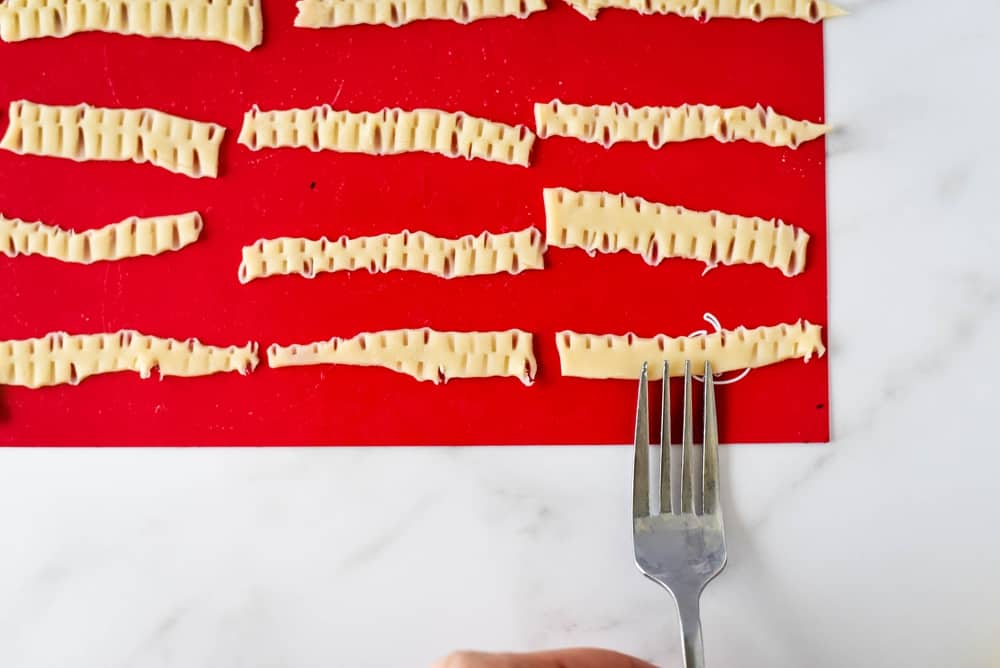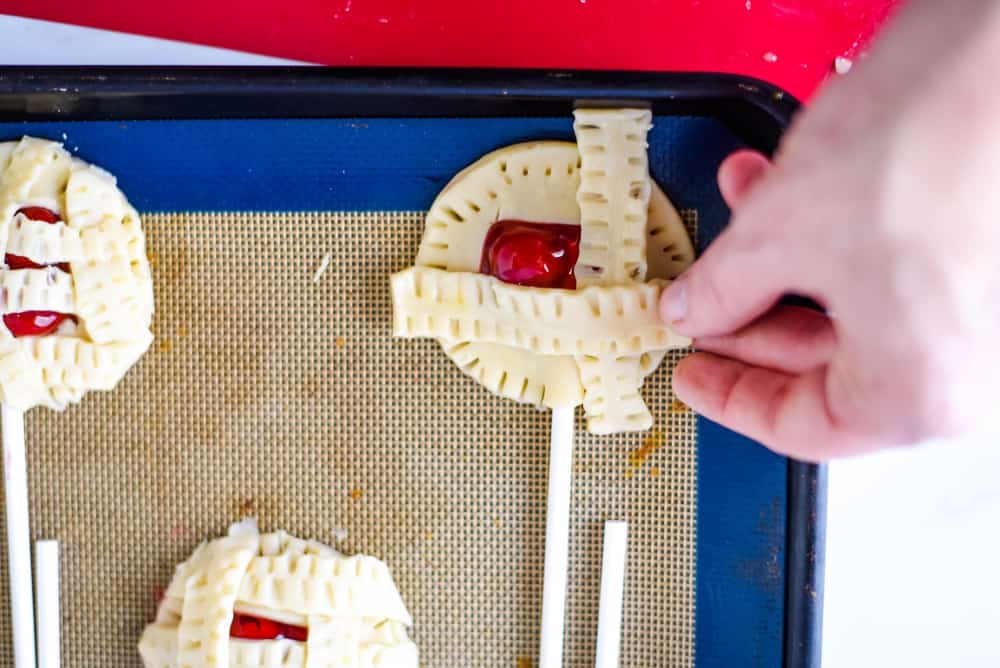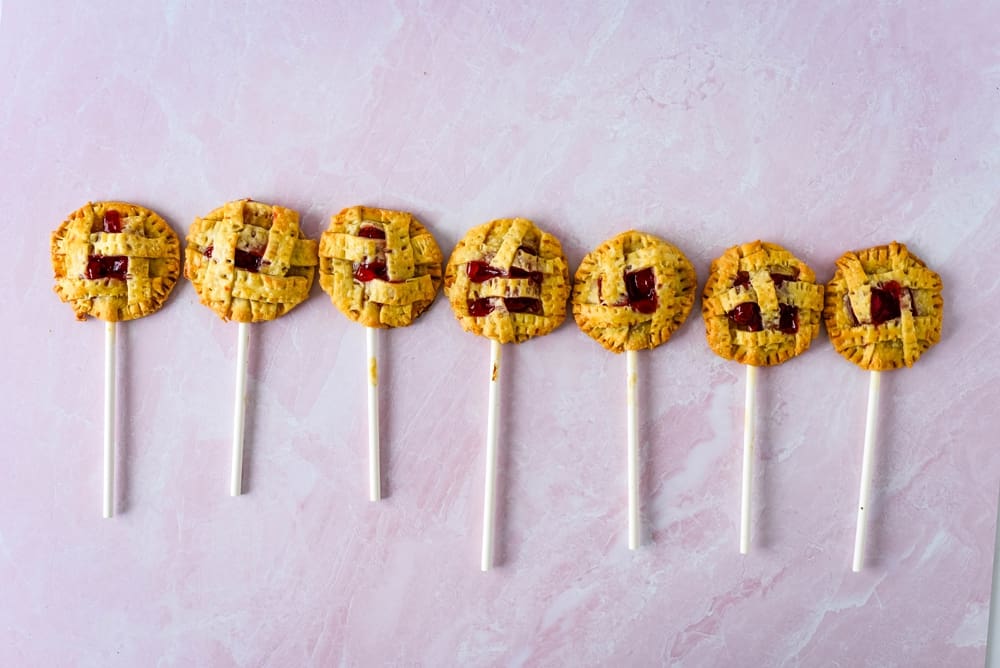 INSTRUCTIONS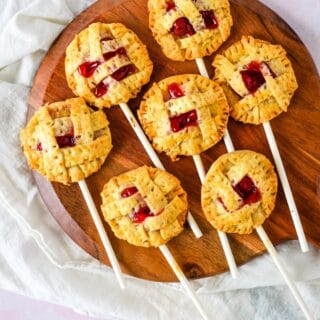 Cherry Pie Pops
These cherry pie pops are so much fun to make!
Ingredients
1

box

refrigerated pie crust (2 count)

1/2

cup

cherry pie filling

1

egg
Instructions
Line cookie sheet with silicone baking mat.

Crack the egg into a small bowl and whisk with 1 teaspoon of water to create egg wash.

Unroll one pie crust onto the counter.

Using a 3" cookie cutter, cut ten rounds from the crust and place on the prepared cookie sheet. Remove the remaining pie crust scraps and save for later.

Brush the egg wash on the edges of the pie crust circles.

Place a lollipop stick into each round so that it rests in the center.

Top each round with 1 Tablespoon of pie filling.

Roll out the second pie crust. Cut out ten 3" circles to be the tops of each pie pop.

In the center of each circle, cut out a small square in the center with a paring knife.

Brush the tops of the pie crust with egg wash.

Cover the cherry pie filling with the second cut round.

Roll out the remaining scraps and cut thin horizontal strips about ½" wide. Cut those strips into strips that are about 3" long.

Brush the strips with the remaining egg wash.

Use the fork to crimp the long edges of the thin strips.

Using four to five thin strips for each pie pop, weave the strips into a lattice work top.

Use the fork to crimp and seal the strips to the top of the pie pops. Cut away any excess pie crust that overhangs.

Bake for 14-16 minutes, until golden brown.

Remove from the cookie sheets and cool completely on a wire cooling rack.
Notes
Equipment needed:
Cookie sheet
Silicone baking mat
Rolling pin
3" circle cookie cutter
Sharp paring knife
Fork for crimping edges
Small bowl
Pastry brush
10-12 lollipop sticks
Wire cooling rack
YOU MAY ALSO LIKE